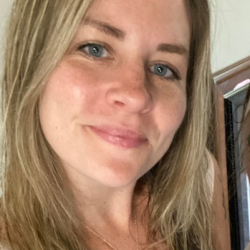 Latest posts by Thea Engst
(see all)
Do you have a loved one who can't get enough LEGOs? If you're like me, you sure do! And this is the perfect time of year for you to feed that fun and creative habit!
But the world of LEGOs can be overwhelming. There are so many options, themes, difficulty ranges, and many other things to consider; making the right choice can be challenging. Don't worry; I've got your back when it comes to picking out the best choice of LEGO for your friends and/or family members! Let's talk about what you can't miss this holiday season for the LEGO lover on your holiday list!
Why LEGO Makes a Great Gift
Whether you're shopping for someone who is already a LEGO fan or someone you suspect may enjoy LEGOs, this toy is universally loved for a few reasons.
One of the best things about LEGOs is that they are creative activities with instructions. They are a way to complete and construct a three-dimensional puzzle without the pressure of doing the entire job yourself. You can follow along with the thorough instructions, complete with pictorial aids, to build something beautiful, mobile, moveable, and fun!
LEGOs are also great tools for children because they teach valuable skills. They teach them how to follow instructions and engineering and building skills. Think of LEGOs as gateway toys to the blossoming architects of the future!
If you are a freestyling LEGO builder, you buy the bricks and make your own LEGO set happen. That is an admirable skill set to have! LEGO offers bricks for building on your own; I will discuss that below.
And you don't have to build LEGOs to enjoy them. We all learned that when FOX launched season one of LEGO Masters in 2020. The smash-hit show features LEGO enthusiasts competing to be dubbed the 'LEGO Master' throughout several challenges. Watching what these amazingly talented people can do is an absolute delight and makes me wish I could do half as incredible work as them!
I like LEGOs not only because they are puzzles, and I love puzzles, but because they can represent so much more. Depending on your interests, you can get LEGOs from TV shows or the Architecture series and recreate some of the most famous structures and cities on the planet. During quarantine, my boyfriend and I put together a few sets from the Architecture series, which lifted my spirits in a time when travel was impossible.
LEGO also has plenty of pop culture ties, hitting more nostalgia notes for buyers. Whether you're a Marvel fan or more inclined towards music, you can even get LEGO sets that celebrate the Chinese New Year! LEGO, in short, actively works hard to make sure an enormous amount of interests and activities, movies, and musicians, are represented in their portfolio. There is something here for everyone, and everyone is meant to feel welcome.
What LEGO Sets Make The Best Gifts-My Selection Criteria
This is tricky because LEGO spans so many age ranges and skill levels. When shopping for a younger child, you should choose LEGOs in the age range of the person you're shopping for, unless they are exceptionally skilled at LEGO already. The age range is important because the set will have fewer pieces, but the entire construction will be easier. The younger you go, the pieces themselves become larger, making them easier for smaller hands to handle.
I thought dividing this gift guide between LEGO sets for children and LEGO sets for adults would be helpful depending on who you are personally shopping for this holiday season. First, though, let me tell you why I chose these particular sets for these two age ranges.
So what exactly makes a great LEGO gift?
Choosing the appropriate theme: LEGO makes such a variety of themed sets, it's easy to shop for someone whose passion is in a certain niche. For example, there are many Star Wars and Harry Potter options but also sets that aren't inspired by any movie or book. Like the Medieval Blacksmith set, for example. They have various car models, even sets of The Beatles; you truly can find something for everyone in their enormous portfolio.
Interactive sets for younger audiences: If you're shopping for a kid, buying a LEGO they can play with once assembled is important. Adults like to put their LEGOs on display, but kids may want to keep playing after the puzzle portion is complete. If you pay attention to the age ranges on the boxes, you will see that the LEGO sets for younger people are often more interactive post-assembly.
Artwork for older audiences: As I said above, older LEGO fans tend to put together their sets and put them on display, so if you're shopping for someone older, getting the Attack on the Burrow from Harry Potter, with lots of Minifigs, might not be the right choice. The Adidas Originals Superstar, which can be put on display, would be a more age-appropriate LEGO set.
The Major Differences in LEGO Sets
Display LEGOs vs. Interactive LEGOs: Some LEGOs are meant to be mounted on the wall, and some LEGOs are meant to be played with or even broken down and built into new structures.
Degree of difficulty: LEGO makes this easy with age ranges starting at just one and a half. The age range stops at eighteen and up, so if you're looking for something for an adult, I'd recommend anything after sixteen and up.
One trick ponies vs. three-in-one: Speaking of the LEGOs that can be broken down and built into new structures, that's a big difference between some LEGO sets. Yes, you can technically make any LEGO brick into whatever your brain cooks up. Still, most LEGO enthusiasts follow the directions and construct the building, spaceship, car, or whatever is on the box. However, LEGO has created their three-in-one sets, which have directions for constructing three different structures with the same LEGOs.
Referential vs. inspired by pop culture: Some LEGO sets are inspired by pop culture references like movies, music, and cars. But some are just replicating periods in history. If you're looking for something insanely specific, LEGO probably has a set for it. And if you're just looking for a cute gift that isn't referencing any TV show, band, or movie, LEGO has plenty of that too.
Sets vs. bricks. This is the age-old question! Do you buy the LEGO lover on your holiday list bricks or a set? The difference is that bricks can be made into whatever the recipient wants, whereas the sets aim to create a specific structure. Bricks as an option are super cool for the brick-capable LEGO builder. Depending on what you're building, they even have options for bricks that are accessories to specific themes.
Shopping for Kids
LEGO is known for being created for kids of all ages to enjoy, but LEGO notes their age-appropriate ranges on each of their sets. Starting at just one and a half years and spanning to adulthood, LEGO sets are made to appeal to a variety of ages and skillsets. So let's get to the good stuff! What are you getting for the LEGO-enthusiast child in your life?
Tech Machines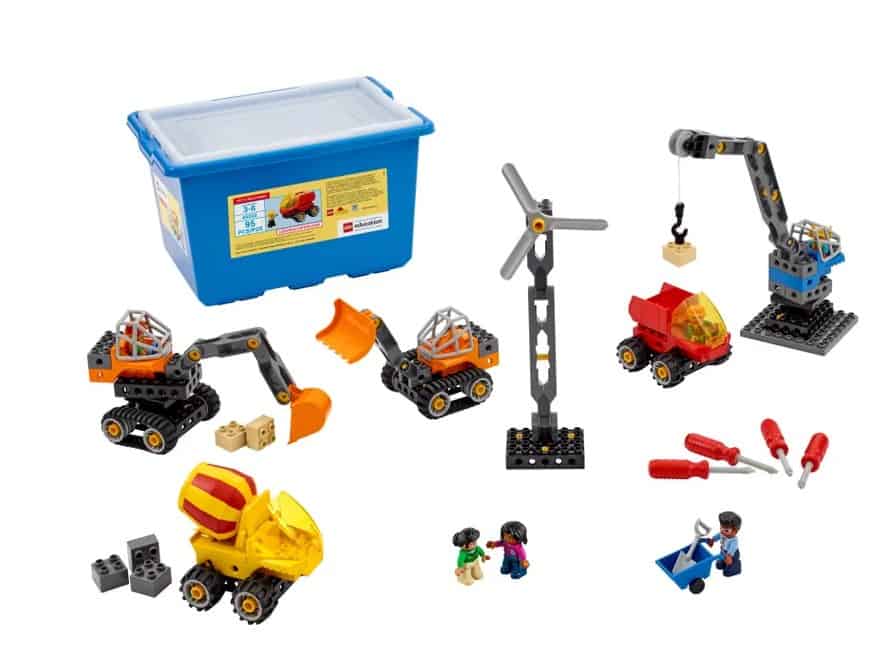 Tech Machines for ages three to six are one of my top recommendations for younger children. This is an all-inclusive start to getting a kid into LEGOs. It even comes with a LEGO screwdriver for tiny hands to help with the build.
This set is aimed at younger kids, so it has larger and fewer pieces; it's only ninety-five pieces. But it aims to get kids thinking about fundamental engineering concepts and begin problem-solving as they complete this puzzle and continuously build and work on it. This is a large set despite being fewer pieces and rings in at $209.95.
Pros and Cons for Tech Machines:
Pros:
All-inclusive set. (Think of it as the 'one-stop shop' of beginner LEGO sets.)
Great for kids under three to get started on learning how to build.
Allows for a lot of creative expression as this is more of a set for free play.
Cons:
The children will grow out of this and need more challenging LEGOs soon.
Only ninety-five pieces for $209.95 is expensive for LEGOs.
You could get similar sets for less if you buy a different brand.
Mia's Soccer Cube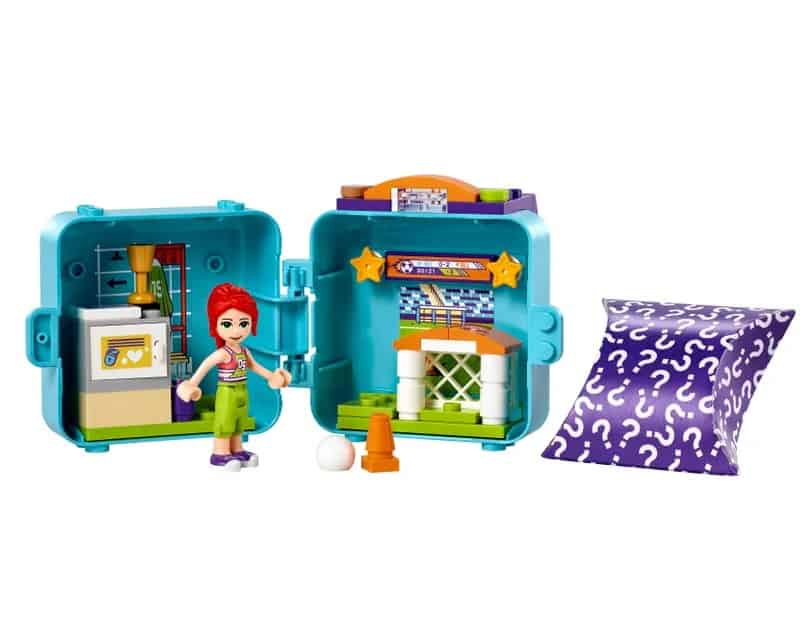 Next, I have to talk about Mia's Soccer Cube.  It's small and affordable, ringing in at just $9.99, and it's an option that has an added convenience! Mia's setup is meant to be mobile. That means you can gift this to a kid that's often on the go or maybe has a trip on the horizon!
This set includes fun accessories like a surprise dog for Mia, a soccer goal, and a locker room. It also has a cone to kick her soccer ball around and practice with!
I have to point out that there isn't a lot of building involved in this travel set. Therefore, avid LEGO building kids may be disappointed that there isn't the opportunity to put more pieces together. However, this is meant to be an on-the-go LEGO, so fewer pieces are intentional and, in the end, much better for mobile play.
The container is shaped like a sports bag, which I love. It's like Polly Pocket had a baby with LEGO, and I am here for it!
Pros and Cons for Mia's Soccer Cube:
Pros:
Mia is an active, positive female role model for young girls.
The surprise dog feature is intriguing for kids of all ages.
I can't argue with that price.
Perfect for a stocking stuffer!
Meant to be traveled with.
Cons:
This is less about building than many other LEGO set options.
Few pieces.
More play than build, which isn't often what LEGO audiences want.
Toyota GR Supra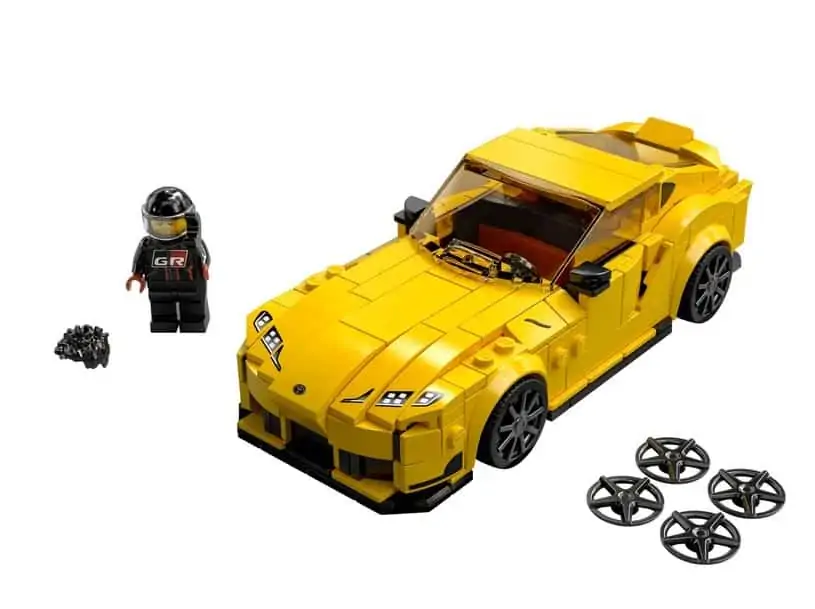 Let's talk about the Toyota GR Supra for ages seven and up; this is a great LEGO gift for the car enthusiast in your life. Constructing this 299 piece car can be done reasonably, but the fun doesn't end there. Since the wheels work, this LEGO isn't made only to be on display; you can play with it and even race it against other cars! And the price is right! This two-in-one toy is just $19.99.
Pros and Cons of the Toyota GR Supra:
Pros:
Assembly toy and interactive toy.
Excellent price.
Challenging without being overwhelming.
Cons:
Very niche, I wouldn't get this toy for just any kid; it has to be for a kid who loves cars.
While it has a cockpit for two, this set only comes with one Minifig.
I recommend this for kids who want to play with their LEGOs, not kids who like to put together large displays.
Batcave: The Riddler Face-off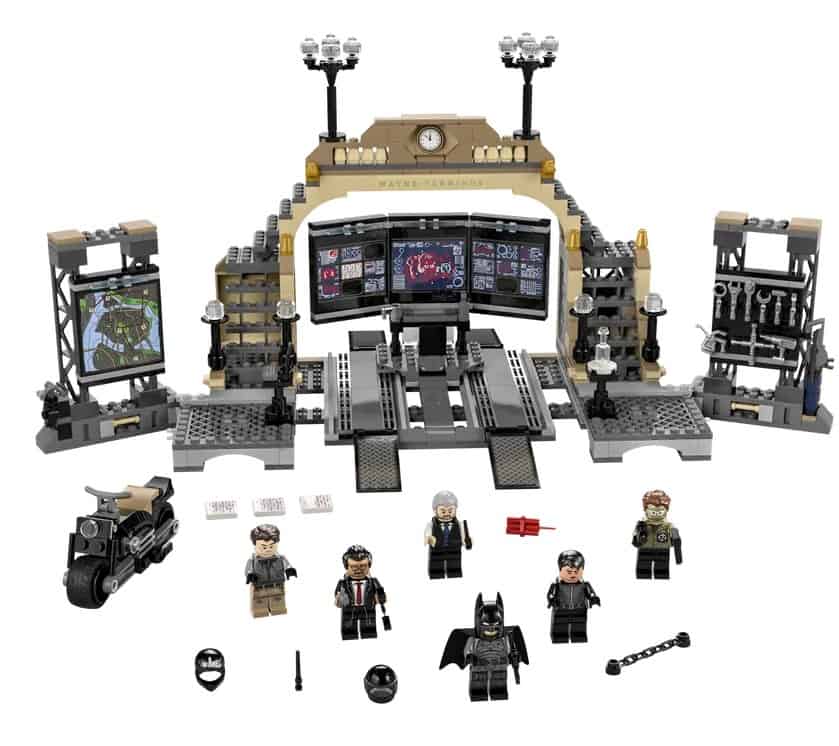 It's hard to talk about excellent children's LEGOs without mentioning at least one of the amazing Batman sets! I had to choose just one, though, and I love the Batcave: The Riddler Face-off. It is made for ages eight and up and scratches the itch of interactive and display LEGO. It even offers movement, with hinged walls that can be moved depending on the game at hand.
Did you need more reasons to love this set? There are three coded messages from The Riddler himself to Batman, which can only be read with the special and included magnifying glass!
This also contains a whopping six Minifigs, including Batman's alter ego, The Drifter, and the legendary Selina Kyle, AKA Catwoman. Of course, The Riddler is included, Commissioner Gordon, and the one and only Alfred. It also comes with plenty of accessories you can find in the Batcave, like computers, tools, and a map of Gotham. But what would a Batcave be without a jail for bad guys? Yes, this set includes a jail!
Finally, I love this set because it works well with others, meaning it's compatible with other DC sets from LEGO. If your loved one already has Batman Batmobile: The Penguin Chase, they can drive their Batmobile right up the ramps in this Batcave set!
Overall, this Batcave set is a bit more expensive than other options on my list, ringing it at $79.99, but it's great for active playtime even after the set is put together. It's also 581 pieces, making it slightly more challenging than the other preceding items on this list.
Pros and Cons of the Batcave: The Riddler Face-off:
Pros:
Interactive and fun assembly.
Compatible with other DC LEGO sets.
Moveable pieces.
Six Minifigs included.
Lots of accessories included.
Overall excellent price for what you're getting.
Cons:
LEGO does not state this explicitly, but this might not be compatible with other LEGO cars, which is a bummer. (Batman may only have a Batmobile, but Bruce Wayne might have a Toyota GR Supra he needs to get repaired.)
A little expensive; you could get several smaller sets for the price of this one set.
Caravan Family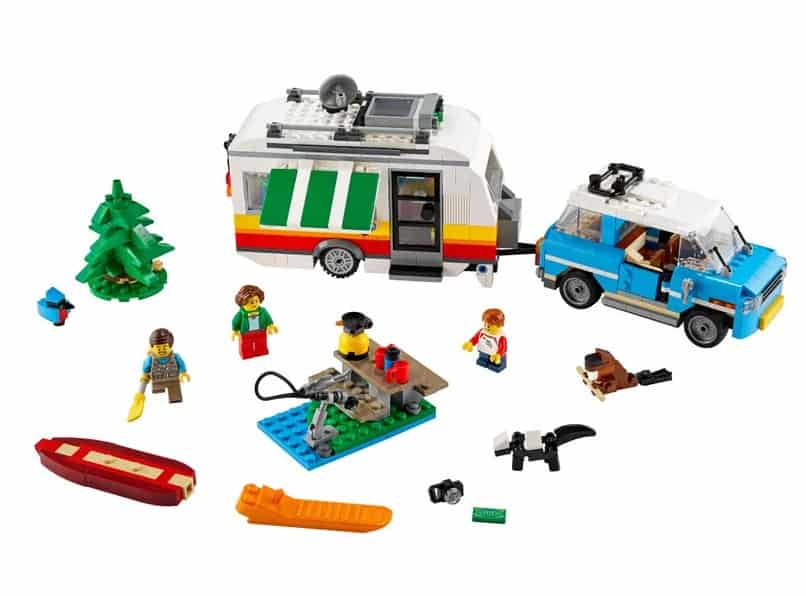 In a world of bus and van-life influencers, it seemed only appropriate to talk about how much I love the Caravan Family set. This is a 766 piece set for $69.99. Like the Batcave above, this is meant to be played with once assembled, making it more appropriate for children.
I love this set because it is from the LEGO three in one collection. That means that you can assemble it in three different forms! Create your caravan family a car and a trailer to pull, or make them one large RV; you can even give them a lighthouse to live in! The fun doesn't stop with this set, and I'm here for it.
Because this set is made to be versatile and ever-changing, it has less intricate details than sets like the Batcave listed above. You won't have a magnifying glass to decode riddles in this set, but you will be able to deconstruct your retro van and make it into a lighthouse, and that's pretty cool!
Pros and Cons of the Caravan Family:
Pros:
It includes three Minifig family members.
It offers a three-in-one option for three different creations.
It scratches the itch of both interactive play and assembly play.
Cons:
This is temporarily out of stock on the LEGO website.
It has less intricate details than other sets like the Batcave above, but its goal is different.
Shopping for Adults 
When purchasing a LEGO set for an adult, it's easier to spend more money. My way of thinking is that if I spend a lot on a LEGO for my boyfriend, he will put it together meticulously and then put it on display. Well, kids can get distracted, and some may never finish the project. They can also immediately break their LEGO structure whether on purpose or not — it's just a risk you take with getting kids LEGOs!
Central Perk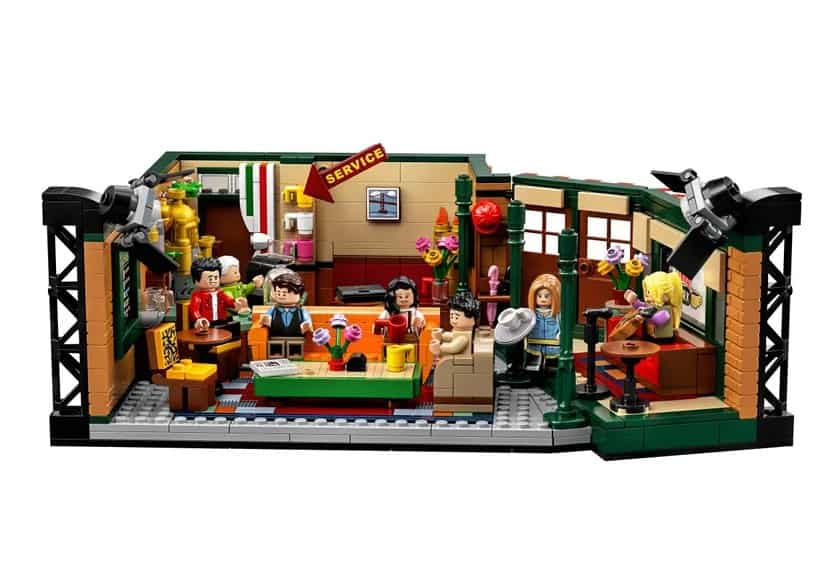 Central Perk hits all the nostalgia notes for the adult LEGO nerd in your gift-giving circle. It's a replica of one of the most iconic sets in sitcom history: Central Perk from Friends. This is 1,070 pieces of pure nostalgia for the very reasonable price of $59.99. Supplies are low, though; this set has been tough to track down this year.
This set makes me happy because it includes all the main characters of Friends and Gunther. What would Central Perk be without Gunther, after all? And each Minifig has its own 'signature' item, so Rachel, for example, has her tray to bring coffees (usually the wrong coffees…) to her customers. Joey, of course, comes with a pizza box! The details are on point and hugely successful. Any Friends fan will appreciate these well-thought-out intricacies.
I'm placing this set on the adult list because of the content, but the fact is that you can easily play with this piece. So if you have a kid in your life with a pension for older sitcoms, don't hesitate to buy this set.
Pros and Cons of Central Perk:
Pros:
The set has amazing attention to detail with referential accessories, including music space, cash register, umbrella stands, and the iconic 'Central Perk' logo on the windows.
Assembly and play fun.
It could work for an adult or child. (Aged for sixteen and up.)
Cons:
Difficult to find. (Due to popularity.)
It probably will only appeal to adults because it is a replica of a show from the 90s.
It does not work with other sets because it is a stand-alone piece.
The Child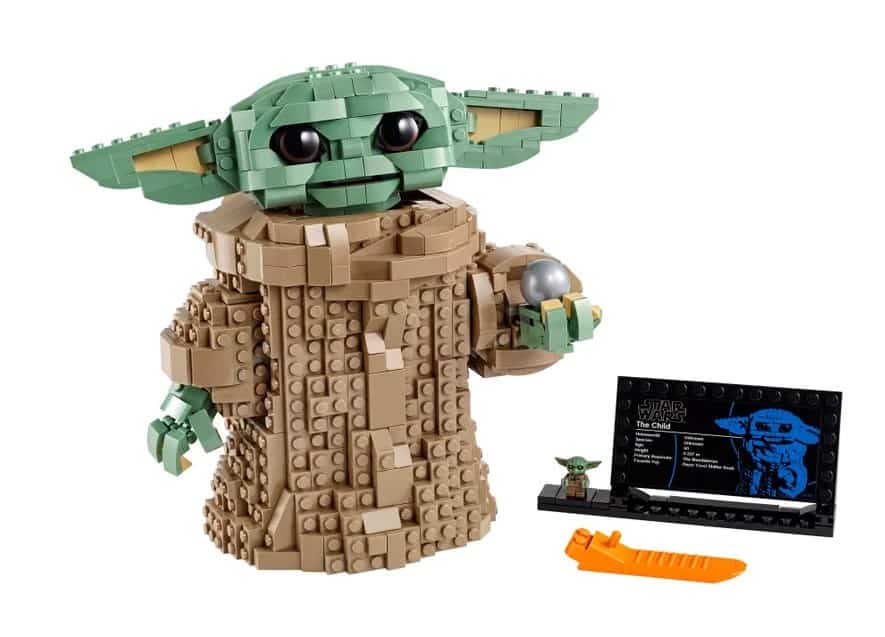 The Child (AKA Baby Yoda) has to be one of the gosh darn cutest creations in Disney history, and the LEGO version of The Child lives up to those standards. It is truly adorable and rings in at only $79.99 with 1,075 pieces.
I'd recommend this for adult or older children as it is a build-to-display LEGO. That means it's not meant to be played with after being built. You will find that LEGOs in that category are too heavy to play with, try as you might.
The Child's ears, head, and mouth are adjustable, and one hand extends outward so that he can hold the included gearshift, his favorite toy in The Mandalorian.  In short: he's just too cute to resist having in your home!
Pros and Cons of The Child:
Pros:
Great for the price!
Adorable to the max, one of the cutest LEGO sets I've ever seen.
Doable for adults and children, this age range starts at ten years old!
Cons:
Temporarily out of stock on the LEGO website.
Adults may want something more challenging, while kids may want something to play with more easily.
Infinity Gauntlet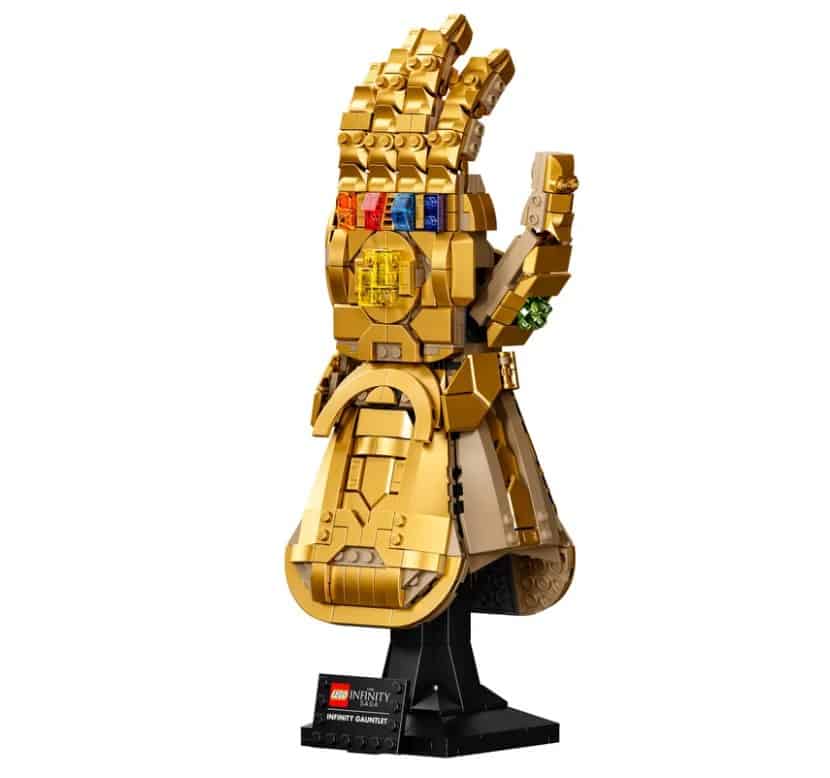 Speaking of iconic cinema, the Infinity Gauntlet by LEGO is really a sight to behold. The glove is on a stand, making it look like an artifact in your home. I love the construction of this and the fun of the display. It is only 590 pieces and costs $69.99; this is a great price for what you're getting.
This is another build-to-display LEGO set, so it's not meant to be played with. Despite that, though, the fingers of the gauntlet move (because why wouldn't they?) This is tall (just over a foot high) and narrow, making it slimmer and able to fit in multiple spaces in your home for display. The nameplate for this is also attached to it, whereas for pieces like The Child, it stands alone.
This will be more difficult than The Child since it's aimed at people eighteen and older. Consider yourself warned!
Pros and Cons of the Infinity Gauntlet
Pros:
Great piece for home or office; this can fit easily on most shelves or desks.
Beautiful attention to detail; the stones, for example, are so fun!
The set comes together into one piece so that you won't be searching for fallen Minifigs or nameplates.
Cons:
It is on backorder on the LEGO website, but it will ship on January 6th if ordered now.
Not meant to be played with; it might be tough to keep from kids.
World Map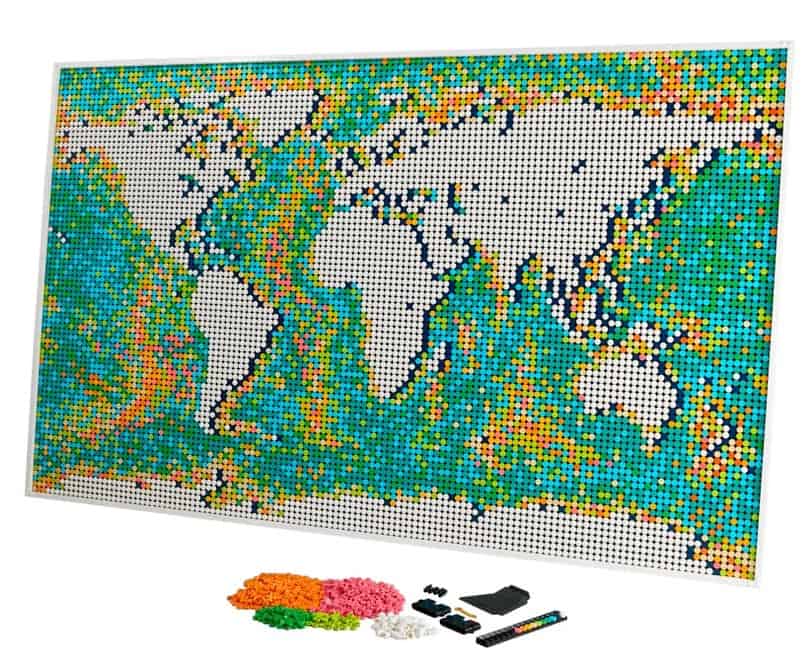 World Map has to be one of my favorite LEGOs available. Yes, it's expensive at $249.99, but once completed, it's easily mounted on your wall, just like a regular map, which I love. I'm partial to LEGOs that can be mounted because I don't like it when they take up a valuable bookshelf or desk space.
I love this set, too, because you can add included pushpins to show where you've been in the world. So if you think about it, you're never really done building this LEGO set!
The World Map set even has a QR code with a curated playlist for an "audio world tour" to listen to while you dive in to create the map! This is aimed at adults who enjoy two-dimensional puzzles. To say I'm in is an understatement!
This set is a big undertaking, at a whopping 11,695 pieces, but it's easily worked on with more than one person. You can even make it over again in your style. So the question is: are you (and a friend) up for this challenge?
Pros and Cons of the World Map:
Pros:
This is a big challenge for an adult who enjoys LEGOs and regular puzzles. I'm saying that you don't have to be a LEGO lover to enjoy this.
It comes with its own playlist! Now come on — that's cool!
Included pushpins to continuously update the map with your travels.
Wall-mountable.
It can be redone several times differently.
Cons:
Very expensive.
This set isn't sold out, but it is hard to find.
Build-to-display only, so it cannot be given to children.
Most Universally Wanted LEGO Sets 
So we've discussed age-appropriate sets, now let's talk about what everyone wants, but not everyone can have. These are the rare, hard to find, expensive, and extra challenging works of art that are LEGO!
Millennium Falcon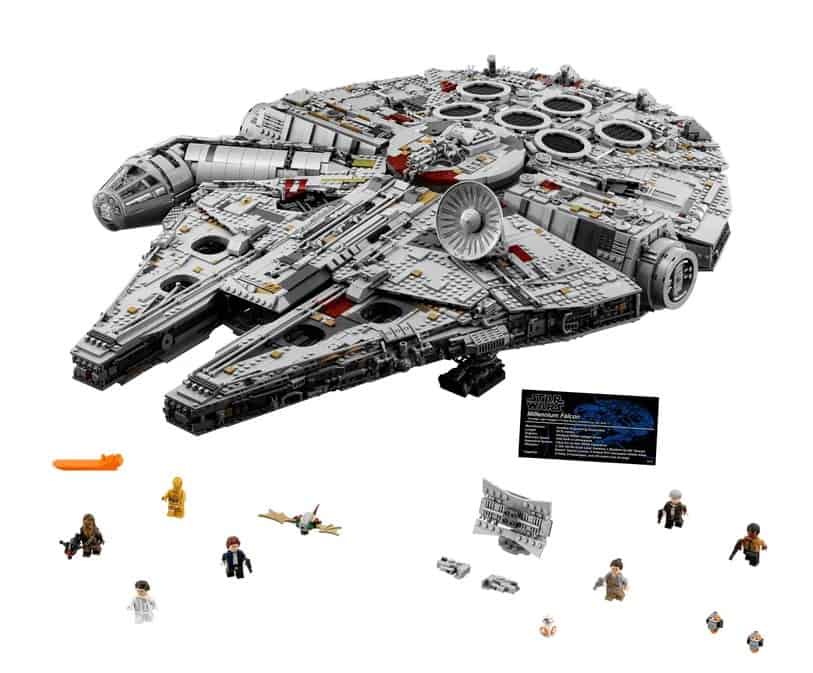 I have to start with the larger option (yes, there are two) of the LEGO Millennium Falcon. Perhaps one of the most coveted and hard-to-find Star Wars LEGOs out there. This is 7,541 pieces for $799.99 (if you can find it). It is challenging, authentic, and definitely meant to be shown off. Aimed at ages sixteen and up, if you have the funds and space to house this set, the Star Wars LEGO fan in your family will be very grateful!
Pros and Cons of the Millennium Falcon:
Pros:
This set includes four Minifigs of main characters (Chewbacca, Princess/General Leia, Han Solo, and C-3PO), a BB-8 droid, 2 Porgs, and a Mynock (both of which you build yourself).
In true LEGO form, this has beautiful attention to detail, including multiple compartments and moveable features. Those intricate features are a rear compartment with an engine room, a secret floor compartment, and two escape pod hatches.
It is a true collector's item for any LEGO enthusiast or Star Wars fan.
Cons:
Out of stock now
This is a costly LEGO set
The size makes it difficult to display in your home.
Land Rover Defender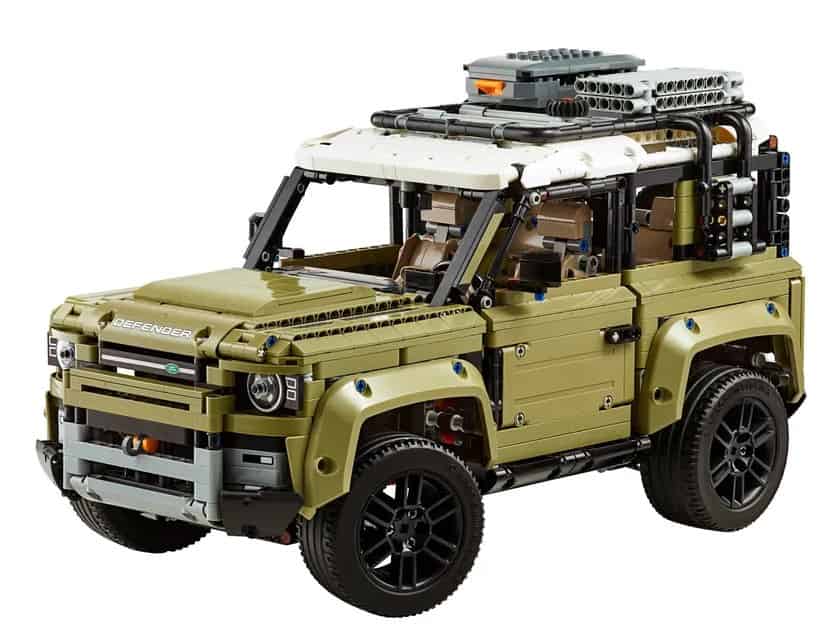 The Land Rover Defender model has been sold out every time I look for it since October of 2020. This replica of the car, which is also nearly impossible to buy, is only $199.99. It's not particularly difficult, aimed at kids eleven and older, and it only has 2,573 pieces total. The popularity and relative inexpensiveness of this is what makes it a coveted, hard-to-find LEGO set.
Pros and Cons of the Land Rover Defender:
Pros:
Build to display but still has fun moveable details like changing gears!
It is a reasonable price for what you're getting.
Good for adults and older children to put together and enjoy.
Cons:
Out of stock (as I said before, I've been looking for this since October 2020).
People who are fortunate enough to get their hands on this have expressed annoyance at the many stickers needed to be applied.
Colosseum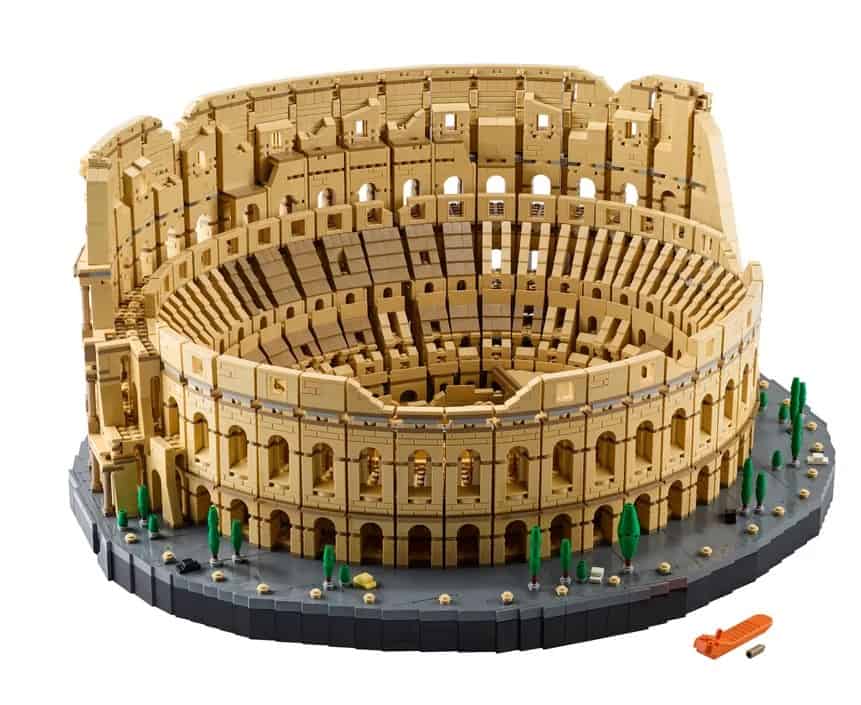 The LEGO Colosseum is another hard-to-find and coveted LEGO set. This is $549.99, significantly more than the Land Rover Defender, and still constantly sold out. This is meant for a more experienced LEGO builder, aimed at eighteen and older and clocking in at 9,036 pieces. When assembled, it's a sight to behold!
Pros and Cons of the Colosseum:
Pros:
Made for older people to put together; kids can still play with Minifigs inside the Colosseum (if they promise to be gentle…)
It is a perfect gift for a history buff or architecture enthusiast.
Once again, beautiful attention to detail and true to historical accuracy with the Doric, Ionic, and Corinthian orders columns.
Cons:
Nearly impossible to purchase; it's always sold out!
Another large and difficult piece to have in your home.
Very expensive.
This has no moveable pieces or secret compartments, unlike the Millenium Falcon and Land Rover Defender.
FAQs About Gifting a LEGO Set
Question: If the package says for sixteen and up, will that be challenging enough for my adult sister?
Answer: I think a sixteen and up LEGO set will still be fun for your sister. Putting together LEGOs is more than a challenge; it's a time to focus on the task of building, like doing a puzzle with instructions!
Question: Why do LEGOs make good gifts for kids?
Answer: LEGOs teach kids about engineering, following directions, and creating things brick by brick. They offer a high sense of accomplishment when the task is completed too. LEGOs overall can be great for giving kids confidence.
Question: Why do LEGOs make good gifts for adults?
Answer: LEGOs are suitable for adults who want to do something creative but not necessarily create something from scratch. It also serves as a fun display after completion.
Deciding on the Best LEGO Sets for Gifts
If none of the sets I've discussed above appeal to the LEGO enthusiast in your life, I still encourage you to look at the enormous LEGO portfolio. To say that there is something for everyone is an understatement.
And what are my personal favorites from these lists? I am a massive fan of the World Map if that wasn't obvious in my description. As a traveler and a general lover of learning about other cultures, it appeals to me. I also love the Caravan Family because it's three sets in one. I could also put it together with my nieces and then let them enjoy playtime. And finally, I would have to say that The Child is another favorite. My boyfriend and I love The Mandalorian, so I got The Child LEGO set for him for Christmas last year. I guess you could say I'm partial to this green cutie on my boyfriend's desk!
In the end, LEGO sets as a holiday gift can inspire and charm your friends and family. If you're on the fence about making the purchase, consider this your sign to go for it! Happy shopping and happy building!