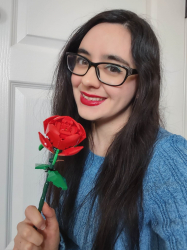 Latest posts by Samantha Valencia
(see all)
One of my biggest weaknesses is Disney merchandise. I love collecting Disney-related items, from dolls and books to music and LEGOs. As a result, I have a rather broad collection of Disney LEGOs, but one I should have picked up was the WALL-E from the LEGO Ideas line. However, that doesn't mean I don't love talking about it or that I don't have my eye open on the off-chance I'll come across it someday.
Most LEGO Disney products were centered on the Disney Princess merchandising line for several years. WALL-E was an exception and a very unique build. There has been much more variety over the past couple of years in the Disney offerings, including various minifigure series, Disney 100 anniversary offerings, the Disney Castle, a Toy Story line, and a Lightyear line, among others. However, Wall-E (21303) is a stand-out that deserves much love.
Find all about this set in this LEGO WALL-E review below!
Bottom Line Up Front
Original Price: $59.99

Current Price: Approx. $235+ (New)
Status: Retired

Piece Count: 676

Number of Minifigures: 0

Age: 12+

LEGO Theme: IDEAS

Released: 2015

Dimensions: 7″ high, 6″ long, 6″ wide
About WALL-E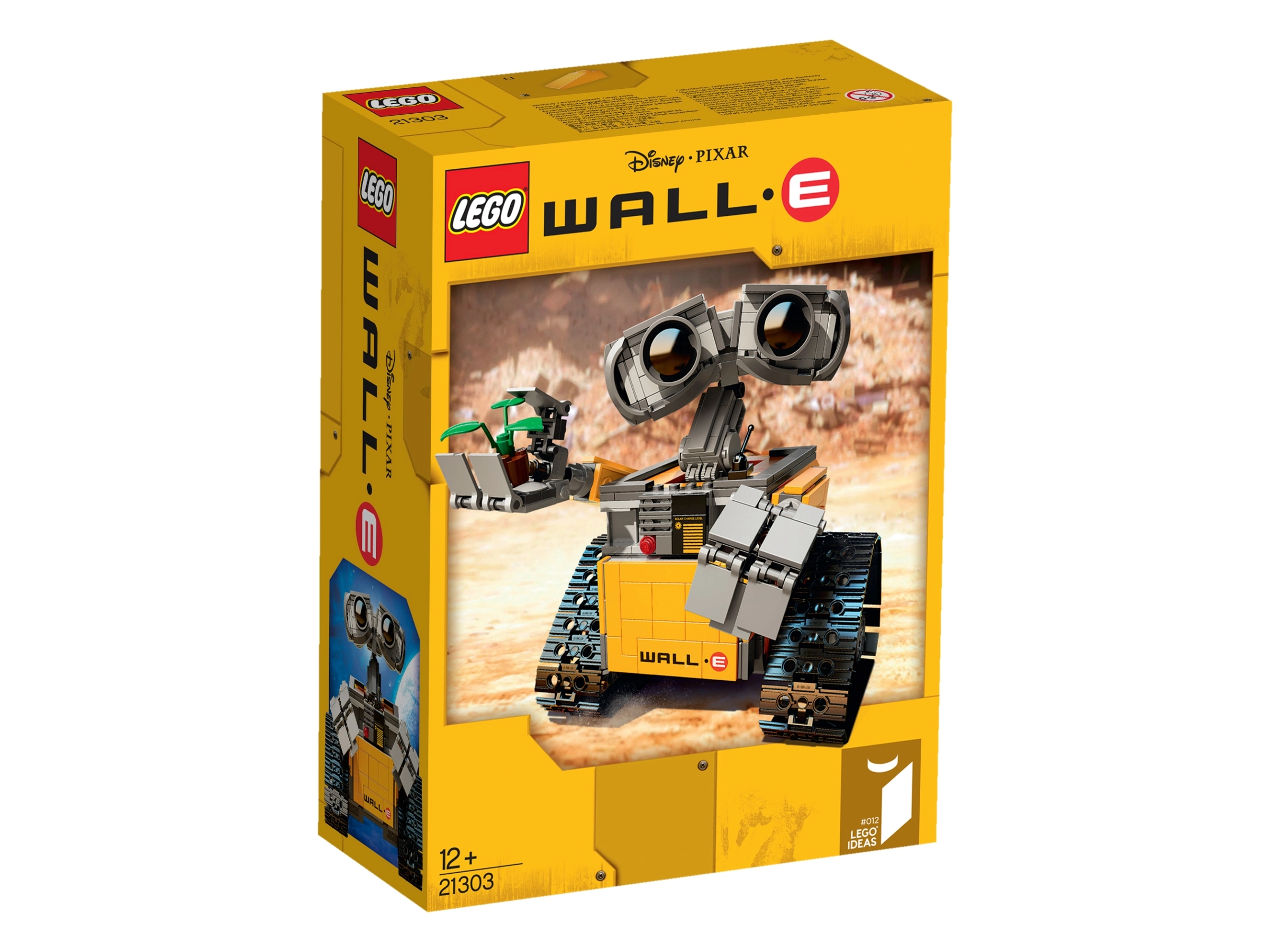 The LEGO IDEAS WALL-E (21303) set was designed and created by Angus MacLane – a director and animator at Disney Pixar Studios. He has worked on numerous iconic Pixar films, including A Bug's Life, v, Finding Nemo, Toy Story 3, and WALL-E.
Initially built as a reference model during the film's production, MacLane revisited his LEGO build repeatedly to refine it for years after. This IDEAS set was voted for by the LEGO fan community, allowing it to become an actual set for purchase. The build is naturally inspired by the titular character of the 2008 animated film.
WALL-E stands for Waste Allocation Load Lifter – Earth Class. This robot's job is to compact trash. However, this specific robot has outlasted others and developed a habit of collecting scavenged items that pique its interest. Unlike other robots, WALL-E has developed a personality and finds a seedling, which is rare as other robots are programmed to specifically seek out life. The film and its protagonist quickly became a fan-favorite in the Disney community, making this LEGO set rather popular.
The Build
This build is divided into nine separate bags. However, unlike newer LEGO sets, these bags are not numbered. As a result, builders will need to have a broad enough space to dump them all out. The lack of numbering means this is a set best built in one sitting. It doesn't have a piece count that would typically require multiple sittings, but this one would be best tackled in one go so nothing gets separated and lost.
If you come across this set and need breaks, I recommend having resealable bags (ex: sandwich or freezer bags) handy. This will allow pieces to be kept together readily for any required amount of time. The instruction booklet is noteworthy since it contains a lot of additional information as this is an IDEAS set.
I like when instruction books show some behind-the-scenes detail, which tends to be more common in LEGO's Ultimate Collector Series (UCS).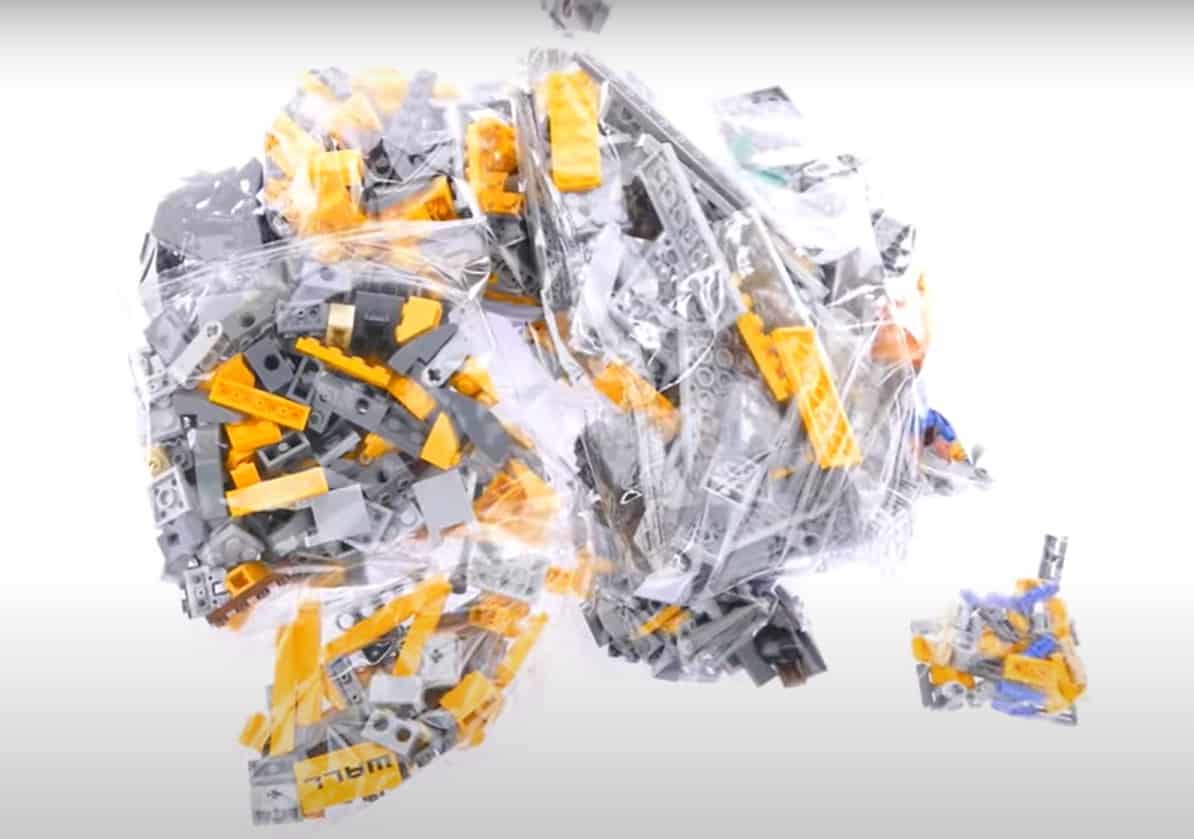 The beginning of this build is very straightforward. The base of WALL-E's core body is simple and easy to assemble. There aren't really any construction components that are complicated or out of the norm for most LEGO sets.
After the bottom and sides have been constructed, however, be sure to pay close attention to the assembly of the ball joint sliding elements. They must be placed correctly so the arms can move fluidly once attached on either side. Sealing up his body after adding these mobile parts is also very straightforward.
WALL-E's Hatch
The next portion of the build is the attachment of WALL-E's hatch, which goes right at the front. This is a really cool interactive element and is elevated by the presence of two printed pieces. WALL-E's name is printed directly onto two flat planks, allowing his signature to be incorporated very well.
I really appreciate that this set went with printed pieces instead of making them sticker components. While I like stickers, they can often be a pain, and LEGO has recently included far too many stickers over printed pieces (particularly on more expensive sets).
WALL-E's solar battery display is also a printed piece placed right above his hatch. Though there are only three printed parts, they are core elements of his design and are great details for LEGO to have included in this way.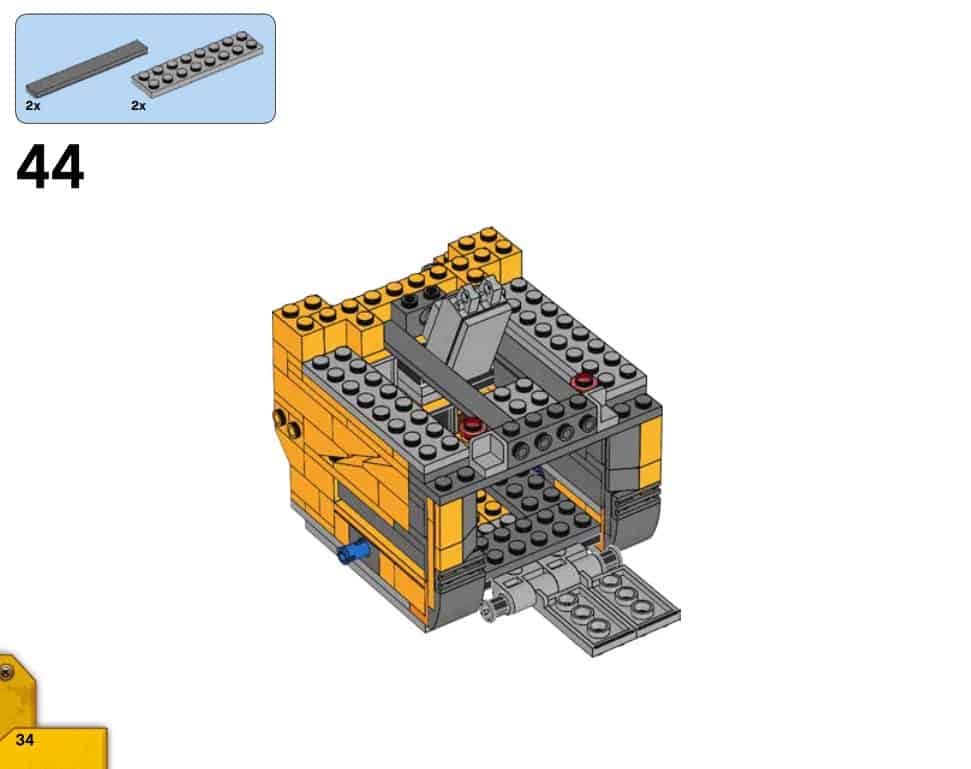 WALL-E's Treads
LEGO fans who have not built some Technic sets will likely need to take some time with the next portion of the build. After constructing his body, builders will make his treads. This element doesn't appear in standard LEGO sets since it is a less common aspect of the majority of LEGO's designs.
The Technic line's focus on different vehicle types has allowed for other construction techniques and approaches that are very effective for WALL-E's design. These builds can be tedious for hands inexperienced with them due to all the moving parts, but the final product is worth the time and effort!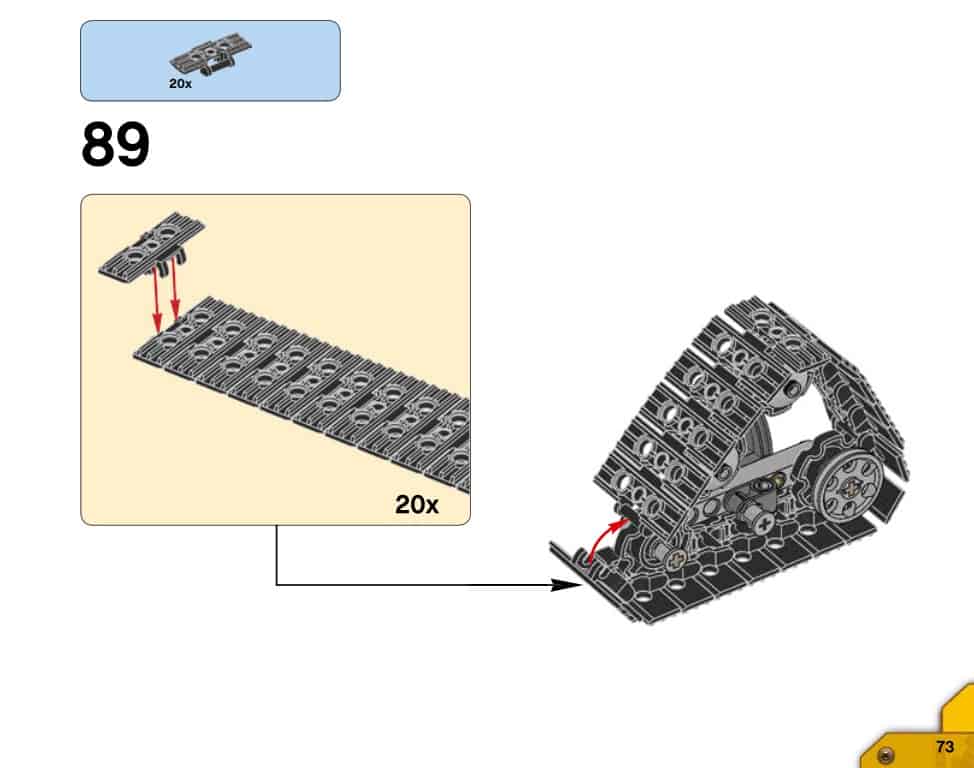 Final Aspects
Once the treads are completed, WALL-E's neck and eyes are the next point of focus. Like the base, they are actually relatively easy to assemble and attach. A stand-out component of this section is the antenna tubing that connects to the back of his head. It isn't an aspect I see in many builds, making it an enjoyable design element for this set.
After attaching his eyes, builders will assemble WALL-E's arms, which have a lot of articulation capabilities. His "fingers" can be adjusted, making them appear open or closed. They can also rotate, while his arms can slide along the opening incorporated during the body section of the building process.
With WALL-E completely built, the last two components are the easiest. The sapling the curious robot finds is included in this set and is made up of just four pieces. This is one of my least favorite aspects of the build.
The pieces look like a pot instead of a boot, which is an iconic item in the film – and among Disney iconography! I would've preferred a couple of extra pieces to make this appear more like the shoe, and it's an element I would recommend customizing for more authenticity.
However, the highlight of this element is that WALL-E's hand can close around it and hold it. His grasp is noteworthy and adds a fun element to his articulation.
Also included earlier in the build is a two-piece version of his roach friend. I hate roaches, so I appreciate that this element doesn't look like the bug in the end, though its inclusion is commendable from an attention-to-detail standpoint.
Pros & Cons
| | |
| --- | --- |
| PROS | CONS |
| Size | New Price Post-Retirement |
| Displayability | Rarity |
| Posability | Organization |
| Original Price | |
Best Things about LEGO's WALL-E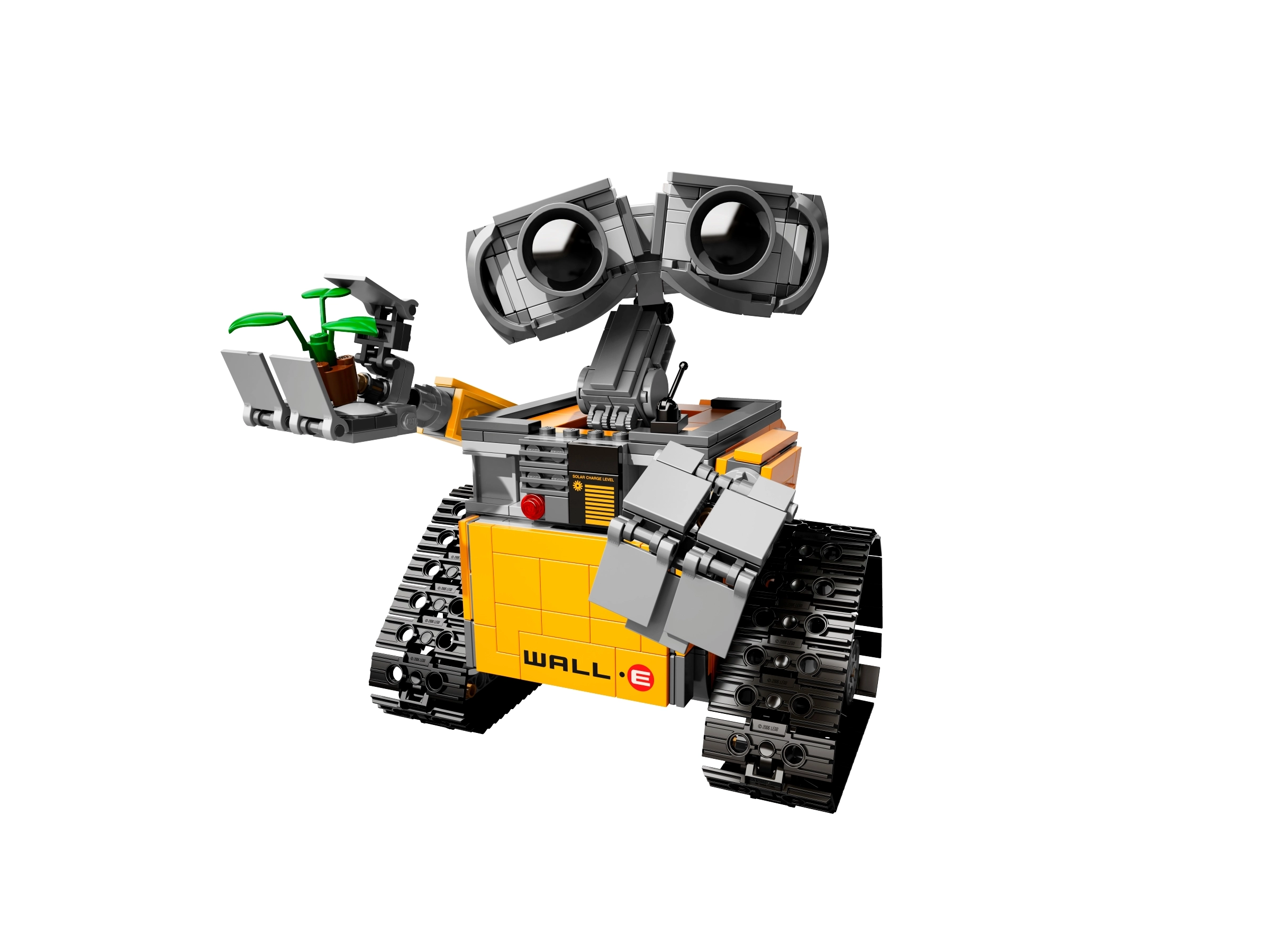 This set has a lot of positive aspects. When it was released, it was an excellent price, particularly given the size and articulation of it. It had a $0.08 piece-to-price ratio, which means each piece cost approximately eight cents. With the best average being around ten cents a piece, this was a bona fide deal for LEGO fans.
LEGO's version of WALL-E is rather large relative to other sets on the market, making it a wonderful display piece. Seven inches high putting it equivalent to some action figures. The height is a definite plus for display, which this set is perfect for. This WALL-E does not come with additional props aside from the small sapling. He also doesn't have any setting components, making him very independent. As a result, fans can customize his placement and allow him to explore our world wherever they'd like.
Regarding display, WALL-E is also great because of his wide range of articulation for posing. His arms can be moved forward and back to change their range while also being able to rotate on the ball joint component of the build. His eyes also move, adjusting his expression and providing a wider range of emotion.
If that wasn't enough, his head can also be locked into place or unlocked to adjust its height. Although looser, it allows him to look down – which is great for moments when fans want him to appear as though he is inspecting something in front of him.
Worst Things about LEGO's WALL-E
The worst thing about this set is that it is a retired product. It can no longer be found on store shelves and is not available in the official LEGO shop anymore – online or in the physical stores. The availability is a big downside since this is a well-designed set with great value in terms of price, size, and maneuverability. Fans who want this set will have to spend time hunting it down, although finding it will be the least of our worries.
The other bad thing about this set is its price has risen significantly due to its lessened availability. With it being rarer, a premium is expected for its purchase. It is retailing brand new from some resellers at base prices of $235 and $250. Brand-new, sealed boxes start there and rise.
Used sets run lower, but consumers run the risk of missing parts, a lack of instructions, a lack of the box, and still paying a higher price than the original MSRP. However, the set will have a higher potential sentimental value for the biggest fans, which could offset the rising price.
In terms of the set itself, the one major downside is how it arrives. LEGO fans who have purchased newer sets will note that they come with numbered bags that correspond to sections of the provided instructions. This set didn't use that approach in its organization of pieces.
None of the bags are numbered, despite there being several separate ones. As a result, builders will have to sift through a few more parts throughout the build. However, this isn't a dealbreaker on the overall set and is more of a minor inconvenience.
Play vs Display
This set has much play potential, but it shines as a display piece. The arm, neck, and eye articulation make for various display poses. It would also allow for quite a bit of playtime options. With the opening hatch in the front, small hands could easily stash away quite a few items into the "trash compactor."
However, the treads do not move as easily as other tread styles since these are built for stability more than motion. These treads keep their shape very well and are a harder plastic than those in other sets that roll easier. As a result, WALL-E has limited mobility and doesn't roll around very easily.
However, his range of motion for emoting is high. This means he can have a variety of poses while on display, which can be easily adjusted when fans desire. WALL-E would go perfectly on a bookshelf or on a living room display with fans' movie collections. His sleek appearance and articulation make him perfectly suited for showing off and being photographed from various angles.
While he has some play potential, his design is too great not to present to visitors when possible. WALL-E is sure to bring a smile to the faces of those who have him in their home – I know I'd be smiling if I saw this curious and adorable robot regularly!
Is LEGO Wall-E Worth the Price?
If this were 2015 when this set was released, I would say that the LEGO Ideas WALL-E set is definitely worth its price. It was a steal from almost all angles. The articulation and emotional abilities of the character made it very worthwhile. It was also a specialty build that Disney and LEGO fans rarely see. I would have called this a must-buy LEGO set back then.
Now, in 2023 with it being much rarer, it's harder to say. For most LEGO fans, the astronomical increase due to lessened availability won't be worth it. At this point, it would be much more suitable for collectors and diehard Disney fans who love WALL-E. Otherwise, the piece count doesn't justify a cost of over a hundred dollars for the average collector and builder.
However, if a fan ever came across this particular set secondhand in a garage sale or secondhand store with it being largely intact for under its present price – maybe even closer to the original MSRP – I'd say grab it without hesitation. It would likely be a steal if there weren't many pieces missing and it was in good shape. It's a stunning collection piece worth having in general.
Best Alternatives
With this particular set being off the broader market, Disney and LEGO fans likely need something a bit more accessible. For Disney collectors wanting a small set, but still a bit of a premium option, I'd suggest the mini Disney castle.
For WALL-E fans, LEGO has another adorable offering in a smaller size than the original IDEAs build. EVE & WALL-E are available in Brickheadz form (40619) and are a cute pair. WALL-E still has his signature sapling, though he also has a toolkit.
Another great standout potential collector's display piece is the 'Up' House. Carl Fredrickson's floating house is available and includes minifigures of the home owner and his Wilderness Explorer sidekick Russell. For very affordable playtime potential, I also recommend the storybook line of sets – many of which I have in my collection.
There is one for the live-action Little Mermaid, which is very cute. The figures in these sets are smaller than average, but the books seal up to display very well. Another exceptional Disney IDEAs set is Winnie the Pooh, featuring the lovable bear's home in the Hundred Acre Woods.
FAQS
Question: When did WALL-E release?
Answer: Disney Pixar's WALL-E came out in 2008.
Question: What does WALL-E stand for?
Answer: WALL-E stands for Waste Allocation Load Lifter – Earth Class.
Question: How many Disney LEGOs are there?
Answer: There have been over 100 Disney LEGO sets, ranging from Duplo to Friends lines and Brickheadz, among others. Many are retired.
Conclusion
WALL-E is one of LEGO's best Disney sets ever offered. The design and overall features are exceptional, making it a staple for Disney LEGO fans. Being designed by one of Disney Pixar's creative minds elevates its authenticity and collectability – particularly for Disney aficionados.
Unfortunately, its availability makes it tough to get ahold of these days without paying much more than the original price. Nonetheless, if the opportunity arises, I recommend adding it to your collection if you're a Disney fan.
Related Reads: