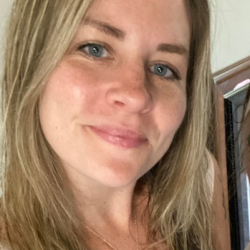 Latest posts by Thea Engst
(see all)
There's not much that the Mandalorian touches that doesn't turn to gold these days. The first two seasons of the Disney show The Mandalorian swept the nation immediately and the character of the Mandalorian made a lot of people happy when he appeared in the concluding episodes of The Book of Boba Fett this year.
And while this home run of a storyline from the beloved Star Wars franchise seems to do no wrong, the question of this article is, can LEGO also do no wrong when working to represent and recreate the Mandalorian's spaceship, the Razor Crest?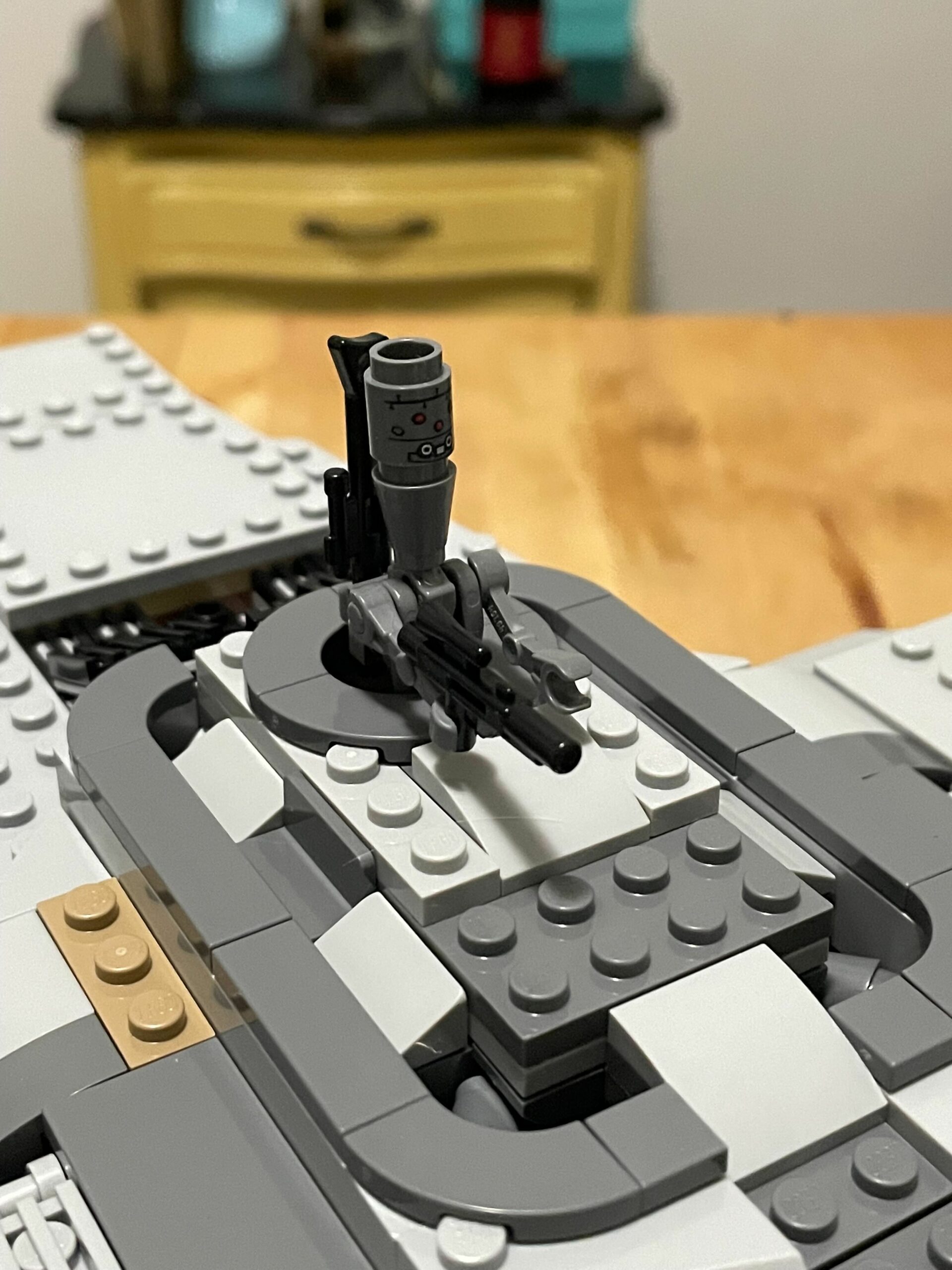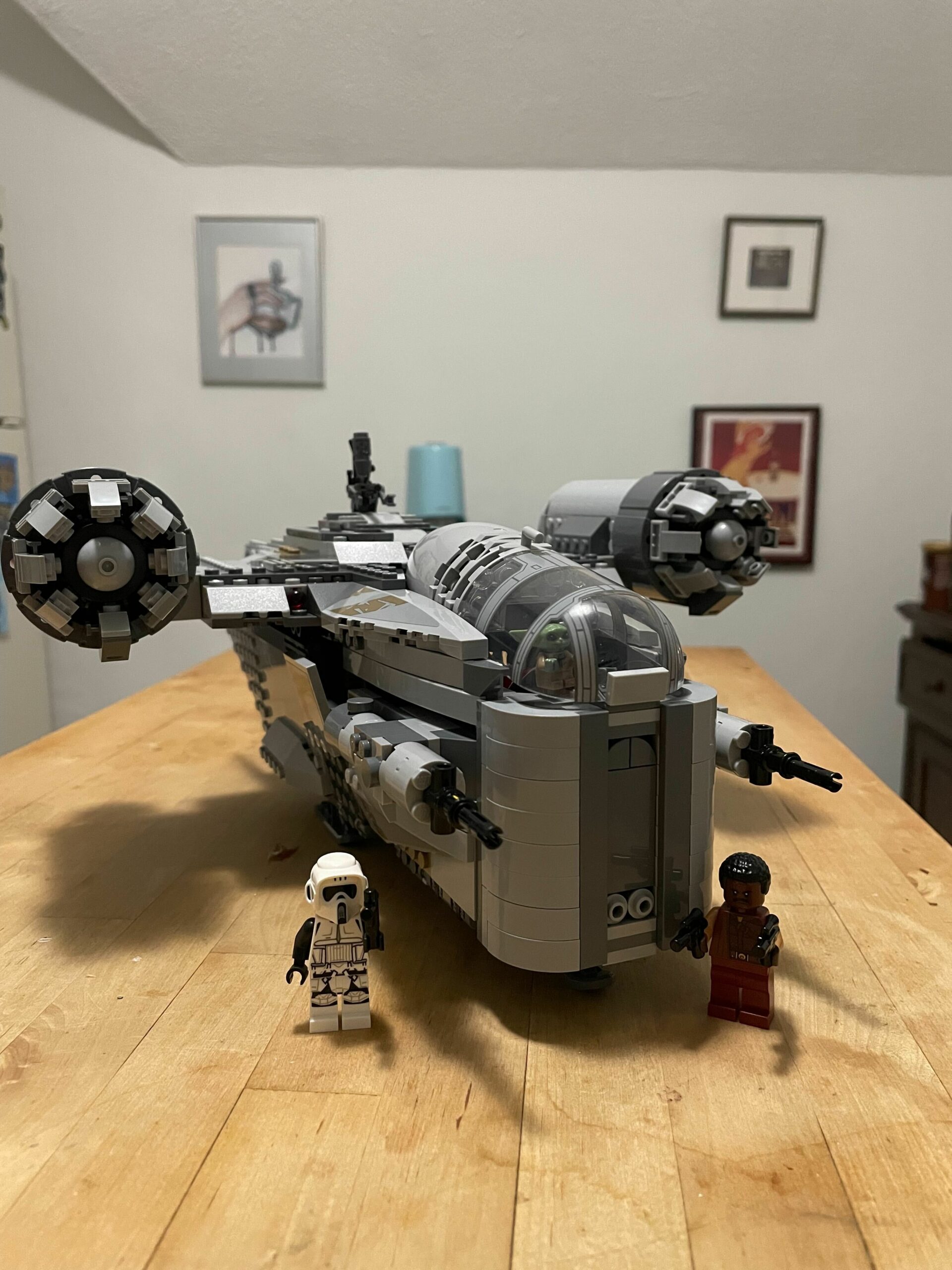 I'm here to talk to you about The Razor Crest LEGO set, if it's worth the price tag, how challenging the build is, and how good the Minifigures are.
Bottom Line Up Front
This is a great set. I can see why it's been so well received, from the Minifigs to the building experience to the final product: this is a great success. The Razor Crest LEGO set, in my opinion, is worth the $129.99.
The Razor Crest LEGO Set Nuts and Bolts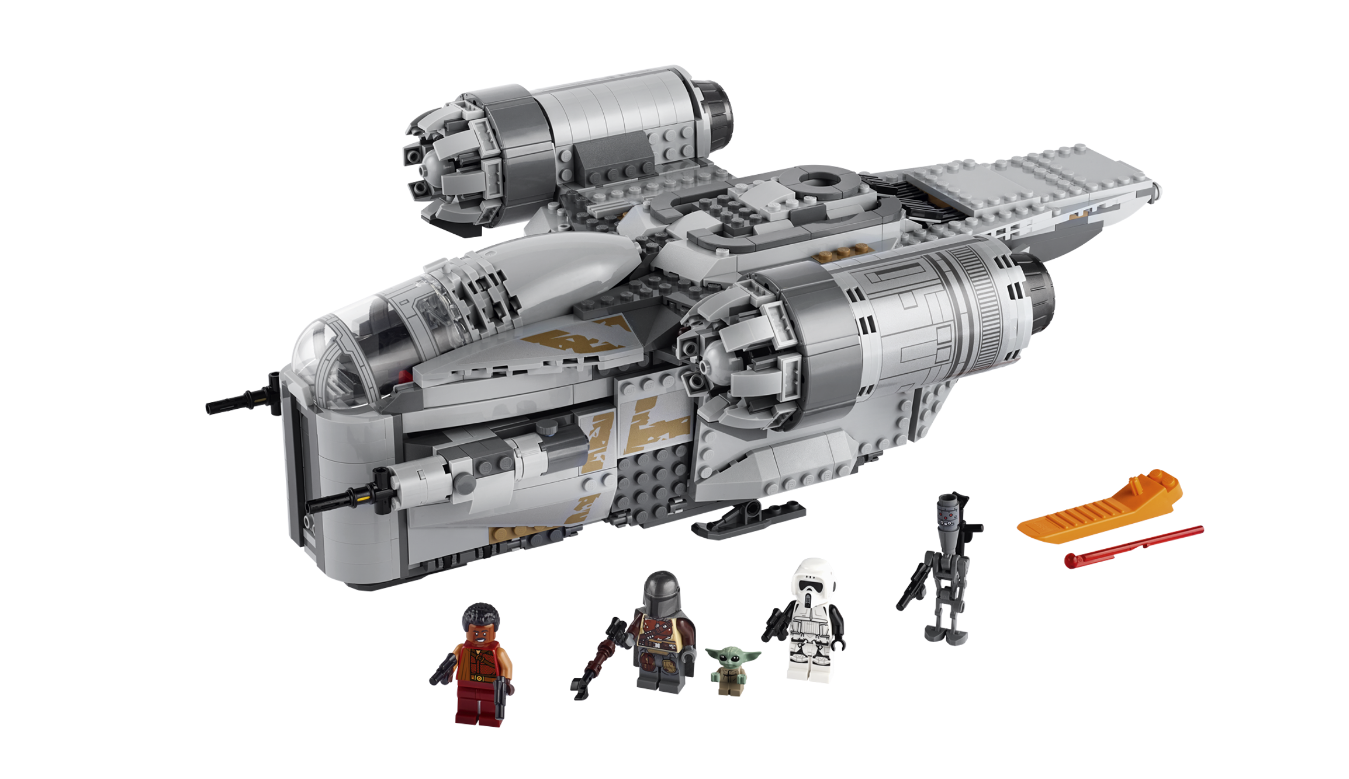 The Razor Crest LEGO set is 1,023 pieces, is aimed at ages ten and up, and costs $129.99. And here's the kicker: it was named Toy of the Year by the Toy Association in 2021. That's a pretty impressive accolade, so impressive that LEGO even includes that on their listing of the Razor Crest on their website.
The set is a buildable creation of the Mandalorian's iconic ship, the Razor Crest. It also includes four Minifigs of the Mandalorian himself (yay!), Greef Karga, a Scout Trooper, and of course — the Child aka Baby Yoda aka Grogu. The set also has the buildable droid IG-11. I will discuss the Minifigs and this droid in more detail in a moment though, let's talk about building this ship!
I was able to complete building this ship in a few hours with the help of my boyfriend. It only had six bags, some of them having more than one part. Overall, I'd say it was a fairly approachable build. I made a few mistakes, but what else is new? I'd also say that LEGO opted to add the feet of the ship a little early for my taste because once those are on, every click into the build is balancing on those two little chicken legs. It was a little nerve-racking each time I did so and my boyfriend agreed.
And while I make my own fair share of mistakes, I did, however, find a mistake by LEGO. In the booklet, which I followed as closely as I could (especially after my mistakes!)

I found on page eighty-seven, step 109, in the first key (pictured to the left) it calls for one copy of a certain brick, but you can see that on the right side of the page, in yellow, it calls for two. This is a small mistake, but kind of surprising to me coming from LEGO. I even stopped to double-check and second-guess myself, because I assumed the problem was me, not LEGO. I've truly never seen this before and my boyfriend hadn't either. I had to point it out, even though it's not a big deal at all.
In the end, the finished product is really just so cool. The ship is a great size and despite those tenuous feet it stands on, it's very sturdy. From the front to back, let's talk details!
The front is a cool, two-piece clear plastic shield, under which is the control room. You can remove half of the windshield to place the Mandalorian (or whoever you want to be driving). I would have loved for this to be a hinged feature for LEGO, and I don't know why they did it this way. You have to pull the piece up, whereas a couple of joints would've been a fun, more true-to-life option.
Anyway, I love that you can see inside. I removed the cover for a better picture, but both Grogu and the Mandalorian fit in here with the top on, which I love. LEGO did a great job making that possible.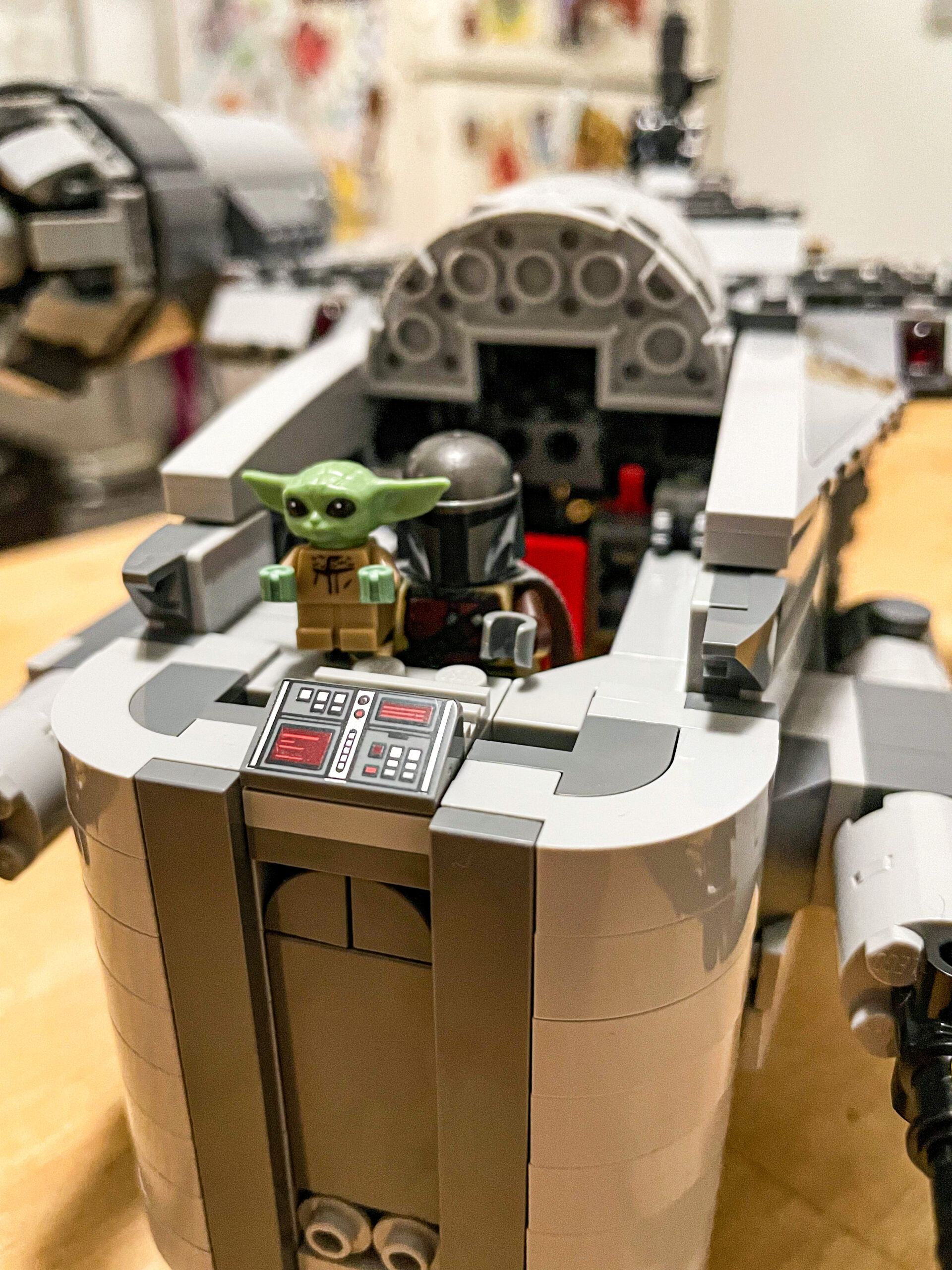 Moving along down the sides, both the left and right sides of the Razor Crest are the same — on the outside at least — but we'll get there! Both sides have three moveable pieces for doors to come down to allow for the Minifigs to come and go. There are stickers along the side to show the wear and tear of space life, and the two front panels which move also have buildable guns (obviously).
I love that these doors come down, it really opens this set up and takes it from a mostly build-to-display set to equal parts build-to-play and build-to-display set.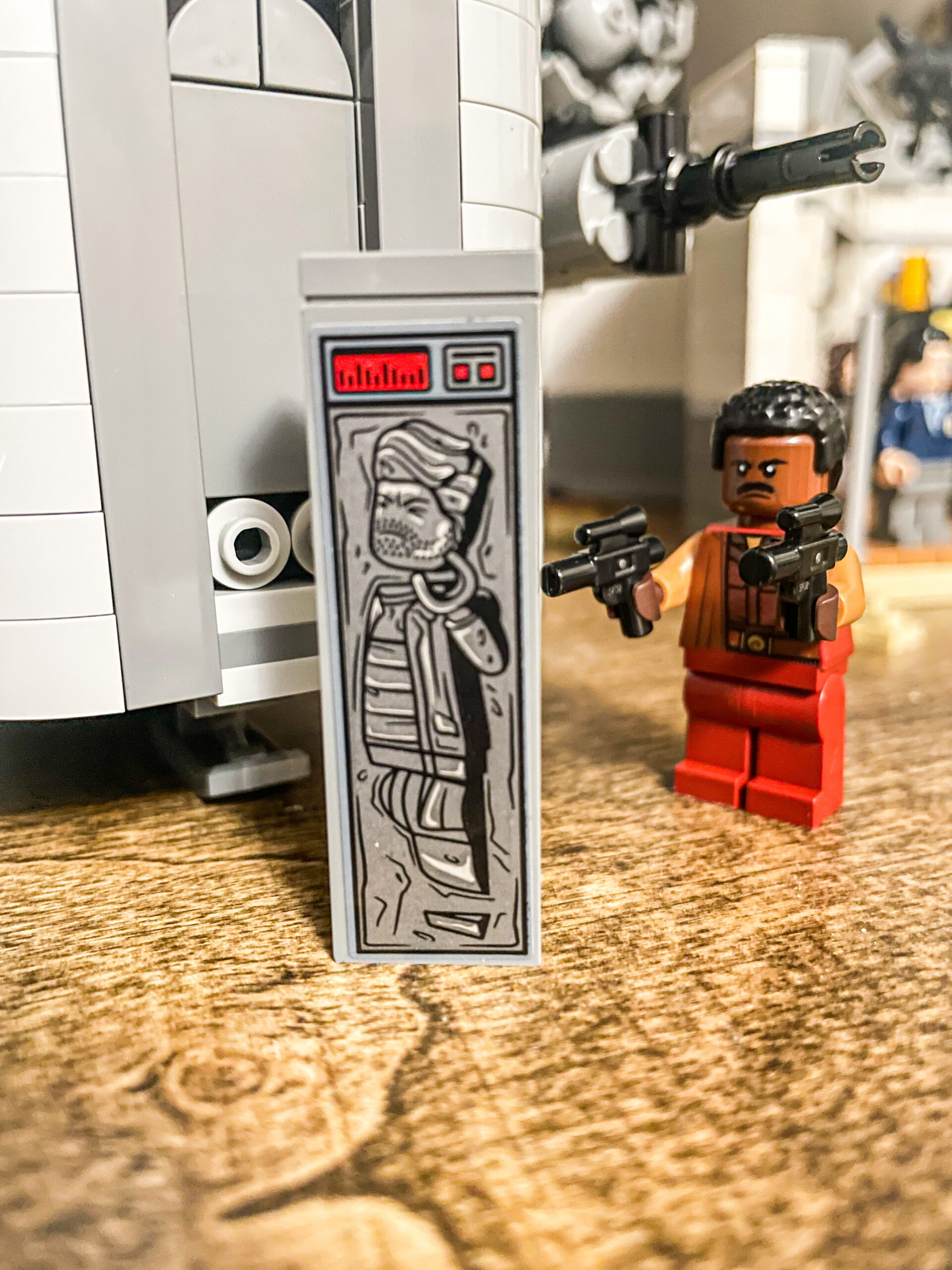 And when you pull down the door on the left side, you will find a really cool, moveable feature. This isn't something you would necessarily notice if you didn't build the set personally, but LEGO has included two of the Mandalorian's bounties, stuck in carbonite a-la Han Solo in The Empire Strikes Back.
Not only do I love that LEGO included these guys, but you can actually simply slide the bricks the stickers are on out, so you could be moving these bounties along with you, depending on the game you're playing with these LEGOs!
The back of the ship does get a little boring, which is somewhat to be expected. Still, LEGO makes sure that the engines have fun, yellow bricks to appear as though they are glowing which is always fun. And they even have yet another opening door in the back. So you could definitely pull down all the moveable doors here and have a fairly open space to play with Minifigs. It's details like this that I believe contributed to this set winning Toy of the Year in 2021.
However, I hope you're starting to see why I am so perplexed about LEGO not making the cockpit of this ship something you can open and close with a hinge or joint. Especially since they weren't afraid to use LEGO Technic to create this ship at all.
Along the top of the Razor Crest is a little console for the IG-11 droid to click right into and man the guns. He clicks in securely, so you won't have to worry about him bouncing out if you're moving the ship. You can also remove him and have him out to join in any on-the-ground fun.
There are also cool details like grated bricks to create the illusion of fans on the outside of the ship. Overall, this outside isn't too tantalizing. But the build of the jet engines is really neat and has a super cool effect. And again, I really love those moveable doors.
Pros and Cons of The Razor Crest LEGO Set:
Pros:
All of the doors come down, including in the back, which makes this a really fun set to play with for kids but it also makes it aesthetically fun and versatile. You can make the ship look different daily if you want!
The set includes four awesome Minifigs and one buildable droid (IG-11).
This is a great depiction of the Razor Crest from the show The Mandalorian.
I love the details of the stickers depicting prisoners frozen in carbonite, and I think it's nothing short of genius that LEGO makes them easily removable, so your Minifigs can transport their bounties.
For $129.99 you're getting a set with a challenging yet approachable build, four awesome Minifigs (and don't forget that IG-11!) and the finished product is cool to look at and fun to play with for kids.
Unlike so many coveted Star Wars LEGO sets, this set is available now.
Cons:
I don't understand why LEGO didn't make the cockpit something you could open and close with a hinge. You have to click half the shield out to put Minifigs in there, while meanwhile there are lots of joints and hinges throughout the build for other details.
There is a typo in the instructions on page 87, step 109. The step calls for one brick initially, then instructs you to place two in two separate places.
The set is $129.99, which is a lot of money to spend on one set.
The Minifigs of the Razor Crest LEGO Set
As I said before, the Razor Crest set has four Minifigs: the Mandalorian, a Scout Trooper, Greef Karga, and Grogu aka the Child. Now, LEGO classifies Grogu as a Minifig here but you need to know that he is about half as tall as the classic LEGO Minifig and he doesn't have bendable legs or moveable arms. His headpiece is also unique in that it's made of some kind of rubber, so the ears are a little flexible.
I can't get enough of this character, the LEGO recreations of him, and his general internet presence. So needless to say, I love that they included him in this set and I love that they made him smaller than everyone else because it's true to the show.
The Mandalorian is depicted in the first iteration of this character. LEGO now has a second version of the Mandalorian, in his fancy beskar'gam armor. (He appears in that armor for the first time in the Trouble on Tatooine set.) In this particular set, however, he is represented in an earlier moment of his life and the show's sequence. For that reason, his depiction is spot on.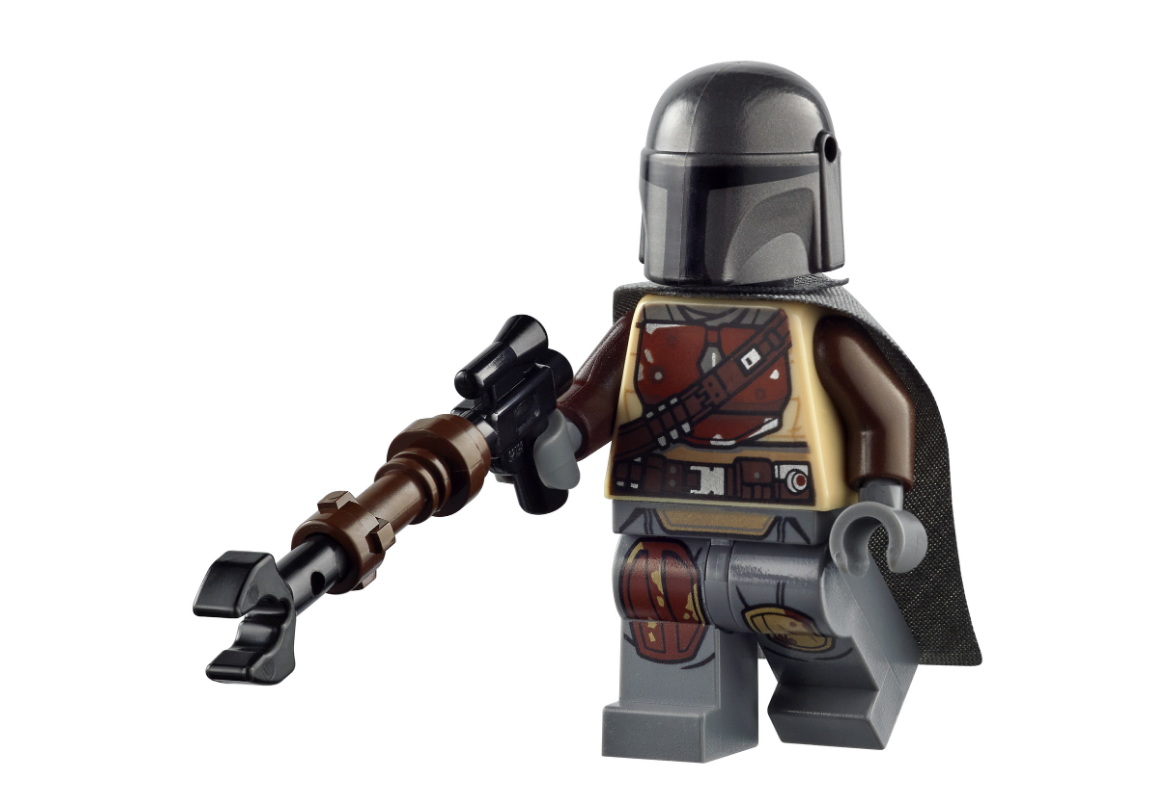 What I love about this Minifig is that his armor is dull but they still have shiny accents both on the front with a belt buckle and other accents. It even has shiny parts on the back, which brings me to another nod to LEGO. Even though the Mandalorian has a fabric cape, they didn't skimp on printing his armor on the back. The strap across his front with ammunition in it continues along his back, where there are more shiny bullets and another buckle.
His knee armor is really cool, different sizes and colors, true to the show. But my favorite part of this Minifig is that as a nod to the Mandalorian's culture and religion, his headpiece is completely black. The Mandalorian cannot reveal his face or remove his helmet in the show, and LEGO respects that by making his face hidden still, in Minifig form.
So finally, let's talk about that helmet! The helmet is simple, which I'm okay with. it's a dark gray that doesn't quite match the rest of the gray on his armor, with black detailing for his eyes and down the nose line. There are great curvatures along the sides and down the back, including a vent in the back. Despite the simplicity, the helmet is done really well. LEGO could have phoned this in but they didn't. Accessory-wise, the Mandalorian comes with his iconic and buildable gun.
Following his buddy the Mandalorian, is Grogu aka the Child or Baby Yoda. He is smaller than the Mandalorian and the other Minifigs, only measuring about half as tall. As I said earlier, his arms and legs, therefore, do not move. His larger, rubber head does turn and despite his tiny size, he has printed fabric lines on his front. And while I do think LEGO could've added more print on the back, I really love this little Minifig. My favorite part of the Child is that you can actually perch him on the Mandalorian's hand!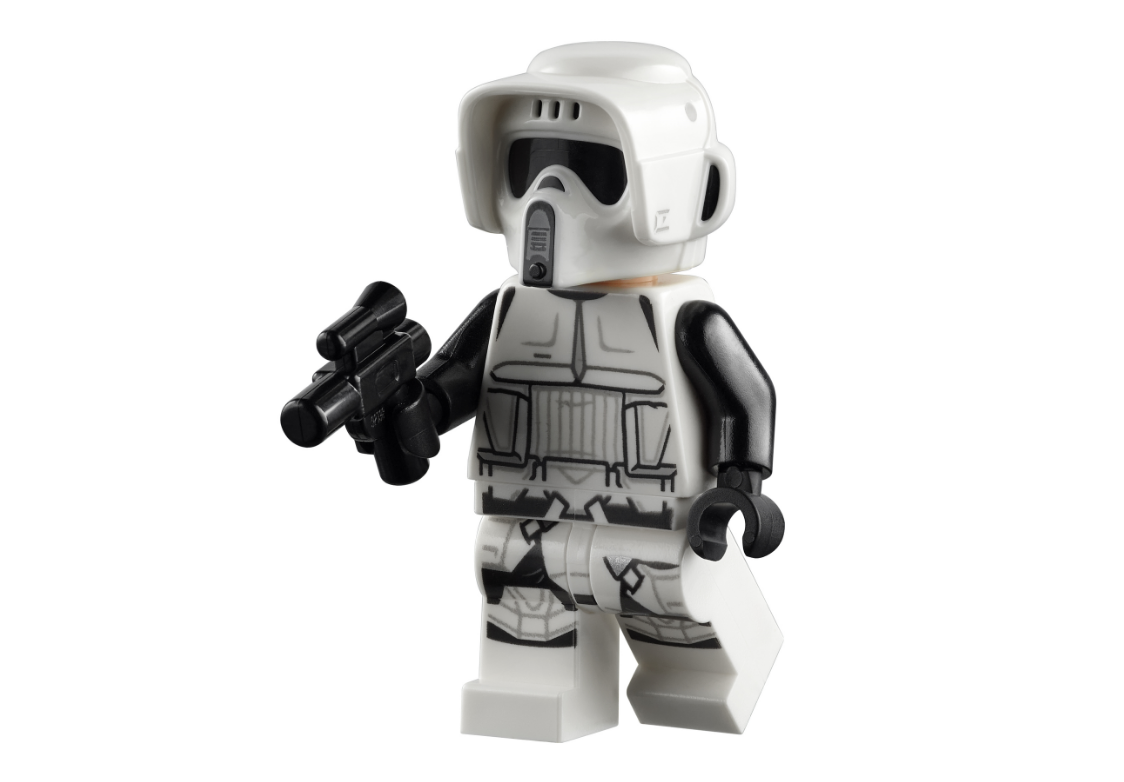 Unlike the other characters represented here though, the Child does not have any accessories. I count this as a miss because LEGO could've tried to create the round silver handle of the shift gear from the Razor Crest, which was his favorite toy and very appropriate for this set. However, Grogu's hands are so small, I don't see how LEGO could've had something he could have possibly held. Still, LEGO could make something special for Grogu!
Like the Mandalorian, the Scout Trooper has a ton of armor detail. In fact, he kind of gives the Mandalorian a run for his money with the details! He has great printed armor on his front and back, including a pack on the back and knee armor. His helmet steals the show for me, with a protruding visor with vents over the eye shield. LEGO even gives a black detail over the black nose.
Along the side, there are protrusions for the ears and the back has more black detailing and print for vents. When you remove his helmet, he is a single-sided face, that is scowling, which is on point! His accessory is a pistol, which is nothing really new for LEGO. Still, it's perfect for this Scout Trooper.
Finally, we come to Greef Karga. His hairpiece is perfect and so is his face design. He looks serious, scowling, and has a great mustache, and he is two-sided. His other side is a cool, confident smirk. Facially, LEGO nailed it.  His outfit, especially compared to the Mandalorian and the Scout Trooper, is very simple. While he has a lot of cool printed detail on the top, including buckles and straps, he has no detailing on his bottom half.
LEGO does have his back printed, which is his cape, which makes up about a quarter of his front. I don't understand why LEGO chose to do the print for his cape instead of a cape as they gave the Mandalorian. In fact, at first, I didn't even understand that's what I was looking at. This could be because Greef Karga wears his cape off-center, but I still think this could've been done better.
I think because the print doesn't go onto the legs, that makes the concept a little confusing at first. Greef Karga comes with two pistols, which are exactly the same as the Scout Troopers.
LEGO also has one buildable character, the beloved and brave IG-11 droid. He stands a little taller than the Minifigs and once the set is complete, fits perfectly in the center console, ready to fire at enemies. This guy is my favorite, I'm not going to lie! His legs bend at the hips and his head can also nod up and down and even backward. His head also has a cool perfect print for his facial lights. His arms are bendable exactly as the classic Minifigs are bendable and he's able to hold one of his guns.
He also has a clip on his back to hold another, larger gun, true to the show. I don't know what it is exactly about this buildable figure for me but he has a lot of personality, he's unexpected, and he's adorable. He steals the show for me.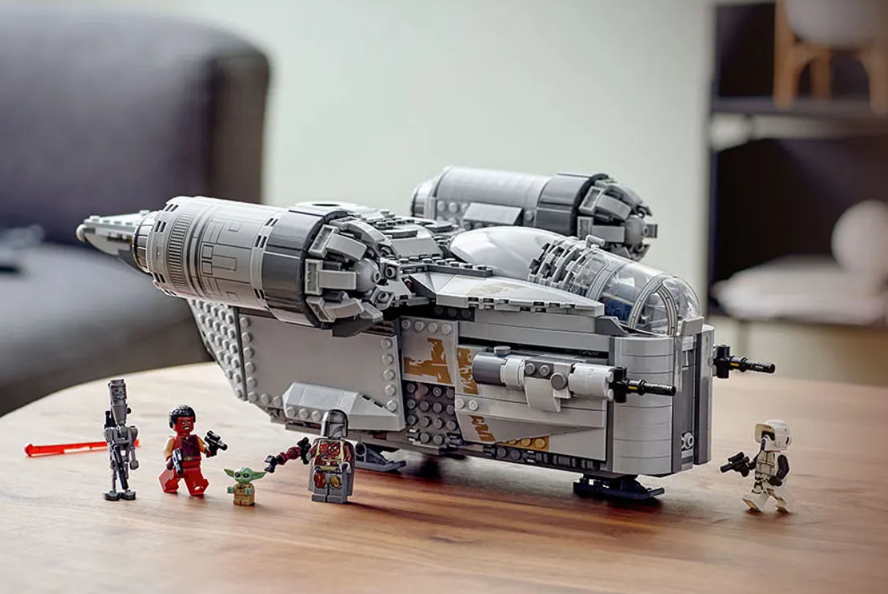 Pros and Cons of the Minifigs of The Razor Crest LEGO Set:
Pros:
The Scout Trooper's armor and helmet are wonderfully detailed and well-executed
The Mandalorian's armor is his more run-down armor before he gets the traditional Mandalorian armor, but they still have fun shiny accents on the front and back.
I love that LEGO chose not to depict the Mandalorian's face, true to his religion and culture.
Greef Karga has two facial expressions.
The Child is adorable, I love his huge ears!
The IG-11 is a fantastic buildable figure with perfect accessories. I love this figure!
Cons:
The Child should have an accessory.
I don't understand why LEGO gave the Mandalorian an actual cape but gave Greef Karga a printed cape.
Greef Karga has no details on his bottom half.
I wish LEGO gave The Child print details on the back.
FAQs About The Razor Crest LEGO Set
Question: Is this worth the price tag of $129.99?
Answer: I believe it is and that is for a couple of reasons. This set is a great build with awesome Minifigs, it's also a great set to have on display but if you have kids around, it's a great set to take off the shelf and play with. I believe a versatile set is worth a hefty price tag.
Question: How long did this take you to build?
Answer: I shared the responsibility with my boyfriend. But it took us about three to four hours to put together.
Question: Do you like the Minifigs in this set?
Answer: I love them. I think they have great details and have awesome accessories.
Question: What's your favorite part about this set?
Answer: Don't hate me for giving you two answers! I love that the doors all come down, making the set versatile and even more fun to play with. I also love the IG-11 droid, what can I say? I'm a sucker for this little guy!
Final Thoughts on The Razor Crest LEGO Set
Living up to the hype of The Mandalorian and Star Wars LEGOs, in general, isn't easy. The more sets that are released, the more LEGO fans expect bigger, better, and more surprising sets. So when the Razor Crest was released in 2021, it had big shoes to fill. Being named the Toy of the Year speaks for itself but after winning that award, it also makes a toy come under even more scrutiny a year later.
And to be honest, I am a little surprised this set won Toy of the Year in 2021 because there has to be some toy that is truly mind-blowing out there that changes toy cultures yearly. I don't consider this a life-changing toy in that sense, but I am not sure about the Toy of the Year standards. Still, this set is wonderful and worth the price tag.
In the end, while I do see room for improvement, I would one-hundred percent recommend this set. This was a fun, challenging but appropriately challenging, set to build, with a really awesome display to have afterward. And when kids are around, I have no problem taking it off the shelf and putting it on a table for them to play with.
I would recommend this set for someone with or without kids, I'd also recommend it for someone who loves The Mandalorian but isn't quite sure about LEGOs. And if you're a LEGO fan and care about The Mandalorian in any sense: buy this set.
Recommended Reads: