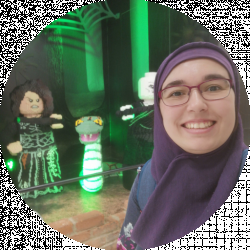 Latest posts by Melika Jeddi
(see all)
LEGO is one of the most popular toys around and is loved by adults and children alike. Their ranges cover a broad range of interests and franchises, and there's a set to appeal to pretty much anyone. However, out of all their franchise-based ranges, there is one that stands above the rest as the most popular. Star Wars. Not only is it the most popular range based on external franchises, but it even beats out most of the more generic ranges, and is right at the top alongside LEGO City. So in this article, we're going to take a look at the very best LEGO Star Wars sets!
Now, understandably, the 'best' doesn't come cheap. Several of the sets in this article will be very expensive items, but you can rest assured that the quality is equally exceptional. There are some absolute gems out there, so read on to see some of LEGO's fantastic builds in their Star Wars range.
The Inspiration
Owned by LucasFilm, Star Wars is one of the most popular franchises in the world, worth billions of pounds. It's also pretty much the epitome of the well-known literary arc, The Hero's Journey. The first movie, Star Wars Episode IV: A New Hope was released in 1977, and since then there has been a cascade of media projects related to the franchise.
We now have 9 main movies (the original trilogy, the prequel trilogy, and the sequel trilogy) and standalone such as Rogue One and Solo. Disney + has also been steadily releasing a range of shows set in the Star Wars universe. My personal favorite is The Mandalorian because I adore The Child, but Obi-Wan Kenobi is also excellent.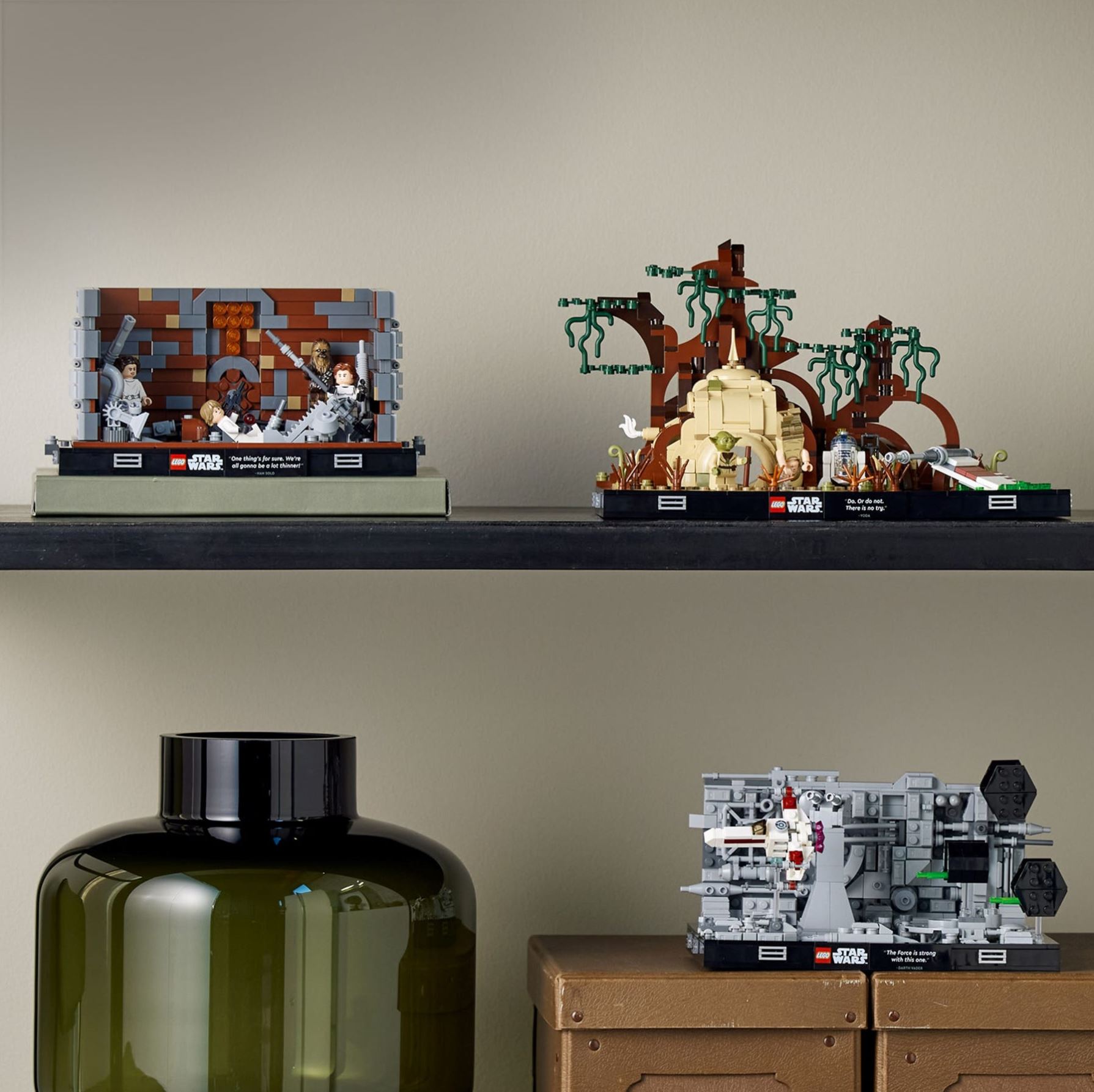 Sci-fi fans all over the world are enamored with Star Wars, and it has a cult following. There's so much fascinating lore surrounding it, and even the most minor of side characters will have a full backstory available. If you wanted to delve into a fandom that would keep you continually occupied, there's no better franchise than Star Wars.
LEGO have had a long-lasting partnership, and have created sets for so many classic moments from the movies and shows. These scenes, characters, and settings are deeply meaningful to fans, so it's wonderful to see them available in LEGO format.
Selection Criteria
When picking the best LEGO Star Wars sets, there were a few major features that I was considering. I wanted to make sure that I was selecting the very finest that the range had to offer. So, these are the criteria that I took into account:
Available. The last thing I wanted to do was get your hopes up by suggesting sets that had been discontinued and could only be found at extortionate prices on shady upselling sites online. So I made sure that all the sets in this article are ones that are available to be bought directly from LEGO or other retailers in 2022.
Value for Money. Note that this does not mean cheap. As I stated in the introduction, a lot of the sets in this article are on the upper end of the price category. However, I do think it's important that a set feels worth the price that you're paying. So if the size is considerable, the overall build looks incredible, and it's well-designed, then in my opinion that makes it worth the higher price points.
Display ability/ Playability. A good Lego set should either make for an incredible display piece or be a really fun and interactive toy. Or both. So with this article, I was primarily looking for sets that were truly impressive to look at. I'm talking sets that could be center stage on a shelf or in a display case. However, I was willing to make exceptions on the aesthetics for sets that had fun interactive elements and plenty of minifigures for people to play with.
Relevance to Star Wars. Let's face it, if you're looking up the best Star Wars Lego sets, it's probably because you're a big fan of the franchise. And so you're going to want the sets to be reflective of important scenes or settings, not just to be loosely related. So I've chosen sets that are immediately recognizable as being Star Wars related, and which allude to exciting moments from the movies and TV shows.
Best Sets Based on the Star Wars Movies
For this section, I'm looking for sets that are themed around any of the 9 main series movies, or standalone movies such as Rogue One and Solo. There are some wonderful selections here, so let's take a look!
Mos Eisley Cantina (75290)
The Mos Eisley Cantina 75290 set is a great purchase at $349.99. I recently had the joy of building this one, and it was an incredible experience. There's so much rich detail in this set, and you can really immerse yourself in the Star Wars environment. The set is inspired by the classic scene in Star Wars Episode IV: A New Hope where Luke and Obi-Wan first meet Han and Chewie.
Mos Eisley Cantina comes with 21 minifigures plus an R2-D2 and a Dewback figure. This not only allows for countless play opportunities but is good news for collectors who often prefer minifigures to full builds. There are also several minifigures that are unique to this set and portray characters who haven't appeared in LEGO sets before.
The build itself takes around 14.5 hours, so provides plenty of entertainment. There's great variety in the pieces, and it doesn't feel monotonous in any way. I really loved the simplicity of the instructions and found that there were few fiddly sections, and most stages came together nice and easily. I was also delighted to see that very few stickers were required, just a small sheet that covered the entire set.
Overall, this is a fantastic set, and certainly the one I'd recommend to anyone who was looking for playability. As a display piece, it's still great, although be aware that it does require quite a lot of space. The good news is that you can display it in many different ways, as the Cantina part opens up, and there are several detachable sections.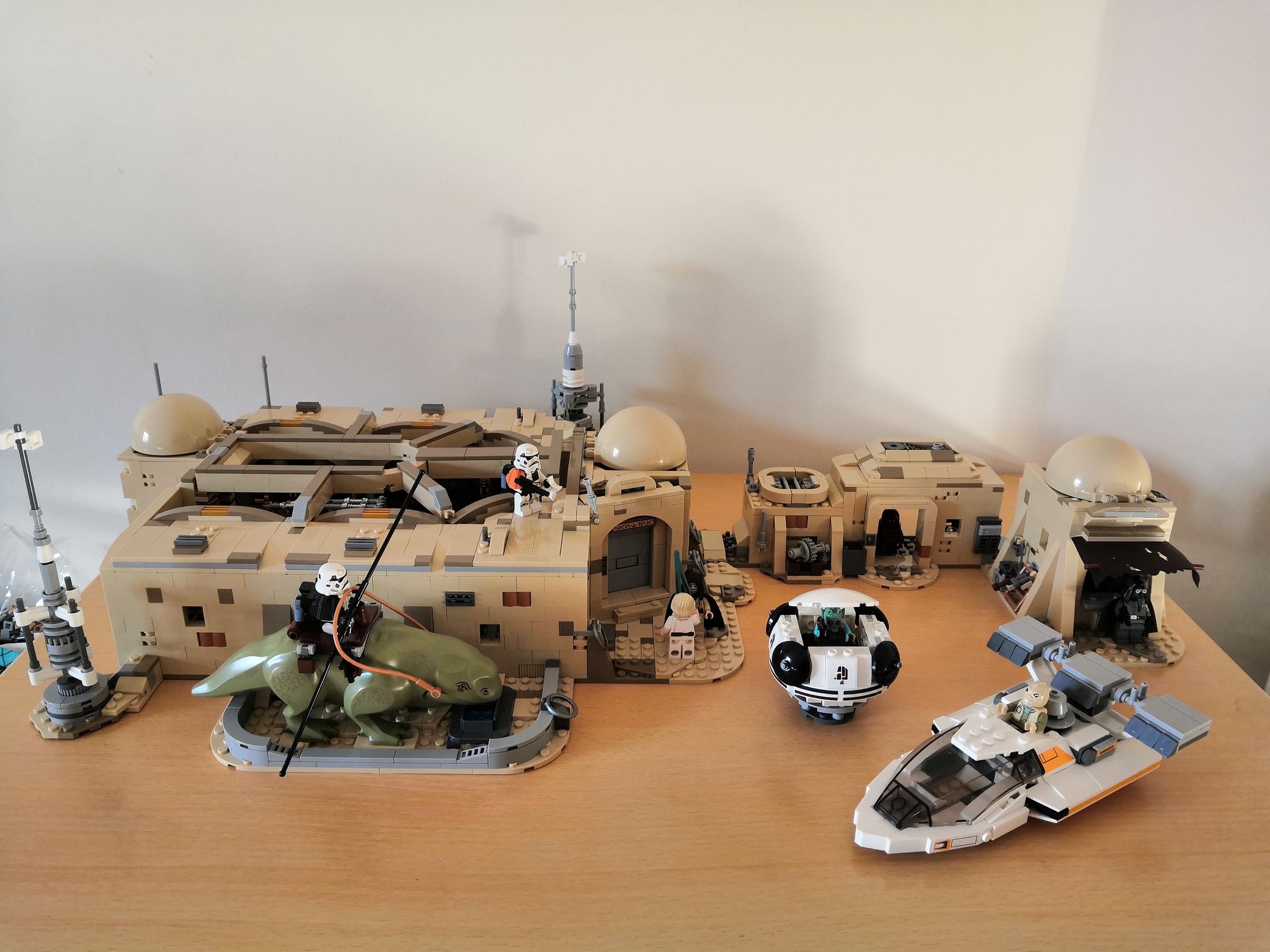 Pros:
Great fun to play with. As well as the set itself, there are 2 landspeeders, plenty of minifigures, and several interactive elements and accessories. You could have hours of fun playing with this.
Decent value for money. Even though it's expensive, you do get a large set for your money, that comes with plenty of pieces. The design is well thought out, and when you see the finished build, you can acknowledge why it is the price that it is.
Rich detail. Due to its large size, LEGO were able to squeeze in so many details. The shape is instantly recognizable, and the various interior locations are almost identical to how they appear in the movie. There's even a stage for the band to perform on.
Cons:
Unnecessary plastic waste. The set has 18 stages, some stages with multiple bags. All in all, there was 120g of plastic waste, which is definitely excessive in my book. A lot of those stages could easily have been combined with each other to reduce plastic. I'd like to see LEGO making steps to be more environmentally friendly in the future.
Awkward size. Because Mos Eisley Cantina has a sizeable width, depth, and height, it makes it rather awkward when you're looking for somewhere to put it. It's going to take up a lot of space regardless of which way you choose to display it, making it inaccessible for those with smaller homes.
Millennium Falcon 75192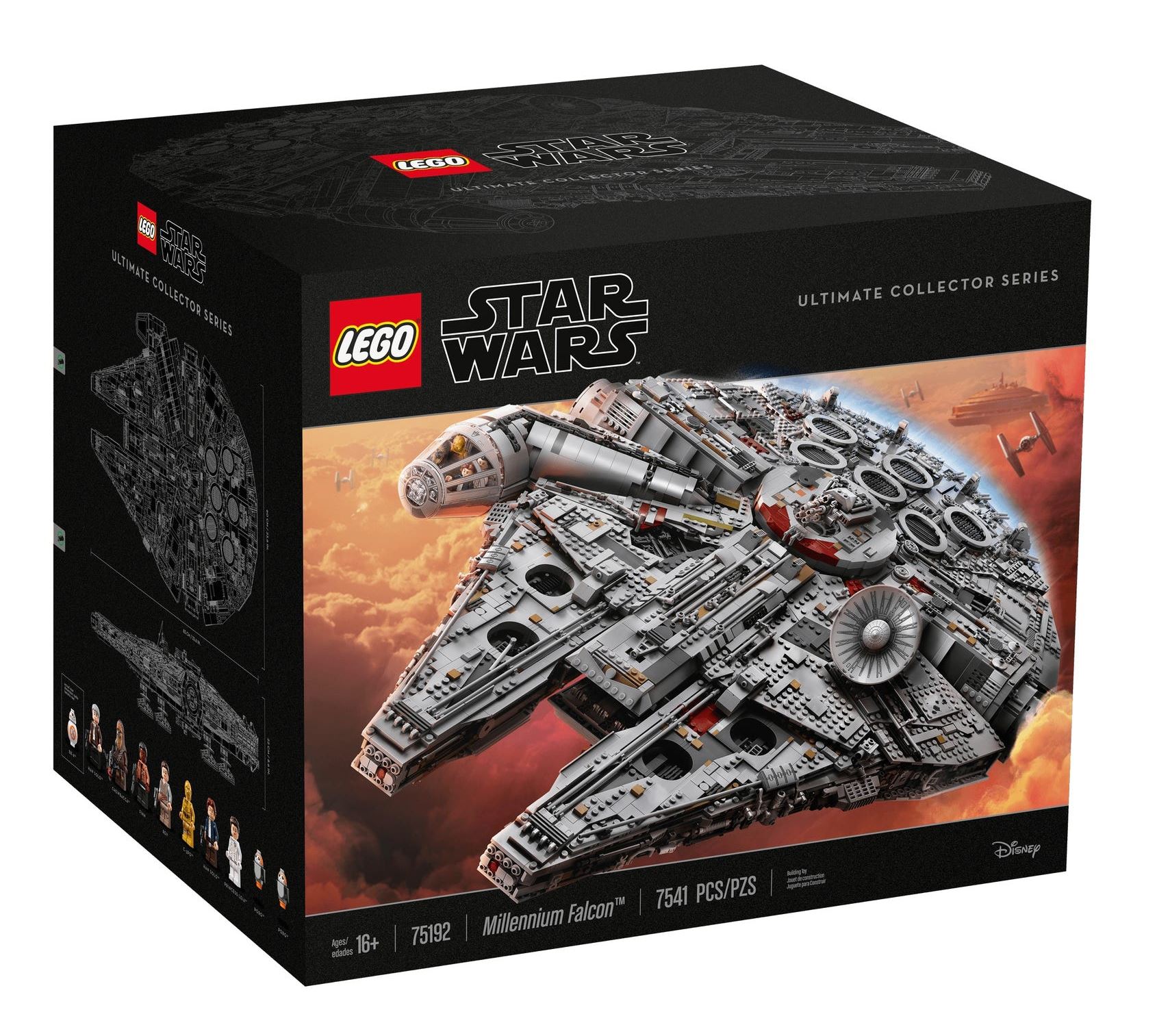 The Millennium Falcon 75192 set is certainly going to burn a hole in your wallet at a whopping $799.99. However, despite the incredibly high price, I truly believe this is one of the best LEGO Star Wars sets available, as it's absolutely gorgeous. The level of detail on this product is just phenomenal.
Honestly, I don't even know where to start with describing just how many features there are on this thing. There are so many removable panels so you can view the interior as and when you please, full of authentic details from the Millennium Falcon in the movie. There are also quad laser cannons that you can move around to simulate an intergalactic space battle. The set comes with minifigures for two different eras, so you can decide whether to represent the original trilogy or the sequels.
If you love the idea of this set, but can't afford the price, you could instead purchase the more affordable Millennium Falcon 75257 set at $159.99. This is the one on display in my living room, and it really does look fantastic, even though it lacks the scale of the 75192 set. It's certainly a very respectable alternative purchase.
Pros:
Incredible attention to detail. This set captures so many specific parts of the Millennium Falcon. It looks so authentic, and even the inside is intended to be an almost perfect replica of the ship from the movie.
It's almost perfectly to scale. It's not quiiiite minifigure scale, but it's super close. Someone did the maths, and minifigure scale would need to be 1:45, and this set is 1:41.5. This means that it's 92% to scale, which I think we can count. It's great to give you a visual idea of how big the real Millennium Falcon would've been in comparison to the characters.
Gorgeous display piece. If you're a collector, this is pretty much the ultimate addition to your Star Wars collection. It's a stunning product with accurate colors and shapes, and it even has a plaque to go alongside it. It's an impressive size, too, at 8″ (21cm) high by 33″ (84cm) long by 23″ (60cm) wide.
Cons:
Not many minifigures. The set has 7 minifigures, a BB-8 droid, 2 buildable Porgs and a buildable Mynock. That's hardly very many considering that this is basically an $800 set, and there are sets a fraction of that price which have considerably more minifigures.
Very large. Just as with the Mos Eisley Cantina, the size is both a blessing and a curse. While it certainly makes it more of an eye-catching display piece, it's prohibitively large in terms of being accessible for everyone. Trying to make room for this on a shelf or in a display case could be a real challenge for many collectors.
R2-D2 75308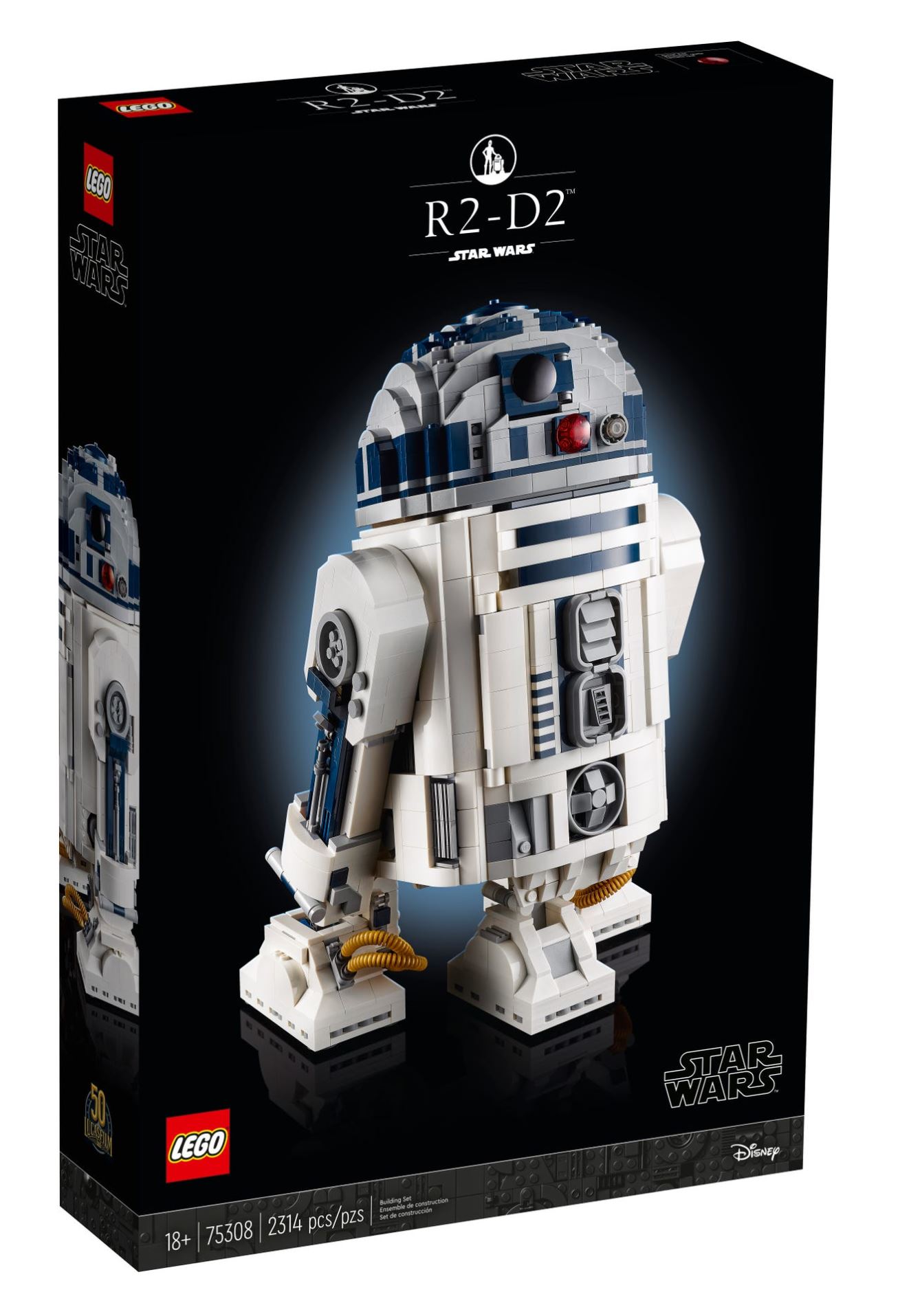 Fans of the loveable droid will be thrilled at the chance to buy this R2-D2 75308 set. It's hard for me to say what my very favorite droid is as there are just so many delightful ones that occur across the Star Wars media. R2-D2 is definitely the most memorable for most people though, with the possible exception of C3-PO.
This set is absolutely brilliant as it's essentially a statue of the beloved droid built entirely out of LEGO. For $199.99 you get 2314 pieces, which is a pretty good deal brick for brick. I love the use of varied brick types to create the texture with this one. It's rare to get a LEGO set this round as most pieces have sharp corners, so some really smart engineering has gone into designing this one.
This iconic LEGO set really captures the essence of R2-D2. There are interactive parts that convey just what a practical droid R2 is. There's a periscope that rises out of his head, and the entire head is able to swivel on its axis. You can open the hatches on the front of his body to reveal various tools for escaping trouble. There's even a lightsaber hidden in a secret compartment.
Although this set isn't necessarily designed for playing with, as there are no minifigures, it's still highly posable. Overall, it's quite unique amongst Star Wars LEGO sets, and is definitely one of the best ones available.
Pros:
Looks just like R2-D2. The designers have really outdone themselves with this. They've utilized the pieces very well to create something that mimics the appearance of the droid. Everything, right down to the shapes and colors, is utterly perfect.
Interactive features. Even though this set could've gotten away with just being a static replica, LEGO has included several moving parts which just add to the fun and excitement. I especially love that R2-D2's head can move around like it does in the movies, as that's one of the things that really gives him a personality.
Comes with a plaque. To make this even more of a collectors piece, the R2-D2 75308 set has a plaque displaying details about the droid. It also has a special LucasFilm 50th anniversary brick, upon which can stand the R2-D2 droid figure (regular minifigure size) that comes with this set.
Cons:
Not much playability. Even though it does have interactive elements, this set is definitely designed more as a display piece than a toy. It's essentially a statue, and doesn't come with minifigures or settings to base a play scenario in. You'd have to really use your imagination to be able to get much playing time out of this one.
The interior uses a lot of Technic pieces. As I've mentioned elsewhere in this article, I'm really not a fan of the LEGO Technic range. It's just such a different building experience, and personally it's not the kind of construction that I enjoy. If you're the type of fan who prefers traditional Lego connections, then the building experience here may not be particularly fun for you.
Dagobah Jedi Training Diorama 75330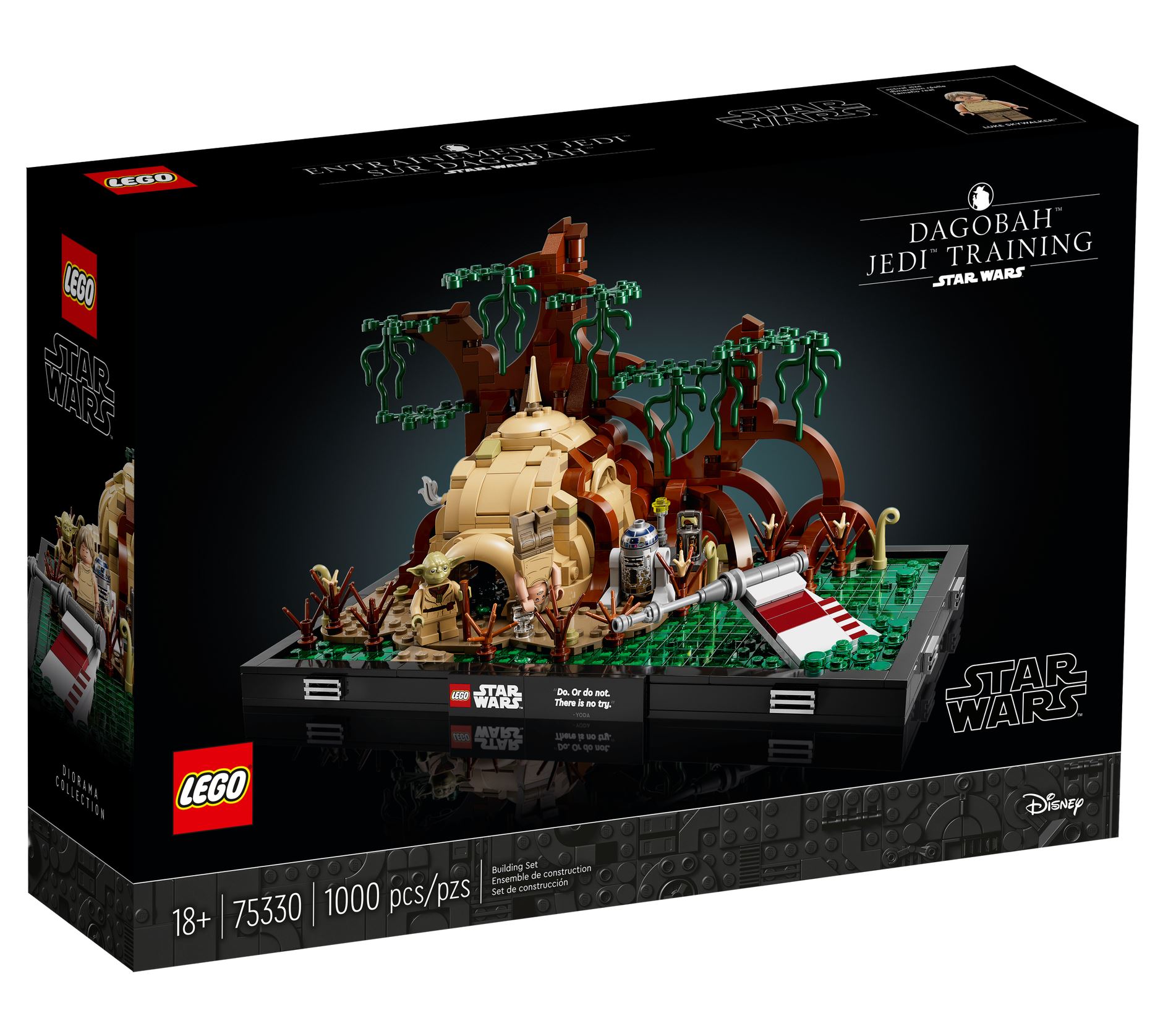 I'm personally a huge fan of the Dagobah Jedi Training Diorama 75330 set, and it's one of the more affordable options on this list at just $79.99. I won't lie, I'm a sucker for anything with trees (I love the Jane Goodall tribute set that LEGO released as a promo in early 2022) so the aesthetic of this set was right up my alley.
For those who need their memory refreshed, Dagobah was where Luke Skywalker discovered Yoda in Star Wars Episode V: The Empire Strikes Back. Luke convinced Yoda to help train him in the ways of the force, and it was a key moment in Luke truly becoming a Jedi. This diorama is a set intending to capture those scenes from the movie. We see Master Yoda stood outside his hut observing Luke whilst he trains. R2-D2 stands loyally beside them.
The intention of this set is 100% to be a display piece, rather than be played with. It's a specific scene, and although it comes with minifigures, they have set places in the diorama and are not intended to be moved around. The attention to detail in this set is wonderful, as they've managed to capture the essence of Dagobah in a relatively small format.
Pros:
Exciting building experience. There are exactly 1000 pieces in this set, and all of them are well chosen. This set consists primarily of plates, tiles, and greenery, making for an enjoyable build in the true spirit of LEGO. Precision is the key with this diorama, but you don't have to worry about fiddly connections with axles and pins. The range of colors is beautiful as well.
Iconic scene from the movie. I really like when LEGO sets feel deliberate, as this one does. Especially for a diorama rather than a set with play in mind, they needed to be intentional. They've captured such a meaningful moment from Star Wars that fans will have a strong connection with.
Gorgeous display piece. I absolutely adore the aesthetic of this set. Its stunning use of shape and color really makes it an eye-catching piece despite being smaller than many other LEGO Star Wars sets. It would look fantastic in the home of any collector.
Cons:
You can't play with it. For many collectors, this won't be a problem, but LEGO is first and foremost known for being a toy. As such, there may be some fans who would be disappointed at the lack of interactive parts with this set, even though that's specifically the purpose of the diorama sets.
There are occasional printing issues. For whatever reason, the printing on LEGO pieces isn't always entirely uniform. This particular set does have occasional issues where R2-D2's head piece is printed at an unusual angle. If this does happen to you, you'd be able to contact LEGO with proof of the issue and ask for a replacement.
Luke's Land Speeder 75341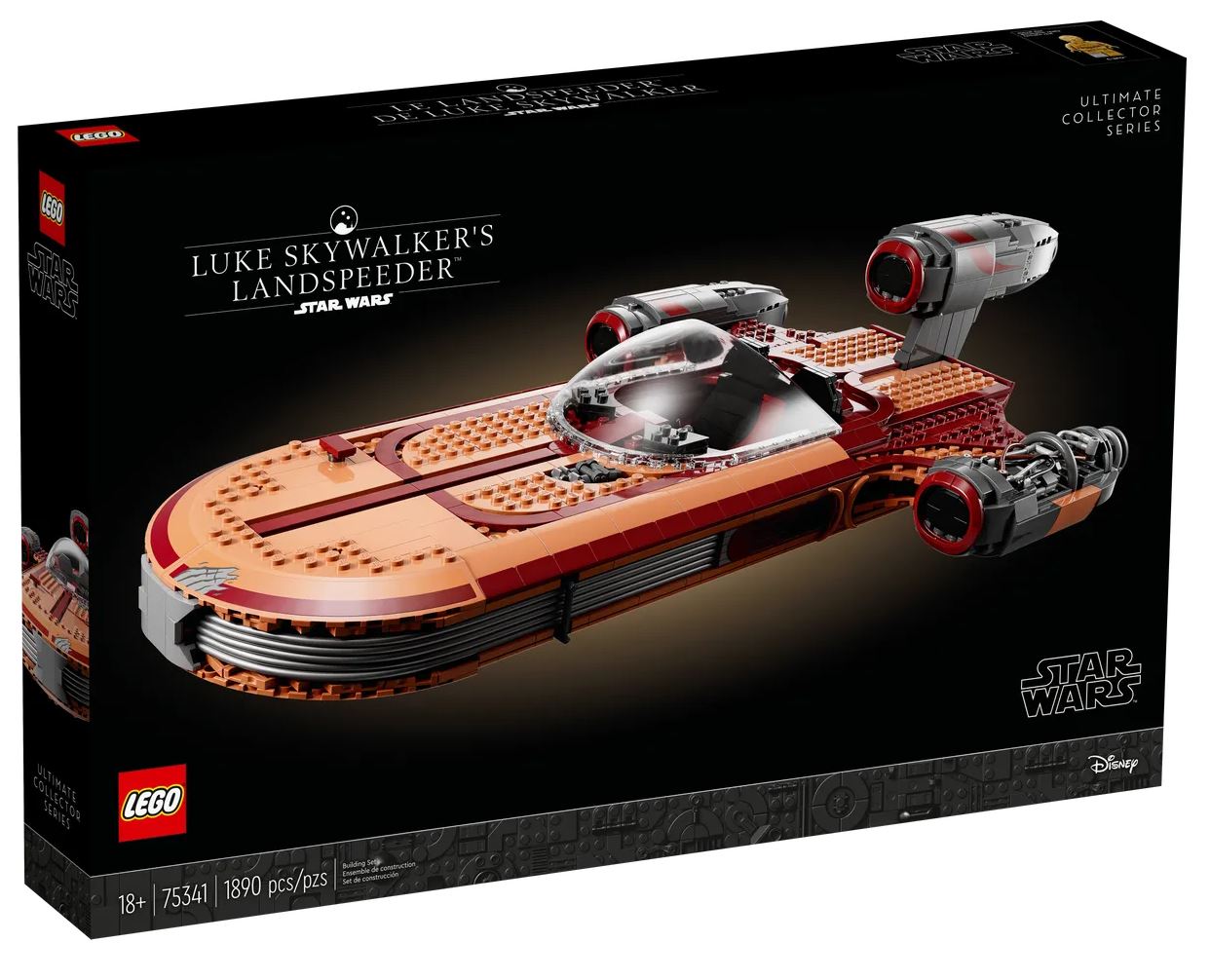 At $199.99, we have the Luke's Land Speeder 75341 set. Now, LEGO have released an abundance of sets for Luke's landspeeder, or more specifically, sets that contain it in some way (it's sometimes an additional element for larger sets). Still, this is the first time that it's got the UCS treatment, and so this is a far more detailed iteration of it.
With 1890 pieces, this is no small undertaking, and the finished build stands at 4″ (10cm) high by 19″ (49cm) long by 11.5″ (30cm) wide. The size makes it a pretty impressive display piece, and it could certainly take pride of place in your collection. It even comes with a plaque displaying the unique specs for the X-34 landspeeder.
There's plenty of attention to detail here, even though it is a relatively plain design. There is an assortment of tubes that represent wires on the rear of the landspeeder, and there are detailed thrusters attached at the back. The colors are pretty screen-accurate, and overall this is a wonderful set for those who enjoy the vehicle.
Pros:
Fantastic centerpiece. This set is designed to be on full display. It's the perfect way for a collector to showcase their allegiance to Star Wars, and it is very impressive to look at.
Comes with a unique C3-PO minifigure. Although it's not technically exclusive and so could potentially appear in future sets, the C3-PO minifigure was newly designed especially for this set. It features plenty of detail on the patterning of the torso and legs.
Has its own display stand. Instead of just placing the landspeeder directly onto your shelf, you can place it atop the custom-designed display stand that comes with this set. That way it can appear as though it's hovering above the ground, just like it does in the movie.
Cons:
Only two minifigures. Although it completely makes sense why this set only has Luke Skywalker and C3-PO, it's always a little disappointing to spend that much money on a LEGO set and not get many minifigures. For a lot of collectors, minifigures are a large part of the decision-making process when purchasing the set, so this is something to be aware of.
A little plain. I know it's accurate, but the fact remains that there's really not much going on in this set. It's a very compact design, that doesn't even offer access to a more detailed interior as some of the Star Wars sets do. It does still look good, don't get me wrong, but if you prefer more exciting displays, then you may choose to give this one a miss.
Best Sets Based on The Mandalorian
There are some wonderful sets that have been put out based on The Mandalorian, and although they tend to be smaller than the main Star Wars sets, they shouldn't be overlooked. In case you're unaware, The Mandalorian is a show set in the Star Wars universe and it's available on Disney +. It follows a Mandalorian bounty hunter named Din Djarin as he tries to rescue a mysterious and adorable creature known as 'The Child'.
The show gave rise to several LEGO sets, and you can read a full guide on all the sets here. If you're interested in learning more about their descriptions, you should check that link out! Rather than rehash the same information, I'll just go over the pros and cons for each of these sets.
The Razor Crest 75292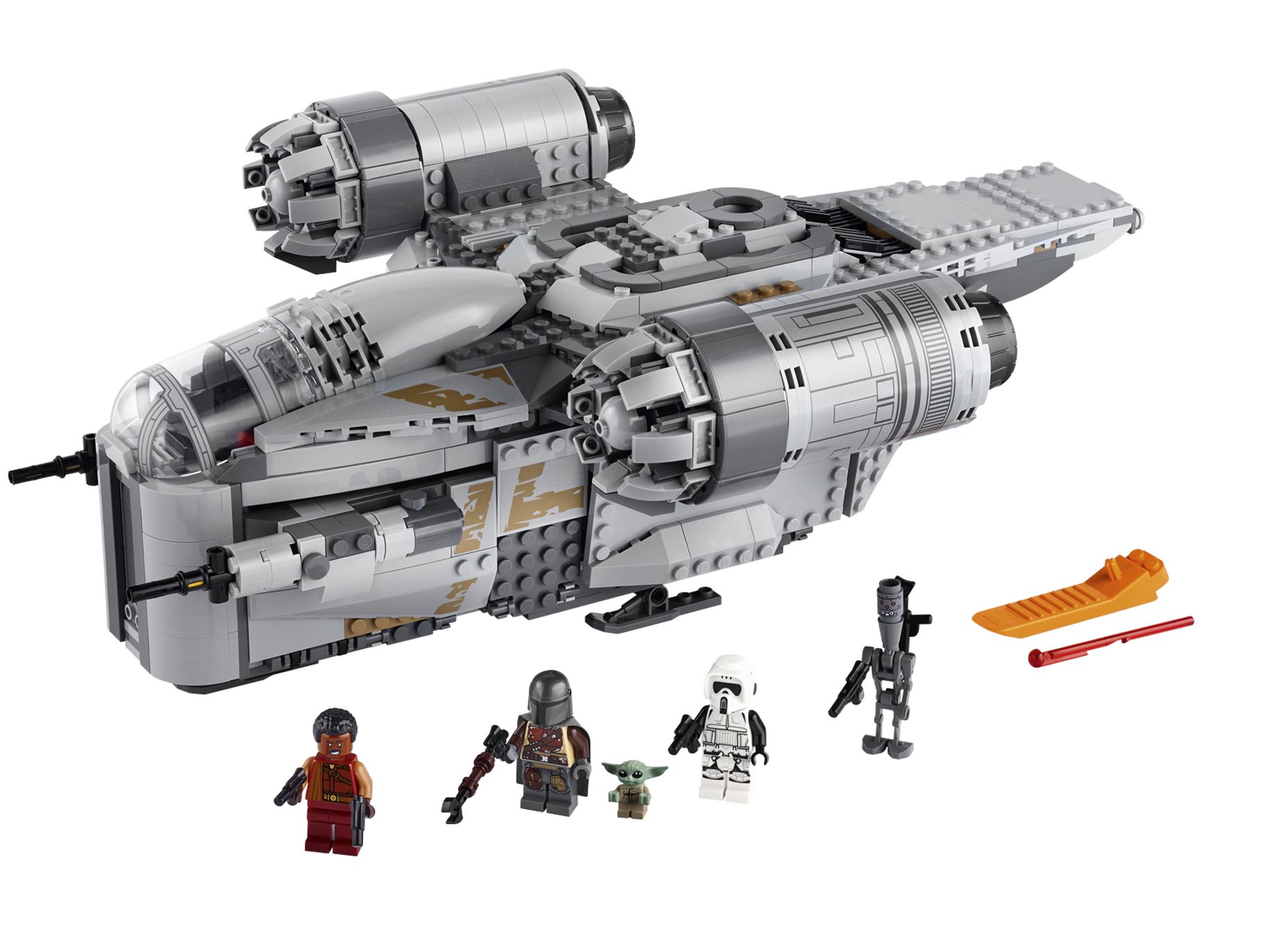 This wonderful set retails for $129.99 and is a LEGO replica of Din Djarin's famous ship. Here are the pros and cons!
Pros:
Excellent attention to detail. The ship contains several features to make it as screen-accurate as possible. Although it's not as large a set as something like the Millenium Falcon 75192, it's still plenty big enough to be recognizable. There are 1023 pieces in this set, and they combine to create something beautiful.
Interactive features. This set has plenty of interactive elements to enhance the playing experience. There are spring-loaded shooters (as well as a cargo hold to store extra ammo), a detachable escape pod, and accessories such as carbonite.
Decent range of minifigures. The set comes with minifigures for The Mandalorian, Greef Karga, a Scout Trooper, and The Child. There's also a droid figure of IG-11
Cons:
A considerable amount of Technic pieces. Pretty much the entirety of the inner build is supported by LEGO technic pieces. Now, for some collectors, this could be seen as a pro depending on your preferences, but for me, this is definitely a con. In my opinion, they're harder to assemble, and they don't always want to clip into where they're supposed to be.
The Mandalorian Helmet 75328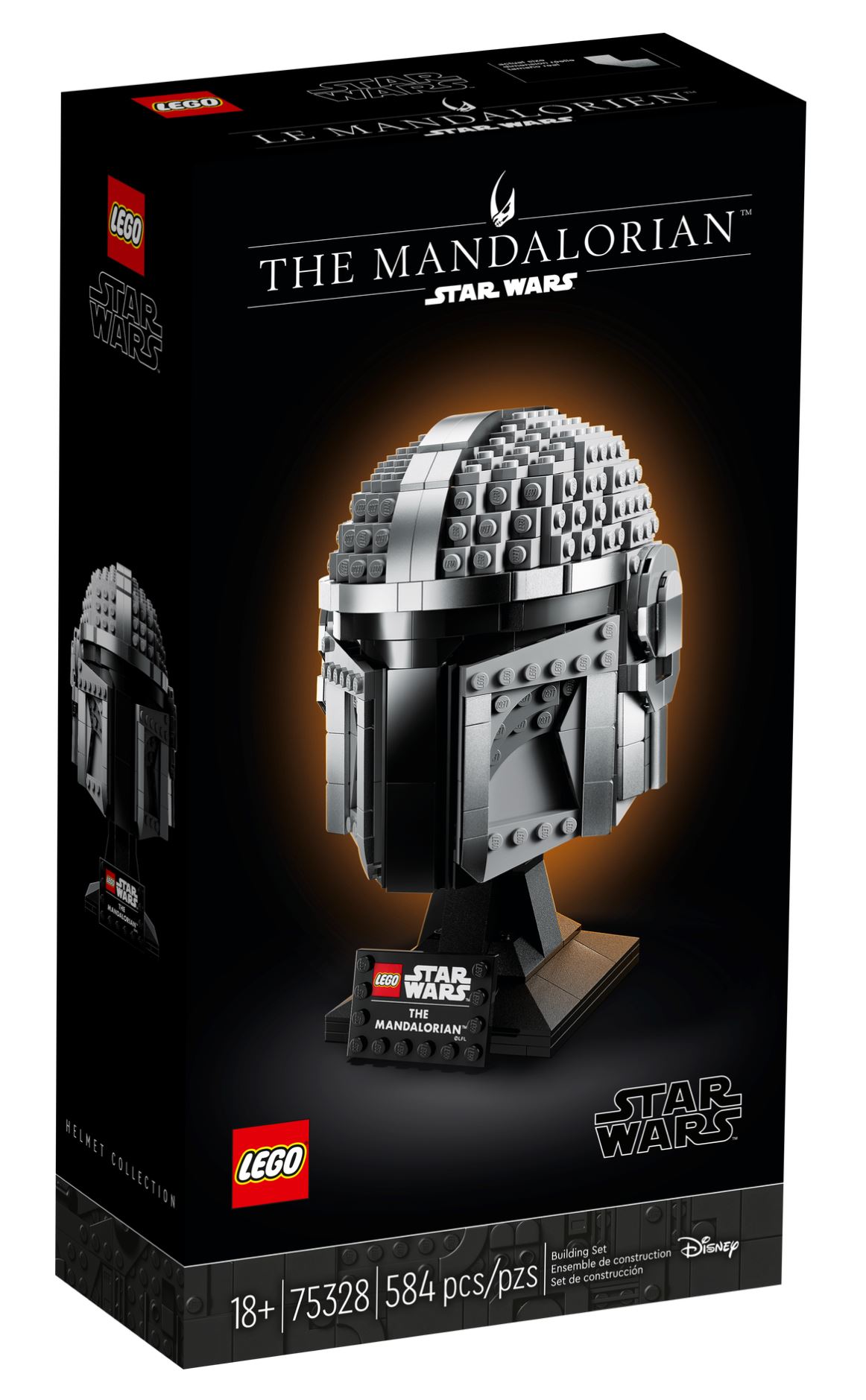 At $59.99, this Mandalorian Helmet 75328 set is a mid-range option for collectors who may be on a bit of a budget.
Pros:
An impressive display piece. This may not be particularly large, but it still commands attention. It's designed to look like The Mandalorian's helmet, with the black visor, and gray pieces replicating the metallic silver of the beskar steel. There's decent attention to detail, and the shape is decidedly sleek.
Affordable. A lot of the best LEGO Star Wars sets are well over $100, often being nearer the $400 mark, so the fact that you can pick this up for $60 is tempting. For that price, you get a total of 584 pieces, that combine to create a great set.
Has its own plaque. I'm a sucker for things like this. For me, it's just that extra attention to detail that really makes a set stand out. This one just has a simple plaque that attaches to the front that reads 'LEGO Star Wars | The Mandalorian'. It's a small feature, but it makes a big difference.
Cons:
You can't play with it. Once you've put the set together, that's it, fun's over. It's pleasant to look at, but you can't play with it in the way you could with most sets. This is designed purely as a display piece, nothing more. There are no interactive features or anything like that. Although adult collectors may well be fine with that, you also have to consider whether you'd be better off just buying a replica.
A bit boring to build. This is a rather monotone set, with the pieces pretty much just being gray or black. There are a couple of more colorful pieces hidden inside, but for the most part, you're going to be stuck with the same two shades. If you're looking for more color, you might consider building the Boba Fett Helmet 75277 set instead.
Conclusion
With so many LEGO Star Wars sets available, it was hard to narrow them down to the best of the best. Although this list covers some of the very finest sets available, remember that everyone has different preferences. Don't be afraid to go to your local LEGO store and explore their full range if the sets in this article didn't quite catch your eye.
Hopefully, you now have a much better idea of what's out there, and you're ready to take your LEGO collection to the next level. These are all high-quality and enjoyable sets, and I truly believe that any fan would be enriched by purchasing the sets in this article. Happy collecting!
FAQs
Question: What are the best discontinued Lego Star Wars sets?
Answer: Obviously, this is going to come down to personal opinion, but there are some sets that are generally regarded as being amongst the best that Lego has ever put out. Although this is certainly a non-exhaustive list, I'd recommend looking into the following sets: Death Star 75159, Ewok Village 10236, and Jabba's Sail Barge 75020.
Question: What is the most valuable Lego Star Wars set?
Answer: That would have to be the 10123 Cloud City set. Although it only retailed for $99.99, since being discontinued it has absolutely shot up in value, and in 2022 has reached an extortionate ~$5250! It's common for Lego Star Wars sets to rise in value after they're discontinued, but none of the other sets have enjoyed quite this level of inflation.
Question: What was the first Lego Star Wars set?
Answer: LEGO has had a partnership with Star Wars for a very long time, all the way since 1999 when they released their very first Lego Star Wars set. That set was X-Wing Fighter 7140, a 263-piece set that originally retailed at $29.99. Since then, LEGO has made over 700 Star Wars sets, and it's grown to be their most successful franchise.
Recommended Reads: