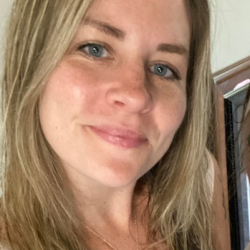 Latest posts by Thea Engst
(see all)
Now and then LEGO releases special sets which are not available for purchase but are rather free with a purchase of a certain dollar amount or more. Available in March of 2022, LEGO created a very special Jane Goodall Tribute. You could own this set, valued at $22.99, with any purchase of $120 or more.
So as usual folks, I purchased it so you don't have to. I am a huge Jane Goodall fan and being able to have a commemorative tribute to her work and her legacy was too much to resist. with all this said, let's discuss the seminal Dr. Jane Goodall, the LEGO set in her honor, whether or not it lives up to the living legend herself, and a separate $120 purchase.
Bottom Line Up Front
I love this set. I think it's a great moment to shine a light on Doctor Jane Goodall and all she's accomplished along with all the good work she is still doing for the planet and educating the public on environmental issues and their importance. This set is creative, bright, and fun to complete. It's a great size for display and can also be played with by kids.
Jane Goodall and Why She Matters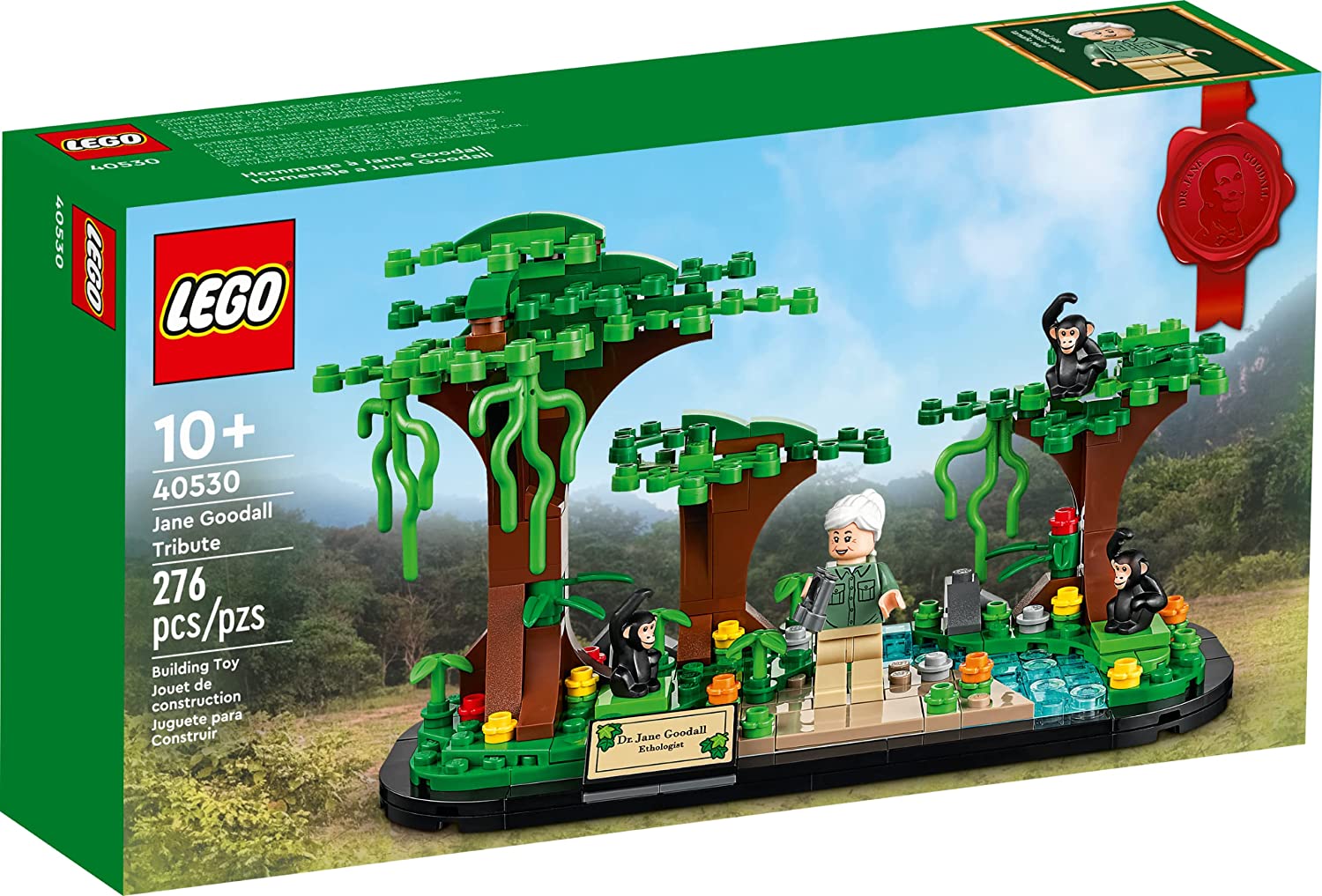 It's difficult to fully describe all that Dr. Jane Goodall has done in a brief write-up that's supposed to focus on a LEGO set. So very briefly, here is a small introduction to Jane Goodall for those who aren't familiar.
Doctor Jane Goodall is a British Ethologist, which means she's an expert in studying social behavior, particularly that of humans, but of course, she is unique in that she's an expert in studying the social behavior of chimpanzees. Jane Goodall is also an honorary professor of Zoology, which is the study of animal behavior. She has dedicated her life to the study of chimpanzees, their social structures, their importance, and now, their preservation, through protecting their habitat. She is considered the first chimpanzee expert in history.
Dr. Jane Goodall is most notable for doing what other researchers didn't do, she immersed herself in chimpanzee habitats and became familiar with their daily routines and interactions. Over time, the chimps became more comfortable with her presence, allowing her to get closer and closer to them, and therefore to study more intimately their social structure and way of life. Because of her bravery, her innovation, and her studies, which can only be described as groundbreaking work, we now know an enormous amount of information concerning these highly intelligent, empathetic, and social creatures.
There is a lot of biographical information on Jane Goodall out there. Not only are there many websites that give her biography, but there are two documentaries (for now!). You can watch the 1965 documentary titled Miss Goodall and the Wild Chimpanzees, which was filmed by her then-husband, and/or her more recent documentary, Jane, which was filmed in 2017.  (And I recommend you do!) Because I am an unstoppable nerd, I watched Jane while I assembled the Jane Goodall Tribute set.
The Jane Goodall Minifig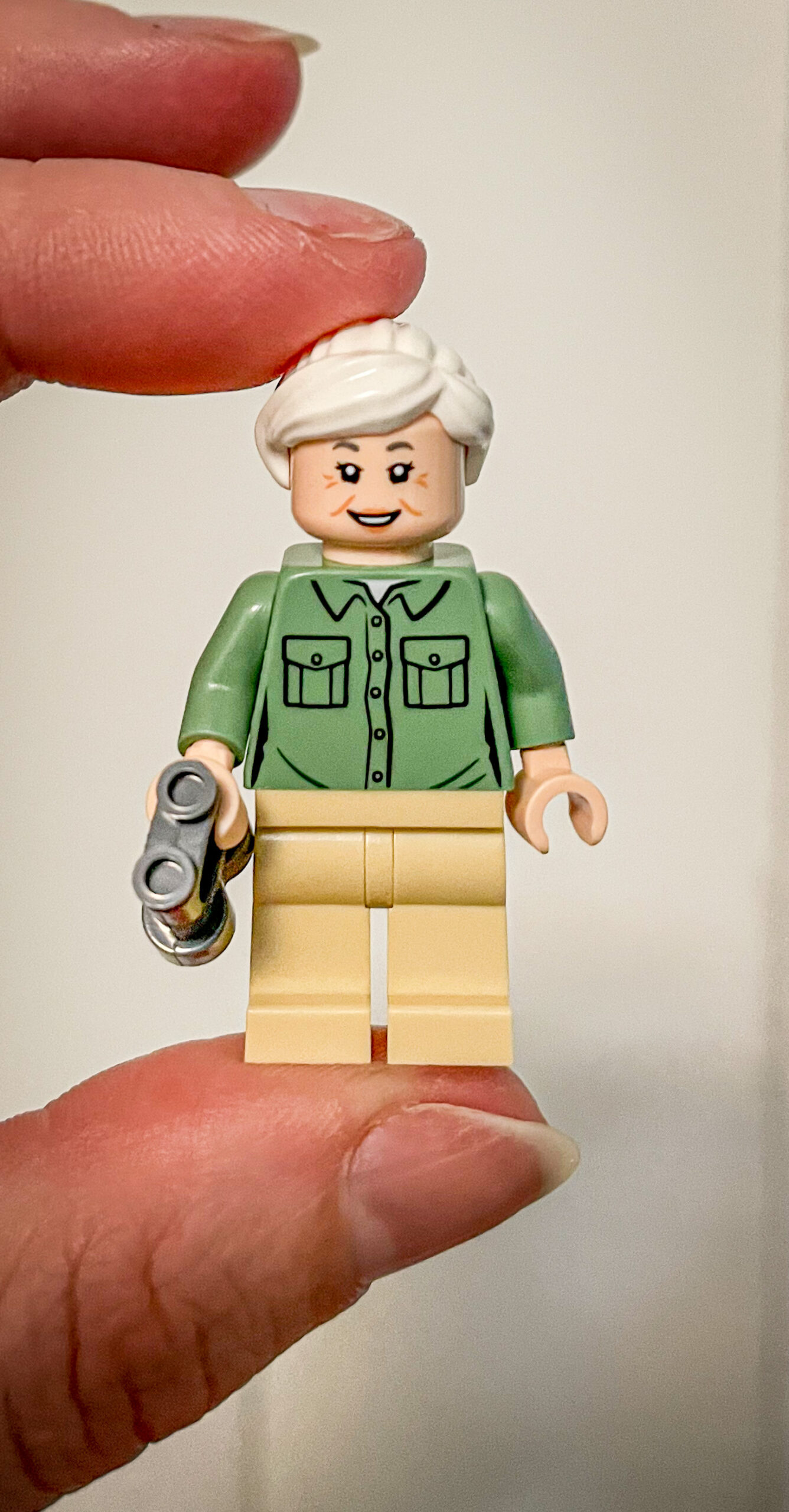 It goes without saying that the Jane Goodall Minifig has some big shoes to fill. For that reason, I chose to give the Minifig her section in this article. Let's talk about where LEGO hit and where LEGO missed in recreating this living legend.
Firstly, Jane Goodall is the only Minifig included in this set, which makes sense. She is of course accompanied by her friends the chimpanzees, but as far as a co-scientist or intern, Jane has none here. I think this was a smart choice by LEGO because so much of Jane Goodall's work has been solo. It just plain makes sense to make her the only Minifig.
The Jane Minifig is wearing khaki pants and a light green button-up shirt, which is a very standard look for the real Jane Goodall. The box even has a picture of her in real life, wearing the same shade of green shirt. The shirt has great detailing, including a collar, two pockets, buttons, and folds to indicate the shirt is tucked in. I do feel there is a missed opportunity with the back of the Minifig. This isn't a problem with printing, as the shirt does have more black lines depicting folds, but I do feel one more accessory could be included. She could have a backpack for example or a cross-body bag.
Jane the Minifig does have one accessory and it is appropriately binoculars. These are gray, and Jane can hold them. There is nothing wrong with these and I think they were a great choice for Jane's accessory in this small set. I would have liked to have seen a notebook as well, but that's just me!
Let's talk about the hair! The color is perfection: a pretty, bright white. I like that there is texture in it, with swooping bangs. However, I will say that I have never seen Jane Goodall sporting a high ponytail. When most of you think of her, I'm sure you picture her with that low ponytail, in pictures and videos taken today, dating back into her early work years in the 60s and 70s: she always has her hair pulled back low. I'm not sure why LEGO chose to give her a high ponytail, it could be that lower hairpieces are cumbersome on the Minifig. Maybe they didn't have a piece that matched her actual hairstyle and they weren't going to make a new piece just for her. However, I count this as a huge miss for LEGO. There is only one Minifig included and she's the entire subject of the set, Jane should have been perfect.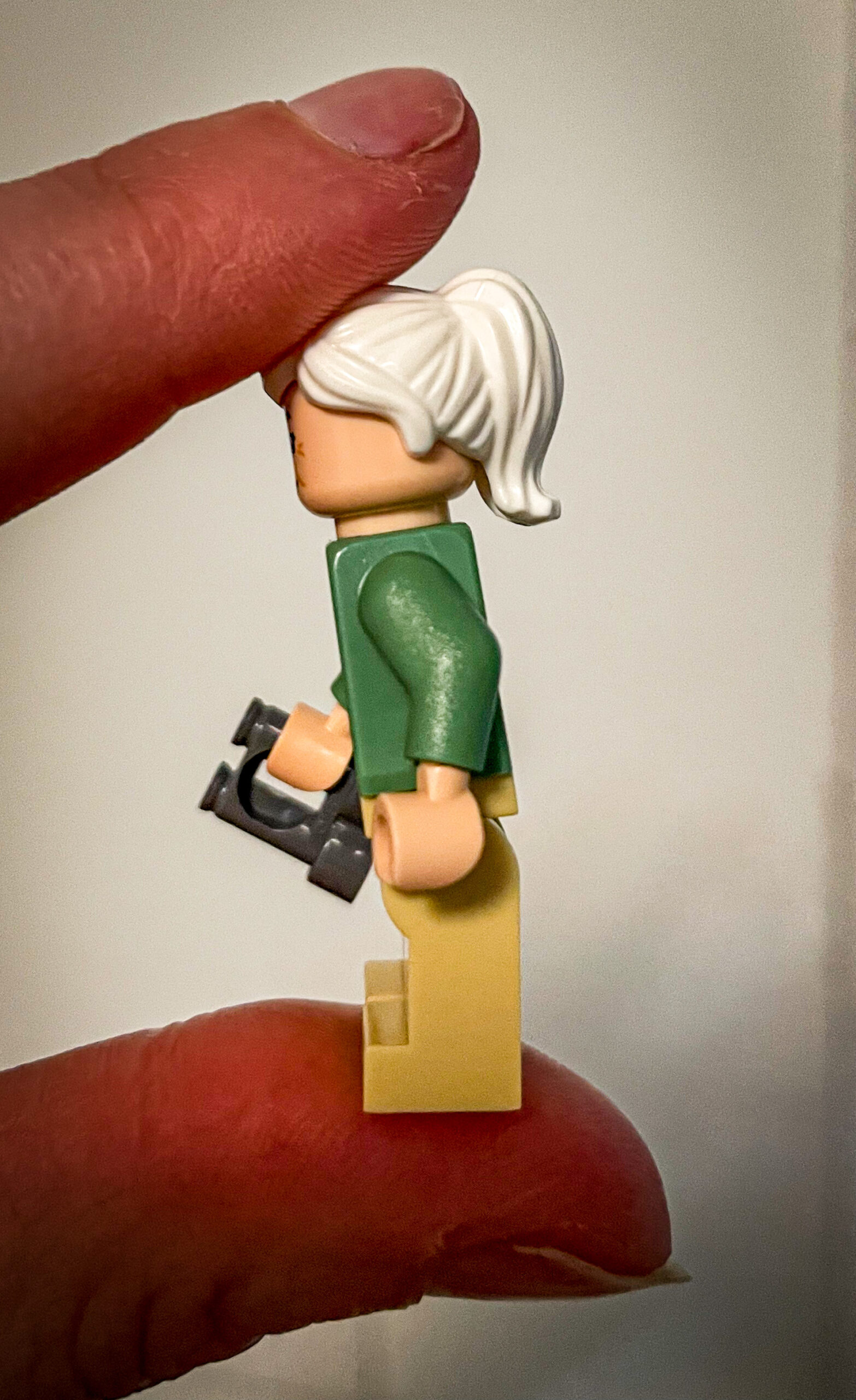 Her face is great. It is one-sided which means you cannot flip it to change her expression, as is common in a lot of LEGO Minifigs. I don't see this as a misstep for LEGO though, because it doesn't make a lot of sense to have Jane's facial expression changeable for this set. They have made it a current Jane Goodall, who is eighty-eight years old at the time of this release and the article being written. What I mean to say is that they gave Dr. Goodall age lines on her face. The effect is a grinning, bright, beautiful representation of Jane Goodall.
See also: LEGO Gingerbread House Review and Guide
Pros and Cons of the Jane Goodall Minifig:
Pros:
Jane comes with binoculars as her one accessory, which can fit in her hands. This was an appropriate choice for LEGO to include with her.
Cons:
LEGO abandoned Jane Goodall's usual hairstyle by giving her a high-pony. I am not sure why, maybe they would have had to make a new hairpiece for her and it wasn't worth it to them. However, I'd argue that if you're going to make a new hairpiece for anyone, Jane Goodall is the person!
I wish an additional accessory of a notebook was included for Dr. Goodall.
The Jane Goodall LEGO Tribute Set
This set is aimed at ages ten and up, which I love because it's important to get young people interested in prolific and important figures like Dr. Jane Goodall. It is a smaller set, only 276 pieces, and built for display or play. It comes with the Jane Goodall Minifig described above and three chimpanzee figures. The chimpanzees are not buildable, they are slightly smaller than Jane Goodall, so building them would be tough.
The scene depicts a jungle, with three buildable trees, bright flora and fauna, and a little stream running through it. Let's talk about each piece of this small set and what they bring to the Jane Goodall story.
The trees were really fun to build. I am particularly a fan of the tallest one, not only because of the cool layers of leaves but because there is an indent in the trunk for more greenery to 'grow'. On the opposite side of the set is another tree with a similar breakup of the brown trunk with a plant and red flower on it. It's just a nice element for LEGO to include, and it makes the build more fun but it also makes the final product more interesting to look at. The flowers are a nice touch, adding pops of color on the ground and around the trees. I love the choice to have green LEGOs sort of dripping out of the trees as vines, it adds a nice texture and immersion to this set.
The stream is blue with blue-glassy and clear pieces. It's really pretty, simple, and small. I think that including the stream was a great choice on LEGO's part, like the leaves in the trees, the blue stream breaks up the monotony of a green jungle floor. And because of the water, LEGO also has a small beach for Jane to stand on, which further breaks up the otherwise shades of green on the forest floor.
I love the little chimpanzee pieces but I do think LEGO missed an opportunity to have one a buildable chimpanzee. I think the size would have been a little challenging, and being that this set is free, it could easily push the brick content too high for it to be worth it for LEGO to give this away. That being said, if one tree was removed and one buildable chimpanzee to represent a full-grown chimpanzee replaced it, I think that would've been something!
And lastly, this is small but I need to recognize it because I hate stickers in LEGO sets! I can never get them on straight. Anyway, this set only has one sticker, and it's to label Jane Goodall with her job title of Ethologist. You place this on the plaque that you build into the front of the set.
Pros and Cons of the Jane Goodall LEGO Tribute Set: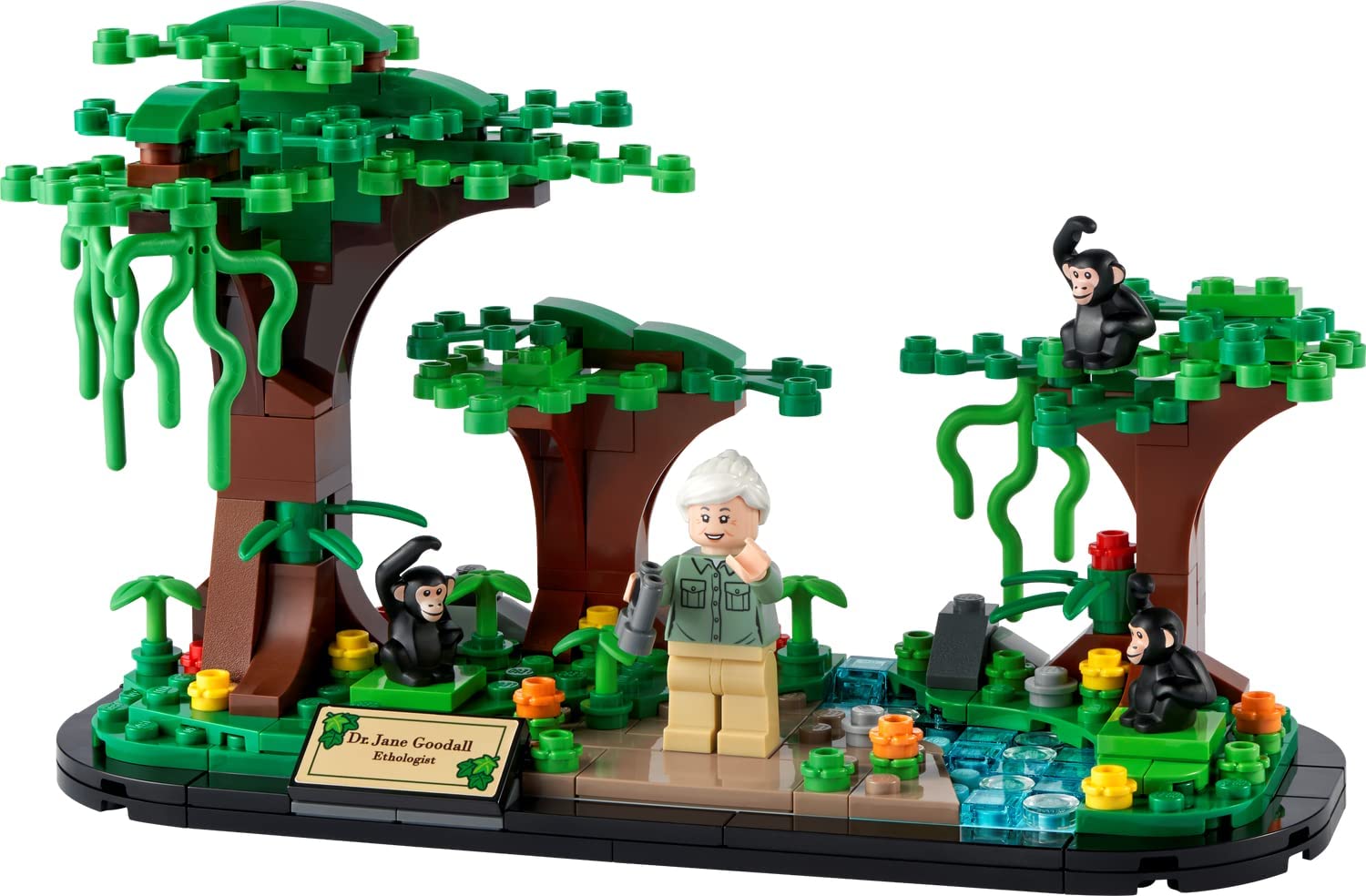 Pros:
For a small, 276 piece set, this is imaginative and fun to build.
It's a great display, but kids could play with it.
Comes with three chimps and a set of binoculars for Jane Goodall to hold.
I love the way LEGO designed the trees, particularly the dripping vines and the breaking up of the trunk with more green foliage and bright flowers.
The stream was a great touch, with the accompanying beach area, it breaks up what could have been a monotonous floor.
Only one sticker, which I love!
This was free with a purchase of $120 or more, which is easy to do at LEGO (if you have the money).
Cons:
LEGO missed an opportunity by not offering one buildable chimpanzee that could have been larger than the two included but meant to represent a full-grown chimp.
I wish you could just buy this set. I think it's a great piece for adults and kids, and I hope LEGO makes it or something like it available for purchase someday!
This was free if you spent $120 or more on another LEGO purchase (in stores or online) which is a lot to spend to get this set.
FAQs About the Jane Goodall LEGO Tribute Set
Question: Would you buy this if you could?
Answer: Yes. I'd love to get a set for my nieces, I think that Dr. Goodall is a great role model for any child and this set helps peak kids' interests along with teaching them valuable problem-solving and building skills (as all LEGOs do).
Question: Is Dr. Goodall still working?
Answer: Yes. Dr. Jane Goodall still works in environmental preservation and continues to teach lectures, conduct interviews, and travel the world educating people on chimpanzee social structure and the importance of environmental protection.
Question: Do you think this set is worth buying something else for $120?
Answer: Yes and no. I like this set, I think it's really pretty and it makes me happy to look at it. The bright greens and pops of color from the flowers are just really mood-elevating for me. I wish LEGO would just sell it for the value price of $22.99! If you are a LEGO lover and are looking for an excuse to spend $120 and get a free add-on, then yes, this is worth the $120.
Question: What's your favorite part about this set?
Answer: I am charmed by the tree built in this. I didn't expect to be, but LEGO has done an excellent job in creating the texture and colors of the jungle trees with slightly different shades of greens, different leaf shapes, and bright pops of orange and red flowers.
Question: What's your least favorite part of this set?
Answer: Jane Goodall's ponytail. I will die on this hill! Why is it a high ponytail?
Final Thoughts on the Jane Goodall LEGO Tribute Set
In the end, I enjoyed putting this set together and I'm proud to have this small tribute to a true icon on display in my home. I look forward to sharing the set with my boyfriend's daughters when they come to visit next, and to get the opportunity to tell them who Dr. Jane Goodall is and why she's someone to look up to.
I believe that if you are looking for an excuse to spend $120 at LEGO and got the bonus of a free set, this is a good investment. I do understand that $120 is a lot of money and if the only reason you are spending it is to get this set, I don't think it is worth it. That being said, I hope that LEGO chooses to make this adorable, fun, and commemorative set something that people can buy for less than $30, its value price.
Thank you for going on this amazing Jane Goodall-themed journey with me! Happy building!
Recommended Reads: