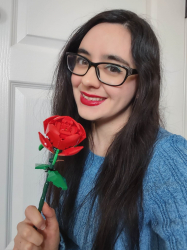 Latest posts by Samantha Valencia
(see all)
It is a tradition in my family to watch Home Alone every Christmas. It is such a favorite that – alongside A Christmas Story – it is sometimes watched throughout the year outside of the holiday season. While I'm not building in December or July, I was too happy with LEGO's Home Alone set to be bummed out by the build's timing. Nonetheless, it would be a fun holiday treat and build for LEGO fans.
LEGO has had numerous unique sets, but what always amazes me is how many have the potential to be built while listening to John Williams' composed soundtracks. From Star Wars and Jurassic Park to the newly released Indiana Jones sets and this Home Alone-inspired set, there's so much to enjoy with great music playing in the background.
Unlike the previously mentioned sets, this one is part of the LEGO IDEAS line and has a rather impressive design. It also has many parts, making it a more extensive and more time-consuming build than most of the building block company's other offerings.
This set is impressive due to its attention to detail, the inclusion of iconic movie moments, and its incredible piece-to-price ratio. It's the perfect holiday present for LEGO enthusiasts, and it can be purchased already in preparation for the eventual arrival of the season. Fans of the film, LEGO, and house models will all appreciate what this product offers, so keep reading this LEGO Home Alone Review for more!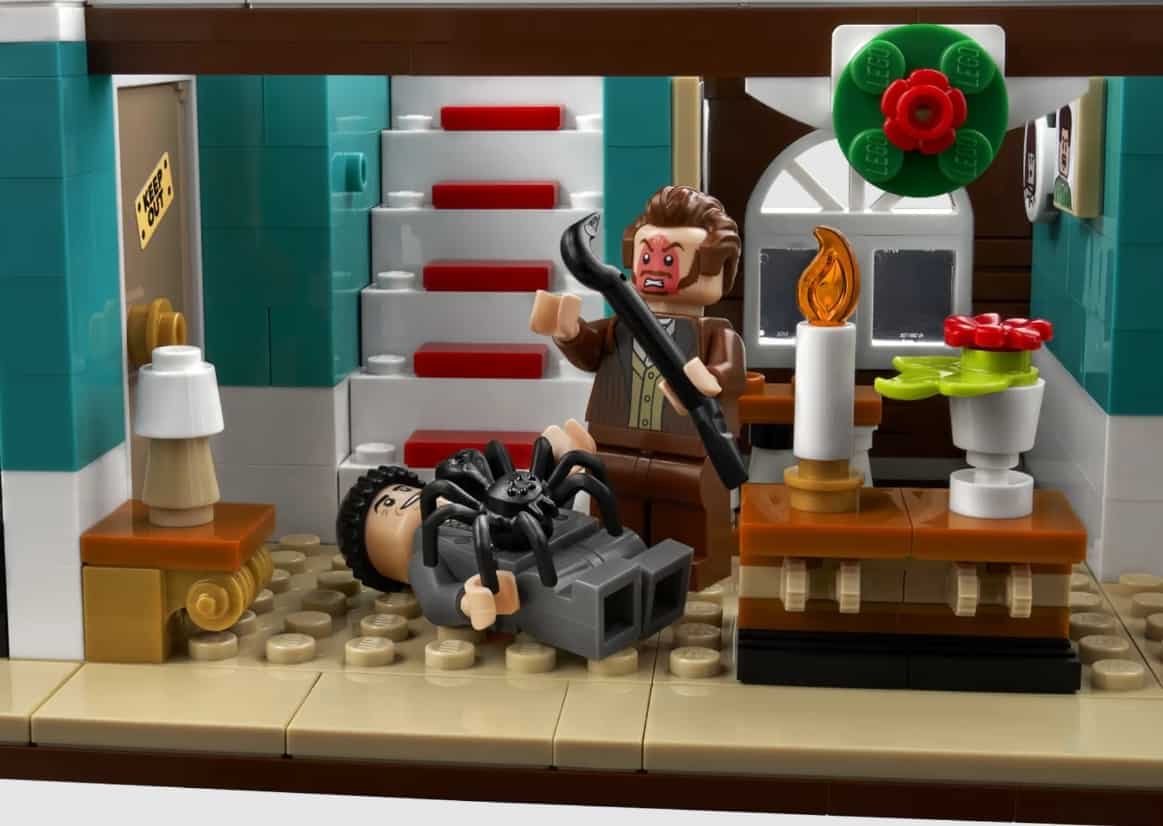 Bottom Line Up Front
Price: $299.99
Piece Count: 3955
Number of Minifigures: 5
Age: 18+
Time to Build: ~7 hours
LEGO Theme: IDEAS
Released: 2021
Dimensions: 11″ high, 14″ wide, 15″ deep
About Home Alone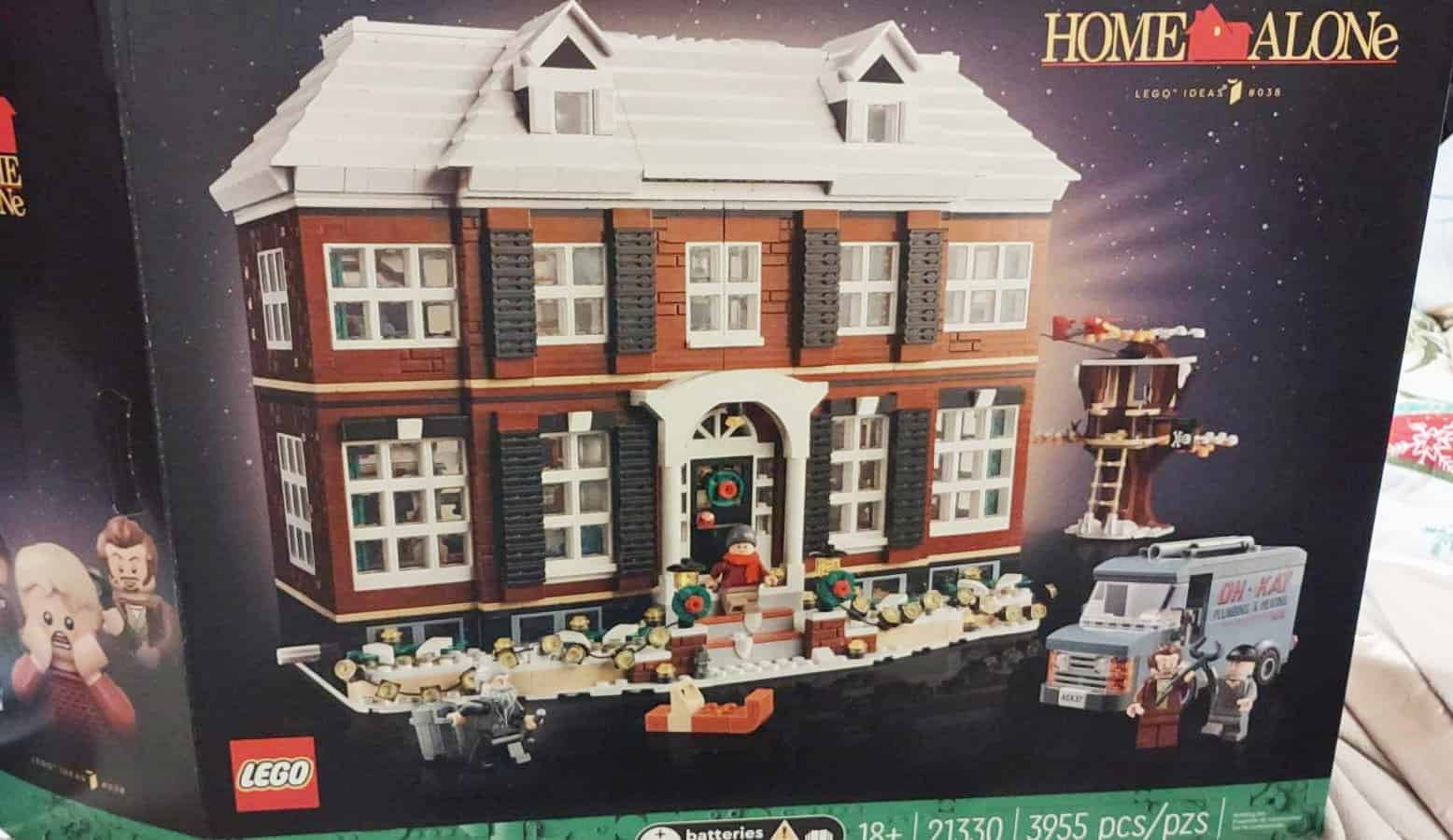 Home Alone was initially released in 1990 and quickly became a holiday season film staple. Directed by Chris Columbus, written by John Hughes, and starring Macaulay Culkin, it details Kevin McCallister's fight against two bumbling burglars after he is left home at Christmas time by his family. The LEGO IDEAS set inspired by the film released in 2021, after being designed by Alex Sorozhuk.
Sorozhuk's design is discussed in further detail within the set's instruction booklet. It was based on a blueprint of the McCallister home and designed in LEGO Digital Designer and Studio 2.0. This tri-level build includes a couple of familiar bedrooms, the kitchen, the bathroom, and even the attic Kevin sleeps in.
It also features Kevin's tree house and a zipline connecting to the house, just like in the film. If that wasn't enough, even Harry and Marv are present with their home maintenance business van.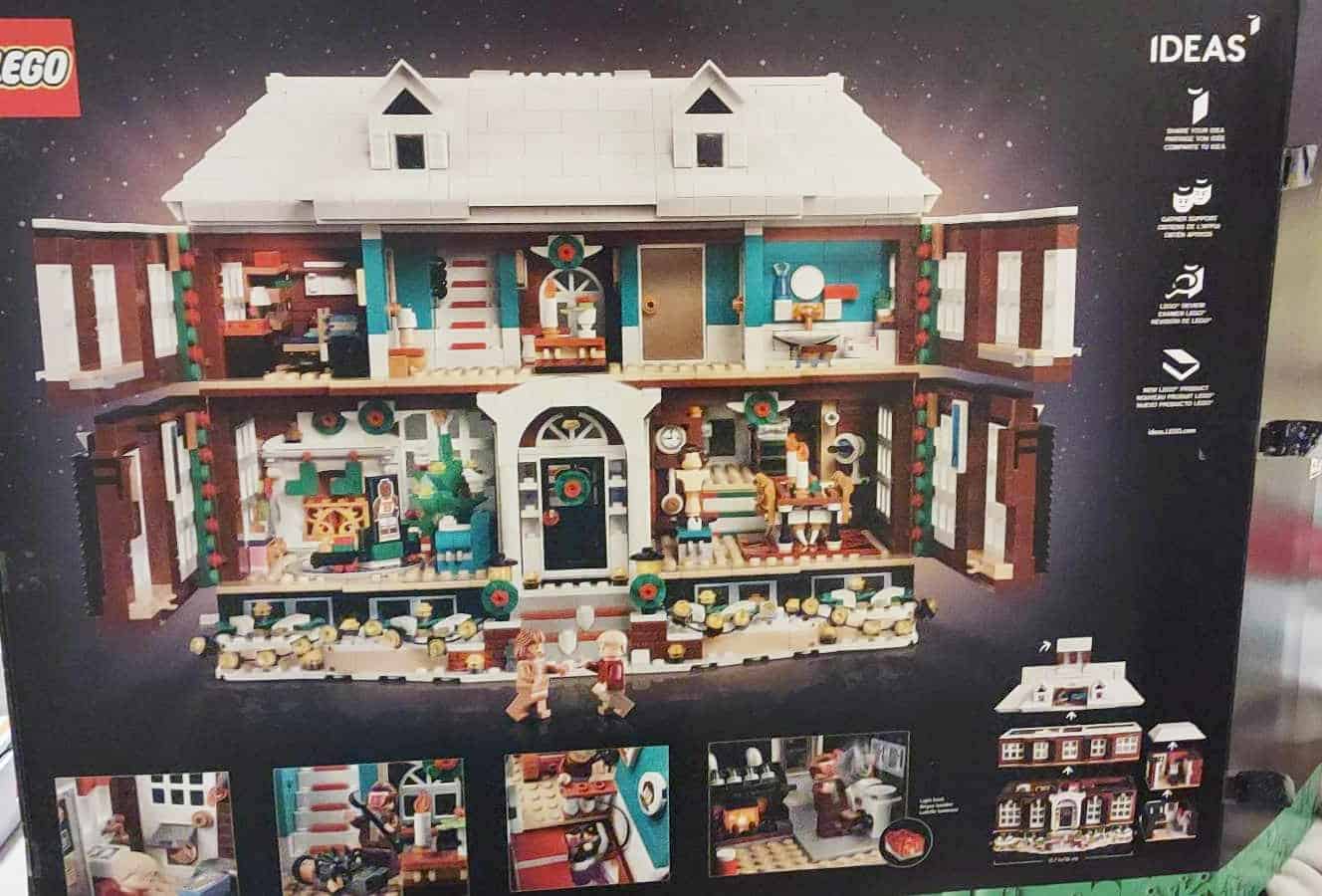 The Building Process
This set is divided into twenty-four bags. The first half of the bags are in a white cardboard box within the giant set box. The second half is loosely in the primary packaging. I did my build in two sessions, splitting between the boxed first half (bags 1 – 11) and the secondary loose half of bags (bags 12 -24).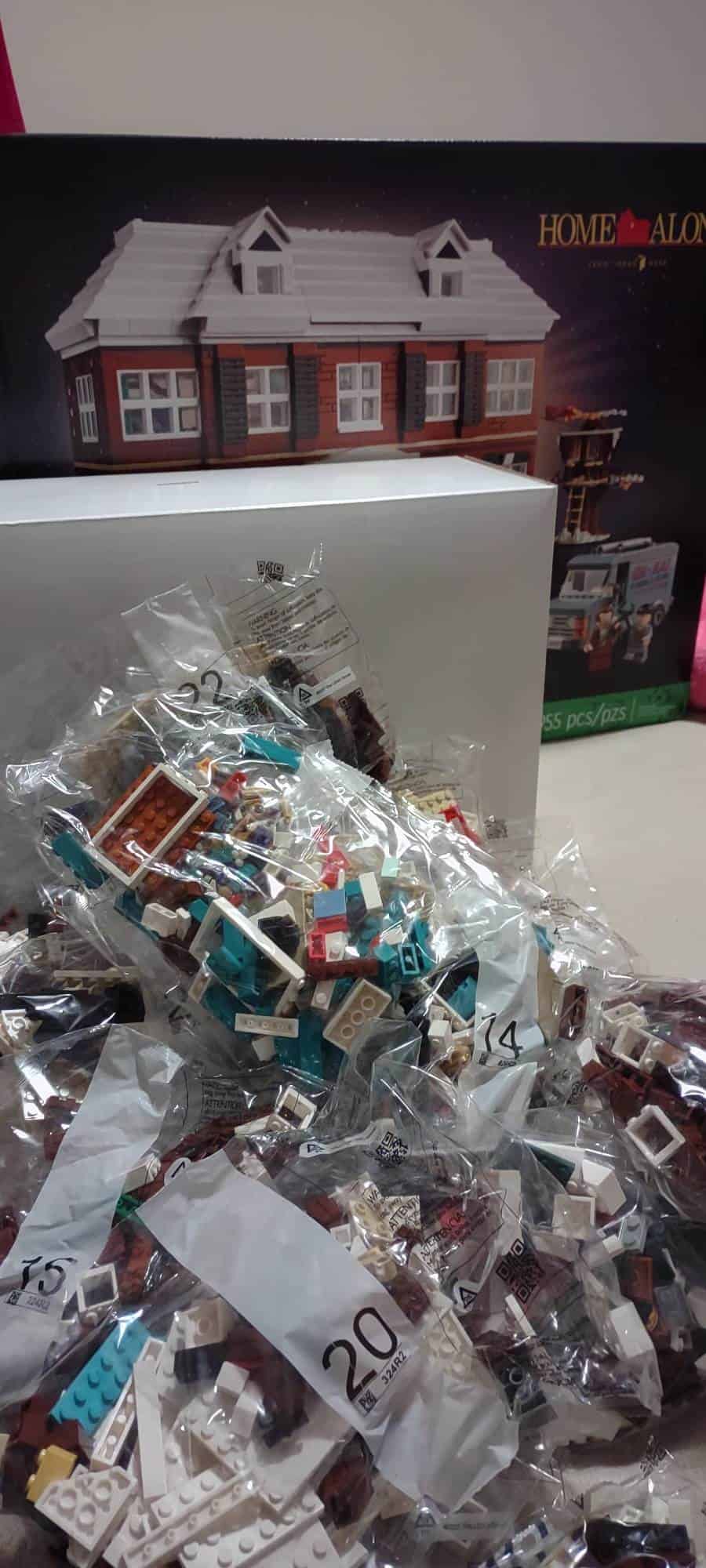 The first two bags contain the pieces for the Wet Bandits' van, which reads "OH-KAY Plumbing & Heating." The van has a modular aspect in that the roof of it comes off. This allows access to the back of the van, which stores the pair's stolen goods. The van also features a hatch that can be lifted to grant access without removing the top portion.
Bags three to ten are used to build the foundation and first story of the McCallister house. It also includes the minifigure of Kevin McCallister. The first floor consists of the living room, which features a rotating train track with a recreated version of the cardboard cutout of NBA all-star Michael Jordan. This was one of my favorite detail inclusions – likely since I was born in the 1990s and grew up as a Space Jam fan.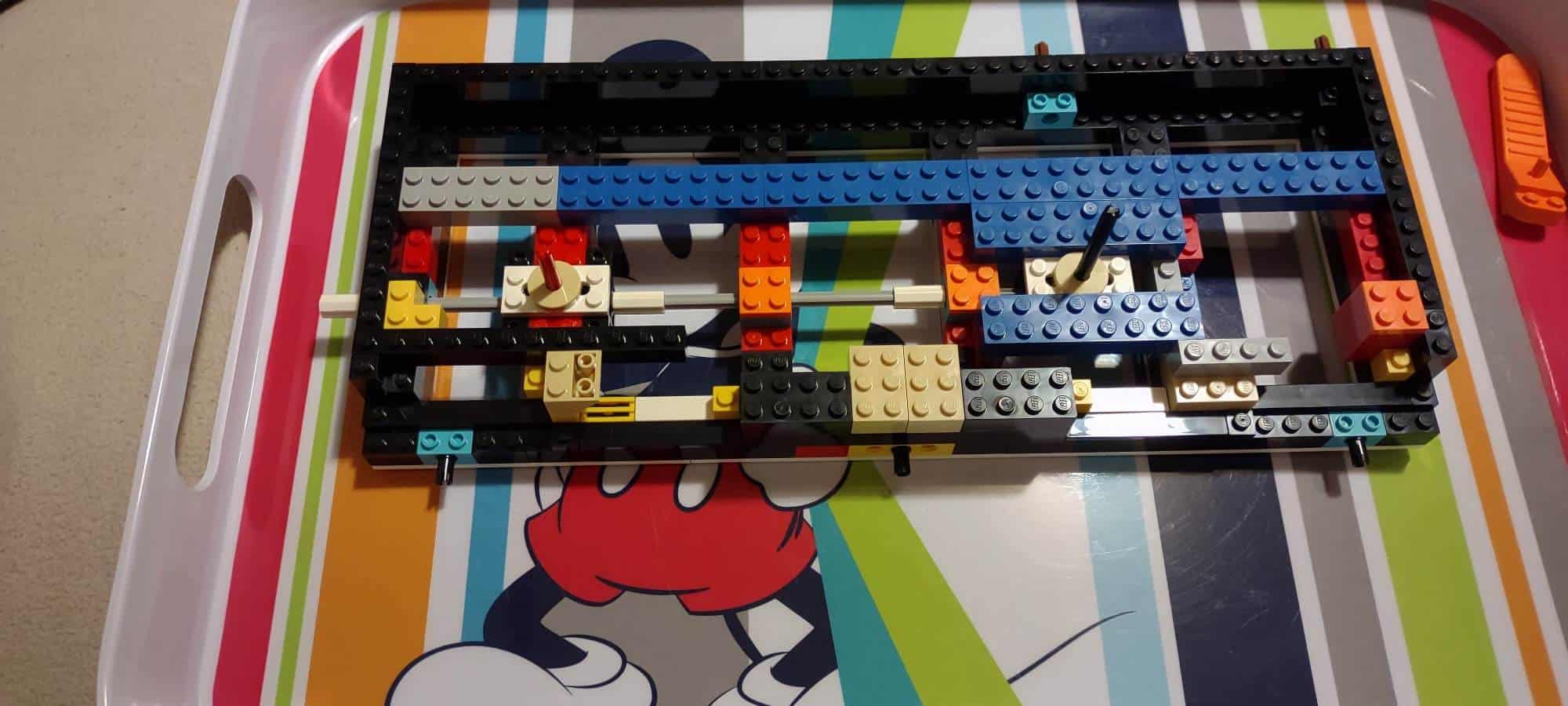 The staircase leading to the second floor is built in this portion, as is the dining room, where Kevin eats macaroni and cheese. An additional fun detail here is the inclusion of Kevin's sled. A built-in interactive point atop the middle of the staircase allows builders to recreate the scene where he uses the sled to go down the stairs and out of his house at high speed!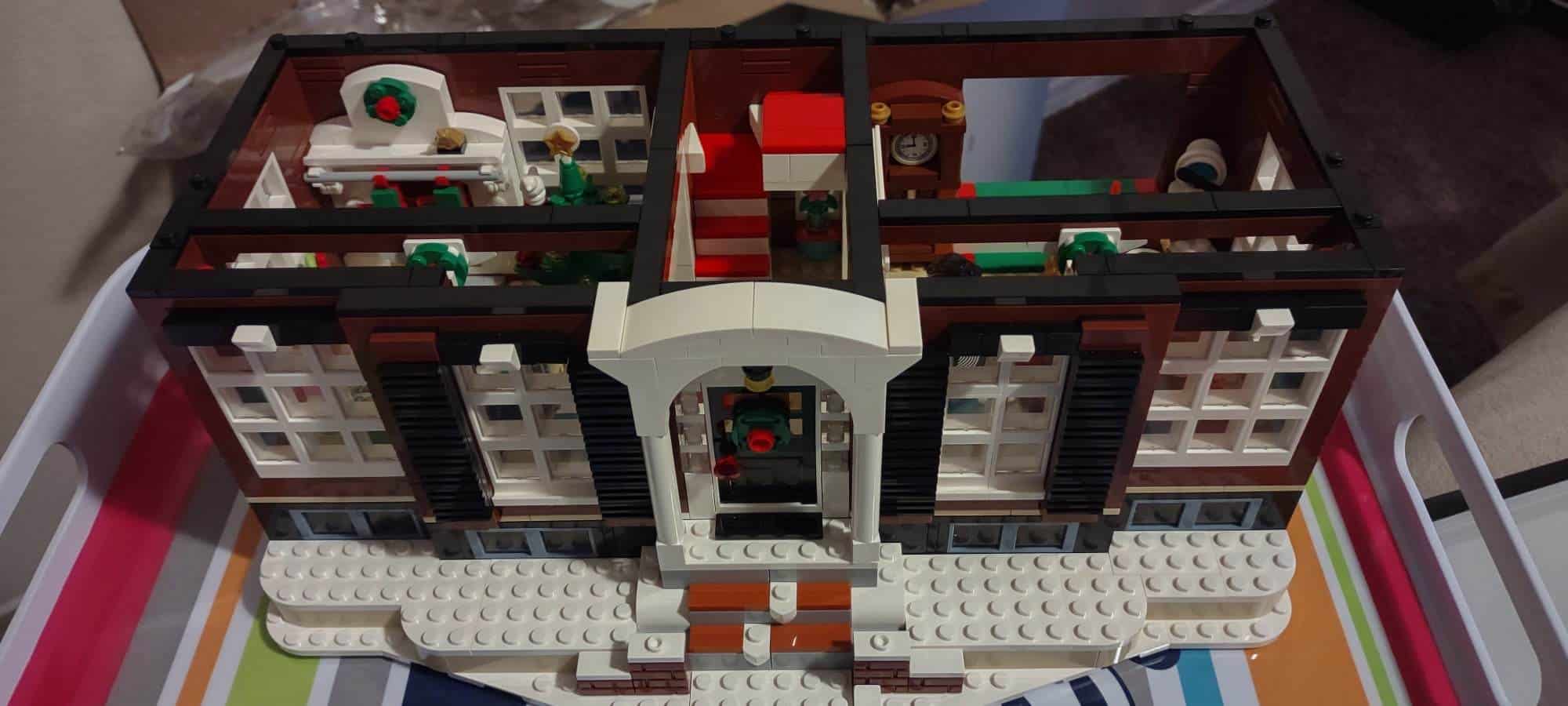 Bags eleven to sixteen create the second floor of the house. This includes the bedroom of Kevin's brother, Buzz, and their parents' bedroom. The bathroom is beside the McCallisters' bedroom, where Kevin iconically screams following his use of aftershave. A bottle and a stickered brick with a toothbrush are included on either side of the sink and mirror, harkening back to his scream and accidental shoplifting moments.
Also included in this part of the building process is the spider Kevin places on Marv's face, which sits on the wall by the staircase.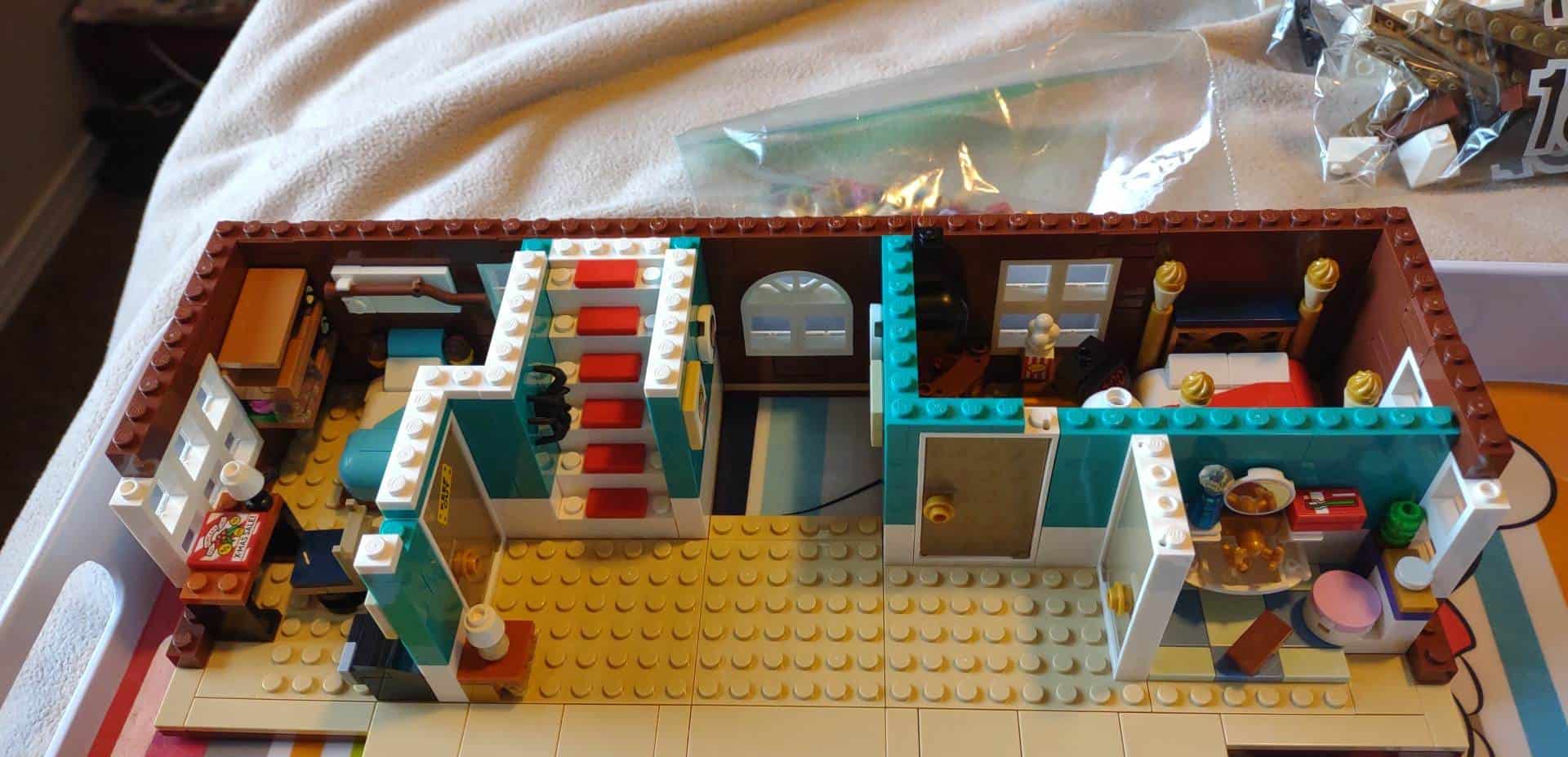 I became a bit frustrated with Buzz's shelves in this build section. In the end, a few items are placed on top of them. However, the shelves were not sitting flush with the wall, so the objects won't easily stay atop them.
An interactive element in this portion allows fans to pull a brown pin, which lowers the shelves and imitates Kevin's destruction of them. However, since they weren't sitting straight, the items fell off even without me interacting with that element.
As I was building, I heard them fall, and I decided to just leave them on Buzz's floor until I finished building. I didn't want to fight with them more than necessary. One of my pet peeves is placing loose items into builds before the build when you need to rotate things, and they're likely to fall out. Apart from that, I really enjoyed this section of the house.
Bags seventeen to twenty make up the roof, completing the main house. This was a slightly more tedious section where I needed to separate a few pieces before completing some pages of the instructions since they look very similar and are the same color. I found this area to be more nerve-wracking since some details aren't as secure as others.
I was also nervous about dropping pieces into the attic space since I dropped one, and it was hard to fish out due to where I was in the process. You might want to be a bit more careful with this area to avoid that scenario.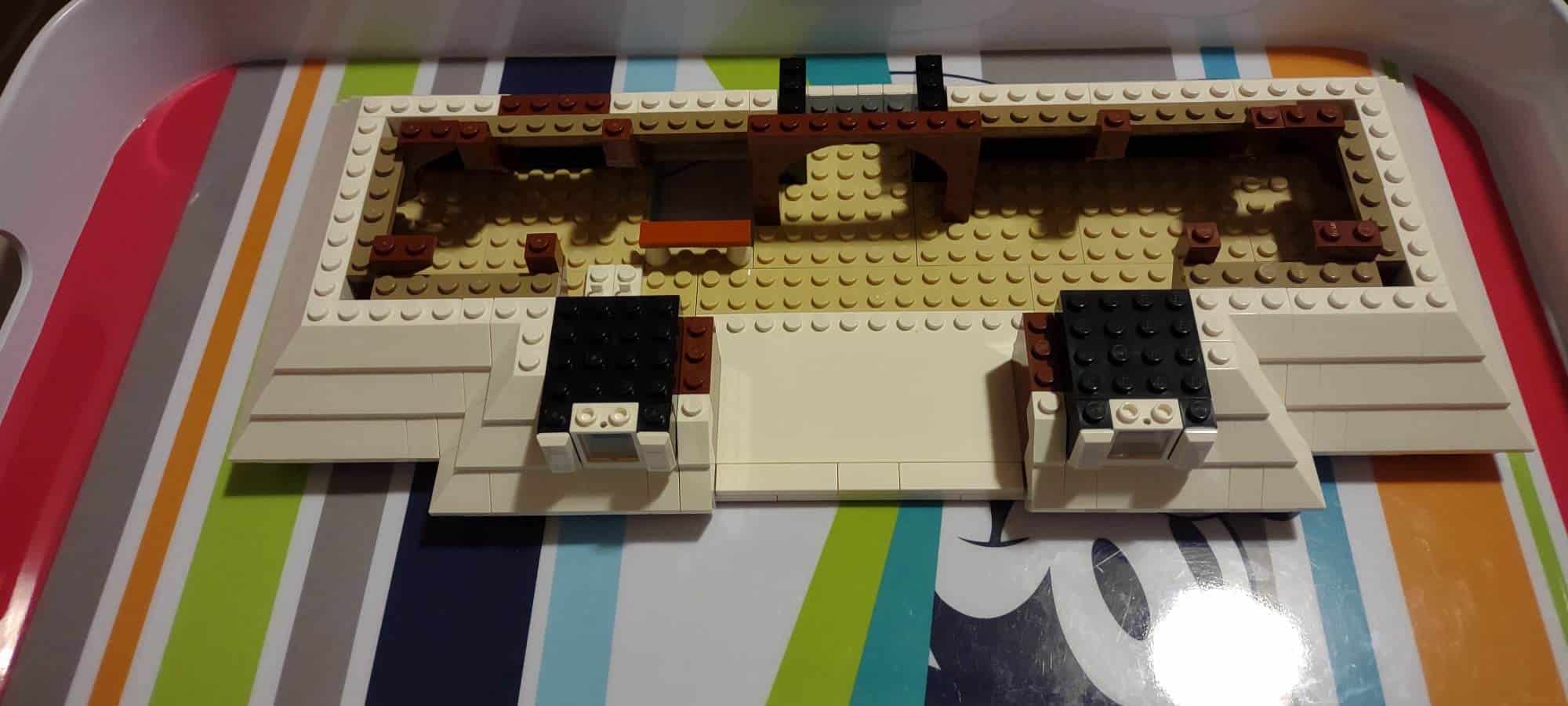 One part of this section I really like is how the roof can lift to give a peek into Kevin's battle-planning area. It's a tight section that captures the feeling of a small attic. I also love the layering of the roof and how it looks from the exterior. It's gorgeous, and little details like the chimney make it stand out.
Bags twenty-one to twenty-three include the minifigure of Old Man Marley and the two-story portion of the home. It incorporates the basement, where Kevin dislikes going because of the furnace. It also adds the kitchen, including the dog door flap where Kevin shoots Marv as the burglar tries to creep in.
The best part of the basement build is that a light block is included, allowing builders to see Kevin's nightmare light up, similar to how it does in the film. It's a great design inclusion that really helps this build stand out.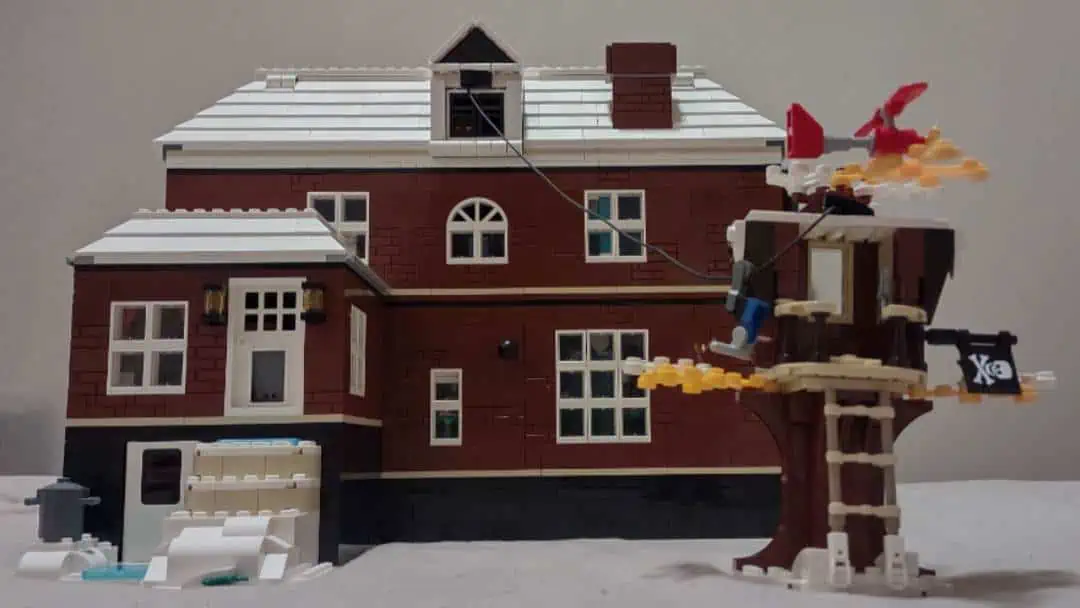 The last bag includes the minifigure of Kate McCallister. It allows builders to put together Kevin's treehouse and a zip line connecting it to the attic window. The last details built are some vegetation and decorations for the front of the house, which add a fun layer of festivity to the exterior. One such detail is a miniature minifigure in gray, replicating the statue drivers tend to knock over.
Each layer of the build, apart from the treehouse, uses clustered window panes, another element I really like. The two stories of the main house also include hinged walls on the front, which allow the interior to be accessed and displayed.
Each section contains some areas that take a bit longer because smaller details require stickers or particular placement. For example, putting together furniture like beds or chairs and family portraits by the stairs.
These small details help make this set stand out. However, they do diverge from the larger, foundational elements of the build regularly. This made my pace feel strange or slow since I'm used to adding bonus details a bit later in the builds I usually do. Nonetheless, these areas really make this house shine and bring the movie to life in a fun way.
Pros & Cons
| | |
| --- | --- |
| Pros | Cons |
| Interactive Elements | Tight Space of Design |
| Display Potential | Opening Difficulty |
| Size & Price | Sticker Ratio |
Best Parts of LEGO Home Alone
One of the best elements about this build is the attention to detail, including how interactive some elements are. Fans can destroy Buzz's shelving like Kevin does to get some money for groceries. They can also recreate Kevin's party and rotate the LEGO version of the Michael Jordan cutout. There are so many details and recognizable inclusions that really stand out.
These include sticker images of the Empire State Building and Eiffel Tower, referencing Kevin going to New York City while his family is in Paris in Home Alone 2: Lost in New York. There is a sticker featuring an ad for Duncan's Toy Chest, also referencing the sequel. Little Nero's Pizza is present in the home, as are family portraits.
Another big plus about this set is that it can be a very unassuming holiday decoration. It has a few wreaths and snow detailing, but it predominantly has the facade of a large, beautiful house. This makes it perfect for display year-round and a unique holiday decoration once December rolls around.
It is big enough to stand out from most LEGO sets available at the store but also features a compact design that is easy to display. Because some of the house opens up, it can also be turned into a diorama, showing off the home's interior. This allows owners of the set to have multiple display options depending on what they want and what their space allows. For now, I'm keeping mine shut to keep it compact as I adjust some things in my display areas.
As mentioned, the size is really great, but not just because of its easy-to-store and display potential. It also has a great price-to-piece ratio. Dividing the price by the piece count reveals that each brick is around $0.07 cents. While the price tag looks high initially, the LEGO Home Alone set has exceptional value to it.
LEGO Home Alone Shortcomings
While there are dozens of pros to this set, there are also a few cons. The build is modular, so it is possible to access each area of the home relatively efficiently. However, that also means sections need to be removed and temporarily set aside. This is great for film scene recreations and toy photography.
It does mean that you can only reach certain rooms by taking the build apart. Opening the hinged walls only grants access to a couple of limited areas. This isn't a dealbreaker, but it is something to be aware of.
A couple of the front walls do open on hinged pieces. Yet these pieces can be a bit hard to manipulate, especially for larger fingers. Though a few of the pieces look like they would be helpful for opening sections, they just come off relatively quickly. This is the case for the exterior shutters.
The best portions for opening the units are the white lower trims, which are very small. I could grab them with my nails easily once I located them. However, I imagine builders with thicker fingers and shorter nails might have trouble gripping them. This also is not a dealbreaker but could prove frustrating and is worth pointing out.
Lastly, despite the price, there are quite a few stickers. There aren't very many noticeable printed pieces, just a few very tiny ones like the pizzas and popcorn box. Everything else requires sticker placement. This has been a complaint that LEGO fans have had for a while, myself included. At certain price points, it would be much nicer to have fewer stickers, especially on certain elements.
For example, I would've appreciated it greatly if the sides of the van were printed pieces instead of stickers. I think that's one area that would've made a lot of difference for me with this set in particular. Another could have been the Little Nero's Pizza box logo. Every piece doesn't need to be printed, but it'd be nice to have some choice selections specific to sets of this price.
Time to Build
Each bag took me ten to twenty minutes, with the last two stretching to half an hour each. I did my build in two separate sessions over two days.
Bag 1 – 23 minutes
Bag 2 – 22 minutes
Bag 3 – 20 minutes
Bag 4 – 11 minutes
Bag 5 – 21 minutes
Bag 6 – 20 minutes
Bag 7 – 17 minutes
Bag 8 – 18 minutes
Bag 9 – 20 minutes
Bag 10 – 17 minutes
Bag 11 – 14 minutes
Bag 12 – 18 minutes
Bag 13 – 21 minutes
Bag 14 – 10 minutes
Bag 15 – 15 minutes
Bag 16 – 19 minutes
Bag 17 – 16 minutes
Bag 18 – 22 minutes
Bag 19 – 21 minutes
Bag 20 – 23 minutes
Bag 21 – 17 minutes
Bag 22 – 18 minutes
Bag 23 – 30 minutes
Bag 24 – 30 minutes
Ultimately, this build took me a total of approximately 7 hours. I did around three hours on my first building day and the remaining four hours on my second day.
Finished Product
The LEGO Home Alone set is one of the most detailed sets I have ever owned. Its size and scope are impressive. I love the modular design, even though I see it as a bit of a limitation from some angles. It is a great purchase for those who love holiday films, unconventional holiday displays, architectural LEGO sets, and the film Home Alone, specifically.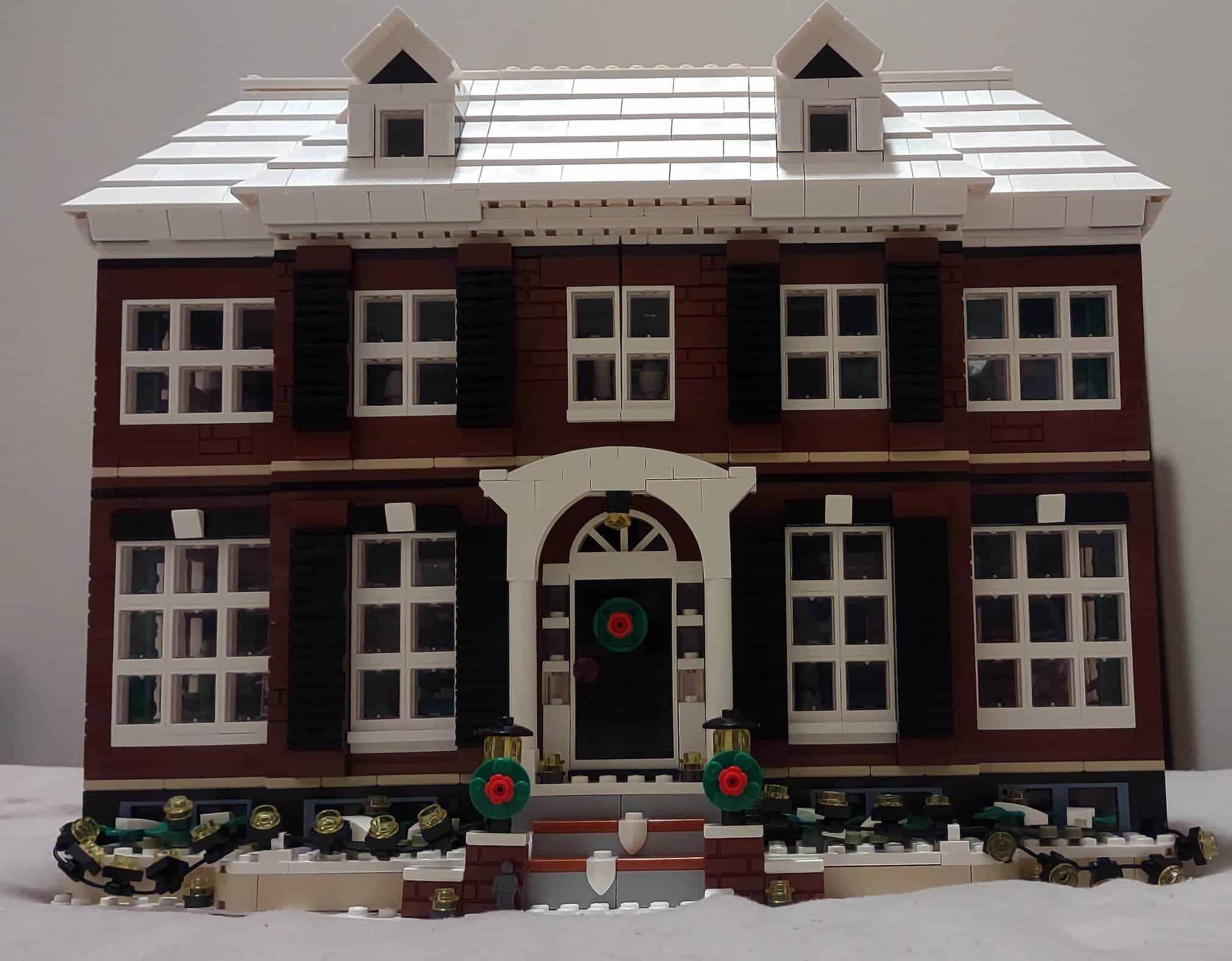 Each of the rooms is heavily detailed, with lots of potential to position the included minifigures in different areas and ways. The ability to recreate film scenes is also at its peak. From Kevin eating macaroni and cheese to swinging a paint can into Harry and Marv, the slapstick comedy of the film can be produced with this set. Kevin's sled, Buzz's shelves, and the creepy furnace are all present and interactive components.
Overall, this set has a lot of authenticity and is one of LEGO's best IDEA designs. The home's exterior and interior are beautiful and well-presented.
Minifigures
This set includes five minifigures. These are Kevin McCallister, Kate McCallister, 'Old Man' Marley, and the Wet Bandits: Harry & Marv. Each of the figures has two printed expressions on their face, except Marley and Harry. However, Harry does come with an alternate hat. He has his police officer cap, which he used to scope out the McCallister home early in the film.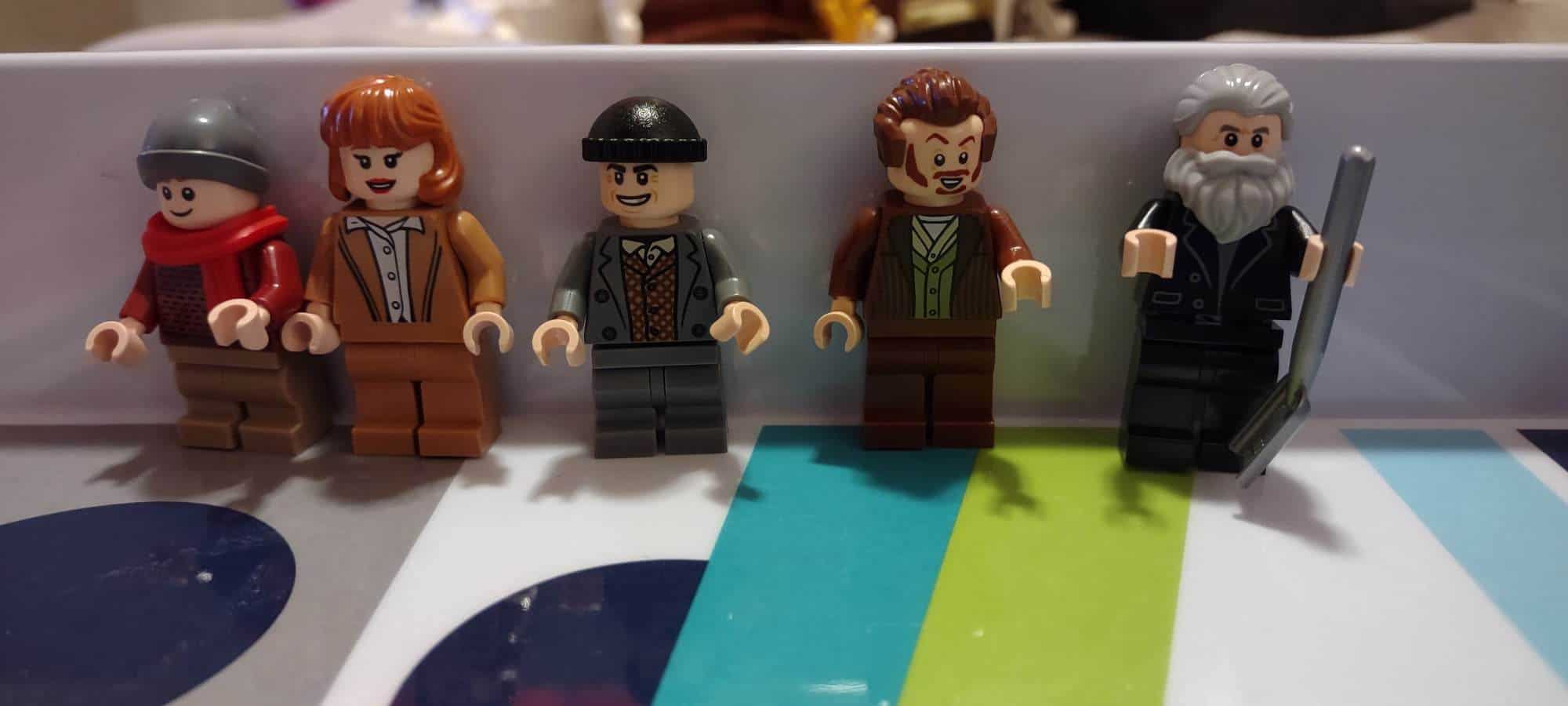 Both Wet Bandits come with crowbar accessories. Kevin's mom, Kate McCallister, does not have an accessory. Marley comes with a beard piece as well as a shovel. Kevin comes with a beanie to replace his hairpiece and a scarf, reminiscent of when he went shopping for groceries. The figures are all easily recognizable, and I like the printing on them.
I appreciate that Marv's alternate face has the mark of the iron that he was hit with and that Harry's smile includes his signature gold tooth. I do think Harry could have had an alternate face matching Marv's. I would've loved seeing him covered in feathers so the two Wet Bandits had Kevin-affected sides to contrast with their normal faces.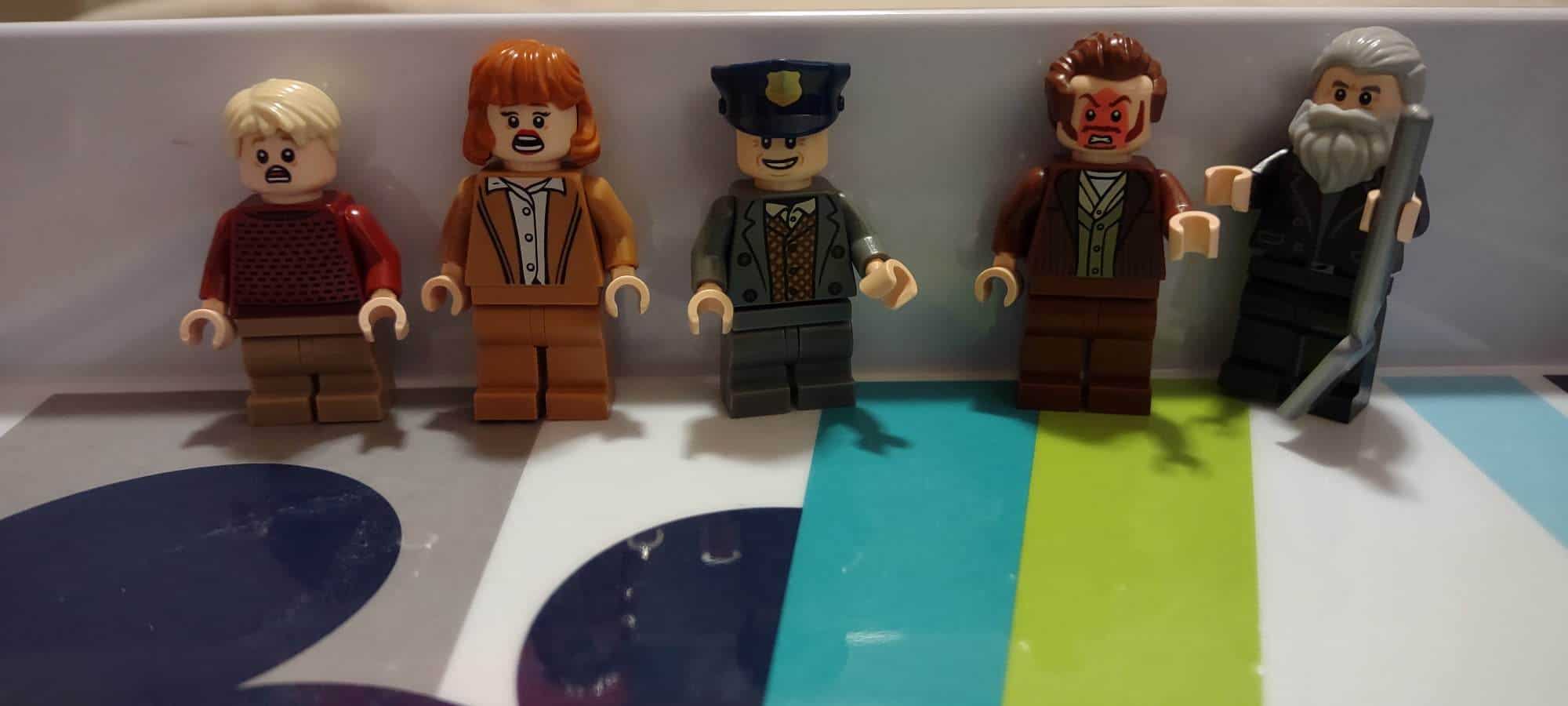 Playability vs. Display
This is an IDEAS set that is slated for ages 18 and up. That means that it is mainly meant for display. While there are some interactive elements and fun things to "play" with, the price point and brand make it a set designed for collectors. This set is also great for fans of the film who don't mind having an unconventional collectible to mark their fandom.
This set is not meant to be purchased lightly as a toy. Other sets in LEGO's alternate lines are much better suited for that purpose. As discussed in the pros section, this is a great display piece with multiple ways of displaying it, including diorama-style with all of the hinged walls open.
Is LEGO Home Alone Worth the Price?
Despite having a higher price than many other LEGO sets, I do think that this Home Alone set is worthwhile. I love the design, I love the details, and I love how many layers there are to it. It has the potential for lengthier build times, a few thousand pieces, and well-designed minifigures.
It also comes with a light-up brick for the furnace, which is a fun bonus detail. The price-to-piece ratio reveals a great value from another angle as well. The inclusion of bonus elements, including the Wet Bandits' van and Kevin's treehouse, as well as the many authentic details of the house, make this one of LEGO's best values.
Other Recommended LEGO IDEAS Sets
FAQS
Question: How many LEGO IDEAS sets are there?
Answer: There have been 51 total LEGO IDEAS sets, though many are now retired.
Question: When did Home Alone release?
Answer: The film Home Alone was released in 1990. The LEGO set inspired by it was released thirty-one years later in 2021.
Question: Who designed the LEGO IDEAS Home Alone set?
Answer: The set was designed by LEGO fan Alex Sorozhuk.
Conclusion
I love this set and definitely rank it high on my personal list of LEGOs I've built and had experience with. It's a fun build, it's detailed, and it's great year-round. The modular aspect makes it very flexible, and the range of capabilities it has for toy photography is a definite bonus.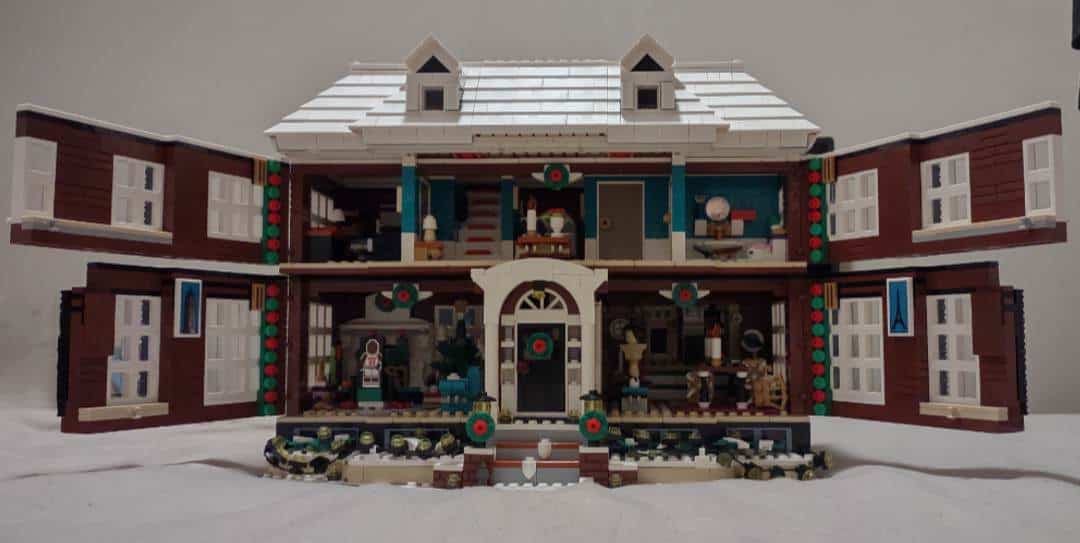 Since it stands independently as an IDEAS set, it also makes for a great addition to a LEGO collection since it doesn't have several different sets just to make up the broader concept. I like that it is a one-and-done build that captures all the detail in one almost perfect wrapping.
I still would've loved to see more printed parts, and some of the smaller elements, like Buzz's shelves, didn't quite line up as I expected them to. The stickers aren't a deal breaker. I'm just really tired of seeing so many on several of LEGO's higher-end offerings. Nonetheless, I'd call this a must-have set for fans who can afford it – or who can work it into the holiday gift or decoration budget!
Related Reads: