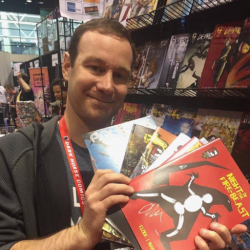 Latest posts by Frank Martin
(see all)
I've always found LEGO to be a very remarkable brand as it can be used for so many different things. It can be used as a teaching tool, a child's play toy, a collectible, and even a practical means of engineering. With all these different uses, it may be difficult to find a place to purchase LEGO, depending on what purpose you want to use it for.
If you're a person who likes to build the newest and most expensive Technic set to be displayed on your shelf, then you probably don't want to visit a website that deals strictly in vintage collectibles.
Likewise, sometimes the simplest places and most obvious choices for grabbing great deals may be right in front of your face. That's pretty much what we're here for. I've compiled a list of some of the top places to purchase LEGO sets and figures online in order to cut through the noise and provide you with the right place, depending on your needs.
Every site isn't going to accommodate every aspect of your LEGO experience, but these are the qualifications I consider when making the list.
Variety

: These websites have a large selection to choose from.

Price

: Everybody is always looking for a great deal.

Niche

: It helps when websites hone in on a particular thing rather than try to please everyone.
Where to Find LEGO Deals Online

The Plastic Brick is a LEGO dealer, plain and simple. Unlike Amazon, which hosts a location for others to sell their wares, this site handles the sale of LEGO sets directly. More than that, though, it also purchases LEGO sets from the public. The site is adamant about what is considered new and used and goes out of its way to ensure a lot of quality from its products.
My favorite aspect of the site has to be the organization it takes to find certain sets. Because there are so many different LEGO brands, it may be difficult to navigate certain places online while browsing.
Also, one of the biggest concerns on the secondary market is trusting the seller. Ratings and reviews on Amazon and eBay make it possible to more or less understand who you are buying from, but The Plastic Brick takes that worry away as you know everything you buy is coming from the same source.
Pros
Quality

: Everything on the site is listed honestly.

Purchases sets

: It's also a relatively easy place for consumers to sell their stuff.
Cons
Prices

: Its vintage sets can be a little bit more expensive than those on bigger websites.

Unlike some places such as eBay and Amazon, which sell anything and everything imaginable, BrickLink is tailor-made for LEGO fanatics everywhere. It tries not to be just one thing. Instead, the site tries to handle everything related to LEGO, down to designing and selling individual pieces.
Of course, it's a place for people to buy and sell LEGO sets, but I love that it's so much more than that. It has designer programs for people learning to design their models and even enter competitions to try and beat others.
It also hosts a robust forum for people to chat and exchange ideas. The world of LEGO is incredibly large, so it's an ambitious undertaking to try and encapsulate everything LEGO offers for fans worldwide. I would imagine the only downside is that this site is so robust that the casual LEGO fan may be a bit overwhelmed by its scope.
Pros
Forum

: Interacting with other fans is my favorite part.

Designer program

: The site doesn't just try to host content. It also actively encourages it.
Cons
Overwhelming

: If you aren't already familiar with the LEGO community, the site may be an overwhelming place to start.

The LEGO online store might seem like an obvious choice for where to purchase LEGO sets, but that doesn't make it any less important to note. It is the official place to buy LEGO, so there's something to be said about cutting out the middleman and getting something directly from the source.
It's similar to why buying something from an actual brick-and-mortar LEGO Store is such a better experience than going to a big box store to purchase a set.
There are obvious downsides, one of which is that there is no aftermarket. Only currently manufactured sets are being offered. Plus, what you see at the LEGO store is what you get.
They do offer deals from time to time, but their prices are more or less set in stone. However, because this is the official place to purchase LEGO, it's hyper-focused on that one job. The experience is different than a store like Walmart or Target, which is constantly trying to distract you with other kinds of purchases.
Pros
It's official

: There's something warm and fuzzy about buying LEGO from LEGO.

Rounded experience

: From beginning to end, it's a much better feeling than going to a different site.
Cons
Prices

: It's not the best place to shop on a budget.

No aftermarket

: Retired sets aren't available.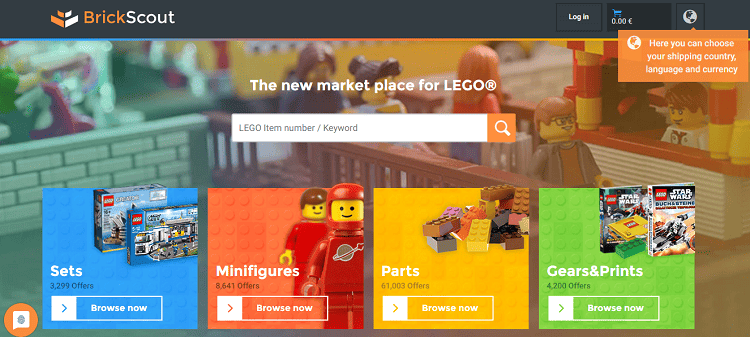 They are just so many different LEGO sites online that it's hard for places to carve a niche for themselves. They all more or less offer the same thing.
They sell figures, sets, and even parts. I like BrickScout because it does that, but it also tries to position itself to be good at certain things that other sites may be lacking. Right from the start, they hit you with a search bar that allows you to look up items by number or keyword.
They also offer a wide assortment of unique pieces you can't find anywhere else. If you're building a Technic set and are missing that one tiny axel piece that you can't find anywhere else, they can get it for you.
They also sell stickers, books, and prints, LEGO paraphernalia that other sites don't bother with. It also helps that they are a European-based site, which is good for LEGO fans that don't want to ship stuff from America.
Pros
Easy navigation

: They don't make it difficult to find things.

Merchandise items

: They have things associated with LEGO that aren't necessarily bricks or figures.
Cons
European site

: This might be a pro for Europeans, but for Americans, it could turn them away.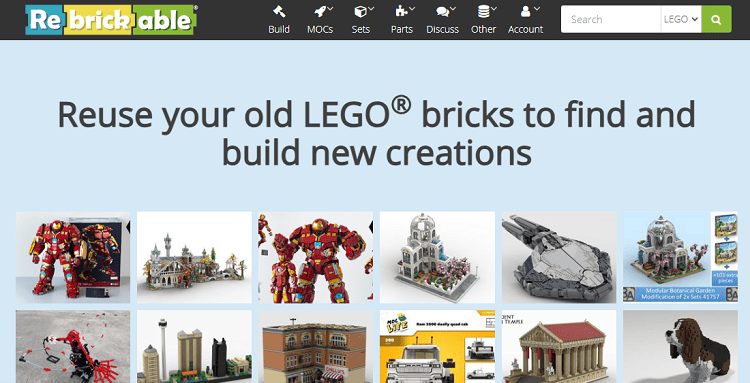 On some levels, Rebrickable does what a lot of other sites do. It can allow fans to look up parts, sets, and make purchases. It also has a robust community with blog posts, reviews, news, and other fan discussions.
But what Rebrickable excels at is being a place for fan-designed creations to shine. It portrays itself as a friendly community where LEGO fanatics can put their extra bricks to use.
One of the things I hate most about LEGO is that my sets never last forever. I can put them on display, but they will ultimately get destroyed at some point. Then all the pieces Just wind up in a huge bin for my kids or myself to play around with. But we aren't great architects.
Rebrickable is a site that allows us to put these loose pieces to use in ways that LEGO doesn't accommodate. In this way, we are constantly challenging ourselves to build newer and crazier sets outside of LEGO's original intention.
Pros
Robust community

: There's a lot of healthy discussion going on.

Fan-designed creations

: There are thousands of them to explore.
Cons
Not a great store

: While you can certainly purchase things from the site, that's not what it was meant for.

Account needed

: In order to get everything the site has to offer, you're going to need to make an account for it.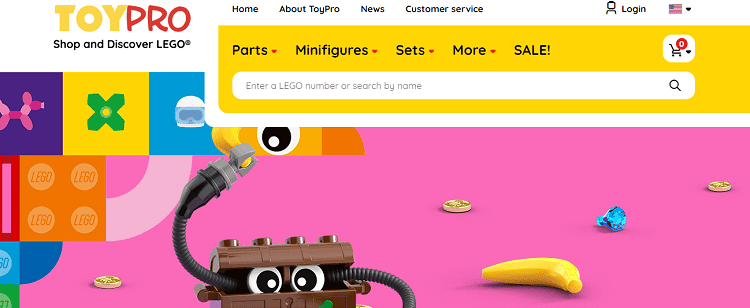 Although ToyPro does what many other sites do, it positions itself as the premier website for parts. It does sell figures and complete sets like other sites, but it wants to be the place adult fans of LEGO go to to find the missing pieces they need to complete those retro sets that they just can't get anywhere else.
The site has a robust search feature that allows fans to find what they need in many different ways. It tries to be an all-in-one store so that customers don't need to go anywhere else.
They accomplished this by having a great customer service feature that many other sites don't accommodate. I don't use the site too often, but I admire its design and easy layout that first-time visitors aren't too overwhelmed by.
Pros
Search features

: It allows customers to find parts in several different ways.

Customer service

: They offer more help than most of their competitors.
Cons
Lack of community

: They are just a store, so they don't offer many other extras.

Like eBay, Amazon is another site that seems like an obvious choice. After all, there is a reason the online marketplace has become as big as it has. There are many similarities between Amazon and eBay. For one, I found them to be a great source for buying retired LEGO sets that aren't available anywhere else. Also, their prices on vintage sets tend to be a little cheaper.
eBay isn't a great place to purchase new items. But this is something Amazon excels at. It does a much better job than eBay of having vendors set up their stores.
This way, it's much easier to compare prices and get the cheapest deal possible. But again, it's not a LEGO-specific site. So for connoisseurs and collectors that are looking for that one particular item, it may be difficult to narrow down your search.
Pros
Competitive prices

: There's a lot more competition, so it's easy to find a deal.

Easy interface

: This site is organized well to go from one item to the next.
Cons
Business practices

: Many people don't shop on Amazon for moral reasons.

Not LEGO exclusive

: Just like eBay, there are a lot of other items that may muddy your search.

There are a lot of big box stores that sell toys and building sets like LEGO and their competitors. Target is certainly one that comes to mind.
But in terms of finding the best deals on the hottest items, Walmart has them beat. Shopping on Walmart and Amazon may seem like similar experiences. After all, they do offer new items like an online store. But it's important to remember that Amazon isn't a store. It's merely a marketplace for other stores to post their items.
When a purchase is made from Walmart, it's coming from Walmart directly. This simplicity means it's a lot easier to buy multiple items at once as you only have to deal with one seller instead of many. Then again, Walmart is just a store. It's not a LEGO store. So collectors looking for a specific item have no business checking Walmart stock.
Pros
Shipping deals

: Walmart's great when it comes to bundling items.

New items

: Their website is constantly updating when new products come out.
Cons
Just a store

: They won't have any older LEGO products.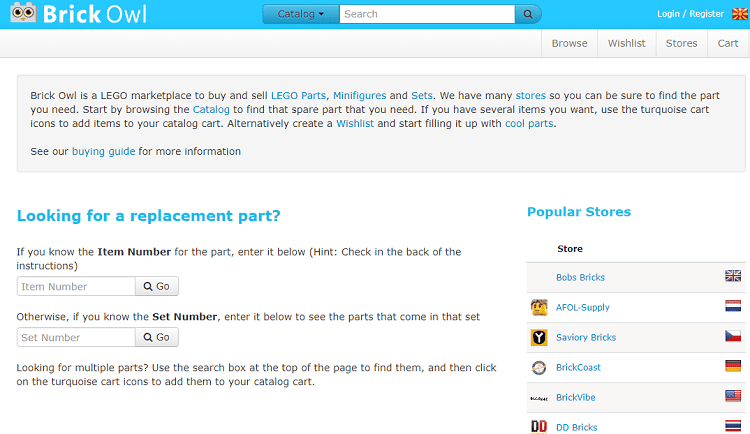 Brick Owl is a fairly standard marketplace for sellers to showcase their wares. They have a wide assortment of stores in a large number of countries. This is extremely useful for international customers to try to cut down on shipping by finding stores that can ship domestically. They also allow customers to search by item number, which many of these marketplaces don't offer.
For me, I like their wish list feature. It's something that's pretty straightforward that a lot of sites don't accommodate. In this regard, even if you don't have the funds to purchase everything you need in one sitting, you can compile a wish list of sorts so that you know exactly what you want when you are able to finally pull the trigger on it.
Pros
International sellers

: It's really helpful to find a local store.

Search by part

: This makes it extremely convenient to find that one piece you're missing.
Cons
Design

: It's not the best-looking site.

Nothing fancy

: It's a marketplace. What you see is what you get without any bells and whistles.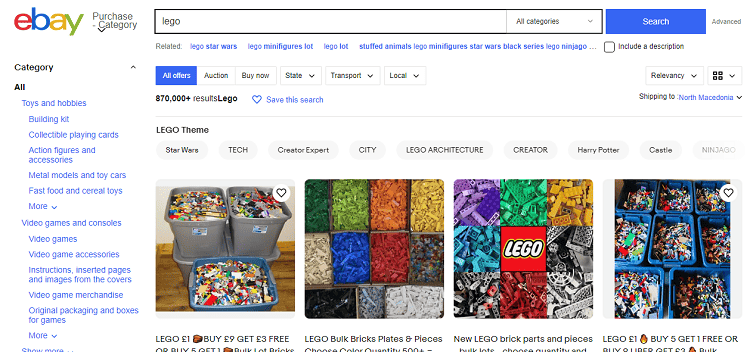 eBay is great for a number of reasons. Unsurprisingly, it's also bad for those very same reasons. It all depends on what you're after. Since it's not a LEGO-specific site, eBay is flooded with all different kinds of merchandise. So it may be difficult to narrow down your searches as to what you specifically want.
And even if you do manage to get a good search going that gives you just LEGO results, it's hard to narrow it down even further to the specific type of LEGO sets or figure you're in search of.
Then again, I personally like eBay because it has such a wide range of items. It doesn't curate its listings or sellers. This feature allows vendors to pretty much operate a store out of eBay with tons of different kinds of merchandise to offer. If you don't have any specific item you're looking for in mind, then eBay is a great place to take a shotgun approach to your LEGO shopping.
Pros
Variety

: There's a lot to offer.

Auction

: Because it's not a straight store, it's possible to get some surprising deals.
Cons
Auction

: You may think you'll get a deal just to find yourself in a bidding war that jacks the price up.

Not LEGO exclusive

: There's just so much being sold on eBay that sometimes other items can cloud your searches.
FAQs
Question: When was the LEGO website created?
Answer: The LEGO website launched in 1996.
Question: What is the best-selling LEGO set?
Answer: LEGO does not disclose sales figures, but you can get a good idea by looking at individual stores to see their top sellers.
Question: How many visitors does the LEGO website get?
Answer: It varies a lot, but the LEGO website can get upwards of 40 million visitors a month.
Conclusion
Like the internet, the places where you can purchase LEGO sets, parts, figures, and merchandise are endless. For the most part, a lot of them all do essentially the same thing: they sell LEGO. Some might specialize in one aspect over another, which is very helpful to have different sites you utilize for different purposes.
If you're a no-nonsense consumer, then a seamless checkout process might be for you. If you're into a place that builds a community, then you may want to look at sites that have an active forum.
They also vary wildly in design and layouts. But at the end of the day, it doesn't matter where you purchase your LEGO products from. The most important thing to remember is that you want to feel comfortable with your decisions. That means buying from a seller you trust and being okay with giving them business.
Related Read