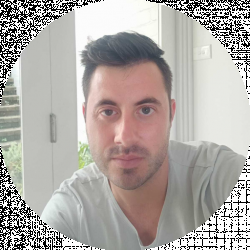 Latest posts by David Borgogni
(see all)
As you probably already know, the range of Lego's products isn't limited to toys since the brand offers a wide range of clothes, accessories, books, and costumes. So, in this guide, I will supply you with the information needed to find the best Lego merch.
Lego is one of the most recognizable brands globally, and it is currently the largest company in the toy market. But, not all Lego-themed products are made by Lego since the company collaborates with numerous brands that produce Lego-licensed merch.
That's why it is relatively easy to end up with copies of the brand's original products if you're not careful. I am going to walk you through the steps you need to take to find the best Lego merch and suggest several products that might be the perfect gift for your child or your friends.
Lego Merch Categories
Knowing what type of product you're looking for will make it easier to navigate through Lego merch. The brand offers thousands of products that range from keychains to storage boxes, so browsing through all of Lego's merch can take hours, if not days.
There are eight main categories of Lego merchandise, and each category has several product subcategories. Let's take a look at the Lego merch categories:
Clothes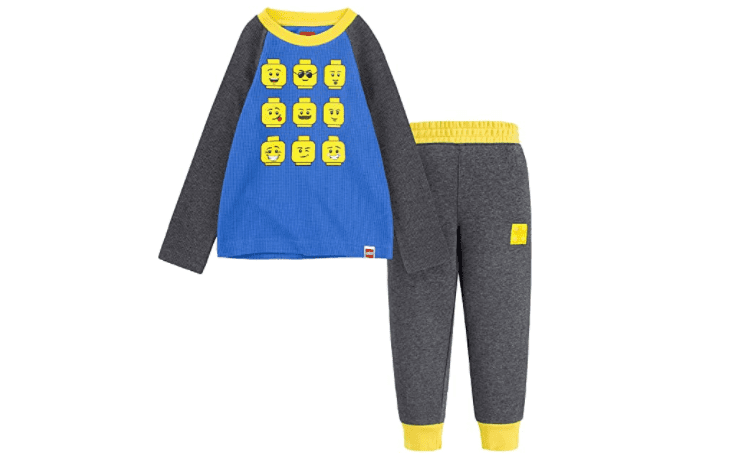 Danish company Kabooki produces clothing items such as jogger pants, pajamas, or t-shirts under Lego's license. In addition, brands like SGI Apparel or Isaac Morris also produce licensed Lego clothes. Lego-themed clothes are usually aimed at children, as the adult product lines contain fewer items.
Accessories
The vast majority of merch in this category is produced by the IQ Company that specializes in the production of self-powering lights for children. Besides keychain lights, this category includes wallets, passport cases, and pouches.
Backpacks and Lunchboxes
Lego doesn't outsource the production of backpacks, but the lunchboxes and hydration bottles are made by a partner company under Lego's license. Most products from this category are affordable, as their price doesn't exceed $20.
Books
You can choose from thousands of books that cover every aspect of the Lego world. The company doesn't release print publications independently, but its publishing department collaborates with various magazines and media companies on new releases.
Home Items
Brick-shaped lamps, jigsaw puzzles, or fridge magnets are among the Lego-themed items you can find in this category. You should check if a specific product is authentic before deciding to buy it.
Costumes
The Disguise brand produces the majority of Lego costumes you'll find on the market. The company operates under the Lego license, so all you have to do to check the product's authenticity is check if it has the Disguise label.
Stationery
This category contains hundreds of products aimed at school kids. Notebooks, erasers, and pencils are manufactured mostly by the IQ brand.
Drawers and Boxes
The Lego-themed storage options are produced by the brand's partner company Room Copenhagen. Most models have studs that allow you to stack multiple boxes or drawers in the same way you'd stack Lego bricks.
What is Lego® Wear?
Lego® Wear is the children's clothing brand that was started by Lego in collaboration with the Danish company Kabooki in 1993. After nearly thirty years of collaboration, Lego® Wear is Kabooki's largest brand that produces clothes for children up to the age of 14.
The brand's product lines include outwear, tops and bottoms, and each product line contains a variety of jackets, t-shirts, and sweatpants.
Kabooki isn't the only licensed manufacturer of Lego-themed clothes since other brands also make clothes for children under Lego licenses, but the quality of their products isn't always at the highest level.
Hence, opting for clothing items featured in the official Lego Store is usually the best way to ensure that a hoodie or a t-shirt you get is authentic Lego merch.
Lego Licensing Programs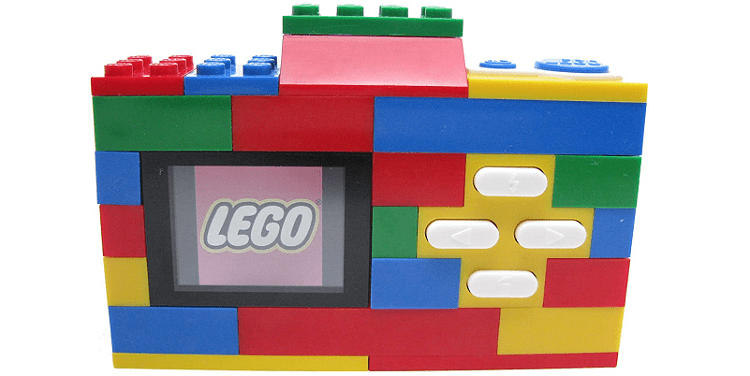 Besides the clothing industry, Lego has ventured into several markets by making lucrative licensing deals. Hence, you'll encounter merch like a Lego digital camera or an MP3 player. The Lego Group has also released 85 video games since 1995.
These games were developed through the partnership with the French game developer Mindscape and a British game developer, Traveller's Tale. Lego Interactive, the media division of the Lego Group, publishes most video games developed in collaboration with these gaming companies.
The company has also made inbound licensing deals with Disney and Lucasfilm, and it offers a wide variety of Star Wars-themed products as well as sets and figurines inspired by various other movies produced by these film industry giants.
Where to Buy Lego Merch
Lego's products are everywhere, as you can find them in local bookstores, specialized Lego stores, or get them from online retailers. That's why determining the authenticity of Lego merch can be difficult at times, especially if you don't know much about companies that operate under Lego licenses.
As a general rule of thumb, you shouldn't buy Lego merch from unreliable sources since you might end up getting a copy of the original product. Shopping for Lego merch in stores certified by the brand is probably the safest option, as you won't have to worry about the product's authenticity.
Choosing a reliable retailer is even more important when shopping online. It is advisable to check the retailer's credibility before you decide to get Lego to merge from a large e-commerce platform.
Lego Merch Quality
Even though the Lego brand name is synonymous with durability, it is still advisable to check which materials were used to produce Lego merch you want to get.
As we already noted, Lego doesn't make all of its merchandise, and some companies operating under the brand's license tend to offer products that wear out quickly.
Also, choosing a Lego® Wear clothing item or getting a storage box produced by Room Copenhagen will help you avoid having to worry about the merch's quality. Taking the time to read about the experiences users had with a specific product might also assist you in determining if it is flimsy and short-lived.
However, most Lego merch is made of high-quality materials, and you'll be able to use it for a long time.
The Most Important Factors to Consider While Choosing the Best Lego Merch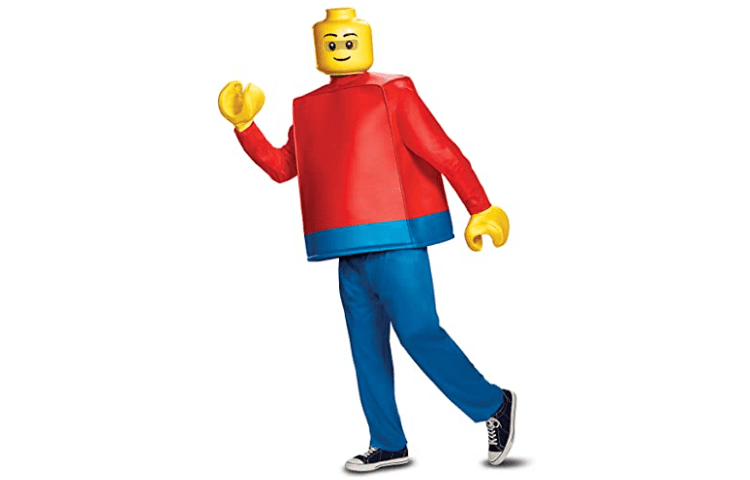 The sheer variety of options you'll have at your disposal while searching for Lego merch can be intimidating. Even if you narrow down your search to just one category, you'll still have to choose from hundreds or thousands of products.
I've shortlisted several factors that can make the process of choosing the best Lego merch quicker and smoother, so let's take a quick look at them.
Adult vs. Kids Lego Merch
Lego has a sizable adult fan base, and the number of merch designed for adults reflects that. Planners, cosplay costumes, cameras, or books can be excellent gifts for an adult who still admires Lego. It is worth noting that some categories contain merch that is almost exclusively aimed at children.
That's why you should explore Lego-themed clothes, accessories, or lunchboxes if you're searching for merch a child under the age of 14 would appreciate. Storage and home item categories contain products that are more suitable for older Lego fans.
Product's Functionality and Quality
Functionality isn't an important factor if you're looking for decorative Lego merch like a fridge magnet or picture frame, but it is a crucial aspect you need to consider if you'd like to get a Lego-themed box or lamp.
You should also pay attention to the product's quality since Lego merchandise can be very expensive, and you might end up spending a lot of money on a product that wears out quickly.
Checking the product's quality is very important while choosing a lunchbox or a backpack since some models can break down weeks after you purchase them.
Retailer's Credibility
You should always get merch from a reliable source to avoid having to deal with knock-offs or poorly made products. Shopping at a Lego store or one of the Lego-certified stores is always the best option because you won't have to worry about the product's authenticity.
Online shopping is trickier since there are lots of small e-commerce websites that claim to offer original Lego merch.
However, the products you see on the images aren't always the products that are delivered to your home, which is the reason why you have to double-check the retailer's credibility before you make the purchase.
Lego Authorized Merch
Only companies that have a Lego outbound license can produce Lego-themed merchandise. Kabooki, SGI Apparel, Isaac Morris, and Mad Engine are some of the brands that manufacture clothes under the Lego license.
Products released by the Kabooki's Lego® Wear brand are your safest option if you want to buy Lego-themed clothes for your child.
Almost all electronics and storage Lego merch is produced by IQ and Room Copenhagen brands, so if you're looking for a drawer that looks like a Lego brick or a keychain light, you should get a model produced by these brands.
Price Considerations
The cost of Lego merch depends on the product you want to get. You won't have to spend more than $10 on most Lego-themed keychains, wallets, or pencils, but books or clothing items can cost more than $100.
Most Lego t-shirts cost around $20, while storage boxes and drawers are usually priced from $20 to $100. Knowing your budget in advance can make it easier to decide which Lego merch you want to get.
The Advantages of Lego Merch
Wide Variety of Products
Each Lego merch category contains hundreds of products, so if you're shopping for Lego clothes, you'll be able to choose from a broad spectrum of jackets, hoodies, t-shirts, or pajamas, while the Home category features items for the kitchen or kids rooms.
Designed for All Age Groups
Anyone, regardless of how old they are, can find Lego merch they will enjoy having. A sizable portion of the brand's merch is aimed at children and teenagers, so you won't have too much trouble finding a Lego lunchbox or blanket. Older Lego fans might enjoy items like The Lego Book or an adult Lego Guy costume.
Easily Available
Finding Lego merch doesn't take a lot of effort since these products are available online or at brick-and-mortar stores. Getting the merch from a Lego-certified store is arguably the safest option since online retailers aren't always reliable.
Most Lego Merch is Practical
Aside from paying homage to the iconic design of Lego bricks, fridge magnets, planners, or storage boxes are highly practical as they make performing mundane tasks easier.
Excellent Gift for Lego Fans
Lego merch can be an excellent birthday or Christmas present for Lego fans of all ages. With so many products to choose from, you won't have trouble finding the one that matches the taste of the person you want to surprise with Lego merch.
The Disadvantages of Lego Merch
Quality Depends on the Product
Unlike Lego sets that can last for decades, Lego merch isn't always as durable as the brand name suggests. That's why you must check if the product you want to buy is made of durable material.
Some Lego Merch can be Expensive
Although most Lego merch is affordable, some Lego-themed products aren't budget-friendly.
Selection Criteria
Including all Lego merch that deserves to be mentioned in a single article isn't possible, as there are so many products Lego fans would love to have. That's why I shortlisted products from all categories and then selected those that best represent each merch category.
Merchandize type isn't the only selection criteria I used while choosing Lego merch featured in this article. Here are some of the most important parameters I utilized to select the best Lego merch.
Brand reliability – Companies that operate under a Lego outbound license produce most Lego-themed merchandise. The products you'll find in this article are manufactured by Lego's trusted partners.
Product's appeal – I included a wide range of products that can attract the attention of people from all walks of life, rather than focusing on a group of products that might be interesting to a single age group.
The List of the Best Lego Merch
The process of choosing Lego merch can be overwhelming if you don't know exactly what you're looking for. You'll have hundreds of options to choose from, even if you're looking for a specific item like sweatpants or a keychain.
I've shortlisted some of the best Lego merch you can find on the market, but this list isn't definitive as there are thousands of products a Lego fan could appreciate.
Lego Star Wars Robe with Slippers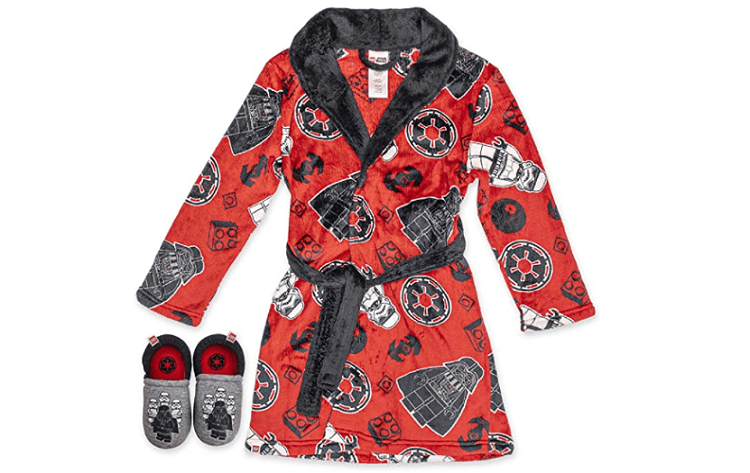 Young Darth Wader fans are going to enjoy wearing the Lego Star Wars Robe that comes with a pair of slippers. The robe is made of fleece, and it is available in several sizes so that you can choose the size that best fits your child. This product is licensed by Disney and Lego.
IQ Lego Ninjago Kai Key Light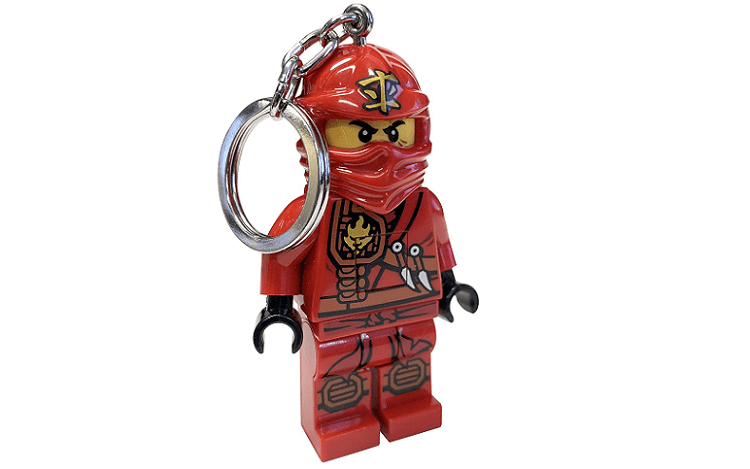 The 3-inch IQ Lego Ninjago Kai Key Light can be a great present for both young and adult Lego fans. This 175% scaled replica of the Lego's Ninjago figurine has an LED light on both of its feet, and you just have to press and hold its switch whenever you want to illuminate a dark area.
Lego Brick Wall Lunch Bag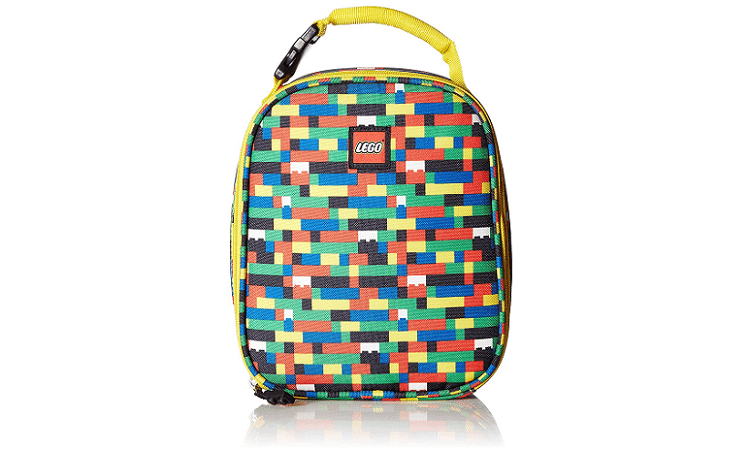 With the dimensions of 9 x 7.5 x 4 inches, Lego Brick Wall Lunch Bag is spacious enough to fit most lunchboxes. The product's main compartment has foam insulation that protects the lunchbox from overheating. The interior mesh pocket is large enough to hold utensils or other items your children might need while they're at school.
365 Things to Do with Lego Bricks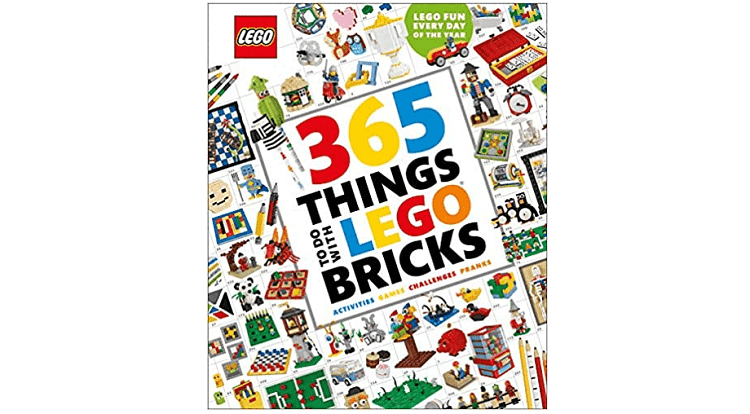 This book might be the right choice for your child if they're struggling to find inspiration for their next Lego project. The 356 Things to Do with Lego Bricks has 256 pages, and it contains a large number of ideas children aged 7 to 11 can build with their Lego bricks.
Lego Brick Playing Cards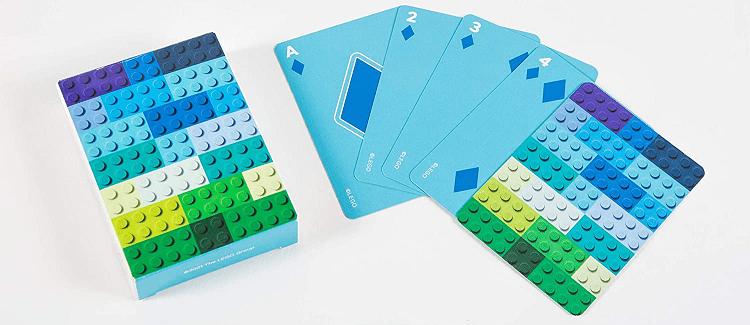 Adult Lego fans who enjoy playing card games will love the Lego Brick Playing Cards. This set features two decks of cards that have a colorful Lego brick design on the side and a classic number design. Decks come in a reusable box that also has a multi-color Lego brick design.
Lego Yellow Hands

Whether you want to use them as a party accessory or to play with your child, the Lego Yellow Hands are a must-have item. Fans of Lego cosplay can also pair yellow hands with Lego brick costumes or Lego Guy masks. You can wash your hands or open a door while wearing the costume.
Room Copenhagen Lego Brick Drawer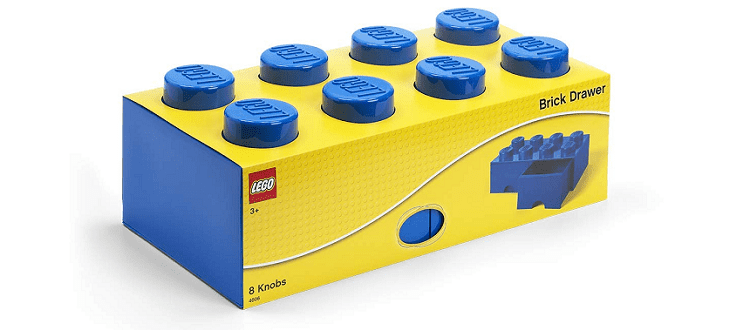 Besides looking like a Lego brick, the Room Copenhagen Lego Brick Drawer is also stackable like a real Lego brick. Hence, you can combine these elements and use them to increase the storage space you have at your disposal. This drawer has two storage compartments and it is available in more than ten different colors.
Lego Stationery Organizer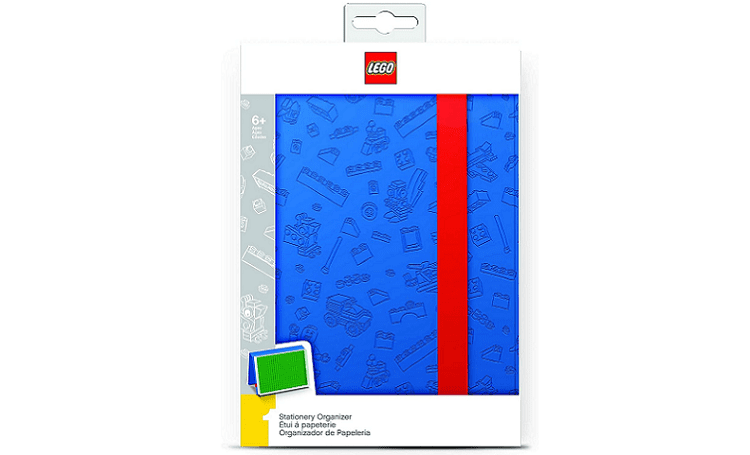 A simple and elegant design makes IQ's Lego Stationery Organizer a great gift for a Lego fan regardless of how old they are. This organizer comes with a baseplate that can prevent your writing accessories from rolling off the table. The elastic red bend keeps the organizer closed whenever you're not using it.
Lego Architecture: The Visual Guide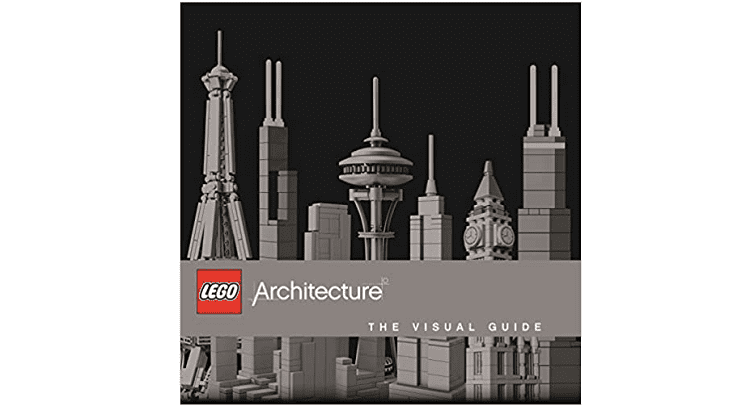 Published by the Lego-licensed DK media company, the Lego Architecture: The Visual Guide offers an insider insight into Lego's Architecture series. The book examines some of the buildings that served as inspiration for the series and reveals how the team designed each set in this series.
The Lego Architecture: The Visual Guide features numerous illustrations and profiles of artists who participated in the development of the Architecture sets.
1 Lego Brick Box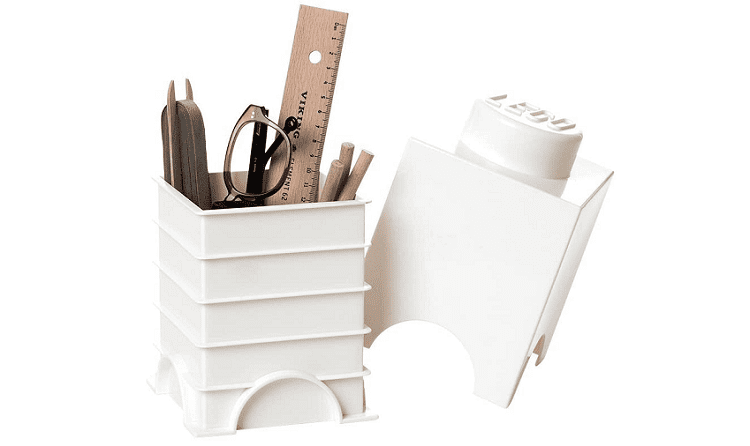 The simple and elegant design of the 1 Lego Brick Box replicates the look of a 1×1 Lego brick. The box's dimensions are 4.92 x 4.92 x 7.04-inches, and you can use it to store up to a hundred Lego elements.
Also, you can combine two or more of these boxes if you want to extend their storage capacities. The 1 Lego Brick Box doesn't contain PVC and BPA plastic or plasticizers like phthalate.
Lego Ice Cube Tray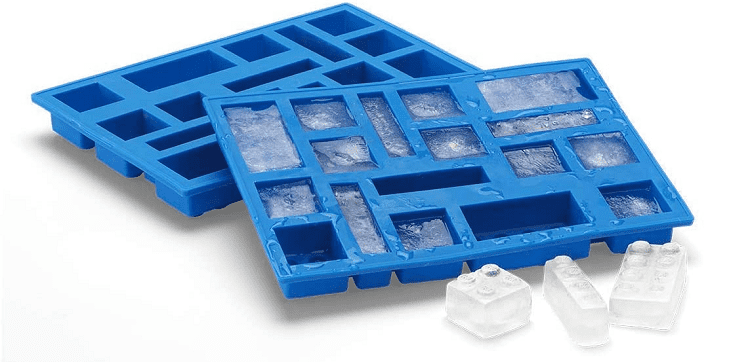 You can choose from blue, gray, and pink versions of the Lego ice cube tray that features 8-stud and 4-stud brick molds. Besides making ice cubes, you can use this tray to prepare any type of moldable food. The product is made of silicone and it doesn't harmful elements.
Lego Picture Frame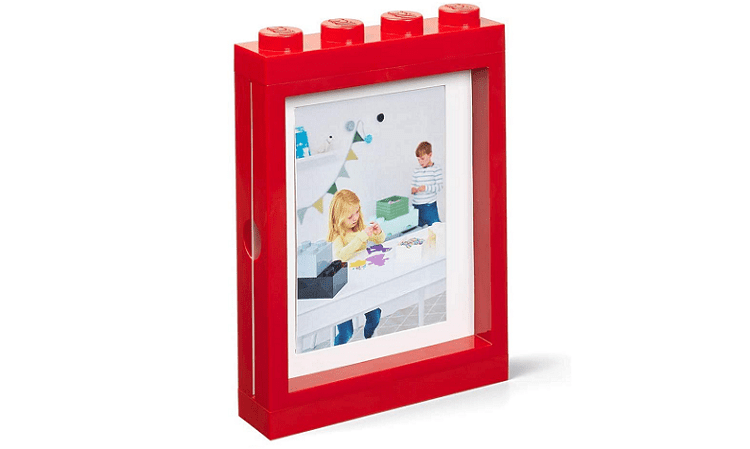 The Lego Picture Frame can be mounted on a wall or placed on a desk. The frame is stackable and you can easily combine it with frames in different colors. This Lego merch is available in 1-packs or 2-packs and is available in six different colors. The maximum size of an image you can fit in this frame is limited to 5×7 inches.
Lego 3-Drawer Storage Rack System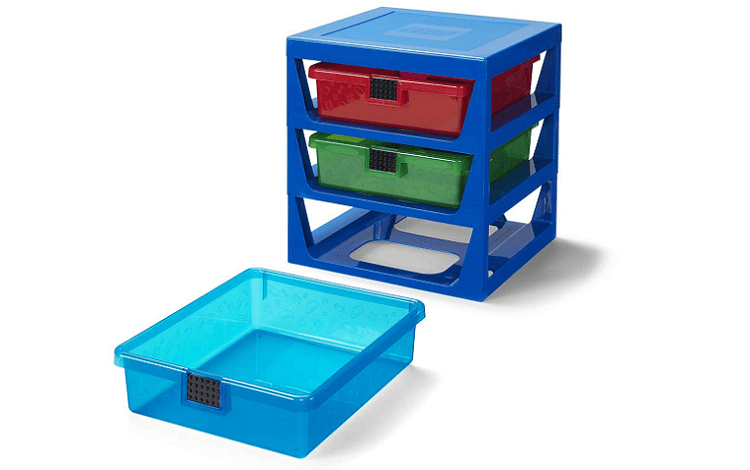 Keeping Lego elements organized will be much easier if you decide to get the Lego 3-drawer storage rack system. The Room Copenhagen storage rack has a 32×32-stud plate that enables you to put your latest designs on display. The only downside is that its storage capacities are limited.
Lego Brick Crossbody Handbag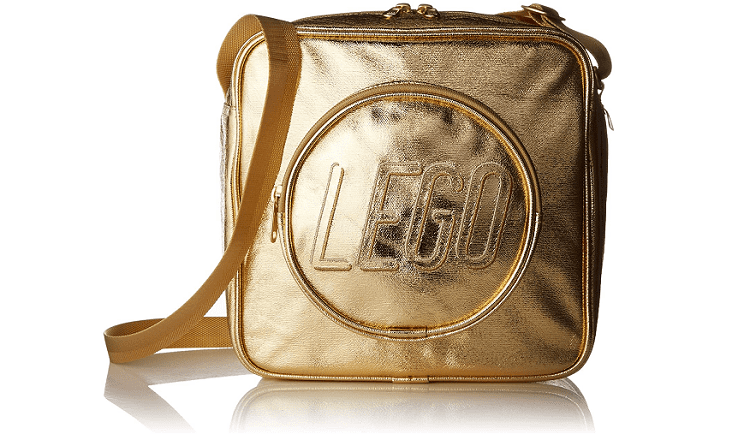 A fashionable piece of Lego merch like the Lego brick crossbody handbag will surely catch the attention of your friends. The bag's design resembles a 1×1 Lego brick, and its dimension are 5 x 10 x 10 inches. This model features an adjustable strap, while its YKK zippers match the item's gold or holographic color.
Batmen Lego Movie 2 Deluxe Costume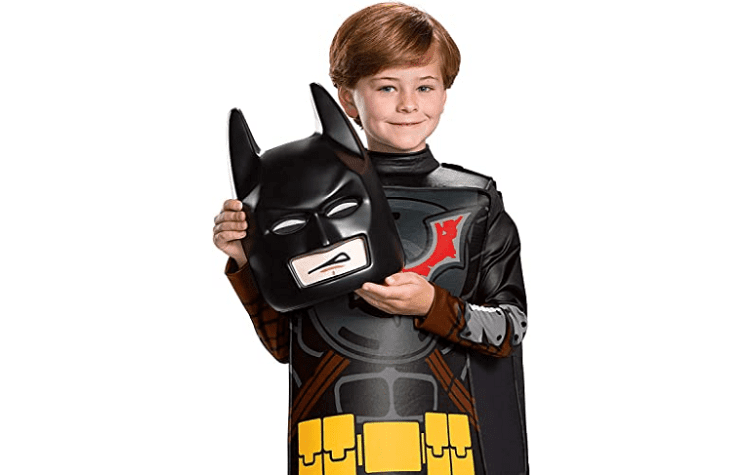 Children aged 4 or 5 will love wearing the Batmen Lego Movie 2 Deluxe Costume, especially if they're fans of the Lego Movie franchise.
This polyester costume includes a mini-figure foam tunic with recognizable movie-inspired art at the front and a detachable cape in the back, a matching pair of pants, and a mask. A pair of Lego hands is also included in the package.
Lego Magnet Set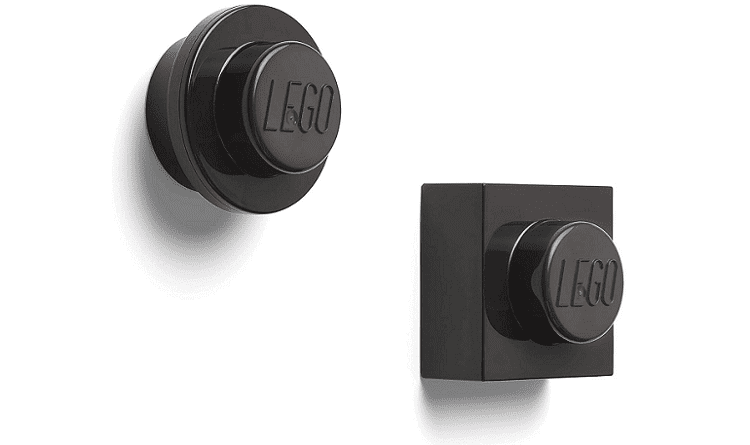 Organizing whiteboards, fridge doors, and various other surfaces with the Lego Magnet Set is fun and easy. The set contains two circular and square magnets that resemble the look of some of the basic Lego elements.
These magnets are available in six different colors, but keep in mind that their price depends on the color option you choose.
Lego Iconic Hydration Bottle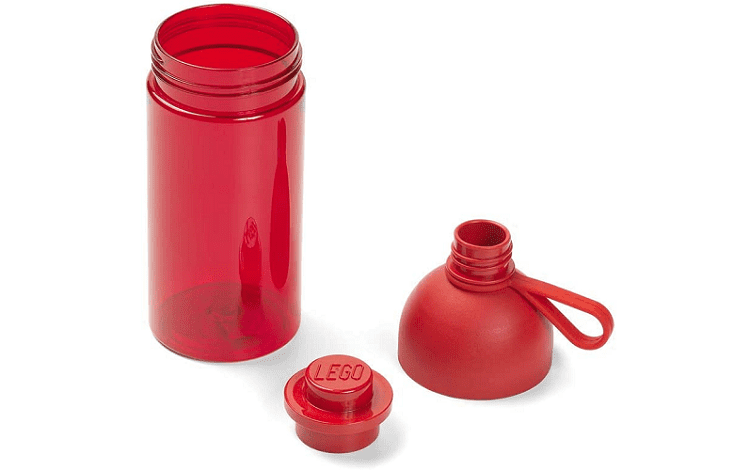 The detachable top allows you to add ice cubes or slices of lime to the Lego Iconic Hydration Bottle. Moreover, you can unscrew its round Lego cap to gain quick access to the drinking spout.
The bottle is made of silicone, and it has a strap that enables you to attach it to a school bag or a lunchbox. Its leak-proof design prevents accidental spillages that can ruin your child's day.
Lego Canvas Tote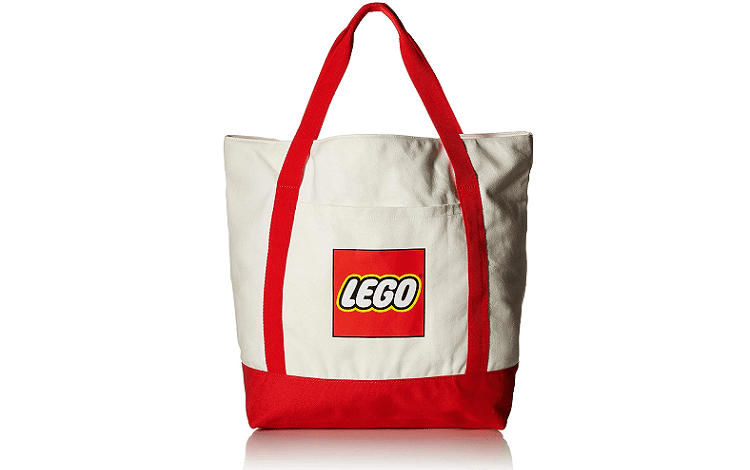 The waterproof coating makes the Lego Canvas Tote a perfect beach accessory that is large enough to store all the items you might need while spending the day by the sea. In addition, the tote has an exterior pocket where you can keep your phone, keys, or any other small or medium-sized item.
Lego Stationery Buildable Ruler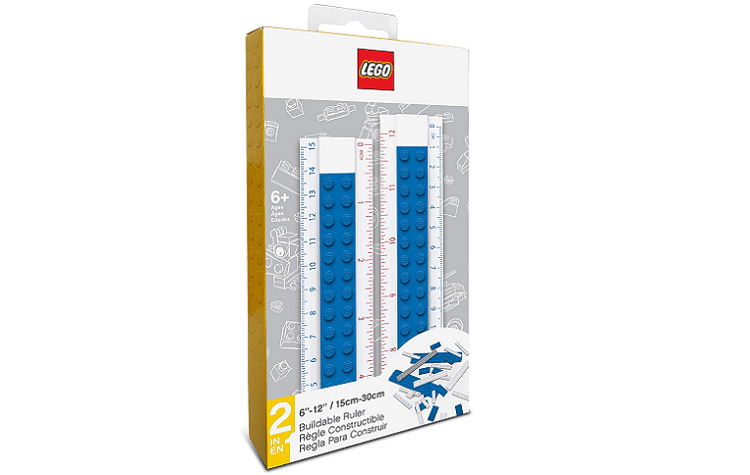 The Lego Stationery Buildable Ruler is a perfect accessory for young Lego fans that can make math lessons more interesting. The ruler features two 6-inch pieces equipped with multiple studs that allow a child to mount Lego mini-figures onto their surface.
Lego Brick Erasers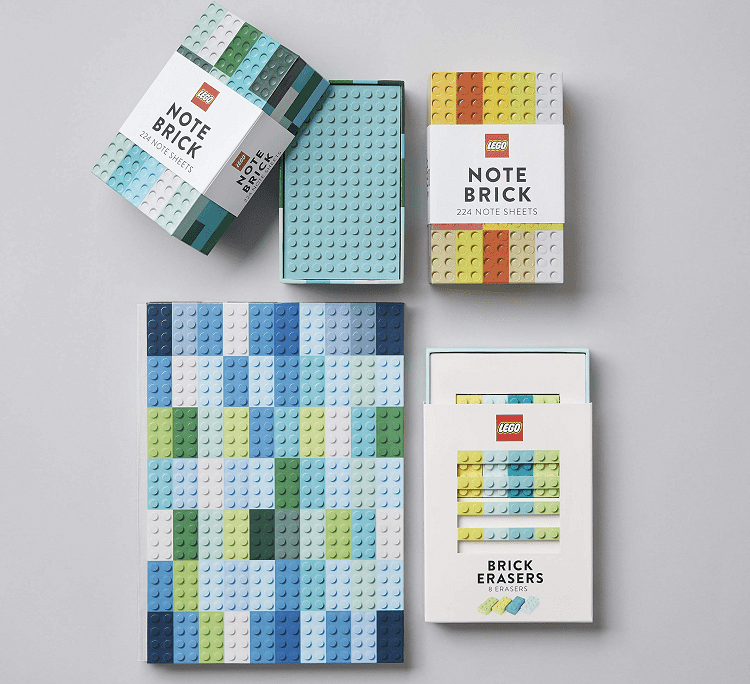 Schoolkids of all ages will appreciate using the Lego Brick Erasers because they're colorful and highly efficient. A single pack contains 8 erasers with studs on their top side that mimic the look of 2×4 Lego bricks.
The Lego Brick Erasers belong to the line of products made by Chronicle Books, including items like the Lego Brick Notebook or The Lego Still Life with Bricks, a collection of 100 collectible postcards.
Frequently Asked Questions About Lego Merch
Question: Is Lego Merch Environmentally Friendly?
Answer: Yes, most Lego-themed products are made of recyclable materials, and they don't contain harmful substances.
Question: Can I return Lego Merch if I Don't Like It?
Answer: You must check with the retailer if you can return the Lego merch you buy from them. In case you purchased an item directly from Lego, you'll have 90 days from the day of purchase to return it.
Question: Does Lego Vouch for the Quality of its Merch?
Answer: No, the company that produces a certain type of merch does, so if you're unhappy with the quality of the product you bought, you need to file a complaint with the product's manufacturer.
Question: Is Lego Merch Collectible?
Answer: Some, but not all, Lego-themed items are collectible.
Final Thoughts
Lego merch can be a great gift for a die-hard Lego fan or a nice addition to your child's room. Even small items like the IQ Lego Ninjago Kai Key Light can have huge sentimental value for someone who grew up playing with Lego's Ninjago mini-figures.
Also, getting books like the Lego Architecture: The Visual Guide or the 356 Things to Do with Lego Bricks can be a good idea if you want to find out more about how Lego developed one of its most iconic set series or if you need inspiration for your next Lego project.
Was this guide to the best Lego merch useful? Let me know in the comments.
Recommended Reads: