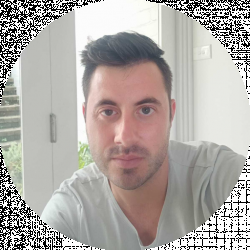 Latest posts by David Borgogni
(see all)
The history of LEGO castles spans over four decades. During that time, LEGO produced some of its most memorable sets that explored medieval topics. So, in this article, we're going to take a walk down memory lane and look back at some of the best LEGO castles of all time.
The rich history of LEGO Castles started in 1978 when the company released the so-called Yellow Castle or Fort with Hinged Walls and Knights. The release of the 375-2 set marked the beginning of the era that brought some of the most iconic LEGO sets ever created.
In this guide, I'm going to provide you with the information you're going to need to find the best LEGO castle, and I'm going to revisit some of the best castle sets LEGO published in the last few decades.
You should also take a look at our guide to the best LEGO Disney castle sets if you'd like to build a castle from one of your favorite Disney movies.
At a Glance – The 5 Best LEGO Castles of All Time
Bottom Line Up Front
The Yellow Castle is the most recognizable LEGO castle of all time, but finding a new, unused LEGO 375-2 set is next to impossible. In my opinion, the King's Castle 70404 set is the best LEGO castle of all time because it contains all elements of the retired Castle theme and offers a wide range of play scenarios.
Selection Criteria
Years after LEGO retired the LEGO Castle theme, and the company offers many sets inspired by castles. However, most of the castle sets that are still in production are based on video games, cartoons, or movies.
Besides the castle sets LEGO currently offers, I also considered sets that went out of production years ago while deciding which models to include in this article. This, however, wasn't the only parameter I utilized during the selection process.
Here are the most critical selection criteria I utilized while choosing the best LEGO castles of all time.
Release date: All sets you'll find in this article are retired. Using this parameter has enabled me to pinpoint sets still in high demand despite being discontinued years ago.
Set's availability: Most LEGO castle sets are no longer in production, and some models can be hard to find. That's why I only selected retired sets still available at e-stores.
Please go through our guide to the best LEGO sets under $100 to learn more about LEGO sets in this price range.
What Happened to the LEGO Castle Theme?
LEGO Castle was one of LEGO's original themes introduced in 1978 and Town and Space themes.
During its long history, the LEGO Castle theme went through numerous iterations, including the Black Falcons faction that ran from 1984 until 1992 or the Black Knights faction published from 1988 to 1994.
Unlike the sets from the Classic-Castle era that were published between 1978 and 1983, sets from different factions focused on more accurate depictions of medieval castles and accompanying accessories.
LEGO retired the Castle theme in 1999 and replaced it with the Knights' Kingdom theme a year later. However, all factions of the Knights Kingdom theme were discontinued by 2006 and replaced by the short-lived Castle II theme that remained available on the market for just two years.
In 2010, LEGO launched a new theme inspired by medieval times named Kingdoms that evolved into the Lord of the Rings theme by 2012. The company made the last attempt to revive the Castle theme in 2013 but released just five sets before retiring the Castle III theme.
Browse through our guide to the best LEGO sets if you're searching for an epic set that is fun to build.
Current LEGO Themes that Offer Castle Sets
Even though LEGO retired the Castle theme, sets that are inspired by different types of castles appear in numerous current themes. Hence, you can find castle sets in themes such as Disney, Star Wars, Creator 3-in-1, or Super Mario.
Let's go through some of the most popular LEGO castle sets that a still in production:
Harry Potter Theme
Read our Hogwarts Castle review for more information about this remarkable set.
Disney
Super Mario
Star Wars
Creator 3-in-1
Most LEGO castles are inspired by movies, cartoons, or video games, and at the moment, the company offers just one set based on medieval times. Nonetheless, LEGO still provides an impressive selection of sets that enable you to build different types of castles.
Go through our guide to the best Yoda sets to learn more about sets from the Star Wars theme.
Contents of LEGO Castle Sets
Traditionally, LEGO castle sets contain a combination of elements required to build a model of a castle, mini-figures, weapons, and accessories.
However, the size of these sets varies from model to model, and you can get a set like Tower Raid 7037 that contains less than 400 pieces or a set like the Hogwarts Castle that has more than 6,000 pieces.
Keep in mind that the number of accessories or mini-figures a set contains doesn't depend on its size. So a relatively small set can have more accessories or mini-figures than a castle set that has thousands of pieces.
Besides having a decorative function, these sets are also fun to play with because they contain everything children need to imagine different scenarios. Check out our guide to creative LEGO ideas if you're looking for inspiration for your next DIY LEGO project.
Prices of LEGO Castles
Some of the best LEGO castles of all time were retired decades ago, and they're almost impossible to find. Models from the LEGO castles theme that online retailers still offer are in high demand, and you may have to spend more than $1,000 to get a set from this theme.
Even retired sets just a few years ago, like the King Pig's Castle or The Fortrex, can cost a few times more than a set of the same size that is still in production. For example, the prices of large castle sets that aren't yet retired don't exceed $600, while you can get a small castle set for less than $100.
Browse through our guide to the best LEGO fire trucks if you're looking for a small and inexpensive set.
The Most Important Factors to Consider While Choosing the Best LEGO Castle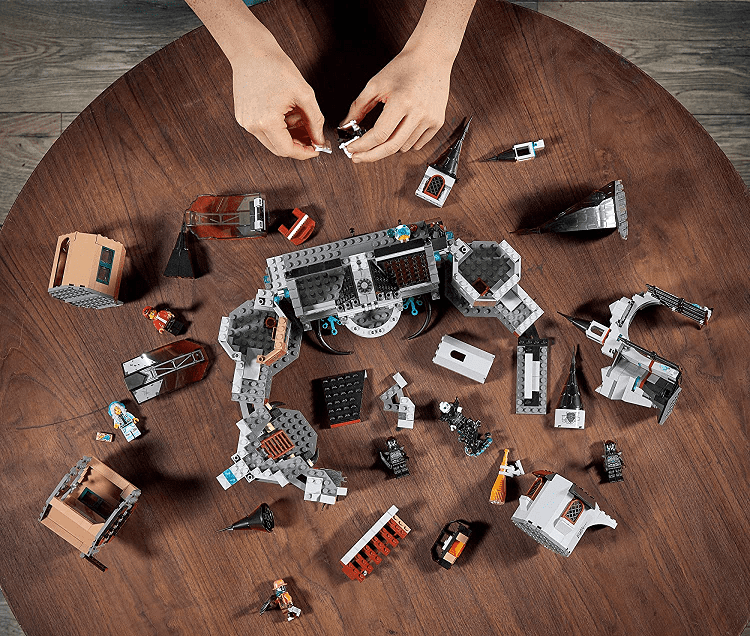 Selecting the single best LEGO castle of all time is a difficult task because so many epic sets cover this topic. Years after retiring the LEGO Castles theme, LEGO still offers a broad range of sets that recreate some of the most recognizable castles in popular culture.
I've selected some of the most important factors that can make the search for the best LEGO castle of all time faster and easier, so let's take a look at them.
Set's Release Date
Arguably the most important decision you'll have to make during your search for a LEGO Castle set is whether you want to get a retired set or a set still in production. LEGO castle sets date back to 1978, and you'll have a wide range of options at your disposal if you'd like to get a discontinued set.
Nearly all old LEGO castle sets are inspired by medieval ages, and besides the models of castles, they also contain mini-figures of knights, swords, or similar weapons. LEGO currently offers just one medieval castle set, while all other current models are inspired by movies or video games.
Piece Count and the Number of Mini-Figures
The amount of time and effort you have to dedicate to building a LEGO castle depends on the set's piece count. Old LEGO Castle sets usually have fewer than 1,000 pieces, while models like the Hogwarts Castle or The Disney Castle are considerably bigger and more challenging to build.
Also, the number of mini-figures and accessories varies from model to model, but both old and new LEGO castle sets come with at least one mini-figure. Taking these factors into account might help you narrow down your options and decide which set to choose.
Availability of Spare Parts
This factor isn't important if you want to get one of the castle sets LEGO currently offers because LEGO produces replacement parts for all sets that aren't retired. However, models from the discontinued LEGO Castle theme contain a lot of unique pieces that are hard to replace if they're lost or damaged.
You can also try looking for missing LEGO pieces online, but there's no guarantee that you'll be able to find the part that is missing from your LEGO castle set. Either way, you should make sure that LEGO still manufactures spare parts for the set you're interested in before you decide to buy it.
Set's Topic
A siege of a castle or the game of jousting are just a few among hundreds of topics LEGO's castle themes can cover. New castle sets usually don't explore topics related to medieval times, and instead, they focus on a specific movie or video game characters.
Choosing a topic can make finding the castle set you like easier because it will enable you to eliminate the models that explore topics you're not interested in.
Budget Limitations
The price difference between retired LEGO castle sets and models that are still in production is considerable. For example, a small retired LEGO set that has a few hundred pieces can cost more than $200, while new sets of the same size usually cost around $100.
Furthermore, the King Castle Siege 7094 is almost twice as expensive as the Hogwarts Castle despite its nearly 5,000 pieces less than this set from the Harry Potter theme.
Getting one of the new models is a more affordable option because you're going to need a sizeable budget if you're shopping for a retired LEGO Castle set.
The Advantages of the Best LEGO Castles of All Time
Captivating Set Building Experience
Assembling a LEGO castle set is fun. Models published within the LEGO Castles theme rarely include more than a thousand pieces, so you won't have to spend too much time putting them together. LEGO also offers large castle sets that challenge the builder's skill level.
Fun to Play With
Besides mesmerizing models of castles, these sets include mini-figures and accessories that make playing with them more entertaining. In addition, some castle sets are compatible with AR technology that enables you to interact with them and see the results of these interactions in the virtual world.
 Variety of Options
Currently, LEGO offers over ten castle sets published within more than five themes. The range of options you have at your disposal becomes much wider if you factor in all the discontinued sets in the last few decades.
The Disadvantages of the Best LEGO Castles of All Time
Some LEGO Castle sets are Hard to Find
The vast majority of castle sets inspired by medieval times were retired years ago, and some of these sets are almost impossible to find. Castle sets that are yet to be retired are in high demand, and you may not be able to find them in LEGO-certified stores.
Top 5 LEGO Castles of All Time
More than a decade after its release, the Tower Raid 7037 is still one of LEGO's most popular castle sets. Unfortunately, this set was not available for long because it was published in 2008 and discontinued by the end of the following year.
In addition to the 8-1/2-inch tall tower, this set also includes the rolling siege tower equipped with a pair of large wheels that is 8 inches tall. In addition, the Tower Raid set comes with five mini-figures, including one mini-figure that isn't included in any other LEGO castle set.
Pros
It contains a unique mini-figure
The quick and fun assembly process
Suitable for children aged 7 or older
Great for children interested in history
Cons
A small number of pieces
Expensive and hard to find
Even though it has almost a thousand pieces, the King's Castle 70404 is easy to build. The model of the castle is 13 inches wide, 11 inches tall, and 12 inches deep. It contains a variety of details, such as the movable staircase, king's throne, or secret escape door.
The King's Castle is equipped with seven mini-figures, including three that are unique for this set. Moreover, you can build the battering ram and catapult weapons from the pieces included in the set, while the weapons and accessories include axes, treasure chests, goblets, or swords.
Pros
Encourages creative thinking and inspires role play
This set offers a variety of accessories
The set is very valuable
High level of detail
Cons
Finding replacement parts might be difficult
Children older than 12 might find this set uninteresting
Fun details like a movable drawbridge or towers equipped with catapults make the King's Castle Siege one of the best LEGO castle sets of all time.
Besides the castle with portable walls, gates, and various other details, you can also build numerous other tools and weapons that will help you protect the castle against the army of skeletons. The set has ten mini-figures, and four of them don't appear in any other set from the LEGO Castle theme.
LEGO published this set in 2007 and retired it after two years, but despite this, King's Castle Siege remains one of the brand's most sought-after castle sets.
Pros
Features four unique mini-figures
Easy to build
It offers a broad spectrum of playing scenarios
Collector's item
Cons
Stickers peel off the LEGO elements quickly
More expensive than most LEGO castle sets
A set like the Joust 10223 enables you to create scenes inspired by Europe in the 15th century. This set lets you build a castle that has six rooms, the royal viewing box, and a counter tilt that separates the two jousters.
King, queen, princes, nobleman, falcon knight, lion knight, squire, and two soldier mini-figures are included in the set. Each knight mini-figure has decorated armor, helmet, jousting pole, and two additional weapons.
You can use the knight mini-figures with or without horses depending on the scene you'd like to create.
Pros
This was the last set published within the LEGO Kingdoms theme
Princes Verda and Falcon Knight don't appear in other sets
Stacked with accessories
Suitable for all LEGO fans above the age of 12
Cons
Tiny pieces are easy to misplace
Not easily available
The recently retired Mystery Castle is one of the rare LEGO toys that offer a virtual playing experience. After you assemble it, you can use the LEGO Hidden Side AR app to scan the castle and begin solving mysteries or hunting ghosts in the virtual world.
In case you're looking for a standard LEGO experience, you can use the Jack Parker, Nehmaar Reem, Vaughn, and two shadow-walker mini-figures to create different play scenarios. Unfortunately, this set had a 14-month lifespan, and it can be challenging to find.
Pros
Offers unique AR playing experience
Great for team play
Moderately priced for a retired set that has over a thousand pieces
Straightforward assembly process
Cons
Finding a new Mystery Castle set can be difficult
Limited availability of replacement parts
Frequently Asked Questions About the Best LEGO Castles of All Time
Question: Are LEGO Castle Sets Still Popular?
Answer: Yes, LEGO castle sets are some of LEGO's most sought-after products that attract millions of fans.
Question: What is the biggest LEGO Castle Set?
Answer: The Hogwarts Castle set published in 2018 is LEGO's largest castle set to date.
Question: Can I Order a Retired Castle Set from LEGO?
Answer: You can't order retired castle sets from the manufacturer. You should search for the model you want to buy at e-stores that offer discontinued LEGO sets.
Question: Is LEGO Going to Review the Castle Theme?
Answer: So, far there are no indications of the Castle theme revival, but the brand recently announced the plan to build classic LEGO castles in the LEGOLAND Shanghai resort that is scheduled to open in 2024.
My Verdict: What is the Best LEGO Castle of All Time?
All LEGO's castle sets have plenty to offer regardless of their size or release date. The now-discontinued LEGO Castle theme and its variations featured hundreds of stunning sets that offered a unique set building and playing experience.
In my opinion, the King's Castle 70404 set is the best LEGO castle of all time because it challenges builders to develop their set-building skills and it encourages creative play., You should consider getting a set like the Joust 10223 if you're looking for a set that has a high piece count.
Which LEGO castle set are you going to choose? Let me know in the comments or continue reading our guide to the best LEGO gift to find a present a true LEGO fan would enjoy.
Further Reads: