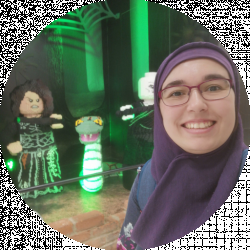 Latest posts by Melika Jeddi
(see all)
The great thing about LEGO is that they account for all ages and budgets. You get some sets aimed at kids, others that appeal to the older fans. Some sets are under $10, whereas others cost hundreds of dollars. In this article, we will be looking at those sets on the top end of the price scale.
These are for the hardcore LEGO fans who want to buy something truly spectacular for their collection. These high prices mean large, detailed builds with thousands of pieces. If you're the kind of person who can sit for hours building LEGO, then this is the guide for you. Plus, LEGO regularly does special offers to get free sets if you spend over a certain amount of money.
Of course, LEGO regularly releases and retires sets. Some stay for years, others for mere months. This guide looks at the most expensive sets available in 2022.
It's worth noting that I only include sets made with the regular LEGO pieces or the Creator range for this list. There are some high-end Technic sets, primarily those based around luxury vehicles, but seeing as the building process for the Technic range is so different from the standard LEGO experience, I do not include it.
The same goes for the Mindstorm range. LEGO also offers kits containing a collection of pieces designed to spark creativity. Still, these are also excluded from this list as I only include sets that have a finished build in mind.
Bottom Line Up Front
Most Expensive Set – Millenium Falcon 75192 and AT-AT 75313 ($799.99)
Most Expensive Creator Expert Set – Titanic 10294 ($629.99)
Most Pieces in a Set – 9090 pieces (Titanic 10294)
Best Value for Number of Pieces – 5876 for $349.99 (Real Madrid – Santiago Bernabéu Stadium 10299)
Star Wars
Star Wars is one of LEGO's longest-running licenses, and it remains as popular as ever. The first set was released back in 1999, and since then, there have been hundreds of LEGO Star Wars products. They tend to focus on iconic scenes, buildings, or vehicles from the franchise. The original three movies prove the most popular.
Some sets have been recreated multiple times, such as Luke's Speeder. There are some impressive builds, and it seems LEGO plans to leave no stone unturned in their design process. They are still coming out with fantastic large-scale sets, and that much quality comes with a large price tag.
Millennium Falcon 75192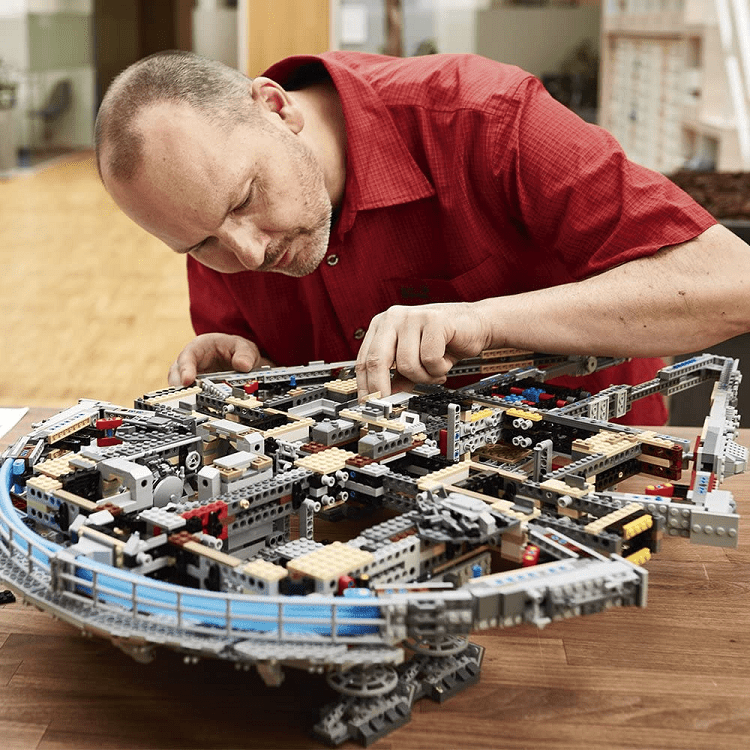 A few years ago, my husband bought the 75257 Millenium Falcon set with 1353 pieces, and I thought that was pretty large. However, the Ultimate Collector Series 75192 Millenium Falcon blows its predecessor out of the park.
I've seen this several times in physical locations of the LEGO Store, and it truly is a sight to behold. It measures an astounding 32.6″ by 23.6″, which is pretty unbelievable. Unsurprisingly, this much bulk means a lot of building, and in total, there are 7541 pieces.
The Millenium Falcon is, of course, Han Solo's vessel in Star Wars and is a key location throughout the movies. So many unforgettable scenes take place aboard it, and, understandably, such an immense spaceship should get such an impressive LEGO set.
I expect even people who haven't watched the series will have heard of the Millenium Falcon and would instantly recognize it in a collector's home. This set is the joint most expensive on the site, at an eye-watering $799.99.
Not only is it gorgeous to look at from the outside, but it even opens up to reveal even more fun on the inside. The hull panels can be removed to give a full view of the interior.
There are some fantastic features such as lasers to shoot down enemies, landing legs, a boarding ramp, and interchangeable sensor dishes, so you can choose the Millenium Falcon design that you like more out of the original look or the one from the sequels.
There are 7 minifigures from across the films, some from the originals and some from the sequels. There's also BB8, 2 porgs, and a Mynock that you can build yourself. All in all, it's a stunning set for both play and display.
AT-AT 75313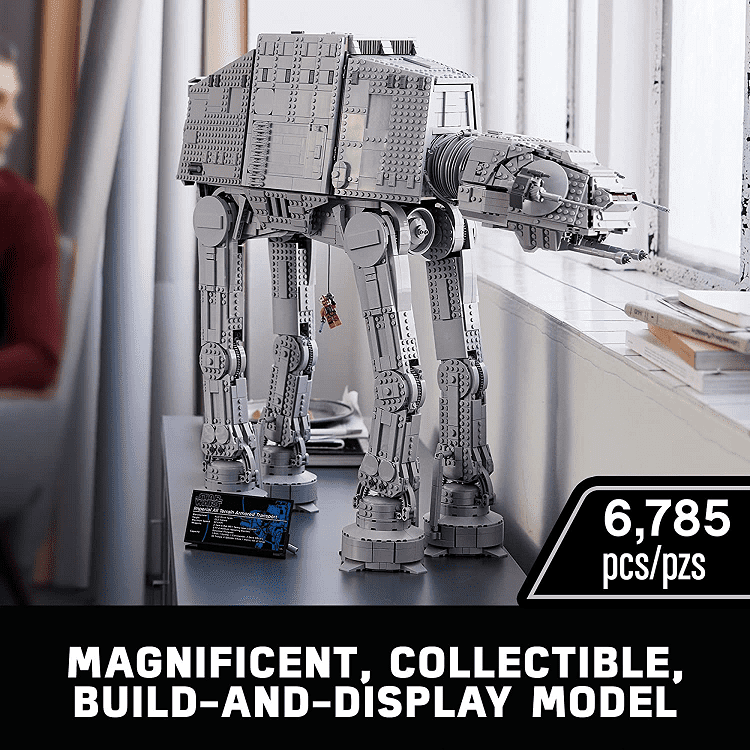 The AT-AT is one of the most memorable icons in the Star Wars franchise, and LEGO have recreated it perfectly with this 75313 set. Standing for All Terrain Armored Transport, this weaponized vehicle was a favorite of the Empire, but has also been used by the Republic and the First Order.
They were used against the Rebels during the Battle of Hoth, and their weak spot is famously their legs; as Luke Skywalker noted: "That armor's too strong for blasters… Go for the legs; it might be our only chance of stopping them".
This LEGO set certainly hasn't skimped on, making the legs a suitable target. There's a grand total of 6785 pieces in this set, and looking at the pictures, it appears that many of those pieces went into making sure the legs had some serious height.
The most impressive thing is that not only is the AT-AT so large and perfectly scaled, but it's even posable! You can bend the legs into various shapes to create exciting scenes. This makes it a perfect display set for a collector, as well as an awesome toy for those who enjoy playing with their LEGO.
Part of the Ultimate Collector Series, the LEGO AT-AT is 24.5″ high, 27″ long, and 9.5″ wide, so you'd need to make sure you had a decent-sized space to display it. The set also includes 9 minifigures, but there's space for 40 inside the main body. You can fit a further 3 minifigures in the cockpit inside the AT-AT's head.
The set also comes with 2 speeder bikes which can fit inside the main body (you could even fit a further two if you wished). The set comes with rotating cannons and a bomb hatch, so plenty of interactive elements are available. If you wanted to add this to your collection, it would set you back $799.99.
Imperial Star Destroyer 75252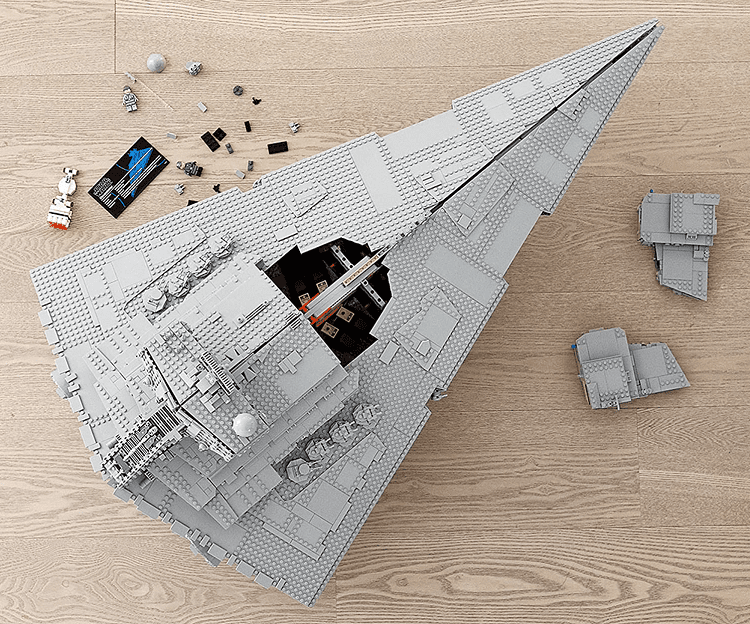 Another set from the Ultimate Collector Series, the Imperial Star Destroyer 75252, is $100 cheaper than the previous two on this list but still costs a hefty $699.99. I hope you like the color gray because that's pretty much all you get with this set. The exterior is an impressive shape, but in my opinion, the lack of color makes it rather bland to look at, even if it is realistic.
I'm not suggesting they should have added more color to the set, as that would have reduced the authenticity. Still, if you like diversity in your LEGO, then this might not be the set for you.
If, however, you're a massive fan of Star Wars and can appreciate the Imperial Star Destroyer for its relevance to the series, then this would be the perfect collector piece.
Every care has been taken to make this set as detailed and accurate as possible, and shape-wise, it's perfect. The inside also contains a variety of pieces, with some red and yellow bricks in there, among others.
You can also attach a model of the rebel starship (made to scale) to the side of the set. It also comes with a commemorative plaque so you can make it stand out on your display.
Surprisingly for such a large set, it only actually comes with 2 minifigures – and Imperial Officer and an Imperial Crewmember. However, it does have multiple fun features, such as large and detailed engine exhausts, guns that you can twist around, and a tilting radar dish. It should also be an enjoyable and challenging build with 4784 pieces in total.
I'll be honest, this isn't a set that I'd personally be into simply because I prefer my collection to look more exciting, but I definitely understand why this would be a must-buy for some fans.
Harry Potter
For me, this is the sweet spot. I own LEGO sets from several franchises, but Harry Potter will always be my favorite. Not only is it my all-time favorite book/ movie series, but the LEGO sets for it are always so vibrant and exciting.
They've also been going for a long time, with the first Harry Potter LEGO set being released in 2001 to coincide with the release of Harry Potter and the Sorcerer's Stone. New sets are regularly released, and the franchise has massive support amongst the LEGO community.
Whilst they don't reach the same exceedingly high prices as the Star Wars LEGO, there are still some larger Harry Potter sets with thousands of pieces.
There are also rumors of new sets releasing in late 2022, one of which will be $469.99. I'd really love to see a full Hogsmeade set, as their current one, whilst fun, is pretty tiny. Let's look at the two most expensive sets available right now in 2022.
See also: Best LEGO Harry Potter Minifigures
Hogwarts Castle 71043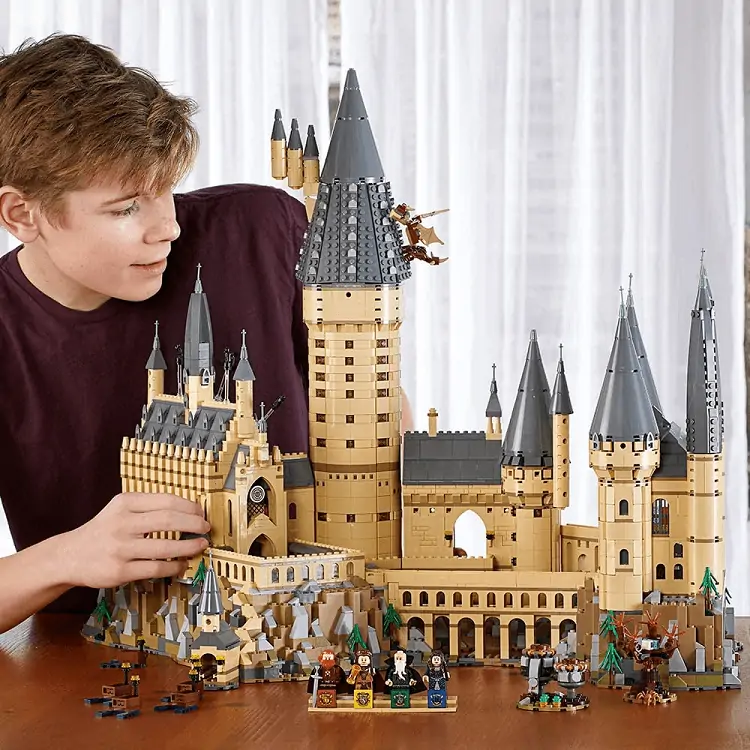 This superb set is bound to be on the radar of any LEGO Harry Potter fan. 22″ high, 27″ wide, and 16″ deep, this is undoubtedly a large set and would require a suitably big space to display it in. The set has carefully been designed so that the exterior is authentic to what Hogwarts Castle looks like in the movies, with its many bridges and turrets.
On the inside, there are various rooms based on locations from the movies, such as Professor Umbridge's office. Size was a constraint here, and so specific details from the rooms have been chosen to be included.
One thing that I dislike about this set is that it primarily uses microfigures instead of minifigures. These are characters designed to fit on a single stud. I completely understand why LEGO chose to go that route, as, given the scale of the building, it would have looked weird if the characters were the same height as an entire room.
However, I still think this decreases play opportunities. I'd have preferred them to use minifigures and accepted that the size would be inaccurate.
However, there are 4 unique minifigures included representing the four Hogwarts founders – Godric Gryffindor, Rowena Ravenclaw, Helga Hufflepuff, and Salazar Slytherin. These look cool, and the designers did a fantastic job creating them.
This set is the joint most expensive LEGO set and Diagon Alley 75978 (although in Europe, the Hogwarts Castle set costs more) at $399.99. However, you get a lot for that price, and there are 6020 pieces in total.
This number was no mistake, and the designer chose it deliberately as his first LEGO set was number 6020, Magic Shop. That cute personal touch adds to the charm of an already delightful set.
Diagon Alley 75978

I recently built this Diagon Alley set myself, and it was easily the best set I've ever experienced. The LEGO Diagon Alley 75978 set comes with a price tag of $399.99, but you get plenty of amazing features for all that money. One convenient thing about this set is its built-in four completely separate parts.
That means you don't need as large a building space as you would for sets such as the Hogwarts Castle. It also gives you multiple options for display. You can connect the builds together as an alley, or, if space is an issue, you can lay them out in a more compact way. For example, I put all mine together in an order I decided to call 'Diagon Cube.'
The colors on this are extraordinary and the main reason I was drawn to the set in the first place. They're so vibrant and beautiful and give a magical vibe. Each build has an entirely different color scheme. Instead of looking chaotic when placed side by side, each building complements the others.
There are 5544 bricks in total, and the way this set is designed makes excellent use of all of them. The shapes used look excellent on both the exterior and interior of the shops, and there are even LEGO dots used for the cobbles on the front of the street. This set also comes with an impressive 15 minifigures, 4 of which are exclusives.
My favorite thing about the LEGO Diagon Alley set has to include so many interactive parts. The stairs in Ollivanders swivel outwards in a satisfying arc. There's also a wand box that can be slid in and out of the wand display, and most of the wand boxes contain actual LEGO wands.
Similarly, the stairs in Flourish & Blotts can be tilted upwards to better view the lower level. But the best one is the hat on the outside of Weasley's Wizard Wheezes. There's a mechanism that allows you to tip the hat just like it does in the movie.
Exclusives
Most of the sets LEGO sells are available to buy in multiple stores. Often you'll find LEGO sets in toystores or supermarkets, but this is not always the case. Some sets are LEGO exclusives, which means they can only be purchased directly from LEGO themselves. You can do this either via their website or in a physical LEGO Store.
There's a certain joy in walking into the LEGO Store and being surrounded by walls of incredible sets. The colors are bright and exciting, the staff is always so friendly, and it's brilliant to be in a place of such possibility.
I think it's cool to know that some sets are unavailable anywhere else. But it's also great that LEGO acknowledges that not everyone can get to a physical store. So these unique sets are also available on their website.
Titanic 10294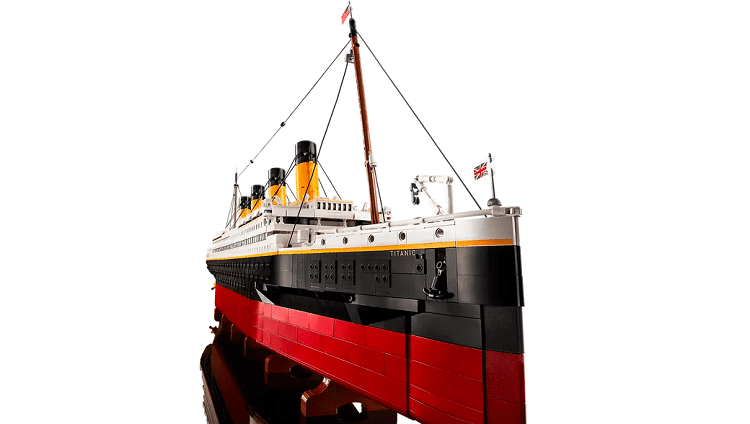 The Titanic 10294 set has the most pieces out of any in this entire article, coming in at an astounding 9090 pieces. This particular build is part of the Creator range. Still, along with the Colosseum,
I wanted to put it in a separate category to highlight the fact that it's an exclusive. This LEGO Titanic set is a scale model of 1:200, and every care has been taken to get the details just right. This makes for an authentic replica and a challenging and enjoyable build.
This set is 53″ long, so to put that in perspective, if a 9-year-old child lay down next to it, this LEGO Titanic would be bigger. It certainly earns its name, which means 'of exceptional size.'
You would certainly need a large surface to display this on. However, I suppose you could always go for the historical method and drop it to the bottom of the sea once you are done.
The colors are very consistent, and the outside is primarily red, black, and white. The ship can be broken into three parts to allow you to view the interior, which appears to be made up of several layers.
The inside is made up of mostly gray bricks. I think it's fantastic that you can view the inside when you want, as so much effort will have gone into building it. It's also one of those sets that rewards the building process, as you'll get to see all the little details that will be invisible in the finished set.
The set comes with multiple exciting features. Firstly, there's a stand and nameplate, which you can place in front of the finished build to give it that final touch.
The inside contains piston engines that move when you turn the propellers. You can even lower the anchor and adjust the tension on the line. Overall, this is an incredibly intricate build and is probably the most ambitious project that LEGO offers.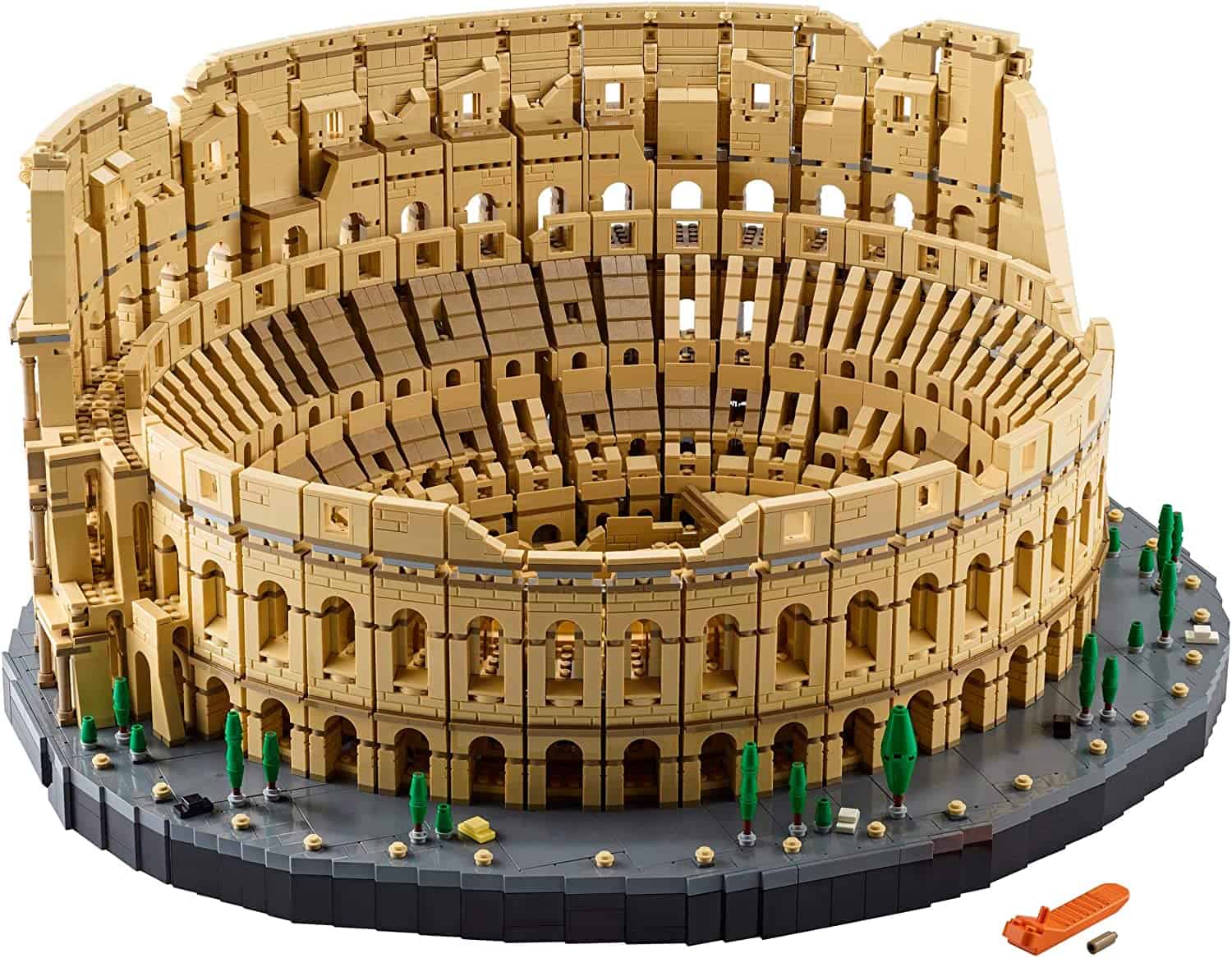 One of the most impressive sets based on an actual location, the Colosseum 10276 set is a beauty to behold. The level of detail that's gone into this is extraordinary.
Compared to some of the other LEGO sets out there, it's one of the most reasonably priced. You get a grand total of 9036 pieces for just $549.99. This is obviously still a lot of money (this is a 'most expensive LEGO sets' guide, after all), but you get a lot of LEGO for your investment.
I'm a huge fan of Roman history, and I remember eagerly learning all about the Colosseum in school when I was a kid. I even visited El Jem in Tunisia, where the Romans built a replica Colosseum.
The stone steps were so sharp that I injured myself so badly when I tripped that I still have the scar to this day! Fortunately, the LEGO Colosseum seems considerably less dangerous than the real one. It also saves you flying abroad (assuming you don't live in Italy or Tunisia).
This set wonderfully captures all the intricacies of the real thing. The outside has travertine paving and olive trees. The entire set is built upon a large and solid base for maximum structural integrity.
The whole thing is 10.5″ high, 20.5″ wide, and 23.5″ deep. Despite the large size, LEGO has made sure that it's easy to pick up and turn, so you don't have to worry about it breaking at every opportunity. The instruction booklet is also full of fascinating facts about the Colosseum, intended to inspire you as you put this stunning design together.
Creator Expert
The Creator Expert range is targeted towards older or more experienced LEGO fans looking for an extra degree of challenge within their build. These sets tend to feature either a more significant number of pieces or more fiddly and technical combinations of pieces.
As a result, there are some utterly gorgeous sets in this series, and we're going to look at the two most expensive ones available (outside of the exclusives mentioned above).
Roller Coaster 10261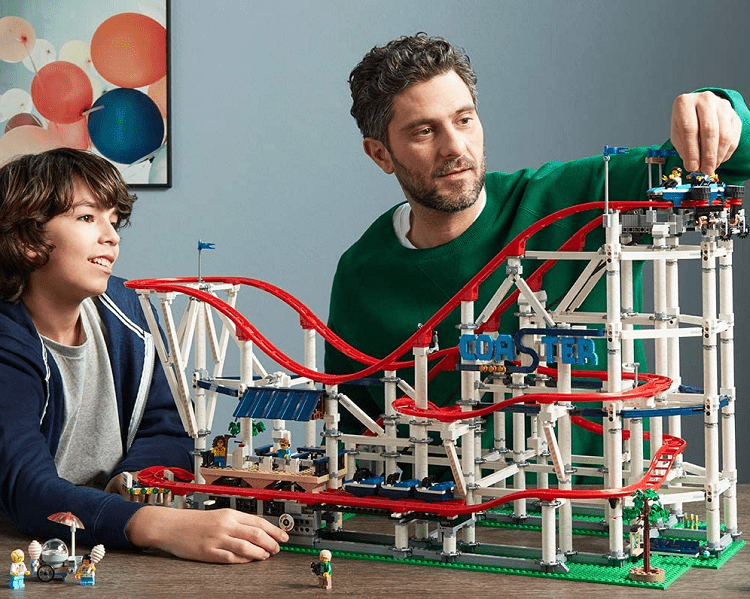 This Roller Coaster 10261 set is probably a unique design on this list. It uses the LEGO pieces creatively and creatively, so it makes sense that it's part of the Creator Expert range. With a price point of $379.99 and 4124 pieces in total, it's towards the lower end of the sets in this guide, but it's still one of the most expensive out of all the sets that LEGO has to offer.
This is an excellent option if you can't afford the higher prices of the exclusive LEGO Creator Expert sets mentioned above. However, you'd still like to build something special.
This set is 20″ high, 34″ wide, and 16″ deep, so it would require a large surface to build and place it on. However, it also works as a great display piece, so it could be put on top of a coffee table or perhaps on the playroom floor if you have children.
There are some exciting pieces in this set to form the tracks for the roller coaster. So it would probably be a build unlike any you'd previously experienced.
As well as the main attraction of the coaster itself, this set also features a ticket booth, fountain, concessions stand, and more. There are 11 minifigures in total and a frog figure to go in the pond.
This makes it fantastic for playing, as you could simulate a day out at a theme park. I can see a young child (or an imaginative adult) having hours of fun making the minifigures buy cotton candy, walk around the park, and go for rides on the coaster. There are so many interactive elements.
The thing that fascinates me about this particular build is that it's fully functioning. Once you've put it together, you can have a working roller coaster!
The best bit is that, if you want to, instead of operating it manually, you can purchase motorized parts to make the roller coaster run automatically. I know we live in an age of smartphones and 5G, but simple mechanisms like this still truly captivate me.
Real Madrid – Santiago Bernabéu Stadium 10299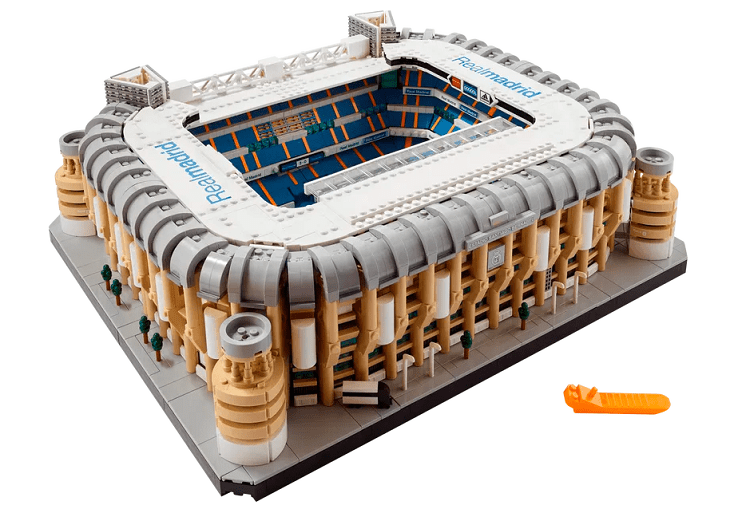 I don't know how much of a cross-section there is between soccer fans and LEGO fans. Still, it must be substantial, as several stadiums are across the LEGO brand. But the most expensive of those is the Real Madrid – Santiago Bernabéu Stadium 10299 set.
One of the most famous soccer clubs globally, Real Madrid is internationally a household name. It has been around for over 75 years.
So many historical matches have taken place at their home stadium of Santiago Bernabéu. Now, fans can recreate the magic through LEGO and have their very own stadium replica. The set pays tribute to the iconic architecture of the real-life stadium.
Great care has been taken to choose colors and shapes that match the majesty of the location. Santiago Bernabéu holds significant sentimental meaning to many fans, and LEGO wanted to honor that.
The set captures so many unique details that this location has to offer. The pitch has the famous grass pattern that Real Madrid fans will know well. The seating has the traditional blue and orange, and the 'Real Madrid' logo is proudly displayed on the roof. I love the brick colors chosen for the outside; it's such a beautiful aesthetic.
Size-wise, it's not as big as some of the other sets I've mentioned, but it's still substantial. The measurements are 5.5″ high by 17.5″ wide by 15″ deep. There are 5876 pieces, and the cost is $349.99.
FAQs
Question: What's the Most Expensive Set that Lego has Ever Sold?
Answer: It seems that Lego has been getting bolder with their pricing in this modern era, as both sets are still available in 2022. I mentioned them at the start of this article. The most expensive sets ever are the Millenium Falcon 75192 and the AT-AT 75313. Both will set you back $799.99 (or £699.99 if you're in the UK).
Question: How Many Lego Star Wars Sets are There?
Answer: Believe it or not, Lego has made over 400 products in the Lego Star Wars franchise. Those range from small keyrings right up to ginormous sets like the Millenium Falcon 75192.
However, obviously, many of these have been retired since the first set was released in 1999. If you were looking to buy something new from the Lego Store in 2022, you'd be limited to 56 sets. Which, if we're being honest, is still a whole lot of choice.
Question: What's the Most Expensive Minifigure to Buy in 2022?
Answer: Whilst some Lego sets have been available for many years; many fantastic builds have been long since retired. However, that doesn't stop collectors from seeking them, and there's a massive community for second-hand Lego trading. Some collectors are after complete sets, but many like to buy specific minifigures.
The Holy Grail among collectors is the 3-piece set of Boba Fett. Only two were ever produced, and the set contains a solid gold Boba Fett and a solid silver Boba Fett. Although nobody has ever sold these, so technically, the price can't be proven, it's estimated that they would sell for upwards of $20,000.
Conclusion
As you can see, there are certainly some very expensive LEGO sets available in 2022. That's one of the great things about LEGO. They have plenty of sets available for those with a small budget, but if someone is looking to spend the big bucks, then there's a whole host of exciting projects they could build.
Over the past few years, LEGO seems to have been getting even more ambitious with its sets, and I can't wait to see what future sets will become available in the coming years.
Hopefully, this guide has given you a good idea of what's out there if you're looking to spend a considerable amount of money. However, I understand that not everyone has that kind of budget (myself included), so it's certainly fun to dream for the rest of us.
Having been fortunate enough to build it for BrickSetGo, I would certainly recommend the Diagon Alley 75978 set if you can afford it. Still, I know that many of the sets in this guide would provide an equally incredible experience.
Recommended Reads: