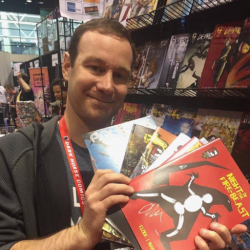 Latest posts by Frank Martin
(see all)
There's something about trains that make them perfect as toys. Sure, there are remote-controlled cars and planes, and helicopters have grown in the marketplace as drones become cheaper and more accessible for people. However, trains have always been timeless and easy. This simplicity could be because they run on a track that allows them to be on continuously.
Of course, these ideas extend to LEGO as there are many great LEGO train sets across all its brands. I find something nostalgic about building a LEGO train and letting it go round, especially since my friends and I built a huge LEGO City in their basement. We would have to move our cars on the streets when we were playing as kids.
That wasn't the case with a train since it had a motor. It was almost like an extra person was playing with us, operating the train. It's just such an iconic and classic symbol of travel that there's something wholesome about bringing it to LEGO.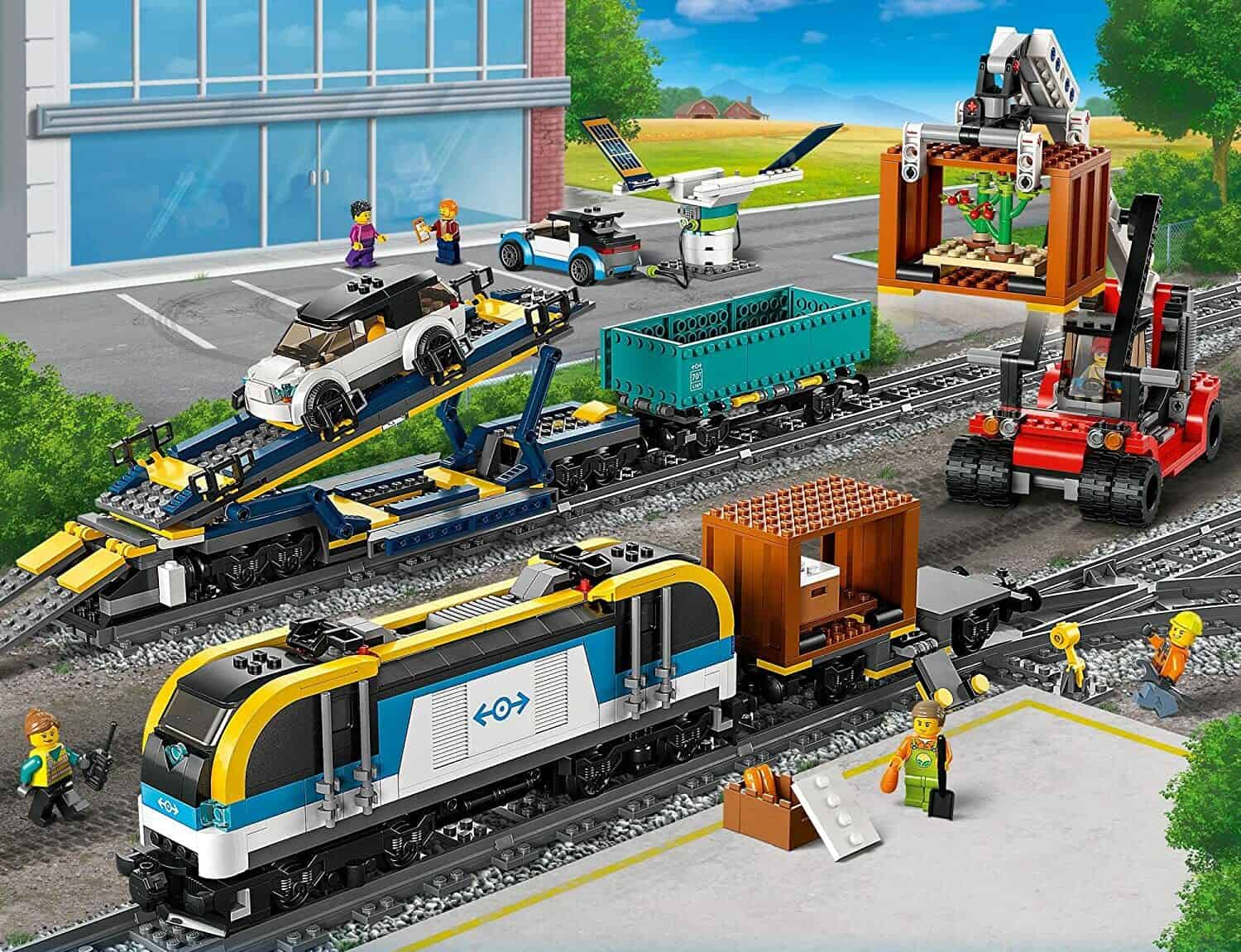 Selection Criteria
Here are some of the qualifications I took into account when making a list of my favorites.
Variety: There's so much more available than just regular passenger trains.
Scope: A train is part of a system, and that system needs to be taken into account.
Size: There are a ton of nice small trains, but I wanted a variation of sizes.
Best Lego Train Sets: Top Picks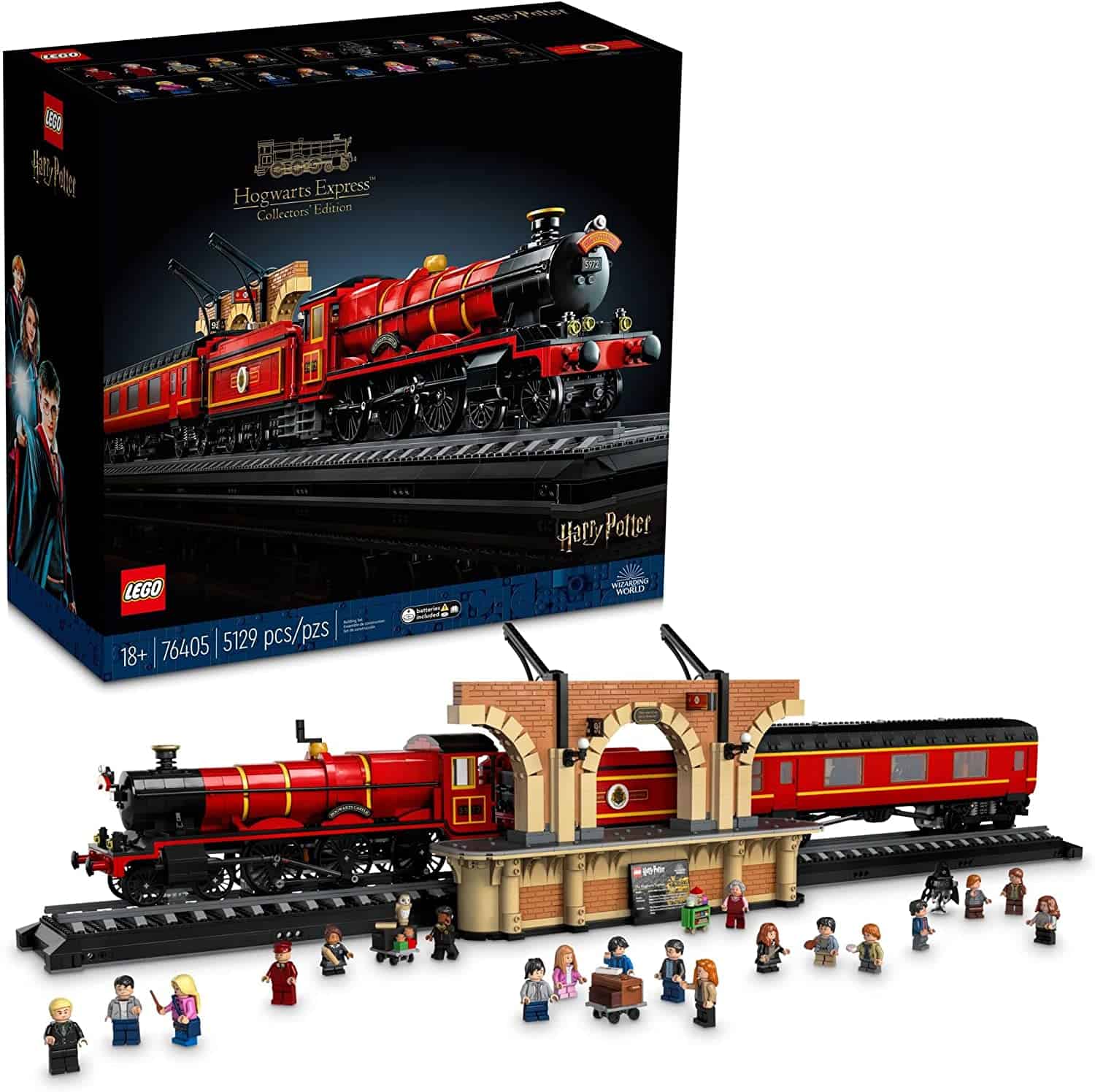 It's harder to think of a more iconic train than the Hogwarts Express. It played a fundamental role in almost every Harry Potter film. It's also something that fans are very passionate about. So, of course, this collector's version of the train is a great find. There's also a regular version of the set, but it's not as jam-packed with goodies as this one.
I'm not the biggest Harry Potter fan, but even I can appreciate how much of a love letter this is to the series. The build itself isn't all that great, as it can get repetitive and boring, but the result is spectacular. It has many different characters and recreations of some of the series' iconic scenes. It's not the greatest set to play with, but for adults looking to show off their fandom on the shelf, it's perfect.
Pros
Love letter: Showing it off is a source of pride for Harry Potter fans.
Characters: It does come with a large cast.
Cons
Price: All of this Harry Potter love isn't cheap.
Playability: Far better to show it off than to try to play with it.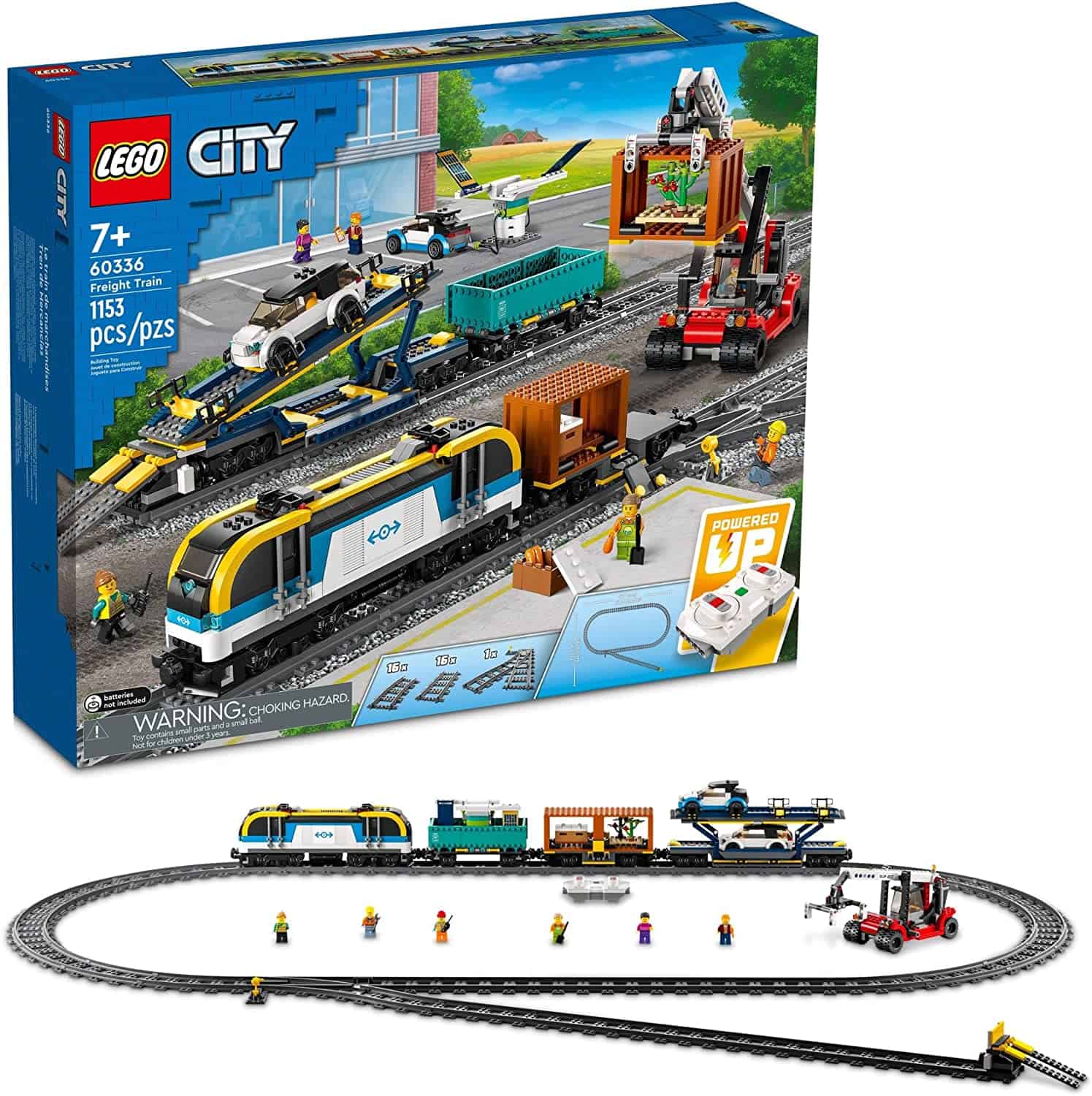 Some of the greatest LEGO City train sets are those that can seamlessly fit into the existing city and make it function. This set does that wonderfully. It has so many features that there are many different ways to utilize it in a play setting. One of the things I loved about having my own LEGO City was being able to operate it as a real city.
Having a train that can haul cargo all around is perfect for this. The great thing about this set is that it's not necessarily a commuter train, just meant to haul around passengers. It can transport other stuff, such as the cars that it comes with. And better yet, if you have any police figures, it'll be cool to make up your own play stories as bad guys try to rob it.
Pros
Playability: There's so much to do with this set it's hard to get bored with it.
EV motors: The fact it can move on its own is what a Lego train is all about.
Cons
Figures: This set should come with more people, given its size.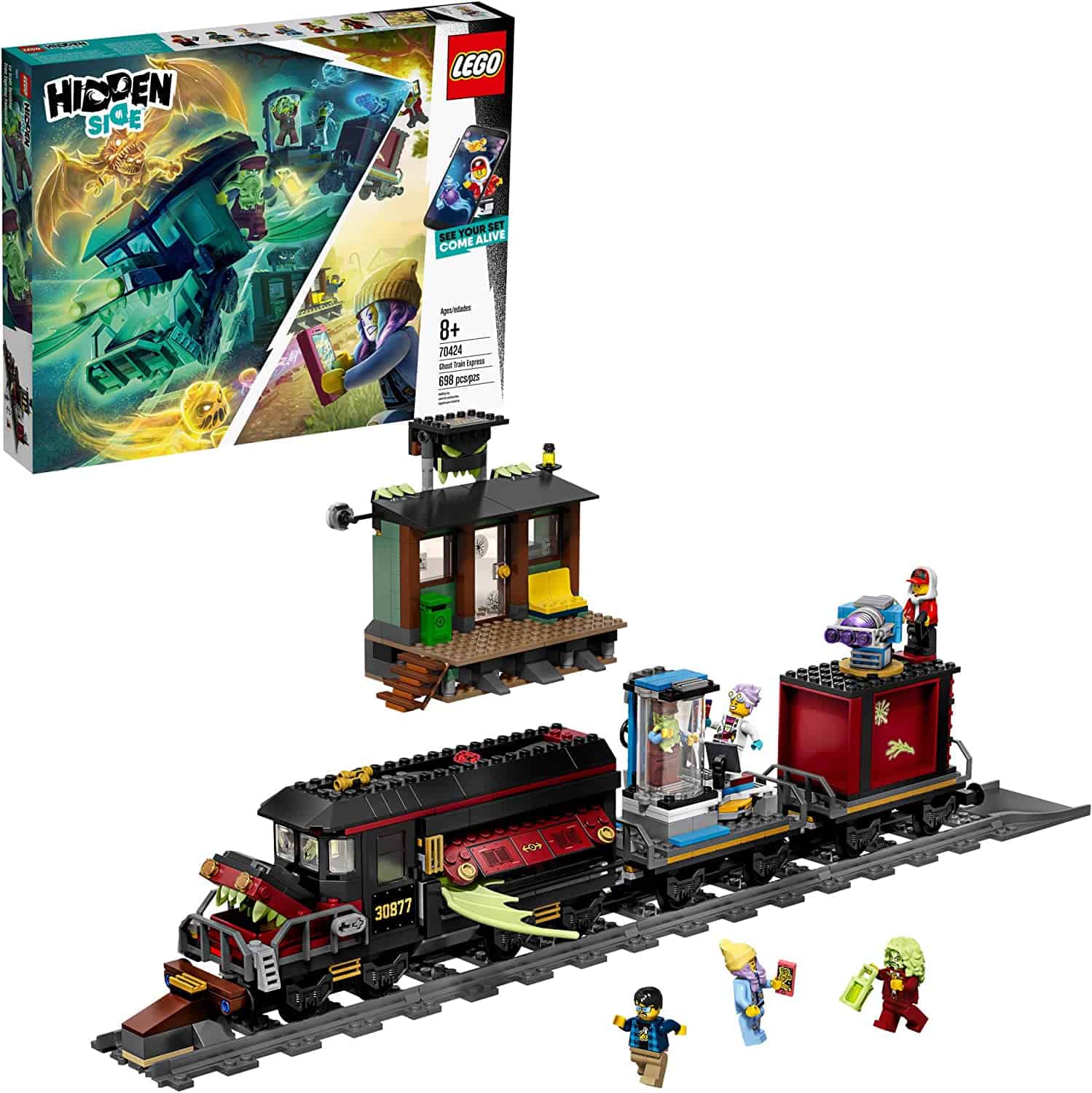 I'm a huge fan of the Hidden Side line of LEGO sets. It's the perfect merger of a classic toy such as LEGO and modern technology. The basic idea is that augmented reality can be used with the set itself to add an excellent variation in play. Regarding a ghost train, that means seeing real ghosts haunting the set.
And as a fan of horror, it's something that I just can't pass up. But even besides the augmented reality side of the set, the train itself it's just cool on its own. It looks like a normal train, but it has various features that reveal it's alive and haunted, making it great even without the Hidden Side app features.
Pros
Design: Just by itself, it's a great monstrous train set.
Hidden Side: Obviously, the augmented reality feature is very cool.
Cons
Price: Hidden Side sets tend to be on the expensive side.
Characters: I would have liked it to come with more ghosts.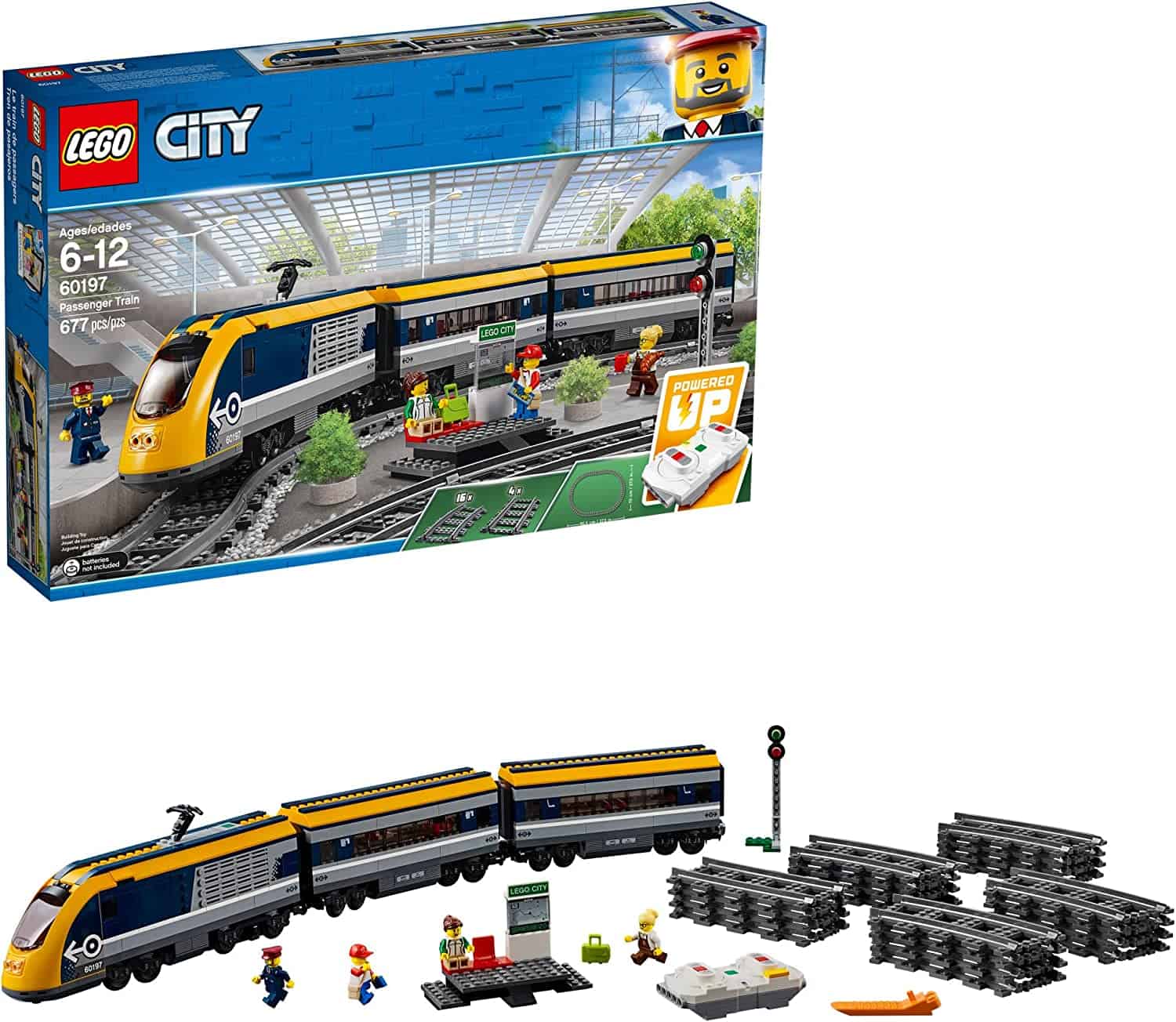 In a LEGO City, there are essentially two types of trains. There are working trains that haul goods and are part of the city's everyday function, and then there are commuter trains that can take people around the city. This set falls into the latter. I mainly like it simply because of its design. It's a sleek-looking train that's simple and clean.
So if you have a city that is also sleek and clean, this will be perfect for navigating through the middle of the city. This style is opposed to some of the more heavy-duty construction trains, which are better off circling the city's outskirts. It's also great that it comes with many tracks to add to the set, but I'm not particularly a fan of how it sets up a station. If you want a better train station, you would need to purchase it separately.
Pros
Design: It's a very cool-looking train.
Extra tracks: LEGO City builders can always use more of these.
Cons
Length: It's not a particularly long train.
Station: It has a pretty pitiful boarding platform.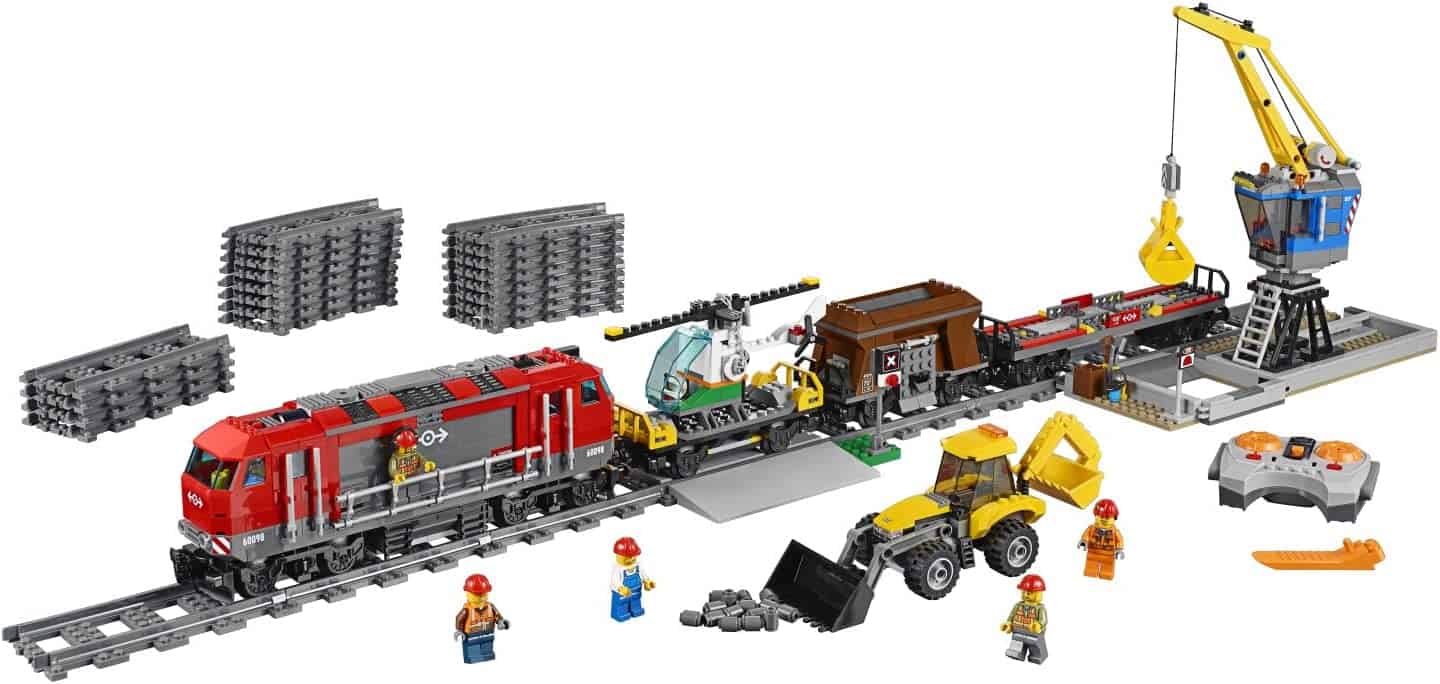 While the previous set was a great passenger train, this is a freight train that serves the other purpose in a LEGO City. It doesn't come with a huge set that adds to the city. The crane is very well designed and serves that purpose, but that's it. Instead, the heavy-duty train is the highlight of the set. It even comes with a platform for a helicopter.
There's an excavator that can also be loaded on. The coolest feature in this set is the remote control that can operate independently. I find controls like this a major upgrade to building and playing with a LEGO City. The only downside is it comes at a pretty steep cost.
Pros
Extra tracks: These are always needed for LEGO city builders.
Remote controlled: This would have been a dream for me as a kid.
Cons
Price: If you want great technology, you will have to pay for it.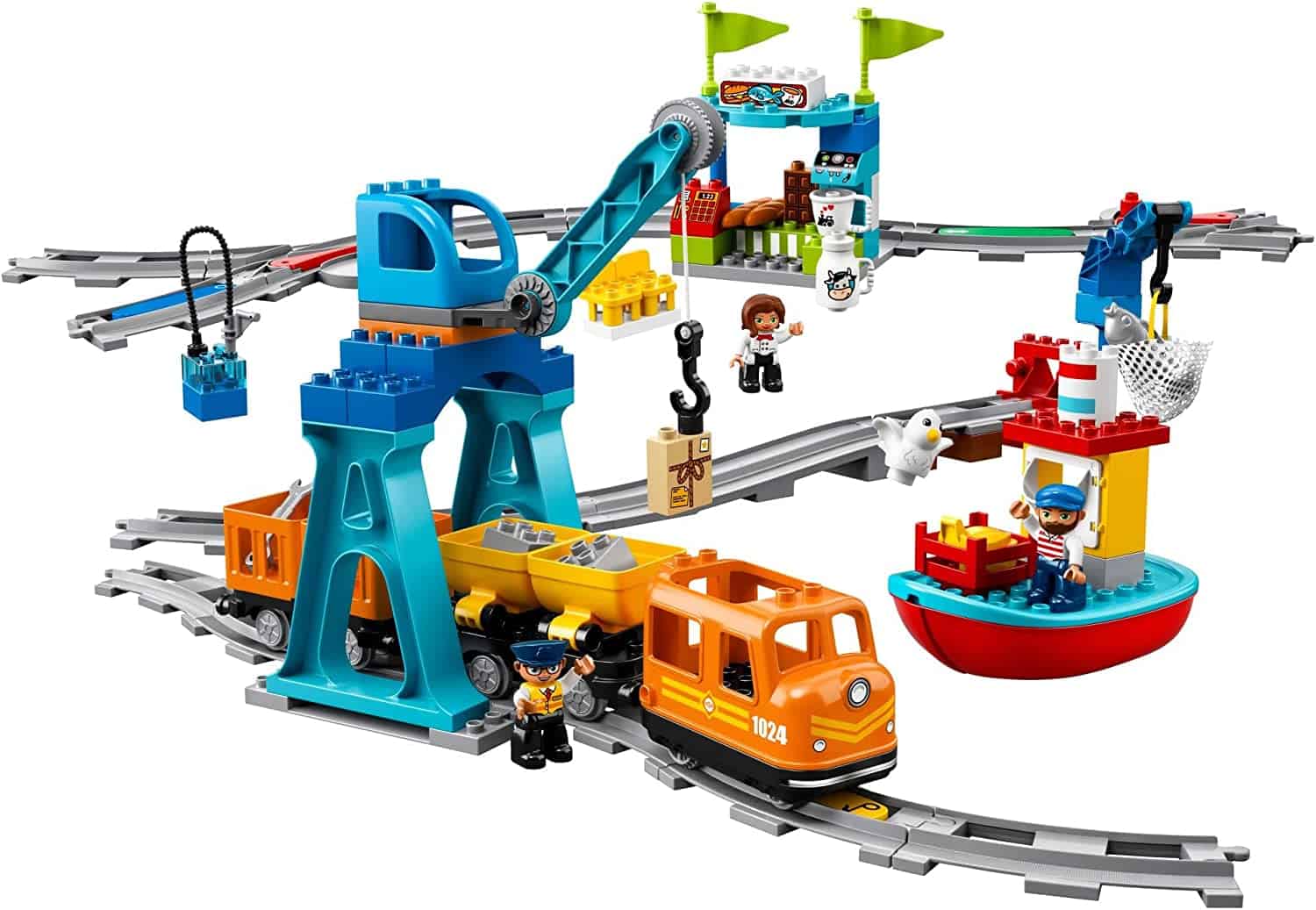 With so many awesome LEGO train sets on the market, it's important not to forget the importance of DUPLO. There are so many small DUPLO train sets that can be put together in a few minutes that this one is immensely impressive for being the opposite. If this set were regular LEGO, it would probably top the list because there's so much going on here.
First off, it comes with a very healthy amount of track. It also has a crane that gives it incredible playability once built. But the set doesn't stop there. It also comes with a boat and a food stand, which rounds out what this set is capable of. I know most kids don't build DUPLO cities the same way that they do with LEGO, but if they did, this would be a must-buy.
Pros
Playability: Most DUPLO sets don't come with a large amount to do after it's finished. This one does.
Price: For what it's worth, it's a pretty good bang for your buck.
Cons
Construction: DUPLO sets tend to be simple because that's their demographic. This one is a little bit more complicated, so kids may need some help with it.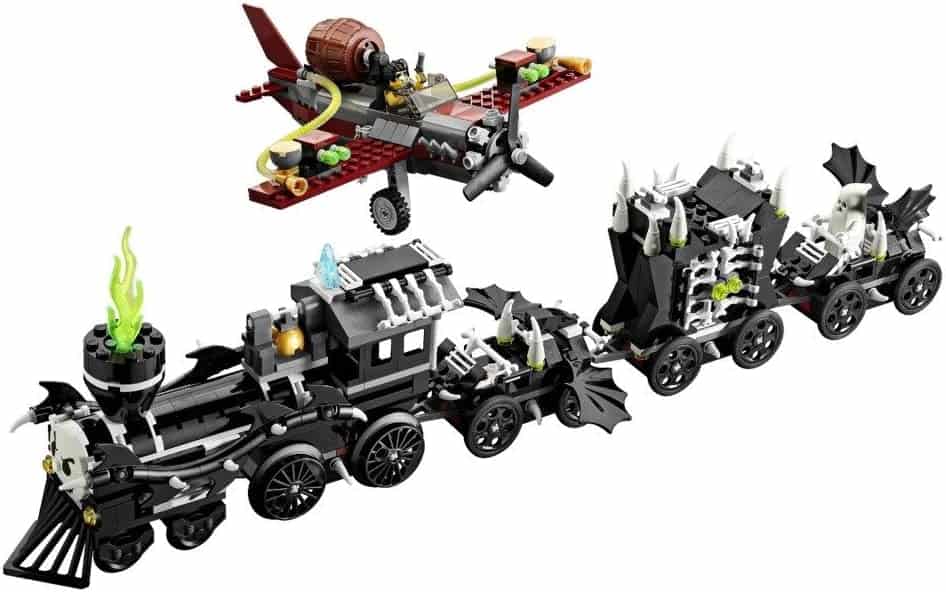 The thing I love most about LEGO vehicles is their sense of imagination. I think of this in terms of helicopters and, to some extent, cars and planes. Not so much with trains. They typically have a narrow design window that doesn't get too crazy. Fortunately, there are sets like this that break that mold. As part of the Monster Fighters line, it pushes train design to the max.
This ghost train has so many cool features that it's fun to put together. It's also awesome that it comes with a plain that offers some extra playability when they are both combined. And with five figures total, three ghosts, and two monster fighters, this is a fun set on its own.
Pros
Playability: There are tons to do right out of the box.
Design: It doesn't just look good; it also glows in the dark.
Cons
Isolated brand: Monster Fighters are fun, but they don't fit well with traditional LEGO City sets.
Retired: They aren't making any new ones, so it can get steeply priced.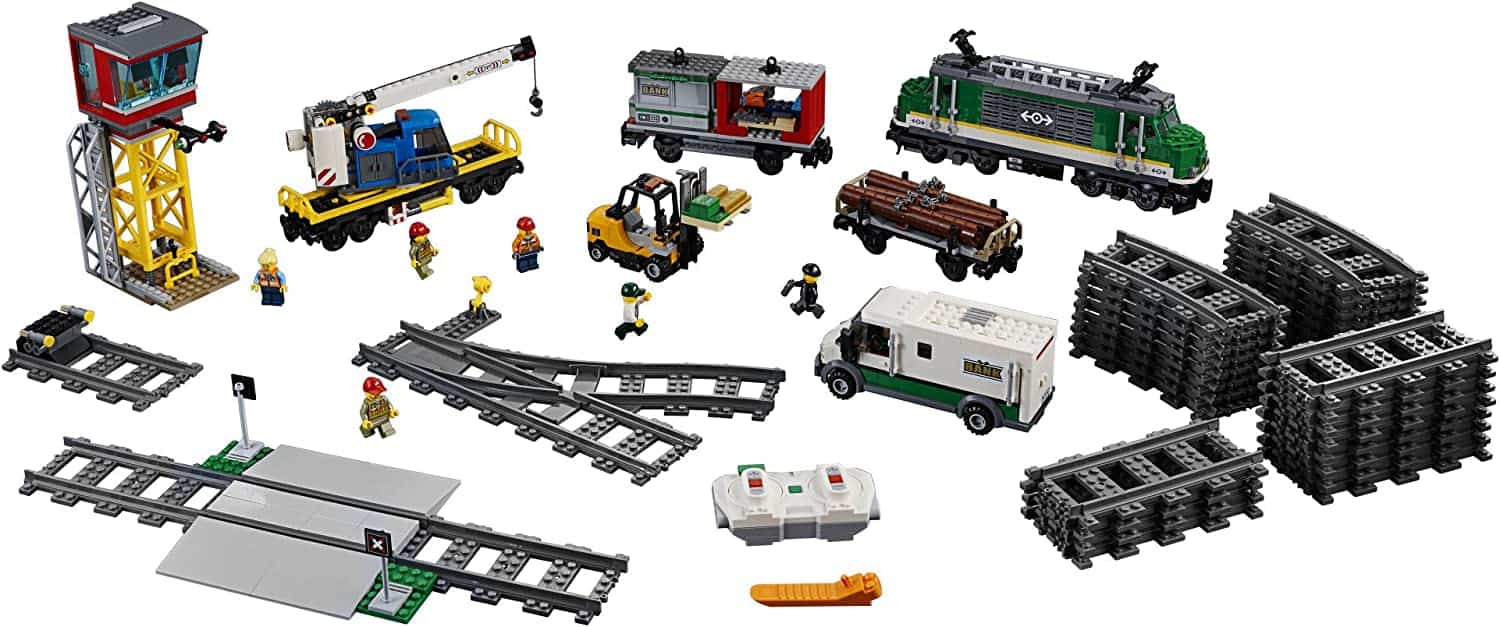 Cargo train sets are undoubtedly more versatile than passenger train sets. This difference means that they can have a lot more uses and different elements while still being considered a cargo train. Passenger trains don't have this same versatility; they just serve one function. While this cargo train doesn't rise to the level of other ones that I like, it still has its uses.
It has a car for transporting lumber and other features, such as a forklift and an armored truck. However, like most train sets, its greatest feature is the remote control. Regardless of how awesome the train is, the simple fact that it has a remote control can add tons of playability once the set is implemented into a LEGO city. Plus, I always love sets with a healthy amount of extra tracks.
Pros
Remote control: It does elevate even the most mediocre of sets.
Extra tracks: You can never have too many of them.
Cons
Retired: If you're trying to have a wide fleet of trains, this one might be tricky to find.
Design: The train's cars are a bit lackluster.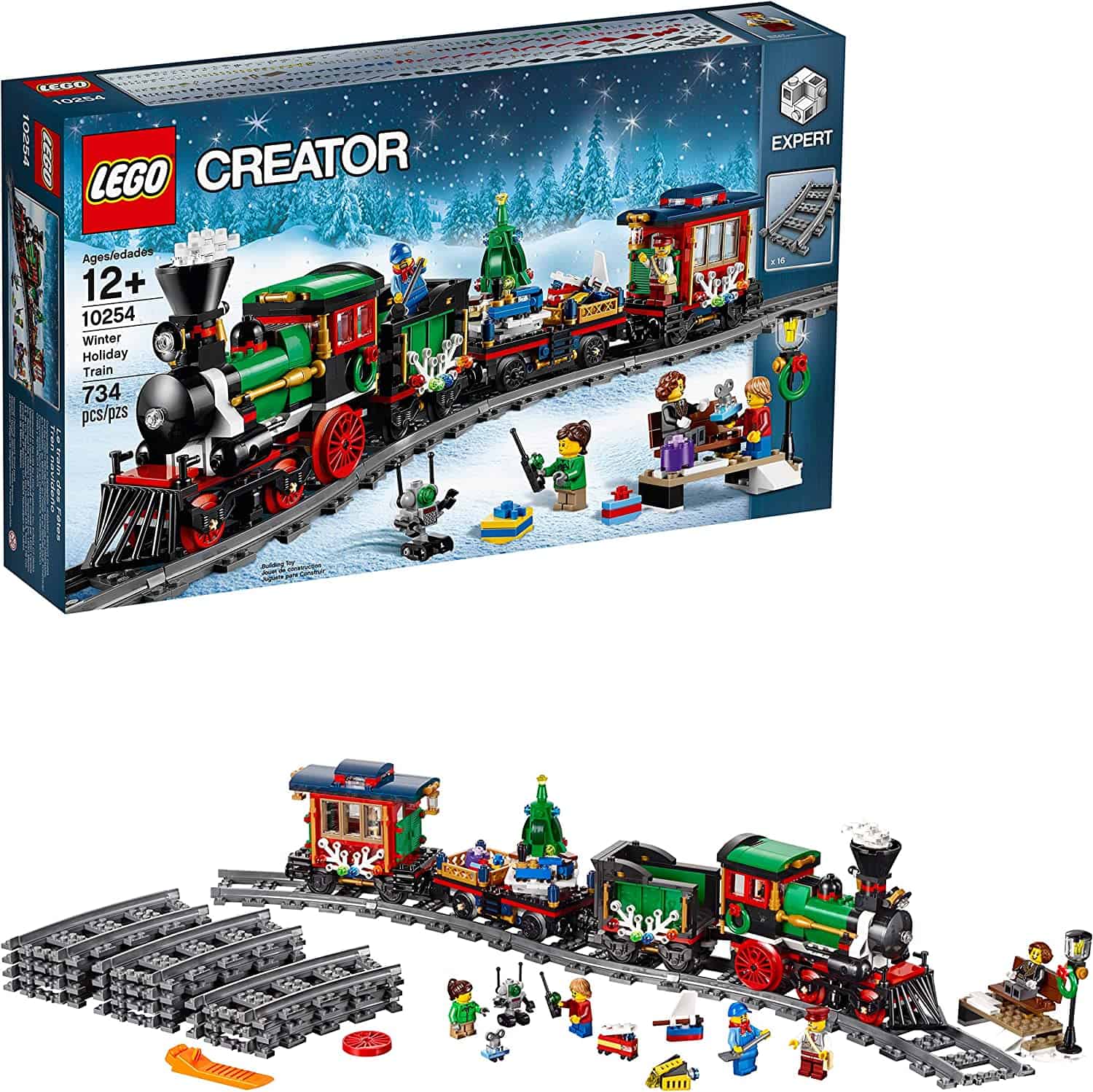 I'm not entirely sure what it is, but there's something about trains and Christmas that go together very well. There's the holiday movie based on the book Polar Express, and I even remember taking a Christmas theme train ride with my kids years ago. This set continues this trend as it has an incredible amount of design.
The attention to detail in creating a train that just screams Christmas is pretty remarkable. It also features a wholesome level of extras, such as an engineer with a coal shovel and even a postman. And it wouldn't be Christmas without presents, including two kids playing with toys. It's not remote-controlled, but it does come with a lot of tracks. While playing with a Christmas train outside of the Christmas season might be strange, it's perfect for that special time of year.
Pros
Design: The attention to detail is pretty remarkable.
Seasonal: It's awesome having a set you can take out to play with specifically for a time of year.
Cons
Retired: It's a fan favorite, so it might be tough to track down.
Seasonal: This is a pro since it is fun playing with something specifically for one time of year, but it's also a con since you don't want to play with it outside of that period.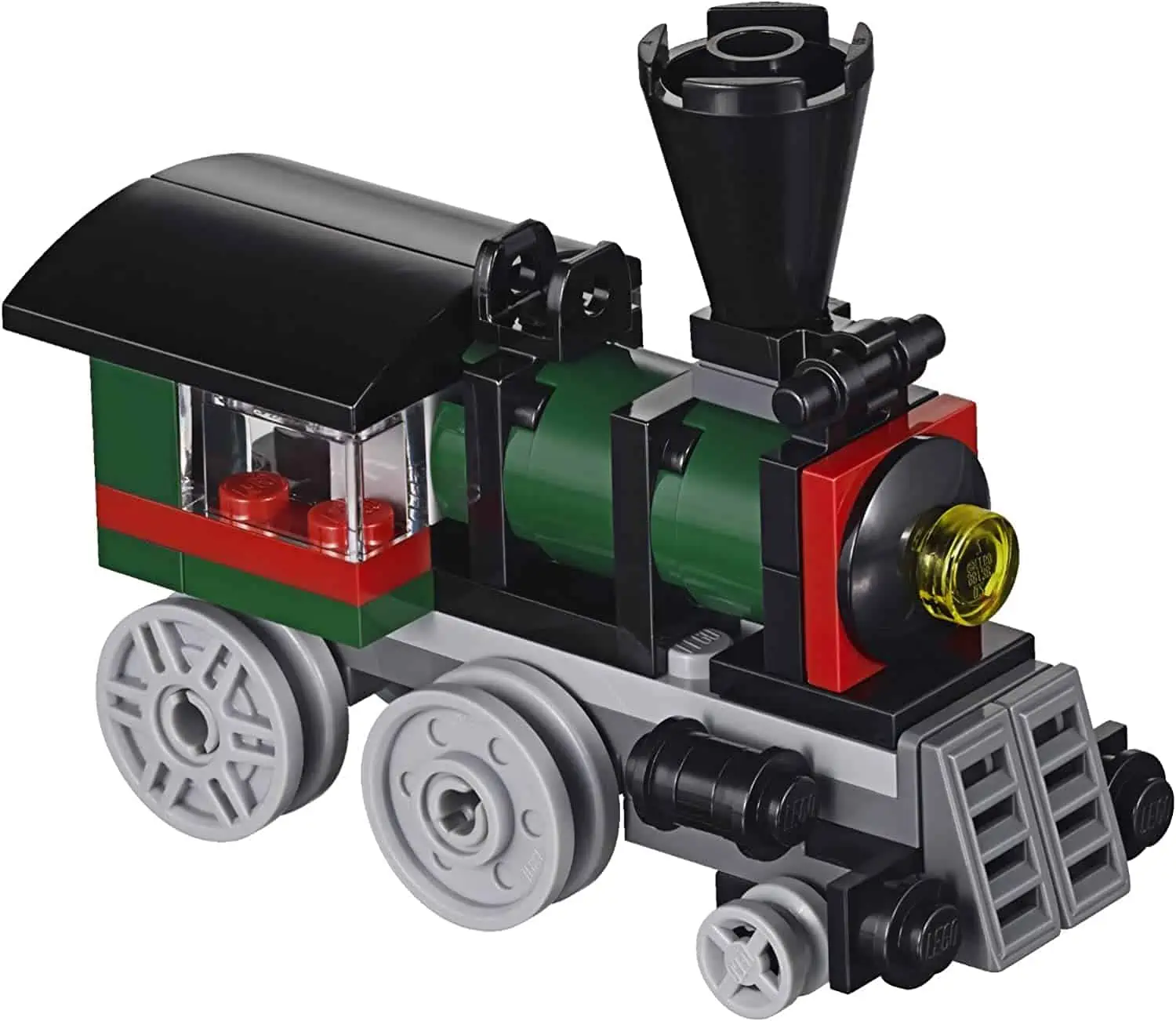 I love sets that don't overthink the concept. Compared to other trains on this list, this one is remarkably different. It doesn't have a long train car, and it doesn't even come with tracks, which might seem strange given how much emphasis I've put on having extra of them. But this is a solid singular locomotive that has three different designs.
What's awesome is that each one looks pretty damn cool yet is varied in style. There are a couple of different LEGO Creator sets that feature trains like this, but this one is my favorite. These train sets usually have one version that looks good, and the others are just kind of okay. But the rocket train and carriage are both designed well that it makes it a fun and small set perfect for a trip or just a quick build to pass the time.
Pros
Price: Even though it's retired, the secondary market still has it on the cheap end.
Extra builds: Creator sets are known for having additional models to construct.
Cons
Playability: There's not much to do with it after it's already assembled.
Isolated: This goes with having a low playability factor, as it doesn't fit well in a LEGO City.
Conclusion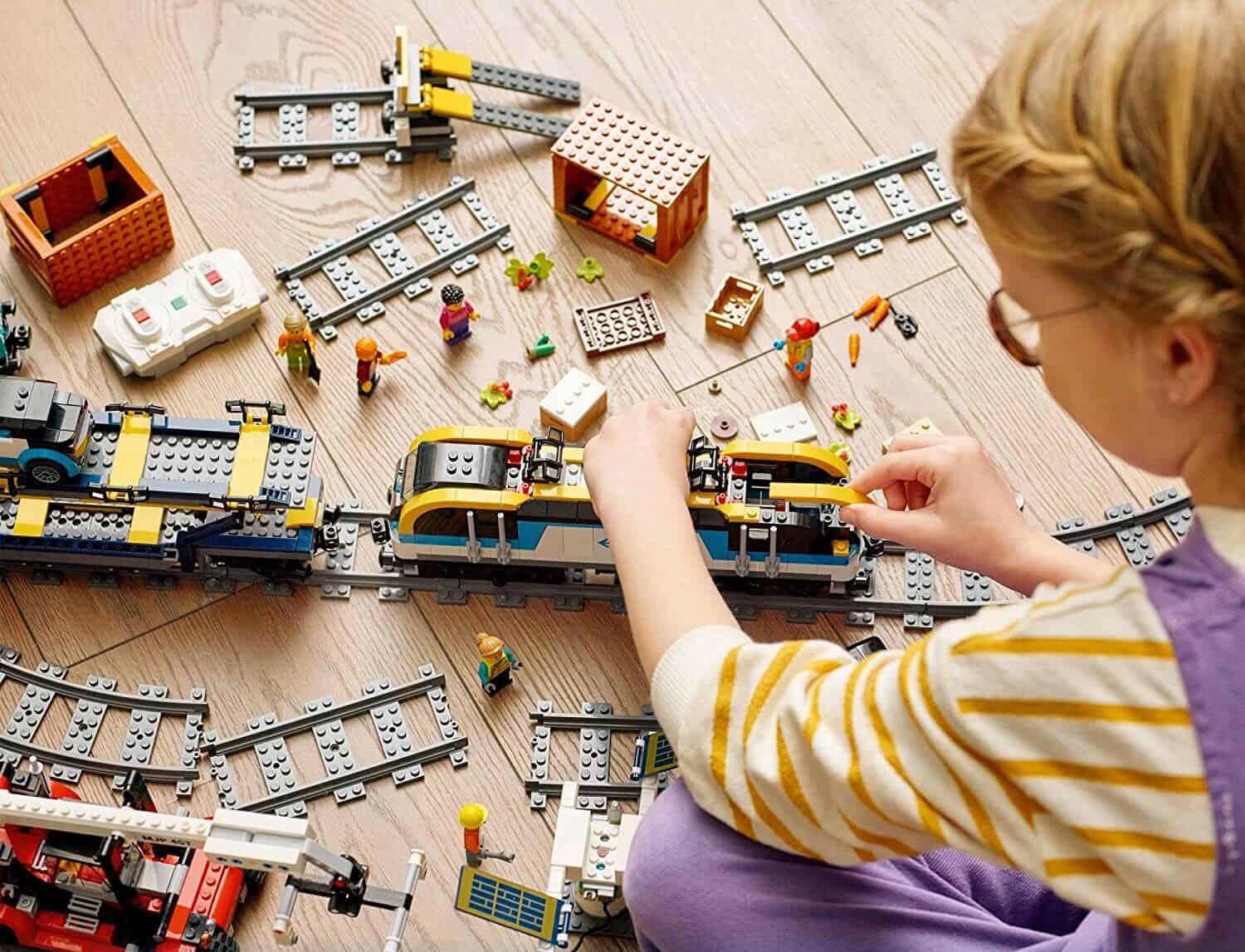 It might be strange to view a LEGO set as practical, considering that they are toys, but trains pretty much serve this purpose within the confines of a LEGO City. Yes, they aren't practical. Although it's certainly possible for someone clever enough to create a LEGO train track around their house that serves some function, they are still toys. Still, trains have practicality built into their design.
This idea transfers to LEGO as many come with extra tracks and a remote control feature. Even the train sets that aren't meant to be implemented within a LEGO City take this idea of practicality into their design. This concept means that so many LEGO train sets are great all on their own without even needing a city for them to be a part of.
FAQ
Question: What was the first Lego train set?
Answer: It was just called "LEGO Train" and came out in 1966.
Question: What is the biggest Lego train set?
Answer: The "LEGO Creator Expert Roller Coaster" set has over 4100 pieces.
Question: What is the longest Lego train set?
Answer: The "Emerald Night" set came with many different train cars and measured 27 inches long.
Related Read