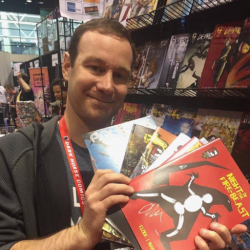 Latest posts by Frank Martin
(see all)
I'm not a huge fan of race cars. It's just not a sport I'm into, but even if you don't like the actual sport of racing, and Formula 1 specifically, that doesn't mean you can't enjoy this aspect of LEGO. That's the great thing about these building sets. It takes something that may be complicated in the real world and grounds it into a toy.
Formula 1 racers are generally fun models to construct. They fall within that sweet spot of builds that are not too challenging but just challenging enough to create something to be proud of. Plus, racing inherently has a high value of playability. Race cars are meant to be raced, so a certain amount of fun is built into the sets.
Another great thing about Formula 1 race cars is that they are works of art on their own. This is opposed to other forms of racing, such as NASCAR, whose cars more or less look like cars on the road. Formula 1 racers have a bit of a science-fiction look to them.
This makes some Formula 1 LEGO sets, mainly the Technic sets, perfect for displaying and playing with. Even the regular LEGO Formula 1 cars have sleek designs that make them fun to look at. Kids may not appreciate that as much;
I certainly didn't at that age. But as I've grown older, and my fondness for vehicles and mechanics has grown, I've learned that building and playing as a Formula 1 racer can stand alongside appreciating their design.
You might also be interested in: The Best LEGO Cars Guide
Selection Criteria
Here are some of the qualifications I took when compiling a list of some of the best LEGO Formula 1 Sets.
Playability

: Some of these race cars come in pairs, which makes them inherently easy to play with.

Design

: These race cars look phenomenal, and that should be taken into account.

Construction

: These builds should be accessible and challenging at the same time.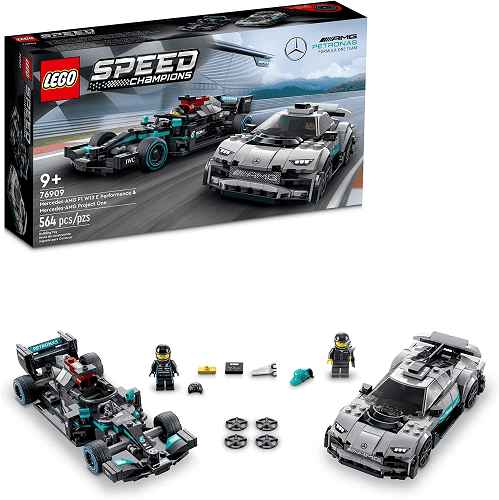 The Speed Champions line of LEGO was just pure fun. It didn't try to connect to other brands through a city or central hub, and it didn't bother trying to build a huge narrative with a compelling storyline.
It was all about the cars and the technical aspects of building them. There are going to be several of them on this list, and this set is a good example of just why they can be so appealing to car lovers.
This set comes with two racing vehicles, both of which are Mercedes, but only one is a Formula 1 car. As far as building goes, they are relatively simple, but once they are completed, they look remarkably detailed. It's a set any LEGO fan, even non-car lovers, can appreciate.
Pros
Price

: It's pretty cheap to come with two vehicles.

Playability

: The fact that it comes with two means you get to race them.
Cons
No extras

: Being cheap is great, but it also means that the set is limited.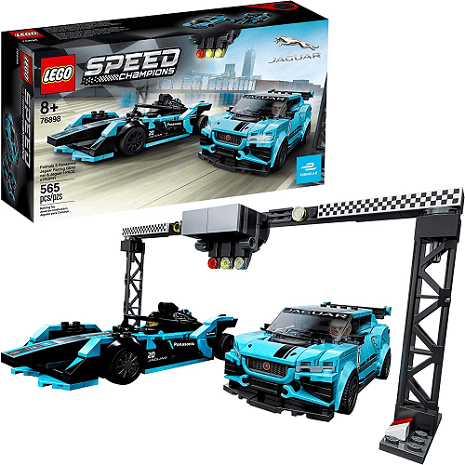 Here's another Speed Champions set that does something similar to the Mercedes one, with a few notable exceptions. This set focuses on Jaguar. It also has another kind of racing car beside the Formula E car that it can race against, which is not precisely a Formula 1 car but close.
However, it also comes with a starting line that adds an increased level of playability. From a design standpoint, each of the LEGO Formula cars has the same basic model but slight tweaks that make them each individualized.
I prefer the look of the Mercedes one better, but the fact that this one comes with an extra starting line adds another layer of value, especially when it doesn't have to be isolated to this one set. The starting line can be used repeatedly as more cars are added to the race.
Pros
Starting line

: Kind of hard to race without one.

Color

: The neon blue is a standout.
Cons
Price

: It is a tad more expensive than other sets that do something similar.

Tools and extras

: The starting line is nice, but it also helps to have things for the characters to hold and play with.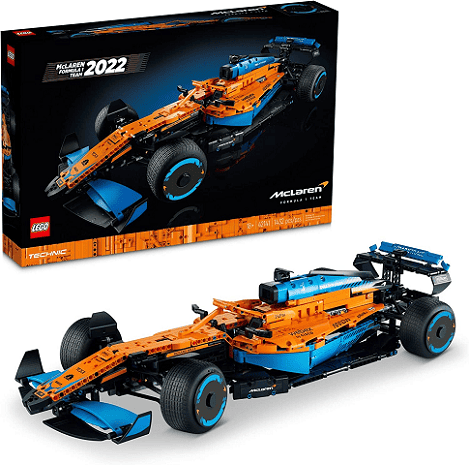 This might be the meanest-looking Formula 1 car that LEGO offers. It's got a lot of traditional Formula 1 features to it, but it also has a lot of unique details that make it stand out amongst the competition. As a Technic vehicle, it's something that skilled builders should only attempt.
There's a lot going on within the inner workings of the car that both car lovers and LEGO fanatics can enjoy. Also, the decals are a nice touch to make the car look as authentic as possible.
Like most Technic sets of this caliber, it can be used as a display piece or an actual toy. The only downside is that it's hard finding other vehicles to race it against. Only different Technic sets will do.
Pros
Complicated build

: It's challenging, but in a good way.

Details

: There's a lot to admire about this vehicle.
Cons
Price

: It's one of the more expensive Technic car models.

Playability

: It can certainly be played with, but finding something to race it against might be a challenge.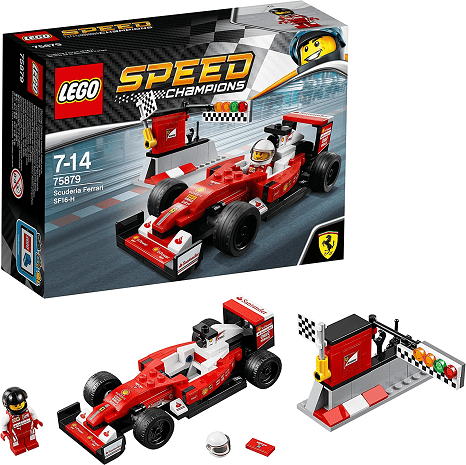 The great thing about LEGO sets, especially LEGO vehicles, is that they don't have to be complicated. Sure, I love building a huge elaborate set as much as any enthusiast. But there's also something to be said about the smaller builds too. This vehicle is a Formula 1 car aimed at a slightly younger demographic.
The age is listed up to fourteen, but I think that's a little high. The lower age of seven is probably a better sweet spot. The downside to this car is that it doesn't compare in size to some of the other Speed Champions sets, so it's hard to race.
You would need to find something comparable in size. But for what it is, it's still a fun build and comes with a simplistic but awesome starting line.
Pros
Construction

: Small builds can be fun too.

Starting line

: For a small extra, it has great playability.
Cons
Price

: It's a rare set to find, so it's a shame something so small can be pricey on the aftermarket.

Size

: Small is great, but it stinks that there aren't more similar cars.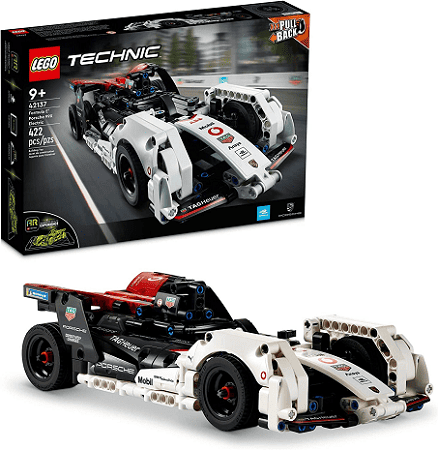 Technically speaking, this set isn't Formula 1. It's Formula E, which is meant to be an offshoot of the popular Formula 1 racing circuit. There are subtle differences, but from a design standpoint, they are similar enough that I think this set qualifies. And it should because it's awesome.
It's not exactly modeled after an existing Porsche, but it is an original car design inspired by one. Plus, it has a pullback feature, so the car can go on its own. Also, it has AR capability that works alongside the Technic app for a fully rounded play experience. It might not be the most challenging Technic build, but it's jammed pack with enough to satisfy all LEGO fans.
Pros
Pullback feature

: I'm surprised more race cars don't have this.

Price

: It is surprisingly cheap for how much you can get out of it.

AR capability

: It's awesome how much LEGO embraces emerging technology.
Cons
Construction

: It's fairly easy for a Technic set.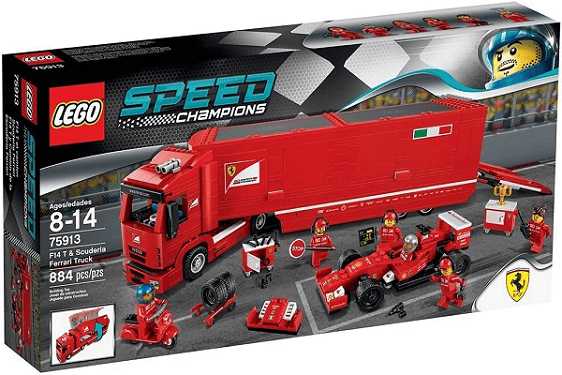 One of the hardest things about collecting, building, and playing with Formula 1 LEGO sets is that they aren't geared around playability. That doesn't mean the race cars can't be played with. But Speed Champions sets aren't part of a full-fledged LEGO set like other brands. This truck is an exception.
The Formula 1 racer it comes with isn't exceptional, but the fact that it comes with a trailer that opens up is awesome. There's a place to store the car as well as an office for the pit crew. It also comes with tons of characters so that the driver isn't by himself.
Strictly from a Formula 1 standpoint, it might be lacking. But it also may be the most interesting Formula 1 LEGO set there is.
Pros
Playability

: It's obvious just by looking at it how much there is to do.

Characters

: It has a great supporting staff that other race cars don't come with.
Cons
Design

: The race car it comes with is pretty basic.

Price

: It's pretty expensive, comparatively speaking.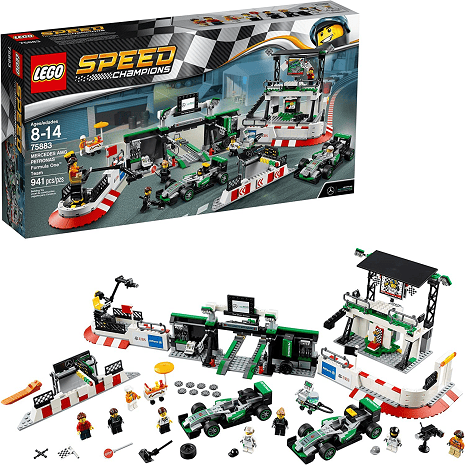 Like the Ferrari truck, this set comes fully loaded and ready to be played with as soon as it's built. It has a lot of extras and playability that it's hard to encapsulate them all. Besides having two vehicles, it also comes with a hot dog cart and plenty of extra characters.
There are standard race track fixtures such as a refueling station and even a podium for the winner of the race to celebrate at. My favorite feature is probably the cameraman's chair that allows him to swivel around and film the race as it's going on.
Well, the cars themselves are fairly standard and clones of each other; it's hard not to appreciate just how well-rounded this set can be.
Pros
Playability

: It might have the most to do out of any Speed Champions set.

Extras

: There are tons of little features that can go a long way, not just in this set but in another set, too.
Cons
Price

: Also, like the truck, it comes at a hefty cost.

Car design

: While the set is a lot of fun, you may want to mix it up with better-designed vehicles.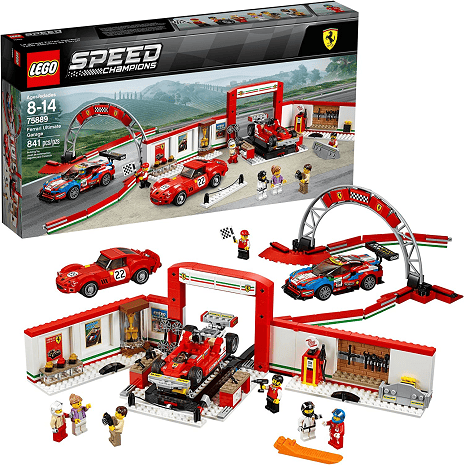 Whereas the previous set focuses more on the race, this set focuses more on the garage and other aspects behind the scenes. This is not so much where the cars go to compete but where the racers hang out. So it does have a certain amount of playability, just in a different aspect of racing culture.
Still, there are tons to love about it. It comes with three distinct vehicles, only one of which is a Formula 1 racer. The other two, though, are plenty unique to stand out compared to some of the other simpler vehicles that come with Speed Champions sets.
Another great feature is the garage that allows the cars to be tinkered with. For individuals like myself that aren't gearheads, the racing is where the action is. But for people that like to tinker with their vehicles, this is a whole new aspect of that culture.
Pros
Vehicle design

: Not just the Formula 1 racer, but all three look cool.

Price

: Compared to most Speed Champions sets, it's evenly priced.
Cons
Racing limitations

: As far as the set goes, there's only a starting line to contribute to any actual racing.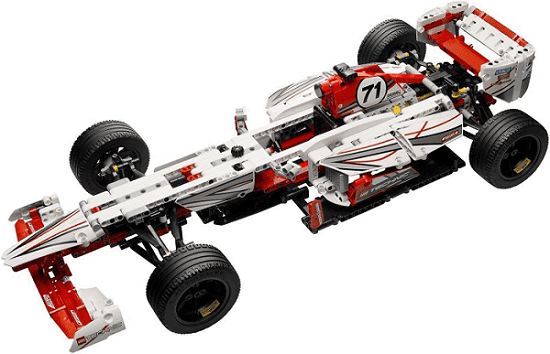 If Technic is all about getting technical with your builds, then it's hard to top this one. Unlike the very awesome McLaren racer, this one doesn't have any particular model it's based on. Instead, it took the overall Formula 1 design and decided to give it a quintessential Technic makeover.
It's also not a straightforward build. It's a bit complicated, as evident by its slightly elevated age range. It has a secondary build that looks like a monster truck, and honestly, I'm more of a truck guy. But that doesn't mean I can't appreciate a great-looking race car when it comes across my path.
Pros
Challenging build

: Some Formula 1 racers are too easy to assemble. This one offers a rewarding challenge.

Extra build

: If you ever get bored with the Formula 1 racer, you could always tear it apart and try something new.
Cons
Limited playability

: This goes with most Technic sets, where imagination is required.

Price

: It's a hard set to come by, so the price reflects that.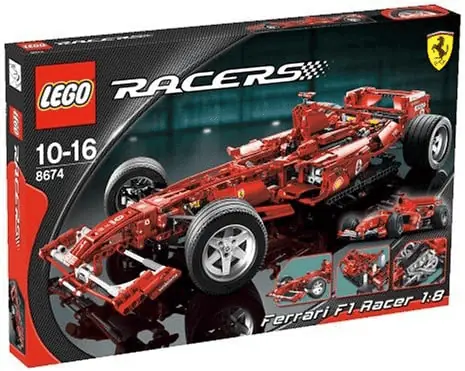 Here is another Technic set that takes an extreme design for a Formula 1 racer. However, unlike the previous one, this one is modeled after a Ferrari. The build is also a bit more complicated but for different reasons. It has an open design that allows people to see within the car's guts.
This creates an amazing amount of detail but also forces the builder to be very intricate. It also has a fairly complicated suspension system that allows the car to maneuver more than most. I think it might not be the best-looking car Technic has to offer. But it certainly has enough new design details to make me appreciate it.
Pros
Design

: Ferrari should be proud of just how sleek this thing looks.

Details

: You can spend a lot of time just taking it all in.
Cons
Design

: Its unique design might be a pro for some people, but it doesn't look like a standard Formula 1 car, which may be a turn-off.

Playability

: Although it maneuvers fairly well when playing with it one to one, it may be difficult in an actual race setting.
FAQs
Question: What is the first Formula 1 Lego car?
Answer: In 1976, LEGO released a simple car titled "Formula 1 Racer.
Question: What Formula 1 LEGO car has the most pieces?
Answer: The Technic set "Ferrari SF90 Stradale" has over 1600 pieces.
Question: Are there any Duplo Formula 1 sets?
Answer: Yes. The LEGO Duplo Ferrari F1 Racing Team (4694) is one.
Conclusion
Cars are an important part of life. They aren't going anywhere anytime soon. So it's important to be familiar with them on some level. LEGO isn't just a toy. It's also a teaching tool.
While there aren't any overt lessons that kids and even adults can gather from building Formula 1 racers, it does allow them to gain some sort of familiarity and context to these vehicles. I know I'm not the biggest gearhead, but I appreciate cars passed down to me by my father.
And I love building LEGO. So being able to construct these cars with all the brand names and parts that come with the sport has inadvertently given me more knowledge than before. In that regard, building Formula 1 racers–and LEGO in general– is always a worthy activity.
Related Read