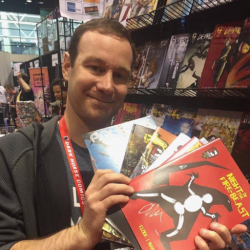 Latest posts by Frank Martin
(see all)
Technic was an interesting evolution for LEGO. It wasn't that the LEGO brand was necessarily in any trouble. But if any product is to survive in a rapidly changing market, it must evolve.
Technic was a great transition that allowed LEGO to remain in the building blocks and toy business while also providing something new, something different, and a twist on what made LEGO so great, to begin with.
It also helps that Technic pieces were a bit stronger, providing a different kind of support to traditional LEGO sets that weren't there, to begin with.
However, it's not just that there were more pieces that interlocked in different ways. Technic also changed the way in which LEGO sets are played with. I remember thinking of it as a kid that I somehow graduated to the next level of LEGO by building Technic sets.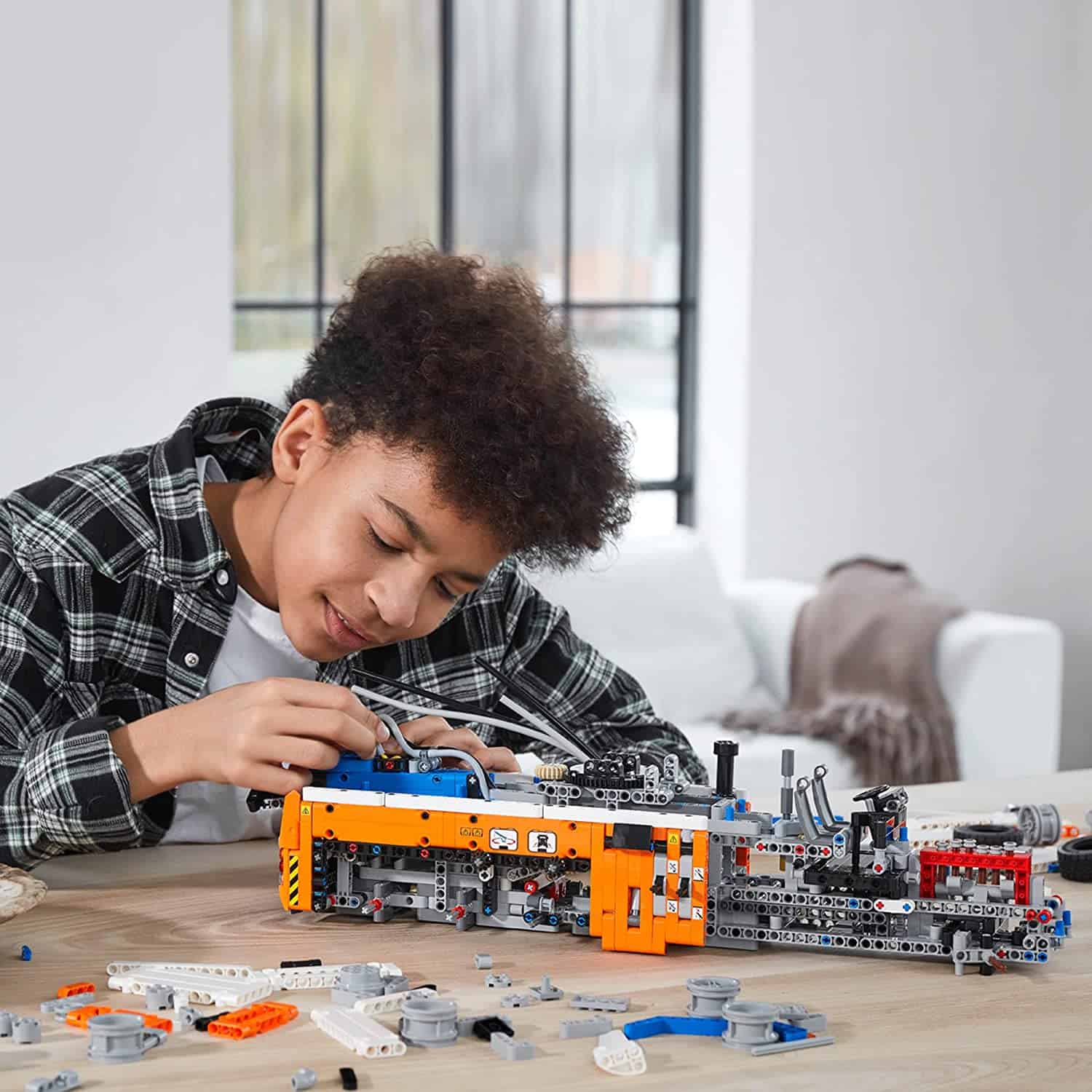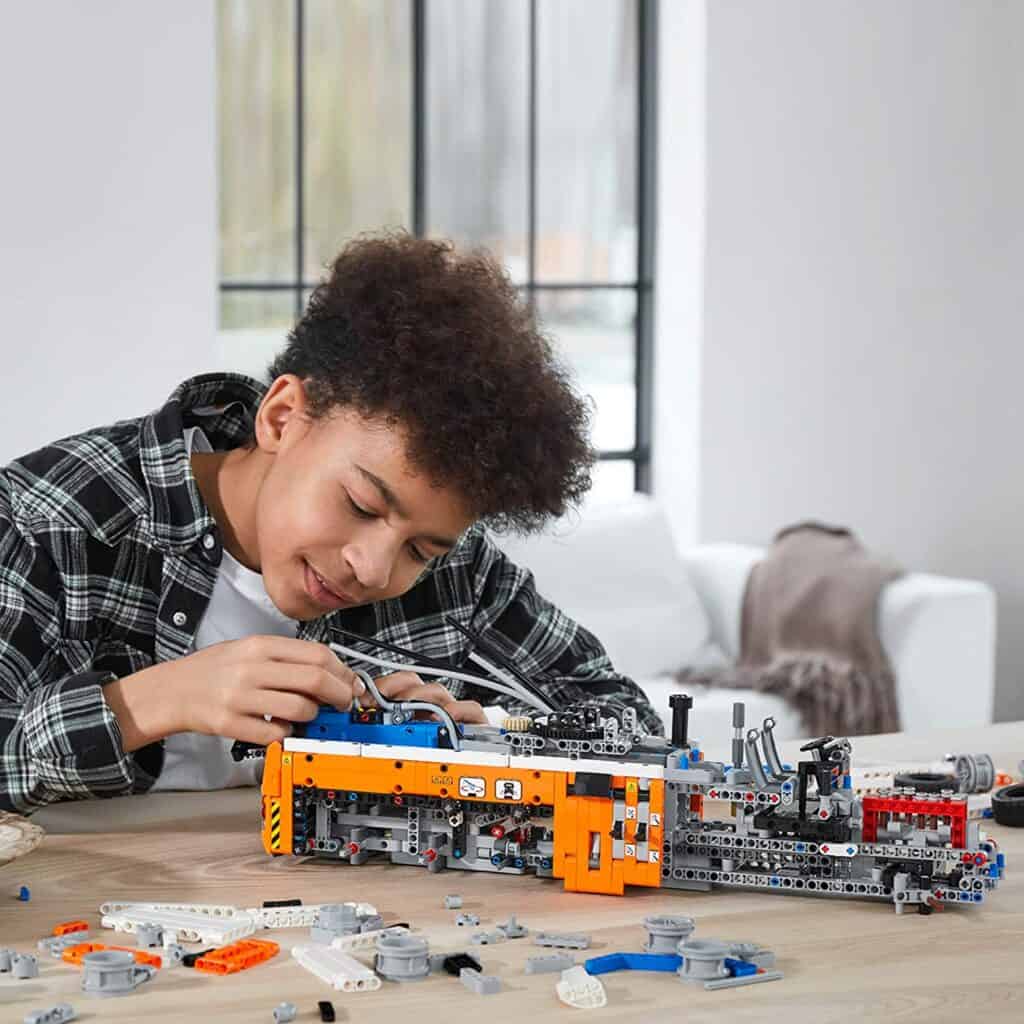 As I grew older, I realized this wasn't necessarily the case as the age ranges for Technic as opposed to traditional Lego sets overlap greatly.
Instead, Technic sets were treated more like models. They weren't necessarily supposed to be played with figures as if they were dolls like a regular LEGO set. Instead, the Technic sets themselves, usually vehicles, could be considered the toy.
That is, if you wanted to play with them, which many are meant to be. Sometimes Technic sets were built specifically to be modeled, which is fine too. It was a new branch of LEGO with a different appeal that only strengthened the brand in the long run.
Selection Criteria
While making a list of some of the best LEGO Technic sets, here are some of the qualifications I took into account.
Size

: One of the great things about Technic is that the builds can get bigger without necessarily getting weaker.

Diversity

: An entire list can be made of the best Technic cars, but I wanted to consider all sorts of vehicles and sets.

Construction

: Since they are still LEGO, Technic should be fun and not a boring chore to build.
Heavy-Duty Tow Truck (42128)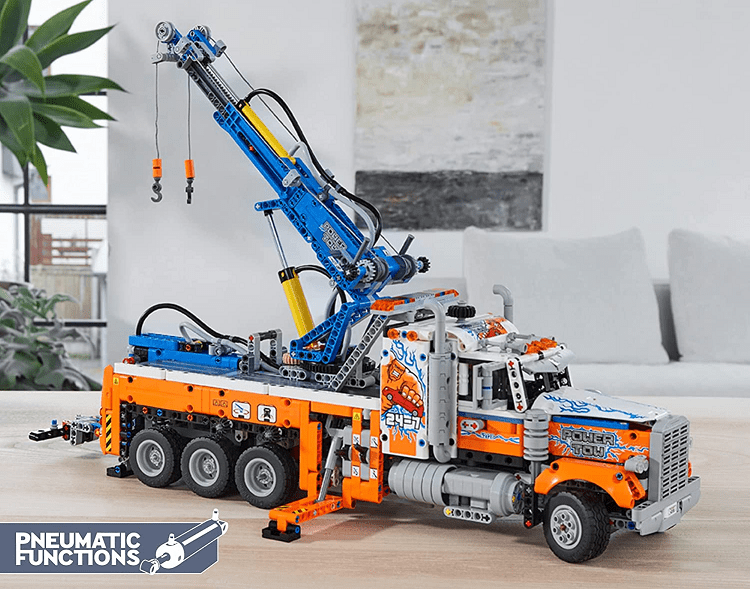 I'm glad they called this set a "heavy-duty" tow truck because, at over 2,000 pieces, it is pretty massive. I'm also surprised that they rated it at 11+ because even I had trouble putting it all together.
It's an incredibly dense build, even by Technic standards, but that just makes finishing it all the more fulfilling. Its crane and towing capabilities are incredibly complex.
It even has a hydraulic system that's immensely impressive. I have to be honest; this build isn't for everyone as it truly puts the technical in Technic. But for seasoned builders that enjoy trucks and construction, it's hard to get more bang for your buck.
Pros
Complicated

: It's a build for seasoned Technic fans.

Playability

: Many Technic sets are just meant to be looked at. This one is practical.
Cons
Not a starter

: You should not attempt this as your first Technic build.

Moving parts

: When the towing mechanism works, it's great, but more parts mean more of a chance for something to break.
Heavy Lift Helicopter (42052)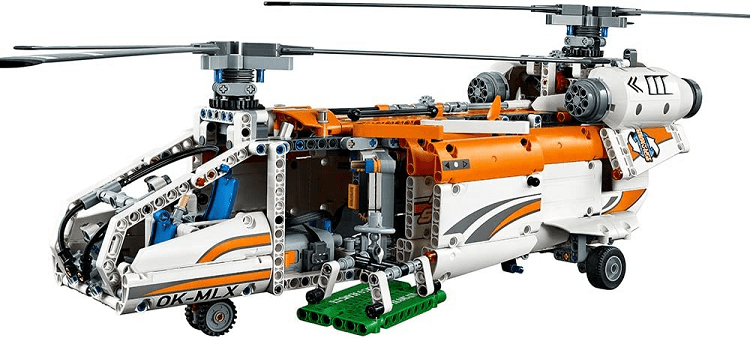 Here's another Technic set that falls into the "heavy-duty" category. It's not as complicated as the tow truck, but it still should only be undertaken by serious builders with experience. This helicopter has dual rotors that operate on a motor and battery so that they spin.
Also, it comes with a working winch for the basket to be lowered and raised underneath. The neat thing about this set is that it also comes with secondary instructions for a separate helicopter.
However, I still prefer the main build as it resembles more of a heavy-duty helicopter rather than something meant for cargo transport.
Pros
Two in one

: The fact you can build two different sets out of it is a nice feature.

Working motor

: It's cool to see a helicopter with actual spinning blades.
Cons
Motorized pieces

: The working motor can also be a drawback if it breaks.

Price

: It tends to be on the expensive side of the secondary market.
Space Shuttle (8480-1)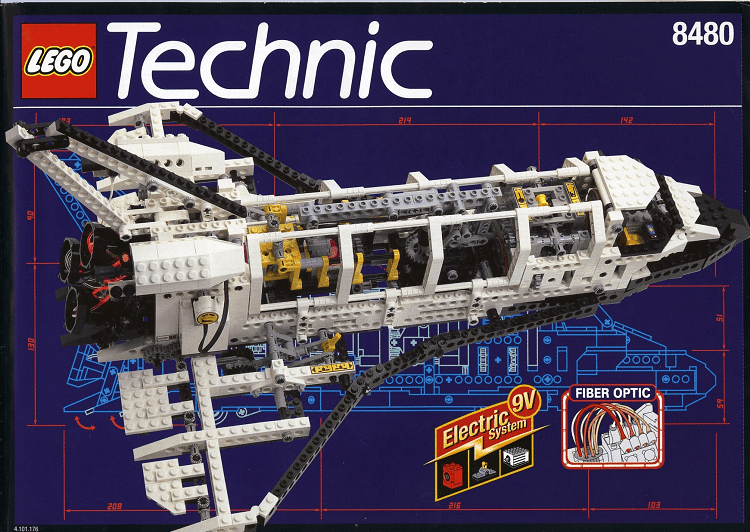 This is an old-school Technic set that I got from a planetarium when I was a kid. If something like this were to come out today, there would be some adjustments. For one, it probably wouldn't include as many traditional LEGO pieces as it does. Also, the motor system that moves the pieces within the space shuttle would probably be updated.
But otherwise, the fact that the shuttle isn't enclosed and allows you to see the nuts and bolts inside of it is a nice touch. It's definitely on the older side, so it can be difficult to find nowadays. Plus, kids today might look for a more modern set. Still, even given its age, it still ranks up there as a great Technic set.
Pros
Open system

: Most sets today are enclosed, so you can't see inside them.
Cons
Rare

: It might be difficult to locate a full one online.

Outdated design

: The younger generation might be put off by the older look.
Bucket Wheel Excavator (42055)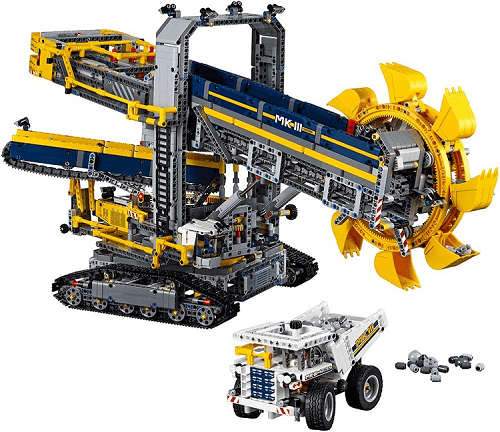 This is another massive set that's not for the faint of heart. It took me a couple of days to get through, as I wanted to make sure everything was in working order. When it does work, it works great. The excavator looks just like the real thing and has enormous playability for a set that's so large and Technic based.
It's also nice that it comes with a smaller truck that increases its playability, something not often seen with Technic sets. It does have a secondary building option for a refinery, but I don't know why anyone would want to defer to it, as the excavator is so awesome.
Plus, at over 3,000 pieces, I don't know anyone who would want to take it apart just to build something inferior afterward.
Pros
A project

: I would be impressed if someone could finish this in one sitting.

Playability

: For a Technic set, it does offer a lot to do.
Cons
Price

: Not surprisingly, it was very expensive.
Cat D11 Bulldozer (42131)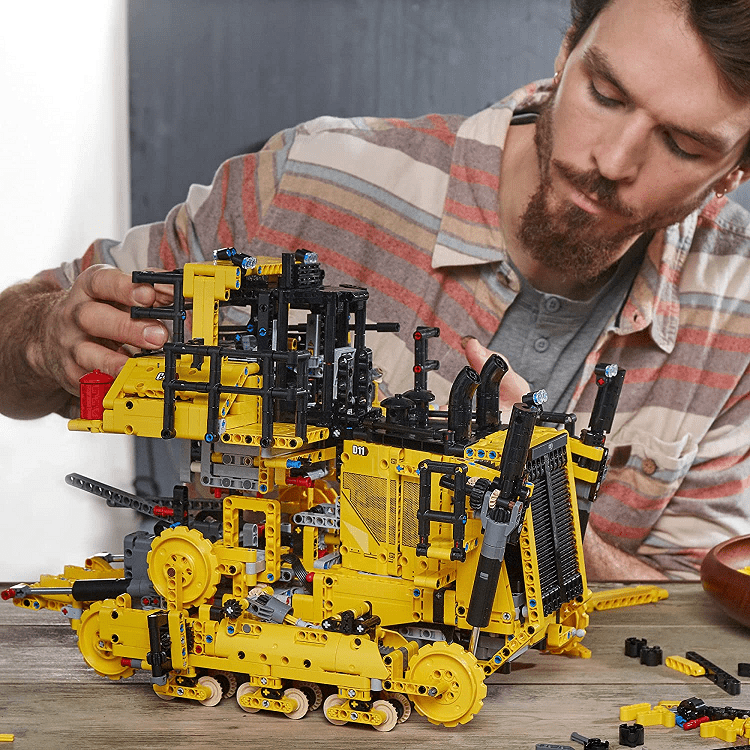 Even though it's got more than 3,000 pieces, this bulldozer isn't as intimidating as it seems. Its construction is pretty straightforward. So for builders that are looking to up their game without getting in over their heads, this is a Technic set I'd recommend.
More than that, though, it's also controlled by an app. I remember jumping for joy when I had Technic sets controlled by a simple motor. The fact this one can connect to my phone and be controlled that way is a revolutionary step forward.
All this fancy technology comes at a price, though. The sets like these tend to get a little bit expensive, but they are still a lot of fun.
Pros
Straightforward

: The build isn't too complicated.

App controlled

: I'm usually not a fan of new technology, but this is awesome.
Cons
Price

: If you want fancy things, you must pay for them.

Batteries

: It certainly takes a lot of them.
Mercedes-Benz Arocs 3245 (42043)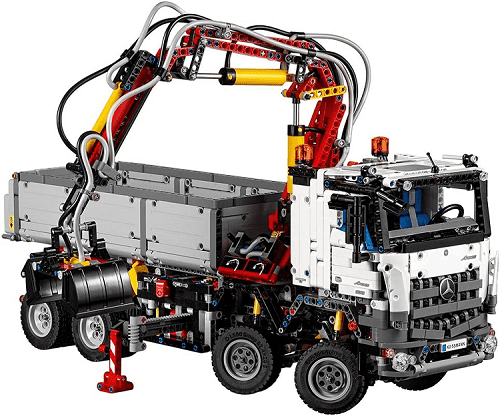 This is one of the rare sets that I like the secondary build more than the main one. The main build is a nice dump truck with a crane arm for lifting. The mechanisms work great, and it can be a lot of fun, but I like the extended flatbed more. From a playability standpoint, there are tons of dump trucks that can do certain things.
You can also pretty much just buy a dump truck on its own at a toy store. However, there aren't nearly as many flat beds, and certainly, ones that aren't this long. What's cool about this secondary build is that the cab portion remains largely the same, so it's easy to switch back and forth between the two types of trucks.
Pros
Great crane

: some cranes tend to be a little wonky, but this one worked pretty fluidly for me.

Nice secondary build

: Not a lot of sets allow you to build something second that's just as cool as the first.
Cons
Price

: Again, as with most Technic sets like this, they tend to be expensive.
Land Rover Defender (42110)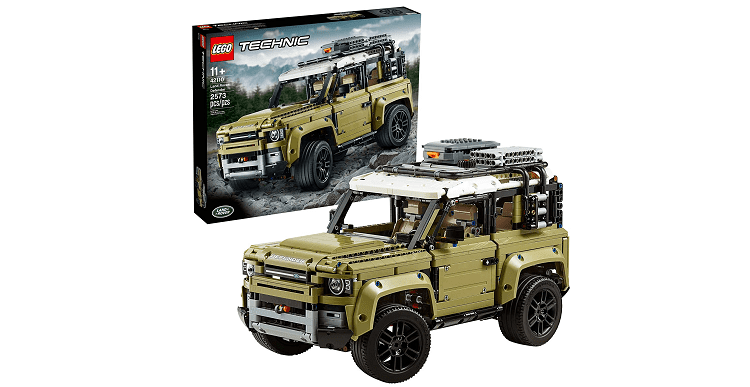 I'm usually not a fan of vehicle sets like this, especially ones modeled after a particular brand. But there's a lot to admire about this Land Rover Defender. I'm a truck and Jeep guy by nature, so I gravitate towards this look, to begin with, but even objectively speaking, it's just a great-looking car.
From a playability standpoint, it's also rugged and can take a beating. People like to display fancier racing cars on their shelves, but it's hard to treat them like the toys they are.
This Defender can serve as both if you have a kid wanting to play around with it. It also has a surprisingly large amount of pieces for such a compact vehicle. It's a dense build that certainly takes some focus.
Also read: The Best LEGO Cars Guide
Pros
Rugged

: Jeeps and trucks like this usually aren't as fragile as other Technic cars.
Cons
Deceiving build

: At 2500 pieces, it's easy not to realize what you're getting yourself into when you start building it.

Nothing flashy

: It's just a car, which can be a little lackluster compared to other entries on this list.
4X4 X-treme Off-Roader (42099)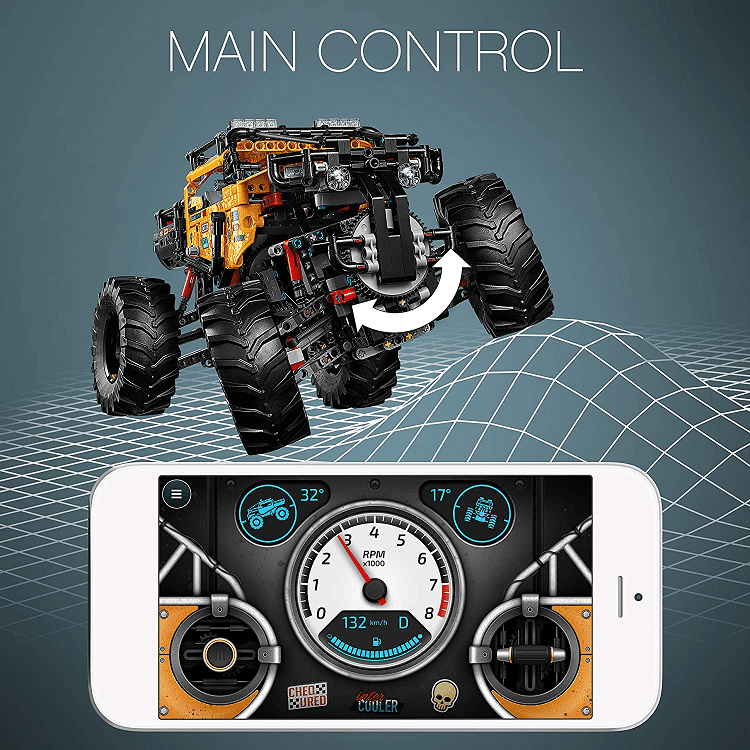 For a more realistic feel, the Defender is my favorite, but to get something a little more unrealistic, then this monster truck vehicle is the better bet. It's way more rugged than the Defender and has a terrific suspension to handle rough terrain.
And, of course, the control feature makes it pretty much better than any other RC on the market. Sure, you can go to the store and buy one and play with it right out of the box.
But there's something about building it with your own two hands and understanding how the inner workings of the vehicle make the truck go that is much more fulfilling.
Pros
App controlled

: It's a lot of fun to move it after you build it.

Price

: It's fairly priced, given how awesome the set is.
Cons
Not as pretty

: It's not as much of a display set as other vehicles are, so you may not want to put it on the shelf.
Air Tech Claw Rig (8868-1)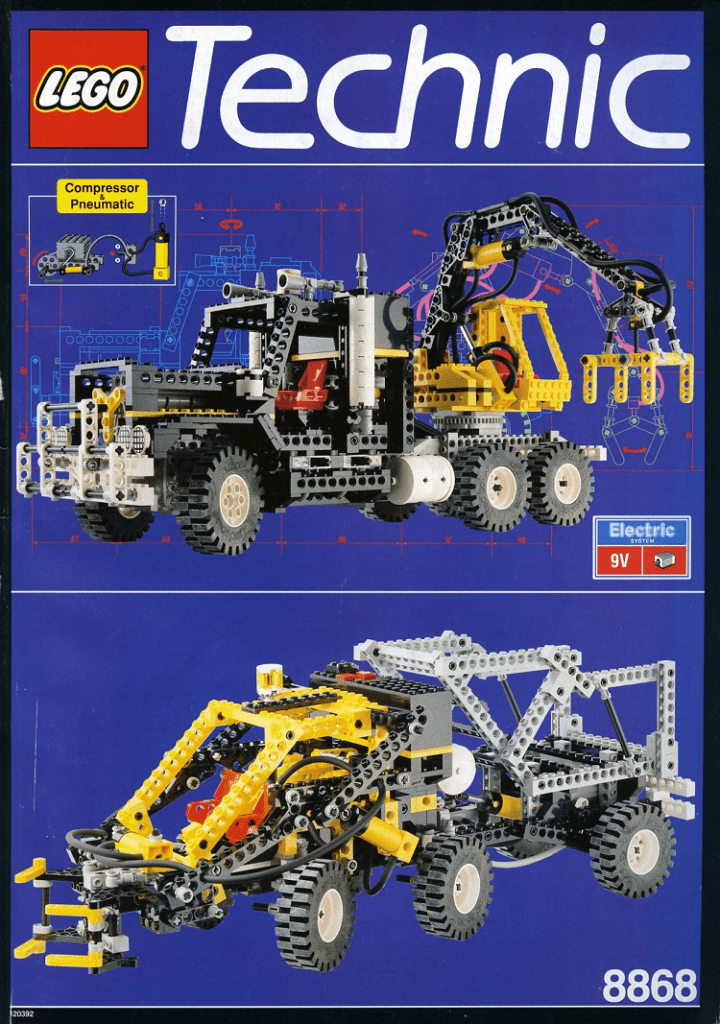 This is an older set that was emblematic of the early days of Technic. The rig doesn't resemble anything real as Technic sets nowadays look. That might have been because of practicality because the sets were so new, but I liked this look as a kid. It felt like the builds were really technical, almost like a blueprint come to life.
It allowed me, as a curious youngster, to get into the nitty-gritty of how a claw like this works. The secondary build even more so resembles a Technic skeleton.
It might have been a trick of the mind as it made me feel like I was building something on my own rather than following a set of instructions, but still, this early set remains an example of how and why Technic is as popular as it is.
Pros
Design

: It might not be the most beautiful set, but it has a particular look that aficionados will admire
Cons
Retired

: It's a set that's getting harder and harder to find.

Playability

: Although I'm sure the claw still works fine, technologically speaking, it's a dinosaur by today's standards.
Mobile Crane (42108)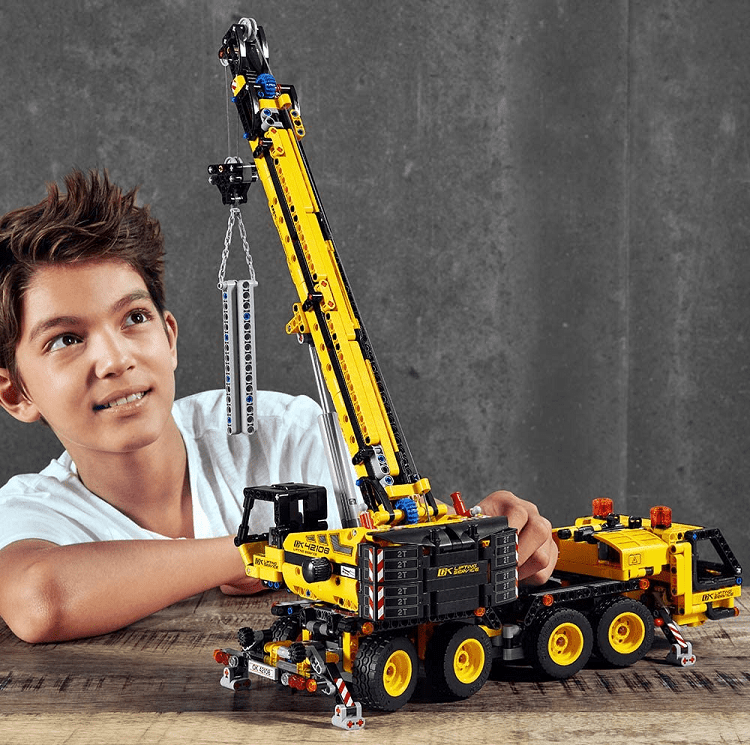 There's something to be said about a set that knows what it is and does that one thing very well. That's where this crane comes in. It can move, anchor down, and lift just like a real telescopic crane.
It might not be as enormous as other sets on this list or as versatile, but as a crane, it functions very well and is able to lift a decent amount of weight.
Furthermore, it's one of the few sets that can seamlessly fit into a LEGO City. As a construction vehicle, a story could be implemented that allows the crane to have some playability with regular LEGO figures, something lots of the sets on this list can't match up to.
Pros
It works

: As a crane, it's hard to find another set that's able to withstand as much weight.

Playability

: Construction is a big part of LEGO, so it'll be easy to implement this into some activities.
Con
Versatility

: Although it excels at what it's supposed to, it really doesn't do much else.
FAQs
Question: What is the Largest Technic Set?
Answer: The Liebherr R 9800 Excavator had over 4,000 pieces and was released in 2019.
Question: What is the Smallest Technic Set?
Answer: It was a Mini Forklift that had just 32 pieces.
Question: What was the First Technic Set?
Answer: The first Technic set was called the Auto Chasiss and came out in 1977.
Conclusion
It's pretty impressive when you look at LEGO's origins and how it has grown beyond just a simple interlocking brick system. It's allowed early builders to develop using DUPLO and seasoned builders to challenge themselves with Technic.
While I still love building regular LEGO sets and even simple DUPLO sets with my youngest, Technic can fill the void that neither of them satisfies. And even within Technic itself, there are a wide variety of sets that satisfy a wide variety of needs.
It may be frustrating to get used to at first, but with patience and experience, Technic allows builders to push their imagination into practical application.
Related Read