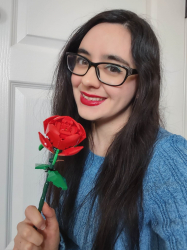 Latest posts by Samantha Valencia
(see all)
As a kid, I wanted to be a paleontologist. While I eventually decided to follow other career plans, I always retained my fascination with dinosaurs and prehistoric life. I've always been that girl who is obsessed with dinosaurs and asks people what species is their favorite.
As a result, I've had my fair share of discussions about reptilian toys, from action figures of the Triceratons in Teenage Best LEGO Dinosaur Sets for Prehistoric Playtime dinosaur sets and beyond. Prehistoric elements are a must for every kid's play session.
LEGO has produced numerous themes featuring dinosaurs over the years. From multi-build sets to the latest Jurassic World Dominion line, LEGO fans have plenty of options. With so many, there is a wide variety of products to choose from and sift through.
It also means that there are several new options for casual buyers and many expensive rarities for collectors to seek out if desired. However, since LEGO provides its themes with shelf lives, many dino-centric sets have been retired, which are now more challenging to come by.
Selection Criteria
When seeking out the best LEGO dinosaur sets, I considered quite a few things.
Price:

Given the variety in availability, I made sure to factor in the cost-to-piece ratio and current value. That being said, the value of LEGO varies over time – sometimes even from year to year! Double-check prices relative to availability to get the most for your money.

Availability:

I've chosen to include retired sets that may be harder to come by, though I've balanced them out with sets that are still, or were very recently, on shelves. This ensures each type of buyer has plenty of options to consider. Whether you want to expand a collection or are looking for the perfect birthday gift, there should be something for everyone.

Playability:

I took function and creative play in mind with these sets. A toy shouldn't limit a child's play options but rather expand them. The best toys often have a variety of interactive features.

Displayability:

Some sets are designed primarily to look good. While they may have less playability, they fit perfectly on a collector's shelf. However, high playability doesn't mean a highly interactive set can't look exceptional when displayed. Sometimes you need the best of both worlds.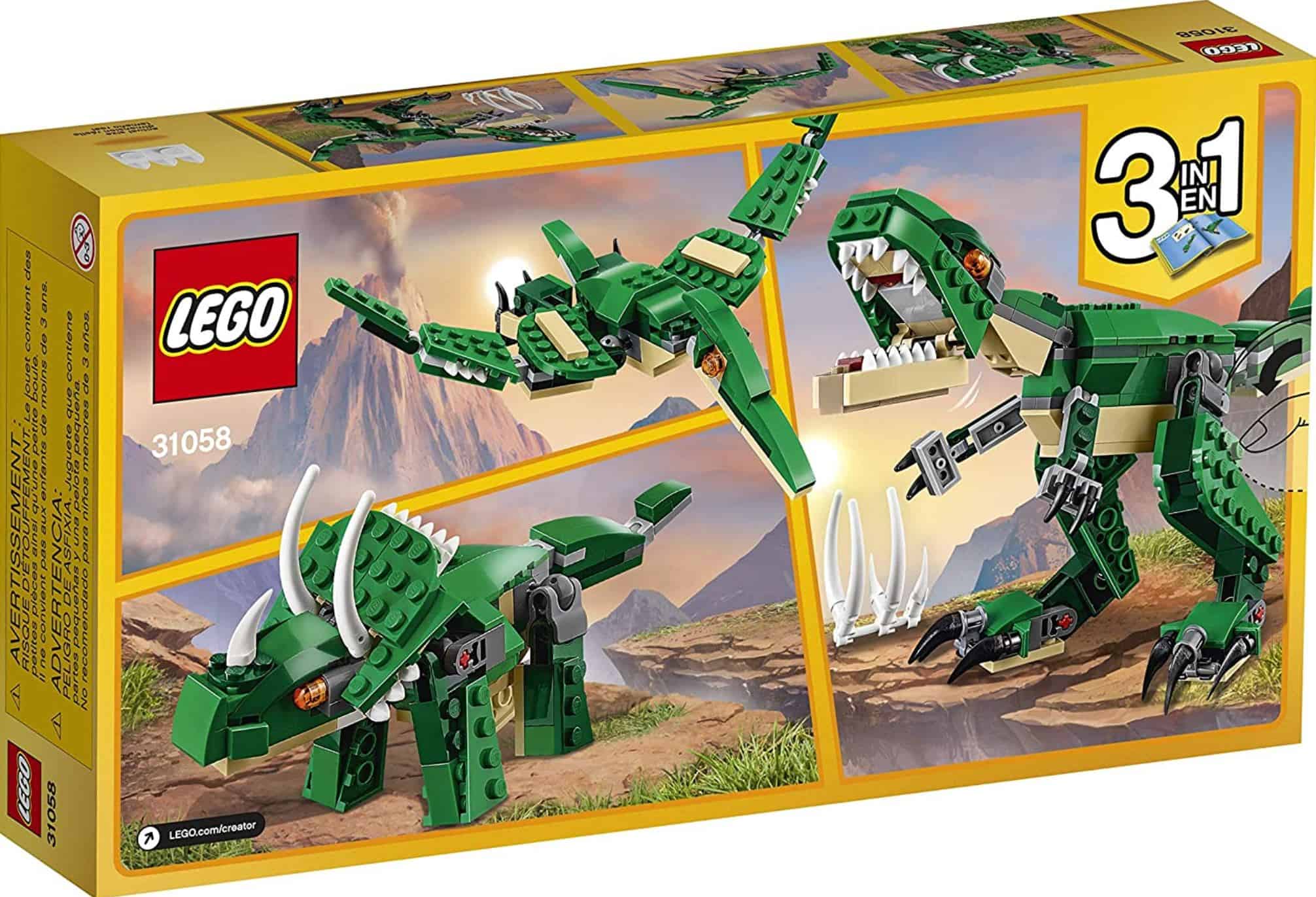 Like the entry below it, this set provides multiple builds in one. This is one of the LEGO Creator 3-in-1 sets, allowing builders to create three different dinosaurs. This gives it a decent amount of playability. The included species are Tyrannosaurus Rex, Triceratops, and Pterodactyl.
The range of dinosaurs is impressive since each is shaped differently and belongs to differing scientific family groupings. These are also some of the most popular types of dinosaurs, giving kids what they want very efficiently. This set is still available and affordable. It is an excellent option for parents or relatives looking to share a LEGO dinosaur with their favorite kid without breaking the bank.
Pros:
High playability and variability
Low price: $
Cons:
Doesn't provide much in terms of interactive bonus elements or environmental accessories.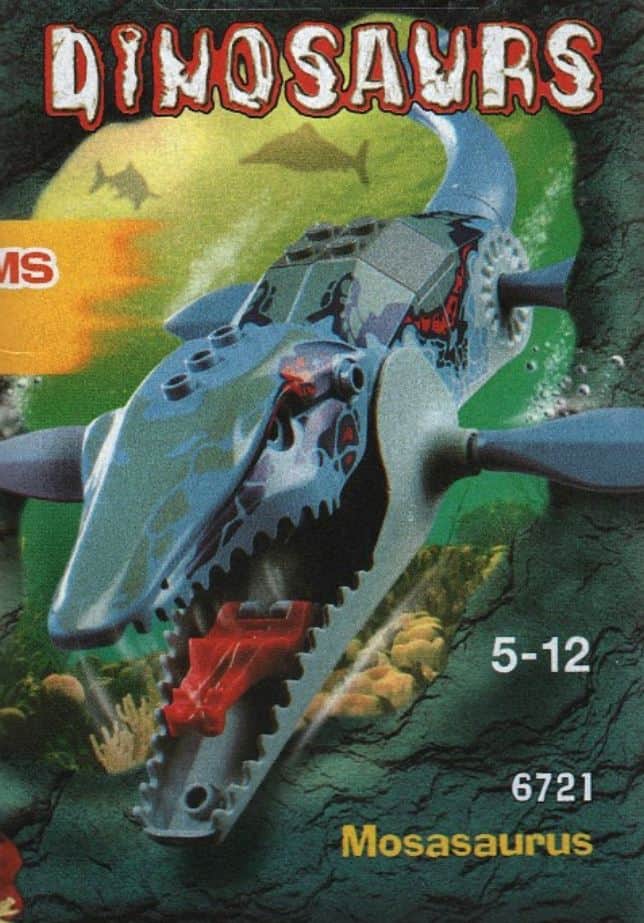 In 2001, LEGO released a line of dinosaurs that could be built and rearranged into other dinosaurs. Each set featured three possible dinosaurs, though different singular dinosaurs were available separately. The primary multi-build dinosaurs were the Brachiosaurus, the Tyrannosaurus Rex, the Styracosaurus, and the Mosasaurus. Of these four, the Mosasaurus set is the best. It allows builders to shift the primary dinosaur into the following alternate forms: iguanodon, dimetrodon, and postosuchus.
While the other sets had fun alternate options, seeing a postosuchus in toy form is rare! Brachiosaurus and Tyrannosaurus Rex are far more common by comparison. The ability to shift forms adds plenty of playability and shifts in land-based vs. sea-based adventures. An updated Mosasaurus has yet to be released, despite the species' inclusion in the Jurassic World films. This makes it a rare and worthwhile piece in a LEGO dinosaur collection.
Pros:
Rare molding
Extensive playability with form shifting.
Cons:
High price: $$$
Retired, so rare and difficult to find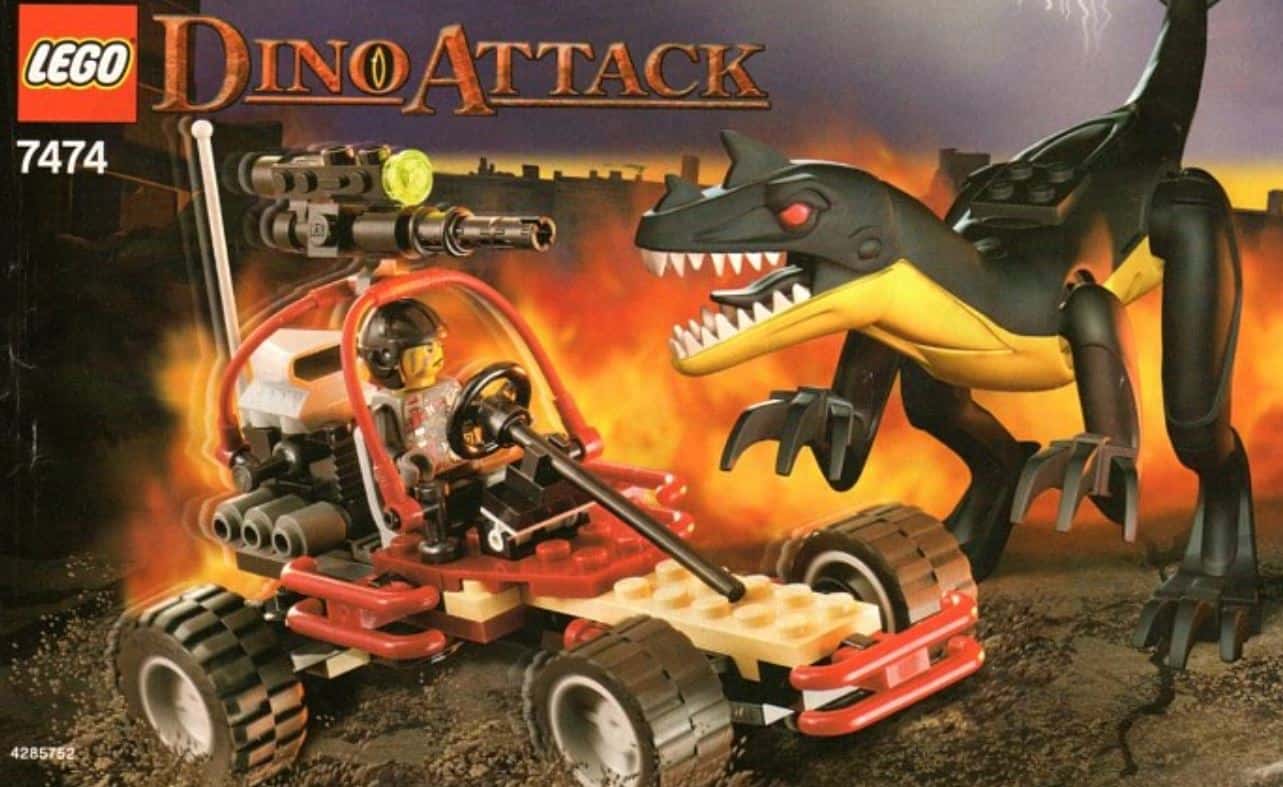 In 2005, LEGO had the Dino Attack theme. While there were numerous sets, this one has one of the most remarkable dinosaur figures in the line. At release, it was one of the most affordable. It originally retailed at $10. It didn't have many parts (only 78), but the size of the raptor is impressive. This set came with the mutated raptor, a vehicle, and one figure with the classic yellow face style. Though the set isn't large, the raptor is the primary highlight.
This is a different raptor than any found in current Jurassic World sets, as it is even more stylized to match the Dino Attack storyline. Given that this is an older, retired set, there is some markup. However, current options still make it very affordable for collectors looking to expand their raptor pens with a new addition – though prices could change in the future due to a fluctuating collector's market on older LEGO sets. 
Pros:
Unique and large raptor figure
Simple and relatively affordable: $$
Great for expanding a dinosaur-centric LEGO collection
Cons:
Retired and hard to come by

Price fluctuation could make it harder to snag at times.

Small piece count

This is one of LEGO's more recent Jurassic World-based sets. It is not the first to feature the Indominus Rex molded figure, but it is an upgraded version. The inclusion of the Ankylosaurus is particularly notable. The tail on it can move, adding another layer of mobility. This set comes with a gyrosphere that can roll along a track provided for it to launch from. In the Jurassic World sets, gyrospheres offer a lot of playability.
They can knock things over, roll relatively fast, and be paired with dinosaur attacks or sightseeing. The range of playability in just that piece, added to the altercations between the two included dinosaurs, makes for plenty of flexible playtime.
This set also consists of the core Jurassic World characters as minifigures, including Owen Grady, Claire Dearing, Gray Mitchell, Zach Mitchell, and a Jurassic World worker. While on the higher price point for this particular line, it provides fans young and old with the essential minifigures for the film and its staple hybrid, the Indominus Rex.
Pros:
Dinosaur figures: Indominus Rex and Ankylosaurus

Essential minifigures for

Jurassic World

(5)

Still available in the market despite retirement
Cons:
Higher price than other

Jurassic World

offerings: $$$

The price-to-piece ratio could be better with markup.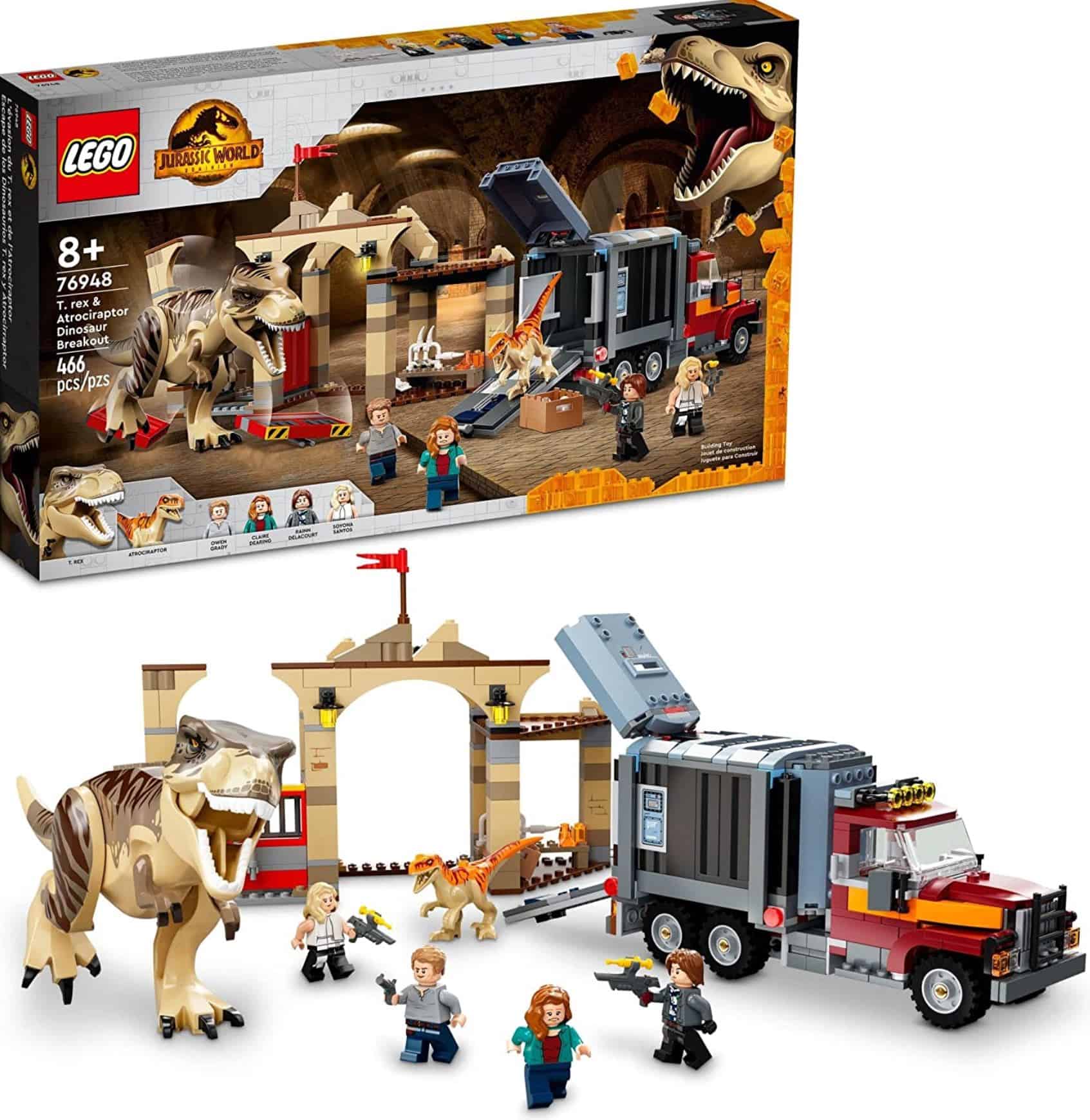 Inspired by Jurassic World Dominion, this set has a better price-to-piece ratio than the Indominus Rex vs. Ankylosaurus set. It also provides builders with the titular dinosaurs. This set has 466 pieces, putting it on the slightly bigger end and placing it on the $100 threshold. It has been known to go down to around $80, a much better value than the original retail price. The set also has four minifigures: Owen Grady, Claire Dearing, Rainn Delacourt, and Soyona Santos.
It has a couple of accessories, like a tranquilizer gun and some dinosaur eggs. While the base setting pieces aren't much to write home about, there is still some interactivity for the T. Rex to knock things over. The truck component adds more playability.
Kids can recreate chase sequences, transport smaller dinosaurs – like the raptors – and wreak havoc on it with the T. Rex. This is an excellent option for getting the Jurassic World Tyrannosaurus mold and having solid interactivity potential. There are better options for display, but the Atrociraptor is terrific for any LEGO dino collection.
Pros:
Staple figures from

Jurassic World

(4)

Solid dinosaur molds

Good playability

Larger set with better value relative to some other

Jurassic World

sets
Cons:
Still a pricier option overall: $$

Display potential is lower than other sets close to this price point.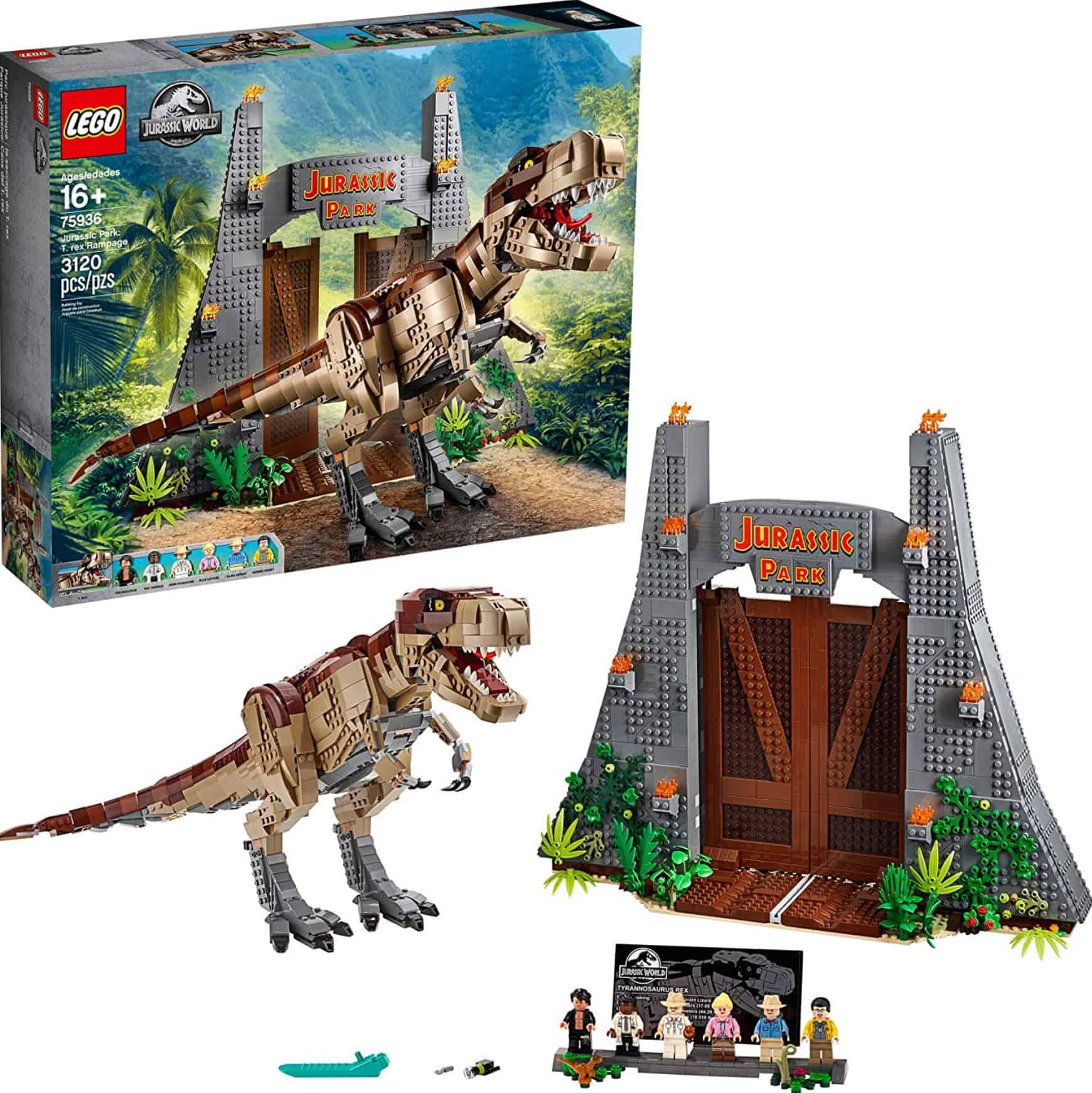 This set is on the pricier side and is predominantly for collectors and big Jurassic Park fans. However, it's one of the best display LEGOs for dinosaurs, especially when the piece ratio and T. Rex build are considered. The set features 3,120 pieces. While the LEGO Idea Dinosaur Fossils and T. Rex Breakout sets are also highly displayable, their price-to-piece ratios are much higher.
Additionally, the designs of the fossils could have been smoother, and the Tyrannosaurus in the Breakout set seems less impressive to me than the one in T. Rex Rampage. Also, the iconic jeeps are nice, but the Jurassic Park gates are highly iconic. This set looks very impressive on a living room shelf. Film fans and dinosaur lovers alike will appreciate this particular build's beauty and sleek presentation.
Pros:
Sleek look with excellent minifigures (Alan Grant, Ellie Satler, open-shirt Ian Malcolm, John Hammond, Dennis Nedry, and Ray Arnold)

High piece count with an excellent price-to-piece ratio
Cons:
More expensive than alternative options: $$$

Size could be a downside, depending on available display space.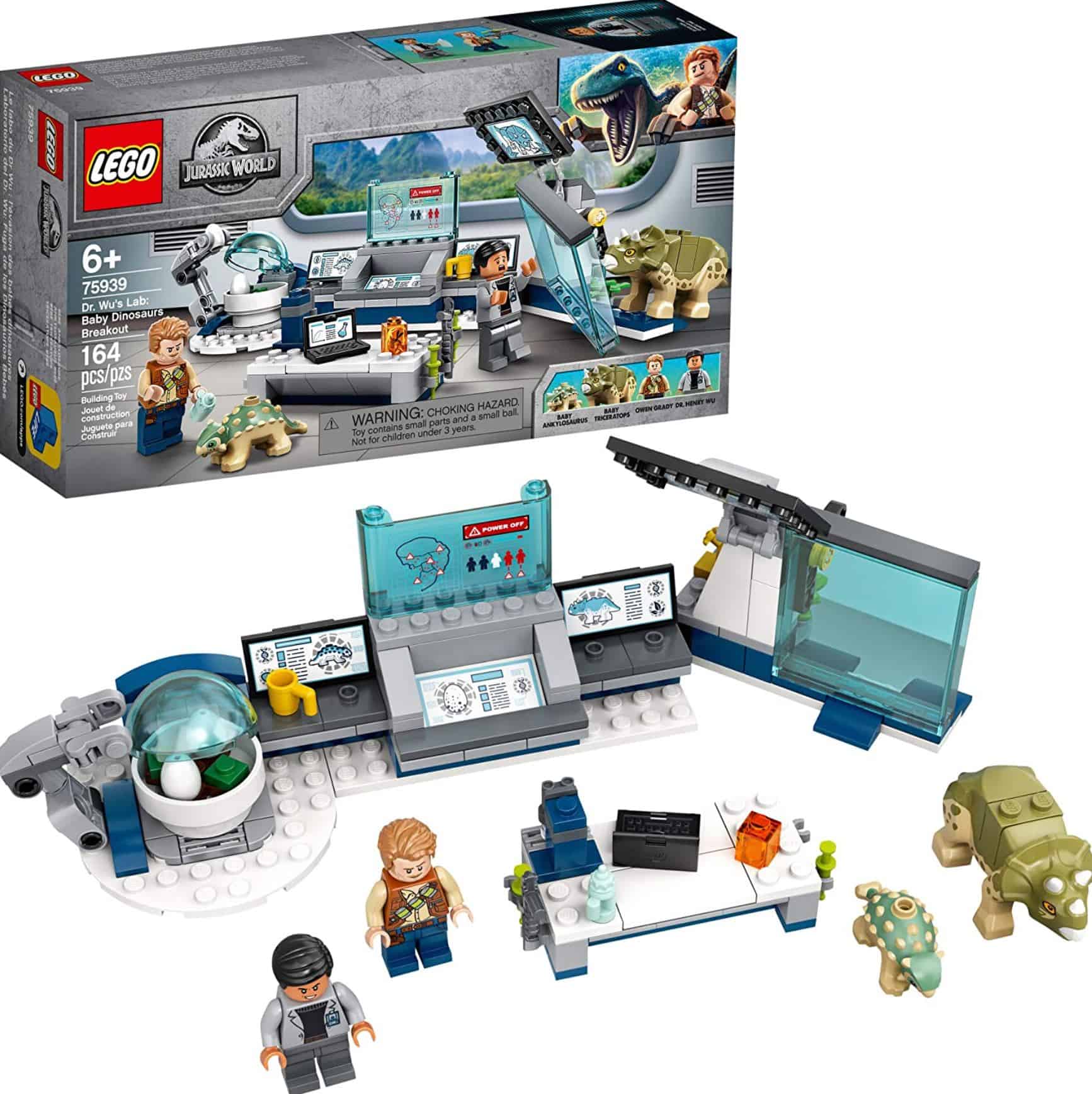 Consumers looking for a decent mid-range option should look into Dr. Wu's Lab: Baby Dinosaurs Breakout, which has 164 pieces. However, it has some stand-out dinosaur molds since it has a baby Triceratops and Ankylosaurus. It also comes with two minifigures: Owen Grady and Dr. Wu.
The figure of Dr. Wu is particularly notable due to the supporting character's villainous twist in Jurassic Park's reboot series. His presence in a lab is a staple of the series, making this a fun addition for Jurassic Park and Jurassic World fans and fans who follow Camp Cretaceous, where the character has also had appearances. Although the set is small, it has much play potential, and baby dinosaurs are hard to beat! 
Pros:
Unique baby dinosaur figures
Solid minifigures (2)
Fun stickers and set design
Cons:
Price to piece ratio is okay: $$
Small piece count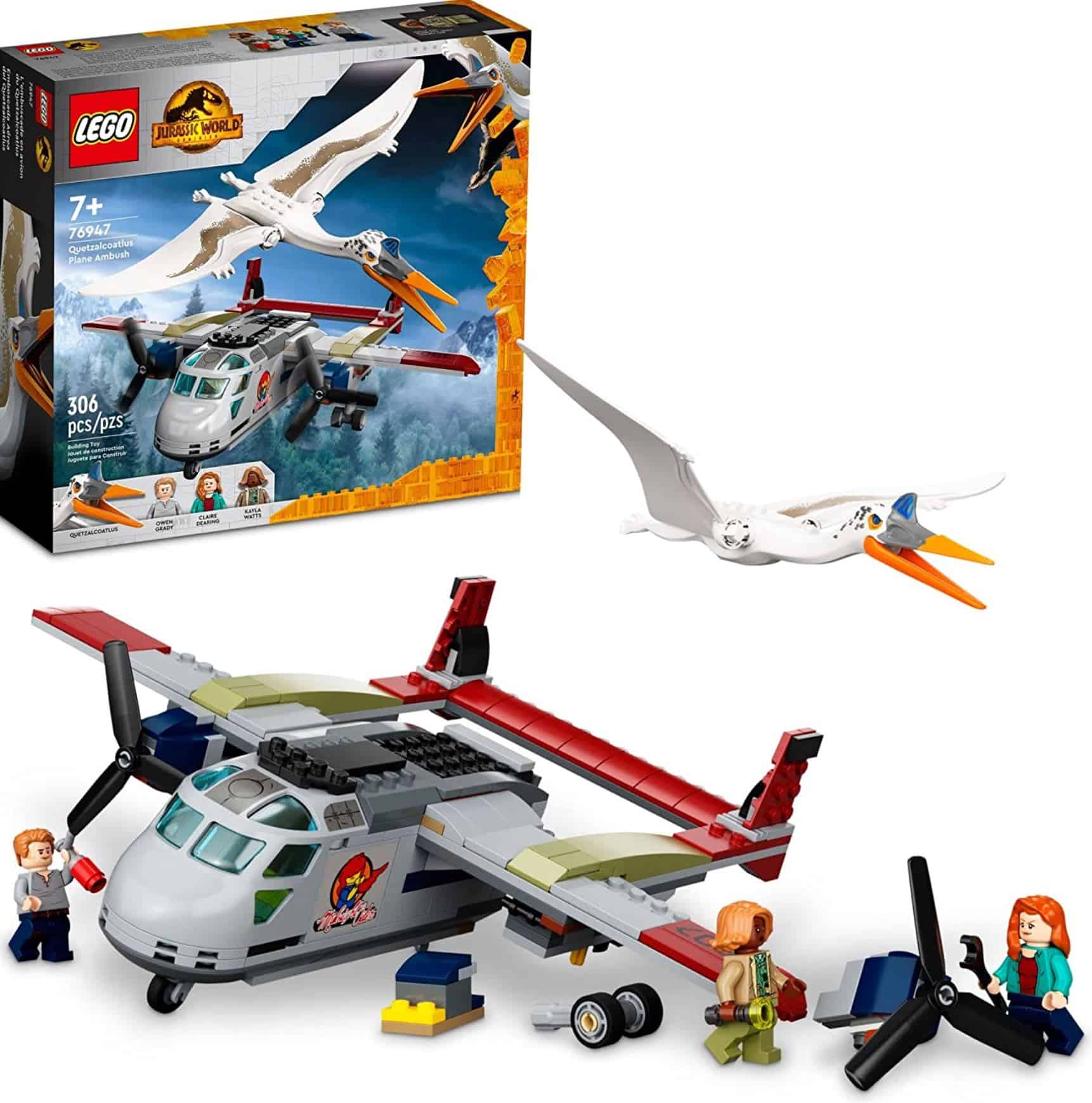 An alternate Jurassic World set at a mid-range option is the Quetzalcoatlus Plane Ambush set, which has 306 pieces. The dinosaur mold is significantly larger than the included minifigures, and a Quetzalcoatlus isn't as typical of a species for toys.
This is a great way to expand a dinosaur collection – and give something fresh to young dinosaur lovers who are tired of the usual species or already have them. This dinosaur figure stands out from the pterodactyls included in past sets.
At the same time, the plane brings back some of the aircraft elements of the Jurassic World themes. The price is reasonable since this takes playtime into the skies while providing a unique dinosaur.
Also included in this set are three minifigures: Owen Grady, Claire Dearing, and Kayla Watts. Owen and Claire are available in many Jurassic World sets, but Kayla is the more exclusive option. She isn't necessarily a must-have, but Jurassic World fans will get Owen and Claire in almost every option within the theme. 
Pros:
Good price point on the market – especially at a discounted rate: $$

Unique, large dinosaur figure

Changes plane of playability from other offerings
Cons:
Owen and Claire's minifigures have alternate clothing but aren't special to this set overall.

Only includes one dinosaur figure (but it's a good one!)
Conclusion
LEGO has a wide variety of dinosaur sets available to buyers. With numerous price points, there is something for everyone, from parents looking for a quick gift to collectors willing to pay a little more for an increased piece count or display model. LEGO has made numerous dinosaur sets over the years.
This has resulted in many types of dinosaur molds and various species available. From the Dinosaur Island theme in the Adventurers line to the current Jurassic World sets and Jurassic Park anniversary sets, many options exist. As a dinosaur toy connoisseur, I readily vouch for each inclusion above as I have played with, purchased, built, or considered purchasing all of them myself.
FAQs
Question: Are there official LEGO dinosaur sets?
Answer: Yes! LEGO has made numerous official themes centered around dinosaurs. The most recent is the Jurassic World theme.
Question: How much is a LEGO dinosaur set?
Answer: Sets are available at each price point, from under $20 to over $100.
Question: Is LEGO going to keep making dinosaur sets?
Answer: Yes! Already LEGO has announced an upcoming 2023 line-up of Jurassic Park/Jurassic World-inspired sets.
Related Reads: