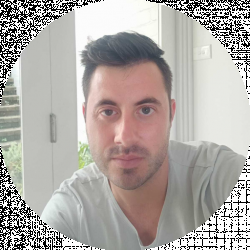 Latest posts by David Borgogni
(see all)
Over the years, LEGO manufactured an impressive amount of toy vehicles, including cars, trucks, motorbikes, monster trucks, and trains. In this article, we're going to take a look at some of the best LEGO monster trucks the legendary Danish toymaker features in its product lineup.
Very few gifts can make kids as happy as toy monster trucks because they allow them to imagine a wide range of play scenarios. With so many options at your disposal, knowing which LEGO monster truck your child will like the most is hard.
That's why, in this guide to the best LEGO monster trucks, I'm going to provide you with the information you need to find the right model for your child, and I'm going to suggest several sets your child might like.
Please take the time to read our guide to the best LEGO fire trucks if your kids enjoy LEGO's firefighter-themed sets.
At a Glance – The 5 Best LEGO Monster Trucks
Bottom Line Up Front
I recommend the Monster Jam Megalodon 42134 set because it challenges children to develop their set-building skills, and at the same time, it offers plenty of fun play scenarios. Moreover, you can get this inexpensive set at LEGO-certified stores or order it from online retailers.
Selection Criteria
Shortlisting the best LEGO monster trucks isn't an easy task since there are so many models that deserve to be mentioned. That's why I utilized a set of parameters to pinpoint the sets that have the most to offer to children in specific age groups.
Moreover, the skills required to build a set, the model's price, or its theme were among the criteria I used during the selection process. Here are some of the critical factors I used while choosing the LEGO monster trucks for this article.
Piece Count
The number of pieces a set contains indicates the level of detail the monster truck model has. This parameter has enabled me to find sets that allow children to build realistic replicas of monster trucks without having to spend too much time assembling them.
Theme
These sets are published within several themes, and my goal was to include at least one monster truck set from each theme.
Our guide to the best 1,000 pieces LEGO sets might help you discover a fun set you can build with your children.
LEGO Themes That Feature Monster Trucks
Monster trucks aren't a recent addition to LEGO's product portfolio. LEGO published sets like the Road & Trail 4×4 6675 or Wheelin' Truck 6641 in the late 1980s within the Town theme.
The range of the brand's monster truck sets has extended considerably over the last few decades, and currently, LEGO publishes these toys within several themes. Let's take a look at the LEGO themes that include monster trucks.
LEGO City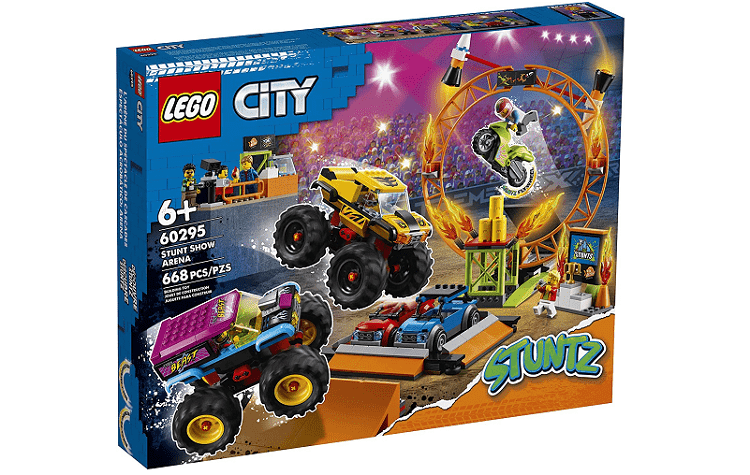 Even though many of the monster trucks from this theme are now retired, LEGO fans can still find several models that feature these vehicles. Here are some of the best monster truck sets from this theme:
LEGO Technic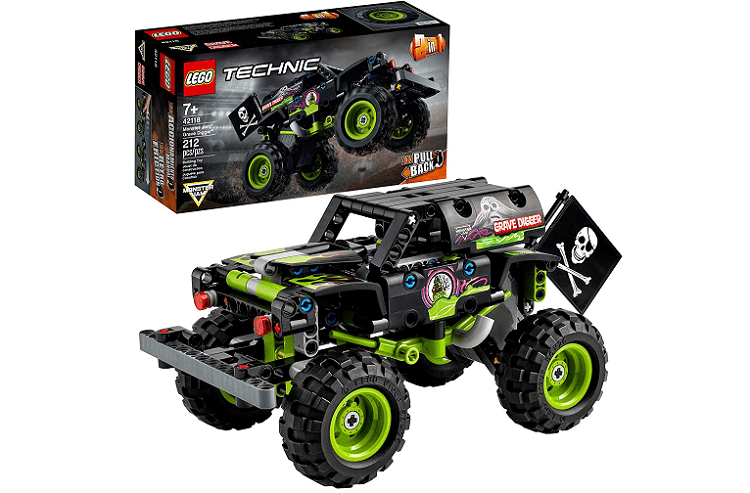 This LEGO theme currently offers the widest range of monster truck sets, and you can choose from five different models, including the:
Themes like LEGO Marvel or Creator 3-in-1 also offer several monster truck models, although these toys usually appear in sets that cover topics that aren't related directly to stunts or racing. Browse through our guide to best sets under $10 if you're searching for an inexpensive and fun LEGO set.
Building Monster Trucks With Classic LEGO Sets
Sets from LEGO's Classic theme are not based on a specific topic. Instead, they contain parts you can use to build a wide range of models. Getting a set like the Bricks Bricks Bricks 10717 or the Bricks Bricks Plates 11717 might be a great choice if you want to develop your own creative LEGO ideas.
Either of these sets comes with a variety of accessories you're going to need to design a monster truck by yourself. Nonetheless, you still need to make sure that you have all the pieces to complete your DIY project.
The Pick-a-Brick section of LEGO's website grants you quick access to all pieces and accessories you might need while building a monster truck. Also, you can search for rare parts on LEGO marketplace websites if you can't find the piece you're searching for at LEGO's official website.
Please go through our guide to the best LEGO display cases if you're looking for a perfect way to exhibit your creations.
Retired LEGO Monster Trucks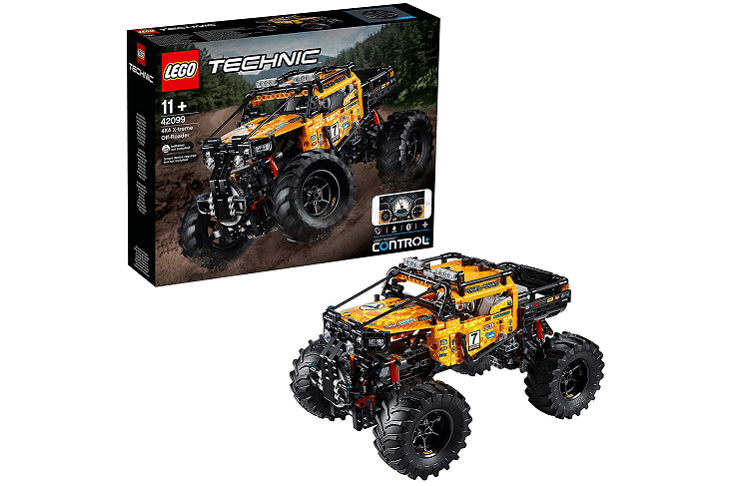 The average life span of LEGO's monster truck sets doesn't exceed 18 months, and new models frequently replace them. Retired sets remain available on the market until stores run out of stock, although at a higher price.
LEGO recently discontinued a significant amount of monster truck sets, and you'll probably encounter models that are no longer in production while searching for the best LEGO monster truck.
For instance, the 4×4 X-treme Off-Roader 42099 set was retired just1 18 months after it was released, but despite this, it is still relatively easy to find. Unfortunately, however, the set's price increased significantly since it was discontinued, and you'll have to spend close to $300 to get a factory-sealed model.
Also, sets like the LEGO City Monster Truck 60180 or LEGO City Great Vehicles Monster Truck 60055 remain readily available, even though they were retired years ago. Their price is much higher than the price of active monster truck sets.
Check out our guide to the best LEGO Disney castle sets to get more information about some of the most impressive sets from the LEGO Disney theme.
Contents of LEGO Monster Trucks
The piece count of LEGO monster trucks varies from model to model, but these sets rarely contain more than 500 pieces. Sets from the Technic theme have only the parts required to build a specific monster truck model, and they don't come with any additional mini-figures or accessories.
However, sets from this theme can contain elements such as the Smart Hub that allow you to control them remotely. Monster trucks are not the central topic of sets from Marvel and City themes, which is the reason why they feature a variety of mini-figures and accessories.
Models from the Creator 3-in-1 series offer a lot of versatility because they allow kids to build several other vehicles besides monster trucks. Our guide to the best LEGO sets under $100 can help you choose the best LEGO set in this price range.
The Most Important Factors to Consider While Choosing a LEGO Monster Truck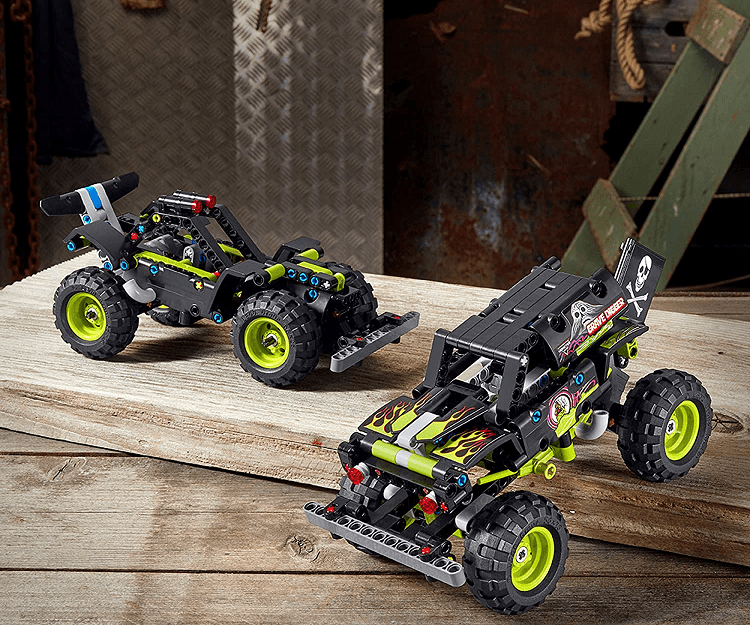 Tank trucks, cement mixers, racing bike transporters, 4×4 off-roaders, and monster trucks are some of the large vehicles that served as inspiration for different LEGO sets. LEGO offers a broad spectrum of monster truck sets, making it difficult to find the model that fits your requirements.
I've listed some of the key factors that can make your search for the best LEGO monster truck faster and easier, so let's take a quick look at them.
Piece Count and Age Group
Nearly all monster truck sets are suitable for children aged seven or older, but some models can be too overwhelming for kids that don't have previous set-building experience. That's why you should always check the set's recommended age group before deciding to buy it.
Also, the number of pieces in a set can suggest how difficult it is to build it. That's why opting for a set that has a low piece count is usually the best option if you're looking for a monster truck set that won't be overwhelming for children under the age of ten.
Set's Release Date
Despite the fact that most monster truck sets you can find in LEGO-certified stores are still in production, you should still take the time to check the release date of the set you're interested in.
Finding out when a specific set was released is even more important when shopping for LEGO monster trucks online because many e-stores offer sets that were retired years ago. In addition, knowing the set's release date can reduce the amount of time you have to spend looking for it.
LEGO Theme and Set's Topic
Only a handful of LEGO's active sets include just the pieces required to build a monster truck. In most cases, these toy cars appear in sets inspired by a wider topic like a stunt show or a heist. As a result, it can be difficult to know if a particular set also includes a monster truck.
LEGO publishes these sets within several themes. Choosing a theme like LEGO Technic or LEGO City will help you reduce your options to just a handful of sets.
Mini-Figures and Replacement Parts
None of the monster truck sets from the LEGO Technic theme feature accessories or mini-figures. However, despite this, they still offer a variety of playing options.
On the other hand, sets from City and Marvel themes come with several mini-figures and accessories that help children invent different scenarios based on these characters. In addition, finding replacement parts for active sets isn't difficult since you can order a damaged or missing part from LEGO's website.
Spare parts for LEGO's retired monster truck sets aren't always readily available, especially if the set in question was discontinued a few years ago.
Price Considerations
Factors such as the piece count or the set's availability can affect the price of a LEGO monster truck. However, most active sets cost between $20 and $50, but you may have to spend much more if you want to get a retired monster truck set.
Choosing a price range can be an effective way to eliminate all models that exceed your budget and simplify the selection process.
The Advantages of LEGO Monster Trucks
A Wide Range of Options
LEGO monster trucks are common, and the company keeps adding new sets to its already large portfolio of products that include these toy cars. That's why finding the option that fits your needs shouldn't be too difficult.
Development of Set-Building Skills
None of the currently active LEGO monster truck sets require an advanced set-building skill level. Therefore, they can be an excellent choice for someone who never owned a LEGO set before or children who want to improve their set-building skills.
Moderate Pricing
These sets aren't expensive, considering how much they have to offer, and in most cases, you'll have to spend between $20 and $50 on a new LEGO monster truck.
The Disadvantages of LEGO Monster Trucks
Short lifespan
Monster truck sets don't stay in production for long because LEGO retires most models after 12 to 18 months.
Top 5 LEGO Monster Trucks
Monster Jam Megalodon 42134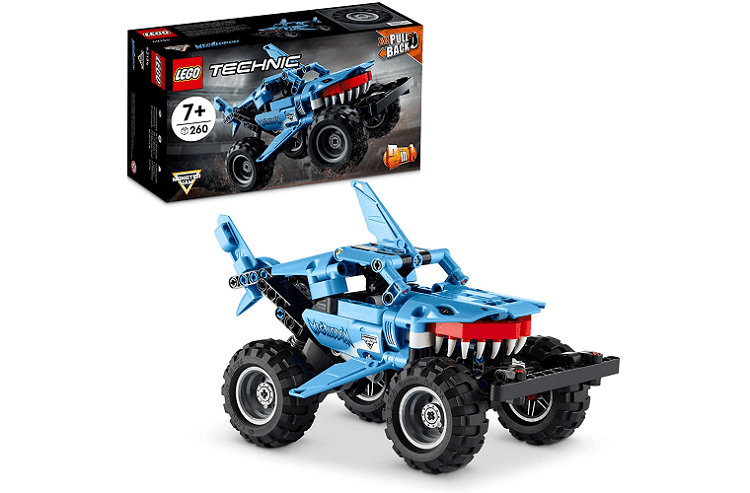 The beautiful and innovative design of the Monster Jam Megalodon 42134 set makes it a great gift for children aged seven or older who love playing with monster trucks. Even though it has just 260 pieces, this set lets you build two different toy models, although not simultaneously.
Besides the Megalodon monster truck, you can also build a lusca low racer from the pieces with this set. Both toys have the pull-back action feature that enables them to move unassisted.
Pros
Affordable price
It teaches children the basics of engineering
Children can build two toys
Both models contain a high level of detail
Cons
This set doesn't contain mini-figures or accessories
It has a lot of small and fragile pieces
Police Monster Truck Heist 60245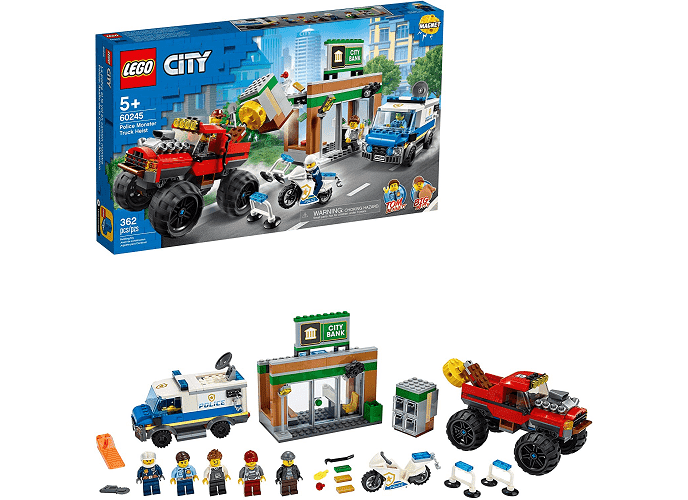 The range of play scenarios children can develop with the Police Monster Truck Heist 60245 set is seemingly endless. Planning the perfect route after a bank heist or catching the bank robbers and bringing them to justice are some of the playing options this set offers.
Besides the monster truck and the police wan, children can also build a bank and safe from the pieces included in this set. The Police Monster Truck set has five mini-figures, including the Big Betty crook and the police hero Tom Bennet.
Pros
The monster truck has a magnetic arm.
It includes five mini-figures and a variety of fun accessories
It can help children develop their set-building skills
Fast and straightforward assembly process
Cons
The monster truck is just 6 inches long
This set is retired
Spiderman's Monster Truck vs. Mysterio 76174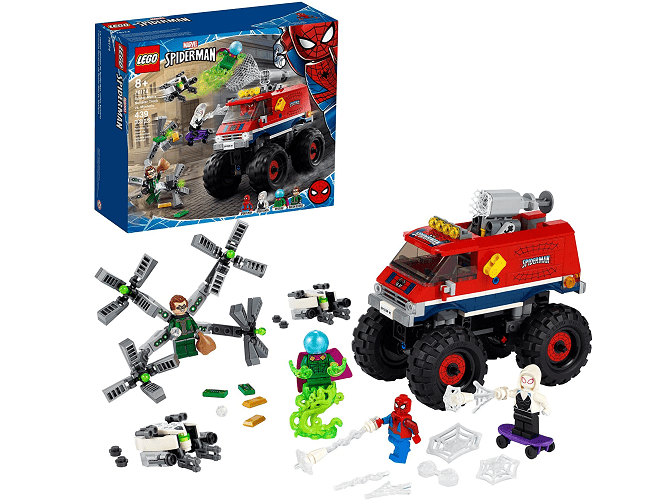 Young fans of the Marvel universe will love playing with Spiderman's Monster Truck vs. Mysterio 76174 set. The monster truck is 5 inches long, 4 inches tall, and 3 inches wide, and it has the net launcher at the top.
The set includes a pair of drones equipped with weapons, as well as Spider-Gwen, Mysterio, Doctor Octopus, and Spiderman mini-figures. Although it was published less than two years ago, the Spiderman's Monster Truck vs. Mysterio set was already retired.
Pros
Great for group play
This set is still inexpensive even though it was discontinued
Children can reenact scenes from their favorite Spiderman movies
Compatible with sets from the LEGO Marvel theme
Cons
It can be underwhelming for children above the age of 12
Monster Jam Max-D 42119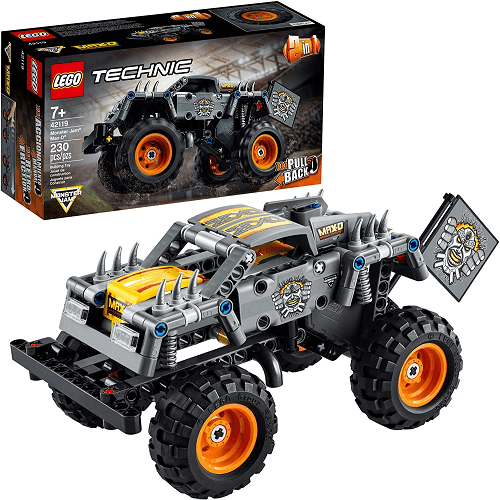 The authentic stickers and various other details contribute to the remarkable realism of the Monster Jam Max-D 42119 set. In addition, you can decide if you want to build the legendary Jam Max-D monster truck or a quad-bike from the pieces included in the set.
The pull-back feature is available on both toys, and kids can use them for racing with their friends. Even though it is aimed at children aged 7 or older, building this set may be an overwhelming task for kids that don't have previous set-building experience.
Pros
Rugged design
The monster truck accelerates quickly
It has lots of authentic details
This set is budget-friendly
Cons
Challenging assembly process
Limited range of play scenarios
Monster Truck Toy 31101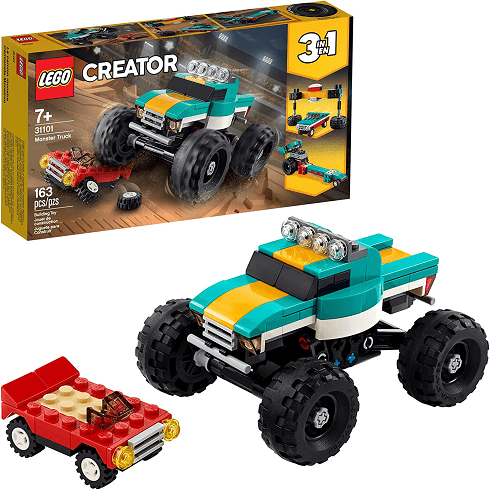 Like all sets from the Creator 3-in-1 theme, the Monster Truck Toy 3101 set contains the pieces children need to build three different toys. Kids can use the pieces from this set to build a monster truck, a muscle car, or a dragster, but building all of these toys simultaneously isn't possible.
Besides 163 pieces, the Monster Truck Toy doesn't have any other accessories children can use while playing. However, you can combine this set with LEGO sets from different themes to extend its range of playing options.
Pros
Children can recombine the elements as they see fit
It doesn't take a lot of time or effort to build this set
Children can build different toys
Compatible with other LEGO sets
Cons
No mini-figures
Low piece count
Frequently Asked Questions About LEGO Monster Trucks
Question: Do LEGO Monster Trucks Arrive with Storage Boxes?
Answer: These sets come in their original boxes that can serve as storage boxes.
Question: Is LEGO Releasing New Monster Truck Sets in 2022?
Answer: LAGO hasn't announced the release of new monster truck sets in 2022 so far.
Question: Are LEGO Monster Trucks Suitable for Toddlers?
Answer: Standard LEGO sets aren't suitable for children, and the company currently doesn't offer monster trucks within the Duplo theme.
Question: How Long Does it Take to Build a LEGO Monster Truck?
Answer: LEGO monster truck sets don't have a lot of pieces, and you won't need more than a few hours to complete the assembly process.
My Verdict: Knowing Which LEGO Monster Truck is the Best
Each of the monster truck sets you can find in LEGO-certified stores or online shops has a lot to offer, and the decision to choose one model over another often depends on whom the set is for.
Considering factors like the set's age group, the complexity of the assembly process, and the set-piece count can make it easier to reach the right decision.
I recommend choosing the Monster Jam Megalodon 42134 set because it has plenty of entertaining features, and it pushes you to develop your set-building skills.
You should consider a set like Spiderman's Monster Truck vs. Mysterio 76174 or the Monster Truck Toy 3101 if you're looking for a fun set that is easy to build. Which LEGO monster truck are you going to choose?
Let me know in the comments or continue reading our guide to the best LEGO gifts to find a perfect present for a young or adult LEGO fan.
Recommended Reads: