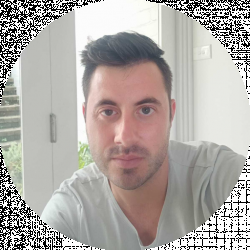 Latest posts by David Borgogni
(see all)
LEGO released countless sets inspired by Ferrari cars and trucks in the last few decades. However, some of the best LEGO Ferrari sets were discontinued years ago, and only a couple of models are still in production.
Ferrari used to be a subtheme of Racers theme from 2004 until 2012 when this product line was retired. Since then, LEGO has published more than ten sets inspired by different vehicles produced by this legendary car manufacturer.
These sets are usually released within Technic and Speed Champions themes, but at the moment, these themes contain just two active Ferrari sets.
In this guide, I'm going to show you how to find the best LEGO Ferrari sets, and I'm going to recommend some of the best active and retired models based on cars and trucks made by this luxury sports car manufacturer.
Please take a look at the best LEGO Corvette sets if you're looking for sets inspired by this iconic Chevrolet car.
At a Glance – The 10 Best LEGO Ferrari Sets
Bottom Line Up Front: The Ferrari 488 GTE 'AF Corse #51' 42125 is the best active LEGO Ferrari set that offers an immersive construction experience. However, this set is only suitable for experienced builders, and the newly released 1970 Ferrari 512 M 76906 is a much better option for young LEGO enthusiasts.
Selection Criteria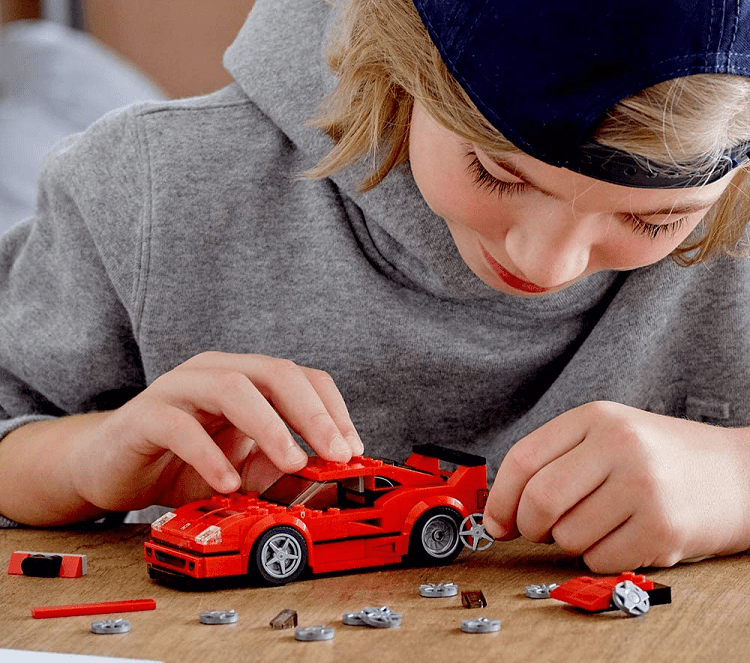 LEGO released just one set based on a Ferrari car since the start of 2022, and there's no indication that the toymaker plans to publish more Ferrari models by the end of the year. Nearly all Ferrari sets LEGO released since 2016 are retired, and it's no longer possible to purchase them from the manufacturer.
Nonetheless, finding an active or discontinued Ferrari set doesn't take a lot of effort because most major e-commerce retailers have these sets in stock. I used several parameters to pick the models included in this article, so let's look at some of the most important ones.
Set construction complexity – This criterion has helped me find Ferrari sets for LEGO builders with different experience levels. Hence, you can opt for a model adjusted to your set-building skills.
Release date – I utilized this parameter to create an overview of the best Ferrari sets LEGO released in the last ten years.
Please browse our guide to the best LEGO trucks for more information about the most popular truck sets in different LEGO themes.
A Brief History of LEGO Ferrari Sets
The Model Team 2556, a promotional set released in 1997, was the first LEGO Ferrari set. Two years later, the toymaker introduced two more promotional sets that contained Ferrari vehicles. However, these early models were the only Ferrari sets LEGO published during the 1990s.
The Racers is a LEGO theme that was launched in 2001. This theme included LEGO Technic and System sets inspired by sports cars. In 2004, LEGO added the Ferrari subtheme to the Racers theme and started producing sets inspired by different types of Ferrari vehicles or racing events.
The company went on to release more than thirty Ferrari sets before discontinuing the Racers theme in 2012. Three years later, LEGO launched the Speed Champions theme that serves as a successor to the Racers theme. Most Ferrari sets published in the last seven years were released within this theme.
Our guide to the best LEGO Porsche sets can help you discover some of the best models inspired by vehicles made by this legendary German carmaker.
LEGO Themes with Ferrari Sets
Technic, Creator Expert, and Speed Champions are the only LEGO themes that featured Ferrari sets since 2015. Currently, the Creator Expert theme doesn't have Ferrari models, while Speed Champions and Technic themes feature just two sets inspired by these luxury sports cars.
Hence, Ferrari 488 GTE 'AF Corse #51' 42125 from the Technic theme and 1970 Ferrari 512 M 76906 from the Speed Champions theme are the only active Ferrari sets you can get at the moment.
Moreover, the Ferrari 488 GTE 'AF Corse #51' 42125 set was released in 2020, and LEGO may retire it by the end of the year. So far, the company released one new Ferrari set in 2022, and it's unclear if LEGO plans to publish more sets inspired by these cars in the second part of the year.
Please read our guide to the best LEGO monster trucks to discover sets that let children construct these toy vehicles.
Retired LEGO Ferrari Sets
LEGO retired almost all of its best Ferrari sets released within Speed Champions and Technic themes. These sets are not hard to find because numerous online retailers have them in stock.
Even some of the models published within the discontinued Racers theme are still available on the market, although finding an unused model from this theme can be difficult. Here are some of the best retired LEGO Ferrari sets released within the Racers theme you can find online.
Some of these sets are pricy and they can cost more than $1,000. More recent models are easier to find and less expensive, but even so, sets like the Ferrari Ultimate Garage 75889 or F14 T & Scuderia Ferrari Truck 75913 can cost several hundred dollars. Hence, they're only a good option for collectors of LEGO Ferrari cars.
Please read our guide to the best LEGO fire trucks for more information about firefighter-themed LEGO sets.
Building a LEGO Ferrari Set
These sets are designed for LEGO fans of all ages. As a general rule of thumb, models released within the Technic and Creator Expert themes are aimed at older and more experienced LEGO builders. In contrast, Ferrari sets from the Speed Champions theme are geared towards young LEGO fans.
Over the years, the company published several Ferrari sets with Duplo bricks, but at the moment, none of the active LEGO Duplo sets features Ferrari cars or trucks. Models designed for novice LEGO builders don't have more than 1,000 pieces.
On the other hand, Technic and Creator Expert Ferrari sets usually have more than a thousand pieces, and constructing them can take several days. Most models from the Speed Champions theme can be assembled in less than an hour.
Check out our guide to the best 1,500 piece LEGO sets to learn more about medium-sized LEGO sets.
The Key Factors to Consider While Choosing a LEGO Ferrari Set
Besides the set's release date, several other factors can help you decide which Ferrari set is the right option for you. Here are a few aspects you should consider when searching for a LEGO Ferrari set.
Range of Playing Options
These sets usually have a limited number of minifigures and accessories, which narrows the scope of play scenarios they offer. Furthermore, some sets only contain the bricks LEGO fans need to construct a display model of a Ferrari vehicle.
Set-Building Experience
Checking the set's piece count and recommended age group is the easiest way to determine how difficult it is to build it. Speed Champions theme features Ferrari sets that don't have a complex assembly process, and they're best suited for young LEGO builders.
Set's Condition
Paying attention to this factor is only necessary if you're shopping for a retired Ferrari set online because some retailers offer used or damaged Ferrari sets at high prices.
Price Range
Opting for an active Ferrari set isn't always the least expensive option since some discontinued models are still available at affordable prices. However, retired Ferrari sets can cost more than $1,000.
Top ten LEGO Ferrari sets
Ferrari 488 GTE 'AF Corse #51' 42125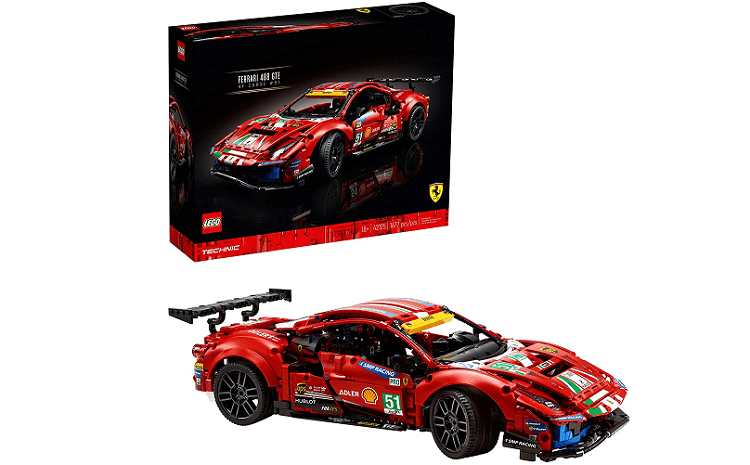 A set like the Ferrari 488 GTE 'AF Course #51 42125 is a treat for all LEGO and sports car fans. Aside from the replica of one of the most iconic sports cars ever made, this LEGO Technic set also contains a brochure about the car and the 'AF Course #51' team.
The 19-inch long model has a functioning wheel that allows you to steer the vehicle, and it is equipped with a V8 engine with moving pistons. Builders can open all four doors to explore the Ferrari 488 GTE's detailed interior.
Pros
The Ferrari 488 GTE model has front and rear suspension
The set comes with a variety of stickers
Informative brochure
The car model has authentic features
Cons
This set might be retired soon
It's not suitable for inexperienced LEGO builders
1970 Ferrari 512 M 76906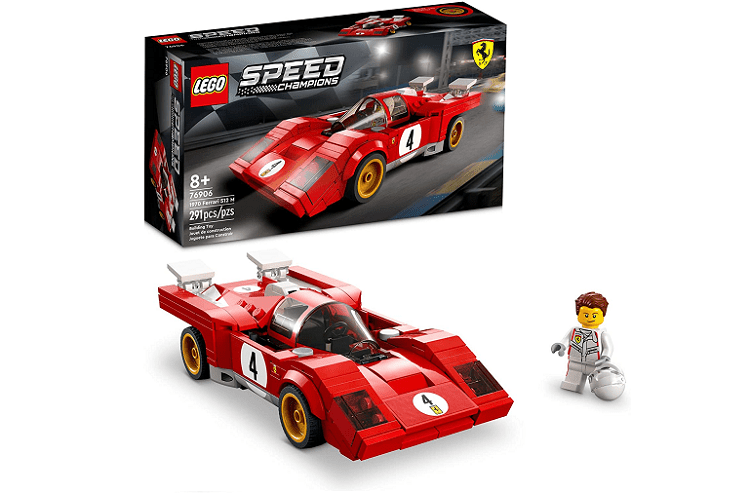 Kids aged eight or older won't need a lot of time to assemble the 1970 Ferrari 512 M 76906 set because it has just 291 pieces. The vintage toy car has an opening cabin that is spacious enough to accommodate the Ferrari driver Minifigure equipped with a race suit, a helmet, and a wig.
This model doesn't have a pull-back function, functioning steering wheel, or a suspension system. The set doesn't include accessories kids can use while playing with the 1970 Ferrari 512 M car.
Pros
This set is collectible
Straightforward assembly process
Affordable price
LEGO released this set recently
Cons
Low piece count
It doesn't have a lot of accessories
Ferrari F40 10248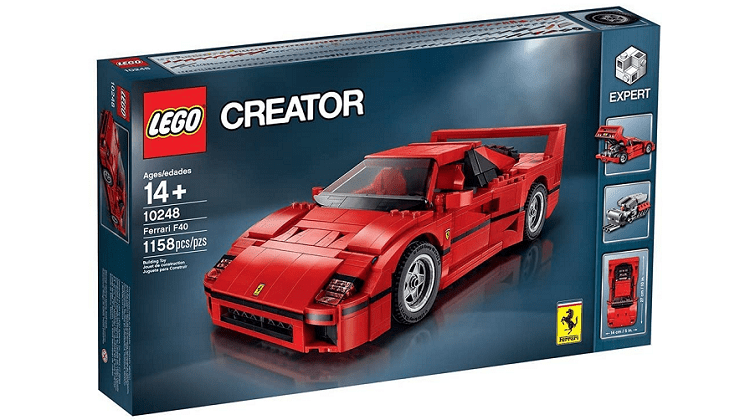 LEGO produced only 1,311 Ferrari F40 10248 sets before discontinuing this model in 2017. Consequently, this rare set is expensive and hard to find. Nonetheless, years after it was retired, it is still one of the best LEGO Ferrari sets.
This model was released within the Creator theme, and it contained 1,158 pieces. The Ferrari F40 model had pop-up lights, a steering wheel with a Ferrari logo, a V8 engine, and a pair of red racing seats. However, the set doesn't include minifigures.
Pros
The set contains a unique windshield piece
Rich interior
A valuable addition to a collection of LEGO Ferrari sets
It contains toolbox and oil can accessories
Cons
Limited play options
This set is expensive
Ferrari Ultimate Garage 75889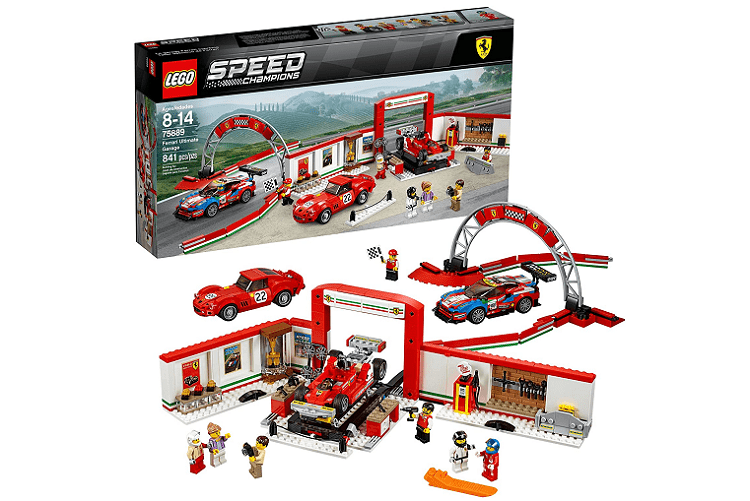 The Ferrari Ultimate Garage 75889 set features Ferrari 312 T4, Ferrari 250 GTO, and Ferrari 488 GTE toy cars, and each toy is six inches long and two inches wide. The set also includes racetrack and workshop/museum elements.
The museum has a display podium for one of the toy cars, while the workshop has an adjustable car ramp segment where kids can perform car repairs. The set comes with seven Minifigures and accessories such as tools, posters, or photo cameras.
Pros
The workshop section has a vintage fuel pump element
An excellent selection of Ferrari car models
Assembling this set doesn't take long
It offers endless play options
Cons
The set contains tiny pieces
Limited availability
Ferrari 488 GT3 'Scuderia Corsa' 75866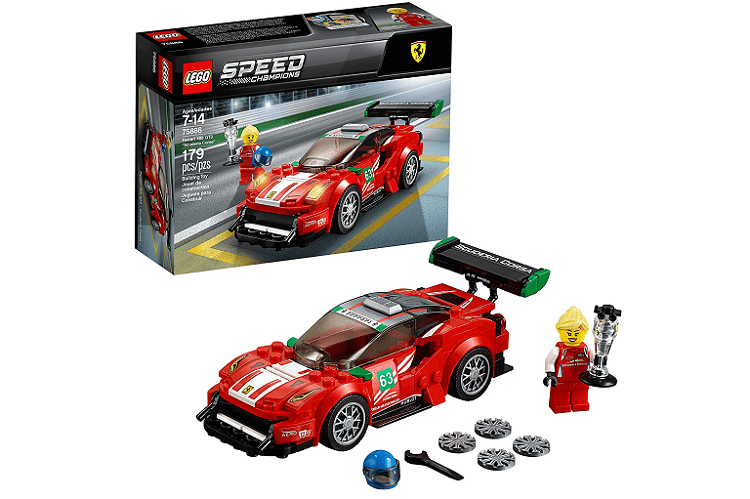 Young LEGO fans will have a lot of fun playing with the Ferrari GT3 'Scuderia Corsa' 75866 set. The set contains 179 pieces, and kids won't need previous experience to assemble it. This Speed Champions set was retired in December 2019, but most online retailers have it in stock.
The model of the Scuderia Corsa has a removable windshield that allows builders to place the driver Minifigure behind the wheel. The set also features a 1-inch trophy accessory, spare wheel trims, and a wrench.
Pros
The driver Minifigure is unique for this set
It features a helmet accessory
Fun and easy construction process
A removable windshield gives children quick access to the toy's interior
Cons
More expensive than similar Speed Champions sets
The car model doesn't have the pull-back function
Ferrari F8 Tributo 76895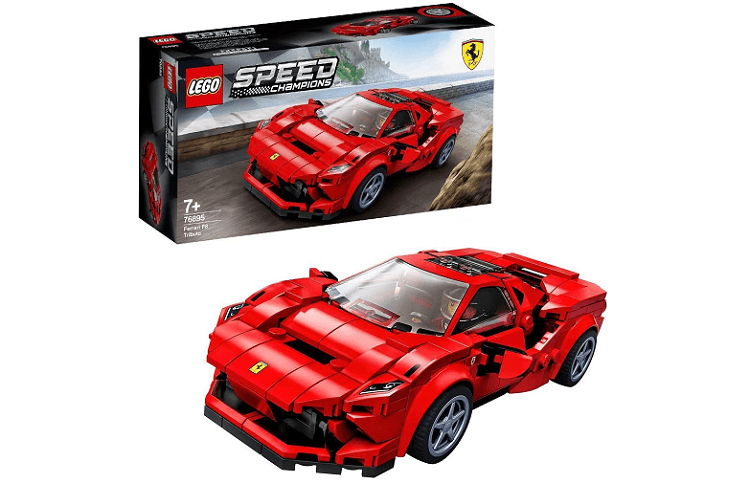 A set like the Ferrari F8 Tributo 76895 can be a perfect introduction to sports cars and the LEGO world. This set has 275 pieces, and it can help kids aged seven or older develop their set-building skills. Like all models from the Speed Champions theme, the Ferrari F8 Tributo set contains one driver Minifigure.
Moreover, it doesn't contain accessories kids can use to develop play scenarios. The beautifully designed replica of this Ferrari car contains a variety of details that contribute to its realism.
Pros
The Ferrari driver Minifigure is a collectible
Toy car has a Ferrari logo
It can help children become better LEGO builders
It's easily portable
Cons
It doesn't offer great value for money
Limited play options
Ferrari F40 Competizione 75890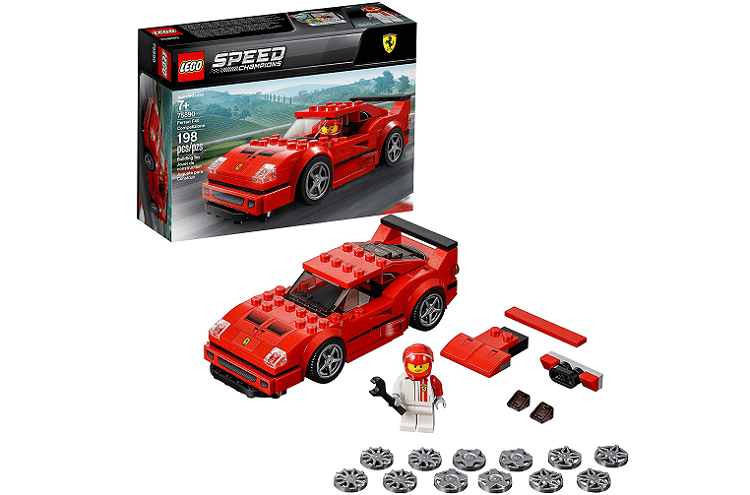 The Ferrari F40 Competizione 75890 is one of the least expensive discontinued Ferrari sets you can get. Assembling this 198-piece set doesn't require much time, so kids can focus on inventing different play scenarios instead of spending hours building the set.
The toy has interchangeable spoilers and hoods that allow builders to transform the F40 Competizione into the road version of this car. The wheels are equipped with rubber racing tires, while the front segment of the toy has light-style elements.
Pros
The Minifigure has a Ferrari race suit
Kids can build two versions of the Ferrari F40 car
Simple building instructions
Wrench accessory is included in the set
Cons
The interior doesn't have a lot of details
Ferrari FXX K & Development Center 75882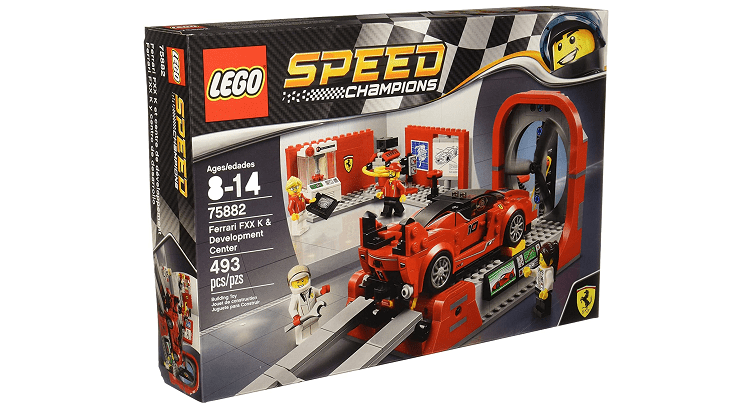 Although it has fewer than 500 pieces, the Ferrari FXX K & Development Center 75882 set can be overwhelming for first-time LEGO builders.
The laboratory segment of this playset is equipped with computer monitors, 3D printers, and other accessories kids can use to run tests on the Ferrari FXX K toy car. The wind tunnel segment has a rotating turbine and rolling road. The set has four Minifigures, including a driver Minifigure in a Ferrari race suit.
Pros
It offers a fun play experience
The set includes the Speed Champions version of a Ferrari car
All Minifigures are unique to this set
It is compatible with other Ferrari sets
Cons
Finding spare parts for this set is challenging
It isn't budget-friendly
Scuderia Ferrari SF16-H 75879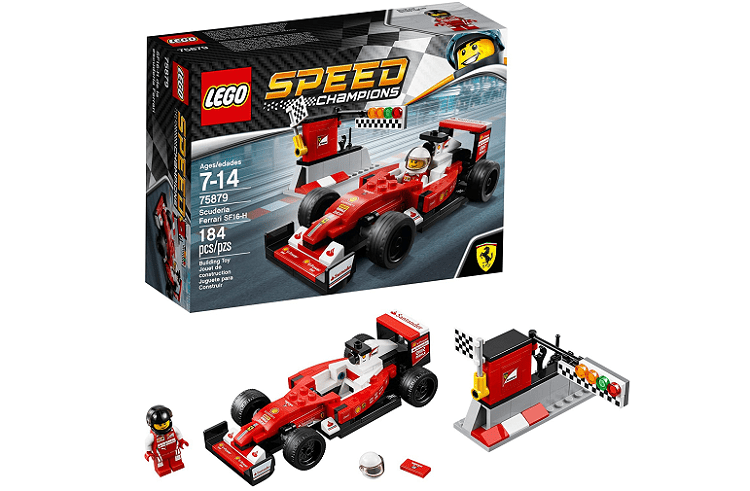 If you're searching for a Ferrari set that will impress a young Formula 1 fan, you should consider getting the Scuderia Ferrari SF16-H 75879. The set has 184 pieces, and children aged between 7 and 14 can assemble it unassisted.
The Ferrari SF16-H model has a cockpit for the driver Minifigure and two changeable race numbers. The pit element is equipped with a pit monitor, a waving race flag, and a start-finish line with red, orange, and green light pieces.
Pros
The set comes with a walkie-talkie, two driver helmets, and wrench accessories
Various race stickers are included in the set
Straightforward assembly process
The pit element extends the set's range of play options
Cons
Limited availability
This set can be underwhelming for teenage LEGO fans
F14 T & Scuderia Ferrari Truck 75913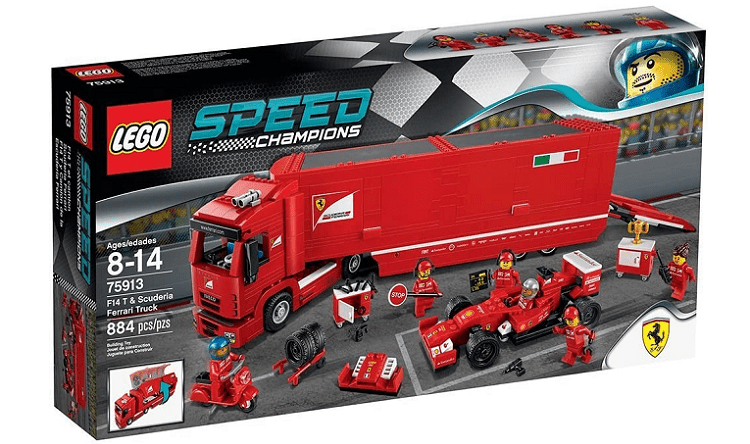 The F14 & Scuderia Ferrari Truck 75913 was among the first Ferrari sets published within the Speed Champions theme. It's also one of the most expensive Ferrari sets you can find online.
This 884-piece set features a model of a Ferrari Scuderia truck with a cabin that can accommodate two Minifigures. The model's trailer has a detachable roof that grants you access to the Ferrari F14 T racing car that comes with a pair of spare wheels and changeable noses.
Pros
This set has six Minifigures
A wide assortment of accessories
A scooter is included in the set
The truck toy has a car ramp
Cons
Frequently Asked Questions About LEGO Ferrari Sets
Question: Do LEGO Technic Ferrari Sets Have Motors?
Answer: None of the active LEGO Technic sets inspired by Ferrari vehicles has this component.
Question: Are Ferrari driver Minifigures Valuable?
Answer: Yes, these Minifigures are collectible, and their value increases over time.
Question: How Many LEGO Ferrari Sets are There?
Answer: LEGO has released more than fifty Ferrari sets since 1997.
Question: Do LEGO Ferrari Sets have Starter Bricks?
Answer: These sets don't contain elements composed of Stater Bricks.
My Verdict: What is the Best LEGO Ferrari Set?
Over the course of the last few decades, LEGO released an impressive amount of Ferrari sets, but most models are discontinued. Online retailers offer a versatile selection of retired LEGO Ferrari sets. However, the prices of these sets can reach over $3,000.
That's why I recommend choosing an active LEGO set like the Ferrari 488 GTE 'AF Corse #51' 42125 that offers a challenging assembly experience and allows you to build a stunning display model of an iconic sports car.
The 1970 Ferrari 512 M 76906 set might be the right option for you if you're searching for an affordable set that is easy to assemble. Which LEGO Ferrari set are you going to choose?
Let me know in the comments or continue reading our Trouble on Tatooine review to learn more about this LEGO Star Wars set.
Recommended Reads: