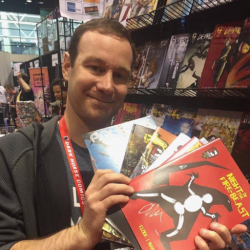 Latest posts by Frank Martin
(see all)
I like to consider myself an imaginative person. That's why I'm a fan of space and fantasy LEGO sets. Yet even given that, LEGO City is still my favorite line. LEGO City might seem like a relatively grounded brand. After all, it's meant to resemble an actual city with streets and buildings. But this is LEGO.
They are toys to be played with, and toys require imagination. That's why police sets, arguably the heart of any LEGO City, don't limit themselves to cars and police stations. They have planes and, of course, boats, too.
Obviously, it's hard to incorporate actual water with a LEGO City. It's not impossible, but it's not practical. Instead, I would have to use my imagination to include a water area of the city.
And LEGO does not shy away from encouraging people to do just that. It comes with plenty of boats and other seaside sets. And where there's water, there needs to be police to patrol that water and keep it safe. So there's no shortage of excellent LEGO police boats to choose from.
Selection Criteria
Here are the qualifications I put into making this best LEGO Police boats guide.
Size

: Different boats must be used for different purposes, so size is a factor.

Playability

: It's not enough just to have a boat. There has to be a level of play baked into the set.

Versatility

: There's more than one type of police, especially those that patrol the water.
Coast Guard Patrol Boat & Tower (7739)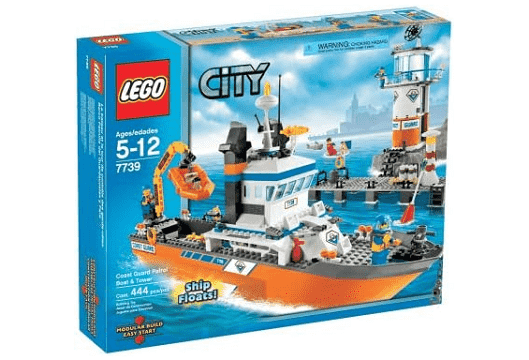 Some of the best sets are ones that can transition from the land of LEGO City to the imaginative waters beyond its shores. This set does a great job of seamlessly merging the two since it represents the Coast Guard. The lighthouse and dock are the perfect play settings to stage that transition.
And the patrol boat is remarkable all on its own. It comes with a crane at the back that can raise and lower a raft. There are also divers and an excellent bridge positioned above the deck.
While the police are usually the focus of play, this patrol boat shows that the Coast Guard can be equally important depending on the situation.
Pros
Size

: It's a fairly big set when the boat and lighthouse are combined.

Playability

: There are tons of different scenarios to think about when playing with it.
Cons
Price

: Although a lot comes in the set, it's still pretty expensive.

Enclosed bridge

: I found playing with figures inside the bridge a little bit difficult, which didn't have easy access.
Police Patrol Boat (60277)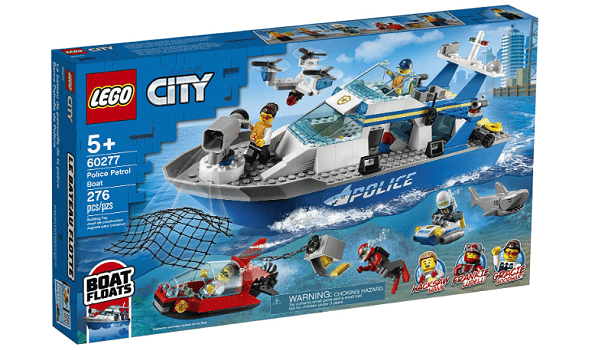 This is one of my favorite police boats, and not because it's anything special. It's just such a rock-solid set that I can't help but admire all the little details about it. It comes with a submersible for the criminals to tow a vault behind. Also, there's a police submersible, as well.
The ship itself is a great size and comes with a drone that can be launched from the top deck. As LEGO City grew in size and popularity, LEGO started implementing named characters rather than standard figures. This set comes with three of them, which makes it all the more personal.
I usually have gripes with net launchers, which this one has, but when it's working right, it's definitely a fun set to play with.
Pros
Main characters

: It's great to give the figures personality.

Extras

: It's really more than just a simple patrol boat.
Cons
Net problems

: The launcher doesn't always work as intended.

Retired

: I don't know why they would discontinue such a great set.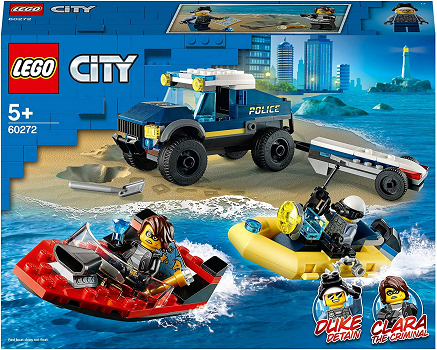 This set is a fairly simple, but a nice imagination can get a lot of use out of it. It has a fairly standard police truck with a trailer that tows an inflatable. While the inflatable itself is nothing special, I do like the spotlight on the front. It's a nice touch that adds a sense of realism.
It also comes with a much-needed criminal boat that can be used for a high-speed chase. Like the spotlight on the police raft, the boat's nice touch is a map.
This set also has two named characters that give it a bit of a story. It might not be a massive police boat or even come with a land-based set, but it's a nice addition to an already existing fleet if you have one.
Pros
Land and sea

: The fact that the police truck can pull the raft on land adds a nice bit of playability.

Price

: It definitely costs as much as it's worth.
Cons
Lack of characters

: It has exactly the right amount of characters it needs for the set, which unfortunately isn't much.

No logo

: while the police truck is marked, the raft is not.
Police Patrol Boat (60129)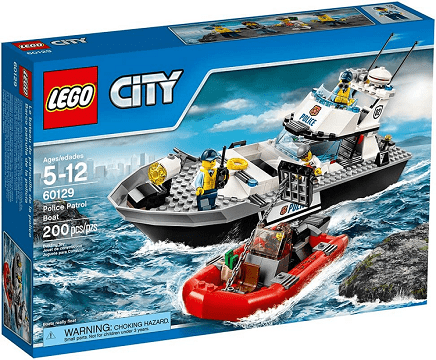 This police boat is a fairly decent size. It's a bit older and retired, so it might be hard to find. Overall, I found it to be an earlier version of the patrol boat found above. Instead of a net launcher, it has a spotlight, which can be utilized for different purposes.
Also, I like that the raft included for the criminals is slightly bigger than the raft found in most sets. Most modern criminal boats and cars come with a chain used for breakout or stealing purposes.
The fact that this chain is an anchor provides something different to play with. Lastly, newer boats tend to be cramped on the bridge. The fact that this one has an open bridge makes it easier to play with.
Pros
Big raft

: It's nice to see the criminals have more to work with.

Open bridge

: The ship definitely resembles a fishing boat in this way.
Cons
Retired

: It's an older set, so it's getting harder to find.

No projectiles

: Its action capabilities are limited compared to sets coming out today.
Police Boat (7287)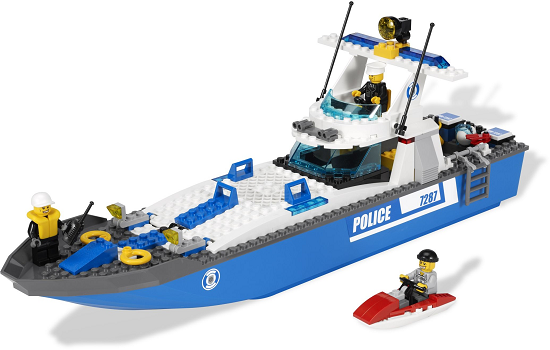 While this might look like the other patrol boats, this one is different for a simple reason. It's a modular build, so it's much easier to put together than some of the other more complex police boats and sets.
When my son transitioned from DUPLO to LEGO between the ages of four and five, this was a great set that I helped him with. It allows builders to get a head start on the construction, so they're not really starting from scratch.
Likewise, it may also be built by adults that are just looking for a relaxing time-building set that might not take too long. I would like one of the other patrol boats to add to my fleet, but that doesn't mean this one doesn't have a purpose, as well.
Pros
Modular build

: This set serves a purpose with a specific type of construction.
Cons
Design

: There's something about the boat itself that just looks too LEGO, as a lot of pegs are showing.

Lack of extras

: Many police boat sets come with other stuff to play with. This one just includes a jet ski.
Police Patrol (4021)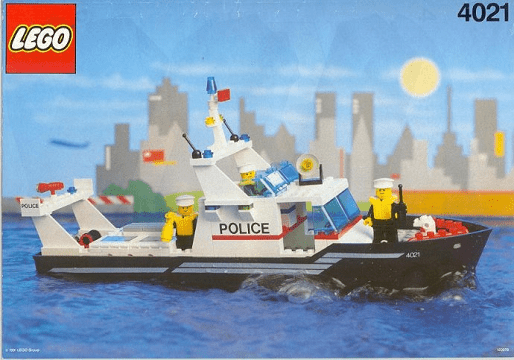 This is a really old set that I like for nostalgia reasons. Growing up as a '90s kid, there's something about the plain design of sets from the era that resonates with me. And it doesn't get plainer than this one. You can see how the growth of the police patrol boat evolved over time.
This one serves as a template of sorts. It's become a rare set that has increased in value, so it might be hard to find on the secondary market. Given its age, it may not work well as part of an already existing LEGO City.
But for collectors that like vintage LEGO, this will surely be a set that would be nice to have on the shelf for years to come.
Pros
Vintage

: It's got an awesome streamlined design if that's what you're into.

Investment

: It's only gone up in price in recent years.
Cons
Playability

: It doesn't have any compared to today's boats.

Rare

: It's pretty hard to find these days.
Police Detective Missions (60355)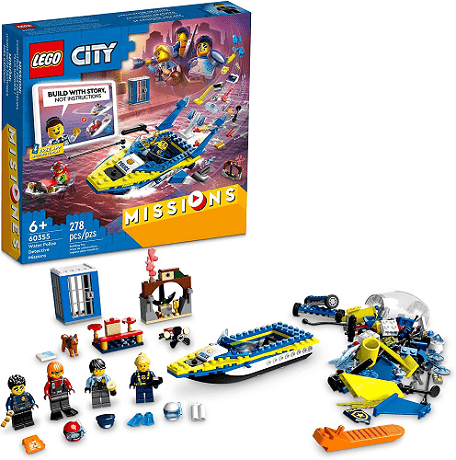 LEGO City Missions is an interesting brand that combines the classic construction of LEGO with modern technology. I'm a huge fan of the Mario sets that create levels that can be scanned into an app to play with.
Missions is a similar concept as the set is built through the app rather than a static set of instructions. It's an immersive experience that's fun and different from a typical LEGO build.
There are some downsides to the set, given that it does include as many other features like some regular sets do, but everything is a sacrifice.
Pros
Missions

: It's a different and fun experience building a set.

Price

: The set is fairly cheap, given the experience that it comes with.
Cons
Extras

: While it does come with four different figures, there's not much else to round out the build.

Design

: I'm torn as to whether or not the boat's design is any better than the submersible it can turn into.
Coast Guard Patrol (60014)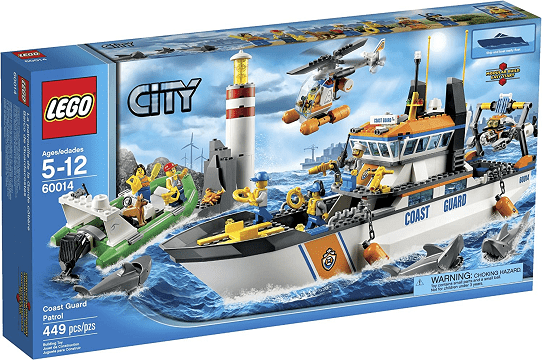 Here is another modular build like the set further up on this list, except this one comes with a lot more features to play with. There's a helicopter on floats, as well as an underwater salvage drone that can be deployed from the back of the ship.
Not to mention there is also a raft and plenty of figures to include in and around the set. If that wasn't enough, there's also a lighthouse to add some landscape to the scene. With plenty of civilians, sharks, and Coast Guard operators included, it's hard not to see this large boat's playability.
Pros
Playability

: There's just so much going on that it's hard to get bored with it.

Modular build

: For those that want a head start in construction, a modular build is a good choice.
Cons
Price

: Because there's so much included, it tends to be on the expensive side.
Police Boat (7899)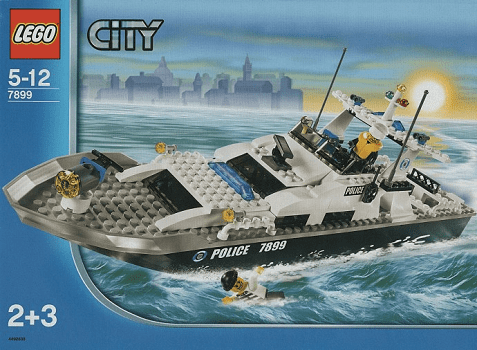 While this certainly isn't my favorite police boat, there are tons to love about it. It's a bit sleeker than normal patrol bolts, giving it the impression that it has a little more speed (which is ironic, given that none of them actually move on their own).
I also don't like the number of exposed pegs, which makes it feel very much like a LEGO boat. However, the spotlight on the bow is one of the better spotlights featured on this list.
Plus, I found that its open nature makes it easier to play with compared to some of the newer boats, so there's still plenty to enjoy about it.
Pros
Design

: It's much sleeker than a lot of the police boats on the market.
Cons
Cost

: I find it strange that the LEGO aftermarket has it listed as pricier than it should be.

Figures

: It only comes with three, one of which doesn't even have a boat of its own.
Swamp Police Starter Set (60066)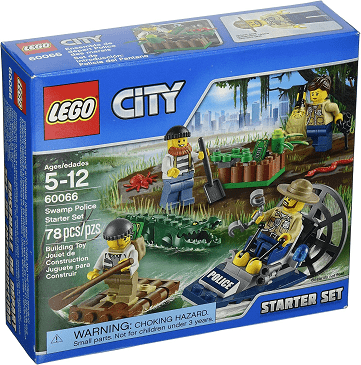 This was a very bizarre set to come across, so much so that I almost thought it was a satire when I first saw it. There are crooks with long beards and suspenders and even a raft for them to head down the swamp.
And, of course, there has to be an alligator chasing after them. It's a lot of fun and something completely different from LEGO.
I love building out a LEGO City, but what makes it especially fun is when they are various elements on the outskirts of the city, like mountainous forest terrain. This is a starter set for a swamp area with a very awesome hovercraft that's probably one of my favorite simplest builds ever.
Pros
Something different

: There aren't too many swamp sets.

Hover boat

: There aren't too many of these, either.
Cons
Price

: I'm finding it a bit expensive for the number of pieces included.

Starter set

: It only works well when paired with something else.
Conclusion
A boat is a very interesting set from a LEGO perspective, especially when it comes to the police. There are just so many different designs and police elements that can be adjusted as newer versions come out. And yet I still appreciate it when LEGO tries something new and interesting.
It's not like a car that could go through the city's streets or a plane that can fly above it. Boats have a very particular function, something that doesn't fit together with the rest of the city so easily.
But that doesn't mean they can't be fun. LEGO still puts just as much effort into designing and redesigning these boat sets that there's always something new to look forward to. They may not be my favorite, but they are still LEGO, and there's always something to enjoy.
FAQs
Question: Do Lego police boats float?
Answer: Most modern LEGO police boats float, but you should try it out on a case-by-case basis.
Question: What's the biggest LEGO boat set?
Answer: The LEGO Titanic set is the biggest boat on the market.
Question: What's the oldest LEGO boat set?
Answer: In 1968, one of the first sets LEGO ever released was a 343 Ferry.
Related Read