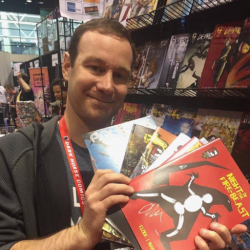 Latest posts by Frank Martin
(see all)
A lot of people might get the wrong impression about DUPLO. I know I did when I was a kid. I was obsessed with LEGO and viewed the younger version of the blocks as nothing more than a baby's toy.
In all fairness, it kind of is. That's the whole point. It's a way to introduce young children to building blocks with ease. However, it wasn't until I had children that I realized how powerful, diverse, and fun they could be.
LEGO builds essentially need to accomplish two main goals. They need to be fun to construct, and they need to be fun to play with afterward. In that regard, DUPLO makes the cut. They might not be fun for everyone, but then again, nothing is fun for everyone.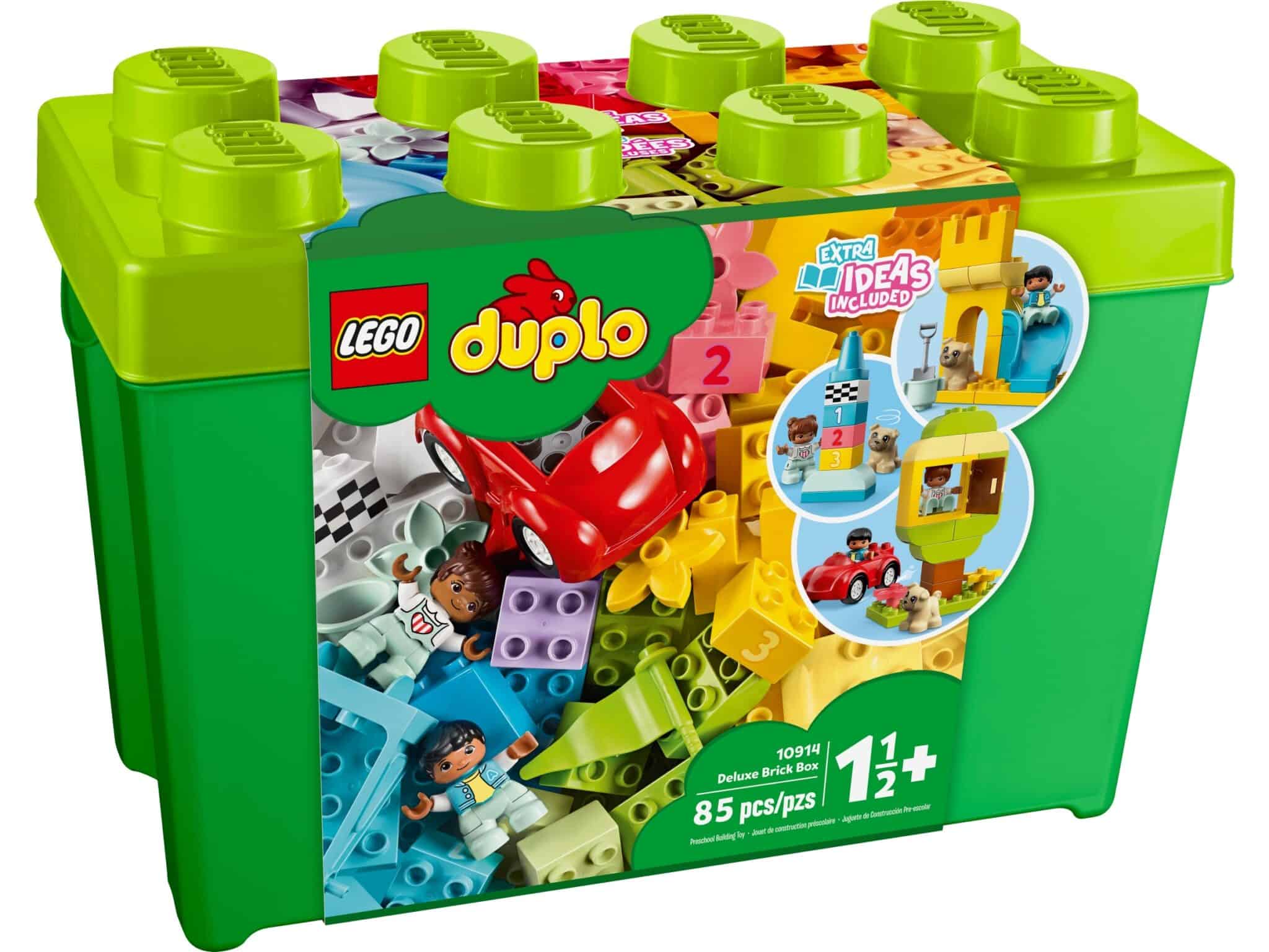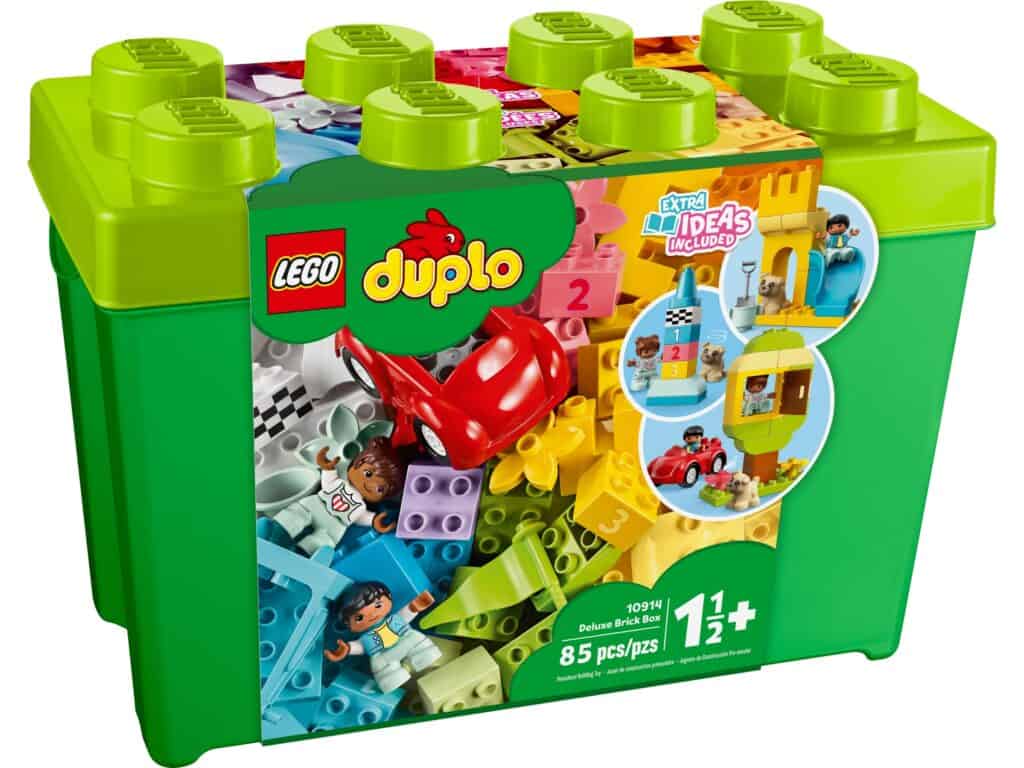 They are made for a particular demographic, which, quite frankly, loves to build more than any other. As children grow up, their desire to build with regular LEGO bricks might diminish, yet toddlers, by and large, love to build with anything. DUPLO just makes it easier.
As a parent, I also find something freeing about DUPLO. I wouldn't necessarily buy a set for myself and build it, but there is a simplistic innocence about assisting my kids in their own DUPLO sets. Sure, I love to build gigantic castles and dragons as much as anyone.
But there's a joy that comes from the ease at which a relatively large DUPLO set can be put together. They are designed to develop skills rather than challenge them. In that regard, there are very few activities a parent and child can bond over that matches the fun of DUPLO.
Selection Criteria
Here's a list of qualifications I took into account while making a list of the best LEGO Duplo sets:
Playability

: Obviously, toddlers aren't going to build something and put it on a shelf afterward.

Size and scope

: Smaller DUPLO sets have their value, but bigger ones can be a lot more fun.

Variety

: A list can be made of just one type of DUPLO set, but I wanted to cover a wide range.
Around The World (10805)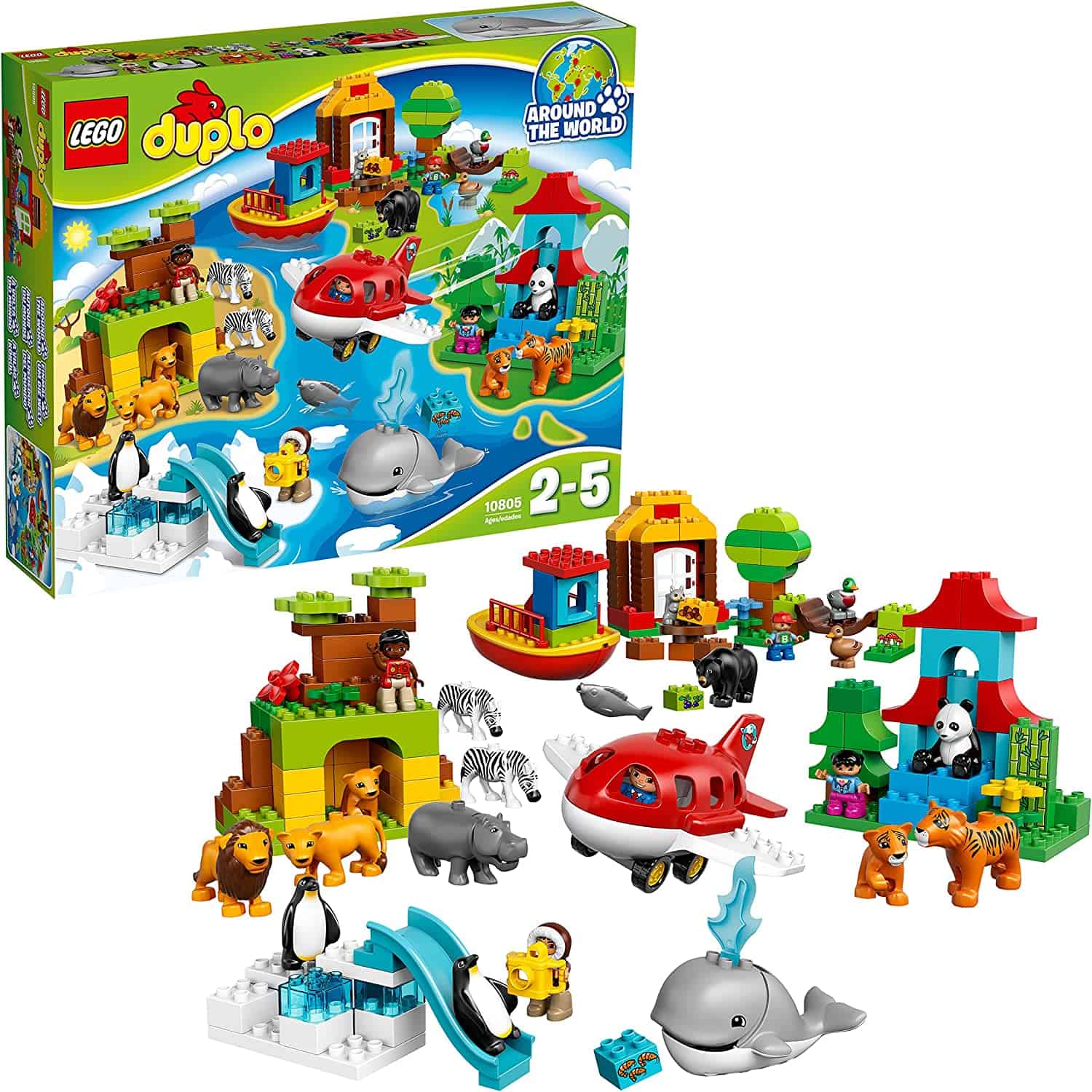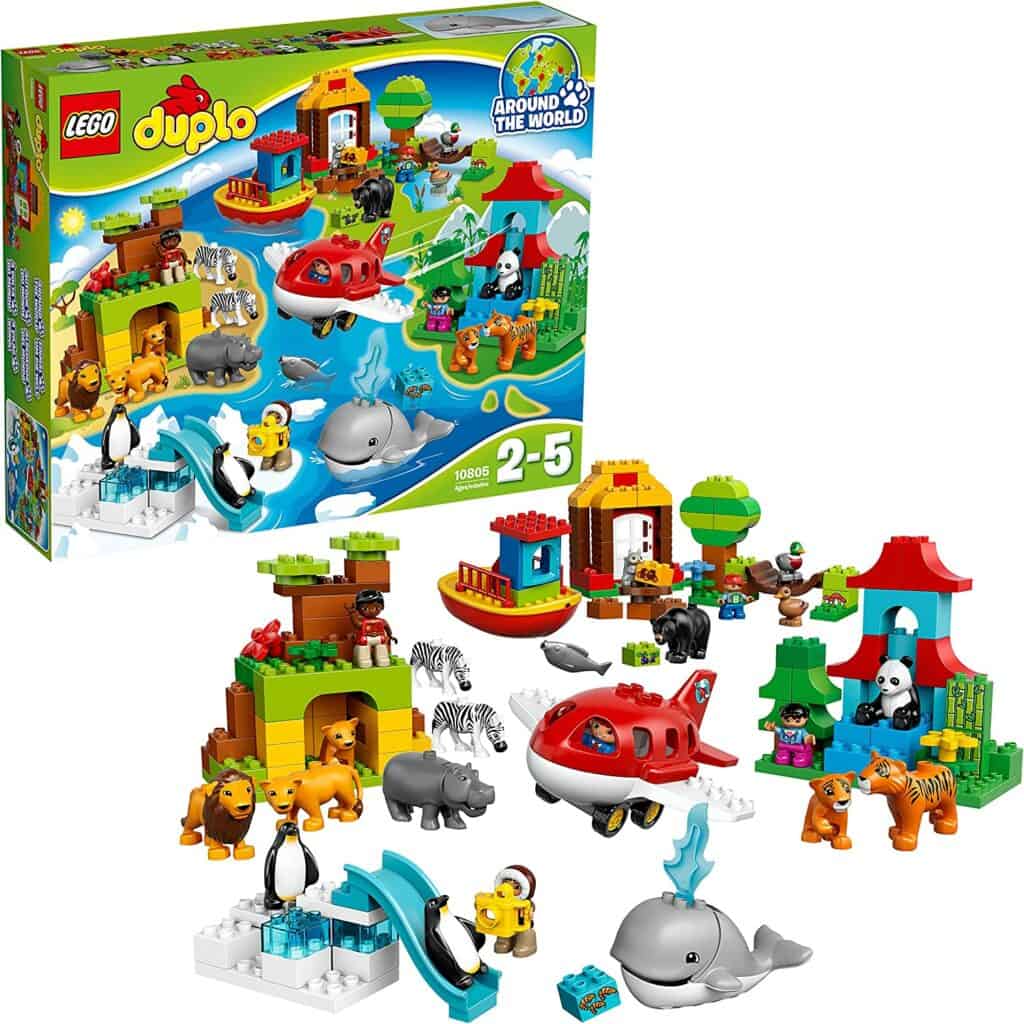 An important part of DUPLO is learning. This type of learning is not just about things like trains and construction sets. It's also about culture. This set does a great job of that. It almost reminds me of Disney's Epcot, as it just features so many different cultures that can be visited all at once.
It even comes with a plane so that your toddler can imagine themself flying from one place to the next. There's a savannah, a forest, and even an ice scene with a slide for penguins to head down. All the different animal figures help to flesh it out, too.
Pros
Travel

: the fact that it comes with a plane and boat grounds the set so much more in reality.

Variety

: It comes with many different places for a well-rounded play experience.
Cons
Retired

: As far as I can tell, this was a popular set, so I don't know why LEGO discontinued it.

Lack of activities

: Although visiting different places is fun, that's all there is to do. It's not like a construction set where kids can pretend to build stuff.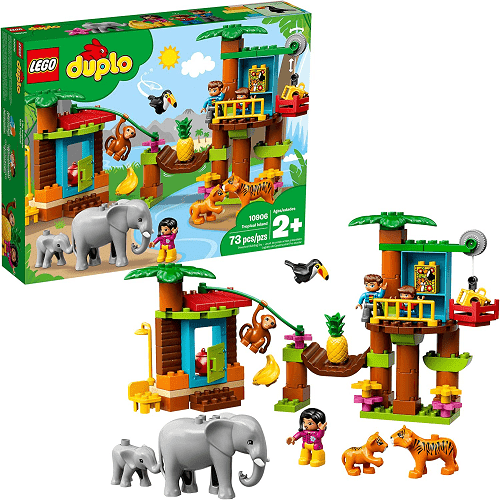 Although DUPLO is important to teach kids about the world and culture, it helps a lot when a set is just all-around fun. This one does a great job of that as it connects two separate areas with a vine. It does a great job giving off that tropical island feel with a hammock, outdoor shower, and a pulley lift that works.
Also, it has a wide variety of animals to round out the setting, such as a monkey, an elephant, and a toucan. It also helps that this set requires a bit more construction than most, forcing kids to build before they can play.
Pros
Variety

: There's a lot to play with in this set.

Construction challenges

: It's a bit more complicated than most.
Cons
The lift

: Although it's a fun feature, a toddler might need help operating it.
Planes Fire And Rescue Team (10538)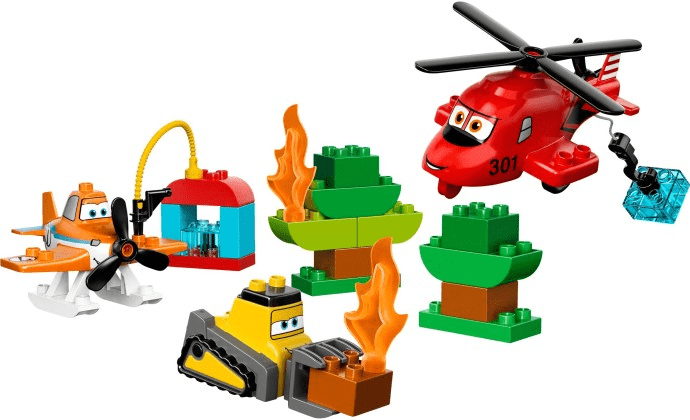 The Pixar film Cars gets a lot of attention as it has three sequels. The fan-favorite characters Lightning McQueen and Mater also help with its popularity. However, I was a big fan of the spin-off film Planes, too. This is a DUPLO set based on the movie.
Besides the characters being cool, the set has a purpose. It comes with fire pieces that the crew can put out. While it's important to teach kids about animals and the world, it's also important to give them a task.
Fire safety is important, and playing around with this set can help reinforce that lesson.
Pros
Characters

: They look great and can be played with while watching the movie.

Playability

: The fire pieces are a nice touch to give the characters something to do.
Cons
Lack of construction

: There's not a whole lot to build with the set.

Availability

: It's retired and not the easiest set to find.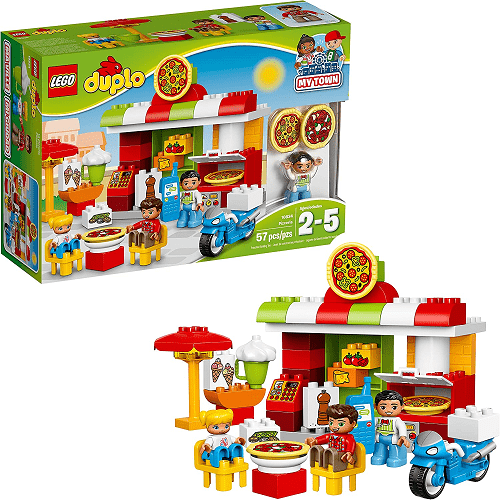 I find something particularly wholesome about food sets. After all, everybody has to eat. So there's something essentially human about sets that focus on feeding people. This pizzeria is especially cool as it has many different accouterments needed to make a good pie.
There's an oven, tomatoes, cheese, and much more to create a fully-rounded play experience rather than just the pizza itself. Plus, the ice cream stand is a bonus because who doesn't like having ice cream after a nice slice?
Pros
Figures

: It comes with just the right amount of figures so that a man can make the pizza while a couple is on a date.

All of the pieces

: You want extra cheese? It has it. Do you need to pay with money? It has it. It's a full-play experience from start to finish.
Cons
Price

: I find it a bit steep in price for the number of pieces involved.

Giant phone

: I don't know why a giant phone comes with the set. I guess for delivery orders, but it could have been smaller.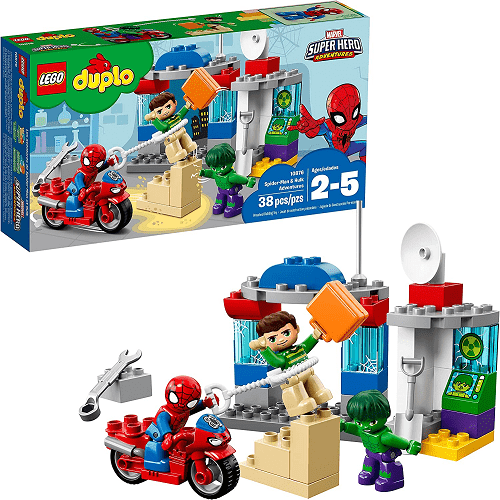 While it's important to introduce your toddler to the elements of the world through DUPLO, sometimes you just got to give in and have fun with some of your favorite characters. I may be showing some of my bias here as I'm a huge Spider-Man fan, but that's kind of the point.
Parents love different things. If you're a Batman fan, then you can use DUPLO as an opportunity to introduce your kids to Batman. For me, this Spider-Man set was a great introduction to the character.
It's also a bonus that it comes with Hulk and the Spider-Man villain Sandman. The motorcycle is also an unnecessarily nice touch to make Spidey go vroom for no reason.
Pros
Spider-Man

: He's a popular character for a reason.

Hulk set

: The set itself is primarily geared for Hulk's transformation, which is also cool.
Cons
Size

: There are larger Spider-Man sets, and I wish this one was a bit bigger.

Sandman's setting

: I wish they did more to showcase Sandman's powers rather than just have a stack of bricks in his color.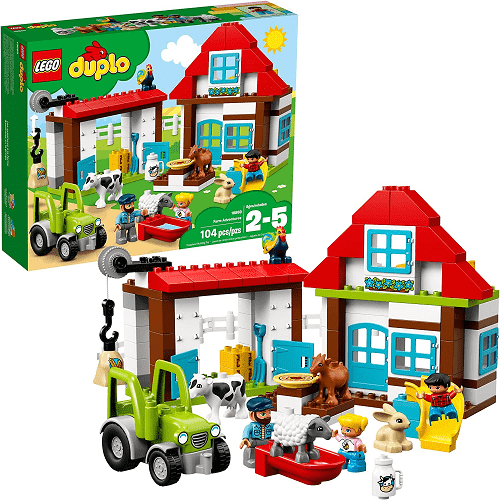 Farming is such a classic teaching tool for kids. After all, it's how the song "Old MacDonald Had A Farm" got popular. This set is great for rounding out the farm experience and giving kids tons to play with. It has a crane, a little slide, and a tub to give animals a bath. '
The farm equipment is a nice touch, too. There's a tractor and a hay fork to use. I wish it came with more fencing, though. That would have made the farm much more realistic to keep all of the animals enclosed.
Pros
Animals

: There's no shortage of them in this set.

Price

: I found it to be reasonably priced online, given that it's retired.
Cons
Fencing

: As I said above, I wish it came with more of it.

Crane

: Although it's a nice addition, it can be hard to operate for kids.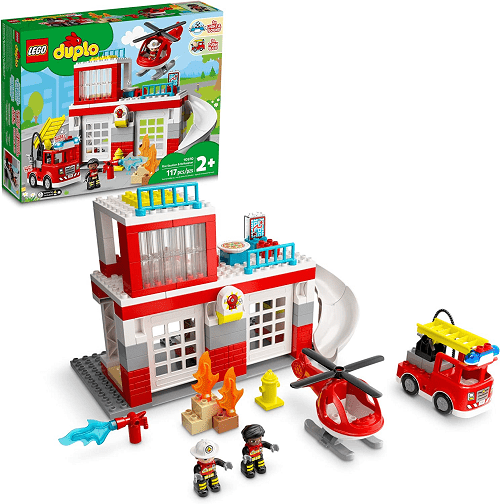 This set is about as close to a real LEGO fire station as DUPLO can get. There's a lot to offer, from a map of the city to a slide down from the second floor to the street, even garage doors that can open up for the truck to head out.
It's a perfect combination of playability and construction, as it's a fairly complex building that won't be finished in a minute or two. Besides the truck and helicopter, there's also an extinguisher with a neat water piece for effect. This doesn't even take into account the pizza that's included for downtime.
Pros
Great construction

: It allows kids to put their building skills to use.

Playability

: There is just tons to do with this set.
Cons
Lack of characters

: I would hope there would be more figures included for a set this big.

No extra setting

: It's great that fire pieces are included, but there's not much to put them on. Another set is needed.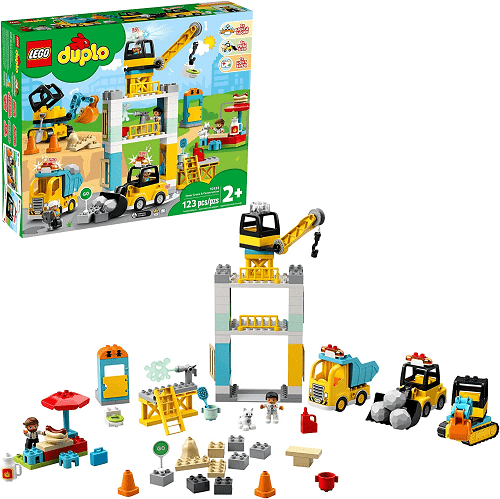 This set is packed. Usually, a crane set comes with a small crane that can lift stuff a couple of inches. I was surprised that this crane is actually two stories tall (in DUPLO measurements).
It can lift stuff pretty high, but that's not the end of the set. It's a full construction site with a dump truck, excavator, and more. It even comes with a little DUPLO porta-potty, which I found both cute and disturbing at the same time.
And a hot dog vendor, too, because anyone who's worked at a construction set knows there are always food vendors close by. A lot is going on, so much that even I couldn't be bored.
Pros
High Crane

: They could have made it much smaller but didn't. That should be applauded.

A lot of extras

: It really is a full-fledged construction site.
Cons
Figures

: Despite having a lot to do, there's surprisingly not a lot of DUPLO people that come with it.

No ladder

: This is more of a pet peeve, but there's no ladder to go with the crane. How do people get up there?!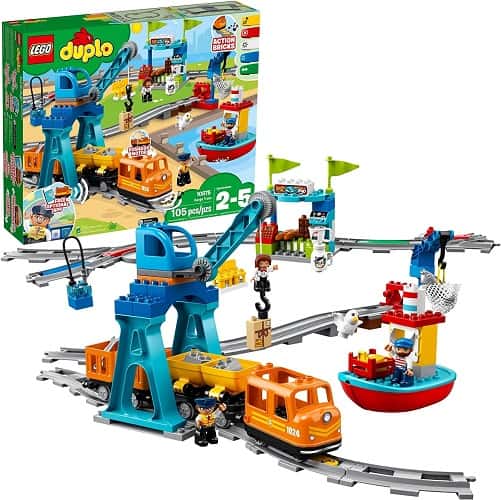 This set really is massive. If you want to get a lot of different features but don't want to buy different sets, this one is perfect. It comes with a fairly long train, a huge crane, a boat, and more. There's also a snack stand that I found particularly random but nonetheless awesome.
There's also a fair amount of track that comes with the set for the train to move along. All in all, this set feels like it's an entire industry wrapped up in one. With the fishing boat, kids would be able to haul the fish, load them onto the train, and then transport them. It doesn't get better than that.
Pros
Size

: Just look at the box, and you can see how big it is.

Figures

: It also comes with enough characters to round out the set.
Cons
Activity overload

: Sometimes, too much can be a bad thing. If your child gets overwhelmed easily, it might be better to pull back and get something smaller.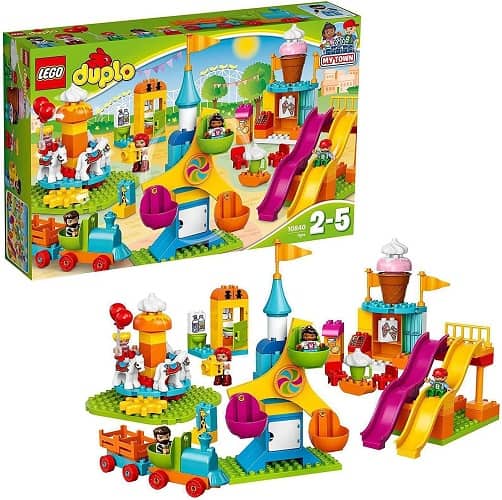 I'm a huge fan of sets that come with individual areas. This way, kids aren't limited by just moving one big thing around. They can rearrange the various sets into different formations. This fair is perfect for that as it comes with various attractions that each specialize in a different type of fun.
There are slides, carousels, and a merry-go-round. Plus, it's great that it comes with a lot of characters, so it doesn't feel as if you're moving one figure around to do everything. You can spread them out so that everyone can enjoy all the fair has to offer at once.
Pros
Variety

: There is tons to do with this fair, and the carousel and merry-go-round actually spin pretty well.

Characters

: Some big sets don't come with enough people. This one doesn't have that problem.
Cons
Price

: It's pretty expensive for a DUPLO set, but I think it's worth it as there's a lot of playability that kids get out of it.

Bathroom

: This isn't really a con, but my son became obsessed with the toilet for some reason. Maybe other kids might find going potty too silly to pass up, too.
FAQs
Question: At what Age Should Kids Start Playing with DUPLO?
Answer: While the suggested age range is displayed on the set, I believe it's never too early to introduce kids to building blocks, as long as it's under supervision.
Question: When do Mids Grow out of Playing with DUPLO?
Answer: It's different for everyone. Kids will let you know which sets they want to build, though.
Question: Does DUPLO ever get Boring for Parents?
Answer: The great thing about building blocks, regardless of the type, is that they can be used any way your imagination takes them. If you're bored building with the instructions, then branch out on your own and make something unique.
Conclusion
It's important to remember that DUPLO is, above all, an educational tool. Sure, kids can learn stuff from regular LEGO bricks too, but toddlers are in such a hyper state of development. They don't just need to learn about building and refining their fine motor skills.
They also need to discover the world around them. This is done through play. But building a truck means so much more than just buying one at the store. It makes them a part of the process and gives them ownership of what they just created.
I've witnessed this phenomenon firsthand with my own kids, and it's given me a totally new appreciation of DUPLO that I never had before.
Related Read