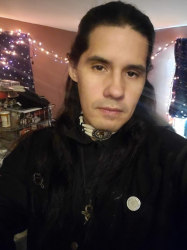 Latest posts by Logan Boese
(see all)
Introduction
In 1903, two North Carolina brothers broke the binds gravity had held on us for thousands of years. They built on the knowledge and innovations of those who had gone before to create something unique. Although they weren't the first to try, they were the first to succeed.
For roughly half that time, LEGO has been letting millions of children and grownups worldwide do the same thing!
Oh, their creations won't fly on their own, of course. But they will let aspiring LEGO builders' imaginations soar.
With hundreds of LEGO airplanes flying through the skies of thousands of LEGO worlds, it was high time we had a list of the best airplane Sets that LEGO has ever released.
Bottom Line Up Front
The Race Plane has everything you could want in an airplane set and more. It has enough for three separate crafts made with pretty generic LEGO bricks. It's everything good about LEGO airplanes, with almost none of the downsides.
Criteria
So how am I determining which of these sets is the best? For this Best LEGO Airplane Sets guide I'm going to use three criteria today:
Aerodynamic Innovation:

Planes are a symbol of innovation and creativity. They're a perfect place for LEGO to flex their wings and show creativity. It will get a higher position if it does that or gives Builders a chance to be creative. Licensing another IP is pretty heavy, so I'm afraid that will make it more likely to end up lower on the scale.

Value:

Flying can be expensive. LEGO planes are one of the most accessible ways to experience the thrill of flight. If a set offers more value to the consumer, it will get a more valuable place.

Pure Joy:

One of the most common dreams in the world is flying. I had enough airplane sets that I might have been able to build a full-sized aircraft on my own. If a set appeals to me for some reason, I reserve the right to break my own rules.
With that, we have no further obstructions and are cleared for takeoff.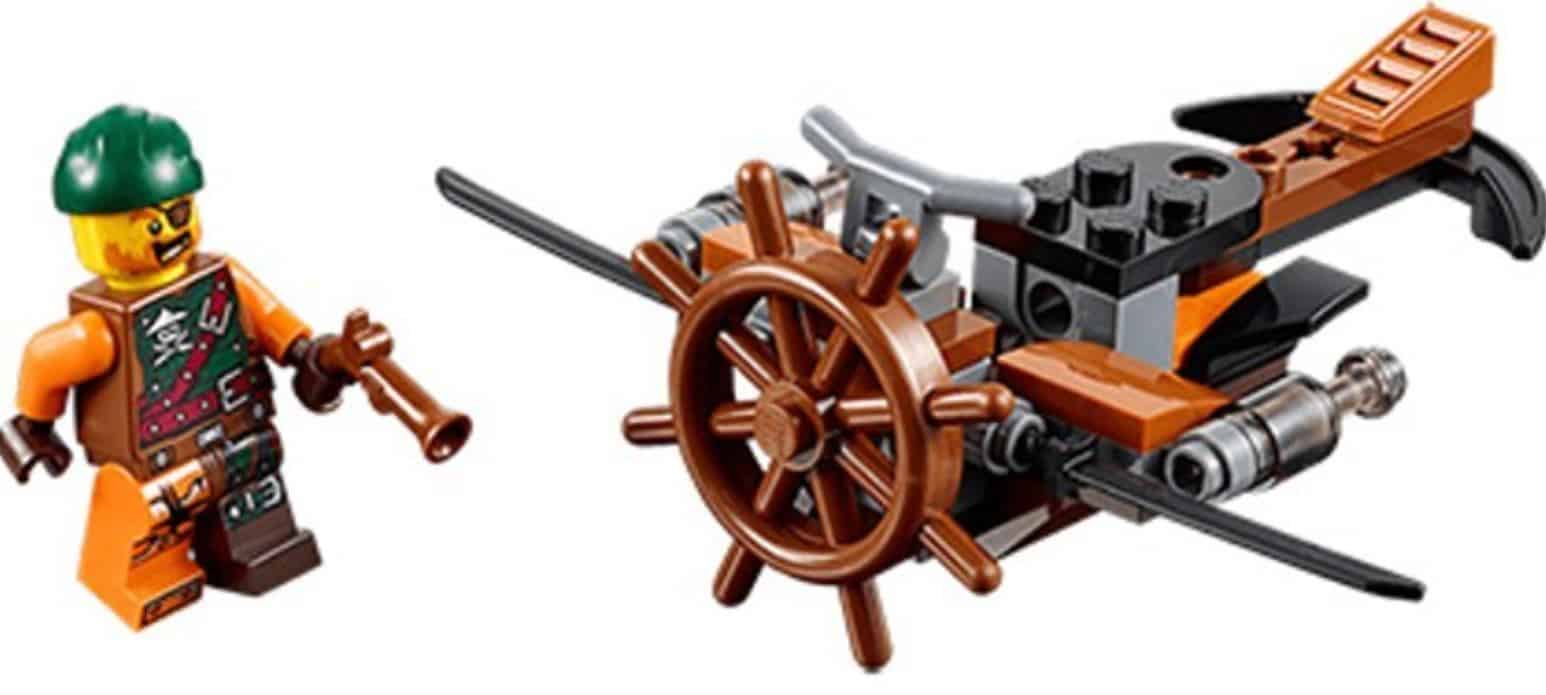 Year Released:

2016

Pieces:

30

Theme:

Ninjago

Minifigs:

1

Approximate Skill Level:

Beginner
Planes have penetrated the public consciousness pretty profoundly. They even appear in settings that don't always make sense to have airplanes.
The LEGO Ninjago line focuses heavily on an "Eastern-inspired" fantasy world. The main characters get around by traveling on dragons and by other magical transportation. Then the sky pirates show up.
To be fair, this isn't the first time the show demonstrates higher technology in the setting, but it is the most blatantly anachronistic to appear. It's small and has a lot of parts dedicated to the build. It wouldn't have made the list if I hadn't noticed that it uses katanas as wings. That's certified weapons-grade awesome!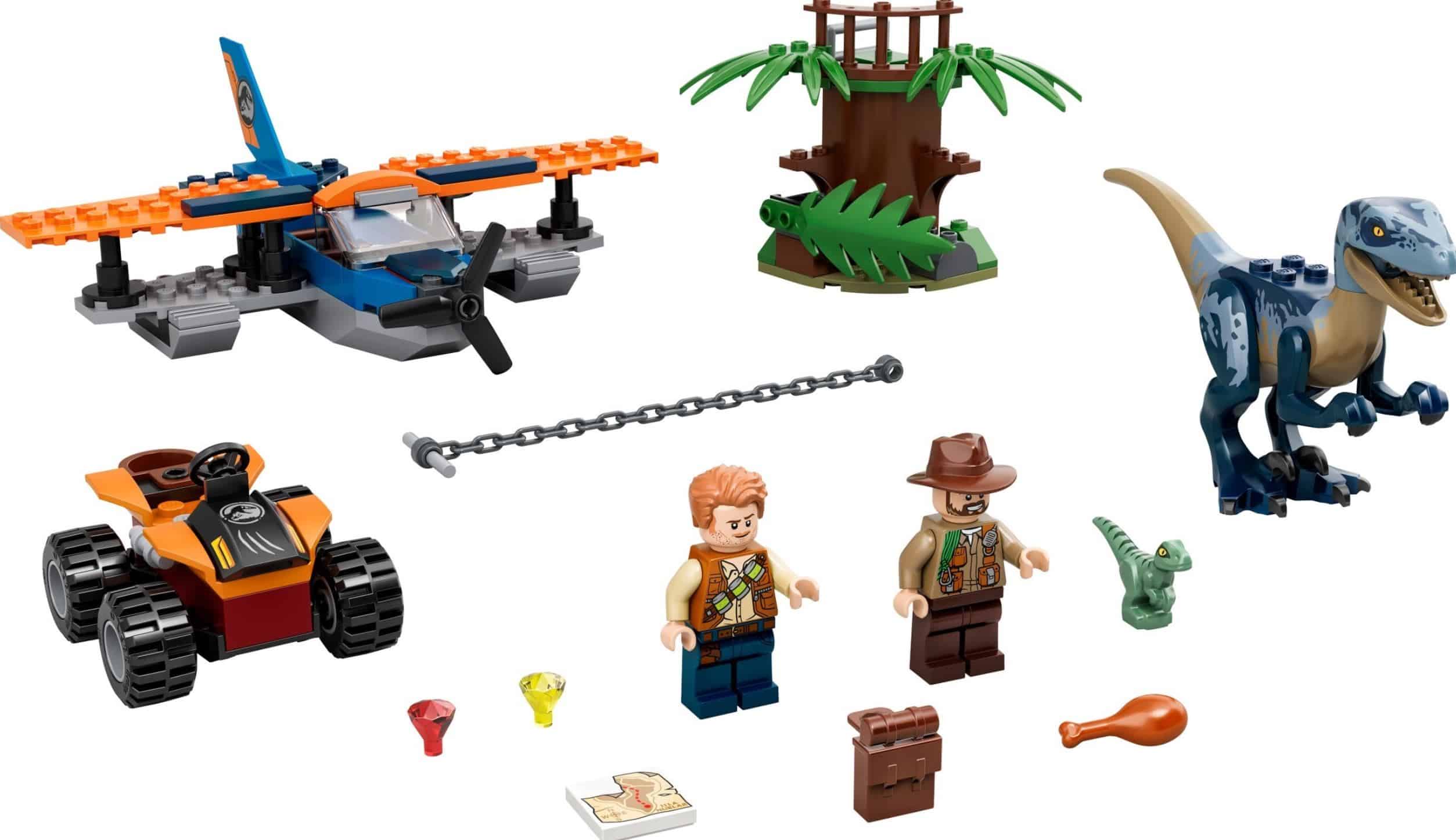 Year Released:

2020

Pieces:

101

Theme:

Jurassic World

Minifigs:

2

Approximate Skill Level:

Beginner
Jurassic World sets are a blast from the past for me. 
Primarily because way back when I was a kid, I had some of the few sets that LEGO produced as part of their Jurassic Park 2 licensed sets. Even before that, I'd used the other T-Rex minifigs and jeep builds to have my own Jurassic Park-style adventures. It was part of the dinosaur phase that I think most kids have.
Today's LEGO Masters have a much easier time of it than I did with sets like this.
I was never much for Jurassic World films. I always thought that they were pale imitations of the original series. This set, however, is the exact opposite, as it's much better than the old LEGO sets. The dinosaur minifigs are adorable, and the plane itself looks like an incredibly creative design.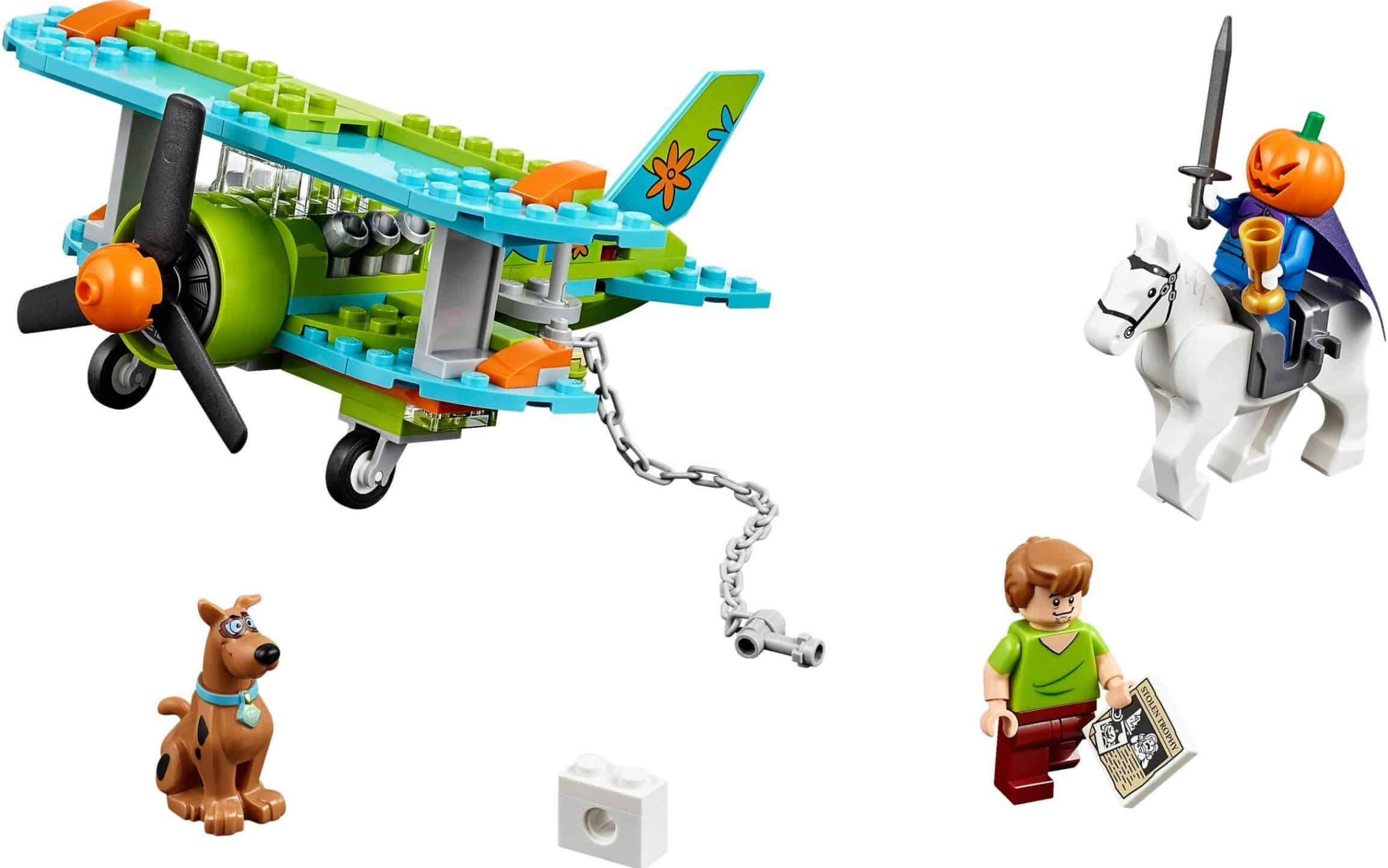 Year Released:

2015

Pieces:

128

Theme:

Scooby Doo

Minifigs:

2

Approximate Skill Level:

Beginner
I was never the biggest Scooby Doo fan. That didn't mean it wasn't great!
I'd never expected to see characters from that IP as minifigs. It's unfortunate that the Scooby included here isn't a minifig. That's a missed opportunity if ever there was one.
The plane is also an incredibly excellent build. It has far too many pieces specific to this build, but it gets some major bonus points for being in the classic pastel and floral pattern. Unfortunately, this can't get any higher because the real star outdoes the plane. That Headless Horseman minifig is just the right blend of cute, cheesy, and excellent that makes LEGO unique.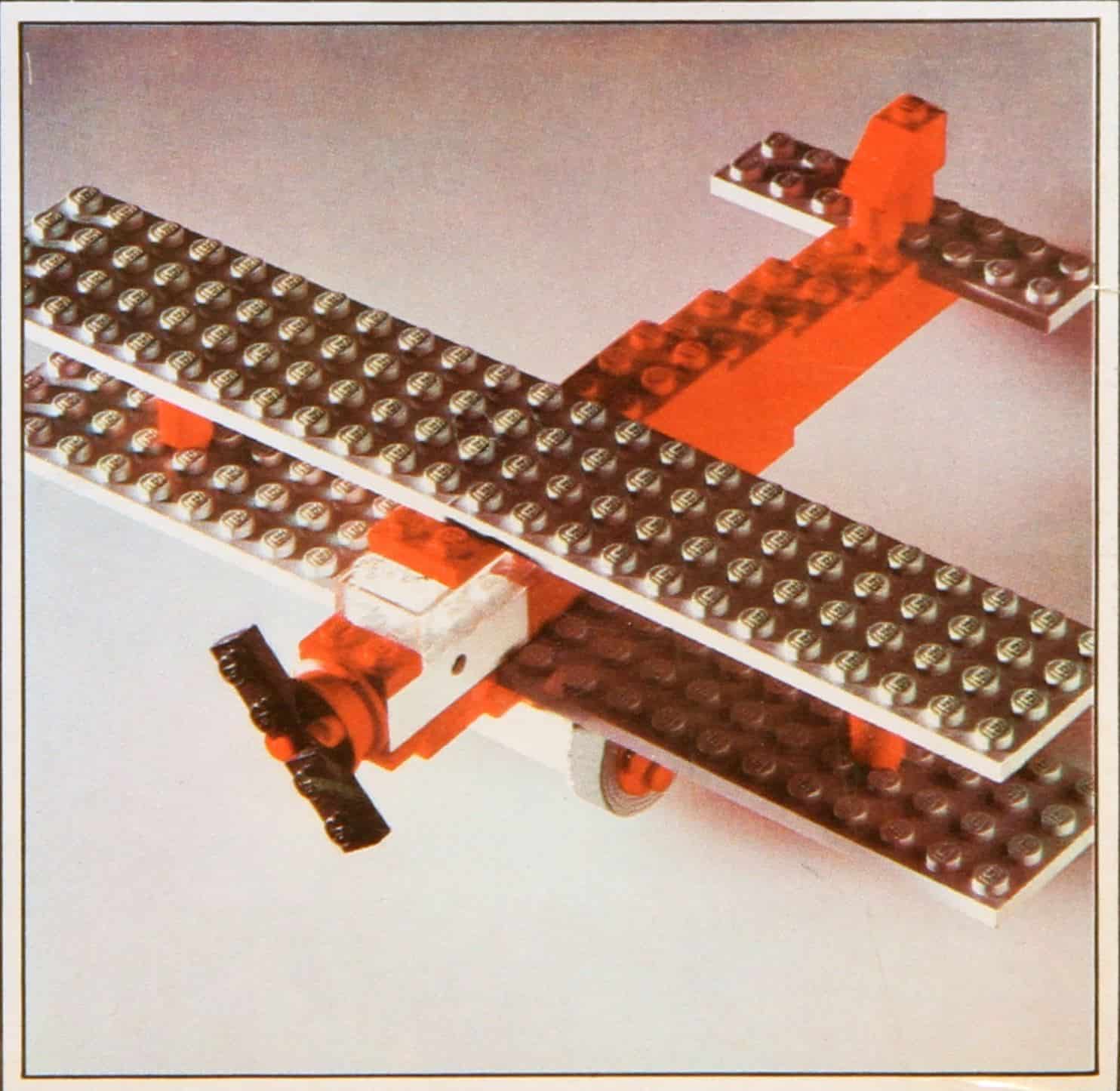 Year Released:

1967

Pieces:

50

Theme:

None (It Predates Them!)

Minifigs:

None (It Predates Them!)

Approximate Skill Level:

Beginner
This set is one of the first planes LEGO ever released. It's not the very first, but it's early enough to predate minifigs and LEGO themes.
The plane uses nothing but old-school standard LEGO bricks. It's incredibly straightforward, but that's not a bad thing.
After LEGO had made their first airplane, they decided they wanted to do something a little more historical and pay homage to the Wright Brother's biplane. I cannot say much more about it, except it only gets better from here.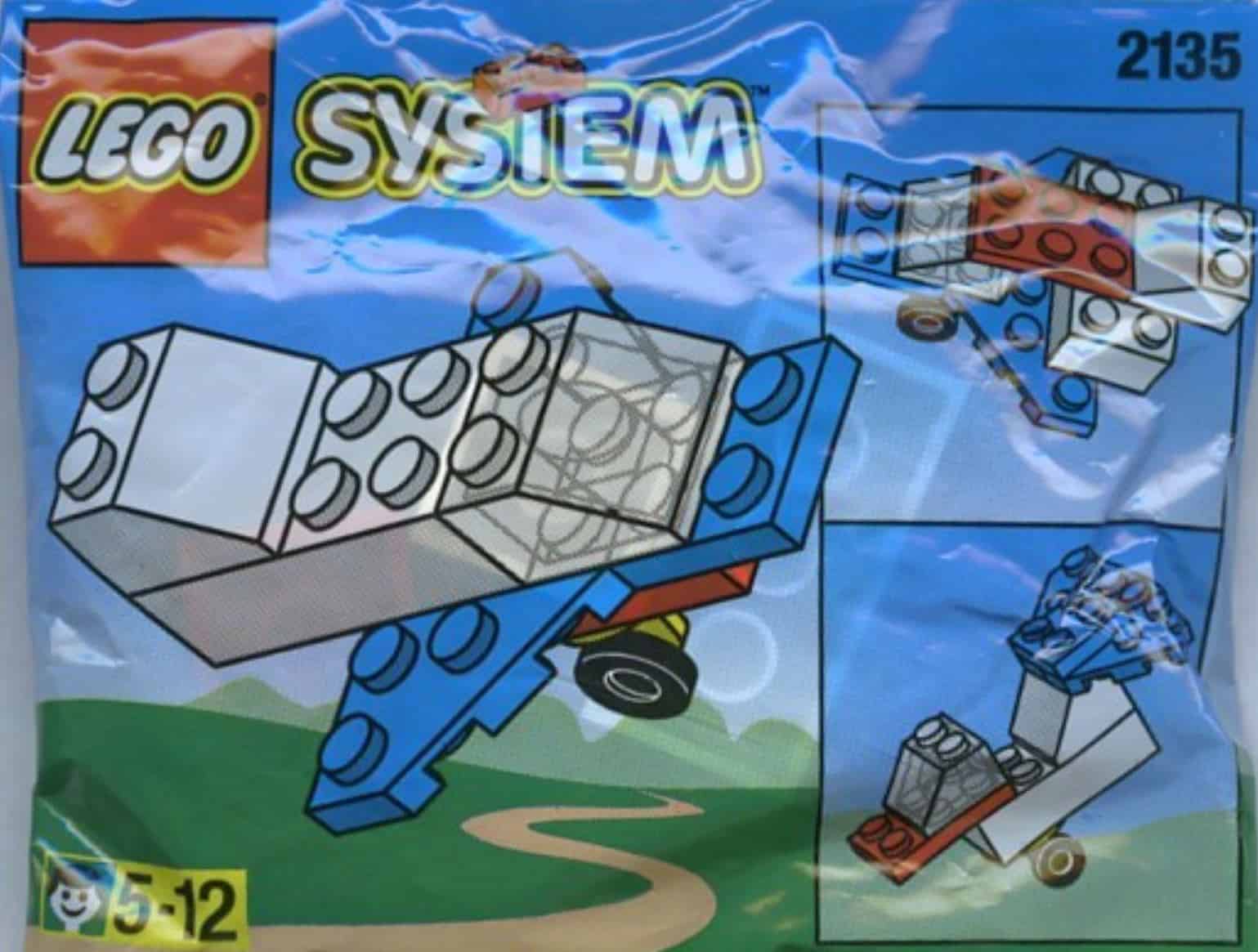 Year Released:

1997

Pieces:

9(!)

Theme:

Basic

Minifigs:

0

Approximate Skill Level:

Tutorial
I'm not going to lie. I considered making this set number one.
It demonstrates the boundless power in the simplest of bricks. There are nine bricks in this set. The most unique of which is a minimal set of wheels. With those nine bricks, a person can make not just one but three different builds of airplane design.
This may be one of the most minimal sets that LEGO has ever released, and it's still powerful enough to generate three different builds, at the very least. It demonstrates what even a few LEGO bricks can do.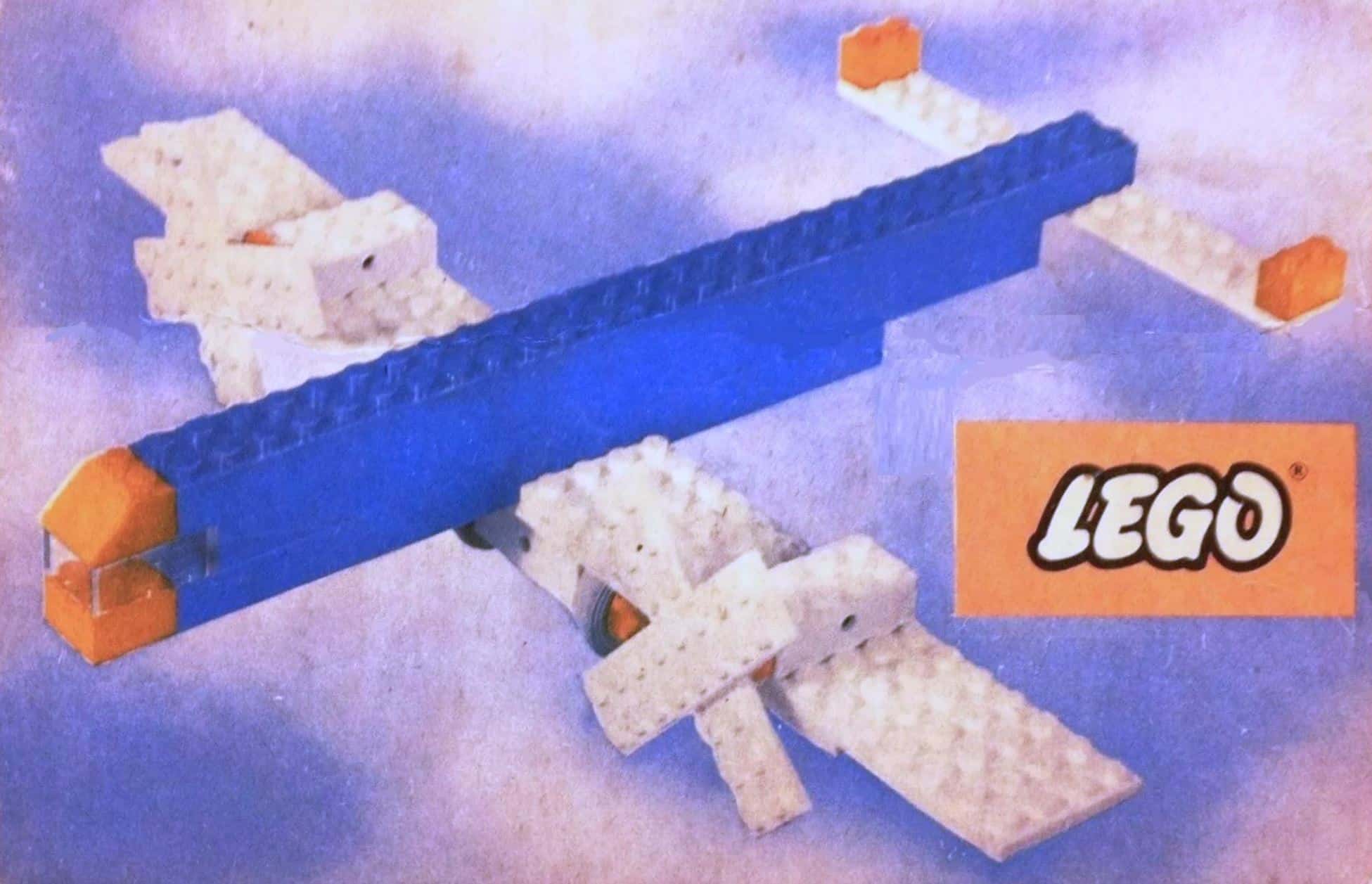 Year Released:

1964

Pieces:

40

Theme:

None

Minifigs:

None

Approximate Skill Level:

None.
This LEGO set isn't one I had, but it answered a question I've had for years.
Namely: Why my grandfather always pronounced it as "arrow plane." Apparently, that was just the way people used to say it.
LEGO designed the Biplane to look like something out of history. It decided to go more modern and built this set to look like a commercial passenger plane of the sixties. It even goes so far as to recreate the propellers with a simple build.
It's fundamental and made of many standard bricks of the era. The "worst" part is that it looks like a thing of its time.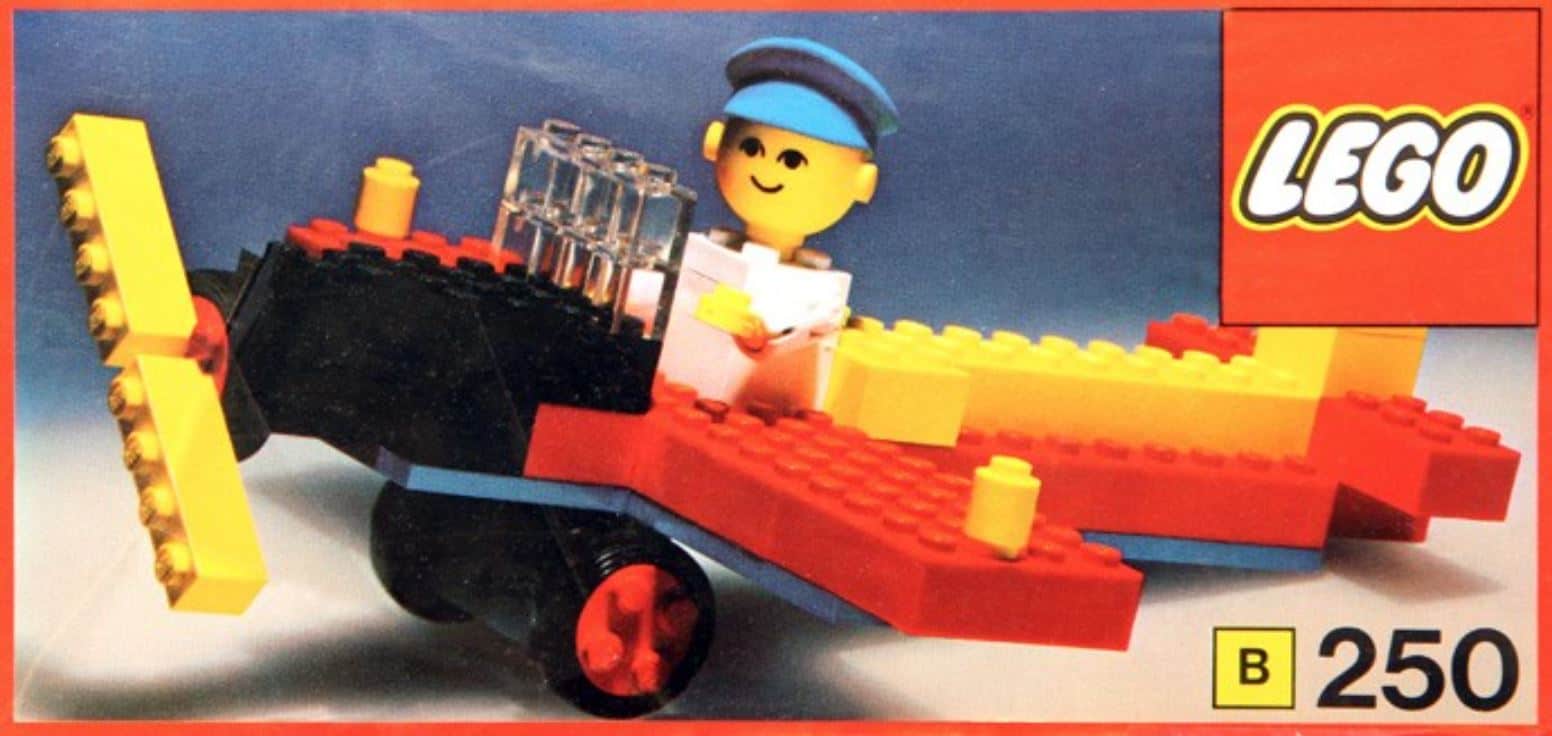 Year Released:

1974

Pieces:

90

Theme:

Building Set with People

Minifigs:

"1"

Approximate Skill Level:

Beginning
Planes had been a part of LEGO for over a decade, but they still needed something.
They needed someone to fly it, of course!
This has one of LEGO's Maxifigs serving as the "scale figure." It's from a very short period when LEGO was experimenting with the maxifigs as their central character. It would last a little less than two years before they went back to the drawing board.
Still, this is also the period where LEGO airplanes used nothing but ubiquitous bricks that could be in anything.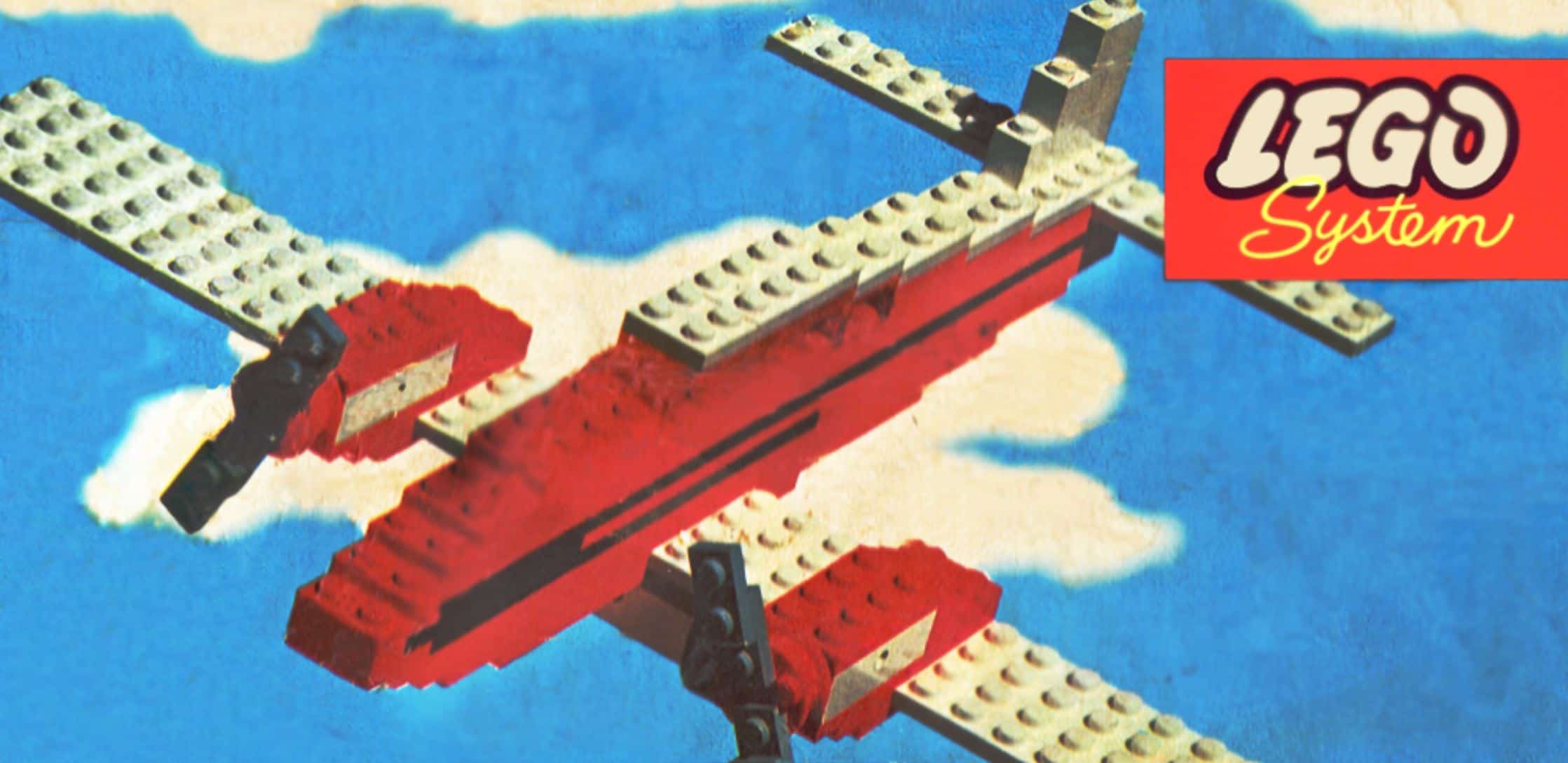 Year Released:

1965

Pieces:

120

Theme:

Basic

Minifigs:

0

Approximate Skill Level:

Beginner
I was surprised when I discovered this set was the very first LEGO plane.
This was in the LEGO sets my mother passed down to me, except it was an outlier in that it had a sheet of notebook paper over its plastic container that just said "Plane." My mother had had the original packaging cut out and taped to the top or set on the bricks for most sets. (She's the type that likes organizing.)
Without that sheet of paper, you'd be hard-pressed to realize that this was even meant to be a set. It's an excellent example of how LEGO can use its most common bricks to make incredible builds.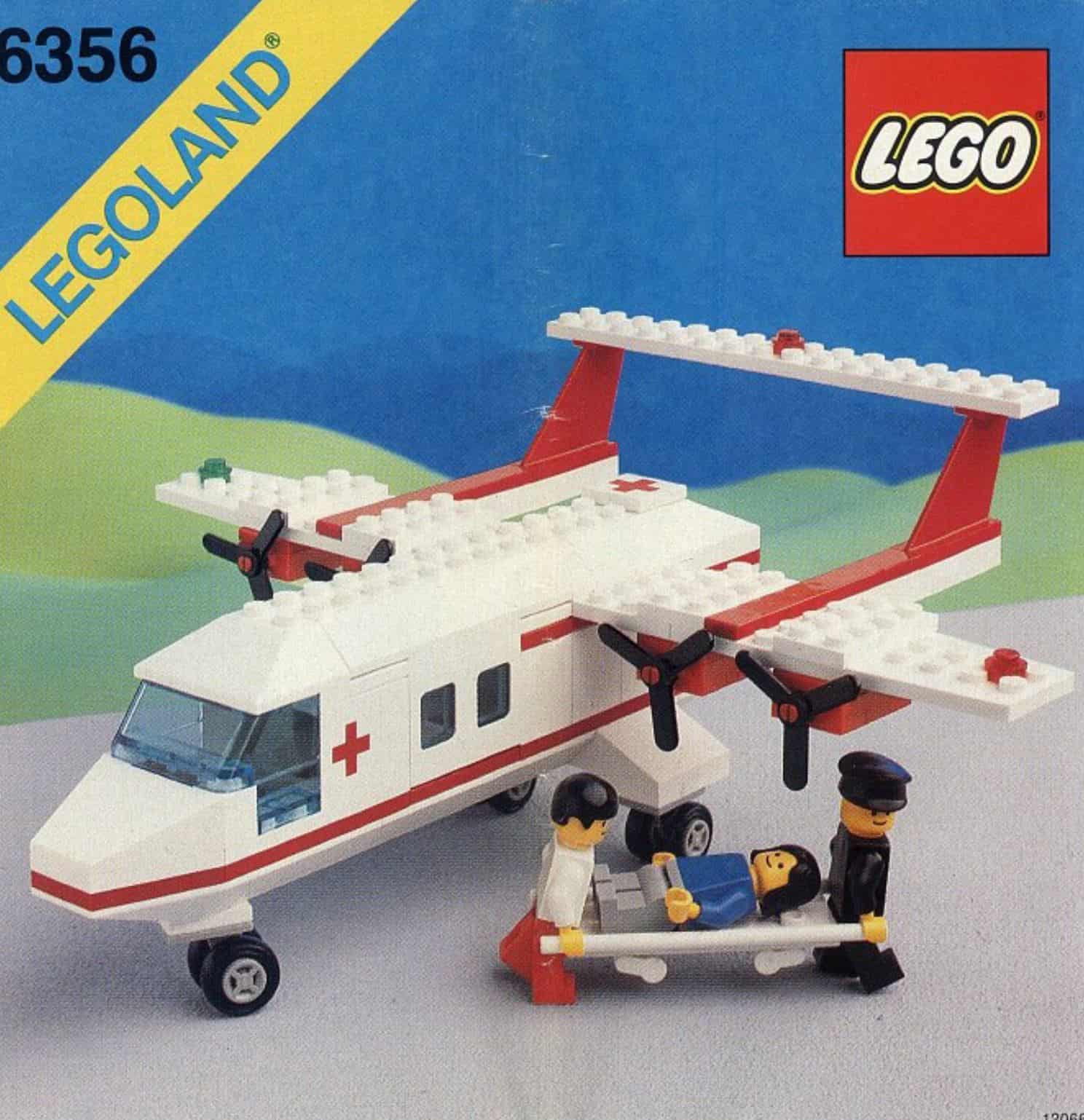 Year Released:

1988

Pieces:

159

Theme:

Medical

Minifigs:

3

Approximate Skill Level:

Beginner
We're flying ahead to the late eighties now, and this set is an incredible example of what that decade has to offer.
It's got gentle curves that lead into soft angles that typified the decade's design philosophy. The build is primarily classic pieces, a nice change for this list, but it was common in that era.
At first glance, it might seem like this "just" focuses on medical personnel. However, that's not the whole of it. This is very specifically about the Medstar company. Medstar was one of the first medical transportation services that significantly focused on air transportation.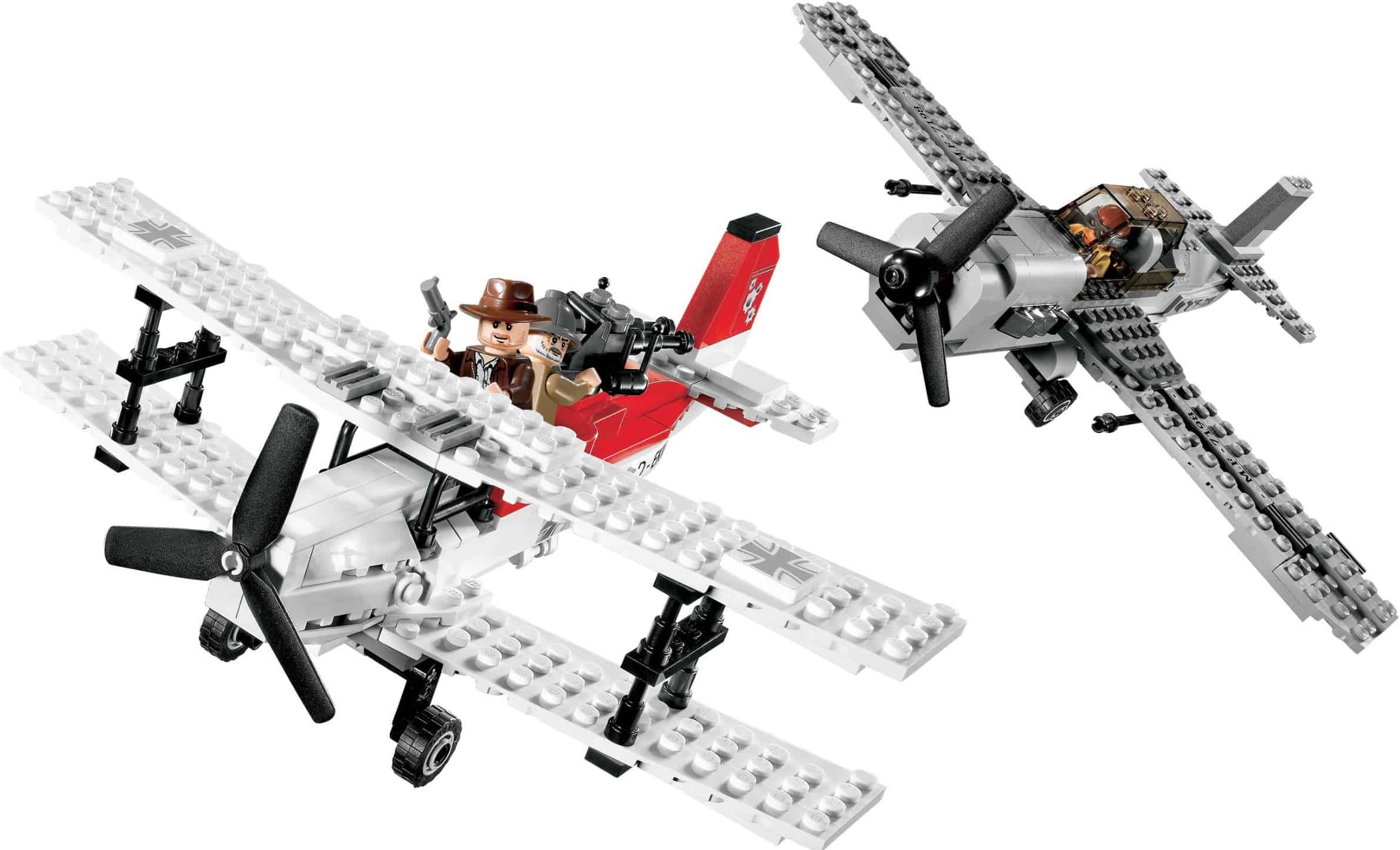 Year Released:

2009

Pieces:

384

Theme:

Indiana Jones and the Last Crusade

Minifigs:

2

Approximate Skill Level:

Moderate
The Indiana Jones films were a staple of the eighties. It followed the exploits of an archaeologist adventurer as he tracked down ancient artifacts and battled nazis. 1989 saw the release of Indiana Jones and the Last Crusade. For almost twenty years, that was the last we saw of the whip-wielding action professor.
It wasn't until 2008 that the next film in the franchise would release, Indiana Jones and the Kingdom of the Crystal Skull. Public reception to the movie did not live up to expectations. (It was so bad that we will only get the next one later this year, in mid-2023).
Still, LEGO has never been one to miss an opportunity. With a new film in the franchise and LEGO having the license to produce sets, why not focus more on the last successful one? That's how we ended up with these babies twenty years after the film was released.
The airplanes in it are gorgeous and have many instrumental building pieces. It would have been much higher if it wasn't licensed.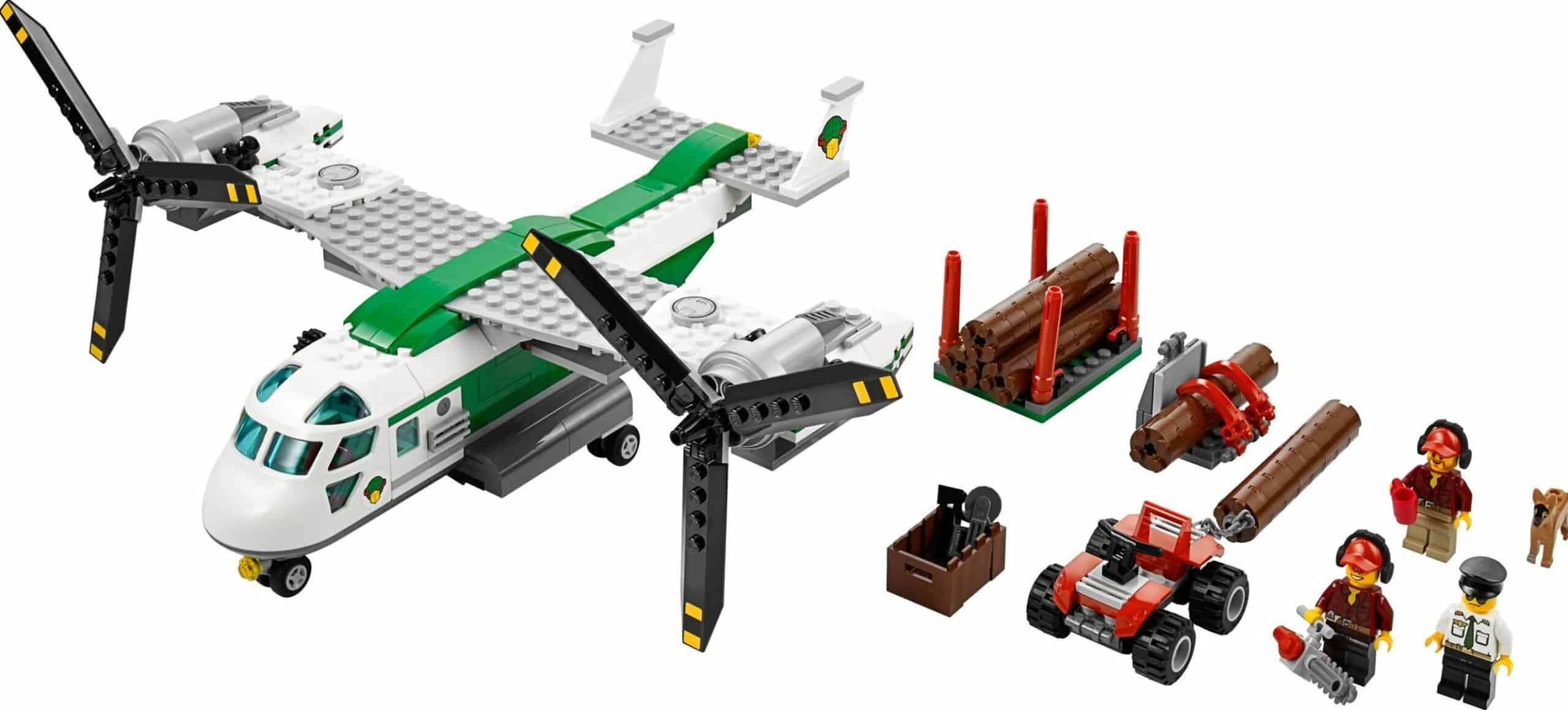 Year Released:

2013

Pieces:

393

Theme:

City

Minifigs:

3

Approximate Skill Level:

Moderate
With so many pieces, it might be surprising that this is only a "Moderate" skill level.
That's because this airplane has many pieces designed to fit with only its pieces. It makes the bricks utterly useless for anything that's not this build. While it makes for a lovely design, it flies in the face of what LEGO should be for me, and I have to mark it down for that.
Still, the real reason that it's getting such a high place on this list is that I wanted to highlight the exquisite minifig pieces. The logs and other accessories are incredibly detailed. It also underlines the necessity of cargo planes in the modern world.
Year Released:

2023

Pieces:

376

Theme:

Sonic: The Hedgehog

Minifigs:

2

Approximate Skill Level:

Advanced
If the nineties put on a pair of red sneakers and ran really fast, you'd get Sonic: The Hedgehog.
Sega Entertainment created Sonic in 1990 to star in their new 2D-platforming game. His games are all about speed and reflexes. Meanwhile, Sonic is pure nineties attitude, even in his latest outings. In the second game in the series, he got a sidekick in the form of Miles Prowler, a two-tailed fox.
Miles, (nicknamed Tails for hopefully-apparent reasons) can use his tails to fly like a helicopter. He's also a skilled pilot, and that's the part this LEGO Set focuses on.
Sonic and Tails are hanging around their house, with Sonic taking it easier. Nearby, however, is Tail's airplane, "The Tornado." That plane is fantastic enough that it earned a top-ten spot despite being a licensed property. The aircraft uses mostly standard bricks, and many pieces that mark it as a Sonic property are easily removable.
This one won't be released until August later this year, but it promises to be an exciting set.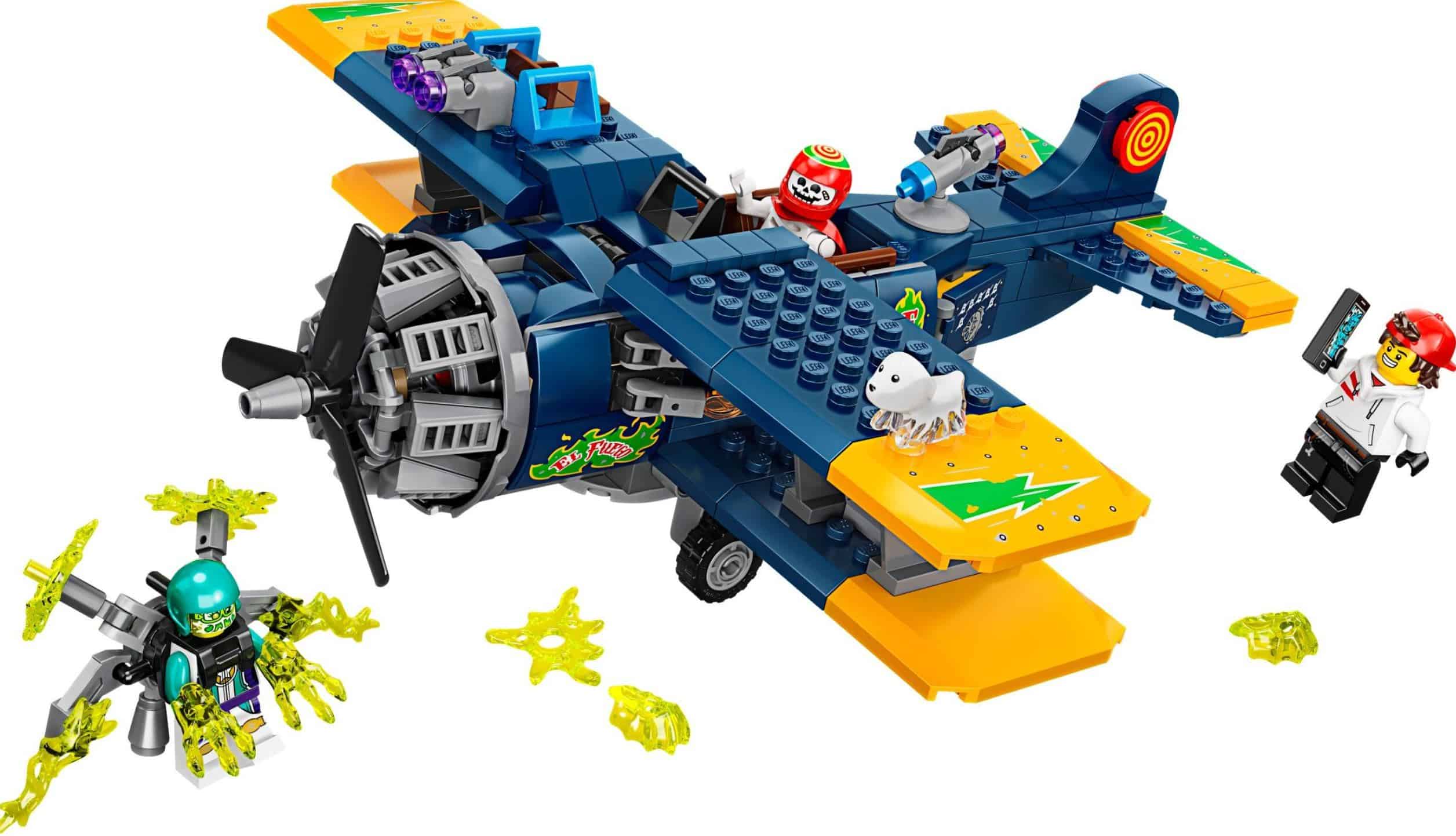 Year Released:

2020

Pieces:

295

Theme:

Hidden Side

Minifigs:

3

Approximate Skill Level:

Moderate
What would happen if you combined Scooby Doo, Ghostbusters, LEGO, Danny Phantom, and Pokemon Go?
The answer is LEGO's "The Hidden Side" theme.
The Hidden Side aimed to incorporate elements of physical bricks, augmented reality, and a multiplayer game to create an immersive experience for aspiring LEGO Masters. Players would get physical sets of bricks to interact with within the app. The general idea was that the players would combine forces with the characters to hunt ghosts!
The app has been discontinued, and the physical brick sets are out of print, but it doesn't stop the hidden side from being one of LEGO's most creative themes in decades.
This features the Evel Knievel-like character El Fuego and his stunt airplane flying headlong toward a cybernetically-enhanced ghost. The plane itself has way too few standard pieces for my liking. If the bricks were more generic, this could have taken number one.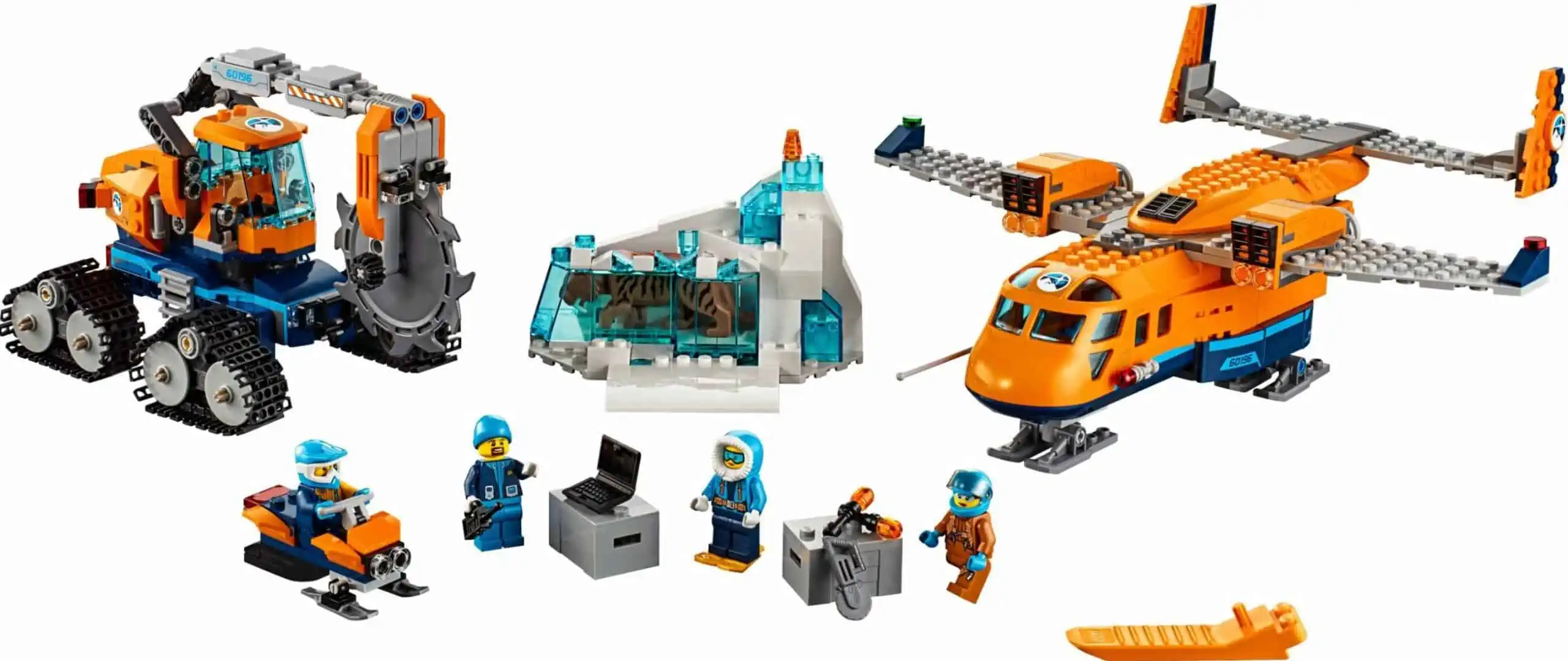 Year Released:

2018

Pieces:

707

Theme:

City

Minifigs:

4

Approximate Skill Level:

Advanced
Planes fulfill many necessary roles in society.
They carry people, cargo, and even medical personnel. They're a critical part of the modern era and, for some people, necessary for survival.
The set has all the pieces you need to construct an Arctic expedition. You have the team, their boxes of supplies, and their excavator to help retrieve their prize. Then you have their prize (a full-bodied sabretooth cat frozen in ice) that can be taken apart to let the sabertooth roam free.
Then you have the plane, which carried them there and is what they'd use to take them home. It would also need to bring them fresh supplies every two weeks to ensure they didn't freeze or starve to death. I'm fond of the feet on the airplane. After taking off, they have enough articulation to lift and fold against the plane.

Year Released:

2019

Pieces:

363

Theme:

Fire

Minifigs:

3

Approximate Skill Level:

Moderate
It's almost bizarre how planes are so commonplace, yet many of their uses are forgotten or overlooked. If you ask most people what a plane's most important task is, they might say several things.
Few people would talk about how useful they are in fighting fires.
This build can take that heat. It spotlights a critical service that aircraft serve in the modern era. An area is on fire, and the firefighters are there, ready to help. However, the firefighters haven't reached containment yet. Fortunately, they don't have to do it alone! There's a plane loaded down with water to help douse the flames.
The plane is made of very curved LEGOs that are bright, fire engine red. They're also painted with fire livery. Most of the aircraft will be less beneficial for other builds, but the plane itself is gorgeous when it's finished.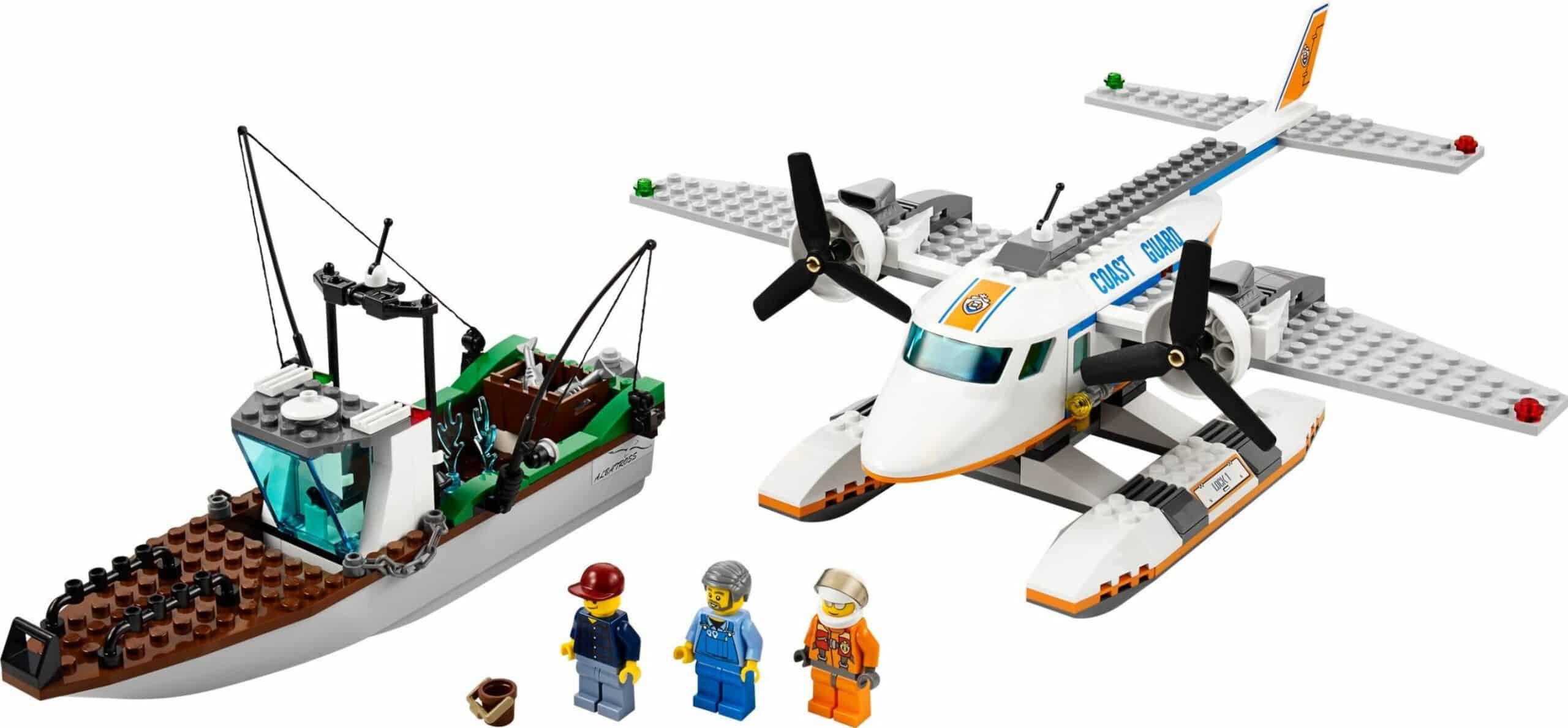 Year Released:

2013

Pieces:

279

Theme:

City

Minifigs:

3

Approximate Skill Level:

Moderate
The Coast Guard is a branch of the service that has and uses planes more often than people might expect. The coast guard responds if someone is lost at sea or on land near the shore.
In a Search and Rescue situation, they use boats and planes like the ones in this set to search high and low.
The plane is built of a surprising number of standard LEGO bricks usable for almost any build. The only parts that are not are the nose and fuselage, and that seems to be pretty standard practice after the 1980s.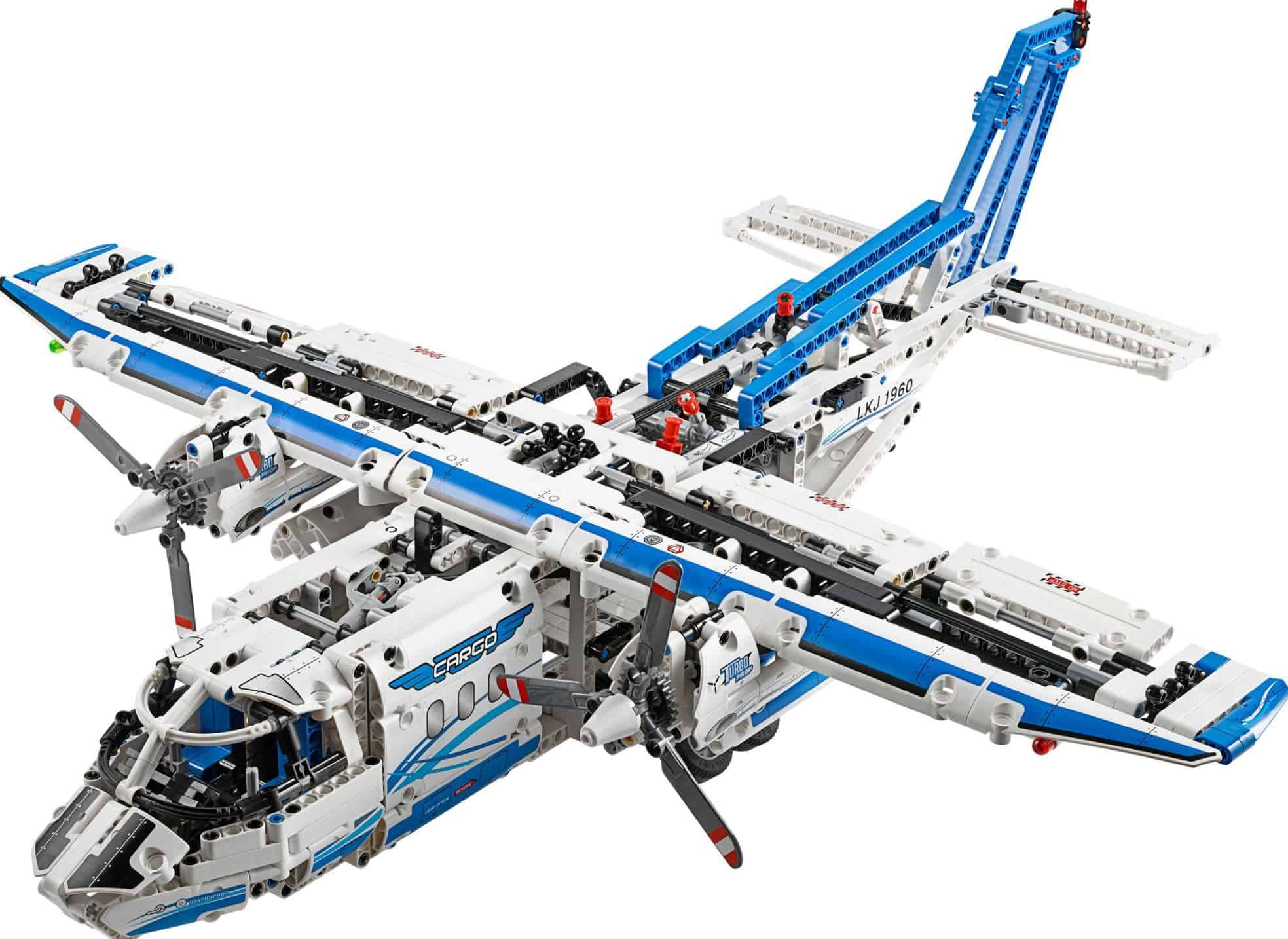 Year Released:

2014

Pieces:

1294

Theme:

Technic

Minifigs:

0

Approximate Skill Level:

Expert
The LEGO Technic line was initially conceived as an option for older children to age into. It added more extravagant elements to LEGO builds, such as rods, gears, and sometimes even working motors. 
Since the early two thousands, LEGO evolved the line to include "studless" creations. These were builds that didn't have standard bricks whatsoever, and that's what this plane is.
There are no standard bricks whatsoever. However, the size of the rods and the holes in the other pieces are such that they can still interact with more standard LEGO sets.
It's not the most attractive build when finished, but it is one of the most functional. It won't fly, but when it's finished, there are switches that will turn on the propellers to rotate, raise and lower the nose, and open the bay door automatically. The wings ailerons (the rectangles that lift and lower to control lift) are also movable!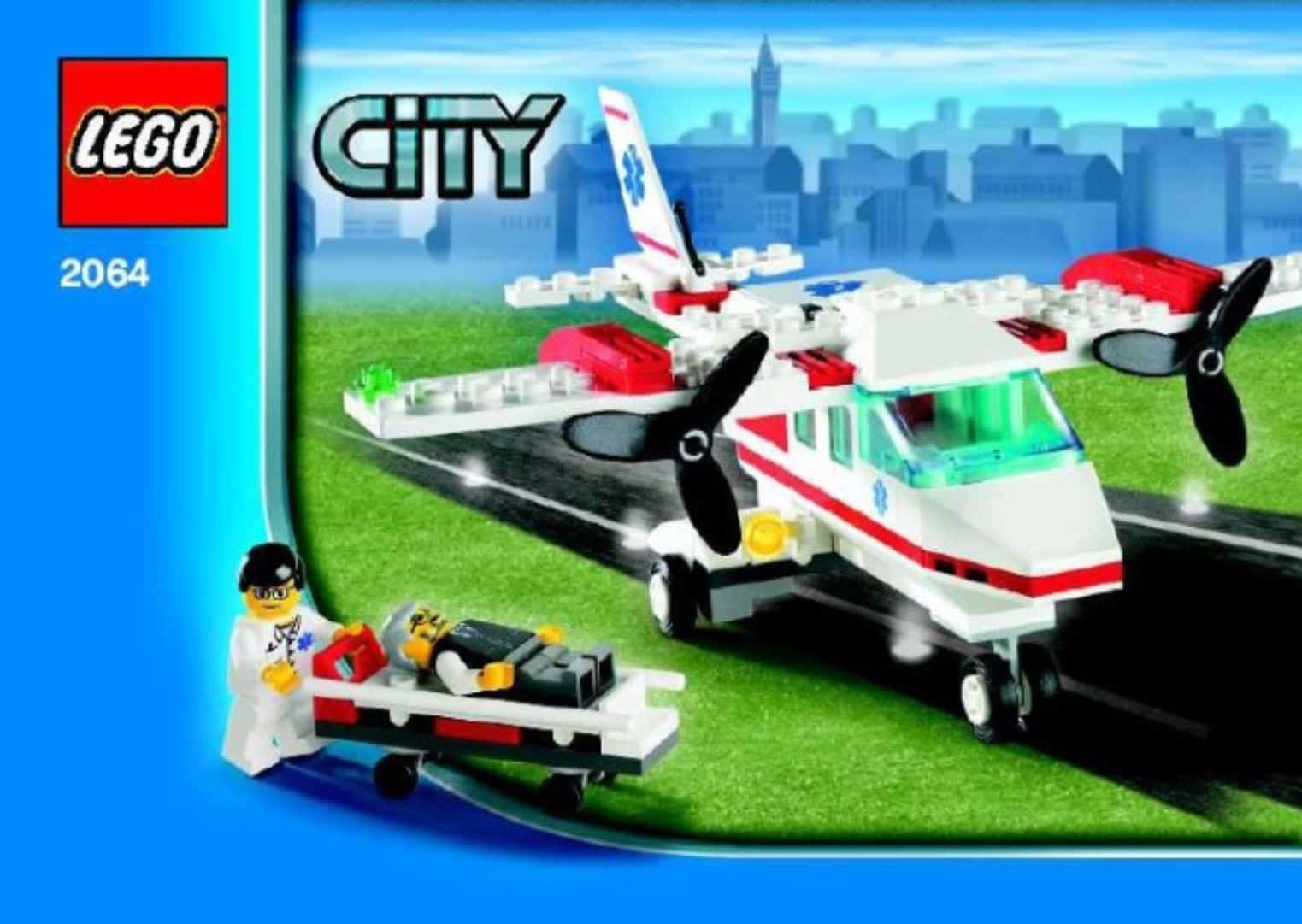 Year Released:

2007

Pieces:

116

Theme:

City

Minifigs:

2

Approximate Skill Level:

Beginner
Finally, a plane made almost entirely out of standard LEGO bricks! No unique pieces for the fuselage or the landing gears! The nose is still singular but white and can be used for almost any other plane.
This is an example of the same kind of plane as the Med Rescue Airplane above. It's got a similar number of pieces and minifigs included. It even has a similar design with propellers and three wheels.
However, this one deserved the higher place between the two because this one has a less obvious livery. It makes it more useful for other builds than this one if you ever want to disassemble it.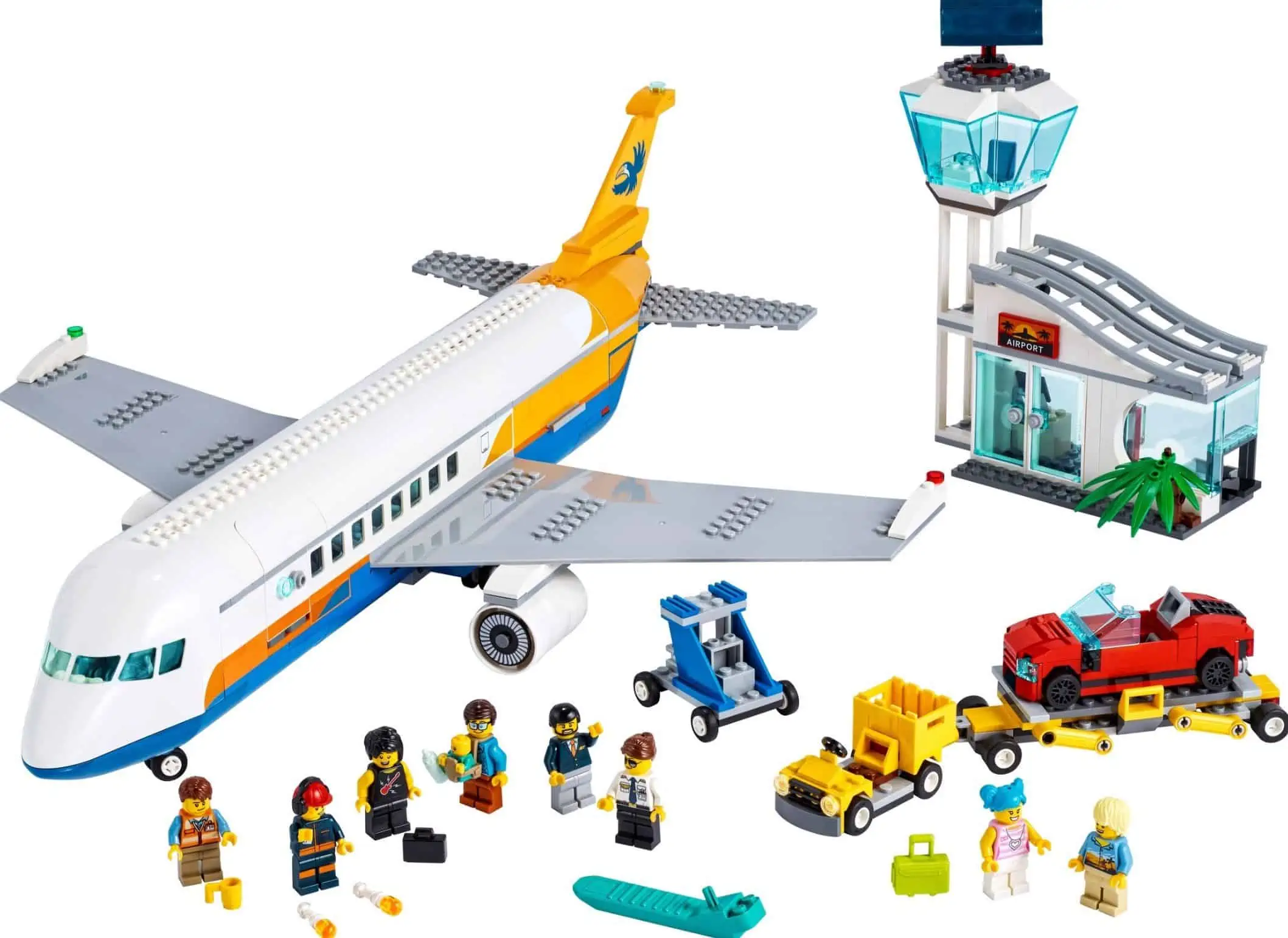 Year Released:

2020

Pieces:

669

Theme:

City

Minifigs:

9

Approximate Skill Level:

Advanced
I agonized over whether this should take number one or two, but I eventually settled on number two because the other option was a little better. If the plane in this set were made of more standard pieces, it would have taken number one easily.
This is absolutely massive, as might be expected from a set that seeks to recreate a modern airport and airliner. The plane is huge and perfectly scaled to the size of LEGO minifigs.
I like how they included much of the crew and equipment necessary to get an airplane into the air. There are ladders and airport caddies. There's even an included LEGO car that can be loaded into the hold of the massive aircraft.
Special mention should go to the minifigs included with this set. It consists of a femme-presenting pilot as well as a masculine air steward. It also has several minifigs representing obvious passengers (including an adorable baby fig). However, it also includes minifigs representing the baggage handlers and flight crew.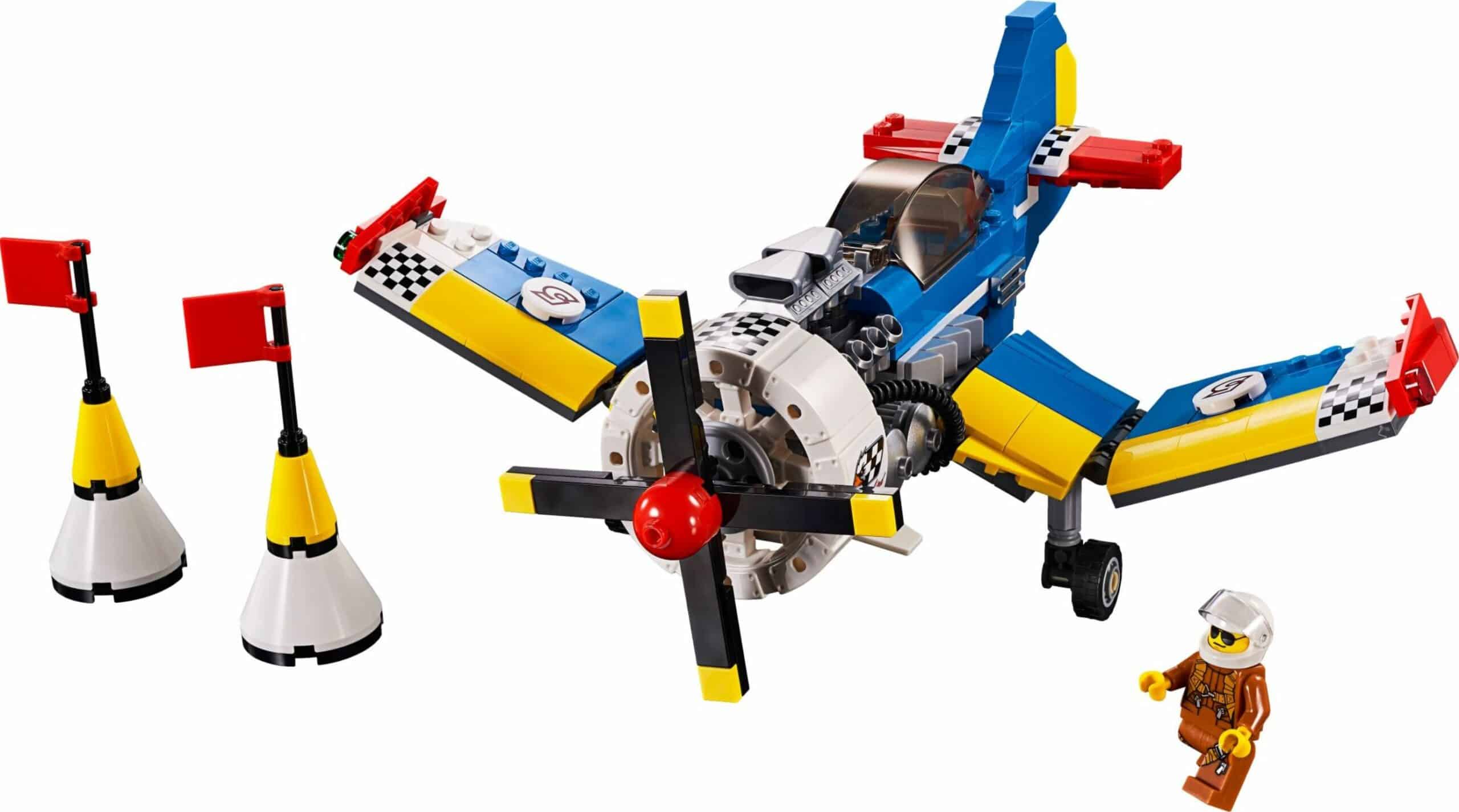 Year Released:

2019

Pieces:

333

Theme:

Creator

Minifigs:

1

Approximate Skill Level:

Advanced
LEGO released several sets that were labeled as "Creator." The first was dedicated to very large builds. However, that was discontinued very quickly. The next "Creator" line was designed to be a "back-to-basics" approach, where Creator sets focused on demonstrating the raw power of the bare LEGO brick.
In other words, it's my kind of LEGO theme.
This particular set is part of the line that was aimed at a slightly older demographic. It came with more complex creations and sets that could accomplish more than a single design goal. Many at the time had the label of "3-in-1", and this set is no different.
This particular set can be assembled in three different ways. It can be formed as a racing plane with folding wings, a military jet, or a very advanced helicopter. It is, in many ways, the most advanced aircraft set that LEGO has ever released—that level of creativity and dedication to LEGO's finest qualities is enough to fly this set to the top spot as the best airplane set that LEGO has ever released.
Conclusion
LEGO's airplanes have been flying for over six decades. They've been made both very simple and very complex. They've been released as very generic affairs and as things that only fit specific settings.
Their paint and their livery don't matter. It doesn't matter if they were designed with real-world aerodynamics in mind or not. It doesn't even matter if they were created to be simple or extravagant.
One thing is entirely sure: LEGO airplanes are some of the most incredible builds that can be made. Even if LEGO had never released another airplane set, there would never be a lack of airplane creations in the community.
Builders will be creating their dream aircraft until the sky itself falls.
Frequently Asked Questions
Question: What was the first Airplane-themed LEGO set released?
Answer: That would be the (Red) Airplane at number 13 above. It was released in 1965. 
Question: How many Airplane sets has LEGO released?
Answer: Literally hundreds. It isn't easy to count as many airplanes appear in sets that aren't labeled as such.
Question: Are there any that are currently available?
Related Read