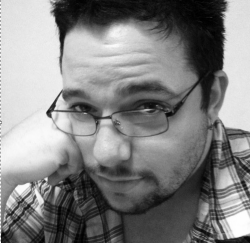 Latest posts by Mark LoProto
(see all)
Even the greatest of adventurers can fall to pieces sometimes. Even the great Indiana Jones. At least, he can when he's in his LEGO form.
Though the Indiana Jones series has always been laden with more adult themes, younger audiences latched on to the fedora-wearing, whip-cracking hero and his misadventures around the globe. And if kids are into it, you can bet there's a LEGO set for it somewhere out there.
When it comes to Indiana Jones, there are actually quite a few, each one depicting new and familiar perils for the thrill-seeking history professor. For your LEGO Indiana Jones fix, you have a few official options, but you also may want to consider some well-executed MOCs (My Own Creations) from the brilliant users at Rebrickable.com.
There are plenty of official LEGO Indiana Jones sets that could round out a list of the absolute best. However, some of the user creations out there are way too good to overlook. So, this list of the Best LEGO Indiana Jones sets crosses borders to blend the best of LEGO's concepts with the brilliance of talented Builders.
If you're looking to bring a little boulder-evading, Nazi-punching, high-flying adventure into your life, consider piecing together these best LEGO Indiana Jones sets.
Bottom Line Up Front
Indiana Jones is as much a household name as LEGO is, so it only makes sense that the two come together in some exciting builder sets. Great for Adult Fans of LEGOs (AFOLs),Teen Fans of LEGO (TFOLs), and casual builders, the following official sets and MOCs embody the excitement of stepping into Indy's shoes for a spell.
I should warn you, even though some of these are official, there are no in-print LEGO Indiana Jones builds. Yet. If you do go for an official LEGO set, you can expect to spend more than retail—and it may take some digging. Otherwise, the MOCs on this list are a great depiction of Indy and his many, many perils.
My Top Picks
Between the vaulted official sets and the MOCs I was able to dig up (archaeology pun!), there was quite a selection of fun builds in front of me. The following, though, are, I believe, to be the best of the LEGO Indiana Jones sets out there. If you're looking to build up a collection of blocky Indy adventures, definitely start here.
Selection Criteria
Even though there weren't that many LEGO Indiana Jones sets to choose from, I still employed specific selection criteria I always apply every time I look for a new set to build.
Most importantly, I wanted to showcase LEGO builds that looked fun to work on. That could mean there were a lot of components and moving parts or that it's from a memorable part of the Indiana Jones franchise.
I also wanted to pick out sets that looked challenging. When it came to finding MOCs, creativity was a key component of my selection criteria. Was it just a rip of an existing set? Or did the builder put some thought into a unique and original idea?
You might also be interested in: 20 Creative LEGO Ideas Guide
7 Best LEGO Indiana Jones Sets
Bring home adventure and thrills with one of these seven LEGO Indiana Jones sets. Based on Indy's greatest escapades around the globe, each set explores a set piece from each of the Indiana Jones movies. Even the MOCs remain true to Indiana's theatrical appearances, going places that the official sets don't explore.
Venice Canal Chase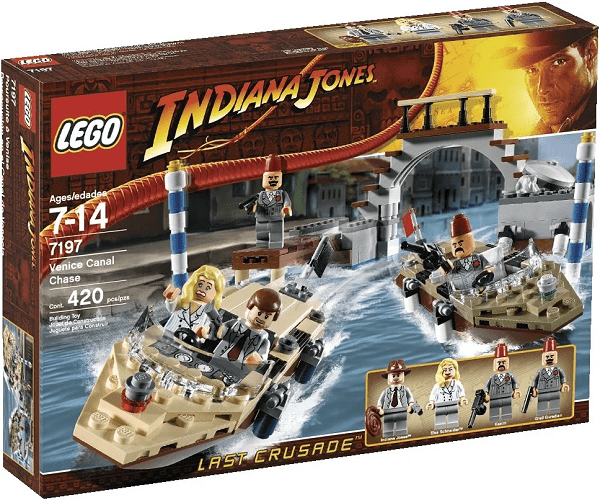 After taking an impromptu swim, Indy and his sopping heroine Elsa hop into a speeding cruiser to make a quick getaway in the waterways of Venice.
While it doesn't quite make it to the classic canals you're sure to visualize, this LEGO set takes a little creative liberty with the scene. A modest 420 pieces go into a pair of 6.75-inch-long boats and a footbridge. It's a relatively easy set to piece together, but it offers quite a bit of excitement.
The boats are interactive with an "exploding" motor and breakable bottoms for when Indy's thrilling chase comes to a head. The bridge can collapse at a pivotal moment in the chase, possibly leaving behind one of Indiana's pursuers. The set comes with an Indian Jones minifig, along with Elsa, Kazim, and a grail guardian.
Pros
A simple and fun build
Interactive boats with destructible parts
Plenty of additional minifigs to amp up the action
Cons
There are better scenes to emulate in The Last Crusade
May be a little too simple for some builders
Takes some liberties with the movie's slightly more perilous events in Venice
Indiana Jones Skyline Architecture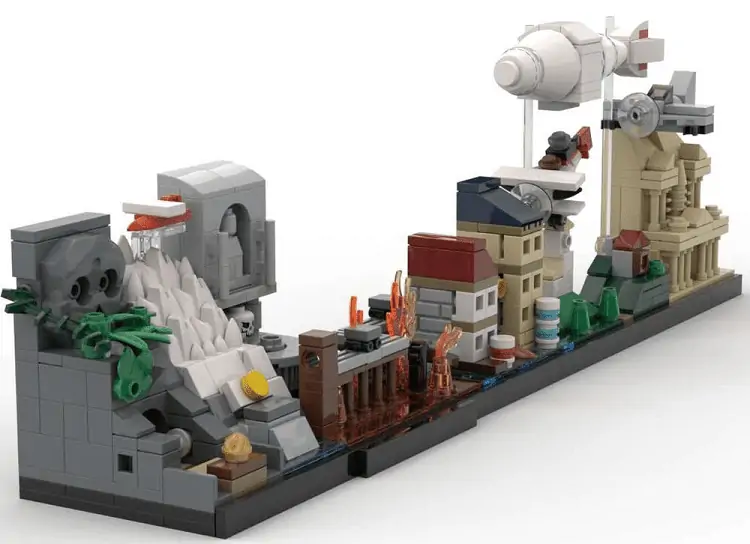 Why choose an official set from just one Indiana Jones movie when you can pay tribute to all of them in one skyline view? This MOC is a clever timeline of the Indiana Jones saga, from his first theatrical adventure to his last. It's not a difficult build at just over 540 pieces, but the payoff is surprisingly big.
The skyline view showcases different elements of Indiana Jones movies, from the zeppelin and dogfight from The Last Crusade to the temple's facade of the aptly titled Temple of Doom. It's almost like a party game to see who can name the most references to an Indiana Jones movie.
I love this concept because of how simple and all-encompassing it is for fans. I wish there was just a little more detail to it, but for a quick and easy MOC, it's quite delightful.
Pros
A great way to pay tribute to the entire franchise
Simple to build while encompassing multiple movies
Only 544 pieces needed
Cons
Could be a little more detailed
Skips some iconic scenes from the franchise
A little interactivity would be nice
Kingdom of the Crystal Skull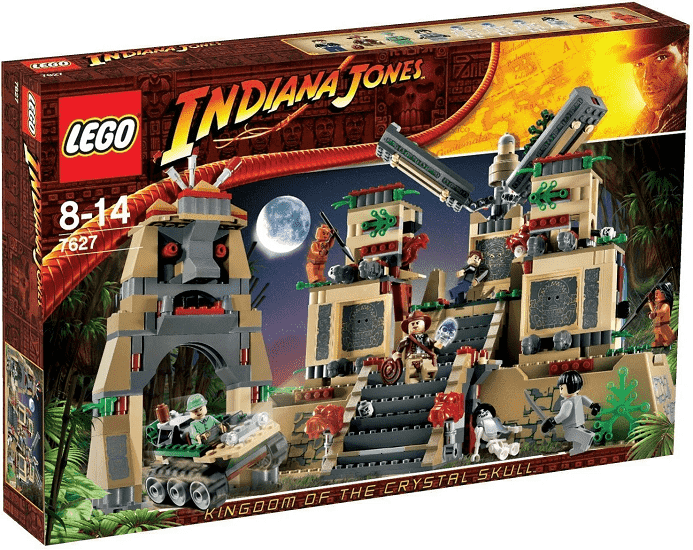 It may not have been a favorite among fans, but Kingdom of the Crystal Skull had some neat setpieces that work great as LEGO sets. And no, Indy's nuclear refrigerator ride isn't among them. However, the titular Kingdom is, and this nearly 1,000-piece official set recreates the resting place of the titular Crystal Skull. Albeit with some twists that weren't actually in the movie.
Indiana is joined by a host of different minifigs, including skeletons, aliens, Mutt, and the Russian antagonists. It's a full house of characters that have all come together to bring the action of Kingdom of the Crystal Skull to life. Perilous traps and a half-track tank add interactivity to the set piece, making it easier to play with if that's your end goal.
If not, the Temple is a wonderful showpiece with great detailing. Unfortunately, many of those details are stickers, which makes things a little flat and unexciting.
Pros
A robust LEGO set with plenty of interactivity
Ten minifigs add to the set's versatility
Breaks down nicely for storage
Cons
Relies too much on stickers
Not based on a great Indiana Jones movie
Some traps don't work that well
The Lost Tomb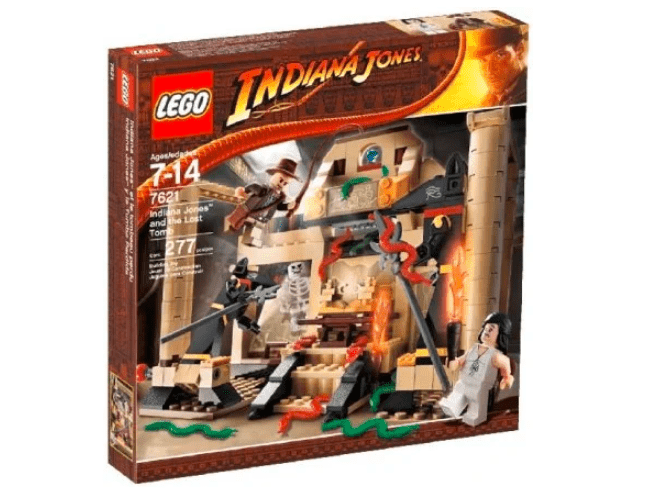 Indiana's search for the Ark of the Covenant launched his theatrical adventures, pitting him against dubious Nazis that would do anything for the power contained within. This adventure-filled LEGO set is a modest 277 pieces, making it one of the easiest LEGO Indiana Jones sets you'll come across.
The build features fedora-wearing, whip-thwacking Indy and his lady companion, Marion, as they try to survive the perils of the Lost Tomb. A few liberties were taken with this design, such as the presence of the Ark, which wasn't technically in this area in the movie. There are plenty of snakes to throw at Indy, along with an interactive Anubis statue that reveals a skeleton for one good scare.
There's definitely a lot going on for Raiders of the Lost Ark fans to appreciate, though some may scoff at seeing the diamond and Ark in the same spot.
Pros
Fun interactivity, like a secret-revealing Anubis statue
So many snakes to fill the scene
The overall design is done well
Cons
A little too inaccurate
An antagonist minifig would have been nice
A little too simple for skilled builders
Indiana Jones: Raiders of the Lost Ark Vignette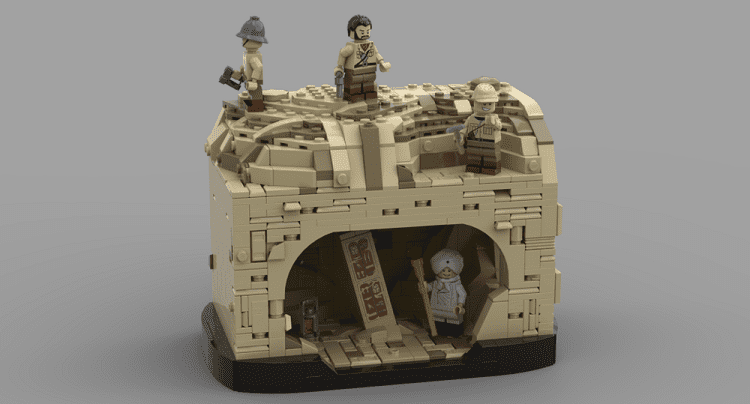 There may be an official LEGO set for Raiders of the Lost Ark, but this MOC is less about the adventure and more about showcasing a scene. Though it has a severe lack of snakes, the build cleverly uses just over 790 pieces, most of which are tan, to create a sandy scene.
The upper and lower view has always been a design choice I've appreciated in many MOCs, and this one does it quite well.
Up top, some nefarious characters stand on mounds of sand in search of the Ark of the Covenant. Below, the secrets of a subterranean tunnel await the bravest of adventurers.
Unfortunately, Indy isn't part of this build, though a minifig from any of the official sets would still fit in. There's no interactivity with this MOC, but it's all about the visuals, making this a great display piece.
Pros
A clever use of a lot of tan bricks
Upper and lower view is a fun concept
Build is compact and displays well
Cons
Where's Indiana Jones?
A little too simple, despite being over 700 pieces
No interactivity or moving parts
Temple Escape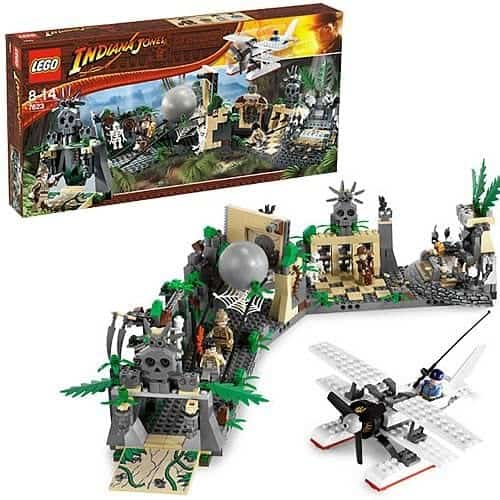 It wasn't an Indiana Jones movie if he wasn't escaping from something. His most iconic and daring escape was from the giant rolling boulder, and it was inevitable that at least one official LEGO set would capture that moment. The Temple Escape features exactly that, along with a few other perils for Indy to evade as he rushes to his biplane getaway.
The Temple Escape set is set up like a track, where 554 pieces come together to create a gauntlet for our fedora-wearing hero to get through. Along with the rolling boulder, Indy must also escape spike traps and spears.
Indiana is joined by the rival Dr. Belloq, Satipo, Jock, and two skeletons. Equipped with his signature whip, Indy must race to grab the golden idol, which is exclusive to this set, and rush back to safety.
Pros
A lot of moving parts to play with
A great depiction of the iconic boulder chase
Exclusive golden idol piece
Cons
Set could be a little bigger to make room for more
Some traps don't work quite as they should
Some sections are a little harder to build
The Temple of Doom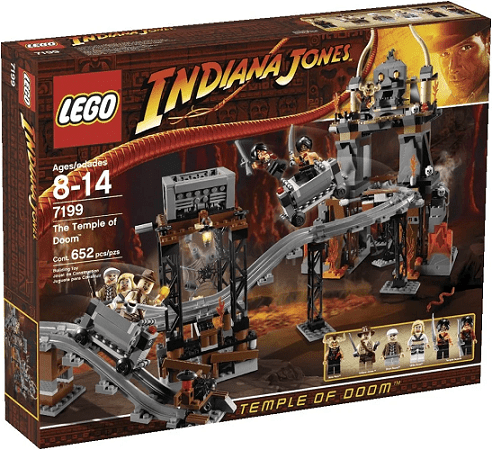 This 652 piece set takes builders to the exciting mine cart chase of Indiana Jones and the Temple of Doom. It's a great set piece for a LEGO build, particularly because of its potential for interactivity and fun. Six minifigs round out this set, including Indiana, Short Round, Mola Ram, Willie, and two guards.
The build is a mine track with a few perils to take out the pursuing baddies. The thrilling chase starts at Mola Ram's alter, where he oversees everything unraveling in the mine. Flames shoot up from the ground, adding to the dangers that Indiana and crew need to evade to find safety.
The Indiana minifig is modeled after his appearance in The Temple of Doom, complete with a torn shirt. The real question is, is this our Indy? Or the shell that briefly falls under Mola Ram's sorcery?
Pros
Plenty of excitement to be had on this track
Over 3 feet of track to race down
Includes a good selection of minifigs
Cons
Not the most visually appealing build
It's a little flimsy when together
Could use a little more interactivity
Frequently Asked Questions About LEGO Indiana Jones Sets
Question: Is There a LEGO Indiana Jones Video Game?
Answer: Traveller's Tales, the developer known for its LEGO video games, released LEGO Indiana Jones: The Original Adventures on June 3, 2008. The co-op game was released on the Nintendo DS, PC, PS2, PS3, PSP, Wii, and Xbox 360 and follows Indiana through his first three movies.
Like other LEGO video games, the movies are truncated into smaller chapters, typically focusing on the most adventurous parts. Collecting studs, or the in-game currency, allows players to purchase and unlock characters like Harrison Ford's other iconic character, Han Solo.
Question: Do LEGO Sets Lose Value When Opened?
Answer: While items typically lose value once they're opened, such as action figures, Russian researchers found that it may not actually be true about LEGO sets.
One of the study's authors, Victoria Dobrynskaya, notes that when a box is opened, the supply of that particular set decreases. When LEGO retires that set, even open-boxed LEGO sets will increase in value. Even assembled LEGO sets can result in a high return once the set has been retired from LEGO's library.
Question: Are They Rereleasing LEGO Indiana Jones Sets?
Answer: Many of the sets mentioned in this article are pretty difficult to find. They were taken out of production and, therefore, are primarily only available in the secondhand market.
However, the rumor mill suggests that LEGO will be rereleasing most of these sets in 2023. Scheduled for a relaunch in 2023 is the Escape from the Lost Tomb set, The Temple of Doom set, and a Fighter Plane Chase set from The Last Crusade.
Question: Will There Be LEGO Indiana Jones Sets Based on Indiana Jones and the Dial of Destiny?
Answer: With Indiana Jones and the Dial of Destiny releasing in June 2023, it's difficult to gauge if there will be any new sets accompanying the premier.
Considering how long it took for LEGO to release these official sets, it's not something I would hold out too much hope for. Based on the trailer, there are certainly going to be plenty of scenes to inspire LEGO sets, but it would be speculation for me to confirm anything at the time of writing this. An elder Indiana Jones minifig would be a great addition to any LEGO Indiana Jones collection.
Related read