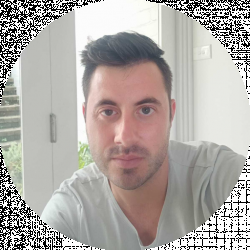 Latest posts by David Borgogni
(see all)
Although they're no longer published within a single theme, LEGO pirate sets remain immensely popular. Treasure hunts, adventures at the open sea, or miraculous escapes from the imperial soldiers are some of the advantages the best LEGO pirate sets can offer.
The Danish toy-maker published almost a hundred sets inspired by pirates in the last three decades, but despite this, LEGO currently offers only a handful of active LEGO pirate sets. Nonetheless, finding a LEGO pirate set that fits all your requirements isn't a difficult task.
In this guide, I'm going to provide you with the information you need to find the best LEGO pirate set, and I'm going to recommend several models that could be the right choice for you.
Please go through our guide to the best LEGO castle sets if you want to find out more about models from this LEGO's legendary theme.
At a Glance – The 5 Best LEGO Pirate Sets
Bottom Line Up Front
In my opinion, the Pirates of the Barracuda Bay 21322 is the best active pirate set you can get. Also, the Pirates of the Barracuda Bay is an upgraded version of the Black Seas Barracuda 6285 set published in 1989, one of the first sets LEGO released within the Pirate theme.
Selection Criteria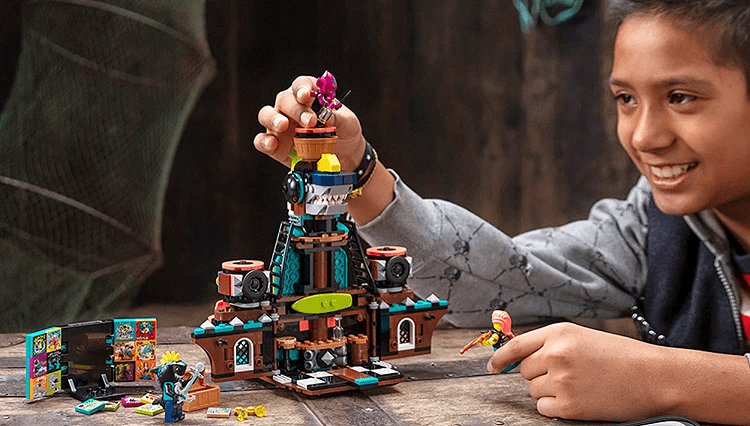 Pirate sets aren't as plentiful as they once were since LEGO retired all themes inspired by pirates. However, the company still publishes new pirate sets within different themes, and you can choose from a handful of active sets that explore pirate-related topics.
I utilized several parameters during the selection process to identify the best LEGO pirate sets and the models that have the most to offer. Here are some of the key criteria I used to select the sets for this article.
Release date – I used this criterion to eliminate all models released before 2010. Hence, some sets in this article were retired years ago, but they're still very popular and relatively easy to find.
Age group – Sets I included in the article are suitable for LEGO fans of all ages so that you can choose a set that is aimed at adults or children. Keep in mind that children under the age of six might struggle to build a LEGO pirate set by themselves.
Please read our guide to the best LEGO City sets to discover the best sets inspired by urban topics.
A Brief History of the LEGO Pirates Theme
LEGO introduced the City, Castle, and Space themes in 1978, and for a decade, all brand's new sets were published within one of these three themes. In 1989, the Pirates became one of the first themes within the new LEGO System product line.
This theme took place in the 18th century, and most sets were based on the conflict between pirates and imperial soldiers. British redcoats, French bluecoats, and soldiers of the Spanish Armada served as inspiration for mini-figures of imperial soldiers.
On the other hand, pirate mini-figures were inspired mainly by Caribbean pirates who rebelled against the soldiers of colonial powers. Captain Redbeard was the main antagonist of sets released within the Pirates theme, and his mini-figure went through a substantial transformation.
Captain Redbeard was one of the first LEGO mini-figures that didn't have standard facial decorations characteristic for LEGO mini-figures of the era.
Instead, this character suffered injuries in different sets, and by the time this theme was discontinued in 1997, Captain Redbeard wore an eye patch over his left eye and had an iron hook on his left arm. Also, the character had a wooden right leg in many sets from this theme.
Check out our guide to the best LEGO monster trucks to learn more about these fun toy vehicles.
The Overview of the LEGO Pirates of the Caribbean Theme
Sets inspired by pirates didn't vanish from LEGO's product portfolio after the theme was officially retired, and the brand continued publishing pirate sets sporadically during the next decade.
Red Beard Runner 6290 and Spaniard Ship 6291, published in 2001, were among the first pirate-themed sets released after the discontinuation of the Pirate theme. LEGO went on to publish more than twenty pirate sets during the 2000s, including nine sets published in 2009 to mark the relaunch of the Pirates theme.
The brand introduced the Pirates of the Caribbean theme in 2011 as a part of the attempt to revive the LEGO Pirates theme.
Sets in this theme were based on the events depicted in Pirates of the Caribbean movies, and they featured mini-figures of Jack Sparrow, Elizabeth Swan, and other characters from these films. The brand published 17 Pirates of the Caribbean sets before discontinuing the theme in 2017.
Please browse through our guide to the best LEGO sets to find out what makes a LEGO set epic.
Active LEGO Pirate Sets
The most recent revival of the Pirate theme took place in 2015 when LEGO introduced sets like:
These sets are retired, but they're still easy to find, although their price is significantly higher than the price of active pirate sets. Currently, themes like Creator 3-in-1, Ideas, or Minecraft feature sets are inspired by pirates.
However, the number of pirate sets in these themes is relatively low since most themes feature just one or two pirate sets. Just five active sets are inspired by pirates, and LEGO hasn't announced plans to release new pirate sets in 2022.
Hence, your options will be limited if you'd like to get an active pirate set. Please go through our guide to the best LEGO sets under $20 if you're searching for a fun and affordable LEGO set.
Building Pirate Ships with Classic LEGO Sets
Instead of searching for an active pirate set, you can build a pirate ship model or a treasure island with bricks included in the sets from the LEGO Classic theme.
This theme features twenty sets, including models with more than 1,000 pieces, so finding the materials for your DIY LEGO project shouldn't take too much time. However, LEGO stopped producing pirate mini-figures a while ago, so finding the captain for your pirate ship can be difficult.
Most online retailers that still have LEGO pirate mini-figures in stock offer these toys at high prices, and you may have to spend up to $30 on a single pirate mini-figure. Please go through our guide to the best LEGO Advent calendars to learn more about these seasonal sets.
The Key Factors to Consider While Choosing a LEGO Pirate Set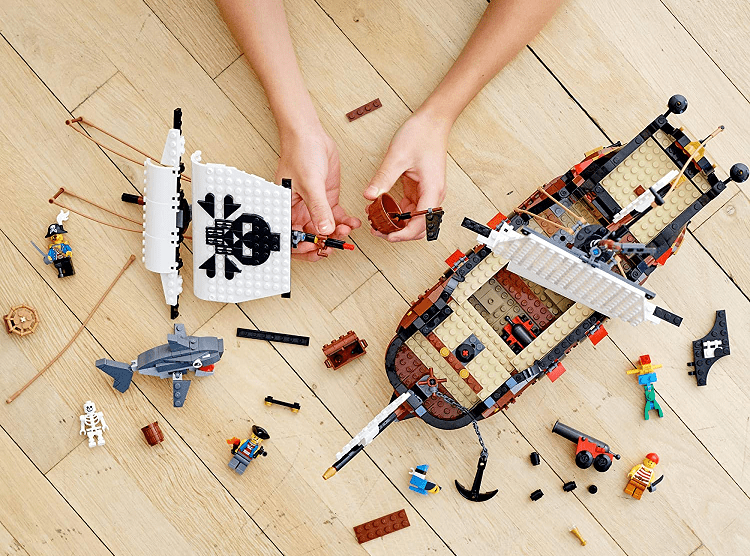 Pirates are slowly vanishing from LEGO's product portfolio as only a few active sets cover topics related to pirates. Nonetheless, LEGO published a considerable amount of pirate sets in the last ten years, and finding retired pirate sets doesn't require a lot of effort.
I've selected several critical factors that can assist you in your search for the best LEGO pirate set, so let's take a look at them.
Set's Theme and Topic
LEGO no longer releases pirate sets within a single theme, and as a result, you can find these sets in Ideas, Creator 3-in-1, or VIDIYO themes.
In case you'd like to opt for one of the retired sets, you should decide if you want to get a model from the original Pirates theme or a set from the Pirates of the Caribbean theme. These sets cover a wide range of topics, and you can use them to build a pirate ship or record a music video.
The Release Date
LEGO pirate sets date back to 1989, and many of the original models are still available at e-stores and LEGO marketplace websites. Taking the time to check the release date of the set you're interested in can help you determine how difficult it will be to find it.
In addition, obtaining this information can help you figure out how long an active set is going to remain in production since most LEGO sets have an average lifespan of 18 to 24 months.
Piece Count and Age Group
LEGO Duplo theme doesn't contain sets inspired by pirates, and you'll have to consider alternative options if you're searching for a set suitable for children under the age of four.
Moreover, some standard LEGO pirate sets can have more than 2,000 pieces, and they're not a perfect choice for children that don't have previous set-building experience.
You should take the set's piece count and recommended age group into account while trying to determine if a particular model is a right choice for you or your child.
Accessories and Mini-Figures
Treasure chests, swords, or flags are some of the accessories that appear in most LEGO pirate sets. Still, you should go through the set's part list to find how many accessories it has. You should also find out how many mini-figures are included in a set before you decide to buy it.
Display models usually come with a handful of accessories or mini-figures, and they're a good fit for an adult LEGO fan. On the other hand, pirate playsets feature a variety of mini-figures and accessories that enable children to develop different play scenarios.
Set's Price
A set from the retired Pirates of the Caribbean theme can cost up to $1,000, while most active pirate sets cost less than $100. Finding a new and unopened pirate set that the manufacturer discontinued isn't easy, so in some cases, you'll have to opt for a used set.
Limiting your search to sets in a specific price range will help you avoid browsing through descriptions of countless pirate sets.
The Advantages of LEGO Pirate Sets
These Sets Have an Educational Character
LEGO pirate sets can help children learn more about the history of the colonial era or spark their interest in sea exploration. Contemporary versions of these sets utilize different technologies that allow children to make music or videos.
LEGO Pirate Ships Encourage Active Play
Besides building models of shipwrecks, treasure islands, or forts, children can play with multiple mini-figure characters, weapons, and other accessories.
Straightforward Assembly Process
Aside from several models with more than a thousand pieces, LEGO pirate sets have a low piece count. These sets offer a fun way to introduce children to LEGOs and help them develop set-building skills.
The Disadvantages of LEGO Pirate Sets
Most LEGO Pirate Sets are Retired
LEGO didn't release a lot of new pirate sets after retiring the Pirates of the Caribbean theme in 2017, and the brand's current offer of active pirate sets is limited to just a few models.
Top 5 LEGO Pirate Sets
Pirate Ship 31109 – Best for Creative Play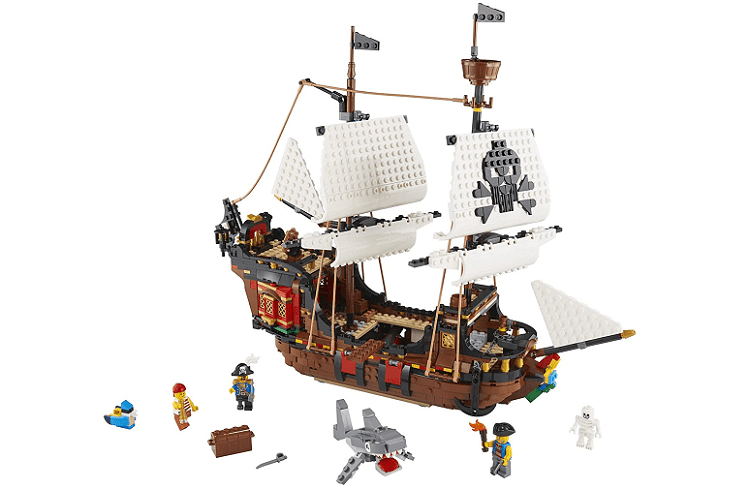 Children aged nine or older can hone their set-building skills on the Pirate Ship 31109 set that lets them design three different toys. Besides the model of a pirate ship, kids can also build the Skull Island or the Pirates' Inn from the pieces included in the set.
The pirate ship model is equipped with working cannons, and one of the three mini-figures in the set has the torch accessory that can light the cannon fuse. This set includes accessories such as swords, treasure chests, and a spyglass.
Pros
Children can build three different toys
The roof and sides of the ship's cabin are easy to open
Compatible with Creator 3-in-1 sets
It offers a wide range of play scenarios
Cons
There are just three mini-figures in the set
The assembly process can be challenging for inexperienced set builders
The Pirate Ship Adventure 21152 – Best for Minecraft Fans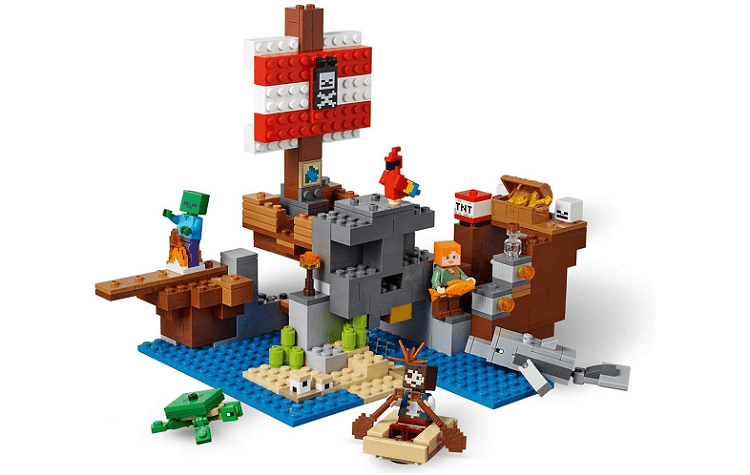 A set like the Pirate Ship Adventure 21152 set enables children to bring a video game to life. All models, mini-figures, and accessories have the characteristic pixelated Minecraft look, and they offer a wide range of active play options.
The modular pirate ship model turns into a shipwreck to extend play scenarios kids have at their disposal, and it has a pirate banner, gangplank, cannons, and numerous other details. This set comes with three mini-figures, as well as buildable dolphin, parrot, and turtle figures.
Pros
Excellent imitation of the Minecraft look
Quick assembly process
This set is easy to find
Budget-friendly price
Cons
Low piece count
Small models
Pirates of the Barracuda Bay 21322 – Best for Developing Set Building Skills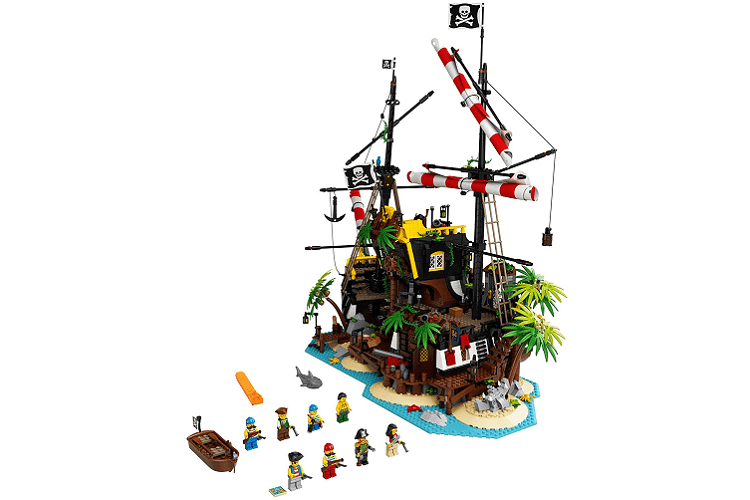 You can use the Pirates of the Barracuda Bay 21322 set as a display model or playground for your next swashbuckling adventure. This set is an improved version of the Black Seas Barracuda 6285 set released within LEGO's original Pirates theme.
The Pirates of the Barracuda Bay set recreates a stranded ship model on a small island, and you can split the model in half to rearrange it. The set features some iconic LEGO Pirates characters, such as Captain Redbeard or Robin Loot, but it also contains figures of skeletons, parrots, crabs, and frogs.
Pros
A large set for adult LEGO fans
The ship's interior is stacked with accessories
This set has eight mini-figures
A beautiful display piece
Cons
LEGO will retire this set soon
Long assembly process
Punk Pirate Ship 43114 – Best for Young Visual Artists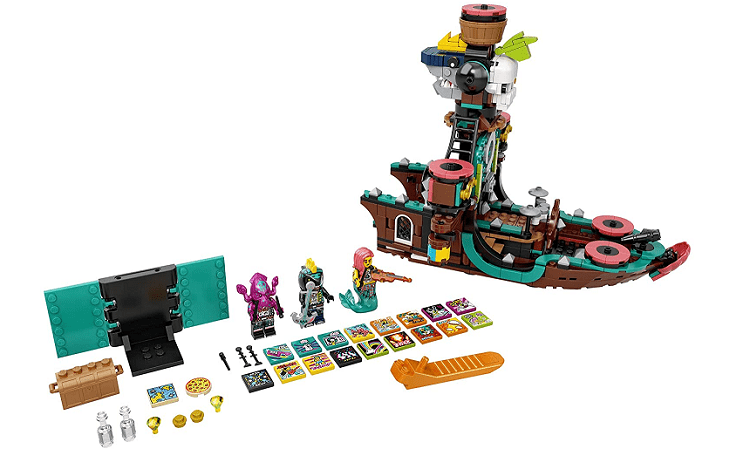 Children that love music and shooting videos will enjoy playing with the Punk Pirate Ship 43114 set. In addition to building a pirate ship, kids can use the LEGO VIDIYO app to make punk rock music and produce music videos.
After installing the app on a smart device, children can scan the model of the ship, mini-figures, and the BeatBits included in the set. The scanned version of the ship becomes the stage equipped with treasure chest speakers and other fun details, while mini-figures turn into punk musicians.
Pros
This set teaches children how to make music and videos
BeatBits included in the set unlock Punk Rock special effects in the LEGO VIDIYO app
The model of the punk pirate ship has a backstage area
The LEGO VIDIYO app has parental controls
Cons
This set has three mini-figures
It doesn't offer a lot of real-life playing options
Queen Anne's Revenge 4195 – Best for Collectors of Retired LEGO Pirate Sets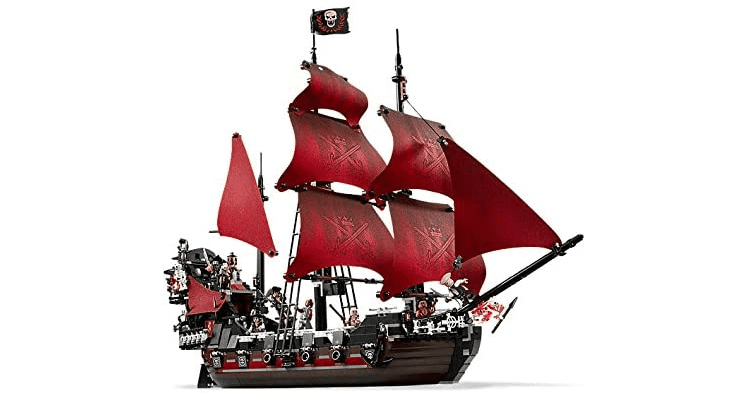 Even though it was released more than ten years ago, the Queen Anne's Revenge 4195 is still one of the best LEGO pirate sets. This display set lets you create a replica of the ship featured in the fourth movie of the Pirates of the Caribbean franchise that was commanded by the Blackbeard.
The mini-figure of this character is included in the set, along with mini-figures of Jack Sparrow, The Cook, Angelica, Quartermaster Zombie, and Gunner Zombie. Today, The Queen Anne's Revenge set is regarded as a collector's item that is too expensive for most LEGO fans.
Pros
Realistic replica of the Queen Anne's Revenge ship
The cabin section includes a miniature desk
Functional winch raises and lowers the anchor
Fun but challenging build
Cons
The set doesn't have a lot of accessories
Very expensive
Frequently Asked Questions About LEGO Pirate Sets
Question: How Many LEGO Pirate Sets are There?
Answer: LEGO has released more than 80 pirate sets since the late 1980s, but currently, there are just five active pirate sets.
Question: Is LEGO Planning to Release New Pirate Sets?
Answer: It seems that LEGO doesn't have plans to release new pirate sets by the end of this year, but new models might become available in the next few years.
Question: Can I Buy Pirate Mini-Figures Separately from LEGO Pirate Sets?
Answer: Yes, you can, but keep in mind that these mini-figures can cost up to $30.
Question: How Long does it Take to Build a LEGO Pirate Set?
Answer: The assembly process of LEGO pirate sets can take several hours or several days, depending on the size of the set.
My Verdict: Deciding which LEGO Pirate Set is the Best
Swashbuckling adventures and an overall fun set-building experience are some of the reasons why LEGO pirate sets were so popular.
LEGO's offer of pirate sets has shrunk considerably since the Pirates of the Caribbean theme was retired, and at the moment, you choose from just a few active sets. I recommend the Pirates of the Barracuda Bay 21322 set because it has all the features of the sets from LEGO's original Pirates theme.
You should consider getting a model like the Punk Pirate Ship 43114 or the Pirate Ship 31109 if you're searching for a set that is fun to play with and easy to build. Which LEGO pirate set are you going to choose?
Let me know in the comments or continue reading our guide to creative LEGO ideas if you're searching for inspiration for your next DIY LEGO project.
Recommended Reads: