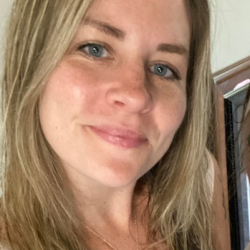 Latest posts by Thea Engst
(see all)
LEGO and Disney are two powerhouses of storytelling masters. Disney has been telling stories since 1927 and LEGO came to fruition only five years later, across the globe in Denmark, in 1932. It seems only natural that the two eventually paired up in 2014. One could ask: what took them so long? Since 2014, LEGO has been creating sets inspired by Disney classics like The Little Mermaid, and newer ventures like scenes from The Avengers and iconic figures from the Star Wars and Harry Potter franchises.
This article is focusing on Disney Princesses though, perhaps the group that Disney is best known for. This is an expansive genre and LEGO can get pricey, so we're going to talk about all the pros and cons of my top-rated Disney Princess LEGO sets.
So if you're shopping for a LEGO Disney Princess fan, look no further than this article. This is going to talk about all things LEGO Disney Princesses, what the best sets are, why they're the best, and how they stack up to each other.
Bottom Line Up Front: 
Cinderella's Royal Carriage set is the best Disney Princess set on this list. It has the most accessories and the best attention to detail while being a very reasonable price of $39.99. The other sets included are great, but this set excels in recreating one of the most iconic scenes from one of the most iconic Disney Princesses of all time.
What are the Criteria for These Sets?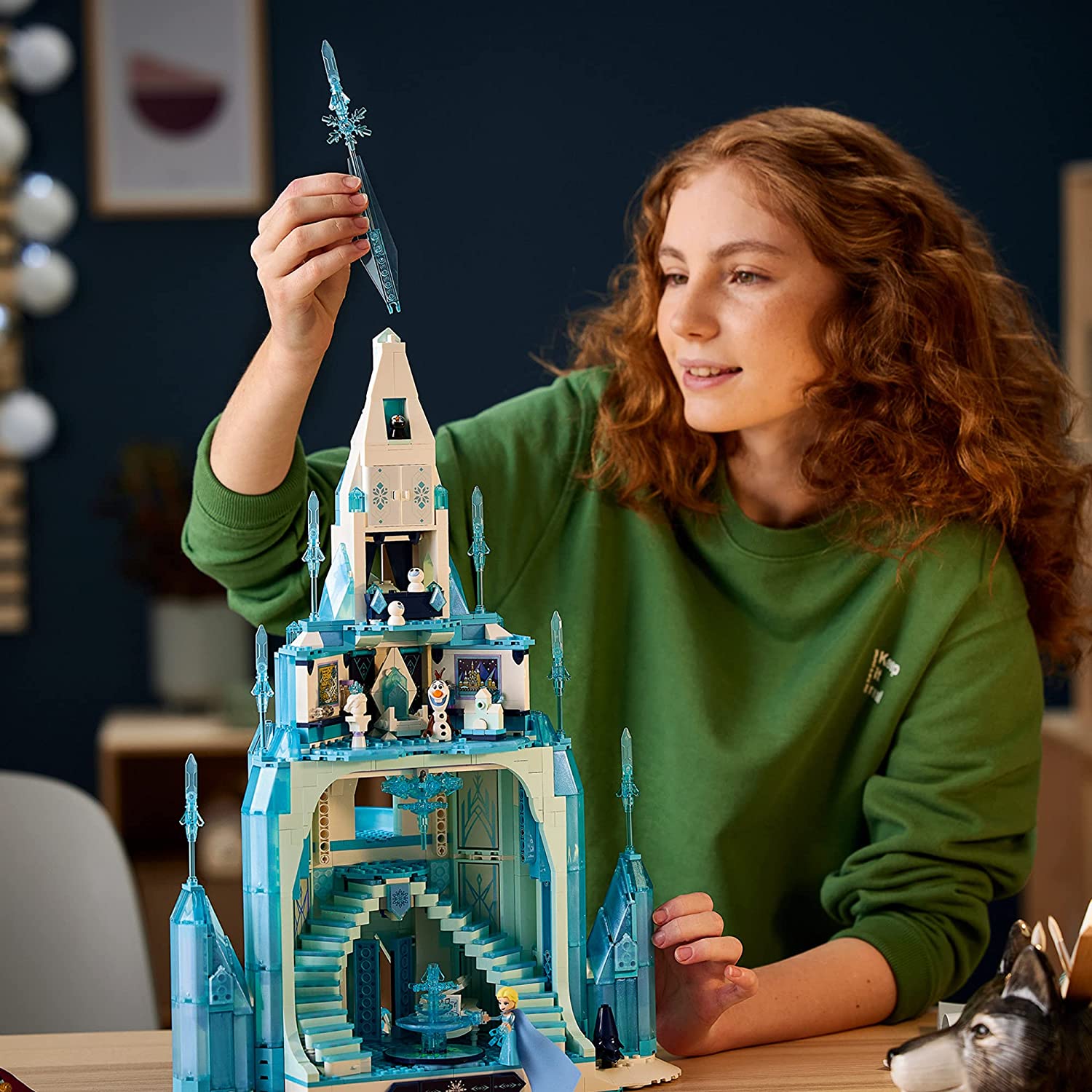 What makes a great LEGO does not depend on the price tag. That's right, you don't need to spend $500 to get the 'best of the best' when it comes to these toys. What you do need to do is pay attention to the age range the set is targeting and whether or not that is appropriate for you or the person you're buying for. You can check reviews about the respective set to see about all the fun Easter eggs and explicit details LEGO snuck in. I think that it's also very important to know who you're shopping for. If they are a big Harry Potter fan, they might not want a Star Wars set, no matter how many amazing reviews it has.
So to make my list for the best LEGO sets of Disney Princesses, LEGO has to excel at details and references to the movies. They also need to have great figures with this set (it's all about the princess after all!) and they need to accurately tell a piece of the story from the film they're depicting.
I am arranging these from prices low to high, because I want you to see how many awesome LEGO sets you can get for less than $100.
The Best LEGO Disney Princesses Sets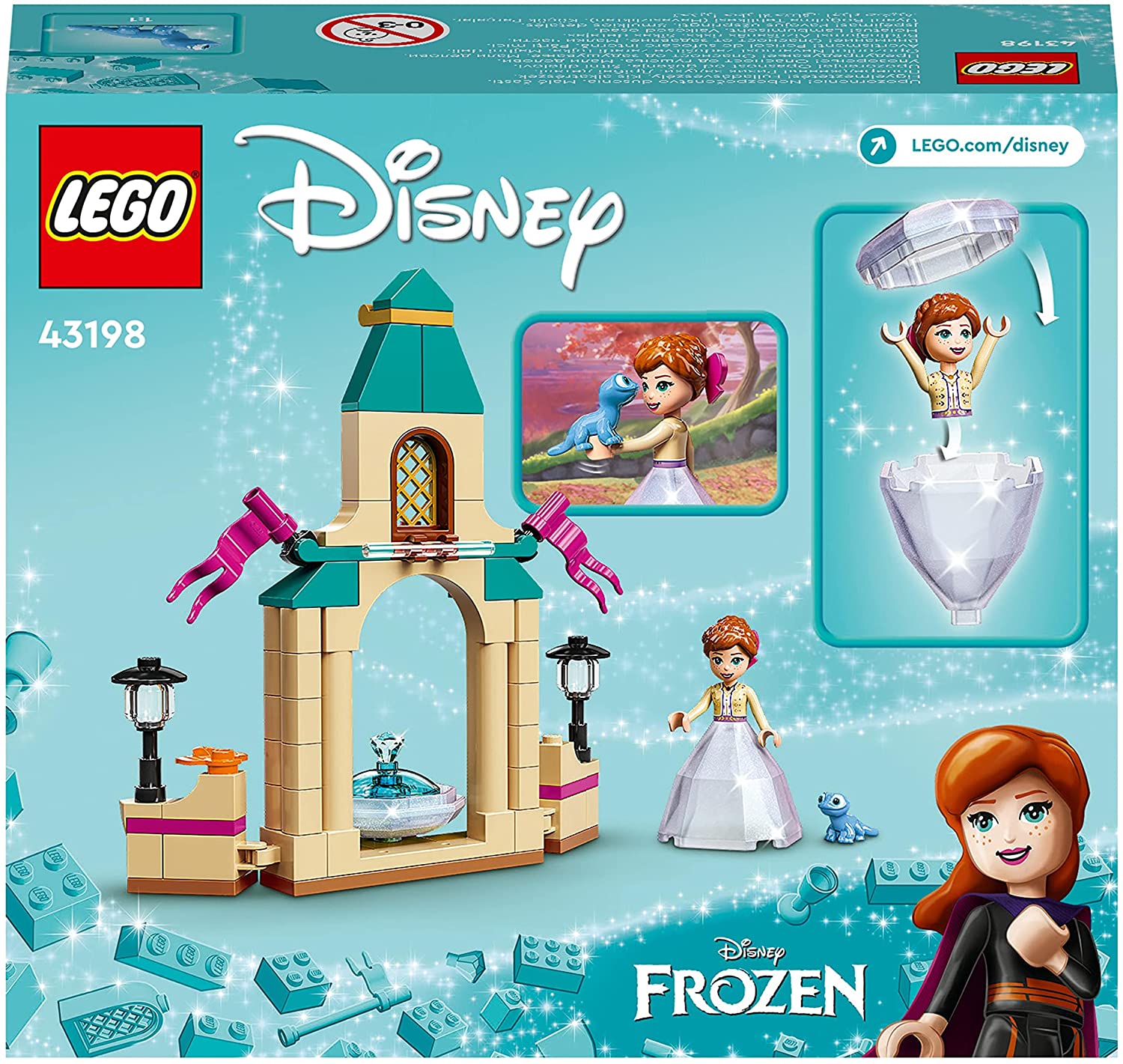 That's right, only $9.99! This set is small and meant for beginners, with the target age being five and up. Let's talk about why this simple and new set is the first worth mentioning.
This is a great set to give a kid who loves Disney but maybe doesn't know much about LEGO. It's only seventy-four pieces so it's easy to assemble and if the child doesn't want to assemble it, it won't take long for an adult to put it together for the kid to play with afterward. LEGO describes this as a great set to build confidence in learning how to build. I think this is important because it teaches kids not only LEGO skills but problem-solving and puzzle-solving skills.
But this set is really about the princess so let's talk about Anna! She is wearing a white dress which can be flipped and capped to encase her in a diamond. I love this, and one of my favorite parts of this set is that it fits with other LEGO sets from the 'diamond dress' collection. That's right, you can get this diamond dress in many different princesses like Tiana from The Princess and the Frog and Merida from Brave.
Anna's top is also a really pretty and detailed, Nordic-inspired pattern. Her red hair is braided and styled up with a pink bow in the back which matches the detailing on her top. She is accompanied by her friend Bruni the salamander, who is not buildable but who can perch on Anna's arm.
The buildable portion of Anna's Castle Courtyard is the fountain in the courtyard for Anna to play with or relax around. It is detailed enough and not complicated. I feel as though it's appropriate for the intended age range. Still, you can get more challenging builds for ages five and up.
The figure of Anna is not the standard LEGO Minifig. This is meant for younger kids and therefore she's a little larger, to make playing with her easier but also to remove a choking hazard. These figures are called Mini-dolls by LEGO and they stand 1.575 inches high, about 5 mL taller than the classic LEGO Minifigures. These were invented for the Friends collection and now are very common with the Disney sets. They are fully compatible with Minifigs, however.
Overall this set does a great job at giving a cost-effective option of a Disney Princess. If you aren't an Anna fan, I suggest looking into the other 'diamond dress' sets. It's a small set that still manages great attention to detail and for just under $10, you couldn't ask for more, which is why I'm rating it one of the Best LEGO Disney Princess sets.
Check out our guide on the 5 Best LEGO Disney Minifigures here.
Pros and Cons of Anna's Castle Courtyard: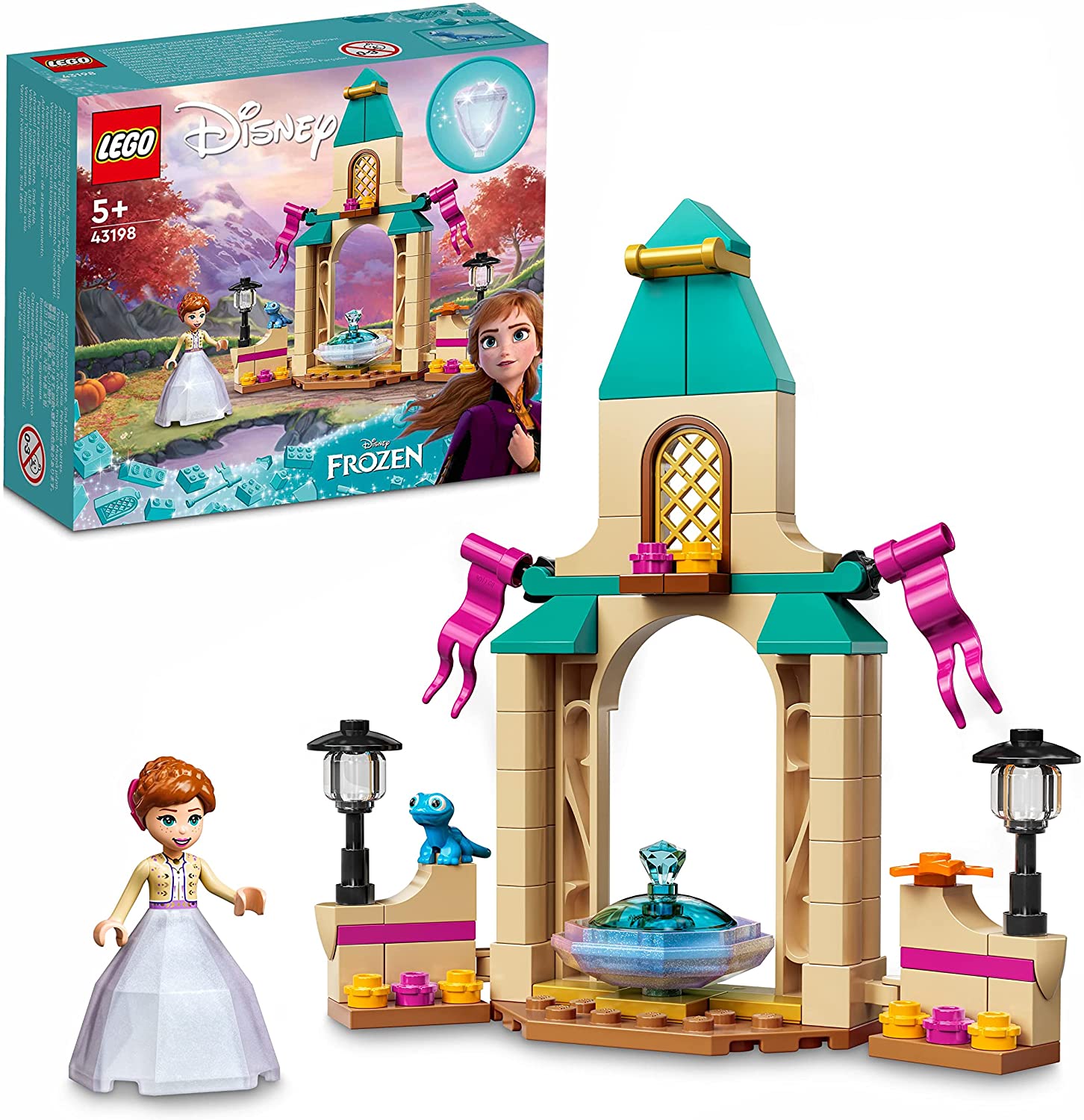 Pros:
A great starter set for young LEGO builders.
Part of the 'diamond dress' collection, which all feature princesses whose dresses are flipped to turn into a diamond that encases them.
Compatible with other 'diamond dress' sets.
Great attention to detail with Anna's outfit, very true to the movies.
Includes the salamander animal companion Bruni.
Only $9.99
Cons:
For ages five and up there are more challenging builds with more accessories.
That's right, LEGO has gone rogue and combined storylines! In this new set aimed at ages five and up, builders get to combine two of the coolest princesses ever: Jasmine and Mulan.  This set is 176 pieces and you can build Jasmine's palace and Mulan's shrine. They can be neighbors or kids can place them on opposite sides of the room for the two princesses to travel to each other. It's a fun 'choose your own adventure' set if you will.
The figures included are Mulan and Jasmine, which are both Mini-dolls, like Anna above, for a younger audience. Mulan has her beautiful, long black hair, which is hanging loose for this set. She wears a green top and a yellow dress or Hanfu, with white flowers on the bottom. She also is wearing a blue and pink wrap. She looks very much like she does in the movies, though I believe LEGO could've done better with her outfit. Many of us think of Mulan in her blue, red, and white outfits, not green, yellow, pink, and blue. This choice seems to be more of Mulan on a day of leisure, not ready for battle. And while Mulan deserves a day of rest and peace, when I see this Mini-doll, it falls a little short of my expectations.
Jasmine's outfit hits the nail on the head. She's wearing her iconic blue top with matching pants and of course the headband with the gem in her hair. Her hair is in the low-ponytail style we all recognize as a signature of Jasmine's as well.
They are each accompanied by their loyal pets: Jasmine has Rajah the tiger and Mulan has Khan the horse. LEGO did a great job at creating Jasmine but could've done better with Mulan, but I do love the storytelling element and the creativity of having these two strong female characters in one set. The details are great despite being a less-expensive set for a younger audience. While there is room for improvement, this is one of the best LEGO Disney Princess sets.
Pros and Cons of the Jasmine and Mulan's Adventure Set: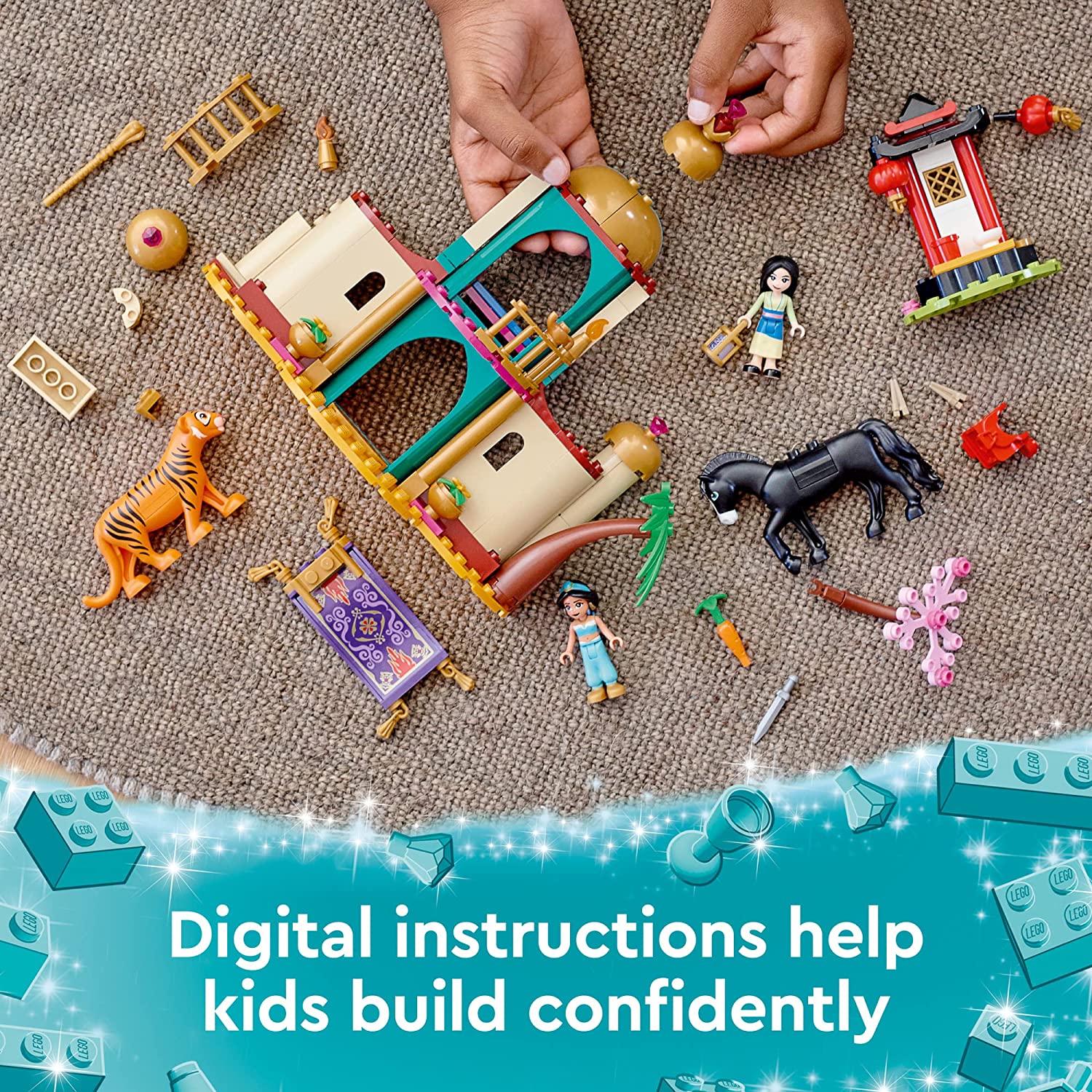 Pros:
Two of the most iconic Disney princesses are included in this set, despite not being in the same movie.
Jasmine's outfit, hair, and animal accessory (Rajah) are perfectly on point.
Each princess has one animal companion, Mulan has Khan the horse and Jasmine has Rajah the tiger.
Compatible with more Disney sets.
Cons:
Mulan's outfit doesn't quite match the first thing we think of when we think of Mulan.
I feel as though $39.99 is a little much for this set compared to what you get in others at this price range.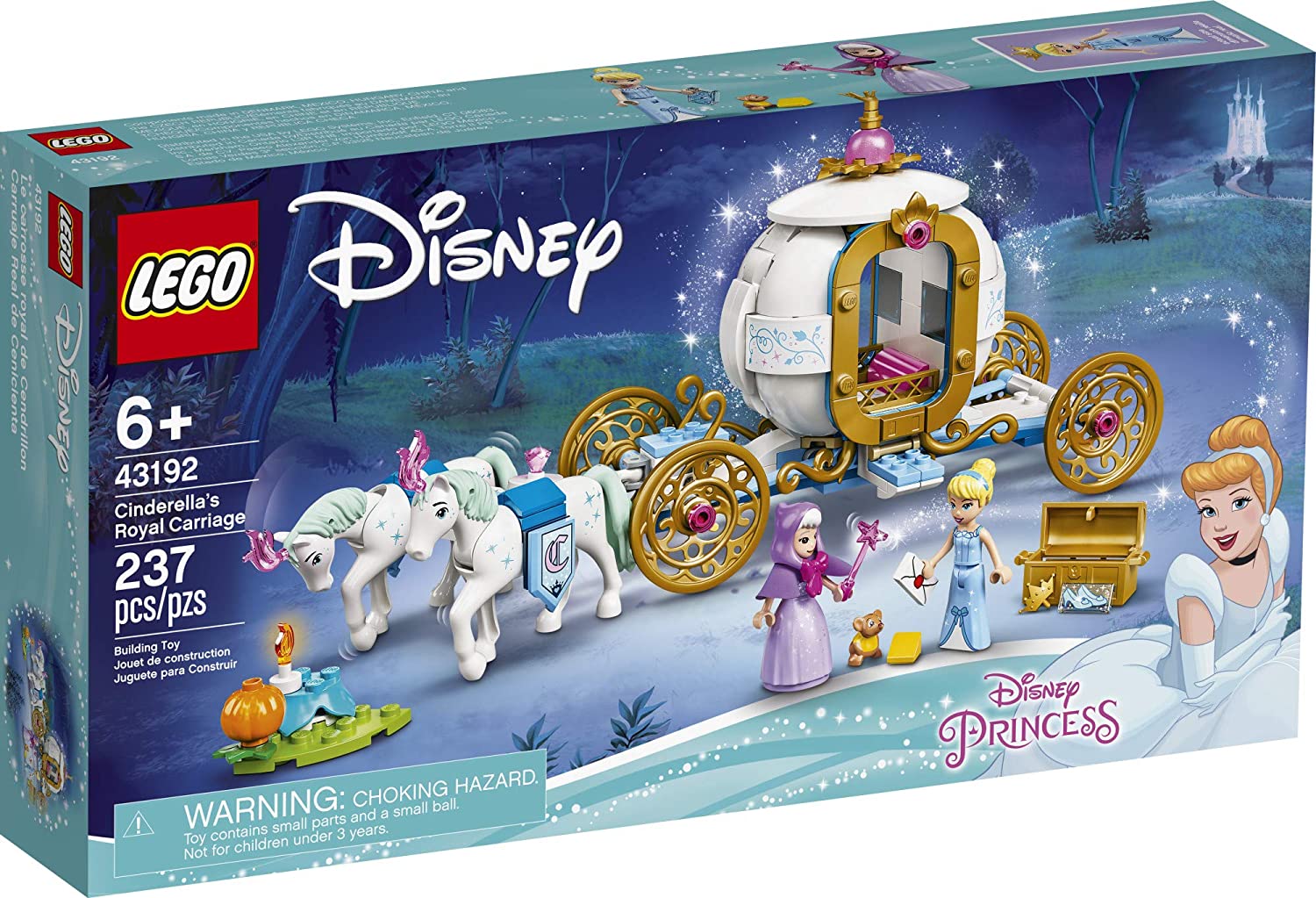 Representing one of the Disney princess originals is Cinderella's Royal Carriage set. This is the same price as Jasmine and Mulan's Adventure set, but it's different. It's also meant for ages six and up and is a lot more pieces than Jasmine and Mulan's Adventure set, as Cinderella's is comprised of 237 pieces versus their 176.
This includes a buildable carriage, two Mini-dolls of Cinderella and her Fairy Godmother, Gus Gus the mouse, pumpkins, and two (yes – two!) white horses with moveable necks. And that's not all of it (it's tough to list all of the fun accessories and details that LEGO includes with each set) they even have a little wedge of yellow cheese for Gus Gus and a wand for Cinderella's Fairy Godmother.
Cinderella herself has her iconic blue gown, created for her by her Fairy Godmother. She has her matching blue headband and even has glass slippers, which are depicted with a see-through brick with the slippers painted on them. This is a creative solution to creating 'glass' slippers with LEGOs, well done LEGO!
So in short, as far as creating Cinderella and creating her well, LEGO understood the assignment. From the Mini-doll to her animal companions and accessories, this is a great Disney Princess LEGO set!
Pros and Cons of Cinderella's Royal Carriage: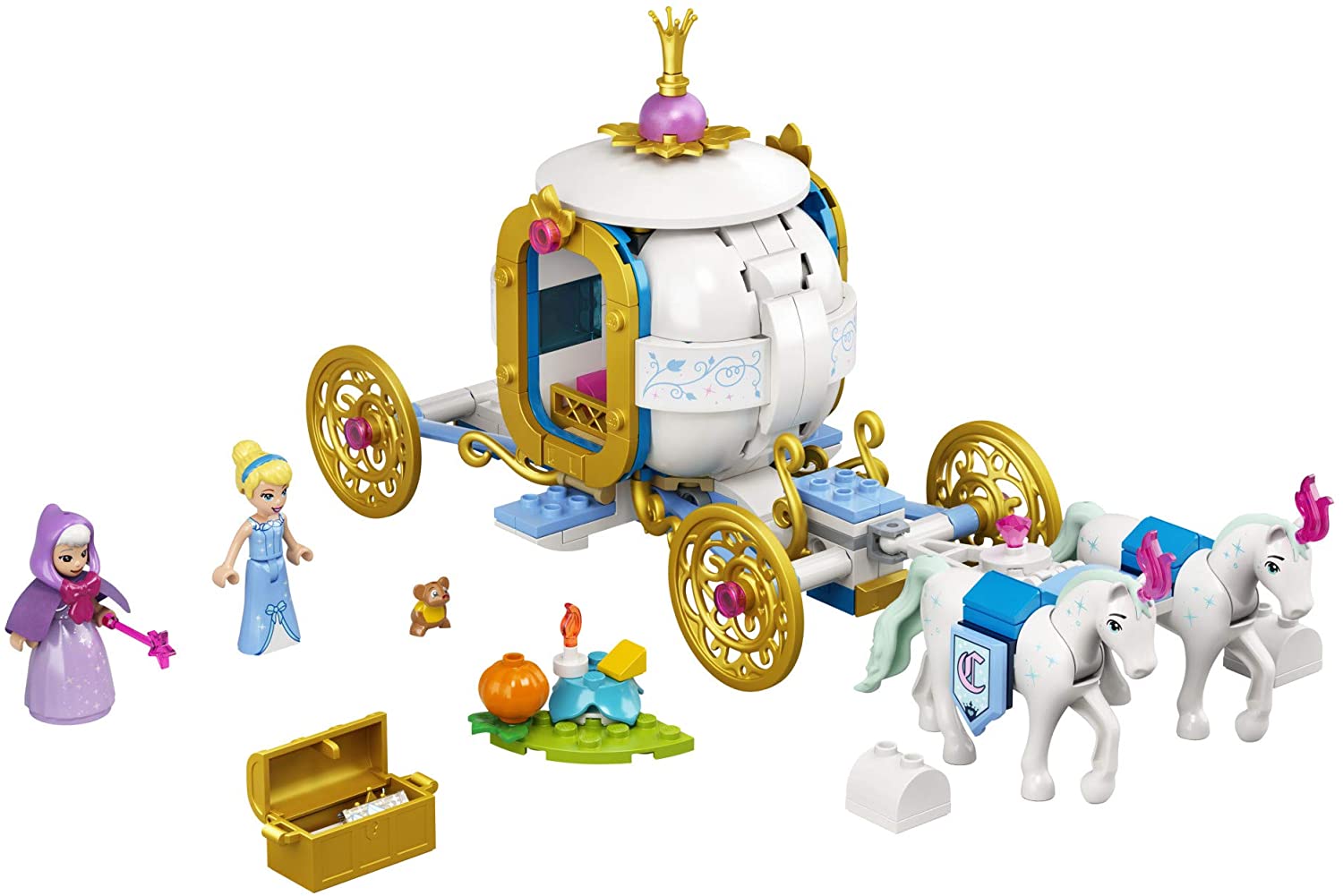 Pros:
Excels at attention to detail from Cinderella's glass slippers to the pumpkins and invitation to the ball included.
A great depiction of Cinderella in her most iconic outfit.
I love the accessories such as Gus Gus the mouse and the pumpkins.
Includes two white horses with moveable necks.
Compatible with other Disney Princess sets.
Only $39.99 so this is a great value.
Cons:
It doesn't make sense that for almost 100 more pieces and a lot more going on, this set is the same price as Jasmine and Mulan's Adventure.
While other sets at this price include a second Disney Princess, this is only Cinderella for a princess (the Fairy Godmother is the second Mini-doll.)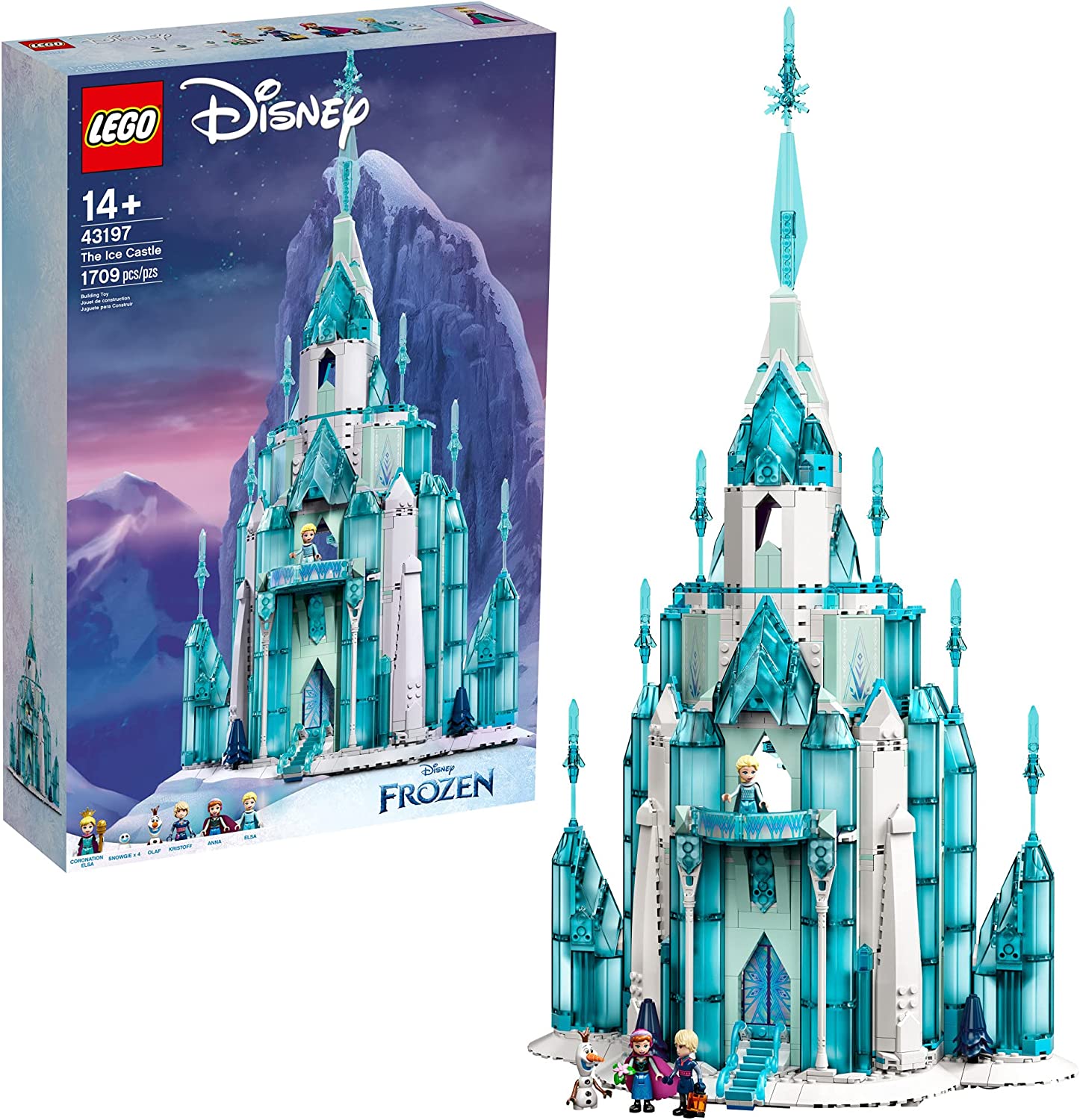 Frozen makes a second appearance on this list (how could it not) with the most expensive item, the famous Ice Castle. Meant for ages fourteen and up, this is a 1,709 piece set that also includes several Mini-dolls. They are Anna and two different versions of Elsa. One in her wearing her coronation dress and one in her more iconic and recognizable 'every day' outfit. This set also includes Kristoff and the ever-lovable Olaf along with four Snowgie figures (because how could they not include these cuties?)
The front facade of the build is ornate with beautiful blue and icy-looking bricks. The back is open and meant for more active playtime. This would be a great set to us alongside smaller sets, perhaps using different versions of Anna and Elsa, even bringing Rapunzel or Tiana maybe! Why not?
But this set, like the rest, is about the Disney Princesses and it includes (technically) three because Elsa comes in two different outfits. All three have wonderful attention to detail, with moveable capes. Anna's hair is in a pretty long braid down her back, Elsa's coronation outfit is ornate and complete with a crown. Even though the focus of this set is the castle, LEGO does a wonderful job at creating these iconic sister princesses. From their hair to their outfits and the accompanying accessories, LEGO nailed it.
Pros and Cons of The Ice Castle: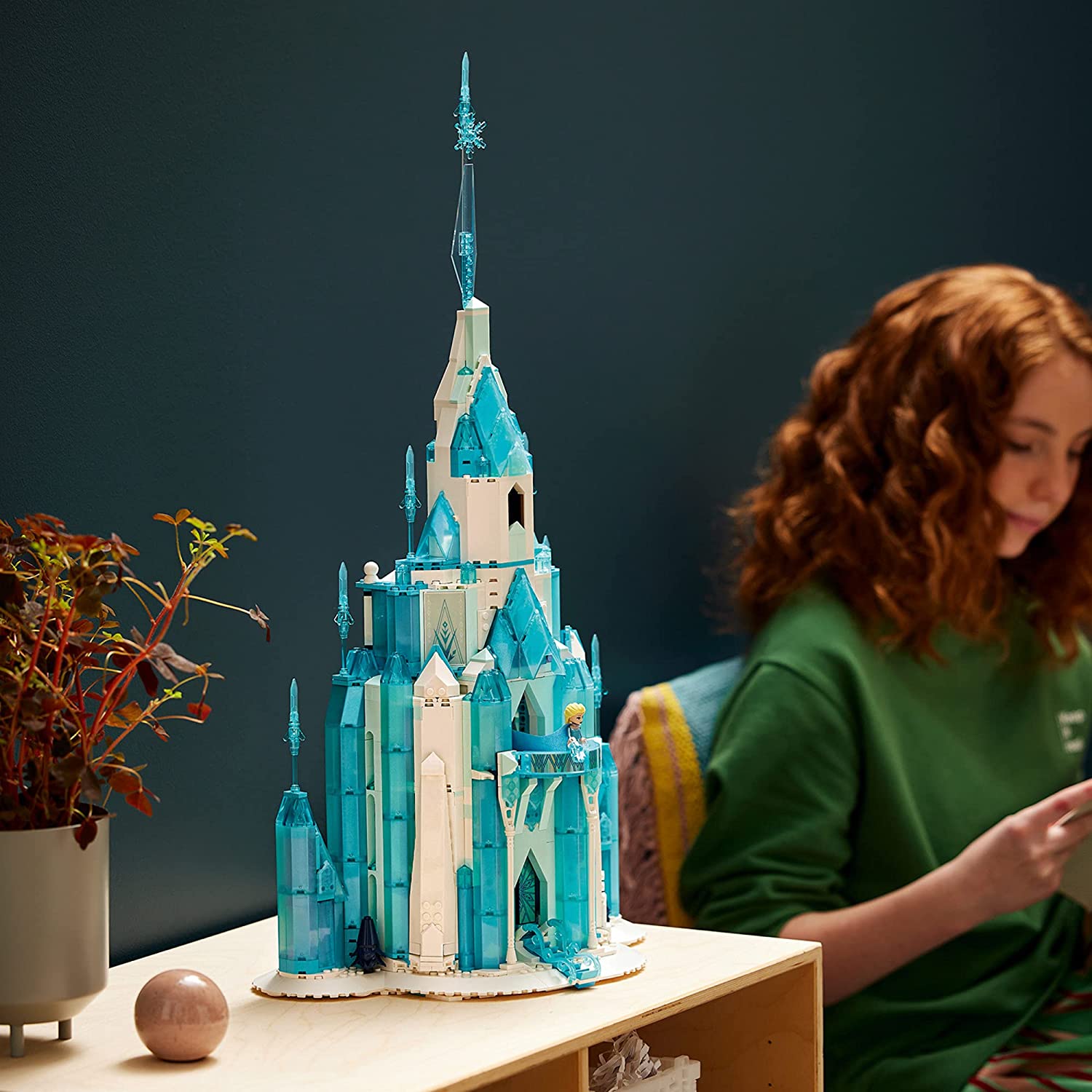 Pros:
This large set includes five Mini-dolls, three of which are Disney Princesses Anna, and two different versions of her sister Elsa.
Includes fun accessories like a snowball, a lantern, and flowers.
While the focus of this set is the castle, LEGO didn't skimp on detailed and accurate Disney Princess Mini-dolls.
Cons:
Sold out at the moment.
This set is $199.99 which is expensive, especially compared to the cool sets you can get for less than $100.
FAQs About the Best LEGO Disney Princesses Sets
Question: Do you have to spend a lot of money to get a good LEGO set?
Answer: Not. I have a Disney LEGO set hack for you to employ. Buy smaller sets that are compatible with each other. That way, you can build your own little Disney world without having to break the bank on one set.
Question: Do Disney LEGO sets cost more because of their association with Disney?
Answer: No, LEGO bases its prices on the number of bricks included in the set.
Question: Are there a lot of Disney Princess LEGO set options?
Answer: Surprisingly, not really. I think that this is a genre that LEGO could do a lot more with. I'm excited to see if they do.
Final Thoughts on the Best Disney Princesses LEGO Sets
While the Disney franchise is huge, its roots remain in the power of the Disney Princess. It all began with Snow White and just because now Disney owns National Geographic, Marvel, and Star Wars doesn't mean it doesn't have its success to credit to the strong female protagonist. For that reason, LEGO representing these women is especially important.
I love what LEGO has done with Disney Princesses so far, and I'm excited to see how they expand down the line. I think it's cool that you can get an affordable, awesome, LEGO set of a Disney Princess and that versatility of LEGO is just one thing I love about the company.
I hope that this article helps you decide on a great LEGO Disney Princess to buy for yourself or a loved one. Happy shopping and happy building!
Recommended Reads: