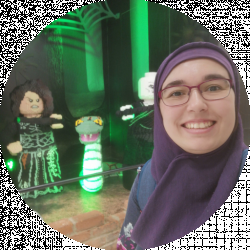 Latest posts by Melika Jeddi
(see all)
Released in 2020, this LEGO Diagon Alley 75978 set is arguably the most impressive Harry Potter LEGO set to date. I have been eyeing this gorgeous pinnacle of creativity ever since I first saw it in a LEGO store, so when the opportunity finally presented itself for me to buy it, I was beyond eager.
I've built several LEGO sets in my time, but never one on this scale. I recently watched enviously as my husband built the LEGO Daily Bugle, and I decided that I, too, wanted to own a large set that could be a real focal point. And what better set than this one? It was an incredibly challenging undertaking, but the experience was one I won't soon forget, and there was so much to get my teeth into. So join me as I take you on a magical journey through this LEGO Diagon Alley guide!
Bottom Line Up Front
Number of bags inside: 20 different numbers, but each number has two bags, so 40 bags in total.
Number of minifigures: 15, of which 4 are exclusive to this set.
Number of shops included: There are 4 parts to this build, and each part contains two shops, except for the last part, which technically only has one actual shop. So, a total of 7 shops.
Which shops are included? Ollivanders, Scribbulus, Quality Quidditch Supplies, The Daily Prophet, Florean Fortescue's Ice-Cream Parlour, Flourish and Blotts, and Weasley's Wizard Wheezes. Knockturn Alley is also included, adjacent to Weasley's Wizard Wheezes.
Time taken to build: ~30 hours (for one person building by themselves).
Is it worth the money? I feel like this answer depends entirely on your financial situation, but if you can afford to spend $399.99 on LEGO , then I think this is the best set you can buy for the price.
Is there a video review I can watch? Absolutely! Follow this link here to watch the building process come to life!
The Inspiration
Diagon Alley is truly a place of wonder. It's not only Harry's first real introduction into the wizarding world, but ours too. Sure, we'd seen a few unexplained scenes where Harry had accidentally used magic, and there'd been the amusing moment where Hagrid gives Dudley a tail, but until this point in Harry Potter and the Sorcerer's Stone, we didn't have a fully-formed idea of what to expect. But then we're introduced to Diagon Alley, and the sheer scale of this magical world is fully revealed to us. There are fantastical shops full of items and creatures we've never heard of before, and as an audience, we are captivated.
This LEGO set taps into that sense of excitement and magic. I think they did an exceptional job choosing which shops to include, as the overall effect is vibrant and eclectic. There's such a range of colours and shapes, and the resulting cacophony perfectly emulates what Harry Potter is really all about – pure freedom.
Magic has no limits, and in the wizarding world, everyone can be whatever they want. Diagon Alley is a place for dreamers, and through building this set, you're transported right into that dream. There are many wonderful locations in the series that they could have chosen to create, but I think this was the perfect choice.
This set was designed by Marcos Bessa, who spent a year and a half creating all the specifics before it was finally ready to produce. He worked with a broader team of LEGO designers, and together they worked out all the kinks and produced their final vision. Initially, they'd only intended to have three large buildings – Ollivanders, Quality Quidditch Supplies, and Weasley's Wizard Wheezes.
However, as the process went on, they decided to make the buildings a bit smaller so that they could have more of them and include more memorable names from Diagon Alley. Some of the buildings had limited descriptions in the source material, so it was left up to the team's imagination as to how to depict the insides.
As the LEGO license for Harry Potter sets is with Warner Bros, they wanted the movies to be their main reference point. As such, they got access to photos and drawings from Warner Bros of the Diagon Alley movie set and used that to form a blueprint for this LEGO set. Marcos and his team put a lot of thought into the colors used, and the final effect is breathtaking.
Top Tips Before You Start
This is an extensive set, with a total of 5544 pieces, so it's good to have a plan of action before you start. Here are my top tips for you to consider, based on my experience of building this set.
Decide where the finished product will go. This is a large set, and the last thing you want is to spend all that time building it only to have nowhere to put it. There are several different ways that you can connect the four buildings. The intended display is to connect them all side by side, which would measure 102cm wide, 13 cm deep, and 29cm high (40.2″ x 5.1″ x 11.4″), but you can also put the two end ones diagonally on their side to display them, which would be roughly 77.2cm x 42cm (30.4″ x 16.5″). Technically you can arrange it in other ways too, but bear in mind that there are four buildings, and each one is 25.6cm x 13cm (10.1″ x 5.1″), with a maximum height of 29cm (it varies by building).
Have a dedicated building surface. Before you get started, know where you're going to build it. Ideally, you'll want a table or something rather than just the floor as LEGO picks up dust like nobody's business, and you don't want your pieces to get dirty. I had limited spaces in my house where I could work and ended up using a coffee table that's about 40cm x 80cm (15.7″ x 31.5″). Even that was a tight squeeze, so I wouldn't recommend going any lower. You'll want space to not only put the building itself but also the pieces and any separate parts made as part of the build.
Organize the pieces prior to each building stage. Believe me, this will save you soooo much time when it comes to the building stage. I know you'll be tempted to just pour all the pieces out and dig into building, but trying to sort through everything to find each piece in the instructions will take valuable time and slow the process down. Taking 10-15 minutes at the start to sort the pieces into piles will make the actual build considerably quicker. You don't have to be as meticulous as I am about it (I have OCD and so I need the pieces to be laid out neatly rather than just in piles), but a basic organization system is my strong recommendation for this one.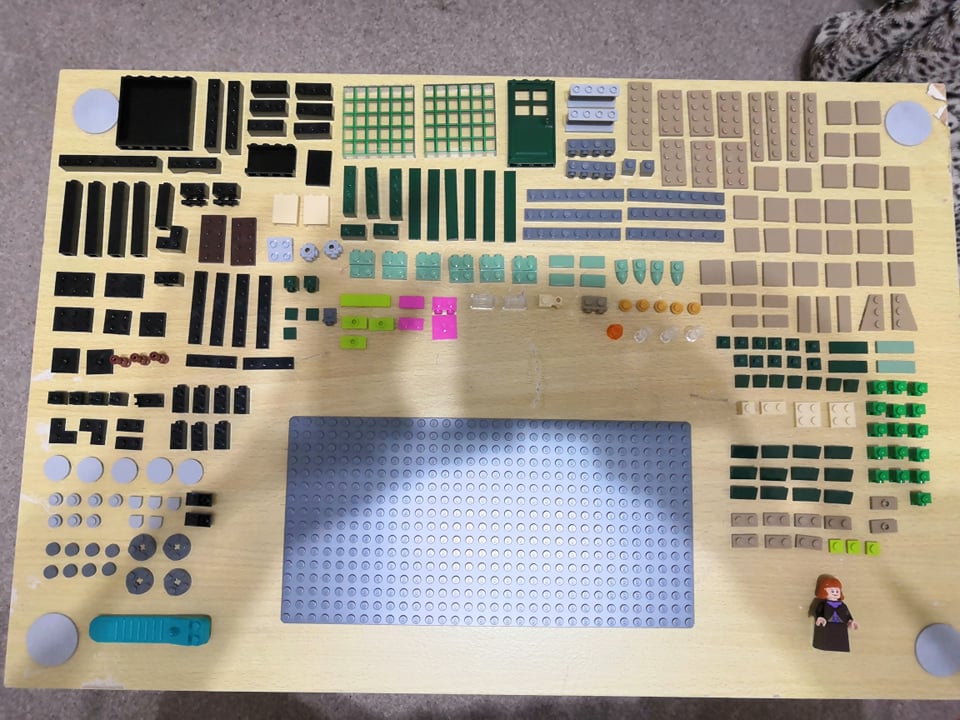 Have long fingernails. For this, I don't mean fake nails or anything ridiculously long; I just mean long enough to extend past your fingertips. I bite my nails, which caused real problems for me when building this set. There are so many really tiny pieces that are tricky to pick up without nails, and also, multiple parts of the build may need holding in place or adjusting, and it would've been so much easier to do this if I could just slip my nails between pieces. Also, if you accidentally place a flat piece in the wrong place, then you'd need to slide your nails under to pry it back off.
The Shops
Rather than building the entire Diagon Alley on one humungous baseplate, this set comes separated into 4 parts. Not only does that increase your options when it comes to displaying it, but it means the build itself is less intimidating as it's split into manageable chunks. Each part of the build has its own instruction booklet, because if there were only one instruction booklet, it would probably be the size of War and Peace.
The instructions are mostly self-explanatory, and the start of each booklet depicts all the stages of the build. Bringing this set to life was a really unique experience, as each part was so different, and so in this guide, I'm going to run through each building in its own separate subheading.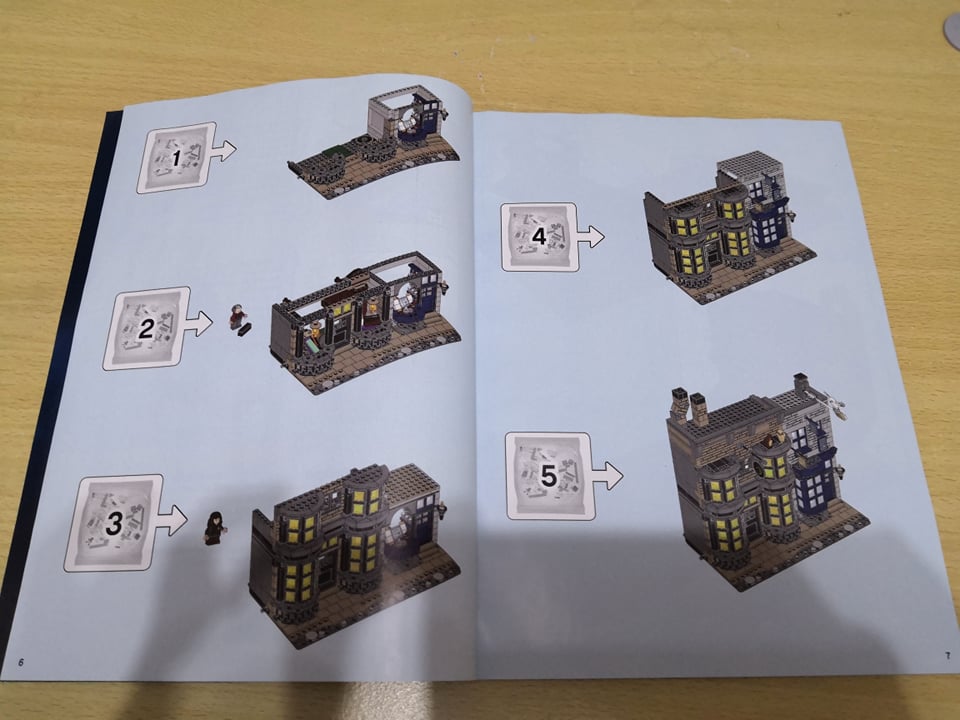 Ollivanders and Scribbulus
Time taken: 7 hours.
Build stages: 1 – 5.
This is your first introduction to the set, and I think it was a great choice to get you started. When I first looked at the pieces I thought they seemed a bit plain, as they're primarily gray and dark blue, but as I progressed through the build, I realized that it gave the shops a much more elegant and realistic vibe considering that they're both rather serious shops. By the time I finished, I thought the build looked incredibly classy, and I was glad that the colors were quite muted, as it meant that the more vibrant colors in the other sections would be able to stand out more.
Ollivanders is where young British witches and wizards go to get their very first wands, and it's a very special milestone in their lives. There's a definite solemnity to the moment, and that's captured perfectly in this set, hence the duller colors. The exterior of the shop has several windows, and interestingly, these are actually a first for LEGO.
Marcos Bessa wanted the windows to have more of a warmth to them than the standard clear panes have, and he also wanted to convey the sense that the shop was lit up from the inside. Therefore, they designed transparent yellow panes to go in the window frames, and these had never been seen before.
Another new brick included was the wand box shape, which was made especially to make Ollivanders more authentic. There are several wands included in this part of the build, and the majority are sealed away in wand boxes in the shop. It's fun knowing that they're in there, waiting for the right owner. After all, as Ollivander would say, "the wand chooses the wizard".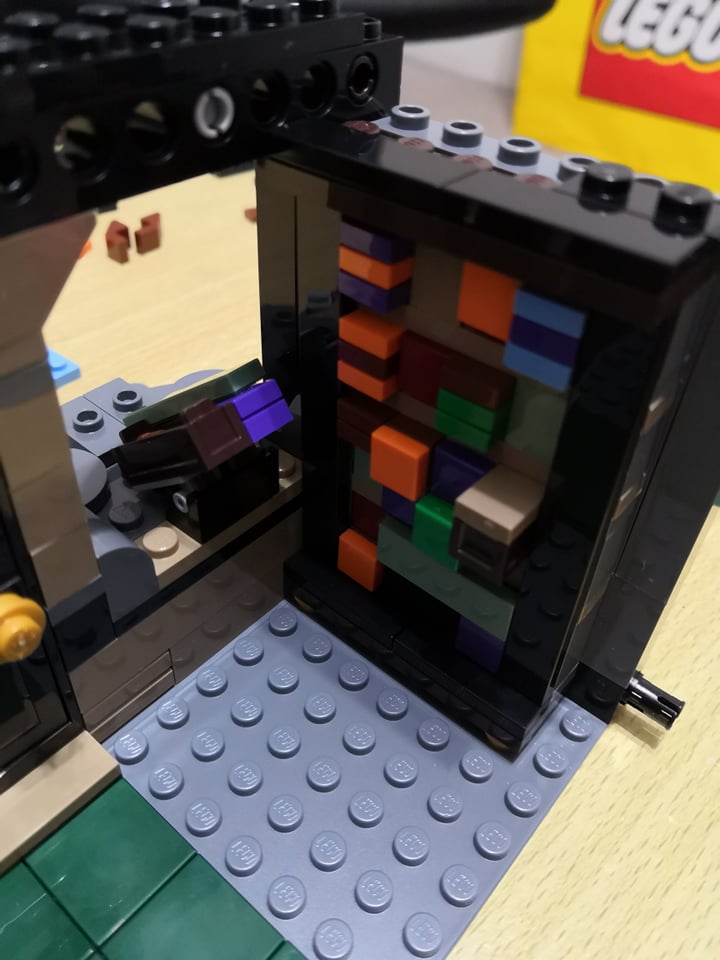 Scribbulus is a dark blue color, which complements the gray facade of Ollivanders. In Scribbulus, you can buy quills and other writing supplies, and it's no surprise that this build comes with the minifigure for Hermione Granger. I can just imagine her wandering around, fretting about finding the perfect shade of ink for her homework. Each shop has a sign out front with a sticker depicting its name.
But whilst those stickers were fine, the ones on the front of the shop were a nightmare. The rounded tops of the windows are made up of two pieces, and that meant that instead of having one long sticker with the shop names, each one was split into two. Seeing as it's nigh on impossible to place stickers exactly perfectly, it meant that there was a slight misalignment in the shop names, which was pretty disappointing.
Another frustrating part of this build were the curved windows on Ollivanders. They're stacked three tall and then placed on a single stud, so as you can imagine, they're a little flimsy. You then have to put a rounded piece on top of three different stacks, all of which are at a different angle. I'd be lying if I said this wasn't incredibly difficult.
However, most of the build was wondrous. My favorite part was making the stairs, as they're actually interactive. They're secured on a rotating baseplate, which means you can spin them out! I found this incredibly exciting, and it presents a wonderful play opportunity.
I placed my Ollivander minifigure on these stairs so that he'd be facing you when you spun them out. There are also a couple of gaps in the display cases, and you can slide wand boxes in and out of them. On top of the building, there's a wonky chimney which you can straighten if you want to. There are also a couple of owls perched atop it, and Hedwig sits on a pole, clasping a Daily Prophet article.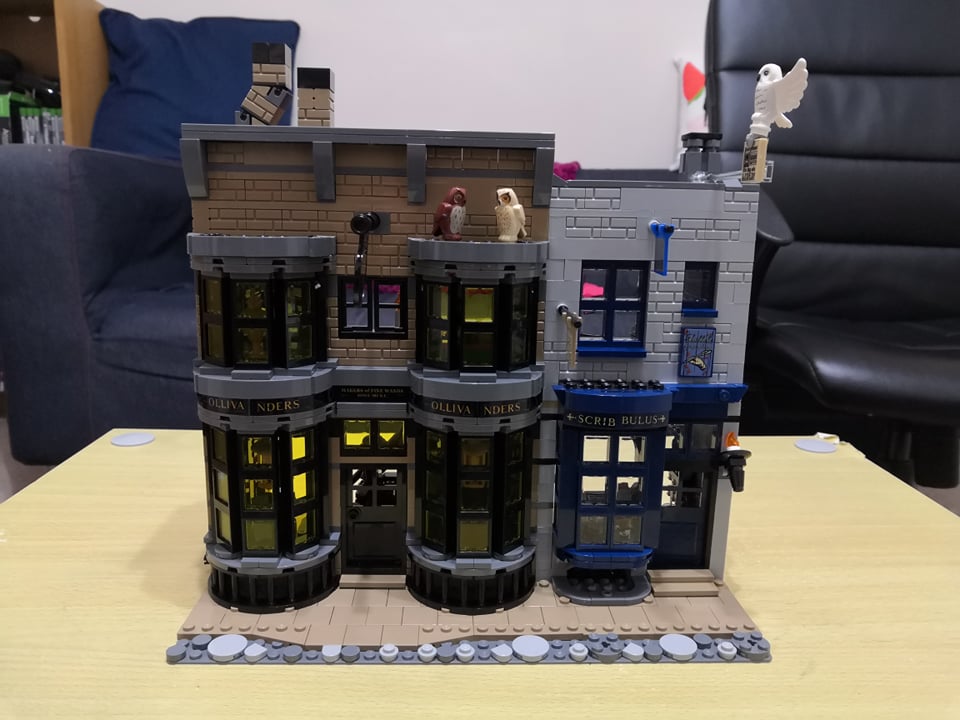 Quality Quidditch Supplies and The Daily Prophet
Time taken: 6 hours and 30 minutes.
Build stages: 6 – 9.
Whilst the Ollivanders and Scribbulus building has more neutral tones, this one goes the complete opposite direction and is super vibrant. There are countless colors visible on the exterior, with no discernible rhyme or reason. However, I think the lack of a specific color palette is precisely what works here. Quidditch isn't a game for muggles, so their color scheme has no reason to make sense to a muggle either.
Quality Quidditch Supplies is the place where Harry sees the Nimbus 2000 through the window in Harry Potter and the Sorcerer's Stone, and he's enthralled with the concept of flying even before he knows what quidditch is. This build makes sure that all the LEGO witches and wizards also have that opportunity to fall in love with flying, and a broom is on clear display in the downstairs window of the shop.
Speaking of the window, the whole front part of Quality Quidditch Supplies is a separate build! The red part at the front with all the windows is built on its own and then manually attached to the main building. It actually only has two bricks connecting it, so I was a little worried about the structural integrity, but it seems to hold itself together perfectly well. When I first attached it, I thought they'd made a mistake with the design, as the base isn't level with the baseplate.
However, upon learning more about Marcos Bessa's vision, I realized that this was a deliberate choice, intended to convey the non-conformist nature of Diagon Alley. The buildings in the movies aren't perfectly straight, instead appearing crooked, and the uneven front of Quality Quidditch Supplies emulates this idea. On the back, the roof is actually concealing a rat who's about to munch on a block of cheese, which is cleverly depicted by an angled yellow brick. I think it's so ingenious how LEGO uses existing pieces to represent different items.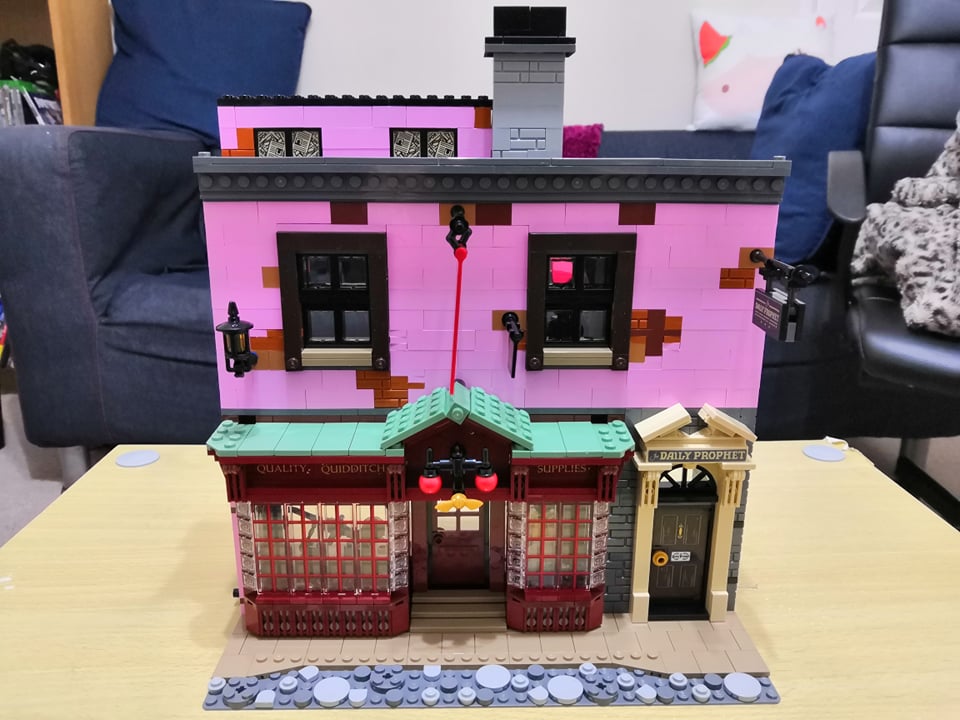 There are a few stickers in this build, but I didn't mind this as much as before because all the stickers were at least in one piece. They didn't split up words over different stickers, which meant that even if you didn't get a sticker perfectly straight, it still mainly looked fine. There also are a few pieces that are already printed instead of relying on you placing a sticker. There are several 2×2 flat pieces that depict Daily Prophet articles, and a pile of them sits on the roof of the building.
There are also window panes that have been printed to look like newspaper, which is a beautiful touch. The inside of the Daily Prophet office is papered with newspaper articles (one large sticker) that cover major plotlines from across the series. Chronology doesn't seem to have been much of a concern with this build, and I'll cover that in more detail in the conclusion.
The designers have clearly put a lot of effort into the details of this build, in particular with Quality Quidditch Supplies. Previous sets have included characters wearing the Gryffindor and Slytherin quidditch uniforms, so Marcos Bessa decided to include the other houses by having the minifigure models wear the Ravenclaw and Hufflepuff quidditch uniforms.
That way, they can swap the bodies out with their existing minifigure characters and create their own quidditch match displays. It's awesome that we essentially get two free minifigures that aren't even on the box because they're just mannequins.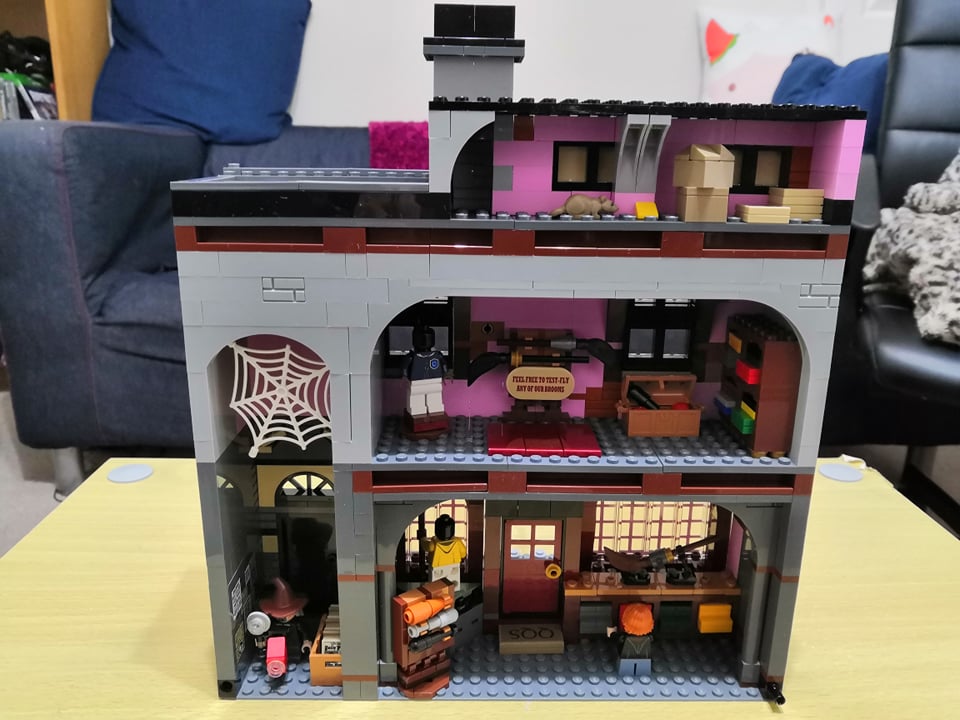 Florean Fortescue's Ice Cream Parlour and Flourish & Blotts
Time taken: 6 hours and 15 minutes.
Build stages: 10 – 14.
I am so glad that this set included these two stores. Aside from Weasley's Wizard Wheezes, they're both my favorite shops. I love the scenes in the book version of Harry Potter and the Prisoner of Azkaban where Harry just chills in Diagon Alley for a few weeks, fully integrating himself into magical life. It's such a light-hearted time for Harry, and during those weeks, he becomes a regular at Florean Fortescue's Ice Cream Parlour.
The shop is featured in the movies but doesn't play a central role, so I'm glad that LEGO included it despite its lack of relevance to movie fans. Florean's is the smaller of the two shops in this part of the build, but that makes sense as Flourish & Blotts would need to be much larger to account for all the books. The color scheme for this build is consistent and works very well together.
Florean's is a beautiful yellow color reminiscent of banana milkshakes, which makes perfect sense for an ice cream shop. The roof is made of brown tiles, which look a bit like chocolate. Meanwhile, Flourish & Blotts is primarily made of two shades of green, giving a natural vibe, perhaps a reference to the trees for which the paper for the books is derived.
I really like the way that books have been depicted in this set. Several short pieces are stacked on their side and displayed on shelves and in bookcases, and the design process to get them to sit like that is actually far more complex than the simplistic appearance would have you think. Flourish & Blotts has so many separate builds within it, mostly for book displays, but also other features.
My favorite is the staircase, which is attached to a hinge and actually folds upwards! I love when LEGO sets contain moving parts, and so anything on a hinge or rotating baseplate is always a win in my opinion. There was also a desk that was built separately, and in the instruction booklet it was just placed out the front of Flourish & Blotts and wasn't attached to anything, but I wanted my build to be compact and as secure as possible, so I put the desk in the upper level of the shop.
There are also a couple of loose books, and I placed these on various surfaces within the shop. Both the Ginny and Molly Weasley minifigures came with a copy of Magical Me which unfortunately was too thick to fit in their hands, so again, I just found places to lodge them securely.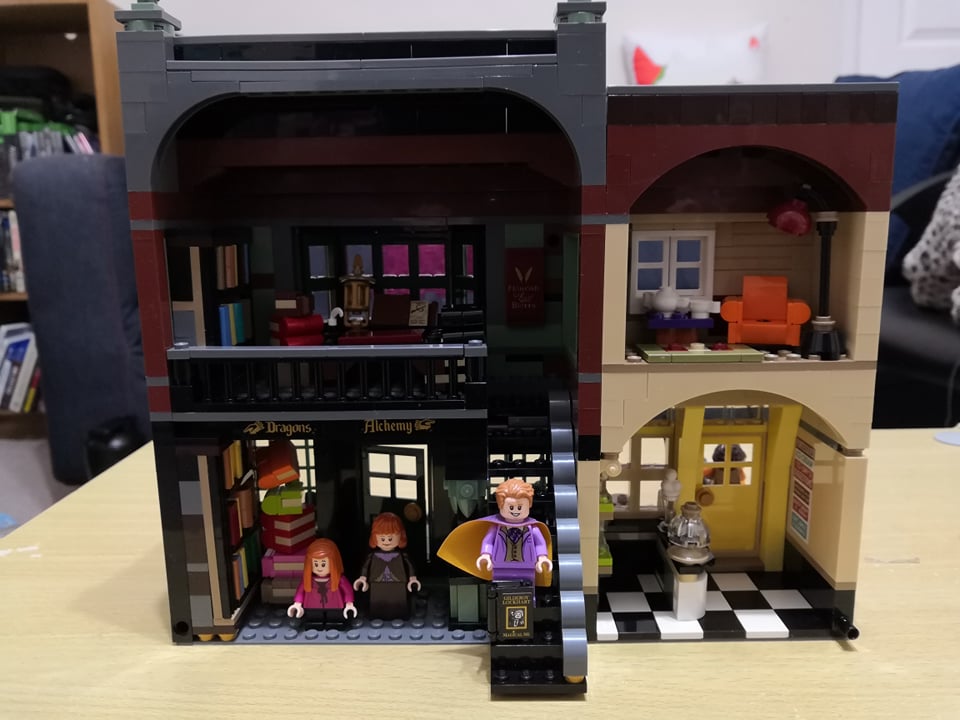 This is the only building with angled roof tiles, and when I first saw them, I was concerned that they would be monotonous and repetitive, but they were actually so relaxing. It was nice to alternate the various sizes of bricks to create the final tiled effect, and I was a huge fan of their inclusion.
I also love how the lower roof of Florean Fortescue's has a 3D display of a table and chairs with an ice cream in the middle in lieu of a sign showing the name of the shop. Meanwhile, Flourish & Blotts opted for a more traditional approach, and a double-sided sign hangs on a pole out the front.
The sign used clever brick mechanics so that a flat piece could be attached to each side. There are several designs like this throughout the Diagon Alley set, and you can tell how much work went into the development process to get everything just right.
This build doesn't have as many stickers as some of the other parts, and there were a couple of pieces that were already printed, such as a book about flying. The stickers that were in the set were mostly of a convenient size to make sticking them an easy process, and they were all relevant to the scene. For example, Florean Fortescue's has a sticker showing all the ice-cream flavors, one of which was 'Bat Juice & Earwig'… Gross!
I'm not sure who's ordering that, but I think I'll stick to something safe like chocolate! The upstairs of Florean's is his own cozy living space. It features a teacup and teapot (a quintessentially British pairing), as well as an armchair that swivels around satisfyingly. This was a really enjoyable build, and probably has the best minifigures of all the shops.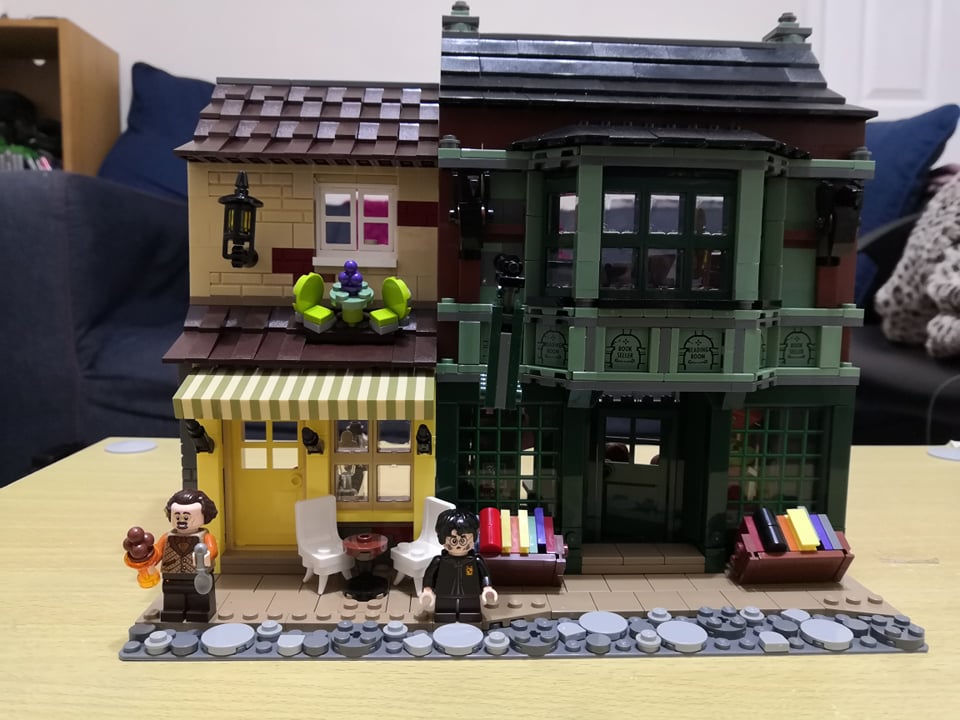 Weasley's Wizard Wheezes and Knockturn Alley
Time taken: 9 hours and 15 minutes.
Build stages: 15 – 20
This. This right here is perfection. Whilst I loved every part of building Diagon Alley, this last section could easily have been a set in its own right. I mean, just look at it! It's phenomenal! The colors are brilliant and are exactly what you'd expect from the Weasley twins.
The shop looks just like it does in the movies, and I've actually visited both the Warner Bros Studio Tour and the Wizarding World of Harry Potter, and they have this same design. It really is like a miniature version of the real shop. Around the corner, you have the entrance to Knockturn Alley, and it makes sense that the minifigures for Draco and Lucius Malfoy would be skulking around here. Knockturn Alley is made up of dark-colored bricks and looks deliberately crooked. It's in stark contrast to the vibrancy of the joke shop next door.
One thing that took my breath away when I was building it is the ginormous man built into the corner of the exterior. I've always loved that design choice from the movies, as the store's aesthetic wasn't fully described in the books, and so this was a decision by Warner Bros. The way it's constructed means you start to build him directly attached to the walls, and then you build the windows around him.
I remember being very confused when I organized the pieces because three of the window frames didn't have panes to go in them, and at first I was worried about missing pieces, but then upon reading the instructions I realized those frames had been left deliberately empty so the man's arms could be put through them.
However, the coolest part is that there's a mechanism hidden inside the wall which means there's a lever allowing you to tip his hat! It completely blew my mind, it was such a clever idea! He's definitely my favorite part of the entire set, and I love repeatedly flicking the lever to make him take put his hat on and off.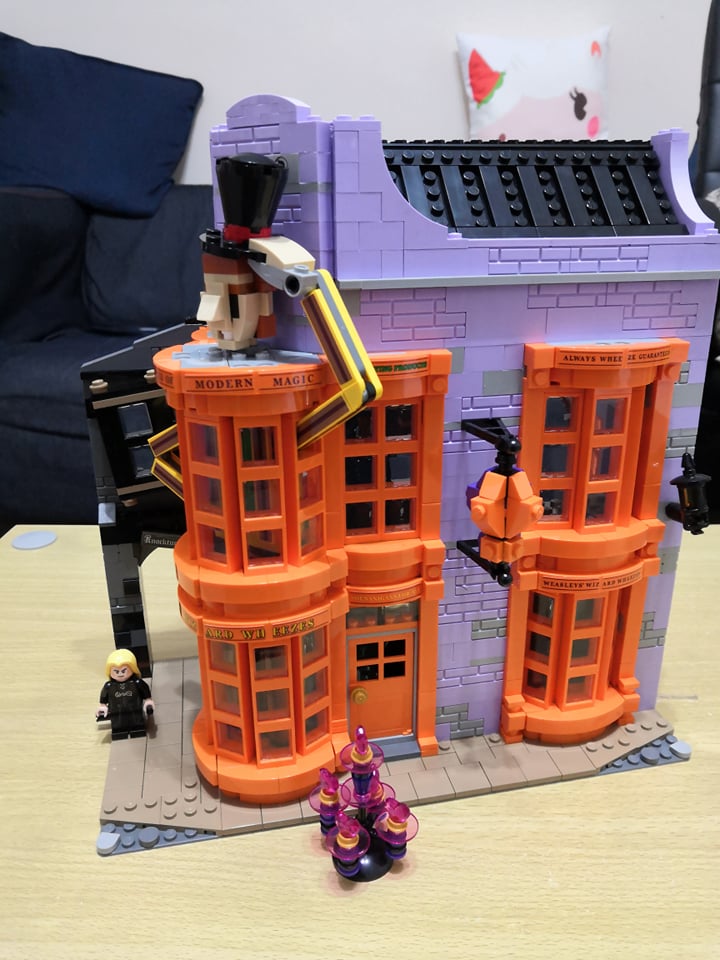 Inside, the shop is completely stuffed with various toys and curiosities. There are bottles, boxes, crystals, and so much more. The way that the bricks have been combined to give the appearance of magical potions is really clever, and it's immediately obvious what they're supposed to represent. However, the abundance of toys also means an abundance of stickers. So. Many. Stickers.
Seriously, it felt like pretty much every time I turned the page there'd be a new sticker for me to attach. I have to admit that the final effect is brilliant, though, I just wish we could have had custom-printed pieces for the ones where there were multiple of the same stickers for the same shaped pieces. I love the colorful posts along the banisters, they really account for the dramatic flair of the Weasley twins.
There's also a separate part of the build that you make at the end which depicts a tower of love potions. This is a loose piece and doesn't attach to anything. I'd have liked to find somewhere to secure it, but the inside of the shop is so jam-packed that there really isn't space! The sparkly transparent pink hearts are probably my new favorite piece that LEGO create. Overall, this build is gorgeous, and it makes me smile every time I look over and see it.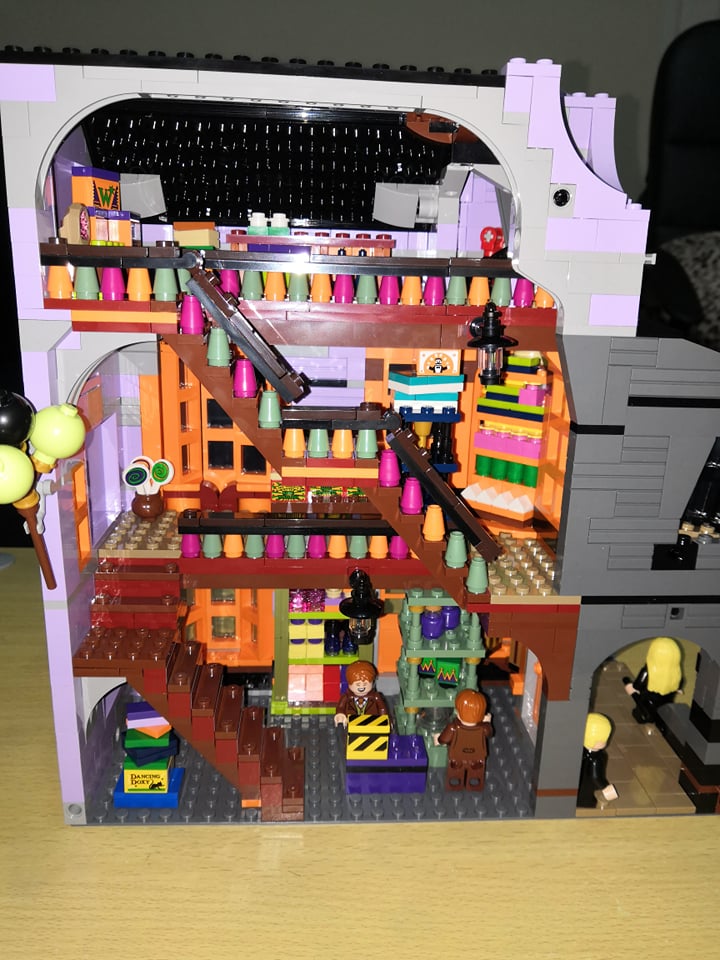 The Minifigures
Now, as any LEGO enthusiast will tell you, the builds themselves are only half the consideration. What you really want to look for in a set are the minifigures, and this one has plenty. There are 15 official minifigures included, although you technically have two bonus ones that are used as the mannequins in Quality Quidditch Supplies. Read on to see what to expect in the way of minifigures from the LEGO Diagon Alley (75978) set. The majority of the figures have two facial expressions to choose between, with the unchosen one remaining hidden by the hairpiece.
Check out our guide on the best LEGO Harry Potter Minifigures and Best LEGO Disney minifigures for more ideas.
Exclusive Figures
This set comes with four brand new exclusive figures, which is actually pretty impressive. An exclusive means not only is it brand new, but it will also never be used in any other sets in the future, either. The four exclusives for this set are Gilderoy Lockhart, Florean Fortescue, Lucius Malfoy, and the Daily Prophet Photographer.
Now, this doesn't mean that the character has never been seen before, it just means that the design used is a unique one. For example, there are three other Gilderoy Lockhart minifigures that have appeared in previous sets, but they all look different from each other. The one used in this Diagon Alley set is definitely my favorite though, as I love his purple robes and the golden underside of his cape.
The Daily Prophet Photographer is an interesting one because the character mold is relatively non-descript, but the key feature with him is the camera. Instead of being a single brick, you build it yourself out of several small pieces, and the final effect is really cool. Florean Fortescue is another great one, and he's holding a delicious chocolate ice cream in one hand, and a spoon in the other.
The set actually provides you with a second spoon, so you can replace it if you lose it, or even give it to another character so that they can dig into the ice cream as well. Florean's kindly face is congruous with his actions in Harry Potter and the Prisoner of Azkaban, where he gives Harry freebies every now and again. The final exclusive figure is Lucius Malfoy, and I have to say, I adore his long and luxurious hair, it's majestic.
Other Figures
The rest of the figures in this set are as follows:
Garrick Ollivander
Hermione Granger
Ron Weasley
Molly Weasley
Ginny Weasley
Harry Potter
Fred Weasley
George Weasley
Draco Malfoy
Rubeus Hagrid
A Secret Surprise Minifigure (There's a box at the end that says 'Silencio, keep it between us' on it, and this last minifigure is found inside there)
There are also some animal figurines included, which are:
A brown owl
A cream-colored owl
Hedwig
A rat
The Secret Surprise
If you don't want spoilers, then you should skip this section and jump straight to 'Overall Review'. It's such a delightful surprise, and I'd hate to ruin it for you, but I know some people like to know everything that they can expect.
When I first opened the set, I saw a mysterious small box inside, which just said 'Silencio, keep it between us'. I was so tempted to tear it open then and there to see what it contained, but I was patient and waited until the very end. And boy, am I glad I did. Inside were the pieces to make a unique stand to put in front of the set. On the plaque, in fancy silver lettering, reads the iconic line "Welcome, Harry, to Diagon Alley".
There's also another Harry minifigure, this time in different clothing, as well as Rubeus Hagrid holding his classic pink umbrella. They stand on either side of the plaque, and honestly, I nearly teared up when I saw it. Building this set has not only been enjoyable, but it's been an emotional journey through decades of nostalgia, and this was the perfect way to end it. I love that this wasn't mentioned on the box or the website, and was kept as a special secret.
Find the secret surprise here!
Overall Review
Now, the real question… Is this set worth it? To answer, I'm going to consider three main points – ease of build, the enjoyability of build, and the finished product. I'll go over each part in detail, then at the end I'll draw a conclusion about whether it's worth the price. Keep in mind that this is my personal opinion, and the things you look for in a LEGO set could be different to mine, hence why I'm going to mention several factors so you can make up your own mind.
Ease of Build
For the most part, this wasn't an overly challenging build. However, I definitely understand why the age range is 16+ because I think a child would struggle to have the necessary patience and attention to detail. There are 5544 pieces in this set, many of which are absolutely tiny, and they all require exact placement.
The instructions are clear and easy to follow for the most part, although there are some exceptions. In a few pictures, it's not clear where the new pieces have been added, and I feel like I'm playing spot-the-difference. Also, on a couple of occasions, the picture in the book does not match the build in real life (some parts are initially loose, but they're drawn as if they're secure). The biggest frustration is the color saturation.
Sometimes it can be tricky to tell which shade of gray or brown the instructions want you to use, as they're a different color on the pages due to the print quality. This is the case across all LEGO sets in my experience, but I still wish they'd print the colors more accurately. Some parts of the build are flimsy until they've been secured, which can mean they fall apart in your hands, and it can be very difficult to get it right.
Putting the rounded tops on the windows of Ollivanders took me about 10 minutes because the alignment was so tricky. Despite all the nit-picking, though, I was impressed at how well the instructions conveyed what we had to do. With so many bags of bricks, this could've been a disaster, but actually, it was mostly smooth sailing.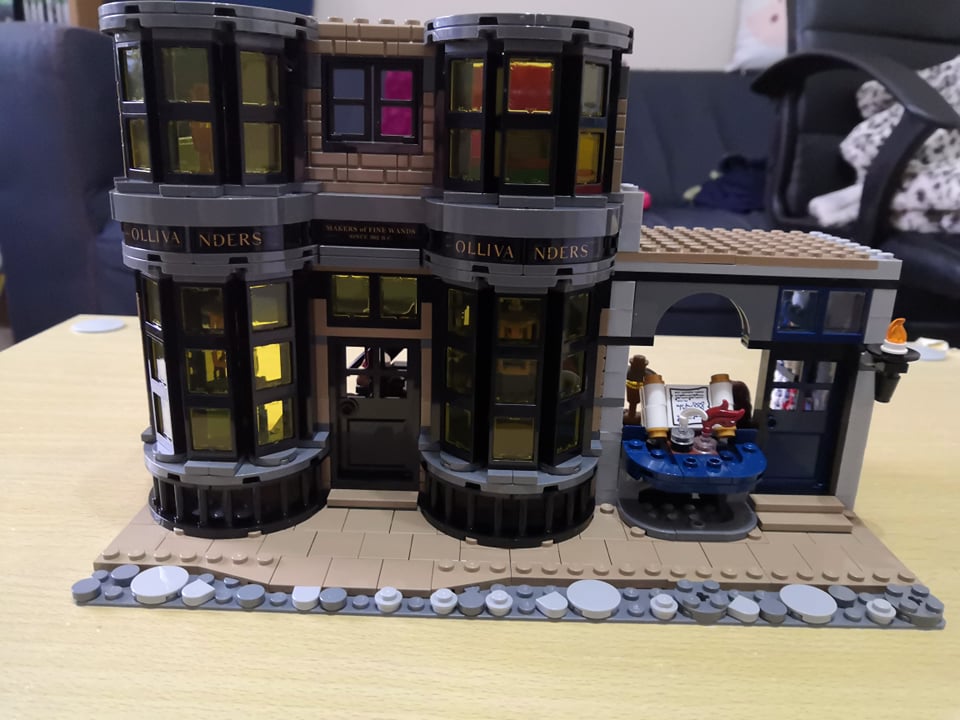 Enjoyability of Build
Building LEGO Diagon Alley was an absolute joy. So much care and effort have gone into making this a wonderful experience for the builder, and that really shows. Not only are there several parts of each shop that are built separately, but there are even moving parts.
These are incredibly exciting to create and fuel the imagination when it comes to thinking up your own ideas. There are also several parts of the build that are clearly included simply to make the experience more enjoyable, as they're not even visible in the finished product. The range of colors used for bricks is really appealing and makes the pieces look so exciting when they're spread out in front of you.
The only parts that were less fun were the frustrating bits I mentioned in the 'Ease of Build' section where flimsy constructs wouldn't hold their integrity. Other than that, it was all incredibly entertaining, and each stage (I'm counting a stage as one number in the booklet) was about 1 and a half hours. However, I do feel that there were too many stickers, which could get a bit annoying.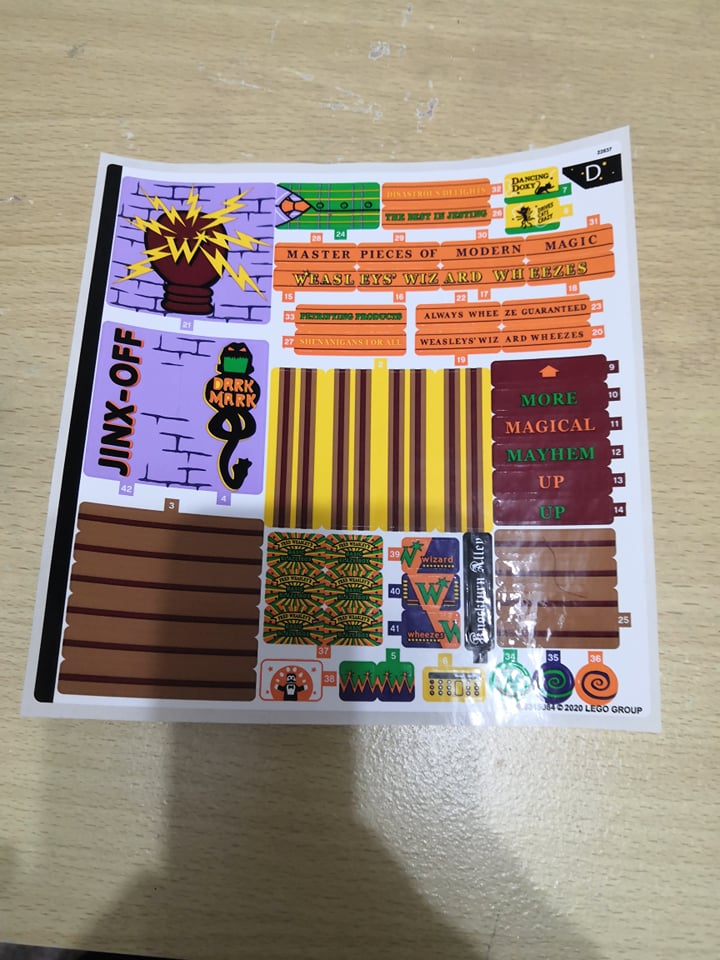 The Finished Product
Once this is complete, it's possibly the most beautiful and exciting LEGO set that I have ever seen. You can feel the magic oozing off the bricks and into your home. Each shop is fantastic on its own but put them together and it becomes something else entirely. Marcos Bessa's vision for this set becomes so apparent, and I think he and his team did a phenomenal job of choosing the shops and color schemes.
Not only does this Diagon Alley set look incredible as a display piece, but it's also perfect if you like to play with LEGO, or have kids who do. The number of minifigures and locations means you can invent countless scenes and ideas for a play scenario. The numerous moving parts also mean there's plenty to interact with.
I can imagine a set this large keeping someone entertained for hours, and I would've killed for something like this when I was younger. Even though I'm now past my prime playing years, I still can appreciate it from an artistic perspective. It honestly puts a huge smile on my face every time I walk past it, and I love having this in my house to admire it up close.
You can also choose how you wish to display it. Each part of the build has a small connecting tube on both the back and the side, so you can line them up side by side in any order. But that's not all, you can also display them in an arch if you're struggling for space. And if you really want to throw caution to the wind and do something entirely unique, you can do what I did. I have created something magnificent which I call… Diagon Cube!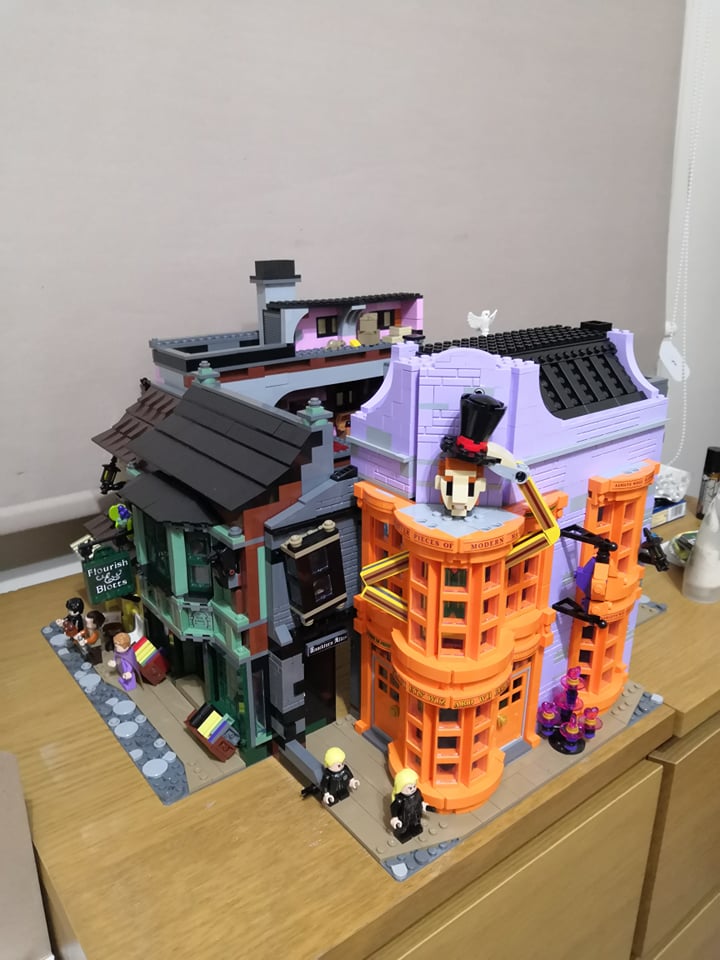 Is it Worth the Price?
Now, this is a loaded question. What one person would consider to be 'worth the price' would be a 'ridiculous waste of money' for someone else. I'm not here to comment on your financial situation or to judge how you choose to spend your money. 'Worth it' is entirely dependent on an individual's budget.
So instead of answering that directly, I'm going to come at this from the angle of 'if someone is looking to spend $399.99 on LEGO, is this worth the price?' In my opinion, I'd say yes. This is such a fantastic build, with multiple play and display opportunities, and I think it's unlike anything else that LEGO currently have on the market. My only criticism is that for such a high price, you'd think they'd be able to afford to include more custom-printed pieces instead of using so many stickers.
We also have to consider its direct competitor, the LEGO Hogwarts Castle. This set is exactly the same price in the US (although interestingly it's slightly more expensive in other countries). As a display piece, the castle is certainly eye-catching, and it's also a bit larger than Diagon Alley. I really like the multitudes of turrets, and they give a sense of majesty and spectacle. However, the castle is almost entirely the same color palette, with a few exceptions for certain locations such as Professor Umbridge's room.
I like that Diagon Alley is so vibrant and varied, and you don't get that with the castle. I also feel that despite its size, the castle is pretty limited in play opportunities, particularly as instead of minifigures, it primarily contains microfigures, which I feel just aren't as fun.
Personally, if I had to choose a LEGO set for this price I'd definitely stick with Diagon Alley, but if you prefer having impressive display pieces rather than colorful and maneuverable sets, then maybe the castle would be better suited to you. For more ideas, check out our guide on the best LEGO Harry Potter Sets here. Diagon Alley is also definitely preferable if you have a small area in which to build, as you build it one part at a time, whereas the castle is all one large build.
FAQs
Question: Where can I buy the Lego Diagon Alley set?
Answer: There are many shops that sell Lego, however, you won't be able to find this set in them as it's a Lego store exclusive. As such, there are only two places where you can buy this particular set. You can either go to Lego's online store or you can try and find one in a physical Lego store. I'd recommend calling ahead first, though, as my local Lego store didn't have one in stock, and so I had to take a day trip to one that was a few cities away in order to buy this set.
Question: How many minifigures come in the Lego Diagon Alley set?
Answer: There are a total of 15 official Lego minifigures in this set, of which 4 are exclusives. These are Florean Fortescue, Gilderoy Lockhart, Lucius Malfoy, and the Daily Prophet Photographer. However, the set also comes with two blank minifigures which are used as models in Quality Quidditch Supplies, two owls, one rat, one spider, and a Hedwig.
Question: What was the first Lego Harry Potter set?
Answer: The very first Harry Potter Lego set released was 4701: Sorting Hat which was launched in 2001 and discontinued in 2002. It was based on the iconic scene in Harry Potter and the Sorcerer's Stone where Harry puts on the hat and is sorted into Gryffindor. Its RRP at the time was $7.00, and you might imagine that it would be worth a fortune these days, but you can actually find it on eBay for around $20 (although this is usually outside of the US, so shipping would make it more expensive).
Conclusion
In conclusion, this is a fascinating set full of hidden secrets and creative uses of bricks. I'm honestly not sure where I'm going to go from here; after this, all other LEGO sets are going to feel inferior in comparison. One thing that's interesting about this set is the inconsistent chronology. There are nods to various moments from across the movies, and things that could never have happened simultaneously.
For example, the Harry minifigure has soot on his face from when he uses floo powder in Harry Potter and the Chamber of Secrets, but there are wanted posters for Sirius Black. And Weasley's Wizard Wheezes wasn't fully operational until Harry Potter and the Half-Blood Prince, but Gilderoy Lockhart would have been in St Mungo's Hospital by then. However, I don't see this as being in any way negative. LEGO can take creative license with their sets to pick and choose the best moments from across the movies/ books, it doesn't have to be chronologically canon.
Marcos Bessa and his team have created something magical here, and I fully recommend all of you to buy it!
Recommended Reads: