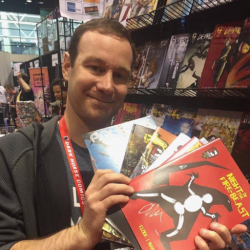 Latest posts by Frank Martin
(see all)
If there's one thing LEGO does right, it's fantasy. By their very nature, these play figures allow people to live out their imagination in easily interchangeable bricks. And with so much variety, it's hard to find an idea that can't be made real through cleverness and patience. Dragons are a testament to this notion.
Before there were a bazillion different brands of LEGO, I had a few staple lines that were my go-to. These included LEGO City, space, and, of course, fantasy. In regards to fantasy, two features were the main selling point that drew me in.
Those were expansive castles and wild dragons. The best part about dragons is that they come with a few irregular pieces, such as wings, horns, and fangs. And although you could simply follow the instructions and build the dragon they wanted you to, it was super easy to utilize those pieces and make whatever kind of dragon you came up with.
Fast forward decades later, and the world of dragons and LEGO have exploded. Ninjago, especially, has an enormous array of dragons at their disposal.
And because of the storyline associated with that line, LEGO has offered up way more imaginative and crazy dragons than they ever had before. This trend has continued across all of LEGO to bring to life some of the best-looking creatures available at any toy store.
Selection Criteria
Here are some of the qualifications I considered while making this Best LEGO Dragon Sets list.
Style

: Obviously, a dragon has to look cool.

Size

: While it's not always important, with dragons, it can be.

Iconography

: Although wild designs can be a plus, sometimes you just want a dragon to look like a dragon.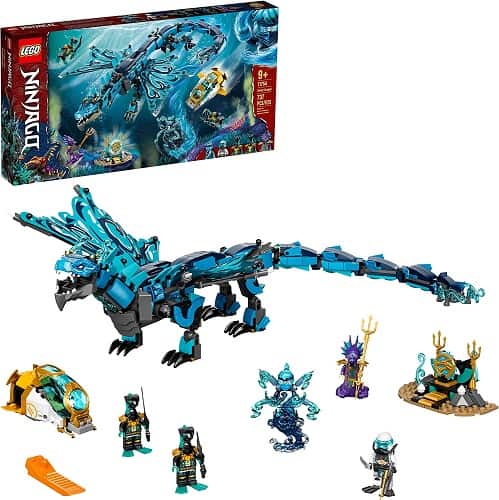 It's no surprise this list starts with a Ninjago dragon (and there will be many). For a line that doesn't shy away from dragons, it has to get quite creative in making them stand out on their own. Focusing on the elements is a great way to give each dragon its own domain.
It might be hard to play with this bad boy underwater where he belongs, but that doesn't make him any less awesome. With a long tail, wings, and claws, the water dragon is highly posable. He also has a very cool head design, like most Ninjago dragons. For those whose spirit resonates with the water, this is definitely the dragon for you.
Pros
Posable

: It can stand in many different ways.

Character variety

: The set comes with many figures to play with.
Cons
Ninjago fatigue

: if you already have a lot of Ninjago dragons, one more on the shelf not associated with a specific character may be too many.

Extras

: Although it comes with a lot of features, the mini-sub isn't much to accompany it.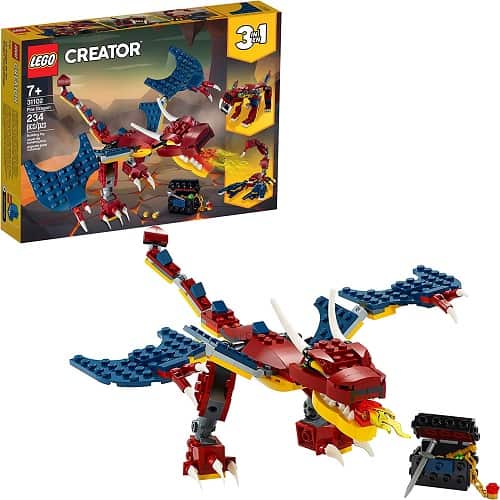 LEGO Creator sets are awesome and frustrating at the same time. This one is a great example, as it gives you the option of building three different figures. In this case, a fire dragon, a scorpion, or a saber-tooth tiger. The only downside is that you would need to dismantle your beautiful creation in order to build the others.
However, I would have no idea why you would want to get rid of the fire dragon. It's an impressive figure for just how much it stands out as a truly LEGO creation.
The wings, especially, are LEGO pieces rather than something custom for the set. The overall build itself isn't too huge, but I'm okay with that for how awesome it looks with the fire piece in its mouth.
Pros
It's LEGO look

: The amount of pure LEGO pieces used in its construction is great.

Creator 3 in 1

: You can build other stuff when you're bored with the dragon, which is also pretty cool.
Cons
Size

: If you're looking for something big, you may want to look elsewhere.

Retired

: It's a shame LEGO stopped making it.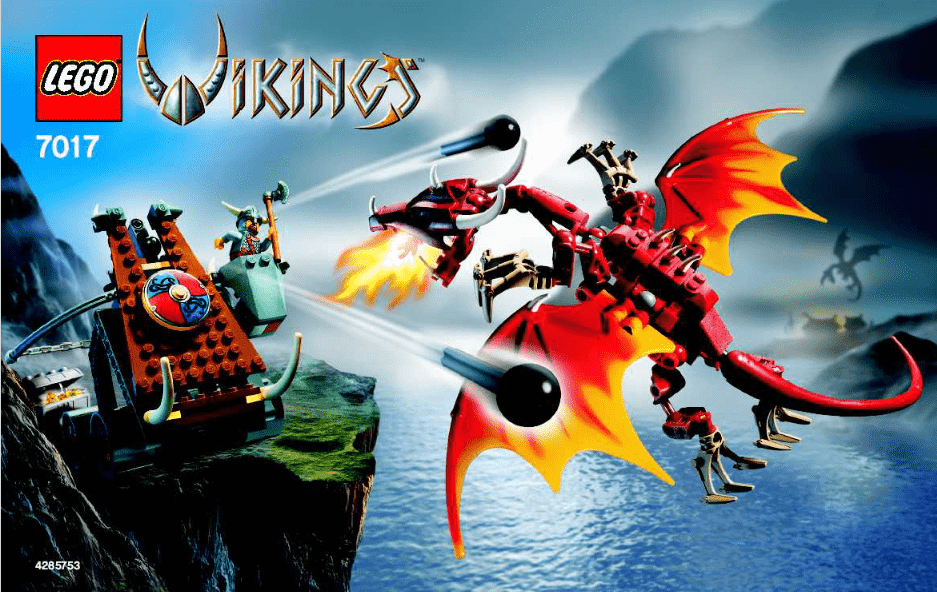 LEGO Vikings is a very underrated line for producing great dragons. In the case of this set, it highlights the Nidhogg dragon as much as it does the catapult that fights it.
Because the catapult actually shoots (and works!), the set offers some great playability. The dragon itself isn't too difficult to build, but he's one of the more ferocious-looking simplistic dragons LEGO offers. His huge fangs and skinny legs give off a uniquely scary look that I love. Also, the skeletal structure within the wings is a nice touch.
Pros
Ferocity

: Nidhogg's design manages to be truly scary for how simple it is.

Playability

: The versus nature of the set makes it great to play with right out of the box.
Cons
Lack of setting

: You'll have to make do playing with it on the floor.

Expensive

: Because this set is retired and hard to find, its speculative price has increased.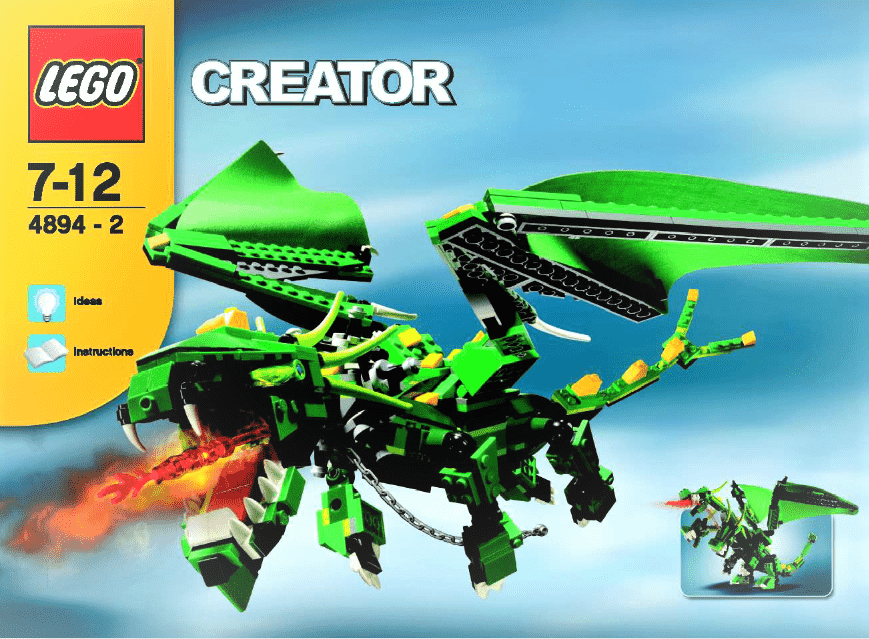 I'm not a huge fan of this dragon's design, but it does come with a couple of features that I have to respect. First off, its wingspan is incredibly impressive.
The wings fold in so that, at first glance, it looks fairly average in size, but they can spread out to create one of the largest wingspans of any LEGO dragon. Also, it features cloth on the wings, something not a lot of dragons have. It also comes with a light brick for the flames coming out of its mouth. It's a nice feature that I'm surprised more dragons don't have.
Pros
Wingspan

: I don't know why they don't make more dragons that can spread their wings as wide.

Light brick

: Again, why don't more dragons have this cool feature?
Cons
Retired

: Some retired sets are easy to find on the resale market. This one is not.

Cloth

: Although it is a cool and unique feature to have cloth on the wings, it can rip pretty easily if you're not careful.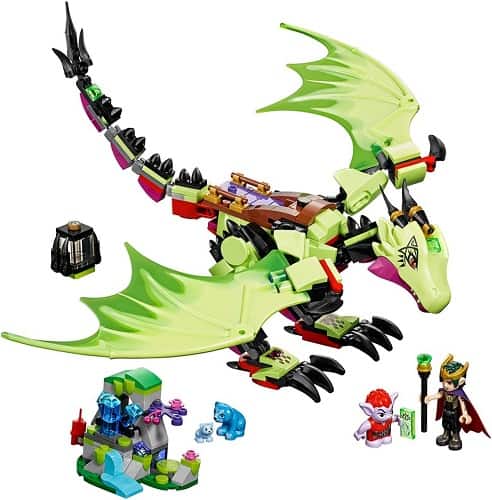 The great thing about dragons is that the variety is endless. People tend to think of them as scary, which is true. They are often depicted as huge fantasy creatures that love to feast on human flesh. But as a dragon aficionado, I can appreciate the vast breath of dragons across all forms of media.
LEGO embraces this as some very cool dragons come from its Elves line. It's strange that this is called an "evil dragon" because it doesn't look evil at all, which is understandable given that the brand is primarily aimed at girls. But still, for a fantasy line that's all about creatures and magic, I have to respect this dragon from a design standpoint.
Pros
Design

: It's a fairly simple dragon, but the color scheme, face art, and anatomy are well-crafted.

Fun build

: It's not a difficult build, but because its design is so streamlined, it's pretty fun to put together.
Cons
Size

: Although its size fits nicely with the Elves brand, I feel they could have made it a bit bigger.

No extras

: It does come with two characters, some animals, and a couple of landscape features, but it's not enough to add huge value to the set.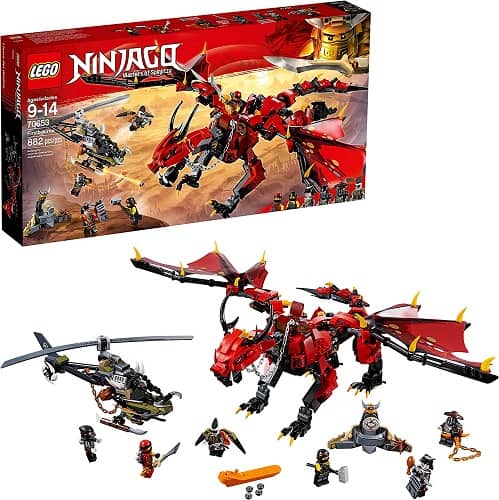 This dragon is a great example of what the Ninjago brand is capable of. Firstbourne is a dragon through and through, but he has many unique features that give him his own sense of personality.
He's got horns, two sets of fangs, and mean face art. He even sports a saddle and reins for a rider. To add to his set, he also comes with a very cool helicopter and plenty of figures to not just make him a great dragon to look at but a great dragon to play with too. Lastly, he has a fairly impressive wingspan and wing design that's unique to him.
Pros
Design

: It's obvious by looking at him that he is a force to be reckoned with.

Wings

: He really does have one of the most unique pair of wings on the list.

Rideable

: I'm surprised more dragons LEGO puts out don't have saddles.
Cons
Difficult build

: I found him to be a fairly tedious build for this age range, especially with a lot of mini parts at the base of the wings.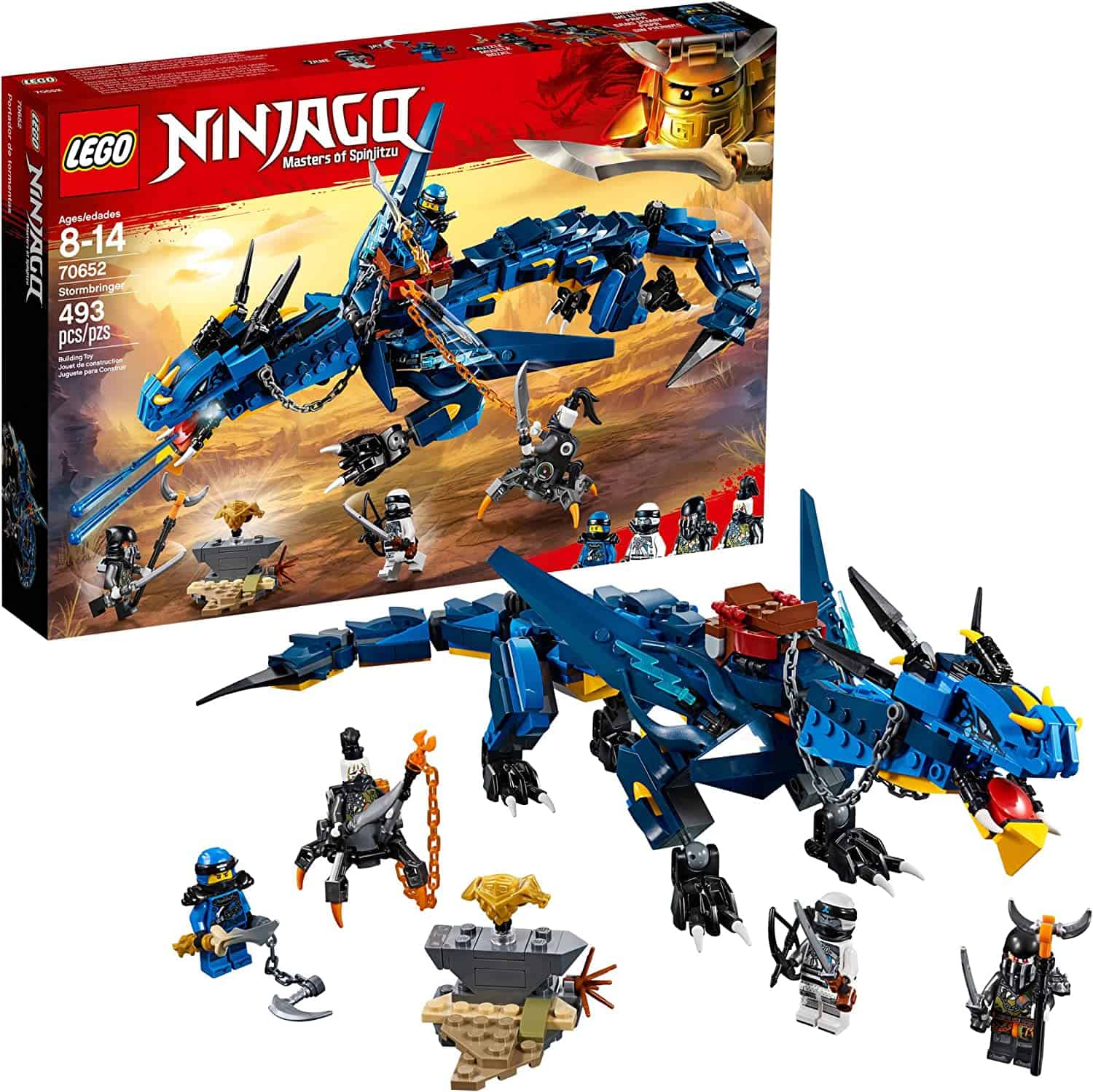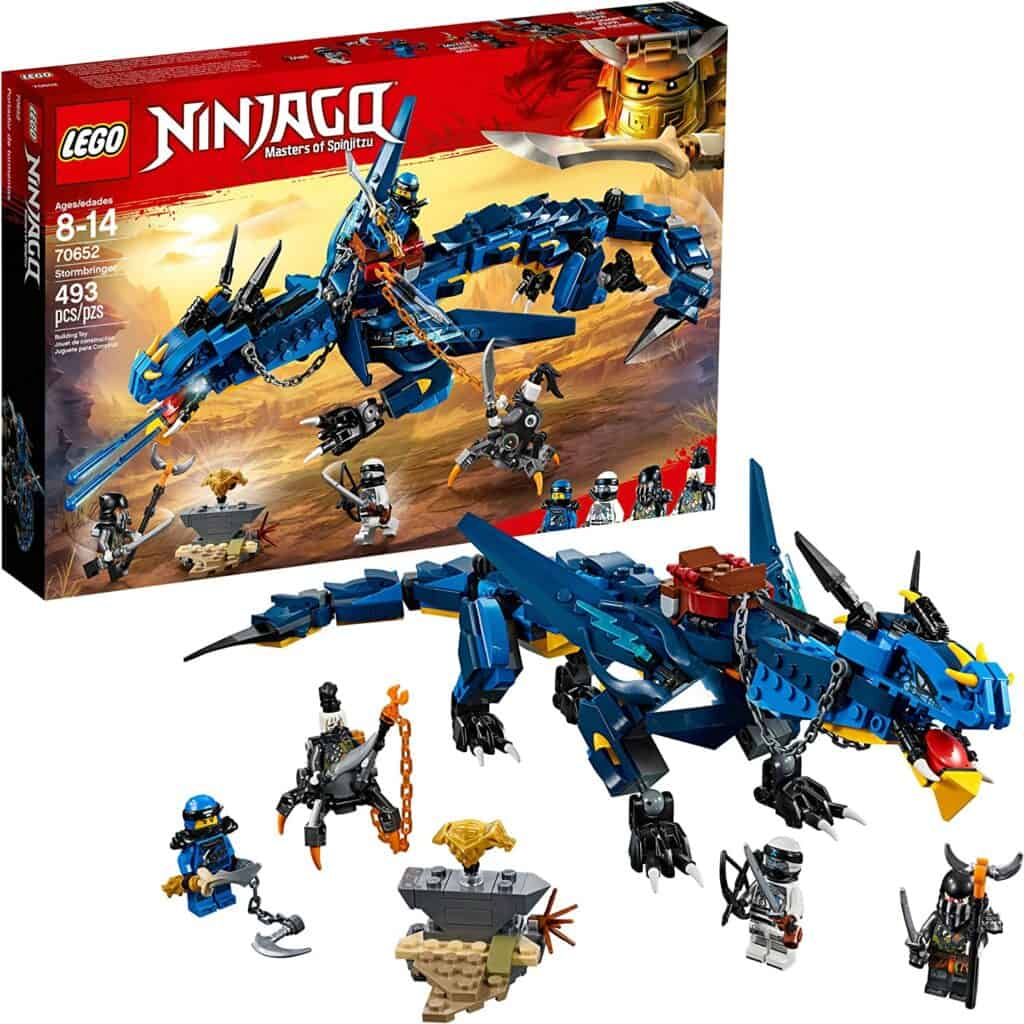 Stormbringer continues the trend of amazing Ninjago dragons. He, too, comes with a saddle and reins for riding, though not as many figures as Firstbourne.
Another downside is that his tail is considerably shorter than other dragons. However, I can overlook a few flaws in his otherwise awesome features.
He comes with vertical wings, something unique among dragons. Also, his tail features a whipping mechanism, and he can shoot missiles out of his mouth. I'm always skeptical when missiles work with another feature, as Stormbringer's jaw needs to drop to fire, but I was surprised by how well it works.
Pros
Practical features

: The tail whip and missiles are a nice touch.

Design

: This kind of goes without saying for most Ninjago dragons.
Cons
Price

: I thought he was priced too high, given the number of pieces he has compared to others.

Shorter tail

: This isn't a huge con, but it's a pet peeve of mine when it comes to dragons.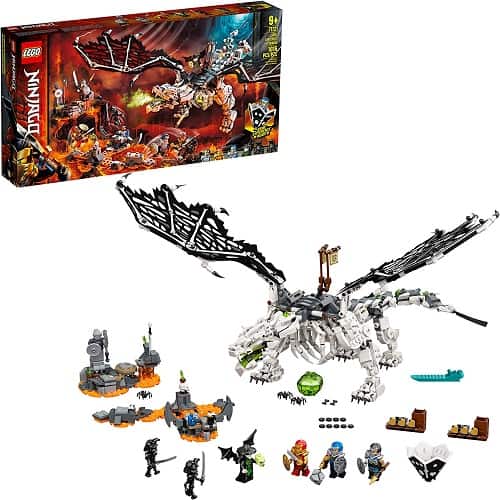 It's a weird trend that villains often get cooler stuff than the heroes. I hope that wouldn't be the case with dragons, as there's just so much opportunity to give heroes cool dragon companions. But it's hard to deny how cool the Skull Sorcerer's dragon is. It's massive and has double the pieces of almost all the heroes' dragons.
Also, it comes with a bit more of a playset than what the other dragons have. There are a lot of characters, too, which rounds out the set with playability. And I also have a thing for skeleton monsters, which can be hard to put together but totally worth it in design.
Pros
Design

: Just one look at it, and you can see how much work went into its design.

Challenging build

: Sometimes difficult builds are difficult for annoying reasons. This one is challenging but also fulfilling in the end.
Cons
Cloth wings

: As much as I like the feel of cloth wings, they tend to rip when stretched, as this one does.

Size

: With a big body and large wingspan, this dragon is fun to play with but hard to store and can break easily.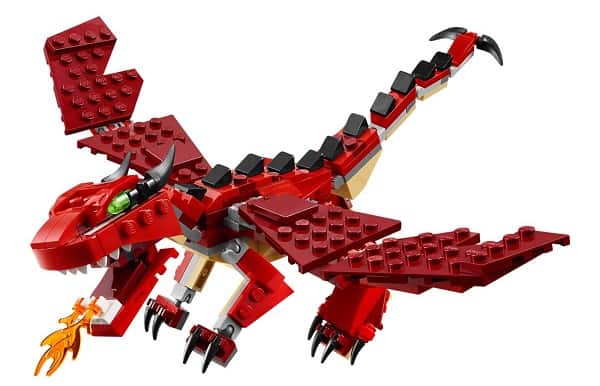 I love the Ninjago dragons for their uniqueness and design creativity. But the image of a dragon as an icon is firmly plastered in the public consciousness.
That's where this dragon comes in. Like other dragons that are a part of LEGO's Creator line, it has the perfect embodiment of a LEGO brick-built dragon.
From the horn tail to the spikes running down his back, it has tons of awesome details that give it its own flare while also having a classic look to him. My favorites are probably its green eyes and the double fire emanating from its mouth.
I remember having this dragon as a kid and never getting around to building the other two figures. I only wish Lego would bring back its Creator line so that others may enjoy it.
Pros
Classic

: There's just something about building an iconic dragon that makes you warm inside.

Posable

: While it doesn't come with a playset, being as posable as it is makes it pretty versatile to play with.
Cons
Size

: It's definitely on the smaller side as far as dragons are concerned, especially when it's by itself.

Price

: Because it's retired, secondary sellers can sometimes charge a good deal for it.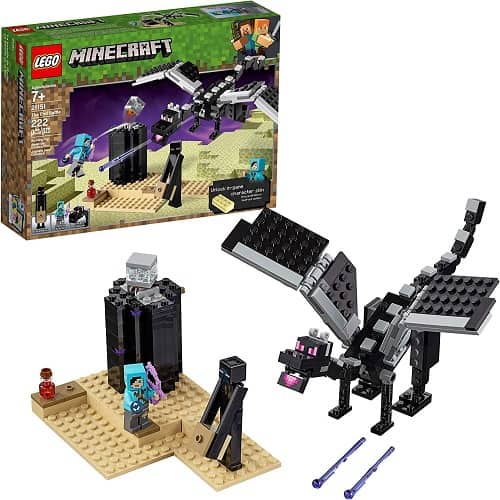 Because of their relationship with blocks, it's a no-brainer that Minecraft and LEGO can go so well together. Full confession, I'm not a Minecraft guy. I tried the game and just couldn't get into it. My kids are another story. They love Minecraft and are fully invested in all of its details.
We both love LEGO, though, so I had no problem getting this set for them. While I found the dragon to be a little bit too Minecrafty, they loved it.
So I had to respect the fact that Minecraft fans dug it. It also has a fair amount of pure LEGO bricks involved in its construction, which I always favor. The playset helps it, too. It's no good calling something a battle without being able to fight with its pieces.
Pros
Price

: It's reasonably priced for being a playset and a popular brand.

Pure LEGO

: Even though it's technically a Minecraft figure, it's awesome that it doesn't have too many custom pieces.
Cons
It's Minecraft

: Obviously, this is a pro for someone who likes Minecraft, but for someone like myself who doesn't, that can be a turnoff.

Design

: Someone doesn't immediately think of dragons when they think of Minecraft, so its design is a little lacking. Then again, for fans of the game, this is exactly what they want.
FAQ
Question: Why are so Many Retired Dragons Hard to Find/Expensive?
Answer: People like dragons, and the price reflects that.
Question: What's the Oldest LEGO Dragon?
Answer: The first dragon wasn't brick built. It was a molded fantasy figure that came out in 1993.
Question: What's the Biggest LEGO Dragon?
Answer: That distinction goes to Lloyd's Golden Ultra Dragon (71774), but it has too many heads for my taste.
Conclusion
The people at LEGO are incredibly imaginative and skilled. Dragons aren't like building a police station. They require a fantastical imagination that involves creating something completely original while invoking classic features and iconography. I love dragons, and I love building LEGO dragons.
It's fun to rip into a box and build the crazy dragon that's on there. But what's even more fun is using that crazy dragon as a template to create something of your own. Just because LEGO can design something wild doesn't mean you can't, too.
That's one of the best things about dragons. It's not a static building that needs to look a certain way. Dragons can be anything, and LEGO is the perfect tool to make that happen.
Related Read