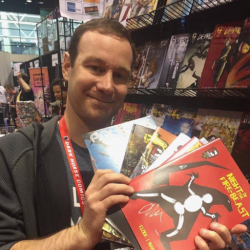 Latest posts by Frank Martin
(see all)
An argument can be made that LEGO police sets are the backbone of all of LEGO. I was a big fan of many different LEGO lines growing up. I enjoyed building fantasy sets and especially sci-fi sets from space. And, of course, it's hard not to love building some of their license sets from my favorite movies with popular characters.
However, it was hard not to get immersed in the world of LEGO City. There were so many different sets available that it almost felt like LEGO City was a real place with these real buildings that needed to be a part of it.
While some other worlds could have tied together, LEGO City felt more easily interconnected. This feature is because I enjoyed connecting them all with the use of roads. The dream, of course, was to have a real functioning city that could just be added to over time. I never had the space for it in my house, so I was incredibly jealous of my friend that was actually able to do it. His parents never made him clean it up, either! Needless to say, I was over there a lot.
It was playing with his LEGO City that I realized just how important the police play sets were. As with our society, the police are just a necessary part. A city has to have laws, and it also needs people to enforce those laws. That's the police. So being able to create a functioning police force to operate in the city was always a big deal for us. It allowed me to grow a huge appreciation for these police-oriented sets that I continue to love.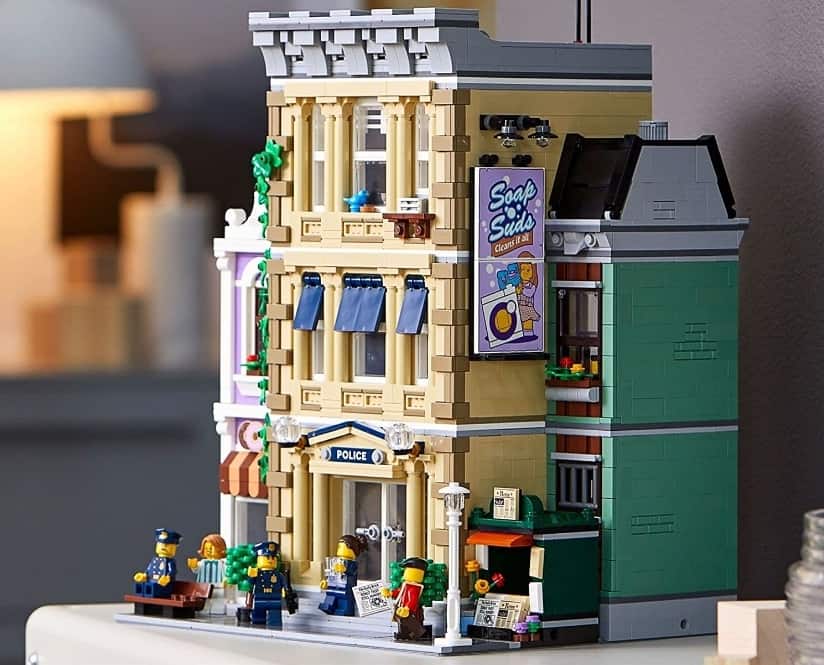 Selection Criteria
Before we kick things off, here are some of my key qualifications that went into making this list of the Best LEGO Police Station Sets:
Essentialness: There are certain things that a police force just needs to operate with.
Style: Just because police have a job to do doesn't mean they can't look good while doing it.
Variety: I can make a list just of awesome police cars, but other things are important too.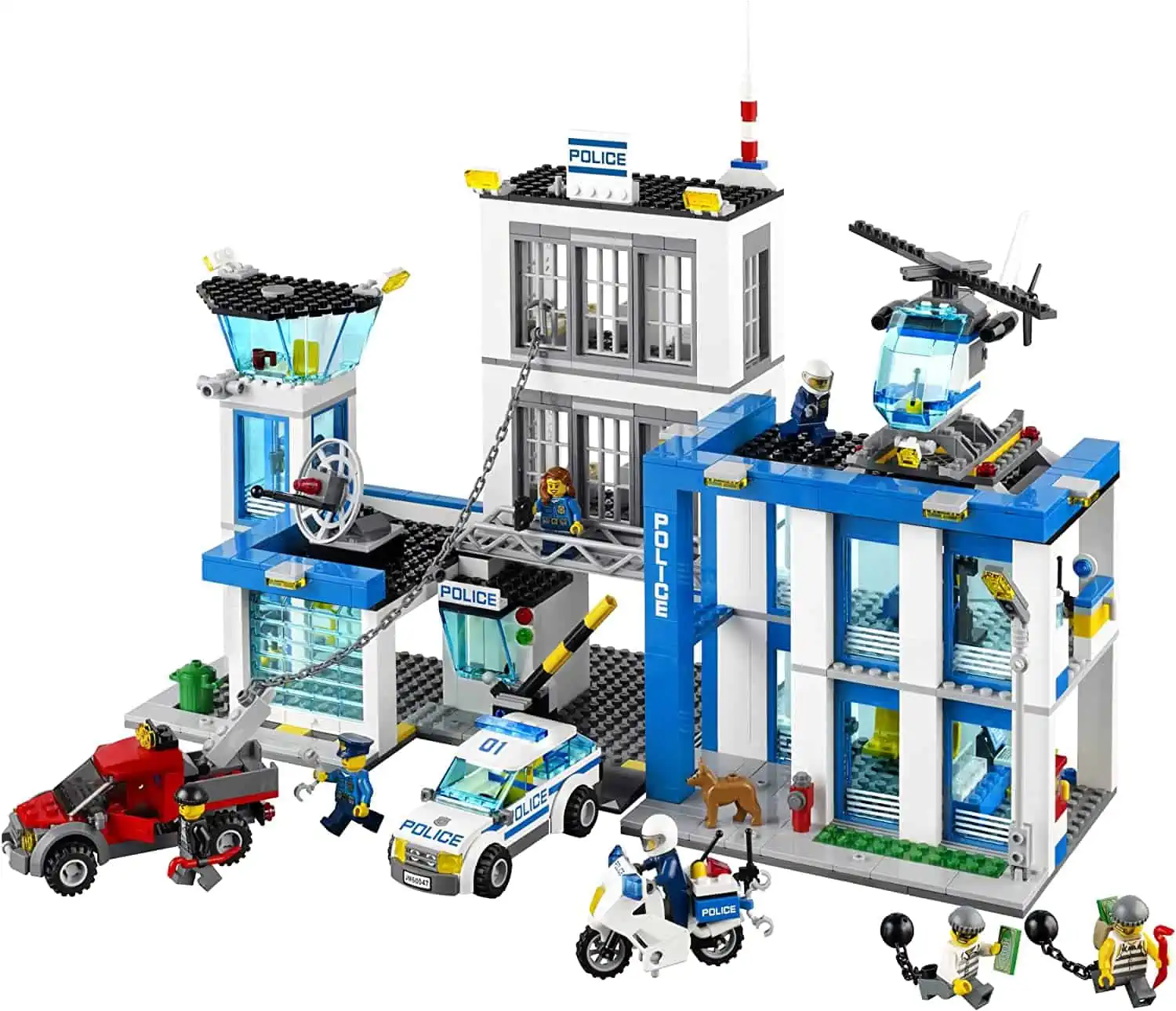 The hard thing when it comes to LEGO sets is that they can't do everything. Even the biggest sets still manage to miss out on certain play aspects. This one, however, does its best to incorporate just about every detail it can. It has a garage, a police tower, offices, and my favorite part of the whole set, an extensive jail.
This area is the set's main focus, as I love that many stations are designed to be broken out of. This set comes with multiple robbers and even a tow truck that can pull on easily detachable cell doors. For someone like myself who enjoys playing with the sets almost as much as I love building them, the practical application of this police station is phenomenal.
Pros
Great playability: There's just so much to do in this set with all of its characters.
Variety: It comes with a tow truck, a police car, a helicopter, and a motorcycle.
Cons
Garbage: It comes with many plastic bags for a set only containing 800 pieces.
Cramped: Although there's much to play with, the interior gets tight.
Have to reset: While sets with detachable parts are fun, they can be a pain to put back.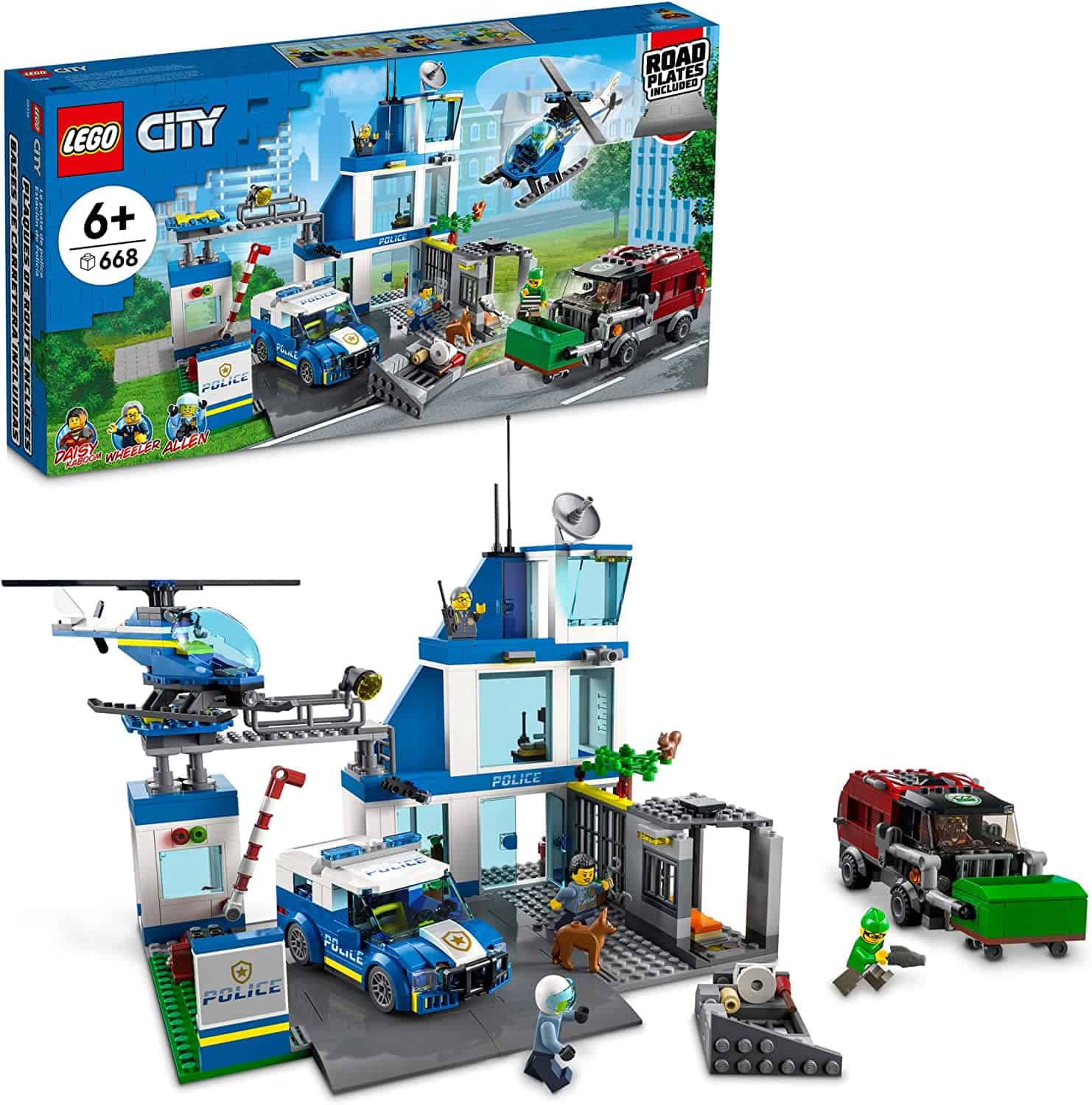 I'm an absolute sucker for breakouts (as evident from the past entry). This police station also utilizes the breakout motif but in a much more fun way. The station itself isn't too complicated, which allows it to sell at a lower price point. However, it has just enough fun elements to consider it a worthwhile build and a fun playset. Instead of working with a tow truck, this set adds a garbage truck as its escape device.
The garbage truck can hook onto the jail cell bars and detach it, freeing any prisoner inside. What makes this, so fun is that I love a good story, and the story is baked right into the playset. It doesn't take a lot of imagination to try and come up with some sort of narrative and scheme to play out within the set itself.
Pros
Great story: As I said, it's very imaginative trying to use a garbage truck for a jailbreak.
Price: There are a lot of smaller sets one can get for around $70.
Roads included: It always helps add to the city.
Cons
Limited area: There's only one office, which doesn't make much for a police station.
Have to reset: As with the first set, sometimes it's a pain to put it back together after being played with.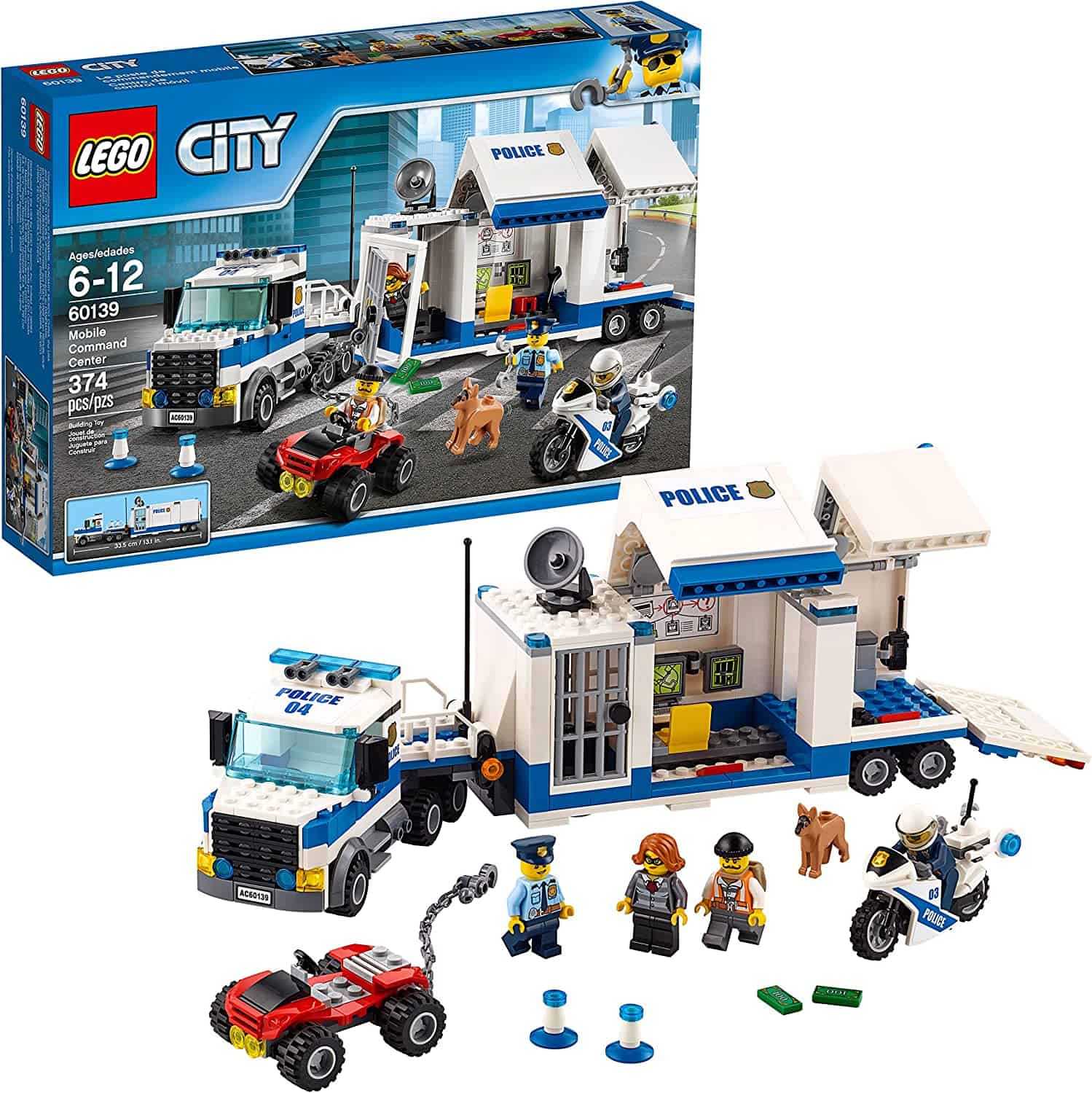 The only thing better than a LEGO police station is a LEGO police station on wheels. I love the versatility of the Mobile Command Center because it can go anywhere in the city. When a LEGO City is fully constructed, play is more or less stationary. The buildings aren't going anywhere, so I would need to bring the figures to it. The Mobile Command Center gets around this by bringing the police station to all the other buildings around the city.
It also has typical police station features like breakaway doors. But I also love smaller touches, like the road cones, that can make play even more realistic. It's hard to justify the Command Center on its own, but when combined with an existing police force, it can be an essential part of any collection.
Pros
Balance of difficulty: Sometimes, it's hard finding a set that's not too easy and not too difficult for this age group.
Raised walls: The rising walls allow it to seamlessly transition from transport to play.
Hidden motorcycle: The compartment for the motorcycle makes it feel like a Hess truck.
Cons
It's retired: As much as I love this set from my youth, it's hard to find it now.
Small wheels: I found that sometimes the trucks with smaller wheels get in the way of it turning because it's so long. Bigger wheels might have been better.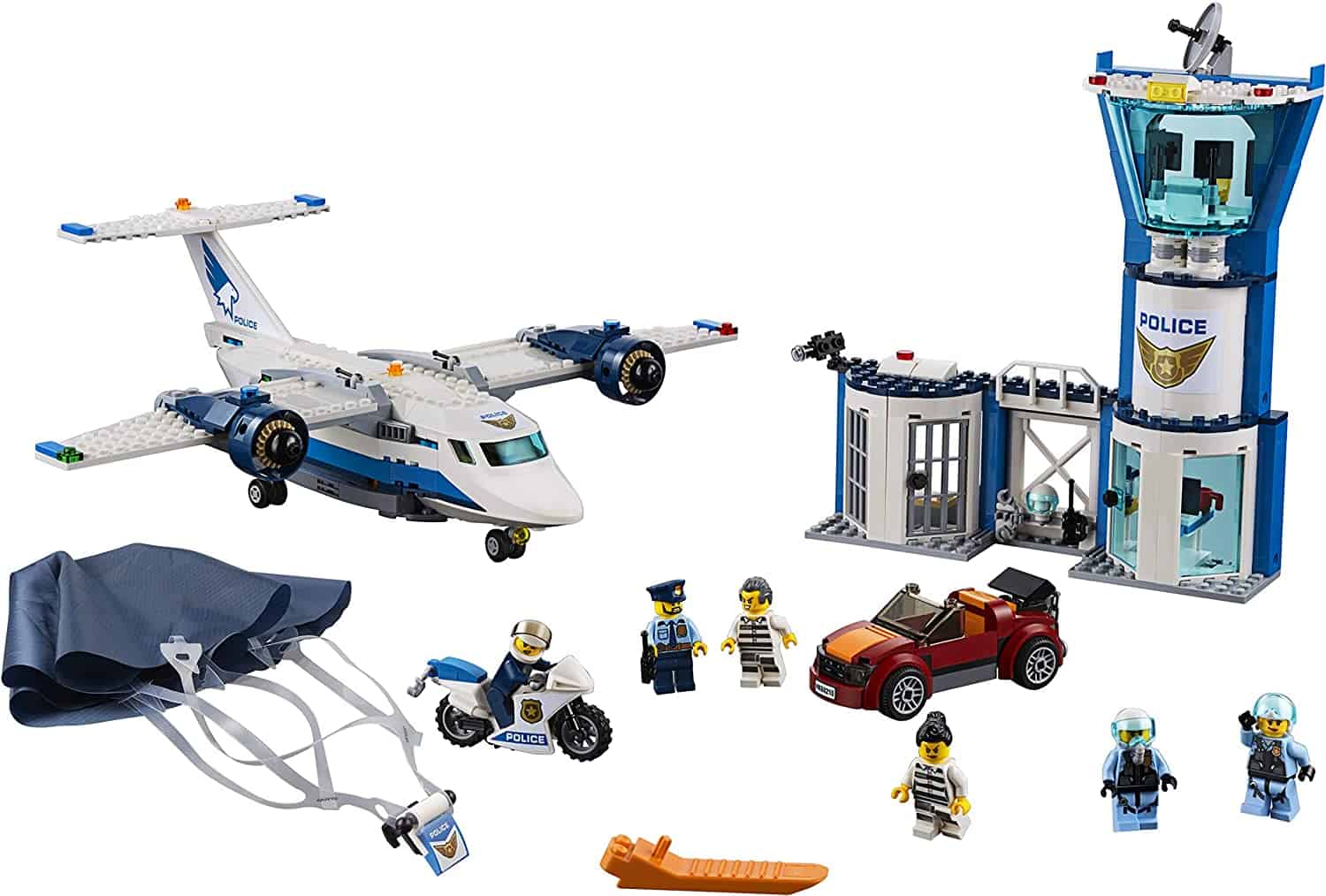 I'm not usually a fan of LEGO gimmicks. This set seems to have one, as it employs a parachute, something not too often associated with LEGO. However, I was surprised by how effective it is. The plane comes with a trapdoor that allows one of the police figures to parachute onto the scene. LEGO typically shies away from the action side of police work.
There are no armored police trucks or SWAT forces, so it's nice to see a specialized police officer in action. Plus, the set comes with a jail and police tower, rounding it off just enough so that it's a full addition to an existing LEGO City.
Pros
It surprisingly works: I was skeptical about the parachute at first.
Decent characters: With six figures, it has more than expected.
Cons
Cramped plane: Although the trap door is a nice feature, the rest of the plane is a little bit more difficult to access.
Best with others: It's a very fun set, but it's hard playing with by itself as the policeman needs somewhere else to parachute onto.
Breakaway troubles: It has another jailbreak feature, but it doesn't work as seamlessly as the others.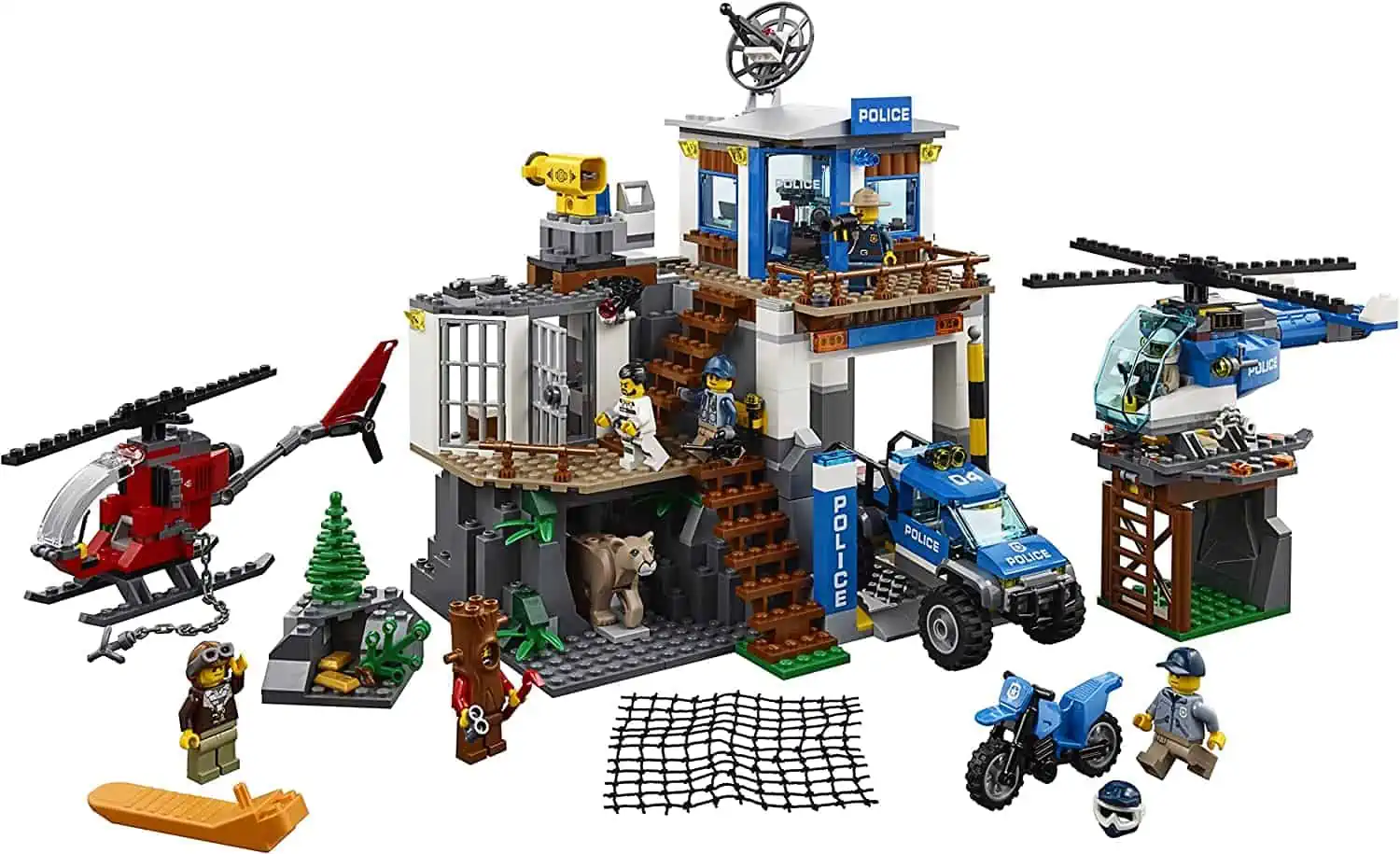 I sometimes get so focused on the city part of building a LEGO City that I forget there are many different types of cities, all existing in different environments. Coming from New York, I have a particular idea of what a city means. But I know that's not the only form a city can take. There are cities on lakes, on islands, and also in the mountains. That's where this set comes in.
It's cool sometimes to use your imagination in order to integrate a mountain-oriented set like this. While the regular city is down below on the floor (typically the carpet), this set could be up on the couch, which is considered the city's "mountainous" terrain. And there are tons of excellent features to give off that feeling, from its staggered steps to even the inclusion of a mountain lion.
Pros
Variety: It gives a different feel to the LEGO City brand.
Varied build: It has various features other sets in this age range don't have.
Character numbers: Continuing the trend of variety, it has a bunch of different characters not often seen in a city set.
Cons
Doesn't fit in: Although its variety is a strength, players have to get creative in order to integrate it with the rest of the city.
Tricky system: It comes with a very cool net shooter, but those often stick.
Retired: Unfortunately, this amazing set isn't being made anymore.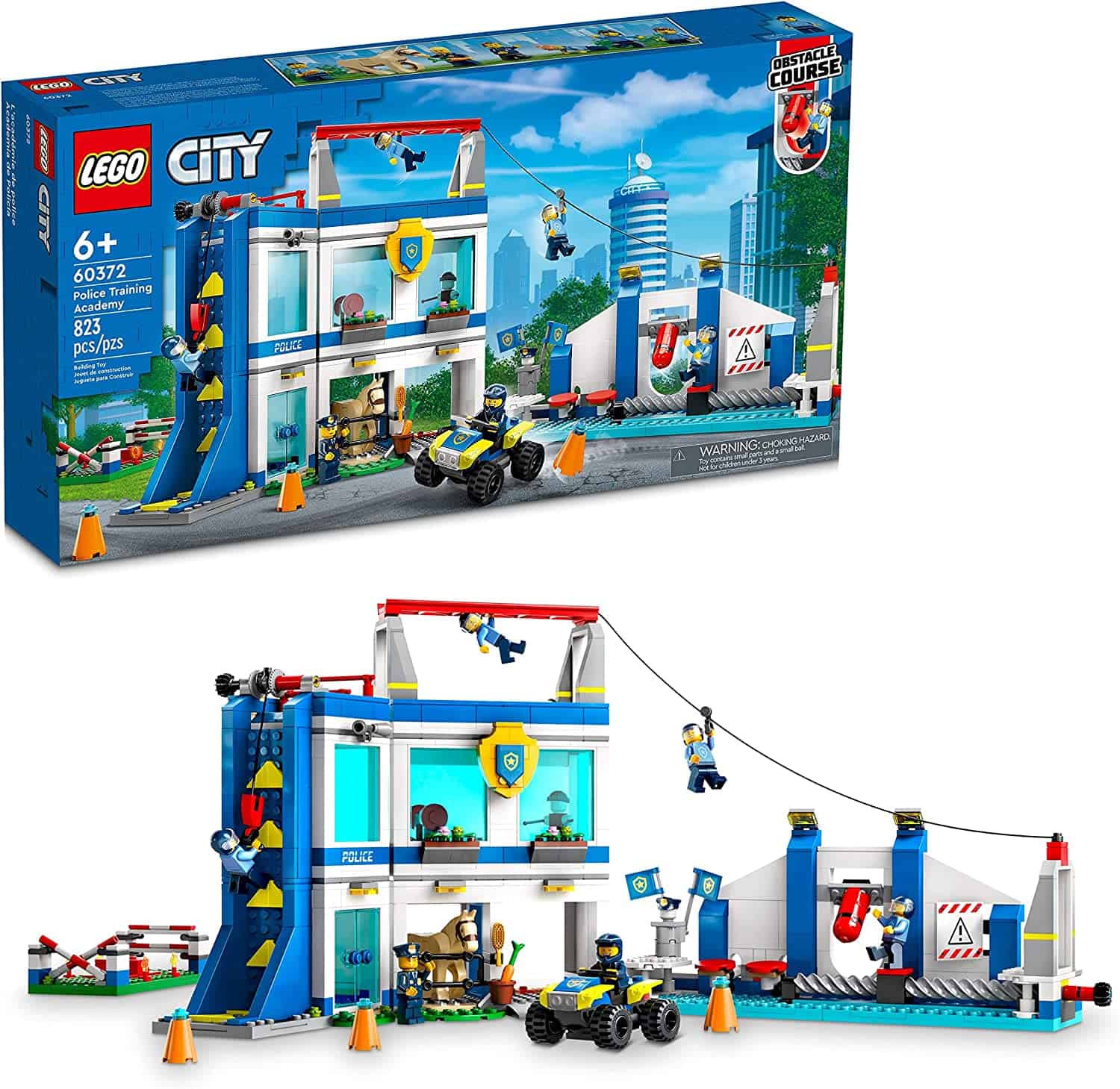 Playing with LEGO, sometimes it's easy to get sucked into the cops and robbers appeal of it all that people like myself might forget what it takes to make a police officer. That's where this set comes in. It's a great training course to make police officers who could then go out into the city and fight the bad guys.
LEGO could have easily phoned in this set and made something quite simple. Instead, it's incredible how much attention to detail is put into this obstacle course from start to finish. It was meticulously thought out between the rock wall, monkey bars, zipline, and balance beam to create a truly story-driven set.
Pros
A lot going on: Everywhere you look, there's something for the figures to do.
Cadets: I was surprised by the number of figures they included to run through the course.
Cons
Branding: It comes with the older LEGO City branding, which doesn't match newer sets.
Underutilized: It includes a horse, which is great, but there isn't much for it to do.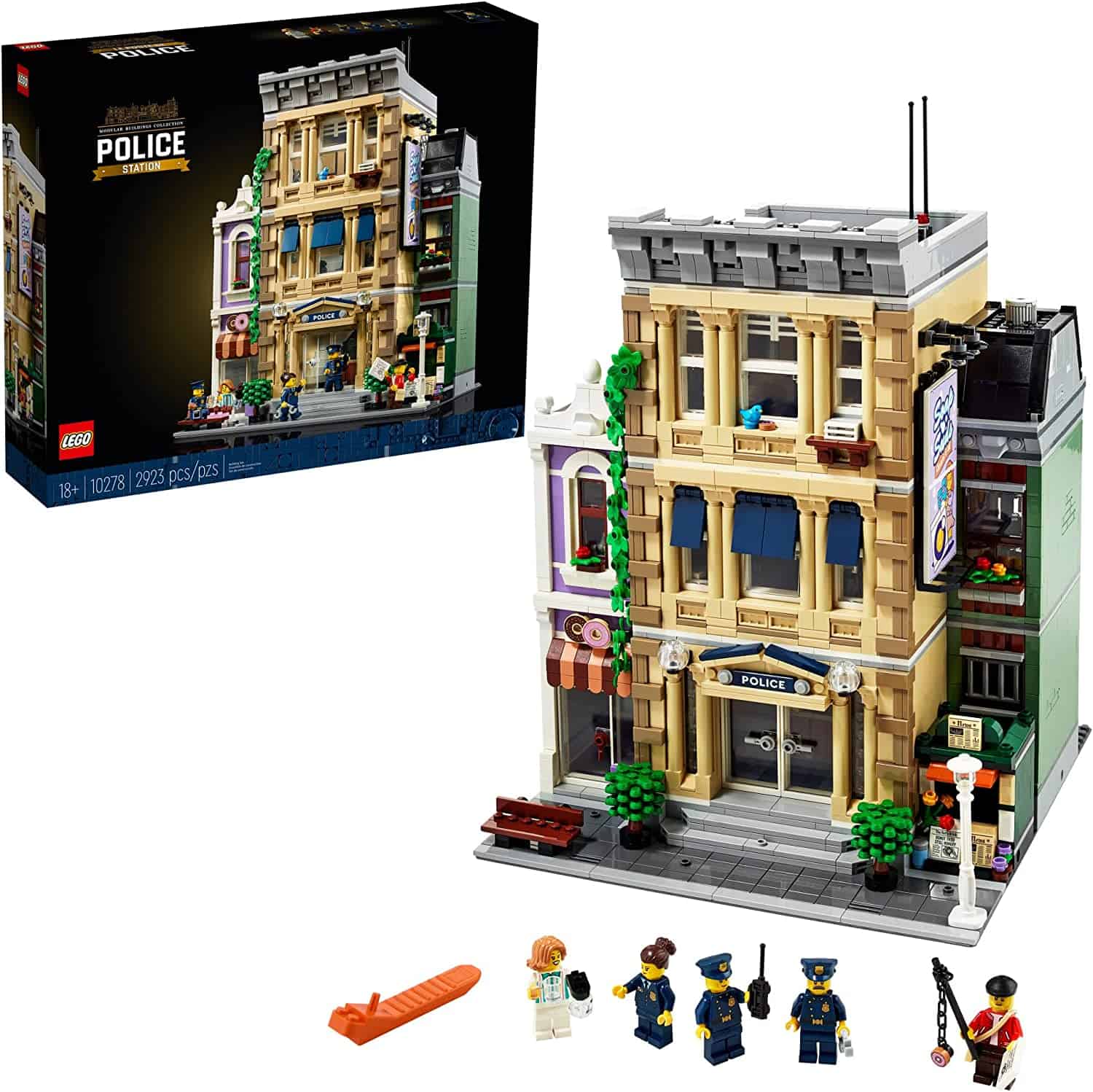 This set is one of the more unique police stations on the list, as it technically isn't part of the LEGO City brand. Building it and adding the set to a city might make it stick out like a sore thumb simply because the architecture is so different. And I'm going to be honest: this is a set I haven't built myself. But I want to. I've seen it in a store and got to check it out in person, so I know just how incredible the attention to detail is.
However, I typically like to play with my LEGO sets. It's why I like the LEGO City brand so much. This one is geared toward adults who want to display their sets instead. So I feel a bit of a push and pull between my adult self loving it for its beauty and my kid self having difficulty playing with it.
Pros
Attention to detail: Each level has multiple rooms that are immaculately crafted.
A focus build: As an adult set, it requires intense focus and concentration.
Price point: For a set this size, it's remarkably affordable.
Cons
Playability: It's pretty closed off, so it will be hard to play with even if you want to.
Branding: The great thing about LEGO City sets is that they all go together. These display models create a weird form of variety when put together.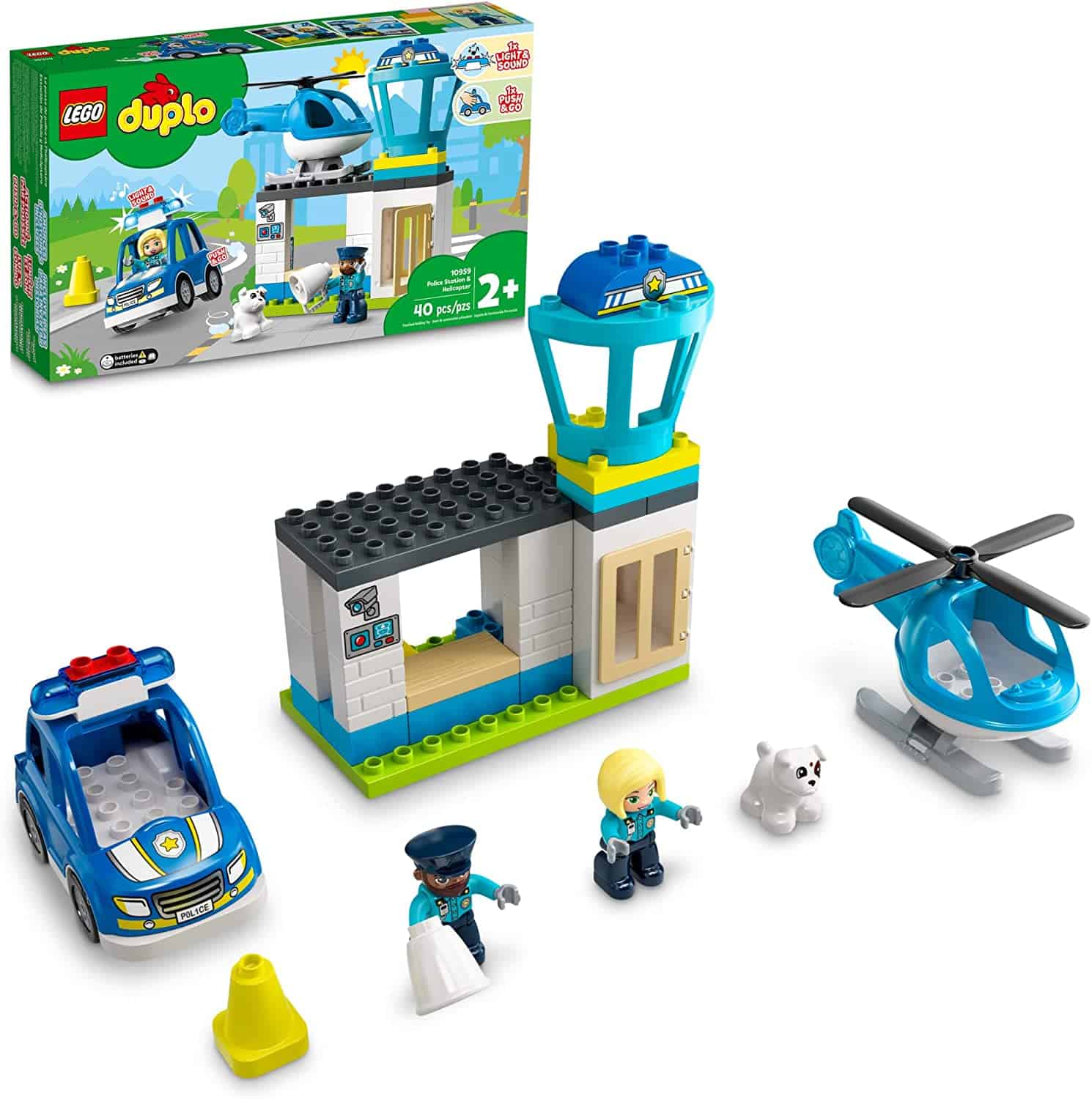 Because police sets are such an essential part of building a solid LEGO City, it only makes sense to introduce them to kids fairly early. So, of course, I have to include a DUPLO set in a list of LEGO police stations. There are a couple, but this one has the best all-around experience as it checks off the major requirements. It has an office, a cell, and a tower to keep watch.
Plus, it comes with a police car and a helicopter, two vehicles that are a great introduction to the world of LEGO police. There are some drawbacks to it, though, besides just being a DUPLO set. It comes with two officers and a dog, which is great, but I would have loved it if it also included a robber to round out the set for a full-play experience.
Pros
A full station: It has all the necessary elements without any fluff.
Two vehicles: A lot of DUPLO sets don't have multiple vehicles.
Cons
It's just DUPLO: LEGO City continues to be fun even as kids grow older, but they grow out of DUPLO.
Lack of a robber: This makes playing with the set fairly limiting without extra characters.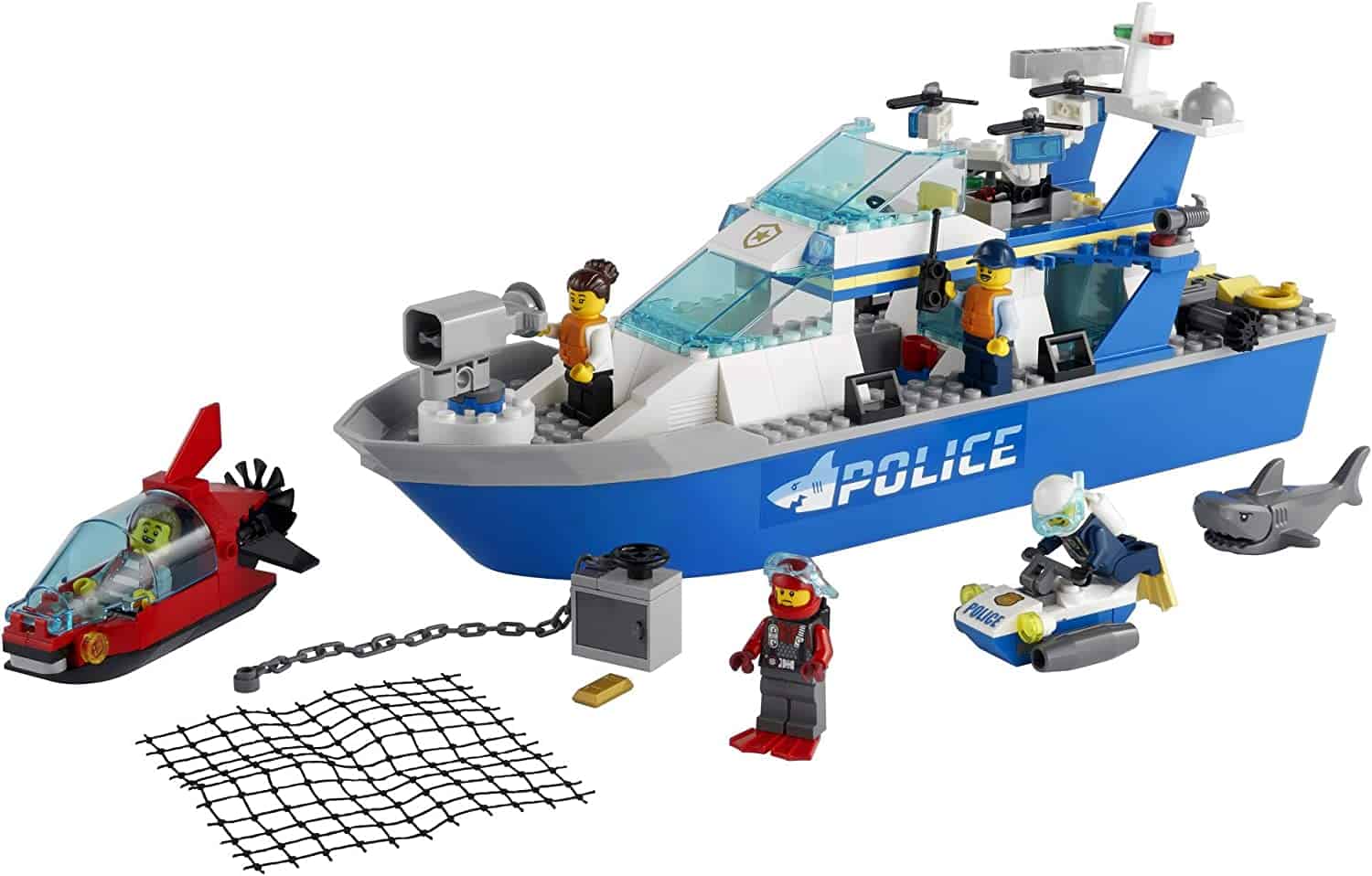 I'm going to cheat a little bit, as this Police Patrol Boat isn't even considered a police station by technicality or loophole. It's just a boat. That's it. No floating police station or otherwise base of operations. However, it's such a classic that it's hard to exclude. The boat comes fully equipped for being a police officer on the water.
It has a drone dock as well as a place to launch a submersible on the back. Also, with a safe and mini-sub for the criminal elements, it comes fully equipped to play with right out of the gate. It also includes a shark and a net launcher, which, unfortunately, does stick from time to time. This was one of the very first police sets that I built, and I imagined it being a hover boat so that it could roam through the streets (don't tell anyone).
Pros
Great play opportunity: There's just so much involved that there are a lot of scenarios to make up.
Price point: For a retired set this popular, it's still surprisingly cheap.
Cons
Retired: It's becoming increasingly harder to find.
Tricky net launcher: I love these things when they work, but I always seem to have trouble with them.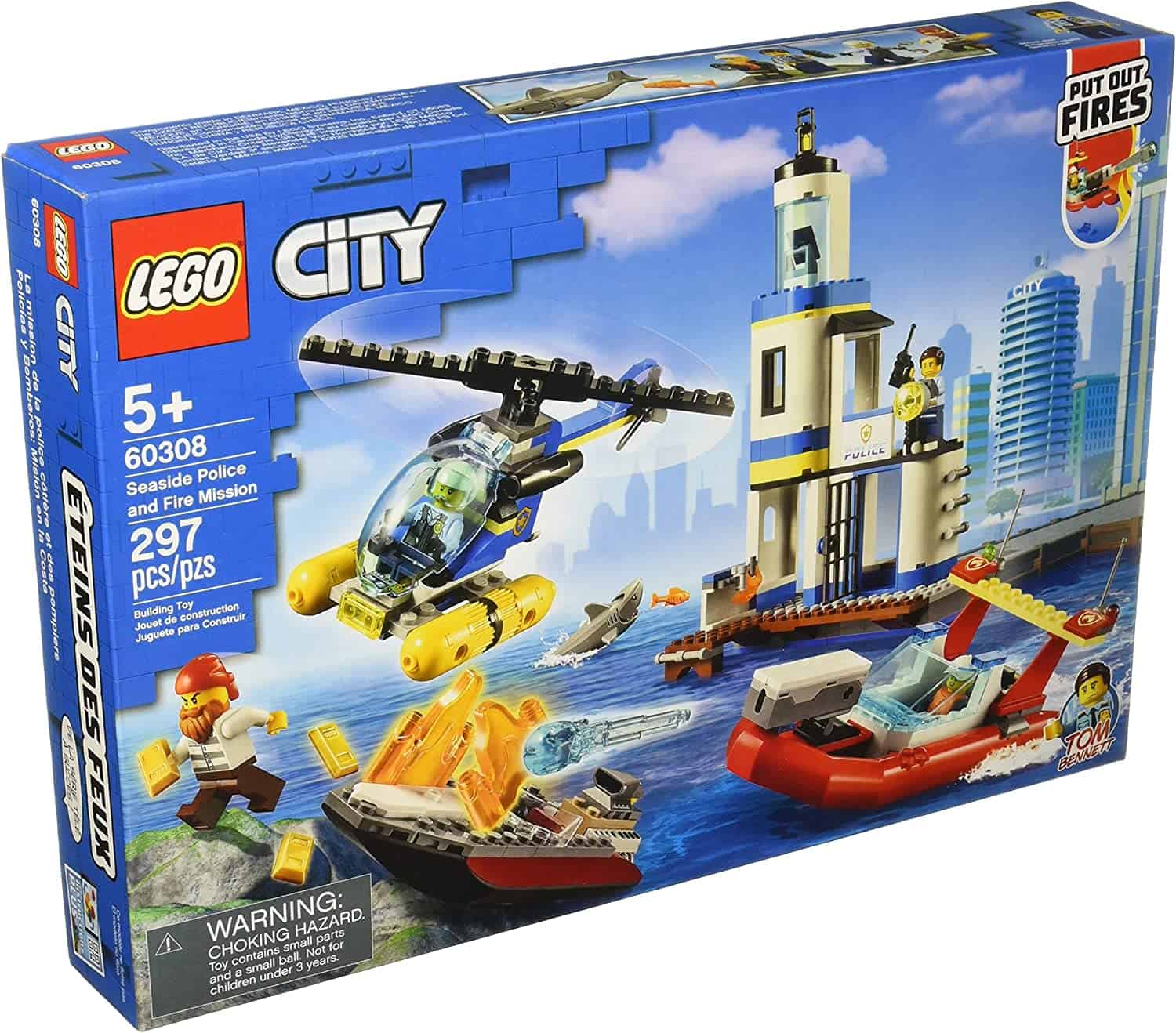 I'm a big fan of water-related activities. This love extends to LEGO sets, as well. I love boats and seaplanes. This set is about as close as I can get to having a water-related police station. It's not as big as I want it to be, but it does come with a police boat. The robbers also have a boat, which is fun to take advantage of.
Also, the lighthouse is a nice touch. It gives the set that seaside feel of police being able to dispatch on the water immediately. I also like that the boat has a standard missile rather than a net, which did become overused with police sets for a time.
Pros
Lighthouse: It's not too often you get to see a LEGO set that includes one.
Launchpad: There are plenty of police boats on the market, but not many places they can return to or dock at.
Air support: It also comes with a cool helicopter on floats.
Cons
Size: I would have liked it to be a little bigger to compete with some of the land-based stations from the city.
Retired: Like so many other great police sets, LEGO has discontinued it.
Conclusion
I have a confession to make: I didn't realize how many of these sets were retired until I started doing research for this piece. I have so many fond memories of building a lot of these sets that it pains me LEGO decided to discontinue them. But that doesn't change the fact that police sets are still the foundation of LEGO City.
LEGO continues to create new and interesting police stations that the next generation can enjoy. Also, the branding for today's police stations is admittedly better. In today's polarized world, where the place of police in society is often being discussed, sometimes it's important to take a step back and appreciate these LEGO police sets for the fun toys that they are.
FAQ
Question: Where's the best place to find retired sets?
Answer: Amazon usually has them and other secondary sellers online.
Question: How do I keep the net launcher from not getting stuck?
Answer: I found it's best not to bunch the net too tight.y when placing it in the launcher?
Question: How do the breakaway cell doors work?
Answer: They slide out easily on a tile piece, but getting them back in can be tricky.
Related Read