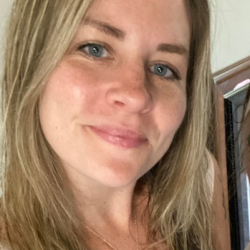 Latest posts by Thea Engst
(see all)
That's right, this is an article on LEGO hair packs for LEGO Minifigures! So if you're looking for everything you need to know on how to purchase LEGO hair packs, look no further!
I'm going to discuss hair packs, why they matter, and why you should or should not invest in any for yourself. While LEGO hair packs for Minifigures might seem like an obscure niche, that's exactly what we're here for at BrickSetGo. So let's get to talking about teeny, tiny, plastic wigs for toys.
Bottom Line Up Front:
If you need more hairstyle options for your Minifigs, finding a good hair pack or seller of hairstyles for LEGO Minifigs is important. After doing research, I believe that Etsy is the best website to visit for unique and possibly customizable Minifig hairstyles. If you are just looking for more options to have fun with and don't have a specific hairstyle or character in mind, I recommend the Walmart LEGO hair packs or visiting a LEGO store in person.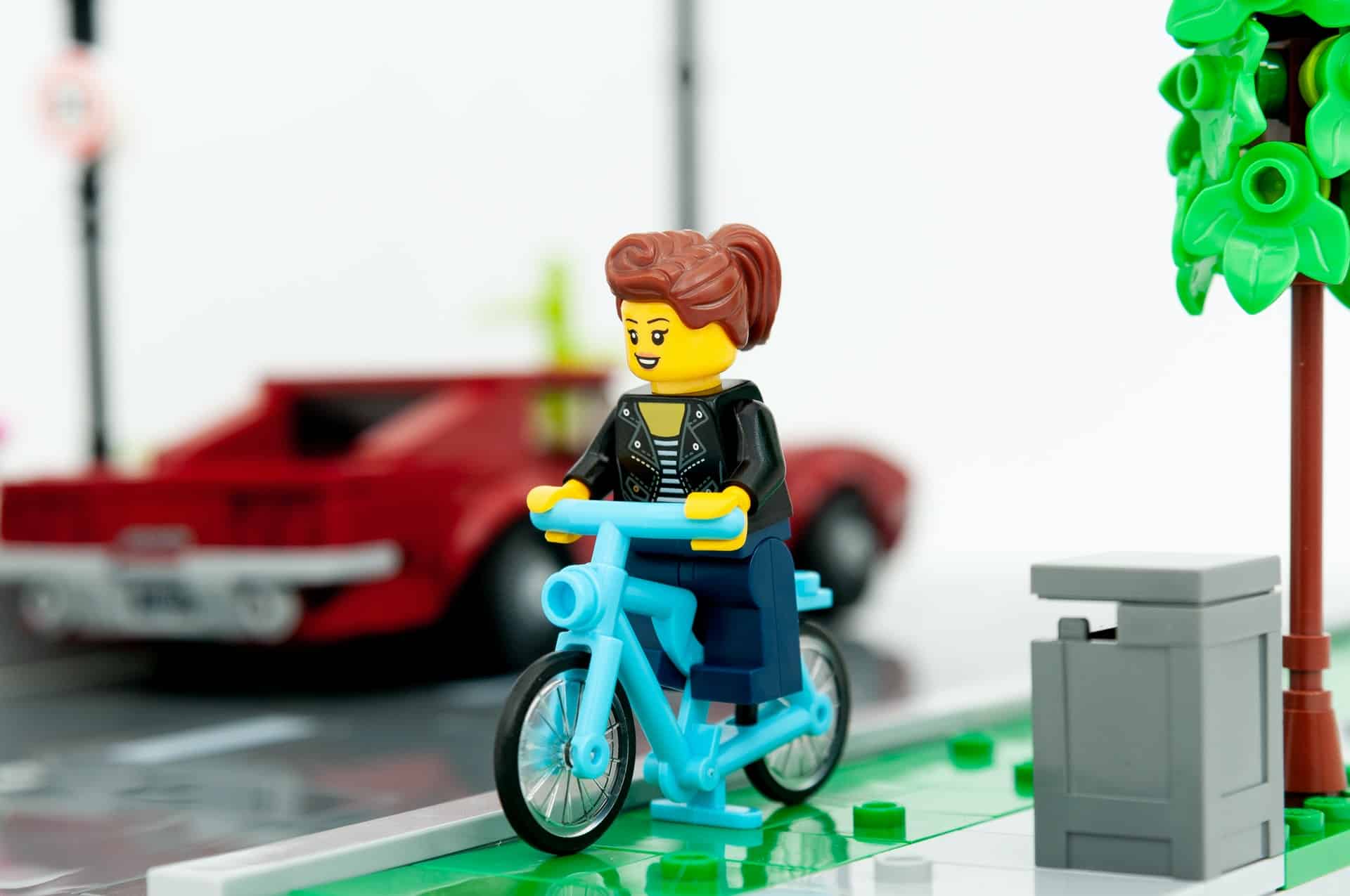 What Do I Mean By 'Hair Packs'?
Great question! Hair packs are exactly what they sound like, they are packs of changeable hair for LEGO Minifigures. While many Minifigs are made to look like certain characters depending on the LEGO set you're working with, there are just as many Minifigs that can look however the builder wants them to look. This could include a fictional person or a movie or book character the builder is trying to recreate. This is where having a pack of extra Minifig hair makes sense.
Because in the end, LEGO is really about creating your own story and world, so it makes a lot of sense that it would also provide its customers with the option to change the look of their Minifigs. Think of it like Moira Rose from Schitt's Creek changing out her wigs every day! It's fun, it keeps things fresh, and it allows for even more creative expression.
Hair Options for Minifigs
It shouldn't surprise you that the world of hair options for LEGO Minifigs is a large one. With such an amazing cult following, this gigantic company has excelled at adapting to customer wants and needs.
You can buy LEGO sets with Minifigs that have the look and hair of specific characters from movies, books, shows, bands, you name it! LEGO has a huge amount of hair options to get across the person they're trying to represent.
LEGO has curly hair, straight hair, short or long hair, they have pink hair, purple hair, there's even hair in a bun or ponytail and some with holes to add bows to. The possibilities are really nearly limitless, especially because LEGO doesn't appear to be slowing down in producing more goodies for us to enjoy.
The problem arises in how to acquire these hair pieces. Unfortunately, it can become tempting to purchase an entire set to get the right Minifig. LEGO does, however, offer mix and match options in their stores where you can construct your own Minifigs and purchase the desired accessories for them. Phew! That's a huge relief.
Why Do Hair Packs Matter?
Hair on a Minifig may seem like tiny potatoes compared to the monstrosities that you can create with LEGO sets. But I always say that one of my favorite things about LEGO is their attention to detail. The hair on the Minifigs is one of those details that give me a lot of joy when constructing. It's just one more way to add explicit detail to your final product. It also offers variety. With more hair, facial hair, and hat options, your building world expands that much more. You can redress your Minifigs daily if you want!
One reason why I like the option of hair packs is that while LEGO has a huge portfolio of Minifigs and sets, you can't always buy just the Minifig you want. So if you want a specific character, you can feel sort of backed into a corner to buy an entire set, just for the right Minifig to go to a different set. Of course, LEGO offers options to make your own Minifigs, having a selection of hair pieces and accessories available is part of that process. We'll discuss that option more down the line.
Something else that's important to know about many hair packs is that they all don't only include hair but often facial hair and hat options as well. These are more defining factors when putting together the Minifig of your dreams. If the character in your brain has a beard then you need a beard! But what are you supposed to do if you don't have a beard or the hair color isn't quite right? What's a LEGO builder to do?
I'm glad you asked!
Where To Buy Hair Packs for Minifigs
LEGO's website doesn't have a lot of options for getting packs of hair for their Minifigs. The closest you can probably find is their LEGO Minifigures: Mix and Match option for $12.99. This is a box of loose parts to construct your own Minifigs however you'd like, so it includes body parts you may not be looking for if you just want more hair specifically.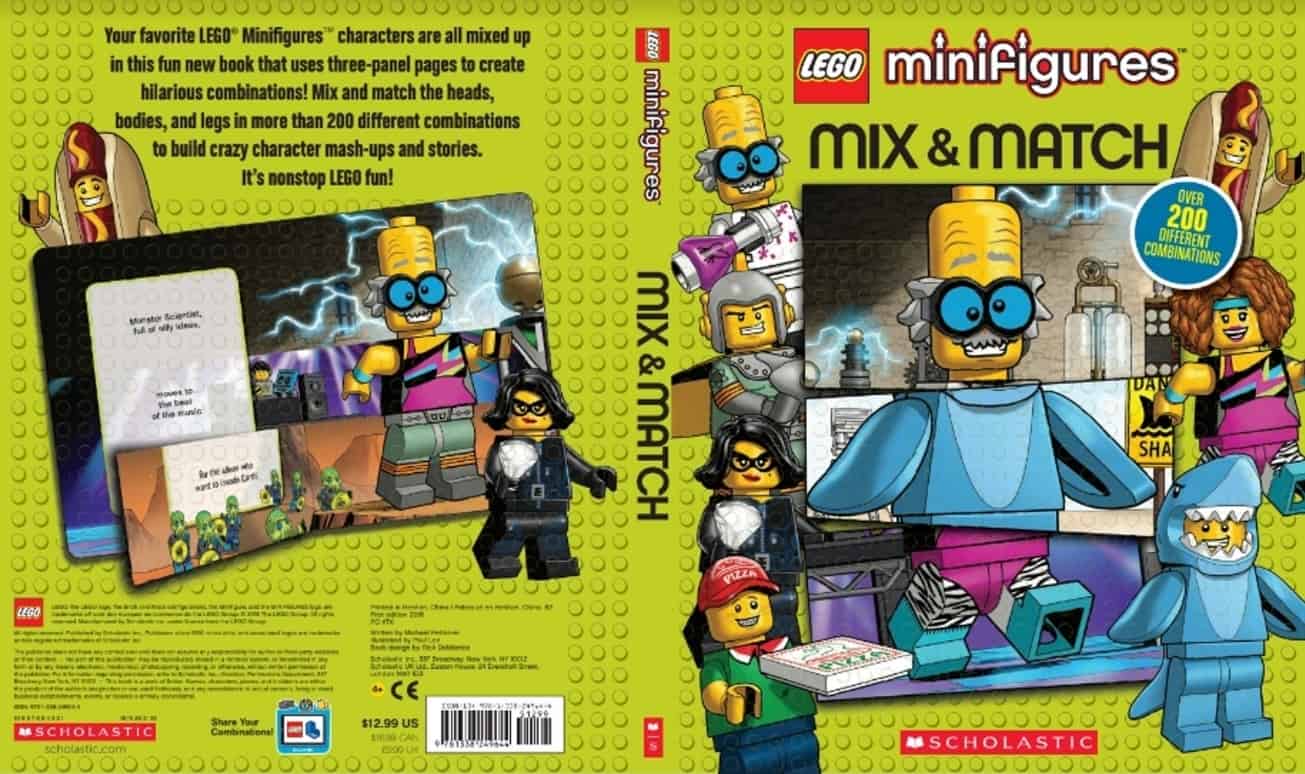 This is something I find a bit strange because other stores do carry loose hair pieces and accessory options. So if you go to a LEGO store in person, you will have the option to collect more hairpieces.  LEGO offers the option for you to select parts and accessories in person to add to your home collection. While many may aim to construct something specific with the pieces they're purchasing, you may buy only hair for your Minifigs in the store. It's all about what you want.
The store requires a certain amount of accessories purchase, however, so you may need to purchase fifteen or so hair pieces. I don't necessarily consider this a bad thing, I just think that you should be organized when going into the store. If you need more accessories for a different LEGO set or Minifig, this is your time to acquire them along with the desired hair piece you're specifically going in to the store for.
Pros and Cons to Buying Hair Packs from LEGO:
Pros:
You can go in the store and hand-choose what you want.
You know you are buying a LEGO brand hair piece and it will fit your Minifig perfectly.
You can get in-person assistance from the associates.
Cons:
Not available for sale on the LEGO website.
Going into the store requires you to purchase multiple accessories, as LEGO does not sell simply one hair piece at a time.
Walmart has options for LEGO hair packs that are made by LEGO in two different size options. You can get a fifteen pack of random hair which contains short and long hair and even beards, for $17.99 on the Walmart website. You can also get a larger pack of fifty pieces of hair for $41.99. This pack also includes hats which add to the fun and this larger pack, like the smaller one, is also the LEGO brand.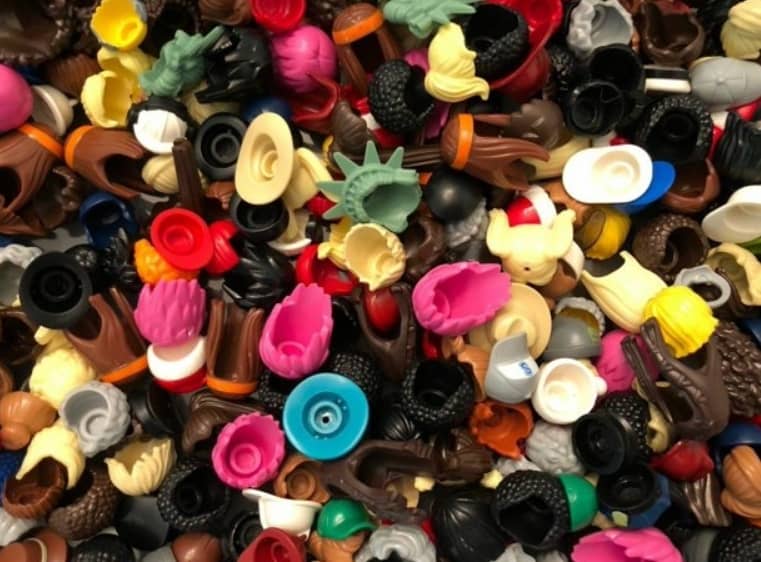 When I stipulate that these are LEGO brand, I want to be clear that while LEGO does not sell the hair packs on their website, they do produce these packs for other stores to sell. So unless I say otherwise, you're not looking at an off-brand LEGO hair pack. This means that if you're buying LEGO brand specifically, your hair will absolutely fit on the LEGO Minifig. Off-brand hair pieces run the risk of not fitting. We'll discuss that more later.
Something I don't like about these hair packs at Walmart, which you're also purchasing online and not in person, is that you don't know what you're getting. Everything is different of course and you're bound to get repeats of hair especially in the larger of the packs. If you're looking for something specific, I'd go to a LEGO store, or one of the options I list below, not blindly order a hair pack online. If you're just looking for variety with nothing specific in mind, one of these packs is a great option.
Pros and Cons for LEGO Variety Hair Packs from Walmart:
Pros:
They offer a variety for playing with LEGOs.
A great option to give to kids who free-play with LEGOs.
The larger pack has hats included.
They both include beards.
Cons:
You can't be sure what you're getting especially if you purchase the pack online and can't see what's inside first.
More online options commonly include this five-piece set of hair pieces for about $22. You can see exactly what you're getting with this, which is better than the larger options. And while it is out of stock at Walmart, at least while this article is being written, it is for sale on eBay. And speaking of eBay, this is a great place to hunt down specific looks. eBay has a very user-friendly interface for LEGO enthusiasts to find what they're looking for. It even has options to search for Batman and other famous character-specific hair pieces!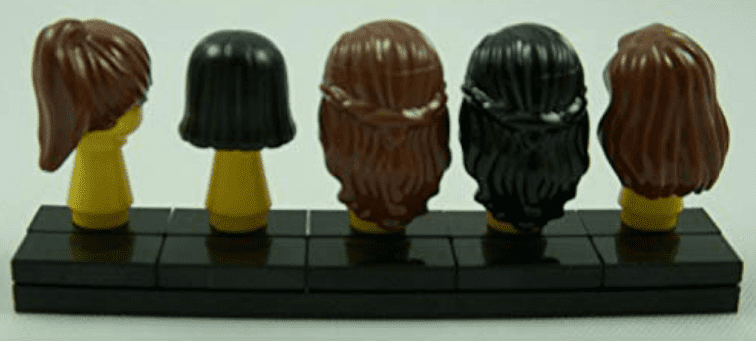 Search by cut or character on Ebay and you should have an easy enough time finding what you're looking for. The problem arises when you don't see what you're looking for. eBay requires more legwork. If you have something specific in mind, you need to check eBay daily to see if it becomes available. While this can be part of the fun for some people, it can also be tedious for others.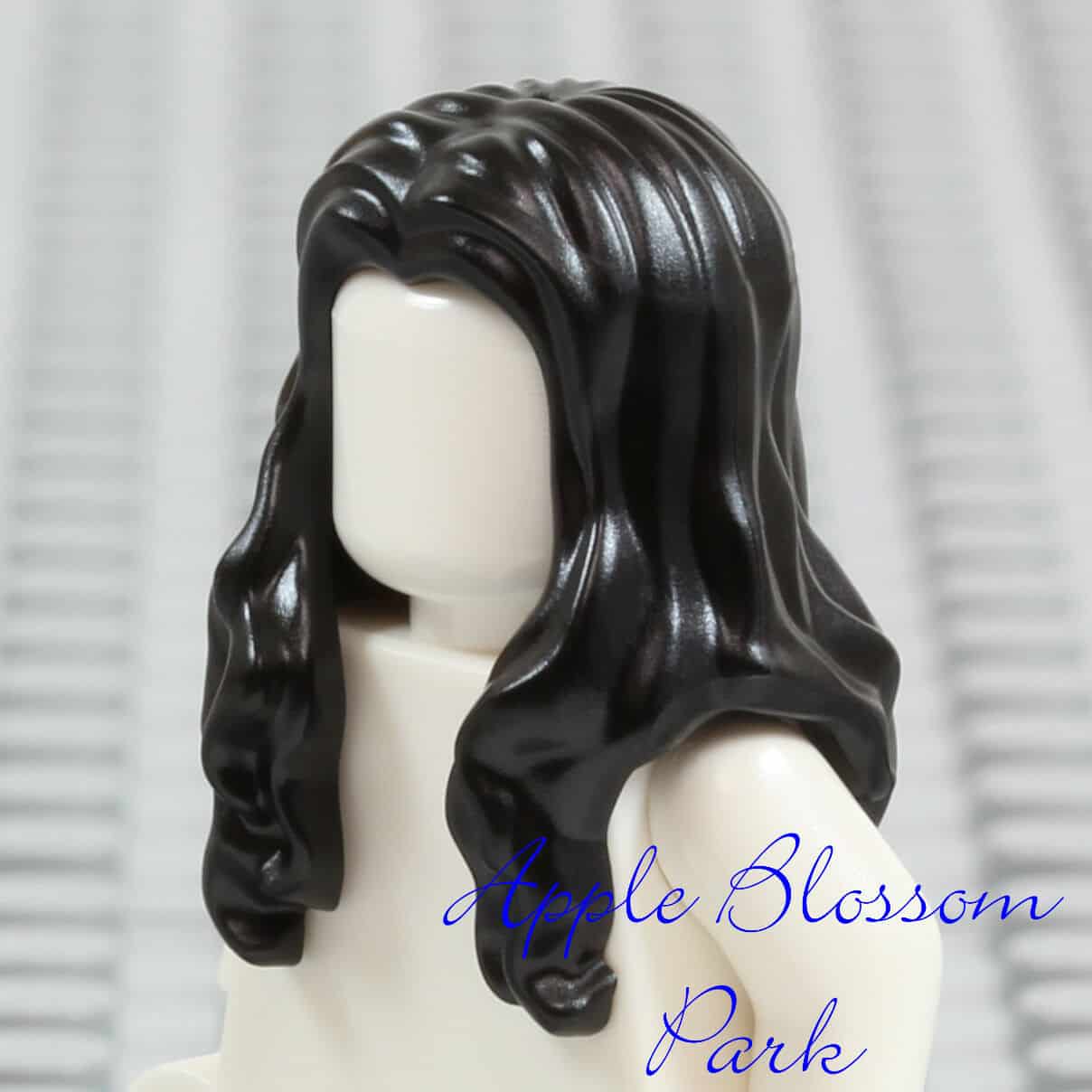 Another downfall of shopping off eBay is that since it is an auction-based website, bidding can get quite high for rarer pieces. LEGO has a loyal, cult following, and those retired and hard-to-find pieces will get pricy fast. However, some eBay sellers do offer a 'buy now' option for those who do not want to deal with the bidding process. This option is entirely up to the seller's preferences however, and is not guaranteed.
Pros and Cons of Buying Hair Packs on eBay:
Pros:
You can search for and hopefully find specifically what you're looking for, down to the character, cut, and/or style.
Has rarer, retired, and more difficult-to-find hair pieces.
Has a very user-friendly interface for finding what you want.
You can buy the exact amount you need.
Cons:
You need to stay on top of eBay to continue to search for what you want.
Since it's an auction, rarer pieces can easily get expensive.
Another great option for finding hair packs is Etsy. Etsy has a variety of stores that sell products that are either handmade or vintage. Many shops on Etsy are also Amazon-based shops now too. You can search for "LEGO hair packs" and find a whole selection of options on Etsy.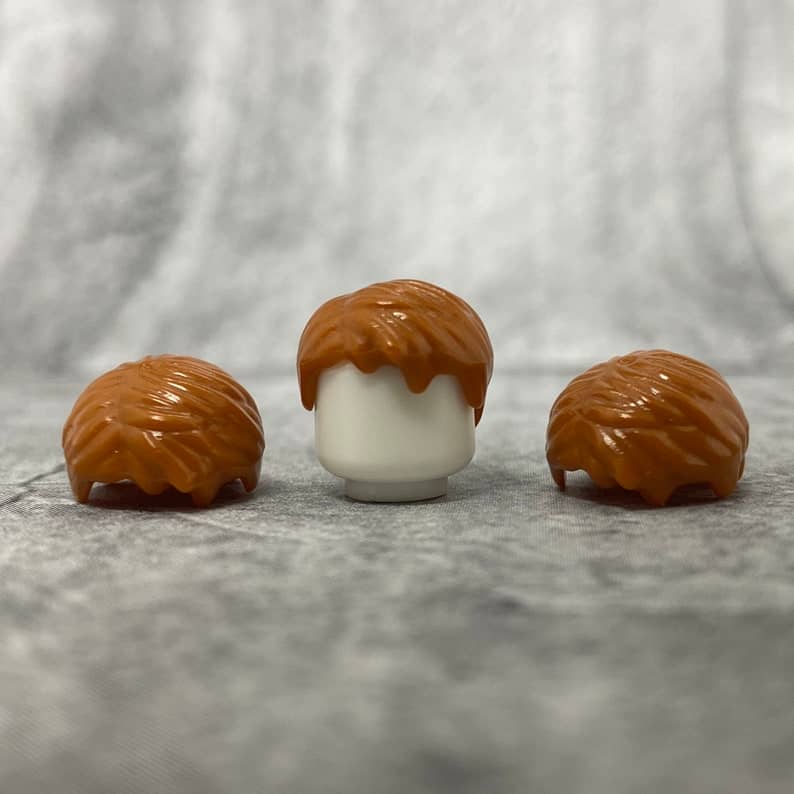 Here's the thing to keep in mind when looking on Etsy for LEGO hair packs: not all of them will be LEGO brand. That means you do run a risk of having a poorly made hair piece that does not fit your Minifig. That being said, I would simply take the time to read the shop's reviews to see if others complain about inconsistent or poorly made hair pieces.
A lot of sellers on Etsy offer hair-dos for characters or genres that LEGO does not or requires you to buy an entire set to construct the desired Minifig. Wolverine, for example, is purchasable hair-do from a shop on Etsy. Instead of spending about $40 on an entire X-Men set, you can spend only $2.95 on just Wolverine's hair, which may be all you need to complete your Minifig.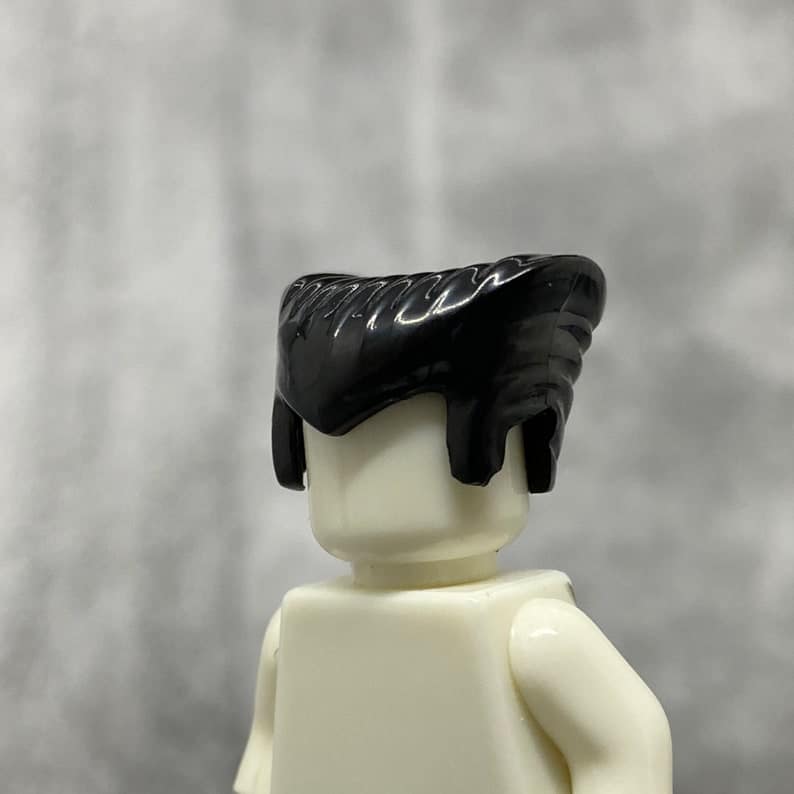 Another thing I like about utilizing Etsy is that if you can't find the hair-do you're going for, tracking down a creative person who is able to make the look, especially for you, is possible on Etsy. You can't find that on Walmart, eBay, or LEGO.
I also want to be clear that Etsy sellers do offer authentic LEGO brand hair pieces, you just need to make sure they stipulate that in the description.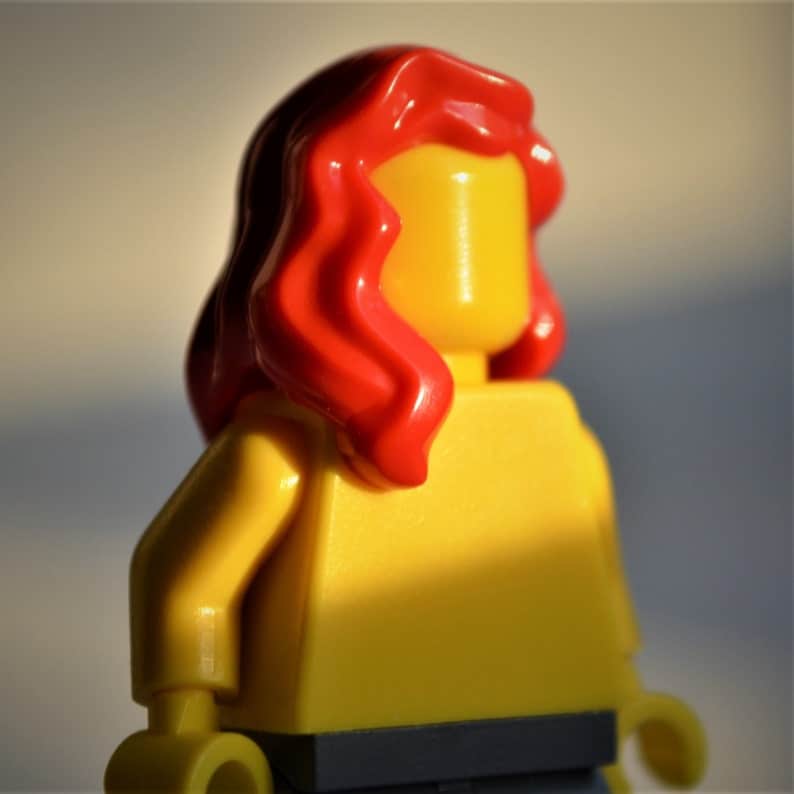 Pros and Cons to Buying Hair Packs on Etsy:
Pros:
Etsy has both handmade off-brand Minifig hair pieces and LEGO brand hair pieces.
Many Etsy sellers offer customizable options if you can't find the hair you're looking for.
Overall, Etsy offers a huge amount of options.
You have a lot of options for how many pieces you want.
Cons:
You run the risk of purchasing a hairpiece that doesn't fit your LEGO Minifig if you buy off-brand.
FAQs on LEGO Hair Packs
Question: Why are LEGO hair packs important?
Answer: LEGO Minifigs are important in the LEGO universe. They are expressive and contribute a lot to the set they're associated with. By having the proper hair-do, your LEGO set can feel more complete.
Question: Why doesn't LEGO sell mixed hair packs on their website?
Answer: I really can't answer that question. My best answer is that it could be because LEGO feels people benefit from shopping for those types of accessories in the stores rather than online, but I can't say for sure. I truly don't understand why they don't at least sell variety packs which they produce for Walmart online.
Question: Do you recommend buying off-brand hair pieces to make your vision come to life?
Answer: I do if you find a reliable seller. Pay attention to reviews, scour pictures, and ask questions before you make your purchase.

Final Thoughts on LEGO Hair Packs
While the hunt for Minifig hair-dos might seem trivial, it is a fun side-passion for many of us looking to construct a certain world. One of the beautiful things about LEGO is not only following the instructions to make something incredible but building our own worlds too.
Having access to hair packs with a variety of hairstyles, facial hair, and hats, is a huge way to make the world more our own. And for those of us who want to have a famous character without purchasing an entire set that contains them, hair packs offer that flexibility as well.
When it comes to purchasing a hair pack for yourself, the options are out there. It can become overwhelming but it's important to know what you're looking for and how much time, effort, and money you're willing to invest in this quest. For me, I would lean on Etsy and find a reliable seller and creator to hand make the hair-do I want.
I think that option is really cool and unique and I also love the idea of supporting a small business. But everyone is different and you need to find the right option for yourself, I just hope this article helped you on your journey!
Recommended Reads: