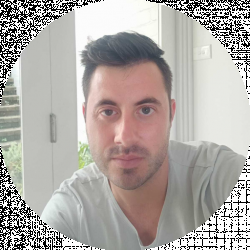 Latest posts by David Borgogni
(see all)
We've all imagined that we're characters from Disney movies when we were kids, but reconstructing the beautiful worlds depicted in these movies wasn't always easy. The best LEGO Disney castles allow you to recreate a part of the atmosphere from your favorite Disney movie and relive your childhood fantasies.
The collaboration between LEGO and Disney has been incredibly fruitful even though it started less than ten years ago. In a relatively short time, we've seen hundreds of sets inspired by motives from Disney's movies like 'The Beauty and The Beast' or 'Frozen'.
Castle sets based on Disney movies are a huge part of the reason why the collaboration between these two companies is so successful.
So, in this article, I'm going to supply you with the information you need to find the best LEGO Disney castle set and recommend several models that might be just what you're looking for.
At a Glance – The 5 Best LEGO Disney Castle Sets
Selection Criteria
Despite the fact that the LEGO Disney theme contains hundreds of sets, the selection of castles within this theme is somewhat limited. Aside from the sets based on the castles that appear in movies like Cinderella or Frozen, there are a handful of LEGO Disney castle sets to choose from.
Nonetheless, I had to utilize several search parameters to find the Disney Castle sets I featured in this article, so let's take a look at the most important ones.
Set size – The number of pieces in a set often indicates how difficult it is to assemble it. I used this criterion to pinpoint the sets that are both challenging and easy to put together so that you can choose the option that best fits your needs.
Release date – My aim was to select sets that were released within the last few years. Hence, none of the castles you'll find in this article come from the brand's first Disney theme series published in 2012.
Disney Movies and LEGO Sets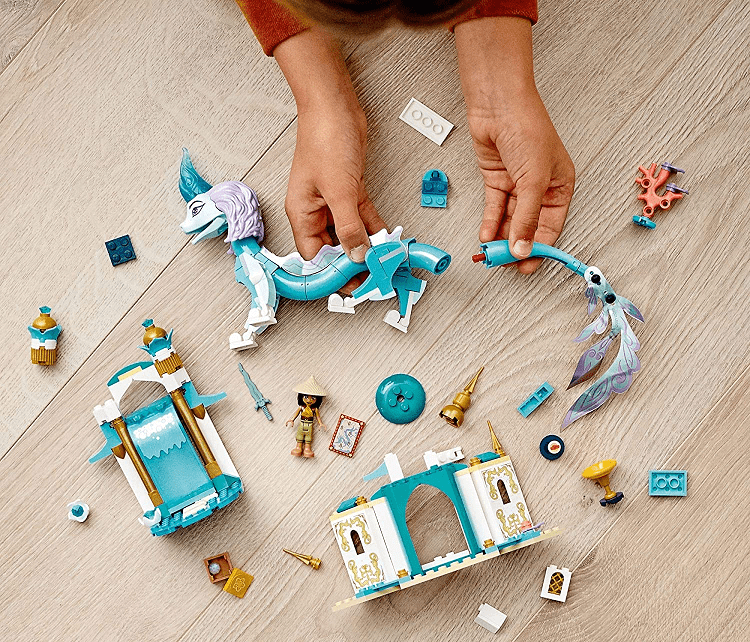 LEGO's Disney theme is a relatively new addition to the brand's portfolio. The collaboration started in 2012 when LEGO released sets based on Snow White, Sleeping Beauty, and Cinderella. That same year, LEGO released Princess Cinderella's Castle, its first Disney castle set.
Subsequently, the company introduced sets inspired by characters like Ariel, Rapunzel, Sofia, Alana among numerous others. Currently, LEGO offers sets based on characters from ten Disney movies, but only a handful of characters have their castles.
The LEGO Disney sets are based on the following movies:
The Little Mermaid
Aladdin
Mulan
Tangled
Moana
Beauty and the Beast
The Princess and the Frog
Frozen
Brave
Raya and the Last Dragon
It is also worth adding that LEGO's DUPLO series aimed at children aged 5 or younger also features several castle sets inspired by Disney movies. Besides sets that recreate the castles from Disney's movies, LEGO also offers sets like Anna's Castle Courtyard that complement the castle sets.
It is worth noting that LEGO retired many of the castle sets from the Disney theme since sets such as Arendelle Castle Celebration or Belle's Enchanted Castle are no longer in production.
LEGO Castles
LEGO's Castle theme predates the Disney theme for several decades. However, this fantasy-based theme is no longer available as the company retired the last set from this theme in 2013. The first set within this theme was published in 1978, and by 1984 the brand started producing sets that aimed to provide a realistic depiction of medieval castles.
Castles don't appear only in the now discontinued Castle theme since the Creator 3-in-1, Harry Potter, or Hidden Side themes also feature castle sets. However, LEGO's Disney theme currently offers the most diverse selection of castle sets.
In addition to castles, the Disney theme also includes sets like Rapunzel's Tower or Arendelle Castle Village that focus on a single segment of the castles depicted in the movies Tangled and Frozen.
The Overview of the LEGO Disney Theme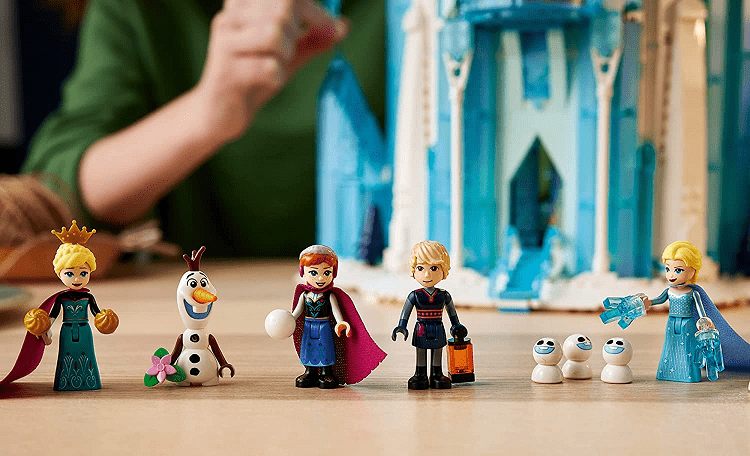 LEGO Disney theme was originally labeled as LEGO Disney Princess. Even though it was subsequently renamed, this theme is still based on the characters that appear in Disney movies. Here are some of the characters that are frequently featured in the Disney theme.
The Belle and the Beast
Frozen
Aladdin
The Little Mermaid
Princess Ariel
Prince Eric
Besides sets based on Disney movies, LEGO also offers several castle sets inspired by Cinderella castles from Disney Theme Parks. Most castle sets also feature several mini-figures that depict the characters from a particular Disney movie.
Castle sets based on Cinderella Castles usually include mini-figures of Mickey and Mini Mouse, Donald Duck, and other iconic Disney characters. In addition to castles, LEGO's Disney theme also features a variety of accessories and toys inspired by characters from Disney movies.
Retired LEGO Disney Castle Sets
On average, a LEGO set stays in production for 18 to 24 months, although the shelf life of individual sets depends on their sales. Sets that are in high demand can remain in production for more than two years.
The retired sets go out of production, but they remain available in stores until they're sold out. Hence, many of the discontinued LEGO Disney Castle sets can still be found either online or at brick-and-mortar stores even though they're no longer in production.
Checking if a set you want to get is retired doesn't require a lot of effort, as you can use LEGO's website to find out if the particular set is still in production. The biggest downside of purchasing a retired LEGO Disney Castle set is the limited availability of replacement parts.
Nonetheless, the value of retired sets is usually much higher than the value of LEGO Disney Castle sets that are still in production.
The Most Important Factors to Consider while Choosing a LEGO Disney Castle Set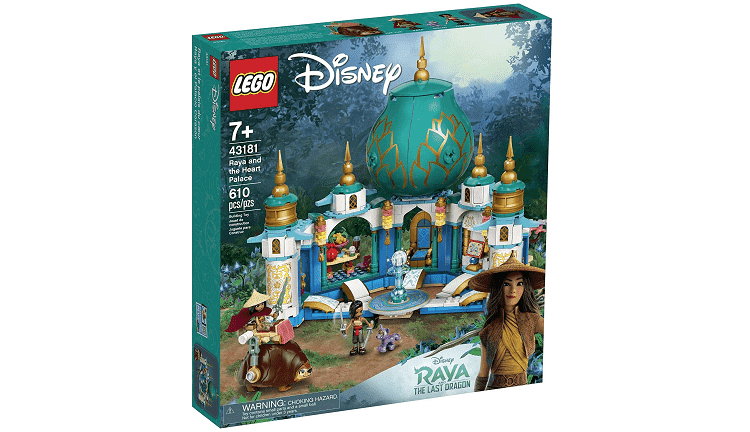 All LEGO Disney Castle sets feature the LEGO System building elements. This means that you can combine pieces from two sets without having to worry about compatibility issues. Having the freedom to combine the elements from multiple sets also makes the selection process easier.
Although you won't have to put too much thought into finding a LEGO Disney Castle set that meets your requirements, there are still several factors you need to consider.
I've shortlisted the most important aspects you should pay attention to while choosing a LEGO Disney Castle set, so let's take a closer look at them.
Which Disney movie LEGO Castle is Based on
Sets from LEGO's Disney theme are based on ten different movies, as you can choose from models that are based on Frozen, The Little Mermaid, and other Disney blockbusters.
So, if you're a fan of Raya and the Last Dragon, you should opt for one of the LEGO castle sets that are inspired by this movie, while the fans of The Belle and the Beast should consider getting one of the LEGO Disney castles that are based on this movie.
Set's Recommended Age
Each LEGO set, including the LEGO Disney castle sets, has its recommended age group. Standard Disney-themed LEGO sets are not suitable for preschoolers because they contain small parts that can potentially cause a choking hazard.
That's why you should get one of the LEGO Disney castle sets from the LEGO Duplo series if you're searching for a set that is suitable for a child that is up to five years old. Also, keep in mind that some standard sets are only meant for teenagers and adults.
Checking the set's recommended age is easy because this information is featured on the box.
The Complexity of the Assembly Process
The number of pieces a set contains often suggests how difficult it is to assemble it. Some LEGO Disney castle sets contain more than 4,000 pieces, and it may take you several days to build such a set.
Besides being time-consuming, large Disney castle sets can also require an admirable level of building skills because they contain a lot of small elements. Paying attention to this factor can help you find a LEGO Disney Castle set that is adjusted to your or your child's building skills.
Is the Set Retired?
A significant amount of LEGO Disney castle sets is no longer in production, usually because they didn't perform well on the market. However, as we already noted, retired sets remain available for as long as retailers have them in stock.
Retired sets are more expensive than models that are still in production, so you might end up spending a few hundred dollars more if you want to get one of the discontinued LEGO Disney castle sets. However, this can turn out to be a profitable investment since some retired sets can become collectibles.
Set's Price
The set's size or its availability are some of the factors that can affect its price. The price range of the LEGO Disney castle sets spans from less than $10 for basic models that contain fewer than 100 pieces to several hundred dollars for advanced sets that feature thousands of pieces.
Replacement parts for LEGO Disney castle sets are inexpensive, and they usually cost less than a dollar, but keep in mind that spare parts for discontinued sets may no longer be available.
The Advantages of LEGO Disney Castle Sets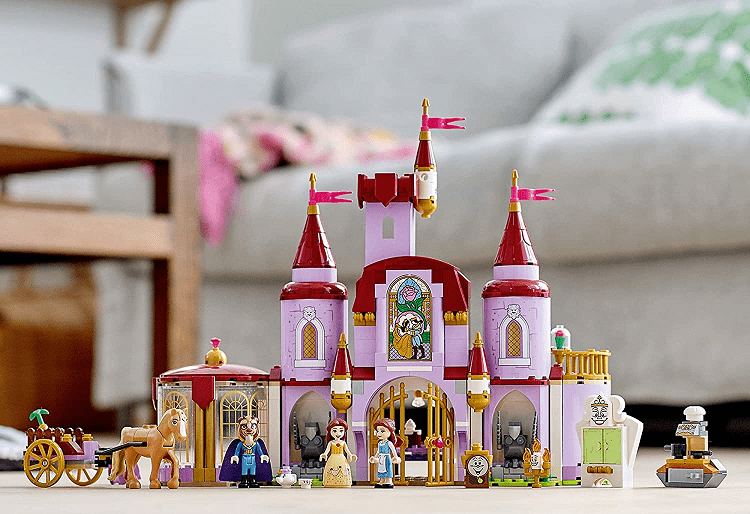 Made for LEGO and Disney Fans of All Ages
You can find a LEGO Disney castle set you like regardless of how old you are because the company offers a variety of models aimed at different age groups. However, most LEGO Disney castle sets are designed for children under the age of 12.
Skill Development
All LEGO Disney castle sets can help children and teenagers develop their task solving, construction, and collaborative skills. In addition, these sets encourage creativity by allowing children to invent stories that unravel within castles they build.
LEGO Disney Castle Sets Include Mini-figures
LEGO's castle sets based on Disney movies feature mini-figures of the film's main characters that allow you to reconstruct different scenes from a movie.
The Disadvantages of LEGO Disney Castle Sets
Some Sets Can Take Weeks to Assemble
Putting together a LEGO Disney castle set that contains more than a thousand pieces requires a lot of patience because the assembly process can take days, if not weeks.
Top 5 LEGO Disney Castle sets
LEGO Disney Castle 71040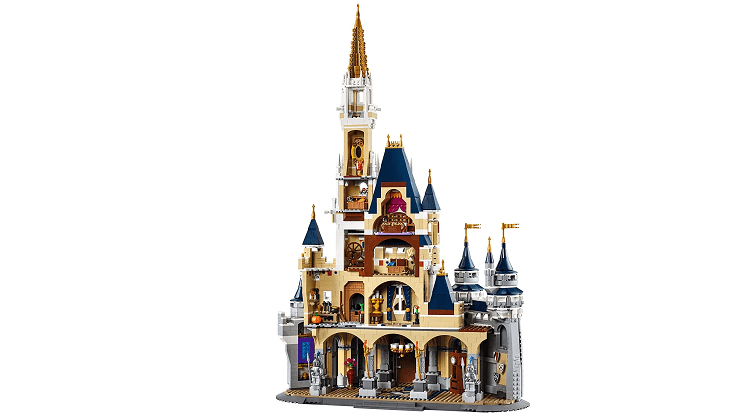 According to the manufacturer, you should be at least 16 years old to assemble the LEGO Disney Castle 71040 set, but the actual age limit is much lower since even 7-year-olds can put it together if they follow the building instructions.
This set is a replica of Cinderella's castle that is a part of two Disney theme parks, and it includes more than 4,000 pieces. Besides the components you need to build the castle, you'll also get the mini-figures of Miki and Mini Mouse, Donald, and Daisy Duck, and Tinker Bell.
When fully assembled, the LEGO Disney Castle has the dimensions of 29 x 18.8 x 12 inches.
Pros
Realistic replica of the original Cinderella castle
Highly detailed interior
Clear and concise building instructions
The set includes four mini-figures
Cons
Long assembly process
Very expensive
LEGO Disney the Ice Castle 43197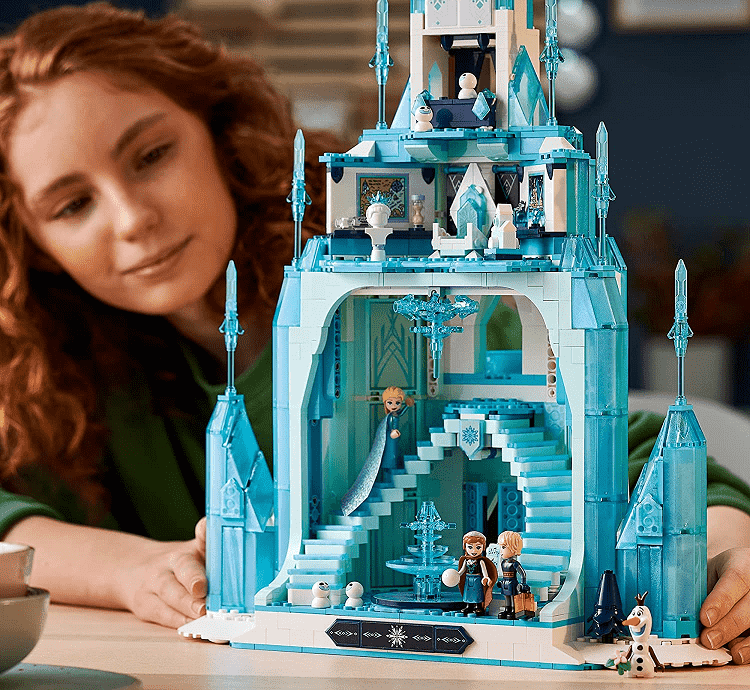 Fans of the movie Frozen will love assembling the legendary LEGO Disney Ice Castle modeled after Elsa's castle. The set contains 1,709 pieces, including nine mini-figures and various accessories that make playing with this set more fun.
Besides playing, this three-story castle can serve as a decorative piece in your child's bedroom or even in your living room. However, the building process can be challenging because the castle contains a high amount of details.
You can leave the castle's interior open and reveal the grand hall that features a dual staircase and an ice fountain or close it to get a view of the model's façade.
Pros
The set features numerous movie-themed accessories
Rich interior
No need to buy mini figures separately
Great decorative piece
Cons
Not suitable for children under the age of 14
Some building steps can be confusing
LEGO Mini Disney Castle 40478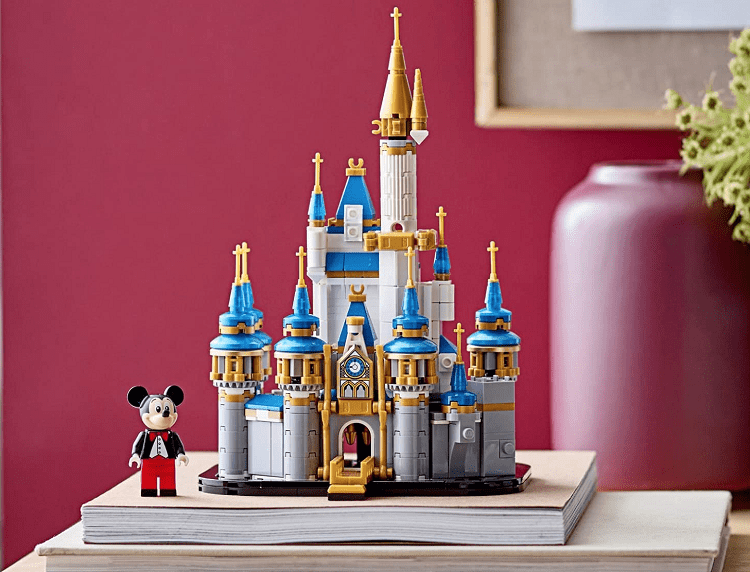 Released in celebration of the 50th anniversary of the Walt Disney World® Resort, the LEGO Mini Disney Castle is the replica of the Cinderella Castle from the Magic Kingdom park in Florida. Although it is recommended for children older than 12, even younger children can assemble it effortlessly.
The set includes just one vintage-style Mickey Mouse mini figure, and it doesn't have interior decorations. Its façade doesn't contain a lot of details, so you won't have to spend a lot of time searching for the right place for a small decorative part.
Pros
Beautiful replica of the Cinderella Castle in the Magic Kingdom Park in Florida
Easy to build
Doesn't occupy a lot of space
The set is immensely popular
Cons
Comes with just one mini-figure
Not based on a specific Disney movie
LEGO Disney Belle and the Beast's Castle 43196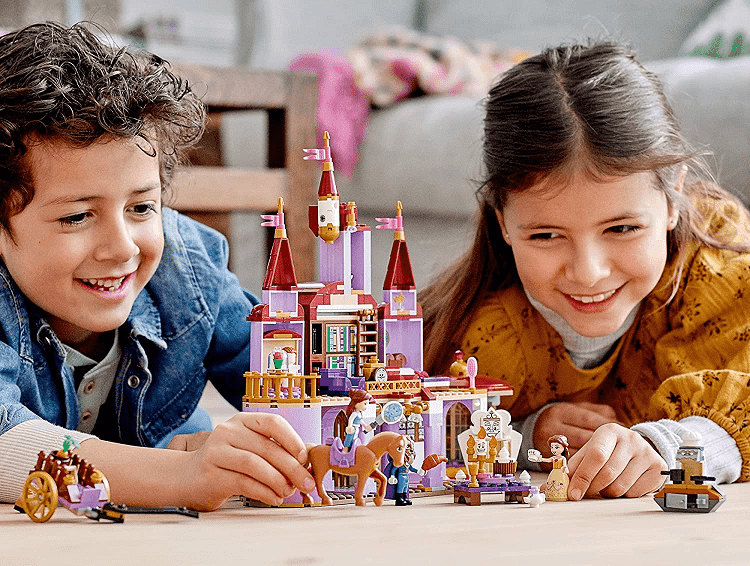 You should take a closer look at the LEGO Disney Belle and the Beast's Castle if you're looking for a set suitable for a six-year-old. In addition to a two-story castle, this set has nine mini-figures, including two versions of Belle and the beast head for the prince.
The set comes with several movie-themed accessories that allow you to recreate scenes from the movie. The castle doesn't contain a lot of details, and your child can assemble it without your assistance. All parts are durable, and you won't have to worry about replacing them unless you misplace them.
Pros
Allows children to imagine different play scenarios
Reasonably priced
Spare parts are easy to find
Features a variety of accessories
Cons
Some pieces are small and easy to misplace
The assembly process can take several hours
LEGO Disney Raya and the Heart Palace 43181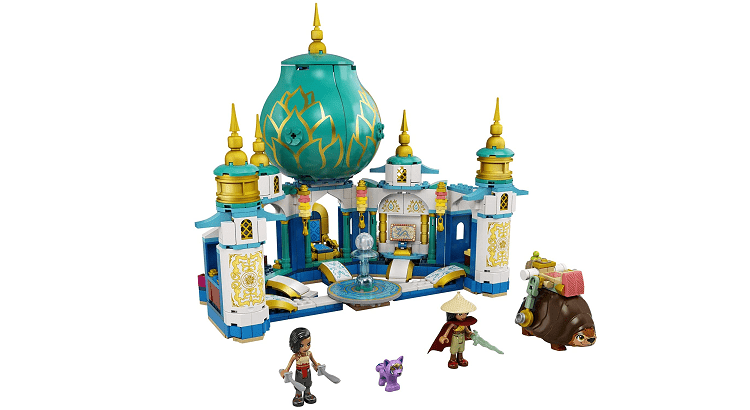 The LEGO Disney Raya and the Heart Palace set is a perfect gift for all fans of the Raya and the Last Dragon movie. Moreover, you can combine this set with the LEGO Disney Raja, and Sisu Dragon set that includes the palace gate and mini-figures of several characters from the movie.
The Heart Place has six rooms and several towers, as well as a revolving wall that leads to a secret room. This set comes with Raya, Namaari, Tuk Tuk, and Serlot figures that allow you to imagine different scenarios that take place in the palace.
Pros
Inspires imaginative play
Rotating bedroom tower
Compatible with other LEGO Disney sets
Less expensive than most LEGO Disney castle sets
Cons
Assembling a set that contains more than 600 pieces can be challenging for 7-year-olds.
Children older than 10 might find the set underwhelming
Frequently Asked Questions about LEGO Disney Castle Sets
Question: Does LEGO Release New Disney Castle Sets Every Year?
Answer: Yes, LEGO adds new models to its LEGO castle lineup every year, but the brand also retires Disney-themed sets annually.
Question: What are the Best LEGO Duplo Disney Castle Sets?
Question: How Long Does it Take to Build a LEGO Disney Castle?
Answer: How much time you're going to need to build a LEGO Disney castle depends on the size of the set you choose. A set that contains 500 pieces can be assembled in a few hours, while you're going to need an entire week or more to put together a set that has several thousand pieces.
Question: Are all LEGO Disney Castle Sets Compatible?
Answer: Even though some bricks and parts can be used with any set from the LEGO Disney theme, the compatibility of LEGO Disney castle sets depends on the movie they're based on.
My Verdict: How to Know which LEGO Disney Castle Set is the Best
Navigating through LEGO's selection of Disney-themed castles isn't overly complicated because the brand offers only a handful of sets inspired by castles featured in Disney's movies. LEGO also offers several castle sets based on different Cinderella castles located in Disney theme parks around the world.
I recommend getting the LEGO Disney Castle 71040 set if you're a devoted Disney fan who wants to recreate the atmosphere from a Disney theme park in your home. Check out our guide on the best LEGO sets of all time here!
A set like the LEGO Disney Belle and the Beast's Castle or the LEGO Disney Raya and the Heart Palace might be a better option for you if you're looking for a set that is suitable for children under the age of ten.
Which LEGO Disney castle are you going to choose? Leave a comment and let me know.
Recommended Reads: