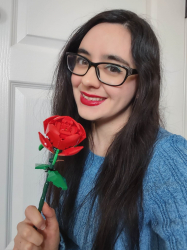 Latest posts by Samantha Valencia
(see all)
Fans of Harry Potter's Wizarding World have been spoiled by LEGO's numerous sets, which recreate iconic movie moments and bring fun locations to life. Having grown up with the series, I've done my fair share of collecting magical accessories and LEGO sets.
From the Hogwarts Castle to the Hogwarts Moments books, there is much to enjoy with these sets – although playability features vary.
My latest Harry Potter acquisition is the LEGO Hogsmeade Village Visit 76388 set. It came out as part of the franchise's twentieth anniversary in 2021. Featured first in Harry Potter and the Prisoner of Azkaban, Hogsmeade has become a fan-favorite location full of sweets and delectable treats.
This set is very straightforward and captures the exterior of the Three Broomsticks Inn, but it definitely has some limitations. Honeyduke's is seen in great detail in Harry Potter and the Prisoner of Azkaban. The best look of the Three Broomsticks comes in Harry Potter and the Half-Blood Prince. So, let's dive into this LEGO Harry Potter Hogsmeade Review & Guide to learn all about this set!
You might also be interested in: The Best LEGO Harry Potter Sets
Bottom Line Up Front
Price: $89.99

Piece Count: 851

Number of Minifigures: 7

Age: 8+

Time to Build: 2 hours and 42 minutes (taking my time)

LEGO Theme: Harry Potter

Released: June 2021

Dimensions: 9″ high, 12″ wide, 4″ deep
About LEGO Harry Potter & Hogsmeade
There have been numerous sets within the Harry Potter line of LEGO. Sets often vary from special events (ex: Triwizard Tournament) to essential locations (ex: The Burrow, Hogwarts Castle). The Hogsmeade Village Visit includes two significant buildings: Honeyduke's and the Three Broomsticks Inn.
Honeyduke's is known for its sweet – and sometimes strange – treat offerings, including Fizzing Whizzbees, chocolate frogs, and pumpkin pasties.
The Three Broomsticks is a tavern and inn known for offering Butterbeer and Firewhisky. Both locations have been recreated in the Wizarding World of Harry Potter at Universal Studios, emphasizing how popular and essential these locations are.
The Building Process
I took my time building Hogsmeade Village Visit since it's rather apparent early on that there needs to be more playability to this set. The draw of this set is its display potential. Building it will be relaxing, but there's nothing revolutionary to it.
Pairing it with other Potter-centric sets and combining it with other elements is where it will shine the most. The set is broken down into six bags. The first three contain Honeyduke's, while the last three contain the Three Broomsticks Inn.
The initial stages are relatively straightforward for both sets; however, the Three Broomsticks Inn has a few unique challenges towards the end that we'll discuss in just a moment.
I didn't need to organize my pieces for this build as the bags aren't overly large, and the build went quickly without too many confusing parts.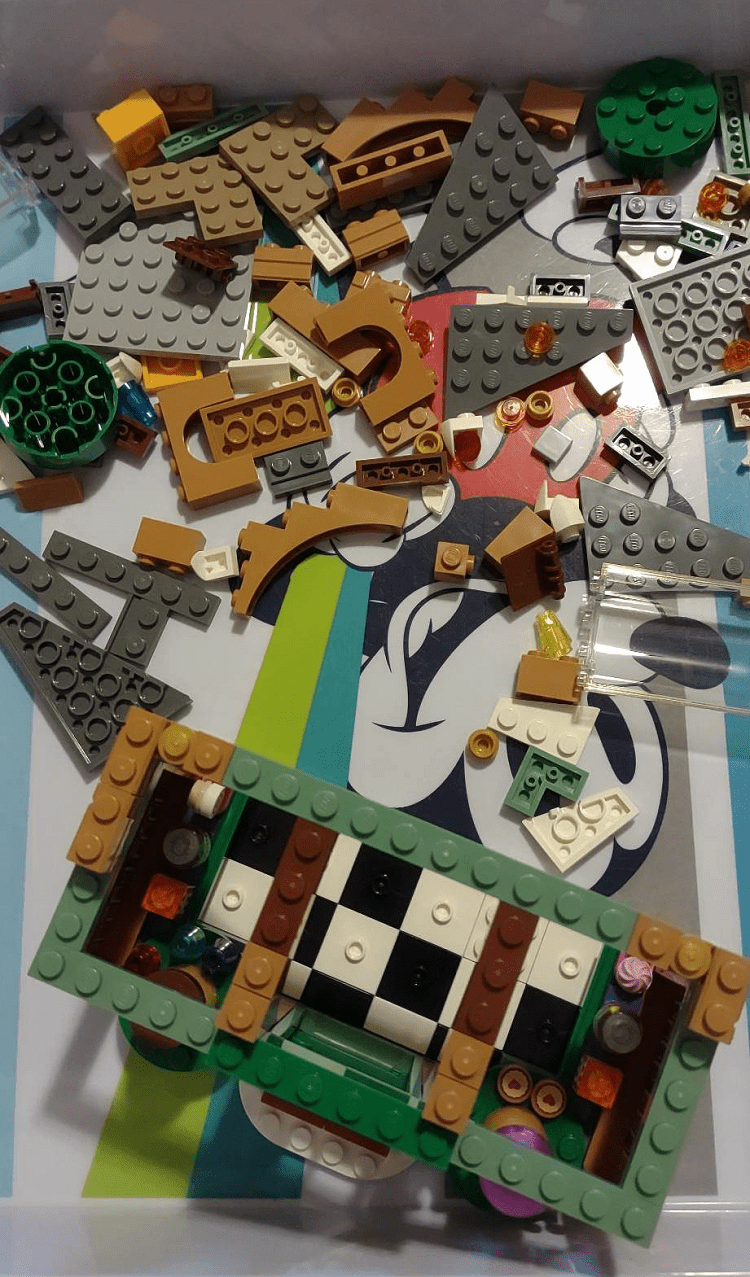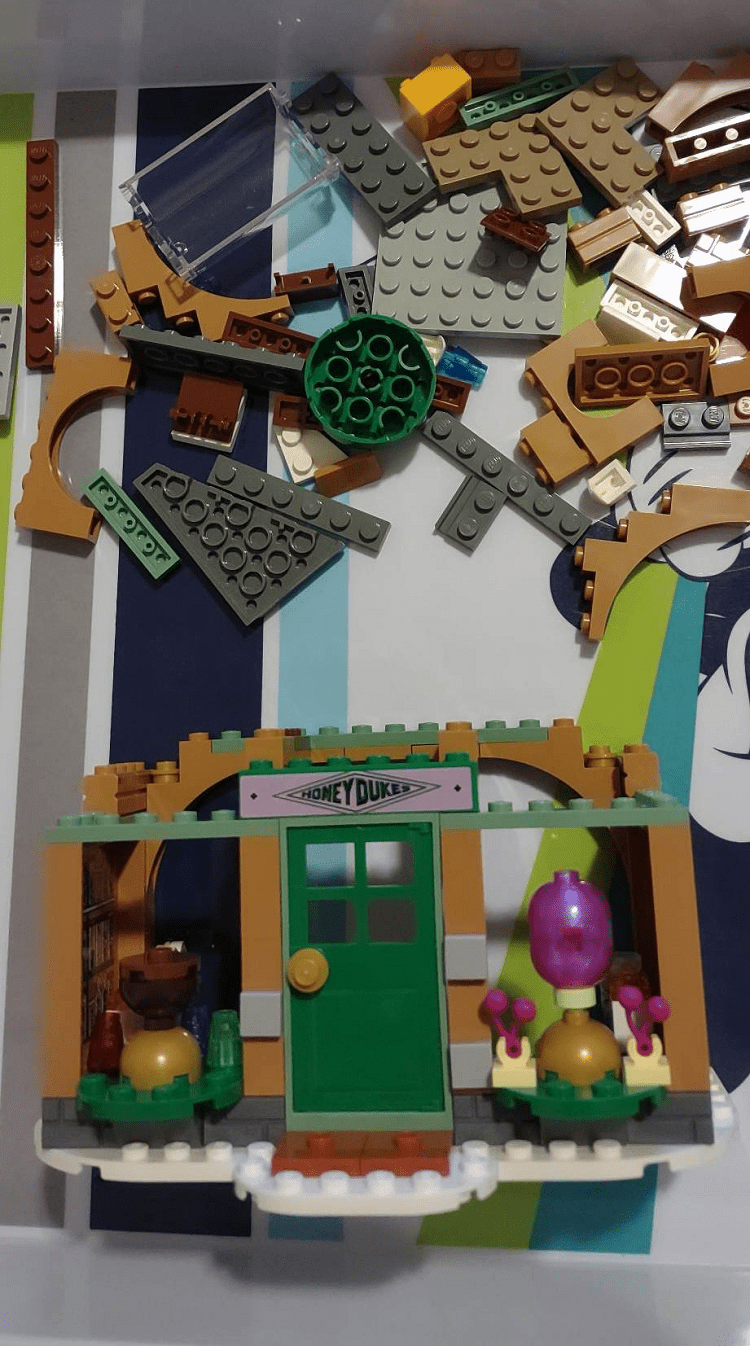 Both Honeyduke's and the Three Broomsticks Inn have two levels to them. The building process occurs in three stages for each establishment. Builders will start with the base and first floor. The initial base feels flimsy at first, but it strengthens over time.
After that, the second level is built. Each section concludes with the roof, which has some fun snowy detailing. Also included are a few side pieces that add to the village's ambiance, including a streetlamp, a bench, and a notice marking the escape of Sirius Black.
The roof of the Three Broomsticks Inn is rather tricky to put together. While the 8+ age limit works for the majority of the set, there's a good chance kids will need help with that element. Making the roofing components is simple.
Attaching it to the building is where the problems lie. It's a minor problem overall, but there were likely more effective ways to complete this build section.

To make my life easier, I removed the mini tower on the left, attached it to the connecting pieces, and then put the tower back. This method was much less frustrating than trying to squeeze everything in the way the instructions provided.
It makes this portion go much faster because the hinge pieces don't click into place easily without knocking off the towers. Removing and placing them back isn't hard, so it's best to add these two sections after attaching the roof.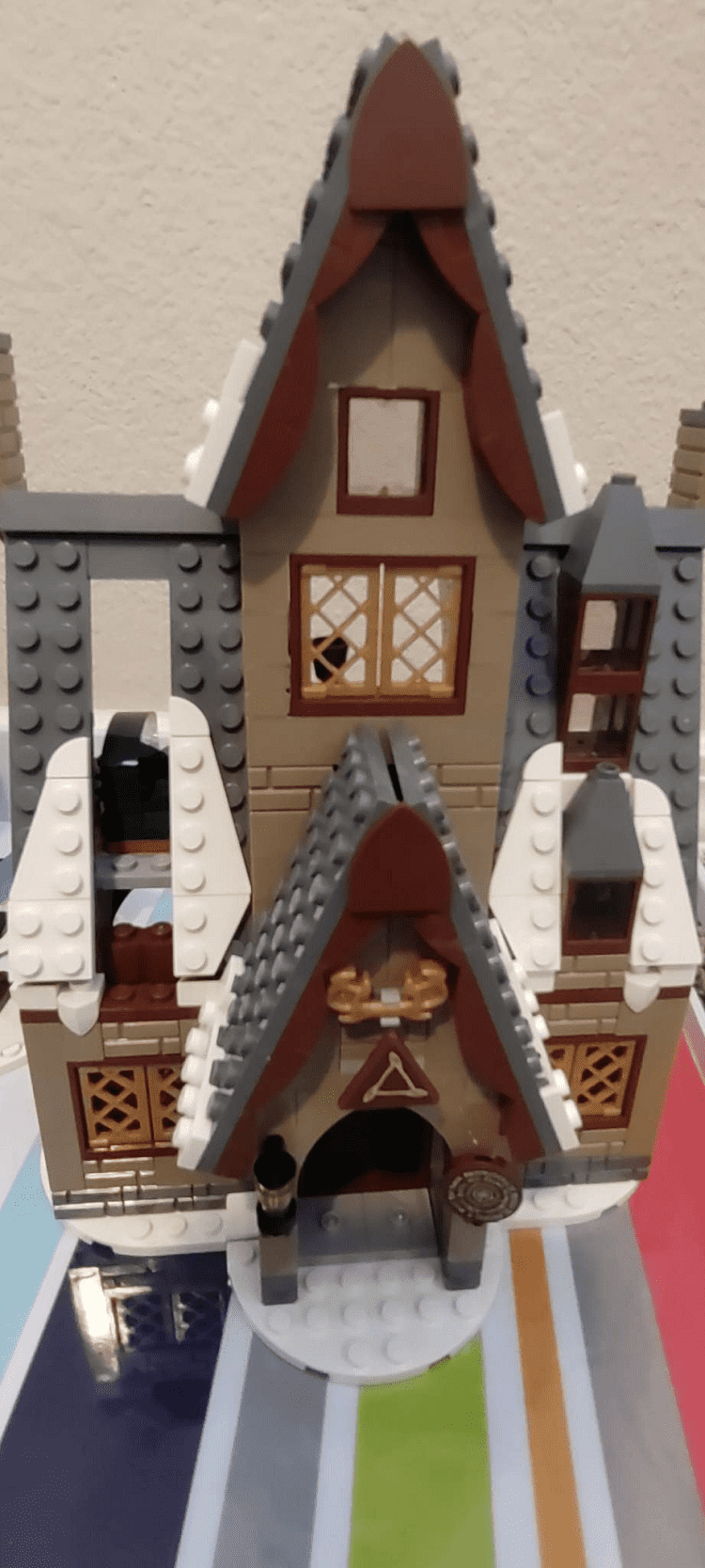 Pros & Cons
| | |
| --- | --- |
| Pros | Cons |
| Numerous minifigures | Low mobility on gold anniversary Ron minifigure |
| Detailed roofing | Complex build for The Three Broomsticks' roof |
| Great facade silhouette and visual theming | Limited playability space |
| Attention to detail | Could have improved details to fit the story & world better |
| Price-to-piece ratio | Lots of stickers |
Best Parts of Hogsmeade Village Visit
The Hogsmeade Village Visit set shows excellent attention to detail. Honeyduke's black and white checkered tile flooring mirrors the floorplan seen within Harry Potter and the Prisoner of Azkaban.
The door is in line with the skeleton and display of "Clippy's Clip Joint", which provides Clippy's Clip Joint Clippings. There is also a candyfloss display and chocolate fountain display in front of either window bordering the door.
Lollipops, like the one Harry steals from Neville while under his invisibility cloak, are also included. As the films show, Honeyduke's is a rather tight squeeze, making its restricted layout very accurate – though there is room for improvement.
Notably, there are a couple of small, printed pieces, which are excellent inclusions. The Three Broomsticks also has some noticeable details.
It includes Honeybeer pints, two deer horn decor elements, and a complex roof. Both rooves are visually appealing. The amount of minifigures are also really good for the set size.
Hogsmeade Village Visit Shortcomings
This set has a lot of stickers, with two sheets – one for each business. The wall decor inserts, decorative panels, and windows use stickers. In a set like this, considering it appears mainly for display and for an anniversary, it would be better if it had just a couple of printed pieces.
There are none for the Three Broomsticks Inn, which is a shame. In terms of detail and accuracy, Honeyduke's is the more substantial element in this set.
However, it could have used more pink accents and fun print pieces. There are no Love Potions or Felix Felices, which are both essential products in the story.
The Three Broomsticks has numerous details that need to be included and, on the whole, needs to be bigger to feel adequate for the building's purposes.
Both buildings have stairs in the set, but the inn needs to give off more of a rustic feel. It also lacks the antler-decorated wall and the area where the three shrunken heads are located – although there is a sticker placed on the door's interior.
That being said, there are also no actual brooms! Each representation of the titular "broomsticks" is a sticker, which doesn't effectively capture the establishment's imagery.
In a world full of wizards who can fly on brooms and play quidditch, it seems rather silly to not include any broomsticks, given the theming of the tavern and inn.
Time to Build
Each bag took me approximately twenty minutes, apart from the final bag, as I had to change my approach to the roof on the Three Broomsticks. There's a good chance that long-time builders will go through it faster since I was purposely taking my time.
Young builders may take a little longer. This set follows the older instruction format, so fans used to the new placement markings might note their absence in the two instruction booklets here.
Bag 1 – 20 minutes

Bag 2 – 23 minutes

Bag 3 – 23 minutes

Bag 4 – 25 minutes

Bag 5 – 21 minutes

Bag 6 – 33 minutes

Total Time – 2 hours 42 minutes
Finished Product
These iconic locations look really nice when finished. Both have distinctive fronts, so it is easy to tell which. They both share similar structures, solidifying their connectivity in terms of location. They also fit well with other Harry Potter sets in color scheme and mini tower/turret design.
Both are a fair size, though they don't have enough to satisfy fans fully. Both are open-back designs with minimal play space inside them.
A few roof panels have a little wiggle room, though there's no real reason. They don't sit flush, but they also have no major purpose when opened, considering what sections are accessible once they're open.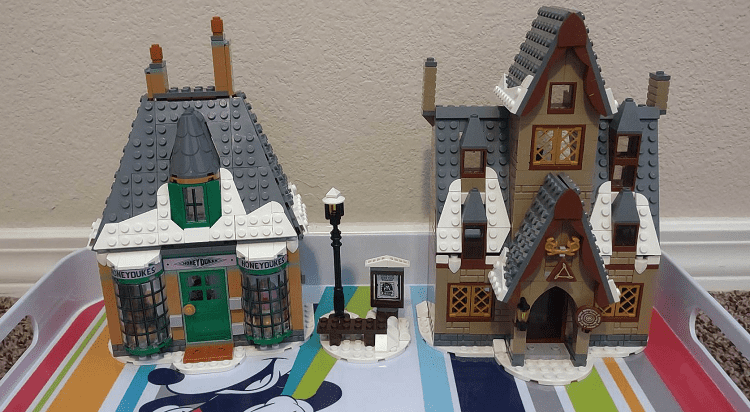 That being said, I'm not crazy about a few things regarding authenticity.
Although it makes sense given the geometric nature of LEGO, the Three Broomsticks' exterior facade is known for being asymmetrical and crooked. A few design choices could have been more substantial, like including actual mini-brooms instead of stickers.
I'm also bummed about the little popcorn box in Honeyduke's that reads "POP" since it would've been nicer and more fitting to have a Bertie Bott's Every Flavor Beans box.
Considering that product has the same kind of striping, it would've been a quick change for improved accuracy where specialty details are concerned.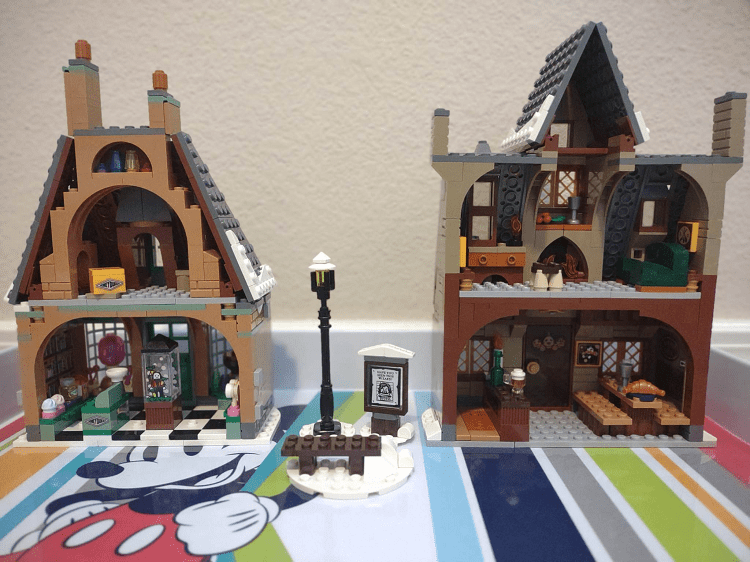 Minifigures
As mentioned previously, there are a total of seven minifigures in this set. I'm a sucker for a good minifigure, as I've loved collecting the various blind bag minifigure sets LEGO releases. I've been particularly partial to the Disney-themed ones, though I have favorites in each set.
This set includes Harry Potter and Dean Thomas in casual clothes (not robes), Professor McGonagall, Madam Rosmerta, Mr. Flume, Mrs. Flume, and the Anniversary edition of Ron Weasley.
Each comes with an accessory to hold, predominantly wands and Wizard Card tiles, similar to the Famous Wizards and Witches cards that Harry and his friends collect from chocolate frogs.
The tiles are randomized. My set came with Garrick Ollivander, Helga Hufflepuff, and two Jocunda Sykes cards. My favorite figure in this set is definitely Madam Rosmerta. I love her hairpiece and her tough girl expressions.
The great thing about these figures is that six have alternate expressions on their heads. The extra printing for emoting is excellent. Each figure is very distinct and has good details on the clothing. The weakest figure in the set is the anniversary Ron Weasley.
While the all-gold color looks cool, this is a short-leg figure, so the legs don't bend like most. It is shorter and could be more of a representation of Ron being two years younger than the Harry Potter figure in this set. It also has just one face, so it is a very stagnant figure compared to the rest.
Nonetheless, there are a fair amount of figures, and they're well-detailed, making them a highlight of this set.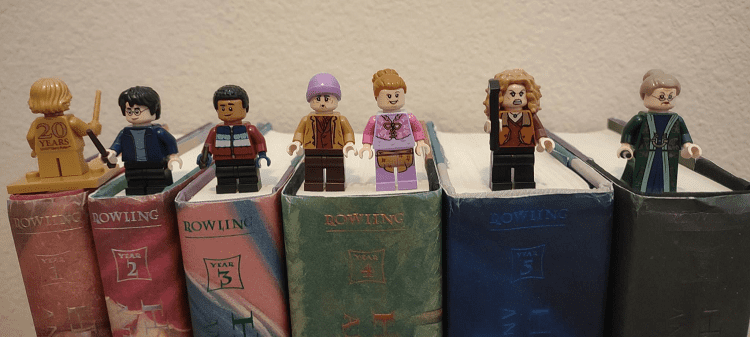 Playability vs. Display
The Hogsmeade Village Visit feels more like a display model than other sets. These buildings only have a little room for figures, and there are very few fun interaction spots. The play concepts are also minimal as Harry and his companions primarily seek treats or food, make a purchase, and leave.
There are only so many fun interactive elements built into the set. This is best suited as a shelf sitter. It would look nice next to a Whomping Willow.
It is limited since it doesn't include one of the most fun buildings in Hogsmeade: Weasleys' Wizard Wheezes. The joke shop likely would've had more goofy interactive elements. Still, LEGO has yet to provide it in any set thus far.
Nonetheless, it'd be a fun addition and might have been a great partner for Honeyduke's. Nevertheless, it is a fun add-on to other Harry Potter sets to create a broader replica of the Wizarding World.
Is LEGO Hogsmeade Village Visit Worth the Price?
This is a rather good value with a price-to-piece ratio of $0.106. The average for LEGOs in the last few years has been $0.18 per piece, which is a steal. However, the ultimate value will depend on the buyer and the purpose of the set. I recommend something else for children in terms of play.
There are much better LEGO sets for that purpose, even within the Harry Potter brand. Collectors of Harry Potter merchandise are more likely to pick up this set.
Including Rosmerta and Mr. and Mrs. Flume could help push this one over as a good collector's piece since they're harder to come by than the other figures.
This set is worth the value to me, considering I'm more of a collector when it comes to Harry Potter theming. I want more play potential in my Disney, Star Wars, and Jurassic World sets. I recommend displaying this set on a bookshelf or in a living room.
Other Recommended LEGO Harry Potter Sets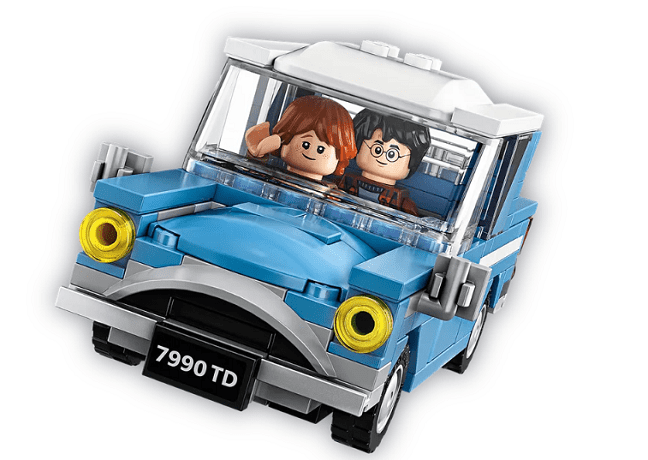 LEGO 75968 4 Privet Drive
LEGO 75980 Attack on the Burrow
LEGO 76402 Hogwarts: Dumbledore's Office
FAQs
Question: How Many Harry Potter LEGO Sets are There?
Answer: 125, ranging in size and availability. Many are retired and came out when the movies were released initially.
Question: What is Hogsmeade?
Answer: A small village in the Wizarding World that has businesses where Hogwarts students love to spend their money and free time.
Question: What's your favorite part of this set?
Answer: Honeyduke's attention to detail and the snow on the roofs.
Conclusion
I'm generally satisfied with this set. It's relaxing to build, and it has some really great details to it. There are a few adjustments I would have loved, particularly in terms of accuracy and detailing. I would've liked quite a bit of improvement for the Three Broomsticks Inn in particular.
Some of the charms of the building are lost in this set, and I genuinely believe Weasleys' Wizard Wheezes would be far more fun and a more suitable partner building.
I'm not crazy about the number of stickers, but the price is excellent, considering how many pieces there are. I really want to place this set by my hardcover book set on a bookshelf because that'd be an excellent spot for it.
If you want a set for the kids in your life, opt for one of LEGO's other options. If you're a collector, this is one you'll want to add to your Wizarding World displays!
Related Reads: