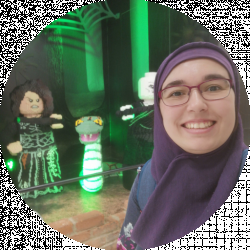 Latest posts by Melika Jeddi
(see all)
I've always been keen on the Lego Hogwarts Moment sets as I like how compact they are, but I've always resisted buying them. However, a little while ago, I walked into a shop and saw this one on sale, and so I just had to get it.
I won't lie, purple is one of my favorite colors, and that's the main reason that I went for the Lego Hogwarts Moment: Divination Class Set 76396. Don't get me wrong, I think the entire range is brilliant, but this one in particular really stands out to me.
These review and guide articles are my absolute favorites to write, as I love being able to share the building experience with all of you! I know how difficult it can be to decide which sets to get, and it's gratifying to know that I can help you make an informed decision.
In this Lego Hogwarts Moment: Divination Classroom Review, I'll talk you through the building process to see what it was like to build. I'll also discuss the finished product, and you can decide whether it's something you'd want to buy for yourself. Let's get into it!
Bottom Line Up Front
Number of Pieces: 297
Number of Stages: 2
Number of Minifigures: 3
Which Minifigures are Included? Harry Potter, Professor Trelawney, Parvati Patil
How Long Does It Take to Build? 1 hour and 20 minutes
Recommended Age: 8 and upwards
Is There a Video Review? Yes! Watch it below
The Inspiration
The Divination classroom is first introduced in Harry Potter and the Prisoner of Azkaban when Harry, Ron, and Hermione all choose it as one of their O.W.L. subjects. The class is taught by the kooky and mysterious Professor Trelawney, and Hermione takes instant disliking to her.
Hermione is all about logic and reasoning, whereas Professor Trelawney takes a more relaxed and airy approach to magic. I've always found it ridiculous that Hermione is perfectly happy to believe in all other sorts of magic that she'll have grown up believing wasn't real, but she draws the line at predicting the future.
The classroom is probably the most magical looking out of all the subjects. It's got crystal balls, vibrant red curtains, and eclectic interior design. You can totally believe that it's something you'd find in a magical school. The lessons often revolve around divination methods familiar to folklore, such as reading tea leaves.
The room is also the scene of an exciting moment where Professor Trelawney makes a genuine prediction. Until the end of the movie, she'd been portrayed as a bit of a fraudster. She'd make all kinds of outlandish claims, and it felt like maybe she wasn't as skilled at divination as she thought.
Then Harry returns a crystal ball to the classroom and finds Professor Trelawney in somewhat of a trance. She then proceeds to predict the events of Peter Pettigrew escaping to be reunited with Voldemort. I'm glad the scene was set in the Divination classroom, as it conveys so much more gravitas that way.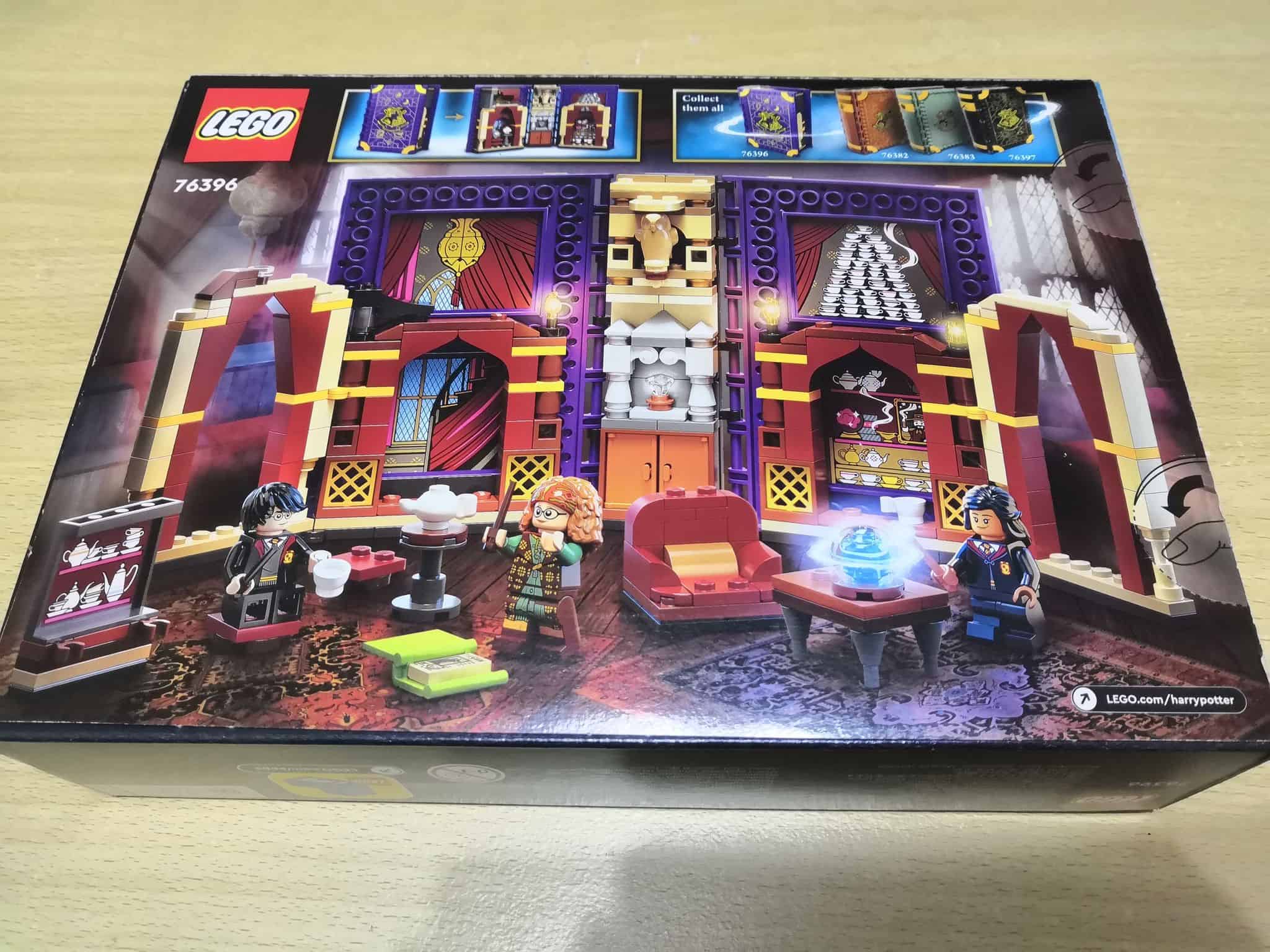 The Instructions
A pretty thin instruction booklet comes with this set, but I think it's a great size. It's printed on roughly A5 paper, and I'm glad that it's in portrait rather than landscape. Many of these smaller Lego sets will have instructions printed in landscape, and when combined with how thin they are, it makes them pretty flimsy to hold. Whereas this one is much more sturdy, as it has a longer spine to hold it together.
Sometimes it can be hard to tell the colors of pieces in the instructions if you have a lot of similar ones (such as black and dark brown), but this wasn't a problem here. The pale white background was a perfect choice, as most of the colors in this set were either very vibrant or very dark, and so the background created some much-needed contrast.
I thought the steps were a great length, using just enough pieces each time. I didn't feel overloaded, nor did I experience the frustration of much too short steps. Admittedly there were a few occasions where a step would just show one new piece, but those were few and far between.
The Divination Class instruction booklet also comes with a feature that's prominent amongst the newer sets, and that's a progress bar. You can see it along the bottom of each double page, showing how much of the build is left to do. It's a great way to visualize it, especially if you're building with younger children. For this set, the progress bar is an image of the Harry Potter minifigure along a thick purple line.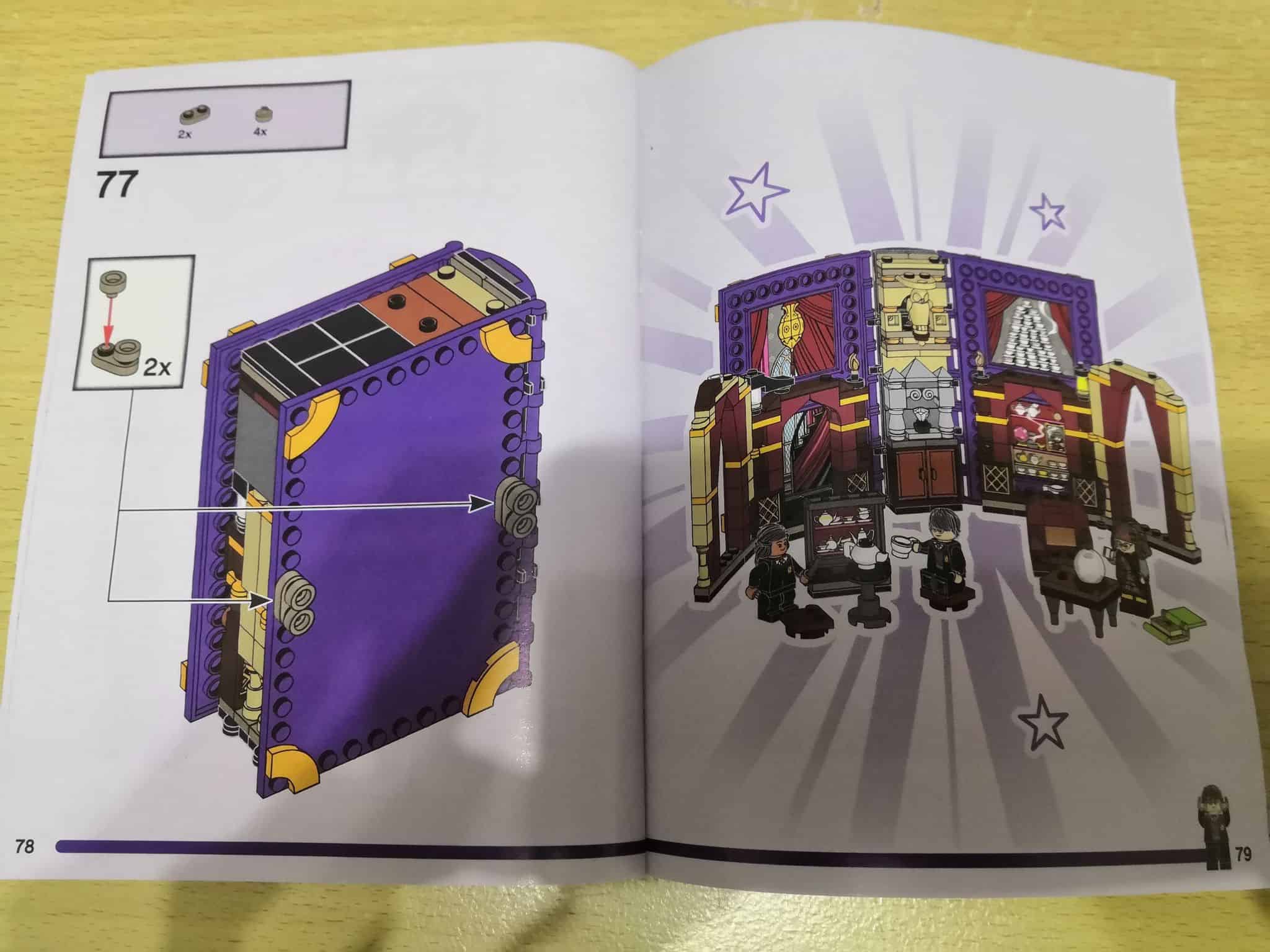 The Building Process
Time Taken to Build
Stage 1: (1 bag, 1 front cover plate, one back cover plate, one 2×16 plate) – 35 minutes
Stage 2: (1 bag) – 45 minutes
Total: 1 hour and 20 minutes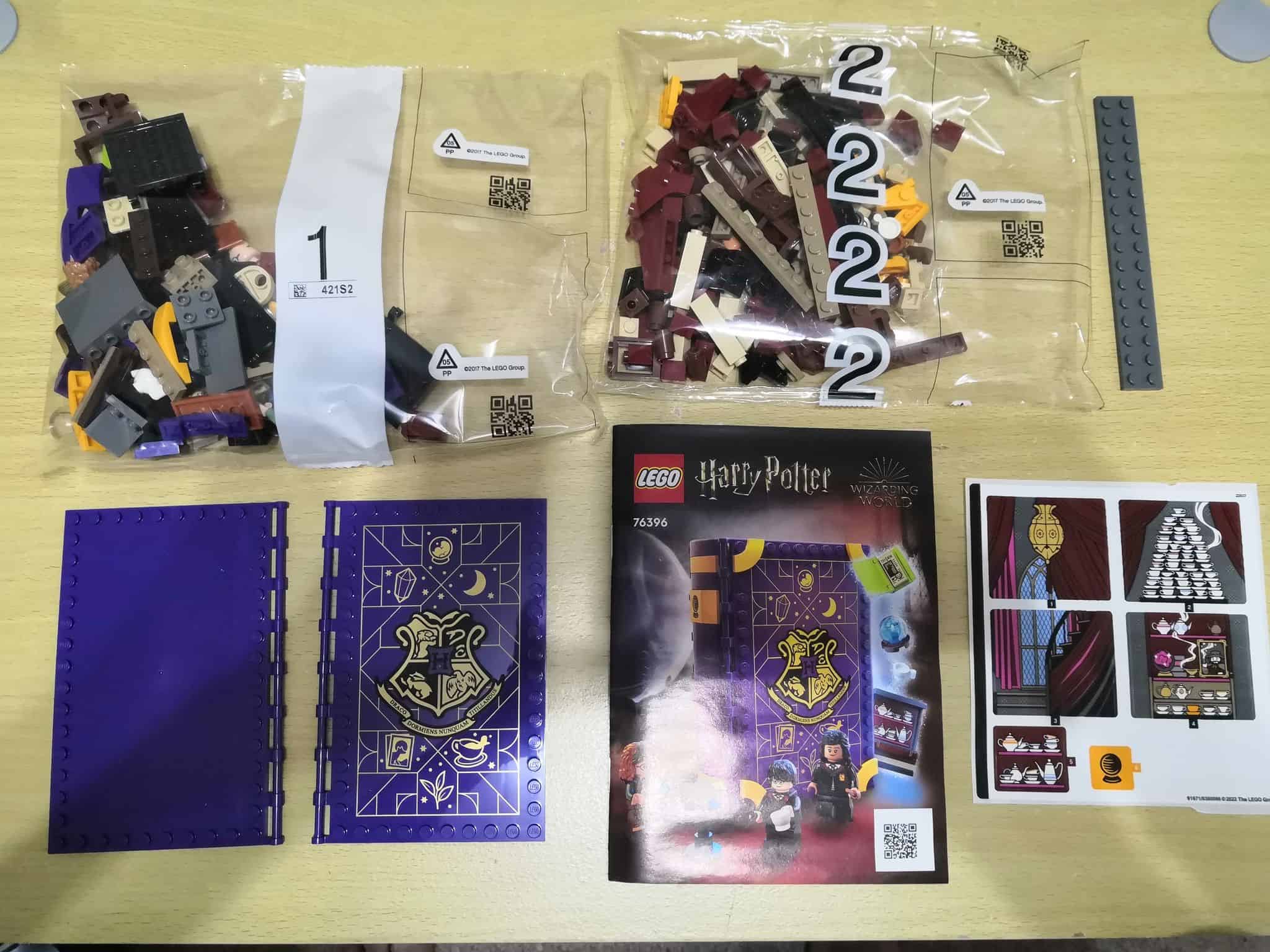 Due to the relatively compact design of this set, the build is an incredibly streamlined process. Each piece is chosen carefully, and there's no room for unnecessary parts. The space is utilized perfectly, and it's awe-inspiring to watch the design come together.
I really enjoyed the building process of this set. Because it was so efficient, the construction felt so purposeful, and I could totally immerse myself. Often when you build a Lego set, there are at least a few steps that you feel don't really add to the design, but this wasn't the case here. It all comes together so neatly, and it's so satisfying to see the progress.
This set is unusual, as instead of building one main part, you primarily build a series of accessories. It's not until the second stage of the build that the instructions lead you to combine everything you've built so far into one compact product. As such, the first and second stages feel so different from each other, and it's refreshing to have that variety.
There's a vast range of colors used to create the room, and I adore that vibrancy. Colorful sets are always entertaining to build, and it helps to hold my attention. It's interesting to note, however, that the colors chosen are very different from those in the movie version.
This set has a lot of purple and yellow, whereas the Divination classroom is primarily red when seen in the films. Still, the Lego designs have always had some creative license when it comes to choosing the features, and I think this set works brilliantly.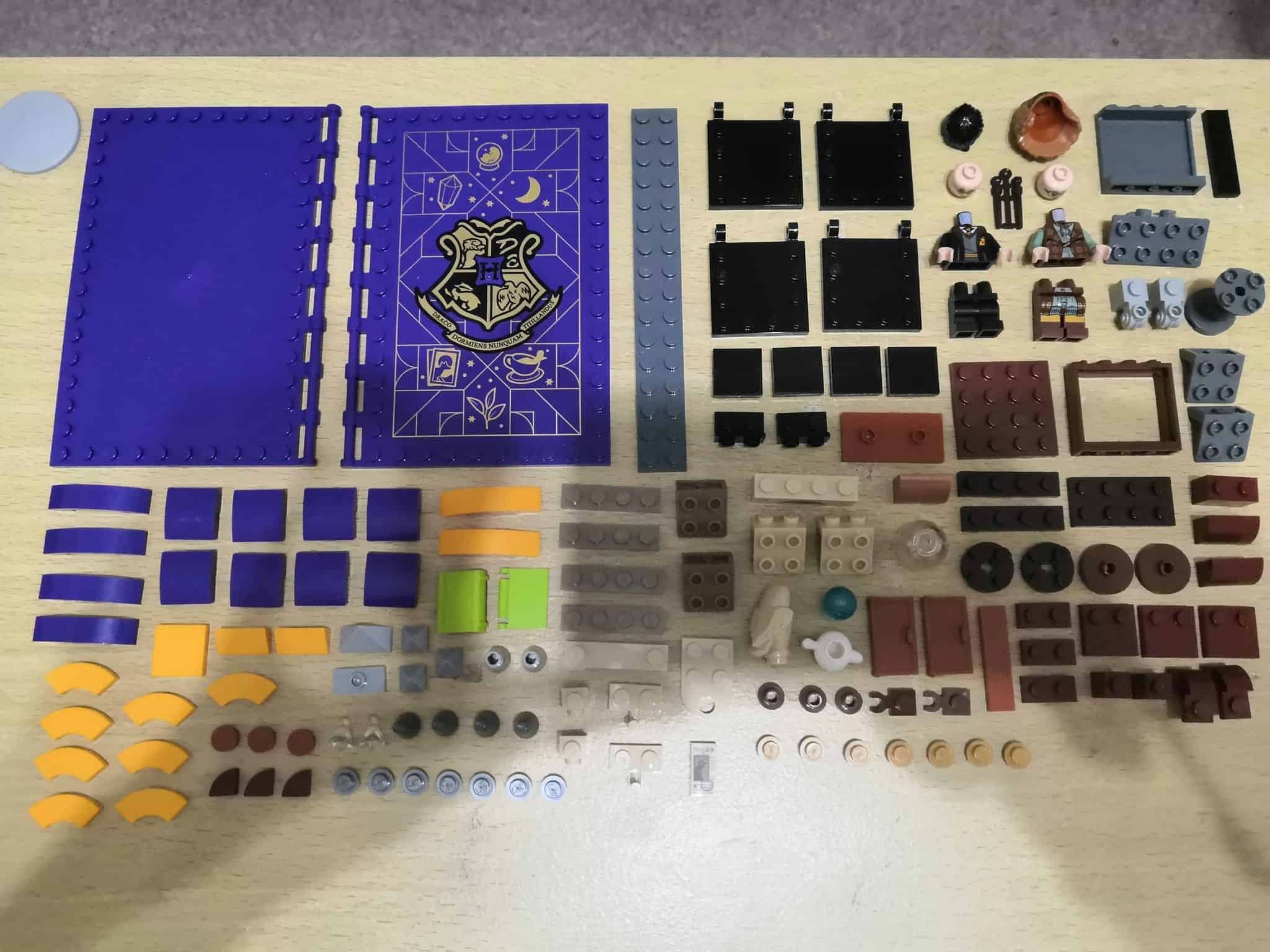 Storage Case
The thing that convinced me to buy this set in the first place was that it essentially comes with its own storage case. I'm fascinated by the fact that you can unfold it and remove all the accessories, play with it for a while, and then fold it all back together. Better still that it's in the shape of a book, as it's such a fun and unique concept.
I actually bought this set alongside the Hogwarts Moment: Defense Class Set 76397. Although I haven't built that one yet (life has really been getting in the way lately!), my idea is to use them as bookends on either side of my bookcase.
I own a lot of Harry Potter merch, so if I have space, I hope to have one shelf dedicated to displaying my books, merch, and Harry Potter Lego. Having my two Hogwarts Moment sets sandwiching my books is going to look really cool.
The architectural planning that must go into this is extraordinary. The designer needed to come up with a layout where the book would give the appearance of being totally closed but which could also unfold to reveal a whole world of excitement inside. Space is a hot commodity, and having even one spare stud of empty space around the outside would've looked unprofessional.
The only negative about the storage case is that although it fits the accessories perfectly, it hasn't accounted for the minifigures. I had so much hassle trying to squeeze them into the gaps on the inside, and once I finally managed to close the case, it didn't stay as flatly shut as it did before. I would've liked to have seen slots of some kind where you could store the minifigures when the set isn't being played with.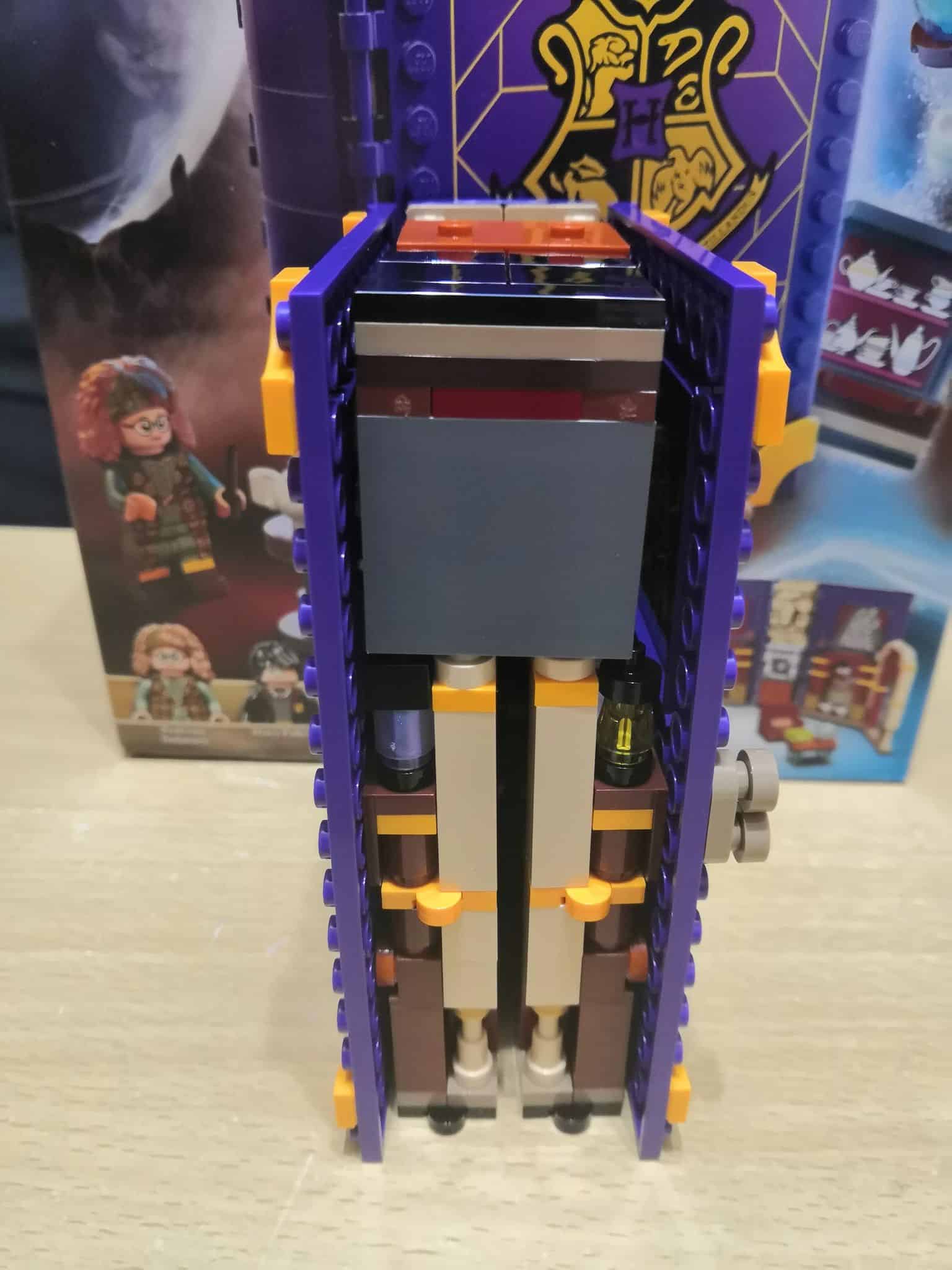 Accessories
Aside from the highly recognizable book-shaped storage cases, the Hogwarts Moment sets are also known for their accessories. The whole idea of these is to create scenes that look like the classes they're based around, and you do this by posing the accessories.
This Divination Class set has several interesting features that add to the general aesthetic. There's a comfy armchair, a large (in relation to the other items) table, a smaller table, two small chairs, a teapot, a crystal ball, a teacup stand (using stickers rather than actual teacups), and a book. These all detach and can be interacted with outside of the storage case.
The items aren't to scale because they had to be pretty small to be able to fit into the closed design. So, for example, the chairs consist of just two differently shaped plates stacked on top of each other.
This can feel a little fiddly at first when you're building, as you just have many small constructions that are independent of each other. However, once you've finished the set, it works well to be able to detach and reattach all the accessories.
I really like the design of the crystal ball, and I think it's very clever the way they've put a transparent blue piece inside a transparent clear piece to give the effect of cloudy mysticism.
I also enjoy that the book features a printed 2×1 tile of The Grim, which was obviously very important to the plot of Harry Potter and the Prisoner of Azkaban. The book can be slid inside the cupboard, part of the storage case design.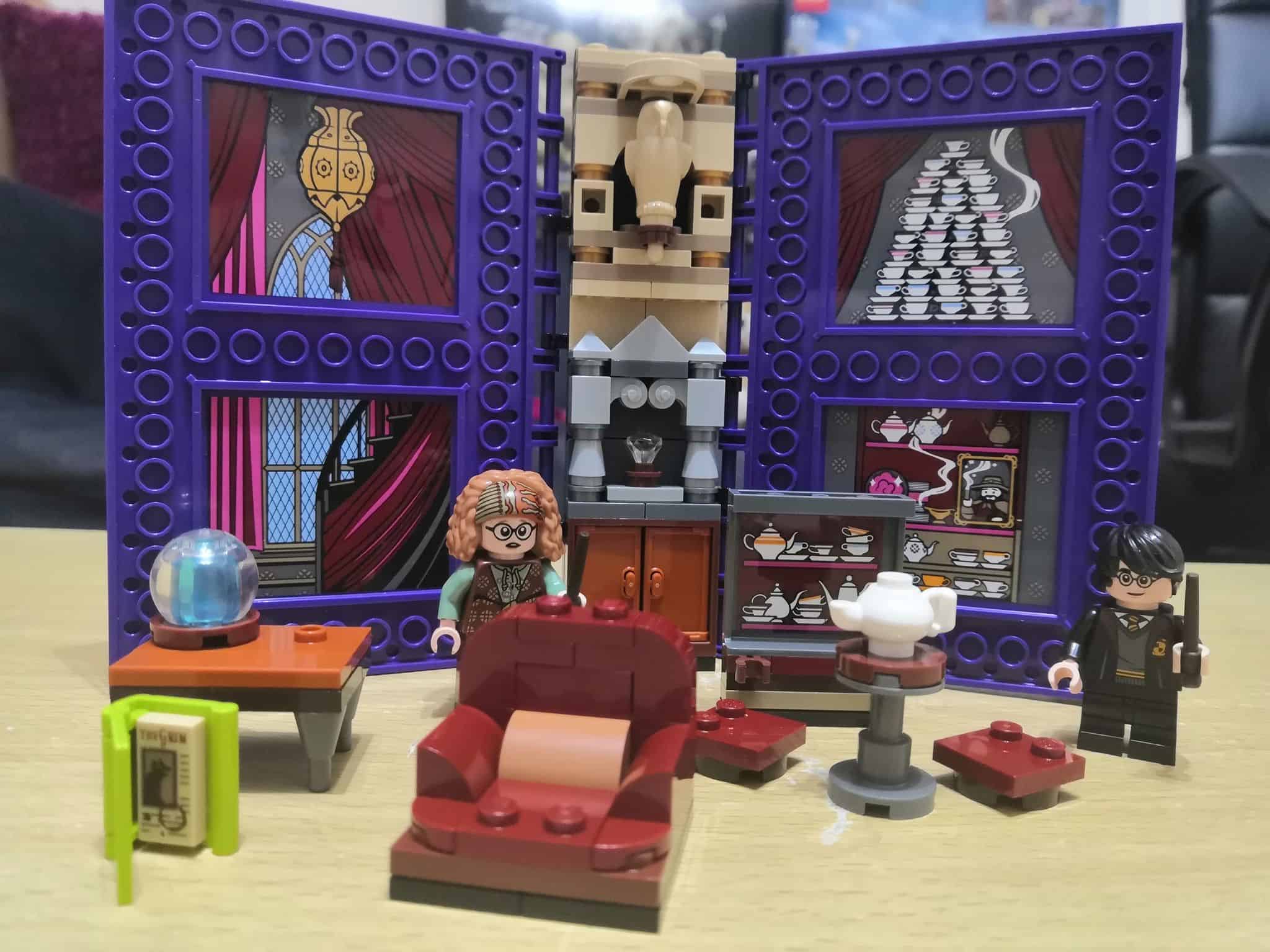 Minifigures
This set comes with three different minifigures, which is a good number for a set of this size. I feel like the ones that Lego has chosen to include are great characters to associate with Divination class. I'm especially thrilled to have two characters who aren't especially common.
The first character, unsurprisingly, is Harry Potter himself. Honestly, I've lost count of how many figures I have of him, as he's in nearly every Harry Potter set. I get it, he's the titular character, but it's still a bit frustrating to have him keep appearing everywhere.
Still, not every person buying Lego is a collector like I am, and so they may not already have him. I do also like that his hair piece is a bit longer than normal to reflect his hairstyle in Harry Potter and the Prisoner of Azkaban.
Professor Trelawney is a pretty rare minifigure to have, and this particular version of her currently only appears in this set (as of July 2022). However, it doesn't explicitly state that she's an exclusive, so it's possible that this minifigure may appear in future sets.
The only other versions of her were from a 2004 Hogwarts Castle set and the first series of Lego Harry Potter minifigures (I collected the entire set, so I already have her). This is also the only Professor Trelawney minifigure variant with legs rather than a skirt for the bottom part of the body.
Finally, we also have Parvati Patil. This may seem a bit out of the left field for fans who have only seen the movies, as Parvati doesn't play a particularly significant role. However, in the books, Lavender Brown and Parvati Patil are obsessed with Divination and frequently hang out in the Divination classroom with Professor Trelawney even when there's no class.
Parvati is even rarer as a minifigure than Professor Trelawney. Not only does this variant currently appear in just this one set, but there's also only one other variant of her. This was of Parvati dressed in her Yule Ball outfit and came as part of the 2020 advent calendar.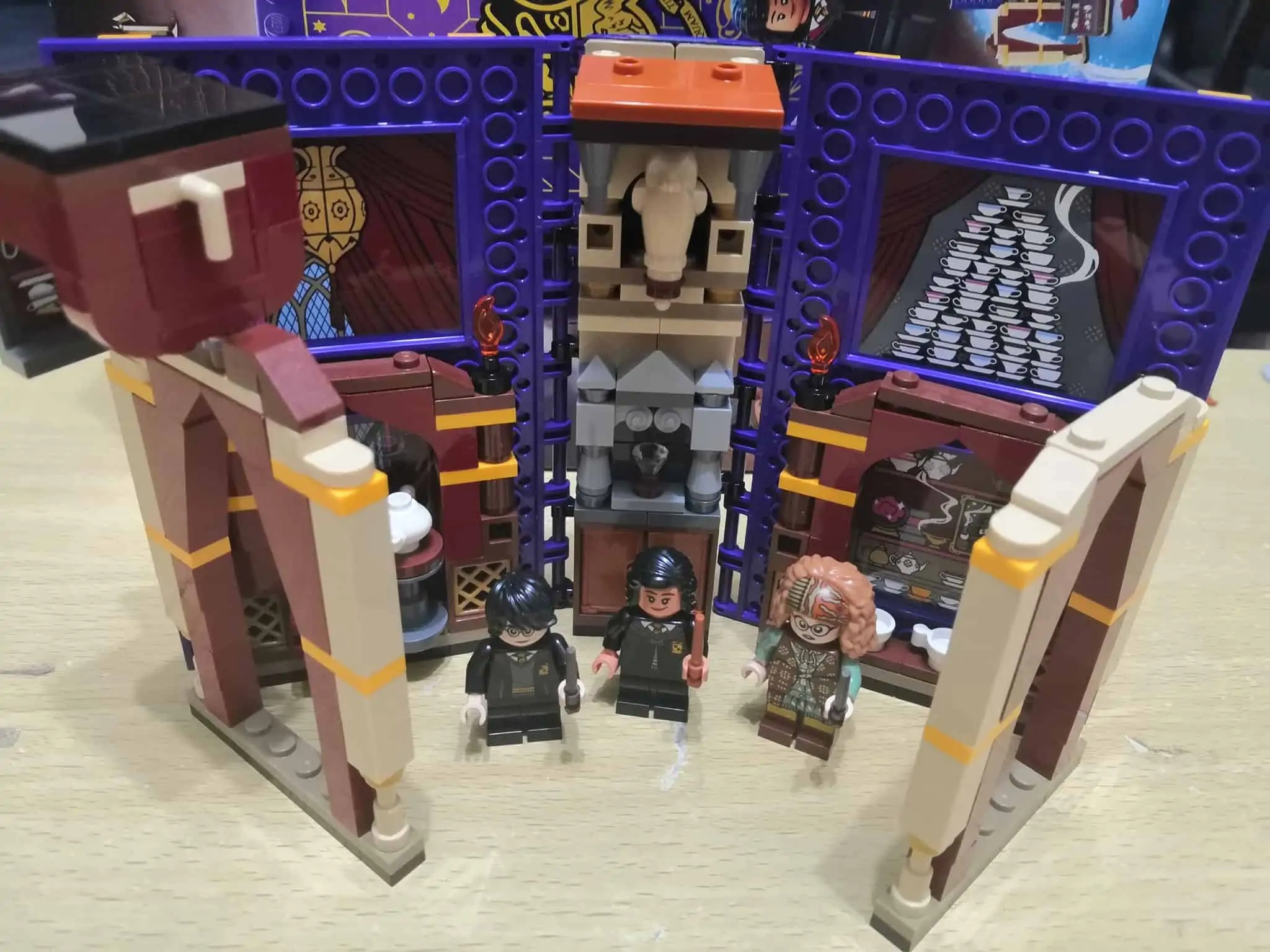 Best and Worst Parts
It's time for a quick-fire round! If you're still on the fence about whether or not this set is something you'd enjoy, then here are what I consider to be the best and worst parts of this set.
Pros
It's Compact: If space is limited in your house, then this could be a serious positive for you. The whole set can be folded down into its storage case, and you should easily be able to find somewhere to put it.
Not Too Many Stickers: There are only 6 stickers that come with this set, so you won't be wasting too much time fussing about trying to find somewhere to put them. However, it is worth noting that 4 of them are very large, so placement may be a bit trickier than you're used to.
It's Very Vibrant: depending on your aesthetic preferences, this may be a pro or a con, but for me, it's definitely a pro. I love all things colorful, and the abundance of purple on this set just puts a massive smile on my face.
Unique Minifigures: Although Harry Potter minifigures are a dime a dozen, it's rare to get either Professor Trelawney or Parvati Patil, so getting both of them in is fantastic this one set.
Cons
It's Smaller Than I Thought It Would Be: From looking at the image on the box, I'd have imagined it would be a good couple of inches larger than it actually is. Instead, it's about the same size as my hand (and I have comically small hands for my age).
The Minifigures Don't Really Fit in the Sealed Case: Technically, you can just about make it work with a lot of squeezing and tilting, but even then, it doesn't close properly, and it clearly wasn't designed for it. It means that, realistically, you'll have to find somewhere else to put the minifigures, which could be inconvenient if you were hoping to keep them with the set.
More Expensive Than It Should Be: I bought it on sale, so I'm not bothered, but given the size, I don't think this set had any right to $29.99. If Polyjuice Potion Mistake can have the same number of minifigures and almost as many pieces for just $19.99, then I think this set should've been $24.99 at maximum.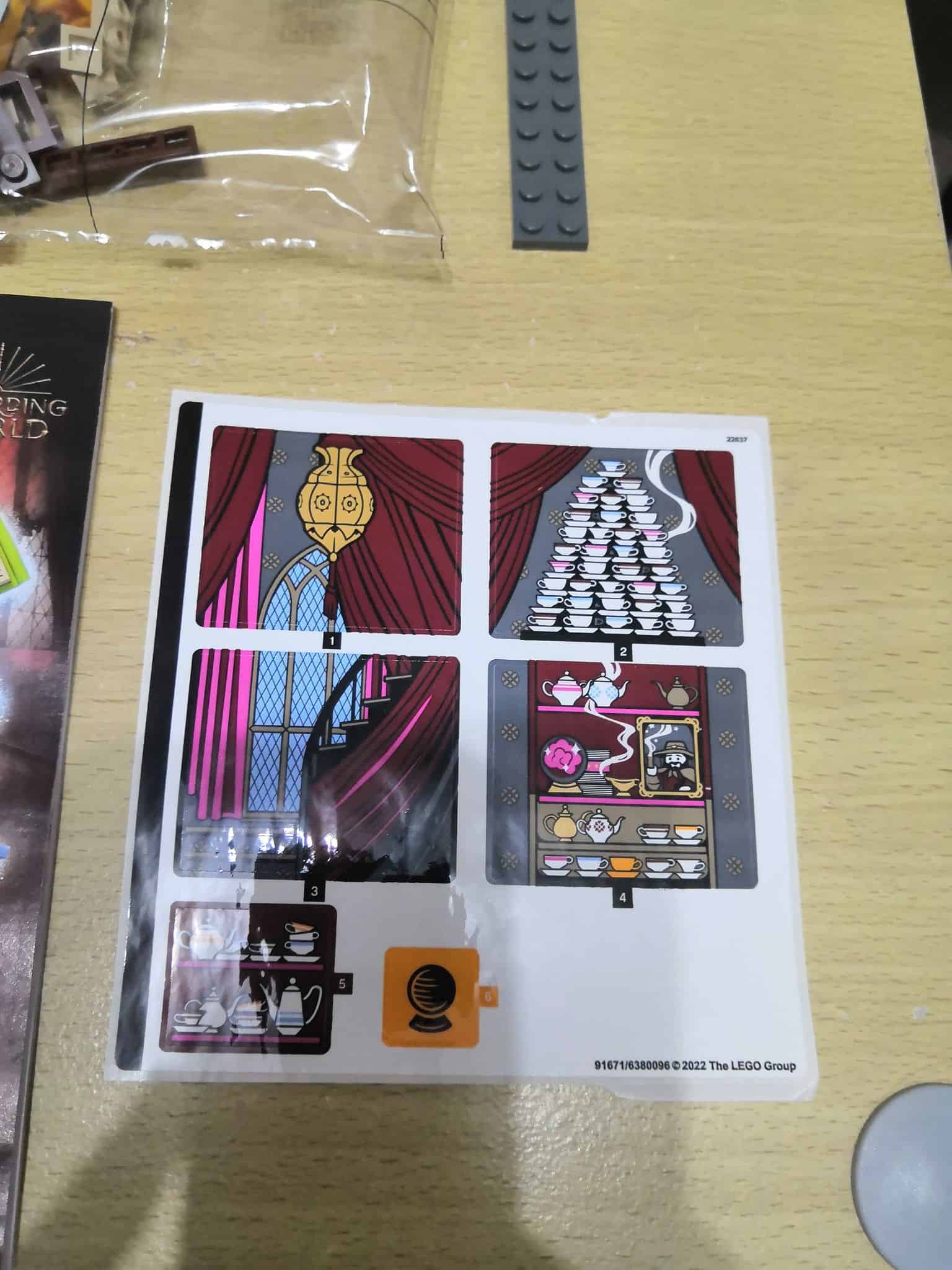 Is It Worth Buying?
Throughout my various Lego reviews, I have developed a tried and tested method of determining whether a set is worth buying. I look at 3 main factors – ease and enjoyability of build, playability, displayability, and value for money.
That way, it covers every area a prospective buyer might consider. I find it's the best way of conveying my own personal opinions whilst still giving enough information for readers to make their own decision. So with that in mind, let's jump into it.
Ease and Enjoyability of Build
This was an easy build, and I think the recommended age rating of 8+ could be dropped to 7+. Aside from a couple of times where it was somewhat tricky to know exactly where on the larger plate to attach a particular accessory, there were no points that I felt a child would struggle with.
Most of the construction elements are short and straightforward, especially when it comes to the accessories.
The enjoyability is definitely there, and it's very much dependent on what your preferences are. Personally, I really enjoy building onto larger bases and watching it all come together, so having lots of little builds in the way of accessories wasn't really my kind of thing.
However, it was still fun, and I very much enjoyed putting them into their respective places at the end. My favorite part of the build was creating the book-shaped storage case, especially adding the details onto the spine.
Playability and Displayability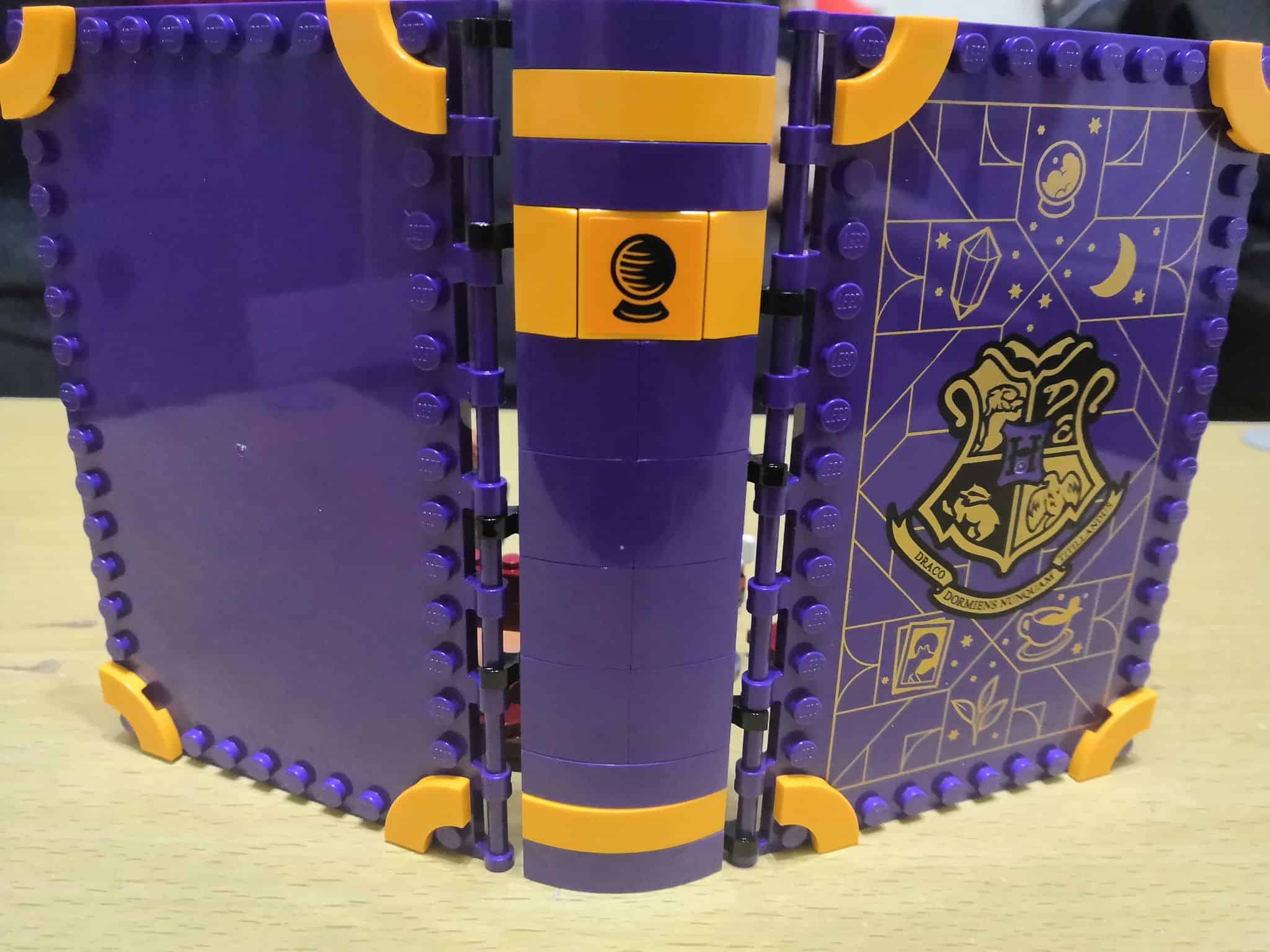 These Hogwarts Moment sets are renowned for their playability, as their whole purpose is to contain an entire scene within their storage case. It's exhilarating being able to unfold the book and detach everything to create your very own Harry Potter adventure.
I think these sets are perfect for children in this regard, as there are so many interactive elements within such a small set. The fact that it comes with 3 minifigures is excellent too, as children can use their imagination to envisage magical conversations between the characters. There are so many different ways to arrange the minifigures with the accessories, and I'm sure there are countless scenes that kids would be able to act out.
Of course, some adults also enjoy playing with their Legos and have a great time.
The displayability of the Divination Class is incredibly versatile. You could have it fully open, showcasing all the fascinating details on the inside. You could arrange a scene with the accessories and minifigures, and make the display look active and eye-catching.
You could have it partially open but with the accessories still attached to the main storage case, thus taking up less space. Or you could have it completely closed and take advantage of its unique design in the shape of a book.
If you have multiple Hogwarts Moment sets, you might consider placing them next to each other or stacking them. You could create your own little library of Harry Potter Lego.
Value For Money
This is the area where I feel this set falls short. If it retailed for $24.99, I'd think it was a little pricey but ultimately worth it. However, at $29.99, I just don't feel you're getting enough for your money, especially compared to other sets in the range.
It's a shame, as I love the Hogwarts Moment sets, but I just can't understand why Lego is making them so much more expensive than they should be.
I was able to pick this particular one up on sale, and so I have no regrets. I feel it was worth the price that I paid, but I think I'd have been a bit disappointed had I paid the full price.
Of course, if you have plenty of disposable income, then a set being $5 more expensive than it should be might not faze you. However, if you're on a budget, I'd recommend browsing around to see if any of your local shops or online stores offer a more reasonable price.
If you can find it for $20 or less, then you should definitely snap it up.
Conclusion
Overall, I'm really glad I decided to purchase this set. It happened on a bit of a whim, but when I see reduced Lego, I simply can't help myself! Especially seeing as I've seen the Lego Divination Class a few times and always debated over getting it.
I'm delighted that it's finally in my collection, and I certainly intend to buy more Hogwarts Moment sets if I find them at a reduced price.
If you're considering buying it for yourself, then hopefully, this review and guide have given you a good idea of what to expect. If you have children, this is a great one for them to play with.
If you're more interested in using it as a display piece, then I think it works well, but I think it would look even better alongside other Hogwarts Moment or even other Harry Potter sets.
I just don't feel that it's quite captivating enough to be a display piece all on its own. However, I've included plenty of pictures throughout this article so that you might feel differently.
Perhaps if you're still on the fence, it might be a good idea to take a look across this site to see our reviews of other sets. You might find a set that strikes your fancy even more than this one!
FAQs – LEGO Hogwarts Moment: Divination Classroom Review
Question: How many Hogwarts Moment sets are there?
Answer: In total, there are 6 different Hogwarts Moment sets – Divination Class, Defense Class, Potions Class, Transfiguration Class, Charms Class, and Herbology Class. But if you're interested in Charms Class, you need to act soon, as it's retiring at the end of 2022.
Alas, Herbology Class is already retired and would set you back about $50 if you wanted to buy it from a reseller.
Question: Which movies does the Divination Classroom appear in?
Answer: It first appears in Harry Potter and the Prisoner of Azkaban, where it features in multiple scenes. It's also in Harry Potter and the Order of the Phoenix, where Professor Umbridge audits the class.
As a result, decides to fire Professor Trelawney in an unexpectedly moving scene. The room can also be seen in flashbacks during Harry Potter and the Deathly Hallows: Part 2.
Question: How many Professor Trelawney minifigures are there?
 
Answer: Professor Trelawney is a pretty rare minifigure to own, as she does not appear in many sets. There's the one which currently only appears in the Lego Hogwarts Moment: Divination Class 76396 set. Then we have a very similar-looking minifigure which was in the first run of the Lego Harry Potter minifigure series.
The main difference between these two minifigures is that the one from the Divination Class set has minifigure legs instead of a skirt. The rarest Professor Trelawney is from the 2004 Hogwarts Castle 4757 set.
She has a delightful blue robe, as well as either a pink or purple wizard hat. Interestingly, it was randomized as to which hat she would have when you bought the set.
Recommended Reads: