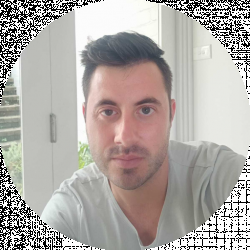 Latest posts by David Borgogni
(see all)
Building a large LEGO set with more than 1,500 pieces takes a lot of time and effort. Getting one of the best LEGO display shelves will enable you to exhibit all the hard work you've put into building large LEGO sets.
LEGO doesn't manufacture display shelves. Instead, it outsources the production of these home décor elements to companies that work under a LEGO license. Despite this, the selection of display shelves produced by LEGO-licensed brands is underwhelming, and most LEGO collectors opt to explore the alternatives.
In this guide to the best LEGO display shelves, I'm going to supply you with the information you need to choose a display shelf that matches the size of your collection, and I'm going to recommend several options that might be the right fit for you.
Please read our guide to the best LEGO display cases if you're looking for a way to exhibit your collection of LEGO Minifigures.
At a Glance – The 5 Best LEGO Display Shelves
Bottom Line Up Front
In my opinion, the Monarch Specialties 5-Shelf Étagère is one of the best display shelves you can get because it offers ample storage room for multiple large LEGO sets. This 5-shelf bookcase protects fully assembled sets from dust and keeps them out of the reach of pets or children.
Selection Criteria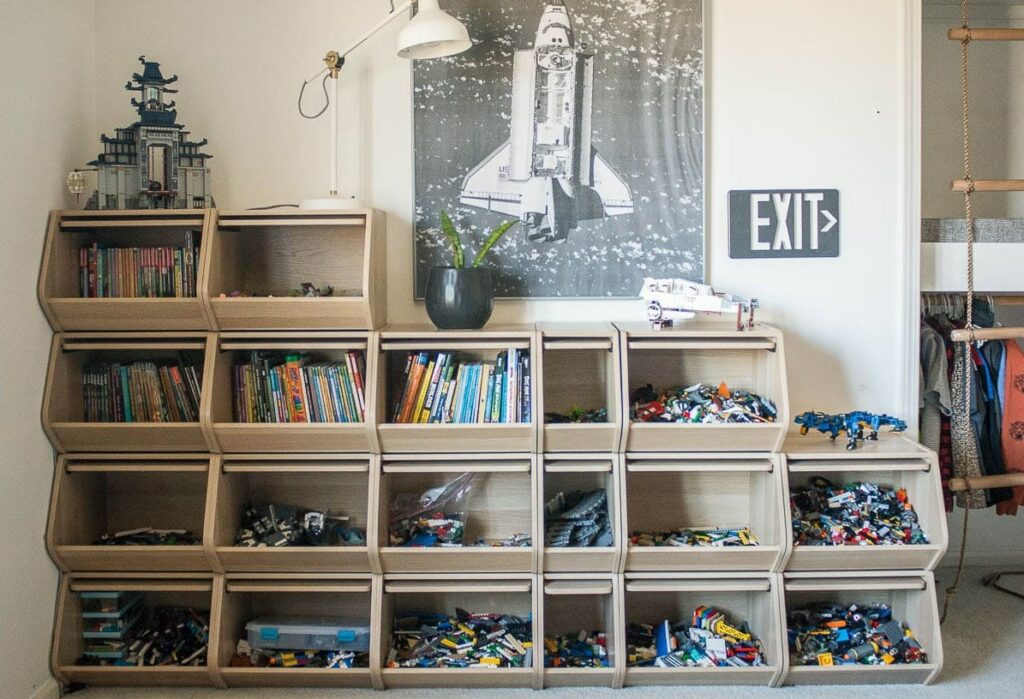 Any shelf large enough to accommodate an assembled LEGO set can serve as a LEGO display shelf. However, a large LEGO collection requires a dedicated space where assembled sets can be stored and exhibited.
During the selection process, I only considered shelves that can accommodate multiple sets, and I excluded all options that might be suitable for a single LEGO set. Let's take a look at more criteria I utilized to select the LEGO display shelves for this article:
Shelf size – I aimed to identify shelves that can accommodate the needs of adult LEGO collectors and children who just got their first LEGO set. That's why all models I included in the article have dimensions that meet the needs of different LEGO fans.
Mounting method – Besides wall-mounted shelves, my final selection of LEGO display shelves also feature self-standing shelves, bookcases, and floating shelves, so that you can choose the option that best matches your home's interior.
Check out our guide to the best LEGO Castle sets if you're looking for sets you can add to your collection.
Creative Ways to Display LEGO Sets
Multiple contextual factors can affect how and where you can display your LEGO sets. The available space, size of your collection, or budget limitation can prompt you to choose where you're going to keep the models you build.
The easiest and most affordable option is converting an old bookshelf you're no longer using into a LEGO display shelf. Moreover, you can build a shelf from baseplates and other LEGO elements, but this may not be an adequate solution for a large LEGO collection.
Designing an under-bed LEGO table might be a good space-saving option if you don't have enough room for a LEGO display shelf. Converting crates into LEGO display shelves may also be a great way to save space, but only if you want to exhibit relatively small sets.
Please browse through our guide to creative LEGO ideas to find inspiration for your next LEGO DIY project.
Types of LEGO Display Shelves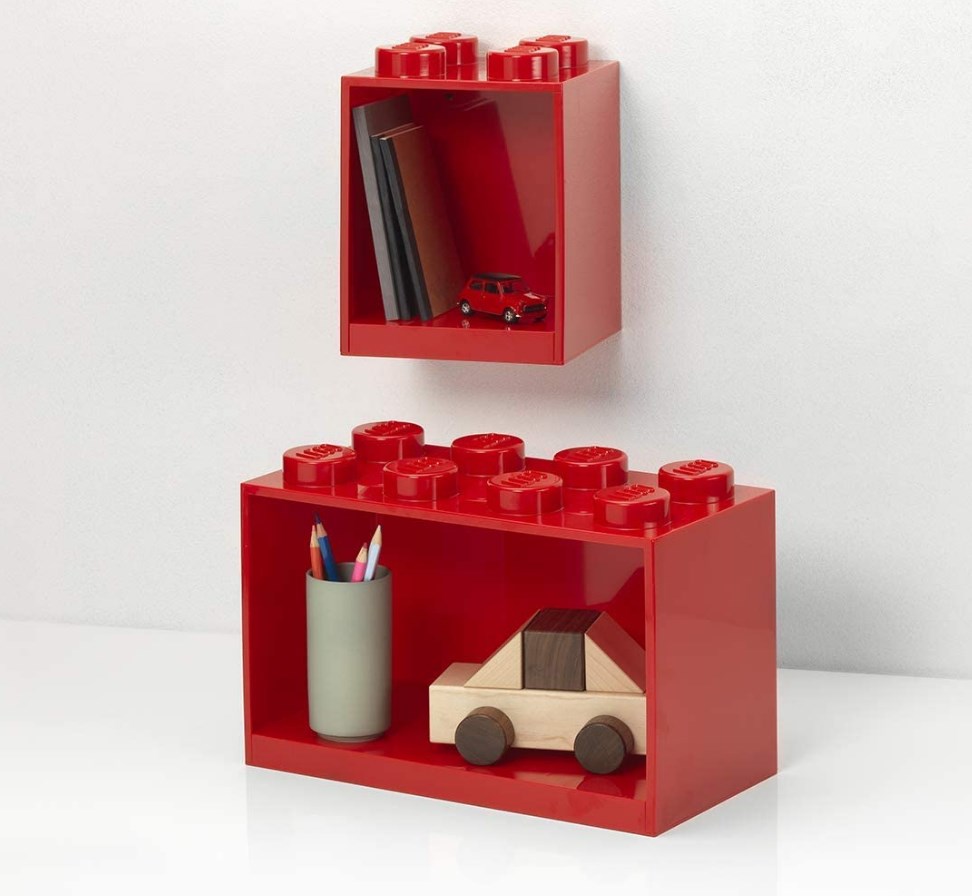 Even though they all serve the same purpose, the characteristics of LEGO display shelves depend on their type. The shelf model you choose shouldn't occupy too much space, and it should match the rest of the furniture in the room where your LEGO collection is going to be displayed.
Here are some of the most common types of shelves you can use to display LEGO sets
Floating shelves
This is an inexpensive and space-saving option that allows you to exhibit multiple LEGO sets. The only downside is that these shelves leave the models exposed to dust, making their upkeep more complicated than it has to be.
Glass bookcase
Storing your LEGO collection inside a transparent glass bookcase will protect it from dust or pets and enable you to display different sets without having to dedicate too much attention to their upkeep. However, these self-standing shelves occupy a lot of space, and they're not an ideal solution for small rooms.
Self-standing or wall-mounted tiered shelves
Any standard tier shelf that is big enough to hold multiple LEGO models can serve as a LEGO display shelf. Depending on the room's layout and space you have at your disposal, you can choose between self-standing and wall-mounted versions of these shelves.
Our guide to the best LEGO City sets can help you discover new sets that could be a nice fit for your LEGO collection.
Storage Capacities of LEGO Display Shelves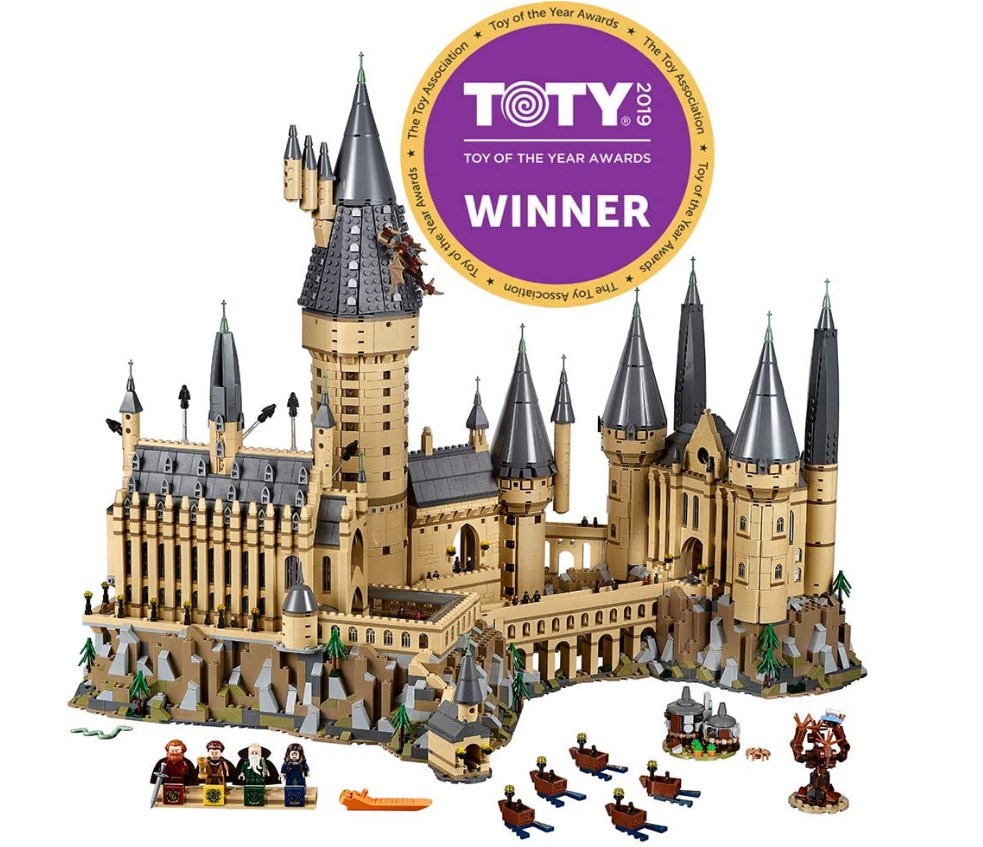 A set like the Singapore 21057 or the Tokyo 21051 is just ten inches wide, and you don't need a lot of space to exhibit them. On the other hand, the Hogwarts Castle 71043, Roller Coaster 10261, and similar sets with thousands of pieces are huge as they measure more than 20-inches tall and 30-inches wide.
The maximum number of LEGO sets you can exhibit on a display shelf depends on their size. Consequently, a collection of LEGO vehicles will occupy significantly less space than a collection of LEGO's Disney castles.
You should choose a LEGO display shelf that is large enough for your collection and offers enough space for new sets. Please read our LEGO Hogwarts Castle review to find out more about this fantastic set.
Upkeep Requirements of LEGO Display Shelves
Keeping a LEGO display shelf clean doesn't take a lot of time or effort. Glass bookshelves have the most demanding upkeep requirements since you have to use glass-cleaning products to remove stains or fingerprints.
However, they're also the most rewarding as they prevent dust accumulation on the models you're displaying. Floating or self-standing shelves have low upkeep requirements as you just have to dust them weekly.
These display shelves don't offer a way to protect a LEGO model from dust, and you'll have to clean the sets you often exhibit if you opt for floating or self-standing LEGO display shelves. Please go through our guide to the best LEGO Porsche sets to learn more about what these sets have to offer.
The Key Factors to Consider While Choosing a LEGO Display Shelf
The size of the area you want to dedicate to your LEGO collection will guide the LEGO display shelf selection process. Moreover, the shelf you choose should match the room's style since a model that perfectly fits the kids' room may not be a great fit for a living room.
I've shortlisted several factors that can help you find the right LEGO display shelf for your collection, so let's take a look at them.
Shelf dimensions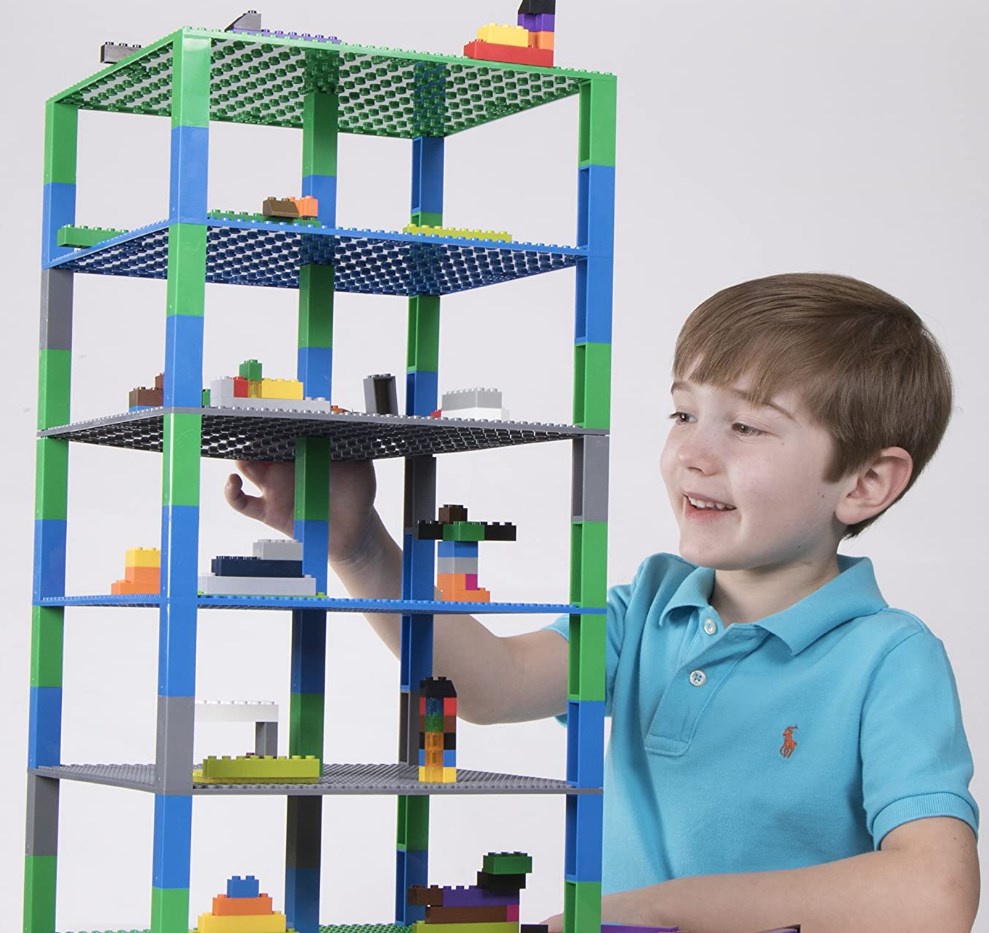 Measuring the space where you want to place a LEGO display shelf will enable you to know how big or small the model you choose should be.
You should consider the layout of the space while choosing the LEGO display shelf type because floating shelves can be a better option for tight spaces, while glass bookshelves fit better in spacious rooms. It is also essential to pay attention to the width of the shelf to ensure a LEGO model can fit on it.
Installation process and mounting method
You can opt for either a floor-standing or a wall-mounted LEGO display shelf. Floor-standing options are usually more elegant, but they can be bulky or too large for small LEGO set collections.
Wall-mounted shelves save space, and they're an excellent solution if you want to use a shelf for more than just displaying LEGO models. The amount of time you'll have to spend assembling and installing a LEGO display case is another factor you have to consider. Most models can be assembled and installed in less than an hour.
The number and size of LEGO sets you want to display
The height and width of assembled LEGO sets vary from a few inches to more than 20 inches. Large sets can require ample display space, and you have to choose a shelf type that provides you with plenty of room to store the sets you assemble.
Extensive LEGO set collections require a lot of space, so if you want to exhibit ten or more sets simultaneously, you'll have to get a display shelf that enables you to do that. On the other hand, there's no need to get a large shelf if you want to exhibit just one or two relatively small sets.
Shelf materials
LEGO display shelves are usually made of wood, plastic, glass, or metal, while models that offer a combination of two or more of these materials are also widespread.
Models made of glass or wood are stylish, but they are not ideal if you also need a place to store pieces from unassembled LEGO sets. On the other hand, plastic LEGO display shelves can double as storage boxes for LEGO parts, but they're often not visually appealing. Check out our guide on the best LEGO storage ideas here.
Durability and cost
A broad spectrum of factors that range from the model's dimensions to the materials it is made of can affect the price of a LEGO display shelf. A simple and relatively small LEGO display shelf doesn't cost more than $40, but a large and sturdy shelf can cost $300 or more.
Even the least expensive versions of LEGO display shelves are durable, and you won't have to replace them often.
The Advantages of LEGO Display Shelves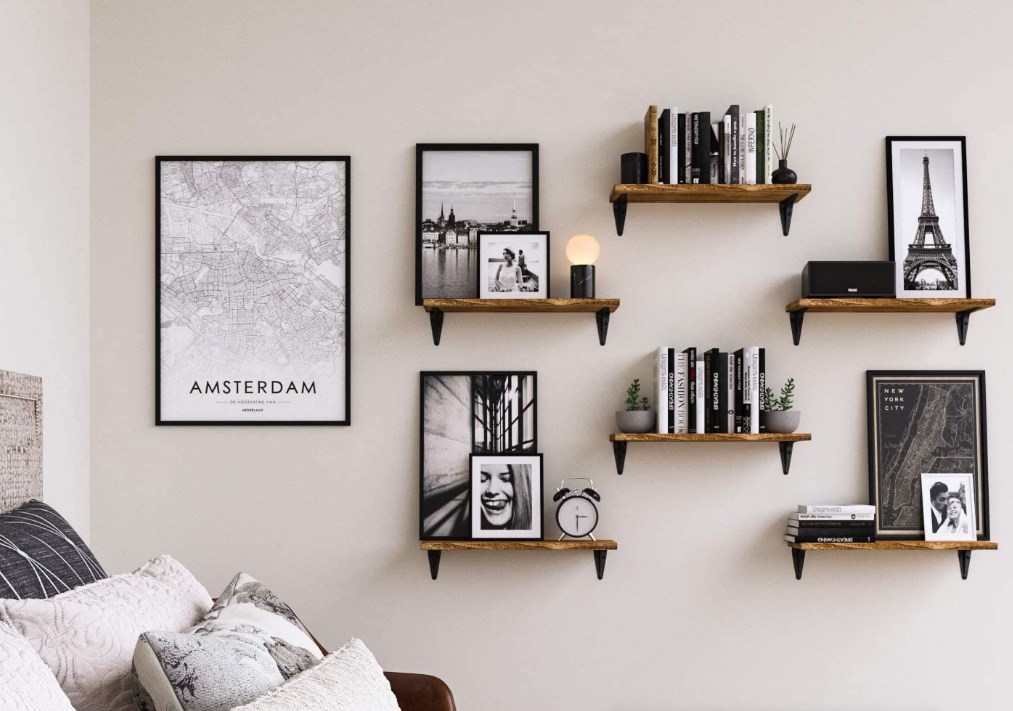 LEGO set organization
Having a space to keep all the LEGO set you assemble will make it easier to keep them neatly organized. In addition, LEGO display shelves can help you avoid the mess children make when they play with LEGO sets.
Simple assembly and installation process
Putting together a glass bookcase or installing floating shelves does take a lot of time or effort. You won't need more than an hour to set up a new LEGO display shelf, in most cases.
LEGO display shelves can serve multiple purposes
Besides exhibiting your LEGO collection, you can use these shelves to store different toys or items you're not currently using.
The Disadvantages of LEGO Display Shelves
LEGO display shelves don't protect models from dust
Most models don't offer a way to protect a LEGO set you assembled from dust or keep it out of the reach of your children and your pets.
Top 5 LEGO Display Shelves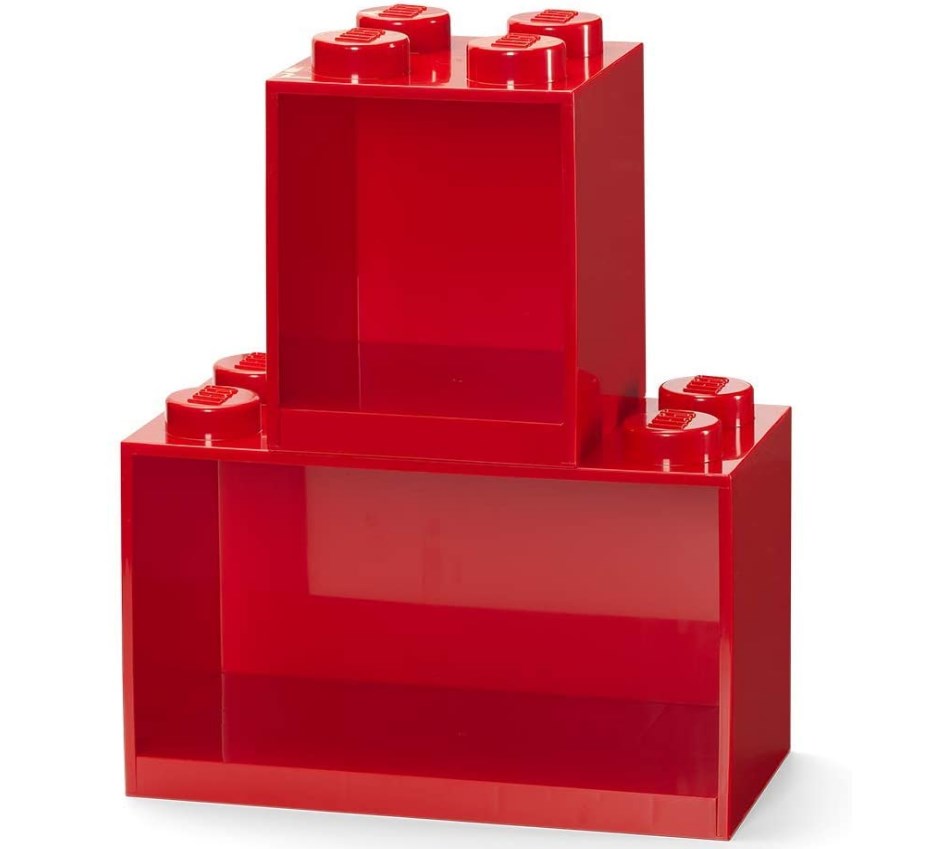 The Room Copenhagen's LEGO Brick Shelf Set is the only model produced by a LEGO-licensed brand I included in this article. The components of this set are shaped like LEGO brick, and they feature studs at the top that enable you to combine two or more boxes.
You can choose between 4-stud and 8-stud models, but keep in mind that 8-stud boxes are larger and more expensive. The LEGO Brick Shelf Set can be placed on desks and similar flat surfaces or mounted on walls.
Pros
Boxes are available in five colors
All elements of the set are stackable
No assembly required
Compatible with LEGO drawers and storage heads
Cons
Some LEGO sets might be too large for these shelves
Boxes can't handle a lot of weight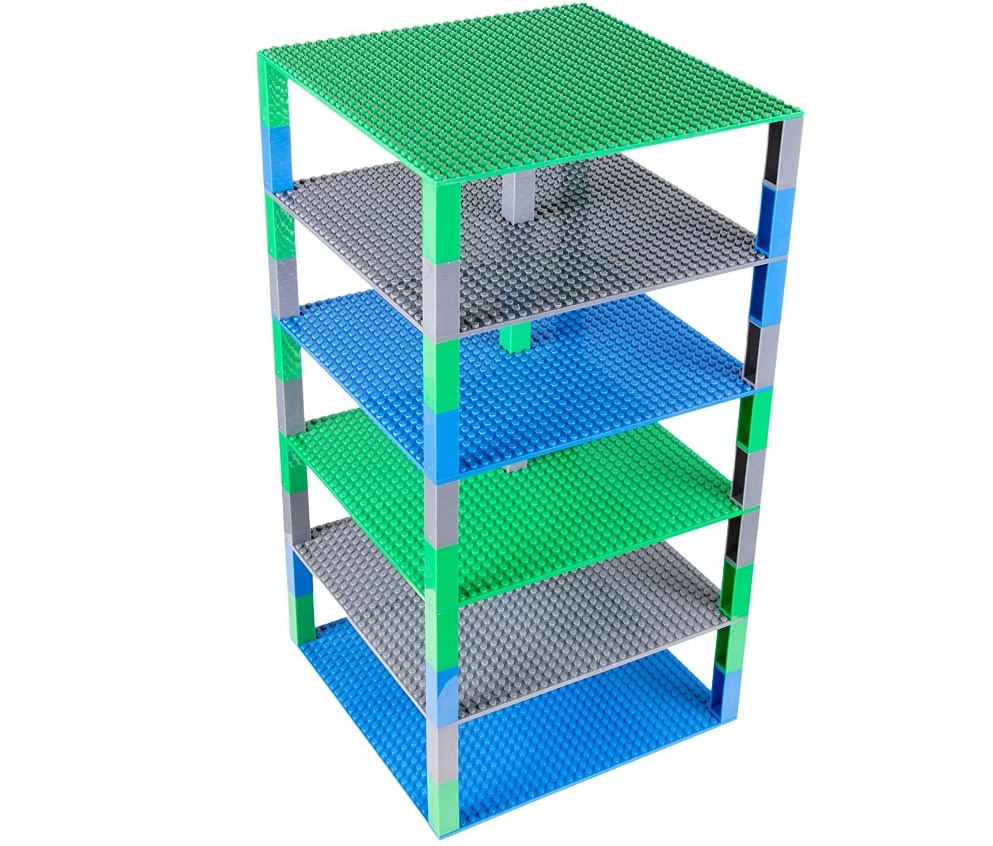 In addition to offering a space where children can display their LEGO creations, the Classic Baseplates Brick Tower also provides children with a unique building experience. The tower contains six baseplates, but kids can decide how many baseplates they want to include in their design.
Rectangular, triangular, and circular baseplates are available in 36 colors so that you can choose the shape and color your children like the most. Moreover, baseplates are compatible with pieces from all LEGO sets, so you won't have trouble attaching them to different elements from a set.
Pros
The simple and creative assembly process
Baseplates are available in different shapes and colors
Brick Tower doubles as a play space
Inexpensive
Cons
Not very sturdy
It can't accommodate large LEGO sets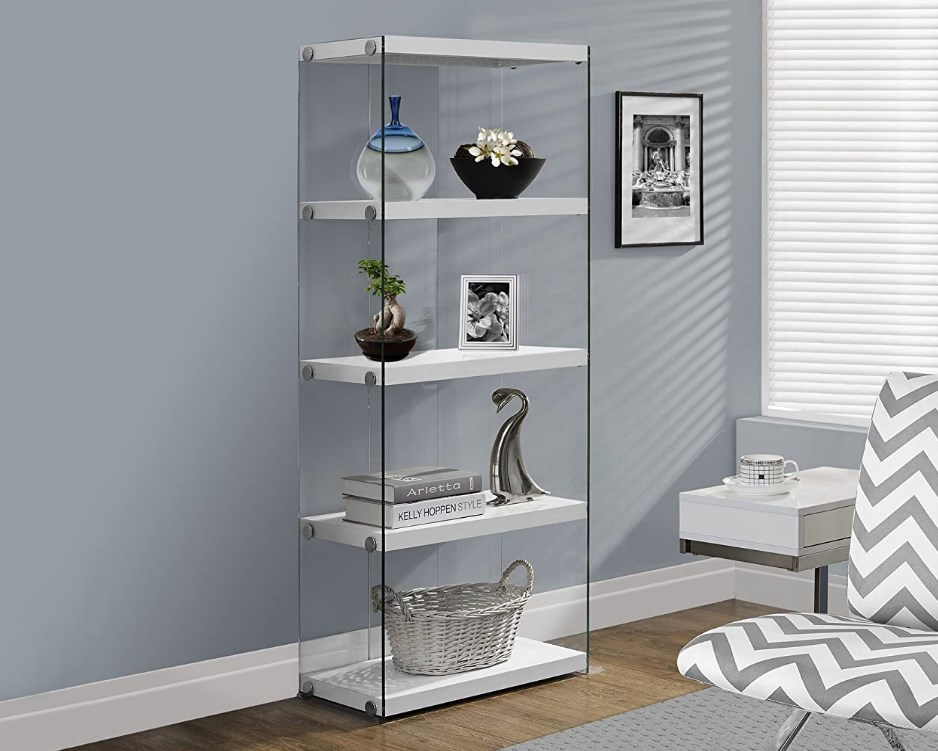 An elegant LEGO display shelf like the Monarch Specialties 5-Shelf Étagère might be the right choice for you if you want to exhibit the LEGO sets you build in your living room. The shelves are made of wood, while its back, front and side panels are made of tempered glass.
This self-standing bookcase is big enough to accommodate a LEGO collection that features more than ten sets, but you may need more than one 5-shelf étagère if you want to display a large collection of LEGO sets.
Pros
Elegant and contemporary design
It fits a wide range of home décor styles
Each shelf can hold up to 30lbs of weight
It is made of durable materials
Cons
Long assembly process
This LEGO display shelf is heavy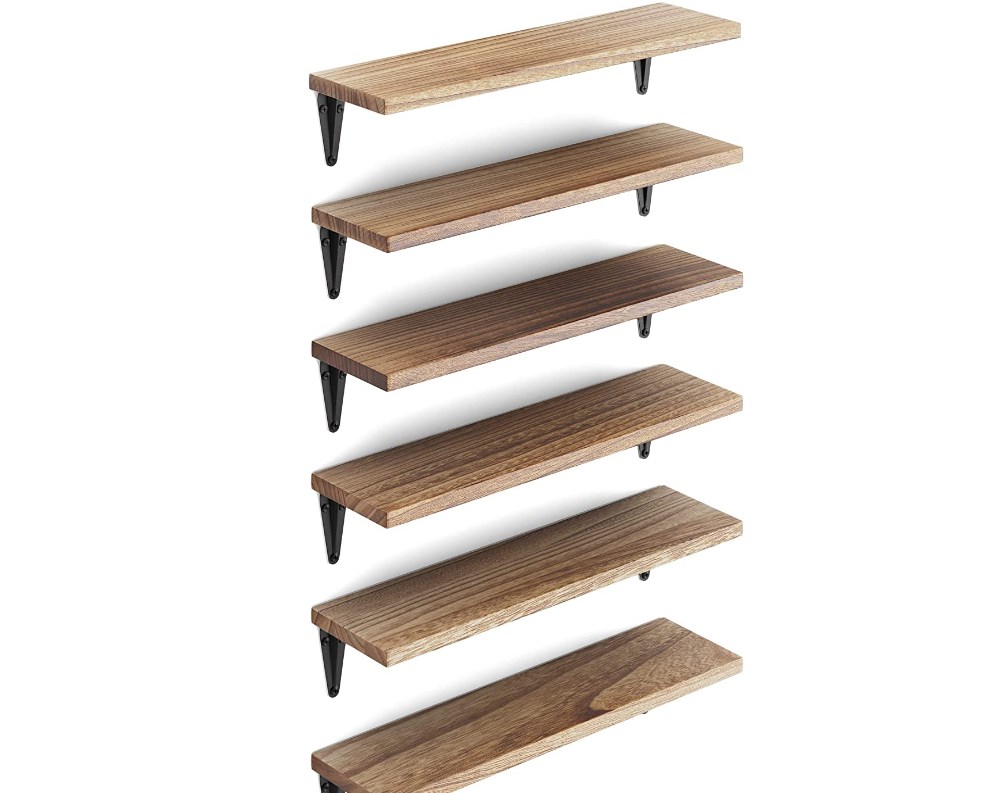 You should consider getting the Wallniture Arras Wood Wall Shelves if you want to display relatively small LEGO models. These floating shelves are just 4.5-inches wide and 17-inches long, so they can be too small for some LEGO sets.
Also, the set contains just six shelves, and you have to purchase two or more sets to ensure you have enough space for an entire collection. Each shelf is made of paulownia wood that can withstand high amounts of pressure.
Pros
Perfect match for boho, farmhouse, and similar décor styles
The set includes metal brackets, all other installation materials
An excellent fit for tight spaces
Shelves can't be damaged easily
Cons
Only one color option is available
It isn't suitable for all LEGO sets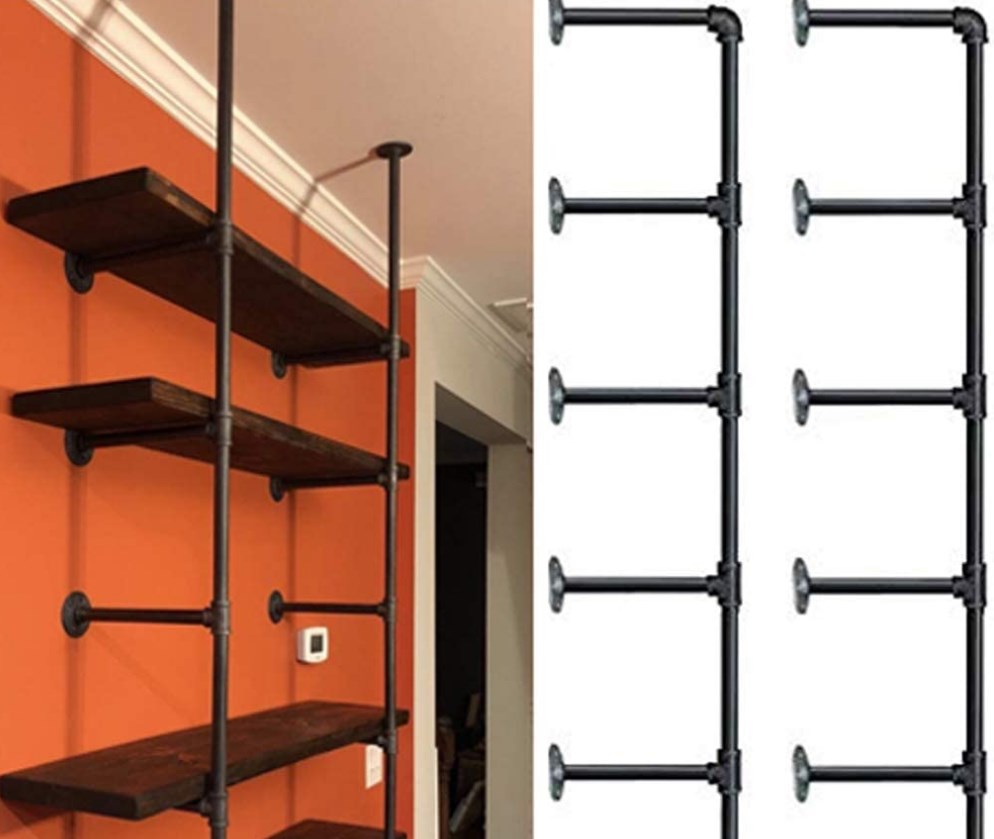 The Industrial Retro Iron Pipe Shelf provides you with enough space to exhibit your entire LEGO collection. You can choose between versions of the shelf that contain two and three pipes, but the height of the shelf is the same regardless of the option you choose.
The width of shelves is customizable, and you need to get in touch with the manufacturer to learn more about the available options. This shelf has five layers, but versions with fewer layers are also available. The installation process is simple, and it doesn't take more than thirty minutes.
Pros
It offers a lot of display space
Authentic industrial look
Customizable number of layers
Affordable price
Cons
Pets or children can reach a LEGO set easily
Cast iron water pipes may need an occasional repaint
Frequently asked questions about LEGO display shelves
Question: Does LEGO make display shelves?
Answer: LEGO doesn't produce display shelves, and Room Copenhagen is the only LEGO-licensed brand that offers shelves you can use to display a LEGO set.
Question: Where can I buy a LEGO display shelf?
Answer: You can order a display shelf from LEGO's website or an e-store. Also, you can find a variety of models at different furniture stores.
Question: Are LEGO display shelves durable?
Answer: Yes, they are, and you can use them for years without worrying about replacing them.
Question: Can I install a LEGO display shelf on my own?
Answer: Yes, you can, but only if you have all the tools you need to assemble and install a shelf.
My Verdict: Choosing the best display shelf for your LEGO sets
Once you know how much space you have at your disposal and how many LEGO sets you to want to exhibit, finding the right display shelf shouldn't be a problem. You can use virtually any self-standing or wall-mounted shelf that is large enough to accommodate the sets you want to display.
I recommend the Monarch Specialties 5-Shelf Étagère because it offers enough space to exhibit multiple LEGO sets. Models like the LEGO Brick Shelf Set or the Wallniture Arras Wood Wall Shelves could be a good choice for you if you want to display small sets.
Which LEGO display shelf are you going to choose? Let me know in the comments, or continue reading our guide to the best 1,000 piece LEGO sets to find a set you'll be proud to exhibit after a challenging assembly process.
Recommended Reads: