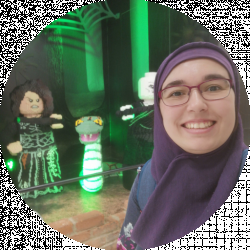 Latest posts by Melika Jeddi
(see all)
LEGO has had a partnership with Star Wars ever since they released the first set for it in 1999. Since then, they've come up with hundreds of exciting sets for it, most of which have since been retired.
The exciting space-themed franchise has captured the imaginations of fans young and old, and LEGO jumped on that hype.
With each new entry into the franchise, new sets become available, and that's true for The Mandalorian as well. LEGO has released a series of wonderful sets dedicated to the series, and this guide will tell you everything you need to know about each of them.
If you're thinking of purchasing one as a gift or for yourself, then this is the article for you!
Bottom Line Up Front
What is The Mandalorian?
Since the release of Disney+ in 2019, Disney has been thinking of ways to entice new viewers to their platform. Netflix was the main streaming giant, and with plenty of others such as Hulu, Prime Video, HBO, and more, there was no shortage of competition.
So, to make themselves stand out, Disney has been full throttle with creating exciting original content with their first-party franchises. This has meant several shows in the Marvel Cinematic Universe, as well as those set in the world of Star Wars.
The Mandalorian is probably the most popular of those new Star Wars shows. First released in November 2019, it now has 2 seasons, and they're working on a third season which is set for December 2022.
Without any spoilers, the show revolves around the main character, the Mandalorian, who works as a bounty hunter. However, when he meets an adorable baby known as the Child, he turns his life upside down to protect it from harm.
The series is action-packed with plenty of character development and expands the lore of the Star Wars universe. The Child is super cute and brings some fantastic humor to the show. The Mandalorian is brilliant not only for existing Star Wars fans but also for those looking to get into it for the first time.
All LEGO Mandalorian Sets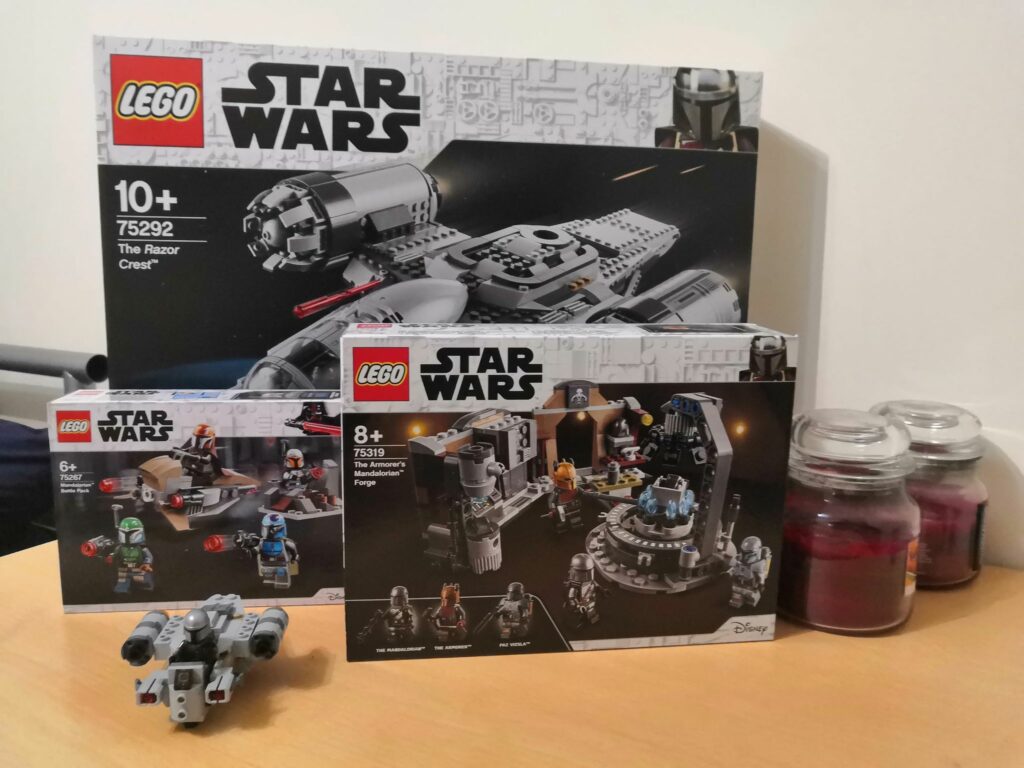 As of March 2022, there are currently 14 LEGO sets available for The Mandalorian. LEGO also has other items such as keyrings, but for the purposes of this guide, I'm only counting actual sets.
If you're looking for one to buy and aren't sure how to decide, this is the article for you! I'm going to run through everything you need to know about each set, so you can choose which is the best for you to purchase.
Imperial Light Cruiser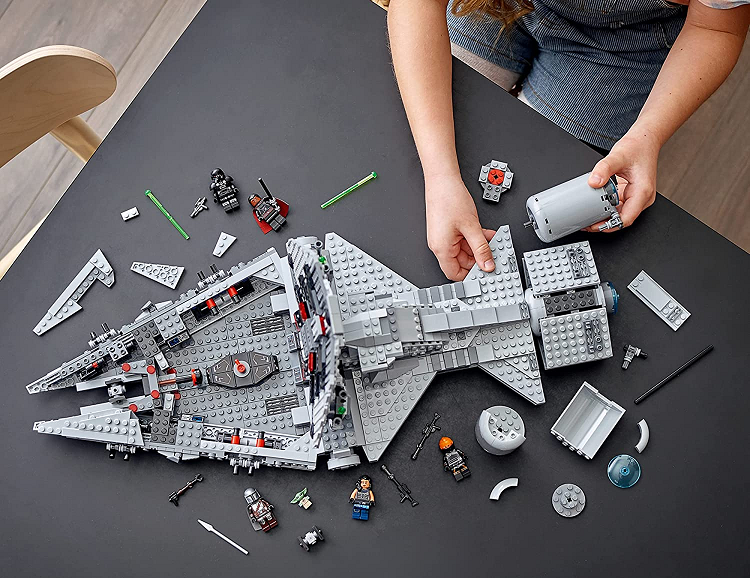 This impressive Imperial Light Cruiser 75315 set is the most expensive in The Mandalorian range, and it's easy to see why. Spaceships have always been a huge pull for the LEGO Star Wars fans, and there's so much detail in this one.
Whilst The Razor Crest has a bigger role in the show, this ship is larger, and so it makes sense that LEGO have stayed true to that. Retailing at $159.99, there are a grand total of 1336 pieces in this set.
Whilst the build itself looks as though it would be a lot of fun, it's clearly been designed with play in mind. There are so many interactive parts, and even just the shape of it is perfect for acting out a spaceship in flight.
You can open the hatch to have access to the cabin, meaning that all the internal detail doesn't go to waste. There are also 2 rotating turrets with spring launchers, which would be super fun if you're pretending to shoot down enemies.
The set comes with 5 minifigures plus a tiny figure of the Child. I think the minifigures chosen work excellently for this set, and although my preference would still be The Razor Crest, I can certainly see the appeal of the Imperial Light Cruiser.
The Razor Crest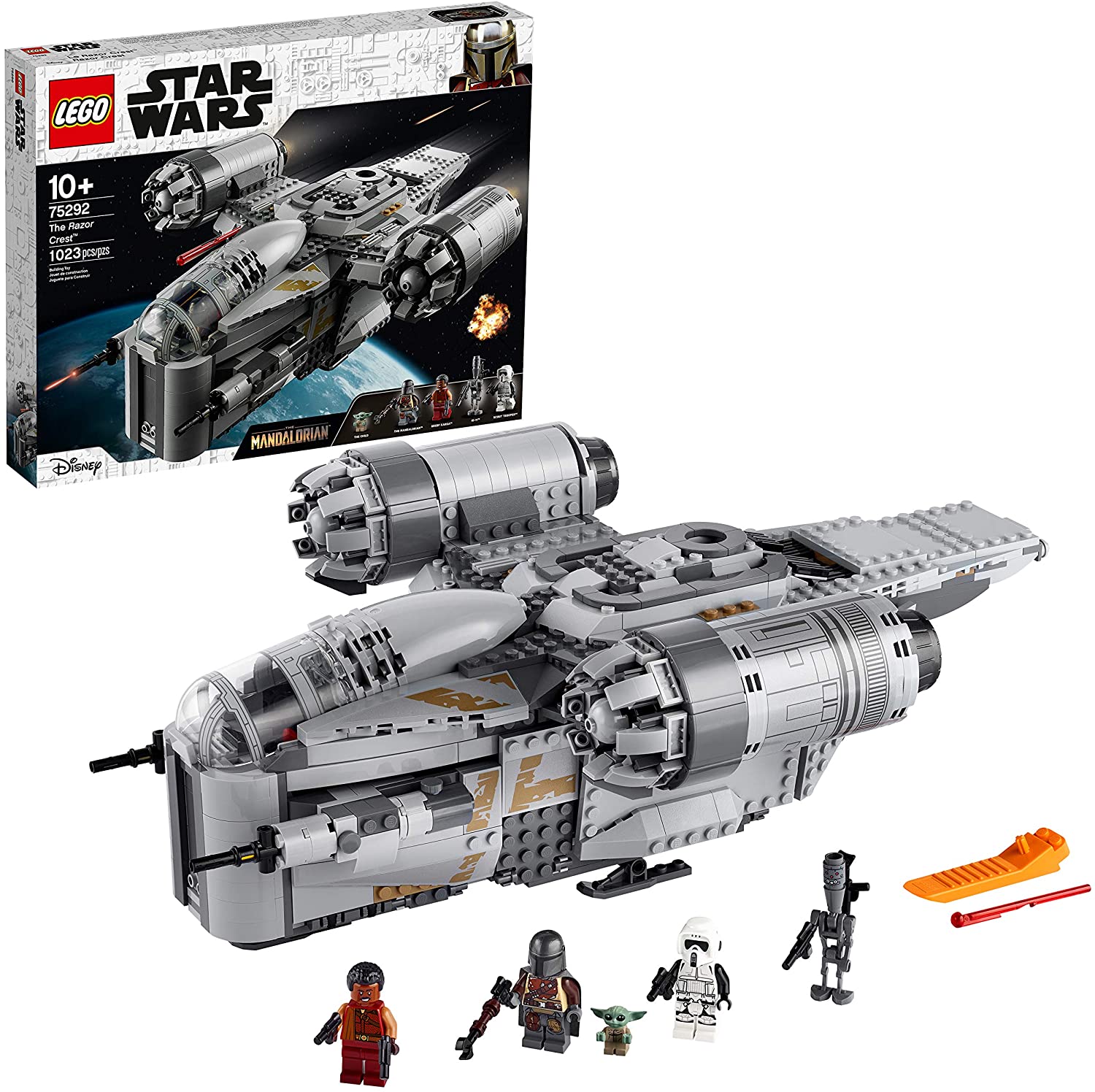 For any fans of The Mandalorian, The Razor Crest 75292 set is ideal. The Mandalorian's iconic ship is a staple of the episodes throughout the series, and despite being inanimate, is almost like an extra character in terms of the charm it brings to the show.
We get to know the ship really well, finding out all its secret cubby holes, and watching it get into dangerous scrapes. I'm really glad LEGO did it justice with this set by making it reasonably large. This $129.99 set contains 1023 pieces in total.
There are plenty of exciting features in this build. There's a cargo hold where you can store ammo for the spring loaded shooters, and there are access ramps to get inside.
There are pieces to represent carbonite, which were a core part of the Mandalorian's role as a bounty hunter. There is an escape pod that can be detached from the main build, and is perfect for play. You can even put minifigures inside the cockpit.
Speaking of minifigures, this set comes with 4 of them. It has the Mandalorian, Greef Karga, a Scout Trooper, and the Child. There's also an IG-11 figure, which is great as he's such a fun droid who I grew really attached to. Overall, I think The Razor Crest is the best set available in the LEGO Star Wars range for The Mandalorian.
The Child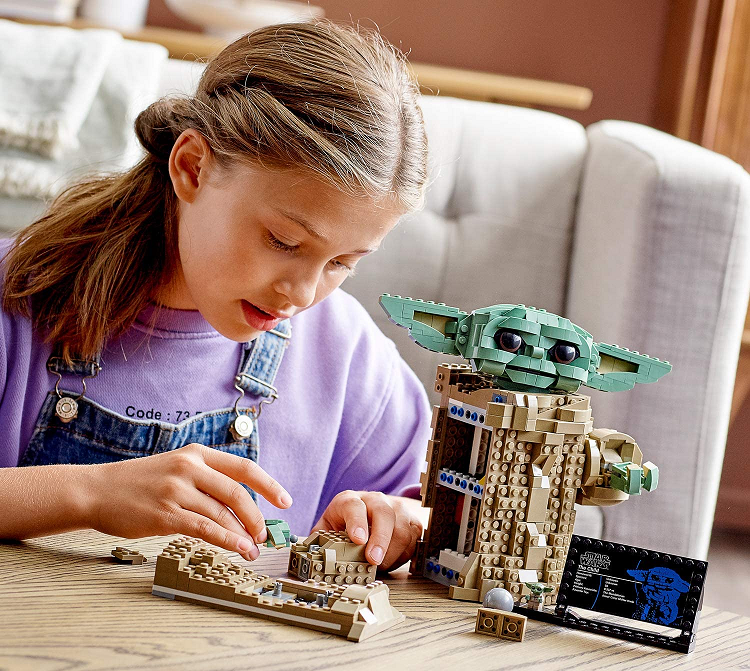 Let's face it, Grogu is easily the best part of The Mandalorian. He's just so cute, and I can't help but smile every time he appears on screen.
Although other sets contain minifigures of him, they're just not detailed enough to capture how completely adorable he is. Fortunately, LEGO has created this The Child 75318 set so that fans of the character can have their very own LEGO version of him.
This $79.99 set contains 1073 pieces, and when it's built, the dimensions are 7.5″ tall, 8.5″ wide (you can thank those large ears for that!), and 5″ deep. I love the pose that LEGO have chosen for this set, as it shows off Grogu's innate curiosity. It's lucky that I do like it, though, as this is not a posable figure.
All the elements are fixed in place, except for some of the features on the head. You can move the head, ears, and mouth for different expressions.
I think it's wonderful that it comes with the gearstick knob, as the Child loved taking that off of the Razor Crest and playing with it. This wouldn't be the best for playing with, as there are no minifigures, and almost no interactive elements. However, it's still an awesome display piece and would be great for a LEGO Star Wars collection.
The Mandalorian Helmet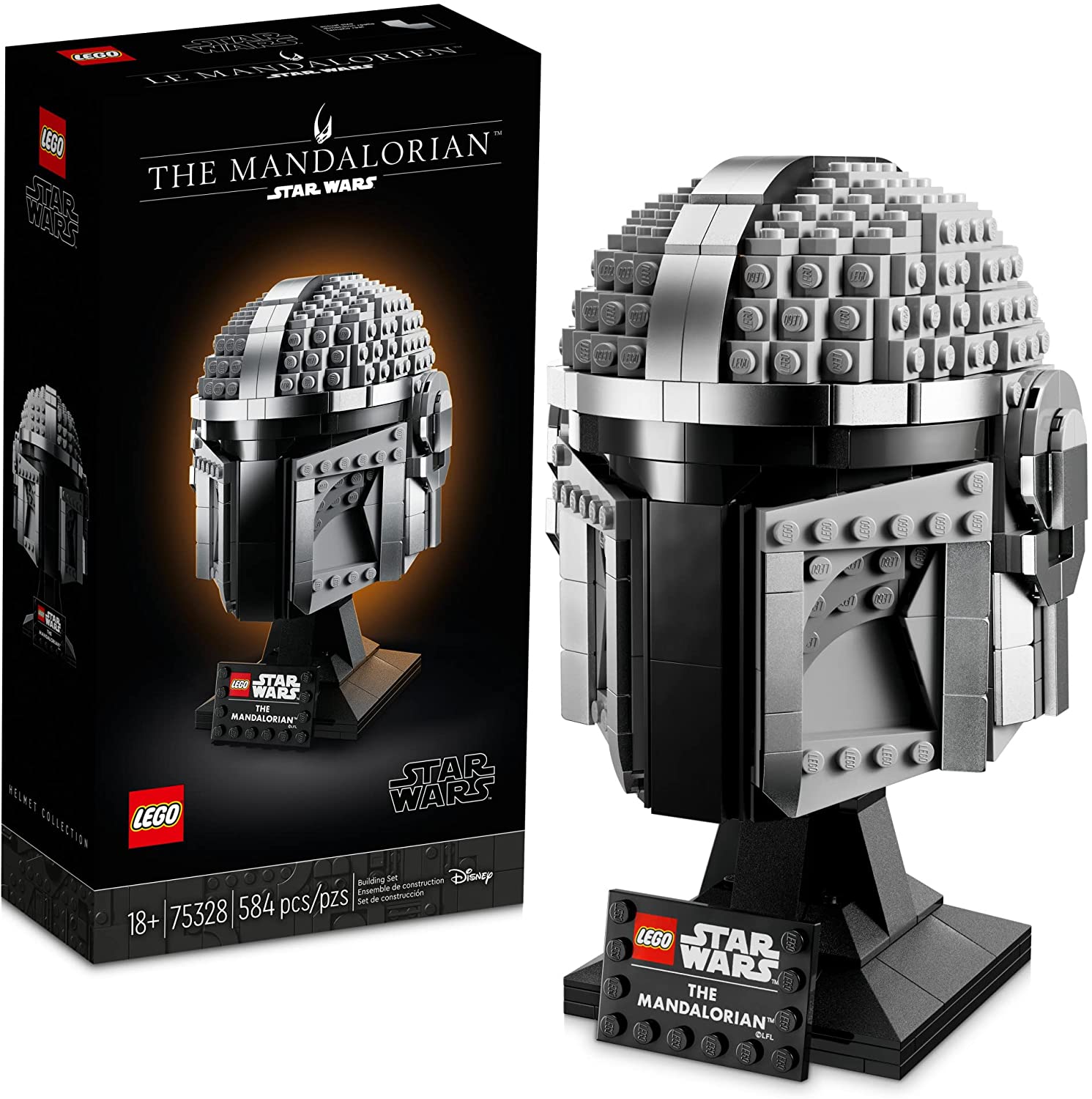 At $59.99, this The Mandalorian Helmet 75328 Set is one of the more mid-range options for fans of The Mandalorian. I think it's a great price, as it's not overly expensive, but you're still getting plenty of LEGO and it makes for a fantastic set. Much like the The Child set above, this is intended more as a display set rather than for playing with.
Although there are only 584 pieces in it, a lot of them are considerably larger than you'd expect from a standard LEGO set, so it's still great value for money. It's shaped like the iconic Mandalorian helmet, complete with the horizontal and vertical slits.
I won't lie, this isn't the most exciting set that there is. It's primarily gray and black, so if you prefer colorful sets then this isn't for you.
However, if you want something to show off your love of The Mandalorian then this is perfect. It's classy and conveniently sized and would be ideal for adult LEGO fans. It's 7.5″ high, 4″ wide, and 4.5″ deep. It would be an excellent addition to any LEGO Star Wars collection.
Mandalorian Starfighter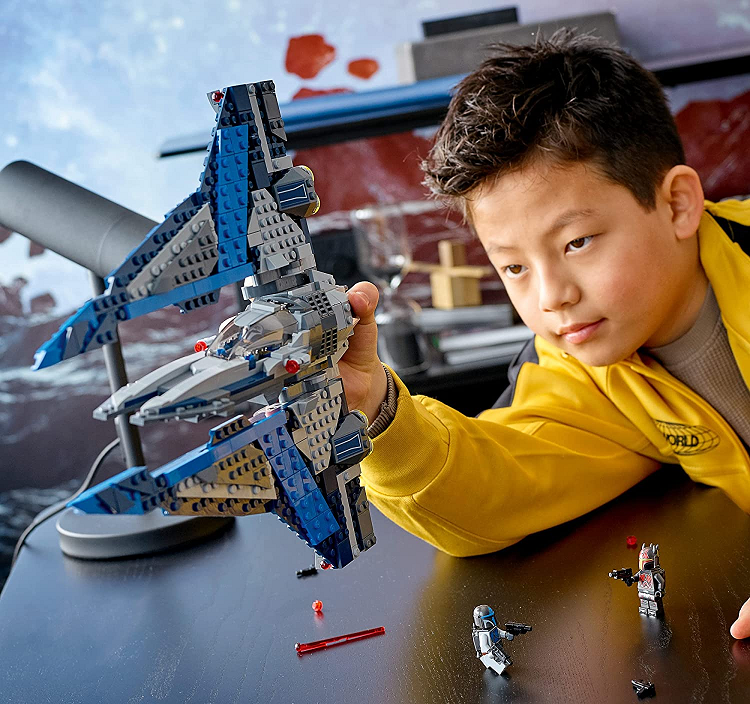 Another one priced at $59.99, I definitely have a soft spot for the Mandalorian Starfighter 75316 set. It contains 544 pieces, and they're arranged brilliantly to create as much detail as possible.
I love the range of colors in this set, and it's definitely much more exciting to look at than the other spaceships in the LEGO Star Wars range. There are various shades of blue and gray, as well as some striking reds.
This looks like a relatively simple build. The wings form the bulk of this set, and they seem to be just a variety of plates layered on each other. There's also the main body of the spaceship too, including an accessible cockpit so you can put your minifigures inside.
The coolest thing about the wings is that they can be posed in multiple formations. If you're just displaying it, you can have them jutting out at the side in a regular position.
However, when you're playing, you can also twist them vertically to create an exciting aerodynamic shape. You can even tilt them upwards to simulate landing.
The set comes with 3 minifigures that I think look incredible. You get Bo-Katan Kryze, Gar Saxon, and a Mandalorian Loyalist. They've got some intricately designed outfits with plenty of attention paid to the colors and patterns. There are also shooters so you can fire projectiles for added fun.
The Mandalorian's N1 Starfighter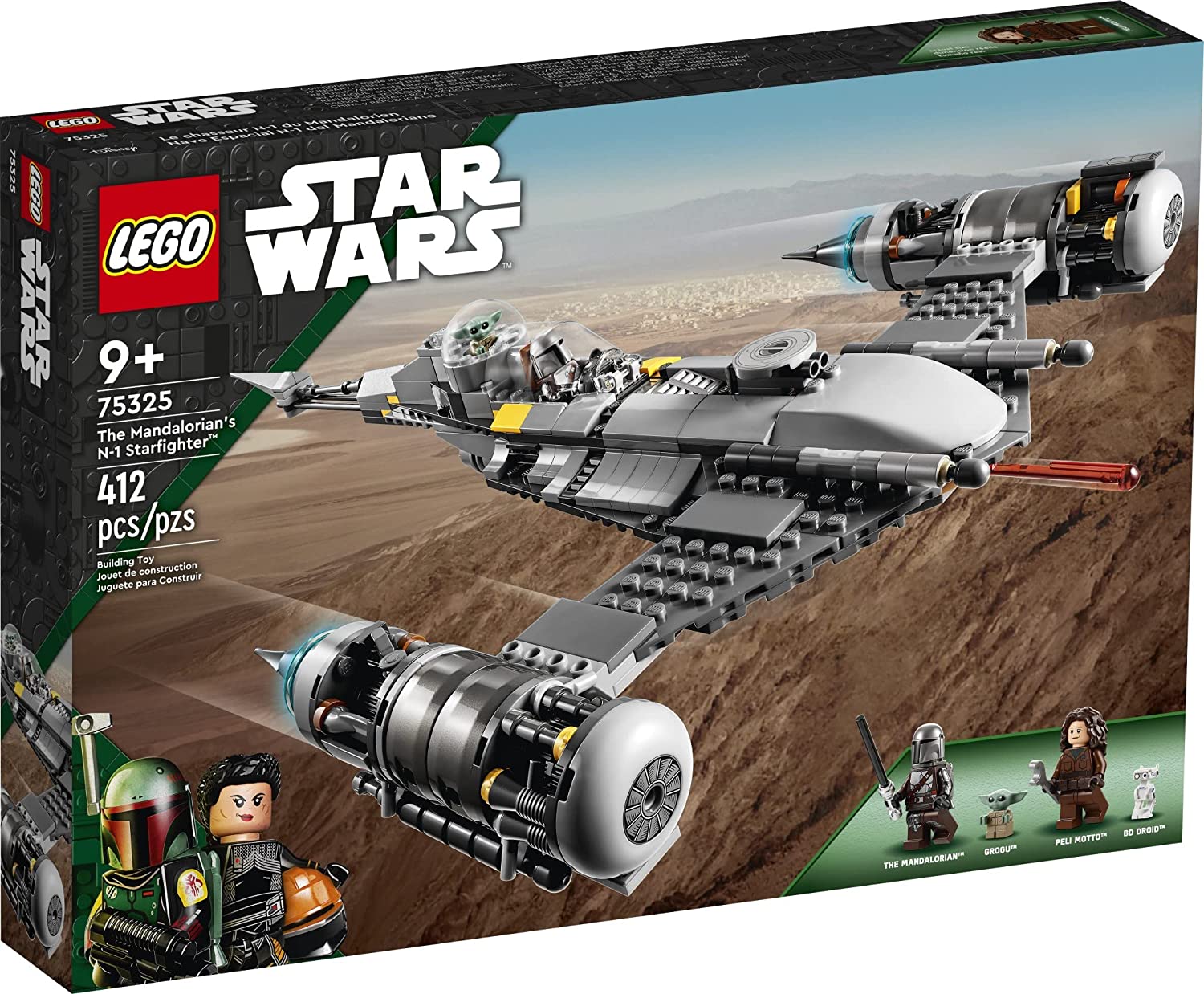 Also priced at $59.99, this next set is The Mandalorian's N1 Starfighter 75325. There are only 412 pieces, and if I'm being honest, I feel it's not as good value as the other $59.99 sets.
Nevertheless, it still has its place. I enjoy the shape of it, and it's certainly very cool looking. Although I personally prefer the regular Mandalorian Starfighter set above, the N1 does have plenty of fans.
This is technically a set for The Book of Boba Fett, but I'm including it as the first episode was essentially a crossover of The Mandalorian, and that's when this N1 starfighter was introduced.
I won't give any spoilers, but the ship belongs to Din Djarin, aka the Mandalorian, and it's a ship that has plenty of lore in the Star Wars movies.
The set comes with two minifigures – the Mandalorian and Peli Motto. However, there are also tiny figures for Grogu and a BD droid. The details on the minifigures look great, and they each comes with accessories too. The Mandalorian has a jetpack, and Peli Motto comes with a wrench.
The cockpit of the N1 opens up so you can put a minifigure into it. There's also a cargo compartment, and a spring-loaded shooter. It's a fun set for playing with, but if I'm being honest, it looks to be slightly overpriced for what you're getting.
Boba Fett's Starship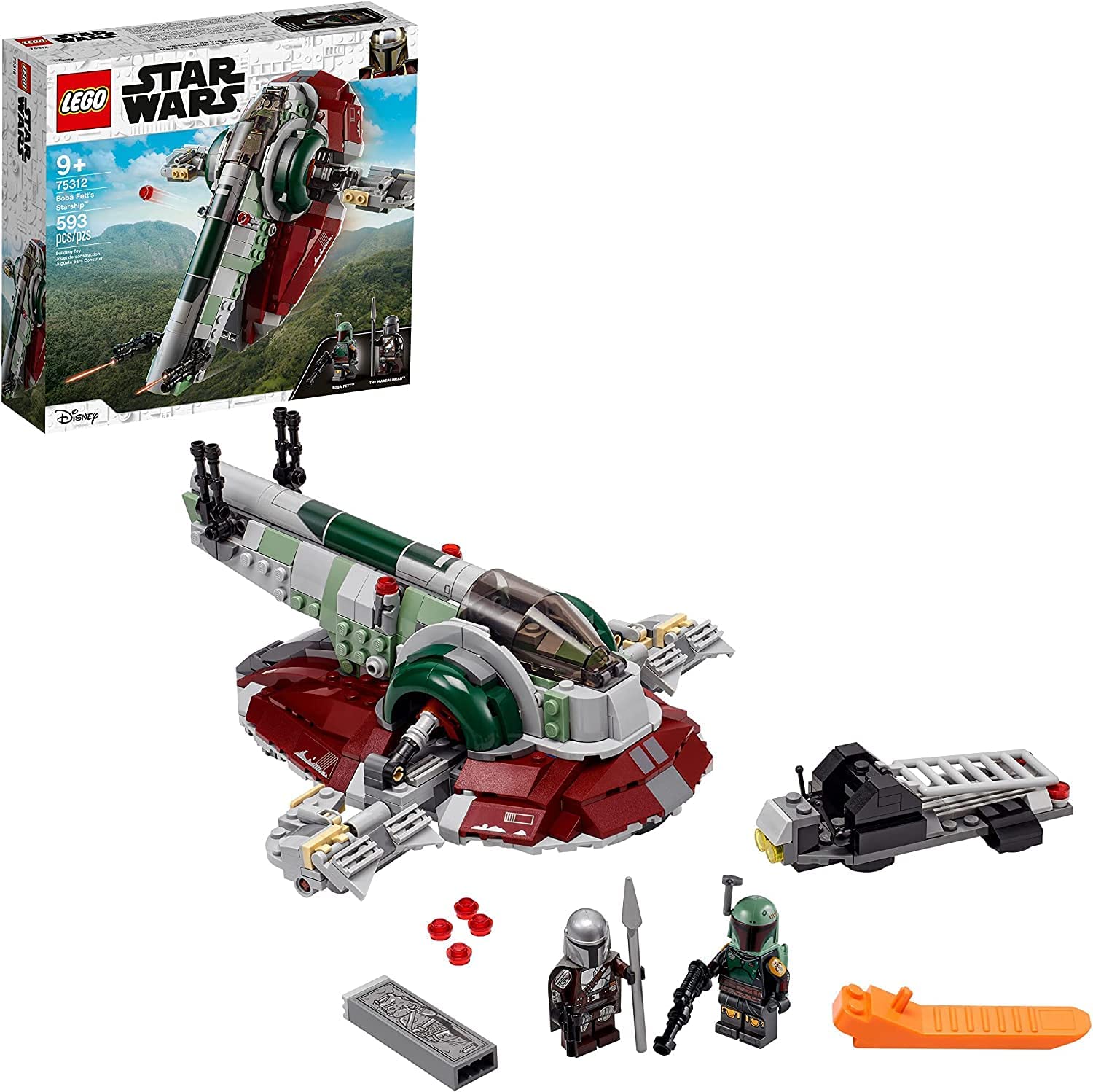 The Boba Fett's Starship 75312 set is particularly fun to look at. There's so much color everywhere, and it's an interesting shape. Boba Fett had a really awesome reveal in The Mandalorian, as obviously the Star Wars movies had left off with him falling into the sarlacc pit and he was presumed dead.
His story is first reintroduced in The Mandalorian before being continued in The Book of Boba Fett.
This is a very compact LEGO build. Its $49.99 and has 593 pieces in total. But they're layered to create bulk as well as size, meaning it looks smaller than some of the other similarly priced sets. It's 3.5″ high, 8″ long, and 8″ wide.
The set also comes with a small transporter vehicle, so it's basically a 2-in-1. The transporter also doubles as a stand for displaying the starship when you're not playing with it.
The set comes with two minifigures – Boba Fett and the Mandalorian. Both of them come with weapons, so will be plenty of fun for playing with. There's also a carbonite slab if you want to play out some bounty hunting missions.
This starship comes with a handle which means it's easy to manoeuvre through the air when playing with it. There are also stud shooters and rotating cannons. Overall, this is a fantastic set for kids, or for adults who enjoy playing with their LEGO.
AT-ST Raider from The Mandalorian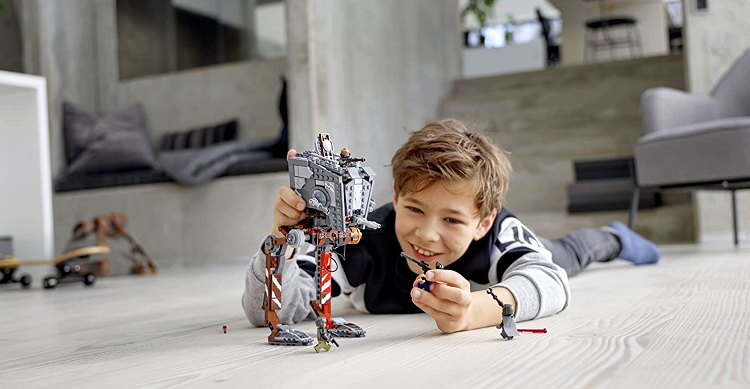 Coming in at $49.99, we have the AT-ST Raider from The Mandalorian 75254 set. Its title is weirdly specific and a bit of a mouthful, but at least it's clear what the buyer can expect.
This 540 piece is based on the episode of The Mandalorian set in a village on Sorgan. In it, a party of Klatooinian Raiders has been routinely attacking the peaceful village natives, making life hell for them.
The Mandalorian, assisted by Cara Dune, agrees to help the village folk, for a price, of course. However, it transpires that the raiders have an AT-ST on their side, and that's the vehicle that was the inspiration for this LEGO set.
The war paint on the legs is a nice touch, although LEGO has used stickers for it rather than printed pieces. It makes sense, though, as even with their larger sets, they seem to use stickers for the majority of the time.
The vehicle has posable legs, so you can make it stomp through your play area. Just like the real thing, it also has a turret that turns, and you can fit a minifigure inside. It even has shooters that fire.
The set comes with 4 minifigures – The Mandalorian, Cara Dune, and 2 Klatooinian Raiders. This looks to be a fun set with several play opportunities, however, it's worth noting that it does come with quite a few stickers.
The Armorer's Mandalorian Forge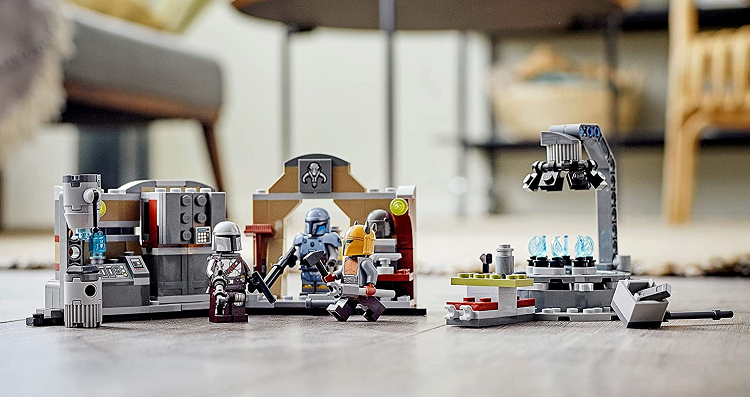 This The Armorer's Mandalorian Forge 75319 set retails at $29.99. Rather than just being one build, it has 3 distinct parts that fans can put together.
The concept is based on the forge where the Armorer produces new Mandalorian armor from the Beskar steel that The Mandalorian brings her. It features heavily as a location in the first season, and I'm glad that LEGO chose to make a set of it.
It only has 258 pieces, but that's not bad considering the price. Each part of the set looks compact, and you can see that LEGO thought carefully about how to use the limited amount of pieces.
There are a whole bunch of cool features packed into this set, making it ideal for playing with. Whilst it may not be the most impressive display piece, it's certainly a fun addition to a LEGO Star Wars collection, particularly if you have kids.
It has a mythosaur logo above the entrance, something that will be meaningful to fans of The Mandalorian. It also has the forge itself as well as bars of Beskar steel. There's a storage cabinet where you can keep the many accessories, and there's a hologram alongside other cool machinery.
As well as all that, you also get 3 minifigures – The Mandalorian, Paz Vizsla, and The Armorer. They have awesome designs, and I especially love The Armorer's golden helmet. Overall, I think this is a fantastic little set, and it's perfect for those of you on a budget.
Trouble on Tatooine
Also $29.99, the Trouble on Tatooine 75299 set has slightly more pieces than the set above, with 276 of them in total. Just like The Armorer's Mandalorian Forge, this one comes with 3 separate parts.
The set appears to be based on the season 2 episode of The Mandalorian where The Mandalorian teams up with Tusken Raiders and the residents of Mos Pelgo on Tatooine to defeat the Krayt Dragon. It's an action-packed episode, and although this set doesn't include Cobb Vanth or the dragon, there're still plenty of play opportunities.
The set comes with the Mandalorian's speeder bike, and it even has a cute little saddle bag on the side for Grogu to sit in. Although the bike is small, the design is instantly recognizable. I like that the long part on the front looks so similar to the speeder from the episode.
There's also a Tusken hut which has a really clever structure. I like that it's built to be round but open, so it looks like you're viewing half of the inside of the hut. It doesn't look incomplete, it's clear that it was a purposeful choice from LEGO. There's even a little campfire in the center!
The final part of this build is the ballista, which shoots actual missiles (LEGO ones, of course, there are no real weapons in this set!). It's about the same size as the hut, which gives an idea of the scale of it. The ones they used to help defeat the Krayt dragon were massive, and so LEGO did an excellent job of getting the size right here.
The set comes with 2 minifigures – The Mandalorian, and a Tusken Raider. The minifigure of the Mandalorian looks to be the same one used in the Razor Crest Microfighter set.
Both minifigures come with interesting weapons, including what looks to be a representation of the Mandalorian's rifle. There's also a small figure of Grogu that can fit on the side of the speeder.
Dark Trooper Attack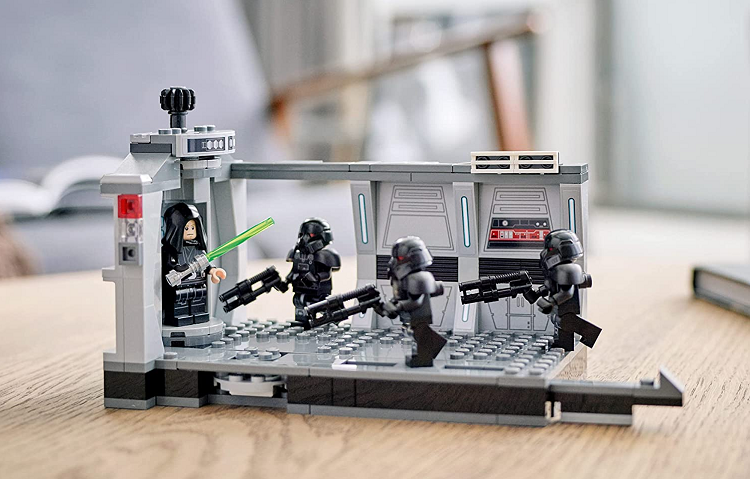 The last of our trio of $29.99 products is the Dark Trooper Attack 75324 set. It's probably my favorite of these cheaper sets, as I love the black aesthetic, and the walls are reminiscent of the Darth Vader scenes in the Star Wars movies, even though the set is based on The Mandalorian.
If you're not a fan of stickers, this set will probably be a tad frustrating. Even though the entire set only has 166 pieces, there are 15 stickers that need to be placed on when building it.
To put this into perspective, I'm currently building the LEGO Batmobile Tumbler which has 2049 pieces and only has 12 stickers in total. So it's highly disproportionate for a set as small as Dark Trooper Attack to have so many.
Still, the end result is extremely satisfying and perfects the look. I know it may seem like this set is overpriced given that it has over 100 fewer pieces than the other two The Mandalorian sets at the same price, but there are things to take into account.
Firstly, a lot of the pieces in this are larger plates and bricks. This means the overall build is compact, and smaller sets are often more about the finished product than the build itself.
Also, this set comes with a total of 4 minifigures. Admittedly, 3 of them are identical – they are Dark Troopers with blasters. Still, the Dark Trooper minifigure looks awesome with plenty of detail on the front and back.
The set also contains a figure of Luke Skywalker with a lightsaber. This alone brings a lot of value in my opinion, as it's such a fun minifigure to own. Overall, this set is brilliant as a display piece or for playing with.
The Mandalorian & the Child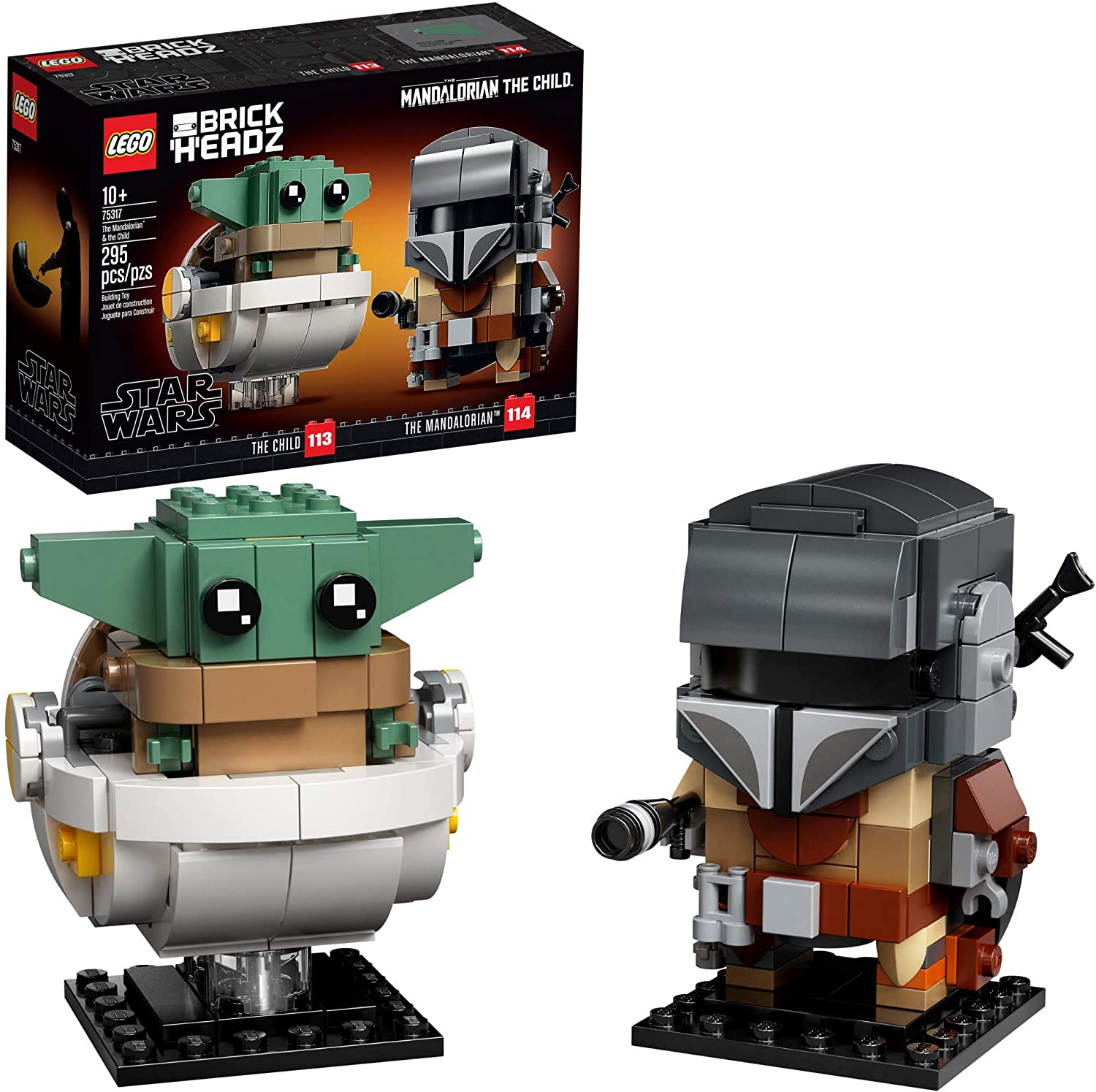 I'm not usually a big fan of the Brickheadz range, but I must admit, I have a bit of a soft spot for the The Mandalorian & the Child 75317 set. It's only $19.99, and comes with 295 pieces for that price, although many of them are pretty small pieces that are used for details. Nevertheless, I think it's a decent price.
The Child is inside his little floating hoverpram that's a constant presence in The Mandalorian. Grogu is somehow even cuter when he's inside it, and so I love that this is how LEGO have depicted him in this set.
This Brickheadz version of the Child even has adjustable ears so you can change his expression! He doesn't have a mouth, so the ears are the best way to convey emotion as he only has one set of eyes, albeit adorable ones.
I'll be honest, I feel like LEGO could have done a better job with the Mandalorian. I get that they had limited pieces to work with and so size was an issue, but to me it just looks stumpy.
The character in the show really commands a scene and is intimidating to look at, and that's just not conveyed here. I don't really think they could have done much to improve this, and I think he's just not a character that lends himself well to the Brickheadz style.
Overall, I have mixed opinions about this set. Obviously, personal preference varies and you may feel differently, but I think that the Child is perfect, and the Mandalorian is decidedly lackluster. I think it would have been much better for LEGO to have released the Child as his own $9.99 set.
Mandalorian Battle Pack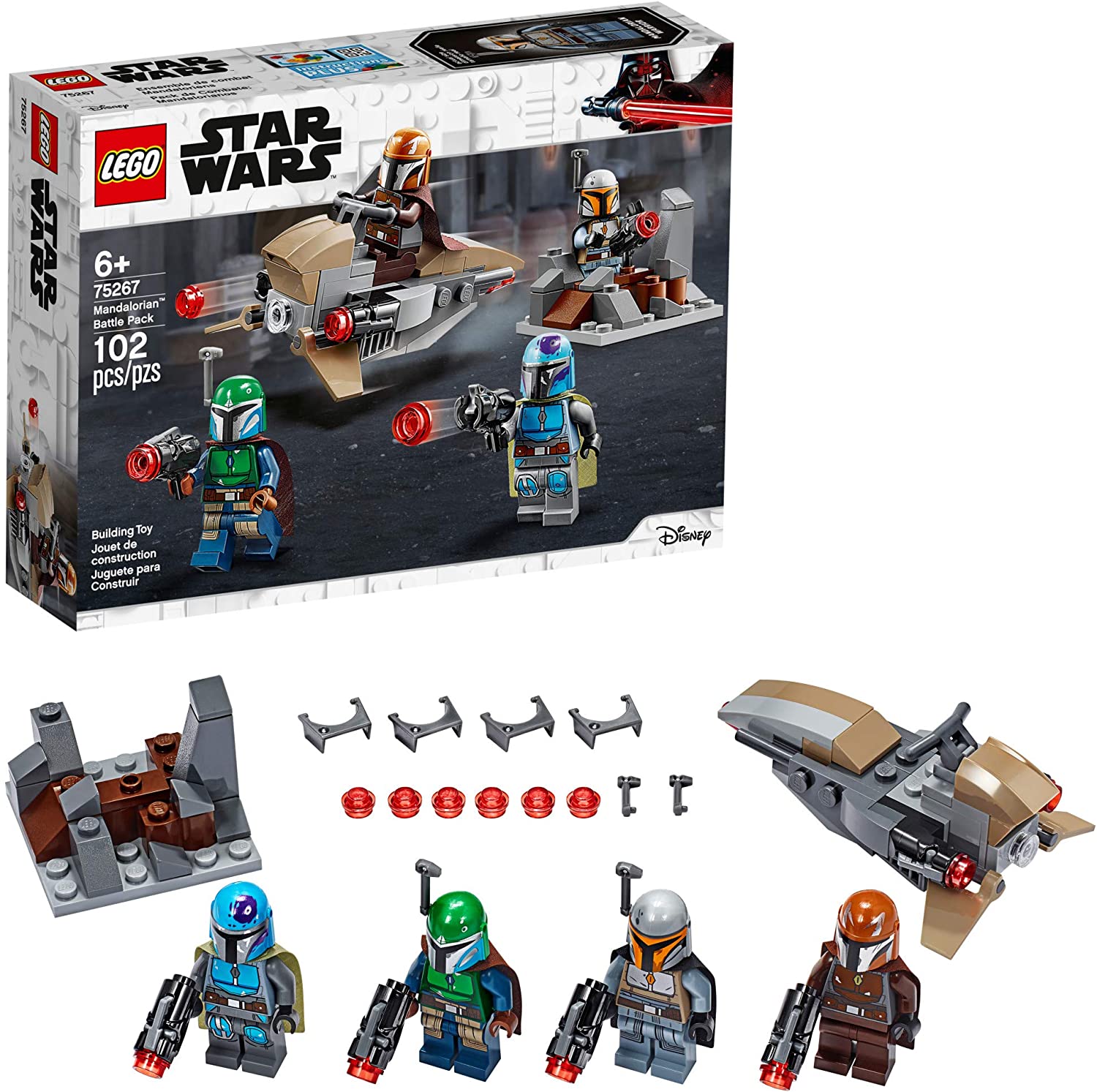 The penultimate product in this guide is the Mandalorian Battle pack 75267 set. There are 102 pieces in total, but the main purpose of this set is the minifigures. However, before I get into those, let me tell you about the build itself.
It contains a 'Defense Fort' which sounds a lot more exciting than it actually is. Unfortunately, due to the size, it's not particularly imposing, and the whole thing is built on a 6 x 6 plate.
Still, the actual design is very fun, with a mixture of brown and gray bricks and sloped pieces. You could place one of your minifigures on it as a tactical location whilst pretending to be in a battle.
There's also a Mandalorian Speeder, which is tiny, but actually looks pretty impressive. Although it's only 3″ long, it's got a lot of detail, and it's the perfect size for a single minifigure.
Speaking of those, there are 4 that come with this set – 4 different colored Mandalorian warriors. My favorite thing about these (besides their vibrancy) is the fact that they come with blasters that actually shoot studs!
This set is also compatible with the Instructions Plus app which allows kids (or adults) to have extra building assistance digitally.
They can view the set on their screen, and see how it alters at each stage, which may be easier to follow than a regular instruction booklet. However, if you're old-school, the set still comes with the usual paper booklet as well.
The Razor Crest Microfighter
I recently built this set after finding it at my local supermarket, and I'm glad I went through with this particular impulse buy. The Razor Crest Microfighter 75321 set is only $9.99, making it the cheapest of all the sets based on The Mandalorian.
The whole build took me about half an hour, which makes sense as there are only 98 pieces (I like to relax when building LEGO, so I'm not as quick as some fans).
This is essentially a really simplified version of the Mandalorian's spaceship the Razor Crest. The funny thing is, even though it's got less than a tenth of the number of pieces as the main Razor Crest set, you can still clearly tell what ship it's supposed to be.
The proportions are off, particularly with the height of the body, but the engines on the side make it recognizable.
Despite being small enough to fit in your hand, it actually has some interactive features. The cargo bay door hinges up and down, which I think is super cool.
But my favorite thing about this set is that it fires little red studs. They've got a surprising amount of power behind them, too. I was able to launch one over 5 metres, and it only stopped because it hit the wall!
It comes with a minifigure of the Mandalorian, which fits neatly in the cockpit of this Microfighter. He has a jetpack and a blaster as his accessories. Given how cheap this set is, I would heartily recommend picking it up if you see it, as it's a fun addition to any LEGO Star Wars collection.
FAQs
Question: Where Can I Watch The Mandalorian?
Answer: Currently, the only legal platform where you can watch The Mandalorian is Disney+. Disney bought the rights to Star Wars in 2012, and has since released many entries in the franchise, including The Mandalorian.
Question: How Many Lego Sets are There for The Mandalorian?
Answer: Technically there are 13 sets that are officially based on The Mandalorian (as of March 2022). However, I also count The Mandalorian's N1 Starfighter.
Although it's technically based on The Book of Boba Fett, the specific set is from a crossover episode with The Mandalorian, and so I see it as belonging in this guide. So I'd say there are 14 sets that could feasibly be considered as The Mandalorian Lego sets.
Question: Will The Mandalorian Be Getting a Season 3?
Answer: It will indeed! Filming for season 3 of The Mandalorian began in October 2021, and the finished season is expected to be released at the end of 2022. However, Disney hasn't officially confirmed a date yet.
Conclusion
Hopefully, this guide has given you a good idea of what to look out for when choosing which LEGO sets to buy based on The Mandalorian. There's a fantastic range, and most of them are priced very fairly.
Whether you're looking for a toy for a child, or a perfect display piece, you'll find what you're looking for in this guide. The Mandalorian is an incredible show, and LEGO has picked some fantastic moments to immortalize in brick form. I can't wait to see what they come out with when season 3 is released!
Recommended Reads: