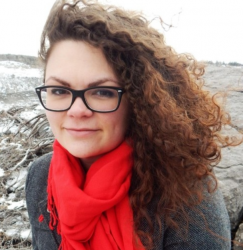 Latest posts by Candace Osmond
(see all)
Are you a Marvel fan itching to get your hands on the LEGO Marvel Avengers: Avengers Tower Battle 76166? Got someone who religiously collects Marvel LEGO sets and they've got to have a replica of Stark Tower?
Today, I'm going to go over this popular LEGO set and talk about what sets it apart from alternative LEGO Avengers Towers. Ready? Suit up and let's move out!
About the LEGO Avengers Tower
Firstly, let's get into what makes this LEGO Avengers Tower special. Model 76166 comes with different mini-figures, accessories, and interactive elements that other Stark Tower LEGO sets don't have. With 5 floors and 7 interactive rooms, this tower is perfect for those looking to customize their own set-up.
When It Was Made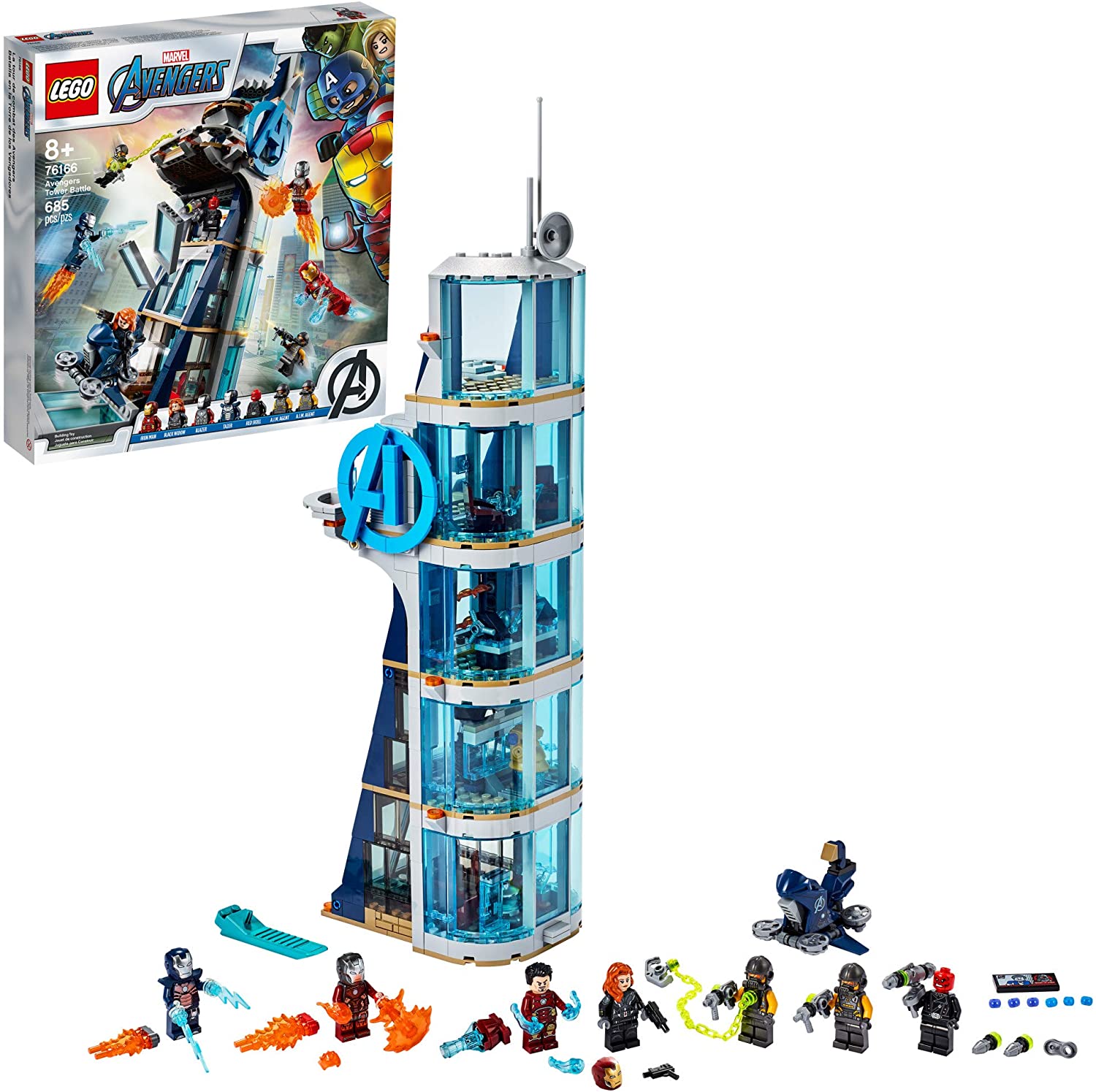 This LEGO set is relatively new. It was first released in 2020, so it provides fans with an updated version of the Avengers Towers that LEGO has previously come out with.
Even though the Avengers franchise wrapped up with Avengers: Endgame in 2019, we're lucky that the steady stream of Avengers merchandise hasn't petered out.
Other Versions
I'm going to talk about 2 alternative LEGO Avengers Tower sets further down in the article. These alternative sets are the:
LEGO Avengers Tower 40334
LEGO Super Heroes Attack on Avengers Tower 76038
Neither of these sets comes with as many mini-figures as 76166, but each has its own perks. 40334 is much less expensive than 76166, and 76038 offers a host of accessories.
Inspiration for the LEGO Avengers Tower
Stark Tower is the inspiration behind the LEGO Avengers Tower. Stark Tower is Tony Stark's HQ for hero activity both for himself and the rest of the Avengers. The trademark Avengers "A" can be found at the top of the building, which each LEGO replica of the tower has included.
Pros and Cons of the LEGO Avengers Tower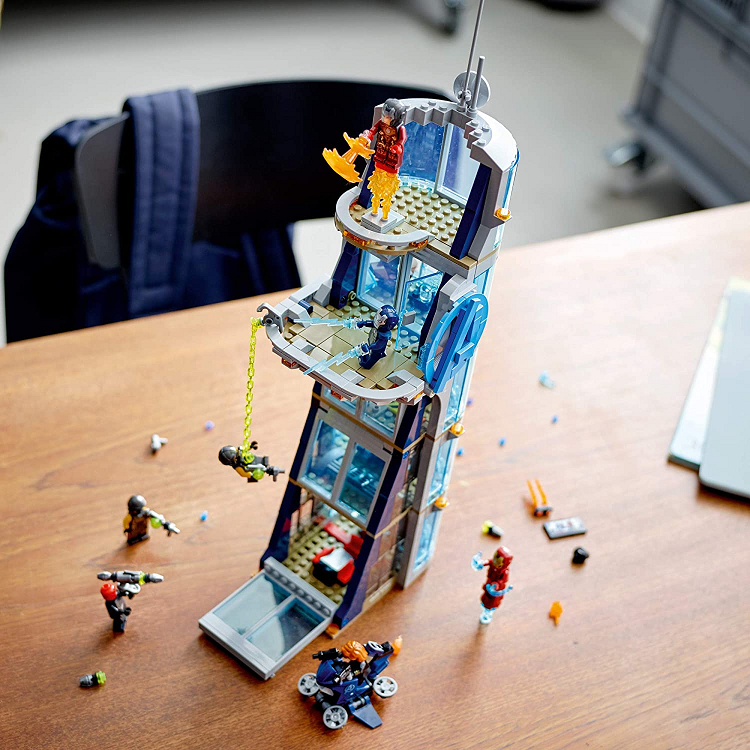 Still not sure if the LEGO Avengers Tower 76166 is right for you? I've put together this quick list of pros and cons to help you decide. Arguably, this updated Avengers Tower is one of the best Avengers Towers (if not the best) since it seems like an upgrade from other versions, but let's see what you think.
Pros

 

7 mini-figures included
You can see into each room with see-through windows
5 floors and 7 rooms
Accessories for each mini-figure
Interactive elements
Fold-out design for easy play
Blazer and Tazer equipment for Tony Stark mini-figure
17 inches tall

Cons

 

Over $100
Not great for kids younger than 8 years old
Key Features of the LEGO Avengers Tower
By taking a look at some key specs, you can see for yourself how this Avengers Tower offers new elements that previous Avengers Towers didn't have. Avid collectors and new LEGO builders alike can gain a valuable piece in their collection with this set.
How Many Pieces?
There are 685 pieces in the LEGO Marvel Avengers: Avengers Battle Tower 76166. This may sound like a lot, but I'm going to show you a helicarrier LEGO set later with thousands of pieces. I'd say this set has a moderate number of pieces best for intermediate LEGO enthusiasts.
What Characters are Included?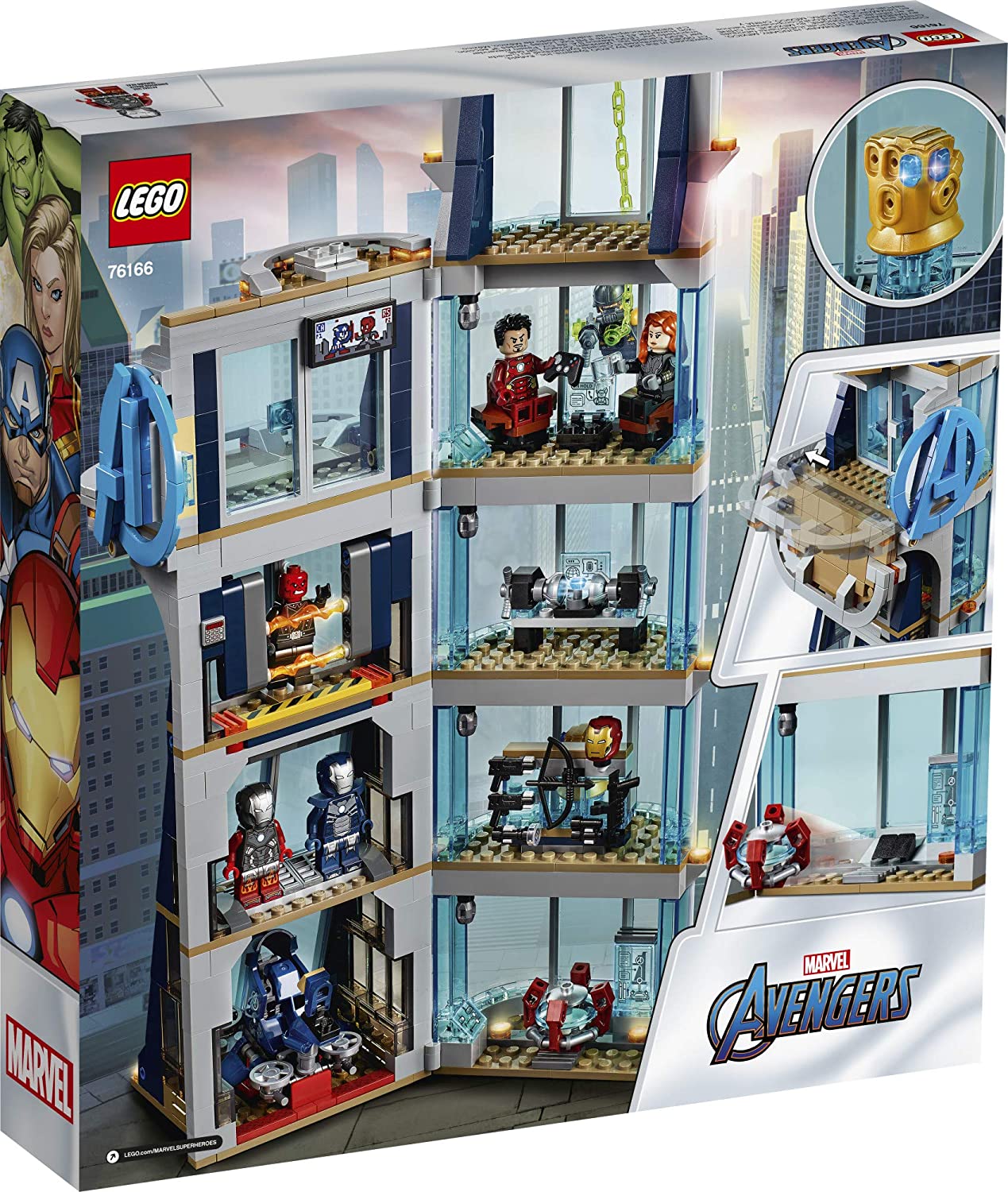 Here's a list of the mini-figures you'll get with this LEGO Avengers Tower set:
Iron Man
Black Widow
2 Iron Legions
Red Skull
2 A.I.M. Agents
How Long Will it Take to Assemble?
There are so many tiny LEGO bricks in this set! It's going to take you hours to build this tower, so it's definitely a time-consuming project. Compared to some LEGO sets with thousands of pieces, it shouldn't take you weeks or months.
What Age Range is it Best for?
LEGO recommends this set for anyone 8 years old and up. You could probably buy this for kids a little younger than that, like 6 or 7, if someone older is there to help them assemble it. Adults won't be bored assembling this set, either, which makes it ideal for older Marvel fans, too.
Price Range
You're going to pay around $130-$170 for 76166. Yeah, it's a bit of a high price, but this is a large set that's meant to provide hours and hours of entertainment. Typically, the more pieces in a LEGO set, the higher the price.
Interactive Features
In each of the 7 fold-out rooms inside the Avengers Tower, you can rearrange and interact with certain elements. The 7 interactive rooms included are:
Black Widow's Sky Cycle garage
The armory room
The Arc Reactor room
A jail
A tech lab
2 balconies
Where You Can Buy
Interested in buying this LEGO set for yourself? Here are 4 places online where you can find the LEGO Avengers Tower 76166:
Is the LEGO Avengers Tower Right for You?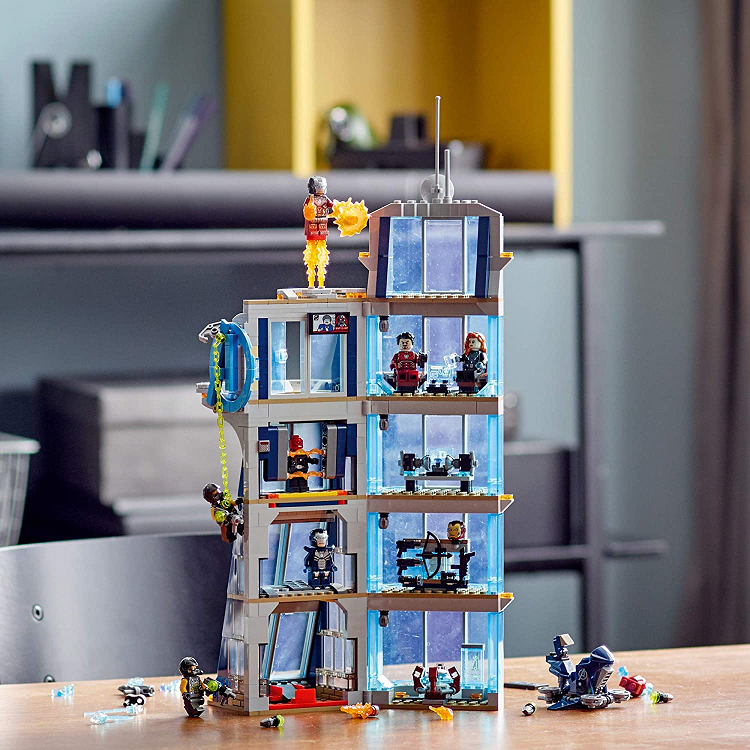 This section will help you determine whether 76166 is the perfect LEGO Avengers Tower for either you or a loved one. Marvel has a vast amount of LEGO products, so if this isn't the tower for you, never fear! The next part of the article will go over alternatives to 76166.
For You or Someone Else?
Is this a gift from you to you? Or is this a gift from you to someone else? If you're just buying for yourself, then no need to read any further into this next section! If this LEGO set is a gift for someone else, consider:
Who are their favorite characters?
Whether they like heroes or villains
If they like Stark Tower
Whether they like Iron Man
If they like to build LEGO sets
Age Appropriate
The LEGO Avengers Tower 76166 is meant for kids 8 and up. That doesn't mean this LEGO set isn't fit for adult fans, too, because this tower is sure to consume hours of someone's time. If you're buying for a younger kid, LEGO makes easier-to-build Marvel sets.
Not a Repeat Gift
As you've seen, there are several alternatives to the LEGO Avengers Tower we're going to go over. If you're buying this LEGO set as a gift, make sure the Marvel fan you're buying for doesn't already have this set.
It's okay if they have an alternative set because no Marvel fan would be mad about building a new LEGO set featuring the most iconic tower in the franchise.
Alternatives to the LEGO Avengers Tower
Not sold on the 76166 LEGO Avengers Tower? Perhaps you'd like to see a few more options before making a final decision? In that case, I have 3 great alternatives to the LEGO Avengers Tower for you to look through.
Each of these offers varying levels of complexity, different mini-figures, and interactive elements. If you're a mega Marvel fan and LEGO fan, you might as well pick up all 3, right?
LEGO Avengers Tower 40334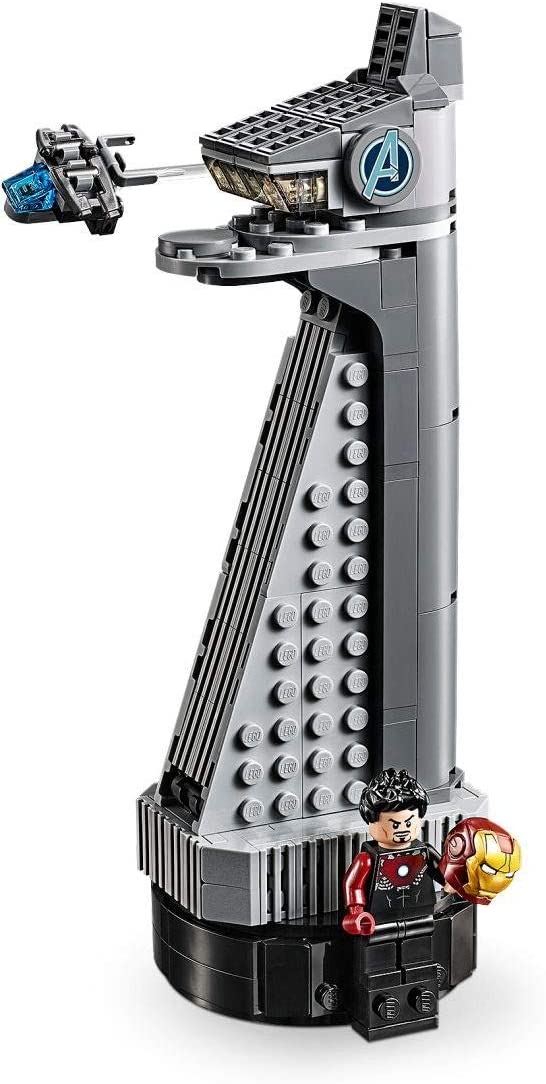 Best for: Price
On the lookout for a wallet-friendly alternative to the LEGO Avengers Tower we've been talking about? I've got you covered with this one. This Avengers Tower doesn't have see-through windows like the other tower sets, but it has the iconic features found on Stark Tower like the Avengers A.
Price Range: $52-$62
Number of Pieces: 211
Age Range: 10+
Tony Stark is included with this set. You can choose to keep his helmet on or take it off to see his face. Fun Fact: This set was created to commemorate Marvel Studios' 10th anniversary with LEGO.
Pros
Least expensive LEGO set on the list
Tony Stark mini-figure included
Great for older kids and adults
Cons
You can't see inside the tower as in the other sets
LEGO Super Heroes Attack on Avengers Tower 76038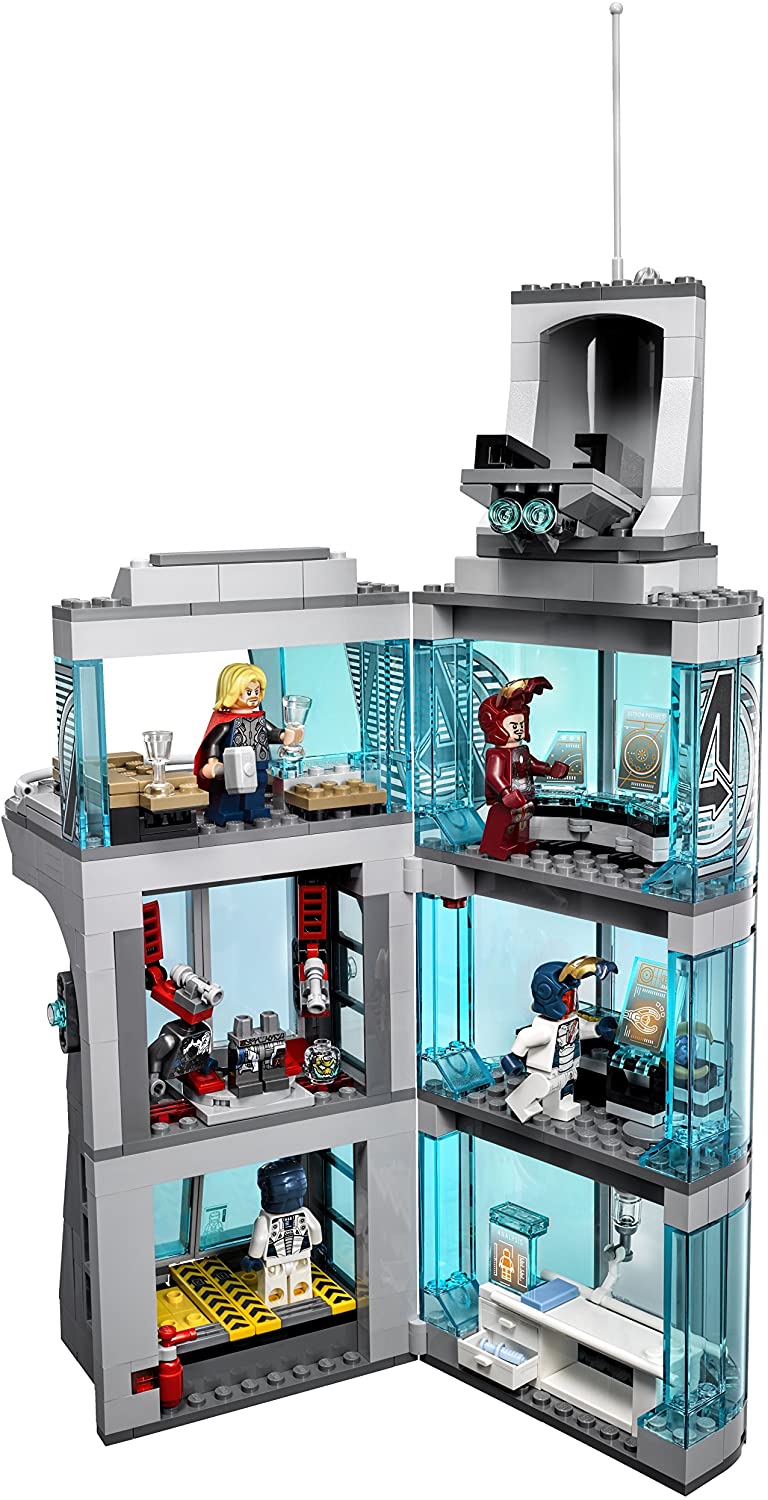 Best for: LEGO Avengers Battle Tower 76166 Alternative
This is the best alternative to the LEGO Avengers Tower we've discussed above. Like the previous tower, this tower has see-through windows and different interactive elements in each room.
Price Range: $240-$260
Number of Pieces: 511
Age Range: 7-14
I love that this tower has a fold-out design, so it's easy to access each room when you want to arrange what's inside them. At 14" tall, this Avengers Tower will sit at an impressive height amongst your other Marvel LEGO sets. The 5 mini-figures you'll receive with this action-packed set are:
Iron Man
Thor
Ultron
2 Iron Legions
Pros
Each room in Stark Tower has interactive elements
Comes with 5 Marvel mini-figures
Accessories like Thor's Hammer and a Super Jumper included
Cons
Loki's Scepter is included, but no Loki mini-figure
LEGO Marvel Super Heroes 76042 Shield Helicarrier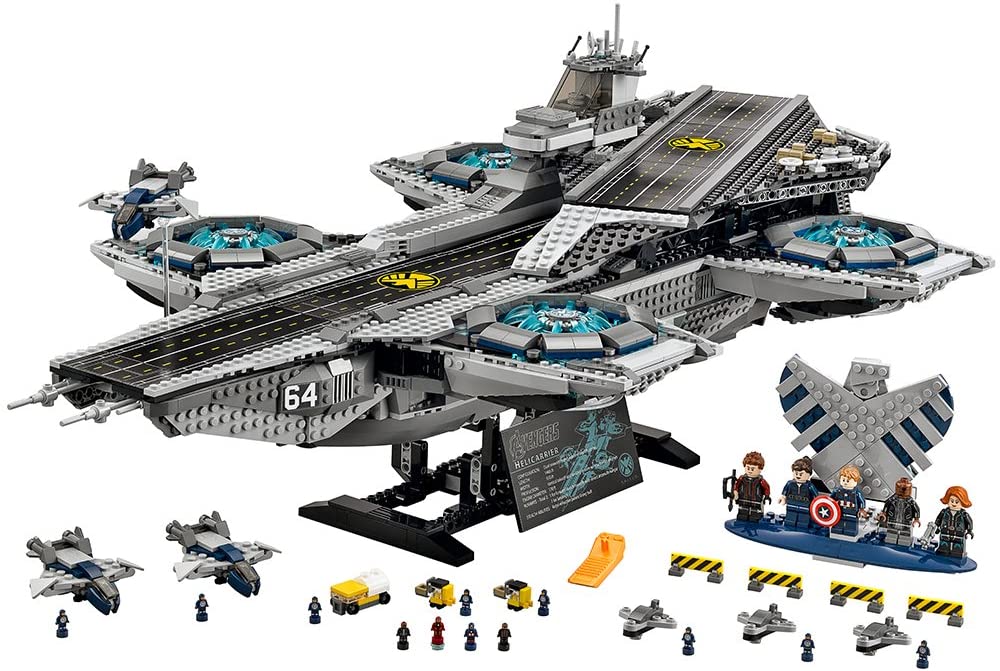 Best for: Best Overall
If you're a LEGO Marvel superfan and you want a real challenge, here it is. This helicarrier from the first Avenger's movies has a whopping 2,996 pieces.
Price Range: $720-$760
Number of Pieces: 2,996
Age Range: 16+
You'll have to buy the lights and spinning rotators separately if you want to add them, but if you do, they'll add even more interactivity. A plaque describing the helicarrier and various accessories are already included. The 5 mini-figures you'll get with this set are:
Nick Fury
Black Widow
Captain America
Hawkeye
Maria Hill
Pros
Enormous LEGO set with a huge amount of accessories
5 mini-figures included
You can add interactive elements like lights and spinning rotators
Cons
FAQs
Before you go off to assemble your own LEGO Avengers Tower, I'd like to answer your most frequently asked questions about these popular sets. Got another question you don't see in the section below.
Question: Where is the Avengers Tower in Real Life?
Answer: I have some bad news, folks. The Avengers Tower, also known as Stark Tower, is entirely fictional. You can walk up and down the streets of New York City, but unfortunately, you won't find Tony Stark's multimillion-dollar project towering overhead. Listen, no one's more upset about this than me.
Question: How Tall is the Avengers LEGO Tower?
Answer: The Avengers LEGO Tower we've gone over today, the LEGO Marvel Avengers: Avengers Tower Battle 76166, is 17 inches tall. This tower is an impressive height that can stand tall above your other LEGO sets.
Question: Is the LEGO Avengers Tower Good for Toddlers?
Answer: No, I wouldn't recommend this LEGO set for toddlers. There are 685 pieces in this set, a long instruction manual, and even interactive elements that can be difficult for toddlers to figure out. Not to mention, many of the tiny LEGO blocks and accessories in this set can be choking hazards for toddlers.
Avengers Assemble!
Are you ready, Avengers? It's time to assemble your very own LEGO Avengers Tower! I hope you found it helpful to learn about the details of this iconic LEGO set with popular Marvel mini-figures.
Are you planning on picking up this LEGO set for yourself or a fellow hero friend? Let me know in the comments below! For even more great LEGO guides, have a peek at our list of the best Marvel mini figures!
Recommended Reads: