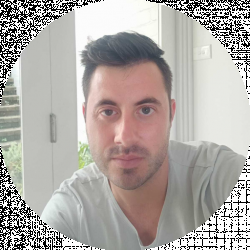 Latest posts by David Borgogni
(see all)
The smartest droid in the universe has been a fan favorite for decades, and he is also one of the most prominent characters in the LEGO Star Wars theme. However, most of the best LEGO R2-D2 sets aren't based solely on this charming robot.
LEGO published only five sets inspired by R2-D2 since introducing the Star Wars theme to its product portfolio, but three of these models were released more than a decade ago.
In this article, I will take a closer look at the nuts and bolts of the best LEGO R2-D2 sets and recommend some of the most popular models LEGO released in the last few years. Please read our guide to the best LEGO Yoda sets for more information about models featuring this Star Wars character.
Bottom Line Up Front
The R2-D2 75308 is the best active LEGO R2-D2 set for adult LEGO and Star Wars fans with a considerable set-building experience. The Luke Skywalker's X-Wing Fighter 75301 playset is one of the best options for young LEGO builders.
At a Glance – The Ten Best LEGO R2-D2 Sets
Selection Criteria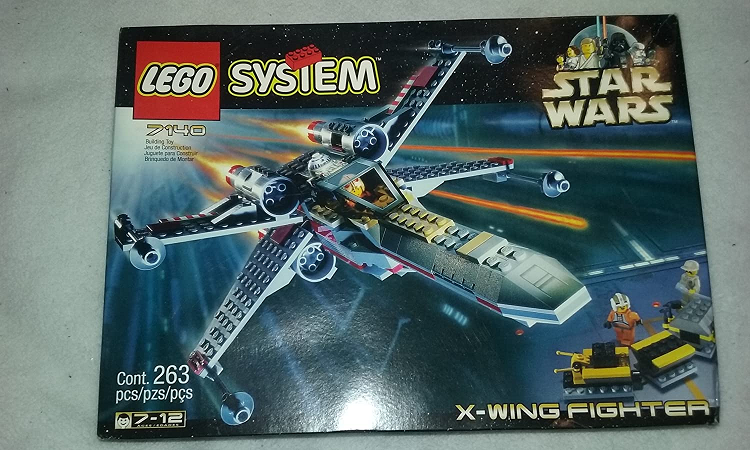 LEGO published more than fifty sets with R2-D2 Minifigures and display models since 1999. However, most of these sets were discontinued long ago, which made the selection process simple, as I only considered models published in the last five years.
The final selection of R2-D2 sets you'll find in this article comprises active and retired models so that you can choose the option that fits your needs. In addition, I utilized other parameters that allowed me to shortlist the best LEGO R2-D2 sets, so let's take a look at them.
User's age and experience – My main goal was to identify R2-D2 sets designed for young and adult audiences during the selection process. The models I included in this article are suitable for all LEGO fans regardless of their age and set-building experience.
Affordability – I used this criterion to find the best R2-D2 models in different price ranges so that you can learn more about models suitable for high and low budgets.
Our guide to the best LEGO Stormtrooper sets can help you discover the best-selling models from the Star Wars theme inspired by imperial soldiers.
Overview of LEGO R2-D2 Sets
The Star Wars theme started in 1999 with the release of the X-Wing Fighter 7140 set that contained Luke Skywalker, Rebel Mechanic, Biggs Darklighter, and R2-D2 Minifigures. That same year, LEGO published the Droid Developer Kit 9748 within the Star Wars Mindstorms subtheme of the Technic theme.
This set had 657 pieces and allowed builders to construct and program L-3GO and R2-D2 droids. The toymaker released the R2-D2 8009 set that contained LEGO Technic pieces three years later.
In addition, LEGO continued to release different versions of the 1999 X-Wing Fighter set, and each of these models featured an R2-D2 Minifigure. Jabba's Message 4475, Droid Escape 7106, or Mos Espa Podrace 7171 are also among the early LEGO Star Wars sets featuring the droid's Minifigure.
However, none of these sets were based entirely on this Star Wars character, and the R2-D2 10225 released in 2012 was the first model to feature the droid's display model after the early sets from the late 1990s and early 2000s.
Since then, LEGO released Droid Commander 75253 and R2-D2 75308 sets that contained the R2-D2's figure. Please go through our guide to the best LEGO lightsaber sets if you're looking for models inspired by these weapons.
Characteristics of LEGO R2-D2 Sets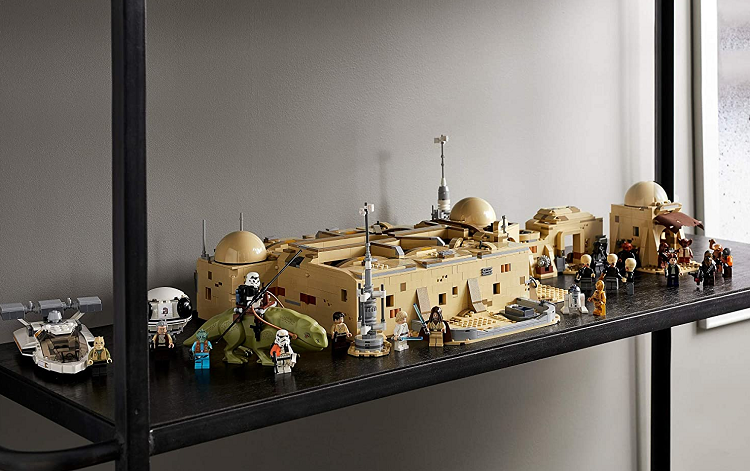 Playsets featuring an R2-D2 Minifigure have the same characteristics as all other sets from the Star Wars theme. Most models contain Star Wars-themed spaceships or locations.
Their piece counts vary from two hundred to more than three thousand pieces, so the number of Minifigures or accessories in a LEGO R2-D2 set depends on a model. It's worth noting that some but not all display R2-D2 sets feature the droid's Minifigure, but none of these models comes with a lot of accessories.
Most R2-D2 sets are easy to build and require little to no previous experience. However, LEGO also published several models based on this character designed for adult Star Wars fans. Constructing these sets is challenging as they usually have a few thousand pieces.
Our guide to the biggest LEGO sets can help you discover the most popular LEGO models with high piece counts.
R2-D2 Minifigures
LEGO released more than ten variants of the R2-D2 Minifigure in the last two decades. The original variant was featured in all sets published within the Star Wars theme from 1999 until 2008. This version of the Minifigure had four parts, and it became a blueprint for other Star Wars droids.
The first redesign of the Minifigure took place in 2008 when LEGO replaced the head of the Minifigure's original version. That year, LEGO created the Clone Wars version of the R2-D2 Minifigure, but this variant appeared in a handful of sets.
This Minifigure was also redesigned in 2014, 2018, and 2020, but the differences between these variants are miniscule. LEGO also published R2-D2 Minifigures in annual Advent Calendar sets or polybag sets that looked different from variants included in regular Star Wars sets.
Please browse through our guide to the best LEGO Star Wars Minifigures if you'd like to learn more about LEGO Minifigures based on Star Wars characters.
Retired LEGO R2-D2 Sets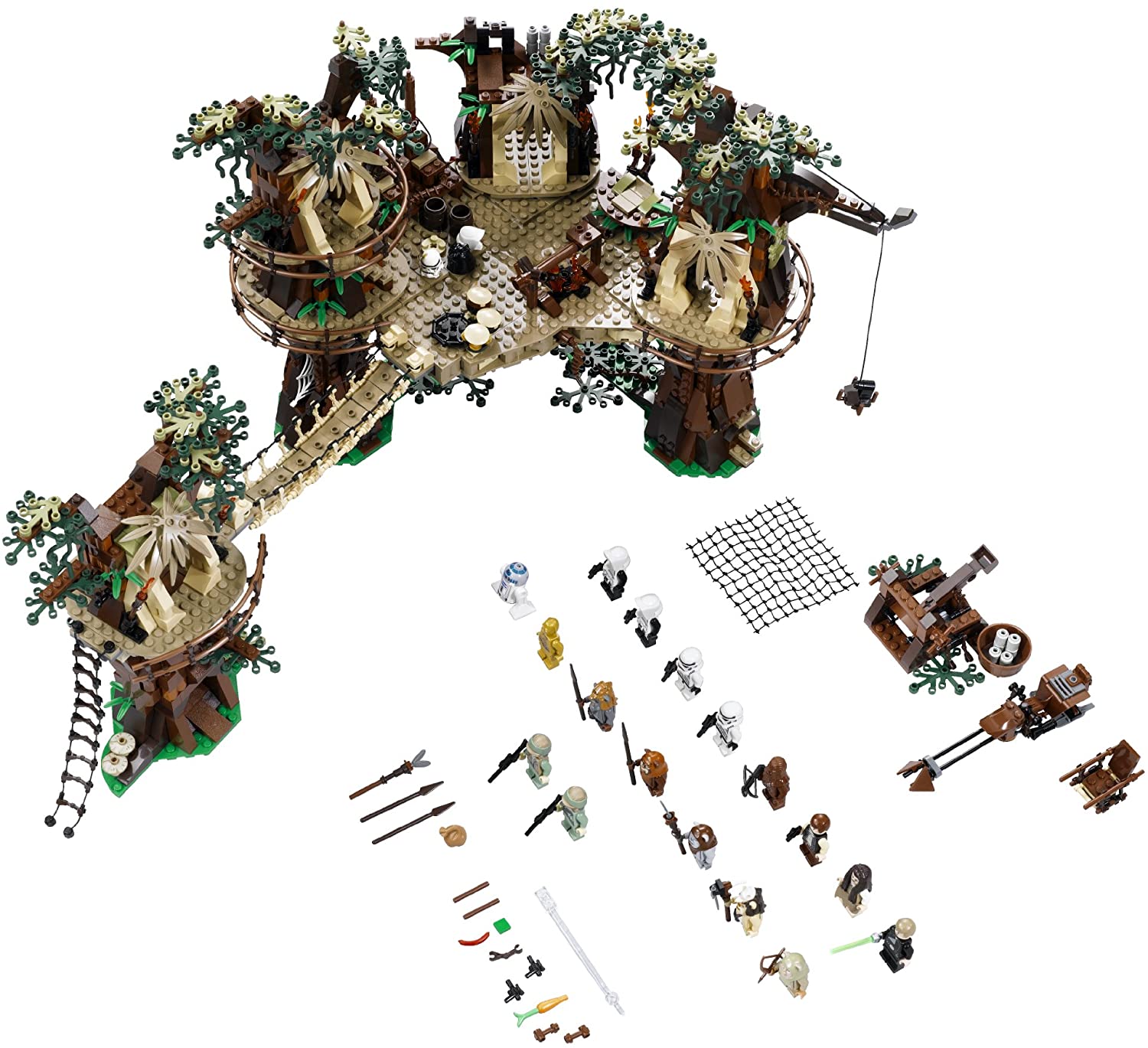 Retired sets are more expensive than active ones, and they don't always arrive in their original packaging. They remain in LEGO-certified stores until they run out of stock. However, most R2-D2 models are no longer available in stores, and you can only find them online.
Being familiar with discontinued R2-D2 sets can be useful if you're planning to search for these sets in online stores. Here are some of the retired R2-D2 models you might encounter.
The sets I've listed above were released between 2013 and 2017. Their features are similar to those in active R2-D2 sets, so there's no reason to overspend on any of these models unless you're collecting old sets with R2-D2 Minifigures.
Check out our guide to the best Amazon LEGO sets if you're considering shopping for a LEGO set online.
The Key Factors to Consider while Choosing a LEGO R2-D2 Set
Piece count and age group
Display sets Vs. playsets
Minifigures and accessories
Price range
Set's release date
Top 10 LEGO R2-D2 Sets
R2-D2 75308
The R2-D2 75308 is the only active R2-D2 set featuring the character's display model. The set has 2,314 pieces, including a unique brick created to celebrate the 50th anniversary of Lucasfilm Production Company.
The detailed model has a rotating head with a rising periscope, a retractable mid-leg, and a hidden compartment featuring Luke Skywalker's lightsaber. The set comes with a display stand for the R2-D2 Minifigure and an informative plaque that offers facts about the droid.
Pros
The R2-D2 figure has extendable hatches
Rewarding construction experience
This set is collectible
Sturdy and elegant design
Cons
This set is expensive
It's only suitable for adult LEGO fans
Millennium Falcon 75257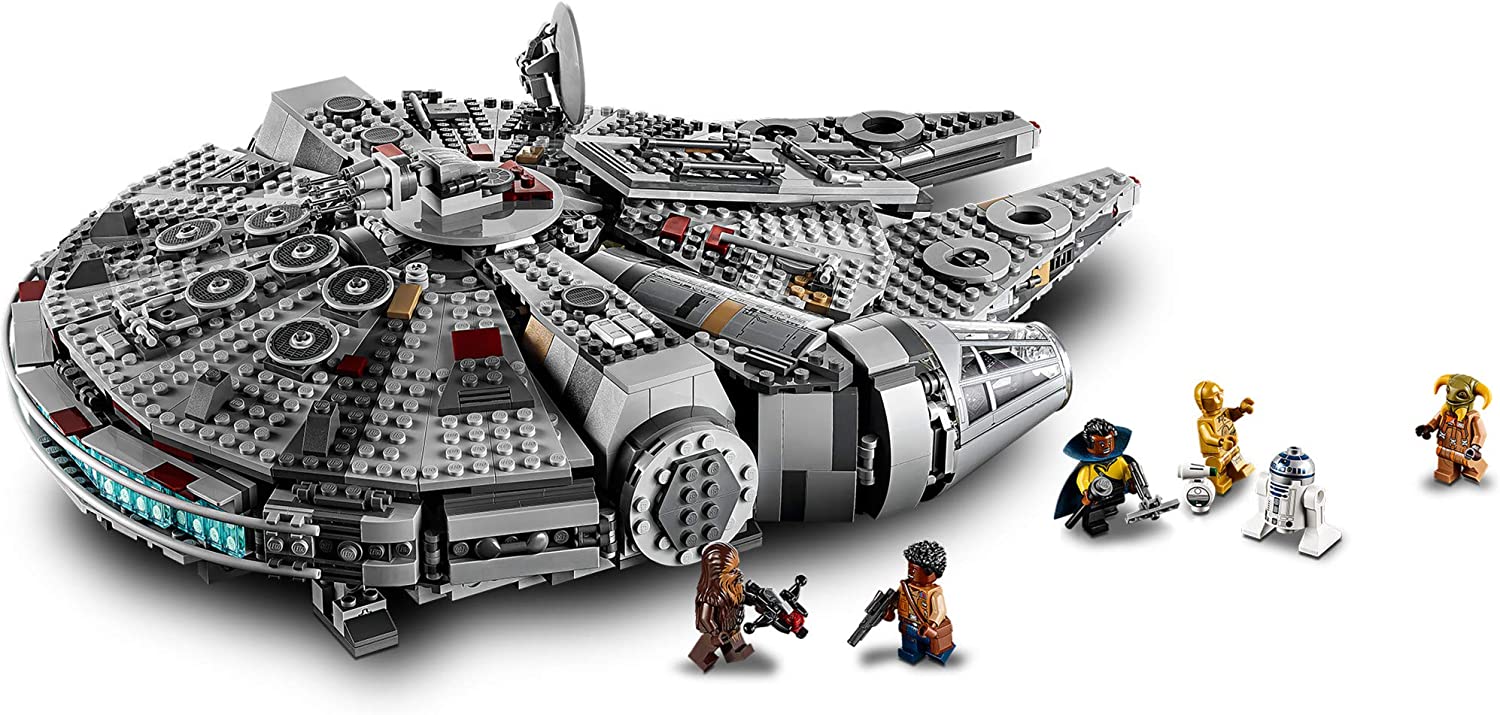 You shouldn't confuse the Millennium Falcon 75257 with the larger Millennium Falcon 75192 set that doesn't have an R2-D2 Minifigure. The smaller version of the Millennium Falcon set contains R2-D2 Chewbacca, Fin, Boolio, Lando Calrissian, 3-CPO, BB-8, and D-O Minifigures.
The toy starship has a lowering ramp, two rotating gun turrets, an opening cockpit that accommodates two Minifigures, and a pair of stud shooters.
Also, you can open its top panels to access the ship's interior, which has a smuggling compartment, navigation computer, Dejarik hologame table, and other fun details.
Pros
Children aged nine or older can recreate scenes from Star Wars movies
Simple building instructions
It encourages active play
The starship has a rich interior
Cons
You cannot close the top panels with Minifigures inside the starship
The set has just three weapons
Droid Commander 75253
Besides allowing children to build a display model of the most lovable droid in the Star Wars universe, the Droid Commander 75253 set can also help them learn basic coding.
R2-D2, Gonk, and Mouse Droids are equipped with color and distance sensors, a Bluetooth Move Hub, and interactive motor elements that are easy to install. Each droid can perform forty missions in the LEGO BOOST Star Wars App.
During each mission, kids can build obstacles, tools, and weapons within the interactive coding environment.
Pros
This set received the Toy of the Year award in 2020
It has a high learning potential
Droids are equipped with weapons and tools
It's easy to build
Cons
Kids can use only one droid at a time within the app
This set is retired
Obi-Wan's Hut 75270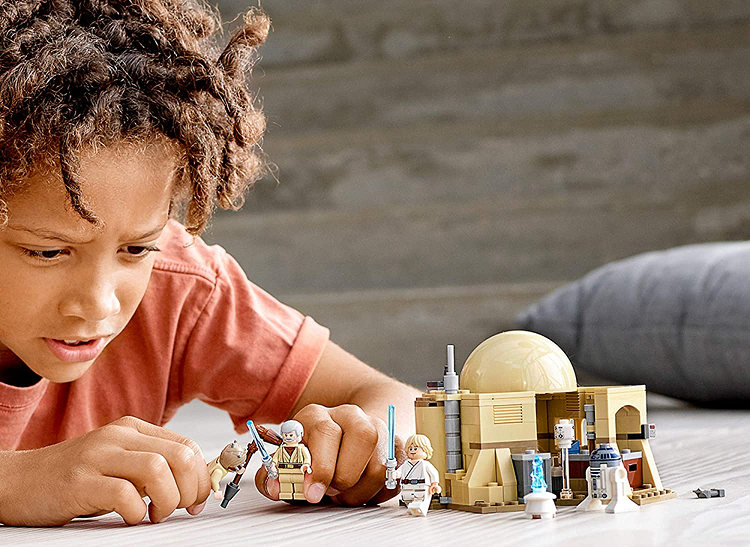 A small and affordable set like the Obi-Wan's Hut 75270 can be an excellent introduction to Star Wars and LEGO worlds for first-time builders. This set has 200 pieces, but it offers a wide array of play options despite a low piece count.
The Obi-Wan's Tatooine hut model is equipped with different accessories, and it is 3 inches tall and 4 inches wide. The set comes with R2-D2, Luke Skywalker, Obi-Wan Kenobi, and Tusken Rider Minifigures, and it features a Princess Leia hologram piece.
Pros
The set has two lightsabers and other accessories
An excellent choice for novice LEGO builders
It's based on the Star Wars: New Hope movie
This set isn't expensive
Cons
Children over ten might find the set underwhelming
This set is hard to find
Tantive IV 75244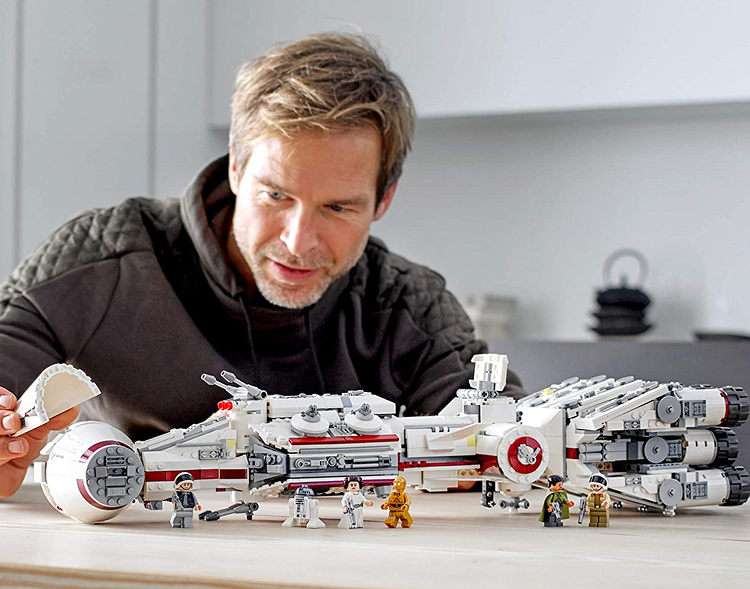 Fans of the original trilogy will enjoy building the Tantive IV 75244 set because it's packed with references to the movie that launched the Star Wars franchise. In addition to the R2-D2 Minifigure, the set contains Princess Leia, C-3PO, Rebel Fleet Trooper, Bail Organa, and Captain Antilles Minifigures.
The impressive Tantive IV toy has 11 engines and an elongated hull. It features a cargo section, a two-Minifigure cockpit, escape pods, rotating turrets with stud shooters, and a radar that doubles as a carrying handle.
Pros
A Minifigure can fit inside a detachable escape pod
The Tantive IV toy has spring-loaded shooters
Easy access to the ship's detailed interior
It contains unique Minifigures
Cons
The construction process has more than 200 steps
It's more expensive than most R2-D2 LEGO sets
Poe Dameron's X-Wing Fighter 75237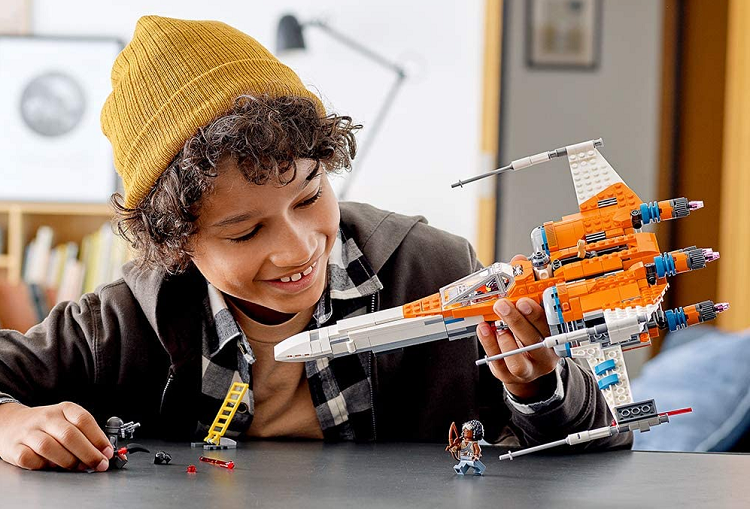 LEGO retired the Poe Dameron's X-Wing Fighter 75237 set at the end of 2021, but you can still find this model at a reasonable price. You can reposition the spaceship's wings to switch between cruise and attack modes, use its landing gear to land the toy safely or place a Minifigure in its cockpit.
In addition, the toy has sitting space for the R2-D2 Minifigure outside of the cockpit and spring-loaded and stud shooters kids can use to fire at the enemy. Poe Dameron, Jannah, and Knight of Ren Minifigures are included in the set.
Pros
The set offers a variety of accessories
It's not difficult to build
The X-Wing Fighter toy has fun features
Cons
This set is discontinued
It doesn't provide great value for the money
Luke Skywalker's X-Wing Fighter 75301
Opting for an active set like Luke Skywalker's X-Wing Fighter 75301 could be an excellent choice if you don't want to spend more than $50 on an R2-D2 LEGO set.
The replica of the X-Wing Fighter isn't very detailed. However, it still has retractable landing gear, two spring-loaded shooters, adjustable wings, an opening cockpit, and space for the R2-D2 Minifigure. Princess Leia, General Dodonna, and Luke Skywalker Minifigures are equipped with different weapons.
Pros
The X-Wing Fighter toy is 12 inches long
Kids can switch between cruise and attack modes by pushing a button
The assembly process takes less than two hours
This set is inexpensive
Cons
The front landing gear is loose
It doesn't contain a lot of accessories
Mos Eisley Cantina 75290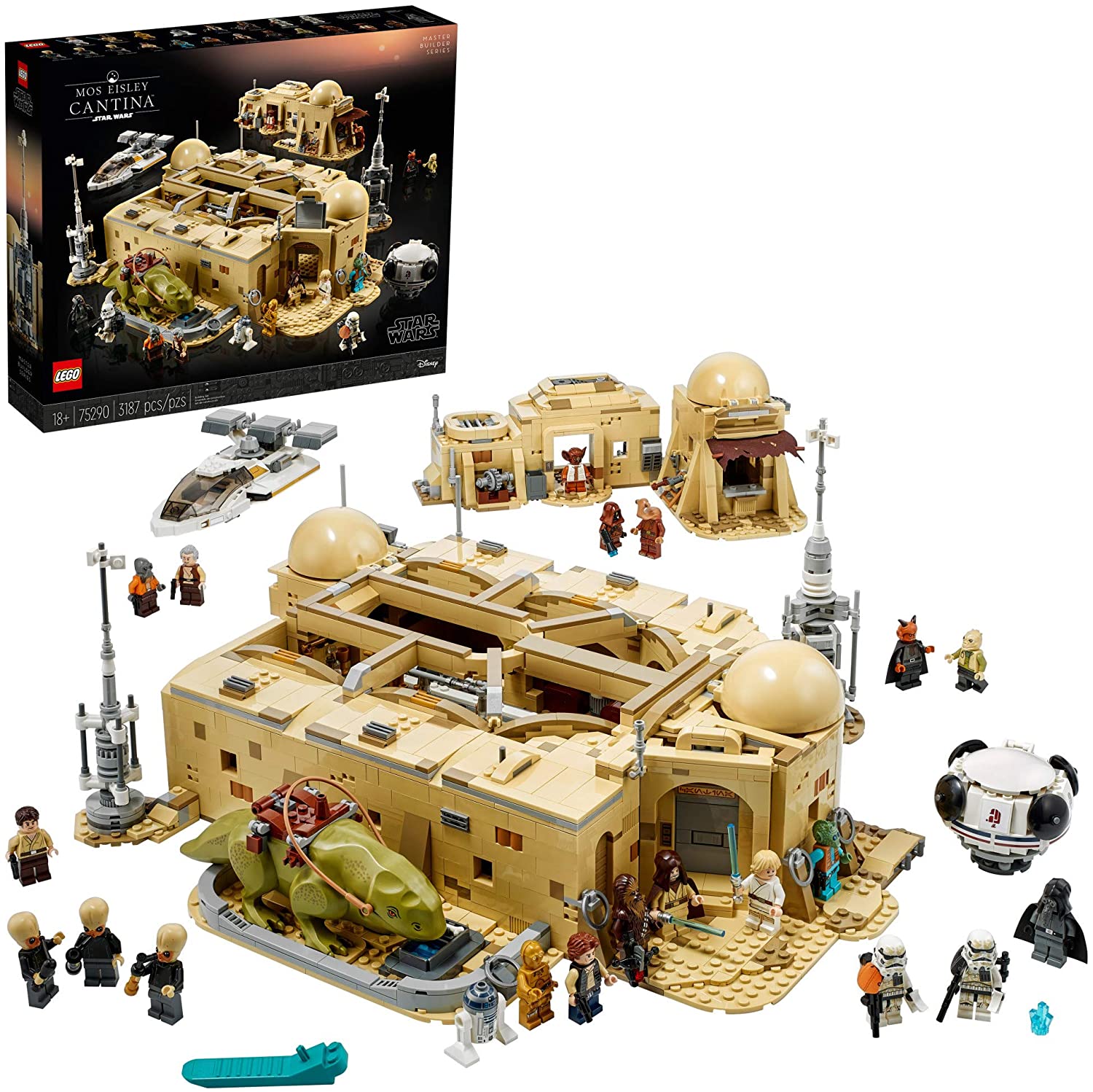 Experienced builders searching for a new LEGO project should consider getting the Mos Eisley Cantina 75290 set. This model can't be described as an exclusively R2-D2 set because it features Minifigures of more than twenty Star Wars characters.
The model of the cantina measures is 23 inches long, 7.5 inches, and 20.5 inches wide. Its incredibly detailed interior has a bar, chairs, tables in several boots, and countless other authentic elements. This set also features two V-35 Landspeeders you can use to recreate the iconic scene from the Star Wars: New Hope movie.
Pros
A beautiful and collectible display set
A wide assortment of accessories and Minifigures
The cantina model has a removable roof and two attachable buildings
Cons
The packaging is easy to damage
It's only suitable for an expert LEGO builder
Imperial Landing Craft 75221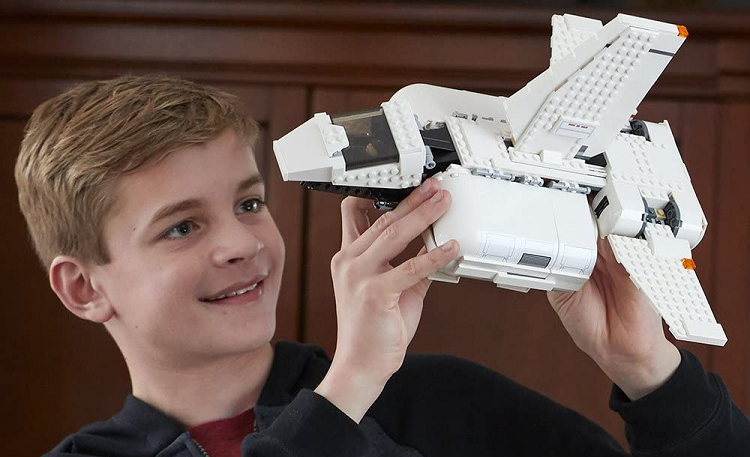 Even though it was designed for kids aged between 9 and 14, the Imperial Landing Craft 75221 is only a good option for Star Wars set collectors. This 636-piece set was retired a few years ago, and it's currently as expensive as R2-D2 sets with more than a thousand pieces.
The craft toy has an opening cockpit and a side cabin with a slide-out access ramp that can accommodate Sandtrooper and Sandtrooper Squad Leader Minifigures. The set also has Obi-Wan Kenobi, R2-D2, and Imperial Shuttle Pilot Minifigures.
Pros
The Imperial Landing Craft has adjustable wings
It's fun to play with
Simple building instructions
All Minifigures have weapons
Cons
The toy is small
It doesn't offer great value for the money
X-Wing Starfighter Trench Run 75235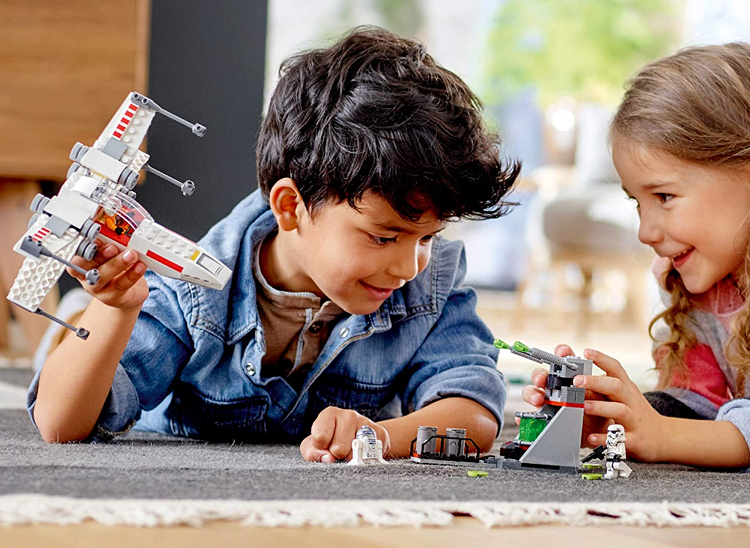 Even though it has been retired for more than two years, the X-Wing Starfighter Trench Run 75235 is still one of the best R2-D2 sets for preschoolers. Keep in mind that this set contains standard and Starter Bricks that aren't suitable for kids under four.
The X-Wing Starfighter toy is comprised of Starter Bricks, and assembling it doesn't take a lot of time. Its wings are adjustable and equipped with cannons, while the turret element has a disc shooter. This model has three Minifigures, including the R2-D2 Minifigure.
Pros
It helps children learn to build LEGO sets
The X-Wing Starfighter has an opening cockpit
Inexpensive for a retired set
It features lightsaber and blaster pistol weapons
Cons
Frequently Asked Questions about LEGO R2-D2 Sets
Question: Is LEGO Planning to Release New R2-D2 Sets in 2022?
Answer: None of the upcoming LEGO Star Wars sets is named after R2-D2, but some models will include the character's Minifigure.
Question: Are LEGO R2-D2 Sets Compatible with Other Star Wars Sets?
Answer: Yes, they are. You can combine an R2-D2 set with most models LEGO publishes within the Star Wars theme.
Question: Where Can I Find a Retired LEGO R2-D2 Set?
Answer: You should look for a discontinued R2-D2 model you'd like to get at online LEGO marketplaces and large e-commerce platforms.
Question: Do LEGO R2-D2 Sets Have Digital Building Instructions?
My Verdict: What is the Best LEGO R2-D2 Set?
R2-D2 is rarely the main protagonist of LEGO Star Wars sets. Instead, he is often featured in sets inspired by characters, vehicles, and scenes from the original Star Wars trilogy or The Clone Wars animated series.
Only five sets LEGO published since 1999 featured the droid's display model, but most of these models were retired more than ten years ago. I recommend choosing an active set like the R2-D2 75308 that will allow you to build a beautiful replica of this Star Wars character.
However, this model isn't easy to build, and a set like Luke Skywalker's X-Wing Fighter 75301 or Obi-Wan's Hut 75270 might be a better option for a novice LEGO builder. Which LEGO R2-D2 set are you going to choose?
Let me know in the comments or continue reading our guide to the best LEGO Jurassic World sets to learn more about sets inspired by this movie franchise.
Recommended Reads: