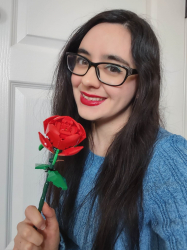 Latest posts by Samantha Valencia
(see all)
Anime and LEGO don't go hand in hand, as there aren't any officially licensed sets for a series from the company.
However, that doesn't mean builders worldwide don't have ideas about bringing together one of the most prominent manga and anime franchises to the playful block world. While Naruto may not be included in LEGO's official offerings, there are many ways to recreate it or try to. 
Naruto began as a manga created by Masashi Kishimoto in 1999 before airing with an anime adaptation in 2002. Since then, it has developed into one of the world's most prominent manga and anime franchises, with the reboot sequel series, Boruto: Naruto Next Generations being the most recent and ongoing addition.
Despite its success – and the success of other anime series over the past couple of decades – LEGO has yet to capitalize on it.
Given its popularity, it's no surprise that Naruto fans have produced LEGO-inspired versions of their favorite characters. What's more surprising is that there aren't as many Naruto LEGO Ideas or MOCs (My Own Creation) as there have been for other franchises and series.
Nonetheless, there are still quite a few standouts among the ones that have been shared online. Inspired by locations, characters, and iconic moments, these range from Brickhead styles to works-in-progress.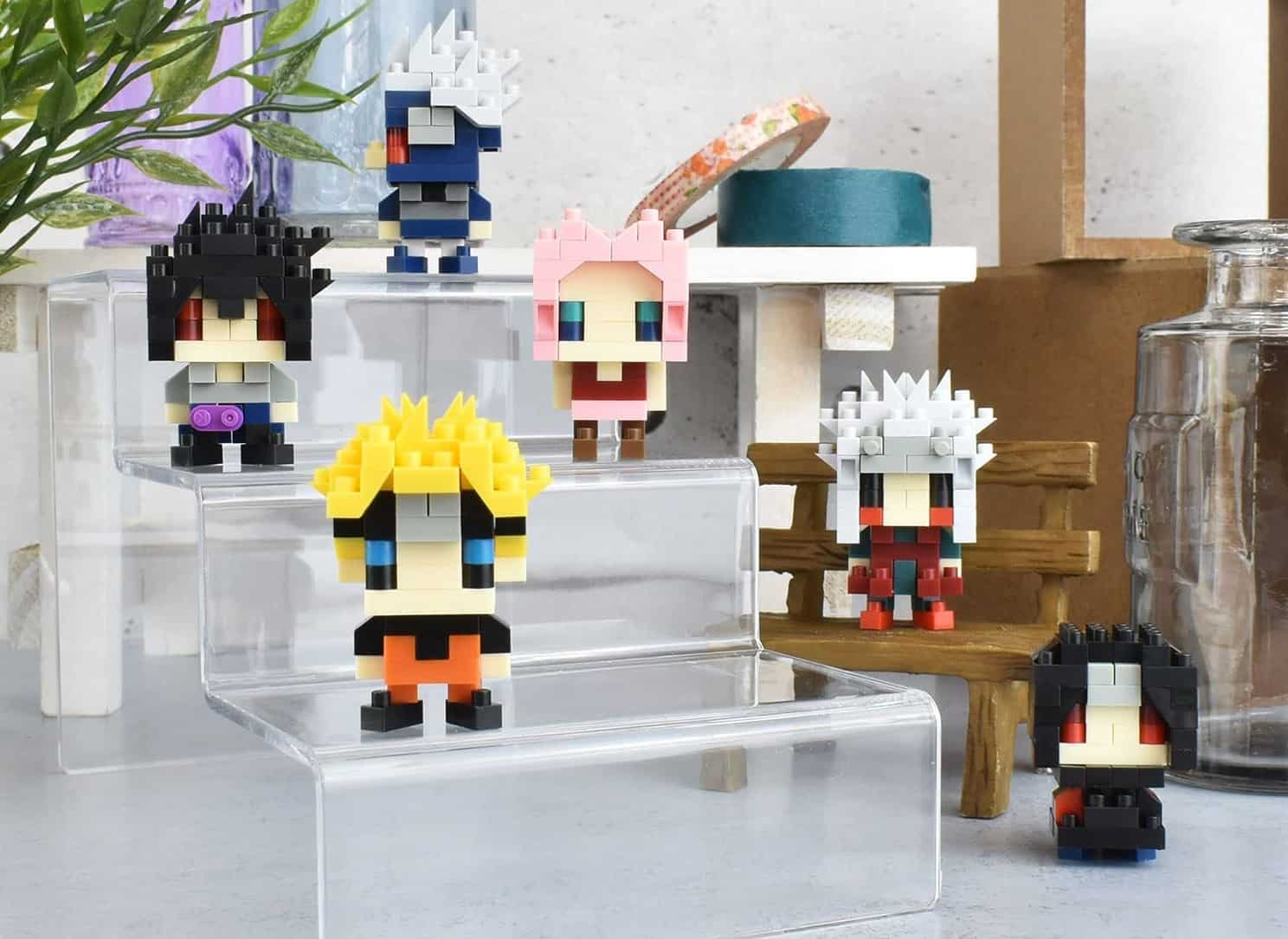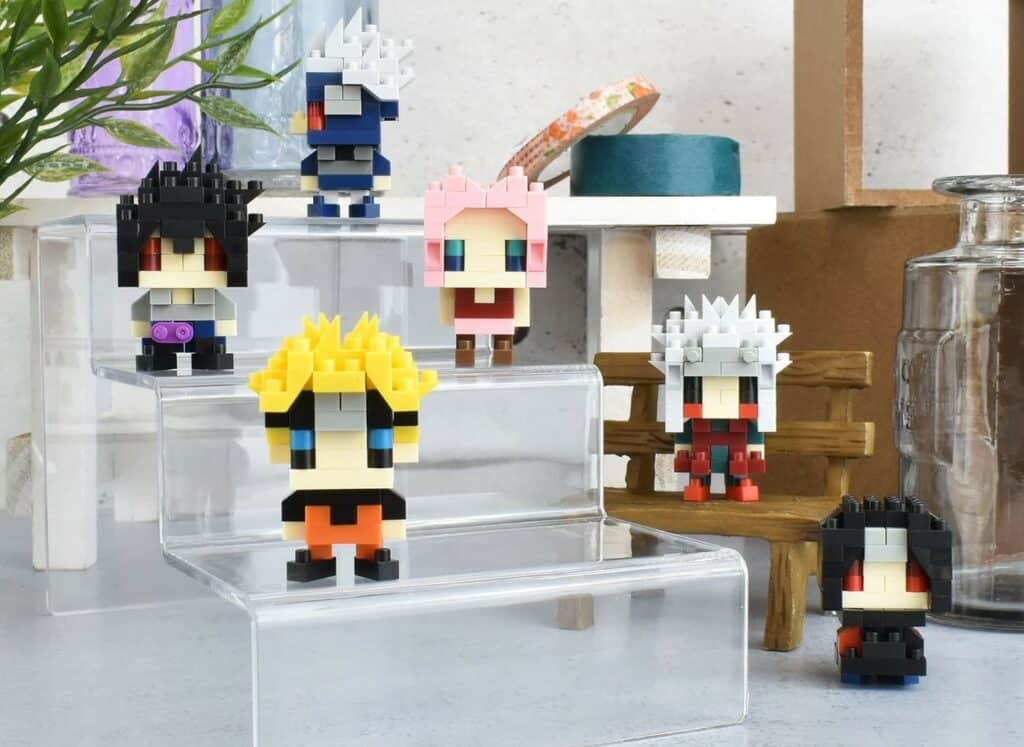 Bottom Line Up Front
While there aren't hundreds, or even dozens, of customs, my search turned up some impressive results. Yet, as a fan of Naruto, I noted several concepts not present in the community that I think would be worth building.
Unique ideas shared online include numerous Brickheadz versions of the show's characters and an in-progress project recreating the Hidden Leaf Village. With the series continuing with Boruto and remaining a shonen staple, there is a lot of potential for custom builds in the future.
Selection Criteria
When diving through MOCs online, I looked for builds that showed iconic moments or elements from the series. I was also looking for essential settings. I searched LEGO ideas, MOC sites, and social media for the most creative fan creations.
During my exploration, I noted a few missing things, which I will share later in this article, hoping they'll inspire LEGO fans and builders looking for a new Naruto project to undertake.
While there are a few custom minifigures from third parties, I am not including them, choosing to search out the best builds for this article instead of the best collectible figures of the franchise. These are the primary questions I reflected on:
Does the build read immediately as being from

Naruto

?

Does the build stand-out from other non-anime builds?

Does the build look like it would fit in with LEGO's official products?

Does the build look like something fans would want to add to their collections?
10 Best Naruto LEGO Ideas
A couple of the ideas presented here are official LEGO Idea projects shared by fans in the hopes of them becoming legitimate sets. Not all of the shared builds have instructions available, and one isn't even complete yet. What is most important is the concept behind them and their authenticity to the franchise.
1. Naruto: Attack of the Nine Tails (LEGO Ideas)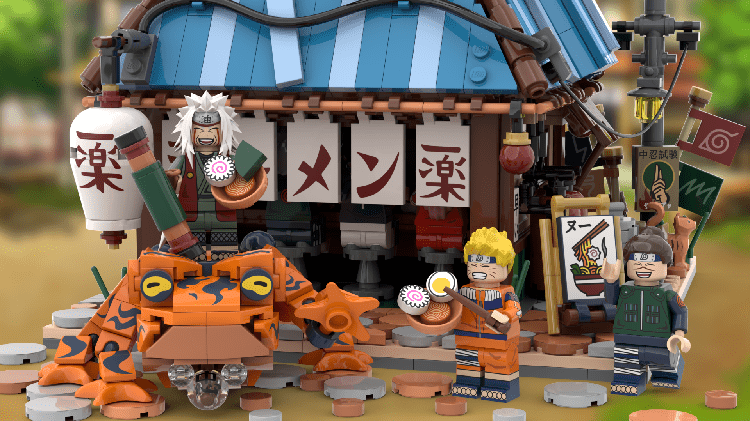 Shared by Aggravator on LEGO Ideas, this MOC presents one of the most critical aspects of the series: the nine-tailed fox, Kurama.
This build has over 1000 supporters, with time remaining to garner more support. It is said to use approximately 2160 pieces.
This build is highly impressive due to its mobility. Many elements were designed to be posable, including the "mouth,…ears, paws, and tails." The MOC also features designs for three minifigures: Minato Namikaze, Kushina Uzumaki, and Tobi.
This set harkens back to Naruto's years as a baby when his parents confronted Kurama and sealed the nine-tailed beast into their son.
Ultimately sacrificing themselves, this moment is part of the catalyst for Naruto's future as an outcast as well as a significant source of his immense power. It captures his origins in a non-typical way, focusing on a past event instead of the earliest episodes of the series, which focus on his training to be a shinobi.
This standout MOC is a creative approach to the series. It would be a great addition to Naruto fans' LEGO collections.
2. Naruto Run! (LEGO Ideas)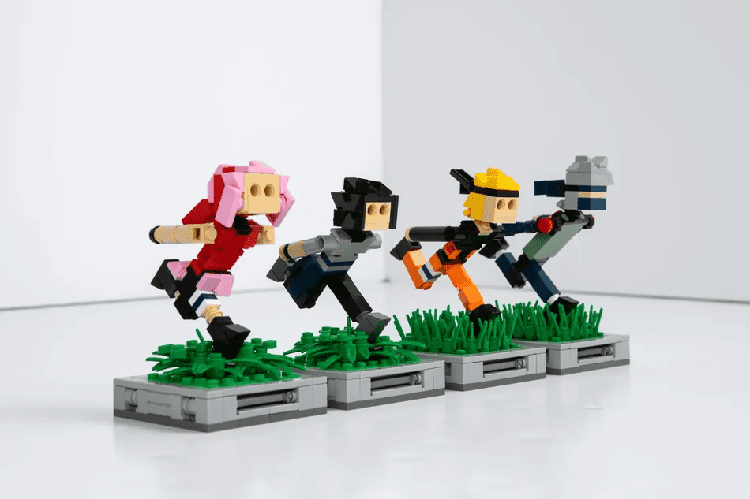 Another LEGO Idea, Naruto Run! was shared by LordSoarin115 and has over 1000 supporters backing it with a bit of time left in its campaign to become an official set.
This MOC is very different from its nine-tailed counterpart, capturing a moment that is iconic and a big part of internet and anime culture.
While not one to Naruto run myself, I've seen my fair share of live runs from others. This build uses Technic bricks, though it doesn't provide a piece count. It is also very non-traditional regarding official LEGO sets, which helps it stand out.
One point of discussion among the community is the unique eye style, with holes in the place of eyepieces. While some are not fans of this design choice, it is uniquely stylized. Even with eyes added, it would still capture one of the most well-known elements of Naruto.
This MOC features Team 7 as independent sections of a larger grouping, including Sakura Haruno, Sasuke Uchiha, Naruto Uzumaki, and Kakashi Hatake.
Each is posed in the recognizable run and is atop a grass base, with two variations on the grass. Despite being highly untraditional to LEGO's current lines, it takes a core motion component of the anime and brings it to life.
3. Naruto Shippuden Brickheadz (Rebrickable)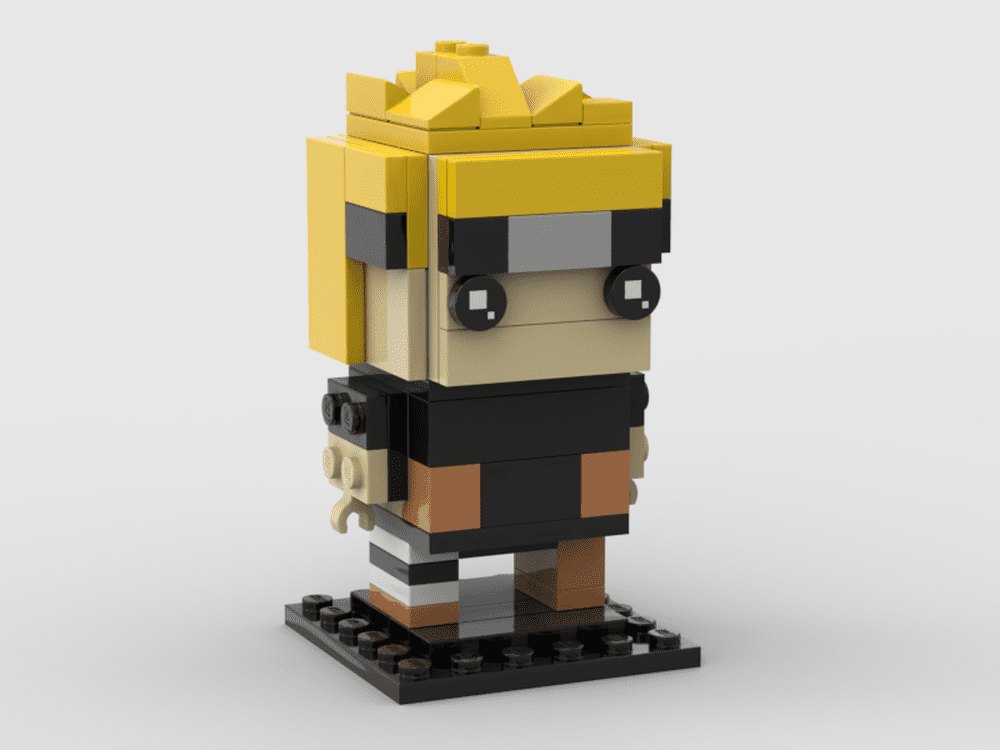 Rebrickable features several Naruto MOCs from the site's building enthusiasts, though most are in LEGO's Brickheadz style. Naturally, one of the best iterations would need to be of Naruto Uzumaki, the titular hero of the series.
This one shared by chrisxtofu is particularly notable since it shows some variations that can be done with a Brickheadz line. Instead of featuring Naruto in his debut costume, it features his Naruto Shippuden outfit.
This build, which consists of 86 pieces, incorporates his signature spiky blond hair, his Shinobi headband, and the multicolor orange and black outfit. It would fit in very well with LEGO's current line of Brickheadz and would go great paired with a Sasuke figure of a similar design.
4. Itachi Uchiha Brickheadz (Rebrickable)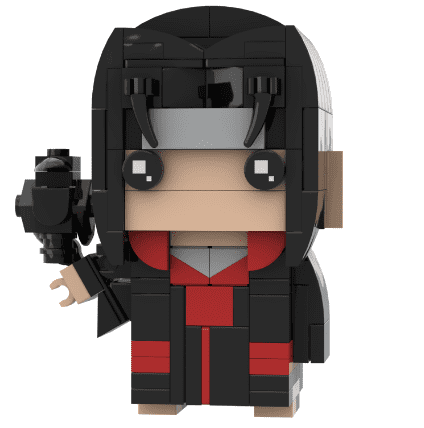 Similar to the previous entry on this list, this Brickheadz-inspired build brings Sasuke's brother to life in LEGO form. Shared by moonein and credited to China lug / rlug in the description, this build consists of 173 parts and shows how detailed a line of Naruto Brickheadz could be.
While the Team 7 trio is the most popular and best-known set of characters in the series, the franchise features a large cast with ranging skillsets and highly varied designs.
It wouldn't be hard to imagine an Akatsuki-specific set of Brickheadz figures mirrored with Hidden Leaf Village shinobi lined up on a bookshelf in front of Naruto manga volumes or in front of the show's many seasons in a film collection.
5. Hidden Leaf Village MOC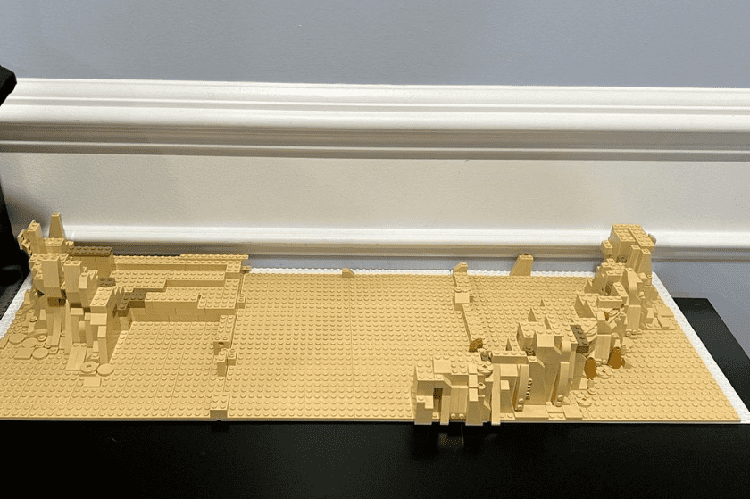 While searching for more expansive Naruto MOCs, I came across a work in progress on Instagram from @nevii_collects that features the Hidden Leaf Village.
As the primary focal point of the series early on and one of the most seen locations in the anime, this is an excellent choice for a Naruto build that recreates important settings. Though it is far from complete, this concept has the potential to be very impressive once every brick has been placed.
The Hidden Leaf Village, also known as Konoha, is an unforgettable anime locale with important landmarks, including Hokage Rock. Despite being iconic, this component would likely be complex and challenging to reproduce in brick form. Even so, the village itself is a worthy undertaking that will surely excite any Naruto fan.
6. Ichiraku Ramen Shop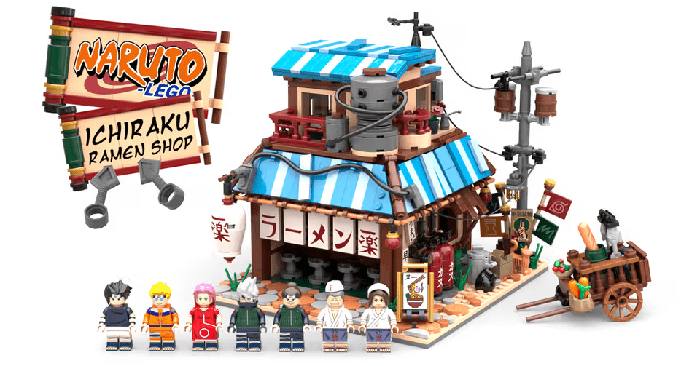 As I was thinking of which locations would be most fun to collect or recreate that were iconic to the series, one of the standouts I would have loved to find is the Ichiraku Ramen Shop.
Naruto spends a lot of time at the shop, eating its staple, and has been seen talking to Iruka Umino (Iruka Sensei) there early in the series. It is the subject of lots of fan merchandise.
It would be great as a mini diorama with a Naruto minifigure to match. Though it isn't a reality yet, this is a build idea that needs to be brought to life within the community.
7. Hokage Office
Another location that has yet to be recreated that would be amazing to see would be the Hokage Office of the Hidden Leaf Village.
As part of the Academy, this setting is often visited within the series in either mission briefings or during Naruto's time as a Hokage himself after achieving his lifelong dream.
Considering the importance of the role and its significance to Naruto's journey and character arc, this is one of the series' most important and consistent locations.
This would be a great opportunity to include minifigures of a couple different Hokage, including Hiruzen Sarutobi (the Third Hokage), Tsunade (the Fifth Hokage), and a good inclusion would be Naruto in his outfit as the Seventh Hokage.
8. Team 7 Training
While Team 7 was featured in the third entry on this list, this concept would be a more detailed set featuring one of the series' earliest moments. There were many missions the star trio went on early in the show, but one of the integral moments was their teambuilding bell test.
A set focused on the team's training could include minifigures of Naruto, Sasuke, Sakura, and Kakashi and their weapons as accessories.
Having a post and some imitation bell objects for Kakashi to hold would throwback to their early bonding stages. Though it came early in the series, it is a humorous and beloved moment for many fans, and it would make for a great inclusion on a manga-centric shelf.
9. Konoha Gate
Although it isn't a major location in terms of memorability and broader size, the gate in Konoha has been featured often. The village's many Shinobi are seen moving through the gates for various missions throughout the series. It has served as a rendezvous point for Team 7 in their training days.
This would be a great miniature option because LEGO often does sets of varying sizes and complexities. The gates are recognizable to the series and could be a great photo op for toy photographers.
10. The Akatsuki and Orochimaru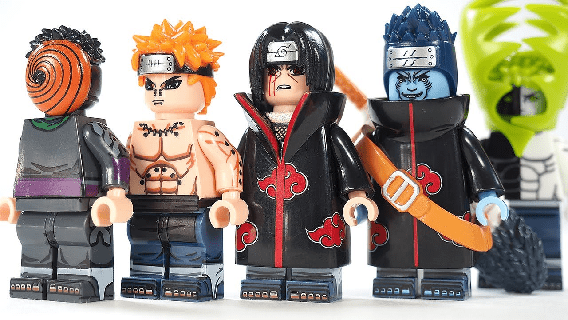 Considering the importance of Orochimaru and the Akatsuki as villains in Naruto, it makes sense to bring them into the spotlight via LEGO.
The Akatsuki have many hideouts, so it can be difficult to narrow down a singular location for them in this regard.
However, incorporating the various Akatsuki as a minifigure blind bag series would provide some variability for a Naruto-based LEGO line. This would also be a fun way to continue utilizing the Uchiha family, contrasting Itachi with Sasuke in previous ideas in this list.
Keeping a focus on the series' villains, Orochimaru is one of the most iconic and memorable in Naruto. His fight against the Shinobi and Hokage of the Hidden Leaf Village within the first hundred episodes of the series is a major turning point.
It also provides a chance to incorporate the First and Second Hokage. Having a memorable battle option would be ideal in a LEGO line. Other candidates would include one of Naruto and Sasuke's many fights. Still, Orochimaru is a big reason for later conflicts in the series, making him a worthy focus. .0.
Does LEGO Make
Naruto
Sets?
Officially LEGO does not have a license for Naruto or other popular anime. Fans have designed and printed unofficial custom minifigures, though quite nice in terms of detail.
Anime series have yet to really have licensed building toys in the U.S.. However, Mega Construx has been producing Pokemon products in recent years.
These have focused primarily on various species of Pokemon, however, and not on the human characters within the anime or video game series.
At this point, it doesn't seem likely for LEGO to develop anime-inspired products in the foreseeable future, making MOCs the best option for fans to recreate their favorite moments and locations from Naruto.
FAQs
Question: Are there Naruto LEGO sets?
Question: What is a MOC?
Answer: A MOC is a fan-designed build meaning My Own Creation.
Question: Where can I find good ideas for Naruto LEGO builds?
Answer: LEGO Ideas, Rebrickable, and social media LEGO communities are some of the best places to find building techniques and inspiration for custom builds.
Watching the show and combining elements with new techniques, extra blocks, and other fan ideas is a great way to build something new despite a lack of official LEGO products for anime series.
Conclusion
Fans of Naruto looking for LEGO builds will need to use their imagination and community-inspired creativity to design the best sets to show off their fandom.
Considering the popularity of anime series like Naruto and Dragon Ball, the need for official buildable LEGO sets and licensed minifigures is a big gap in the market. Nonetheless, fans have delivered creative custom creations with plenty of room for further inspiration.
Recommended Reads