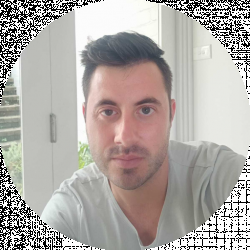 Latest posts by David Borgogni
(see all)
A little over a decade after releasing the first NINJAGO set, LEGO continues to extend its already impressive assortment of NINJAGO Minifigures. Hence, collecting all the best LEGO NINJAGO Minifigures isn't easy, considering some of the most valuable models are retired.
Sets from the NINJAGO theme remain the most reliable source for Minifigures based on the characters from this animated series. The LEGO Minifigure theme doesn't contain active NINJAGO sets, although some online retailers still have discontinued sets from the LEGO NINJAGO Movie series in stock.
Even though they're a relatively recent addition to the LEGO product lineup, these Minifigures are in high demand, and their value is increasing rapidly.
In this article, I'm going to provide you with information you'll need to find the best LEGO NINJAGO Minifigures for your collection and suggest several sources that will enable you to enlarge your NINJAGO Minifigure collection.
Bottom Line Up Front
I recommend getting the City Gardens 71741 set if you want to start a collection of NINJAGO sets. This LEGO model comes with 19 Minifigures, and it includes a unique collectible Minifigure you cannot find in other releases from this theme.
At a Glance – The 9 Best LEGO NINJAGO Minifigures
Selection criteria
LEGO published more than fifty Minifigures of NINJAGO characters in the last ten years. Moreover, the toymaker created numerous variants of Cole, Jay, Kai, and other main characters of this animated series.
That's why selecting the models featured in this article wasn't a simple task, since so many variants of these Minifigures deserve to be mentioned in the conversation about the best LEGO NINJAGO Minifigures.
I utilized a broad spectrum of parameters that enabled me to shortlist the best models, so let's take a look at some of the crucial criteria I used during the selection process.
Release date: Some of the most valuable NINJAGO Minifigures ever released are hard to find because they were featured in sets that were discontinued years ago. This parameter has enabled me to identify and choose the best Minifigures featured in active sets.
Minifigure count: The number of Minifigures in active NINJAGO sets varies from 1 to 19. I used this criterion to select the models that offer the most versatile selection of NINJAGO Minifigures.
Please read our guide to the best Stormtrooper sets to discover LEGO Star Wars models inspired by imperial soldiers.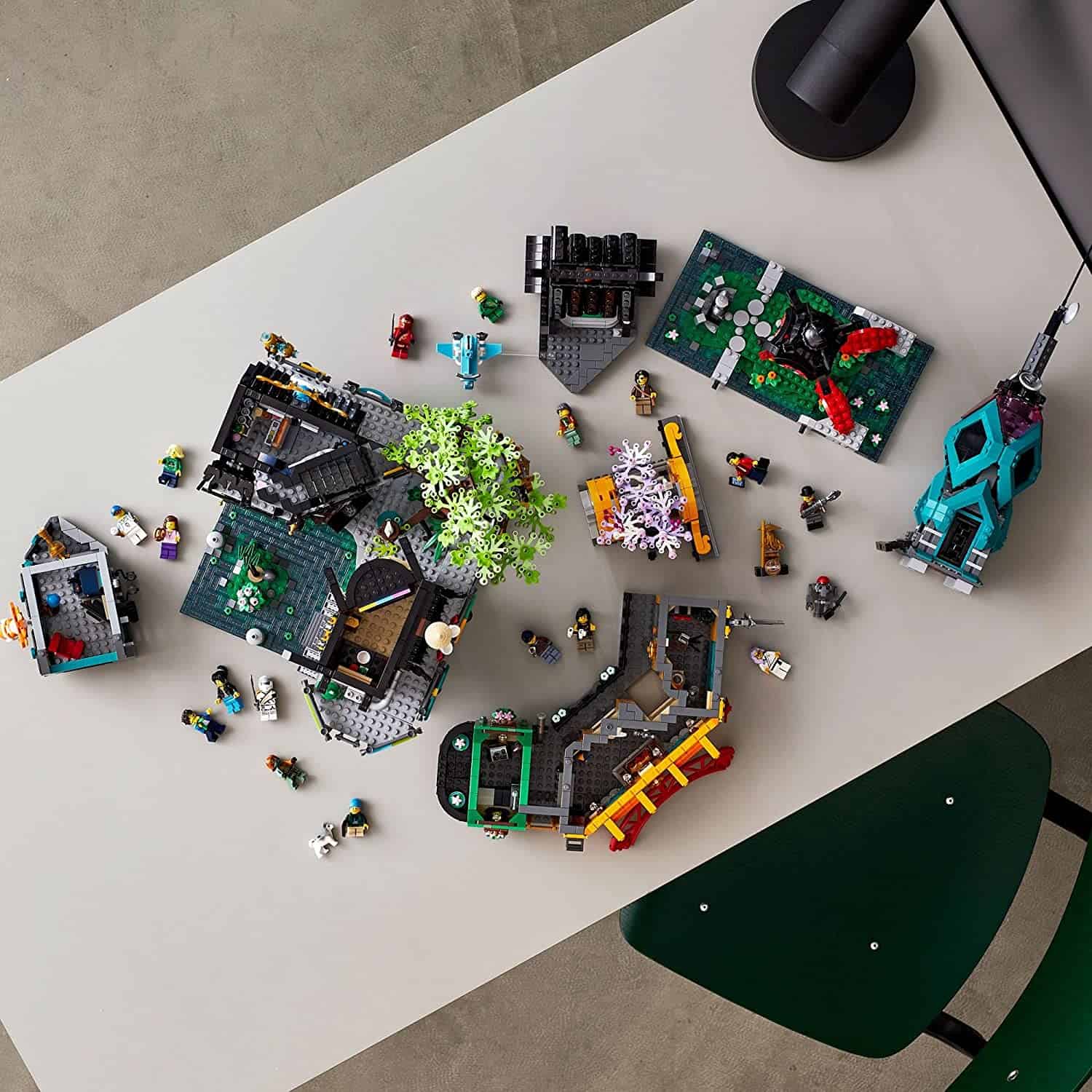 The Overview of the LEGO NINJAGO Theme
LEGO launched the NINJAGO theme to promote its NINJAGO animated TV series that premiered in 2011. This theme is widely considered the successor of the LEGO Ninja theme because the early NINJAGO models contained the same elements as the LEGO Ninja sets.
In the last ten years, the company introduced new NINJAGO models inspired by the latest season of the animated series. In 2015, LEGO published sets based on the Tournament of Elements and Possession seasons of the NINJAGO TV series that were released the same year.
Each new season features new characters, which means that LEGO introduces new Minifigures to this theme every year. NINJAGO Minifigures are divided into the following categories.
Heroes/Ninjas
Skulkin
Serpentine
Stone Army
Nindroids
Anacondrai Cultists
Ghost Warriors
Sky Pirates
Yang's Temple
Vermillion
Sons of Garmadon
Dragon Hunters
Furthermore, the Serpentine Minifigure category has several subcategories.
Anacondrai
Hypnobrai
Venomari
Fanpyre
Constrictai
LEGO released numerous variants of the Kai, Zane Nya, Sensei Wu, and other Heroes Minifigures, and each of these models has a different name, costume, and accessories. For instance, the original Kai Minifigure comes with a ninja mask, while the Kendo Kai Minifigure has the Kendo armor.
Please read through our guide to the best Jurassic World sets for more information about the best-selling models in this theme.
What is the LEGO NINJAGO Movie Series?
The production of the LEGO NINJAGO Movie based on the NINJAGO: Masters of Spinjitzu was announced in 2013. The film premiered four years after the preproduction started, on September 16, 2017, while the video game with the same title was published just six days later.
The LEGO NINJAGO Movie series was released within Minifigures theme, and it was one of the first sets in this theme that wasn't based on LEGO property. It was also one of the first Minifigure sets comprised of twenty Minifigures.
This set featured the following characters.
Jay Walker
Spinjitzu Training Nya
Zane
Lloyd Green Ninja
Master Wu
Kai Kendo
Shark Army Angler
Shark Army General
Shark Army Great White
Shark Army Octopus
Volcano Garmadon
Lloyd Garmadon
Flashback Garmadon
Garmadon
GPL Tech
Sushi Chef
N-Pop Girl
Misako
Gong and Guitar Rocker
Cole
Each Minifigure came with one or more accessories such as swords, backpacks, selfie sticks, or a miniature box of Corn Flakes. Check our guide to the best LEGO display cases can if you're looking for the best way to store your Minifigure collection.
The most valuable LEGO NINJAGO Minifigures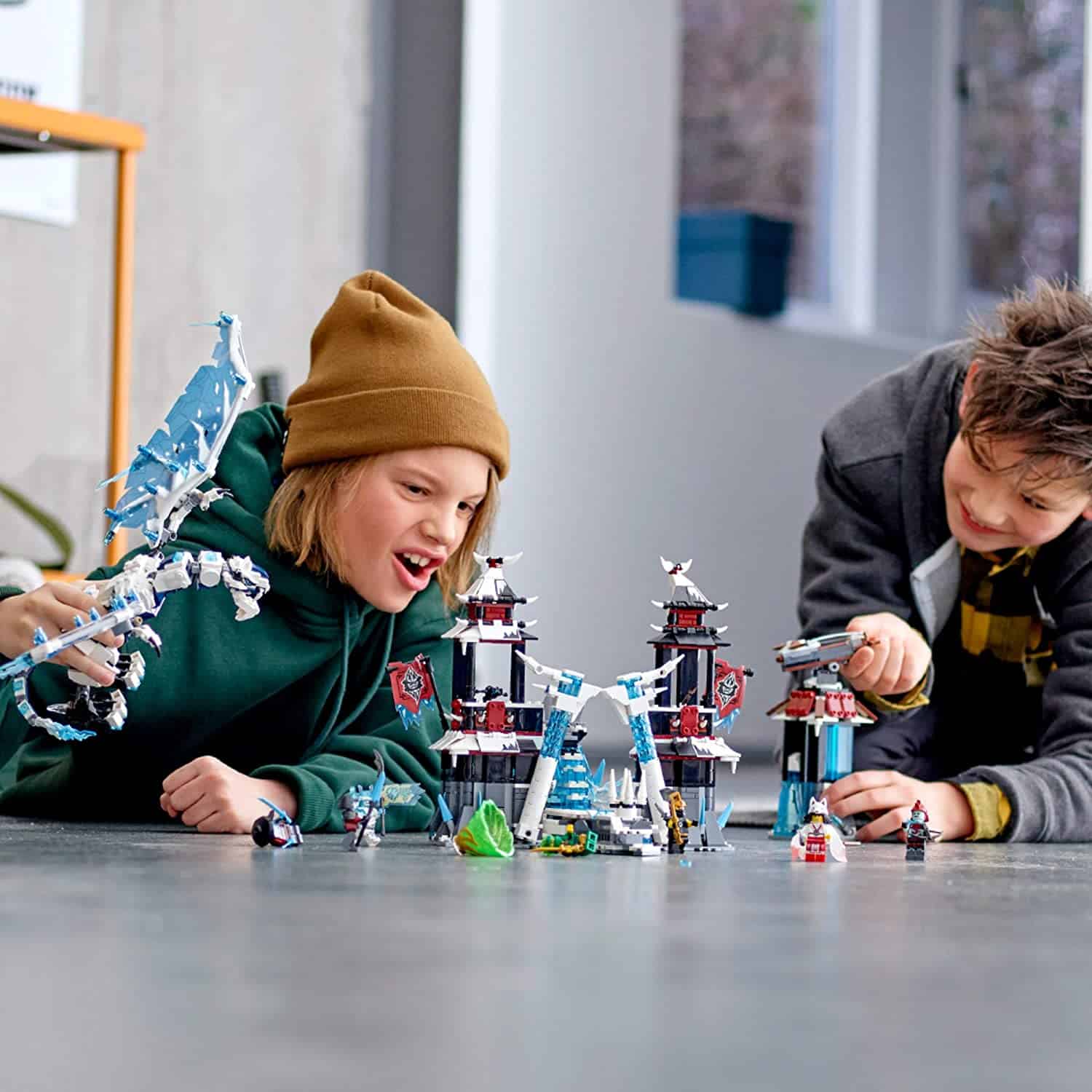 LEGO retires NINJAGO sets frequently to make room for new models based on the latest season of this animated series. Hence, most sets that contain unique NINJAGO Minifigures are discontinued, and they're hard to find.
The market value of a single NINJAGO Minifigure varies from $10 to $50, but you'll have to spend much more to purchase a discontinued set if you cannot get a specific Minifigure from that set. The Battle of the NINJAGO City 70728 set features the Overlord Minifigure that doesn't appear in other NINJAGO sets.
Its estimated market value exceeds $50, making it the most valuable NINJAGO Minifigure at the moment. With an estimated value of $21.78, the Akita Minifigure from the Castle of the Forsaken Emperor 70678 set is also among the most valuable NINJAGO Minifigures.
Let's look at a few more NINJAGO sets that come with valuable Minifigures.
Please go through our guide to the best LEGO sets under $50 if these NINJAGO sets exceed your budget.
LEGO Sets with NINJAGO Minifigures
The LEGO NINJAGO theme has 36 active sets, and this number may increase since LEGO has already added nine new sets to this theme since the start of 2022. The number of Minifigures in these sets varies, but most models come with more than one Minifigure.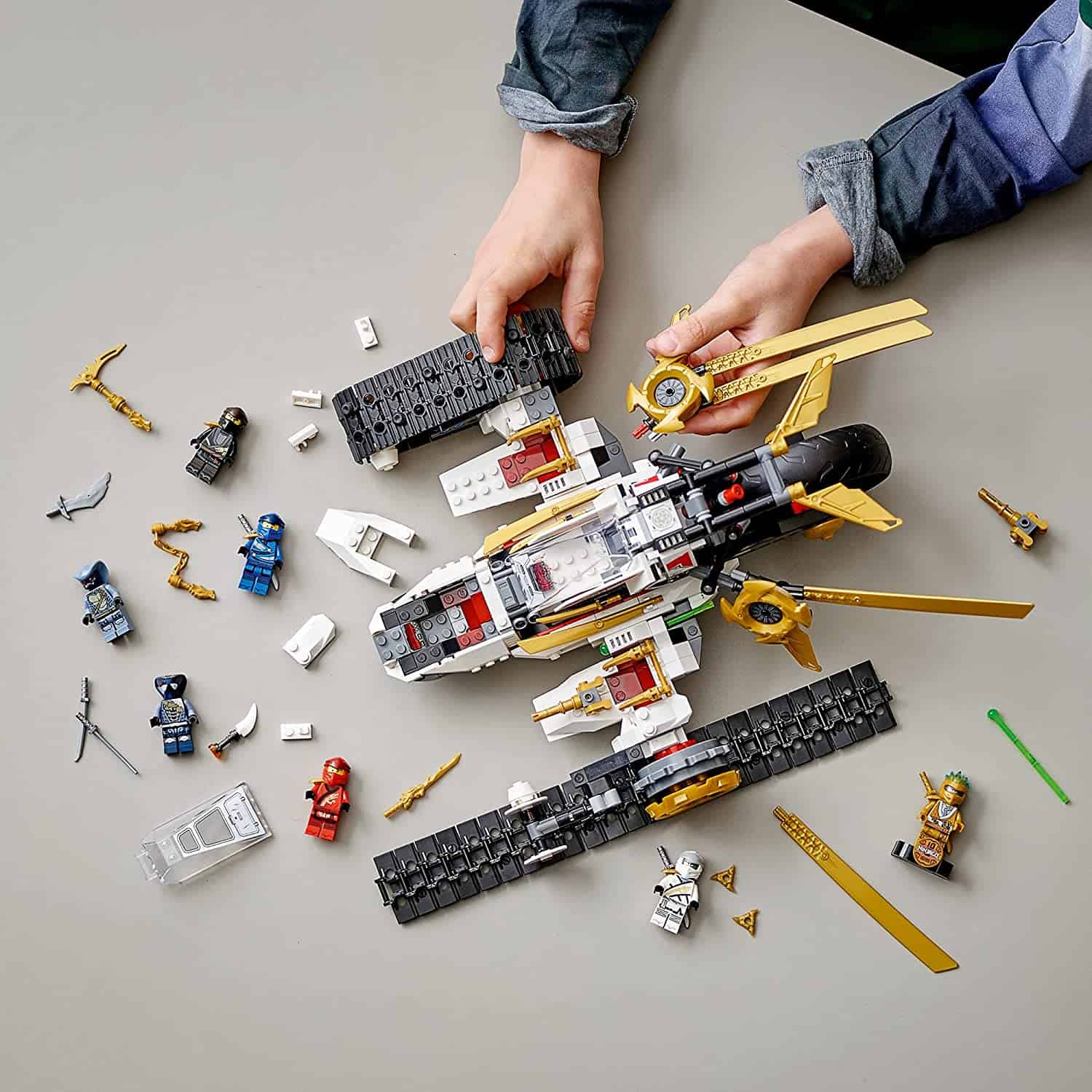 Here are some of the NINJAGO sets that offer a versatile selection of Minifigures.
Most Minifigures featured in these sets aren't exclusive, and you can find them in other active NINJAGO sets. Hence, they may not be the right option for you if you're looking for rare and unique NINJAGO Minifigures.
Nonetheless, Minifigures from these sets can become valuable in time because the value of NINJAGO sets increases after they're retired. Check out our guide to the best LEGO Marvel sets if you'd like to learn more about the latest sets in this theme.
The key factors to consider while choosing LEGO NINJAGO Minifigures
The following factors can make the selection process easier and faster.
Release date: Active NINJAGO sets are much more affordable than the retired models. Keep in mind that most new sets in this theme contain Minifigures from the latest season of the NINJAGO series.
Is the Minifigure unique for a specific set?: Sets from the NINJAGO theme often feature similar characters since Kai, Lloyd, or Cole appear in almost all sets LEGO published within this theme. NINJAGO heroes are dressed in various robes and armors
Buying individual LEGO NINJAGO Minifigures: Although expensive, LEGO NINJAGO Minifigures are available in online stores. Hence, you can purchase the Volcano Garmadon, N-POP Girl, and other Minifigures from the LEGO NINJAGO Movie series.
Set's Minifigure count: The easiest way to start or expand a NINJAGO minifigure collection is to buy new NINJAGO sets frequently.
Price range: Most NINJAGO Minifigure cost less than $10, but you may have to spend more than $50 if you'd like to get a rare model with a unique costume and accessories.
Top 9 LEGO NINJAGO Minifigures
City Gardens 71741
Besides being the biggest set in the NINJAGO theme, the City Gardens 71741 also features the most extensive selection of NINJAGO Minifigures. This set is published to celebrate the 10th anniversary of the NINJAGO theme, and it contains a unique golden Master Wu Minifigure.
The three-story model of the ninja house is 29-inches tall. It has a museum, ice cream shop, ninja control room, and Chen's Noodle Shop. Each room has authentic NINJAGO details and accessories.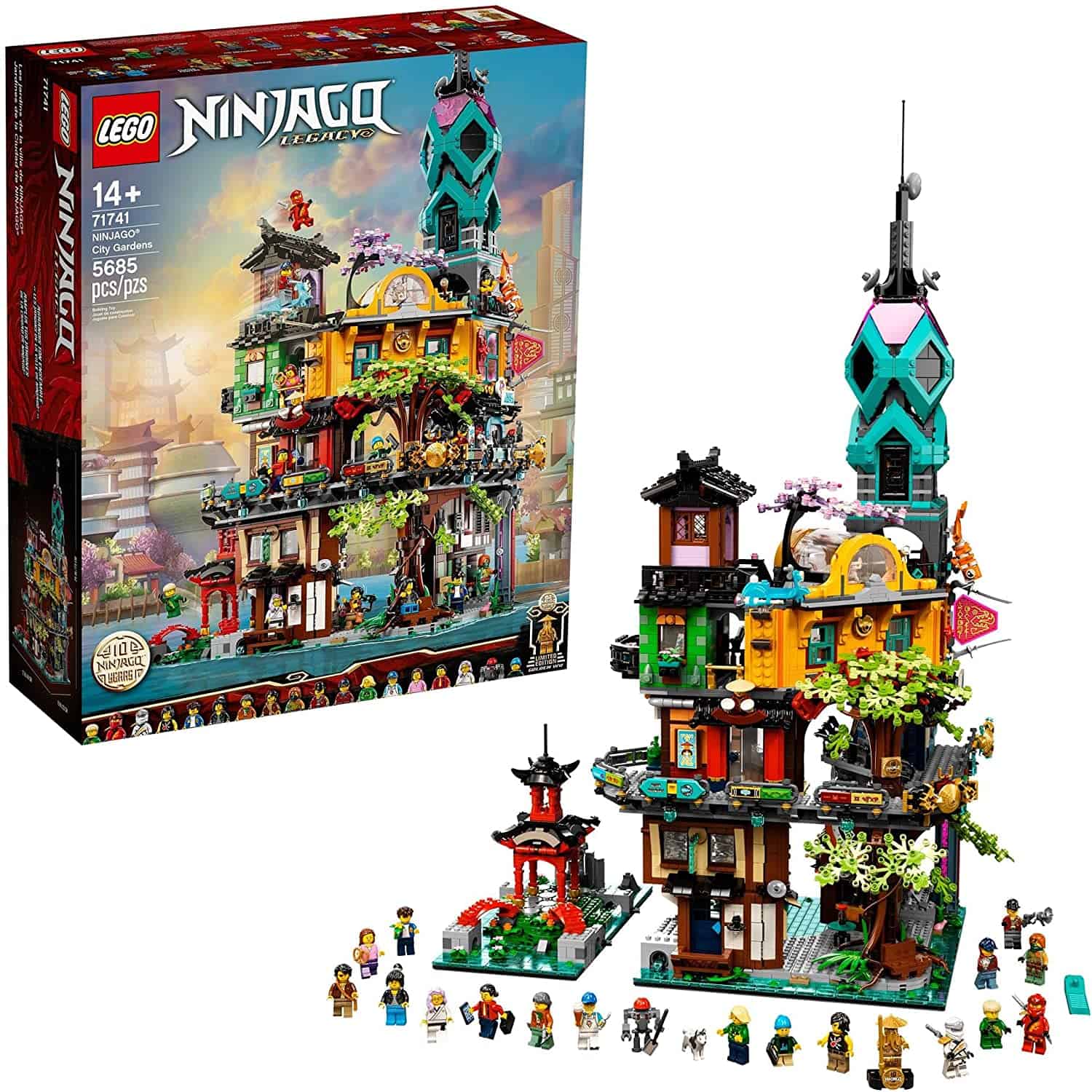 Pros
LEGO Builders can construct a beautiful display model of the ninja house
It contains 19 Minifigures
The set comes with a collectible golden Wu Minifigure
Easy access to the ninja house's interior
Cons
This is the most expensive set in the NINJAGO theme
Novice LEGO builders might struggle to construct this set
Hydro Bounty 71756
The Minifigures included in the Hydro Bounty 71756 set are based on the NINJAGO: Seabound, the 14th season of the NINJAGO animated series. Scuba Jay, Scuba Kai, or Scuba Zane are among the Minifigures you can find in this set.
The submarine model has an opening cockpit, folding wings, stud shooters, and a pair of detachable Mech toys. Two mini submarines or Wu Bots are also included in the set, and each Wu Bot has an opening cabin that can accommodate a single Minifigure.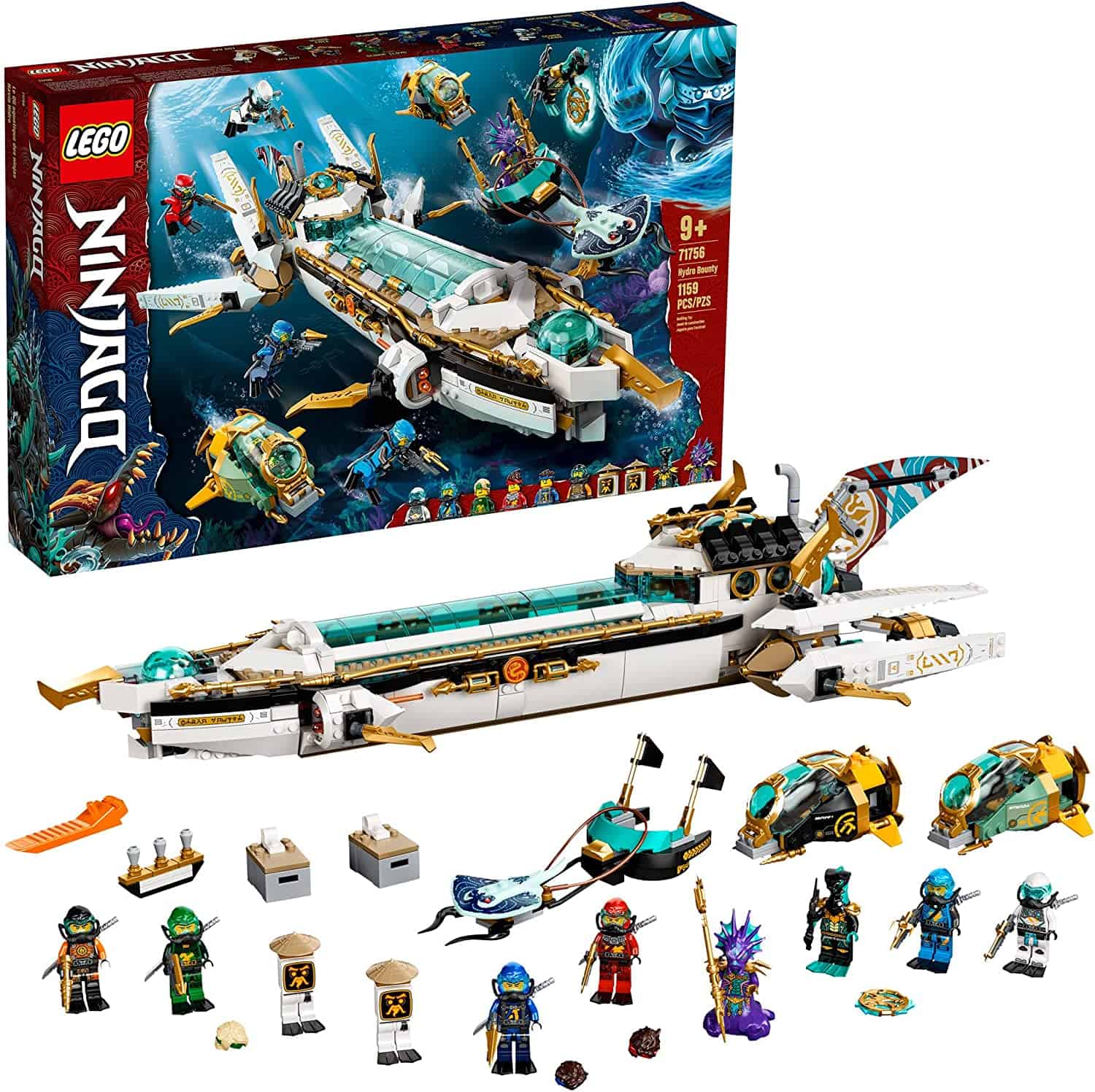 Pros
A wide range of accessories
The fun but slightly challenging assembly process
It offers countless playing options
This set has ten minifigures
Cons
It only contains Minifigures inspired by the NINJAGO: Seabound
Ninja Dojo Temple 71767
You should consider getting the Ninja Dojo Temple 71767 set if you're starting a NINJAGO Minifigure collection. This set comes with eight Minifigures, including Cole, Kai, Maser Wu, and other ninja heroes. It also includes Cobra Mechanic and Boa Destructor snake figures.
The Dojo Temple model has an armory, tearoom, workshop, and other rooms stacked with accessories kids can use to develop play scenarios. However, the assembly process can be overwhelming for inexperienced LEGO builders.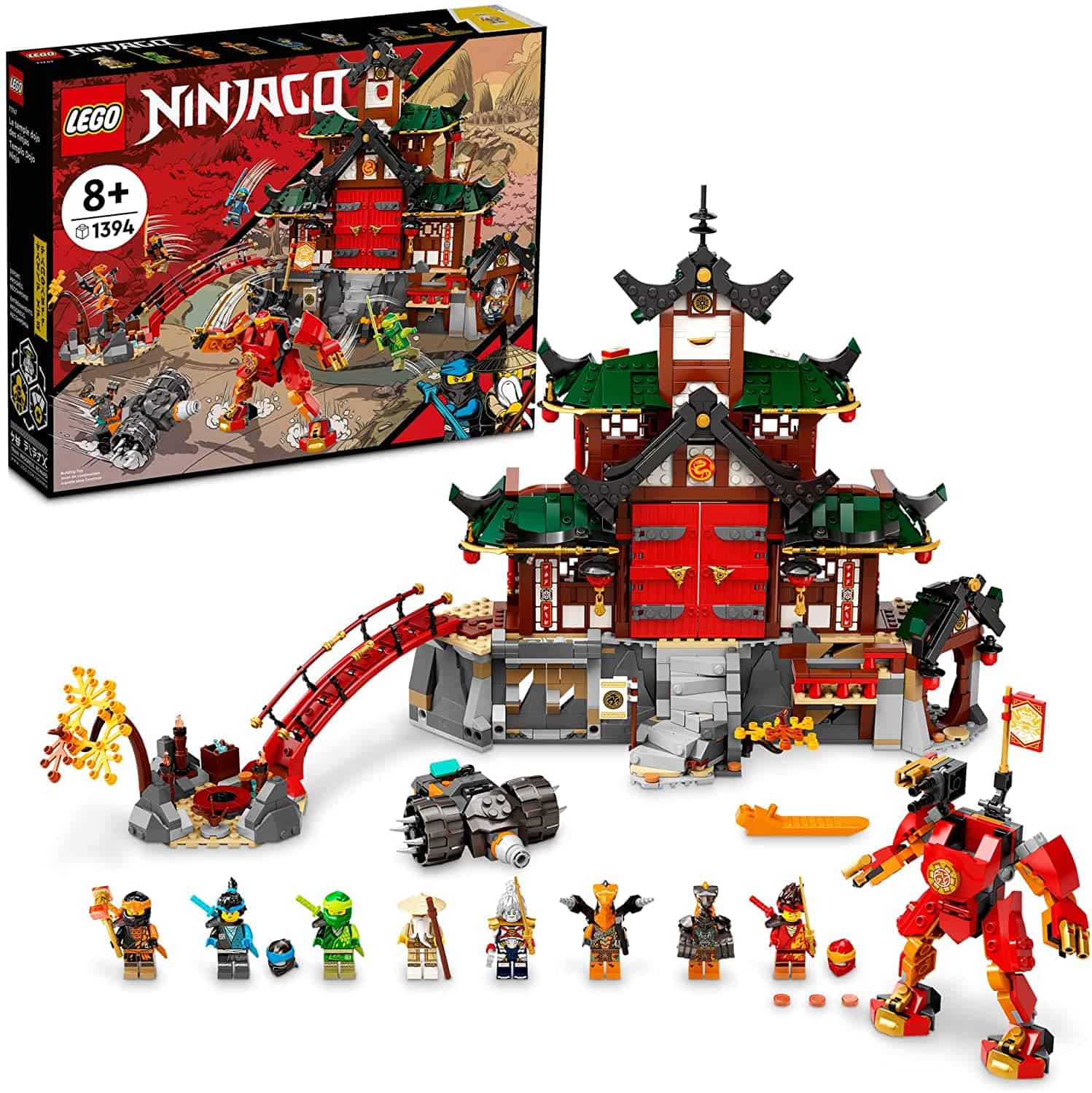 Pros
The set has one of seven collectible banners
It features all main NINJAGO characters
The snake figures are equipped with the rammer vehicle
The Dojo Temple model is 21 inches wide
Cons
Kids aged eight or younger might struggle to build this set
It doesn't contain unique Minifigures
Temple of the Endless Sea 71755
NINJAGO fans who enjoyed watching the 14th season of this series will love building the Temple of the Endless Sea 71755 set.
Besides the Scuba Kai Minifigure equipped with diving fins and a sword, the set also features Prince Kalmaar, NRG Nya, Prince Benthomaar, Glutinous, and two Maaray Guards Minifigures. Each Minifigure has multiple weapons, while the central segment of the temple model has a disc shooter.
The temple also has a prison room and a laboratory equipped with different accessories.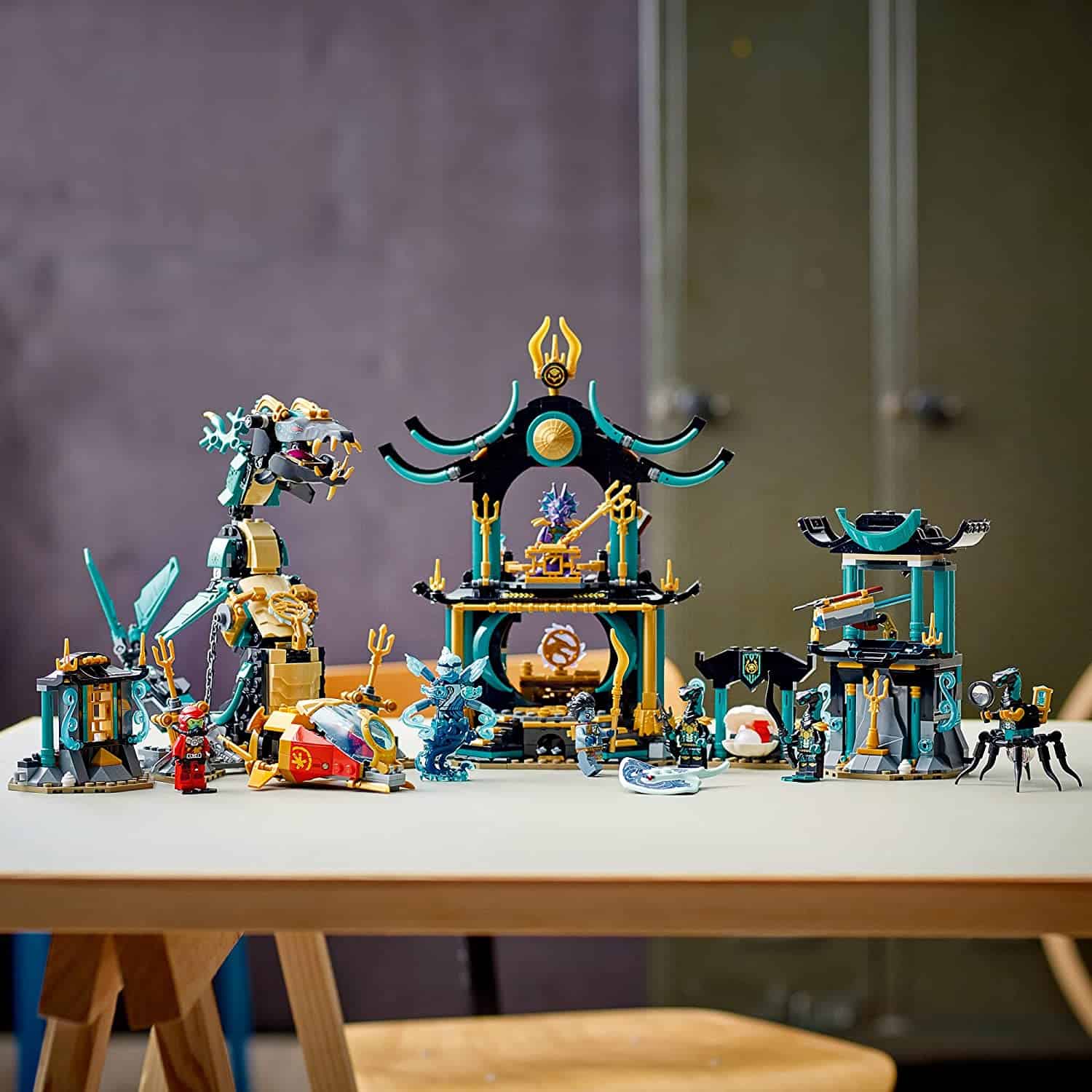 Pros
The figure of the serpent Wojira is included in the set
An excellent selection of Minifigures
The submarine toy is a part of the temple model
Compatible with other NINJAGO sets based on the NINJAGO: Seabound series
Cons
Some of the main NINJAGO characters aren't included in the set
Skull Sorcerer's Dragon 71721
Besides developing their play scenarios, kids can use the Skull Sorcerer's Dragon 71721 set to play a board game. This set has six Minifigures, including the relatively rare Skull Sorcerer Minifigure and Hero Kai, Hero Jay, and Hero Nya Minifigures.
The dragon toy is 12-inches tall and 20-inches wide. Its wings, legs, and tail are adjustable, while its ribcage opens to unload spiders and bones. The set also features a pair of trap elements that prevent the ninjas from accomplishing their mission.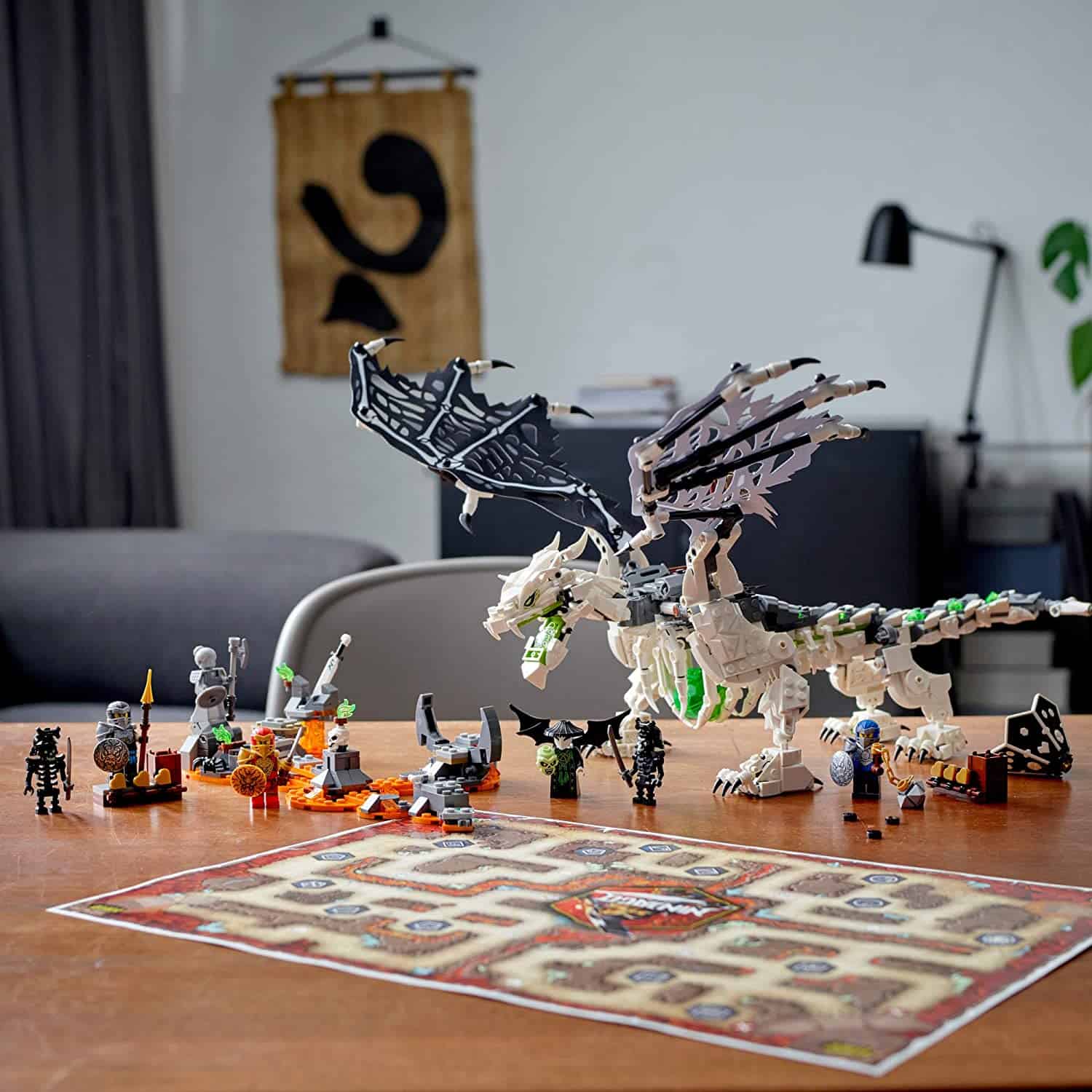 Pros
All Minifigures are equipped with accessories
The dragon toy has two missile launchers
Ninja Minifigures can be used in a board game
It's compatible with other NINJAGO sets
Cons
LEGO might retire this set soon
Ninja Ultra Combo Mech 71765
In addition to being a valuable source of Minifigures, theNinja Ultra Combo Mech 71765 is also a versatile set that lets children build a variety of toys. The Mech model contains a tank, jet, car, and mini Mech toys.
These vehicles can be used separately or combined into a mighty Mech that helps Ninjago heroes defeat their enemies. The set comes with seven Minifigures, including Zane, Kai, or Boa Destructor. It also contains one of seven collectible banners.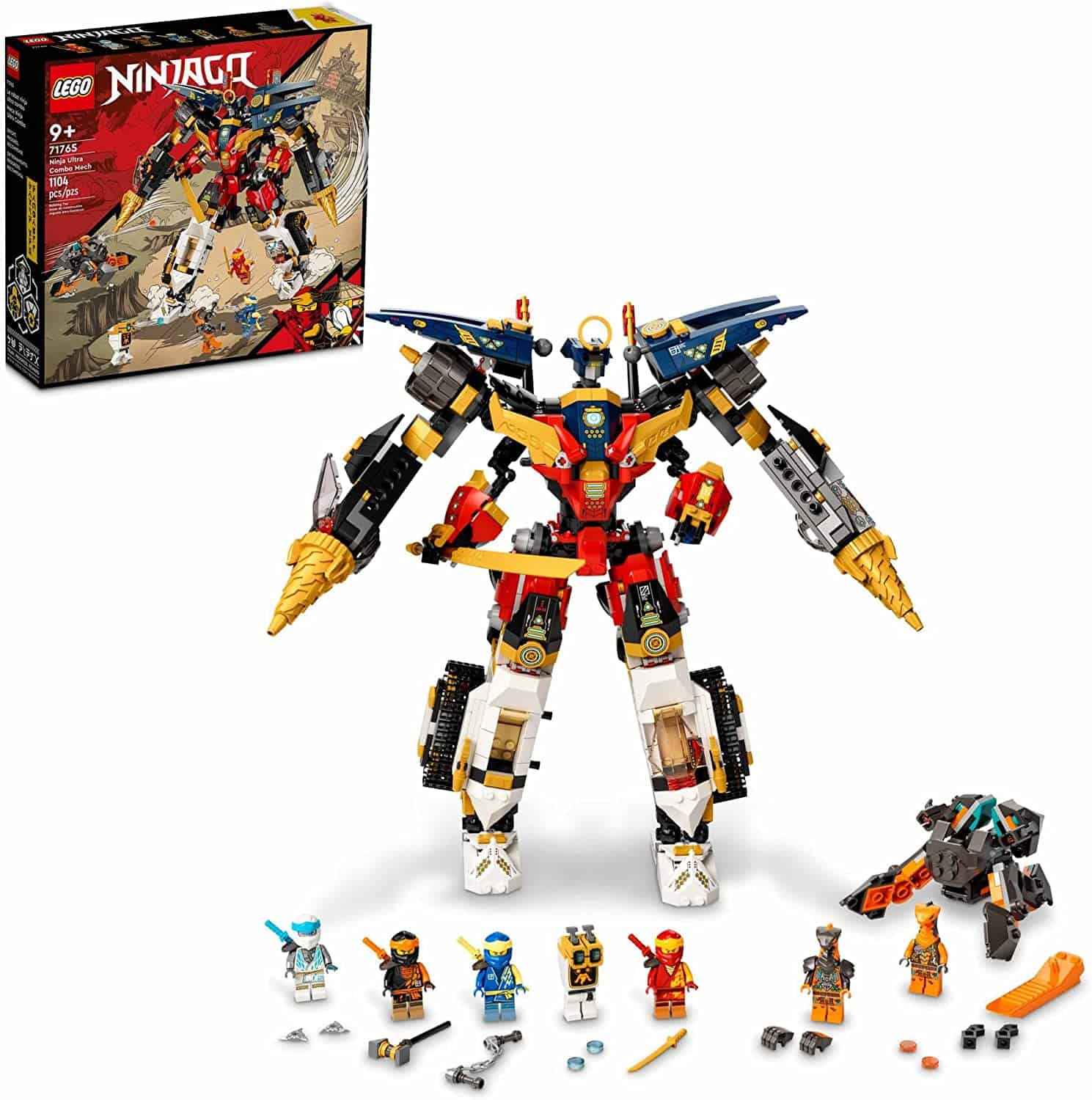 Pros
The Mech toy is 12 inches tall
This set has seven Minifigures
A versatile selection of accessories
This set was published recently
Cons
Challenging assembly process
High price tag
Ultra Sonic Raider 71739
The Ultra Sonic Raider 71739 is one of the rare active sets in the Ninjago theme inspired by the first season of the Ninjago series. This 725-piece set contains the parts to build a 4-in-1 vehicle with an opening cockpit and gun accessories.
Optionally, kids can rebuild this model into two all-terrain vehicles, a motorcycle and a jet plane. Each of these toys has a cockpit that can hold a Minifigure. In addition, this set comes with a collectible golden Zane Legacy Minifigure released as a part of the 10th-anniversary celebration of the LEGO Ninjago theme.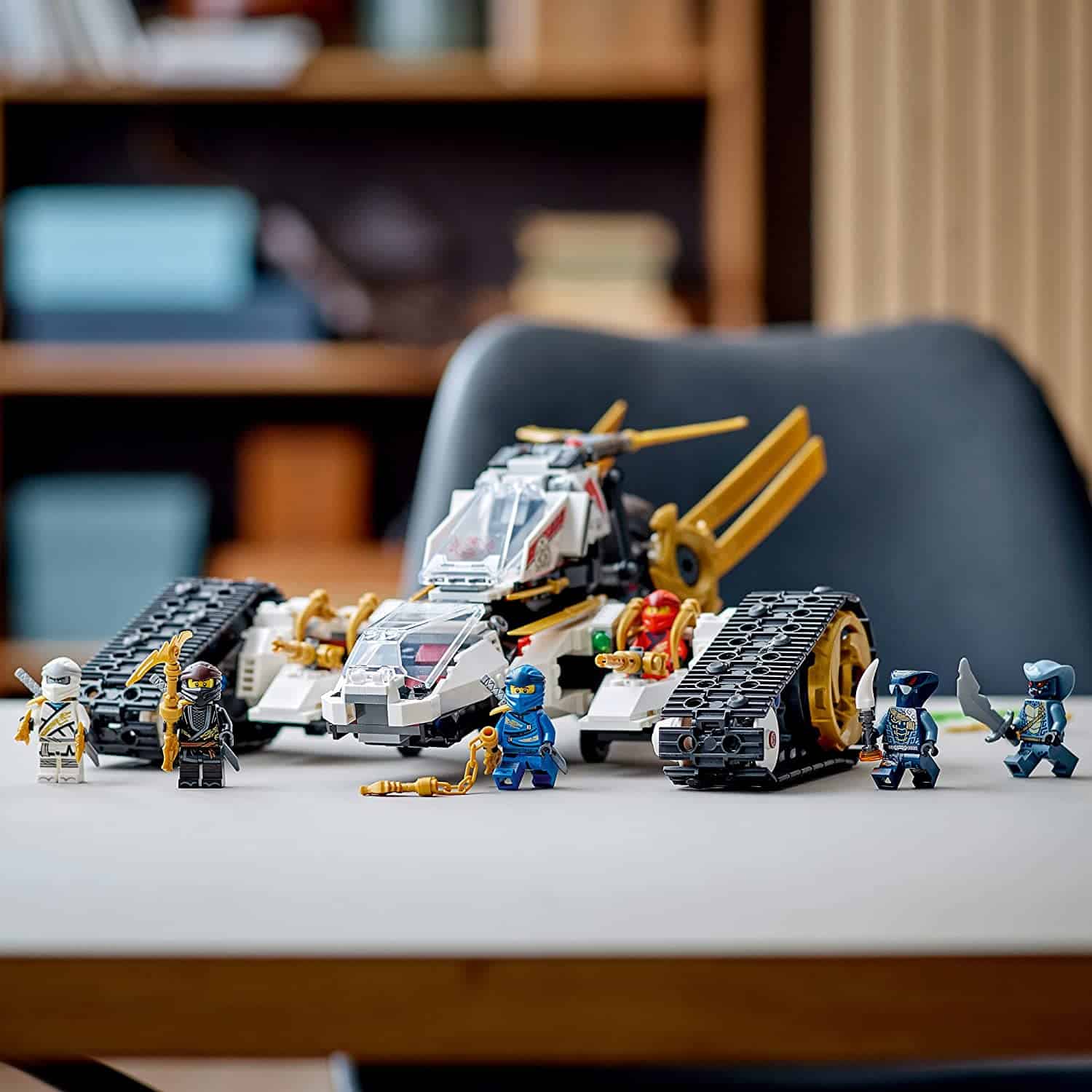 Pros
It offers plenty of play options
Compatible with other Ninjago sets
It contains seven Minifigures
The jet plane toy has ninja blade wings
Cons
All-terrain vehicle and motorcycle toys are tiny
Tournament of Elements 71735
Collectors of the golden Ninjago Minifigures should get the Tournament of Elements 71735 set because it features a golden Lloyd Legacy Minifigure. It also has six other Minifigures of characters from the fourth season of the Ninjago series.
The two-level temple segment has a battle platform, a spinning weapon segment, and various accessories that enable children to stage ninja battles. This set was released in January 2021, and LEGO may retire it by the end of 2022.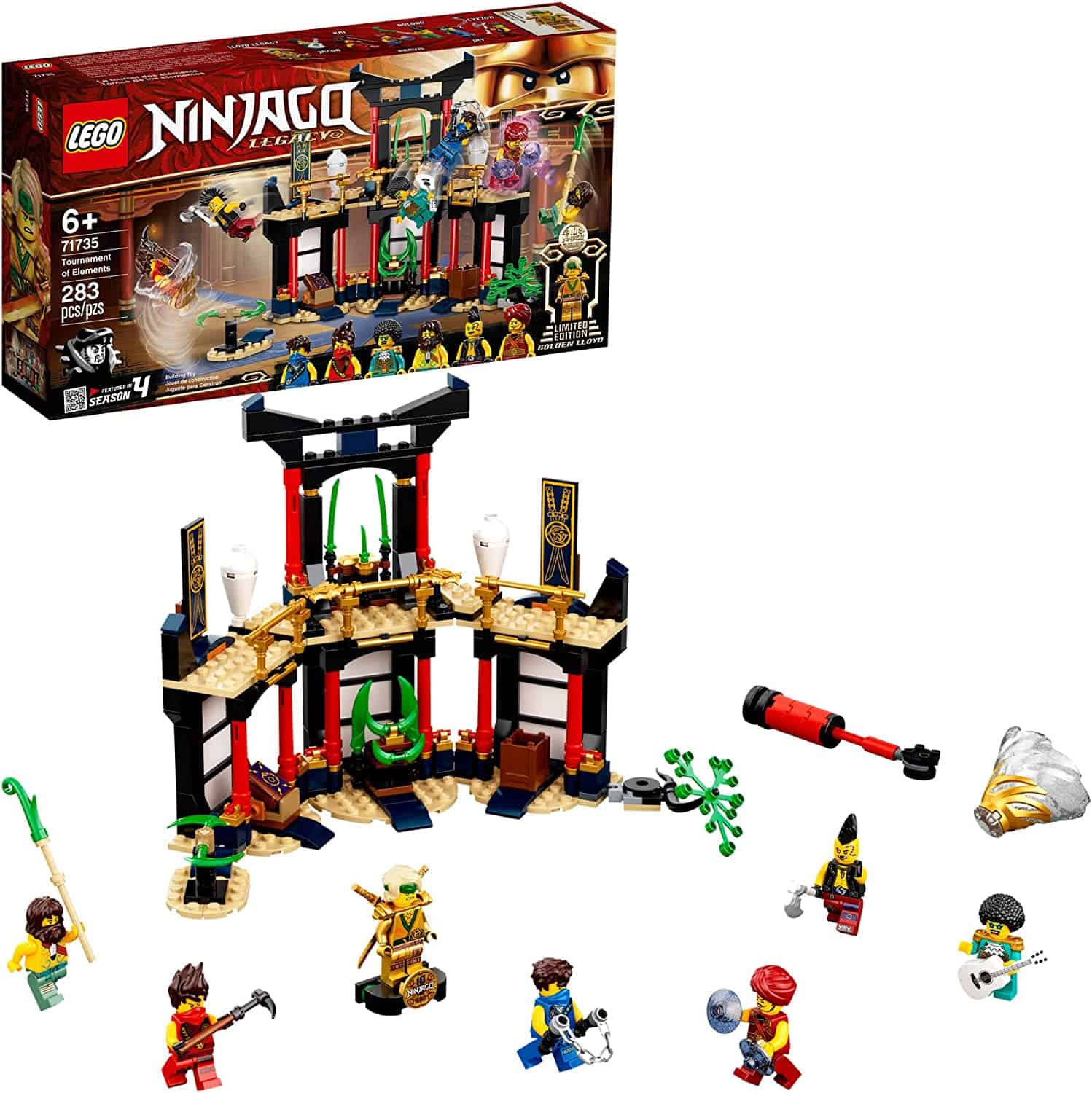 Pros
An inexpensive source of Ninjago Minifigures
It features Jade blades and other accessories
It encourages active play
Simple building instructions
Cons
Catamaran Sea Battle 71748
Thunder Keeper, Chief Mammatus, or Island Jay are some of the characters from The Island season of the Ninjago series you can find in the Catamaran Sea Battle 71748 set. The set features the Keepers' boat equipped with two stud shooters.
This toy comprises three smaller boats equipped with a chest full of diamonds and other fun accessories. The Ninja's catamaran also has stud shooters, and kids can switch between speed and attack builds of the toy.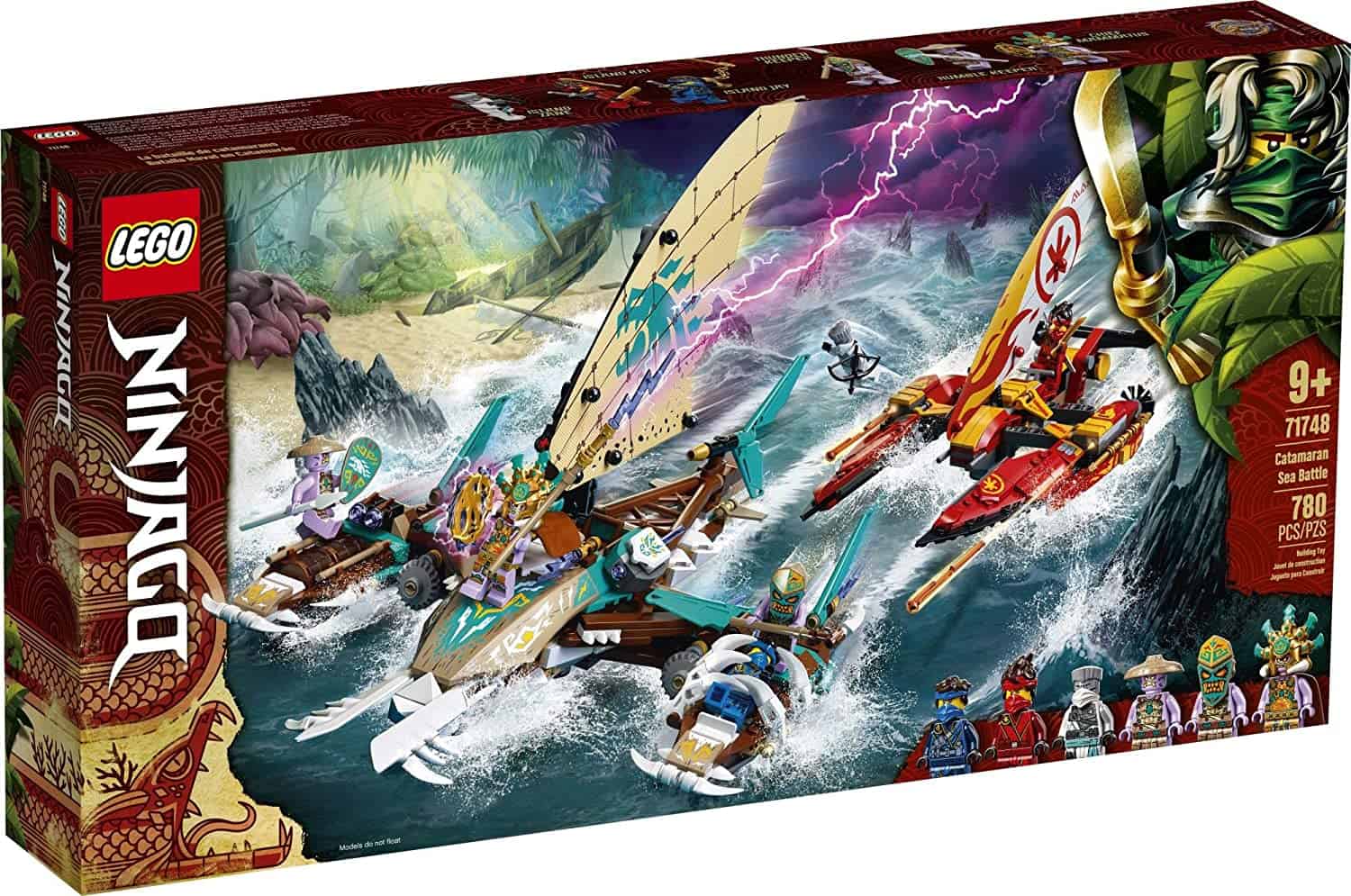 Pros
It contains a versatile weapon arsenal
Both boats have shooter functions
This set can help children start a Minifigure collection
The assembly process takes a few hours
Cons
This set is in high demand
Frequently asked questions about LEGO NINJAGO Minifigures
Question: When is season 15 of the NINJAGO TV series coming out?
Answer: The 15th season of the NINJAGO TV series should premiere in the first quarter of 2022, but the release date is not yet announced.
Question: What is the NINJAGO Minifigure Collection?
Answer: The NINJAGO Minifigure Collection 5005257 is a retired set of four unique NINJAGO Minifigures released in November 2018.
Question: What are LEGO NINJAGO Cards used for?
Answer: LEGO NINJAGO Cards are used in the NINJAGO Spinners game, and they contain characters, elements, weapons, or events players use throughout the game.
Question: How many different robes do NINJAGO Minifigures have?
Answer: NINJAGO Minifigures can have nearly forty different robes.
My Verdict: How to choose the best LEGO NINJAGO Minifigures for your collection
LEGO releases new NINJAGO sets every year for more than a decade. Therefore, the easiest way to build a NINJAGO Minifigure collection is to get the latest models that feature Minifigures you don't have in your collection.
On the other hand, the easiest way to start a collection of these Minifigures is to buy a set that comes with ten or more NINJAGO Minifigures. I recommend the City Gardens 71741 set because it has 19 Minifigures, including a unique golden Wu Minifigure you can't find in other sets from this theme.
Models like the Hydro Bounty 71756 or the Ninja Dojo Temple 71767 can be a good option if you want to extend your Minifigure collection. Which LEGO NINJAGO Minifigures are you going to choose?
Let me know in the comments or continue reading our guide to the best Harry Potter Minifigures if you'd like to learn more about the most valuable Minifigures in this LEGO theme.
Recommended Reads: