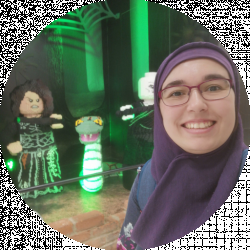 Latest posts by Melika Jeddi
(see all)
I've built many incredible LEGO sets, and I always love the ones with loads of interactive features. As such, I was thrilled to have the chance to make this LEGO Mos Eisley Cantina review and guide. It's a fascinating set, and one which I was eager to get started with building. Star Wars is the most popular franchise that LEGO has, and so these sets are always a lot of fun. They're also often proudly on display in the physical LEGO stores, so I was able to see this fully built before I attempted it.
In this article, I'm going to talk about the process of building it, as well as what the finished product is like. I'll offer my expert tips to help you get started with putting it together for yourself, as well as my honest review of whether I think the LEGO Mos Eisley Cantina is worth the money. I'll also share details about the various features to help you make a decision about whether it's right for you.
So, read on to learn all about the LEGO Mos Eisley Cantina!
Bottom Line Up Front
Price – $349.99
Number of pieces – 3187
Number of minifigures – 21 (plus R2D2 and a Dewback)
Number of stages – 18
Time to build – ~14.5 hours

Lego Mos Eisley Cantina Completed: Photo by Melika Jeddi
The Inspiration
'Do do do do dododooo…' Admit it, you sang that in your head just reading it. The Cantina Band song is iconic and probably as easily recognised as the Star Wars theme tune. Played by the fictional band 'Figrin D'an and the Modal Nodes', it's the soundtrack to one of the best scenes in the original Star Wars trilogy.
Mos Eisley is described as a "wretched hive of scum and villainy", and the audience is thrown into the main story alongside Luke. It's his first time being exposed to so many alien races having grown up in his aunt and uncle's homestead on Tatooine. It's the start of his great adventure, and he's out of his depth, just like the audience is.
Luke is assaulted by a random alien for literally no reason other than he "doesn't like him", and in retaliation, Obi-Wan cuts the alien down using his lightsaber. For a brief moment, the music stops, but then everyone just carries on as normal. It's a stark demonstration of how par for the course violence is in Mos Eisley Cantina.
The Cantina is also where we first meet Han Solo and Chewie. There's an immediate charm that Han conveys, and Harrison Ford does a wonderful job of conveying his roguish personality. He's an outlaw who plays friendly, but at the end of the day, it's all about the bottom line. His negotiations with Luke and Obi-Wan are fun to watch.
We also see that even though Han is a smooth talker, he's not averse to danger. During his confrontation with Greedo the bounty hunter, Han is totally calm the whole time they're talking. That is until Han fires on Greedo and makes his exit. And as we all know… Han shot first.
The Mos Eisley Cantina scene is so memorable and really encapsulates the atmosphere of the Star Wars movies. It was the perfect setting for a LEGO set, and I'm so glad that LEGO decided to make it a set this large to really depict as many details as possible. It's excellent fun to watch the scene again after building the set, and to recognize all the different characters that LEGO has produced minifigures for.
Before You Start
This section is for people who have already bought the LEGO Mos Eisley Cantina, so if you're still on the fence about whether to buy it, then skip to the rest of the article as this won't be so relevant to you. But I wanted to share some tips that you should consider before you take it out of the box.
Know where you're going to put it. This set is huge, with total proportions of 7.5″ (19cm) high by 20.5″ (52cm) wide by 23″ (58cm) deep. Those specifications are for the set when it's open, but the inner Cantina can also be closed up, so you should think carefully about where you're going to put it, and whether you want to display it open or closed.
Have a large space to build it. Because Mos Eisley is primarily built all in one large piece towards the later stages, it means that it takes up a lot of space. You have to account for the build you've put together so far, as well as somewhere to lay out the pieces for each stage. To put this into perspective, I was using a surface of about 3.5 feet by 2.5 feet, and I still needed to go and get a chair to put next to my surface so I'd have more space to build.
Organize the pieces of each stage. It's up to you how you do this. I'm super neurotic when it comes to organizing my pieces and spend a considerable amount of time each stage just laying them out based on size, color, and shape. I like doing it this way, as it's really easy to see where everything is when I'm reading the instructions and looking for the right pieces. Other people prefer to roughly group them based on color or size. You can get a few small tubs or trays to put on your work surface, or you can just pour the pieces directly on your surface.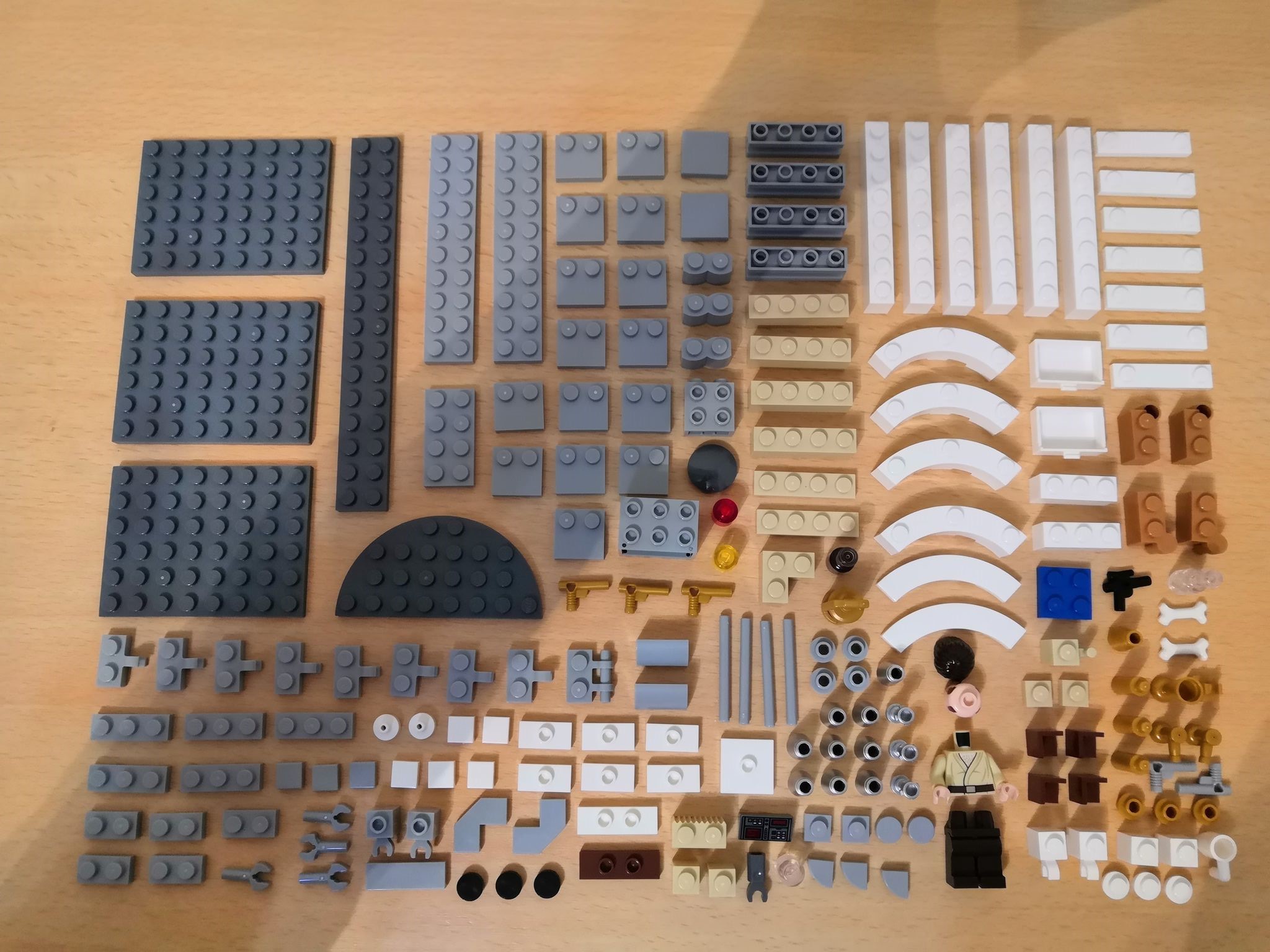 Watch the movie. Obviously, this is optional, but it'll make your building experience so much more enjoyable! The Cantina scene is such an integral part of Star Wars Episode IV: A New Hope and if you watch it before building, you'll truly feel part of the action. At each stage, you'll be able to think "aha, I recognize that detail from the movie!"
The Instructions
I have mixed feelings about the instruction booklet. They're mostly positive, but there were just a few decisions that I wish LEGO had made differently. Let's talk about it!
There's lore mentioned throughout. The thing I absolutely love about the instruction booklet is that as well as just showing the steps of the build, it also scatters bits of lore through the pages. You're able to see stills from the movie, as well as learn snippets of information about the settings and characters. It makes the build an even more immersive experience.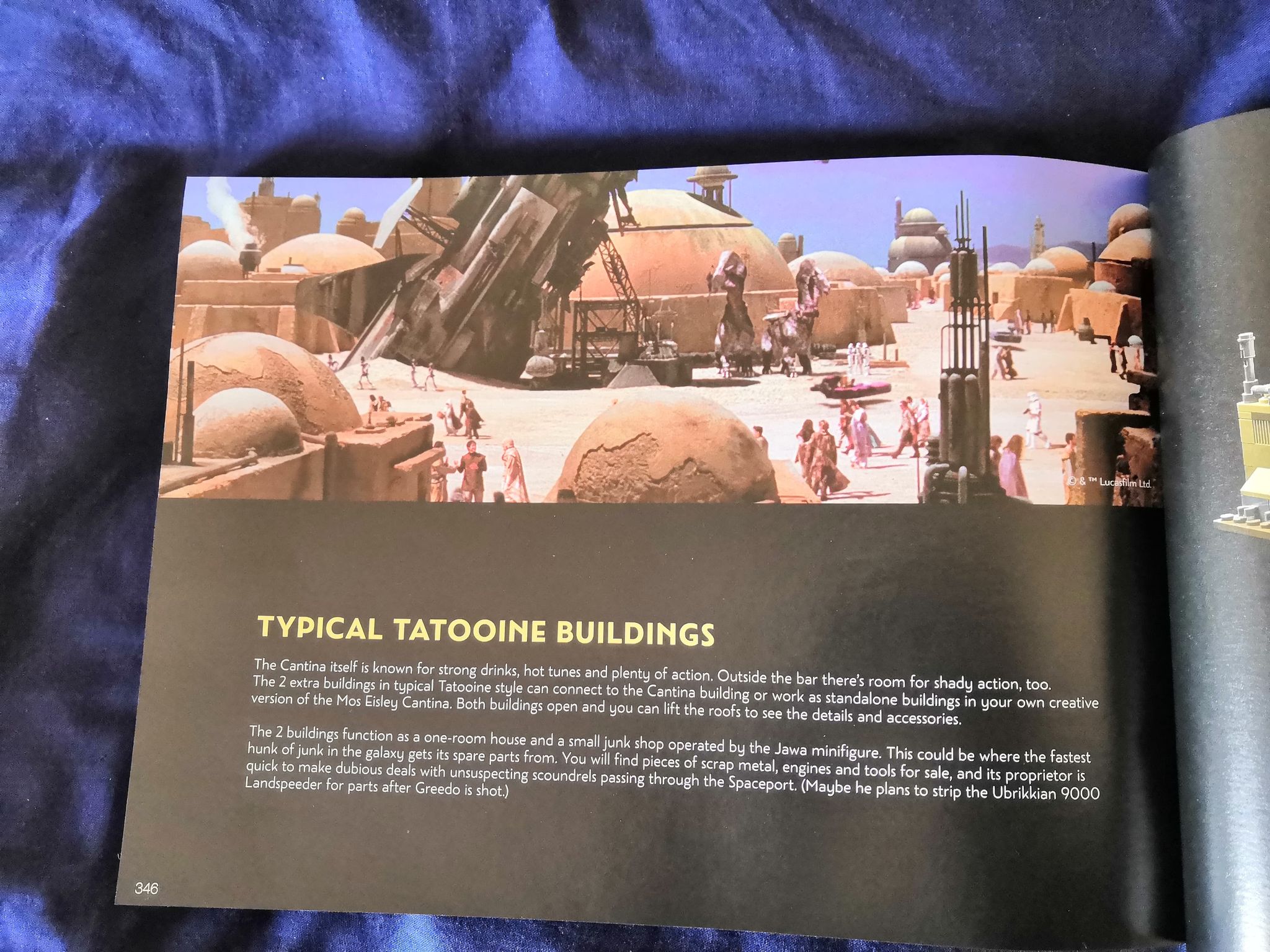 The background is black. Most LEGO instruction booklets tend to have a lighter background. Now, I understand why LEGO decided to go with black for this one (to mimic the darkness of space, presumably), but it's annoying from a practical standpoint. It makes it very hard to see the specific colors of the pieces, especially when a stage utilizes two very similar shades such as light and dark gray, or brown and black.
The booklet is a good size. This is one hefty booklet. But in a good way. It's very exciting to start a build with an instruction booklet this large, as it makes you feel more powerful. You get to stare at this thick wad of paper, and know that you're going to be following all of that. You're putting something together with your bare hands. It's a special feeling. Some larger sets will have two separate instruction booklets, so I'm glad Mos Eisley Cantina didn't do that.
It doesn't show where new pieces go. This might seem like a bit of a petty negative as most sets don't do this, but after recently building the LEGO Batmobile Tumbler, I feel spoiled. That set had a red outline around each of the new pieces in a step, making it immediately simple to tell which piece went where. But with Mos Eisley, I feel like I'm playing Spot the Difference. It slows down the process, and I hope LEGO start doing the outlines with more of their instruction booklets.
The steps are well proportioned. This is one thing that LEGO tend to be excellent at. Each step adds the right number of new pieces to feel in control whilst still making quick progress. There are a few times where I feel steps could have been combined into one, but for the most part, they're the perfect length.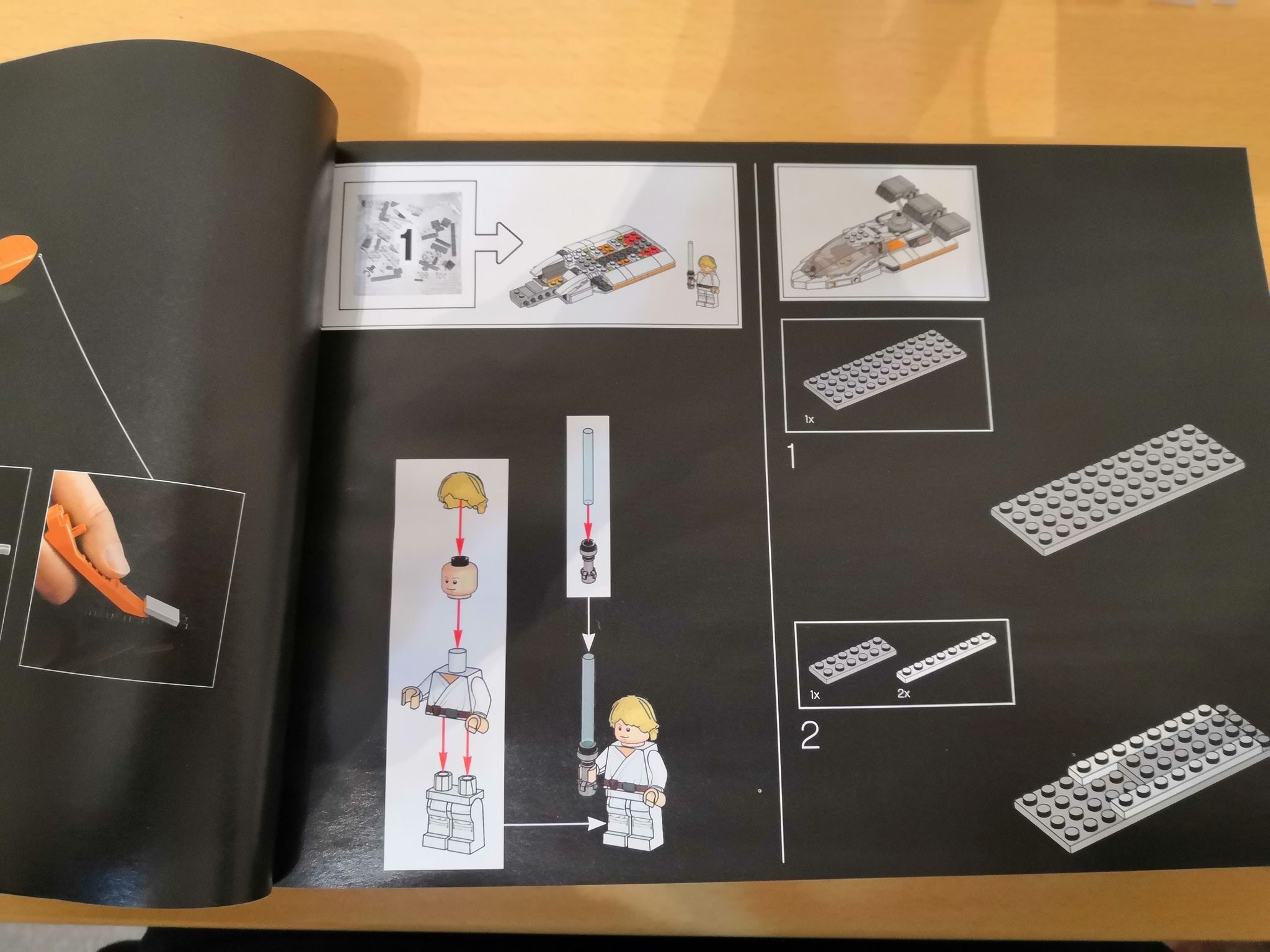 Time to Build
Now, time to build will vary between people as everyone has different levels of experience, hand-eye coordination, etc. However, I thought it would be useful for me to share my own build time, just to give you a rough idea of what to expect. Bear in mind that I spend A LOT of time at the start of each stage by organizing my pieces into a perfect layout, however, I do think that balances out by making the building part quicker as I spend less time looking for pieces.
For each stage, I've shared the time it took between first opening the bag, and finishing the build. I've also mentioned how many bags there are. These are the numbered bags that you find within the main box, and don't include the smaller bags inside the numbered bags that contain the 1 and 2 stud pieces. Some of the stages do require extra pieces that are kept separately such as capes or larger plates, but I haven't mentioned these in this section as the instruction book shows you if you need the extra pieces.
Total Time to Build – (27 bags). ~14.5 hours
Stage 1 – (1 bag). 30 minutes
Stage 2 – (1 bag). 40 minutes
Stage 3 – (1 bag). 50 minutes
Stage 4 – (2 bags). 1 hour and 5 minutes
Stage 5 – (1 bag). 25 minutes
Stage 6 – (1 bag). 20 minutes
Stage 7 – (1 bag). 15 minutes
Stage 8 – (2 bags). 1 hour and 15 minutes
Stage 9 – (1 bag). 45 minutes
Stage 10 – (2 bags). 1 hour
Stage 11 – (1 bag). 25 minutes
Stage 12 – (1 bag). 35 minutes
Stage 13 – (1 bag). 50 minutes
Stage 14 – (3 bags). 1 hour and 10 minutes
Stage 15 – (2 bags). 55 minutes
Stage 16 – (2 bags). 1 hour
Stage 17 – (2 bags). 1 hour and 10 minutes
Stage 18 – (2 bags). 1 hour and 15 minutes
The Building Experience
I was really pleasantly surprised by just how fun this set was to put together. Whilst I loved the look of the buildings, they seemed to be mostly sand colored, so I was worried about it being a rather monotone build. I'd recently built the LEGO Batmobile Tumbler which was primarily black and dark gray pieces, and although it was an excellent display piece, the build itself had been rather bland. This was not the case with LEGO Mos Eisley Cantina, though.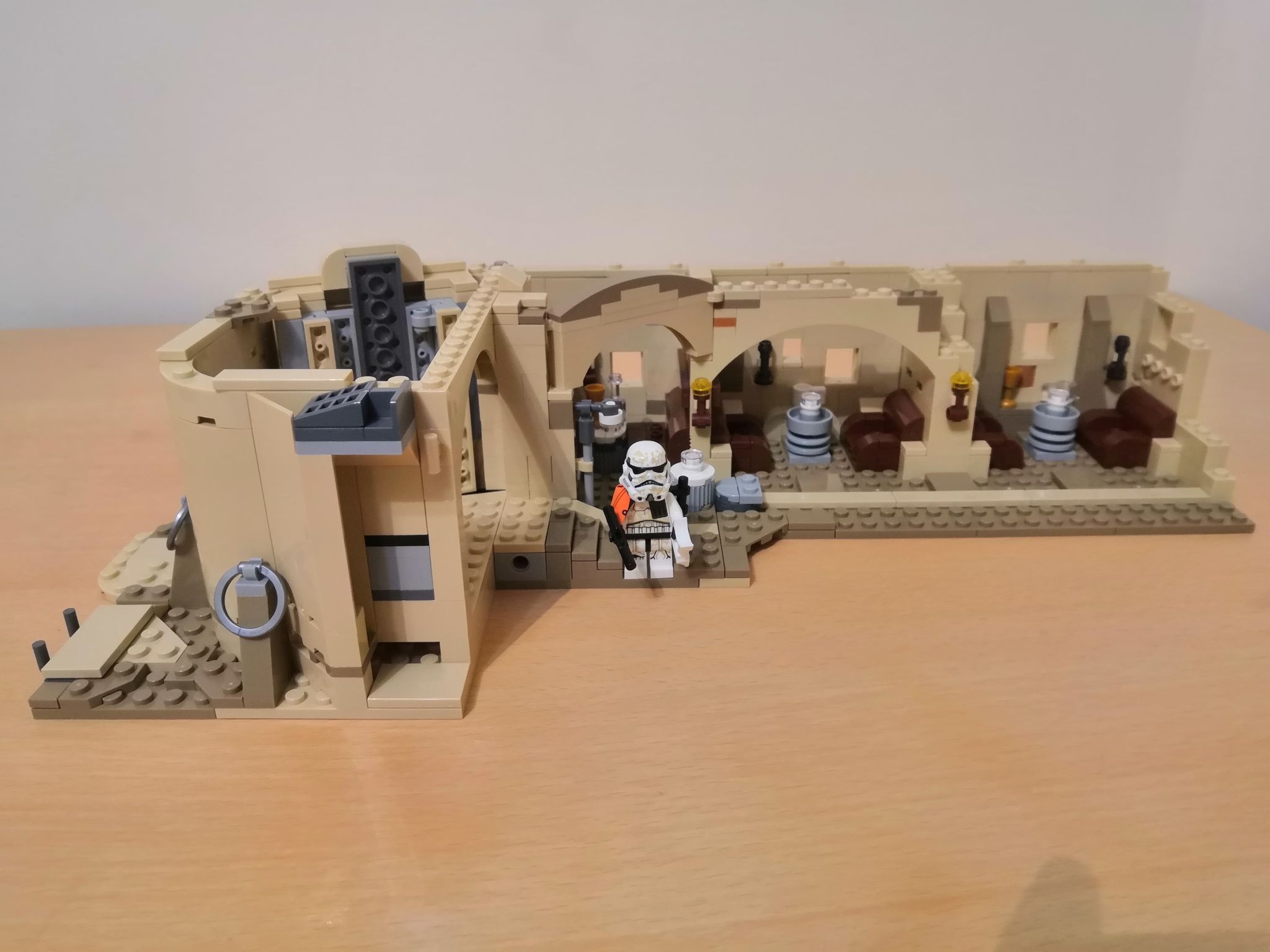 Far from it, actually. This ended up being probably my second favorite building experience I've ever had, coming second only to LEGO Diagon Alley. Even though some of the stages took a pretty long time to put together, it was still really enjoyable. It never felt repetitive or time-consuming. Instead, it felt simultaneously relaxing and stimulating.
It was interesting to see the range of pieces in each section. There was a decent array of colors and shades, as well as unique shapes. I always arrange all my pieces before I start each stage of the build, so I was able to appreciate all the different pieces available. Some stages did occasionally have an excess of a certain piece, which could become a little boring as I'd see it in the instructions and think 'this one again?', but otherwise the variety was decent.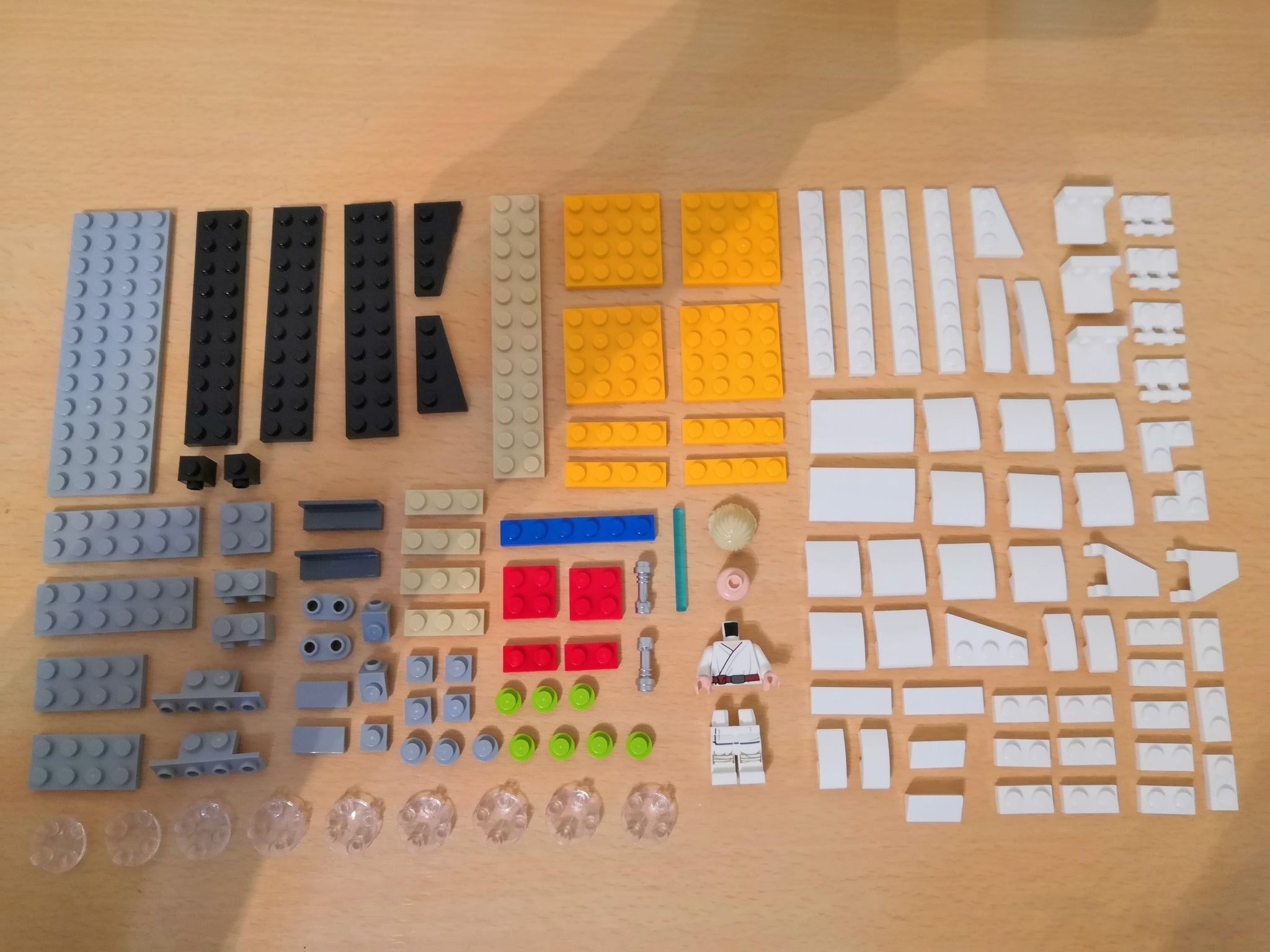 I really liked that although the majority of the stages were involved with constructing the main building of Mos Eisley Cantina, there were plenty of separate builds within the instructions. So we weren't always building directly onto the base. Instead, we'd build a structure such as a satellite or a door, and then add it in afterwards. This helped make the experience more interesting.
Because there are so many minifigures in this set, it meant that each stage introduced a new character, sometimes more than one. I loved this, and it was exciting ripping open the bag to see which minifigure pieces would fall out, and trying to guess who it was based on the colour of their torso. Minifigures are always the first part of each stage in the instruction booklet, so it was fun to put them together and then have them next to you as you constructed the rest of the stage.
All in all, it was a thrilling building process, with plenty to keep me entertained throughout.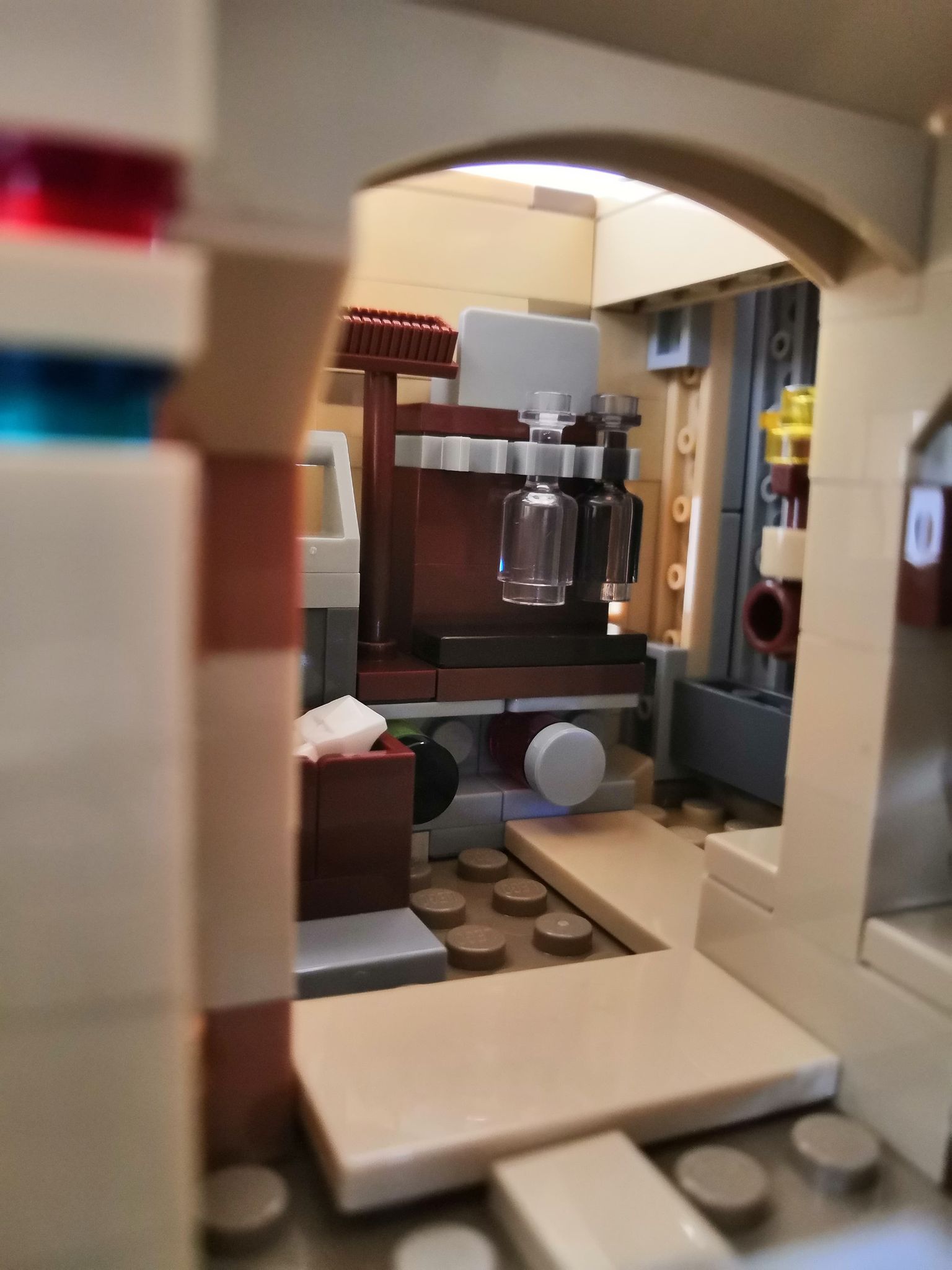 The Finished Product
This thing looks incredible. Like absolutely, utterly incredible. It captures so many details that you really feel transported into the scene. The set can also be displayed in multiple ways, which just adds to the perfection. Personally, I really like having the main Cantina enclosed with the roof on top, and the additional Tatooine buildings attached to the side. That way, I can also include the two landspeeders in front of it in the gap between the buildings, and it makes the best use of the space.
I love that LEGO included a large Dewback figure that the Sandtrooper minifigures can ride on. It has a saddle and everything, and this kind of attention to detail is part of what makes this set so special. There are also satellite towers that clip into the corners.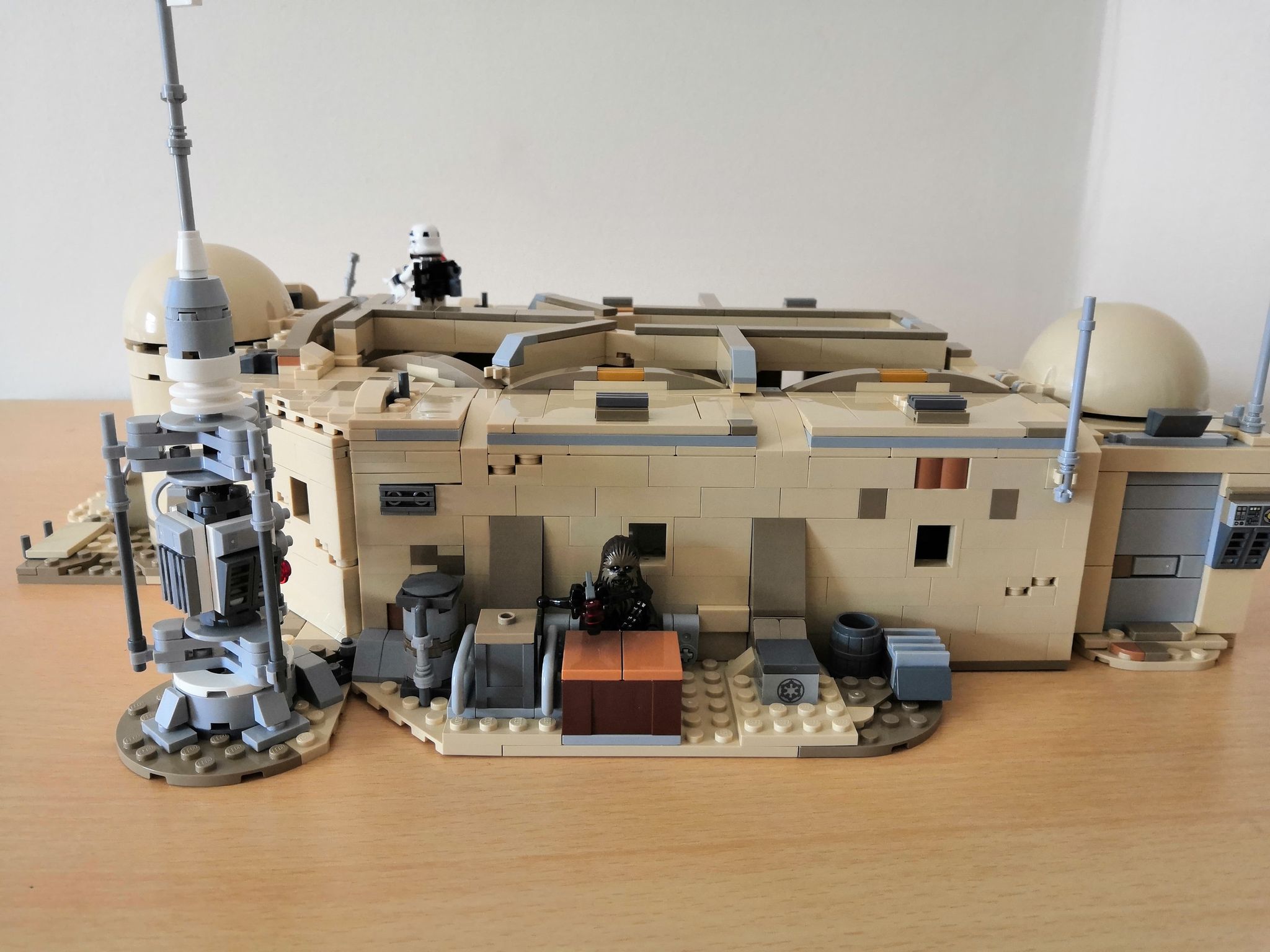 One of the coolest things about this set is that there are so many interactive parts. The roof lifts off, there are doors that slide up and down, there are gears that spin, there are boxes with lids that you can remove to discover items inside. There really is so much to play with, and even though I'm a full grown adult, I found myself tempted to use my imagination and play with the set for a while.
In the end, I sated myself with arranging the minifigures in fun locations that I created a backstory for (I hired R2D2 and C3PO as bar staff, as the owner wanted to make up for his previously racist policy of not allowing droids in the cantina).
I feel that between the impressive aesthetic and many play capabilities, this is one of the best LEGO Star Wars sets available. Adults and children alike would be delighted to have this in their homes… I know I am.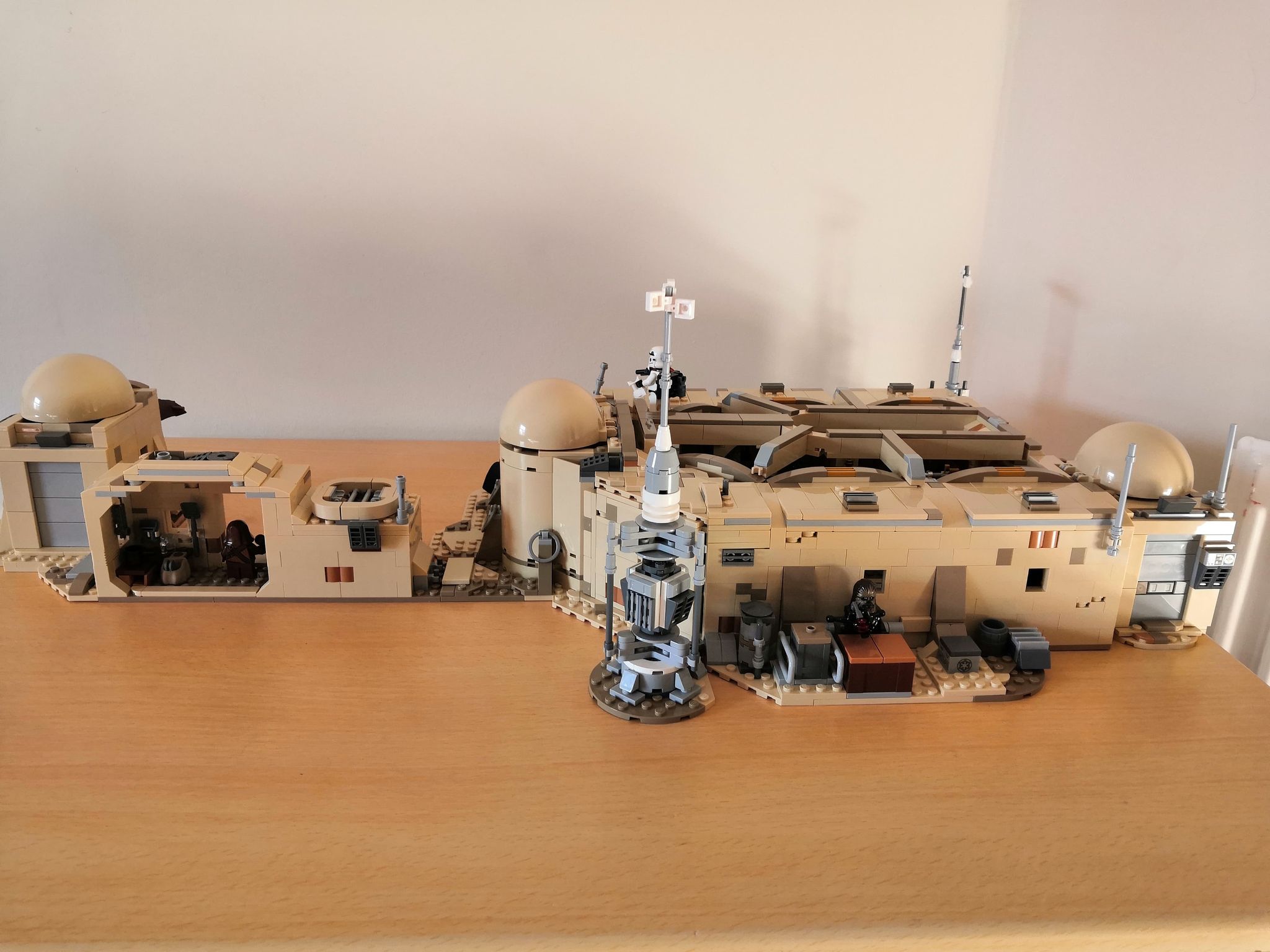 Is It Worth It?
To decide whether or not the LEGO Mos Eisley Cantina set is worth it, we have to consider a few different factors. There are 4 that I consider to be the most important, so I'm going to break down my review into those sections. I won't apply any weighting to them as everyone has different preferences, so you can simply read my summaries and decide how important that factor is to you.
Ease of Build
This was a pretty simple build to follow, I have to say. The instructions were clear, and the pieces used connected easily. There were a couple of occasions where Technic pieces didn't really want to clip in and I needed to apply a bit of extra force, but for the most part it was smooth sailing.
I was relieved that the majority of the build used standard connections whereby you just press the two pieces into each other. I don't like when LEGO sets rely too much on Technic pieces or pieces that need to awkwardly clip into each other. The force and precision necessary for that kind of thing ruins the experience in my opinion. As such, I was glad that that didn't turn out to be a problem with the Mos Eisley Cantina.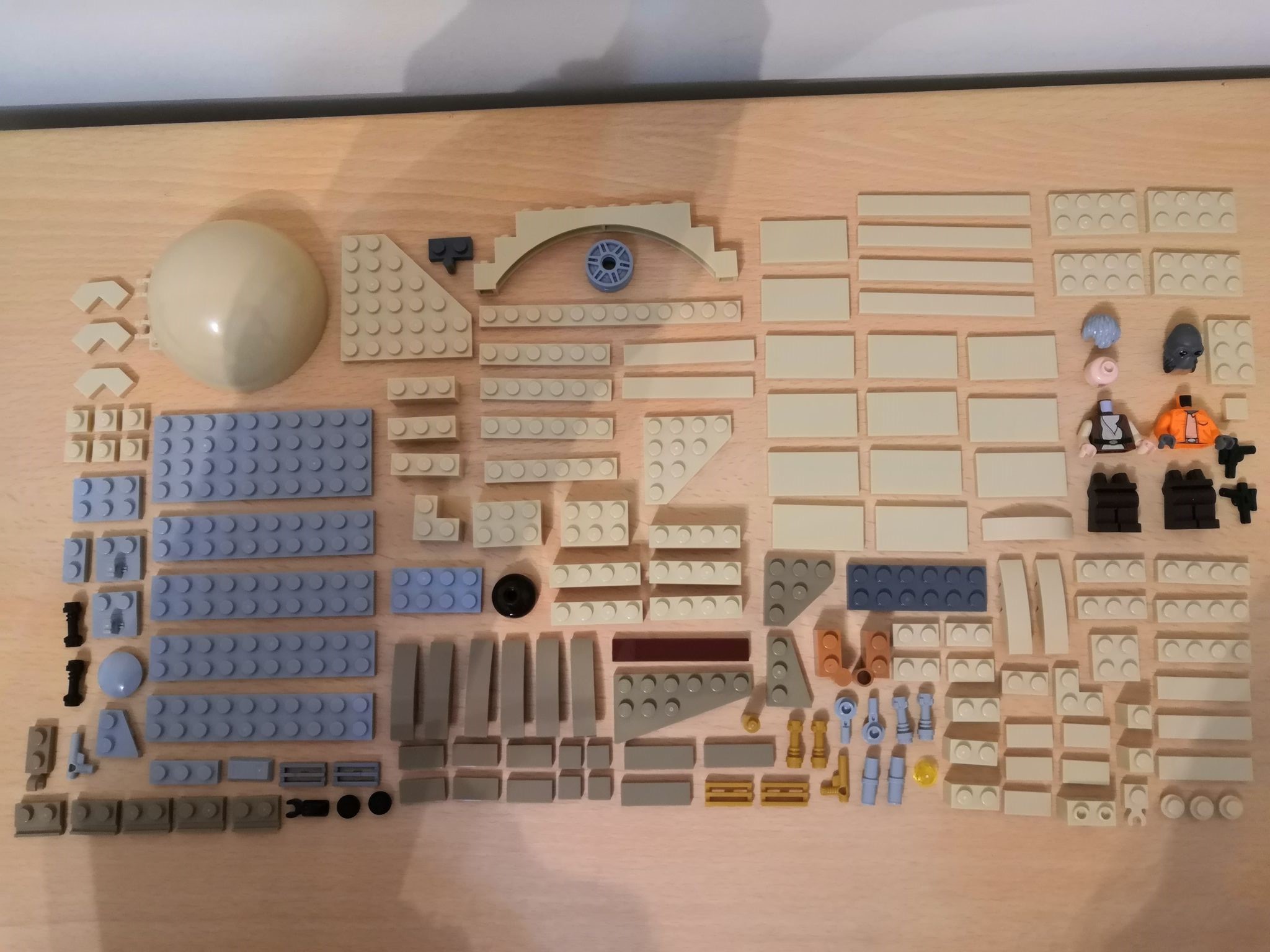 It's also much more structurally sound than a lot of LEGO sets of a similar size. Although there are several sections that are built separately and then attached, they all have considerable heft to them. That meant that I didn't have to worry about fragile sections falling apart in my hand as has happened to me before with sets such as LEGO Hogsmeade Village Visit.
All in all, this was an easy build, albeit a time-consuming one.
See also: LEGO Star Destroyer Review and Guide
Enjoyability of Build
As I've mentioned a few times above, I had a really great time putting this together. There weren't really any frustrating moments where pieces wouldn't go together (ease of build is usually directly linked to enjoyability of build, for me). It was relaxing being able to settle down with the instruction booklet and the bags for each stage, and just follow what was in front of me.
There was decent variety across the stages as I worked on different parts of the build. However, there were a couple of times where I found it monotonous. Most noticeably was when I was building Greedo's landspeeder, as all 4 sides of it were nearly identical. It also used a lot of stickers, which I hate having to attach as it stresses me out trying to make it perfectly straight.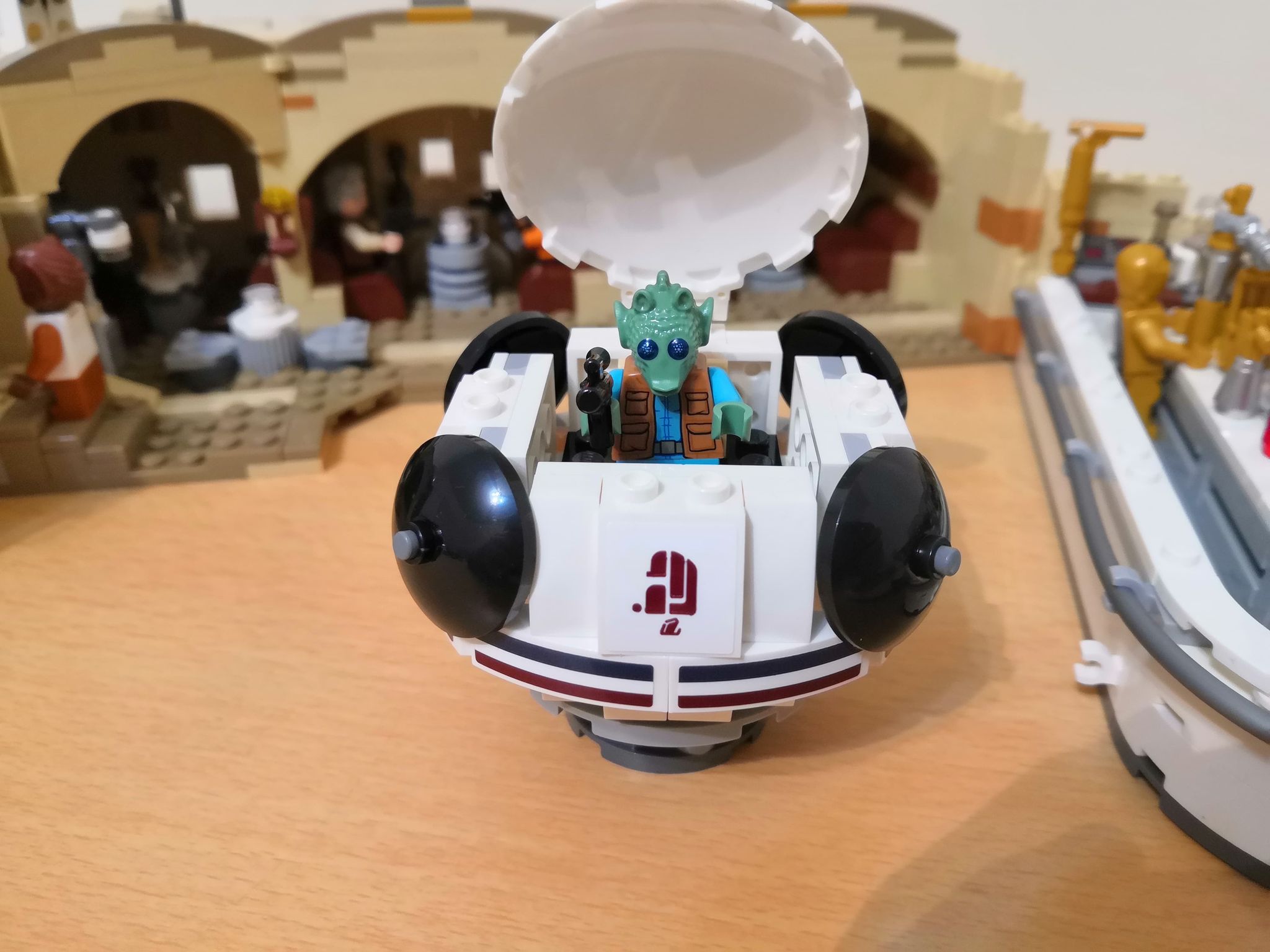 Luckily, there were hardly any stickers across this set, with there just being a tiny sheet which covered the entire build. Instead, Mos Eisley Cantina boasts a lot of specially printed pieces rather than making the builder stick them on themselves. I really appreciated that LEGO saved us from the effort of having to do it ourselves.
Displayability and Playability
The finished product looks absolutely fantastic. It can be displayed in a number of ways to suit your preferences. You can have the main cantina open with the bar visible in the middle, or you can enclose it with the two sides, and attach the roof piece. The additional Tatooine huts can either be clipped into the main build, or displayed separately. You can choose where to put the two landspeeders as well as the Dewback. Not to mention the many possibilities when it comes to how to arrange the minifigures.
As for playability, this is arguably one of the most interactive Star Wars sets you can get. The play area is so large, especially as you can open the set up, including removing rooves on the various sections of the buildings. My personal favorite parts are the sliding doors that appear in several places. I don't know why I find it so exciting, but I really do. You can pose the minifigures in all sorts of positions, and make them battle with one another.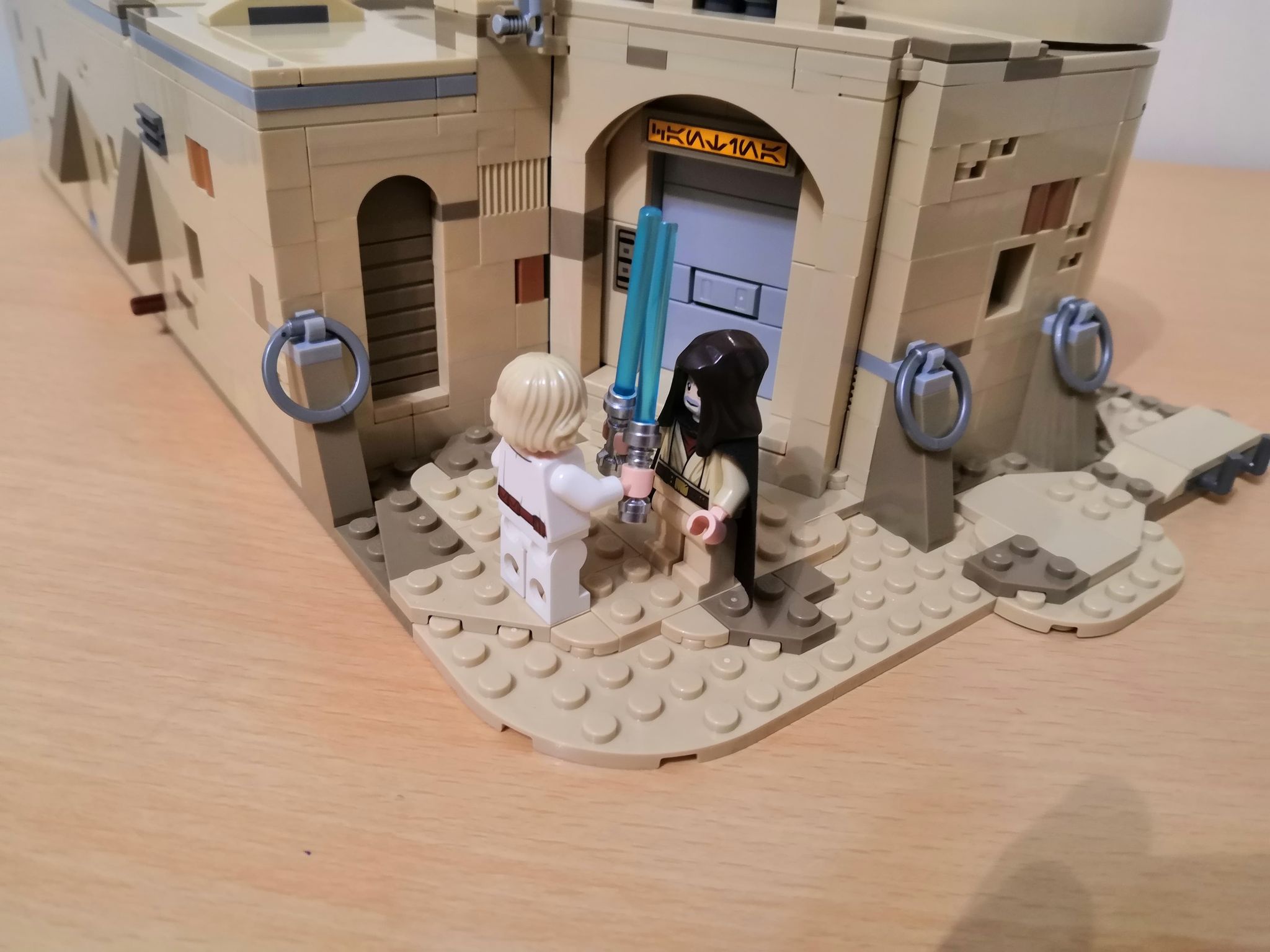 There are countless accessories in this set, with blasters, lightsabers, spanners, binoculars, and even a working crossbow for Chewbacca. LEGO really have thought of everything when it comes to the possibilities for play. There's so much to do, and once you're done, you can fold it back together for a compact and impressive display piece.
Value for Money
This set retails for $349.99, and I feel that's a reasonable price for what you're getting. Admittedly, I'm of the opinion that basically all LEGO sets are overpriced, but that they're so special that I don't mind paying so much for them. So in the context of LEGO's usual costs, I feel that Mos Eisley is well-priced. Not only do you get a large and interactive building, but there are also a whopping 21 minifigures! And that's not even counting the R2D2 figure or the Dewback.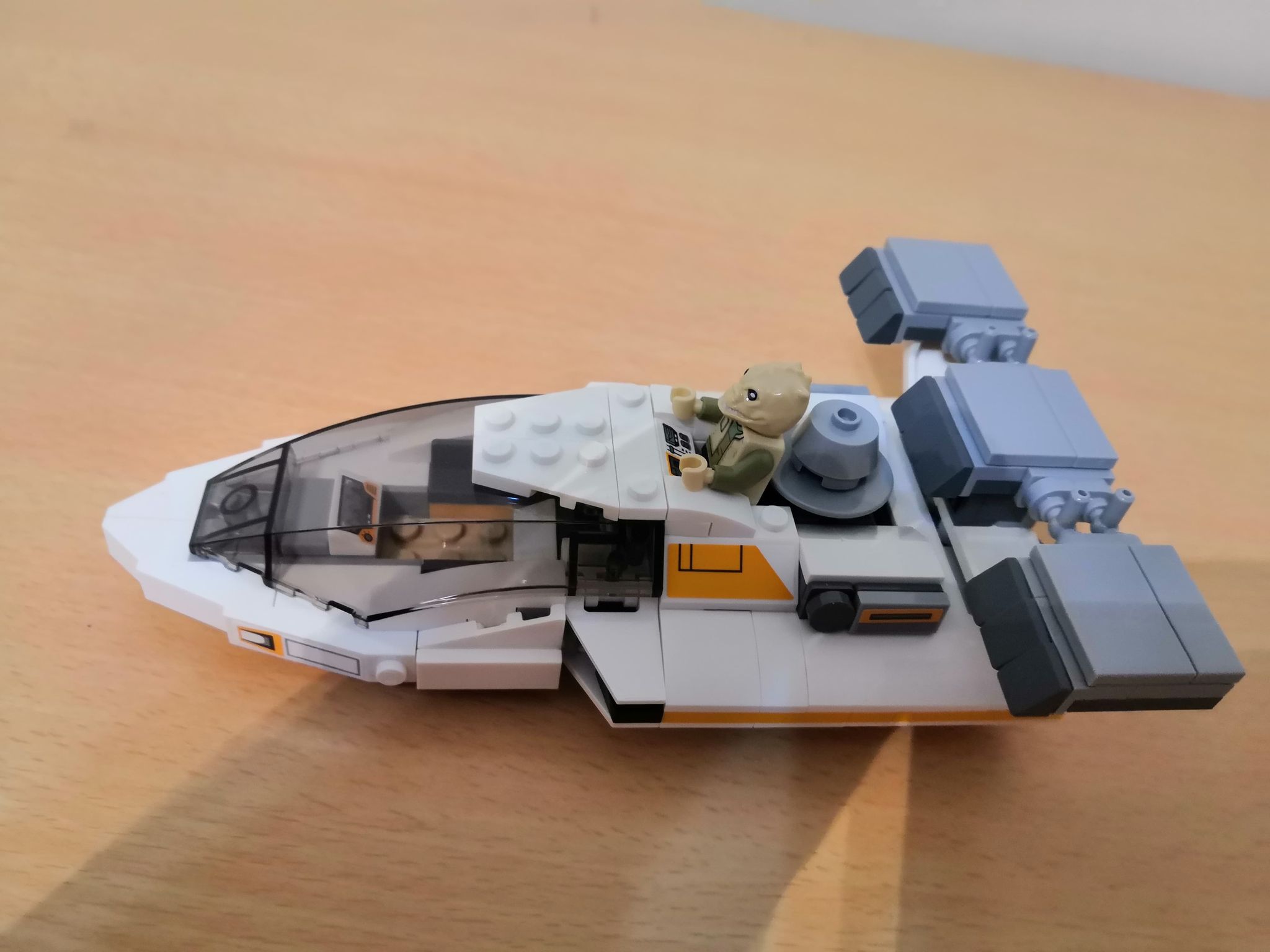 Best Parts About Mos Eisley Cantina
Hardly any stickers. I think one thing that pretty much all LEGO fans can agree on is that we hate stickers! So I was thrilled when I opened the envelope for LEGO Mos Eisley Cantina (there was a white envelope inside the box with the instructions and stickers) and saw just one small sheet. I've had sets a fraction of this size with more stickers than that, so it was great to not have to really worry about them throughout the build.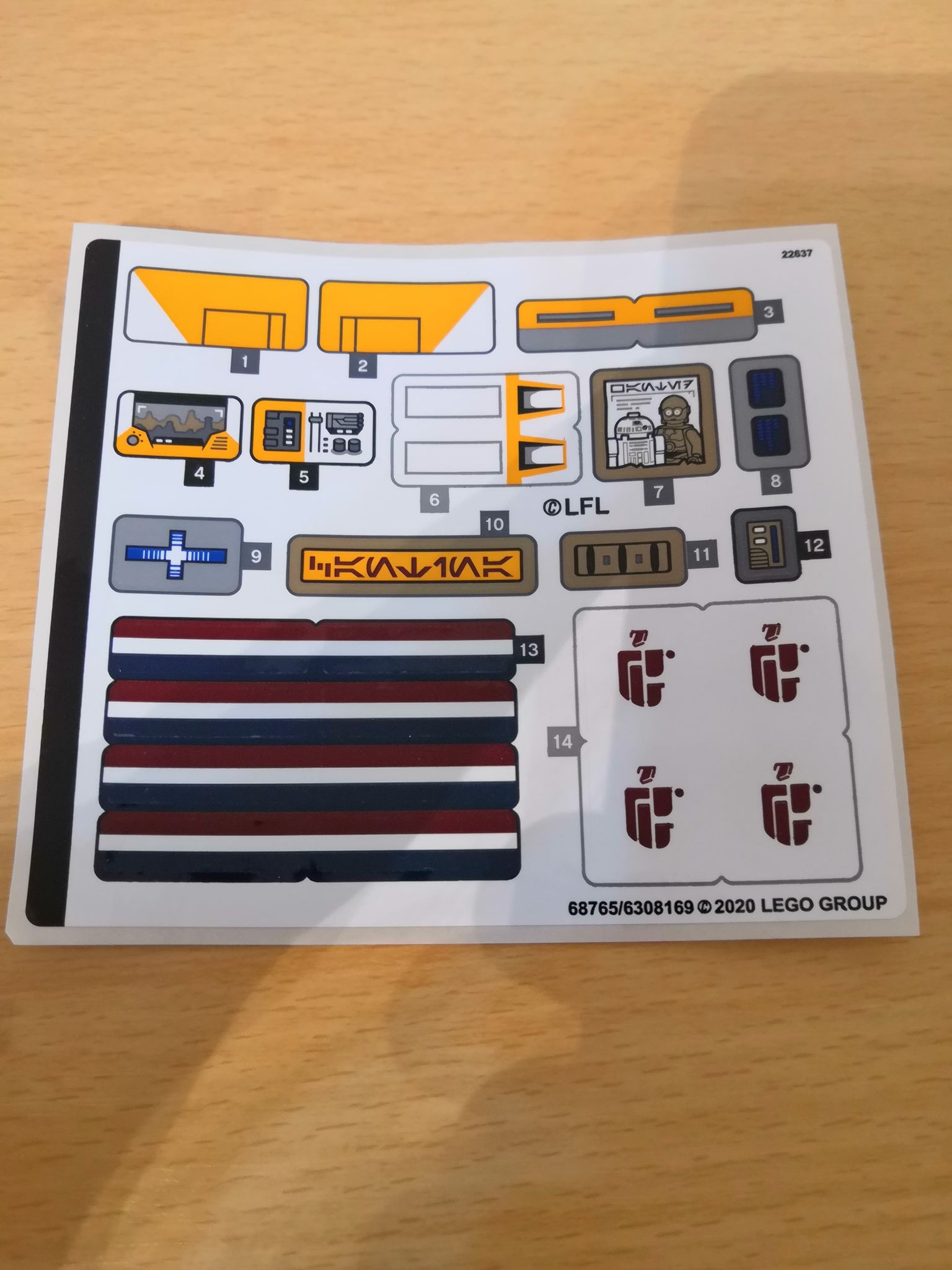 Loads of interactive parts. There are sliding doors, spinning gears, boxes with items in. Chewie even has a functioning crossbow that fires a shiny red stud. I always think it's so fun when LEGO create sets that really activate the imagination, and give you plenty to do even once the build is all over.
Hidden details. A lot of Mos Eisley Cantina is made with the sand colored bricks, so I love that LEGO have considered this with the build process. Often when laying the foundations of sections, you'll encounter bricks in colors that don't really have anything to do with Star Wars. I'm talking vibrant reds and yellows and blue. They then get buried under the other bricks, but when building, it's comforting to have the visual difference.
It's big. This set gives you a lot of bang for your buck, and the specs are very impressive. Its size means it commands immediate attention, and it could be a great talking point if you invite a friend over who's a Star Wars fan. It also means there's a lot more to play with, and it could keep a child entertained for hours.
Lots of minifigures. Many collectors are more interested in the minifigures than in the actual sets, and LEGO Mos Eisley Cantina comes with plenty of minifigures, 21 in total. Several of these are unique to this set, and so you can have access to Star Wars characters that you won't find anywhere else.
Worst Parts about Mos Eisley Cantina
Quite a lot of unnecessary plastic. There are a lot of extra bags in this set that don't really need to be in there. For example, stages 5, 6, and 7, were all tiny and could easily have been combined into one bag. Also, some of the smaller bags within stages didn't need to be there. Or larger bags were used when a smaller bag would have sufficed. Overall, this set produced 120g of plastic bag waste, which may not sound like a lot, but it really adds up when you think about how many copies of this set were produced.
It's big. Yup, I know I put this in the Best Parts section as well, but it's all about perspective. For people with large houses or dedicated rooms for LEGO then it may be great, but for the average person, it's going to be tough to find anywhere to put it. It wouldn't be so bad if it was only large in width and height, but the fact that it's got a considerable depth too means it's going to be tough to find a shelf the right size to display it.
Not particularly exciting to look at. Now, this is not to be confused with being unpleasant to look at. As I've mentioned throughout this article, I really love the appearance of this set. However, there's no denying that it's relatively dull in terms of excitement. It's mostly sand colored, and the shape of the building is pretty uniform. So if you're after something that really pops out at you, this isn't it.
FAQs
Question: When does Mos Eisley Cantina first appear in Star Wars?
Answer: The audience is introduced to the Mos Eisley Cantina on Tatooine in Star Wars Episode IV: A New Hope. Obi-Wan Kenobi leads Luke Skywalker there in the hopes of finding a means of passage off the planet. It's there that they meet Han Solo and Chewbacca, and the story really begins.
Question: Have there been any other Lego sets of Mos Eisley Cantina?
Answer: Yes. The first was the 4501 set released in 2004 which retailed at $29.99. Since then, we've seen the 75052 set in 2014, the 75205 set in 2018, and finally the 75290 set (the one reviewed in this article) which was first released in 2020.
Question: What music is playing in Mos Eisley Cantina?
Answer: Star Wars had a fantastic soundtrack, but few scores are as memorable as the song that plays in the background of Mos Eisley Cantina. It's known as 'Cantina Band' and was written by John Williams, but in-universe it was performed by a band called Figrin D'an and the Modal Nodes.
Conclusion
Overall, I think that the LEGO Mos Eisley Cantina set is a wonderful purchase. I had immense fun putting it together, and the result is a beautiful building that offers plenty of play opportunities. I do think that the recommended age of 18+ is a tad excessive, though, and I'd say that it should be fine for any experienced LEGO builders aged 14 or older.
Hopefully this review and guide has given you a good idea of whether or not this set is right for you. It's a considerable expense and is something you should think carefully about, but ultimately I don't think you'd regret it if you did buy it. It's inspired by such a memorable Star Wars scene and provides a delightful building experience. It's certainly one of the highlights of my LEGO collection!
Recommended Reads: