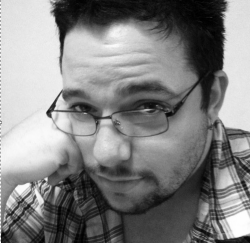 Latest posts by Mark LoProto
(see all)
Netflix has taken viewers across vast expanses of unexplored earth and to the familiar towns and cities we know and inhabit today. To say it has opened the world to us is really no exaggeration – even the darker corners of the universe no man or woman was meant to see. One seedy dimension in particular has been slowly seeping its way into our homes since 2016, all thanks to Netflix and the unstable psychical powers of a confused and mentally fractured teenage girl. Though the Upside Down is no place we'd vacation to, it's absolutely something we'd build in an official Stranger Things LEGO set.  
Netflix's popular science fiction horror show seems prime for a collection of LEGO sets, and that's where things get weird. Maybe not as weird as Demogorgons and Mind Flayers, but still weird. There was only one official Stranger Things LEGO set mass-produced for consumers. Considering the source material and locations like Hawkins National Laboratory and Starcourt Mall, I expected quite a few sets released by LEGO. 
However, adult fans of LEGO (AFOLs) and teenage fans of LEGO (TFOLs) have been hard at work, giving us plenty of Stranger Things LEGO My Own Creation (MOCs) to choose from. 
Bottom Line Up Front
Despite the marketability of Stranger Things, Netflix and LEGO haven't paired for more than one mass-produced and one exclusive, limited-release set. However, AFOLs and TFOLs have been upholding their end of the LEGO fandom with custom MOCs and LEGO Ideas, or concepts yet to have a concrete blueprint, inspired by the popular Netflix production. With what user creations are out there, though, I still found myself gravitating toward one in particular – a fan creation featuring the Mind Flayer and multiple scenes in the Upside Down and Hawkins built on a spinnable wheel. It's a pretty wild concept that LEGO really should consider making official.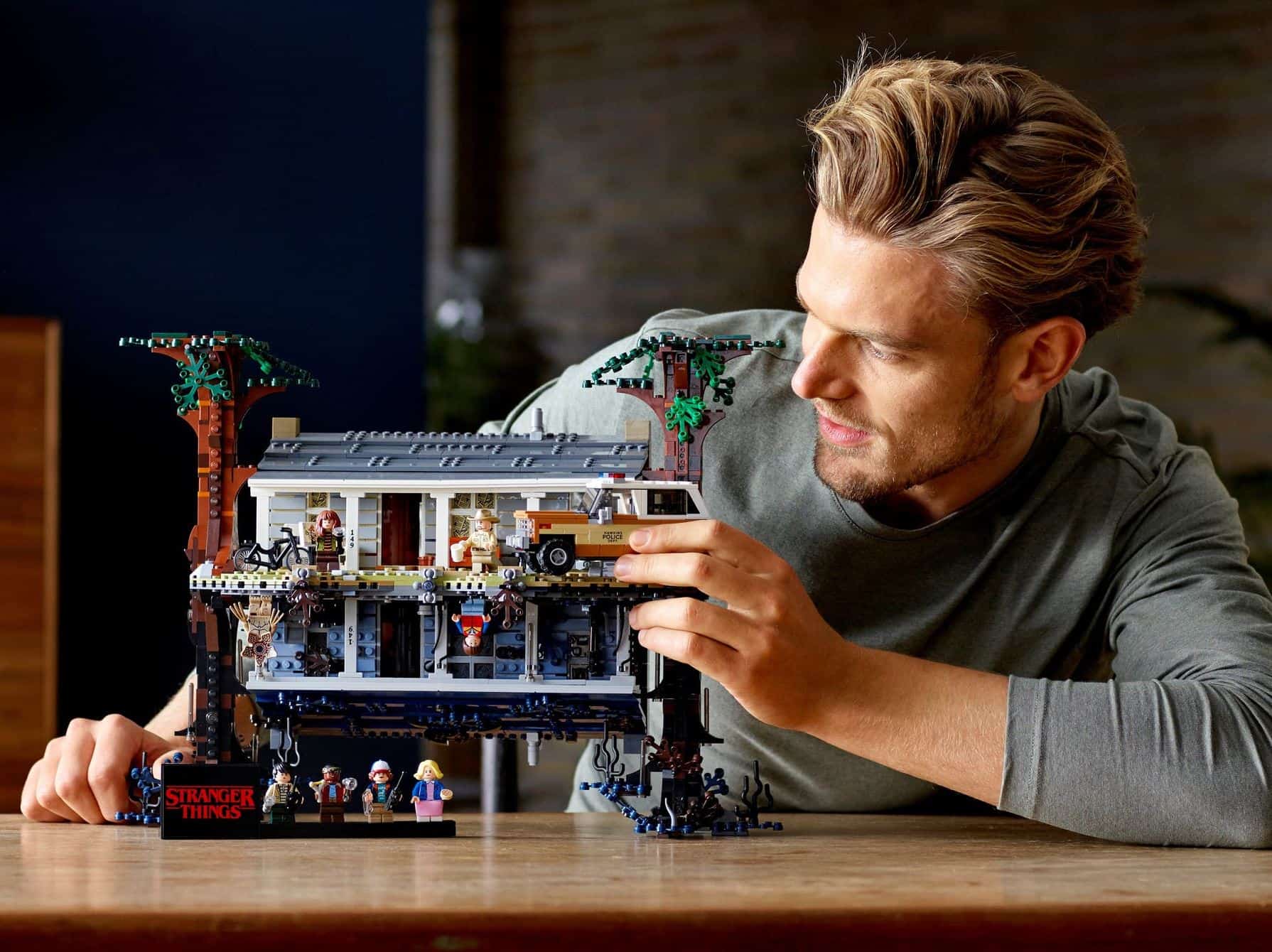 My Top Picks
The selection of Stranger Things LEGO sets is slim, but there's enough out there to warrant pinpointing which I felt were representative of the show and would provide the best building experience for users. The following four sets are the best of the best that I would absolutely have on display alongside my more elaborate sets.
Easiest to Build: Castle Byers
Selection Criteria
Though the choices were limited, I did still put some thought into how to select the best Stranger Things LEGO sets. At the time of this writing, four seasons have been released, each introducing a new element or expanding on previously revealed concepts that required exploring. To land on this seven, I considered the most important of those and recalled the set pieces and moments that really stuck with me as I watched the show unfold. Since many of these are MOCs and Ideas, there may be multiple versions of them on the Internet. In those instances, I opted for the most detailed or the one that best matched what it was trying to replicate.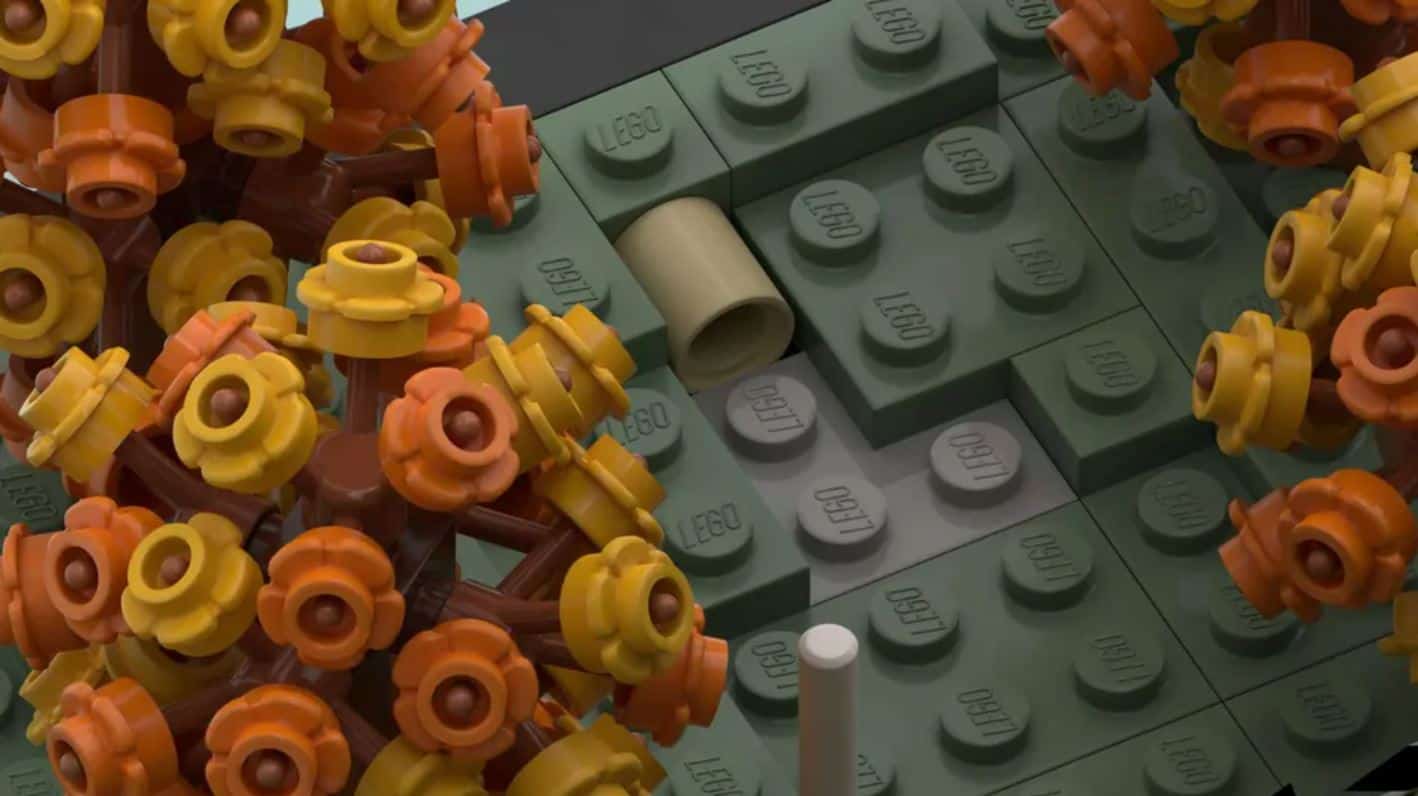 7 Best
LEGO
Stranger Things Sets
Following Eleven's journey from a scared, desperate lab experiment to a teenage girl facing the trials and tribulations of junior high school inspires creativity. It's a bit confusing that LEGO and Netflix didn't pair up more to bring the mysterious Upside Down and the quaint town of Hawkins to blocky life, but tapping into that creativity and a spare collection of bricks, you can fill that void.
There's a lot of variation in this list, so there is no one set of brick colors you'll need to have more than others. Since some of these are Ideas and you don't get the benefit of instructions, you'll need to get creative and use provided reference photos.
Hawkins National Lab
If you have time for a 14,000-piece build, you will absolutely want to take on this LEGO Ideas concept. The Hawkins National Lab is an integral part of the series, serving as the launching point for the chaos that ensues. There are smaller MOCs of the lab, but this massive creation really does the establishment some justice.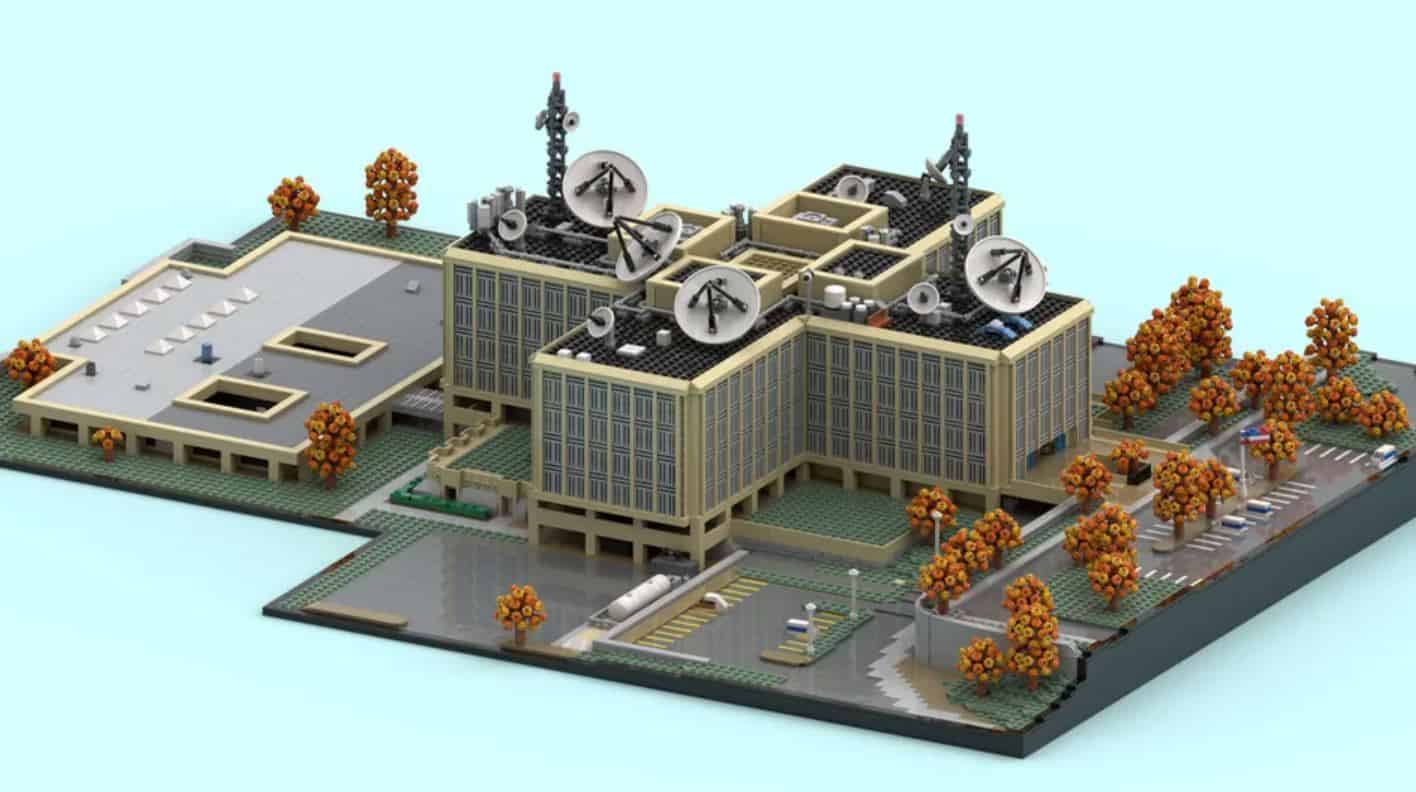 While the main lab building is impressive on its own, the idea, which was posted by LEGO user exoboy555, is quite detailed. There's a complete parking lot lined with autumnal foliage, what appears to be an administration building, and enough satellite coverage to likely reach a distant planet. 
The description of the idea includes reference to Department of Energy vans and Jim Hopper's truck. To show just how big on detail this creation is, the designer also thought to include the pipe that Eleven escaped from. However, scale is going to be this build's biggest drawback. It's quite big and there's a lot to it, and without proper instructions, recreating the lab itself, specifically the foundation keeping it standing, is going to be difficult.
Pros:
Elaborate and detailed build
Looks just like the onscreen depiction
Touches like the Autumn leaves add a unique element
Cons:
If you don't know the show, it just looks like a hospital
Without proper instructions, it's a very difficult build
Some touch of the Upside Down would have elevated the final look
Castle Byers
We haven't revisited Castle Byers in quite some time, so this MOC is quite nostalgic for fans of the first season. It's not a massive build at only 1,736 parts, but it is intricate. This Castle Byers LEGO MOC features two sides, and ReBrickable user Icreatures did a solid job making them both work in one build.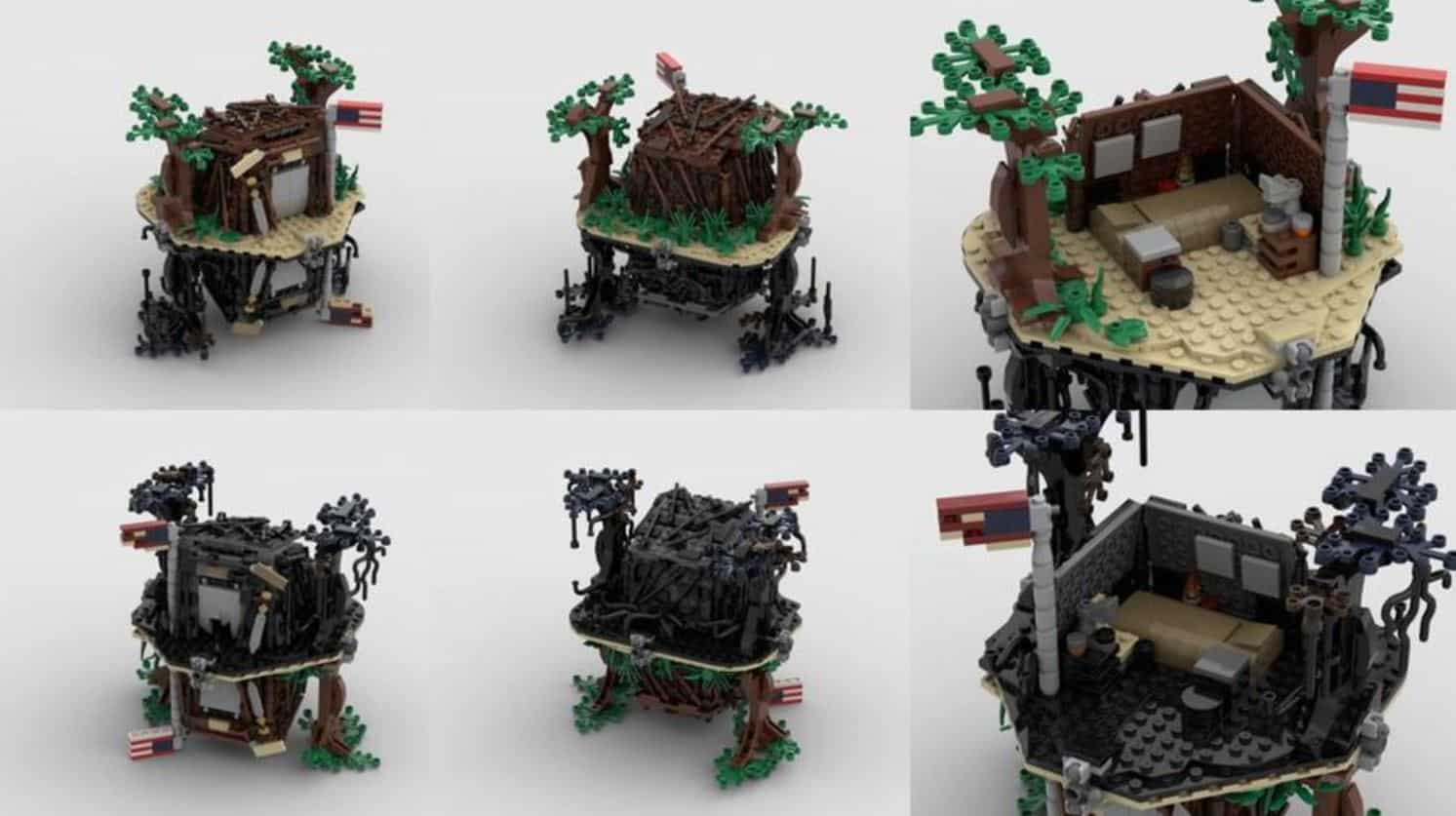 The first is Will's escape from life, a simple paradise cobbled together out of basic bedroom furniture and the youngest Byer's favorite items. Flip it over, though, and you'll be transported to the Upside Down, where Castle Byers is merely a shadow of its former self. The mirrored build is quite clever, and though some red could help capture the look of the mysterious dimension, the Stranger Things MOC is mostly fine as it is. It is missing a Will Byers and Demogorgon Minifigures, but they could be borrowed from the official Stranger Things LEGO set to complete this setpiece. 
There is a much simpler MOC that's smaller and only takes 48 pieces. Brickset.com user Stephan3321 came up with this compact Castle Byer and delivered a user-friendly option that won't take a long time to build.
Pros:
The build is mostly screen accurate
Relatively simple build
Easily stands to display Upside Down or "normal" version
Cons:
No Minifigure instructions for Will Byers or the Demogorgon
Needs better color variation in the Upside Down
The Interior of Upside Down is too clean
The Tunnels
This may not have been an overly iconic setpiece from the second season of Stranger Things, but it was really difficult not to love the detail in this build. Also, the fact that it won the LEGO Ideas Stranger Things contest made it seem irresponsible not to include it on this list. The Tunnels snake beneath Hawkins, transporting elements of the Upside Down all throughout the town.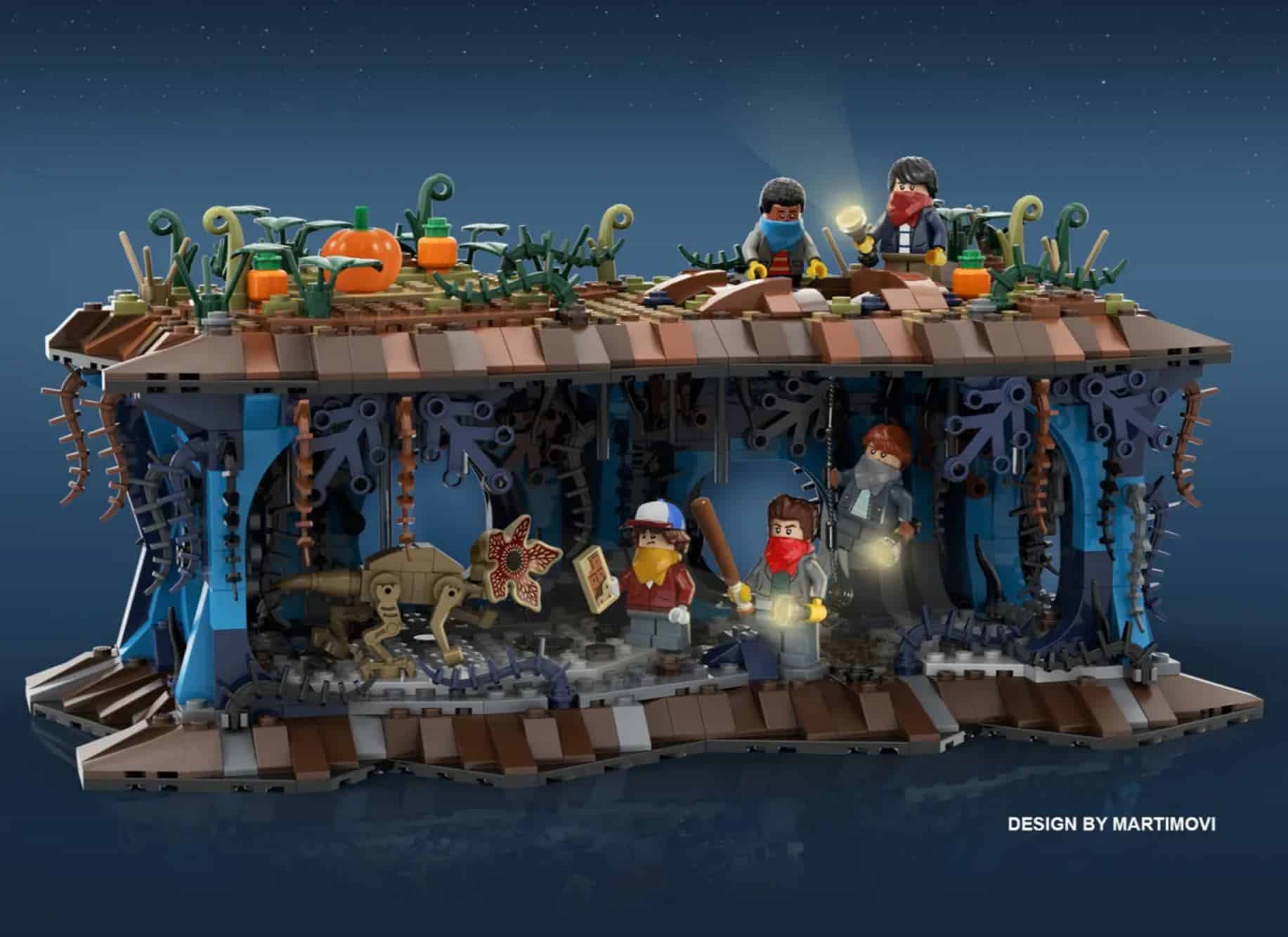 In this custom build, created by LEGO user MartiMovi, Dustin is cornered by his soon-to-be pet, Dart, as Mike, Lucas, Max, and Steve watch in horror. A simple offering of candy began one of the series' most memorable friendships, and it's all here in this detailed build. The Minifigures are surprisingly accurate, and it's very easy to pinpoint who is who. Of course, the differences in hairstyle help.
From the vines winding throughout the MOC to the color contrast between the tunnel and topside, MartiMovi clearly put a lot of thought into the first-prize winner. It's not a massive build, but there are a lot of moving parts that may seem intimidating at first. The most disappointing part of the finished piece is that it doesn't initially look like a Stranger Things locale. If not for the Minifigures, this would just look like a generic cavern. MartiMovi did their best with what they had to work with, but the claustrophobia was part of why that scene was so memorable. Maybe closing the set off a little rather than giving a full view of the underground would have worked better.
Pros:
Very detailed build with a lot to admire
Dart model is well-done
Sizable build with a multilayered payoff
Cons:
A little too generic/doesn't immediately scream Stranger Things
Tunnel side view should be option
Connection to a wall of the Hawkins National Laboratory would elevate the build
Battle of Starcourt Mall
The Mind Flayer posed a unique problem for the teenage heroes of Stranger Things. Mostly in that it was giant, had much of the town under its spell, and seemed unstoppable. Persistent as they are, though, Eleven and company still go toe-to-toe with the Upside Down monstrosity in the town's Starcourt Mall. 
This LEGO Stranger Things MOC captures that epic struggle between a group of heroic teens and the monster threatening their slice of Indiana. Complete with 1,873 pieces and eight mini-figs, this custom creation was the work of LEGO fan and customer designer cm4sci. According to the Instagram post showcasing the project, the build would have a "fully buildable mall with open back," giving just enough space for the oversized Mind Flayer to wreak havoc.
Though there's nothing too special about the mall, save for the "Scoops Ahoy" reference, it's the Minifigures of the teens and the Mind Flayer that would sell this set.
Pros:
Plenty of Minifigures to fill out the battle
Good sized build with plenty of detail
Overall screen-accurate recreation
Cons:
No instructions are available to easily recreate this build
There should be some damage to the storefronts
The Mind Flayer model could be bigger
Demogorgon
Though there have been other big baddies on the show, the Demogorgon is the original horror that terrorized Hawkins. It only makes sense that there should be a LEGO set based on the otherworldly terror. However, there isn't an official one from LEGO, so we'll have to turn to a very well-made MOC.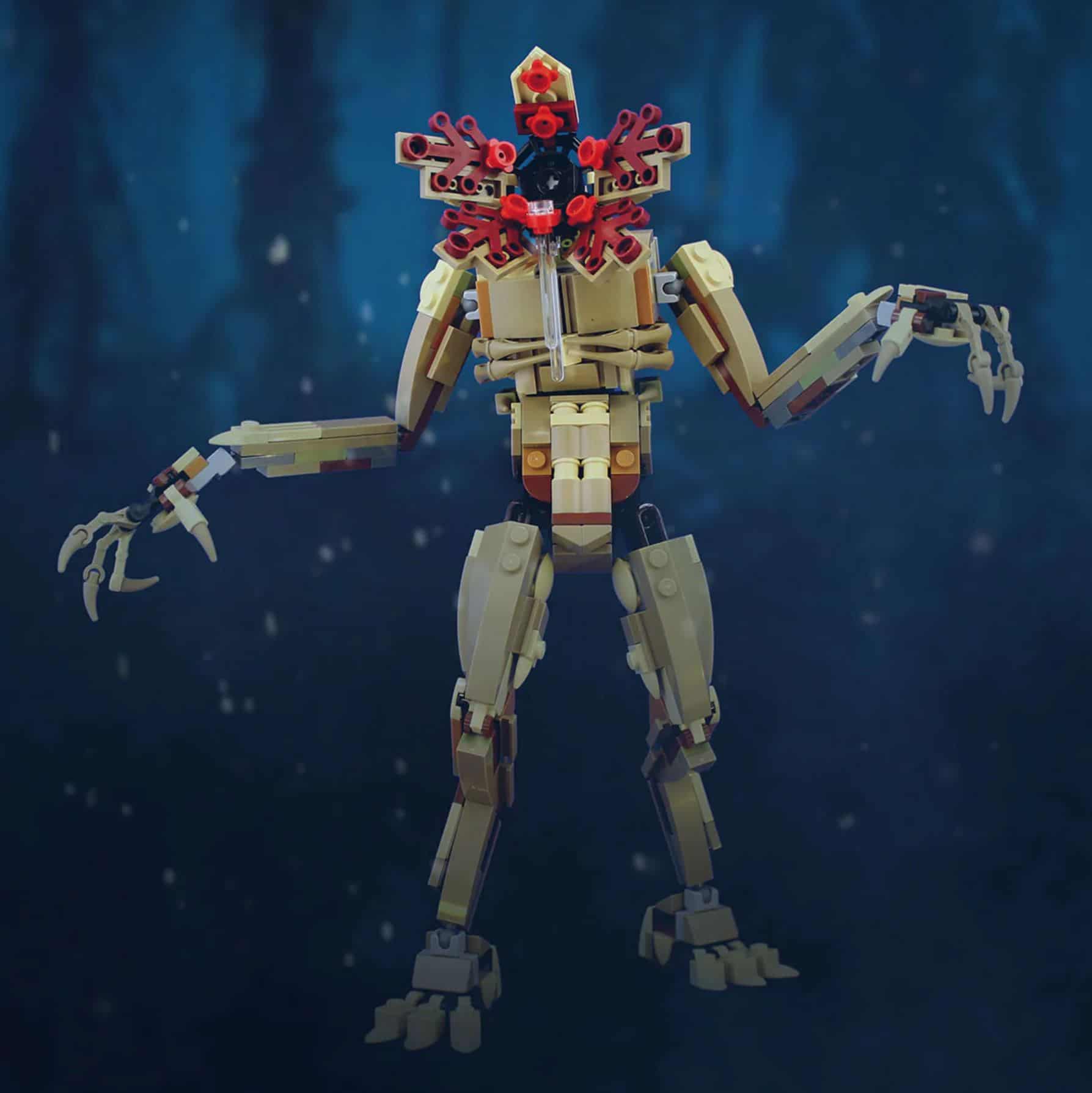 The 350-part figure is just the Demogorgon, standing tall in all its glory. The build would feature its most dangerous assets, like its flowering mouth and deadly claws. As an added touch, the MOC features a drool drip as the Demogorgon salivates over its next meal. 
LEGO Masters star and designer Aaron Newman is behind this custom build, hence the intricate detailing and spot-on depiction of Stranger Thing's most iconic killer.
Pros:
Posable arms and legs
Imposing size great for displaying
Detailed sculpt with screen-accurate features
Cons:
Parts must be purchased separately from instructions
Demogorgon's mouth is missing teeth
Darker bricks look out of place
LEGO released only one mass-produced Stranger Things set, and this is it. Based on the first season, the set is a dual-universe build of the Byers' residence. On top is the real world, vibrant and bright with blocky renditions of Jim Hopper's truck and Will Byers' home. Beneath it is the home's mirrored presence in the Upside Down, complete with distorted coloring, a trapped Will, and the Demogorgon. 
The LEGO set is 2,287 pieces and is a somewhat complex build. It's great to see the two sides of Hawkins come to life in one set, and this officially licensed 2020 Toy of the Year Awards Winner represents both our dimension and the Upside Down well. Though the exterior is the star of the build, there's also plenty to see on the inside.
There are eight Minifigures, including Chief Hopper, Joyce Byers, Will Byers, Dustin Henderson, Lucas Sinclair, Eleven, Mike Wheeler, and the Demogorgon.
Pros:
Great detailing inside and outside of the home
No back wall makes interior easy to enjoy
Upside Down variant perfectly contrasts the Byers' home
Cons:
Christmas lights are only a sticker
Few moving parts to make this piece interactive
Hopper's truck seems unnecessary and bulky
Mind Flayer and the Upside Down
If there were such a thing as an ultimate Stranger Things build, it would likely be something like this custom set. LEGO club member and custom designer Delusion Brick came up with this very multifaceted build, which is an elaborate depiction of the Upside Down and Hawkins, with the Mind Flayer overlooking both.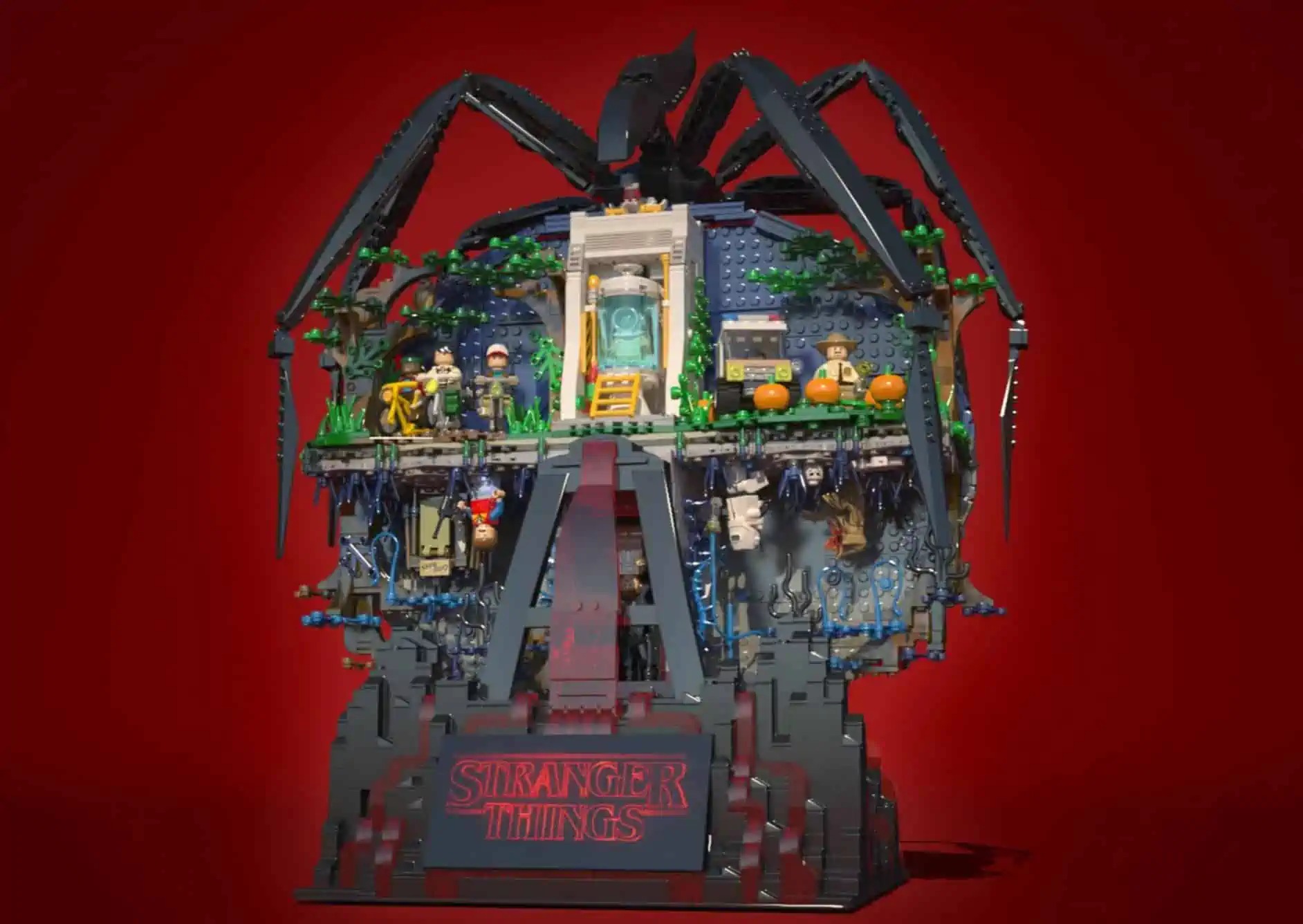 Per the project description, Mike, Lucas, Dunkin, Hopper, Will, Dr. Martin, and Eleven take the rightful places in both dimensions. Eleven taps into her powers in the water tank while Hopper investigates the rotting field of pumpkins from season two. The two worlds contrast one another, and the design lets you spin between them as they sit on a giant wheel.
There's no mention of how many bricks this build will take, but it's safe to say it's going to be quite a few.
Pros:
Heavily detailed depiction of several scenes from the series
Great use of Minifigures to fill out the space
Model can be spun to change what's on display
Cons:
It's a little chaotic at first glance
More detail could be put into Upside Down
No Joyce Byers Minifigure
Why Aren't There More Official Stranger Thing LEGO Sets?
If you've been watching Stranger Things and are an avid LEGO builder, then chances are you've questioned why there are very few Stranger Things LEGOs. It doesn't seem logical, considering the cash cow that Netflix's supernatural show is. However, for some reason, Netflix and LEGO simply haven't gone that route yet for a full line of sets depicting Eleven's misadventures.
It could be a concern regarding the source material, especially when you consider the brutality of the denizens of the Upside Down. There have been quite a few disturbing images that may be deemed inappropriate for LEGO's target audience. 
With that said, MOCs are going to be a vital resource for building out any of these customized reactions.
Other TV Show LEGO Sets
If you appreciate a good TV show, then chances are you'll want to explore different official LEGO sets inspired by popular TV series. Netflix doesn't have much of anything in the way of LEGO sets, but Disney certainly does with its selection of The Mandalorian builds.  
Many of the current official LEGO TV builds are actually replicas of a show's stage. For example, Seinfeld and F.R.I.E.N.D.S. both have official kits of their iconic and memorable sets, complete with Easter eggs from each show's history. 
Frequently Asked Questions About Stranger Things LEGO
Question: Is the Official LEGO Stranger Things Set Retired?
Answer: Unfortunately, yes. The Upside Down LEGO Stranger Things set was retired on December 31, 2021. Though it will no longer be sold retail, versions can be found on eBay and other online marketplaces, though typically at a higher price than the retail price. 
While many of these marketplace listings are for a sealed, brand new version of the official Stranger Things set, pay close attention to the listing. Some come preassembled, and some may come with open boxes. The concern about an open box is missing pieces, so always verify if they know of any missing bricks or if there's reason to believe bricks may be missing.
Question: Does LEGO Ever Bring Back Retired Sets?
Answer: Typically, when LEGO retires a set, it never returns. However, in early 2022, LEGO broke its pattern by rereleasing several retired sets, including the then-recently retired The Upside Down set for Stranger Things. 
In general, though, retired LEGO sets are not like movies stuck in Disney's vault. They won't come back for some milestone anniversary, and the company will move on to bigger and better.
Question: Will There Be a Stranger Things LEGO Game?
Answer:  There had been some speculation by some Stranger Things and LEGO fans that Traveller's Tales would take on a video game iteration of a blocky Upside Down. There has been no movement on such an idea, and it's highly unlike to ever occur. 
Traveller's Tales does a fantastic job of translating known IPs into LEGO games, as seen with Pirates of the Caribbean and even Jurassic Park. Stranger Things has such a limited selection of official LEGO sets, indicating that there isn't a massive push for more LEGO Stranger Things. 
With that said, I would definitely sink my teeth into a Stranger Things video game if Traveller's Tales, LEGO, and Netflix change their minds.
The Final Word
There is little doubt in my mind that a new Stranger Things LEGO set would sell. The series is wildly popular with merchandising present even when there isn't a new season running. Some of the themes may be a little heavy for the average young LEGO user, but a new Stranger Things LEGO set would please those AFOLs. 
Thankfully, LEGO Group members and fans have done some of the leg work to create new LEGO Ideas based on Stranger Things. These MOCs are often just as good as an official set, and there are typically plenty to choose from, so you don't have to settle on a subpar project. 
With Stranger Things allegedly ending after season five, LEGO will need to work overtime to create a set in time to catch the show's popularity. Until then, it's all about the MOCs and LEGO Ideas projects that can be used for your own inspiration.
Recommended Reads: