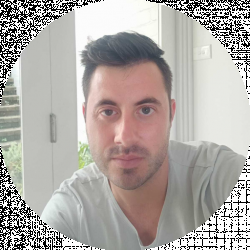 Latest posts by David Borgogni
(see all)
Almost a century after adding toy trucks to its product portfolio, LEGO continues to publish sets inspired by different types and models of trucks. The sheer scope of available options makes selecting the best LEGO trucks complicated.
These toys are featured in numerous sets published within a wide range of themes. The size of these sets varies, and you can choose from small and large models depending on your needs. Moreover, you can choose between stand-alone truck models and playsets that include other elements besides trucks.
In this article, I'll take you through all the steps you should take to find the best LEGO trucks, and I'll recommend several models you might like. Please read our guide to the best LEGO monster trucks to discover sets that let you build these specialized vehicles.
At a Glance – 5 of the Best LEGO Trucks
Bottom Line Up Front: In my opinion, the 6×6 Volvo Articulated Hauler 42114 is the best LEGO truck set because it isn't too difficult to build despite the high piece count. Moreover, kids can control the fully assembled model through an app and complete various challenges.
Selection Criteria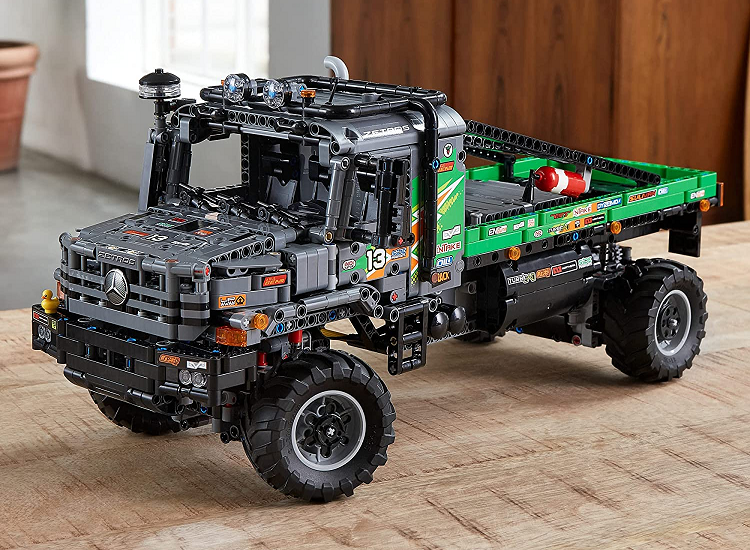 At the moment, LEGO offers more than fifty truck sets. Some of these models include other elements such as helicopters, cranes, or racecars, while others let you build replicas of different types of trucks.
Deciding which of these sets is the best was by no means a simple task since I had to consider so many factors while selecting the models I included in this article.
I used several parameters that helped me shortlist the best LEGO trucks, so here are some of the most important criteria I utilized during the selection process.
LEGO Theme – Toy trucks are not exclusive to a specific LEGO theme. This criterion allowed me to identify the most popular truck sets within different themes.
Set size – Depending on the model, these sets can have less than a hundred or more than a thousand pieces. My goal was to include truck sets of all sizes so that you could choose the option that best fits your needs.
Please browse through our guide to the best LEGO Fire Trucks if you're interested in firefighter-themed LEGO sets.
A Brief History of LEGO Trucks
One of the first toys produced in a LEGO workshop was a truck. These toys were a part of the brand's assortment before the company purchased the plastic injection molding machine in 1947 and shifted to the production of overlocking plastic bricks.
After introducing the theme system, trucks were mostly published within the LEGO Town and Technic themes. The 1978 Tipper Truck is arguably one of the best early examples of LEGO trucks. Like most models from this era, the Tipper Truck set had a low piece count, and it was easy to build.
The size, complexity, and realism of LEGO toy trucks increased over the subsequent decades, and today the company offers a variety of models that allow builders to create replicas of different truck models.
However, LEGO still produces truck sets with low piece counts that are easy to assemble. Check out our guide to the best LEGO Porsche sets to discover sets that let you build replicas of classic cars.
Overview of LEGO Themes with Truck Sets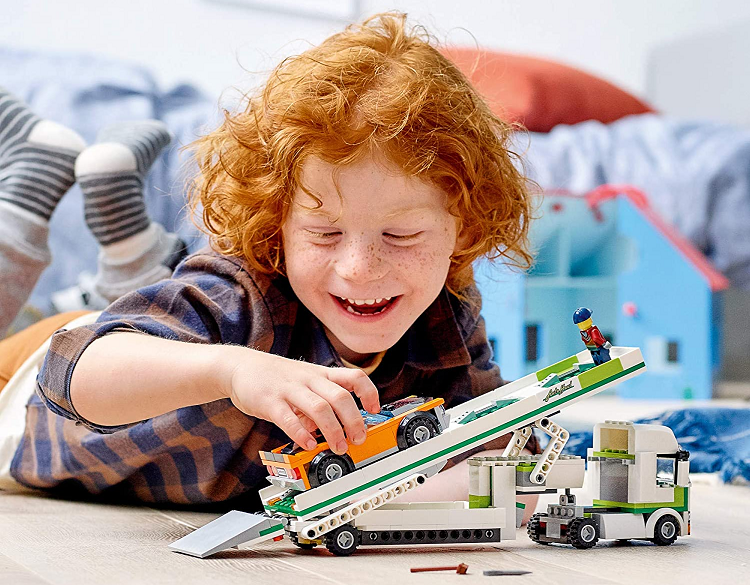 Toy trucks appear even sets published within LEGO themes seemingly unrelated to topics like transportation or construction. On the other hand, Speed Champions theme that features a variety of sets inspired by racecars and SUVs doesn't include truck sets.
Let's go through LEGO themes that feature different types of truck sets.
Technic
Besides numerous monster truck sets, the LEGO Technic theme also features sets inspired by different types of trucks. Here are some of the most popular models.
City
Most sets from the City theme feature other elements besides trucks, and you can choose from models that let you build models of hospitals, police stations, or fire stations. Let's take a look at some of the best truck sets from the City theme.
Themes like Creator 3-in-1, Creator Expert, or Monkie Kid also feature sets that contain different types of trucks. Please browse through our guide to the best Amazon LEGO sets to learn more about the models this online retailer offers.
Navigating Through Retired LEGO Trucks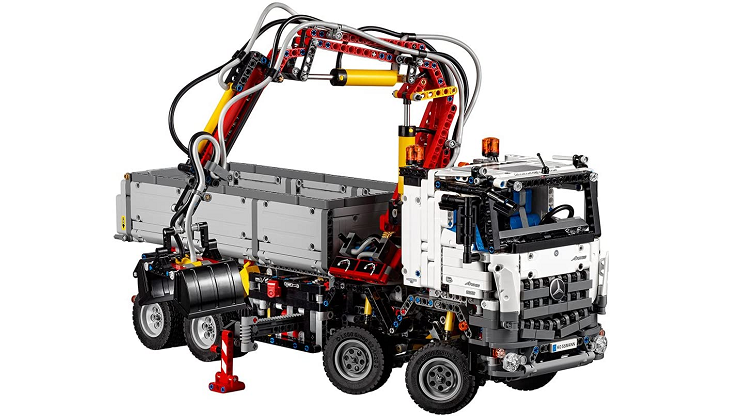 Keeping up with the pace at which LEGO discontinues sets can be difficult even for the most dedicated fans. The prices of these models usually increase after they're retired, so knowing when a truck set was released can potentially help you choose a more affordable option.
In addition, retired LEGO trucks remain available on the market as long as retailers have them in stock, and you might encounter a discontinued model even if you're shopping in a LEGO-certified brick-and-mortar store.
Let's take a look at some of the truck models LEGO retired in the last few years.
As you can see, quite a few remarkable LEGO truck sets are no longer in production. These sets are still available on the market, but their price is higher than the price of active LEGO truck sets. Please go through our guide to the best LEGO sets under $20 to discover some of the best sets in this price range.
LEGO Trucks for Toddlers
City, Technic, and Creator 3-in-1 themes only feature sets suitable for children aged four or older. However, the LEGO Duplo theme has an excellent selection of truck sets that don't contain tiny pieces that can be dangerous for toddlers.
Here are some of the best active LEGO Duplo truck sets.
The piece count of these sets is considerably lower than the piece count of regular LEGO truck sets. Most models have fewer than a hundred pieces, but their price is similar to the standard models with up to 500 pieces.
Go through our guide to the best 1,000 piece LEGO sets if you're searching for a medium-sized LEGO set.
The Key Factors to Consider While Choosing a LEGO Truck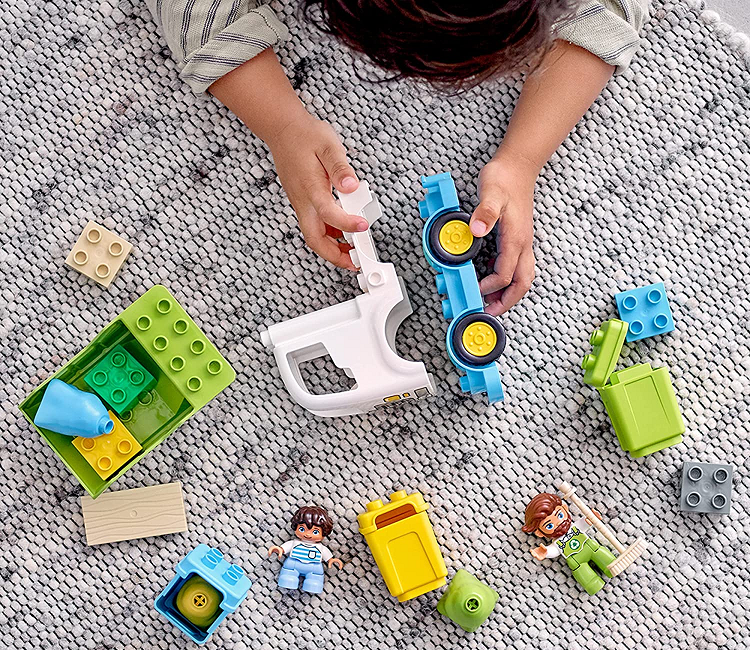 The process of selecting the best LEGO truck can be painstakingly long if you don't take some time to prepare for it because you'll have to look at more than fifty models. Choosing a LEGO theme is one of the steps you can take to narrow down the range of available options to just a handful of models.
I've selected several factors that will make the LEGO truck selection process easier, so let's take a look at them.
Set's Piece Count and Model's Dimensions
A LEGO truck set can have less than fifty or more than 2,000 pieces. The model's piece count indicates how difficult it is to assemble it, so opting for truck sets with low piece counts is often the best option if you're searching for a set suitable for novice LEGO builders.
Even though trucks from the LEGO Technic theme have a high piece count, they're not designed solely for adult LEGO fans. In addition, you should always check the toy's dimensions because some LEGO trucks can be just a few inches long.
Age Group
The majority of LEGO truck models are aimed at children aged seven or older, however, you can also find models suitable for toddlers or preschoolers. Most sets from the City and Creator 3-in-1 themes are recommended for children above four, although their age groups vary from model to model.
On the other hand, LEGO Technic trucks are designed for teenagers who already have previous set-building experience. Only a few LEGO trucks are aimed exclusively at adult LEGO fans.
Set-Building Skills
Even though all LEGO sets come with building instructions, assembling a large set can be an overwhelming experience for someone who never built a LEGO set before.
That's why you should get a relatively small LEGO truck set if you would like to improve your set-building skills and move on to larger projects as you grow more confident in your skills. A truck model from the Duplo theme might be a good option if you want to introduce your child to LEGOs from an early age.
Set's Availability
LEGO trucks are in high demand, and some models run out of stock shortly after they're released. So, the model you're searching for may not be available on LEGO's website or in stores, even though it wasn't discontinued.
Online retailers offer a wide selection of active and retired LEGO trucks. However, sets you can find online aren't always new, and their prices can be higher than those offered by the manufacturer.
Check out our guide on the best LEGO Corvette sets here!
Price Range
Retired LEGO trucks can cost more than $500, and they're not a budget-friendly option. Active high piece count models usually cost less than $300, while sets with less than 500 pieces don't cost more than $50.
Setting a budget before you start searching for a LEGO truck will help you eliminate all sets that don't fit your budget and help you select the best available model within a specific price range.
The Advantages of LEGO Trucks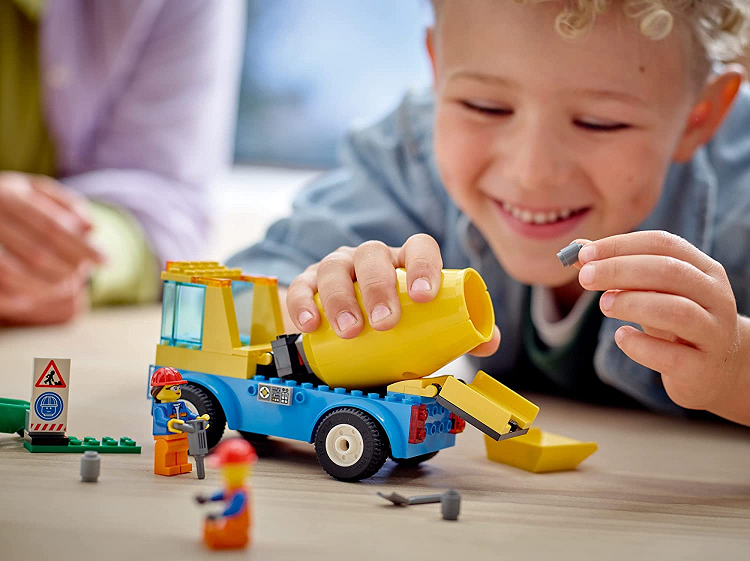 An Excellent Selection of Models
Trucks are some of the most popular LEGO toys, so it is hardly surprising that so many sets from different themes contain trucks. Also, you can choose between playsets and sets that allow you to build display models of different types of trucks.
LEGO Trucks Foster Creativity and Education
Building a LEGO truck encourages children to explore their creativity. In addition, these toys can help children to learn how to read, write or count.
The Assembly Process isn't Difficult
Although some models require more effort than others, you won't need extensive set-building experience to assemble most LEGO trucks. You won't need more than a few hours to build a LEGO truck set in most cases.
The Disadvantages of LEGO Trucks
Limited Playing Options
The lack of accessories and Minifigures limits the range of playing scenarios these sets offer. However, combining two or more LEGO truck sets can extend the range of playing options kids have at their disposal.
Top 5 LEGO Trucks
Heavy-Duty Tow Truck 42128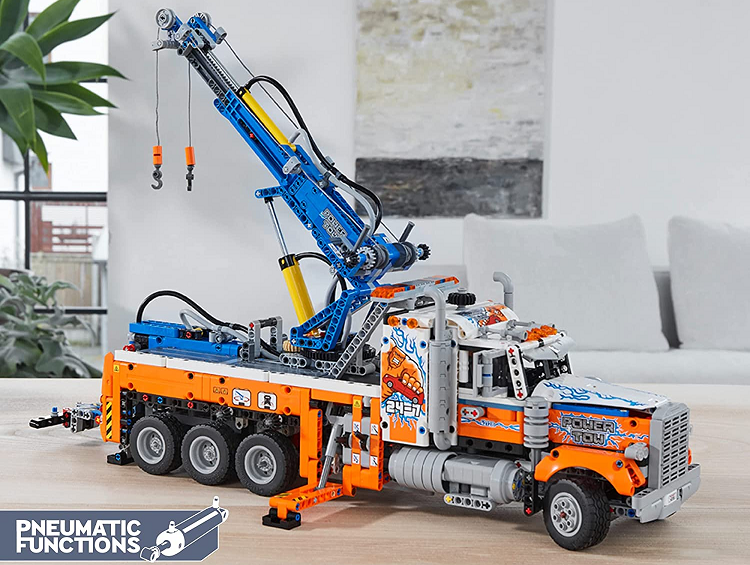 Even though its recommended age group is 11 or older, the Heavy-Duty Tow Truck 42128 can be an excellent gift for an adult LEGO fan. The set has 2,017 pieces, and its assembly process can be too difficult for inexperienced LEGO builders.
The 23-inch long tow truck model is stacked with unique features that allow you to rotate or extend its crane and lifting booms. In addition, the model has three pneumatic functions that enable you to use it to lift lightweight objects.
Pros
It works as a toy or a display model.
The tow truck has a 6-cylinder inline engine with moving pistons
The lifting axle includes an extra pair of wheels
Fun assembly process
Cons
This set doesn't include Minifigures
High price tag
Race Car Transporter 31113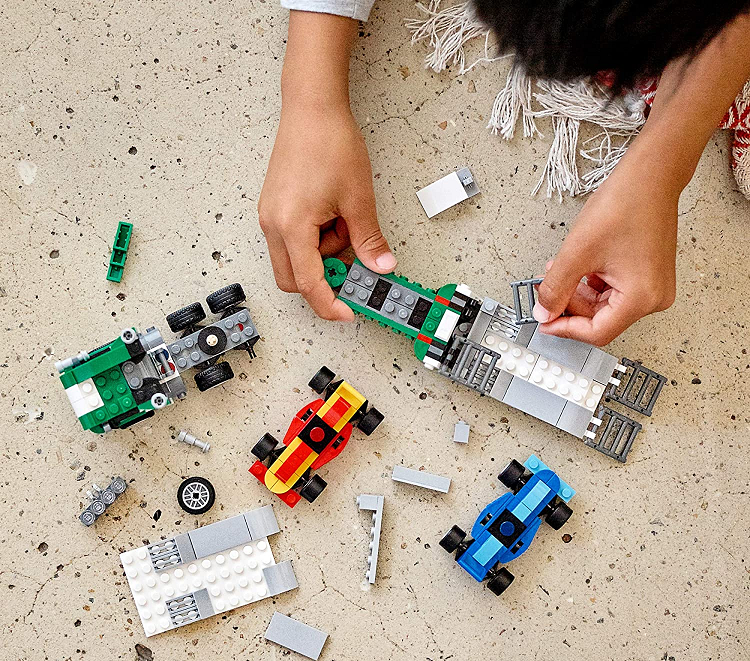 A simple and affordable set like the Race Car Transporter 31113 can help children improve their set-building skills. The car transporter model has a detachable trailer that offers enough space to store two racecars that come with the set.
In addition, you can build a tugboat and a crane from the pieces in this set. The crane truck model features a rotatable crane that can lift cargo.
The Race Car Transporter is compatible with other Creator 3-in-1 vehicle sets, and you can combine it with sets like the Superbike 31114 or Cyber Drone 31111 to extend its range of playing options.
Pros
Kids can build three different toys with this set.
Compatible with sets from the Creator 3-in-1 theme
Transporter's trailer has two car ramps
Simple and detailed building instructions
Cons
Alphabet Truck 10915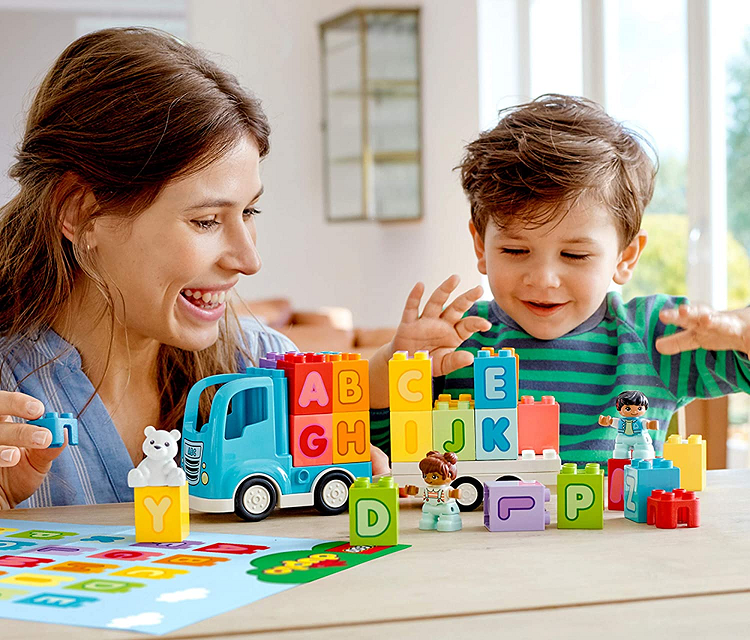 The Alphabet Truck 10915 can help children aged two or older learn how to read, spell or write. Besides the model of a truck with a large trailer, the set contains 26 colorful bricks with each alphabet letter.
Once they learn their ABCs, toddlers can progress to spelling different words with the bricks that come with the set. Most elements arrive preassembled so kids can start playing as soon as they unpack the set.
Pros
The set help kids learn to read and write
Two Minifigures are included in the set
The truck's trailer is large enough to hold all 26 alphabet bricks
The set includes the ABC poster
Cons
Only suitable for the youngest LEGO fans
Police Mobile Command Truck 60315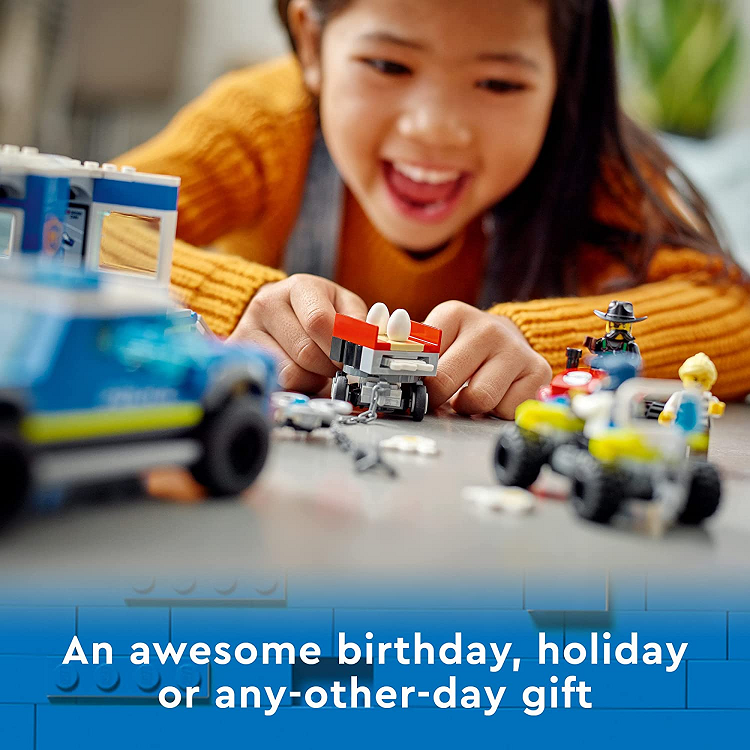 Fun features like the jailbreak function or egg-splat launch make the Police Mobile Command Truck 60315 one of LEGO's most entertaining truck models.
This set is inspired by the LEGO City Adventures TV series, and it features Minifigures of some of the show's main protagonists like Duke DeTain, Snake Rattler, and Gracie Goodhart. The fully assembled model of the police truck is 6-inches long and 2.5-inches wide.
This set comes with a drone, ATV, tractor toys, and numerous accessories that allow children to develop different play scenarios.
Pros
Building instructions are available in digital format
It features fun accessories
The set includes minifigures of three LEGO City Adventure characters
It helps children improve their set-building skills
Cons
All toys in this set are small
Some parts are tiny and fragile
6×6 Volvo Articulated Hauler 42114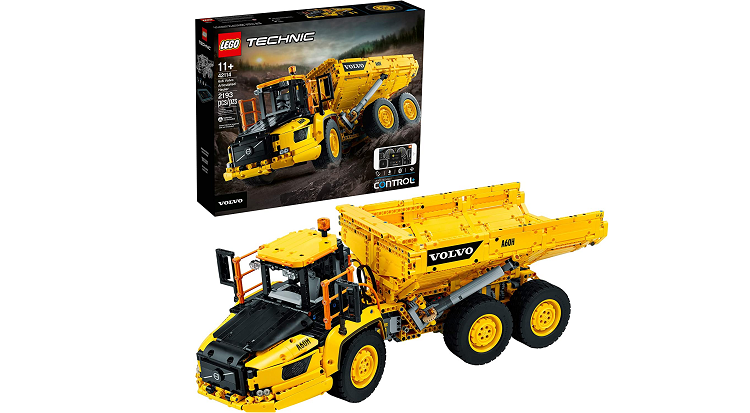 In addition to being one of LEGO's largest truck sets, the 6×6 Volvo Articulated Hauler 42114 is also one of the brand's most expensive trucks. This set has 2,193 pieces that allow you to build unique elements like a V6 engine or an automated gearbox.
The model features three motors, including the Smart Hub Bluetooth-enabled motor that allows you to control the truck remotely. Once you assemble the set, you can use the LEGO® TECHNIC™ CONTROL + app to steer or unload the truck, explore the cockpit controls, and complete different challenges.
Pros
Realistic model of a Volvo truck
The model is stacked with amazing features
Fun app controls
The toy is 23-inches long
Cons
Challenging assembly process
High power consumption drains batteries quickly
Frequently Asked Questions About LEGO Trucks
Question: What to Do if My LEGO Truck is Missing Key Pieces?
Answer: Contact the manufacturer as soon as you detect missing pieces in your LEGO truck sets. In most cases, LEGO will send you replacement parts free of charge.
Question: How Long Does it Take to Build a LEGO Truck?
Answer: It might take up to a week to assemble a LEGO truck set with more than 2,000 pieces. On the other hand, building a 500-piece truck set shouldn't take longer than a few hours.
Question: Do All LEGO Trucks Have Pneumatic Functions?
Answer: No, only a few LEGO trucks have pneumatic functions that enable them to lift cargo.
Question: Can I Buy Driver Minifigures Separately from LEGO Truck Sets?
Answer: You need to contact LEGO to determine if you can purchase a driver Minifigure separately from a LEGO truck set.
My Verdict: How to Choose the Best LEGO Truck
LEGO's impressive selection of toy trucks features models stacked with cool features that enable you to move cargo, reenact breathtaking jailbreaks or control the truck remotely. Hence, the best LEGO truck you can get is the one that fits all your search parameters.
I recommend the 6×6 Volvo Articulated Hauler 42114 if you'd like to get a toy truck you can control remotely. You should consider getting a set like the Police Mobile Command Truck 60315 if you're searching for a model that doesn't have thousands of pieces.
Which LEGO truck are you going to choose? Let me know in the comments or continue reading our guide to the best Walmart LEGO sets to learn more about the bestselling LEGO models you can find at Walmart.
Recommended Reads: