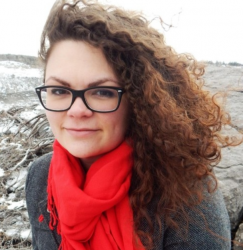 Latest posts by Candace Osmond
(see all)
You may have heard that LEGO decided to market a series of buildable flower sets to adults. My favorite and the most popular of that series, the official LEGO flower bouquet, is always selling out with grown-ups like us around the world who want to de-stress like a kid again.
I'm going to go over all the top-tier features of the famed LEGO bouquet flower set, but also show you 4 great alternative sets that I personally love. Ready to build some beautiful flowers that stay in bloom all year round? Let's get started!
Bottom Line Upfront
I adore the official LEGO bouquet set, but I'm partial to succulents (mostly because they're low-maintenance plants, haha), so the LEGO succulent set would be a better fit in my house.
Top 3 Picks – LEGO Flower Bouquet Sets
These are my three choices for the absolute best LEGO flower sets. The best of the bunch is the official LEGO flower bouquet, but I'd still like to show off these other two excellent choices. Check these out so you know what the LEGO flower sets are all about!
Best Overall: The Official LEGO Flower Bouquet
The official LEGO flower bouquet has six gorgeous types of flowers for you to build. This set is meant for adult builders who want a new, creative way to relax.
Best for Beginners: LEGO Iconic Rose 40460
Adults and kids can get a kick out of building these two gorgeous LEGO roses! Meant for builders 8 and up, these roses can be stored in a vase or kept as toys.
Best for Skilled LEGO Builders: LEGO Succulents 10309 Plant Decor Building Set for Adults
This LEGO set meant for LEGO builders 18+ challenges you to find your own perfect arrangement. There are nine different succulents in darling pots that you can fit together however you want.
What Are the Most Common LEGO Pieces for Flowers?
One aspect of the LEGO flower bouquet that makes it stand out is the uniqueness of its petal shapes. Due to this, you won't find many common LEGO pieces in this set. Instead, you'll find a plethora of rare or even entirely unique LEGO pieces.
Where Can You Get LEGO Flower Bouquet Sets?
Let's talk about where you can purchase the LEGO flower bouquet. My #1 recommendation is to check the official LEGO website, but sometimes this set sells out fast on LEGO.com. Besides the official site, you can find this flower bouquet on:
Amazon
eBay
Overstock
Target
Walmart
Barnes & Noble
BestBuy
Best Age Range for LEGO Flower Bouquet Sets
Typically, LEGO flower bouquet sets are meant for adults. This isn't to say teenagers and skilled middle schoolers can't enjoy them, it's just that LEGO targeted their bouquets at an older audience. The flowers are typically harder to build than traditional LEGO architecture, and their irregular shapes can frustrate younger, less-experienced builders.
Types of Flowers You Can Find in the LEGO Flowers Bouquet Set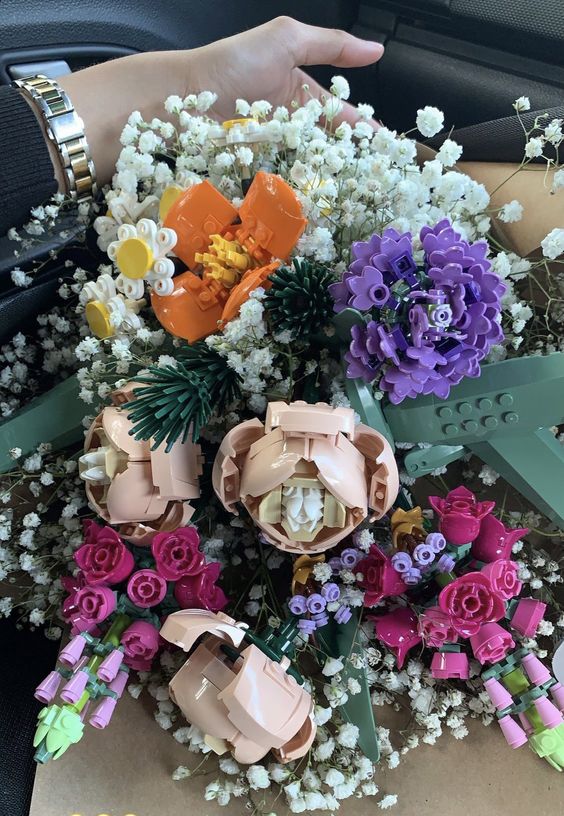 Let's explore the different types of flowers you'll find in your LEGO bouquet set. I think LEGO outdid themselves with how beautiful these designs turned out, so it's no wonder this set always sells out. The vibrant colors and the petals are surprisingly elegant for a toy company.
Rose
Since roses are LEGO's most popular flower, you'll get 3 in this bouquet instead of just one. I like that the roses aren't traditional red, and LEGO went a unique direction with their color palette-pale peach with beige and white centers. This combination of subtle colors compliments the other flowers perfectly.
Snapdragon
Have you ever kept bold snapdragons, squeezing the throat to watch their mouths spring open in surprise? LEGO recreated their natural appeal pretty perfectly if you ask me. The 2 snapdragons in the bouquet have light pink flowers at the top of their stalks that become fuchsia flowers lower down.
Aster
Your one purple aster looks stunning in the front and center of the bouquet. The many thin purple petals arranged in close layers give the aster a realistic appearance. This is the most elegant flower in the set, with a thin stem and no leaves.
Lavender
Complementing the other gorgeous jewel tones in the LEGO flower bouquet is a stalk of lavender. The many dainty lavender petals clustered together in little bunches are the perfect height for the back of your bouquet. They reach just above the snapdragons.
California Poppy
Though almost every flower in this bouquet is a jewel tone or a neutral, the singular California poppy you receive shakes the color palette up. With a bold, bright orange splash, your poppy is another showstopper that should be placed in the front where everyone can see.
Daisy
Finally, your bouquet is finished off with two classic white daisy stems. White daisies blend well with the flowers around them and help soften the set's bolder colors. The daisies are essential in filling out this arrangement with small, fragile, and happy yellow centers.
The LEGO Flower Bouquet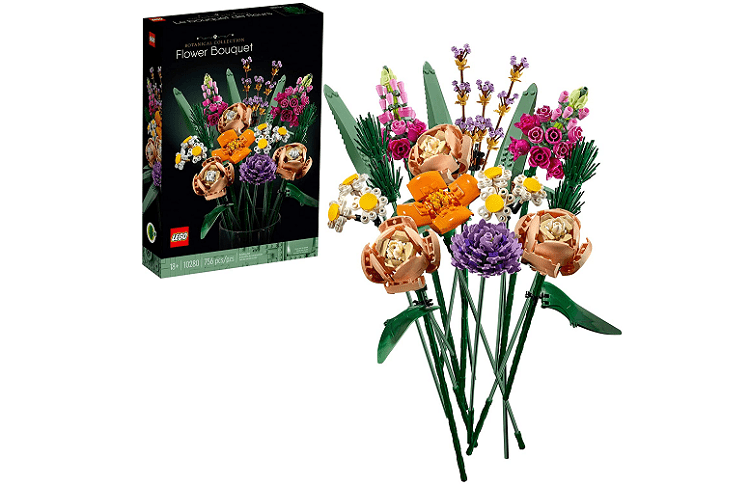 Ready to talk about the nitty-gritty details? I want you to be fully informed before buying this LEGO set, so you're positive it's the set you want. I think the official LEGO flower bouquet is the best LEGO flower set, but keep in mind we'll talk about a few other options below. For now, let's concentrate on what makes the LEGO flower bouquet great.
Features
You'll see on the box of this LEGO set that it gives you a recommended way to set up your flower bouquet in a vase. Since none of the flowers are connected, you don't have to follow the picture on the box-you can arrange the flowers however you want. Another idea might be to separate the bouquet and spread it out across several vases.
Besides the flowers, you'll also receive green stalks with variously shaped leaves in the set. This helps to fill out the display and give it extra depth.
Number of Pieces
You'll find 756 pieces in the official LEGO flower bouquet set. Considering some sets have thousands of pieces, 756 seems doable even if you aren't a LEGO master. The challenge with the flower bouquet isn't necessarily the number of pieces involved in construction but rather how the pieces fit together.
Age Range
The LEGO flower bouquet is meant for builders 18 and up. This isn't to say skilled LEGO builders younger than 18 can't have fun with this set-just that it isn't for beginners. If you want a fun way to de-stress at the end of the day that lets you work with your hands, this LEGO set is great.
Pros and Cons
As with any good product, there are pros and cons to the LEGO flower bouquet, but I think the pros outweigh the cons. Still, I'd like to show you an honest review of this LEGO set, so here are the good points and bad points laid out side-by-side.
Pros
Challenging set to build
Gorgeous designs
Uniquely shaped pieces
6 different types of flowers
Pretty jewel tones and neutrals with a bright orange splash
Perfect for adults to de-stress
Can be put in a vase and used as a decoration
Perfect for your home or office
Cons
May be frustrating for inexperienced LEGO builders
Small pieces are easy to lose
Other LEGO Flowers Sets
Now that I've given you an in-depth review of the LEGO flower bouquet, it's time to look at LEGO's other top-selling floral sets. From bonsai trees to orchids, roses, succulents, and more, there's a LEGO set in this list for builders of all ages. Though most of these sets are geared towards adults, you'll notice that the LEGO roses can be a fun gift for children.
LEGO Succulents 10309 Plant Decor Building Set for Adults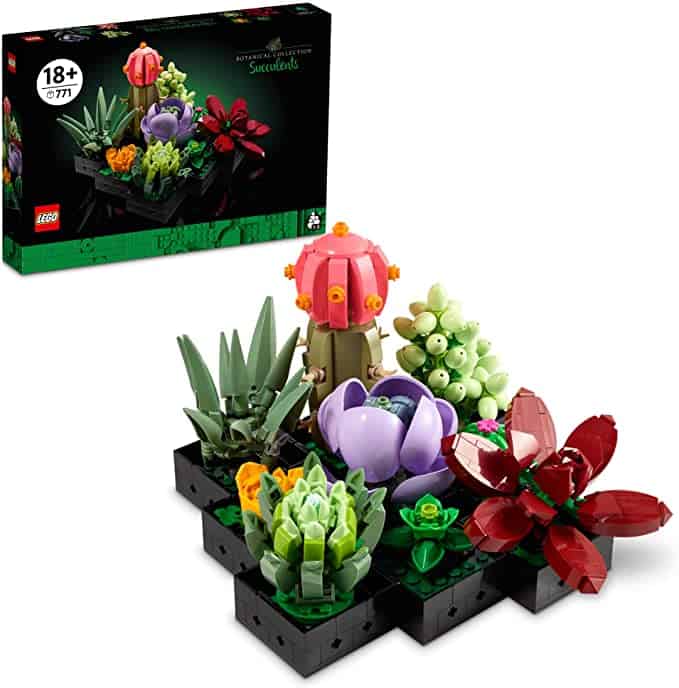 I was truly stunned when I saw how modern, chic, and natural-seeming this LEGO Succulents set is. Maroon, mustard, salmon, and pale purple are some striking colors you'll find among the cacti and other succulents.
Price Range: $45-$55
Age Range: 18+
Number of Pieces: 771
Flowers Included: Aloe, moon cactus, ball cactus, lavender echeveria, orange echeveria, sempervivum, Burro's tail, red echeveria, and spider plant
What's unique is that you can arrange all 9 succulents in their flower pots in whatever combination you'd like. This set offers customizability and a serious challenge for adults.
Pros
Several different ways succulents can be arranged
9 different succulents in the set
Uniquely shaped LEGO pieces
Cons
Can be frustrating for beginner LEGO builders
LEGO Bonsai Tree 10281 Building Kit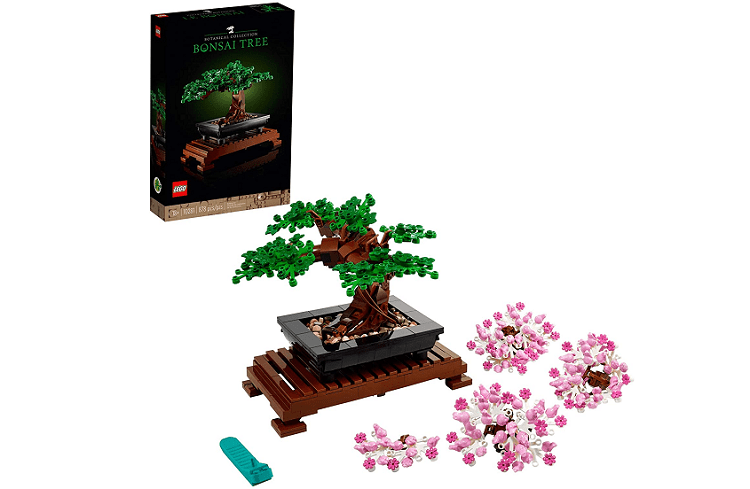 Whether you want your bonsai tree to bloom with spring buds or gleam with summer leaves, you'll get to switch between both looks all year round.
Price Range: $45-$55
Age Range: 18+
Number of Pieces: 878
Flowers Included: Bonsai tree
LEGO has created an elegant bonsai tree in a gorgeous little stand. Perhaps my favorite detail is how the beige, gray, and brown LEGO pieces in the pot look like tiny rocks, giving this set extra realism.
Pros
2 different looks you can choose for your bonsai
Represents a real challenge for experienced builders
Beautiful, peaceful display
Cons
Doesn't offer a variety of different flowers
LEGO Iconic Rose 40460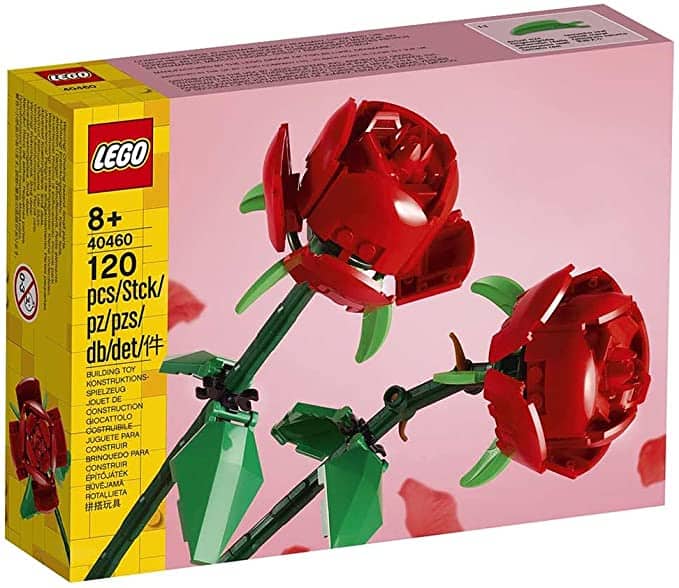 Both adults and kids can have fun building this awesome set! It's a simple and easy one to tackle. You'll get to build two bright red roses to place in a vase or take them apart to construct later again and again.
Price Range: $28-$38
Age Range: 8+
Number of Pieces: 120
Flowers Included: Roses
With only 120 pieces, these LEGO roses should take way less time to build than the other LEGO flower sets on the list. Released in 2021, this iconic set is still new.
Pros
Children and adults can enjoy this set
Popular LEGO roses are an excellent gift idea
Make a beautiful, whimsical decoration
Cons
Not challenging for experienced LEGO builders
LEGO Orchid 10311 Plant Decor Building Set for Adults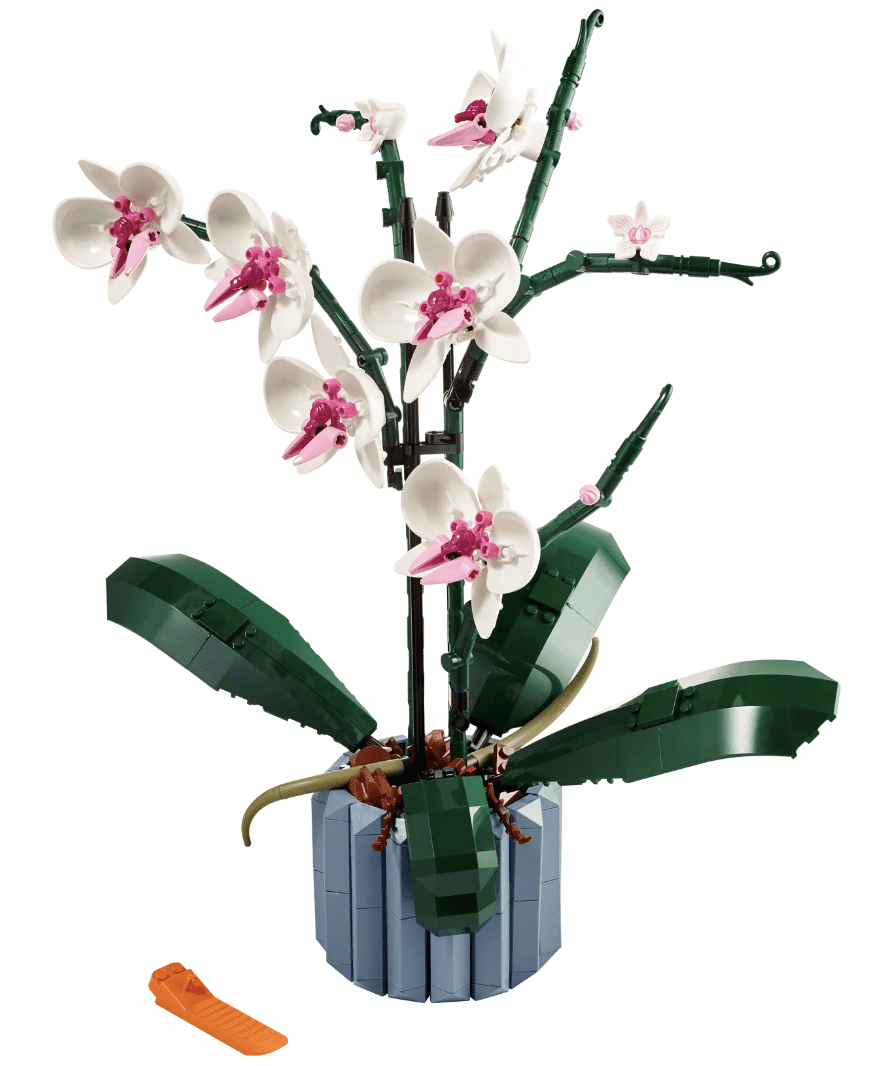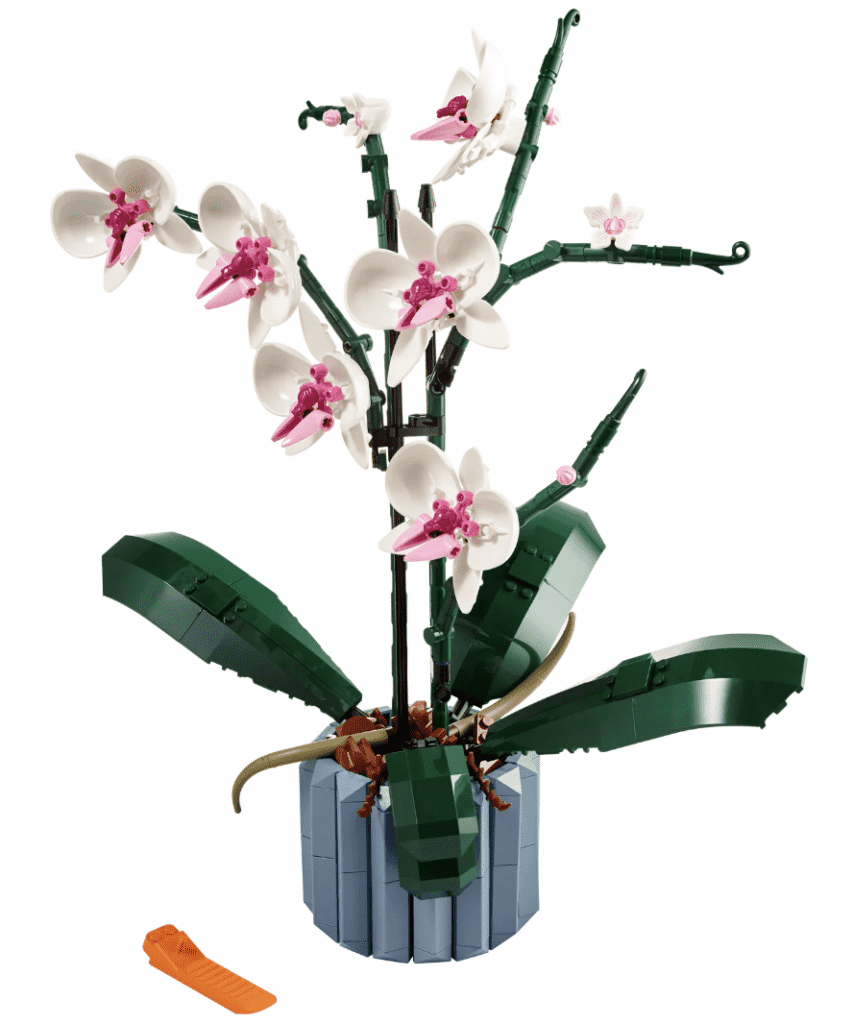 One of the most gorgeous LEGO flower sets of all time is this orchid set. You'll build 7 white orchids with pink and purple centers when you choose this dainty set with uniquely shaped pieces.
Price Range: $45-$55
Age Range: 18+
Number of Pieces: 608
Flowers Included: Orchids
The LEGO orchids have height, so though there aren't as many pieces as some of the other sets, the orchids will appear big and tall. I love the colors of the orchids and the elegance of the leaves and stems around them.
Pros
Odd-shaped LEGO pieces that are challenging to work with
Gorgeous decoration for your home or office space
Perfect de-stressing activity for adults
Cons
Will be very frustrating for inexperienced LEGO builders
FAQs
Before you dash off to buy your own LEGO flower bouquet, I'd like to answer your most frequently asked questions about them. Whether you want the official LEGO bouquet or one of the other sets we discussed above, stay tuned for a little extra info.
Question: Are LEGO Flower Bouquets Hard to Assemble?
Answer: Arguably, yes. All the sets I've shown you above, with the exception of the LEGO Iconic Rose set, are meant to be put together by adults. Most flower sets have close to a thousand pieces that are odd-shaped. This makes them a bit hard to work with, but that's good for experienced builders.
Question: Is the LEGO Flower Bouquet Coming Back?
Answer: LEGO saw how successful the release of the LEGO flower bouquet was, so there is no way this set isn't coming back. Even if you can't buy it on the official LEGO website when you're looking to buy, you can still find it on websites like Amazon and eBay.
Question: Why Is the LEGO Flower Bouquet 18+?
Answer: It's challenging to get the LEGO flower bouquet just right. There are thin pieces, teeny tiny pieces, and unique pieces that somehow all come together to make something beautiful. This set is difficult to assemble, which is why it's recommended for adults.
Question: How Long Does It Take to Build the LEGO Flower Bouquet?
Answer: Building the LEGO flower bouquet will probably take you a little over two hours. If it takes longer for you, don't worry! Build at your own pace and remember to have fun as you do, because de-stressing is half the point of building to begin with.
Question: How Many Flowers Come in the LEGO Flower Bouquet?
Answer: You'll receive 15 stems full of flowers with the LEGO bouquet set. That's a lot of flowers, so if you want to display this set, make sure to buy a sizable glass vase.
Ready, Set, Build!
It's hard to go wrong with beautiful flowers that never wilt. Are you ready to take on the challenge of building your very own LEGO flower bouquet? Did one of the other LEGO sets catch your attention? Let me know which set you want to build most!
Was it my favorite, the LEGO succulent set? If you want to check out even more popular LEGO sets, for adults and little ones, come check out our website!
Recommended Reads: