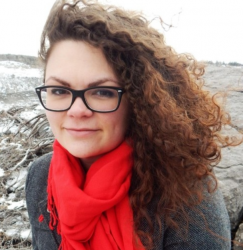 Latest posts by Candace Osmond
(see all)
Want to know what DIY decoration will add a nostalgic, colorful touch to your home or office? That's right! I'm talking about LEGO flowers. If you've wanted your own bouquet of never-wilting flowers made from LEGO blocks, keep reading, because I'm going to show you the 21 best LEGO flower ideas on the internet.
These ideas have tutorials that show you how to construct LEGO flowers on your own. Then, I'll show you 3 popular LEGO flower sets you can buy. Ready? Let's go!
Bottom Line Upfront
I love a good LEGO set that takes time. It's one of my coping mechanisms for anxiety. So, I can definitely see how the LEGO Flower Bouquet Arranged with Real Flowers would be perfect for me.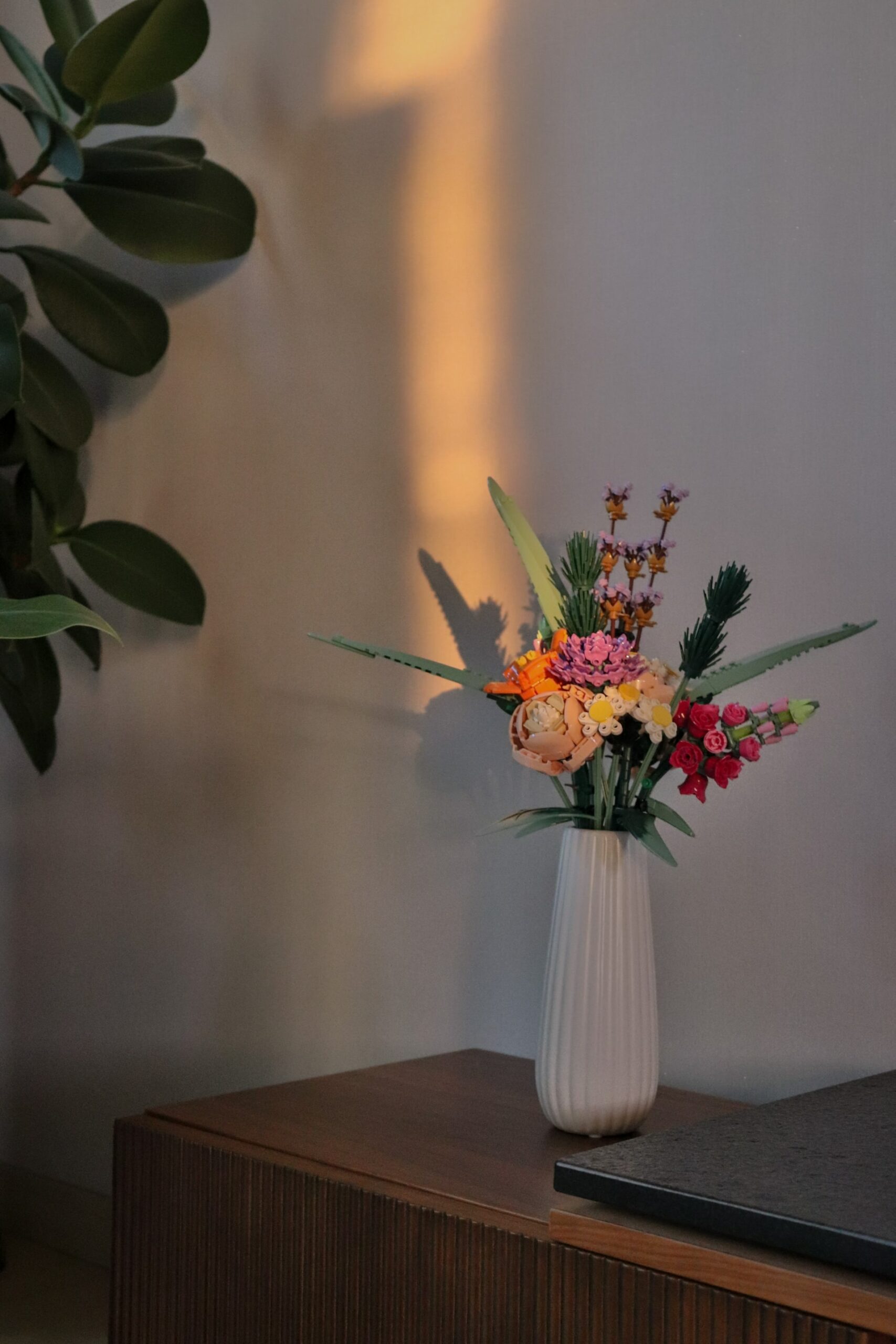 Top 3 Picks
These are the 3 absolute best LEGO flower ideas I have to show you. LEGO isn't just for kids anymore-adults want their LEGOs, too. These fun, funky decorations can be built yourself with tutorials made by fellow LEGO lovers, so take a look at each one.
Best Overall: LEGO Flower Bouquet Arranged with Real Flowers
Most Detailed: Zen LEGO Bonsai
Easiest DIY: Simple LEGO Daisy
The Best LEGO Flower Ideas
Some of these LEGO flower ideas will shock you with how intricate and truly beautiful they are. Others are super simple to put together, and they can be assembled with your kids for a fun afternoon project. I chose this list based on a wide variety of ideas that would appeal to everyone from kids to beginners and even expert builders.
Check out these if you want to take on the challenge of building LEGO flowers you can set on your desk at work or around your home. These add a fun, whimsical touch to your décor, which improves the mood of any room.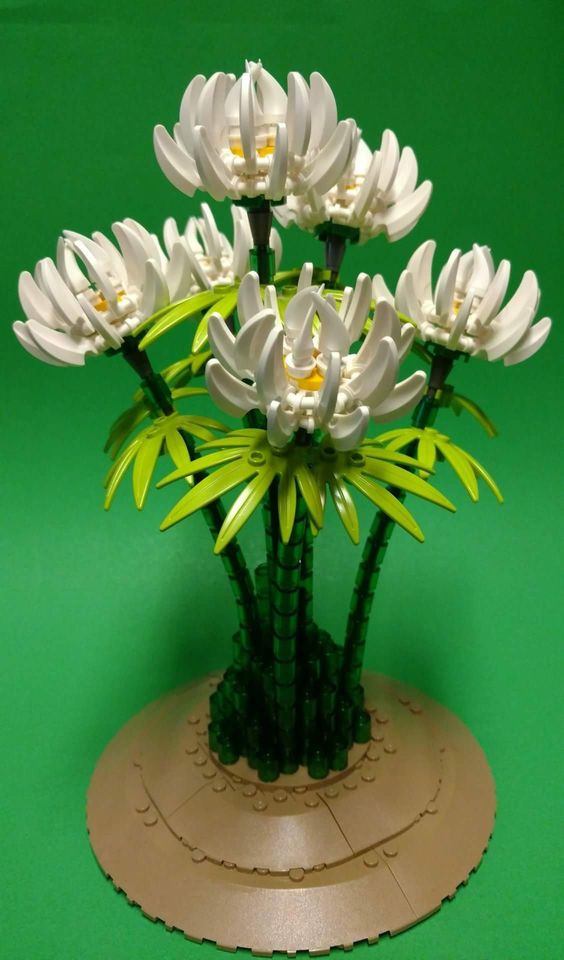 These tall white flowers would be so pretty in a vase, wouldn't they? If I had these, I'd display them in my office. This picture shows why LEGOs, once solely considered kids' toys, now have appeal for adults. It will be a little tricky to build the flower blooms, but don't get too frustrated! With a little patience, LEGO flowers just like these can be yours.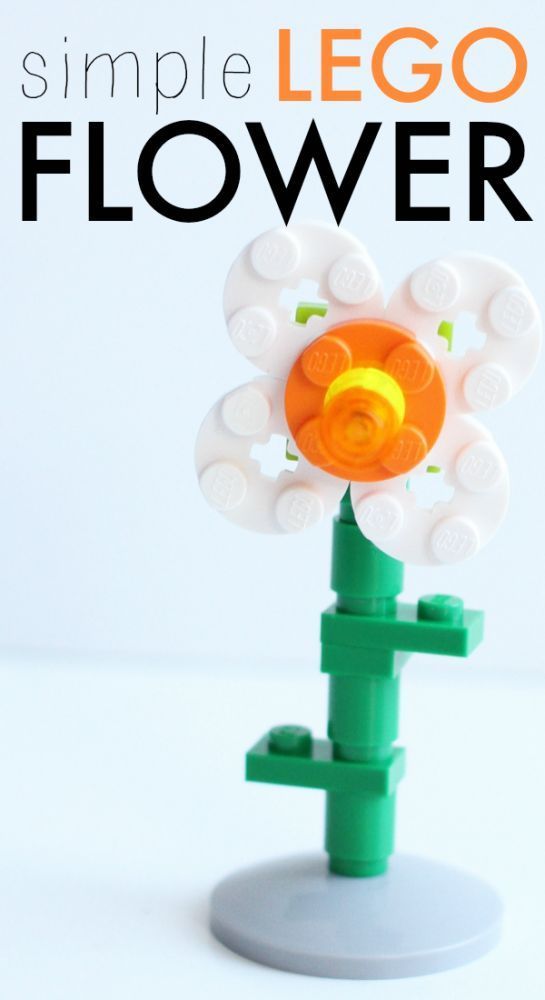 This simple LEGO idea would be fun to build with your little ones. Teaching kids to build with LEGOs helps improve their problem-solving skills and gives you something fun to do together.
The picture shows a simple white daisy, but you can make the color of the flower whatever you want. You can buy specific LEGO pieces you need online, so don't worry about buying a huge LEGO set if all you want are the blocks to make this flower.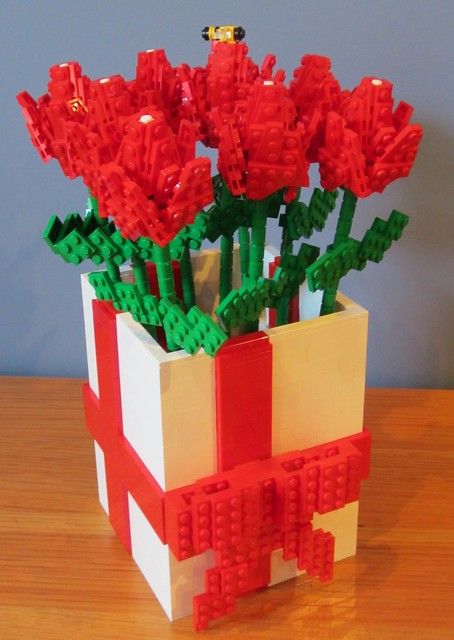 What a stunning, vibrant red! You can make the box, the bow, and the tulips all out of LEGO blocks. Triangular pieces make cute, blocky tulip leaves and petals. If you wanted a springtime display, you could choose to make pastel tulips in all different colors.
Out of all the flower bouquets you can build, these represent an intermediate challenge. The rest of the tulips will be easier to make once you've constructed the first few.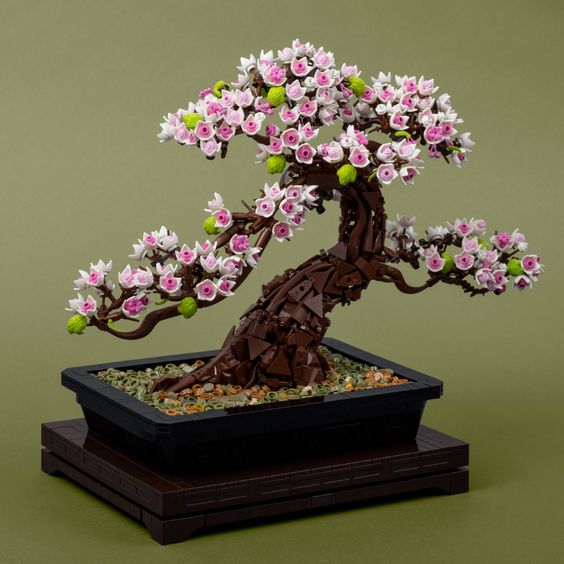 Ahhh… how peaceful…
Your patience may be tested while building this beautiful blooming bonsai, but afterward you'll be left with a unique Zen décor piece. It can be therapeutic to build each of the white and pink flowers that will be placed among the branches. I recommend this idea for adults or teens who enjoy creating with LEGOs and won't shrink away from a challenging build.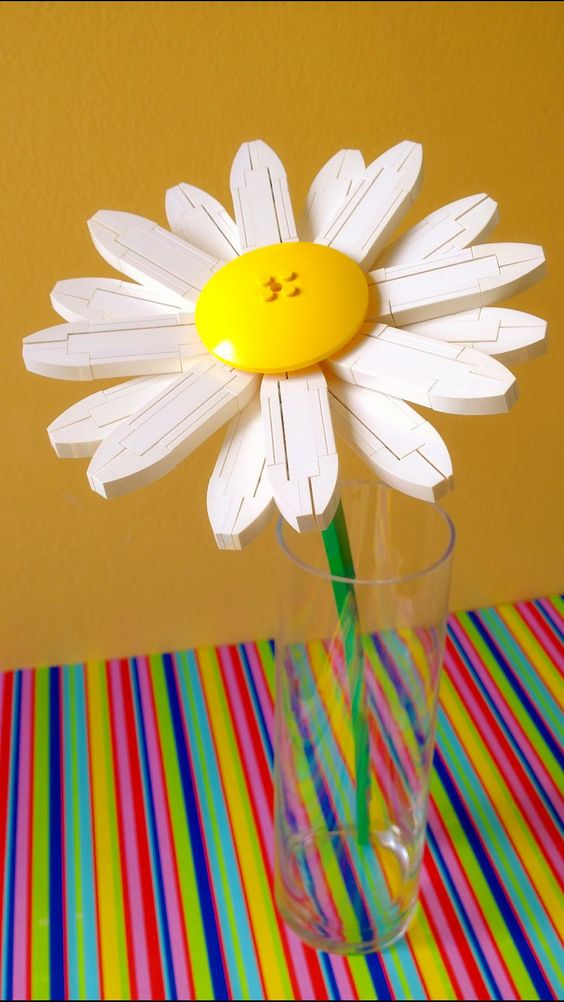 Look how bright and happy this daisy is! What makes this white daisy stand out is how big and inviting the bloom looks. This picture shows a single daisy, but feel free to make a whole bouquet if you're trying to fill up a vase.
I think decorations like this one are perfect for modern homes that showcase creative, playful styles. If you like conversation-starter decorations, LEGO flowers are perfect.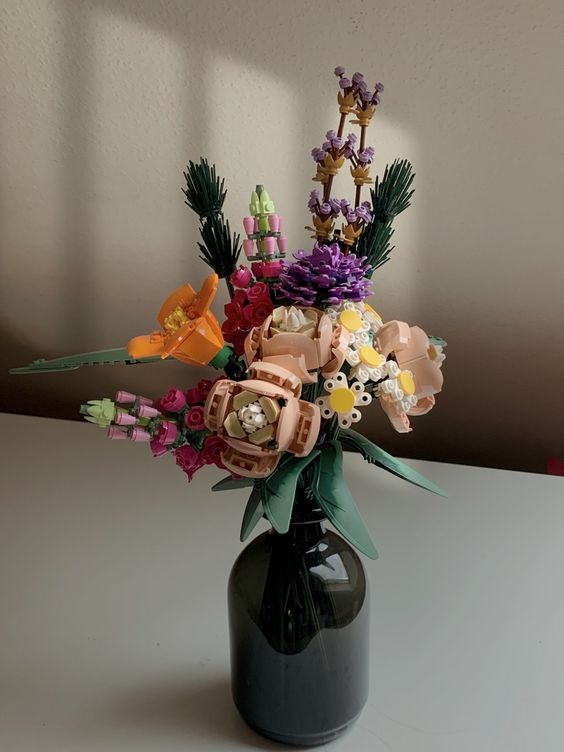 This is the ever-popular LEGO flower bouquet set. This is a rare official set that LEGO sells. Sometimes, it'll be available on LEGO's website, but it often sells out. It's quite pricey because of its rare status, though it can also be found on websites like eBay and Amazon.
This is a popular set because of the gorgeous colors, wide array of flower types, and complexity. This set is made for builders 18+.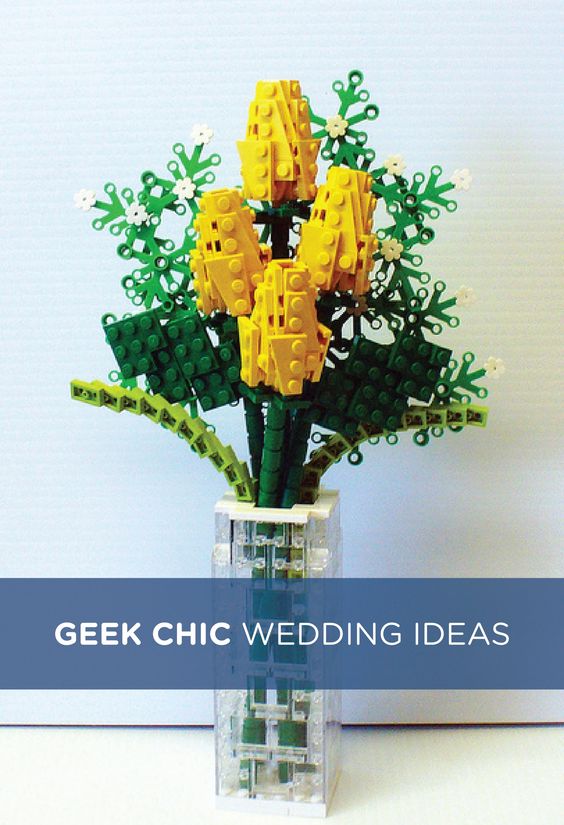 Want to add a fun, whimsical touch to your wedding? I would totally use this idea! Why not try something out-of-the-box and show off your love for LEGOs by walking down the aisle with a LEGO bouquet?
Another idea is to set LEGO flower bouquets on each table guests will sit at during the reception. These yellow flowers will stand out and liven up your big day with extra boldness.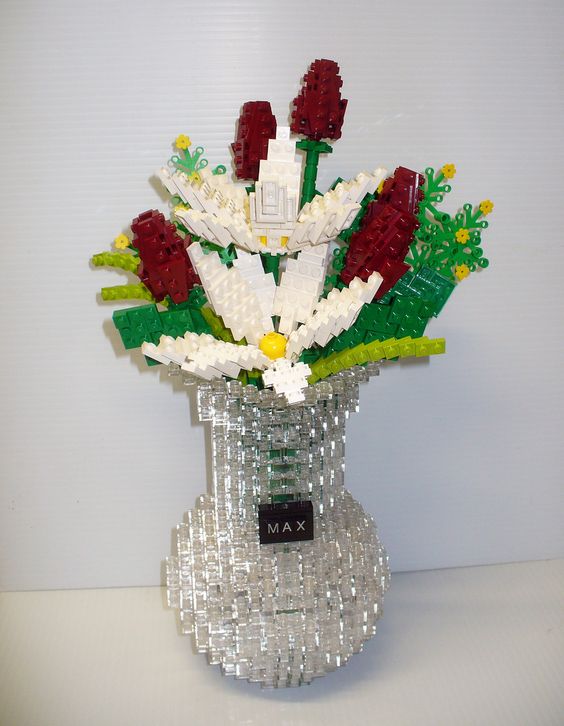 These red, white, and yellow flowers made of LEGOs have been placed in a pretty, self-built vase! Instead of using flat and triangular LEGO pieces for the petals, you can stagger small rectangular pieces as you see in this picture. Think outside the box and soon you'll be making flowers just like these ones!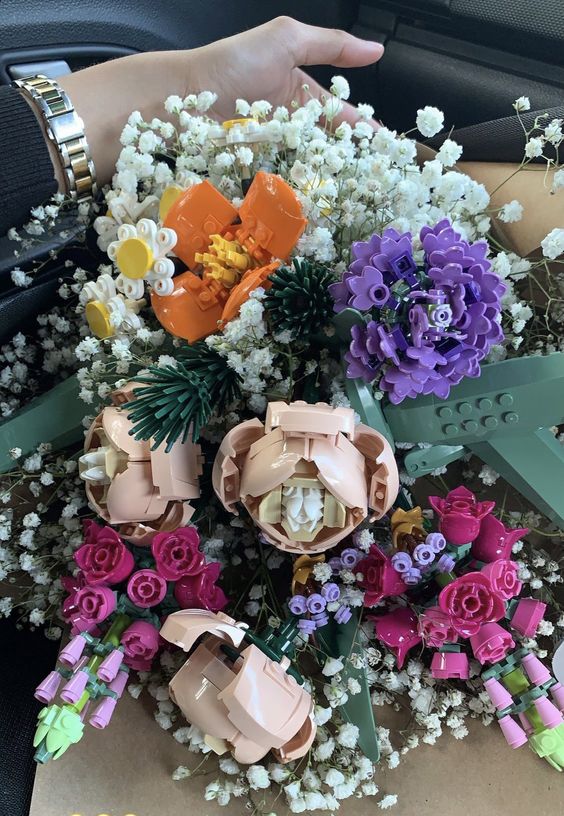 I know I've already discussed the official LEGO flower bouquet set, but this picture shows off a whole new way to display it. To elevate your vase of LEGO flowers, try adding in real flowers, too. Real flowers enhance the elegance of LEGO flowers.
The real and fake flowers contrast each other, showing off a mix of different textures. If you invest in this rare set, it's worth spending the extra money on real flowers to display the set like this!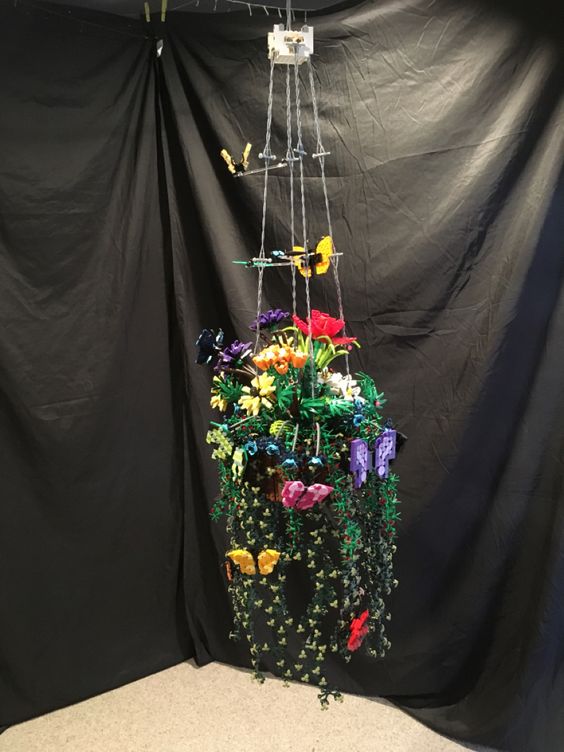 There's something so serene about hanging flower pots, isn't there? By arranging LEGO flowers in a hanging flower pot, you can create your own one-of-a-kind flower display that will majorly impress your friends. Make sure to create the colorful butterflies you see on the hanging yellow flowers and chains to really bring this creation to life.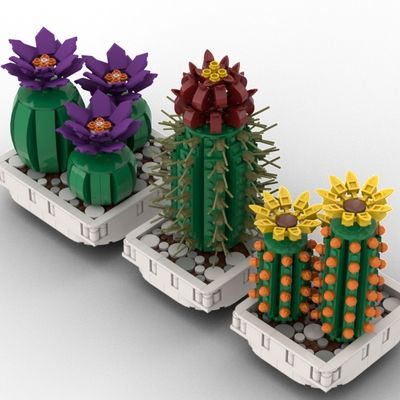 This is an official LEGO set! You can buy this set online to make the 3 adorable cacti you see here. These cacti each have a colorful flower blooming on their tops, which makes them even more interesting to look at. This could make the perfect gift for the succulent fanatic or plant parent you know.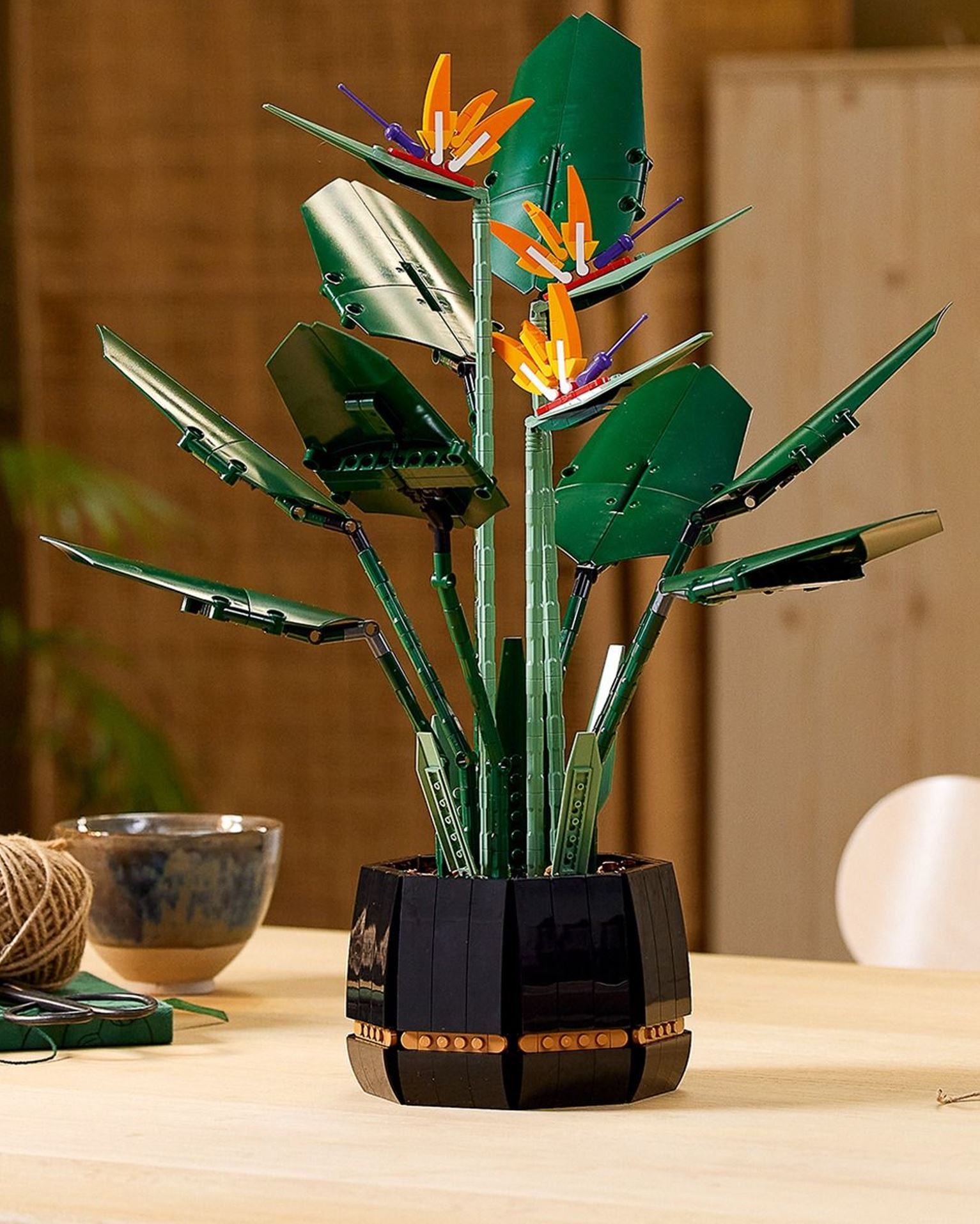 If you're searching for a challenging LEGO set, take on this project! This is another official flower LEGO set that can be bought on the LEGO website and other online marketplaces. Birds of paradise are stunning tropical flowers, and this set has captured their elegance perfectly. Vibrant shades of orange and unique petal shapes set these LEGO flowers apart from the rest.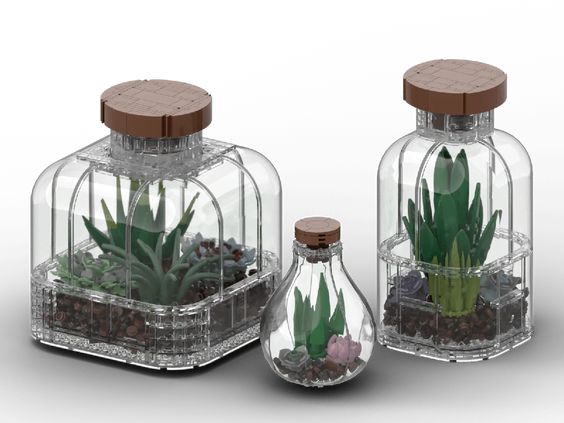 These 3 LEGO terrariums sure are inventive! Even the glass-like jars and the tawny corks are made from LEGOs.
I love that I could just plop these on my windowsill when I'm done assembling and never have to worry about watering them. I've killed a plant or five in my lifetime. The small succulent in the middle jar has a tiny pink flower made from LEGOs placed beside it to give the display a splash of color.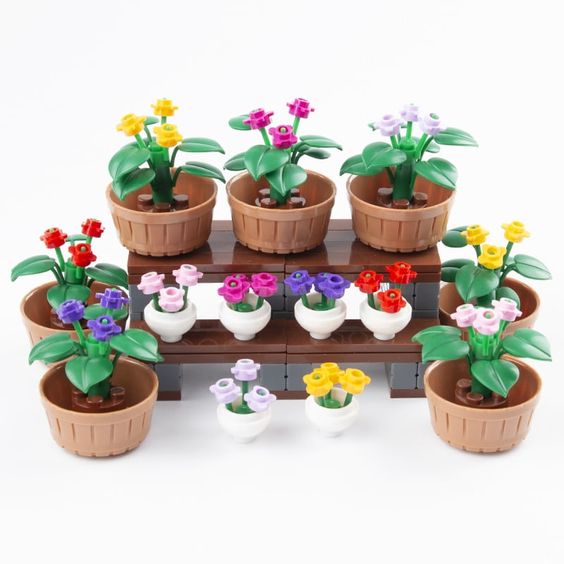 These flowers aren't actually made from LEGOs, but they are made from MOC building blocks. MOC is a brand that's like LEGO and sells sets of buildable people, places, and things.
This set will give you multicolored flowers and adorable brown pots to place them in. These capture the aesthetic of city houseplants hanging out on window sills and outside apartment doors.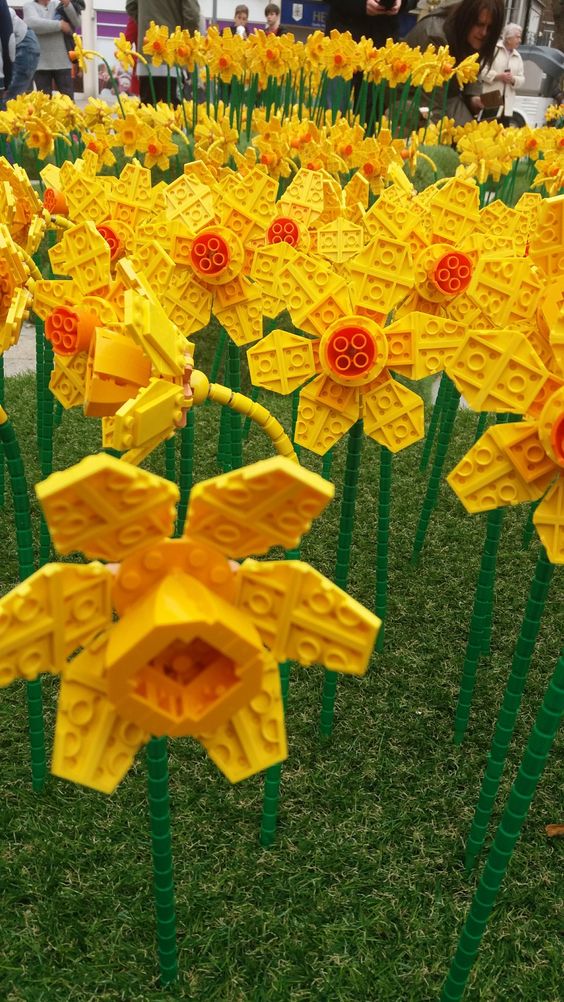 Are daffodils your favorite flower? I used to love making them out of paper. But you can make an entire field of them with LEGOs! Unlike many of the LEGO flower varieties we've already seen, the blooms of these flowers aren't very hard to construct.
What makes these flowers impressive are their bold colors and large size. By making a long, sturdy stem from cylindrical connector pieces, your daffodils will appear to be reaching all the way up towards the sun.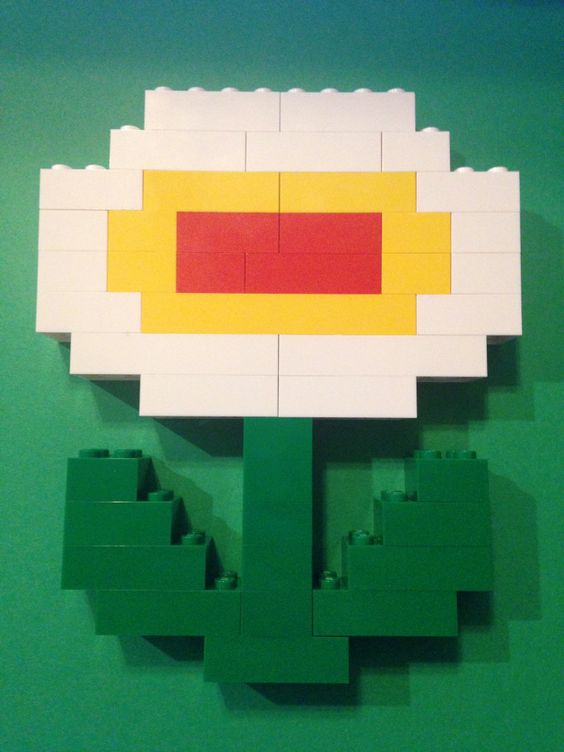 It's a-me, Mario! This flower should look familiar to you if you're a fan of the Mario game franchise. When Mario receives this flower, he gets a power-up that lets him shoot fireballs at enemies.
We all remember how pixelated the older Mario games look, which is where the inspiration from this flower came from. To achieve the same look, you can build this flower from cube-shaped LEGO blocks.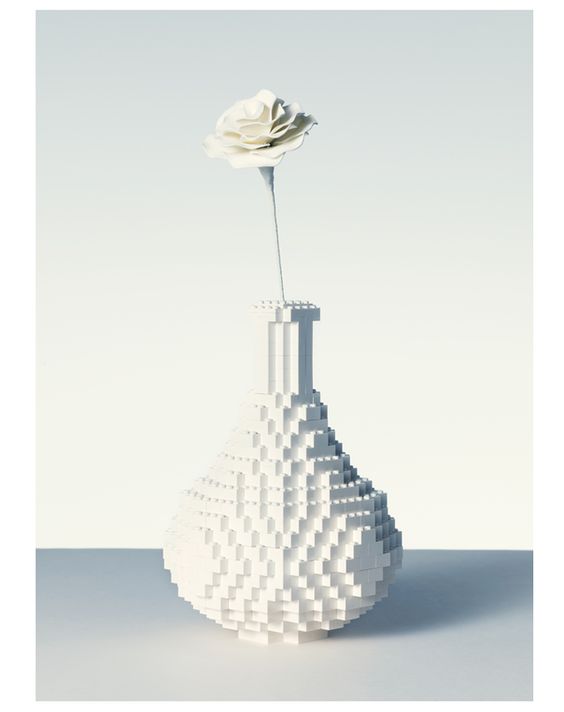 This time the flower itself isn't made from LEGOs, but a fake flower has been placed inside a gorgeous LEGO vase! Someone took the time to create a solid white flower vase made from LEGOs that shows off a rather complex design. It's so unique that only basic rectangular LEGO blocks were used. Inside the vase, you can see a pretty white carnation with a white stem!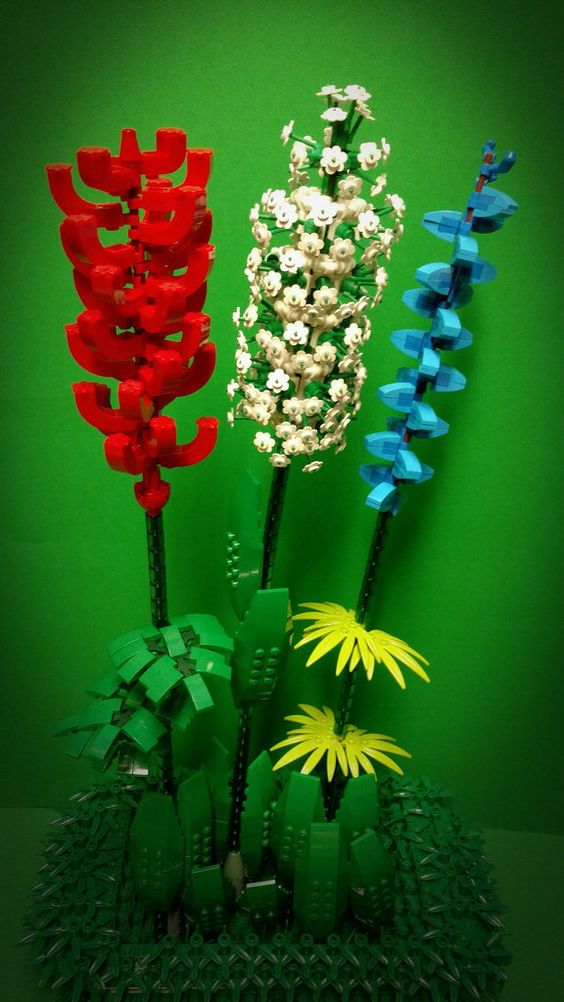 These LEGO flowers are large and in charge! They have huge stems and lots of little flowers that grow along the stems-think of flowers like lavender, hyacinths, and snapdragons.
The key to making flowers like these is to come up with a pattern for how and where you'll place flowers along the stem and stick to it. Putting flowers here and there with no plan could lead you to a giant mess.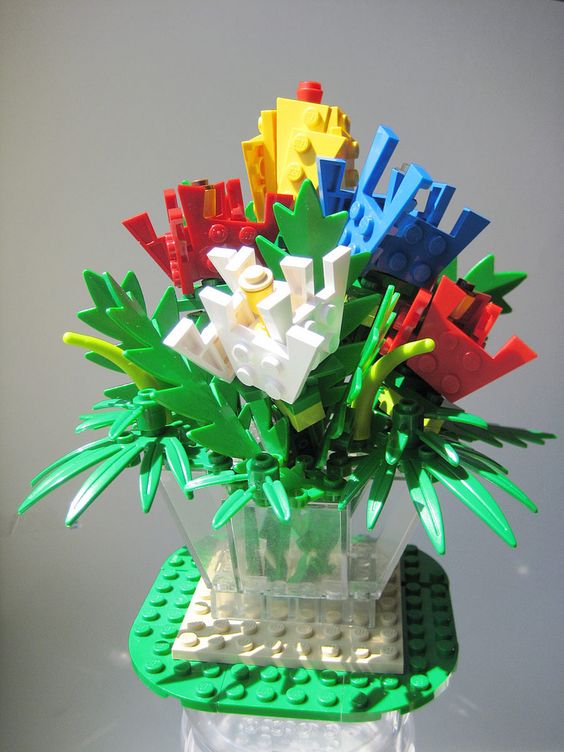 What I love about these chunky, colorful flowers is that the blooms are super simple to make! These flowers are meant to be more interpretive than realistic, so they'd be fun to make with the kids, too.
Even the base and the clear vase are simple and straightforward to assemble. The LEGO leaves you see here come with many LEGO sets, but you can always buy them individually online.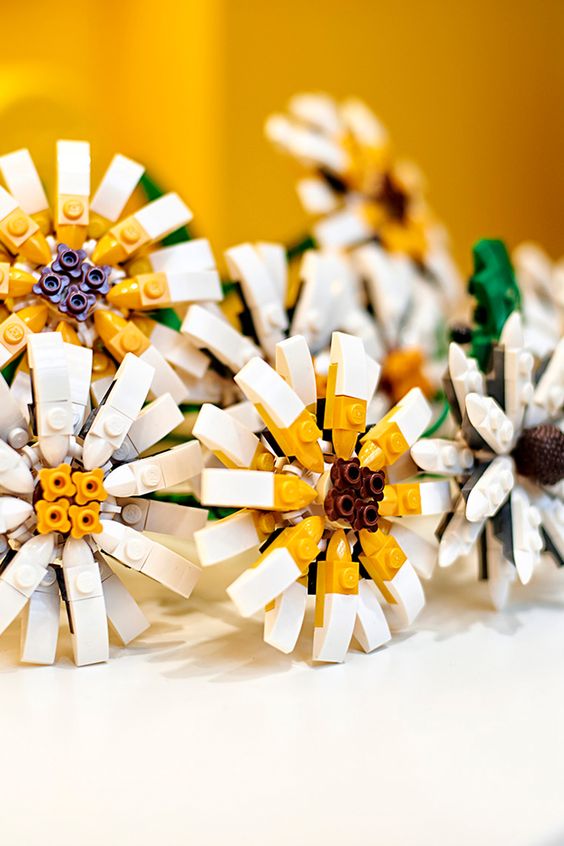 These white, yellow, and brown LEGO flowers feel so autumn! Looking at these LEGO decorations will bring to mind pumpkin spice lattes and sweater weather. Tiny LEGO flowers have been used to make up the middle part of the bloom instead of the petals. This is a unique idea I've never seen anywhere else.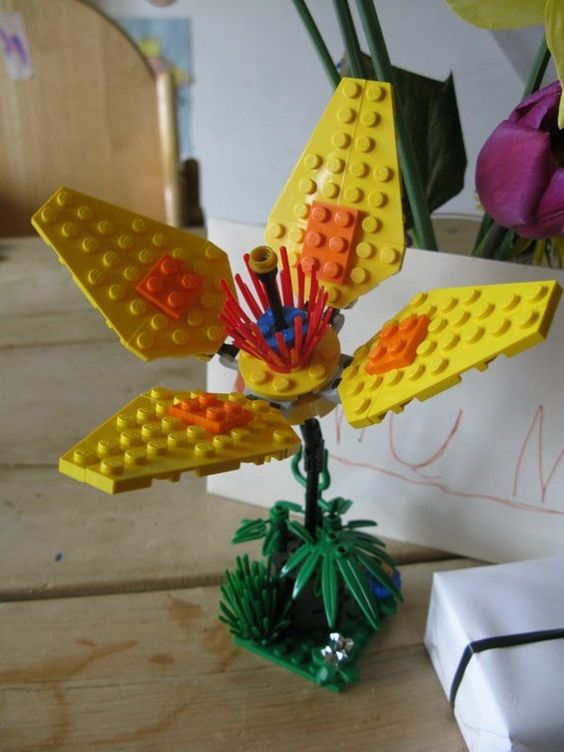 Doesn't this tropical flower remind you of chilling by the beach or grabbing a mimosa at a pier restaurant? You won't struggle too much putting this together, because this flower is made from big LEGO pieces instead of lots of tiny LEGO pieces.
Giving this to someone as a gift would absolutely brighten their day. The creator made this for their mother on Mother's Day.
What LEGO Pieces are Best for Making Flowers?
The answer here depends on the flowers you want to make. Generally, I recommend connector pieces for the stem. LEGO sells lots of cylindrical connector pieces that can be stacked on top of each other. For the leaves and petals, you'll usually want flat triangular or rounded pieces.
Best LEGO Sets for Flowers
Building LEGO sets either alone or with friends is a relaxing, skill-building activity for rainy days and lazy afternoons. LEGO has noticed customers want to build flower sets that are not only fun to put together but can also serve as beautiful decorations.
Let's check out these 3 LEGO sets, which are the best in terms of design, popularity, and complexity that any LEGO fan can appreciate.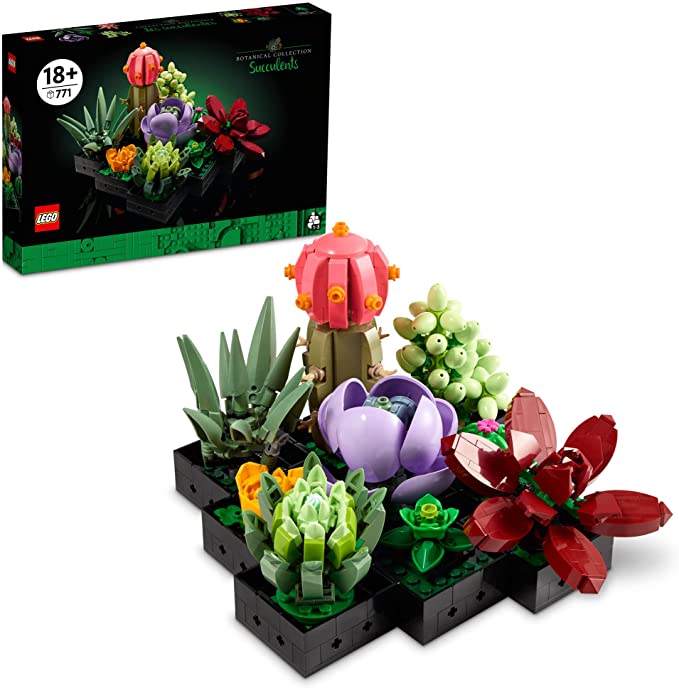 These 9 LEGO succulents give off an explosion of color. I think they'd be perfect to set in your windowsill, home office, or desk at work. The great part about this set is that you can customize your display however you want. The black bases the succulents are held in can be secured together in whatever pattern you want. Alternatively, you can leave them all separate.
This is the perfect gift for succulent-obsessed adults. With 771 pieces in total, this set will represent a challenge-especially for those who don't build with LEGOs often.
Key Features
Price Range: $45-$55
Number of Pieces: 771
Age Range: 18+
Pros
9 different succulents in the set
Gorgeous colors and unique shapes
You can customize your display
Cons
Not recommended for children to build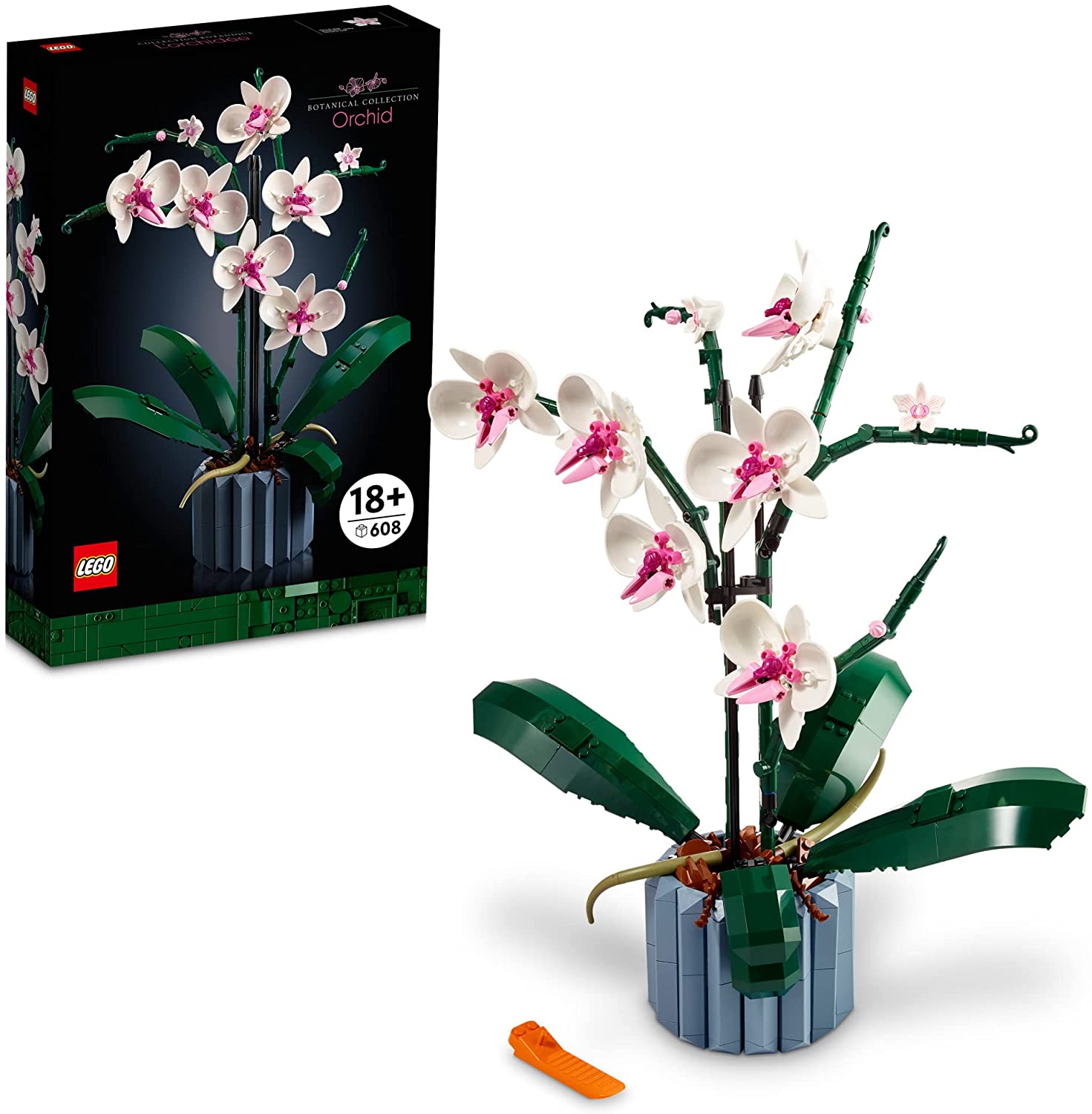 Who needs real flowers when you can have LEGO flowers that never wilt? Real orchids are too temperamental, anyway. If you're up for the creative challenge of building LEGO orchids in a cute, stout flowerpot, check out this set! LEGO did a great job getting the shape of the orchid petals perfect, which is why this is beloved by LEGO fans.
This is another LEGO set that's for adults since there are 608 pieces in total and the design is a bit complex. You'll notice that the orchid LEGO set represents unique challenges with how the flowers, stems, and leaves are shaped.
Key Features
Price Range: $45-$55
Number of Pieces: 608
Age Range: 18+
Pros
Gorgeous LEGO flowers
A unique decoration
Fun to build by yourself or with friends
Cons
Not intended for children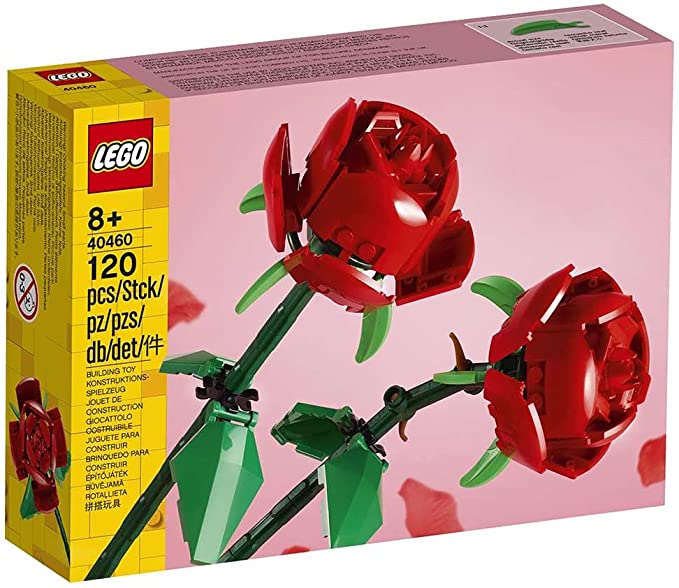 These roses truly are iconic! You get 2 red LEGO roses in this set. Once built, you can save their beauty by plopping them into your favorite vase. The petals are a vibrant shade of red, so these flowers will stand out wherever you place them. I'm truly impressed by how rose-like these are given that they're made from plastic blocks.
This set is made for anyone 8 and older, so it's the perfect gift for a child or an adult. There may not be many pieces in this set compared to the other 2, but the shapes of the flowers are what gives this project complexity.
Key Features
Price Range: $22-$32
Number of Pieces: 120
Age Range: 8+
Pros
Great for kids and adults
Pretty design
Roses are the most popular flower ever
Cons
Won't be a challenge for experienced LEGO builders
FAQ
This section will have the answers to your most frequently asked questions about LEGO flowers. Lots of people are curious about the LEGO flower bouquet that's intended for builders 18+.
Question: Is the LEGO Flower Bouquet Coming Back?
Answer: LEGO has restocked their popular flower bouquet set before, so it's not out of the question that they'd do it again. Keep an eye out for updates! Currently, you'll find this set can be expensive because it's quite rare.
Question: Why is the LEGO Flower Bouquet 18+?
Answer: Even though the LEGO flower bouquet doesn't have thousands of pieces, it's intentionally challenging to put together. LEGO is trying to make sure they're keeping their adult audience happy by providing sets that are difficult to build. The flowers' shapes make them a little tricky.
Question: Is the LEGO Flower Bouquet Hard?
Answer: The LEGO flower bouquet is decently hard to put together. If you choose to buy this set, prepare yourself for an actual challenge, even if you're an experienced LEGO builder.
Question: What Flowers are in the LEGO Flower Bouquet?
Answer: The flowers you'll find in the LEGO flower bouquet are roses, a lavender stem, asters, daisies, snapdragons, and a California poppy. All these beautiful flowers can be placed inside a vase once constructed.
That Sums It Up
We've come to the endpoint of our journey through the vast selection of LEGO flower ideas. What was your favorite LEGO flower idea we found? Was it my fav, the LEGO Flower Bouquet Arranged with Real Flowers, or are you hoping for something simpler? Do you have plans to put together one of the 3 LEGO flower sets I showed you?
Those sets are challenging to build and beautiful once put together. If you'd like to learn more about the most popular LEGO sets and accessories, please come check out our website!
Recommended Reads: