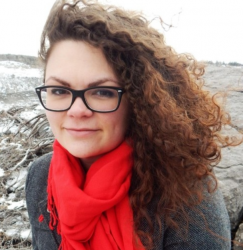 Latest posts by Candace Osmond
(see all)
The X-34 Landspeeder piloted by Luke Skywalker is undoubtedly one of the most recognizable vehicles from the Star Wars: The Original Trilogy collection. As a result, LEGO has developed several different iterations of this craft, and 75271 Luke Skywalker's Landspeeder stands out as unique compared to its predecessors.
It's currently a discontinued set from LEGO, but you can still get it from third-party retailers like Amazon, Walmart, Target, etc. So, if you're thinking about getting it, check out my review and see if you can nab one!
Pros and Cons of the LEGO 75271 Luke Skywalker's Landspeeder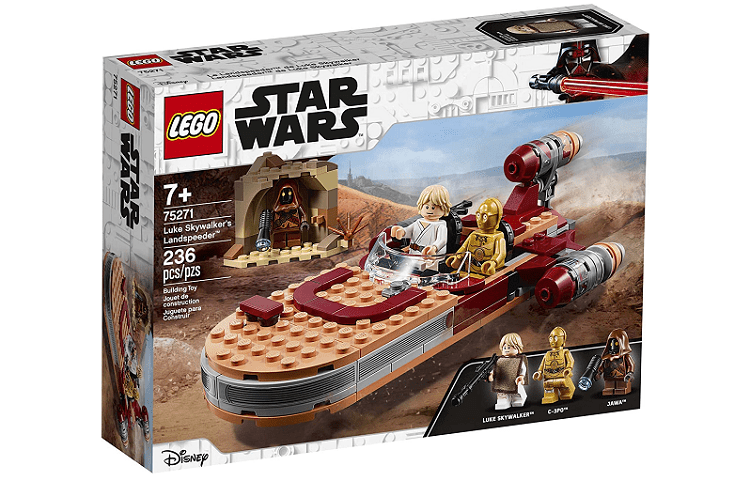 Pros
Includes 3 great miniatures.
Tatooine scenery included.
Stickers are included for more detail.
Cons
It's not very rich in detail.
LEGO enthusiasts claim it's overpriced.
Most stores don't have this in stock.
It's discontinued from LEGO.
Key Features
The 75271 Landspeeder is one of the most recognizable vehicles in the Star Wars universe, and as such, it deserves to be cared for with affection and reverence. It's a LEGO set that comes with 236 pieces suitable for ages 7 and up. It's an excellent piece for those looking for an easy set to build while also searching for LEGO at a reasonable price.
Mini Figures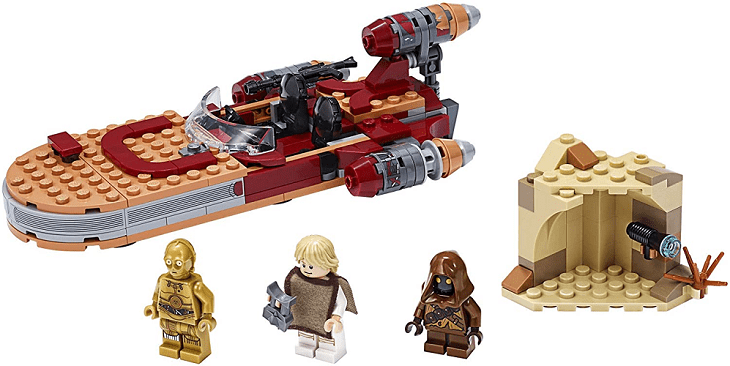 When someone thinks about Star Wars (even those who haven't seen the movies), Luke is typically the first character that comes to mind. Even if his body parts have been included in several other sets, the new tan poncho with brown outlines that he is wearing is what gives him his unique appearance. It is constructed from a gentle and adaptable fabric that looks similar to felt.
The C-3PO character has undergone numerous updates and enhancements throughout its existence. However, this version has been in use for the past five years. If you enjoy collecting LEGOs or Star Wars figurines, then you undoubtedly have a whole stack of these neurotic protocol droids in your collection.
The addition of the Jawa was a somewhat poor choice given that it is possible to include them in any story that takes place on a planet with a desert environment like Tatooine. It has a hood over its head and two yellow eyes that look straight through you. The head is black.
Design
The curving edges are probably my favorite feature. They were deftly created by alternating layers of slanted bricks and curved plates. This separates it from others in the pack because Lego models and Star Wars ships, in particular, have a propensity to be angular due to the models' design.
The curves continue inside the cockpit, ornamented with a one-of-a-kind spherical windscreen built especially for this vehicle.
I'd like to point out that within the box, you will discover this windscreen protected by its very own individual packaging, which will keep it from becoming scratched. It implies that it should be glossy and polished, and it should look stunning when it is attached to the Landspeeder.
Build
Building Luke's Landspeeder is a lovely experience from start to finish since the instructions are so well written and easy to understand. Even though this is an 18+ set, the instruction book is kept straightforward and to the point, and it will never tell you to assemble too many pieces at once.
It indicates that it is quite simple to follow, and even though this is a rather large model, we are convinced that younger builders should be able to enjoy it with only minimal oversight.
There is a little repetition involved when it comes to putting together the three engines of Luke Skywalker's Landspeeder from Lego Star Wars.
You will begin by constructing the damaged engine, including all the exposed wiring and mechanical components. After that comes the engine that is still whole and will go on the ship's opposite side, followed by the center engine that will go on the very top.
To Lego's credit, the architecture of each engine has been slightly altered, ensuring that no two engines are an exact carbon copy of one another. This is possibly the most time-consuming aspect of the build, but other than the stand, it is the very last thing to be completed. As a result, when you are done working with them, you will have a wonderful model that is complete to enjoy.
Putting It Together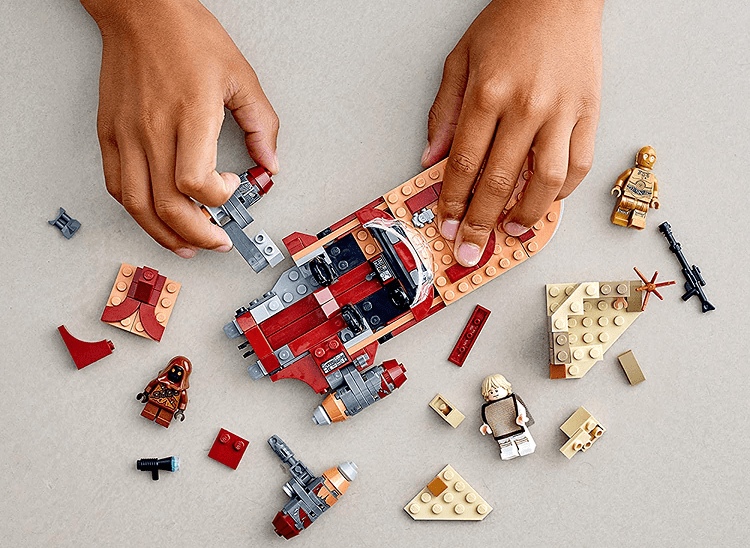 The construction of the speeder itself is, for the most part, uncomplicated; nonetheless, it is lovely to note that the designer made ingenious use of the various new types of brackets that have been developed in recent years. As a consequence of this, the finished structure features a significant amount of "sideways building."
Technic parts are used in the construction of the side engines. The location of the two chairs, which are slightly offset towards the center due to their construction incorporating clips, is a little bit peculiar. The placement of Luke's steering wheel suggests that vehicles are driven on the left side of the "road" on Tatooine as well if we are to believe what we see.
There are not many functions, although the central top jet engine may be rotated to open a compartment that contains Luke's binoculars. Other than that, there are not many functions. The amount of fun that can be had from this is rather low.
Where Can You Buy the Lego Luke Skywalkers Landspeeder
If you visit the product's official website, you'll notice that LEGO specifies the product has been retired. However, some retailers still sell the Landspeeder, including the following:
Decision Making Tips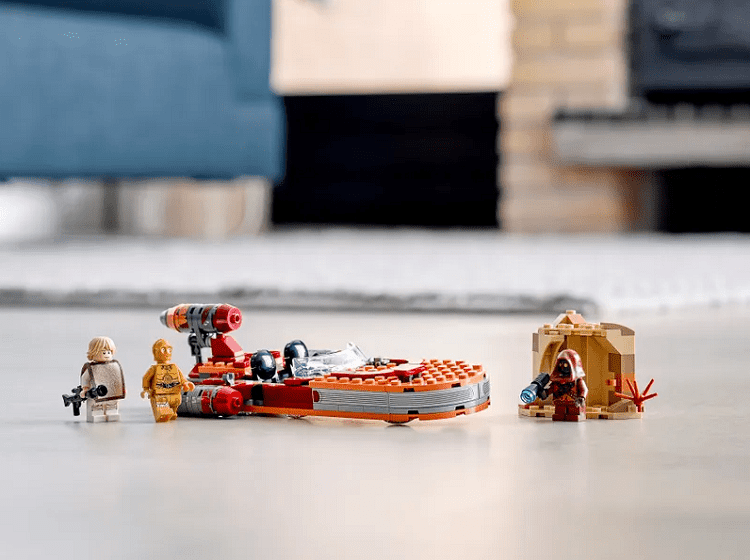 Before buying this LEGO set or any other one, here are some things to keep in mind.
Check the Recommended Age
If you're considering purchasing a LEGO set, check first to see the minimum age requirement. Some of the more difficult sets are recommended for children beyond the age of 12 and even up to 18: If you buy a younger child a LEGO set that is more complex than they can understand, you run the risk of them being confused or frustrated.
You should also avoid giving an older child a "baby" set as a present because it is quite likely that the larger child would ignore it. Stay close to the age range indicated so that you can offer them a set they will enjoy and use.
Look at the Price Tag
There is a wide range of costs for LEGO kits. Certain "Star Wars" sets can easily run you several hundred dollars. A significant number of others are priced at less than 100 bucks. Think about the person's age as well as the level of responsibility they have before purchasing them.
Is this an easy-to-use set that may help a young child develop their fine motor skills, or is it a difficult and advanced set designed for a young LEGO fan who will likely display it for many years to come? The money you have available to spend on a LEGO set should be based on this information.
Check LEGO Compatibility
The wonderful thing about LEGOs is that many of its pieces and sets may be combined with those of other LEGO kits to create entirely new creations. If you're shopping for a child who isn't your own or an adult who knows their way around LEGOs, it's likely they already have a few sets at home.
Display Room
After you or your child has finished putting together a LEGO set, there is a good probability that you will want to show it off. Unfortunately, every one of us only has a limited amount of space and display areas available to us.
If there is not enough room on top of the dresser for them, you can put them on floating shelves. You might also consider purchasing a compact glass display case to showcase all of your LEGOs.
Other Alternatives to Consider
Consider some of these great Star Wars LEGO sets if you grabbed Luke's Landspeeder or simply can't find one in stock.
LEGO Star Wars Dagobah Jedi Training Diorama 75330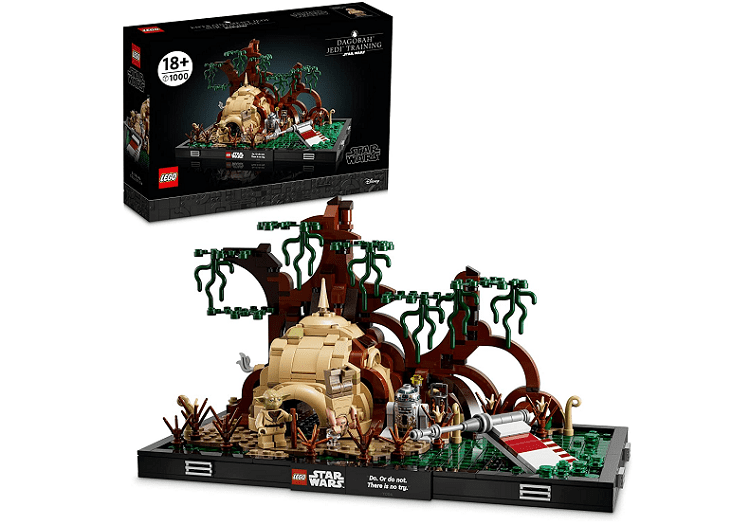 The LEGO Star Wars Dagobah Jedi Training Diorama model recreates an iconic scene from Star Wars: The Empire Strikes Back and is packed with immediately identifiable details.
Price Range: $50 – $100
Number of Pieces: 1,000
Skill Level: advanced, ages 18+
Recreate Yoda's home in the Dagobah marshes and the wing of Luke Skywalker's X-wing that crashed into the ground. It includes Yoda and Luke Skywalker as mini figures made of LEGO and an R2-D2 droid figurine.
Attaching the plaque with Yoda's words "Do. Or do not." is the final step in creating a memento mori-inspired display.
Pros
Very rich in detail.
Includes mini figures.
Complex and challenging to make.
Cons
Some have complained about missing pieces.
LEGO Star Wars Luke Skywalker's X-Wing Fighter 75301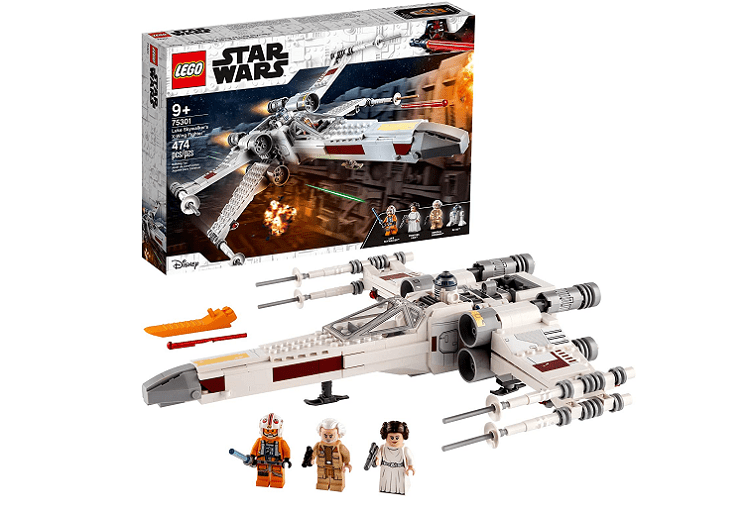 With this fantastic LEGO brick recreation of Luke Skywalker's X-wing Fighter from the original Star Wars trilogy, children have the opportunity to become the heroes in their epic adventures.
Price Range: $40 – $50
Number of Pieces: 474
Skill Level: entry to medium level, ages 9+
This fantastic set comes with retractable landing gear, two spring-loaded shooters, an opening cockpit for LEGO mini figures that has room behind it for R2-D2, wings that can be converted to an assault position by just the clicking a button, and a LEGO mini-figure cockpit that opens up and has space behind it for R2-D2.
Pros
Suitable for children.
Includes mini figures.
Great value.
Cons
Some feel the design is pretty poor.
LEGO Star Wars: The Rise of Skywalker Pasaana Speeder Chase 75250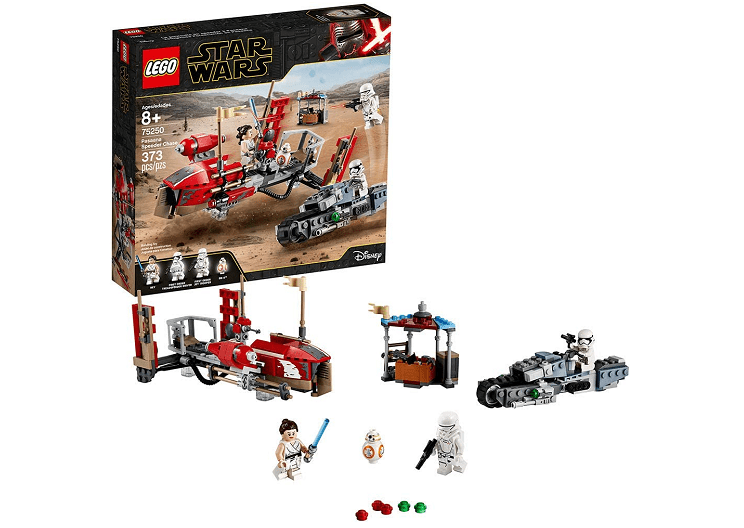 Children and collectors will take a special interest in the treadspeeder's tank track, side-mounted stud shooters, and translucent stand, all of which give the toy the appearance of floating in midair.
Price Range: $40 – $50
Number of Pieces: 373
Skill Level: entry-level, ages 8+
In addition to the adorable BB-8 droid LEGO figure, this entertaining Star Wars gift for children also contains the Star Wars characters Rey, a First Order Treadspeeder Driver, and a First Order Jet Trooper.
Some of the interesting features include concealed almost storage, a hover-like effect, and a removable toolbox with tiny LEGO tools.
Pros
Nice extra features.
Includes mini figures.
Easy to put together.
Cons
Some complaints about missing parts.
FAQs
Question: What did Luke Skywalker drive?
Answer: Luke Skywalker had access to an X-34 Landspeeder, and he and his recently made acquaintance C-3PO drove it to the Jundland Wastes to look for R2-D2 after he escaped from the Lars moisture farm.
Question: How did they make Luke's landspeeder?
Answer: Ogle Design was responsible for the design and construction of Skywalker's landspeeder, based on the chassis of a Bond Bug three-wheeler automobile. The first time we see landspeeders is in Star Wars. Two of them, Luke Skywalker's X-34 and a V-35, were built around automobiles and designed by renowned special effects artist John Stears.
Question: How are speeders powered in Star Wars?
Answer: The forward movement of the vehicle was achieved by using turbine jet engines. Some landspeeders were also equipped with armaments, and these guns were often positioned in one of two locations: either in front of the ship or above and behind the pilot and/or passengers.
Bottom Line
There is a widespread misunderstanding that most LEGO Star Wars sets consist of nothing but a collection of generic starships, which makes the Landspeeder an even greater set to buy.
Any LEGO Star Wars enthusiast who is just getting into the hobby will find that Luke Skywalker's Landspeeder has a lovely design and comes with a great trio of mini figures to get them started.
And for more fantastic Star Wars LEGO recs, check out our site! We've got tons!
Recommended Reads: