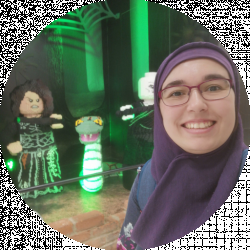 Latest posts by Melika Jeddi
(see all)
Normally, I view Lego building as a solo activity, and all the other sets I've reviewed for Brick Set Go have been ones I assembled alone. However, I broke tradition with this LEGO The Office Ideas Set. My husband and I love The Office, and we watch it together as our 'Dinner Show'. You know, that series that you always have on when you're eating because it doesn't require you to pay much attention.
Both of us were excited from the moment that LEGO announced it had qualified for their IDEAS range, and we waited patiently for it to be released. My husband drove a couple of hours away on launch day so he could buy it directly from the LEGO store, and then it waited in its box for the perfect time. You can't rush a masterpiece like this. Finally, we'd made some space for it, we both had enough free time to dedicate to the build, and we went for it.
I found the LEGO The Office set to be very different from most others I've built, and I'll explain why throughout this article. There's so much that I've got to say, and I'm super pumped to get to share my thoughts with you. Read on to see whether this set is right for you!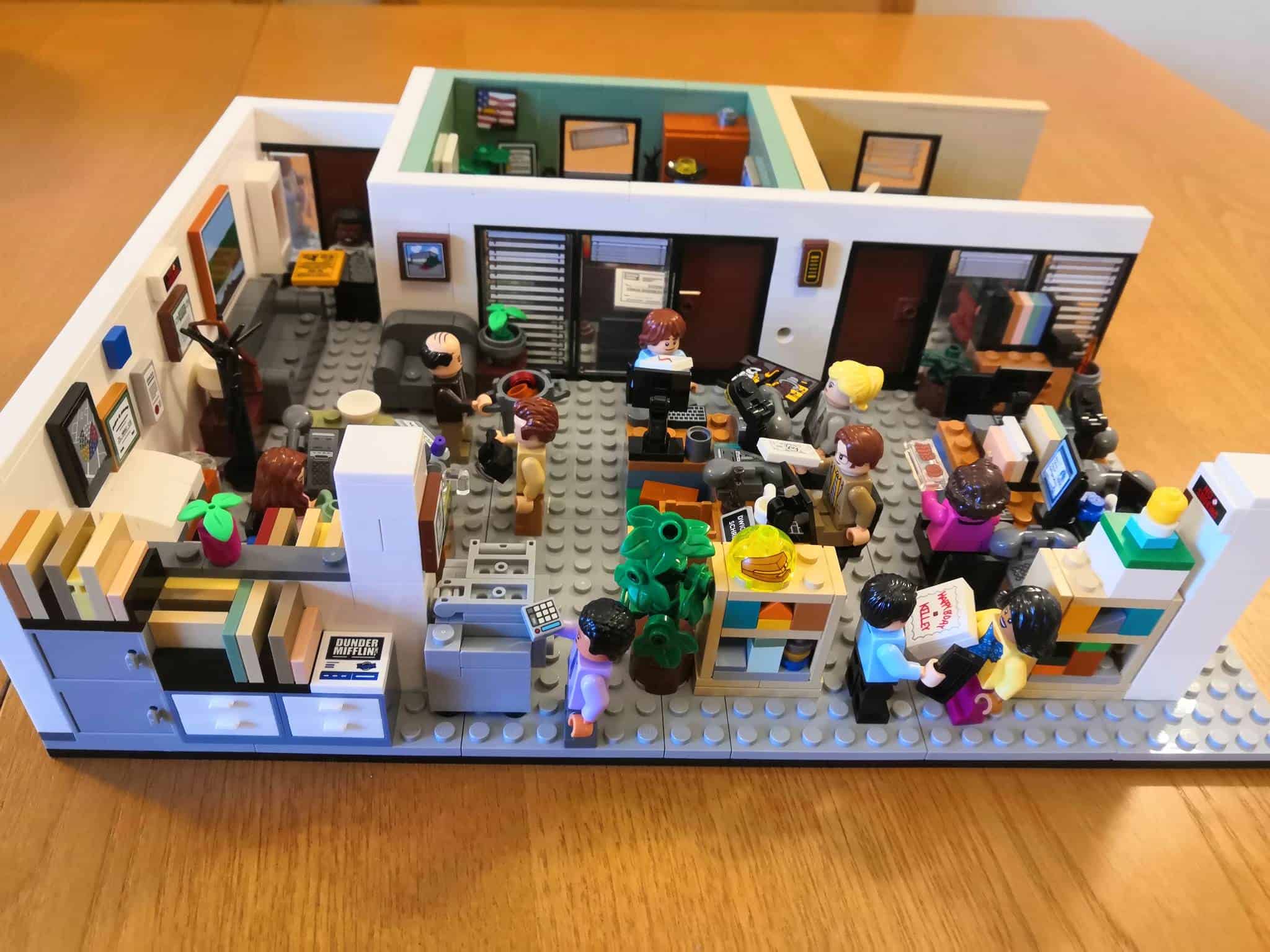 LEGO the Office Ideas Set at a Glance
Price – $119.99
Age Range – 18+
Number of Pieces – 1164
Number of Minifigures – 15
Size Specifications – 30cm wide, 25cm deep, 7cm high.
Inspiration – The Office (The US version)
LEGO Range – Ideas
How Long it Takes to Build – 3 hours and 25 minutes (2 people building)
The Inspiration
This set is based on the popular TV show, The Office. Specifically, the US version, as there's also a British show with the same title. As a Brit myself, I'm loath to admit this, but the American version is miles better than ours. The British version of The Office completely missed the mark with its attempts at humor, and it's one of the most painful 'comedy' shows I've ever had to sit through.
But the Americans took what was in essence a case of 'good concept, poor execution' and turned it into 'good concept, impeccable execution'.
Despite being first released in 2005, The Office is one of the few shows that has stood the test of time. Whilst other shows from that decade such as How I Met Your Mother have received criticism in recent times due to their poor handling of problematic topics like homophobia, The Office has managed to remain relatively scandal-free. I think the key factor was the fact that the show deliberately addressed those issues through the lens of making fun of bigotry.
For example, Michael Scott often makes inappropriate jokes about race or about Oscar's sexuality. But the punchline is always that Michael is missing the point, rather than making fun of the community. Seeing real issues being tackled in such a humorous and socially conscious way is just one reason that the show is so great.
It also offers a smorgasbord of iconic moments, and the internet is packed full of memes related to The Office. You can pick pretty much any episode at random, and I guarantee that there will be at least one line that's heavily memed online. The witty dialogue combined with the simultaneously grounded yet outlandish plots grants The Office cult status which other shows can only dream of. I'm pretty certain that audiences will still be watching and enjoying it decades from now.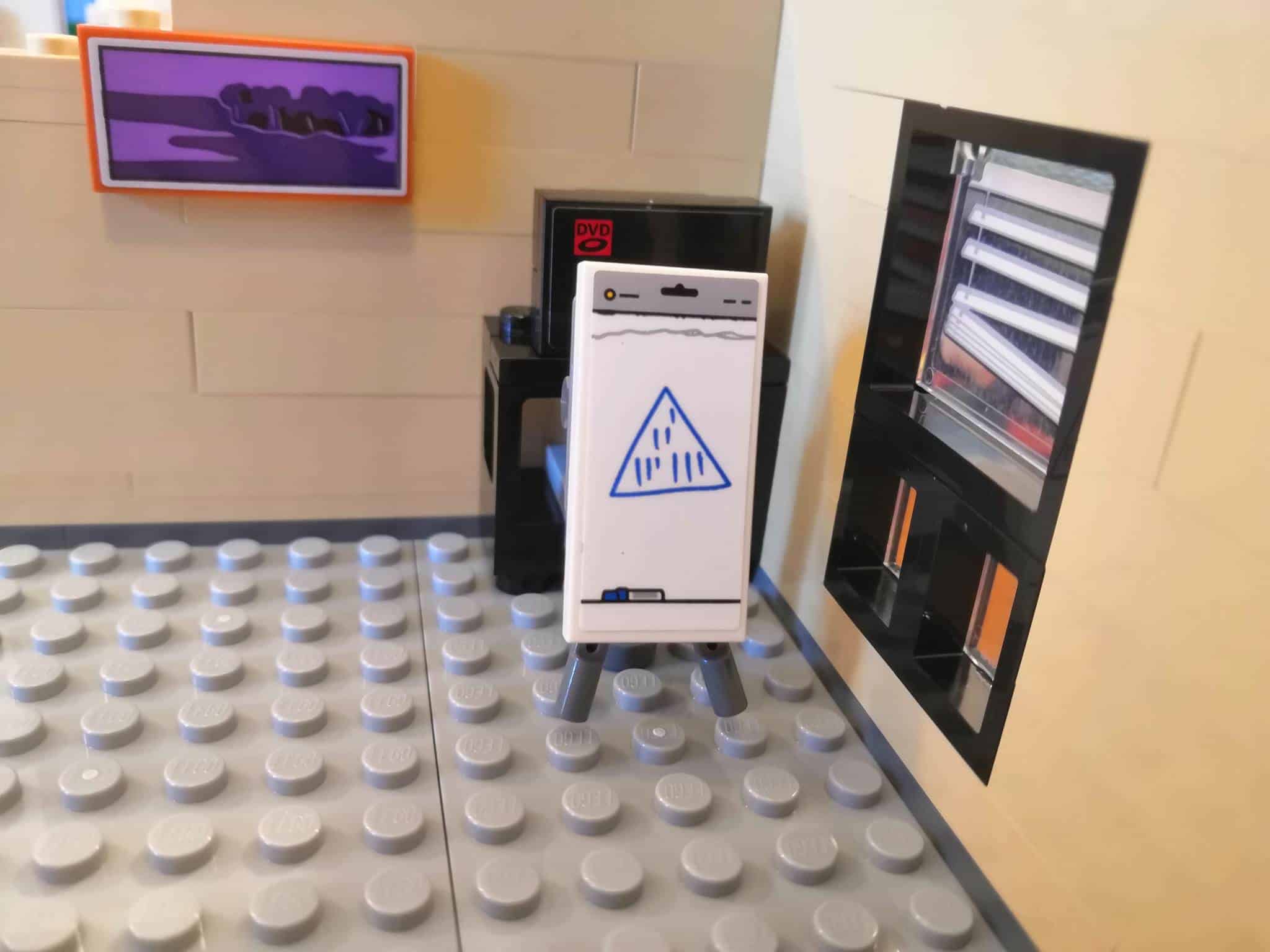 Meet the Designer
The cool thing about the LEGO Ideas range is that the sets are designed by regular people! Whilst LEGO have a dedicated team of their own designers who conceive the sets for all the other themes, Ideas is special. Anyone and everyone can submit their own concepts to be voted on by other LEGO fans. Once an idea hits 10,000 votes, LEGO will take a look at it, and every year, they release a shortlist. From there, some of them are turned into official LEGO sets.
The designer for the LEGO The Office Ideas set 21336 is Jaijai Lewis. He's a marketing professional from New York and he gave his heart and soul to this set. He'd been brainstorming the concept since all the way back in 2014. He'd actually submitted 2 previous The Office sets to the Ideas program, which both reached over 10,000 votes, but it wasn't until this 3rd iteration that LEGO gave him the go-ahead.
Lewis describes The Office as his comfort show, and he rewatched it multiple times to decide on all the references to include in the set. I love the dedication that he put into getting it just right.
But the set wasn't just thanks to Lewis. Once LEGO approved it, they involved 3 of their own designers – Chris Perron, Laura Perron, and Diego Sancho. Together, the 4 of them worked on improving the details and the scale until it was ready to be produced and sold to the public. They even included personal touches, such as using their favorite colors on some of the shelves.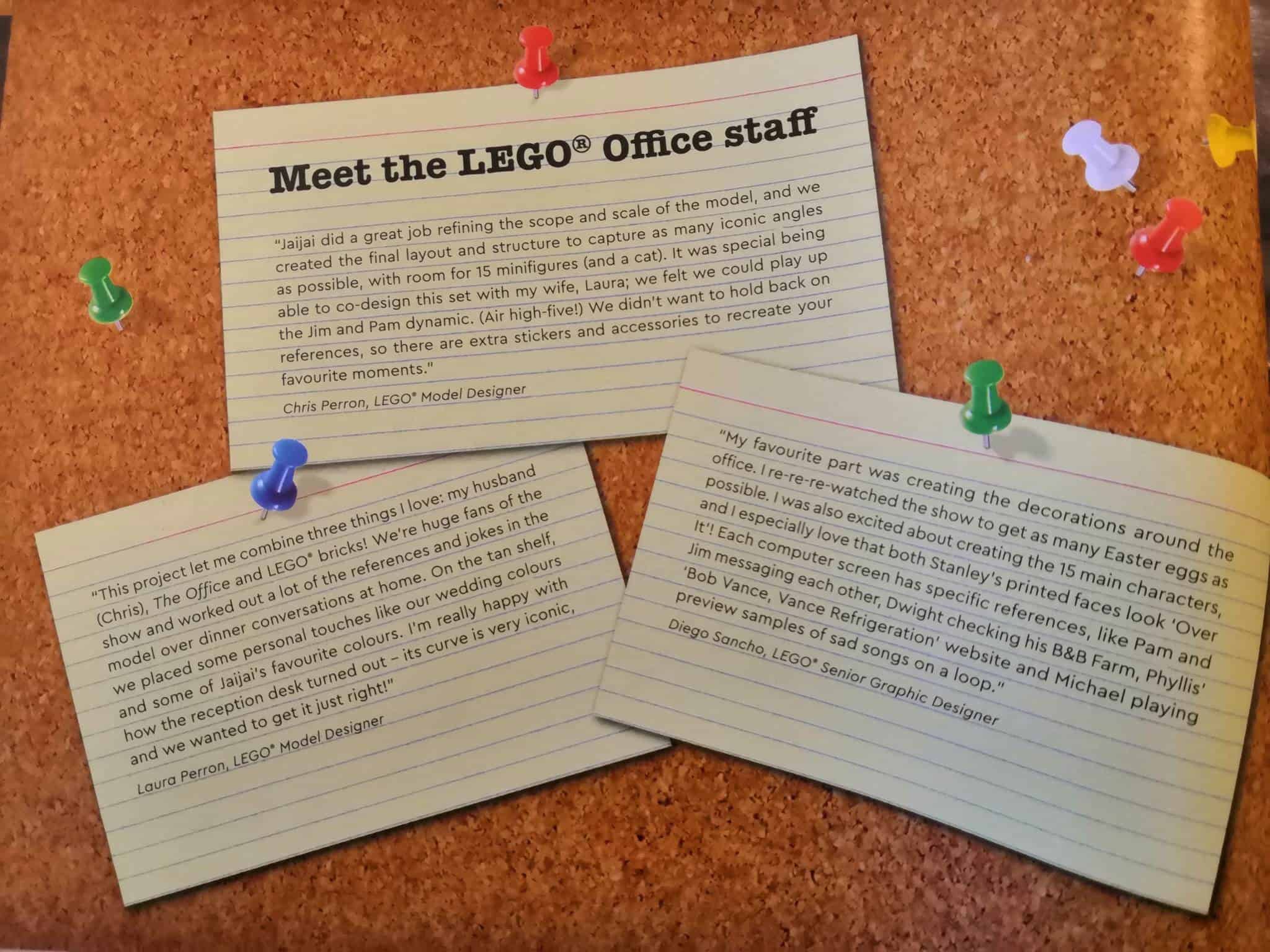 The Instructions
I felt that the steps in this set were an excellent length and they helped make the building process as smooth as possible. They also incorporated that wonderful LEGO feature whereby the new pieces are highlighted with a red outline. I've said it before and I'll say it again, it saves so much time. It's brilliant being able to see exactly where to continue the build rather than having to look around the page to spot what's different.
I did notice a couple of tiny errors. There was one where a piece showed up as a different color in the build than it did in the piece selection box at the top of the step. There was also a case where an element was included in the piece selection box, but it wasn't actually necessary for that step.
I encountered something really cool when building this, and it's something I've never seen in LEGO instructions before. I've often found that sometimes the angle of the picture can make it really hard to know where to add a new piece. However, one of the steps in this set included a top-down view so you could see exactly where the studs were and place things in the right place. I really like this, and I hope it's something I get to see more of in the future.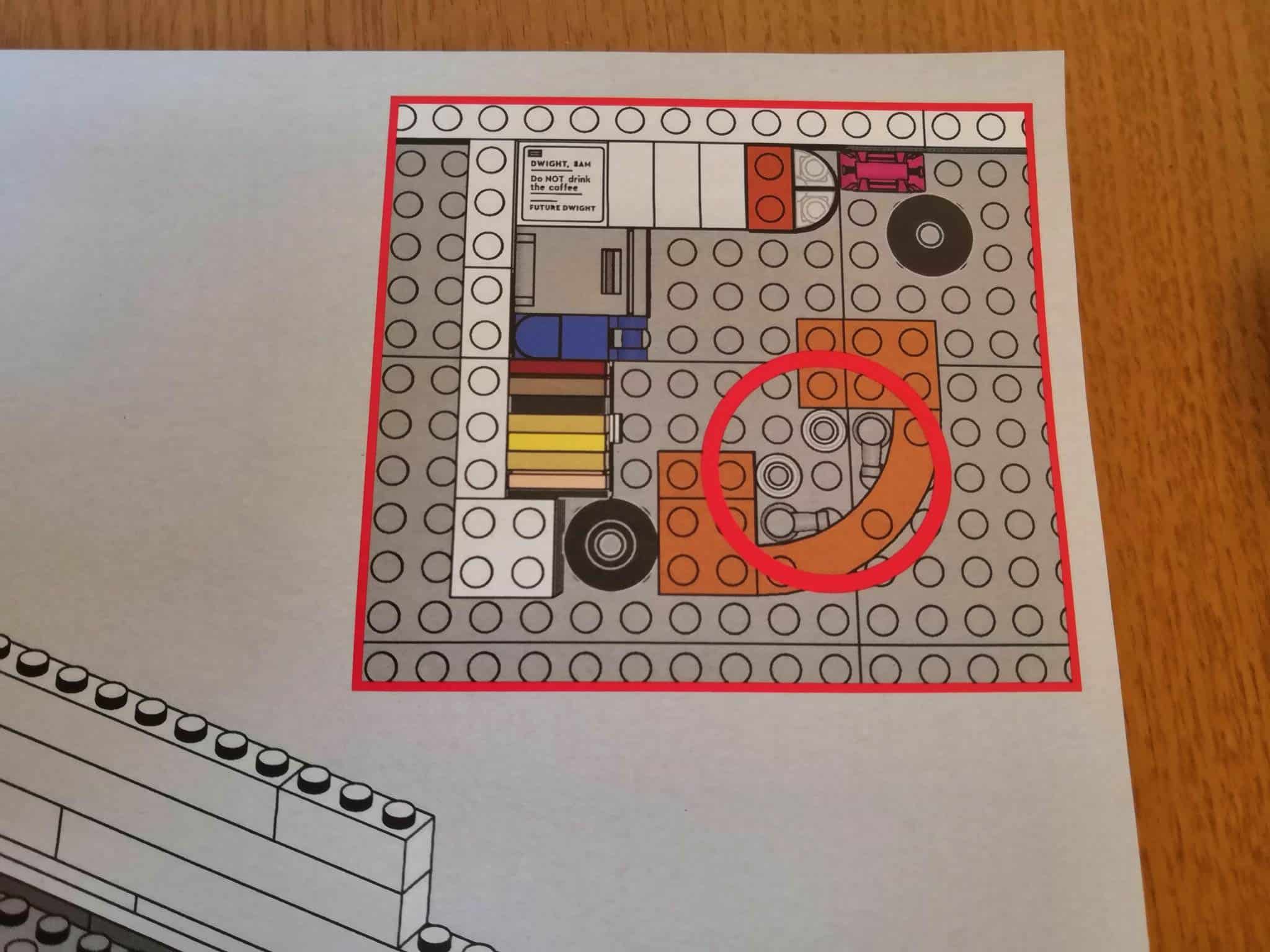 One thing I disliked about the instructions was the shape of the booklet. It was long and floppy, making it inconvenient to hold. To avoid this, I just placed it down on the table, but that had its own problem. The spine was quite tight, and the printing of the steps went right to the edges of the page. That meant that some steps were totally hidden by the spine, meaning I had to reach out and press it down just to see which pieces I was going to need. I always prefer booklets that are portrait rather than landscape.
The Building Process
Usually, this section is where I have the most to say whenever I do my LEGO reviews, but interestingly that's not the case here. I don't know why, but this set in particular just feels so much more about the theme than about the actual pieces themselves. That's not to say that I didn't enjoy it, because I did, but most of that enjoyment came from my attachment to The Office.
The stages were really short, and my husband and I chose to build it one bag at a time, so perhaps that's why the build didn't feel as engaging as usual. It's not uncommon for stages of a LEGO set to take me up to an hour, but with this set, the longest stage took only 25 minutes. If you're looking for a quick and relaxing build, then this is definitely going to be right for you. But if you prefer to get your teeth stuck into the stages, then you might find that it's over before it really begins.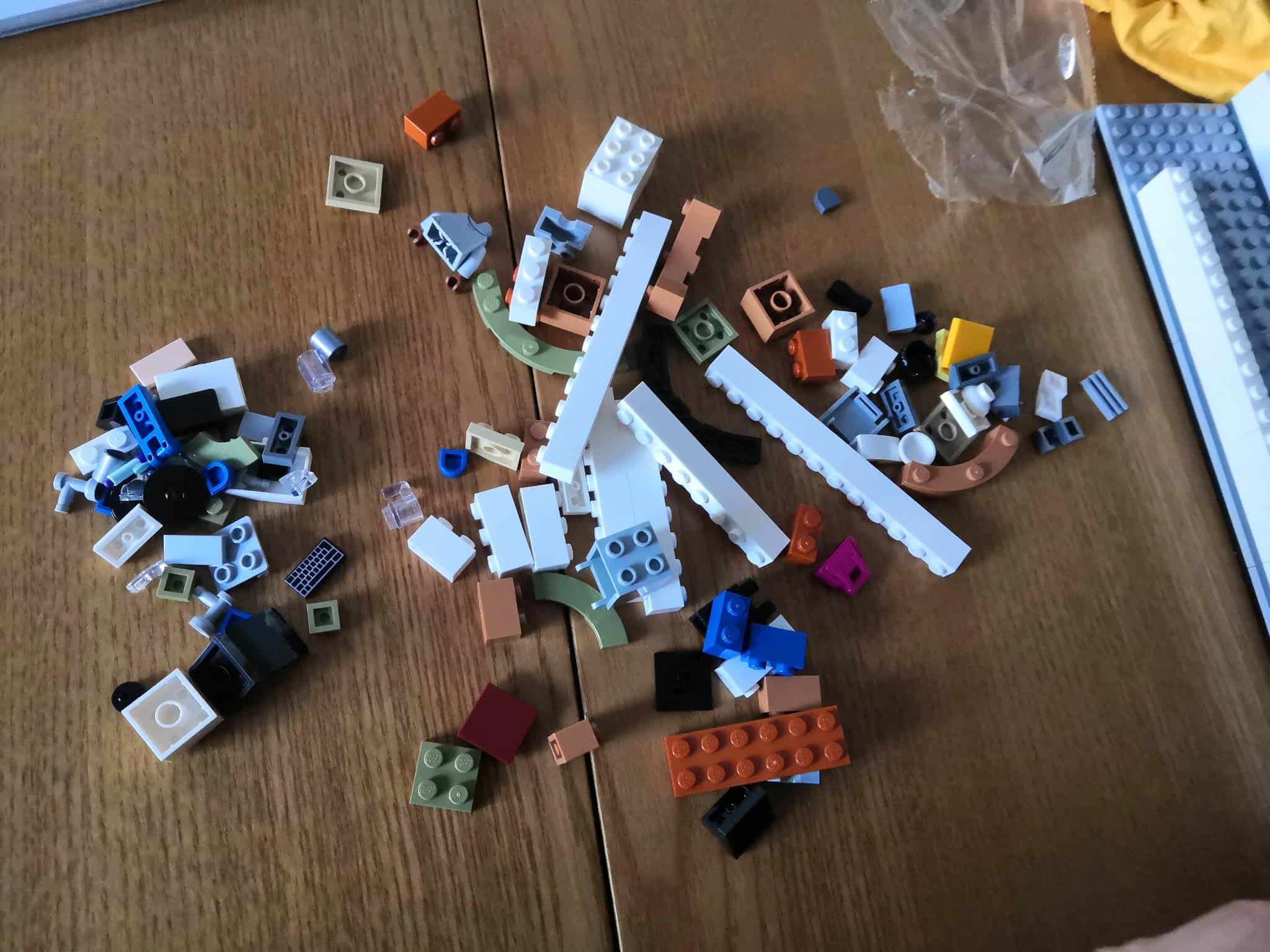 The best part of this set is when you recognize what each item you're building is. You'll start building something and then go "Oh, that's from when they cheer for the DVD logo hitting the corner!" or you'll recognize a fun detail like the Golden Ticket. Every single stage has at least a couple of details that you'll remember from scenes during the show. It makes the build feel more dynamic, and I found that I was excited to turn each page to see what I'd find next.
I also noticed that this build had a higher proportion of bricks compared to plates and tiles. A lot of the sets I've built recently will bulk up their piece count by including lots of tiles and plates, which will be layered to create height. That's not the case with this set, and anywhere that could use a brick has used one. That meant that the plates and tiles were only included as and when needed, making it easier to find pieces as there weren't so many small and fiddly parts.
I usually knoll my pieces neatly, but that was off the table because my husband doesn't have the patience to wait for me to do it. It wasn't a problem, though, because the small stage sizes combined with the larger pieces made it very simple to find the elements you needed for each step. I also liked that the set came with plenty of spare pieces, and I'm excited to use the more unique elements such as the shurikens when I create MOCs.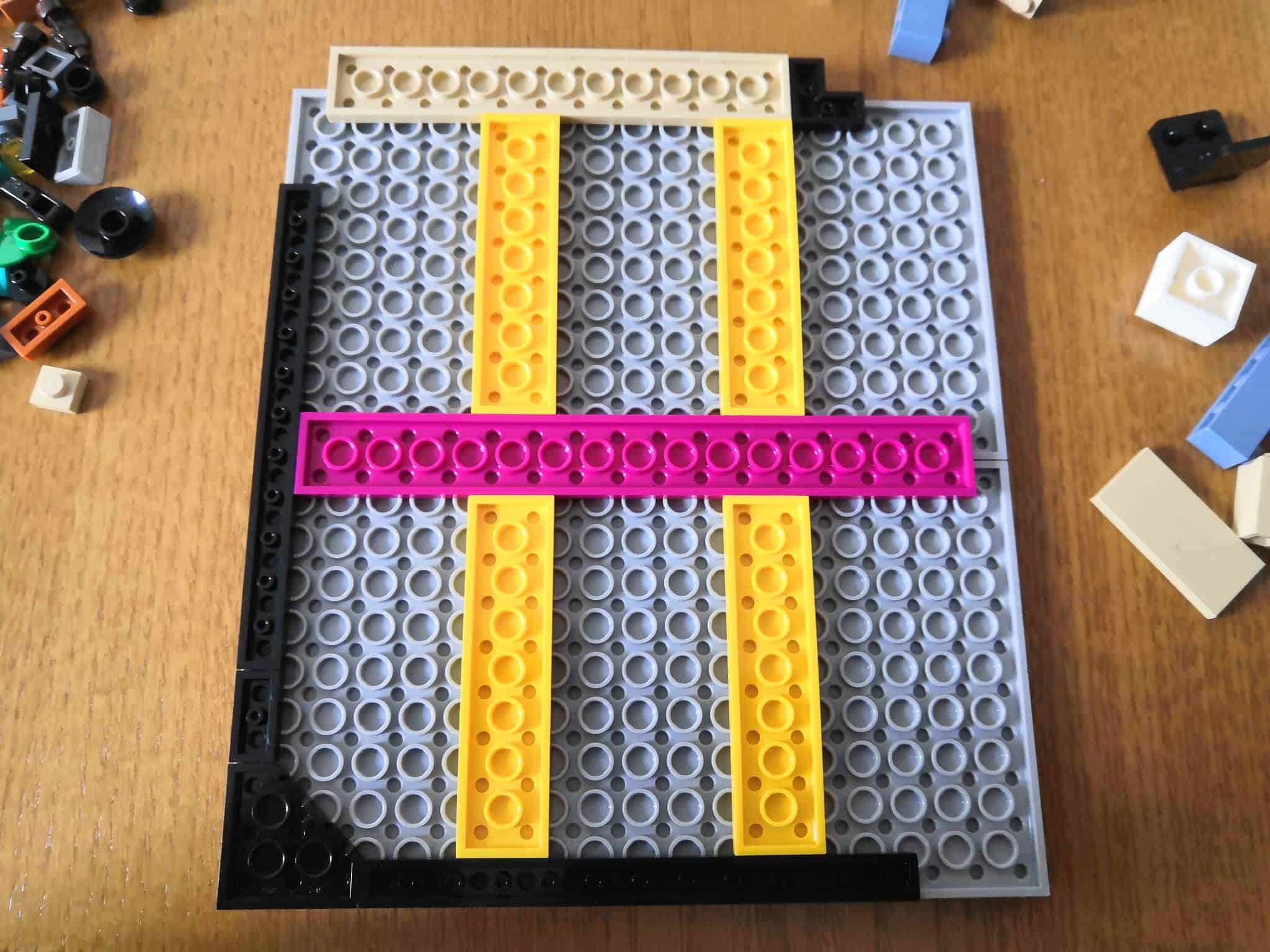 Time Taken to Build
This is probably the most uniform set I've ever built in terms of how long it takes to do each stage. Each stage came with just 1 bag, and the time difference between the quickest and longest stage is just 10 minutes. Granted, that was with 2 people building it, but even so, I expect solo builders would see similar results.
Honestly, I don't think it gained much speed from having 2 of us. We still wanted to take our time and enjoy ourselves, so we approached the instructions leisurely. Most of the time, I'd do the instructions page on the left, then pass it over to my husband to do the next page. As such, I doubt we saved more than half an hour in total by doing it jointly.
Stage 1 – 20 minutes
Stage 2 – 25 minutes
Stage 3 – 15 minutes
Stage 4 – 25 minutes
Stage 5 – 20 minutes
Stage 6 – 15 minutes
Stage 7 – 25 minutes
Stage 8 – 15 minutes
Stage 9 – 25 minutes
Stage 10 – 20 minutes
Total – 3 hours and 25 minutes
The Finished Product
This set is absolutely overflowing with awesome references, and it's incredible that the designers managed to fit in so much detail. But the thing I'm most impressed by is the scaling. The proportions are just right, making it immediately recognizable. The set doesn't depict the entire office, and we don't see Angela, Kevin, and Oscar's desk island or Meredith and Creed's.
However, we get the side of the room that we see most often on the show, and I think that was a smart choice. It would have been too large and too expensive otherwise.
I really like the way they included Michael's Office. Instead of just clicking on to the main office build, it slides in between the two other rooms. This is a really cool feature with a genius design. Not only is it quite fun to slide it in, but it also offers more stability than if it were to just be clipped on. It also offers more opportunity if you wanted to play with your set, as you could set a scene in Michael's office and pull it out to focus just on that.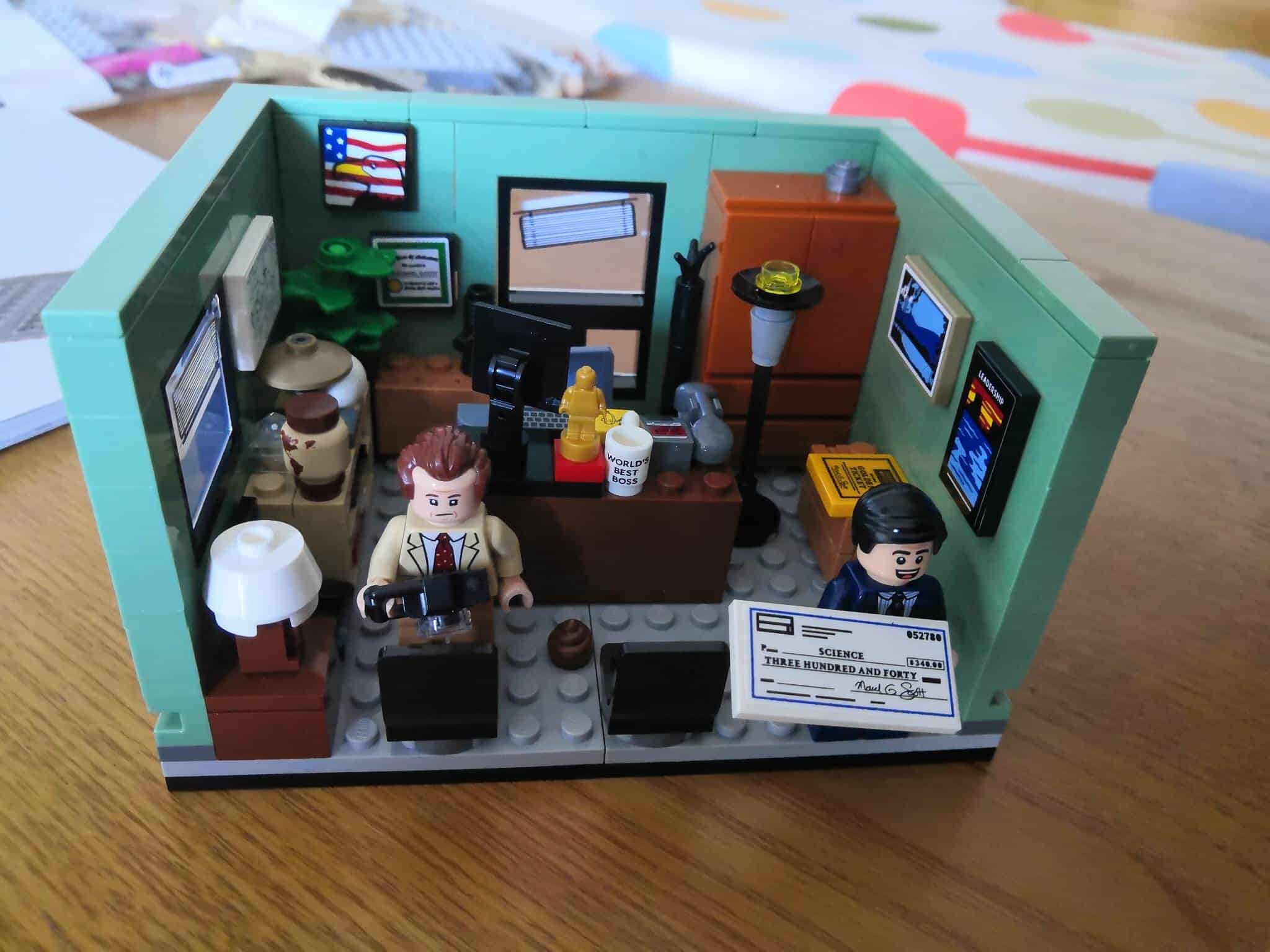 Overall, it's a very busy set with exciting scenes playing out in every corner of the office. And it's an active process, too. LEGO provides you with the details, but then you populate the set with the minifigures in whichever way you like. This set is wonderful to look at whilst still being pretty subtle in terms of colors. It's not going to grab your attention from across the room, but it'll excite you when you take the time to look at it.
Interactive Elements
This set comes with plenty of interactive elements, yet not very many moving parts. Confused? Let me explain. I recently built the LEGO Treehouse set which had a lot of interactivity. With that set, it came in the form of things like a swing, an adjustable telescope, and a pulley system. The LEGO The Office IDEAS set doesn't really have anything like that. You don't have many things that you can fiddle with by twisting/ pushing etc.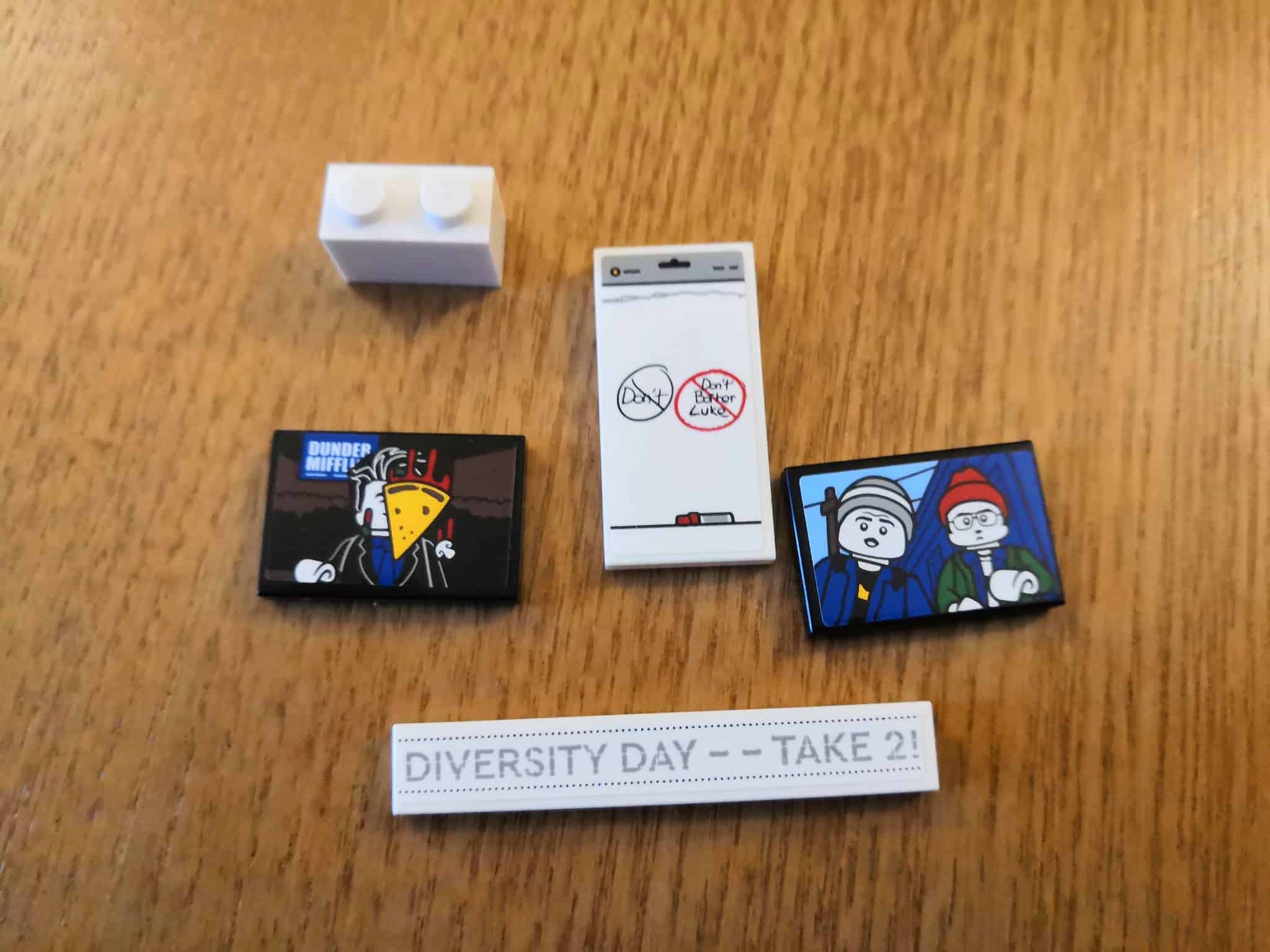 What you do have, though, is an abundance of bonus references that can be changed at whim. Several of the decorated tiles (basically all stickers rather than printed pieces, boooo) come with alternative options. So you can change the screenshots on the TV, and the meeting room can have the infamous 'It is your birthday' sign.
There's also a different design for the flip-board, but I don't see why you'd use anything other than the hilarious pyramid scheme scene. You can even swap out one of the wall pieces to show it before and after Andy punches a hole through it.
There are also mini drawers in the desk which sometimes contain hidden items. Angela's cat Garbage is hiding in one of the filing cabinets. Dwight has a drawer with shurikens in it. One of the drawers contains money… You get the idea. I also really like that the reception has a pen pot with a removable pen. I've never seen this pen piece before, and I really loved its design.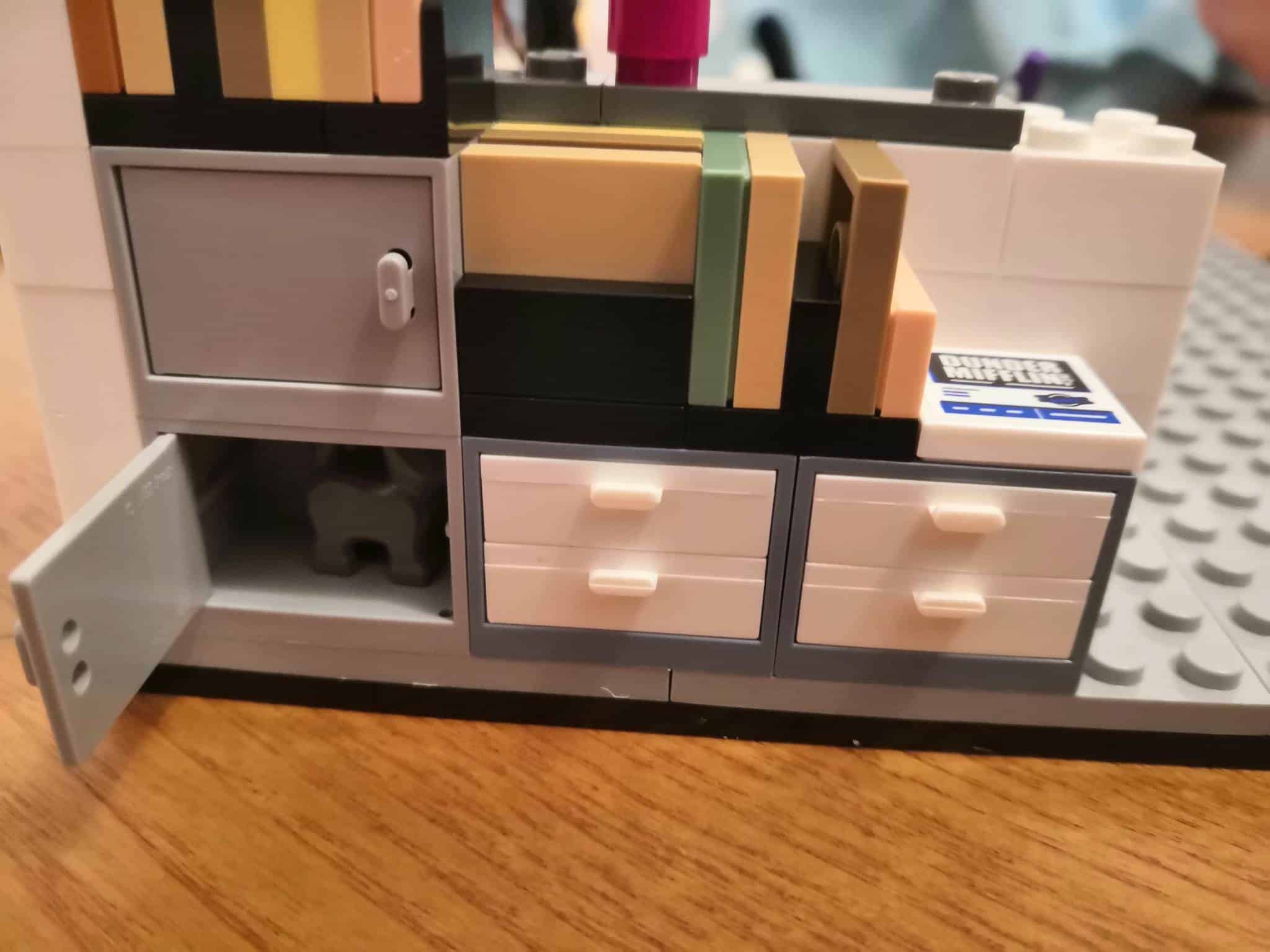 The Minifigures
A major complaint that I have with a lot of sets is that there aren't enough minifigures, but this The Office Ideas set definitely doesn't have that problem. The set is jam-packed with characters, complete with their own unique accessories. Most of the accessories are really clever and creative. However, the exception to this is Phyllis's yarn. Instead of making something out of actual pieces, it's a sticker printed on a transparent 2×1 tile, and it looks really unnatural.
The finished build looks spectacular once all the minifigures are placed, as they make the place look so busy. In total, there are 15 minifigures, and these are (*deep breath*) – Michael, Dwight, Jim, Pam, Ryan, Angela, Oscar, Kevin, Stanley, Kelly, Phyllis, Meredith, Creed, Toby, and Darryl.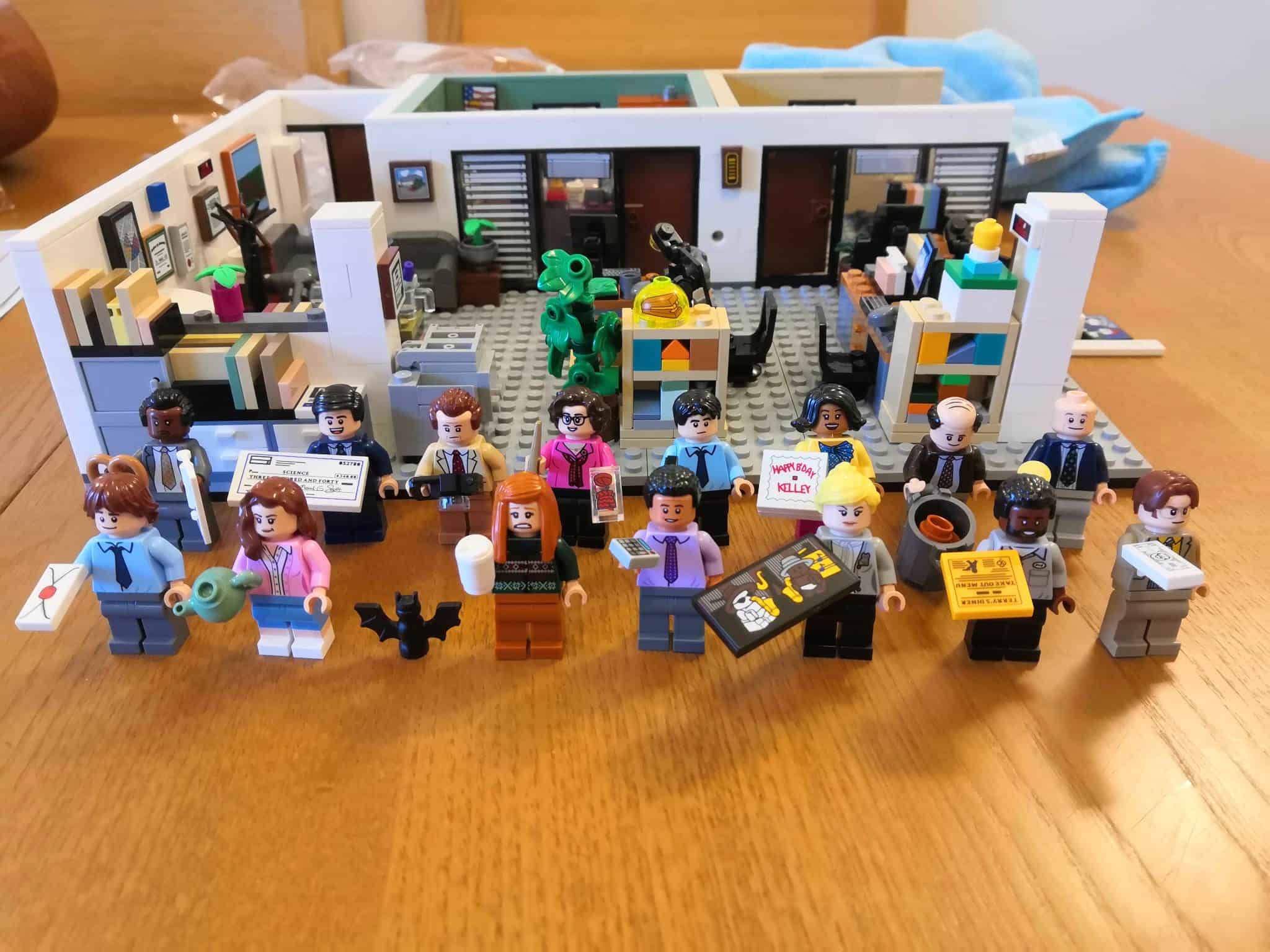 Most of the minifigures come with 2 faces, a feature I adore as it means I can alter their expression to match the situation I place them in. By default, I always try to give each character their happiest face. When I was putting Stanley together, I picked up his head and decided that the face was too grumpy, so I turned it around only to be confronted with an even grumpier face!
That made me laugh, as Stanley's alllllways grumpy. Although, in this instance, he was holding a pretzel, and The Office fans know that Pretzel Day is the one time that Stanley smiles.
I think they did a great job of capturing all the people that give the show its charm. The one glaring omission is Andy, who I was a tad perturbed not to see. I also would've enjoyed Erin, but I can understand why they didn't include her. However, Andy is such a key part of so many storylines that his absence was really noticed. Especially as the set even includes the hole that Andy punched in the wall. I'm just going to tell myself that he's not there because he's off completing his anger management course.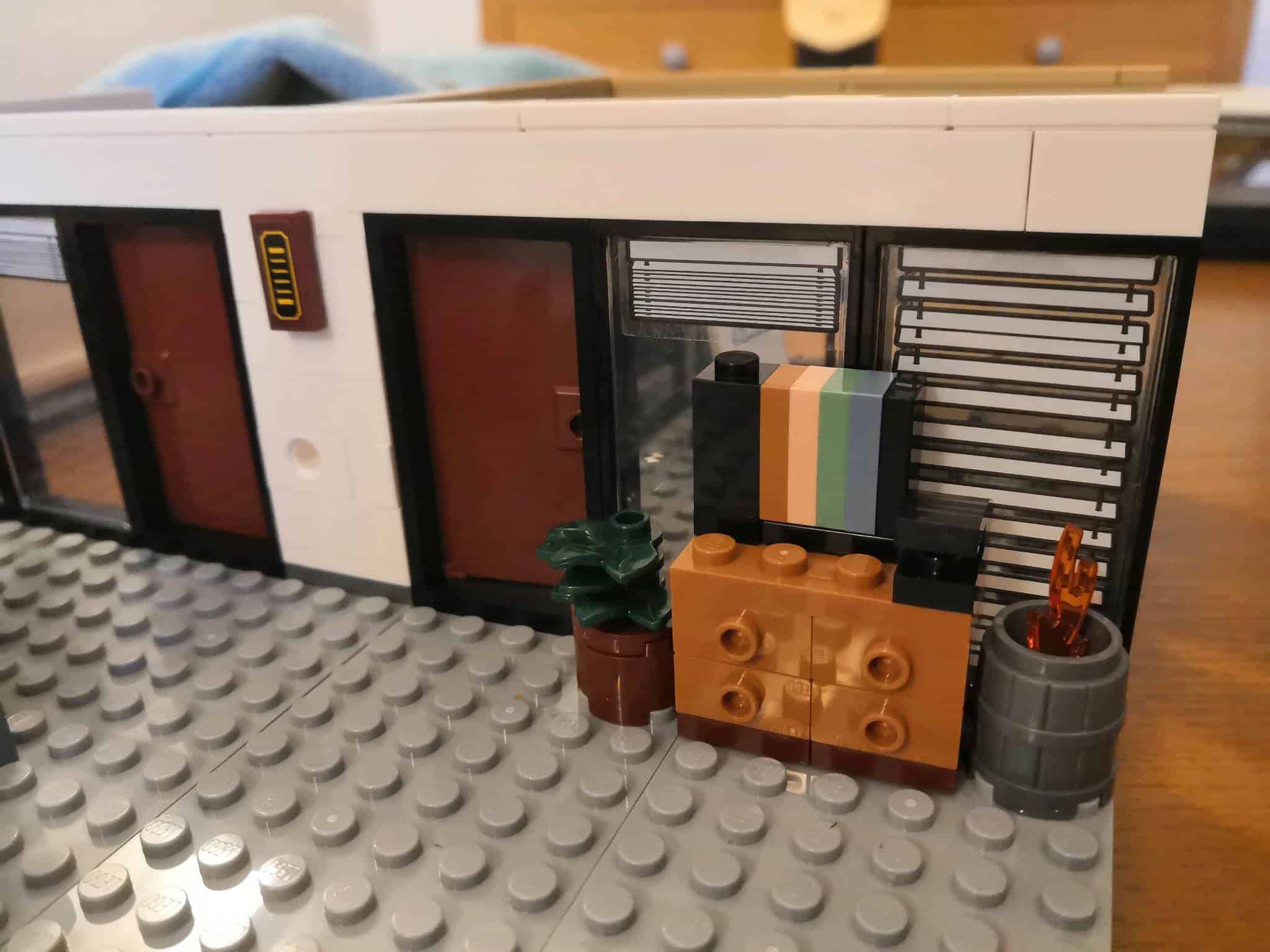 Is It Worth Buying?
The eternal question, and the one that I always avoid directly answering. I can't answer this for you because nobody can. Only you know what you'd define as being 'worth it'. All I can do is provide you with the information to make that decision for yourself.
That's what this section is all about. I use the criteria that I always consider when building LEGO and provide you with my genuine thoughts. These are the factors that matter to me most with a LEGO set, although of course, your weighting of how important each criterion is may well differ from mine.
Hopefully, though, this section should provide some insight as to whether this LEGO The Office set is right for you, or whether you'd be better off purchasing something else.
Ease and Enjoyability of Build
This is definitely one of the easiest builds I've ever put together. There were no points where I experienced any kind of struggle, and there isn't even a problem with fragile connections. I'm trying to think of the trickiest part of the build, but literally nothing is coming to mind. There's no reason whatsoever for this to be aged 18+. I figure it's because of the theme, but even then, teenagers watch The Office, and I think 14+ would've been a much more fitting suggested age.
The only thing that I had any difficulty at all with is also related to enjoyability, and that's the dreaded stickers. For a relatively small set, there was a disproportionate amount of stickers, over 50! There were far more in the LEGO The Office Ideas set than in much larger sets such as the Mos Eisley Cantina set. In fact, the only set I've built that used more stickers than this one was the Diagon Alley set, and that uses nearly 5 times the number of pieces!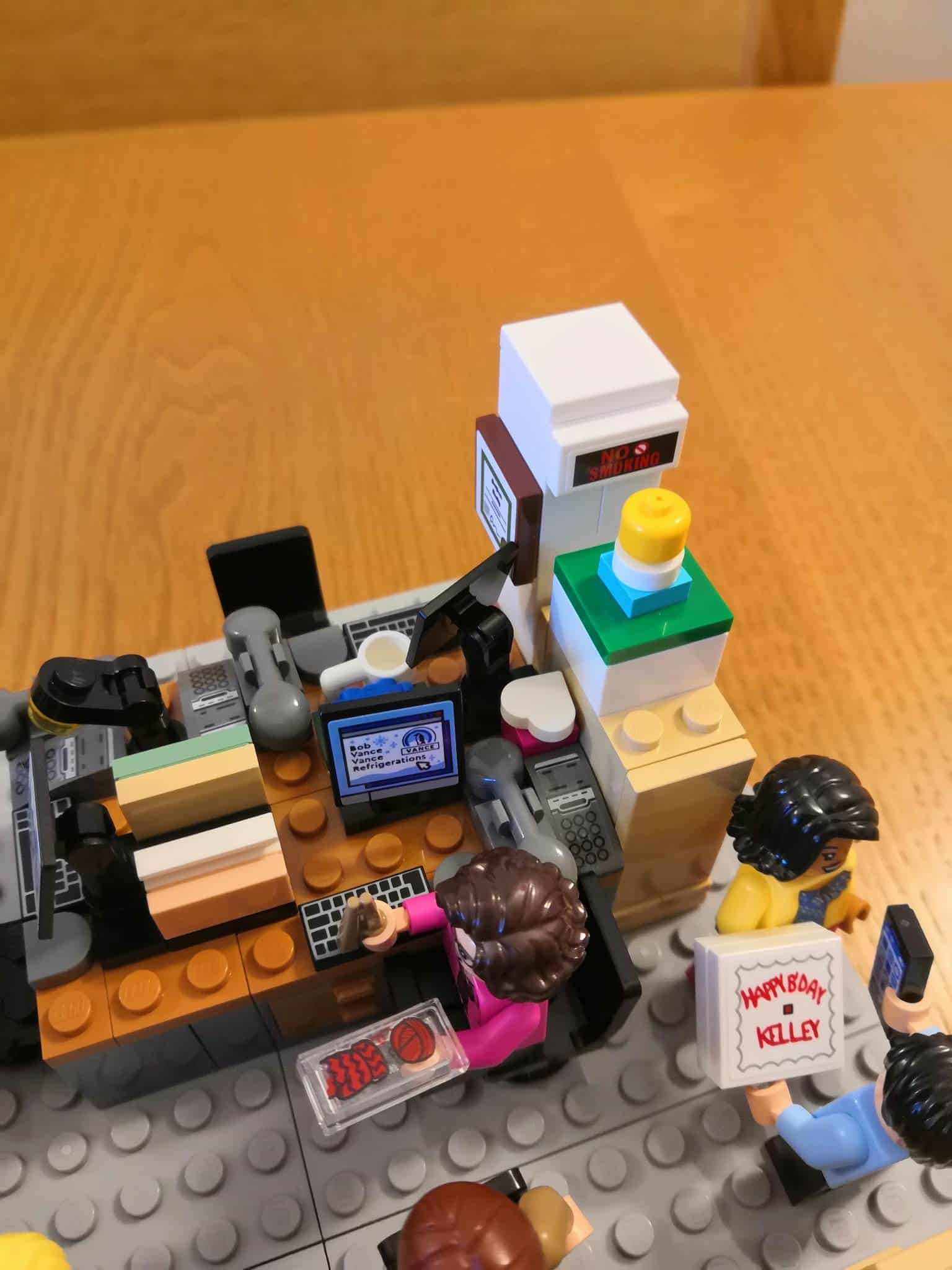 I understand that printed pieces are expensive, but they definitely could've made some substitutions, particularly with smaller pieces. It's just so fiddly trying to place the sticker on at exactly the right angle. There were also multiples of the same sticker on some occasions. For example, there were 6 of the 2×1 curved pieces for the phones, and each one required me to gingerly place the keypad on as a sticker. Tell me why they couldn't have just printed that one?
Stickers aside, though, it was a pretty fun build. Nothing too exciting, but it went smoothly, and I enjoyed all the attention to detail. I also appreciated the conciseness of it. Trying to imagine such a large layout on a miniature scale is a tricky challenge, but each section of the build felt purposeful. Even though there are several near-identical desks in this set, the build managed to not feel repetitive.
Plus, I enjoyed the vibrant colors of the long plates used below the build to help provide extra support. They could've been any color as they're not visible in the finished display, so I'm glad that they provided visual differences when building.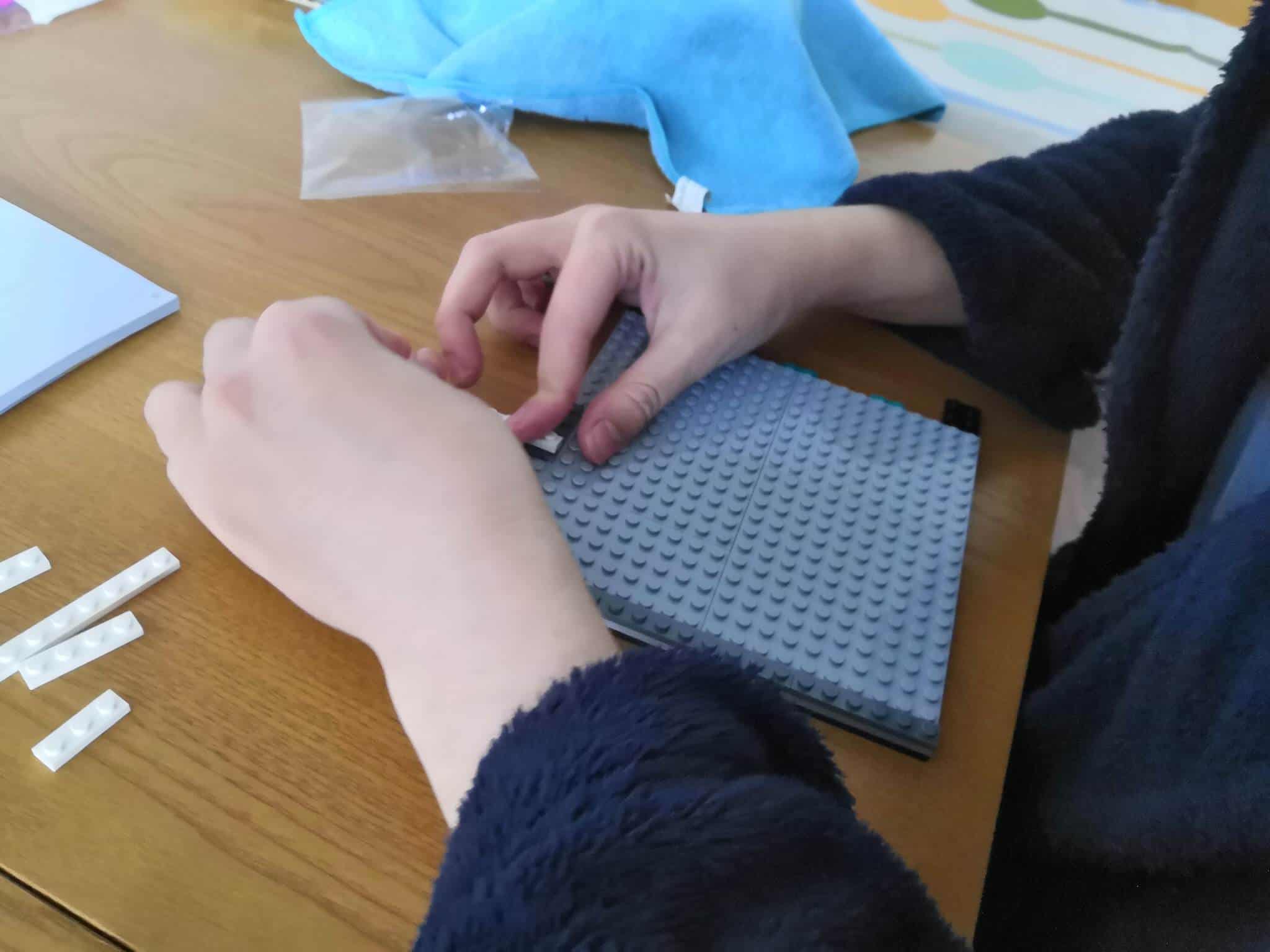 Playability and Displayability
With this set more than many other sets, this section is going to hold significant value. People buy LEGO for a multitude of reasons, and personally, I nearly always consider the building experience to be the best part. However, because The Office is such a popular show, the excitement in this set mostly comes from having a replica of the location you've seen on TV.
The finished piece looks incredible, I'm so impressed with all the details they've managed to include. There's the World's Best Boss mug, Michael's Dundie Award, the stapler in jello, The Homer Simpson figure, Dwight's Froggie 101 poster, and so much more. I've built many themed sets before, and I think this one takes the cake for having the most references.
Given the number of minifigures, there's also an abundance of play options. You can act out scenes from the show or come up with your own. My husband and I had a lot of fun after the build just deciding on where to put each figure. We made up a reason for why each minifigure was being placed where, and we made each other laugh with our backstories.
The only potential negative I would mention for this set is that it's very much targeted toward fans of the show. If a LEGO fan who hasn't seen the show were to build this, I doubt they'd get much enjoyment out of seeing it displayed. Because it is just an office.
There are walls, desks, and that's pretty much it unless you know the references. Offices are typically rather boring places, this set is only special because it's The Office rather than just any old office. So it won't look or feel exciting to those unfamiliar with the references.
Value for Money
This is actually one of the very few sets where I think it's priced pretty fairly. LEGO is an expensive hobby and that will always be the case. However, some sets take it way too far and are ridiculously overpriced for what they are (here's looking at you, Batmobile Tumbler). But given the sheer amount of minifigures included with this The Office set, I actually think they could've got away with charging an extra $10-15. I'm glad they didn't, though!
The size is respectable, and the set uses space really well. You can tell that the designers put so much thought into every aspect of this. There's enough empty space that the set doesn't feel cramped and chaotic, but not so much that it looks sparse. Something is going on in every nook and cranny but without you becoming overwhelmed by it.
I can't really see anyone being disappointed with the amount they spent on this set. I guess the only exception would be if they were fans of The Office, but had no experience purchasing LEGO. In that case, I guess they might be surprised at having to pay over $100 for something only around a square foot in size.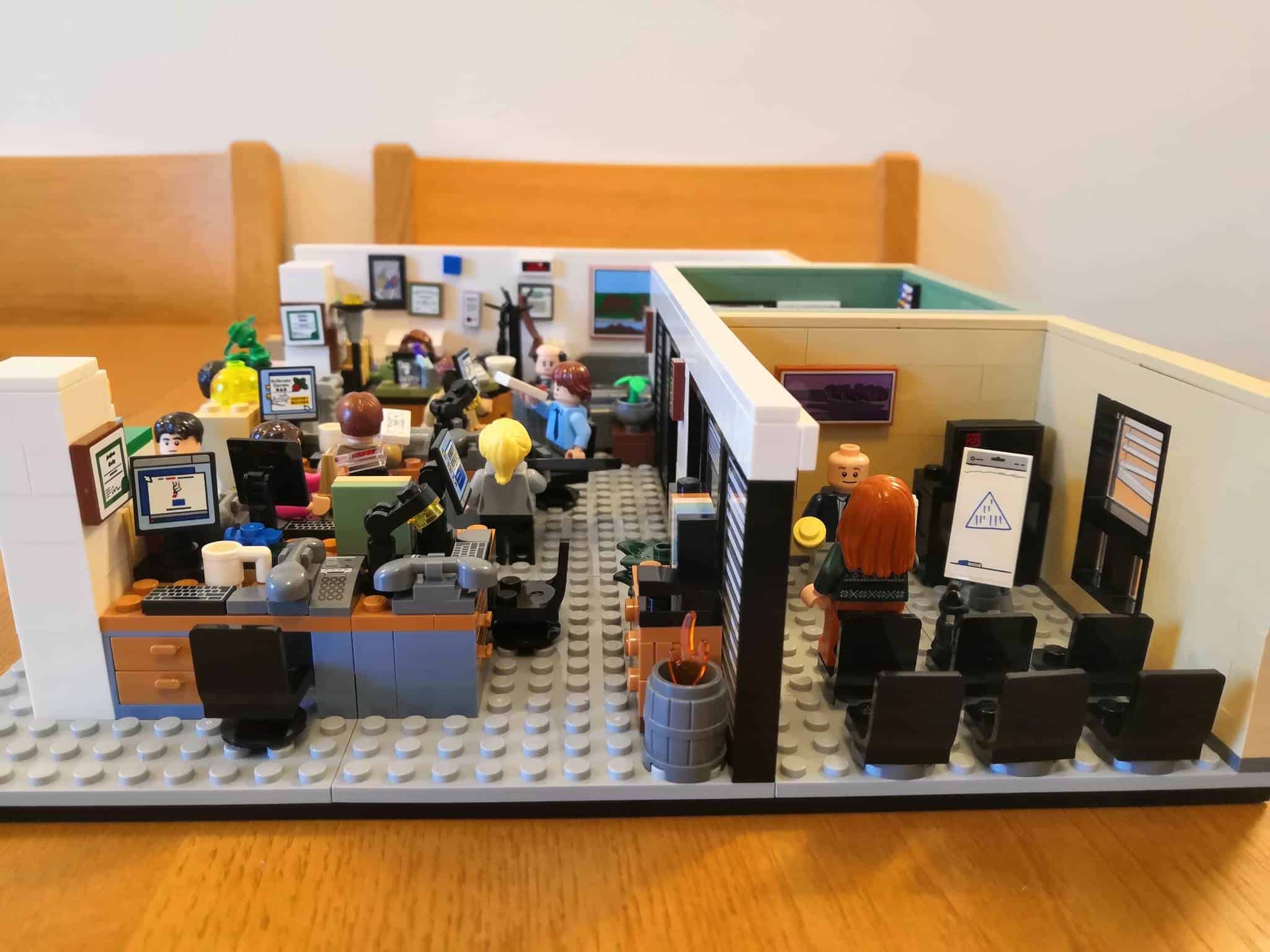 Alternative Sets
If you're not that big a fan of The Office but you like the general premise of constructing a specific type of building, then you might enjoy the following sets. These are primarily focused on architecture and creating a coherent theme.
Boutique Hotel – At $229.99, this set offers you 3 levels of interesting design and bold colors. Hotels are a must-have for any quaint town or bustling city, so you're bound to find a place for it in your home.
A-Frame Cabin – Also in the Ideas range, this cabin is gorgeous and has such a unique design. I adore the bold shape of the roof and the trees outside are absolutely fantastic. The set is even complete with little wildlife pieces such as birds and butterflies. It sells for a respectable $179.99.
If you were drawn to this set by the muted color scheme, then perhaps you might consider these sets instead:
New York – I really like the design for this one, and it's clever how they've made 600 pieces seem so complete. This set has far more detail than you'd expect and contains key landmarks such as the Empire State Building and the Statue of Liberty. Plus, at only $59.99, it won't hurt your bank balance too much, either!
Motorized Lighthouse – Pretty pricey at $299.99, this impressive set is understated yet powerful. It's predominantly white and gray, but the splashes of color here and there add a touch of vibrancy without affecting the overall palette.
If you just wanted a set aimed at adults that was around the $100 mark, then perhaps these'll be more your speed instead:
The White House – This iconic building has been brought to life in this extraordinary set of the external layout. The miniature scale doesn't detract from the level of detail, and this set is sure to impress your friends. It comes in at $99.99.
The Taj Mahal – At $119.99, this is the same exact price as the LEGO The Office set, so it's definitely comparable. The bright white tiles certainly draw attention and you're bound to have fun putting together the 2022 pieces included in this set.
Conclusion
Overall, building the LEGO The Office Ideas set was a fascinating experience. It felt so different from all the other sets I've built. I was definitely coming at this primarily from the perspective of a fan of The Office rather than as a fan of LEGO. The references and minifigures are absolutely what made this set stand out so much to me as I was building it.
In terms of whether I'd recommend it, I'd say yes, with a caveat. If you enjoy building LEGO and you enjoy watching The Office then this is 100% a must-buy for you. If you enjoy watching The Office, but you're not a fan of LEGO, then I'd still say yes, just make sure you're willing to spend over $100 for what will really just be a display piece for you. However, if you enjoy building LEGO but you've never watched The Office, then I think you'd be better off buying one of the other sets I suggested.
Hopefully, you've enjoyed this article! Why not check out one of our other cool review and guide articles such as this one about the LEGO Sanctum Sanctorum set?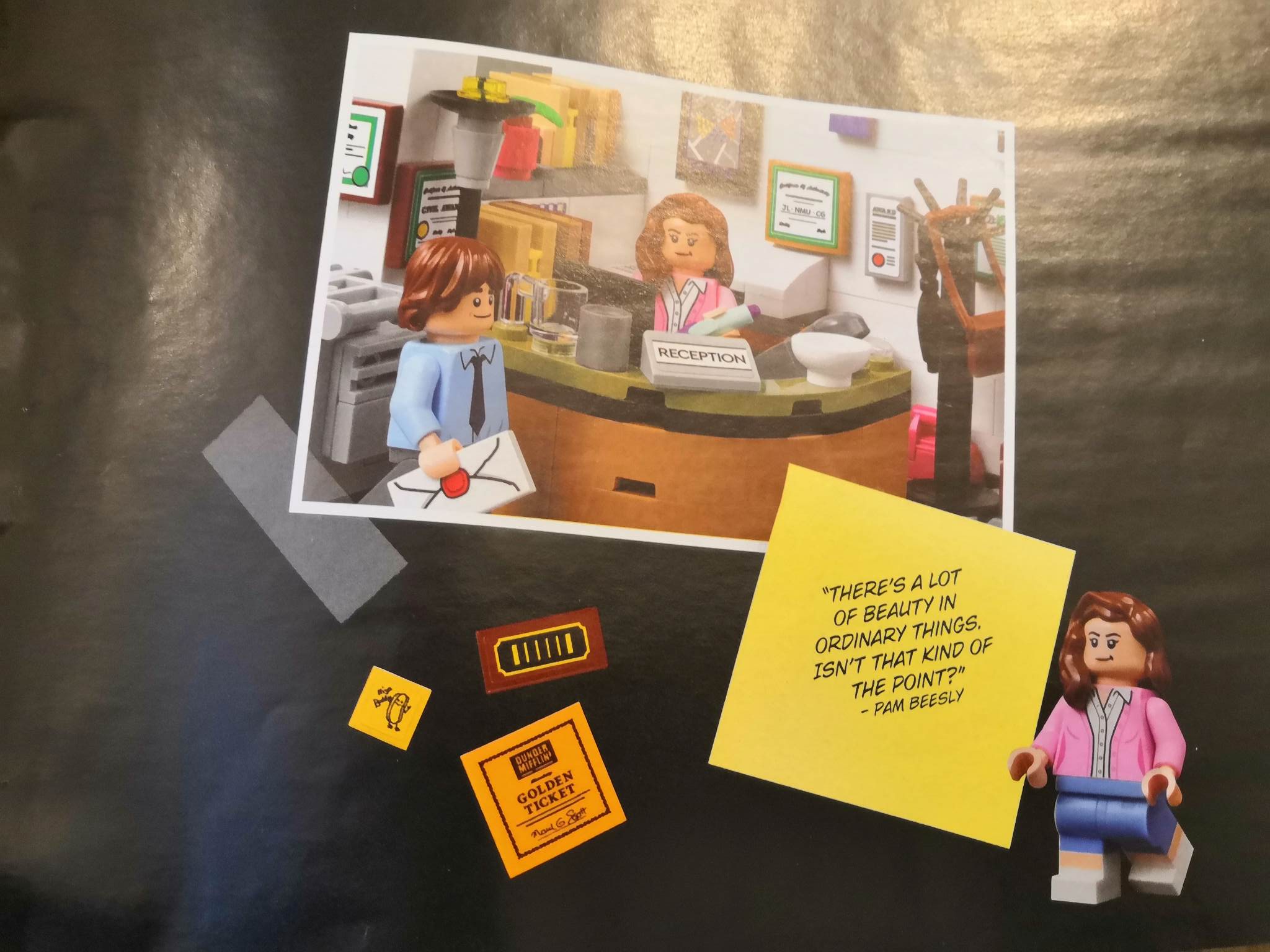 FAQs
Question: Which minifigures are included in the LEGO The Office Ideas set?
Answer: There are 15 minifigures in total, these are: Michael, Dwight, Jim, Pam, Ryan, Angela, Oscar, Kevin, Stanley, Kelly, Phyllis, Meredith, Creed, Toby, and Darryl. There's also a figure of Angela's cat Garbage, and the bat that attacks Meredith.
Question: When was The Office first released?
Answer: The UK version of The Office was first released in July 2001, but that was canceled in 2003. The US version of The Office was released in June 2005, and it lasted 9 seasons until May 2013.
Question: What is Creed holding in the LEGO The Office Ideas set?
Answer: At first, I thought it was perhaps a reference to that time he ate a potato instead of an apple, but it's actually mung beans! Creed states in an episode that he grows mung beans in his desk, and that's why he has an 'old man smell'. The mung beans are depicted in this set by a yellow stud placed on a green stud.
Related Read