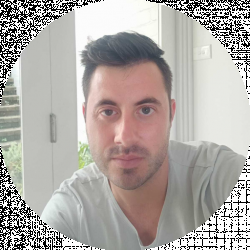 Latest posts by David Borgogni
(see all)
LEGO published just four Star Wars sets with Death Star models in the last two decades, and all of these sets are retired. In this LEGO Death Star review, I'll walk you through the features of the last Star Wars model inspired by the infamous battle station.
The initial reception of the Death Star 75159 set was underwhelming because fans considered it too similar to the earlier Death Star 10188 model.
A few years after it retired, the most recent LEGO Death Star set has a cult status among fans as it offers the most detailed replica of the iconic planet destroyer LEGO ever released.
Bottom Line Up Front:
The Death Star 75159 is an Ultimate Collector's Series set with a high play value. High Minifigure count, a wide array of accessories, and functions built into the Death Star model enable fans to recreate the scenes from the original Star Wars trilogy. This model is both expensive and hard to find.
See also: LEGO Imperial Shuttle review
The Ins and Outs of the LEGO Death Star 75159 Set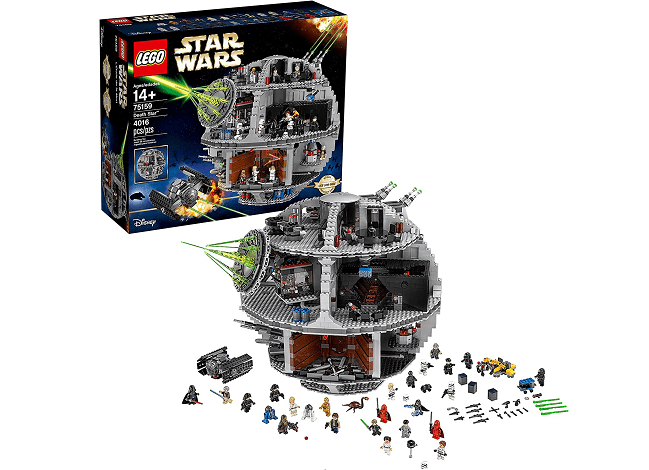 Basic Info
Release date: October 1, 2016
Exit date: December 31, 2020
Piece count: 4.016
Age group: 14+
Price range: $$$$$
Two years after its exit, The Death Star 75159 is still one of the biggest Ultimate Collector's Series Star Wars sets.
Moreover, all other LEGO building kits that featured a full Death Star model had lower piece counts than the 75159 set. Models like the Death Star Final Duel 75291 feature only a portion of the space station's interior.
The 2008 and 2016 LEGO Death Star versions look almost the same, with significant differences being the addition of new Minifigures and redesigned weapons. The Death Star II 10143, released in 2006, was a build-to-display set that lacked the playability provided by 2008 and 2016 models.
The Death Star 75159 had a 49-month lifespan, and unlike most USC Star Wars sets, it was suitable for LEGO fans under 18. Even though it is no longer available in LEGO stores, this model is still present on the secondary market, but obtaining a new version of the set in its original packaging is difficult.
See also: The best LEGO Yoda sets
Packaging and Building Instructions
Basic Info
Number of bags: 32
Building instructions booklets: 1
As expected, the box is considerably larger than the boxes of standard LEGO Star Wars sets. The fully assembled Death Star model next to the Vader's Advanced TIE Fighter occupies the central section of the box's front.
The branding and set information are located in the upper left corner of the front cover, while the images of all Minifigures included in the set are on top of the box. Pictures demonstrating the set's features and the frontal view of the Death Star model can be found on the box's underside.
Top tip: Used Death Star 75159 sets without original packaging aren't as valuable as unopened sets. 
The contents of the outer box include more than thirty bags of pieces, three boxes, a sticker sheet, and the instruction manual booklet. The set has 31 stickers, so you won't have to spend much time applying them to different pieces.
324-page building instructions booklet includes interviews with set designers, Death Star's fact sheet, character overview, and information about the orbital battle station's compartments.
An Overview of the Set's Pieces and Minifigures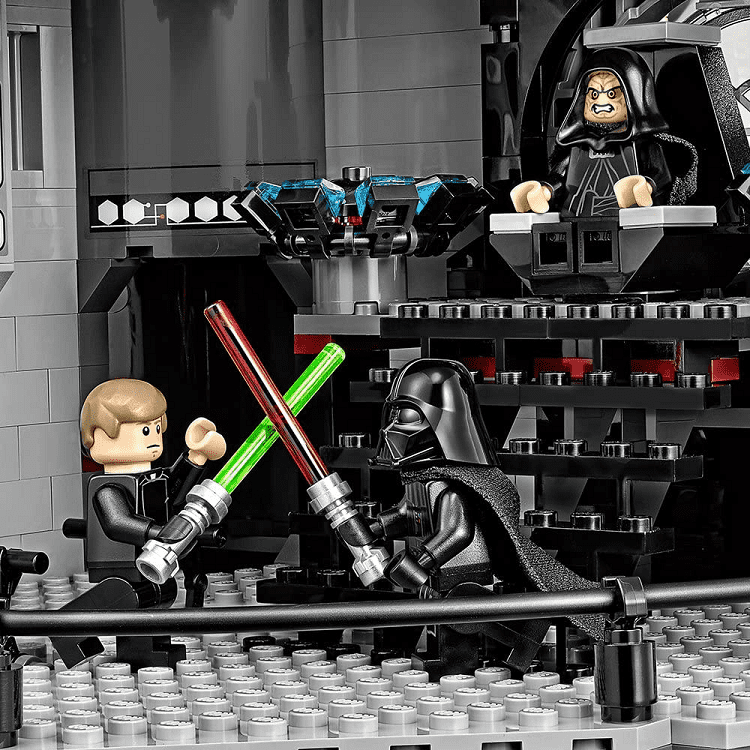 Going through the building kit's part list reveals only a handful of new molds. The transparent 2×2 dome 27946 and round blue 2x2x2 brick 27948 are the only new pieces in the Death Star 75159 set that don't come from the figure category. All other unique pieces in this set are either leg or torso elements.
Here's the complete list of the set's Minifigures:
Luke Skywalker (disguise, Tatooine, and final duel variants)
Han Solo (regular and disguise variants)
Princess Leia
Chewbacca
R2-D2
C-3PO
Obi-Wan Kenobi
Darth Vader
Emperor Palpatine
Grand Moff Tarkin
Imperial Navy Officer
Two Death Star Troopers
Two Emperor's Royal Guards
Imperial Officer
Two Death Star Gunners
Imperial Astromech
Death Star Droid
Dianoga trash compressor monster
Interrogation droid
This set contains eight unique Minifigures, including Princess Leia, Grand Moff Tarkin, and Death Star Troopers. Blaster pistols, lightsabers, and similar accessories are also available.
See also: The best LEGO Star Wars Minifigures
Construction Process
Although the build isn't overly complicated, completing it without previous experience is still challenging. The pieces are split into bags numbered one through ten, so you'll have to go through ten stages and 500 steps to assemble the Death Star replica.
The model is constructed from the bottom up, and the first batch of bags contains the pieces you need to assemble the basement section that doubles as support for the rest of the structure and Vader's Advanced TIE Fighter.
This portion of the Death Star model doesn't have a lot of details, and you'll complete it after just twenty steps.
Top tip: Sorting out the pieces from each group of bags based on their types before you start building the Death Star replica can help you avoid wasting time searching for a specific part. 
The build becomes more challenging once you start putting together the battle station's upper platforms divided into separate rooms equipped with different mechanisms that enable you to open doors, rotate the turbolaser turret, or move the walls of the trash compactor.
The Superlaser Firing Dish, Emperor's throne room, and Cell 2187 subassemblies are some of the highlights of the later stages of the construction process. Most LEGO fans need around 12 hours to build this set, but you can shorten the length of the construction process by including another builder.
A Look at the Completed Model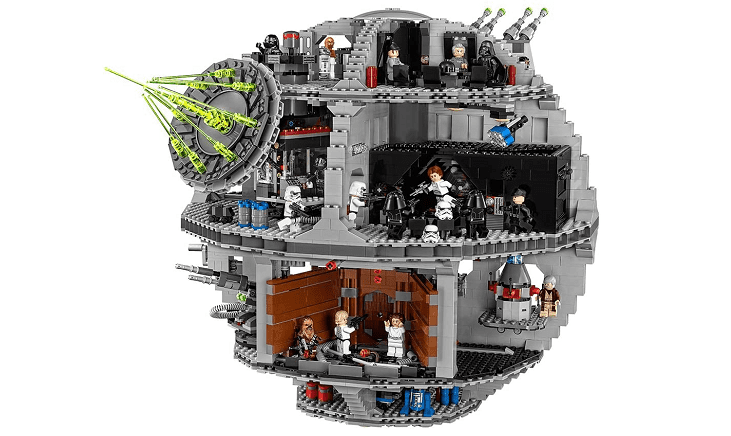 The Death Star model doesn't have an exterior shell, so you'll have easy access to the orbital battle station's interior. Each of its rooms is inspired by a different scene from the original Star Wars trilogy. The completed model features the following sections:
Torture room
Death Star control room
Meeting room
Defense turrets room
Emperor's throne room
TIE Advanced 327 docking bay with a hanger controlled from the Torture room and blast doors
Superlaser Firing Dish section with two control consoles
The prison block with the detachable prison cell door
Trash compactor
Level 6 core shaft corridor
Central Core Shaft
Cargo area with a Technic crane
Rotating Turbolaser turret room
Storage bay
Each room has a variety of movie-themed elements, so the Torture room, for example, has an adjustable chair, torture tools, and a knob that allows you to move the elevator located at the center of the Death Star model.
The Emperor's Throne room has energy columns, decorative barrels, and a rotating throne. The adjustable Superlaser Firing Dish is controlled with a knob in the Control Room above it.
The model also features a few crank and gear mechanisms that allow you to open blast doors or move cargo between floors.
See also: The best LEGO General Grievous sets
Set's Playability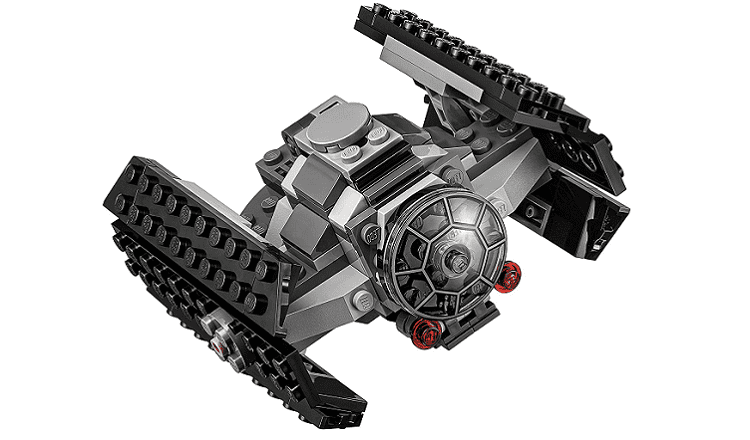 The Ultimate Collector's Series usually features build-to-display sets that don't offer much play value. The most recent Death Star model is an exception because it provides builders with a giant playground where they can reenact scenes from Star Wars movies.
Top tip: Choose the display location carefully because placing the Death Star replica next to a wall will deny you access to some of its rooms. 
It also includes multiple spring-loaded shooters, blaster rifles, force spikes, and lightsabers that enable you to stage daring prison breaks or the final duel between Luke Skywalker and Darth Vader.
The Death Star model has a variety of functions that encourage active play and make different play scenarios possible. The space station's replica isn't easily portable because it is 16 inches wide and tall and weighs almost 18lbs.
Although it can be used as a display model, the Death Star 75159 is mainly a playset designed to recreate scenes from Star Wars movies accurately.
Price and Value
The Death Star 75159's value skyrocketed shortly after it was discontinued. Its retail price was around $500, while its current market value varies from $1,200 to $1,400. This model is almost twice as expensive as the Millennium Falcon 75192, even though it is considerably smaller.
The combined value of the set's Minifigures is nearly $400, and you'll have to spend close to $80 if you want to get the Grand Moff Tarkin Minifigure. This set will become more valuable as time passes, and its price could reach the $1,500 mark in the next few years.
Keep in mind that some online retailers offer used Death Star 75159 building kits at high prices even though their actual value is considerably lower. That's why you first need to make sure that the set you want to invest in is in perfect condition before purchasing it.
See also: LEGO Trouble on Tatooine review
Pros and Cons of the LEGO Death Star 75159 Set
Pros
A long but mostly straightforward build
The set contains valuable Minifigures
It offers endless play options
The Death Star model's rooms recreate scenes from different Star Wars films
Vader's TIE Advanced Fighter has a single-Minifigure cockpit
Cons
Finding spare parts for this set can be difficult
It occupies a lot of space
The 75159 set is almost identical to the 10188 building kit
The Best Alternatives to the LEGO Death Star 75159 Set
LEGO hasn't released a suitable substitute for the Death Star 75159 set after retiring it in 2020. Recent models like Death Star Trench Run Diorama 75329 or Death Star Trash Compactor Diorama 75339 recreate a small section of the orbital battle station.
Moreover, these sets aren't a part of the Ultimate Collector's Series, and they have fewer than 1,000 pieces. Opting for one of the active or retired USC Star Wars models is, in my opinion, the best substitute for the most recent LEGO Death Star set. Here are a few building kits that can be a suitable replacement for this set.
Assault on Hoth 75098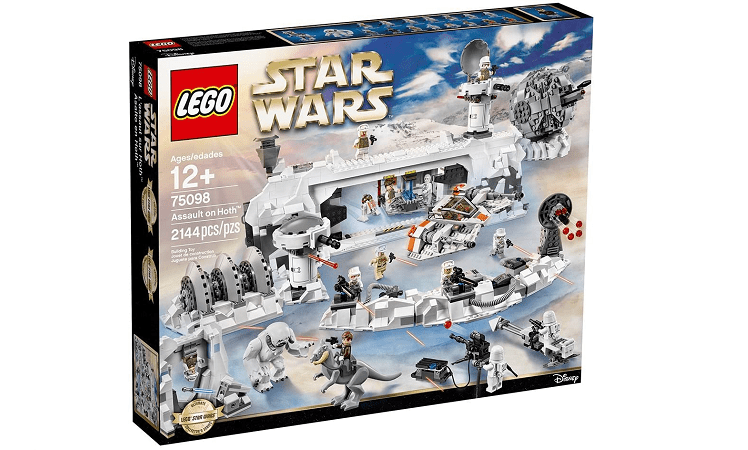 Piece count: 2,144
Age group: 12+
Price range: $$$
The Assault on Hoth 75098 was released six months before the Death Star 75159, so finding an unused model in the original packaging can be challenging. It featured a rebel base with modular walls, blast doors, a control room, and a service section.
The laser turret with two spring-loaded shooters, laser cannon with rapid stud shooter, and heavy blasters were located in the base's trench section. The Snowspeeder toy was also equipped with a pair of spring-loaded shooters, and it had an opening cockpit with room for a single Minifigure.
The set had 14 Minifigures, including Han Solo, Luke Skywalker, and Wes Janson.
Millennium Falcon 75192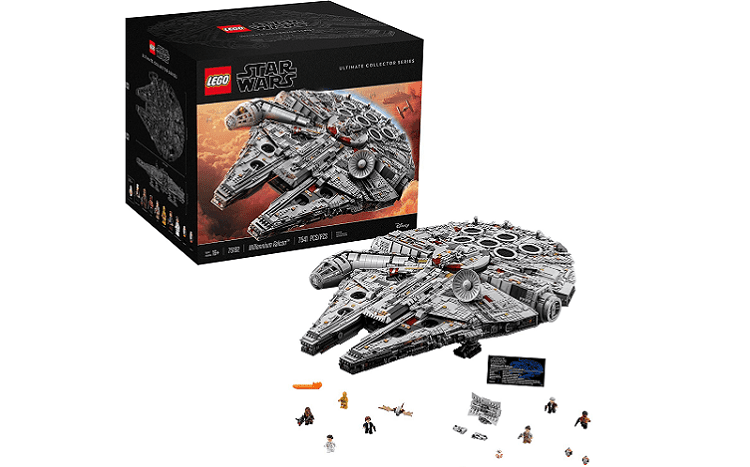 Piece count: 7,541
Age group: 18+
Price range: $$$$
Despite being a build-to-display model, the Millennium Falcon 75192 still offers a lot of play value. The massive replica of the Corellian freighter is 33 inches long and 22 inches wide. Removing the hull plates gives you access to the ship's main hold and turns this display model into a playground.
The interior includes the engineering station, a seating area, the engine room with Hyperdrive, and a cockpit with a detachable canopy.
Besides Minifigures of characters from the original Star Wars trilogy, the set also features Older Han Solo, Ray, Fin, and BB-8 figures modeled after their appearances in Episodes VII and VIII.
AT-AT 75313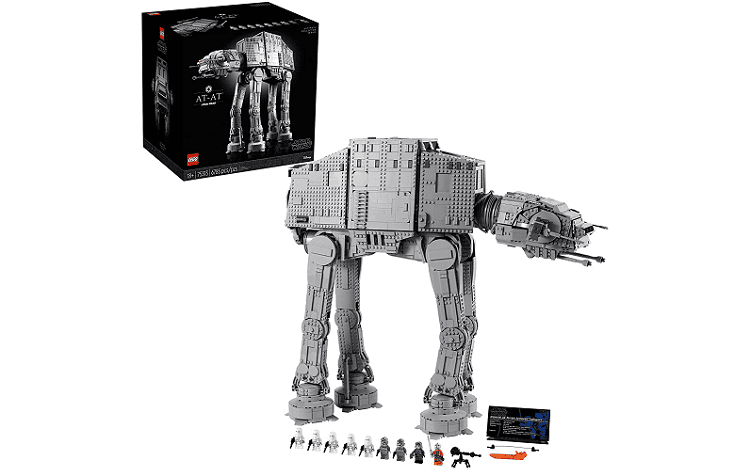 Piece count: 6,785
Age group: 18+
Price range: $$$$
If you're collecting USC Star Wars sets, the AT-AT 75313 must be on your list. This build-to-display model has a beautiful gray-toned exterior and rich interior that includes a seating section for forty Snowtrooper Minifigures and a storage bay for TIE Fighters.
The AT-AT Walker has a posable head that doubles as a cockpit with room for three Minifigures. Its legs are adjustable, and you can decide if you want to keep the side panels or remove them and reveal the model's interior. A monotonous construction process is arguably the set's biggest downside.
Other Notable Mentions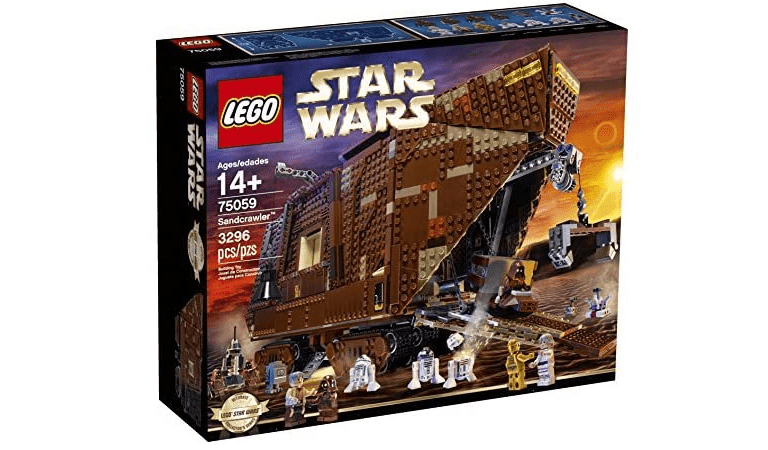 Frequently Asked Questions About the LEGO Death Star 75159 Set
Question: When is the New USC Death Star Set Coming Out?
Answer: According to rumors, LEGO might publish a new USC Death Star set by the end of 2022, but the toymaker hasn't released any information to confirm these rumors.
Question: Who is the Designer of the Death Star 75159 set?
Answer: Niels Mølgård Fredriksen designed the Death Star model featured in this set.
Question: Which Star Wars Films Served as a Reference for the Death Star 75159 Set?
Answer: Star Wars: A New Hope and Star Wars: Return of the Jedi served as inspiration for this Death Star model.
Final Thoughts
The high number of Minifigures, excellent selection of accessories, and adjustable Superlaser Firing Dish are some of the Death Star 75159's highlights. The playset isn't hard to build, and each room has elements that encourage active play.
However, this set was retired for more than two years, so you may not be able to find this model in its original packaging. I recommend getting this LEGO playset if you're collecting Star Wars sets or Minifigures, and you don't mind its steep price.
Getting an active USC Star Wars set like Millennium Falcon 75192 is an equally rewarding but more affordable option. Our guide to the most expensive LEGO sets can help you learn more about the brand's flagship models.
Recommended Reads: