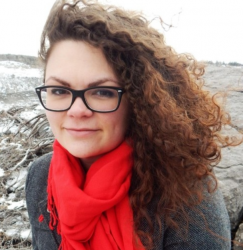 Latest posts by Candace Osmond
(see all)
Have you noticed that wearing clothes and accessories that bring back nostalgia from our childhood days is super popular right now? That's why necklaces made with LEGO blocks have been trending.
If you've been itching to add a playful element to your outfits, stay tuned so you can learn about the best LEGO necklace ideas on the internet. I'll give some quick tips on how to make your own LEGO necklaces, too. Let's get started!
Bottom Line Upfront
I love LEGO, I just never thought about wearing it. But I love the simple, cute, and beautiful concept of the Heart-Shaped BFF Necklace.
Top 3 Picks
Though there are 23 amazing LEGO necklaces I'll review below, these 3 are the best. Whether you're buying a present for a LEGO fanatic, a kid, or even yourself, you'll want to take a look at these ideas first.
Best Overall: A Necklace for the Bold and the Beautiful
Best Gift Idea: Heart-Shaped BFF Necklace
Best for Kids: Teenage Mutant Ninja Turtle LEGO Necklaces
The Best LEGO Necklace Ideas
These are 23 ideas that will inspire you to either make or buy your own LEGO necklace. I chose them based on their practicality, overall design, and playfulness.
Some are for kids, some are for adults, and some can work for everyone! You'll see that some ideas are quite simple, while others are incredibly bold. Look over each idea with me so you can decide which is your favorite!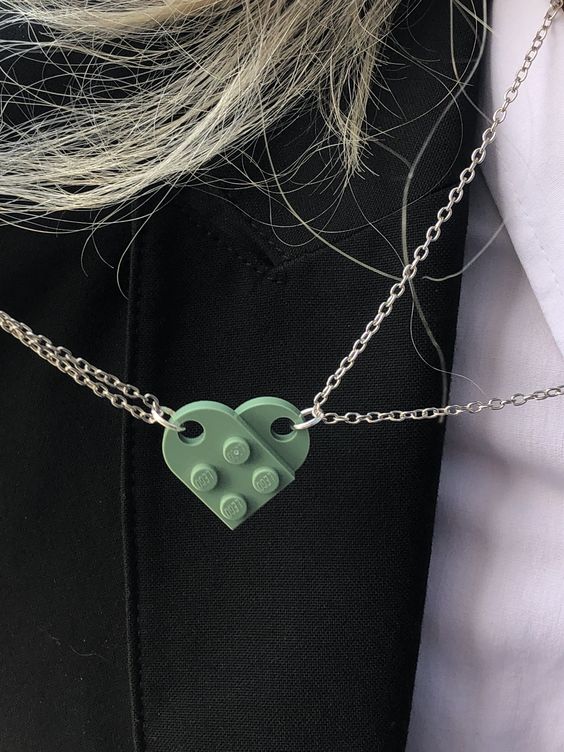 What a cute idea! I might try it for my bestie's upcoming birthday. You can make your own heart-shaped LEGO just by sticking two pieces together. This necklace is sage green, but if you made your own, you could get creative and choose a different color.
You could have fun and mix and match two different colors together. It's cute gifts like this that show your BFF you really care.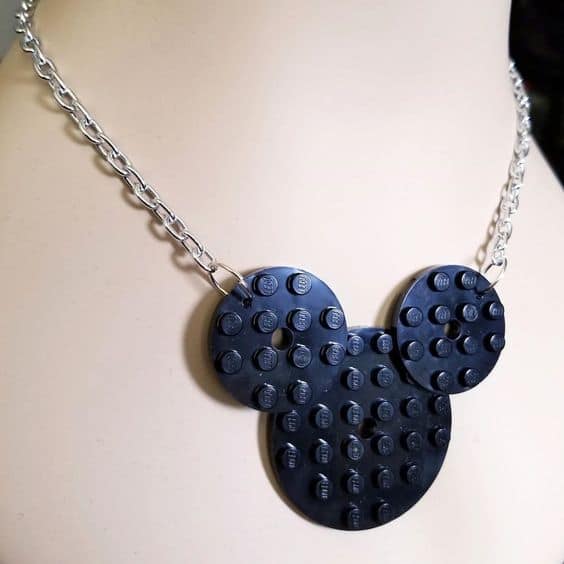 Got a trip to Disney coming up soon? Excited to binge classic Walt Disney films? Well, you can make the day even more exciting by presenting this Mickey Mouse LEGO necklace to someone you love. Of course, you don't have to share.
The iconic mouse logo can be all yours if you want to keep this LEGO masterpiece to yourself. To make this at home, all you need are 3 black circular LEGO discs like you see in the picture.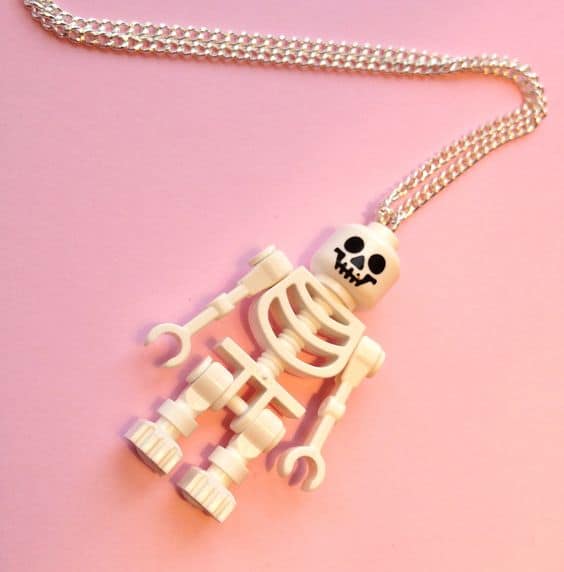 If you're looking for a spooky yet cute accessory, check out this skeleton mini-figure dangling on a necklace. My brain is spinning now with ideas. I could totally make these for my friends, kids, and family but swap out the figure for their fav LEGO characters.
I'm excited that this chain looks high quality. The white skeleton mini-figure has a black jack-o-lantern face. Since the colors used here are just black and white, this necklace can be incorporated into many different outfits.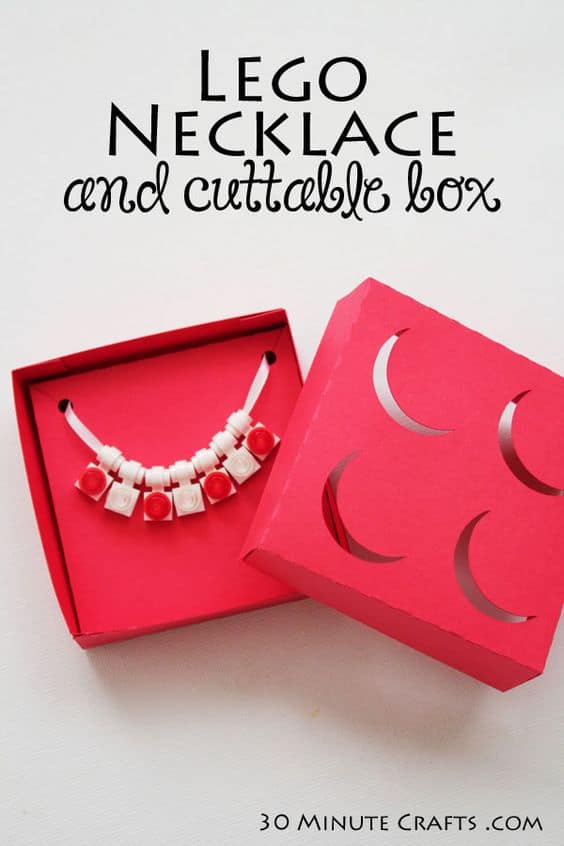 If you're the DIY type, then this is the perfect idea for you. If you follow along with this guide by Carolina Moore, you'll learn how to make a LEGO necklace and a cute paper jewelry box.
The lamp holder LEGO pieces are what you'll need for the beads, so make sure you're all stocked up on those. If you have little ones obsessed with their LEGO sets, then making this together with them could be a fun idea.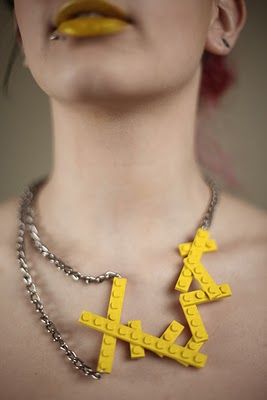 Talk about bringing LEGOs into 2022 fashion. This crazy, asymmetrical LEGO necklace is exactly what you need if you would describe your personal style as bold.
Many fashion trends now rely heavily on bright colors and eye-catching, mismatched designs. A necklace like this one adds that touch of extravagance to any outfit you incorporate it into.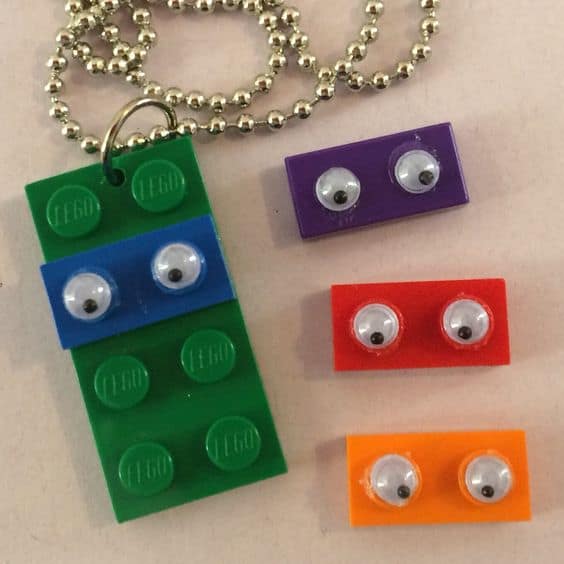 What a fun idea to make with your kids (or just for yourself if you're a Teenage Mutant Ninja Turtle fan.) Using a 2 X 4 green LEGO piece, you can stick a 1 X 2 red, purple, blue, or orange LEGO piece on top to make the turtle's bandana.
Afterward, glue googly eyes onto the pegs of the smaller LEGO block, and you've got yourself either Raphael, Donatello, Michelangelo, or Leonardo.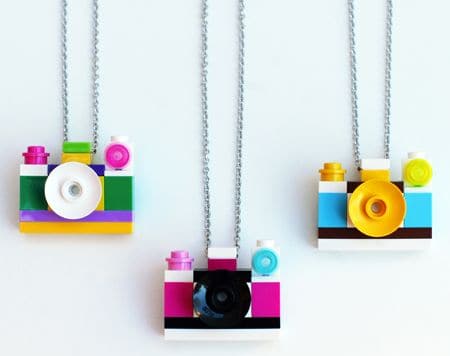 These tiny LEGO cameras sure do pack a colorful punch. This picture shows 3 different color combinations of LEGO cameras for you to pick from, each hanging on a delicate silver chain. Did you know you can order LEGO blocks individually?
If you don't want to spend big making this necklace yourself by dropping a bunch of money on a set, you can order the individual blocks you need.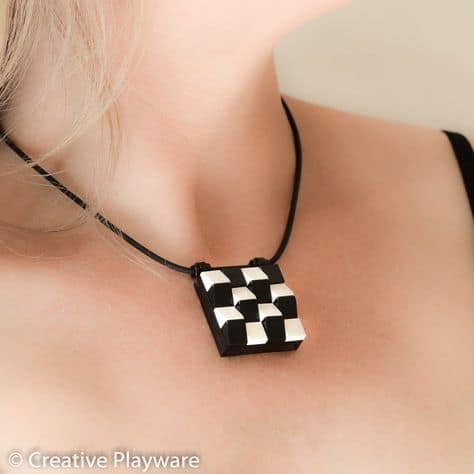 Are you feeling dizzy, yet? This creative black and white LEGO necklace look just like an optical illusion. Or a chessboard. The necklace has an adjustable black cord, so you don't have to wear it as a choker as you see in the picture. It's simple yet bold jewelry pieces like this that can elevate your entire outfit.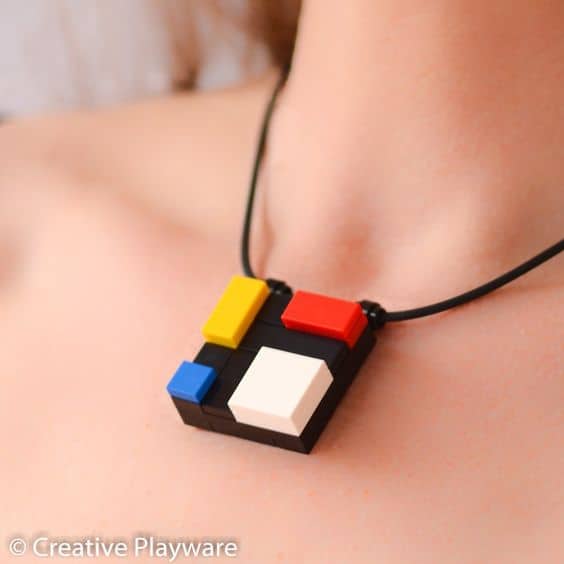 Do you feel inspired by Gerrit Rietveld, the famous Dutch designer? If you do, or if one of your loved ones is a big fan, consider buying this LEGO necklace.
The design and the bright primary colors used were inspired by Gerrit Rietveld's work. Being made from LEGO blocks, this necklace feels nostalgic, too. It's a playful design created with LEGO blocks to remind us of when we were kids.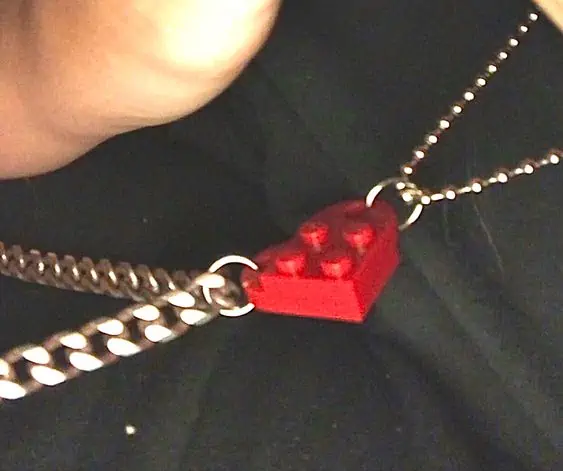 Here's another LEGO heart necklace! What's so different about this one? For one thing, this picture shows how using a thicker chain and different connectors gives a LEGO heart necklace a whole new look.
This one is much edgier than the first necklace we discussed. A necklace like this is perfect for alternative music lovers and those with a punk rock style.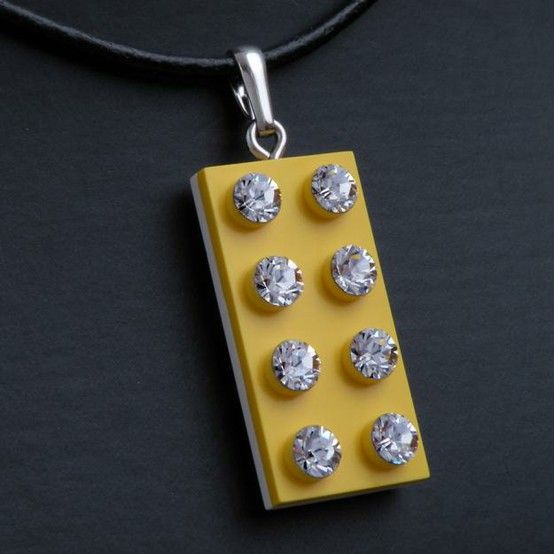 Kids will think necklaces like these are so cool! 8 diamond studs have been secured to the pegs of a 2 X 4 LEGO block. Of course, this LEGO bling doesn't have to be all for the kiddos. You can add a necklace like this into your outfit if you want a playful style. The other parts of the necklace are black and silver, so the LEGO block and the diamonds stand out.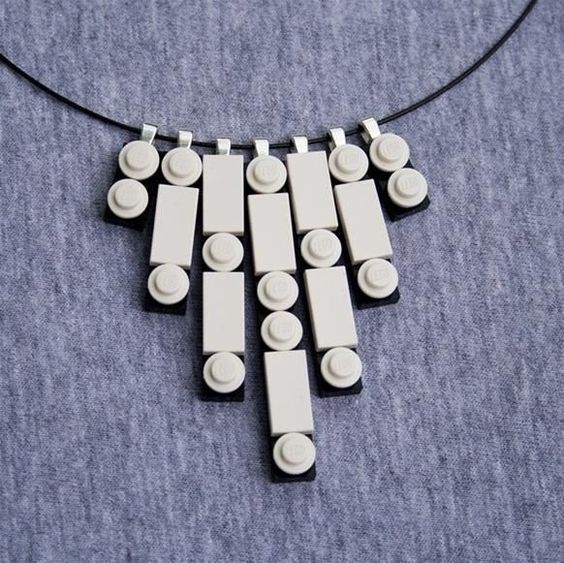 This necklace is unique in that it doesn't appear to be made with LEGO blocks at first glance; however, small white LEGO pieces have been arranged to make a V shape. This neutral-colored LEGO necklace goes with everything since every block is white. If you were searching for a simple LEGO necklace that isn't over-the-top, this one might be your perfect fit.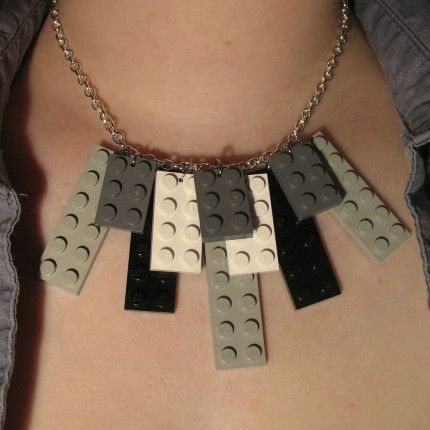 Let's get crazy! This LEGO necklace proves you don't have to incorporate bright colors into your look to achieve a maximalist style.
LEGO blocks in black, white, and 2 shades of gray are stacked on top of each other in this picture. This paired with the chunky silver chain gives off an edgy, modern vibe. The fact that LEGOs were used makes this necklace feel whimsical despite the neutral color palette.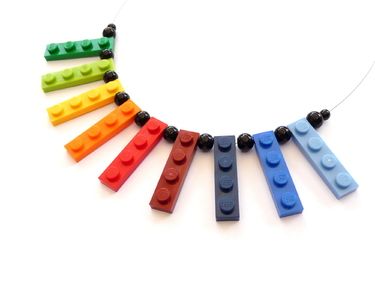 What a gorgeous LEGO necklace that showcases all the colors of the rainbow. What's unique is that the rainbow is out of order.
Instead of starting with red, the necklace starts with a green LEGO block and ends with a blue one. Black beads separate each colorful LEGO block so that each one has the definition to stand out. If bright colors are your jam, this necklace will fit right in with your style.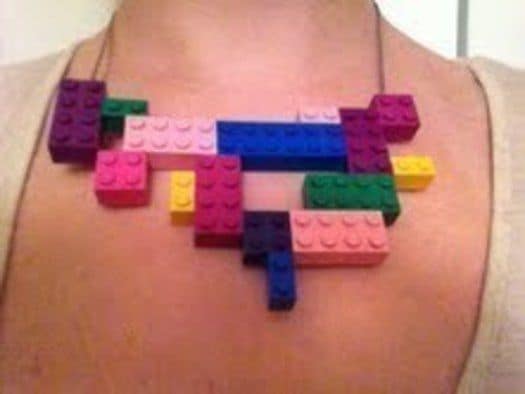 Unlike most other LEGO blocks I've seen used for necklaces, this necklace has LEGO blocks that are big and chunky! Everything about this necklace is wild. The LEGO blocks are a bunch of different colors, the design is asymmetrical, and a ton of LEGO blocks have been used. But a necklace like this is for the risk-takers of the world.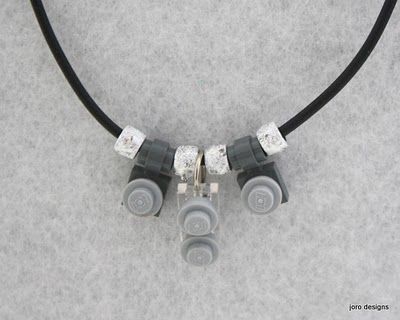 Beep boop! This robot-style LEGO necklace is positively futuristic and fun. Every piece used to make the necklace pendant is either gray or silver.
The silver pieces gleam under the light, so they capture the attention of all your envious onlookers. If you want to make a LEGO necklace at home, this design is a great one to start with. It will be easy to recreate this with a minimal amount of jewelry supplies and tools.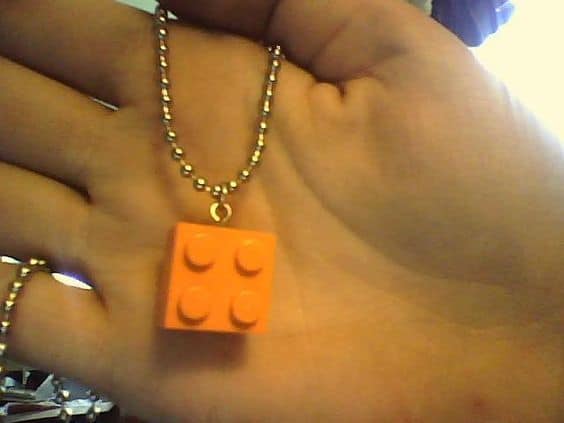 Sometimes all you want is a single LEGO block on a silver chain for a colorful standout accessory. That's what this necklace is! A LEGO necklace like this one fits in well with kid core style, which is super trendy at the moment. LEGOs are colorful, playful, and bring a sense of nostalgia for childhood, so in other words, they're the perfect accessory for 2022.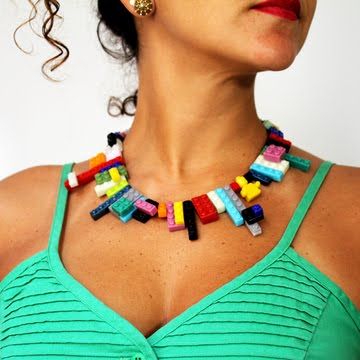 Ready to showcase your bold style? Take a look at this beautiful, colorful, mismatched necklace! LEGO blocks in all different colors and sizes are stacked next to each other and sometimes on top of each other. They form an asymmetrical rainbow that's bound to capture the attention of everyone in the room with you.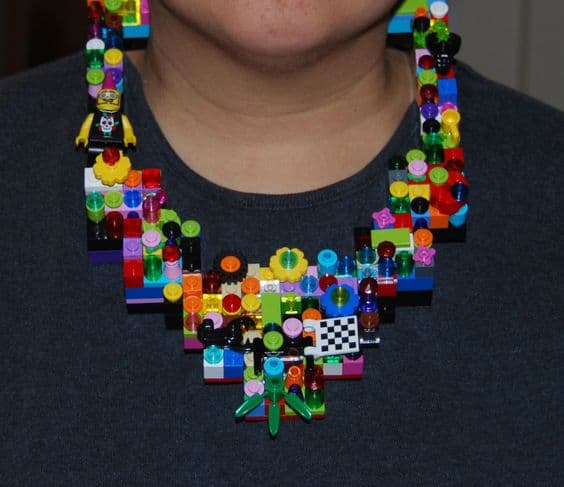 Are you the type that likes to go to conventions? Look to this picture for inspiration for your next themed LEGO necklace for a convention!
You could make this necklace Star Wars themed with Stars Wars mini-figures and other pieces. You could do a Marvel theme, a Disney theme, a Harry Potter theme, etc. A word of advice: plan out your mini world in a necklace first before sticking LEGO blocks together.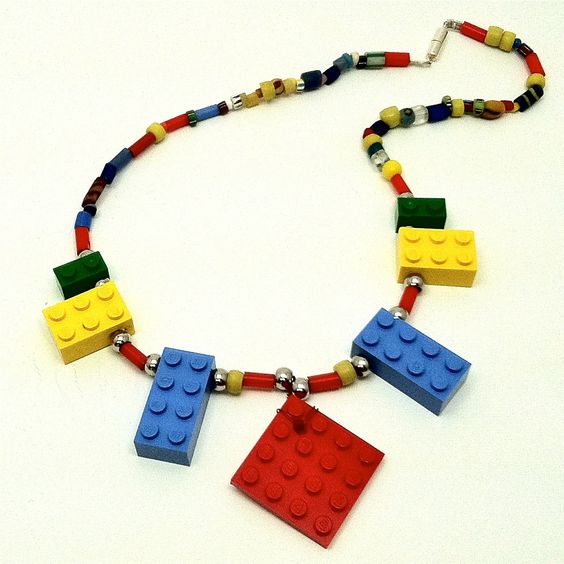 This helpful guide from The Craft Tutor shows you how you can make your very own LEGO necklace.
You can incorporate other beads and jewelry pieces into your necklace like you see in this picture. By following along with the simple, straightforward steps, you can enjoy family craft night or make these yourself to surprise your loved ones.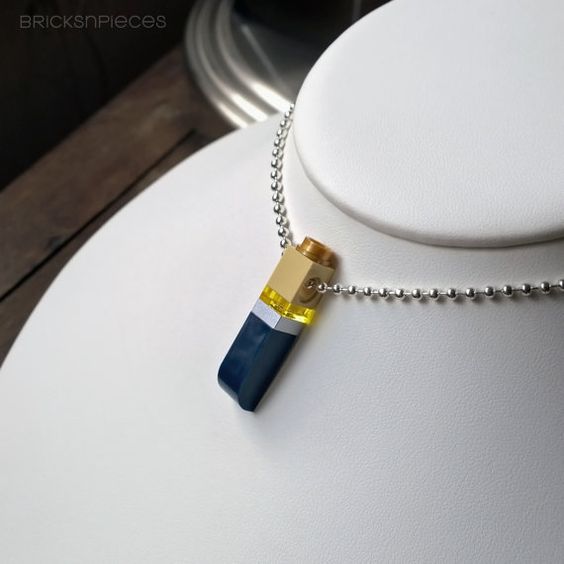 What a beautiful gem, right? This gorgeous faux crystal necklace is actually made from LEGO pieces. You can make your own LEGO crystal and choose the crystal color you'd like best. The 3 golden-colored LEGO blocks used at the top of the pendant look gorgeous together. This necklace combines playfulness with elegance in an insanely creative way.

Looking at this necklace makes me think of someone on their way to a rock concert. You can't get edgier than a giant, chunky black and silver necklace! While the LEGOs offer a whimsical element, this necklace is all grunge. Unlike many of the other large LEGO necklaces we've seen so far, this necklace wasn't made to be asymmetrical.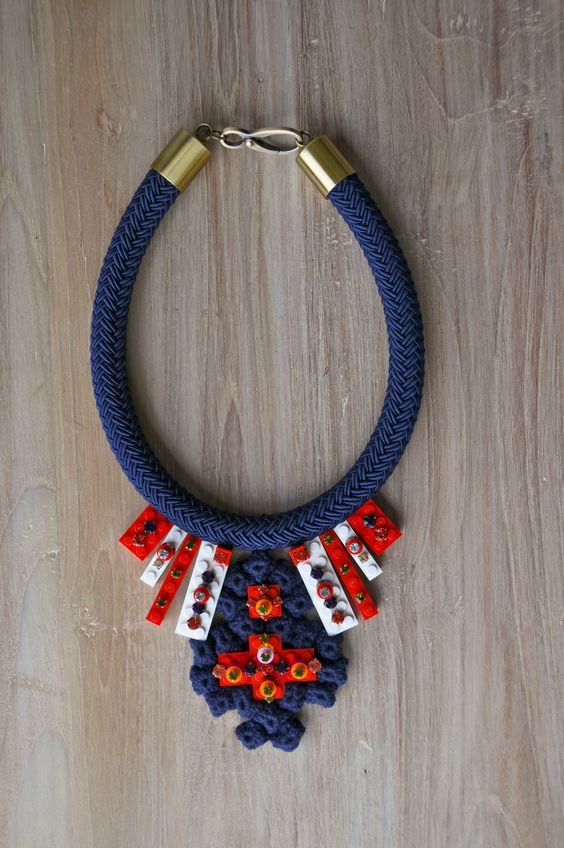 We'll end our list of the best LEGO necklace ideas on a patriotic note. This huge red, white, and blue necklace incorporate LEGO blocks into its design. There's something so high fashion about this one, isn't there? The placement of the gems, the organization of the LEGOs, and the gorgeous woven blue cord definitely took some time and effort.
FAQ
I'll finish off today's guide by answering your most frequently asked questions about LEGO necklaces.
Question: Where Can You Buy LEGO Necklaces?
Answer: Etsy is, in my opinion, one of the best places to sell handmade goods like LEGO necklaces, so I recommend checking there first. Depop and Amazon Handmade are two of the other top-rated online marketplaces you can turn to for LEGO necklaces.
Question: Are LEGO Necklaces Practical?
Answer: They can be. As you saw above, there were crazy LEGO necklaces and simple ones. Some add a playful touch to your outfit, and some don't look much like LEGOs at all.
Question: Can You Make LEGO Necklaces?
Answer: Of course! In fact, it's pretty easy to make your own LEGO necklaces. All of the supplies apart from the LEGOs can be bought at stores like Michaels and Joann Fabrics and Crafts. To get started on your LEGO necklace making journey, take a look at this list of items you'll need:
LEGOs
Necklace chains or cords
Clasps
Jump rings
A small pair of pliers
Question: Can You Sell LEGO Necklaces?
Answer: Yes, you can sell LEGO necklaces on websites like Etsy and Amazon Handmade. As long as you are creating your own original LEGO necklaces that don't look similar to products already being sold by LEGO, you'll be in the clear. The key is to customize your LEGO necklace into a unique product that no one else has sold, yet.
Question: What LEGO Pieces are Best for Jewelry?
Answer: Connectors are commonly found on LEGO necklaces and other jewelry pieces. Small blocks are easier to use, but I say to get creative with it. Some necklaces show off small, thin LEGO blocks and others have tons of big, chunky, multicolor blocks. You choose whether you want a dainty necklace made with small blocks or a bold necklace made with big blocks.
The Finishing Piece
That's all for today, folks! I hope you had lots of fun learning about the best LEGO necklace ideas on the internet. LEGO necklaces add a fun, and sometimes even practical, pop to any outfit.
Do you have a favorite of the 23 LEGO necklaces we looked over? was it my fav, the Heart-Shaped BFF Necklace? If you'd like more awesome LEGO projects, head over to our website!
Recommended Reads: