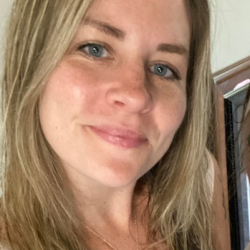 Latest posts by Thea Engst
(see all)
The first people you probably think of when I say the words "Harry Potter" are probably Harry Potter, Hermione Granger, and Ron Weasley. And while those are the three main characters of the series, they aren't the only characters.
The wizarding world of Harry Potter has no shortage of interesting characters.
From the heroes to the villains and every 'complicated' person straddling the line of good and evil (looking at you Malfoy), LEGO really has their work cut out for them when it comes to utilizing this huge pool of characters in their Harry Potter LEGO sets.
So let's talk about these characters and the Minifigures that LEGO has created in their image. We'll discuss which sets they come in and where LEGO really nails the details of the character in their recreation.
Bottom Line Up Front
While there are a lot of great options for amazing Harry Potter Minifigures, I believe that the Forbidden Forest: Umbridge's Encounter is one of the best LEGO sets available for fun and well-constructed Minifigs.
This set is Minifig-focused with amazing attention to detail both with the first-ever LEGO centaurs included.
My Top Picks
I'm going to talk to you today about some of my favorite Harry Potter Minifigs and sets. Here is a list of what we'll talk about in more depth later!
Harry Potter Series 2
Hogwarts Student Accessories Set
Hogwarts Castle
Forbidden Forest: Umbridge's Encounter
Hogwarts Magical Trunk
Voldemort, Nagini, Bellatrix
Harry Potter and Hermione Granger
Harry, Hermione, Ron, and Hagrid
Read further for details on each of these sets and why they made my list!
What Makes a Great Minifigure?
Let's first discuss what I'm looking for when compiling a list like this. What I really want to see is great attention to detail and a thorough reference to the Harry Potter series. This means that from the facial expression to the outfit, hair, and accessories, LEGO has to deliver on details.
Fortunately, LEGO happens to excel at details. This makes the task of selecting only a few exceptional Harry Potter Minifigs a difficult one. Therefore, I decided to divide this into three lists.
The first list is all about Minifigs that come separately, then we have great Minifigs that are included in a set, and finally, a list is about Minifigs that aren't technically Minifigs, but that you can build yourself of Harry Potter characters.
The Best Harry Potter Minifigures Sold Separately
Harry Potter Series 2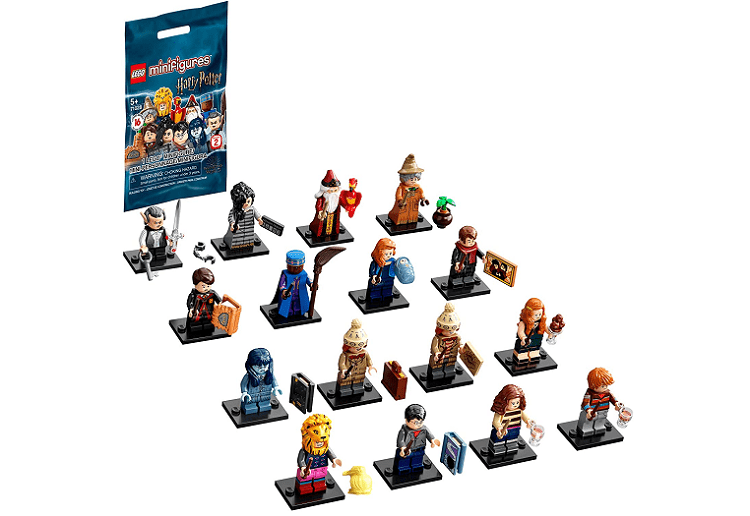 For a little while, LEGO had Harry Potter Minifigs in mystery bags. This product has since been retired, but every package contained one of sixteen possible Harry Potter characters.
They called it the Harry Potter Series 2 and it was available in small, sealed bags so you couldn't see what you were buying (hence the mystery portion of this series).
The surprise is really fun, but bags like this can also get frustrating when you buy more than one of the same Minifig. Of course, that brings in a social aspect where collectors can work out trades with each other to get their desired character.
Each Minifig came with one accessory such as a book, a broom, or a glass of butterbeer, something that pertained to the character specifically. Some of these accessories were never seen before appearing in the Harry Potter Seris 2. The bags also contained a small write-up about the character it contains.
It's really a shame that this product is retired because the details in each Minifig are wonderful. Lily Potter, for example, is accompanied by baby Harry. And while Fred and George Weasley are identical twins, their Minifigs differ in accessories. One of them holds the Marauder's Map and one of them has a briefcase, which opens, to contain a surprise!
I have to choose a couple of my favorites from this offering, even though they're all fantastic.
My favorite has to be Luna, who comes with her signature lion hat that can be switched out for her blonde hair. My second favorite is Moaning Myrtle because her coloration is so unique. She is a really cool, icy blue, looking exactly like a ghost! She also has Tom Riddle's diary as her accessory, which is absolute perfection.
Pros and Cons of the Harry Potter Series 2
Pros
This series had sixteen characters to potentially get.
Leaflet with information on the character the bag contains.
Included accessories, some of which were new to this set.
Cons
This product is retired.
You couldn't see what you're buying and ran the risk of getting several of the same Minifig.
Hogwarts Students Accessories Set
While the price is marked down which implies the set is being sold out, you can still get your hands on the Hogwarts Student Accessories Set. Originally $14.99, this set of four Minifigs is now available for only $11.99.
This set includes a character from each of the houses at Hogwarts. From Gryffindor, you have Harry Potter, Cho Chang represents Ravenclaw, and we have Hannah Abbott from Hufflepuff, and finally, Slytherin is represented by Draco Malfoy. Each character has a different accessory and a wand.
Harry Potter has the Marauder's Map, Cho has a book, Malfoy holds a green apple, and Hannah holds a lantern. The set also includes a buildable bookshelf for the Minifigs to rest their accessories.
My favorite character from this set has to be Harry and it's not just because he's a loveable lead character! I think that Harry's accessory is the most detailed out of these four Minifigs. His map not only has lines all over it but it has also been labeled with the location of Draco Malfoy.
I also love Harry's facial expression with the coy, sideways smile. You just know he's up to something! He also has his glasses on and of course that lightning bolt scar on his forehead.
A close second for me is Malfoy also because his facial expression is so dead-on Malfoy. He looks angry and stunted, just like Malfoy in the books and movies!
One way I do think LEGO could improve this set is with stickers or printed bricks of the various house crests. I think it's a little strange that they represented each house here with a character and yet no crests.
Pros and Cons to the Hogwarts Students Accessories Set
Pros
The facial expressions for each Minifig are great, but Malfoy and Harry stand out.
Great job with accessories overall, I love that Cho's book opens.
Comes with a buildable bookshelf.
Currently on sale for just $11.99!
Cons
This set is supposed to represent each Hogwarts house but there are no stickers or printed bricks with the house crests on them.
The Best Harry Potter Minifigures in a Set
Hogwarts Castle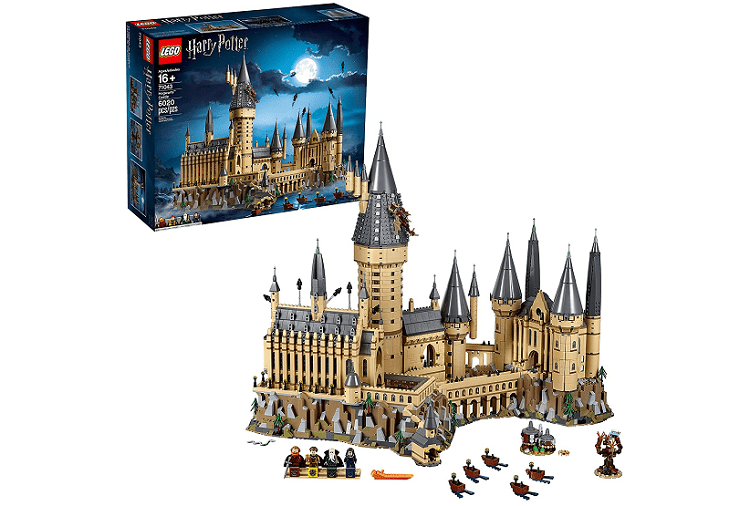 It's hard to talk about any Harry Potter set without mentioning one of the most popular and expensive available, the Hogwarts Castle. This masterpiece of a build is a stunning sight to behold once it's completed, and is equally as fun to construct. Check out our full review on this Hogwarts Castle. But how does it do for included Minifigs?
This $400 and more than 6,000 piece set includes only four Minifigs but twenty-seven Microfigs. The Microfigs are even smaller than the Minifigs and fit comfortably inside the castle. The four Minifigs are not meant to go inside the castle due to their size in relation to Hogwarts.
They instead are intended to be put on a platform outside the castle for display. These four Minifigs are the founders of each of the Hogwarts houses: Godric Gryffindor, Salazar Slytherin, Helga Hufflepuff, and Rowena Ravenclaw.
The details on each Minifig are really great, Rowena Ravenclaw even has her diadem printed on her forehead. And both female Minifigs have dresses on, true to the books and movies.
Each Minifig also includes its own wand and Godric Gryffindor and Helga Hufflepuff have additional accessories. Godric has his sword and Helga is holding her goblet.
The Microfigs in this set are all really something to see. They are tiny and yet still fairly detailed. It's easy for example, to find Harry with his round-framed glasses.
Professor Umbridge is also easy to sort out in her bright pink outfit. It's more difficult to discern which blonde character is which, though it is really cool that one of them is scowling while the other is smiling. In my opinion, that smiling blonde is Luna Lovegood while the scowling blonde just has to be Draco Malfoy.
While these Microfigs are impressive with the details that LEGO is able to include, they are really tiny and somewhat difficult to play with. The Microfigs in this set are also not meant to be played with inside the castle, which is a bit of a bummer but once you see this all completed, it does make sense.
One more thing that bothers me about these Microfigs is that not all the surfaces inside the castle have studs, which means that you can place a figure on a chair but the chairs don't have a stud for them to lock into. Unfortunately, it makes them easy to knock over and lose.
Overall, if you're looking for great Harry Potter Minifigs, this isn't the set for you. This set is amazing to behold and so fun to build but it is not a Minifig-focused set.
Pros and Cons of the Minifigs and Microfigs in the Hogwarts Castle
Pros
Even though the Microfigs are so tiny, LEGO manages to make them as detailed as possible.
The Minifigs are also detailed with facial hair, expressions, and references to the books and movies.
Cons
Only two of the Minifigs have accessories in addition to the included wands.
The Minifigs cannot fit in the castle to be played with.
The Microfigs are so small they are hard to play within the castle.
There is a lot of surface in the case without studs to perch the Microfigs in so they topple over easily.
Forbidden Forest: Umbridge's Encounter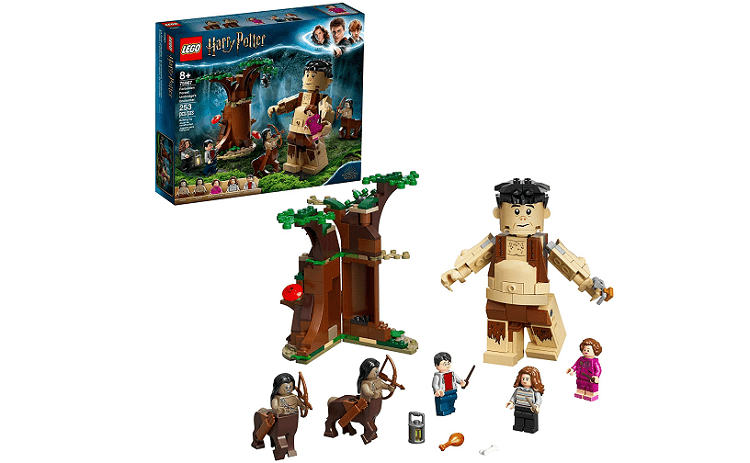 Reducing the price tag and brick count a whole lot, we're going to move on to one of my all-time favorite Minifig-focused sets. The Forbidden Forest: Umbridge's Encounter.
I really love this set! It's only 253 pieces and only $29.99 so this is a very affordable and approachable LEGO set. And now, in my opinion, you're going to see some great Minifigs.
Let's start with the wizard Minifigs: Harry, Hermione, and Professor Dolores Umbridge. Harry and Hermione are wearing more casual clothes in this set, (not the school uniforms you will also see them in depending on the set). All three of the wizards come with a wand.
Dolores Umbridge is wearing all pink, with details depicting the mohair of her sweater, you can even see her gold, cat broach, which is a really iconic detail if you're a Harry Potter fan. What else is cool about this Minifig is that she has an alternate expression. Make her coy or make her terrified, the choice is yours!
Hermione has two expressions as well, one of a sideways and knowing smile and one of the more 'force-to-be-reckoned-with' Hermione we all know and love. The Minifig has long, wavy hair is perfect for the character. This Minifig even has freckles. Her sweater also matches this scene in the movie to a T. Well done LEGO!
Harry's Minifig is the same as the Attack on the Burrow set. He wears a hoodie and red shirt and only has one facial expression. Overall he is a great Minifig, but he falls short compared to the others in this set.
But we're just getting started. This set includes two centaurs with bows and arrows and even a quiver of arrows on their hips. The centaurs have great details including two different facial expressions, five o'clock shadows, and abs for days. Their bodies have extra studs, making adding a passenger easy!
It also has a buildable and posable Grawp (Hagrid's giant half-brother). There is even a tree, which opens for you to hide a turkey leg, lantern, and bone.
And even more for the Harry Potter fans, there is a bicycle handlebar and bell, which is the item that created the trust between Hermione and Grawp. Grawp can even hold things in his giant hands, including the Minifigs. Pretty cool!
The tree isn't extremely detailed but that's okay because this set is very Minifig-focused. The tree has a cool spider hanging from it and it opens for more playtime and accessory storage. I'm personally happy with what we get from the tree.
The whole set is just really nicely constructed and easy to enjoy. LEGO raised the bar with these Minifigs. I am a huge fan of the centaurs and Grawp and how this set works together.
Pros and Cons of the Forbidden Forest: Umbridge's Encounter Minifigs
Pros
This set includes two centaurs with bows and arrows and 'attack mode' facial expressions.
Includes a buildable and posable Grawp.
Dolores Umbridge's outfit is perfectly on point.
Hermione's outfit, hair, and facial expressions are perfection.
Includes a few accessories.
Can't beat that price! This is only $29.99.
Cons
The Minifig of Harry Potter could have two expressions like the rest of the figures in this set.
There could be more accessories in this.
Hogwarts Magical Trunk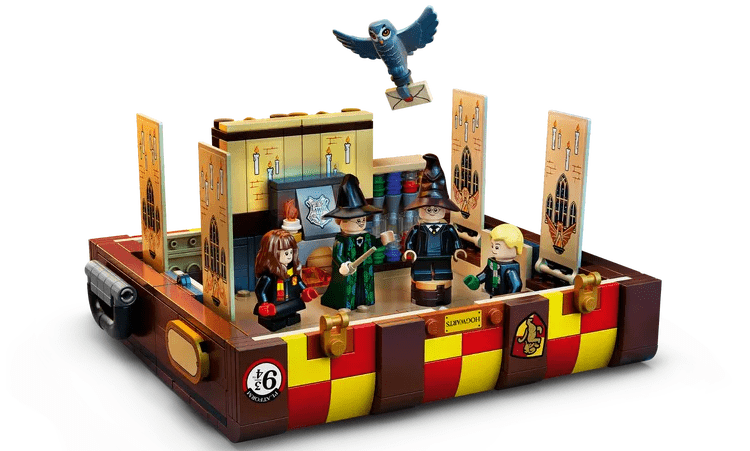 The Hogwarts Magical Trunk isn't due to be released until March of 2022, but it's just too exciting not to mention in this article. This is also a unique set in this article because the Minifigs featured are all decided on by the builder. Ringing in at $59.99, this is both an affordable and excitedly anticipated LEGO set.
That's right, this set is customizable to the max. The set comes with a vast array of Minifig pieces like various hairstyles and diverse skin tones. The options mean that users can build up to five different characters from Harry Potter at a time. What's more, is that they can mix and match and create Hogwarts students of their own.
And the Minifigs aren't the only customizable features of this set. There is interchangeable furniture that the builder can constantly be redesigning and different stickers for the outside of the trunk itself.
The trunk opens to be a platform for playtime for these Minifigs and magical changing furniture and it has the ability to be three different classic scenes from the books and movies. You can either create the Sorting Ceremony, a Great Hall feast, or the Common Room of the Hogwarts house you've chosen for your trunk.
And what's a Minifig without accessories? Some of the accessories included are The Quibbler, The Sorting Hat, a chessboard, a potion book, potions, and a cauldron, Bertie Bott's Every Flavor Beans, and an owl. (And there are more!)
I like that this set can be easily transported and cleaned up after. Once playtime is over or if the play space is moved, the builders can just put all their pieces inside the trunk and snap it shut, easily moving all the pieces to the next location.
Pros and Cons of the Hogwarts Magical Trunk
Pros
Five buildable Minifigs from the books and movies that the builder can choose themselves.
The ability to create entirely new characters.
Easily transportable.
You can make new furniture for the Minifigs daily.
You can recreate three different scenes from the books and movies.
The price is only $59.99 which isn't bad for a LEGO set.
Cons
With the ability to make so many characters, I wonder how details the outfits, facial expressions, hair, and accessories will be.
Not available until March of 2022.
The Best Buildable Harry Potter Minifigures
Voldemort, Nagini, Bellatrix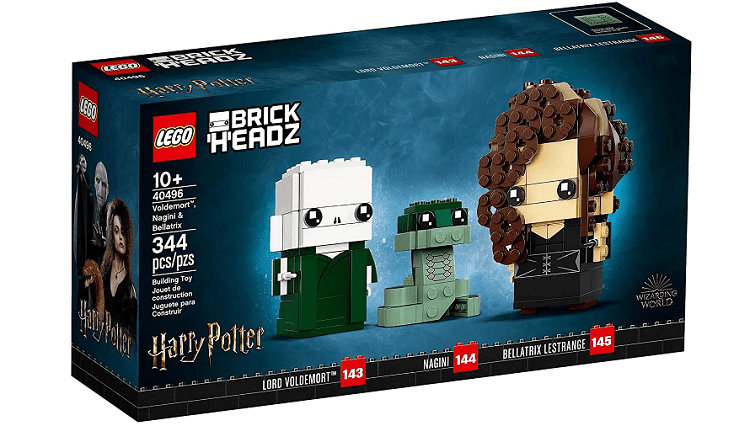 I know that these LEGO sets aren't necessarily Minifigs, but they are created in the image of Harry Potter characters and LEGO Minifigs, so I felt they had to be mentioned.
Let's talk about the Voldemort, Nagini, Bellatrix LEGO set. This set is three separate buildable villains from Harry Potter. Voldemort is the biggest and more evil of the three, with his sidekick Bellatrix coming in a close second. Nagini is Voldemort's pet snake.
The set is 344 pieces and each figure is constructed separately. They don't even share a platform. You can pose them together or you can scatter them, the choice is yours.
For accessories, Bellatrix and Voldemort each get a wand but that is it. This set really isn't about accessories but rather recreating iconic characters using LEGO bricks.
Bellatrix's wavy hair is executed perfectly in this, and it's really a big reason why I chose to include this set on my list. I love the way the bricks created texture for her curls and the way the hair flows down the right side of her body.
Nagini is also really cool and unique. The design is simple but very easy to identify. His coils, like Bellatrix's hair, are geat.
Voldemort himself is a solid portrayal of the character but compared to Bellatrix, he's just a little boring.
Pros and Cons of Voldemort, Nagini, Bellatrix
Pros
Bellatrix carries this set with her gorgeous hair.
Voldemort is a great portrayal of the character.
Nagini is simple but very cool, I love the coils.
For only $24.99 this is a fun, easy set to put together and have cute, small, displays in the house.
Cons
I feel like Voldemort could have some more detail to be a little more exciting.
These are not really meant to be played with but rather posed.
Not technically Minifigs.
Harry Potter and Hermione Granger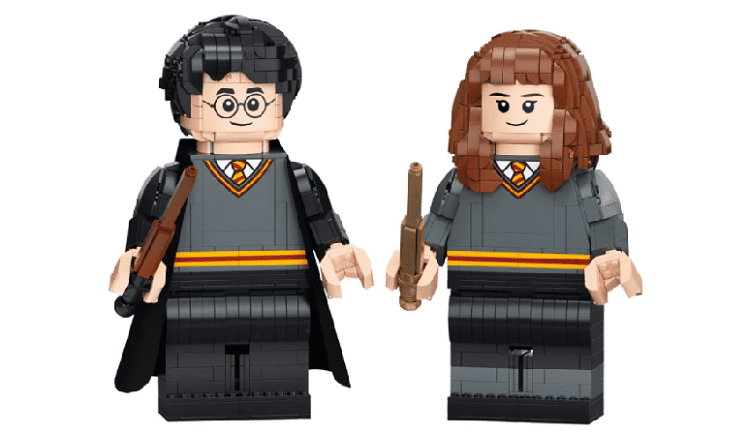 Once again I'm putting a set on the list that isn't technically a Minifig but rather a recreation of a Minifig. The Harry Potter and Hermione Granger set is the two characters made in the style of a LEGO Minifig. You heard me.
These two measure up to be just over ten inches tall and include buildable wands. Harry has a moveable head and removable cloak. Hermione's head doesn't move on account of her wavy, thick hair. While head movement would be great for her, the hairstyle is more important in this case. Without that hair, it just isn't Hermione.
Both figures are moveable and poseable. They can be played with or just put on display for a really unique piece of art on your shelf. I think they're absolutely adorable and I love that LEGO did this.
The set is 1,673 pieces and rings in at $119.99. I consider this a fair price for LEGO. And furthermore, this would be a great set to buy and split with a fellow LEGO and/or Harry Potter fan.
Pros and Cons of the Harry Potter and Hermione Granger Minifigs
Pros
Really cool vision of large Harry and Hermione Minifigs.
Includes buildable wands.
Poseable parts.
Great for play or display.
Cons
Not technically a Minifig.
Harry's head moves but Hermione's does not.
Harry, Hermione, Ron, and Hagrid

This set is in the same style as the Voldemort, Nagini, Bellatrix set. Harry, Hermione, Ron, and Hagrid is slightly larger because it's four rather than three figures, at 466 pieces but it's still the same price of $24.99.
What I like about this set, especially compared to the Voldemort, Nagini, Bellatrix set, is that all the characters have great details. Harry's glasses are awesome, they make his eyes look bigger than everyone else's. I also love that his lightning bolt scar is really prominent here.
Ron and Hermione's disheveled hair is another one of my favorite details. I really like the school uniforms and the details on Hagrid's outfit as well. I do think they could've given Hagrid a wand, but only Harry, Ron, and Hermione have one.
Overall these are cute, build to display figures. They do not click together in anyway and can be put together on a shelf or scattered around the house.
Pros and Cons of the Harry, Hermione, Ron, and Hagrid Figures
Pros
The outfits and attention to detail on them are great.
I love the hair on all these figures.
I love the details of Harry Potter's scar and glasses.
Great price! Only $24.99.
Cons
Hagrid should have a wand too.
Not technically a Minifig.
FAQs About the Best Harry Potter Minifigures
Question: Why Did You Break This into Sections?
Answer: You can buy some Minifigs separately but many of them are included in larger sets. I like to point out options and hopefully help you make a decision about whether or not a set is worth the price tag for the Minifigs.
Question: Why Are There Buildable Minifigs Here?
Answer: The Minifig world, like LEGO, is ever-expanding. While classic Minifigs are a cut and dry category, if you're a Minifig fan I believe sets like the buildable Harry Potter and Hermione Granger characters in the style of Minifigs would also appeal to you.
Question: What's your Favorite Collection of Minifigs on This List?
Answer: The Forbidden Forest: Umbridge's Encounter. The details are so intricate and good, they really knocked this set out of the park.
Final Thoughts on The Best Harry Potter Minifigures
When it comes to great Minifigs, LEGO overall does an excellent job of educating themselves on Harry Potter references in order to get all the details right. While there are moments when you want a little more from the Minifigs, LEGO really does leave little to be desired with their creations.
Choosing the best Minifigs from the entire Harry Potter LEGO series is difficult and depends on exactly what you're looking for. Check out our guide on the best Harry Potter LEGO sets here!
I would recommend exploring which Minifigures and in what costumes you want before you make a large purchase. You never know when LEGO is going to put together a small collection of Minifigs for you to add to your own personal collection!
Recommended Reads: