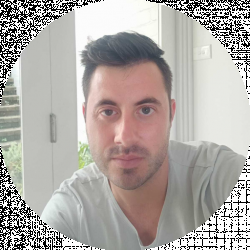 Latest posts by David Borgogni
(see all)
Weapons, military vehicles, or soldiers have never been the main topics of LEGO sets, as the company has made a long-term commitment to promoting non-violence through its toys. So, the best LEGO army ideas are the ones LEGO builders can construct themselves.
Guns, swords, and other weapons aren't entirely excluded from LEGO sets, but they only appear in specific themes.
The company doesn't manufacture soldier Minifigures, and the only way to create a Civil War or WWII soldier Minifigure is to customize an existing model. Also, finding LEGO accessories like army knives, bombs, or even army backpacks is challenging because they're not included in standard LEGO sets.
In this article, I will walk you through some of the best LEGO army ideas and help you find a solution to the problems you're likely to encounter if you want to build a military-themed LEGO model.
Bottom Line Up Front
I recommend choosing a set from Star Wars or Marvel themes if you'd like to get a model that contains military elements. Building a LEGO army display model is difficult and expensive because the pieces you'll need to construct such a model are hard to find.
See also: The best LEGO Call of Duty sets
LEGO Army Ideas
Having a large number of pieces at your disposal is paramount for creating any LEGO army. That's why I recommend collecting active and retired LEGO sets before you decide to construct a Consolidated B-24 bomber or a Boeing AH-64 Apache attack helicopter.
I listed several LEGO sets that can help you obtain the pieces and accessories you can use to build DIY army ideas, so let's take a look at their features.
LEGO Sets with Army Elements
Millennium Falcon 75257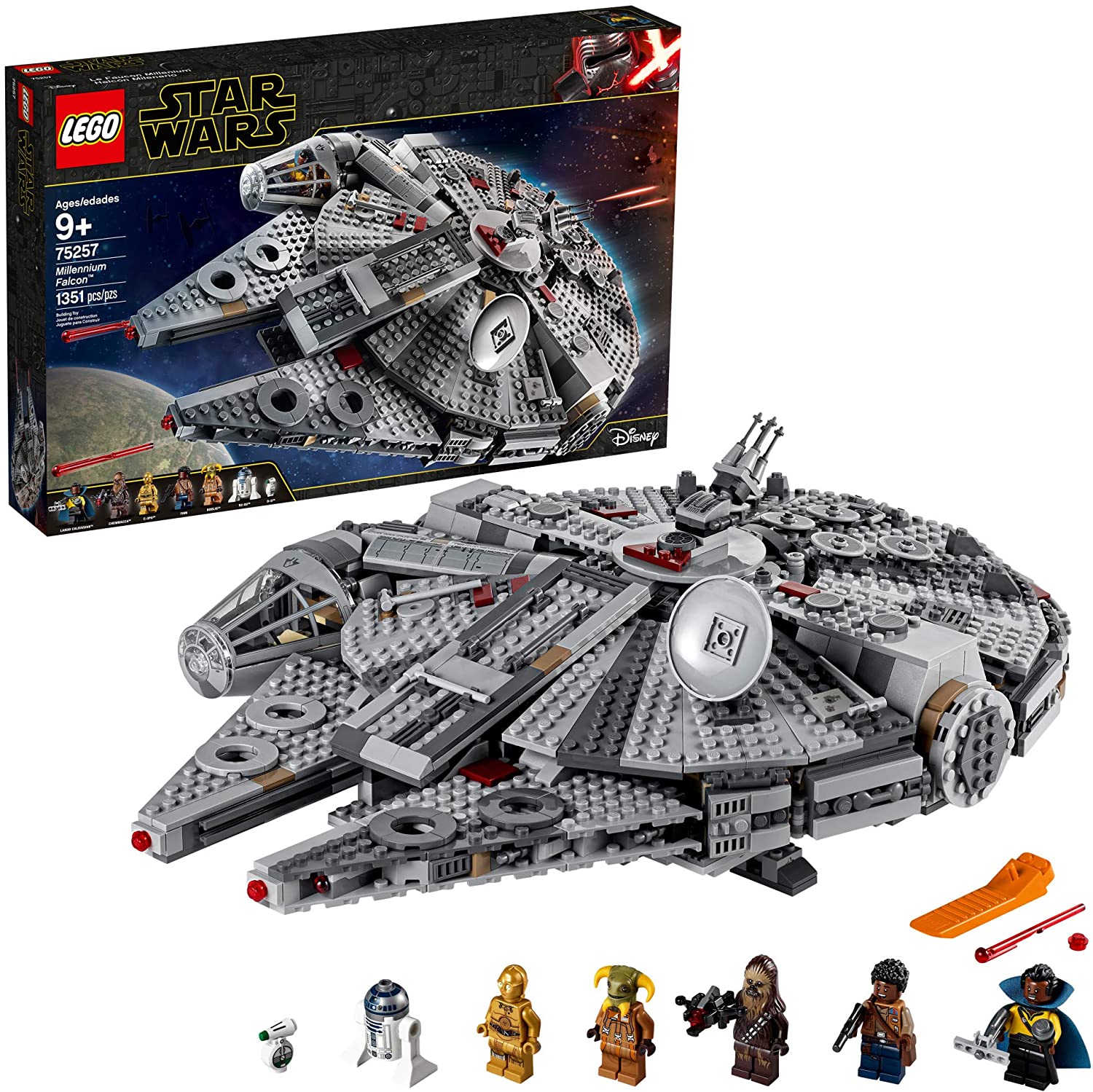 The high piece count is one of the key reasons I decided to include the Millennium Falcon 75257 set in this article. This Star Wars model contains a variety of bricks, slopes, pins, and tiles you can use to construct army vehicles.
It also features spring-loaded shooters that can serve as a replacement for missile launchers and other types of modern-day aircraft weapons. The set has five Minifigures of Star Wars characters that can't be redesigned easily to fit realistic battle scenes.
This model comes with several blaster gun accessories that could be useful for some LEGO army ideas.
Police Chase at the Bank 60317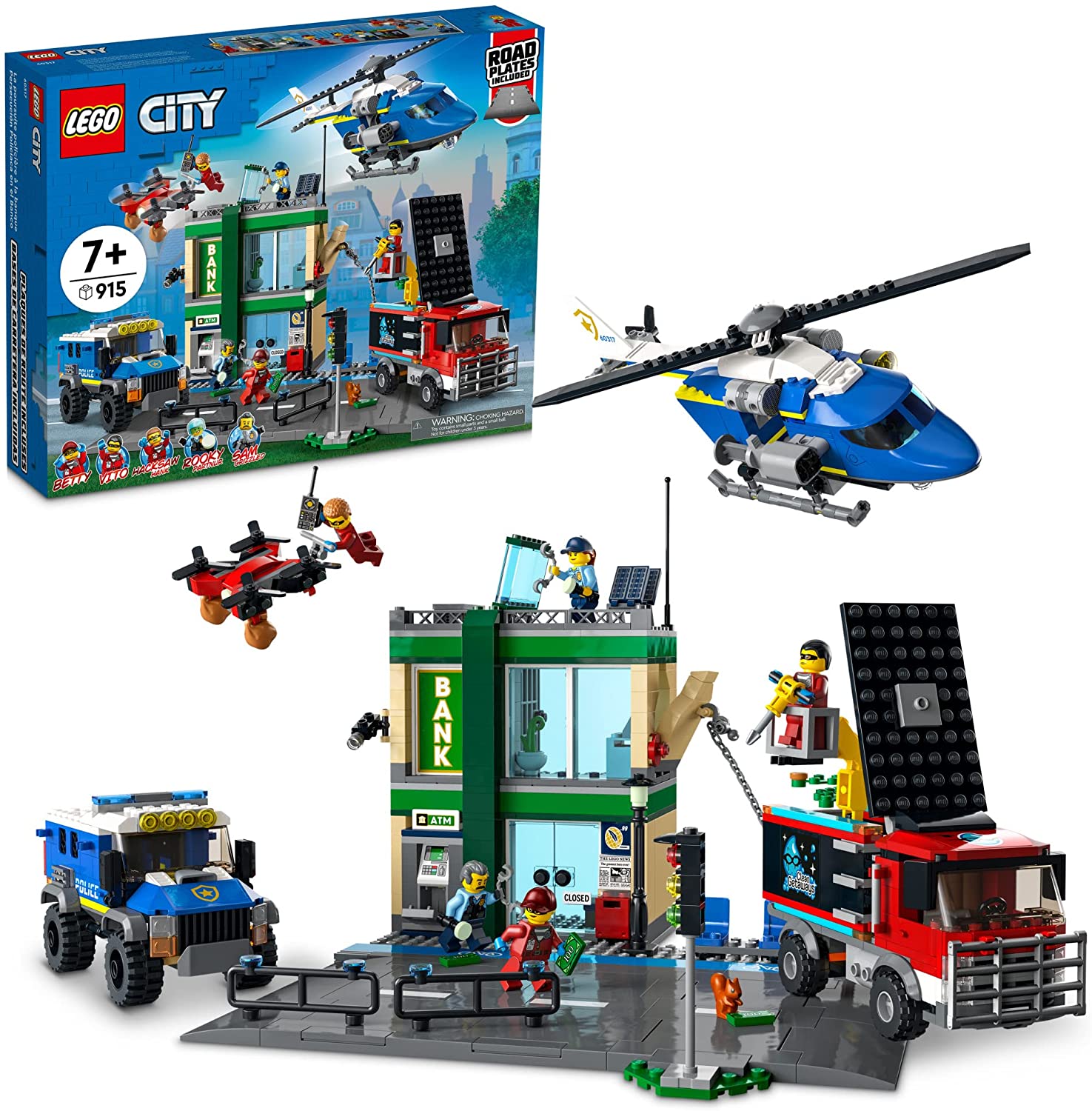 Getting a set like the Police Chase at the Bank 60317 can be helpful if you'd like to develop an idea that features helicopters or trucks. This set contains a drone toy that matches well with ideas based on modern military aircraft.
The helicopter's propeller, landing skids, or cockpit can be used to construct a military helicopter. Betty, Vito, and Hacksaw Hank Minifigures included in the set have eye masks, so turning them into soldiers can be difficult.
This set features a CCTV camera and other accessories that are a good fit for contemporary army ideas.
Avengers: Final Battle 76192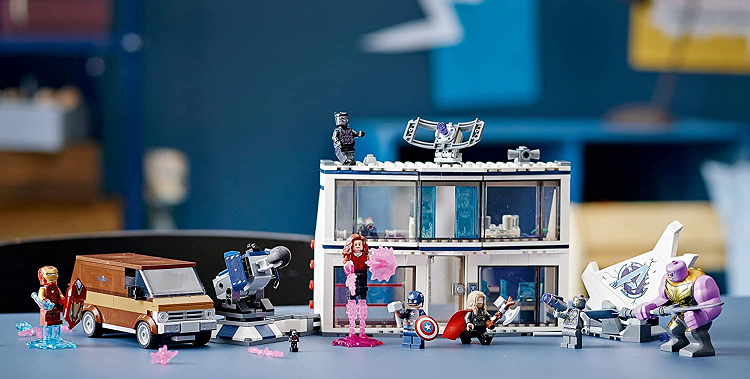 Sets inspired by the Marvel Cinematic Universe like the Avengers: Final Battle 76192 don't contain a lot of elements LEGO builders can use for their army ideas, but the Avengers compound model featured in this set can be used to stage urban warfare scenes.
The model has a jail section that can be utilized to impression enemy soldiers, a lab room equipped with computers you can use to create army headquarters, and a radar element. The weapons arsenal is comprised almost entirely of weapons used by The Avengers that don't fit into real-life battle scenes.
The Battle of the Helm's Deep 9474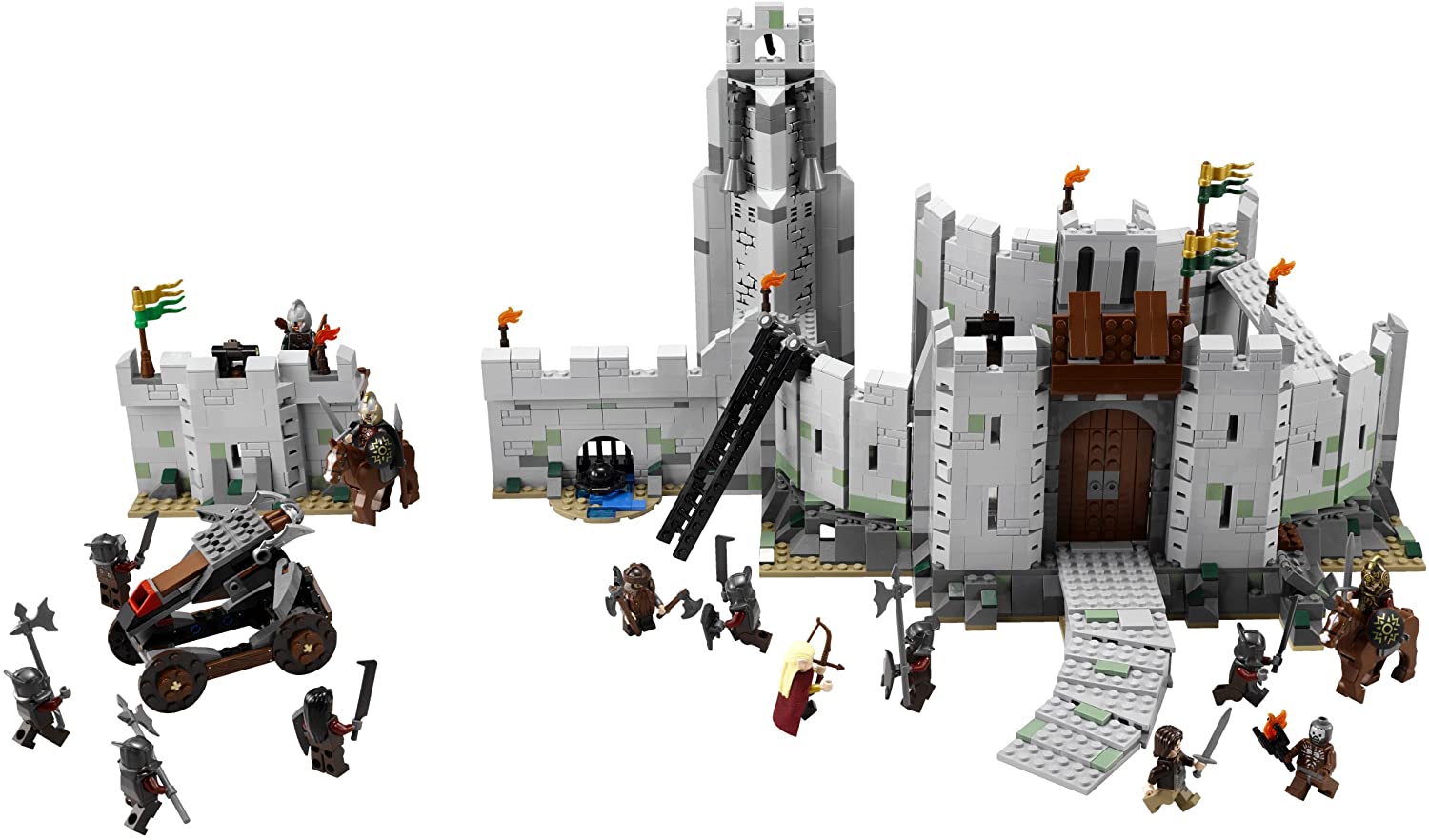 LEGO builders who were lucky enough to get The Battle of the Helm's Deep 9474 before LEGO retired it can incorporate parts from this set into the medieval battles they designed. The replica of Helm's Deep castle has a moat and several towers.
Swords, catapults, axes, or bows are among the weapons you can find in this set that match medieval-theme battles scenes. This LOTR model is hard to find and expensive, which makes it a less than ideal source of LEGO elements and accessories unless you already own it.
You should consider other LEGO models if you'd like to explore more contemporary military ideas.
Viking Fortress Against the Fafnir Dragon 7019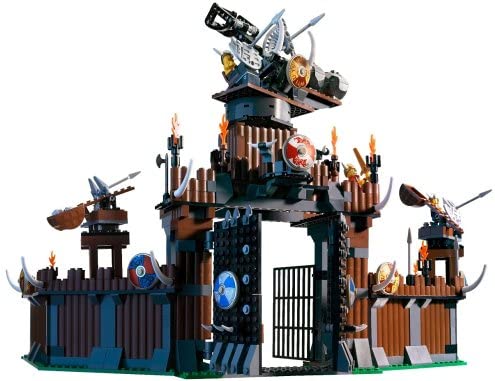 Even though it was discontinued more than fifteen years ago, the Viking Fortress against the Fafnir Dragon 7019 set is still a valuable source of accessories for DIY medieval battle projects. Moreover, the set contains the pieces you need to build a fort with catapults, towers, and opening doors.
Six Viking minifigures are armed with double-bladed axes, swords, spears, and shields. Moreover, you can combine this set with a model like the Medieval Market Village 10193 to extend the range of Minifigures, weapons, and structures you can use for your LEGO army idea.
DIY LEGO Army Ideas
WWII Battle Scenes
Siege of Stalingrad or Battle of Berlin are just a few among countless WWII-themed ideas you can make from LEGO bricks. These ideas involve constructing buildings, tanks, army jeeps, and planes, so you'll probably need thousands of pieces and months of work to complete them.
Obtaining the soldier Minifigures dressed in WWII American, Soviet and German uniforms is arguably the most challenging part of these projects.
Guns, rifles, hand grenades, backpacks, and other accessories are available online, but you must make sure they're composed of LEGO parts before you purchase them.
Stage Sea Battles
Building battleships, cruisers, destroyers, carriers, and other types of warships are some of the ideas you can explore before starting to stage sea battles. Keep in mind that constructing any of these warships requires an advanced skillset, so it may take you a while to build an entire naval battle scene.
It's important to choose a specific era for your project because it will allow you to determine how your ships should look. Recreating the Battle of Midway, for example, entails constructing fighter and bomber planes.
Build a Replica of an Assault Rifle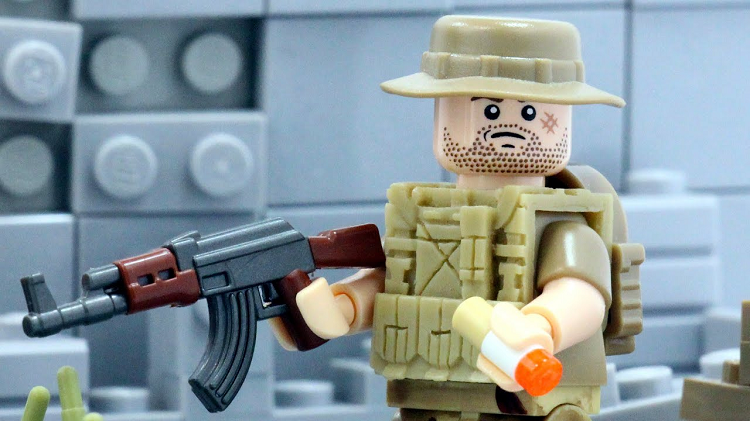 This LEGO army idea provides a plethora of options as you can opt to construct the M4 standard issue US Army rifle or build a functioning model of AK-47. Finding an online tutorial on how to build these firearms doesn't require much more than a quick Google search.
Optionally, you can order a book like the LEGO Heavy Weapons that contains instructions for building working replicas of AKS 74U, Jungle Carabine, Franchi SPAS-12, and Desert Eagle guns. These models contain a lot of unique pieces you may not be able to find in standard LEGO sets.
Construct a Military Land Vehicle
You should consider building a military land vehicle if you're searching for a challenging DIY project. Tanks, infantry fighting vehicles, armored combat support vehicles, mine-protected vehicles, light utility vehicles, or anti-aircraft vehicles can all serve as an inspiration for your next project.
Constructing an army jeep can be a good way to prepare for a more complex project if you don't have a sizeable set-building experience. Finding pieces for this army idea shouldn't be too difficult because standard LEGO sets contain parts for different types of trucks and off-road vehicles.
Create a Model of a Medieval Battlefield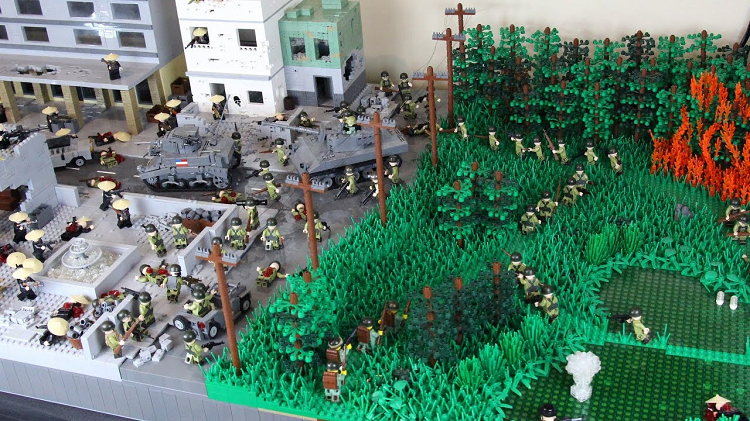 Collecting parts, accessories, Minifigures, and building models of warships, planes, or land vehicles used in the Vietnam and WWII wars is time-consuming and expensive.
LEGO System sets already contain most pieces you need to design a medieval battlefield, including castle replicas, horses, shields, and weapons. The most significant advantage of this army idea is that you can purchase everything you need from LEGO.
Experienced builders can recreate historical events like the siege of Constantinople or the Battle of Hastings. However, these ideas are for history buffs capable of reconstructing these battles accurately.
LEGO Themes with Army Elements
Even though LEGO doesn't produce kits inspired by modern army vehicles or weapons, finding a set that contains army elements is relatively easy. Models from Star Wars, Marvel, or Ninjago themes often contain blaster pistols, swords, and other weapons characters use to defeat their enemies.
These models usually come with battle-ready vehicles equipped with stud and spring-loaded shooters. Let's take a look at active and retired LEGO themes with army elements.
Castles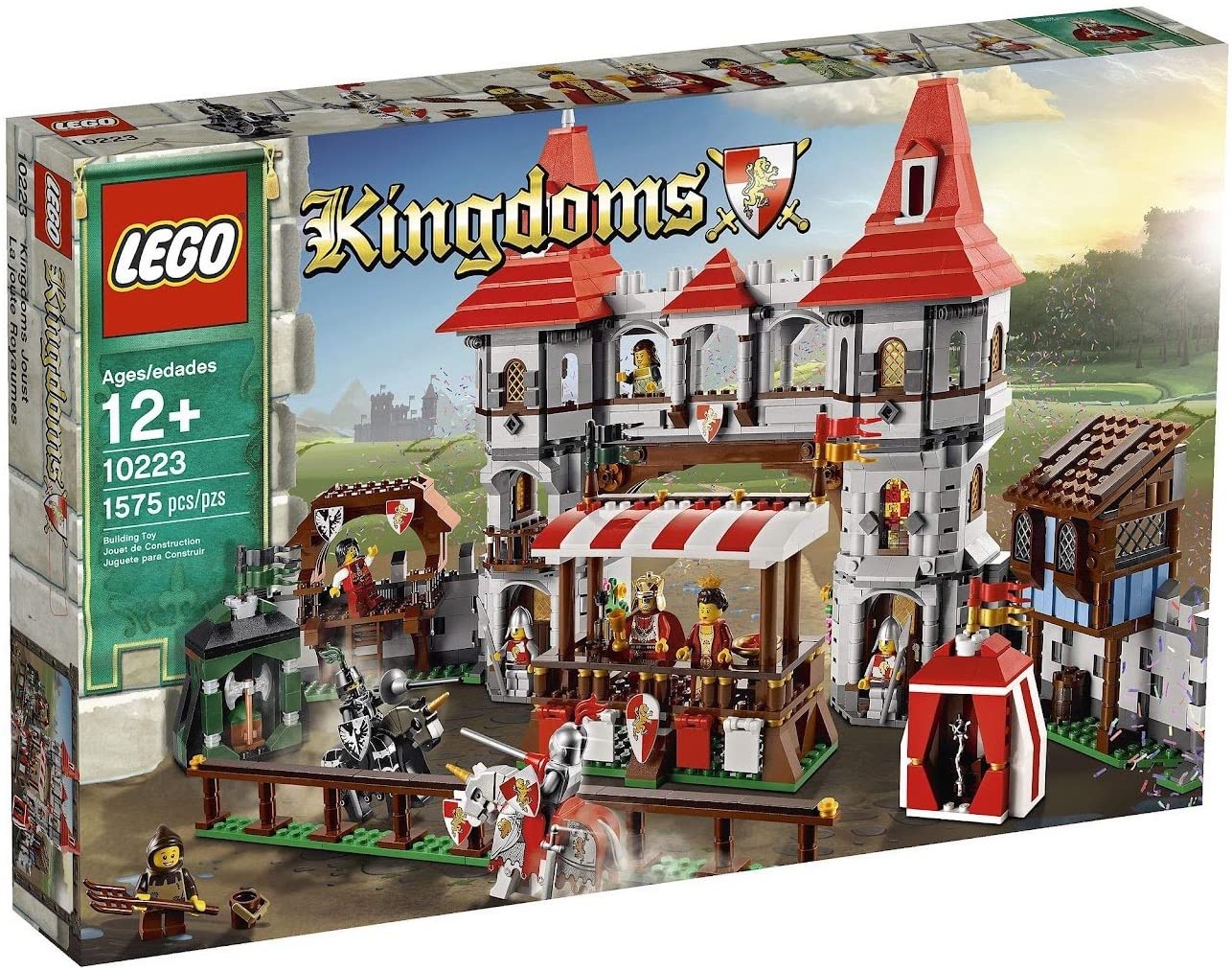 Knights equipped with swords, lances, and shields are frequent protagonists of sets released within the Castles theme. LEGO discontinued this theme in 1998 and replaced it with several new themes that featured similar elements.
Rare pieces from the original Castles theme can be useful to LEGO builders who want to design medieval-themed battles.
See also: The best LEGO Castle sets of all time
Pirates, Vikings, and Kingdoms themes
Sets from these themes contain soldiers and weapons from different eras. The characters are armed with swords, axes, pistols, muskets, bows, or spears in most cases. The Lord of the Rings theme is also worth mentioning because it features similar accessories.
See also: The best LEGO pirate sets
Star Wars
Lightsabers, blaster guns, or starfighter spaceships are some of the most common elements of sets from this theme. Although they're inspired by Star Wars movies and TV series, some of these elements can be used to build a modern army LEGO model.
See also: The best LEGO Clone Wars sets
Marvel and DC
Superhero sets published within Marvel and DC themes offer a wide assortment of fantasy battle vehicles and weapons. However, most models don't feature weapons that can be utilized to stage realistic war scenes.
See also: The best LEGO Marvel sets
Ninjago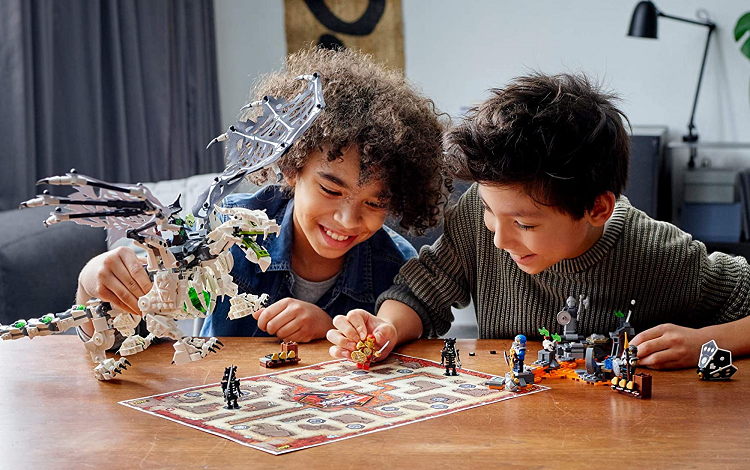 Martial arts are the main topic of Ninjago sets that contain a variety of swords, nunchucks, and similar weapons. Models from this theme can be a valuable source of weapons for LEGO builders interested in constructing martial arts battlegrounds.
See also: The best LEGO Ninjago Minifigures
LEGO Army Minifigures
Models from the discontinued Pirate theme featured imperial soldiers and imperial guards. These Minifigures had blue and red coats and white pants, making them a good fit for 17th and 18th-century custom-made battles.
Star Wars sets feature stormtroopers, scout troopers, dark troopers, or clone troopers. These Minifigures have distinctive uniforms that make fitting them into real-life army context difficult.
LEGO doesn't produce Minifigures modeled after contemporary soldiers, and customizing Minifigures is the only way to create modern-looking LEGO soldiers. In addition, most Minifigures are only available within sets or polybag series, which further complicates staging large battle scenes.
Some online retailers offer custom-made army-themed Minifigures such as Marine Force Recon Sniper or Modern British Paratrooper. Still, you may have to spend up to $20 on a single custom Minifigure.
It's also worth adding that some of these Minifigures don't contain original LEGO parts despite the retailer's claims.
See also: The best LEGO Star Wars Minifigures
Army-Themed Weapons and Accessories
Accessories like the German Machine Gun MG 34 with Ammo Belt or M27 Infantry Automatic Rifle can't be purchased within LEGO sets. However, some models contain blaster guns, swords, and other weapons that can be modified to fit a specific era of military history.
Accessories aren't a part of all LEGO army ideas, and they can be unnecessary if you want to build a US F-16 fighter plane or a Phalanx Close-in Weapon System. However, equipping soldier Minifigures with rifles, guns, bombs, and other accessories can help you create more realistic battle scenes.
WWII, Vietnam, or Afghanistan war-themed accessories are available on different websites that LEGO doesn't endorse. These accessories are expensive since a Browning automatic rifle or German tanker headset can cost a few dollars.
See also: The biggest LEGO sets
Building a Custom LEGO Army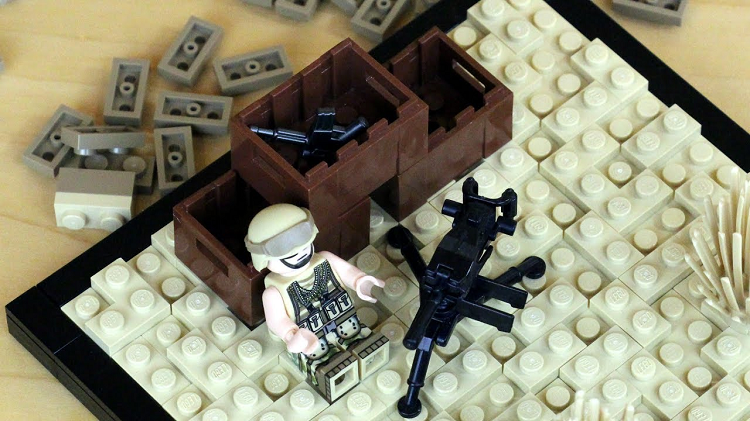 Finding the right pieces for the LEGO army idea you'd like to build is probably the most challenging task you'll face. Even if you have an extensive collection of LEGO pieces, you may still need parts that aren't easily obtainable.
Online forums feature part lists for some LEGO army ideas like the T-72B tank or Junkers JU 87 Stuka B2. However, some models contain unique pieces designed for a specific vehicle or aircraft. Hence, you won't always be able to purchase all the parts you need to complete a particular LEGO army idea.
Besides, going through the part list for the idea you're interested in can help you determine how many Minifigures and accessories you're going to need.
I recommend choosing a small-scale project like the Army AH-6 Little Bird Helicopter before taking on a more demanding project that involves a high number of pieces.
See also: Creative LEGO ideas
Controversies Surrounding LEGO Army Sets
Several years ago, a rumor surfaced that LEGO is planning a Technic set based on the Bell Boeing V-22 Osprey military aircraft. The company released the 42113 set featuring a replica of the search and rescue of this aircraft in June 2020.
However, the model was pulled from production shortly after, partially due to the protests from anti-war groups. The company's spokesman stated that LEGO has a 'policy of not creating sets which feature real military vehicles that are currently in use.'
This policy dates back to the early 1960s when LEGO rejected military-themed advertising because of the tensions created by the ongoing conflict in Vietnam. Despite this, LEGO sets featured different types of weapons for nearly half of the century.
A recent study shows that the presence of weapons in LEGO sets has increased since 1978, when the company added the Castle theme to its product lineup. The same research indicates that 30% of LEGO sets feature at least one weapon element.
See also: The best LEGO storage ideas
The Key Factors to Consider while Choosing a LEGO Army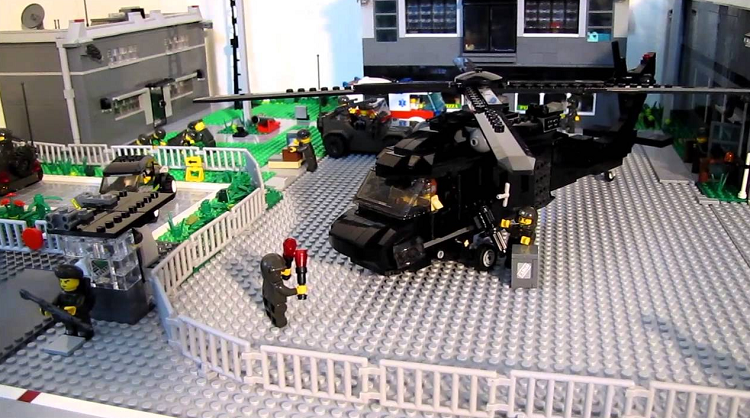 The size of the model you want to build
Which military vehicle or aircraft do you want to build
Make sure you have the right pieces
Avoid buying Minifigures and accessories from unreliable sources
Estimate the number of pieces you're going to need to complete your idea
Frequently Asked Questions
Question: Does LEGO Produce Pieces in Army Colors?
Answer: LEGO pieces in army colors are rare because the company wants to discourage children from building weapons or military vehicles.
Question: Can I Make Functioning Guns from LEGO Pieces?
Answer: Yes, you can, but the pieces you'll need to build a functioning LEGO gun are hard to find.
Question: Where to Buy Custom Military-themed LEGO Sets?
Answer: Several online retailers offer sets inspired by tanks or helicopters composed of authentic LEGO bricks. However, LEGO doesn't endorse or authorize these websites.
Question: How Long Does it Take to Complete a LEGO Army?
Answer: The amount of time you'll need to build a LEGO army idea depends on the model's size and level of detail. Most army ideas are complex, and you'll need several days or weeks to complete them.
Final Thoughts
Aside from the Bell Boeing V-22 Osprey 42113 set that was quickly pulled off the market, LEGO hasn't released any other military-themed sets in the last four decades. As a result, some LEGO builders opt to design modern weapons, planes, or land vehicles by themselves.
Gathering the pieces necessary to construct an assault rifle or a warship is difficult since ordering all parts from LEGO isn't an option.
Completing an army idea requires admirable skills and a lot of dedication, so you shouldn't start exploring these ideas unless you're confident you can finish a model you choose to build. Was this guide to the best LEGO army ideas useful?
Let me know in the comments, or continue reading our Infinity Gauntlet review if you'd like to learn more about the most powerful weapon in the Marvel Cinematic Universe.