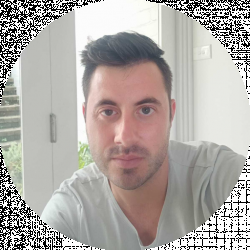 Latest posts by David Borgogni
(see all)
Amazon is the world's largest online marketplace with 5.2 billion visits every month that offers more than 350 million listings. Hence, browsing through the best Amazon LEGO sets can take days since the website features hundreds of active and retired models.
The fastest and safest way to get a LEGO set you like from Amazon is to head over to the LEGO Store on this platform and check if the model you're searching for is available. The selection process is far more complicated if you're not looking for a specific set because there are so many options to choose from.
In this article, I'm going to provide you with the information you need to make the search for the best Amazon LEGO set as smooth as it can be, and I'm going to recommend several sets that are already attracting a lot of attention on Amazon.
Please take a moment to go through our guide to the best LEGO merch and discover clothes, books, or costumes inspired by LEGO.
At a Glance – The 5 Best Amazon LEGO Sets
Bottom Line Up Front
According to the customer ratings, the R2-D2 75308 is one of the best LEGO sets on Amazon right now. I recommend this set to adult LEGO fans who want to test their set-building skills and create a display model of one of the most beloved characters in the Star Wars universe.
Selection Criteria
Navigating thousands of LEGO listings on Amazon was the most challenging part of selecting sets for this article. I had to utilize a broad spectrum of criteria that helped me identify the best models.
Sadly, numerous models that deserved to be mentioned in the conversation about the best Amazon LEGO sets didn't make the cut due to various limitations. Here are some of the most important parameters I utilized during the selection process.
Customer rating – All products listed on Amazon, including LEGO sets, have customer ratings. I used this parameter to shortlist sets that have near-perfect customer ratings.
Release date – Many of the LEGO sets you can find on Amazon are no longer in production. Checking the release date of all models I considered during the selection process has enabled me to eliminate all retired sets and include only active sets in the final selection.
Browse through our guide to the best LEGO castles if you enjoy building LEGO sets inspired by medieval themes.
The LEGO Store on Amazon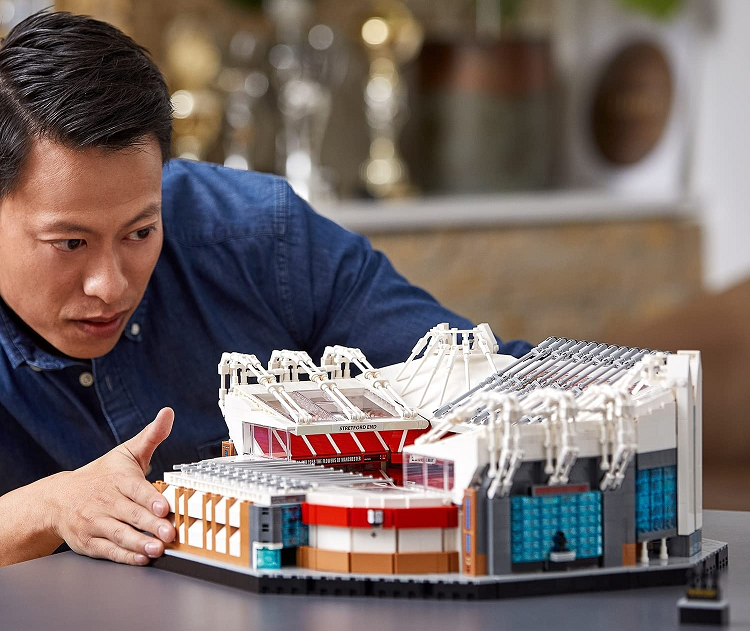 A wide range of online retailers, including Amazon, sells LEGO sets you can find on the world's largest marketplace. The LEGO store features the sets these retailers offer, and it grants you access to search tools you can use to find a specific set.
The store doesn't feature only active sets, and it is an excellent place to search for old sets you cannot find on LEGO's website. On the other hand, the New Releases section lets you browse through the latest models the company published within the last few months.
The LEGO store's Shop by Theme and Shop by Age sections let you explore the most popular sets within one of the active LEGO themes or specific age groups. Keep in mind that these sections feature only active sets, so you have to use other search tools to find a retired model.
In addition, you can search for LEGO sets based on your interests and pick a model from categories like Super Heroes, Fire & Rescue, or Vehicles. Please read our guide to the best LEGO fire trucks to learn more about sets inspired by firefighters or rescue missions.
The Most Popular LEGO Themes on Amazon
The LEGO store on Amazon doesn't have all the themes you can find on the brand's website because it contains themes like DC Super Heroes and Marvel Super Heroes that are unavailable on the LEGO website.
However, all of the brand's most popular themes like City, Star Wars, or Architecture are available within the LEGO store on Amazon. The number of sets within each theme is different, so the scope of options you'll have at your disposal depends on the theme you choose.
Let's take a look at some of LEGO's most versatile and popular themes.
Star Wars
Sets from this theme have been in high demand for more than two decades, and they continue to be among LEGO's bestselling products. Keep in mind that this section of the LEGO store also includes retired products that may not be available at other e-stores.
City
Amazon offers a rich selection of LEGO City sets, and you can choose from models that were discontinued years ago or released a few months ago. These sets are aimed mostly at children, and they're not an attractive option for adult LEGO fans.
Check out our guide to the best LEGO City sets to find out more about the latest sets from this theme.
Bestselling LEGO Sets on Amazon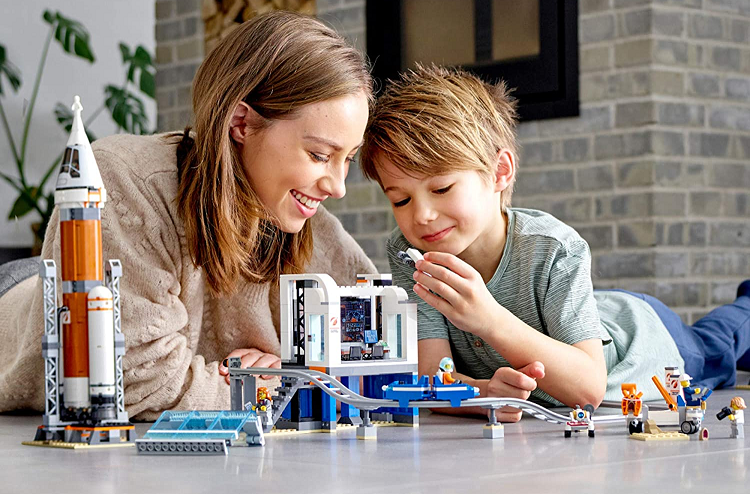 Visiting the Bestsellers section of the LEGO store on Amazon is the easiest way to get an overview of the brand's most popular products. Sets featured in this section aren't organized by themes or age groups, and you'll have to browse through all the listings until you find a model that fits your search criteria.
Here are a few of the bestselling LEGO sets on Amazon.
As you can see, these sets come from different themes, and their piece count varies from a few hundred to over a thousand pieces. It is also worth noting that LEGO discontinued some of the sets in this category.
Go through our guide to the best LEGO Harry Potter minifigures if you're looking for new additions to your collection of LEGO minifigures.
Retired LEGO Sets on Amazon
Numerous sellers offer sets LEGO retired years ago, making Amazon one of the first places you should check if you're searching for a discontinued set.
Reading the reviews of the set you're interested in is paramount while shopping for retired models on Amazon because it will enable you to find out if the set is new or used. Amazon users often report that sets purchased from unreliable sellers arrive without key pieces or in damaged boxes.
That's why you should approach buying retired sets from Amazon with a certain amount of caution and do everything you can to determine the seller's credibility. Please read our guide to the best LEGO Deadpool sets to find out more about LEGO sets inspired by this Marvel character.
The Key Factors to Consider While Shopping for a LEGO Set on Amazon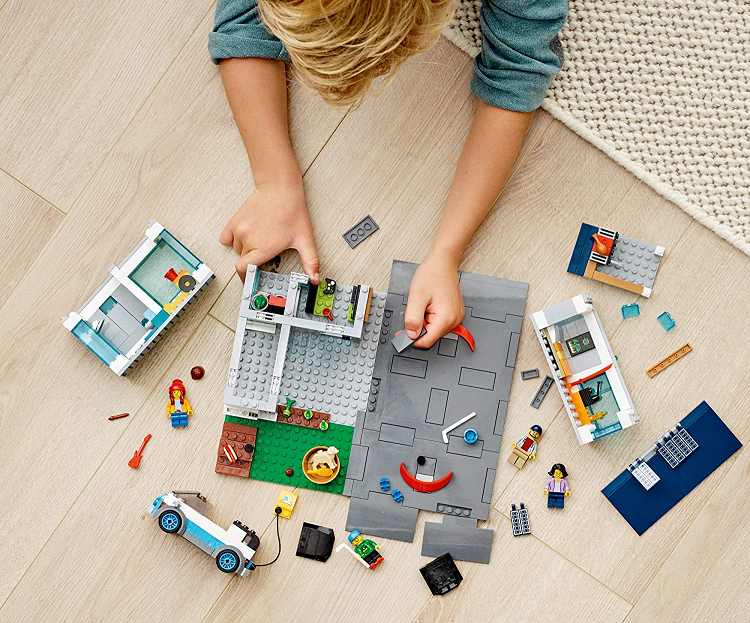 Browsing through the Amazon LEGO store without a clear idea of what you're looking for can be a tiring process because you'll have to look at hundreds of models until you find the one that ticks all the boxes.
Instead, you should try to set certain search parameters that will allow you to narrow down your options. I've selected several factors that can make the selection process easier for you, so let's take a quick look at them.
Piece Count and Age Group
LEGO sets aimed at preschoolers or children who just started elementary school rarely contain more than 500 pieces, and they're easy to build. Large sets with more than a thousand pieces are usually aimed at teenagers and adults who already have advanced set-building skills.
These two factors can assist you in choosing the right set for LEGO fans of all ages because they allow you to estimate the complexity of the assembly process.
Themes and Subthemes
A person's interests are an important factor you shouldn't overlook. Each LEGO theme has several subthemes that can help you find the set that a young or an adult LEGO fan might find interesting.
In addition, the LEGO store on Amazon has a Shop by Interest section that lets you choose from categories such as Cars, Arts & Crafts, or Dragons. Visiting this section of Amazon's LEGO store might help you find the set you're looking for.
Customer Reviews and Seller Reliability
Taking the time to scroll to the bottom of the listing you're currently viewing and read some of the comments people who already purchased the product left can help you identify the potential downsides of a specific LEGO set.
It is also advisable to go through the seller's information and determine how reliable they are. Doing so will reduce the chances of buying a used set that doesn't have all the pieces.
Set's Release Date
Some of the LEGO sets you can find on Amazon were retired years ago, and their price is considerably higher than the price of active sets. Also, listings that offer discontinued LEGO sets often feature used products that no longer have their original packaging.
That's why opting for an active and recently released set is often the best choice, unless you're a collector who's searching for a rare LEGO set.
Price Range
A broad spectrum of factors that range from the set's pieces count to delivery fees can affect the price of LEGO sets on Amazon. So, depending on the model you choose, you can spend anywhere between $10 and $1,000 on an active or retired LEGO set.
Choosing a price range will help you eliminate all sets that exceed your budget and help you find the best model for you.
The Advantages of Amazon LEGO Sets
A Wide Selection of Models
Amazon offers an impressive selection of both active and discontinued LEGO sets. In addition, new models become available in the LEGO store shortly after they're released, making Amazon one of the best places on the Internet to shop for the latest LEGO sets.
Excellent Search Tools
You only need the model's name and number to find a LEGO set on Amazon. If you don't have this information, you can use a variety of search tools in the LEGO store that let you browse through sets within a certain theme or age group.
Easy Access to Customer Reviews
Reading the experiences Amazon users had with a LEGO set can help you gather information you won't be able to find on the brand's website. Also, going through customer reviews makes it easier to determine the seller's credibility.
The Disadvantages of Amazon LEGO sets
Product Descriptions Aren't Always Informative
Some Amazon listings offer only basic information about a set, such as a piece count or recommended age group. You should avoid buying sets from listings that don't have an extensive product description.
Top 5 Amazon LEGO sets
R2-D2 75308 – Best for Star Wars Fans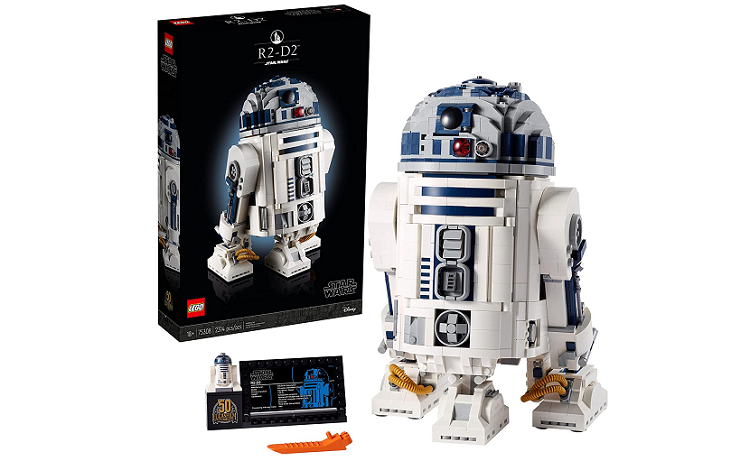 Released as a part of May the 4th celebrations, the exclusive R2-D2 75308 is one of LEGO's most impressive Star Wars sets to date. This set is an upgraded version of a retired R2-D2 10225 set published in 2014 that is still available on Amazon.
Besides the display model of one of the most recognizable characters from Star Wars movies, this set also features a plaque with the most important information about R2-D2. It also contains a unique LEGO brick created for the 50th anniversary of Lucasfilm and R2-D2's minifigure.
Pros
This set is collectible
R2-D2's model has a rotatable head and a retractable mid-leg
It features a unique LEGO brick
An excellent set for all LEGO collectors
Cons
The assembly process can be challenging for skilled set builders
Due to the model's size finding a perfect display location can be difficult
Family House 60291 – Best for Young LEGO Builders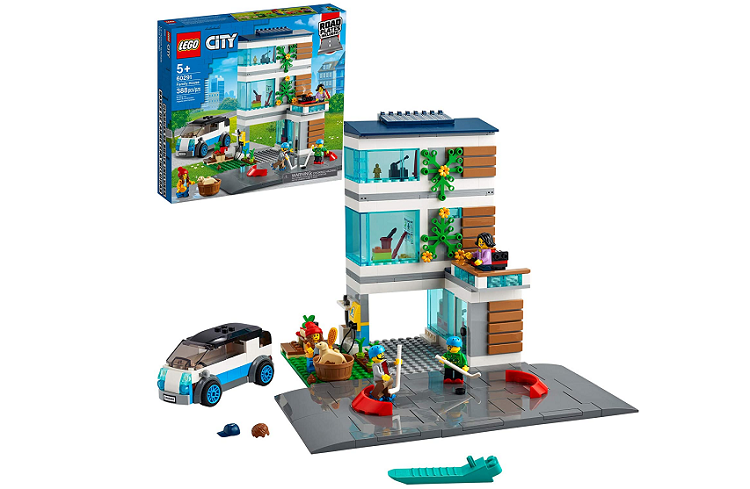 You should consider getting the Family House 60291 if you're searching for your child's first LEGO set. Building this set isn't difficult because it has just 388 pieces, making it a perfect option for children that want to practice their set-building skills.
Aside from the model of a three-story house equipped with solar panels and other details, kids aged five or older can also build an electric car model. The set includes minifigures of mom, dad, daughter, and son, and it also features a figure of the family dog.
Pros
The set connects to other LEGO City sets through the Road Plate system
The model of the house has a charging station for the EV
It includes a lot of accessories
Excellent customer rating
Cons
Expensive for a small set
EV model is just 4-inches long
Old Trafford -Manchester United 10272 – Best for Adults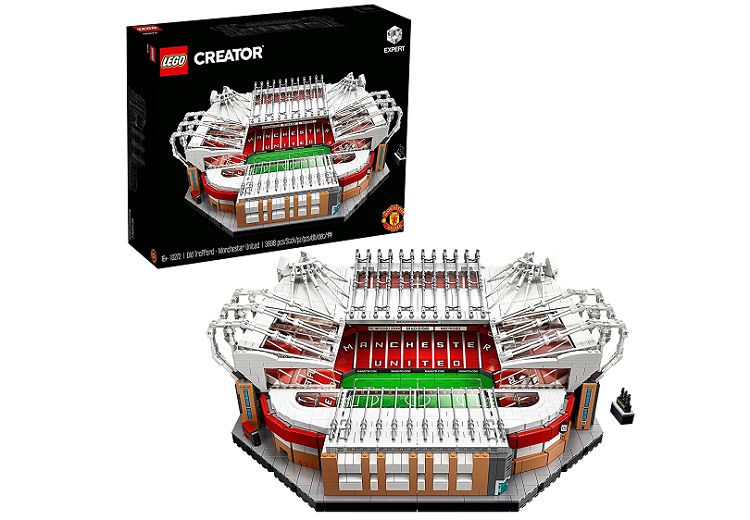 If you enjoy watching the Premier League, you'll love building the Old Trafford – Manchester United 10272 set. This highly detailed replica of one of the most iconic soccer stadiums has 3,898 pieces, and it is 18 inches long, 6.5 inches tall, and 15 inches wide.
The assembly process can be challenging even for experienced LEGO builders, and it may take you a few days to build this display model. This set doesn't have a plaque with basic information about the structure or any other accessories and minifigures.
Pros
1:600 replica of Old Trafford has a lot of authentic details
A perfect gift for a Manchester United fan
Fun project for an entire family
It doesn't occupy a lot of space
Cons
This set is more expensive on Amazon than on other online LEGO marketplaces
LEGO might retire this set soon
Hogwarts Castle 71043 – Best for Harry Potter Fans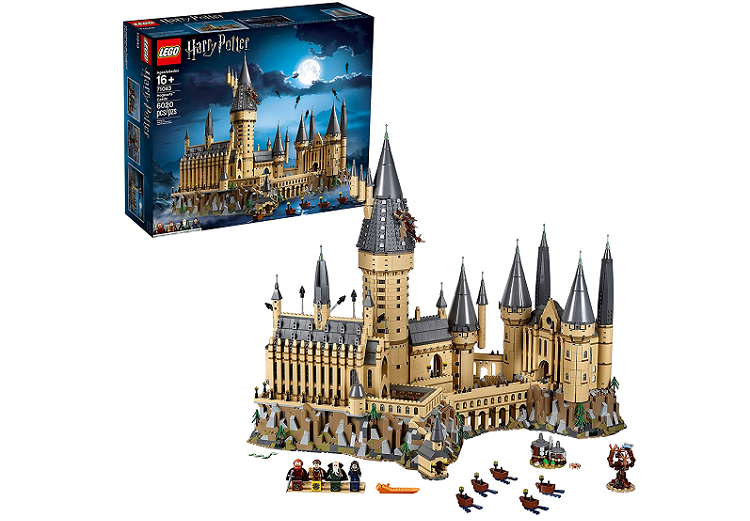 Even though it received the Toy of the Year award in 2019, the Hogwarts Castle 71043 is still one of the best LEGO sets you can get.
The impressive model of the castle is 22 inches tall, 27 inches long, and 16 inches wide when fully assembled, and you're going to need a display case to protect it from dust or damage. The set has more than thirty figures and minifigures based on the Harry Potter movies.
Read our Hogwarts Castle review to learn more about this set.
Pros
The castle features a replica of the Great Hall
The interior is rich in detail
The set comes with detailed building instructions
The value of this set is likely to increase in time
Cons
The long and challenging assembly process
Not suitable for children under the age of 16
The Guardians' Ship 76193 – Best for Development of Set-Building Skills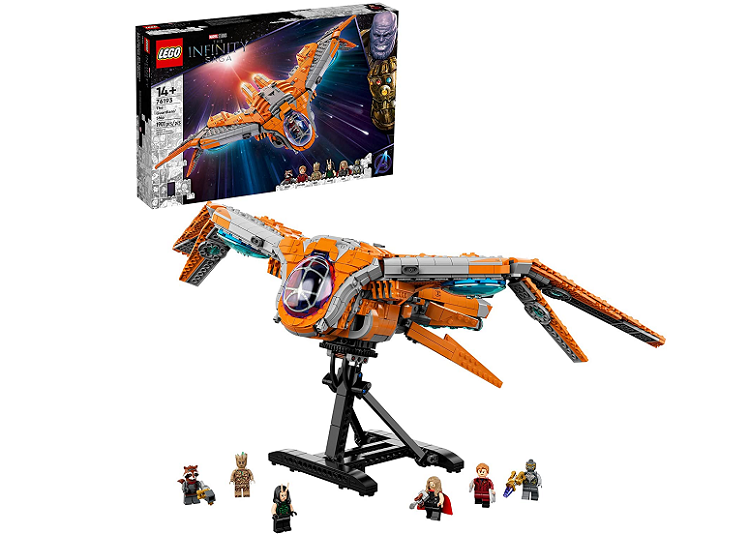 Even though it is recommended for children aged 14 or older, the Guardians' Ship 76192 can be an excellent gift for kids that are below this age limit. Building this 1,901-piece set can be challenging for novice LEGO builders, so you may have to assist your child during the assembly process.
The model of the Guardians' ship can be mounted on a rotatable stand or used as an action toy. The set comes with Groot, Mantis, Star-Lord, Rocket, Chitauri warrior, and Thor minifigures equipped with different weapons and accessories.
Pros
Building this set is easy despite a high piece count
Children can recreate scenes from the Guardians of the Galaxy movies
The rotatable stand allows for easy model adjustments
Compatible with other LEGO Marvel sets
Cons
Some customers received an opened set
Frequently Asked Questions About Amazon LEGO Sets
Question: How Long Does Amazon Need to deliver a LEGO set?
Answer: Delivery times depend on your place of residence, but in most cases, Amazon delivers LEGO sets two to five workdays after you make a purchase.
Question: Are LEGO Sets More Expensive on Amazon Than on Other Platforms?
Answer: The price of most models is the same on LEGO's website and Amazon, but some models can cost more on Amazon than on LEGO's website or other platforms.
Question: Can I Return a LEGO Set I Purchased on Amazon?
Answer: Yes, you can, but keep in mind that the company only issues refunds under specific conditions.
Question: What to do if I Buy a LEGO Set that Doesn't Have all the Pieces from Amazon?
Answer: You should contact the seller as soon as you determine that the set you ordered is missing pieces.
My Verdict: How to Find the Best LEGO Set on Amazon
Shopping for LEGO sets online isn't without risk because you might receive a set that was opened or damaged. Despite these risks finding a LEGO set on Amazon that is in perfect condition shouldn't be too difficult.
I recommend the R2-D2 75308 to all adult LEGO fans searching for a set that will challenge their building skills and enable them to start a project they will be proud to show to their friends.
Models like the Family House 60291 or the Guardians' Ship 76192 might be a better choice if you're looking for a set that offers various playing options. Which Amazon LEGO set are you going to choose?
Let me know in the comments or continue reading out guide to the best LEGO pirate sets to discover some of the brand's most popular sets inspired by pirates.
Recommended Reads: