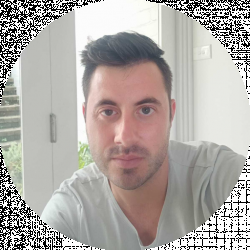 Latest posts by David Borgogni
(see all)
Ten years after LEGO released its first set based on one of the Toy Story movies, these sets remain a rarity. The majority of the best LEGO Toy Story sets are discontinued, and they're no longer available on the manufacturer's website, while their availability in LEGO stores is limited.
The Internet is full of rumors suggesting that LEGO is preparing new Toy Story sets inspired by Pixar's upcoming movie Lightyear. Unfortunately, the company still hasn't released anything to confirm or deny these rumors, so it's hard to say with certainty that we're going to see new LEGO Toy Story sets by the end of 2022.
In this article, I'll walk you through the process of choosing a LEGO Toy Story set, and I'll recommend some of the best models the brand released in the last five years. Our guide to the best LEGO Disney sets will supply you with additional information about this LEGO theme.
Bottom Line Up Front
I recommend the Woody and Bo Peep 40553 model because it is one of the rare active LEGO sets inspired by characters from Toy Story movies.
This set doesn't offer plenty of play options and a retired model like Buzz Lightyear & Woody's Carnival Mania! 10770 might be a better choice if you're looking for a LEGO set that presents children with a variety of play opportunities.
At a Glance – The 9 Best LEGO Toy Story Sets
Selection criteria
Only a few LEGO Toy Story sets remain in production just three years after the company reintroduced the Toy Story subtheme to promote the fourth sequel of the movie. That's why the selection process involved revisiting discontinued sets that are still available at online stores.
Also, I had to utilize several search parameters to identify which models had the most to offer to LEGO fans. Here are some of the key criteria I employed to shortlist Toy Story sets you'll find in this article.
The Toy Story movie the set is based on – Pixar released four Toy Story sequels, but I only considered sets based on the latest sequel of the movie. Consequently, most Toy Story sets I included in this article were released in 2019 and retired by 2020.
The range of play options – Taking the model's piece count, number of Minifigures, elements, and accessories into account has enabled me to select the sets that offer a broad scope of playing options.
Please read our guide to the best LEGO Disney Minifigures for more information about collectible LEGO Minifigures inspired by Disney characters.
An Overview of the LEGO Toy Story subtheme
LEGO introduced the Toy Story theme a few years before launching the Disney Princesses theme. Sets released within this theme were inspired by Toy Story 2 and Toy Story 3 movies. However, this theme was short-lived because LEGO discontinued all sets it contained by the end of 2011.
Eight years later, LEGO reintroduced the Toy Story subtheme within the Disney theme to promote the franchise's fourth sequel. All models with System LEGO bricks published in 2019 were designed for children aged four or older.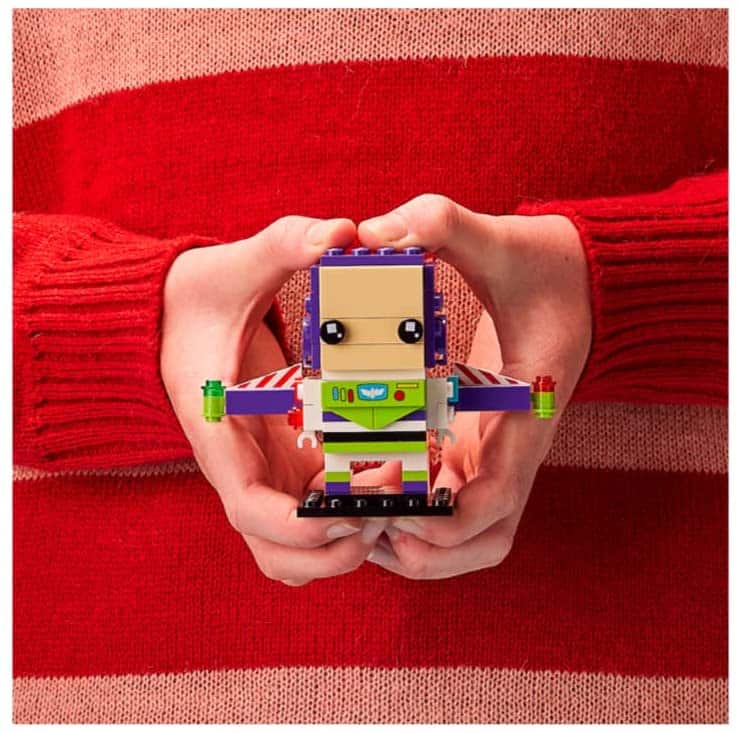 Several Duplo models were published that year, but these sets were retired during 2021. The Buzz Lightyear 40552 and Woody and Bo Peep 40553 released within the BrickHeadz theme are currently the only active Toy Story sets.
The Lightyear movie that covers Buzz Lightyear's origin story will premiere in June 2022. Fans speculate that LEGO could release new Toy Story sets to promote the movie, but there's very little information to support these rumors.
Check out our guide to the best LEGO castle sets to learn more about sets inspired by castles from Disney movies.
The main characteristics of LEGO Toy Story sets
Sets based on Toy Story movies have similar features, as most models are designed for the youngest LEGO builders. These sets usually have low piece counts, and over the years, LEGO released only a handful of models with more than 500 pieces.
The number of Minifigures in Toy Story sets varies from one to six, but most models contain some of the following characters.
Buzz Lightyear
Woody
Jessy
Stinky Pete
Lotso
Rex
Bo Peep
Duke Caboom
Hamm
Characters like Twitch, Green Army Men, Gabby Gabby, or Forky also appear in some sets inspired by Toy Story 3 and Toy Story 4 movies. Most models come with various accessories that allow children to recreate scenes from these movies or develop alternative scenarios.
Please browse through our guide to the best Winnie the Pooh LEGO sets if you'd like to learn more about sets inspired by this Disney character.
Retired LEGO Toy Story Sets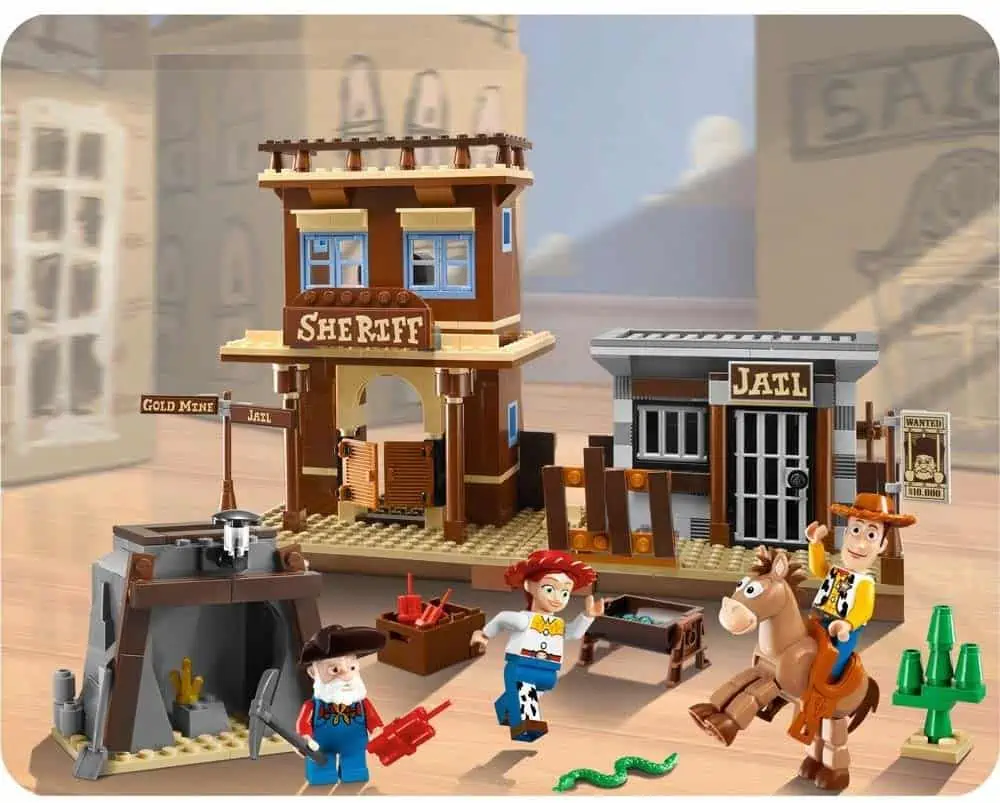 Almost all Toy Story sets LEGO produced since 2010 are discontinued. Models published within the Toy Story 3 theme are not in production for more than a decade. Hence, they're very expensive and hard to find.
Nonetheless, online retailers have some of these early LEGO Toy Story sets in stock, so let's take a look at some of the best models.
Regardless of their piece count, each of these models costs more than a hundred dollars. Even though they're discontinued, sets published in 2019 are more affordable than early Toy Story models. It's also worth noting that online retailers often offer used Toy Story sets at high prices.
Please read our guide to the most expensive LEGO sets to find out which models offer the best value for money.
Building a LEGO Toy Story set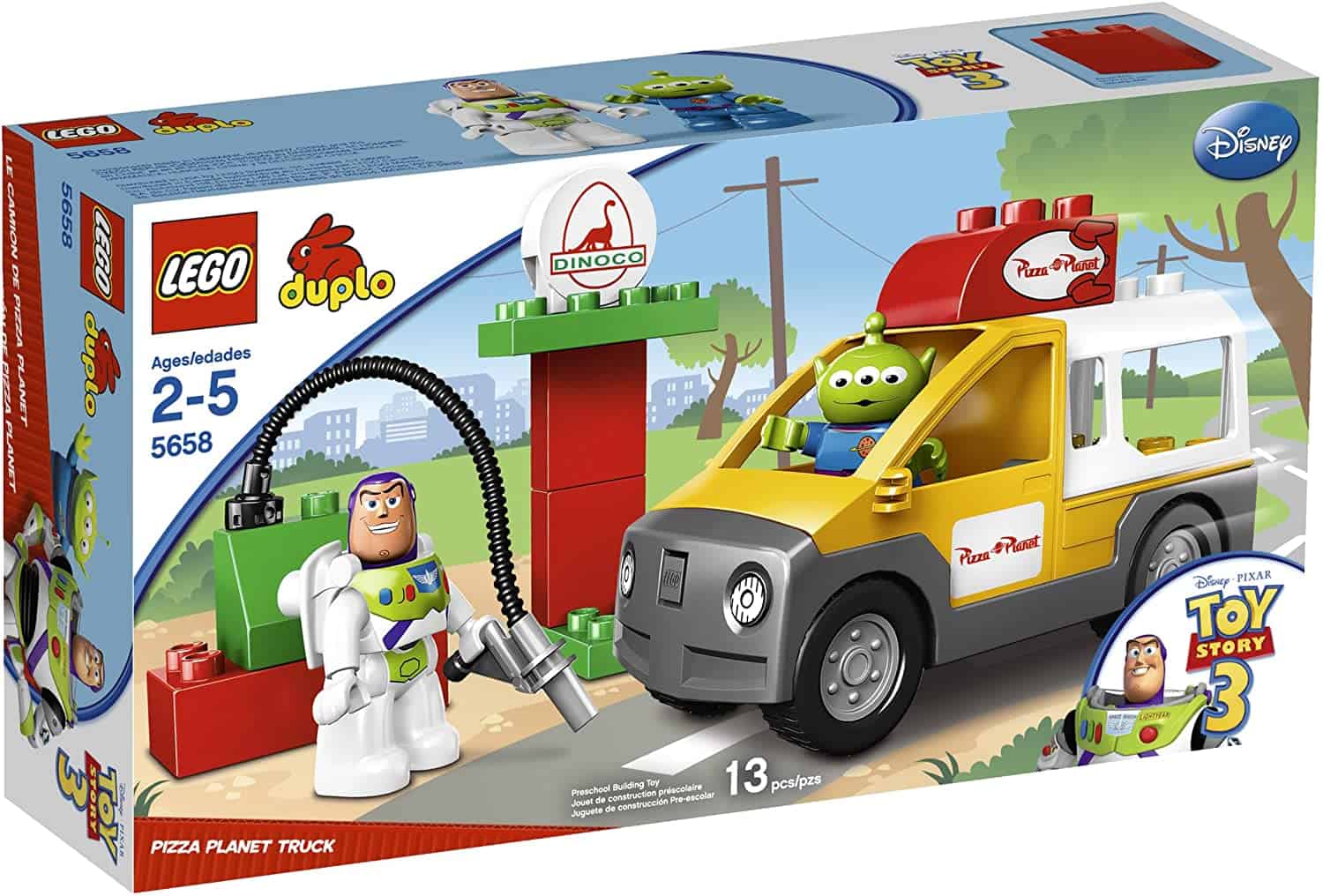 All sets inspired by Toy Story movies LEGO released since 2010 were designed for relatively inexperienced LEGO builders. Most of the early models were aimed at children aged five or older. However, the company also released several sets with Duplo bricks.
The Great Train Chase 5659, Space Crane 5691, or Pizza Planet Truck 5658 are some of the first Duplo sets based on a Toy Story movie. None of these models required previous set-building experience. The models with LEGO System bricks were also easy to build as they didn't contain complex elements.
Tot Story sets released in 2019 were designed for kids aged four or older, and the elements they contained were composed of Starter Bricks. The two active models from the BrickHeadz theme are made for kids older than ten, and they require some previous set-building experience.
Please read our article on the best LEGO Frozen sets for more information about sets inspired by these Disney movies.
Key factors to consider while choosing a LEGO Toy Story set
Set's release date: This is one of the essential factors you'll have to take into account during the selection process because most LEGO Toy Story sets are retired. Keep in mind that the prices of these sets often depend on when they were released.
Minifigures and accessories: These two factors can help you determine how entertaining a LEGO Toy Story set is. Models that come with a handful of accessories and Minifigures offer a limited range of playing options.
Set's condition: Taking the time to check if the set you'd like to purchase is new and in good condition can help you reduce the chances of overspending on a used or damaged Toy Story set.
Price range: Early Toy Story models can cost more than $200, even though they contain a few hundred pieces. On the other hand, most sets based on the Toy Story 4 movie are priced below $50.
Set's compatibility: You can combine sets based on Toy Story 3 and Toy Story 4 movies to extend their range of playing options. However, pairing them with other sets from the Disney theme can be difficult.
Top 9 LEGO Toy Story sets
Woody & RC 10766
A small set like Woody & RC 10766 can help young Toy Story fans develop set-building skills. This model is designed for children aged four or older, and it has just 69 pieces. The RC car has a Starter Brick base, and assembling it takes less than ten minutes.
The set also contains six display bricks, three buildable traffic cone elements, remote control for the RC car, and three green army men figures. Woody Minifigure is the only Minifigure included in this set.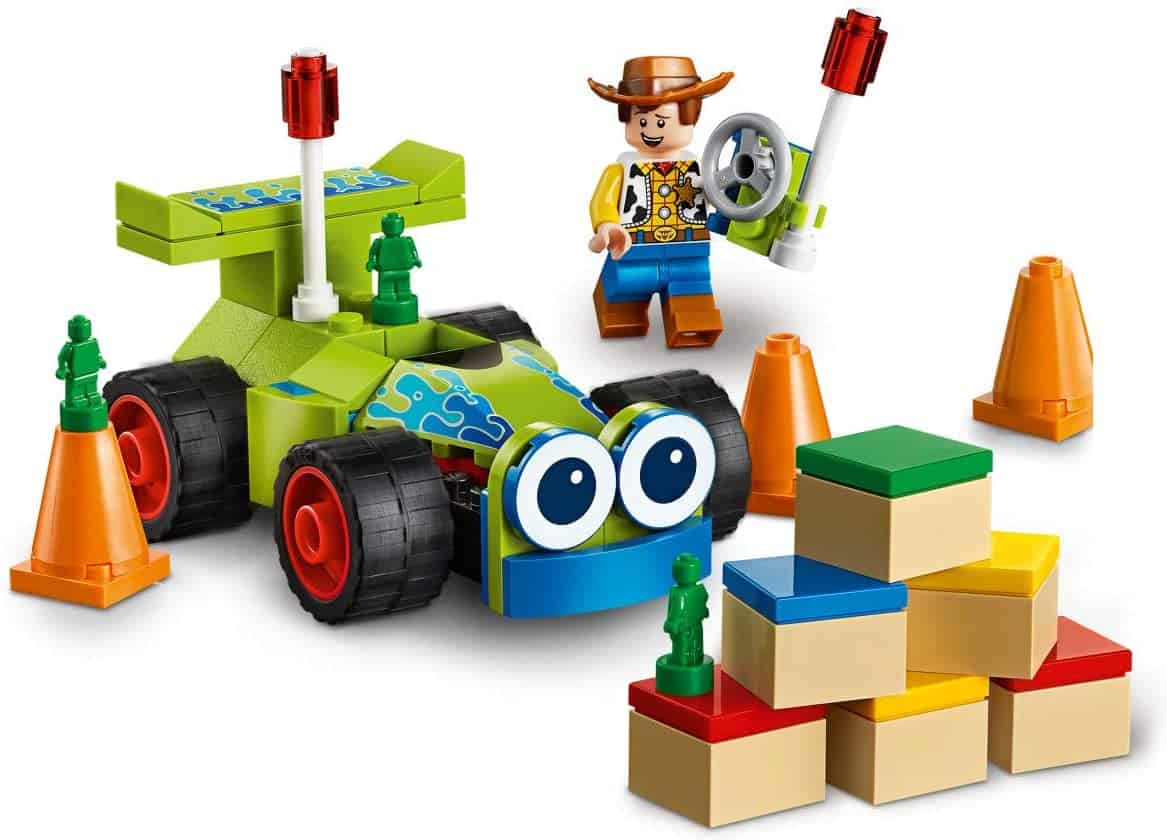 Pros
Informative and simple building instructions
It helps children obtain basic set-building skills
The RC car has a cabin for the Woody Minifigure
It's easily portable
Cons
The set has one Minifigure
It doesn't offer a lot of play options
Duke Caboom's Stunt Show 10767
Despite having just 120 pieces, Duke Caboom's Stunt Show 10767 can provide kids with hours of active play. This 2019 model comes with two Starter Brick plates that make constructing the ramp and adjustable fire ring elements faster and easier.
The set features two cars and a motorcycle that allows kids to perform different stunts with Duke Caboom and Woody Minifigures. Stunt signs, stackable cans, or capes for Minifigures are among the accessories that make playing with this set even more entertaining.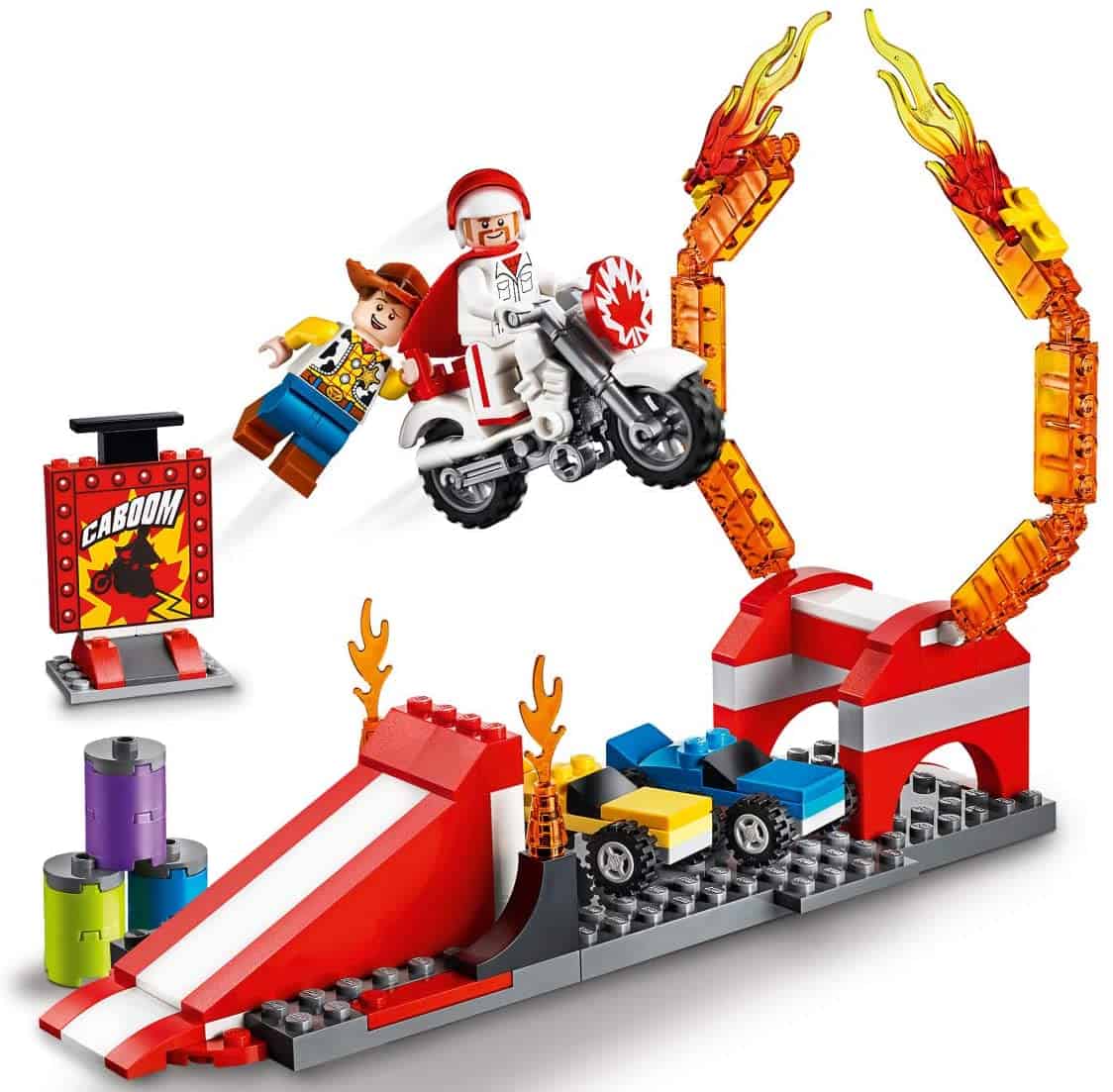 Pros
It offers excellent value for money.
This set is easy to find even though it's discontinued
It has a variety of fun accessories
It's compatible with other Toy Story sets
Cons
Cars and motorcycles don't have the roll-back function
This set contains a lot of tiny pieces
See also: Best LEGO Jurassic World Sets
Woody and Bo Peep 40553
Like all sets published within the BrickHeadz theme, the Woody and Bo Peep 40553 set offers a limited range of play options as it allows LEGO builders to construct display models of these two characters. In addition, both figures are tiny as they're less than five inches tall and two inches wide.
The Woody figure has the recognizable cowboy outfit and the lasso accessory, while the Bo Peep figure has a hair bow and a shepherd's crook. However, the set doesn't contain other accessories.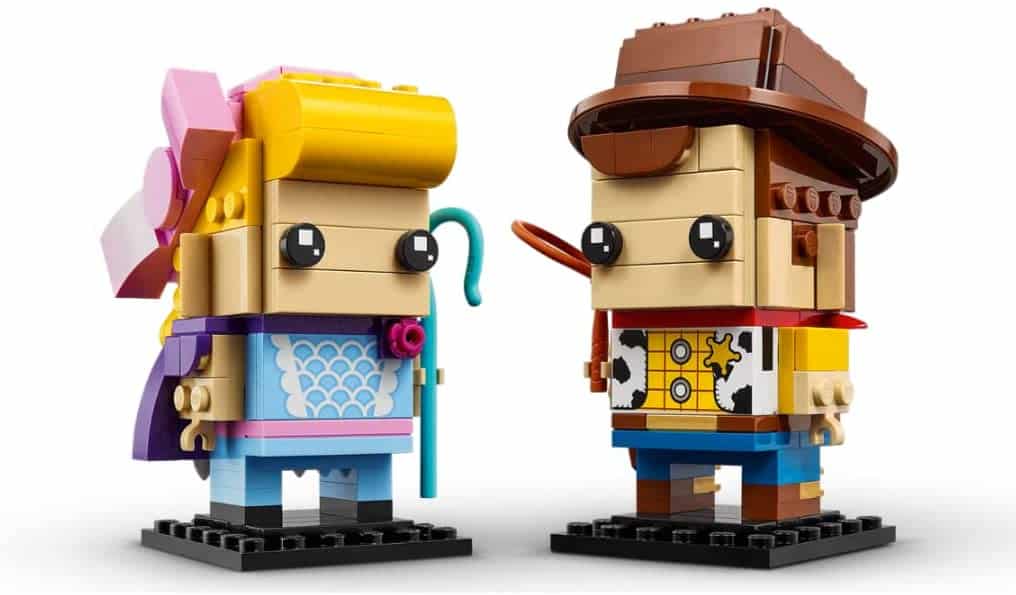 Pros
Display plates for both figures are included in the set
This model was released recently
Both figures have authentic details
An excellent gift for a Toy Story fan
Cons
The assembly process can be too difficult for children under ten
Some online retailers offer this set at high prices
Buzz Lightyear 40552
You can combine the Buzz Lightyear 40552 set with the Woody and Bo Peep 40553 to create a small collection of Toy Story characters. The display figure of Buzz Lightyear is 3 inches tall and 3.5 inches wide, so it won't occupy a lot of space on your LEGO display shelf.
The fully assembled model has wings and a printed command board tile on its torso. The set features a display baseplate for the figure, but it doesn't have accessories or other Toy Story-themed elements.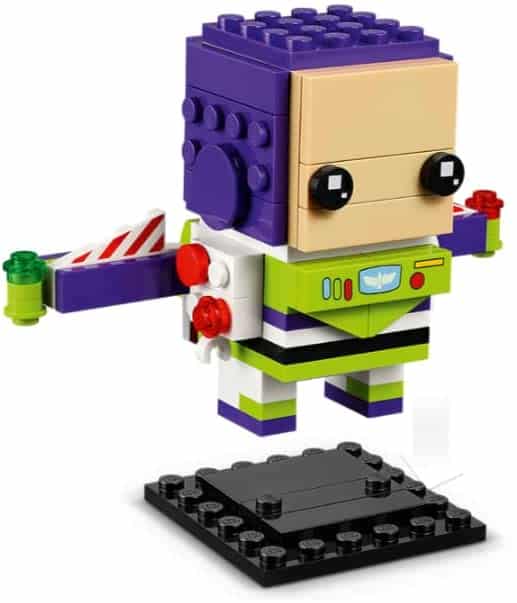 Pros
Excellent addition to a LEGO Toy Story figure collection
Detailed building instructions
It's compatible with sets from the BrickHeadz theme
Cons
Low piece count
This set doesn't have accessories
Carnival Thrill Coaster 10771
Preschoolers won't need a lot of time to assemble the Carnival Thrill Coaster 10771 set, which enables them to focus on exploring the play options it offers. This model has a roller coaster element that contains six-track pieces, while the car has three separate sections.
The entrance arc has a spinning turnstile. This element is decorated with flags and rainbow prints. A surveillance camera, ice cream wagon, pizza, or balloons are some of the accessories that come with this set.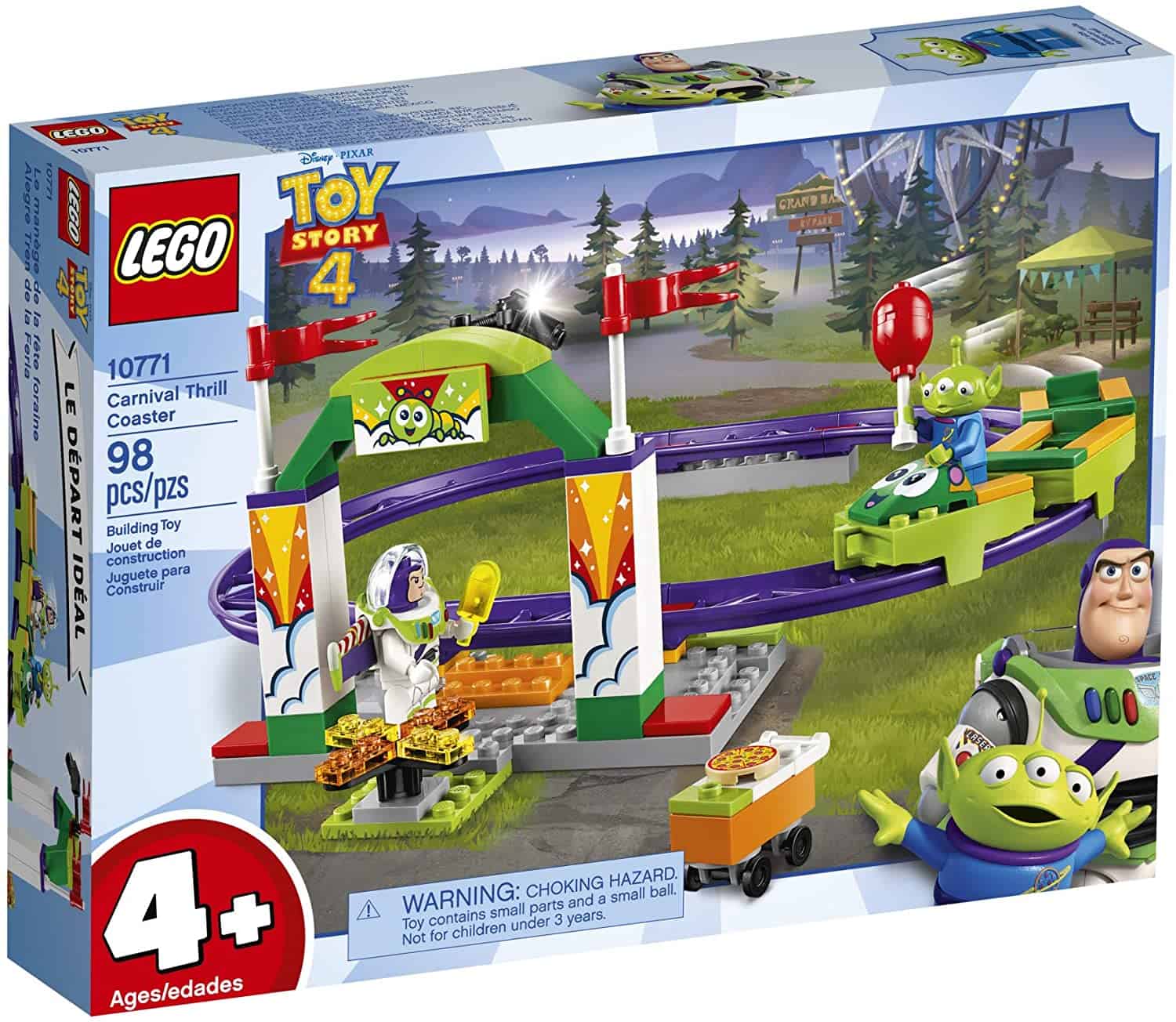 Pros
Buzz Lightyear and Alien Minifigures are included in the set
It features a Starter Brick baseplate
Fun and easy construction process
It encourages active play
Cons
Tracks aren't compatible with tracks featured in other LEGO sets
All elements are tiny
Buzz Lightyear & Woody's Carnival Mania! 10770
Even though LEGO retired this set more than a year ago, the Buzz Lightyear and Woody's Carnival Mania! 10770 is still one of the best LEGO Toy Story sets. The set has a carnival shooting game element equipped with a Star Adventurer sign and four target pieces.
Kids can use the cannon accessory to fire studs and knock over the targets. The Terrorantulus ride has four adjustable arms that are large enough to accommodate a Woody, Bo Peep, or Buzz Lightyear Minifigure.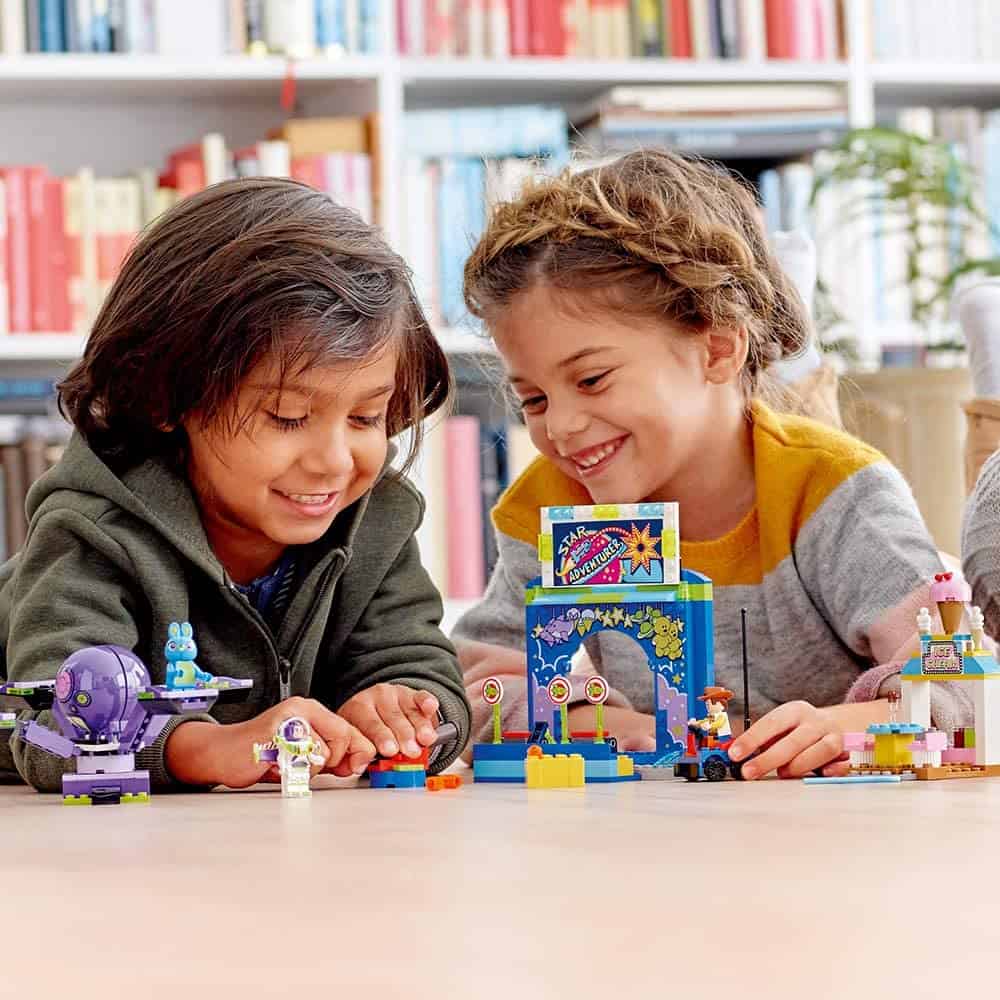 Pros
This set has two 1-inch long bumper cars
The ice cream element has a table and two benches
The set features Bunny and Ducky figures
It contains Starter Bricks
Cons
It's more expensive than active Toy Story sets
Toy Story Train 10894
The Toy Story Train 10894 is one of the best options you have at your disposal if you're looking for a Toy Story set with Duplo bricks. This model can help you introduce a toddler to LEGO without worrying about the potential hazards of standard LEGO bricks.
The steam train toy has a locomotive and a single wagon. The roofs on both elements are removable so that children can access their interior. Bank vault, 'money' bricks, dynamite, and other accessories extend the range of play scenarios kids can develop.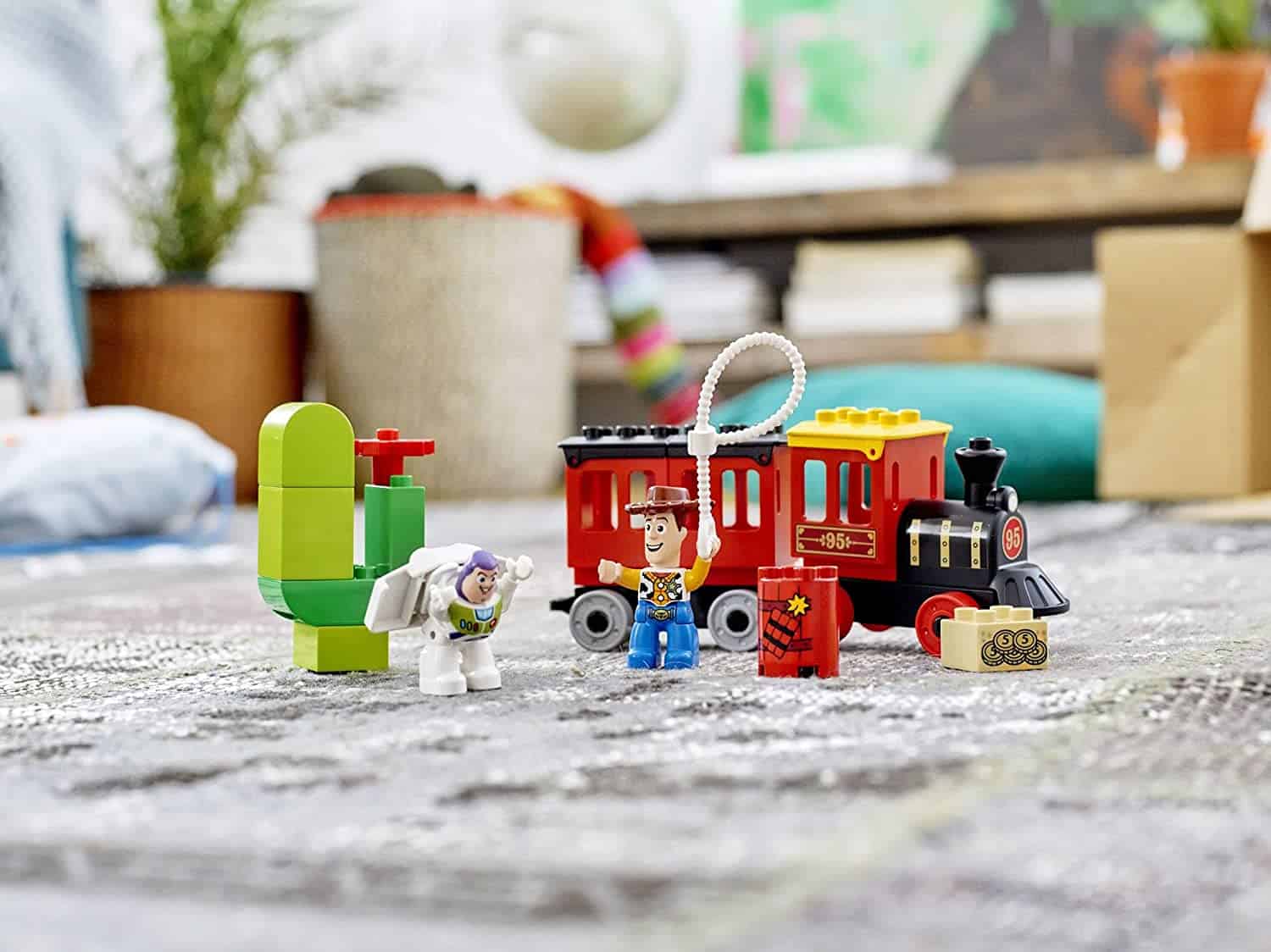 Pros
It features Woody and Buzz Lightyear Minifigures
The steam train has a removable roof
The cactus element is included in the set
All elements are small and portable
Cons
This set has 21 pieces
The train toy isn't compatible with Duplo train tracks
Buzz & Bo Peep's Playground Adventure 10768
Young Toy Story fans will love playing with Buzz & Bo Peep's Playground Adventure 10768 because it allows them to develop a variety of scenarios. The two-story playhouse has a bubble wind stand, bridge, climbing wall, kitchen, and slide elements.
Moreover, the set features merry-go-round and skunk-mobile toys that can be used with Gabby Gabby, Bo Peep, or Buzz Lightyear Minifigures. Removable bushes, frying pan, or shepherd crook are among the accessories featured in the set.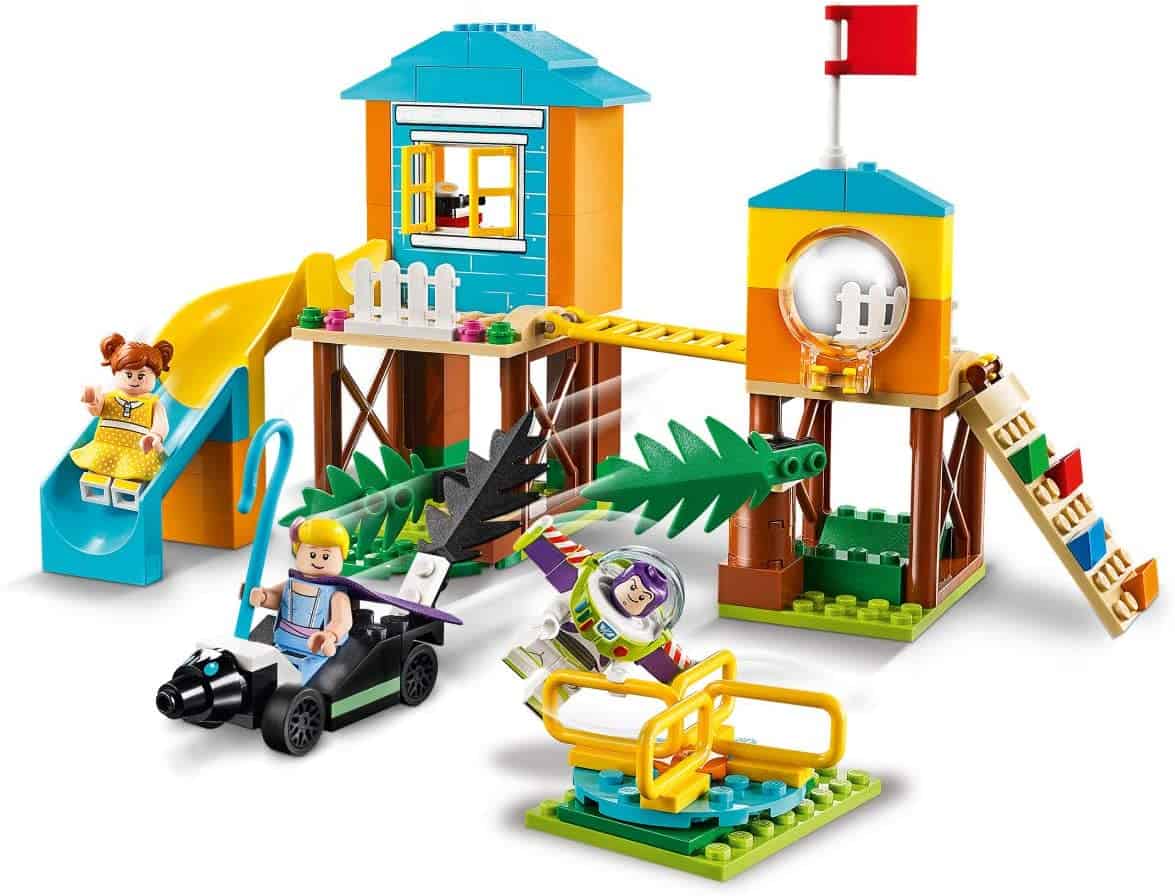 Pros
This set has three Minifigures
It contains extra pieces
The playhouse is six inches tall
The set comes with fun accessories
Cons
RV Vacation 10769
The RV Vacation 10769 set takes children on a camping adventure with their favorite Toy Story characters. The RV toy has a bed, sink, and toilet, and children can remove its roof to access these amenities.
The set contains the park gate with a barrier and a large sign element. It also features a park building segment equipped with a grill, picnic table, and decorative trees. Besides Jessie and Alien Minifigures, the Forky and Rex figures are also included in the RV Vacation set.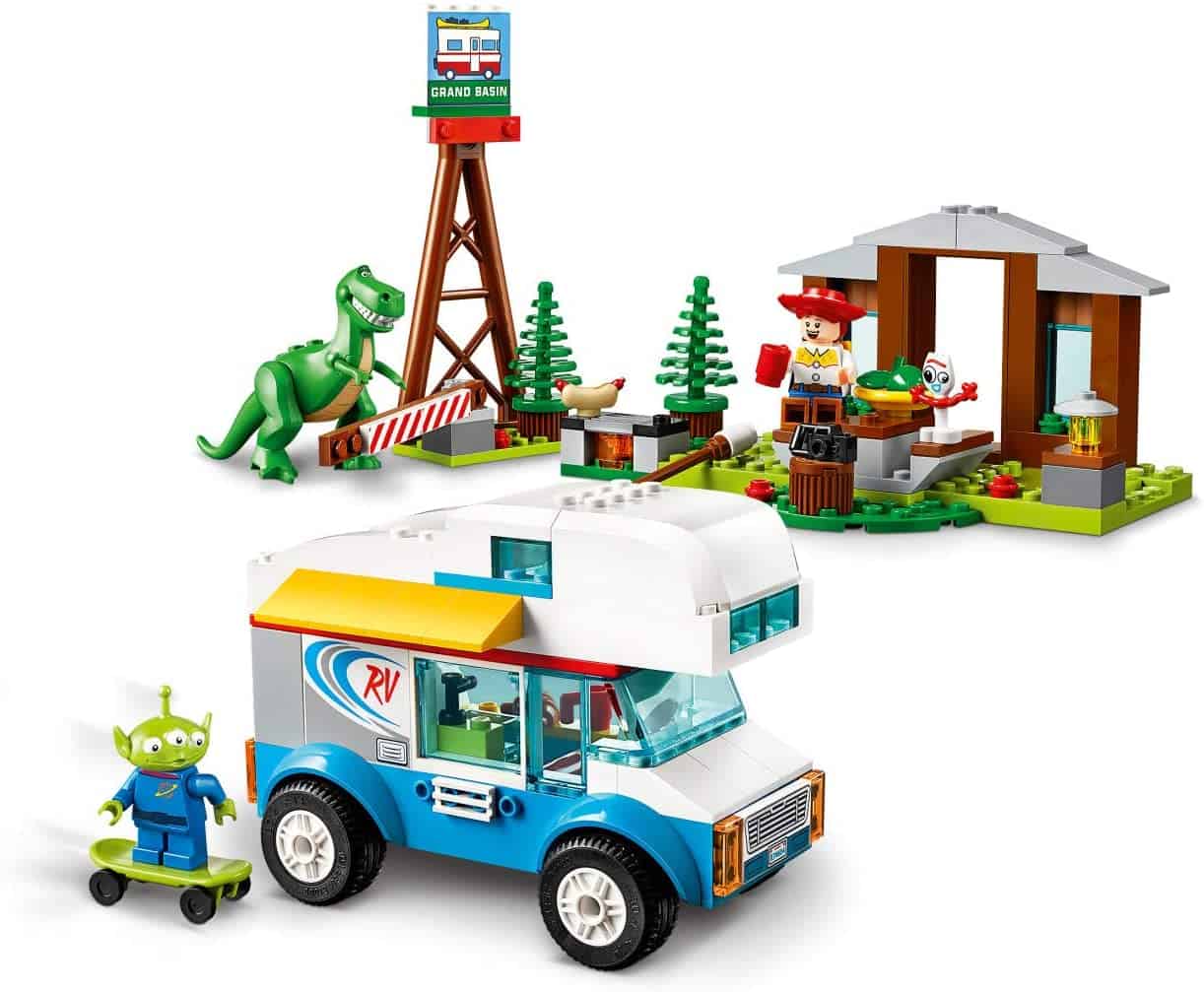 Pros
This set has a lot of accessories.
Children can invent different camping-themed scenarios.
The RV toy has a rich interior.
Building instructions are available in the digital format
Cons
It's not a great fit for experienced LEGO builders
Frequently asked questions about LEGO Toy Story sets
Question: Does LEGO produce Toy Story sets for adults?
Answer: None of the LEGO sets based on these Pixar movies released to date were designed for adult audiences.
Question: What's the biggest LEGO Toy Story set?
Question: Where to find spare parts for a LEGO Toy Story set?
Answer: Ordering replacement pieces for these sets from the manufacturer isn't always possible, and you should try looking for a specific part at online LEGO marketplaces.
My verdict: How to pick the best LEGO Toy Story set?
It's unclear if or when LEGO is going to release new Toy Story sets. The company currently offers just two active sets based on characters from this movie. Moreover, all sets inspired by the movie's fourth sequel are discontinued, and you can only find them at online stores.
I recommend opting for an active set like the Woody and Bo Peep 40553 because it's more affordable than most retired models. However, this set contains display figures of two Toy Story characters, and it isn't designed as a playset.
You should consider the Buzz Lightyear & Woody's Carnival Mania! 10770 or Buzz & Bo Peep's Playground Adventure 10768 sets even though they're retired if you're searching for a Toy Story model that lets children develop a broad spectrum of play scenarios.
Which LEGO Toy Story set are you going to choose? Let me know in the comments or continue reading our guide to the best LEGO Ferrari sets to learn more about LEGO sets based on these luxury sports cars.
Recommended Reads: