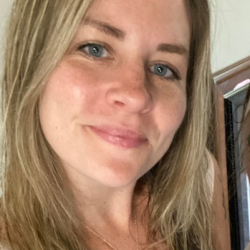 Latest posts by Thea Engst
(see all)
One of the most breathtaking and interesting creations from LEGO has got to be their new Botanical Collection. This concept of LEGO was first released in January of 2021 and features sets that truly bring the amazing versatility of LEGO bricks home by depicting flowers and plants.
When I first saw a LEGO Botanical set, my mind was totally blown. Here was something that I had seen very similar sets to on television or in stores, nothing I thought I could bring home and recreate myself.
Everything I'd seen that was so delicate, so just not resembling a brick was created by LEGO masters, people who really knew what they were doing.
People who could make bricks magically look like things like smooth leaves, rounded corners, and bugs! So when the LEGO Botanical Collection hit shelves, I was intrigued and excited.
Let's talk more about the three most prominent LEGO Botanical sets, where they succeed, where they fall short, and whether or not they're worth buying.
Bottom Line Up Front
The LEGO Botanical Collection is a really cool, new and exciting collection from LEGO that has a lot to love already and a few things to improve upon. I believe that the set worth your money right now is the LEGO Bonsai Tree for its cost ($49.99), its build, and its final appearance.
What is the LEGO Botanical Collection?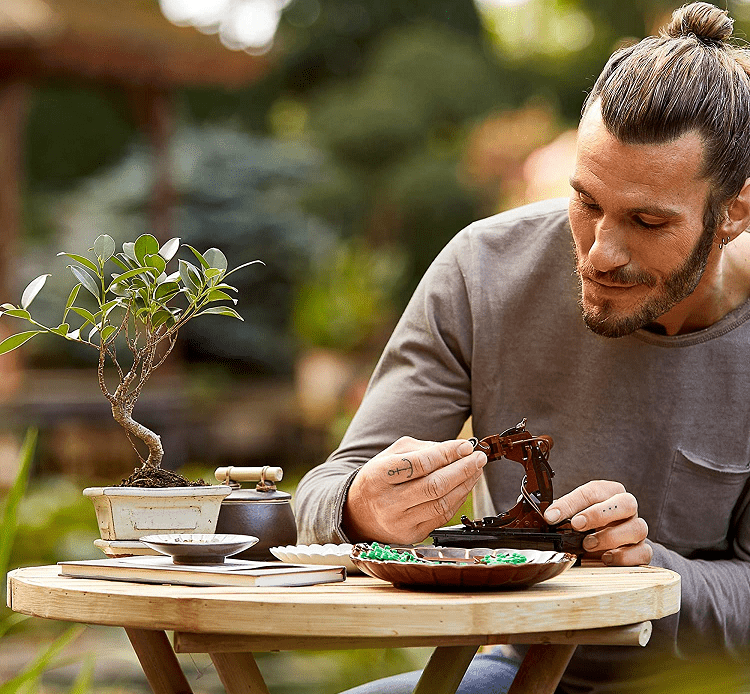 Let's start with the definition of the LEGO Botanical Collection. It is sets (as of now) depicting flowers and plant life. The most prominent three are the Bird of Paradise plant, the LEGO Flower Bouquet, and the LEGO Bonsai Tree. While these are the three main sets, you can get smaller packages of roses, tulips, and sunflowers to make your own bouquet, or add to the Flower Bouquet set if you'd like.
This collection is one-hundred percent aimed at adults. These sets are not only fun, three-dimensional puzzles, they're gorgeous display pieces for a mature home. I've even seen the Bird of Paradise set on display in a swanky farm-to-table restaurant's bathroom!
LEGO went nuts when introducing this collection. They even have a white noise playlist which consists of the noises that go along with building a LEGO.
This, along with the target audience of being people over the age of eighteen, is a clear indication of the older LEGO builder customer base who are looking for calming puzzles and build-to-display LEGOs.
See also: Ultimate Guide to the Best LEGO Merch
The LEGO Flower Bouquet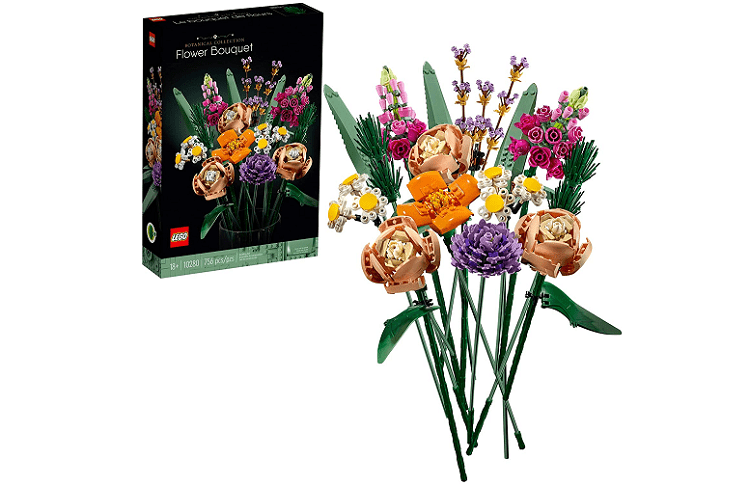 The LEGO Flower Bouquet was released on January 1st, 2021. It was one of the first LEGO Botanical Collection sets, being released alongside the Bonsai Tree. The Flower Bouquet is for ages eighteen and up and amounts to 756. It is $49.99 and is a high-demand item, currently out of stock.
The release of this set alongside the Bonsai Tree really rocked LEGO, it is truly unlike anything they'd done before.
The stems are all really cool and flexible, and one of the roses even has thorns. The creative expression of the different flowers is amazing, from the layers of purple of the lavender to the fluctuating colors of the snapdragon.
The stand-out in this bouquet for me has to be the lavender, I love the way the shoots are done, it's very clear what flower the LEGO bricks are portraying. Although I will say that the way the roses' petals open up is really amazing, though I wish the roses were either red or a different, brighter color.
The fleshy pink color that was chosen just doesn't hit the way roses should. But speaking of colors that hit, the orange of the California poppy is amazing, this flower is really well done though simple.
And while the Purple Astor has these amazing layers of alternating single and double leaves that have a gorgeous texture, the simplicity of the daisies is hard to not love.
LEGO did exclude one flower per daisy bunch, which is strange. They explain it has yet to bud, but there is no bud at all, making the shoot appear like a dead branch, not something about to burst with life.
LEGO didn't just include flowers in this set, they added a sort of thistle-looking green shoot with a green leaf to help accent the floral arrangement, just like a regular florist would. Overall, the color scheme is great, even though I do wish the roses were brighter!
The pieces are large LEGO Technic so they're slim and bendy with hinges for mobility. Overall, this set is really something to see and when it was released only about a year ago, it changed the LEGO scene if ever so slightly.
Perhaps the biggest complaint with this set is that it does not come with a buildable vase.
When you look at completed versions of this you see most often people putting them in a glass vase they already had, supported by spare LEGO bricks they either already had or had to go buy, or even using other LEGO pieces to create their own vase.
So imagine purchasing and putting this set together, only to complete it and have a literal pile of LEGO flowers. Part of the magic of LEGO is standing back and admiring what you've built. After completing this set, you need to go find a vase.
Pro and Cons of The LEGO Flower Bouquet
Pros
This is a great price for a really unique LEGO set. ($49.99)
The petals of the roses are able to peel back as if it's wilting.
The flowers and green shoots together in a vase are crazy cool to see.
When fully constructed and placed in a vase, this is just plain really gorgeous.
Cons
This doesn't include a vase, so when you are done you just have a pile of LEGOs.
I wish the roses were a brighter color.
The daisies are adorable but the missing flower looks like a dead branch, not something about to grow as LEGO intended.
Temporarily out of stock.
The LEGO Bird of Paradise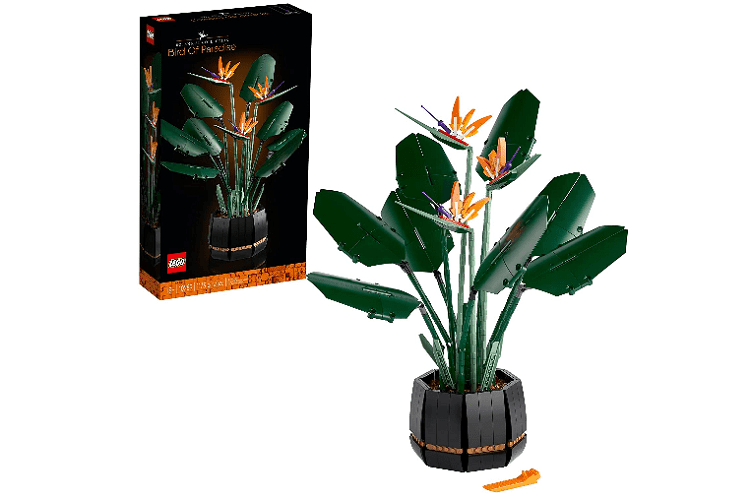 The Bird of Paradise is the newest edition of the Botanical Collection, joining the LEGO portfolio in August of 2021. Ringing in at $99.99, it is also the most expensive of the three sets on this list.
This set is aimed at ages eighteen and up and comes in at 1,173 pieces. Based on the real plant, this set aims to recreate one of Mother Nature's most iconic creations.
The focus of this set consists of stems with leaves and three stems with flowers on top. All of the leaves and flowers are moveable, so you can adjust the petals and angles daily if you want. The soil at the base is actually not clicked in, that's right, it's all loose, round bricks.
I have to say I'm not too wild about this feature, one of the things about LEGO is that it appears fluid without falling apart. If you were to bump into this set, the soil could fall out. A cat could put its paw in there and also remove some pieces.
Overall, it's a problematic feature and they could have made the soil appear like realistic soil while still having it lock in securely.
Another small detail that bothers me is that there are holes both in the bottom and on the top of the leaves. When moving the leaves, you will have to take into account that you can see the LEGO holes and not position the front-facing leaves upwards.
That doesn't bug me as much as the four holes per leaf which are visible on top. I don't see why LEGO didn't include some matching pegs that could plug those holes and add more realism to the set.
Unlike the Flower Bouquet set, the Birds of Paradise set has a buildable base. It is a sleek, modern, black flower pot with brown detailing along the bottom. The look is overall very simple and almost Art Deco. It could match a lot of decors, which I really like.
Once the set is complete, the finished product is really something to behold. The bird-looking flowers are very accurate depictions (there are three of them) and their petals can be moved.
What I do love about the movement of the piece is that like a real plant, especially the plant it is meant to recreate, this moves in the wind. That's right, put this by a window and make your guests do a double-take when they see your beautiful new LEGO set (or is it a new plant?)
The set measures just over eighteen inches high at the tallest point and the flowerpot is over just over five inches in diameter. This won't take up any more space than a regular houseplant and it won't require water either! Hard to argue with that!
Pros and Cons of the LEGO Bird of Paradise Set
Pros
This set is really cool when completed and looks just like the real deal Birds of Paradise plant.
I love that this set has movable pieces, making it possible to change the petal and leaf positions daily.
I am obsessed with the fact that this set moves in a breeze, just like a real Bird of Paradise.
Unlike the Flower Bouquet, this set has a buildable flowerpot that is sleek and easy to match with various decors.
Cons
I hate that the leaves have visible holes on top, and that overshadows that I hate how the underside of the leaves also has visible holes in them.
I don't like that LEGO chose to leave the soil loose. While I understand this makes it more like a real plant, it makes it less like a LEGO.
The LEGO Bonsai Tree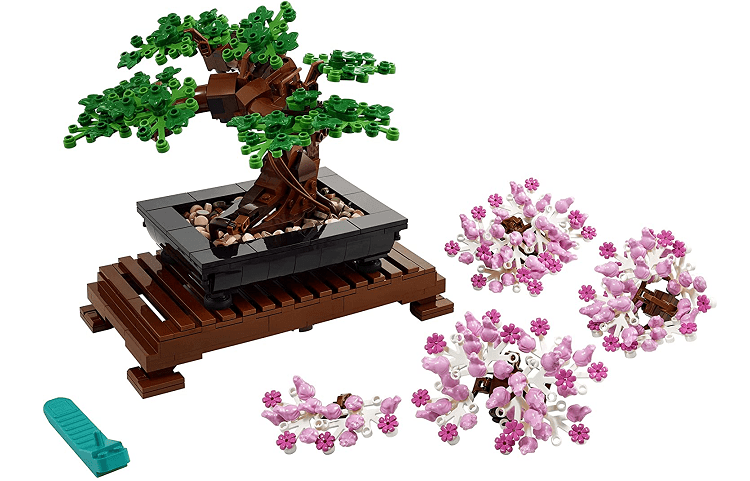 Released at the same time as the Flower Bouquet in January 2021, the LEGO Bonsai Tree is more similar to the Birds of Paradise in that when it is completed, it is fully completed. The Bonsai Tree has its own pot and a stand and seeing it on display could fully trick someone into thinking it is real.
Aimed at ages eighteen and up, this 878 piece set is currently on backorder for a sixty-day wait. But is it worth the wait?
The tree sits on a brown wood-imitation platform with simple, sleek planks across which the actual black pot for the tree rests. The black flowerpot does not click on top of the brown platform mind you, it just rests on it. These two items are simple and very handsome, well-constructed and conceived.
Inside the flowerpot is more of those loose bricks like in the Birds of Paradise set, representing the pebbles in a Bonsai Tree. While you do take the time to click some of these together, they are not clicked into the actual flowerpot.
This makes them annoying to me in the same way they annoyed me in the Birds of Paradise. Why did LEGO make this choice? Especially when so many Bonsai Trees have their rocks and pebbles glued in? Why, LEGO, why?
Moving up, the tree trunk is really cool with a nice curve imitating a real Bonsai Tree very accurately.
It has a couple of vines wrapped around it that are unexpected and really visually pleasing, combined with the variation of browns to add color and texture, this could have been a place for LEGO to be lazy, and LEGO just was not. Well done, LEGO!
Finally, we get to the top of the tree, which has the really cool option of being either green leaves or bright pink flowers like a cherry blossom tree. The green bricks of the leaves are different shades of green, but it isn't super visible once constructed.
The pink cherry blossom-looking blooms are really cool with light and bright pink bricks accented by white bricks.
The change between these two options is stark and builders can actually build out the branches and have them on hand, so rather than changing each and every bud, the builder can just click in and out a few branches and have a totally different looking display.
Overall, this is a very accurate portrayal of a Bonsai Tree when green. I haven't seen any cherry blossom or pink Bonsai Trees so I can't say that that option is very realistic, but it is regardless, very pretty.
Pros and Cons of the LEGO Bonsai Tree Set
Pros
This is a great price, ringing in at only $49.99.
Easily interchangeable blossoms versus green leaves options.
Really cool tree trunk with color variation and vines added.
I love the way the trunk curves, it really sends the Bonsai Tree illusion.
The brown 'wooden' stand is an excellent touch and detail true to the Bonsai Tree aesthetic.
This could go anywhere in a home that a real Bonsai Tree would go.
Cons
Loose bricks are used as pebbles or rocks in the flowerpot. I feel like this is lazy on LEGO's part.
On backorder for sixty days right now.
FAQs About the LEGO Botanical Collection
Question: Do you Think that LEGO will Continue to Expand the Botanical Collection?
Answer: I do. I think that LEGO is tapping into a really cool market with this collection and the more they make, the better this stunning concept will be.
Question: Do You Think the Birds of Paradise is Worth Twice as Much Money as the Flower Bouquet and Bonsai Tree?
Answer: I do think that the Birds of Paradise is worth more than both of these sets because it is technically larger. If you're deciding between the Birds of Paradise and Bonsai Tree, I would recommend starting with the Bonsai Tree to see how you feel about it. It's smaller and simpler, and less money.
Question: Why do you Dislike the Loose Bricks in the Flowerpots so Much?
Answer: One of the things I love about LEGO and the skilled designers that create these amazing sets is their ability to make bricks look fluid and to create movement with unlikely shapes. I feel like tossing loose bricks on top of a build is lazy on their part.
I feel as though it's especially a missed opportunity with their Bonsai Tree because Bonsai Trees often have the pebbles and rocks on top glued down. By making them loose, this is less like real life.
Question: What's Your Problem with the Flower Bouquet?
Answer: Quite simply, it's the lack of a vase. I really feel like LEGO phoned it in without the vase, which could've easily been constructed with a few more pieces and possibly a slight price increase. Personally, I'd rather build a vase and pay a few extra dollars for it.
Final Thoughts on the LEGO Botanical Collection
While I do think there are opportunities for LEGO to improve this collection, I would personally be very excited if LEGO continued to expand on this concept. I think it's really amazing that they are trying to recreate Mother Nature's creations, not just creations from the human brain.
I love that this collection offers fresh challenges not only for the designers but for the builders. The Botanical Collection is really unlike any other collection that LEGO has done before and I'm personally very excited to see what they come up with next.
Recommended Reads: