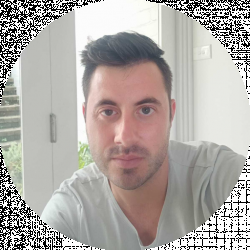 Latest posts by David Borgogni
(see all)
Toy vehicles have been an integral part of LEGO Technic and LEGO City themes for decades, but models from these themes rarely featured cars produced by industry-leading brands. The best LEGO Speed Champions allow builders to construct models of some of the most iconic vehicles ever created.
Speed Champions theme was introduced in 2015, and it is one of the most recent additions to the brand's product portfolio. Despite this, LEGO has already released more than fifty sets within this theme. Nonetheless, most models are discontinued, and currently, this theme features just 14 active sets.
In this article, I'll walk you through the entire process of choosing the best LEGO Speed Champions set, and I'll recommend several models you might like. Please read our guide to the best LEGO Porsche sets to learn more about sets inspired by vehicles produced by this German automaker.
At a Glance – The 5 Best LEGO Speed Champion Sets
Bottom Line Up Front
In my opinion, the Toyota GR Supra 76901 is the best LEGO Champions set for both young and adult sports cars fans. The incredibly detailed replica of this iconic Toyota model can be used as a toy car or a display piece in your collection of LEGO vehicles.
Selection Criteria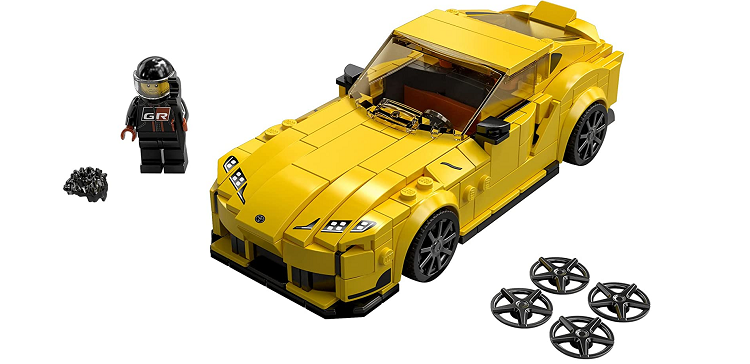 This theme features just 14 active sets with similar characteristics, including the five models scheduled for release in March 2022.
Hence, the range of options you'll have at your disposal will be somewhat limited since LEGO currently doesn't offer sets inspired by Audi, Mercedes, or Bugatti cars within this theme. You'll have to consider models published in other LEGO themes if you'd like to build replicas of vehicles manufactured by these brands.
I utilized just a few parameters while selecting the Speed Champion sets included in this article, so let's take a look at the most important ones.
Set size – I used this parameter to pick the sets suitable for builders with different levels of experience so that you can choose the option that best fits your set-building skills.
Vehicle model – Sets I included in the final selection let you build replicas of racecars, Formula 1 cars, or vintage cars produced by different manufacturers.
Please go through our guide to the best LEGO Corvette sets for more information about sets inspired by Chevrolet Corvette models.
Overview of the Speed Champions Theme
At the beginning of 2015, the LEGO Group announced a partnership with McLaren, Porsche, and Ferrari brands, and in March of the same year, the brand published first sets within the new Speed Champions theme. The company initially released three sets based on hypercars produced by these automakers.
McLaren P1 75909, Ferrari LaFerrari 75899, and Porsche 918 Spyder 75910 were among the first models published within this theme. LEGO published Speed Champions sets inspired by Chevrolet, Ford, Nissan, Jaguar, Audi, Lamborghini, Dodge, and Audi vehicles in the subsequent years.
In 2017, the Mercedes AMG Petronas Formula One Team 75883 and Scuderia Ferrari SF16-H 75876 became the first LEGO Speed Champions sets inspired by Formula 1 cars. Sets from this theme served as an inspiration for the expansion pack for the Forza Horizon 4 video game.
Check out our guide to the best LEGO sets under $50 to discover some of the best sets in this price range.
Latest LEGO Speed Champions Sets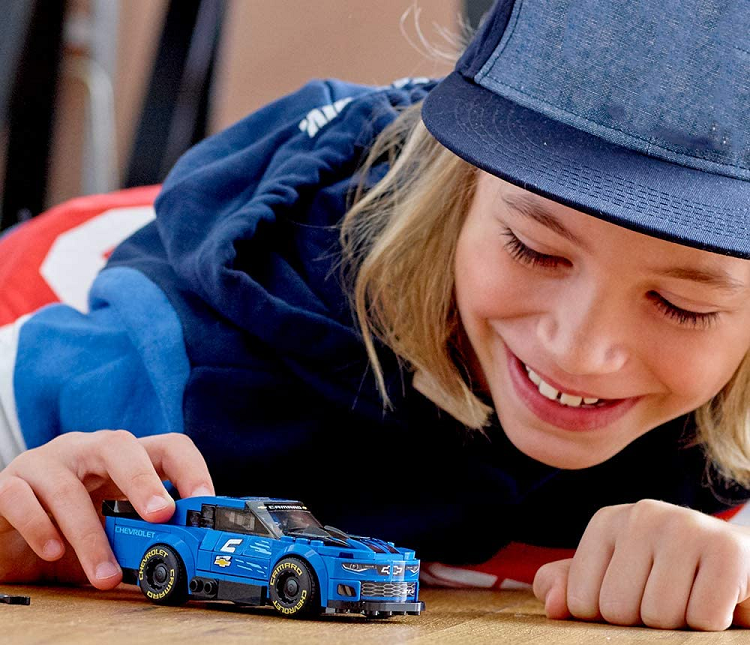 The release of Speed Champions sets was delayed in 2021, which raised concerns that LEGO might discontinue this theme. However, the company's representative stated in September 2021 that the Speed Champions theme will remain active until 2023 and possibly beyond.
A few months later, the company announced the release of five new models in March 2022. These sets are currently available for pre-order at the LEGO website, but at the moment, they are unavailable at LEGO-certified stores. The following Speed Champions sets are scheduled for release in early March 2022.
So far, LEGO hasn't announced plans to add more models to the Speed Champions theme by the end of the year. Please browse through our guide to the best LEGO trucks to learn more about LEGO sets inspired by different types of trucks.
Retired LEGO Speed Champions Sets
LEGO released new Speed Champions sets every year since introducing this theme in 2015. However, the average retail shelf life of these sets rarely exceeds 24 months, which is why most models published in the last seven years are retired.
Only a few sets released in 2020 and 2019 are still in production, while all other active sets within this theme were published in 2021. Despite this, many of the discontinued Speed Champion sets are relatively easy to find, so here are some of the best models you can still get in online stores.
Some of these sets are discontinued years ago, so finding a new and unused kit might be difficult. Please read our guide to the best LEGO monster trucks to explore sets that feature monster truck toys.
Essential Characteristics of LEGO Speed Champions Sets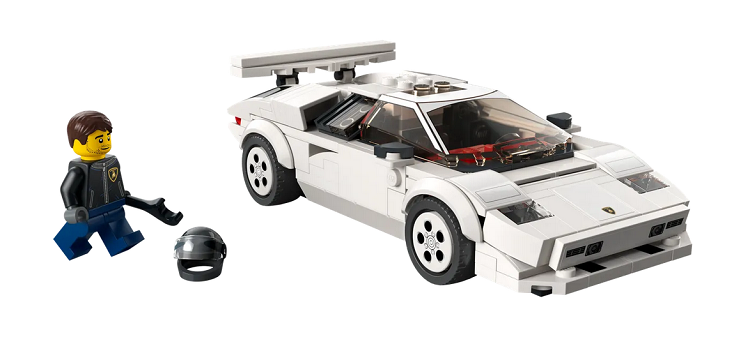 Most models released within this theme have the same characteristics. These sets usually contain one or two vehicles produced by the same automaker and the same number of driver minifigures equipped with helmets.
Wrenches, wheel trims, or road cones are some of the most frequently featured accessories in these sets, but models from this theme usually come with a handful of accessories. Elements such as racetracks, start lines, or garages aren't standard in all LEGO Speed Champions sets.
Vehicle models are relatively small, as they're between five and six inches long and 2 and 3 inches wide. The assembly process is straightforward, and it takes around thirty minutes to build a set from this theme.
Please go through our guide to the best LEGO display cases to find the best way to display the Speed Champions set you build.
The Key Factors to Consider while Choosing a LEGO Speed Champions Sets
It seems that 2022 is going to be an exciting year for fans of Speed Champion sets because LEGO already announced the release of five new models, and the company might add more products to this theme before the year is over.
However, this theme currently features just 14 sets, so choosing the model you like shouldn't take much of your time. I've shortlisted several factors that can help you decide which Speed Champion set is the right option for you, so let's take a closer look at them.
Vehicle Type and the Automaker
Vehicles made by McLaren, Jaguar, Porsche, or Toyota car brands served as inspiration for active Speed Champions sets. Furthermore, models based on Mercedes, Lamborghini, and Aston Martin vehicles should become available in March 2022.
Choosing one of these brands will help you narrow down your options to just a few sets. Speed Champions sets let you construct replicas of race cars, SUVs, or Formula 1 cars, so opting for a specific vehicle type will make the selection process easier.
Piece Count and Age Group
None of the Speed Champions sets LEGO released since the introduction of this theme had more than a thousand pieces. The Mercedes AMG Petronas Formula One Team 75883 is the biggest LEGO Speed Champion set to date, but even this model had just 941 pieces.
Six active sets in this theme have between 500 and 1000 pieces, and the Ford GT Heritage Edition and Bronco R 76905 is currently the largest set you can get. All sets in this theme are suitable for children.
Minifigures and Accessories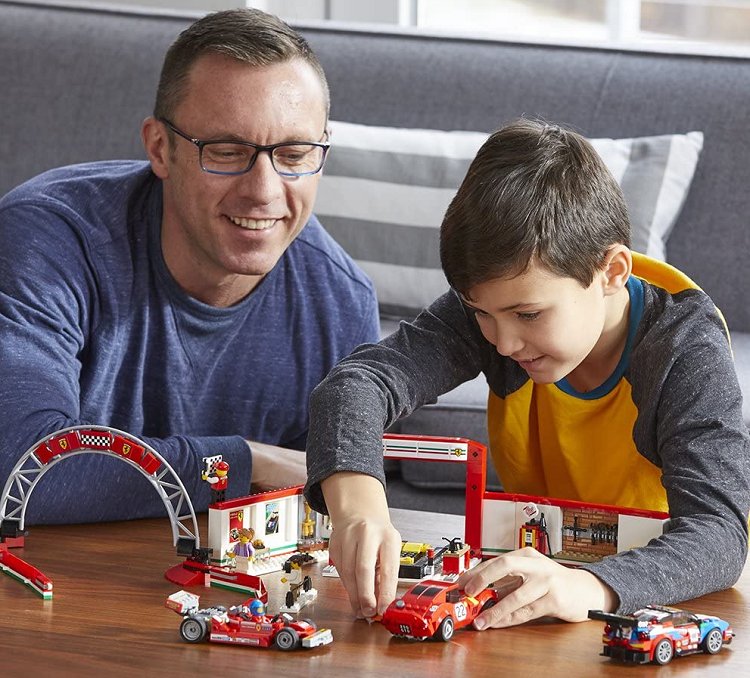 Sets from the Speed Champions theme don't contain a lot of accessories since most models come with spare wheel trims and helmets for minifigures. However, the exact number of accessories varies, as some models can feature tools, traffic cones, or racing flags.
The number of car driver minifigures depends on how many vehicles are included in the set, but in most cases, Speed Champions sets don't feature more than three minifigures.
Set's Availability
Even though they're still in production, active Speed Champions sets are often out of stock on the LEGO website. In addition, these models aren't always available in LEGO-certified stores, and you may have to search for the set you'd like to get online.
Online retailers often have retired sets in stock, but you need to make sure that the discontinued set you're interested in is new or in good condition.
Most online shoppers complain about receiving LEGO sets that don't have all pieces, so checking the retailer's credibility before buying a Speed Champions set is also advisable.
Price Considerations
None of the active sets in this theme costs more than $50, while more than half of the Speed Champions sets you can find on the LEGO website are priced below $25. Some retailers offer these sets at prices higher than those offered by the manufacturer.
Discontinued models are considerably more expensive than the active ones, and Speed Champions sets retired years ago can cost more than $400. Also, the price of these sets depends on their piece counts since even retired models with fewer than 200 pieces rarely cost more than $50.
The Advantages of LEGO Speed Champions Sets
Speed Champions Sets are Compatible with all LEGO Sets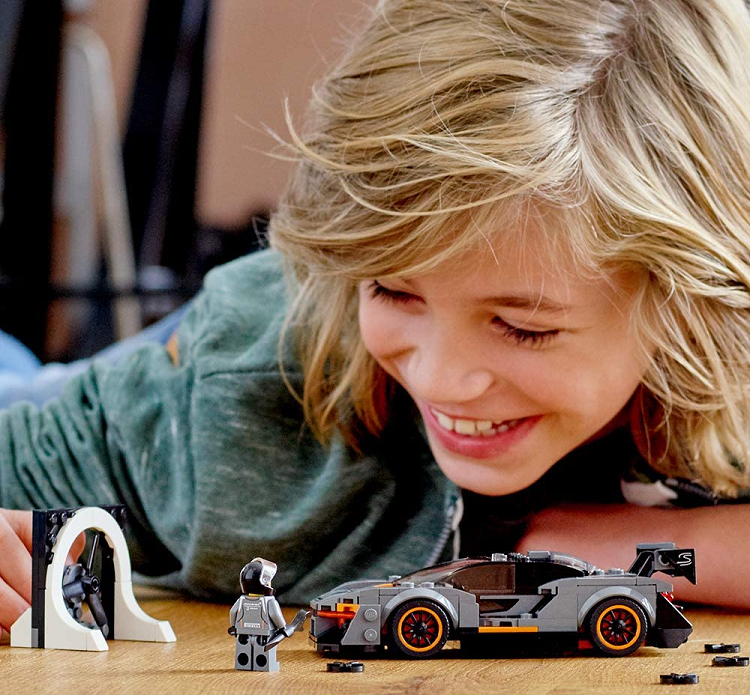 Besides combining multiple sets from the Speed Champions theme, you can also combine models from this theme with sets from other LEGO themes to extend their range of playing options.
Simple Assembly Process
Most models from this theme can be assembled in less than thirty minutes. Hence, Speed Champion sets are an excellent choice for LEGO builders that don't have a lot of experience but keep in mind that some models can be overwhelming for first-time builders.
Affordable Prices
You won't have to spend a small fortune on a LEGO Speed Champions set since most models in this theme cost less than $25. Moreover, these sets are often available at discounted prices, and you may be able to get them for 20% less than their market value.
The Disadvantages of LEGO Speed Champions Sets
Speed Champions Sets don't Have a Lot of Accessories
Aside from spare wheel trims and helmets, most sets from this theme don't contain other accessories. Hence, combining several models is often the only way to broaden the playing options these sets offer.
Top 5 LEGO Speed Champions Sets
McLaren Elva 76902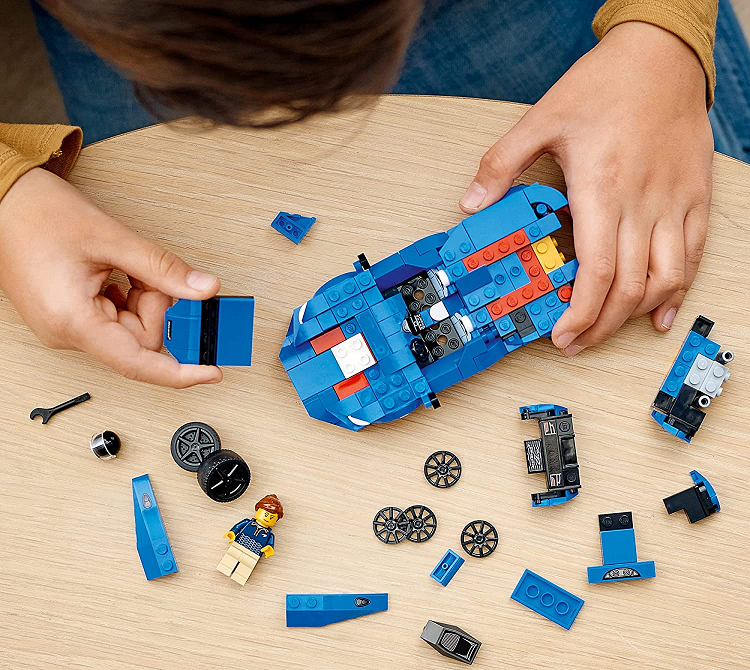 You won't need advanced set building skills to construct the McLaren Elva 76902 set. This model has just 263 pieces, and it comes with detailed building instructions that allow you to explore the properties of this luxury sports car.
The replica of the McLaren Elva is six inches long and three inches wide. It features an open cockpit with two seats, but the set comes with just one driver minifigure dressed in a race suit. The set features helmet and wrench accessories.
Pros
It's an excellent choice for first-time LEGO builders
The McLaren Elva replica has authentic details
Building instructions include information about the car's makeup
Affordable price
Cons
It has just a few accessories
The replica of McLaren Elva is six inches long
Formula E Panasonic Jaguar Racing GEN2 Car and Jaguar I-PACE eTROPHY 76898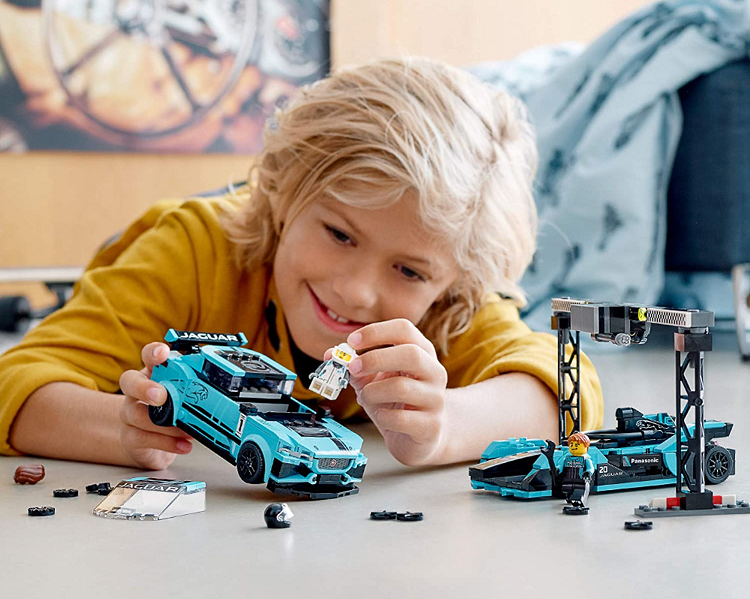 Even though it was released in 2020, the Formula E Panasonic Jaguar Racing GEN2 Car and Jaguar I-PACE eTROPHY 76898 is still one of the best Speed Champions sets. It is also the first set in this theme to feature replicas of two electric cars.
Besides beautiful Jaguar Formula E cars models, this set also features the pieces you need to build the startline element equipped with lights. However, this set doesn't include accessories kids can use while staging races of these Jaguar cars.
Pros
This set is fun
Minifigures can fit in cockpits of both cars
Wrench accessory lets kids fix cars quickly during races
Startline element features lights
Cons
Cars can't be controlled remotely
Placing stickers on car models is time-consuming
1974 Porsche 911 Turbo 3.0 75895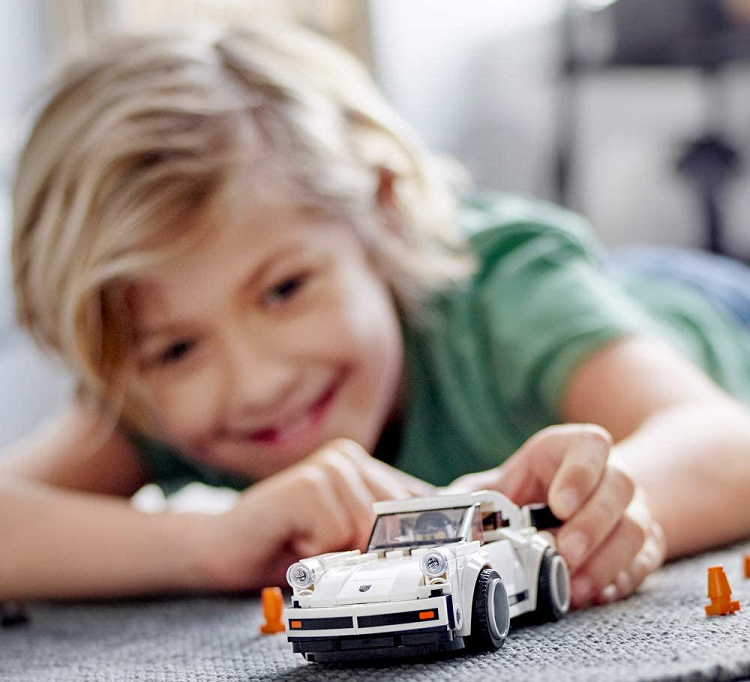 Despite having just 180 pieces, the 1974 Porsche 911 Turbo 3.0 75895 set still enables builders to construct a detailed replica of this vintage sports car. The model has a 'whale tale' rear spoiler, Porsche logo, and other authentic details.
Its detachable windshield allows you to insert the driver minifigure with or without a helmet into the cockpit. The set also contains three traffic cones that can make different racing scenarios more entertaining. This model is available in the Forza Horizon 4 LEGO Speed Champion expansion pack.
Pros
This set is collectible
A beautiful display model
The minifigure has a race suit with Porsche logo
It's easy to build
Cons
LEGO might retire this set soon
Its playing options are limited
Toyota GR Supra 76901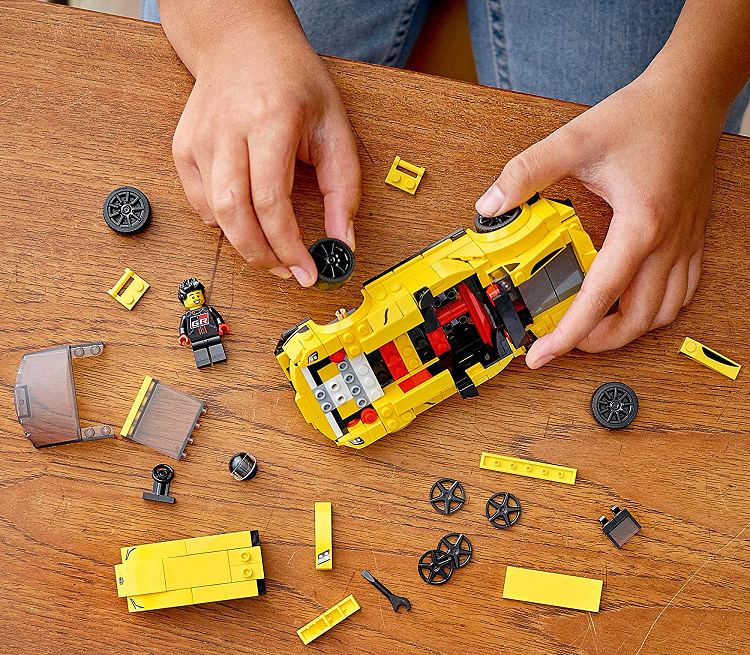 Kids aged seven or older can use the Toyota GR Supra 76901 set as a display model or combine them with other Speed Champions sets to stage epic races. The set has 299 pieces, and a skilled LEGO builder won't need much time to assemble it.
The car's cockpit has two seats, but this set has just one driver minifigure dressed in a Toyota race suit equipped with a helmet. This set features spare wheel trims and a wrench accessory.
Pros
Compatible with all Speed Champion sets
This set isn't expensive
It's an excellent gift for all sports car fans
Informative building instructions
Cons
The model is six inches long, so adding stickers can be tricky
Low piece count
Koenigsegg Jesko 76900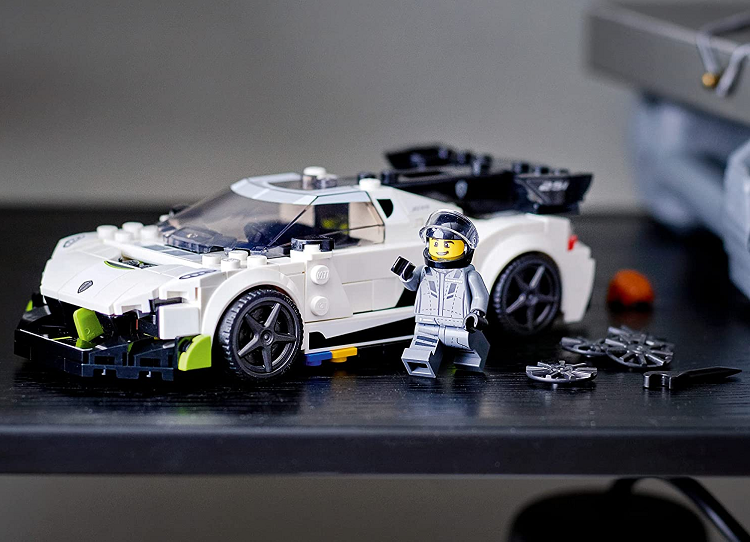 Fans of mid-engine sports cars will have fun building a miniature replica of the Koenigsegg Jesko 76900, one of the fastest cars in the world. The model has an aerodynamic design and numerous details that make the replica look realistic.
Its cockpit can accommodate two minifigures, even though the set comes with just one driver figure in the Koenigsegg race suit. Aside from a helmet and a wrench, this set doesn't include any other accessories.
Pros
The set contains a hidden Swedish flag element
Kids can carry this toy wherever they go
The car has 8-stud chassis
Less expensive than most LEGO toy cars
Cons
The car doesn't have the pullback function
It features just one minifigure
Frequently Asked Questions About LEGO Speed Champions Sets
Question: Are LEGO Speed Champions Sets Collectible?
Answer: Yes, they are, and they may become valuable over time.
Question: Is LEGO Planning to Retire the Speed Champions theme?
Answer: No, LEGO will continue releasing sets within this theme in the foreseeable future.
Question: Can I Buy a Driver Minifigure?
Answer: Yes, you can either order a minifigure from the manufacturer or purchase it on an online LEGO marketplace website.
Question: Do LEGO Speed Champions Set Require Batteries?
Answer: These sets don't contain elements powered by batteries. Moreover, none of the active models has the pullback function.
My Verdict: Which Set from the LEGO Speed Champions Theme is the Best?
In a relatively short time, Speed Champions has become one of the most popular LEGO themes. Sets inspired by some of the most beautiful cars in the world attract a lot of attention in the LEGO community, and each new model is highly anticipated.
The company will release at least five new models, if not more, in 2022, but at the moment, these models are only available for pre-order. That's why I recommend getting the Toyota GR Supra 76901 if you don't want to wait for the new Speed Champions sets to become available.
Also, models like the Formula E Panasonic Jaguar Racing GEN2 Car and Jaguar I-PACE eTROPHY 76898 or the McLaren Elva 76902 if you'd like to build replicas of iconic sports cars. Which LEGO Speed Champions set are you going to choose?
Let me know in the comments, or continue reading our guide to the best LEGO sets under $100 to learn more about some of the best models in this price range.
Further Reads: